---
Disclaimer: I purchased this watch pre-owned and was not externally incentivized in any way to make this review. This review is in no way sponsored by any entity. All opinions here are my own. Since this watch was worn/used for a year, please make note that the experience might differ slightly from that of a brand new watch.
---
---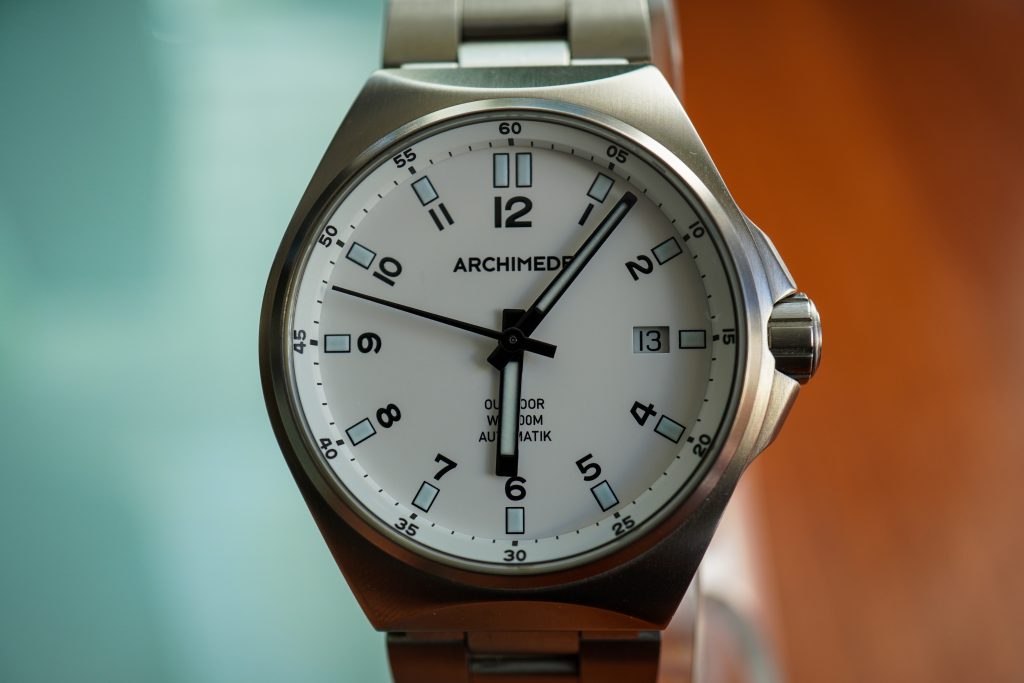 Ickler & History
I discovered Archimede watches a few months ago. I quickly learned that Archimede is one of many Ickler watch brands. Ickler is a watch case and watch manufacturer based in Pforzheim (Germany). They were formed in 1924 and have almost a century of case manufacturing experience. The brands under the Ickler umbrella that I know of are Limes and Archimede. They also list Defakto and Autran & Viala as brands under their umbrella. Even to this day Ickler watch cases can be purchased online and these terrific cases will set you back about $300.
According to the Ickler website, this manufacturing business was originally started by Karl Ickler and has remained a family business for the last 100 years (almost). Ickler has a wealth of experience in watchmaking, and the entire construction and assembly process appears to still occur on-site in Pforzheim.
"From turning and milling, to polishing and assembly of the multi-part cases, and from the mounting of the movements, dials and hands, to the final quality check."

"The watch cases are crafted in-house, from solid blocks of stainless steel, pure titanium or bronze. Our experienced craftsmen use the latest high-tech CNC machinery, guaranteeing ultimate precision."

http://www.ickler.de/en/about-ickler/
What appeals to me most is the fact that this company remains, to this day, independent and dedicated to crafting watch cases of the highest quality. The Archimede brand is relatively new, and was created in the early 2000s. I recently came across a listing for the Outdoor Protect 39 and I couldn't pass on this watch as it has been on my radar for 5-6 months now.
As a side note, Mike Stuffler has a lovely gallery of photographs from his and Bhanu Chopra's visit to the Ickler Company in 2017.
Case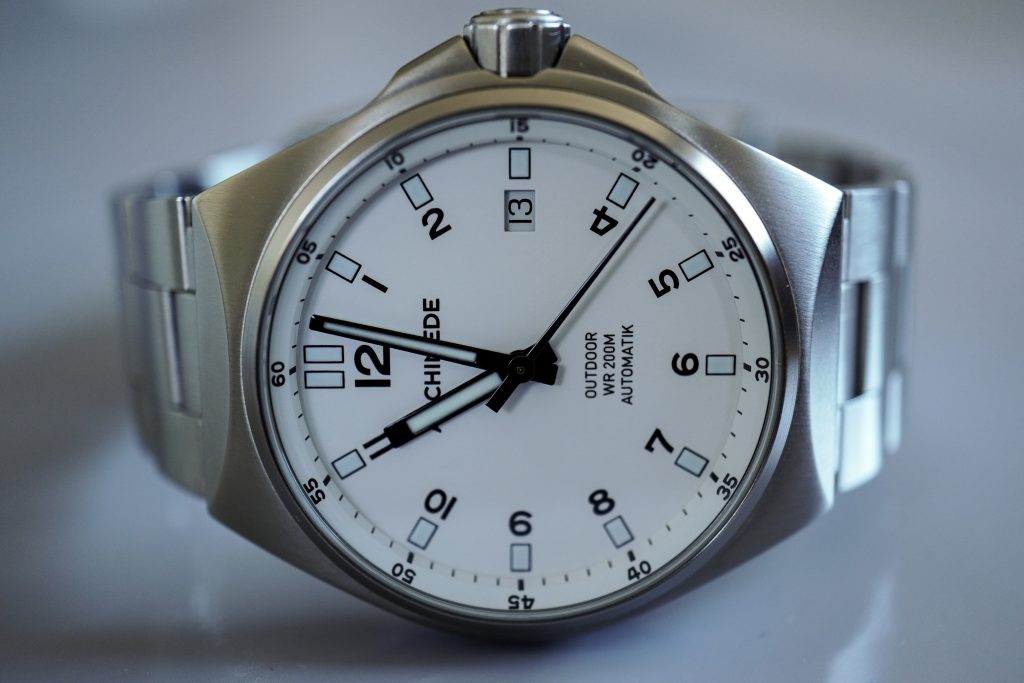 Archimede is more popularly recognized for their Flieger watches but I came across the Outdoor line of watches and immediately knew that I had to get my hands on one. These are all-out tool watches (Yes, I know I use this term often) designed for sports and adventure. I recently reviewed the Traska Freediver II, which had a particularly interesting case and bracelet material that was harder than regular 316L steel. This was achieved by a surface hardening technique but Traska are a bit vague about what exactly they do. The Archimede Outdoor lineup offers a similar hardened steel case and achieves 1200 Hv on the Vickers Hardness scale.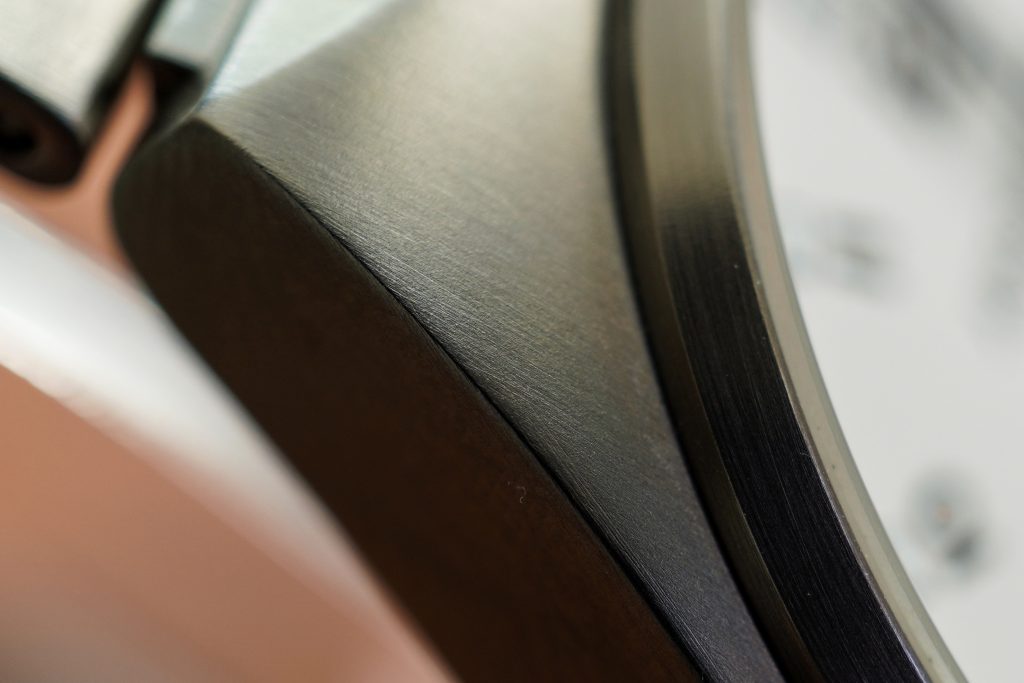 Having owned two watches with a similar material, I can say that it is hard to visually tell the difference between this material and regular brushed steel. However, these watches are much smoother to the touch and feel almost 'slippery'. I suspect that this is due to the lack of micro-blemishes on the steel surface, as a result of the hardening.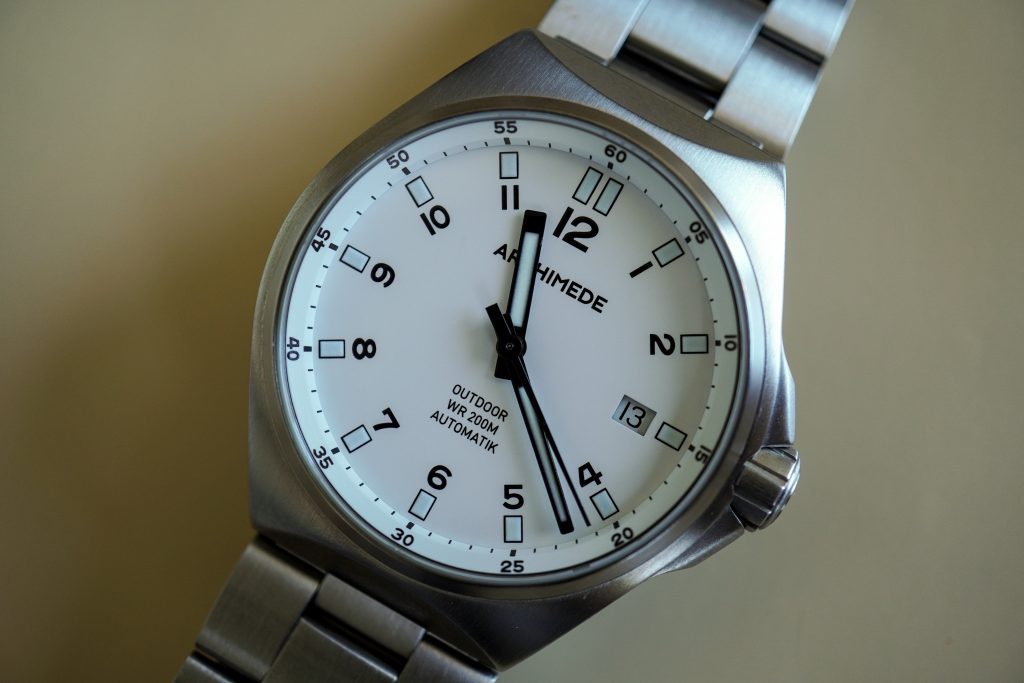 In terms of case construction and build quality, let me say this – it is perfect. Ever since discovering this brand, I'd keep reading about 'Ickler Cases' and how great they were. I'd look at the majority of photographs online and wonder what the hype was all about – they look quite ordinary. Let me say this though – when you actually hold one of these cases in your hands, it all makes sense. It must be one of those rare phenomenons where 'If you know, you know', I suppose. This $900 watch could pass off as a $2000 watch because of this case alone.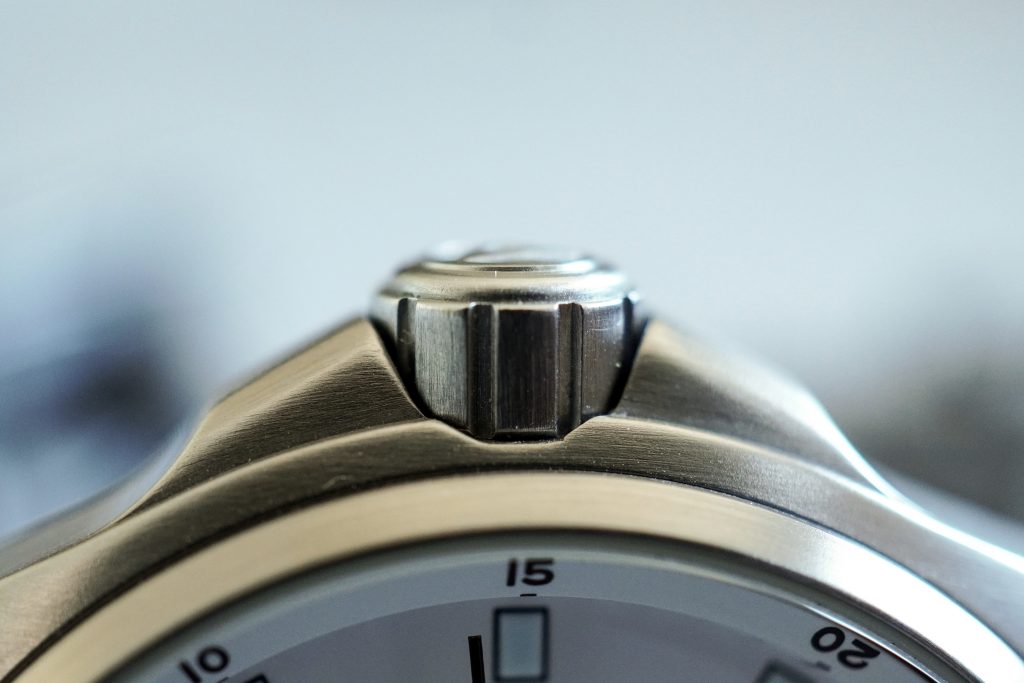 In the last review that I did (Seals Model A), I commented about the comfort (the lack thereof) when handling and adjusting the crown. Well, this is probably the best crown and crown guard design I've come across in terms of comfort and dimensions.
It is effortless and easy to adjust the crown even when the watch is perfectly snug on your wrist. You would think that the 11.2mm tall case would make this harder, but because of the design and clever choice of dimensions for the crown, it is quite the opposite. Everything about the crown, it's support hardware and the crown guards is perfect and there isn't any feeling of flimsiness when the crown is pulled out. To me this says a lot about the overall quality of a watch. If you've ever done this with a Seiko SKX and a Rolex Submariner side by side, you'll know what I'm talking about. I tip my hat to the excellent engineering on this design and the meticulous manufacturing. The case is extremely comfortable on the wrist and the watch wears light, coming in at 75g with a leather strap or 125g on the steel bracelet.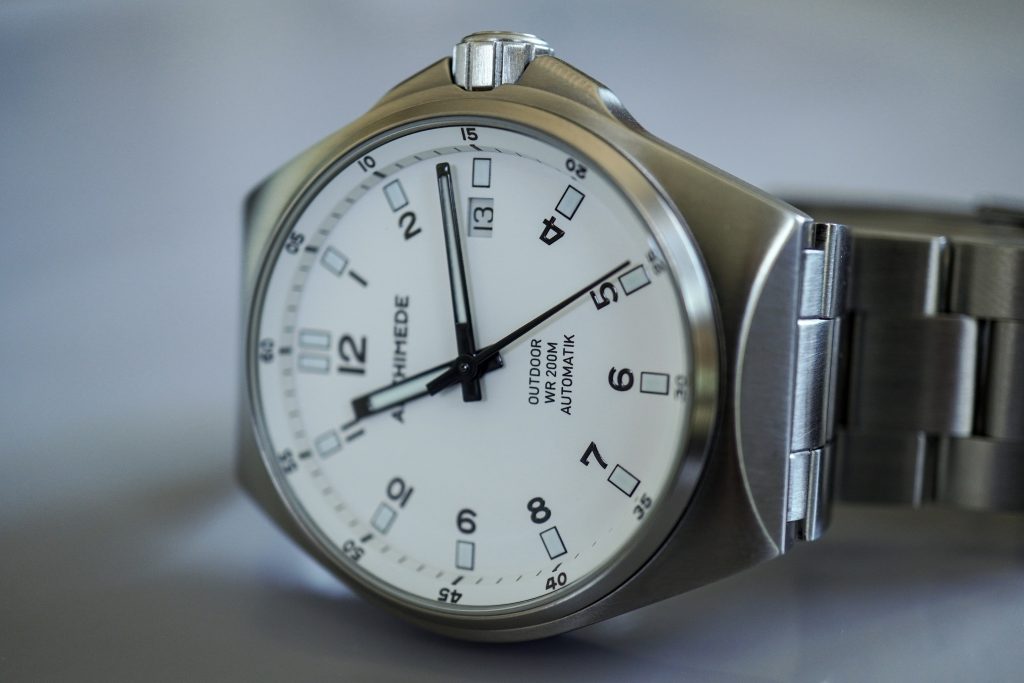 In terms of case design, I'm aware that a few people are put off by the lug-less design. I don't mind it and I actually think it looks good. This design decision, together with the fully articulating metal bracelet, drastically reduces the lug-to-lug width to a shocking 43.5mm. On my 6.25″ wrist, I think this looks great. But this watch isn't for those who like a watch with a large wrist presence. They do also make 41mm diameter version apart from this 39mm. The 41mm comes in an Anti-magnetic 3-hand option as well as a Valjoux 7750 based Chronograph variant. I suspect that these watches will also wear much smaller than you'd expect, given the lug-less design.
---
Dial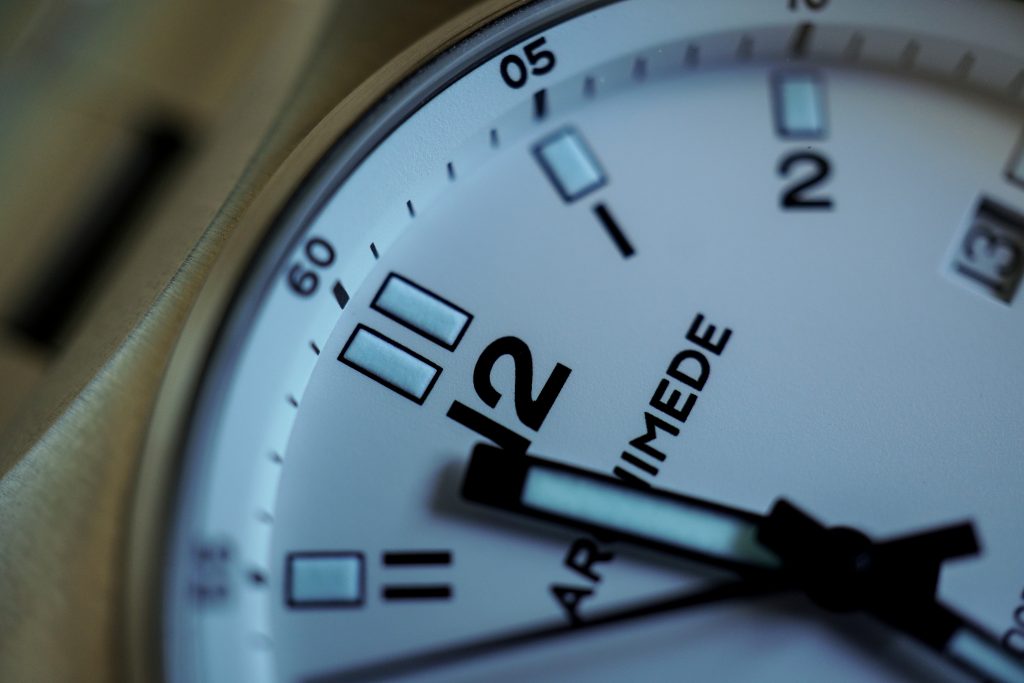 The dial is clean, legible and has a definitive field watch aesthetic. The black hands and hour numerals perfectly contrast the snow white dial. There is a seconds track perpendicular to the dial, along the outer surface of where you'd expect a rehaut. It transitions to an angled surface that has a 60 minute track in incitements of 5 minutes. The design is great and makes it a pleasure to read because of how effortlessly legible it is. You can also easily read the time if you're looking at the watch almost parallel to the dial surface. I thought that was pretty cool.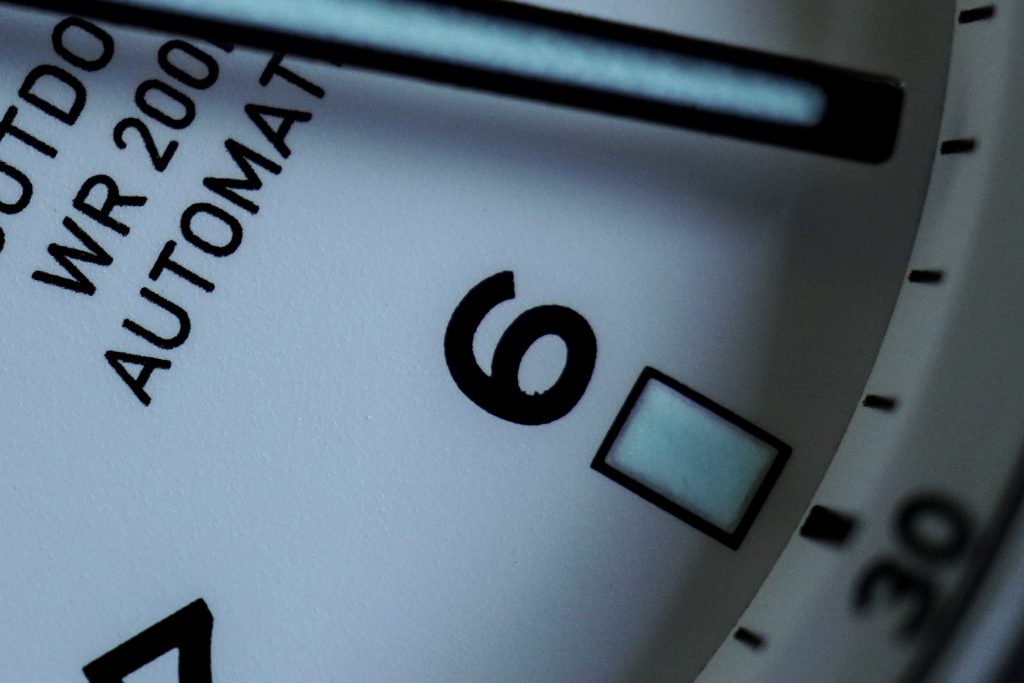 The hour indices are applied to the dial but the rest of the accents and numerals are printed. Under much scrutiny, I did notice some ink smudges around some of the numerals. But this isn't visible to the naked eye and is common among watches even two to three times the cost. The hands appear to be painted black as well.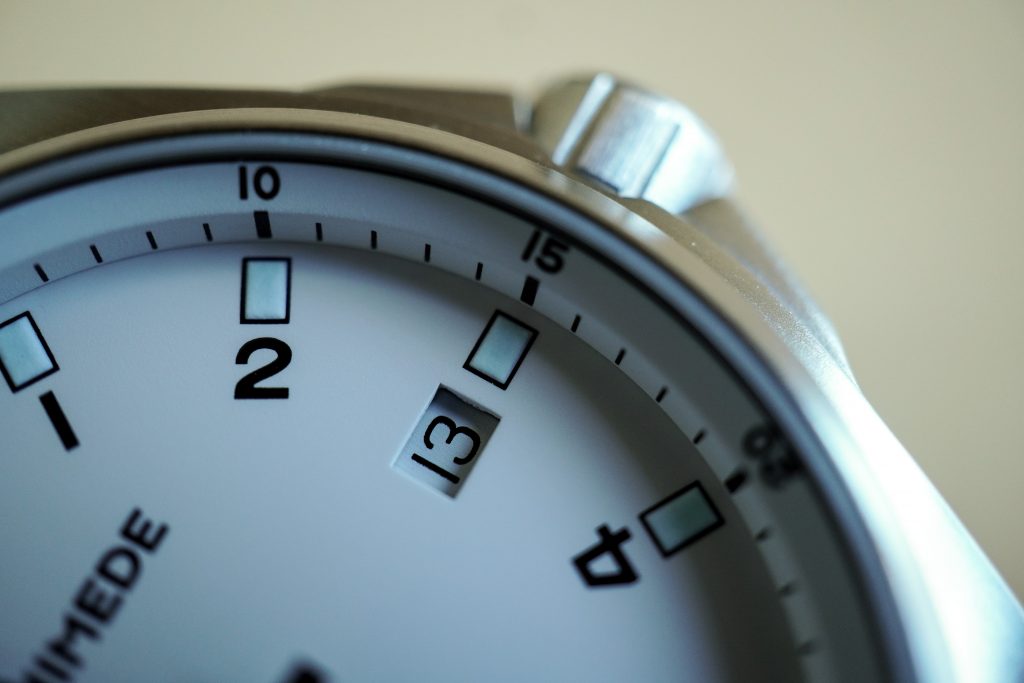 The date wheel has a white background and blends in beautifully with the white dial. The date wheel doesn't eat into the hour marker, which helps retain the overall symmetry.
The watch has good lume, with square lumed hour indices and rectangular lumed hour hands. The Archimede website doesn't mention what particular lume they use but this watch will definitely pass most enthusiasts' lume tests.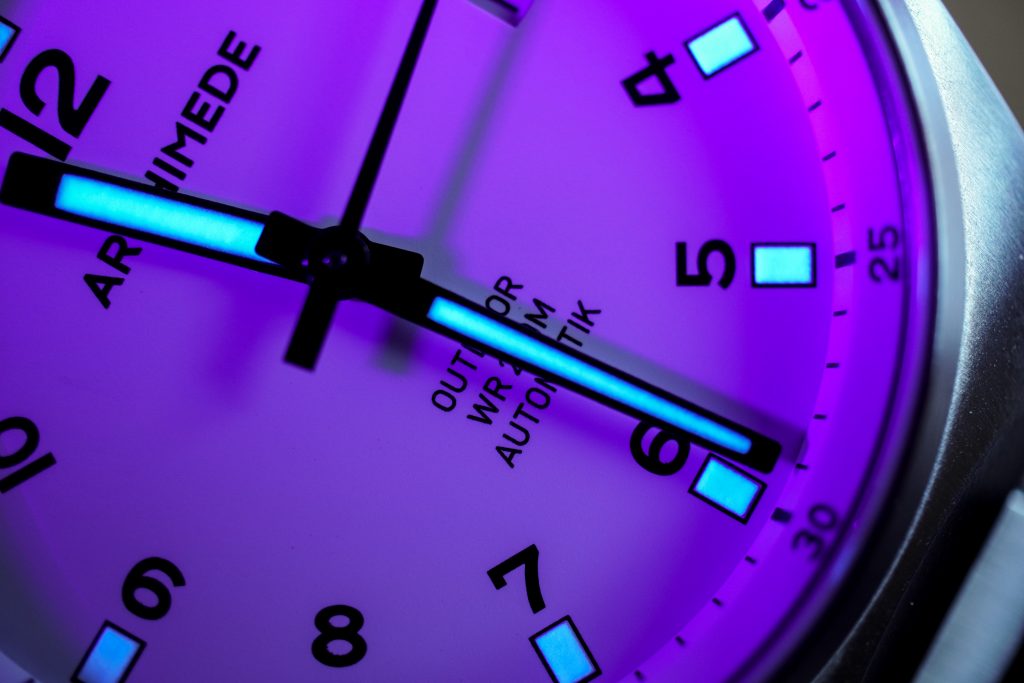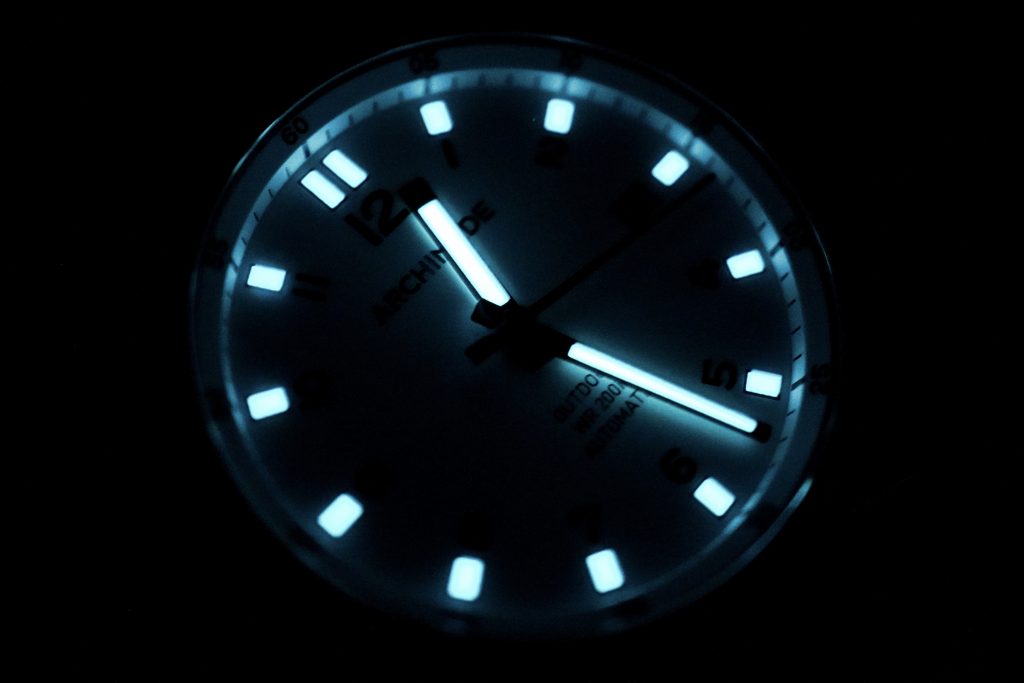 ---
Bracelet
The bracelet attaches to the case at the 18mm lug width, but the actual bracelet size at the case is 20mm. This helps give you the illusion of an integrated bracelet without actually being one. The bracelet tapers down to 18mm at the clasp. The links are vertically brushed and of good quality. I haven't had any hair pulling experiences, and the links articulate almost completely, allowing for a perfect fit.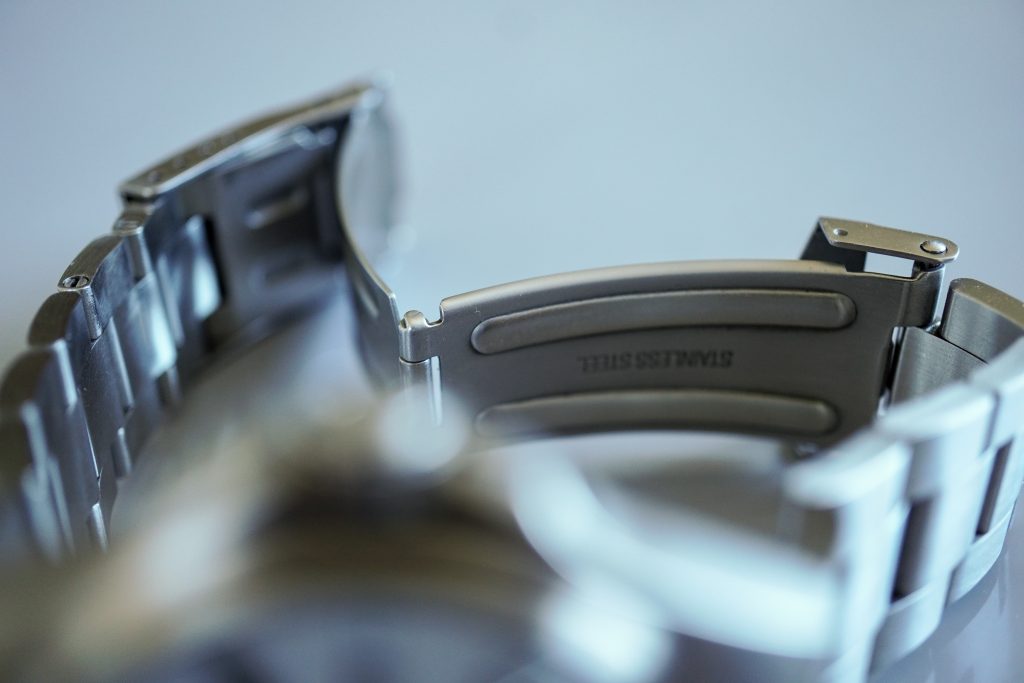 The clasp is the weakest link in this experience and this watch has a pressed fold-over clasp that feels much cheaper than the rest of the watch. From my experience it appears that the clasp is the most overlooked aspect of a watch and Outdoor Protect is yet another watch to go on this list. For starters, there is an abrupt transition between the tapered end of the bracelet and the clasp on the 6 o'clock end. Second, the fold over lock feels a bit difficult and not graceful. The pressed clasp doesn't feel as cheap as the Chinese pressed clasps you'll see on $300 watches, but I would've preferred something better. I talk about this later on, but Archimede does have a much better looking clasp on their 41mm versions, so it might be worth reaching out to them to swap it for that if possible.
Once you look past the actual feeling of the clasp, whatever it lacks in form it makes up for in function with (a) 4 micro adjustment slots on one end (b) 2 on the other end and (c) a divers extension. For this reason alone I'm willing to overlook the cheap clasp construction. The fully articulating links together with this very flexible clasp allow for an amazingly comfortable fit after a bit of adjustment.
You also get a black rubber strap that suits this particular dial color quite well. The rubber strap is not as supple as higher end rubber straps from Rubber B, but is well made and quite comfortable. The clasp on the rubber strap appears to also be made of the same hardened steel.
---
On The Wrist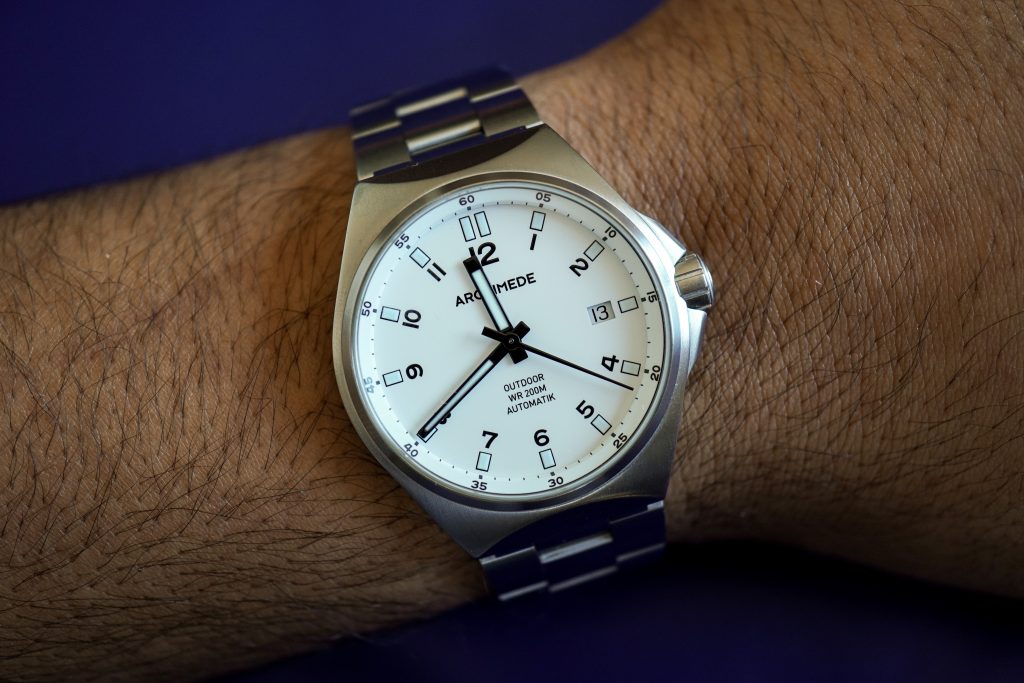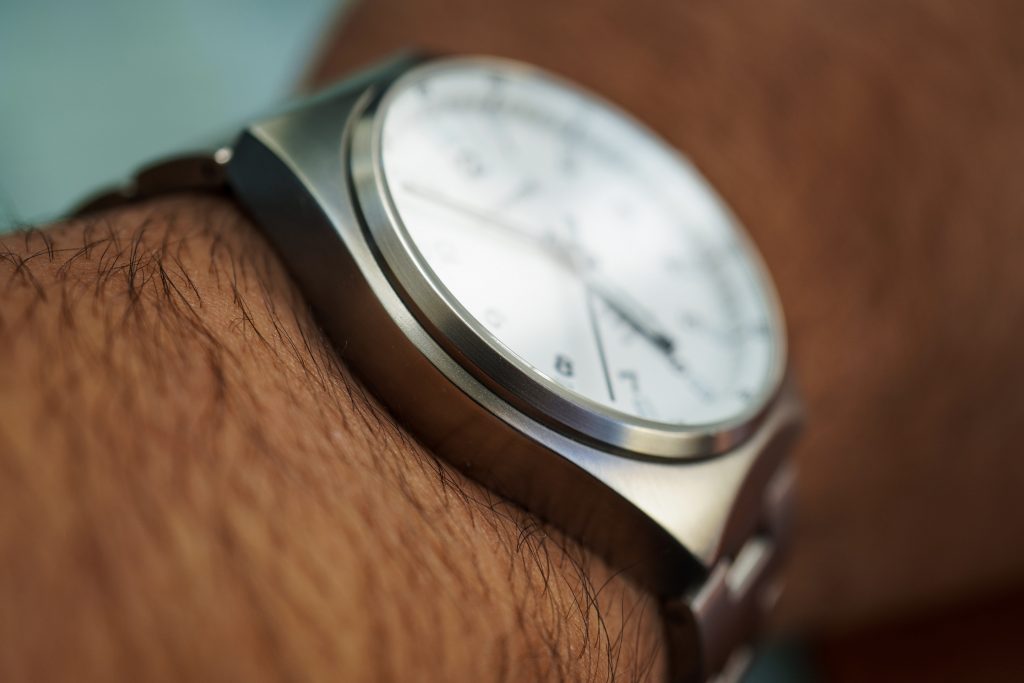 As mentioned earlier, this 39mm watch comes in at a very comfortable 43.5mm in terms of lug-to-lug width. The 11.2mm height together with the very light construction gives you the illusion of a sleek dress watch, even though the purpose of this watch is quite the opposite. If I had to draw a parallel, I'd say that this watch wears very similarly to the Rolex Oyster Perpetual if they were to make a 37 – 38mm variant. You can easily wear this under a suit, but given the tactical/field watch dial I don't see why you would… unless you're James Bond.
---
Movement
This watch has a Sellita SW200-1. For the price of $900 I believe that this is more than acceptable. The SW200-1 is a workhorse movement and I logged the accuracy of this watch over a 4 day period and observed roughly -6 spd.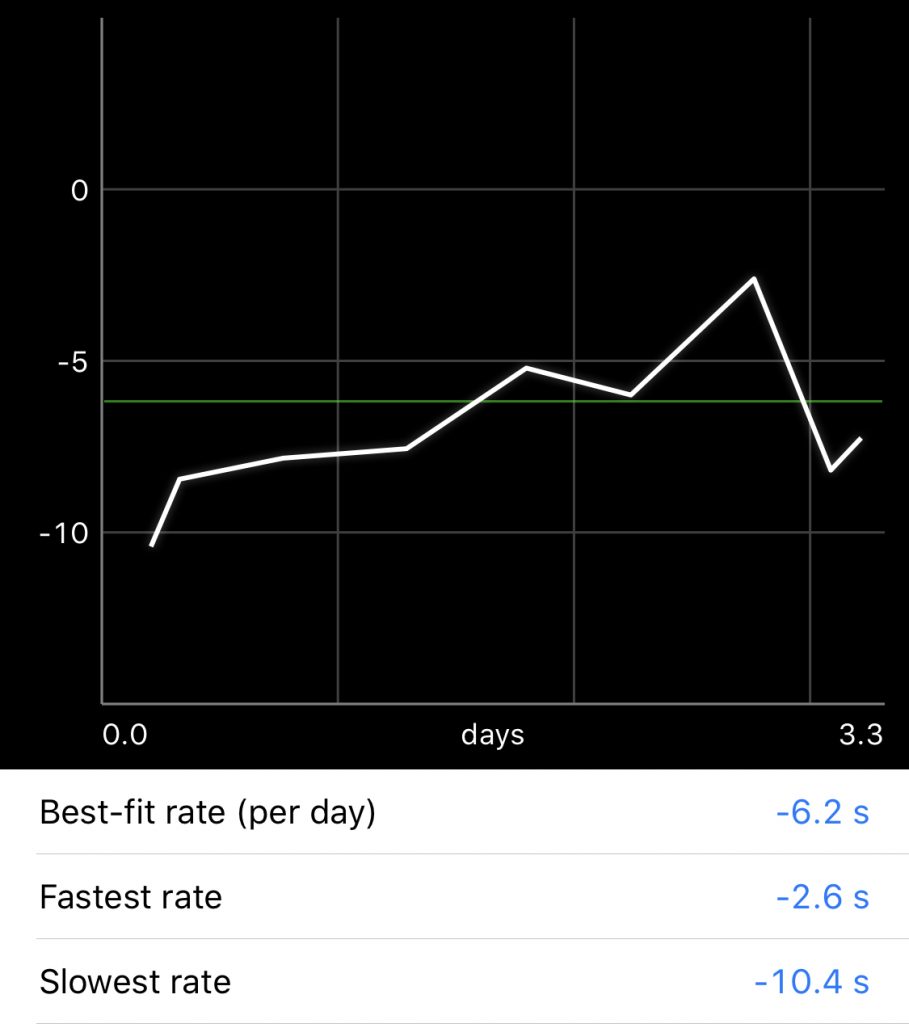 ---
Concluding Thoughts
This watch delivers an incredible amount of value, and is in my top 3 "Best tool watches under $1000". This is contingent upon whether you can appreciate the overall design or not. I believe that is where most people are conflicted. I personally like the simplicity of the dial and the elegant but robust case design. The lack of lugs don't bother me, however a more intricate integrated bracelet design might elevate this watch to the next level. If there was an award for best crown and crown guard design, this watch is likely to win. I don't mean to enforce a stereotype, but this case is made to German engineering perfection. The dial design is simple but well executed with only microscopic finishing anomalies.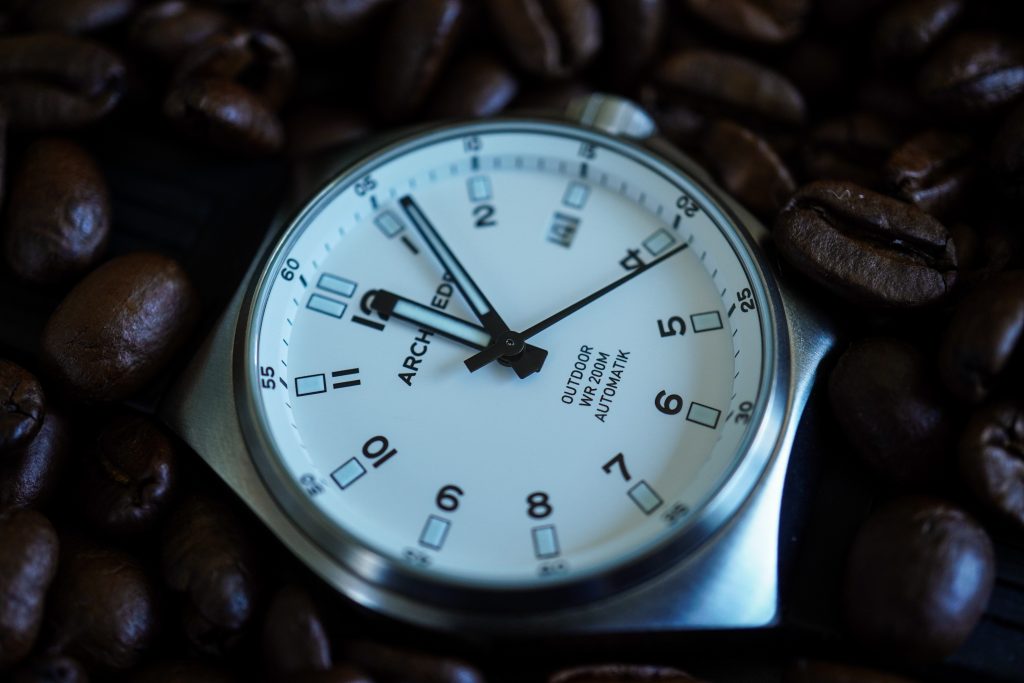 If Ickler / Archimede up their game in the bracelet department, I would consider paying up to $1500-1600 for this watch. The bracelet is, for the lack of a better word, sufficient. This is the only aspect that leaves room for improvement. It is comfortable on the wrist and has micro-adjustment slots as well as a diver extension but just feels a bit… lacking in terms of clasp quality. It appears from their website that the bracelet and clasp on the 41mm versions has a better quality clasp (milled and thicker) so maybe they will consider upgrading (or have already upgraded) this as well.

If you're looking for an everyday field / tool watch under $1000 and find this design appealing, go buy it immediately. You won't regret it. The pros heavily outweigh the cons and I believe you're unlikely to find a better package for this price – my top contenders would be the Sinn 556 line and the Damasko DS30. The Sinn lacks a hardened material and the Damasko doesn't typically come with a steel bracelet.
If the clasp on the Archimede really bothers you, I'm sure you can find an aftermarket metal bracelet that would work with this 18mm lug width. If not, they have a bunch of canvas and leather strap options too.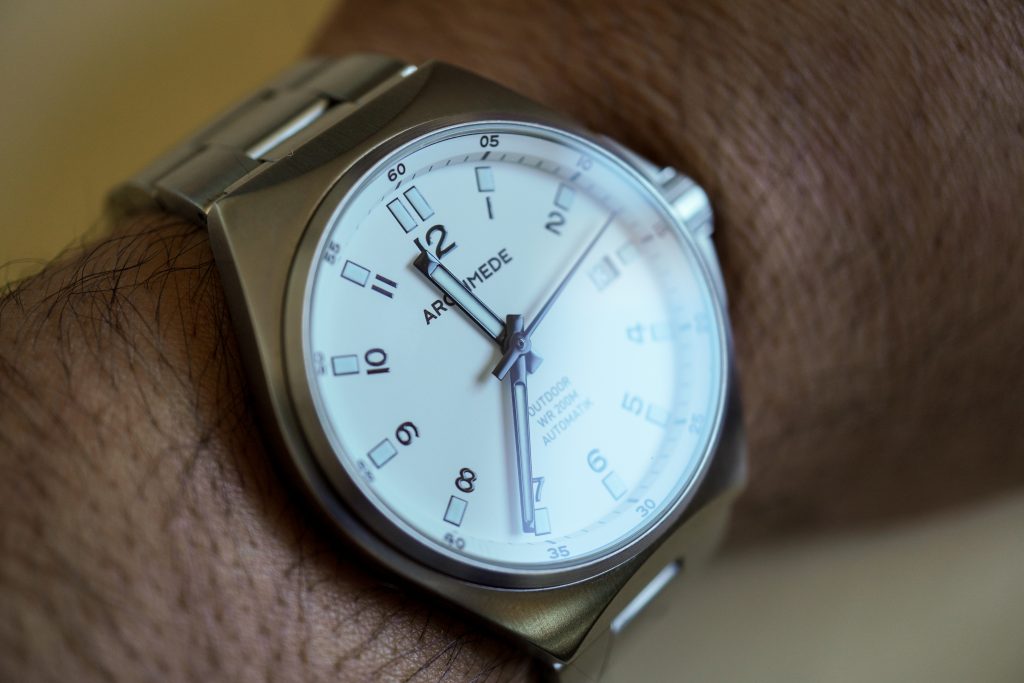 I'm not particularly fond of white dials and I bought this watch with the intention to sell it after this review. I will however be looking to buy one for my personal collection in either Blue or the Black very soon.
Thanks for reading!