---
Disclaimer: This watch was sent to me to review, and I was not incentivized in any way to make this review. This is in no way sponsored by DuFrane or any other entity. All opinions here are my own. Since this watch has been worn/used by other reviewers, please make note that the experience might differ from that of a brand new watch.
---
---
DuFrane & City Limits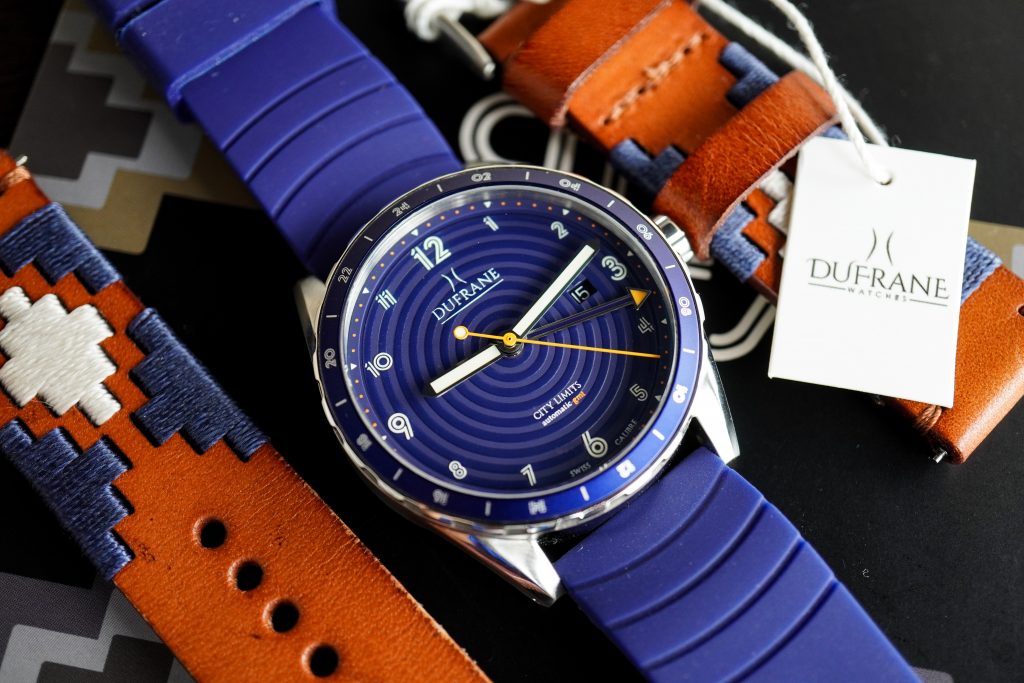 I spend a lot of time looking at watches on Instagram, YouTube and various other forums and discussion groups. But for some reason, DuFrane appears to be a brand that has slipped under my radar for a long time as I only discovered them recently, and accidentally. DuFrane is an American micro-brand based out of Austin, Texas and was founded by Steven Lee in 2016. I'll be looking at the City Limits GMT, which is a music inspired watch that has cheerful aesthetics. I like that DuFrane isn't afraid to throw a little color into the mix in their watch design, and I like the overall attitude of not taking itself too seriously. Steven was kind enough to loan me the blue dial stainless steel version to check out, but by now it should be no surprise that if given a choice, I will always choose blue. This watch retails at $899 USD, which is among the more affordable automatic GMT watches currently on the market.
---
Case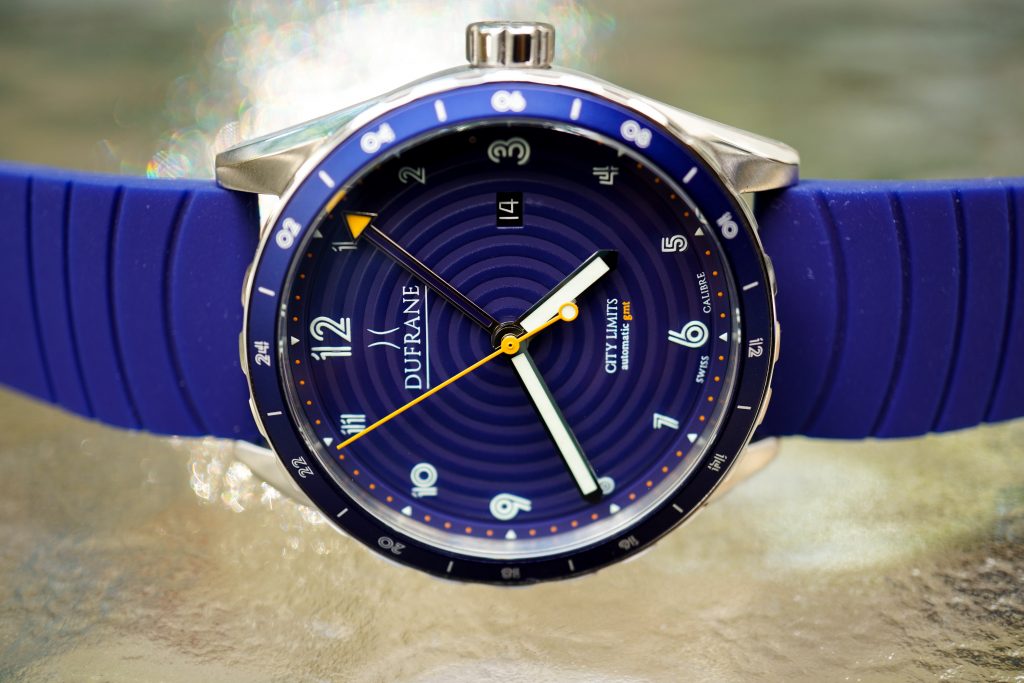 The case measures in at 42mm in diameter, 47.6mm from lug to lug and just under 13mm in height. The 42mm case is balanced with a 22mm lug width. The short and angled lugs allow the 42mm case to have a lug to lug width of just under 48mm, which is pretty cool considering the majority of 42mm watches I've seen are closer to 50mm. The case is made of Marine Grade 316L stainless steel. Most of the case is brushed, however there are polished accents throughout. The lugs are slender and I like the way they extend out of the case. There are two top surfaces and the edges are beveled and polished. And to top this off, the lugs are drilled through which means strap changes are a breeze.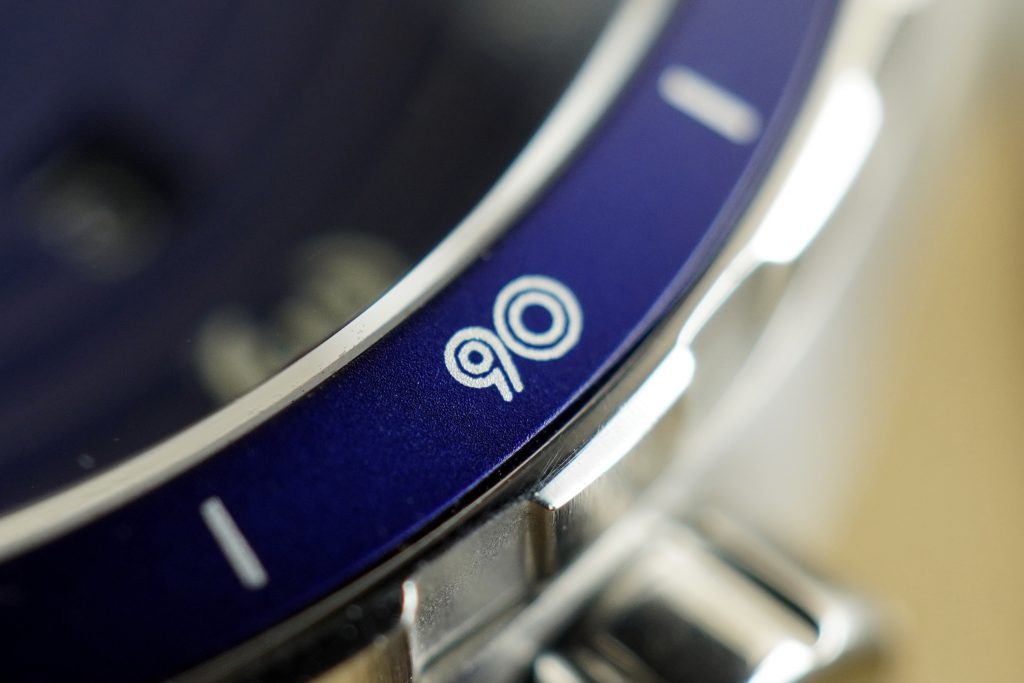 The bezel fits neatly within the 42mm case diameter and is sufficiently easy to grip. I would've liked to see deeper ridges along the bezel edge, but this isn't bad. The bezel has a blue anodized aluminum insert and one of the interesting design choices is the narrow width of the bezel. Since it's a GMT bezel, I appreciate the bezel dimensions as they allow the dial to take center stage. The bezel insert is not lumed in any way but is finished well. The bezel has a fraction of a millimeter worth of back-play, but this is a GMT bezel so it's really not a problem. The action on this 24-click bezel is heavy and each click feels solid and loud.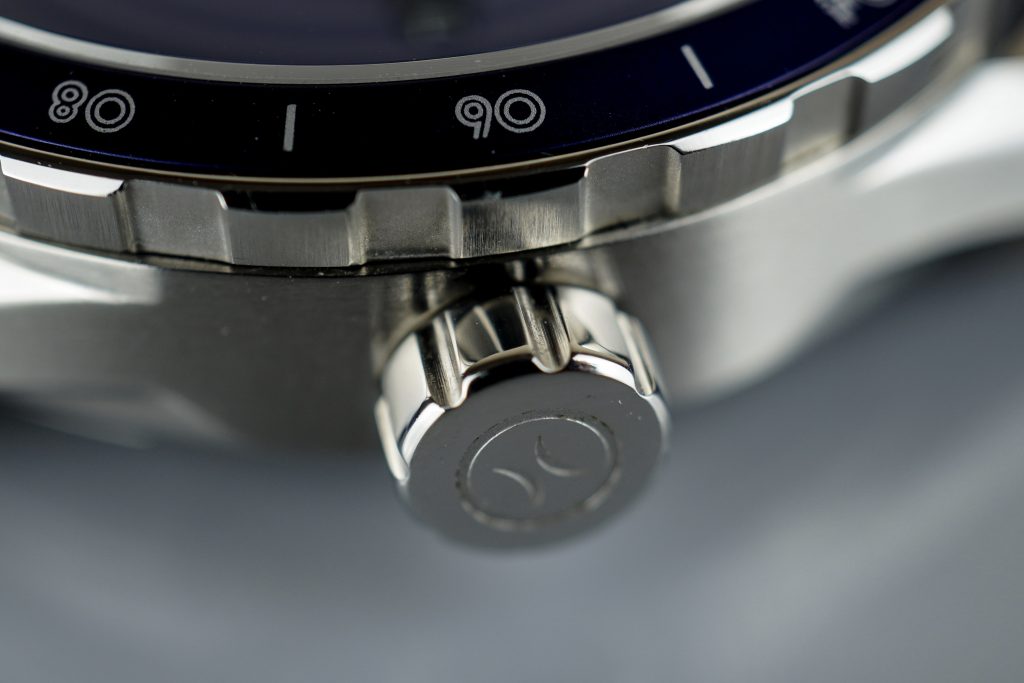 The polished and signed crown is well proportioned and screws down into the case. One of the few issues I have with this watch is in the way the crown screws into the case. It takes a few tries for the threads to catch and then it's easy right until the last few turns, which requires a bit more effort because of the slightly slippery crown ridges. But it screws down perfectly with no gaps between the crown and case.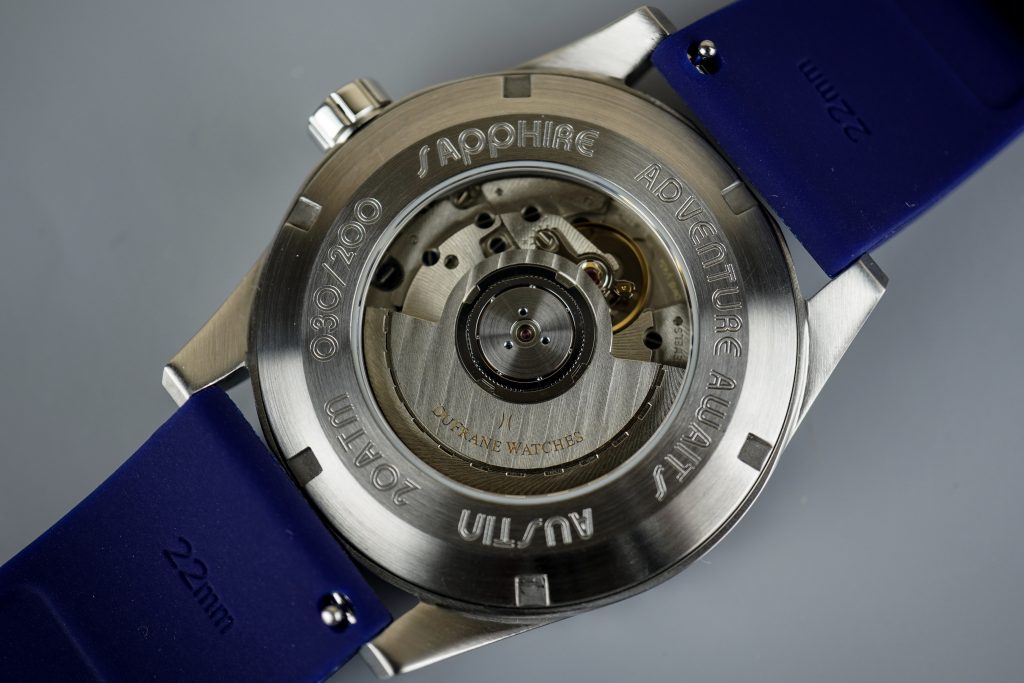 Flipping it over, you have an exhibition case-back that is radially brushed with a few specifications and text engraved onto it. I like that the font used on the engravings is the same as that used on the hour numerals and bezel markers. Both the top and case-back crystal appear to made of sapphire, with the top being double domed with two AR coatings. The screw-down crown and case-back allow for the watch to be rated for up-to 200m of water resistance.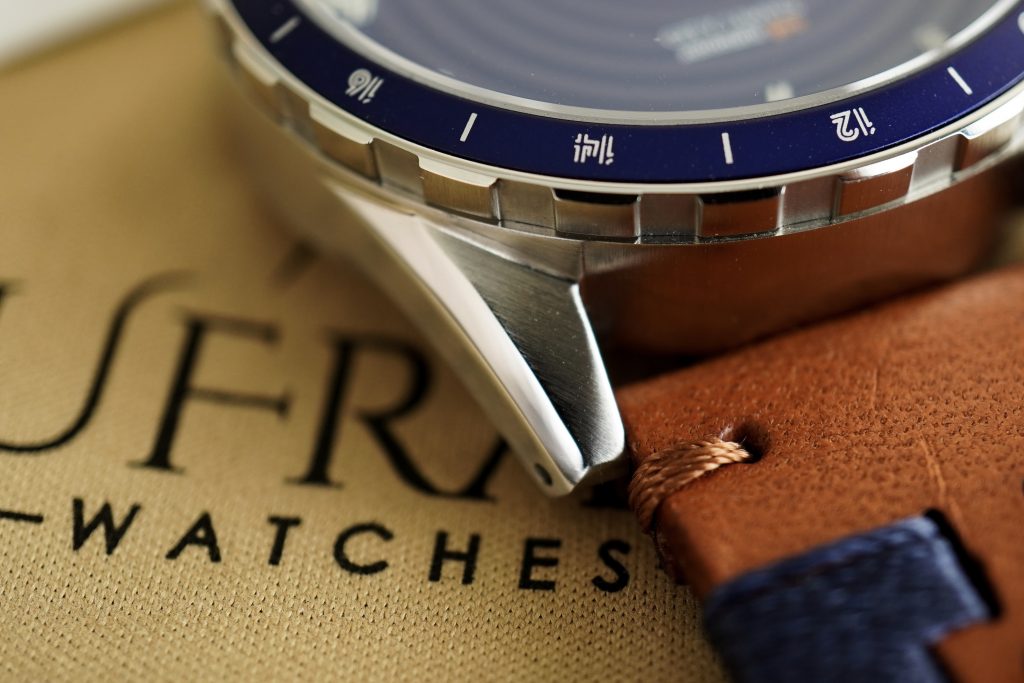 Overall, I think the finishing on the case is good. There's a few areas where the brushed and polished surfaces meet that I think could be slightly better, but they've attempted quite a challenging design for lug and case integration, so polishing this looks like a lot of additional work.
---
Dial
This watch, like all of DuFrane's collection, is inspired by the city of Austin (TX). This particular watch is inspired by music, and the name City Limits is a throwback to Austin City Limits. If you notice, the font used on the hour markers, bezel markers and the case-back are a throwback to the above.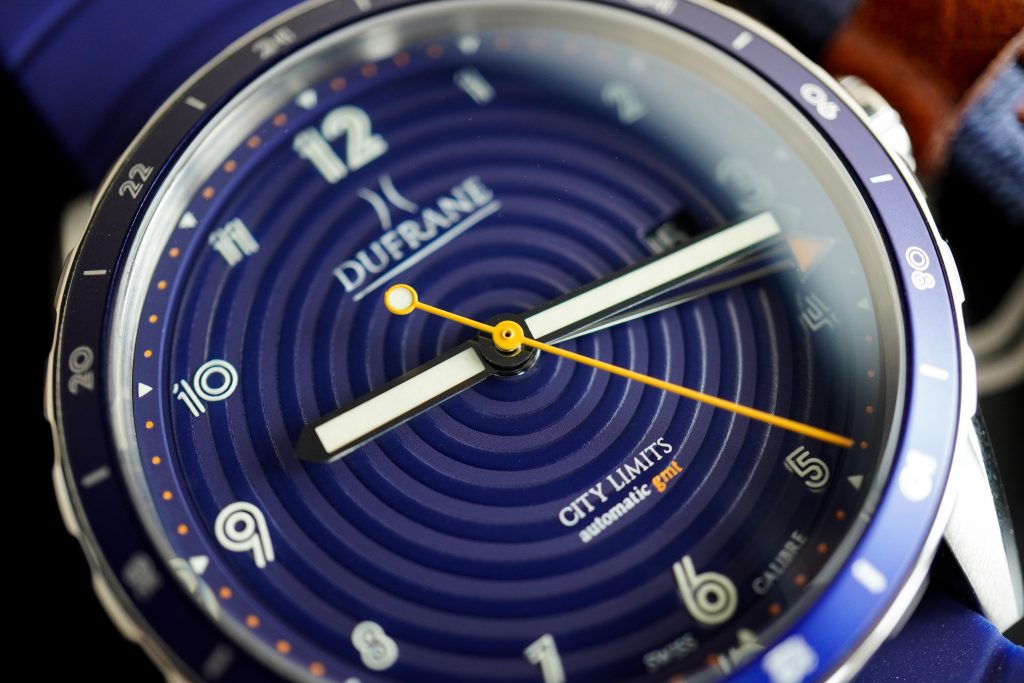 With a narrow bezel and a 42mm case diameter, you're left with a very large dial. The dial is designed to give the appearance of a vinyl record, with it's concentric rings and shallow ridges. I think this is a really cool throwback, without being cheesy or cliché.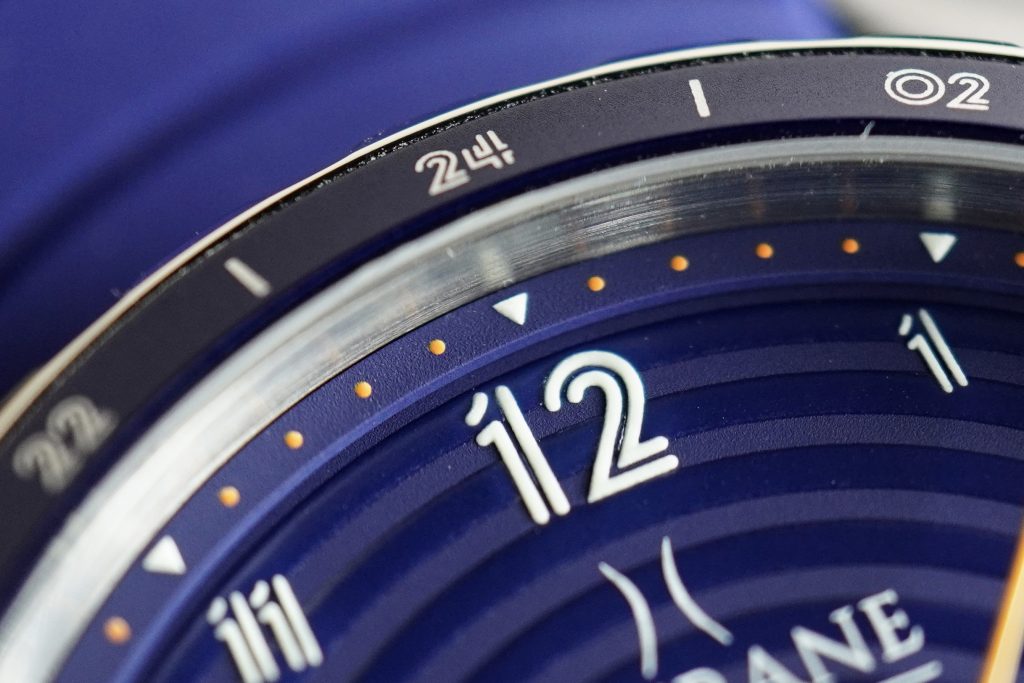 There is a narrow, elevated chapter ring that is the same color as the dial. It is marked by lumed white triangles and circular dot markers, and aligns perfectly with the dial and bezel. There is a date window at the 3 o'clock position that has a black date wheel and white font. I'm not a fan of date wheels as they often break the symmetry of the dial, and this one I'm on the fence about. I think it would've looked much neater at the 6 o'clock position, but that's just me.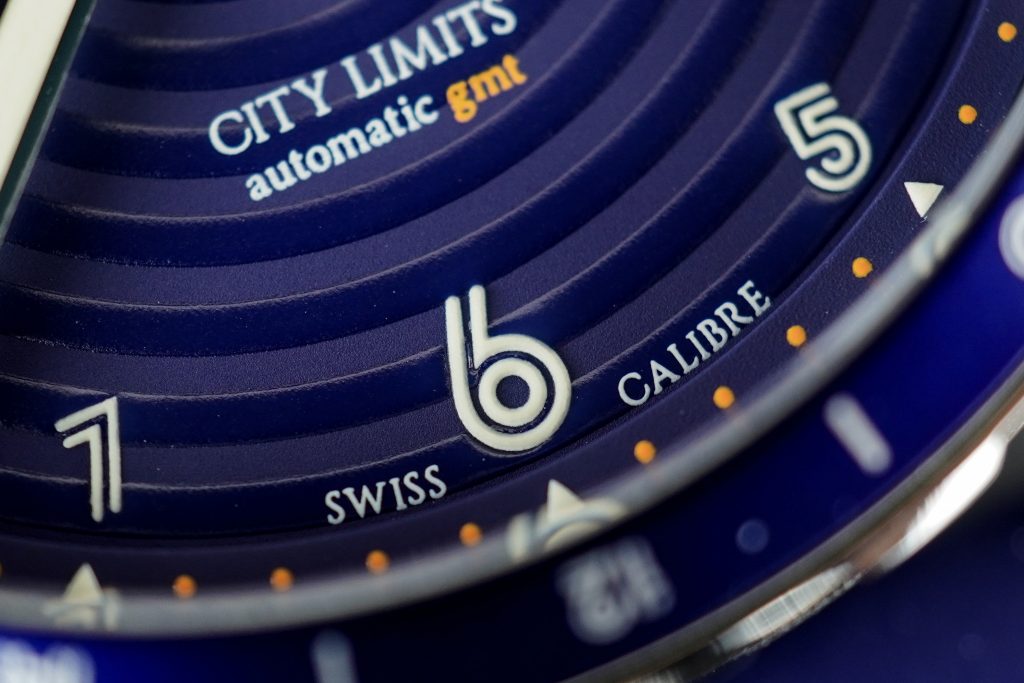 At the 6 o'clock position you have 'Swiss Calibre' printed on the edge of one of the vinyl rings. I like it, but my OCD makes me wish it was centered along the ring and not offset. Above it, the name of the watch is printed with a subtle hint of yellow-ish orange to match the seconds hand and GMT arrow. The quality of the print is good and I couldn't find any faults there. Similarly, the brand's name and logo is printed at the 12 o'clock position.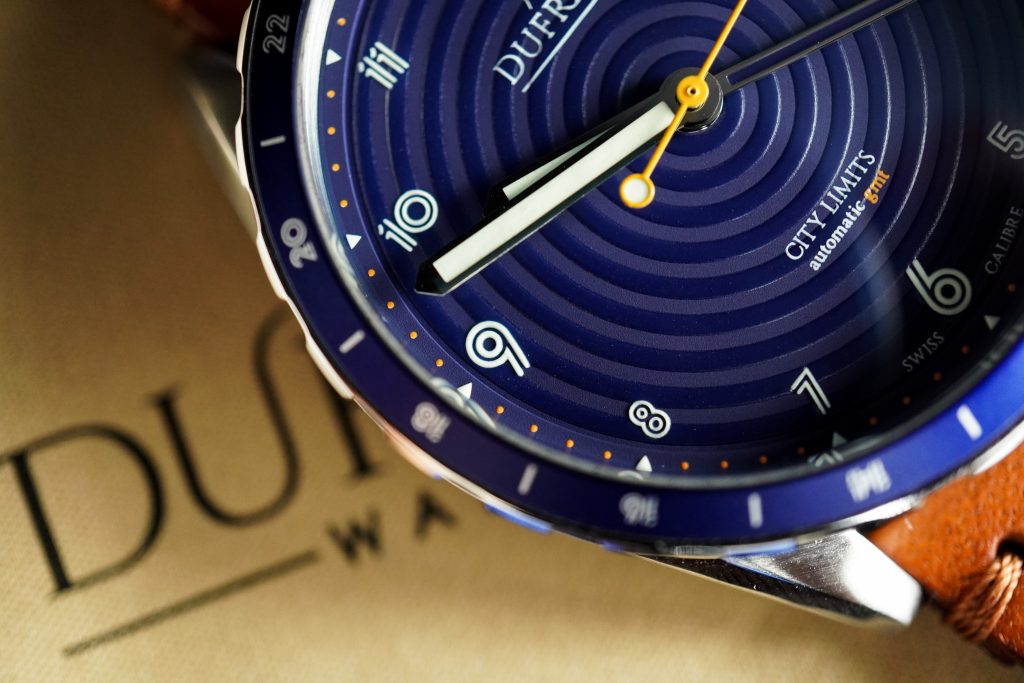 The hour numerals are lumed and printed on the concentric rings. Again, this must've been challenging to print or paint correctly since they cut through the rings. The font is similar to that used by Austin City Limits and is a really neat way of executing a throwback. The four primary hour markers are larger than the rest, but not by a lot. Given the somewhat expansive surface area of the dial, it's easy to fall victim to too much empty space or just overdoing dial elements, but this watch manages to balance it reasonably well.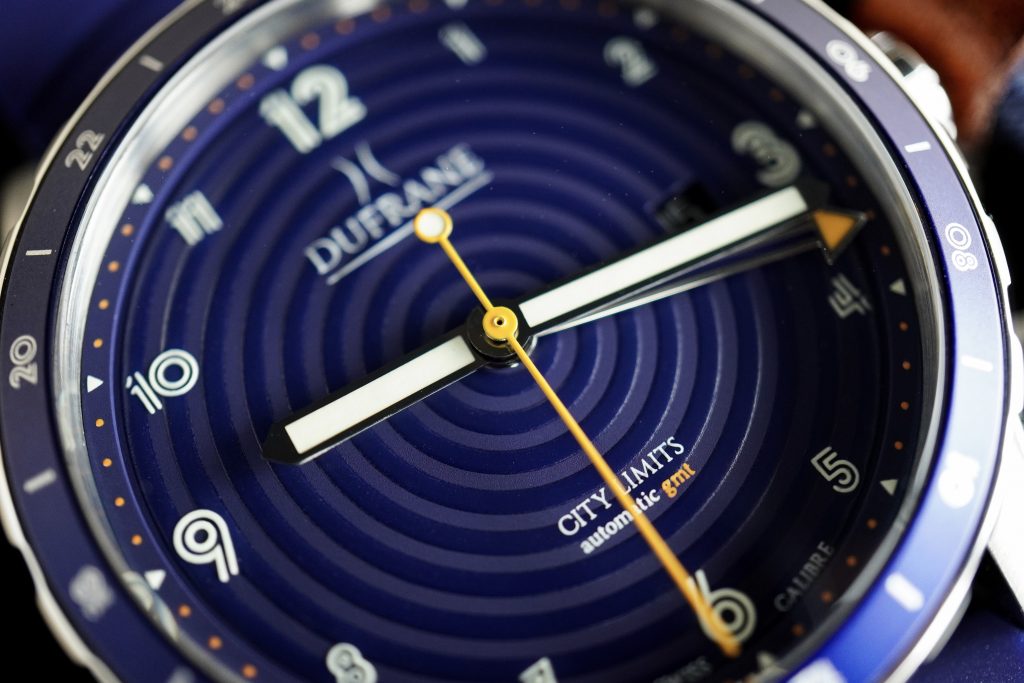 The hour and minute hands are generously lumed and have a simple design. They are finished well and I couldn't find any issues on the surfaces or edges. The seconds hand is painted orange and the circular counter balance is filled with lume. I'm not a huge fan of lumed counter-weights as they aren't really practical, but it sure does look cool at night. A painted lume tip to go with it and I would've been sold. There is a skeletonized GMT hand with a lume filled arrow head. The orange lume matches the rest of the orange accents perfectly. I think the choice of hands is simple but perfect for the somewhat unorthodox dial design.
---
Lume
The lume on this watch is great. All the hands are clearly legible and lumed elements on the chapter ring look great as well. The lumed numerals are clearly visible and the entire set of lumed elements hold their glow reasonably well. I have no complaints, so I'll just leave you with these pictures.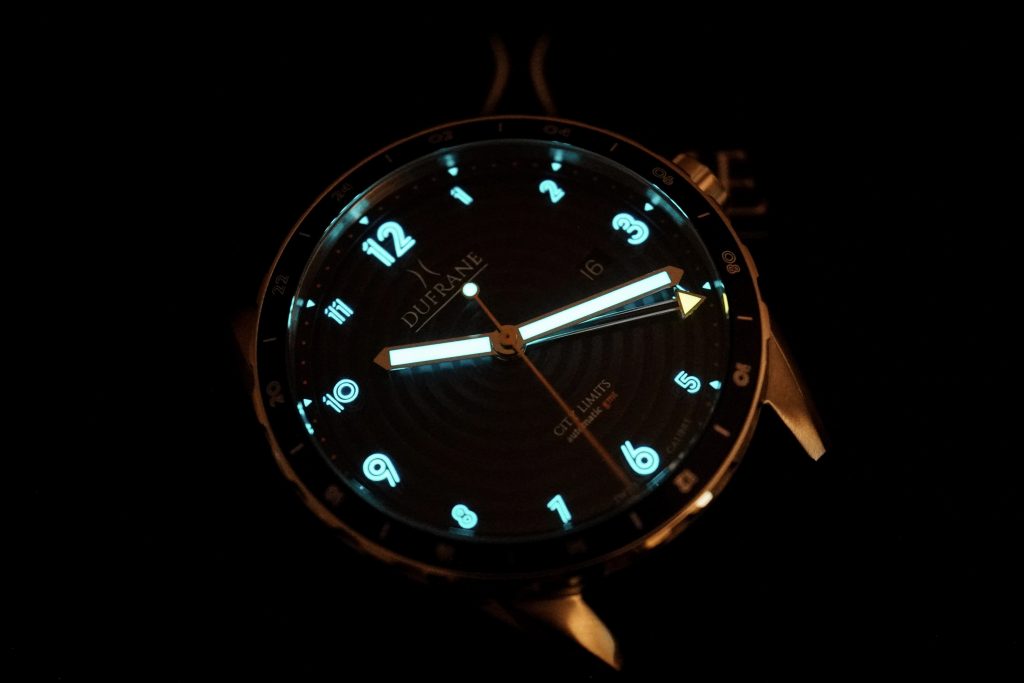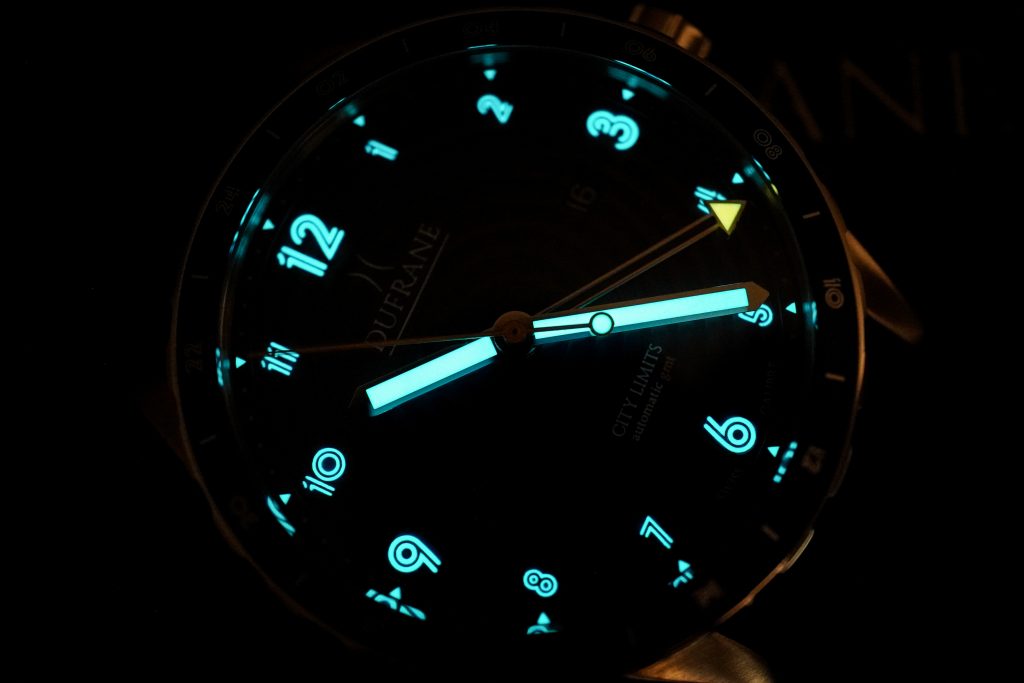 ---
Movement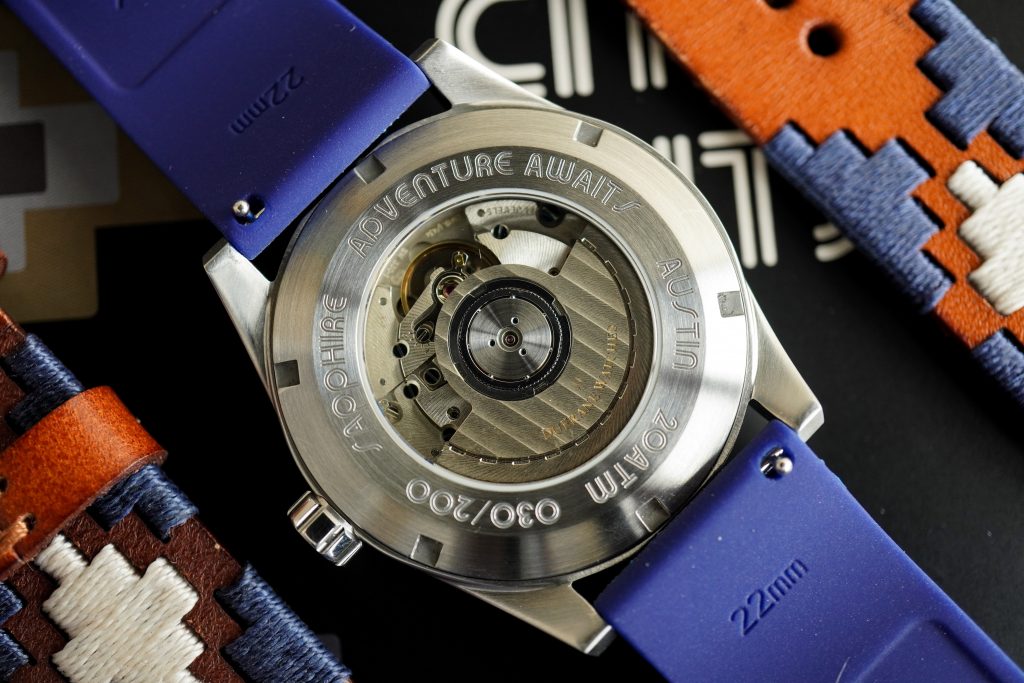 This watch uses a Sellita SW330 GMT movement. Thanks to the exhibition case-back, you get to appreciate the DuFrane engraved rotor that is finished with Geneva stripes. It isn't an elaborately finished movement, but there are beautiful blued screws and a few gold elements that make it interesting to look at.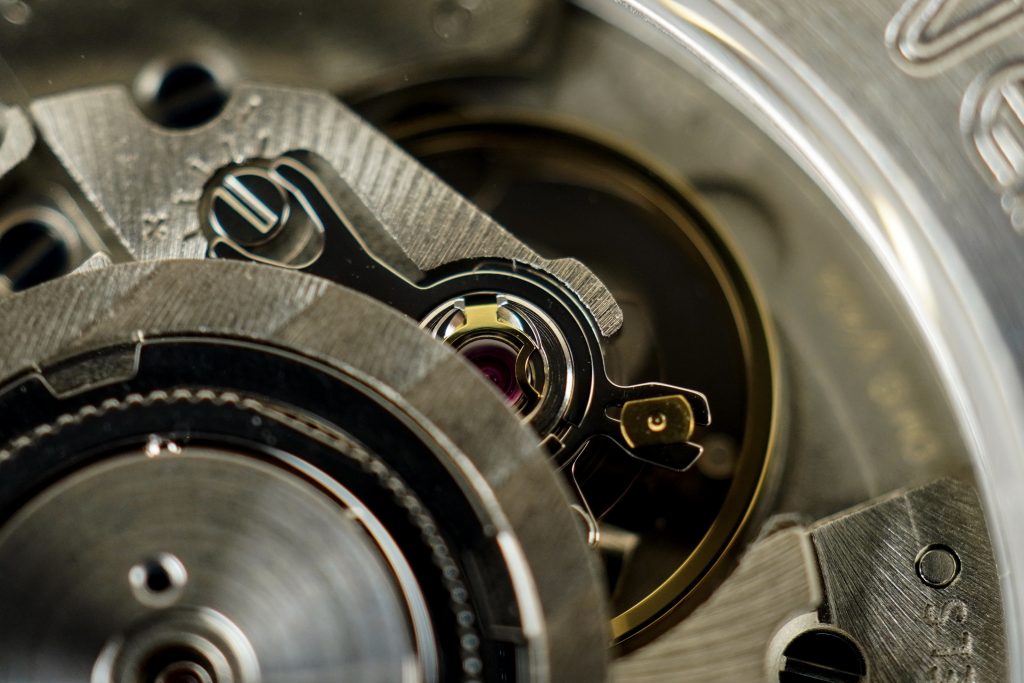 I logged the accuracy of this watch over a 4 day period and observed an average accuracy of -2.6 spd. This is very impressive and is likely to be the best regulated Sellita watch I've reviewed so far.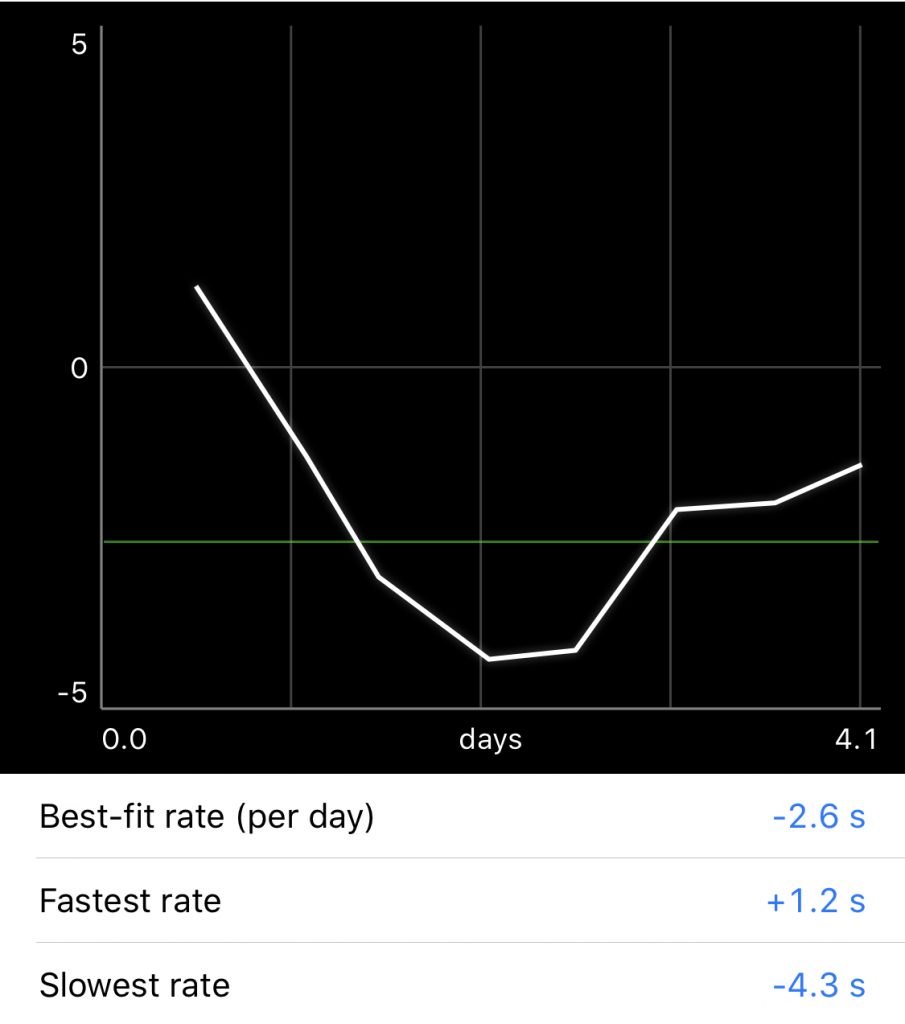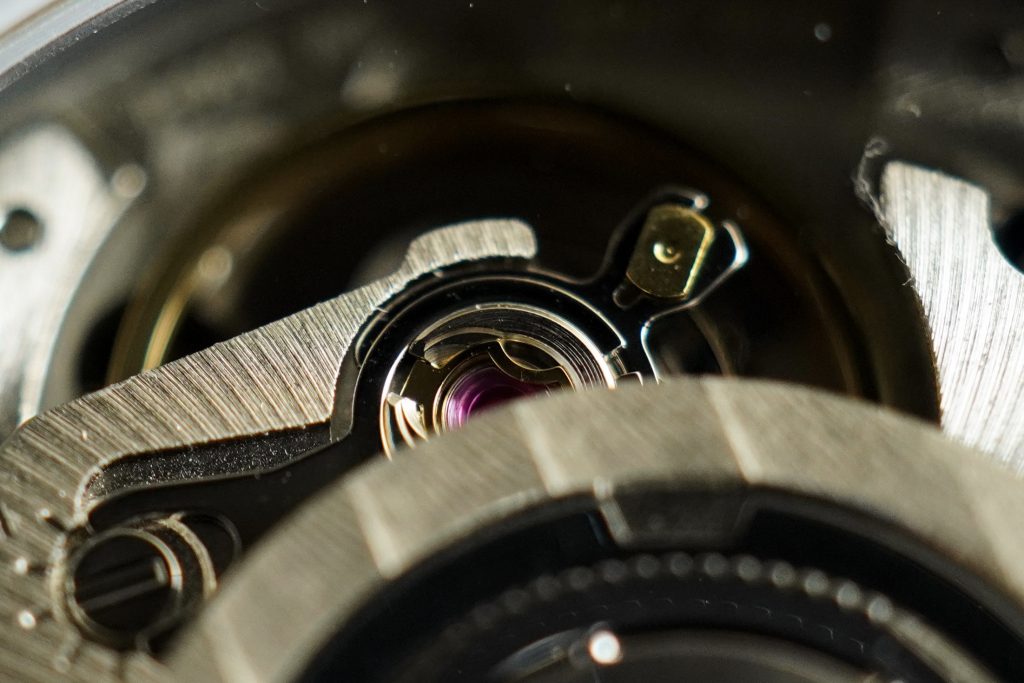 Under my macro lens, I did find a tuft of dust suspended on the movement. These things happen more often than not, but could creep into delicate parts of the movement and create trouble at some point. Another point to make is that this watch is a bit loud. Not Lorier Gemini loud, but loud enough that you can hear it ticking away in the distance when it's on your desk.
---
On The Wrist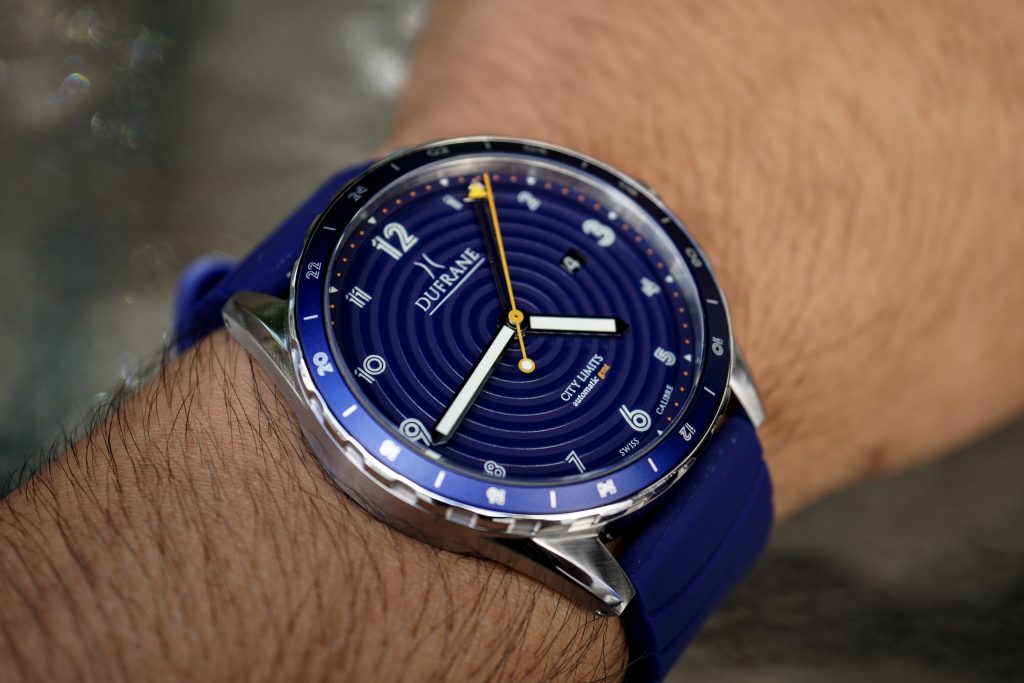 The 42mm diameter is larger than what I typically wear on my 6.25″ wrist, but the 48mm lug to lug width allows it to wear quite comfortably even on smaller wrists such as mine. The dial is what is most visible, so it does appear like a large watch, but it doesn't feel that way on the wrist. The 13mm height isn't bad at all and I actually found it quite comfortable.
The watch ships with two straps – one of them is the blue silicone that you see here. As with most silicone straps it is extremely comfortable and is what I chose to wear during my review.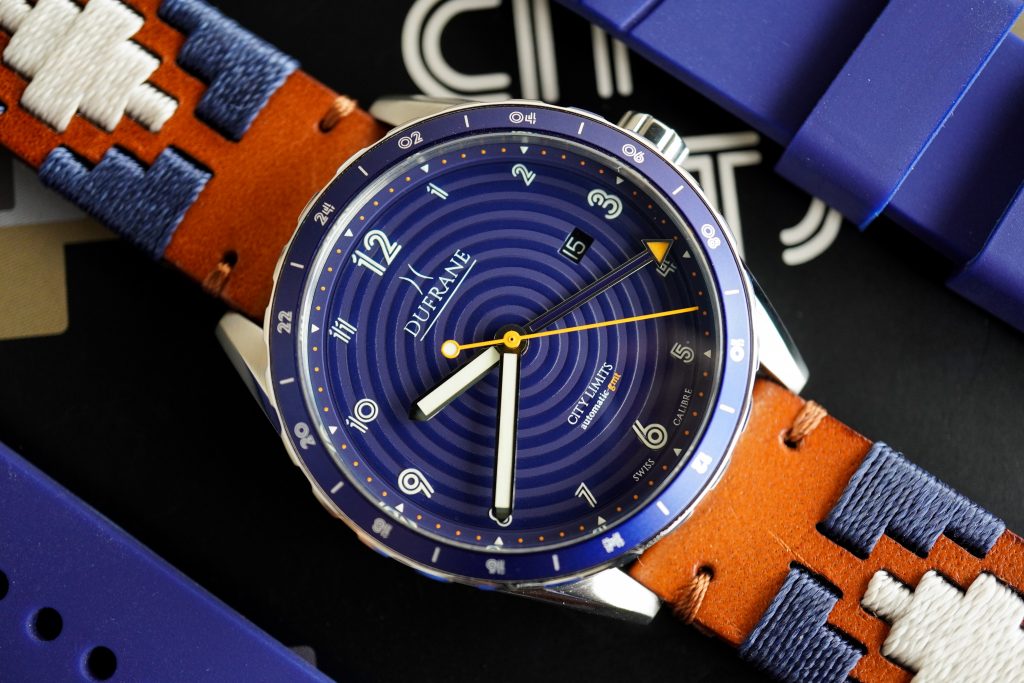 But the more interesting strap is the Gaucho style leather strap made by Barton Watch Bands, and both come with a stamped stainless steel buckle. This is a very unique strap, loud in terms of design, but definitely unlike anything I've seen before. It actually looks pretty good on the watch but isn't something I would typically wear. Then again, my entire collection is filled with mostly black or dark blue watches, so don't listen to me for style advice.
---
Concluding Thoughts
To wrap things up, I think this is a really fun watch that has tons of personality. The build quality is good and the price tag is quite appealing if you're looking for a GMT watch in particular. There's not too many GMT watches in the sub $1000 category, and even fewer that have attempted to deliver more than just a cost-effective watch.
I don't usually spend too much time on packaging and presentation, but DuFrane has done an excellent job in presenting this watch, from their perfectly sized shipping outer box to the watch box, booklet, warranty card, microfiber cloth and even a strap changing tool which you don't even need because both their straps are quick-release based.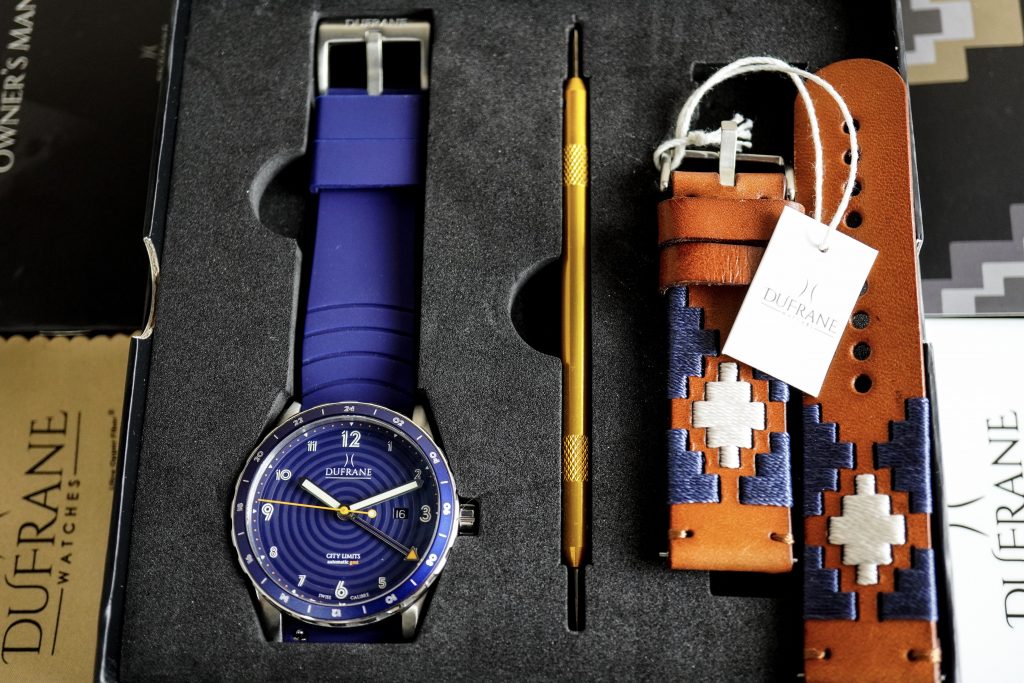 DuFrane has put much thought into both the design of the watch and the ownership experience that they want their wears to have. I will admit that the aesthetic is not for everybody, but no watch is and nor should they be. There's a lot to like about the City Limits GMT and I'll go ahead and say that I'm a fan. If your collection is missing a colorful, casual watch to wear while traveling, this is worth considering.
---
Thanks for reading!