---
Disclaimer: I borrowed this watch from a friend, who recently purchased it from another friend, but it is in excellent condition. However, since this watch was worn/used, please make note that the experience might differ from that of a brand new watch.
---
---
Contents
---
Tudor Style
I wasn't even aware that this watch existed, just a little over a month ago. But the Tudor Style category has 146 variants, with all kinds of combinations of dial colors, bezel styles, case diameters and diamond bedazzling. These watches seem to be Tudor's own offering of the Rolex Datejust aesthetic. And considering the Style watches start off at roughly 1/3rd the price of the average Datejust, this makes a very good argument for why it needs to exist in the first place.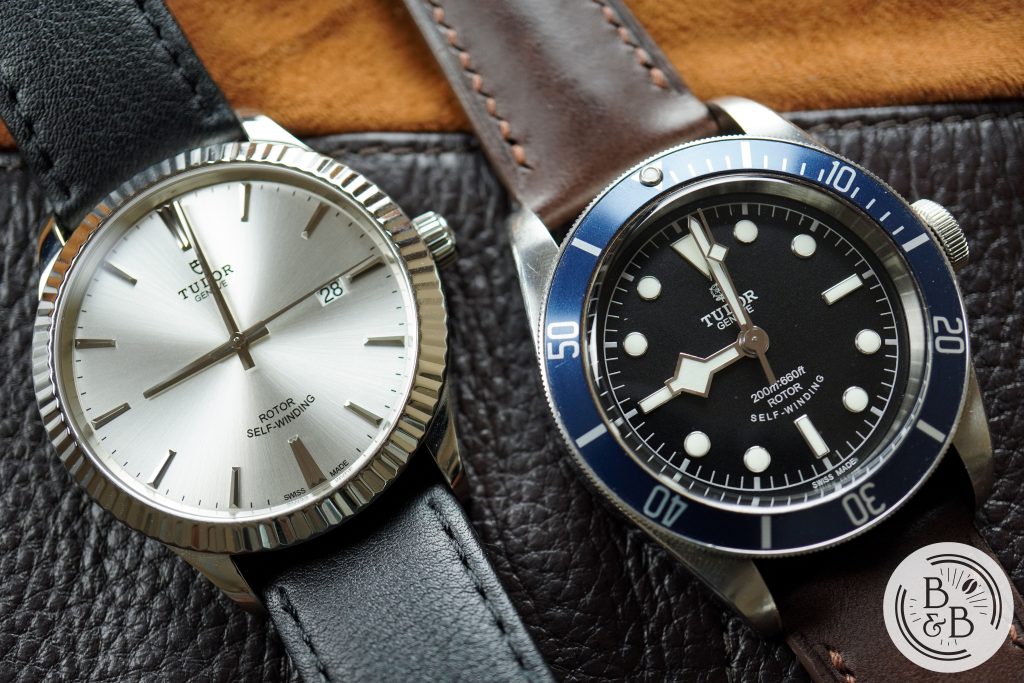 In my review of my Tudor Black Bay, I believe I made a pretty decent argument regarding why the Black Bay can exist as a good watch, without being constantly referred to in association with the Rolex Submariner.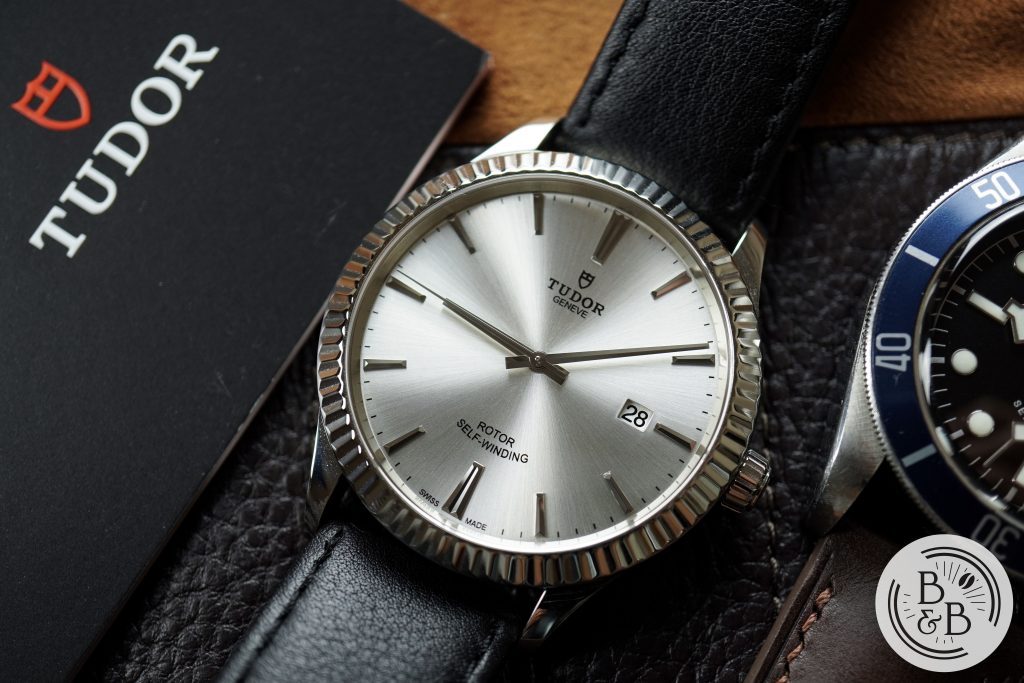 Unfortunately, I haven't been able to do the same here, and the Tudor Style comes across as an affordable Datejust, and not much more. But as with everything you read here, that is just my opinion. And that isn't really a bad thing.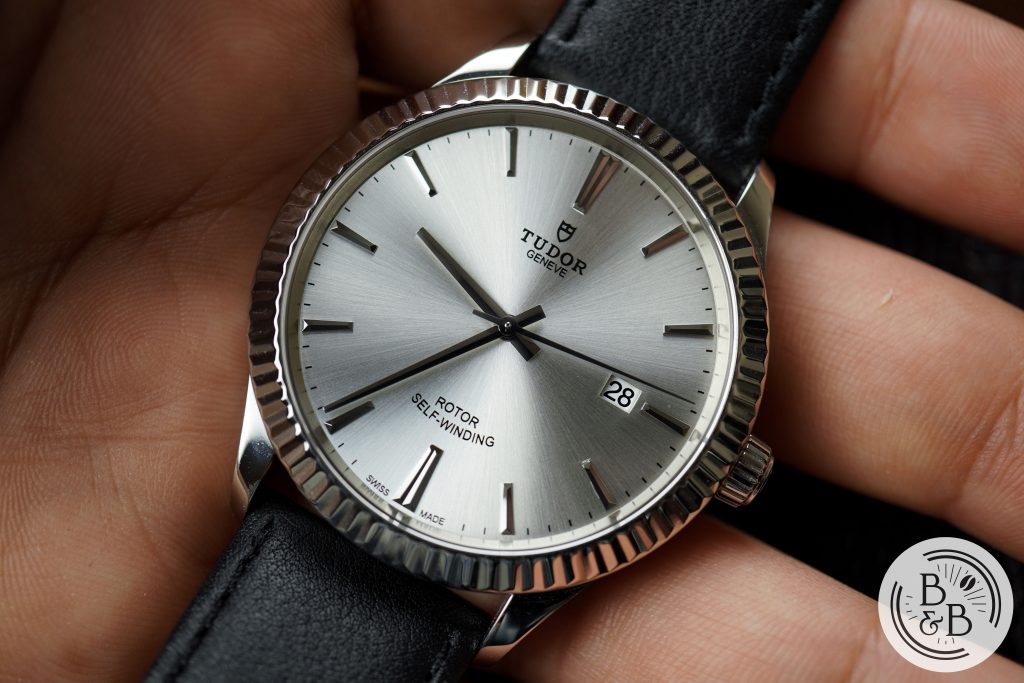 This is the 41mm Tudor Style 12710 on a leather strap, which seems to be a bit harder to find than with the metal bracelet. The metal bracelet option currently retails at roughly $2625.
Let's check it out!
---
Case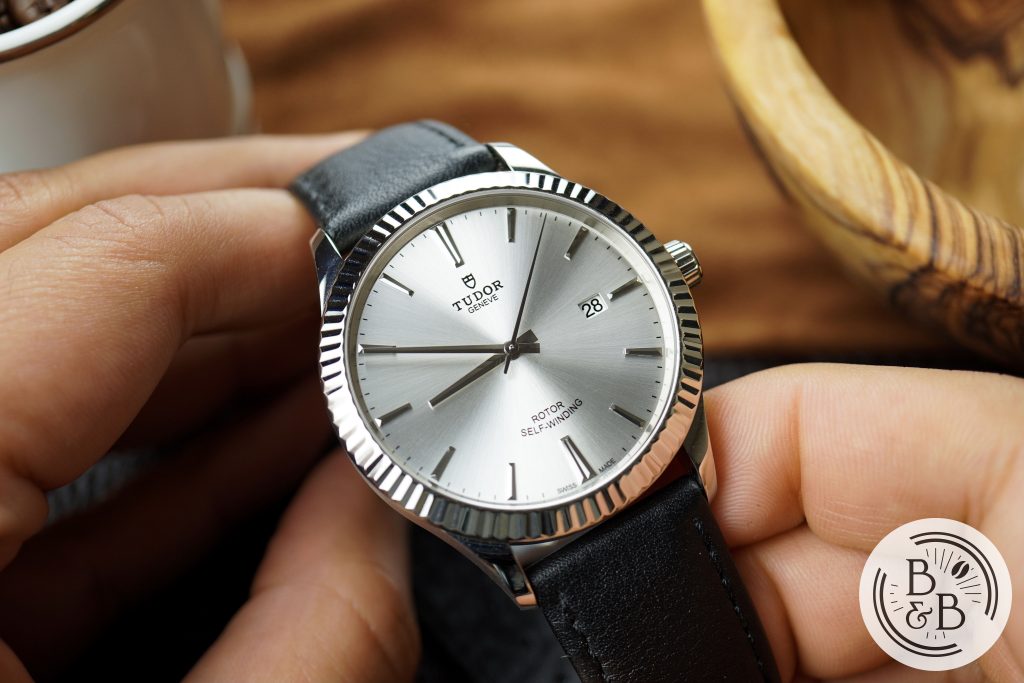 I think Tudor and Rolex are really good at making cases, and the Tudor Style is no different. If you were blind-folded and given this watch, your initial suspicion would be that this was some kind of tool watch (with a funky bezel). That's just how these watches are made, and part of the reason why people wear them everyday, and for years, without worry.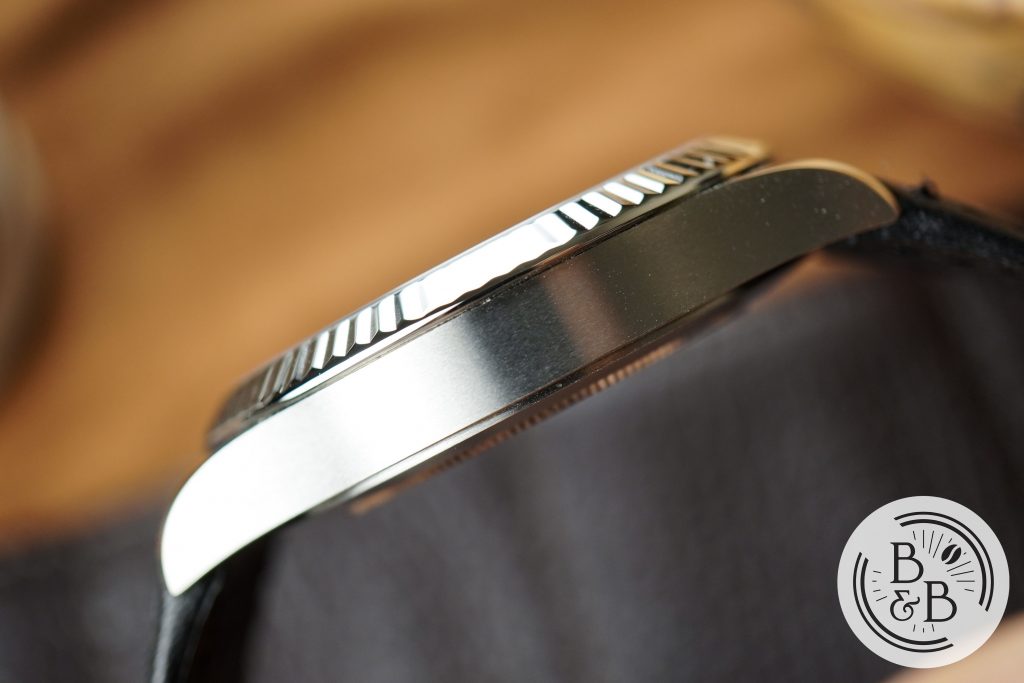 The case measures 41mm in diameter, 48.5mm from lug-to-lug and 10.25mm in height. The sides of the case are brushed, and the top surfaces and bezel are polished. The quality of finishing is excellent.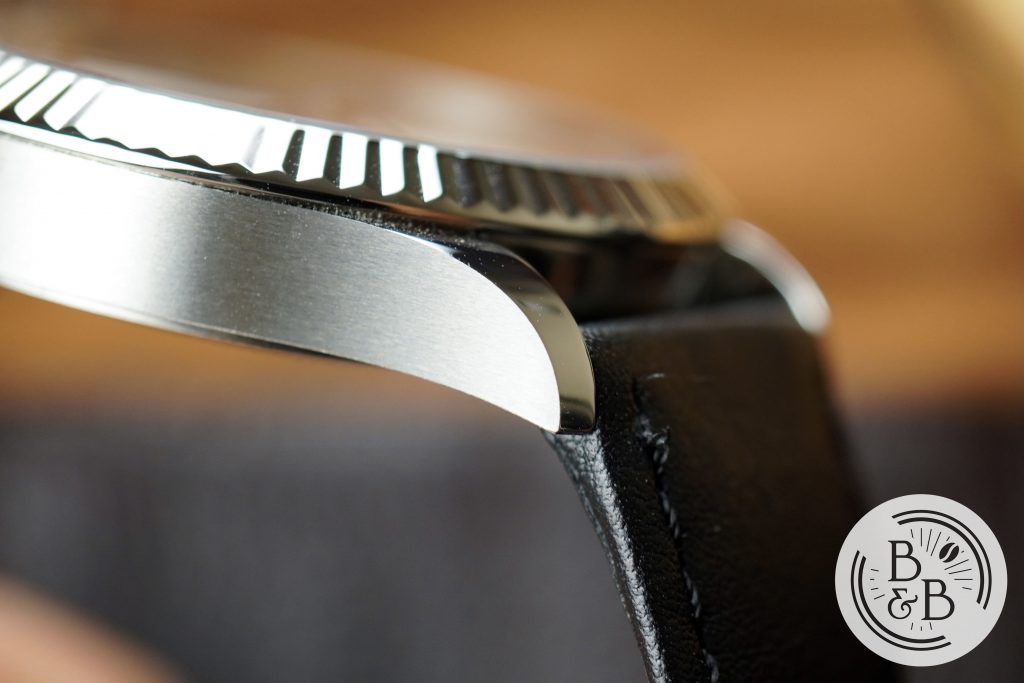 The case is compact, with a mid case that extends out into a pair of lugs that don't curve down much. The lug width is 20mm, and the lugs are not drilled through.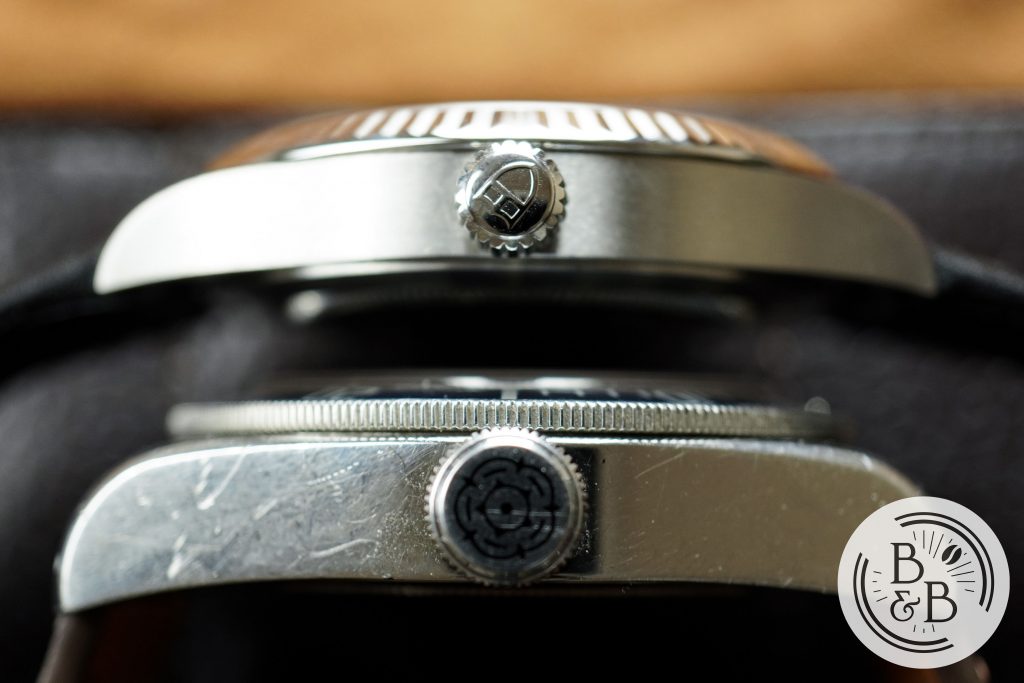 The case style is similar to my Tudor Black Bay, and shows that Tudor is quite conservative with their case designs, across dress and sports watches; no fancy bevels, chamfers, twisted lugs etc. Just a big slab of metal with good finishing.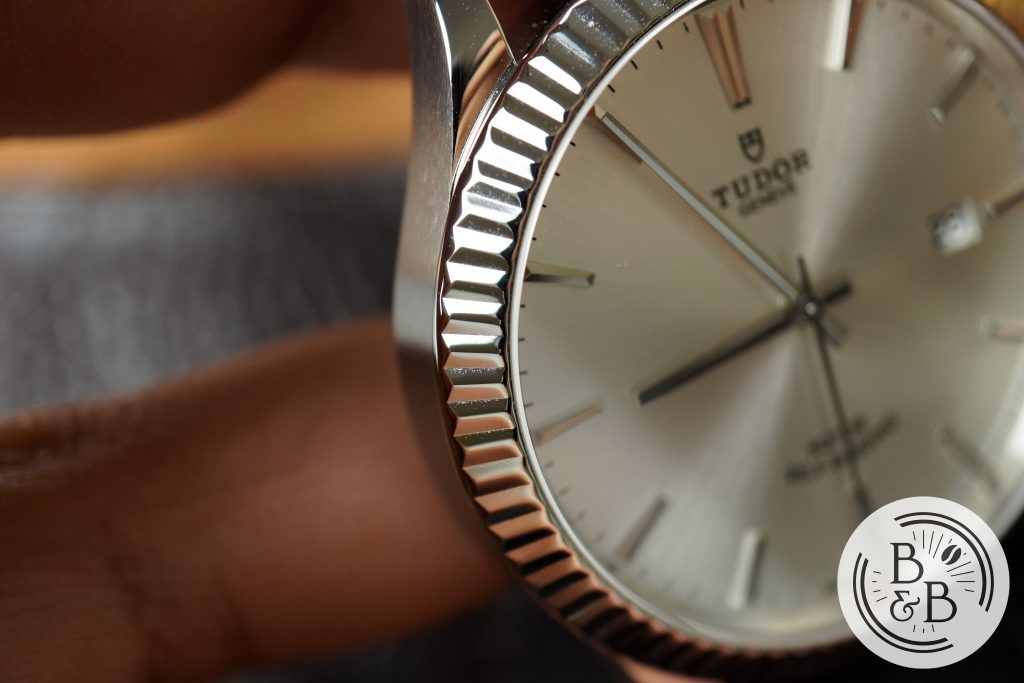 I think the one of the main reasons folks will gravitate towards this watch is because of the fluted stainless steel bezel. It is high polished and sparkles the same way a Rolex Datejust does. And if you're after that appearance, it is hard to argue with value, branding and quality that this watch delivers.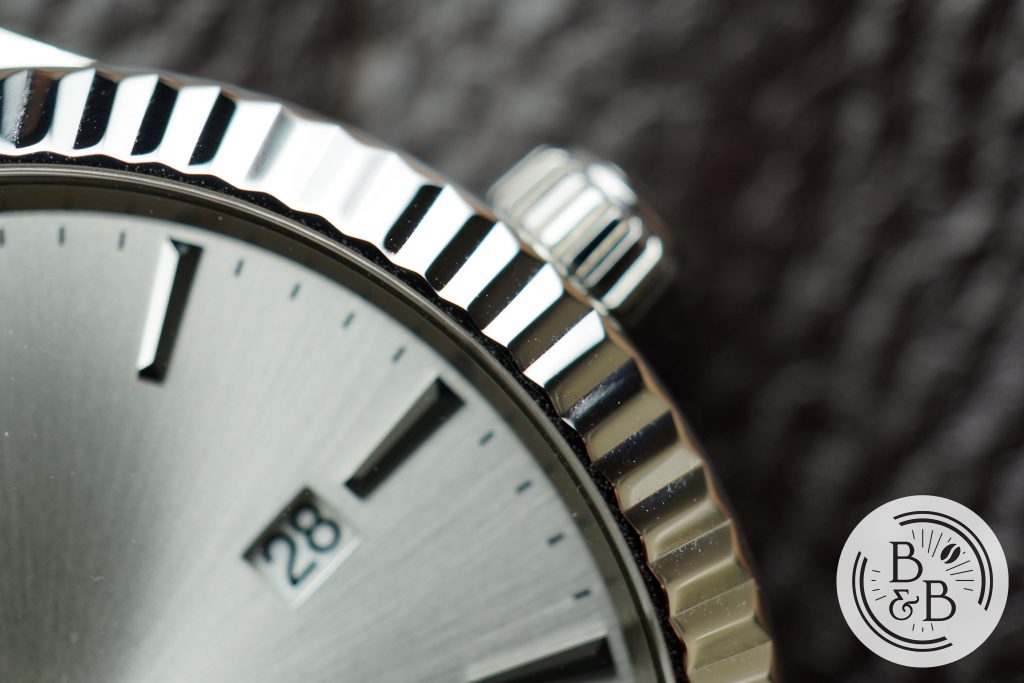 I owned an Omega Globemaster for a few years with a fluted tungsten bezel, and I will say that these are dust and finger print magnets, and are very tricky to clean. So don't say I didn't warn you.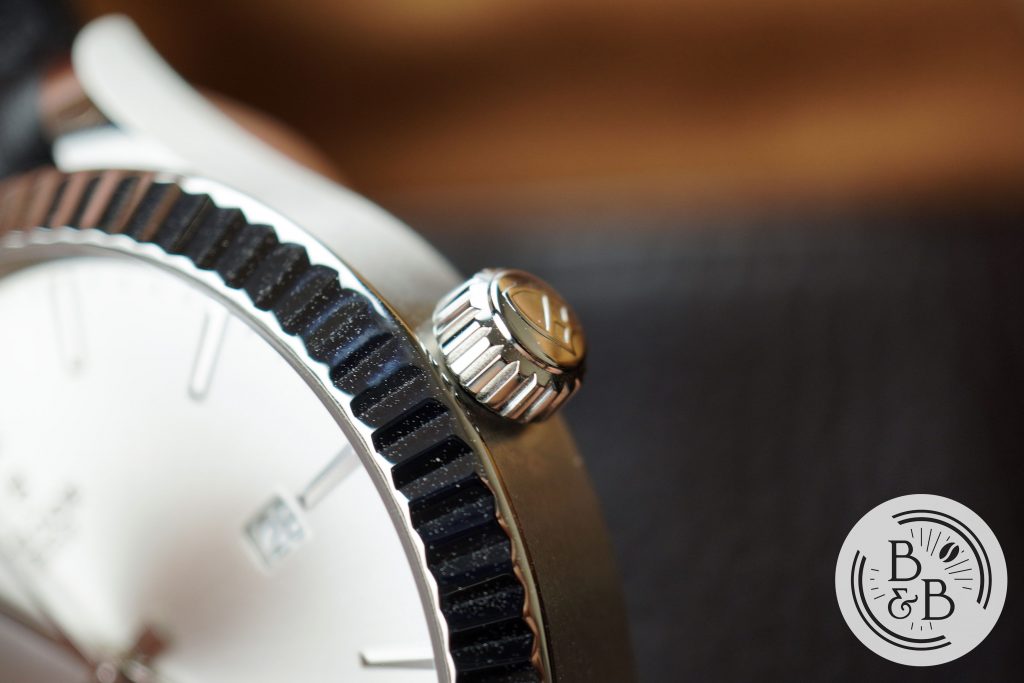 I find the crown to be a bit small, measuring 5.75mm in diameter against a 10.25mm case. I do like larger crowns, so you might find this perfectly alright. The crown grip is unimpressive, and I did notice a bit of crown wobble. None of this is a deal breaker by any means, but this crown isn't going to be winning any awards.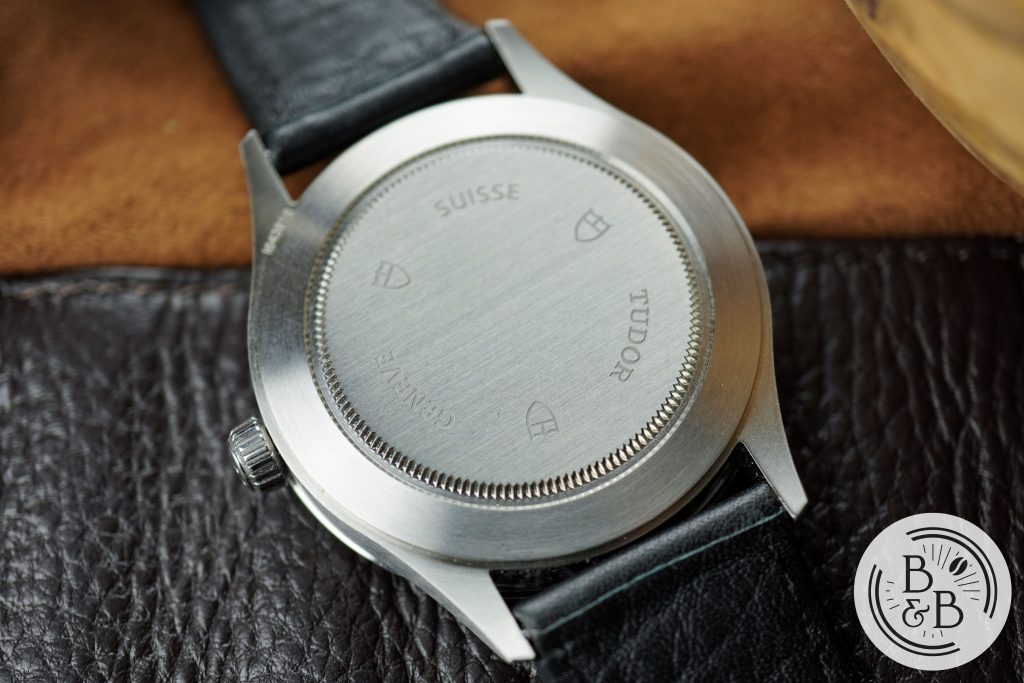 Flipping it over, you have a solid screw-down case-back with the usual Tudor engravings and plenty of room to add your own. This watch is rated for up-to 100m of water resistance, which is great to see on a watch that is essentially a dress watch.
---
Dial
The attention grabbing case is cleverly balanced by a relatively subtle dial design. The dial has a beautiful sun-burst finish and the silver color takes on an off-white appearance under most lighting. The finishing is excellent!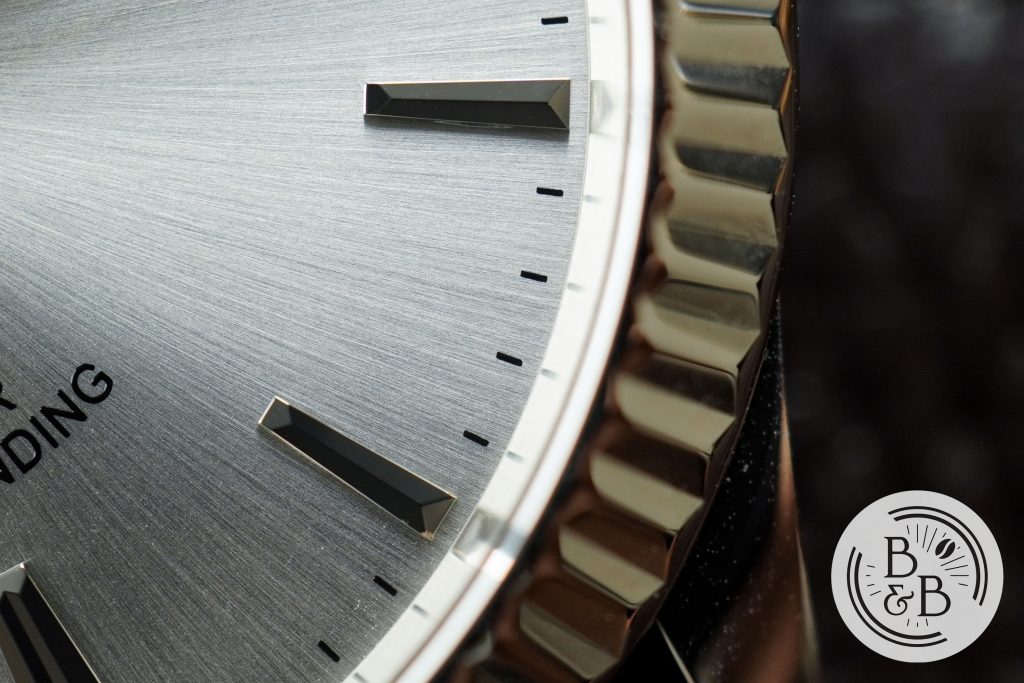 There is an outer minute track that is printed onto the dial in black, and perfectly proportioned for a dress watch with good legibility. Great printing quality, as expected.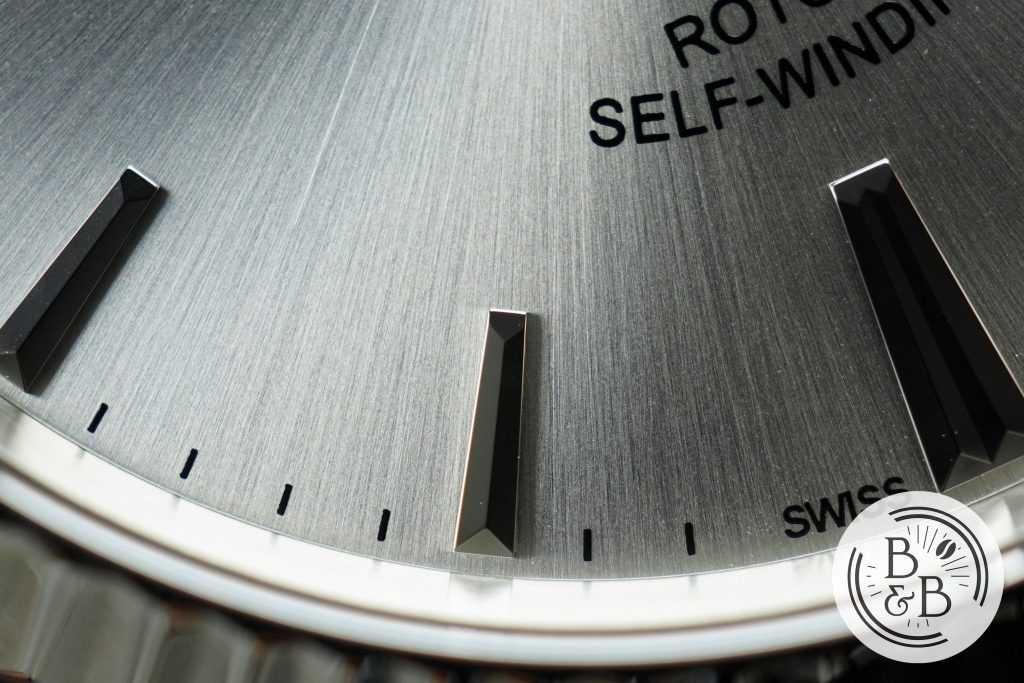 You then have high polished and multi-faceted indices for the hour markers. I couldn't find much information regarding these, but they could very well be rhodium plated. The finishing is excellent, with very good quality control.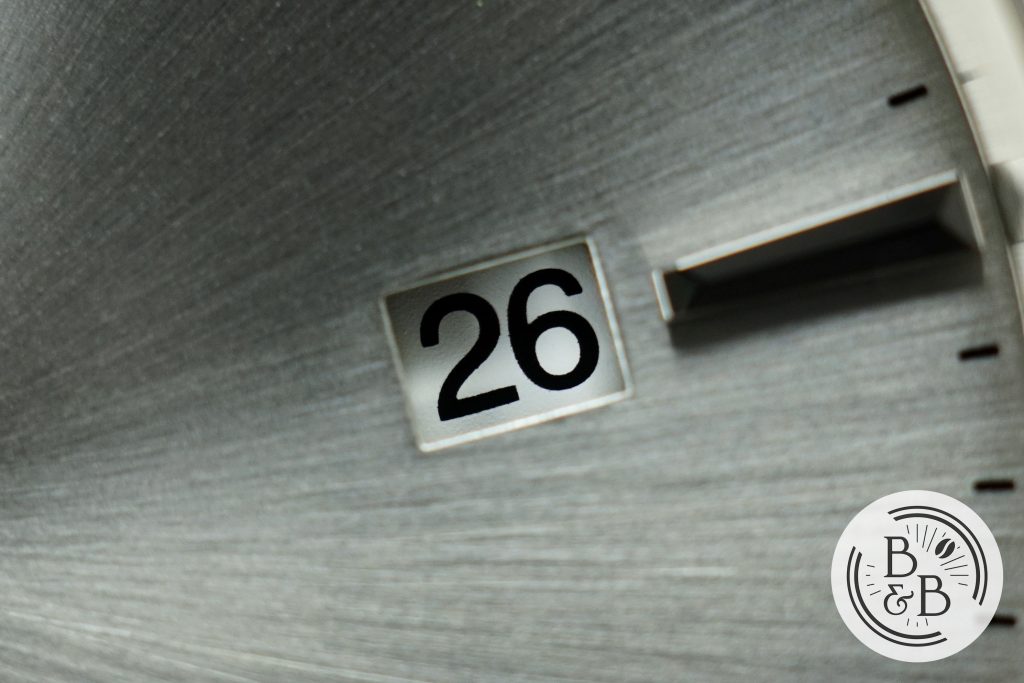 There is a date window at the 3 o'clock position that does not eat into the hour marker (cool), and is cut into the dial. There is a white date wheel with a black font. I'm not a fan of this date window design, but it's a Tudor so who really cares what I think?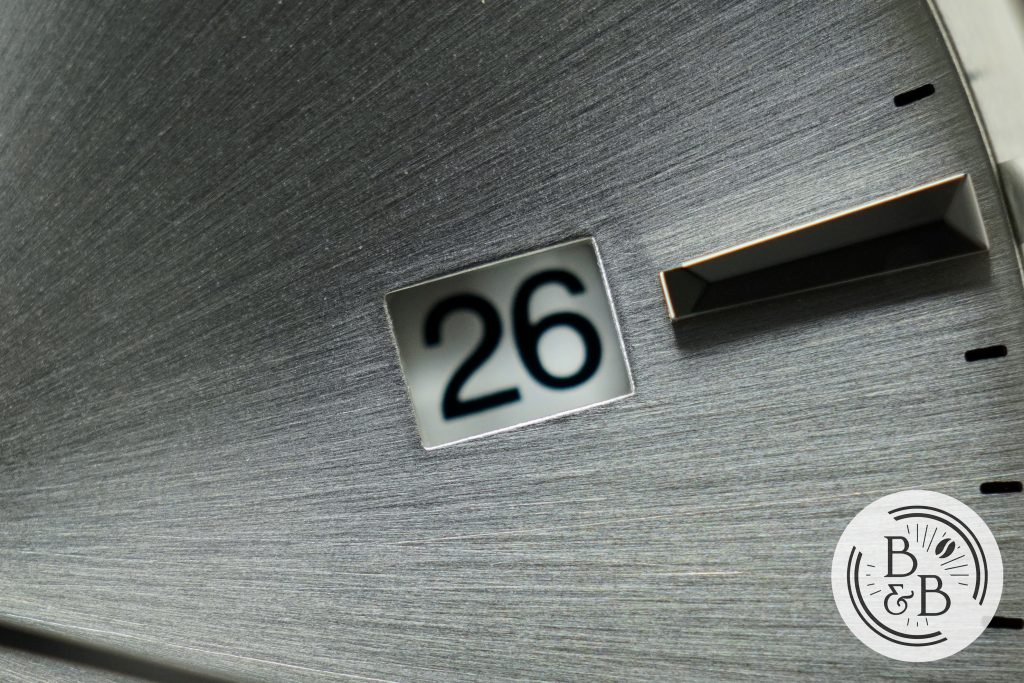 The quality of finishing here is incredible though, and the clean cutting of the date window is some of the neatest I've seen in a while.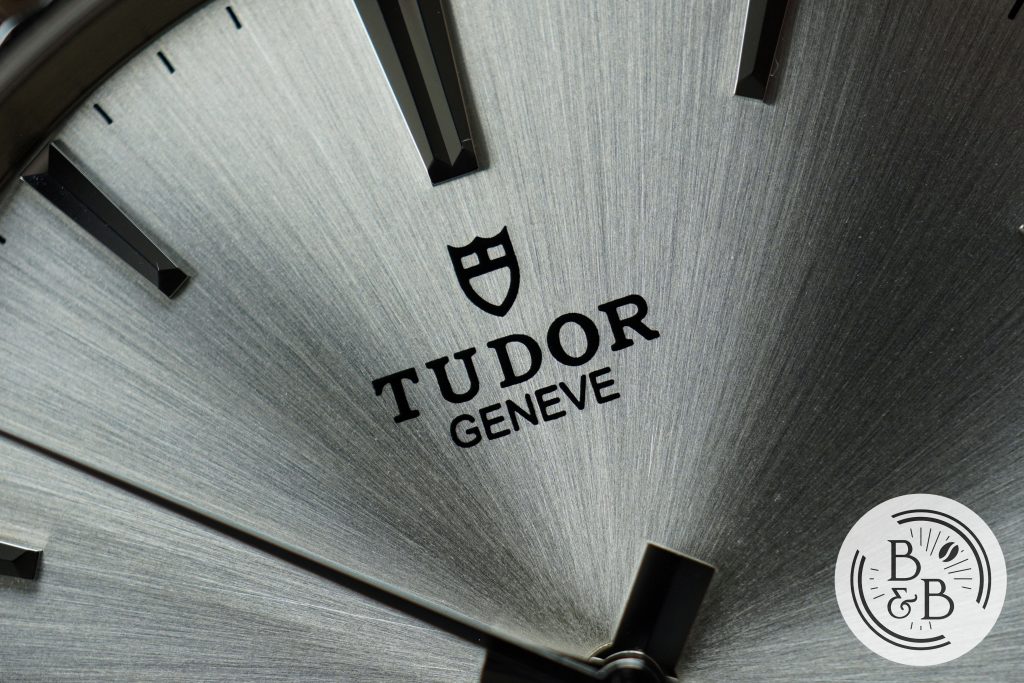 The brand's name and logo is printed under the 12 o'clock double index, and some text above the 6 o'clock index. As before, the quality of printing is excellent.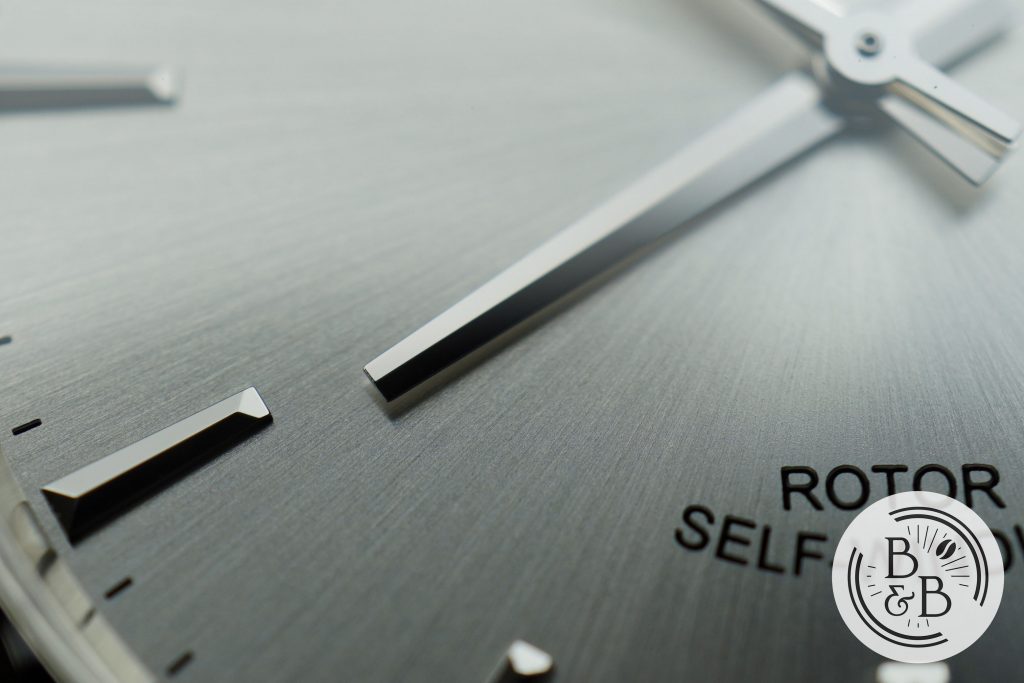 The hands are dual faceted, and well proportioned for easily legibility. The finishing on the hands is very good and I only noticed one or two micro particles and scratches close to the center stack, which is fair.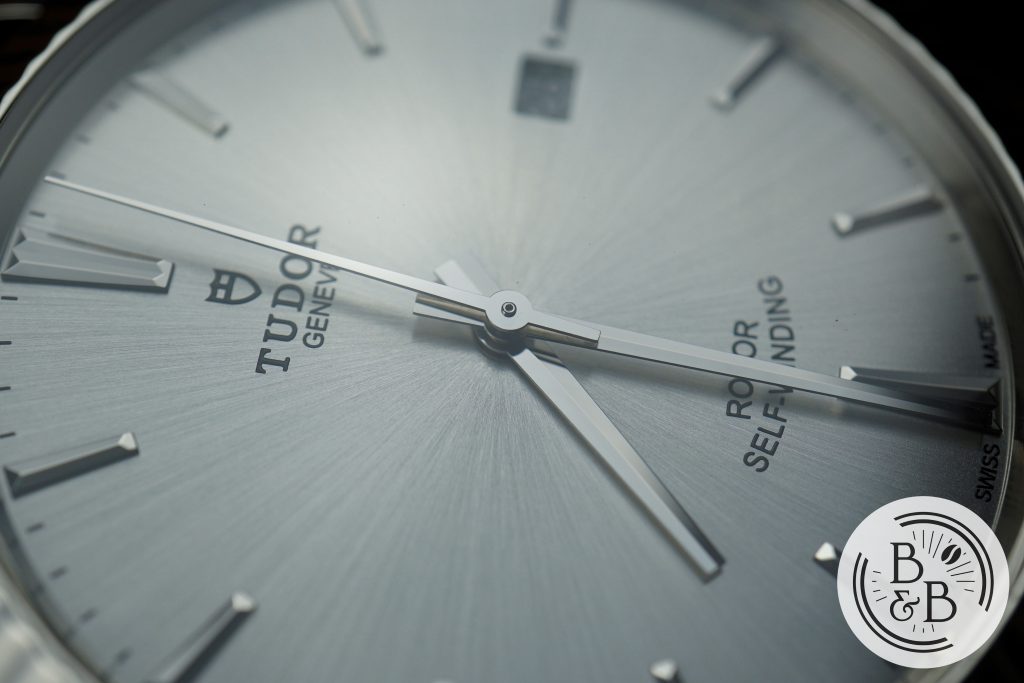 The minute hand reaches over to the minute track, and so does the seconds hand. So this may be a dress watch, but it is also extremely functional in terms of case build and dial legibility.
---
Movement
This watch uses a Calibre T601, which I believe is Tudor speak for a Sellita SW200-1. I'm not surprised to see this here, and we're all very familiar with this movement by now, so I won't go into the details. I only had this watch with me for a few hours, so I didn't bother with any accuracy measurements.
---
On The Wrist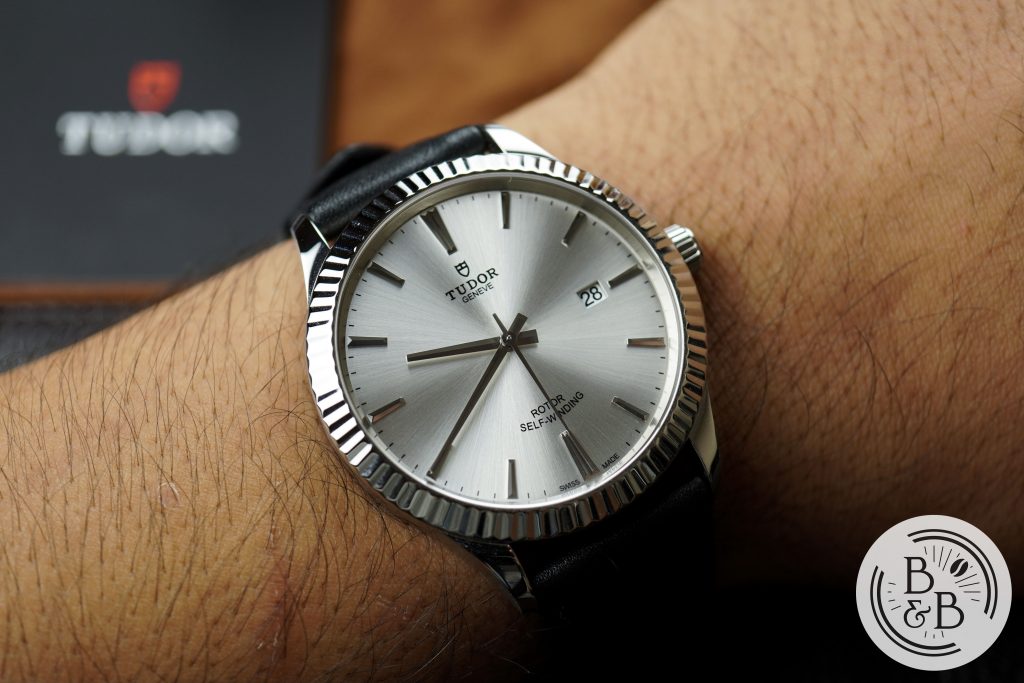 One of the aspects I appreciate most about this watch is the wrist presence. It is a large watch, at 41mm in diameter and 48.5mm from lug-to-lug, and has a very extravagant appearance because of the shining fluted bezel and large sunburst dial.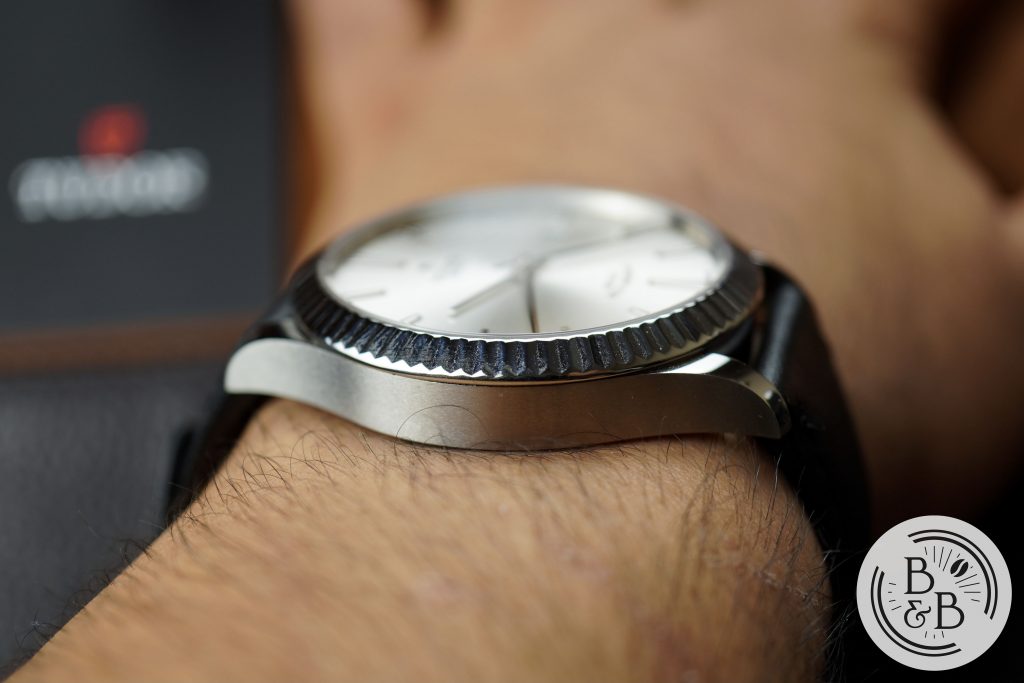 The flat case-back and impressive 10.25mm height make for a very comfortable and well balanced wrist experience, and the tool watch case build makes it feel like a watch you can wear everyday without hesitation.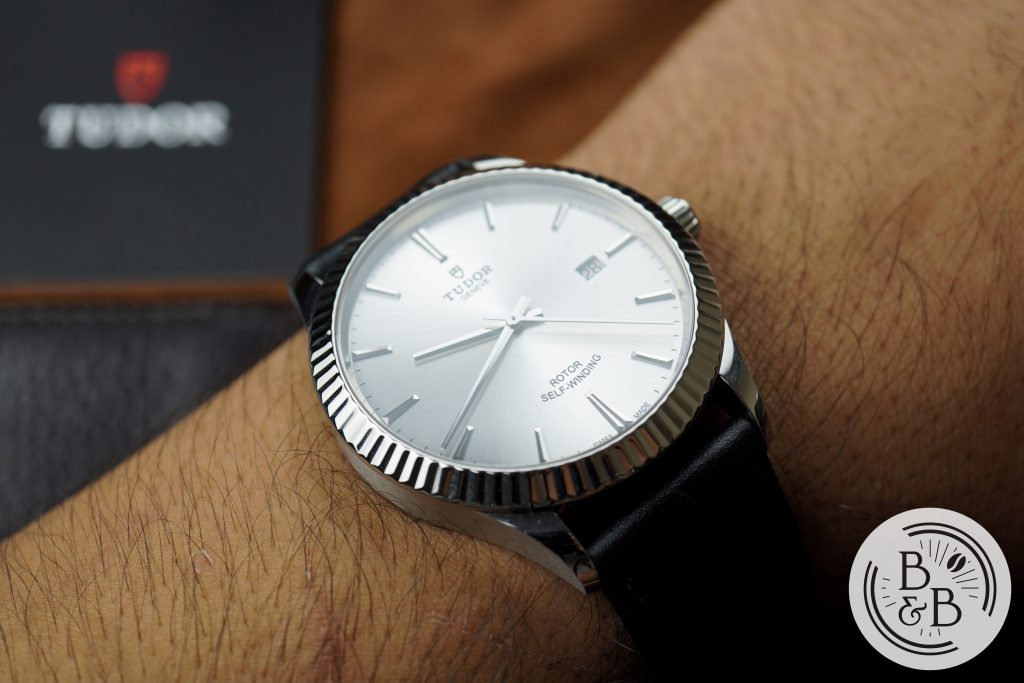 Overall, if they intended to build a more affordable mini-me for the 41mm Silver Datejust, they were definitely successful here.
On the leather strap, this watch weighed roughly 85g. The quality of the strap is excellent, with the standard
---
Concluding Thoughts
If you've been considering purchasing this watch, you're looking for a very specific aesthetic. You're most likely looking for a stylish, everyday dress watch with a fluted bezel, and one that won't destroy your wallet in the same way a Datejust would. And if that's what you're looking for, you can't really go wrong with this watch at $2625 on the metal bracelet, and a bit cheaper on the leather strap.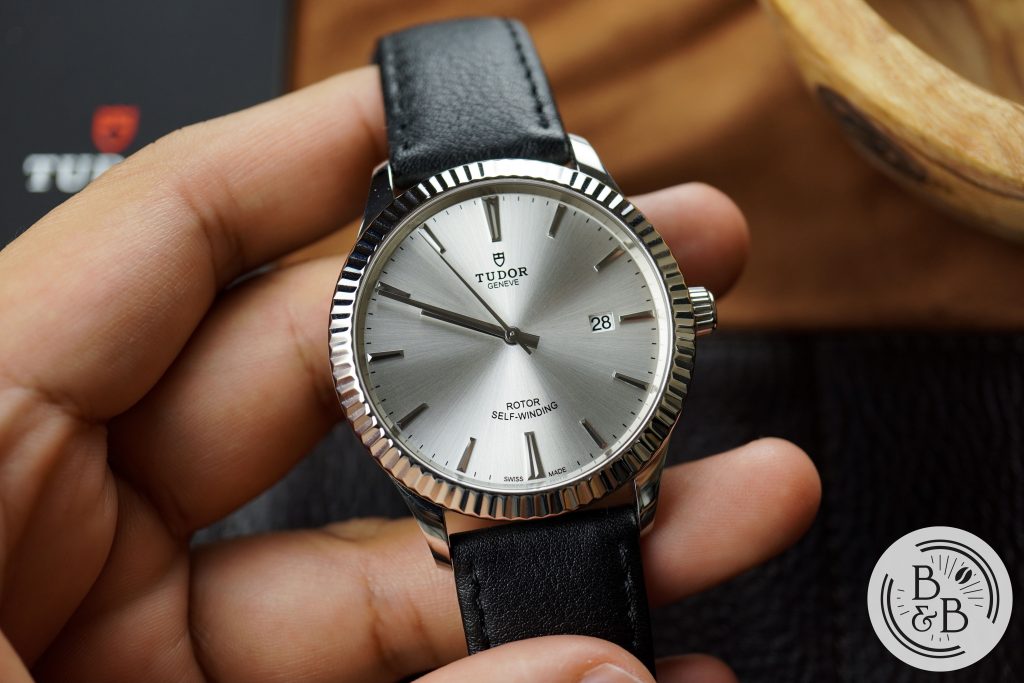 You're getting excellent finishing and fantastic build quality for your money. To me, the design comes across as a bit dull and lacking exciting personality, but that might be exactly what you're looking for in an everyday watch that you can wear to a formal workplace.
---
Thanks for reading!