---
Disclaimer: I purchased this watch pre-owned and was not externally incentivized in any way to make this review. This review is in no way sponsored by Weiss or any entity. All opinions here are my own. This watch was purchased in excellent condition, but since this is a pre-owned item, note that my experience could differ from that of a brand new unit.
---
---
Contents
---
Weiss & American Watchmaking
Weiss is an American micro-brand that is in a short list of brands that are actually designing and manufacturing a lot of their components in-house here in America. Some of their watches even boast of in-house movements made by the founder Cameron Weiss. Cameron started Weiss with the goal of putting America back on the global map for watchmaking. He has a formal education in watchmaking and watch repair, and was even associated with Audemars Piguet and Vacheron Constantin.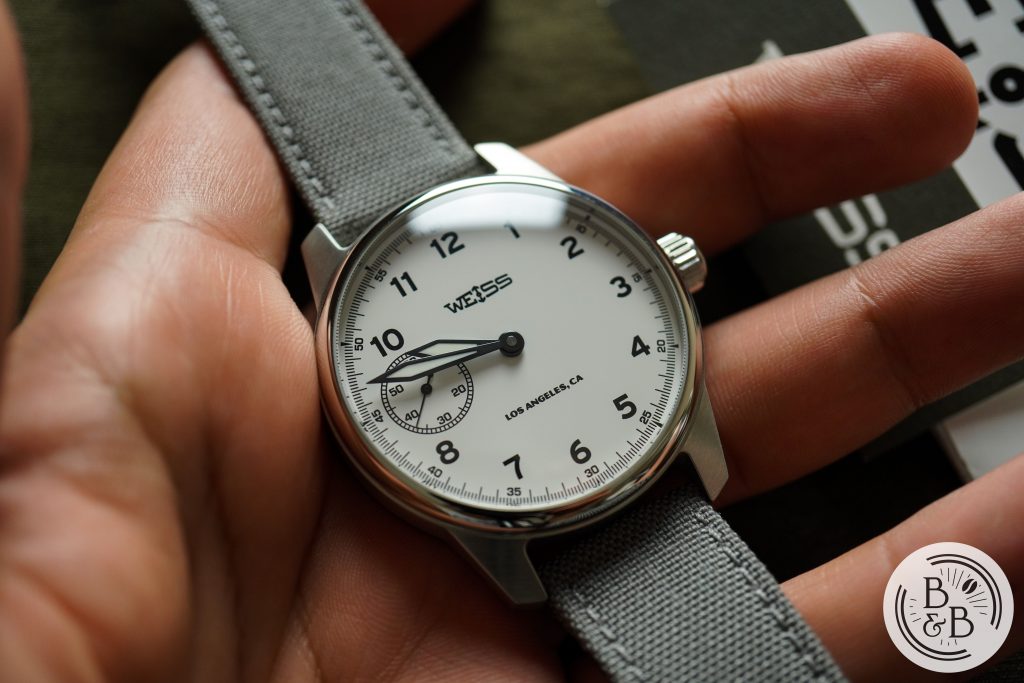 With these impressive credentials, Cameron launched the first Weiss time-piece in 2013. So far, Weiss has focused on field watches and have 42mm and 38mm variants in their Standard Issue lineup, and a 42mm in their American Issue series. Today I'll be looking at a 42mm Standard Issue Field Watch from mid-2017, but has been kept in excellent condition and is indistinguishable from a brand new watch.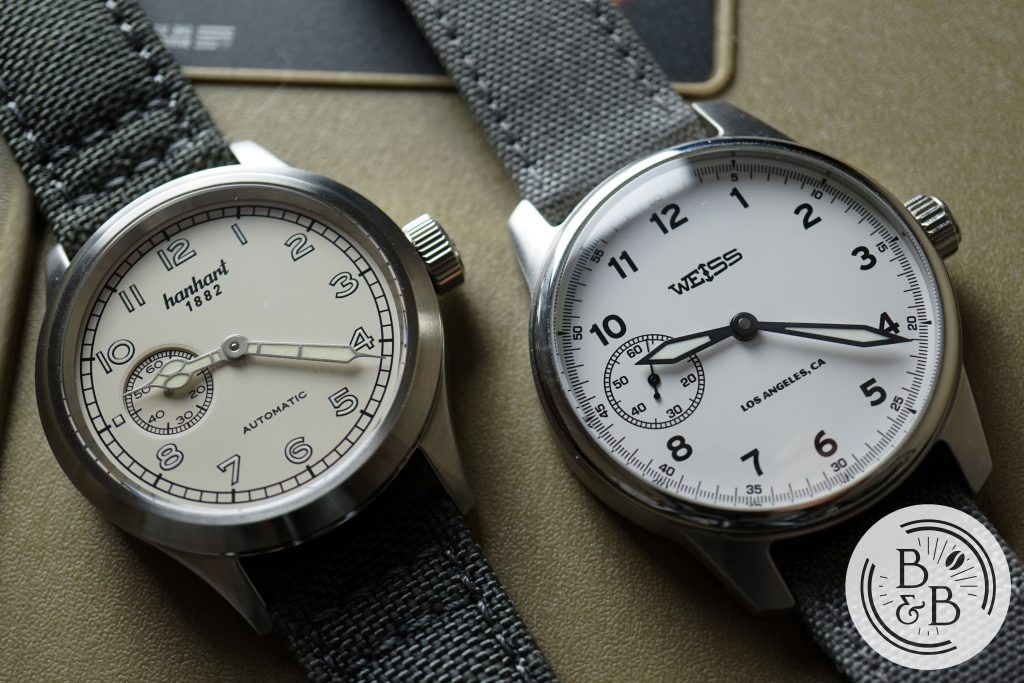 I have another watch with similar design cues, the Hanhart Preventor9, so I will draw some parallels wherever relevant. While the Hanhart looks and feels like a field watch, it is in fact a pilots watch, so a few design elements may differ.
Let's check it out!
---
Case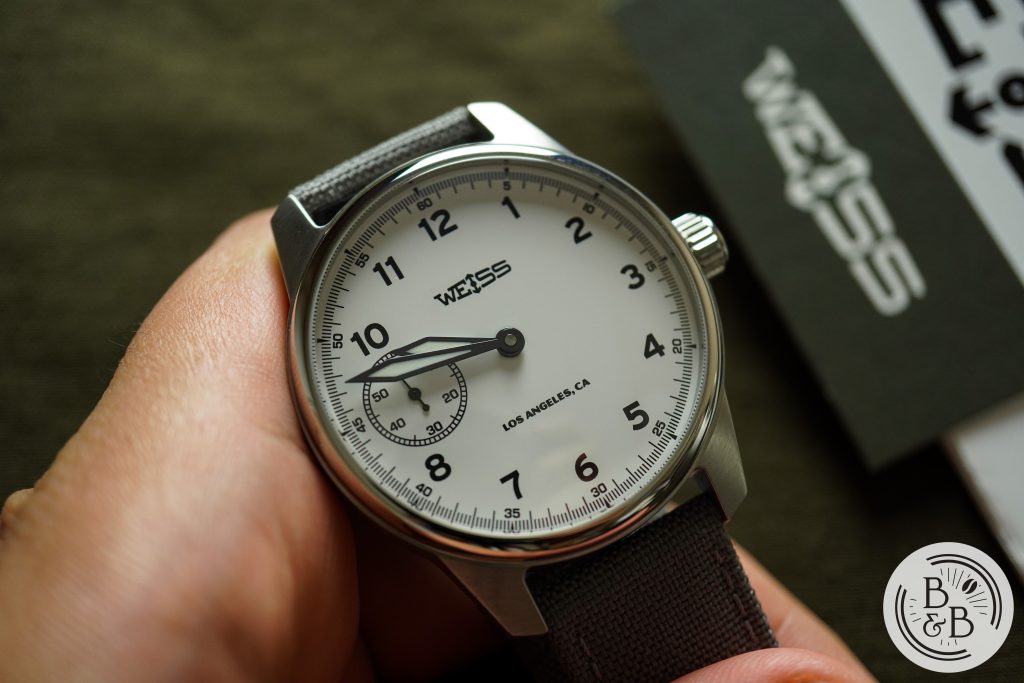 The case is 42mm in diameter, 49.6mm from lug-to-lug and 12.8mm tall. The case is mostly brushed, but has some polished accents that are executed well. From what I've read online, Cameron is an expert with a CNC machine and these cases are manufactured in-house. The case feels robust, and the finishing is good, with mostly even brushing.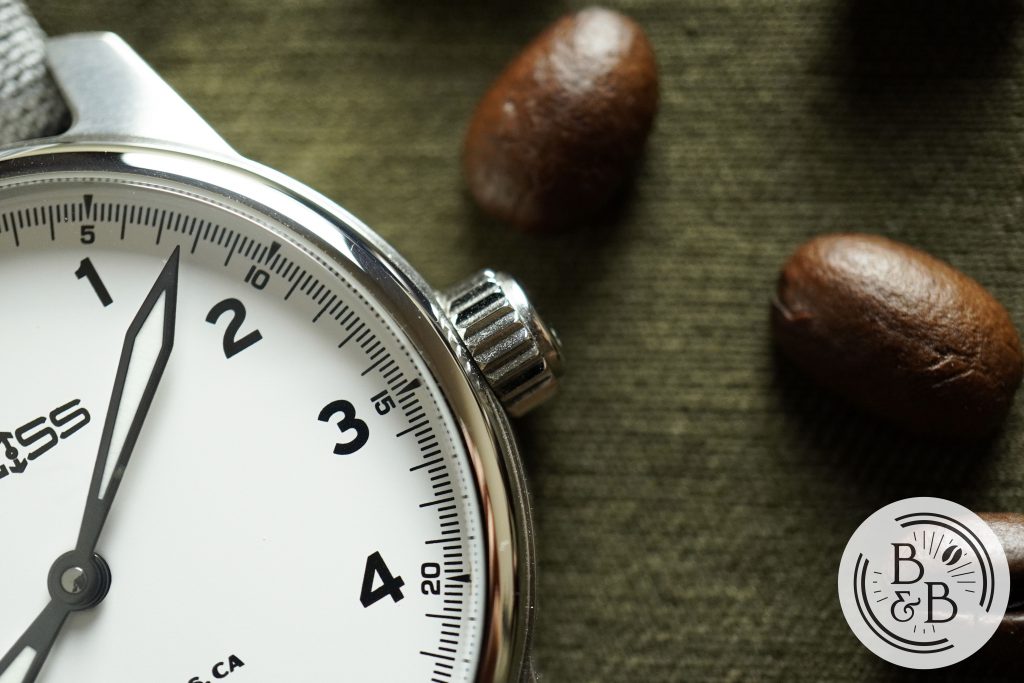 There is a polished bezel that seats the large double domed sapphire crystal, that has multiple layers of AR coating on the inner surface. It is a 42mm case with a very narrow bezel, so this crystal is quite large and has excellent legibility with little to no distortion at the edges.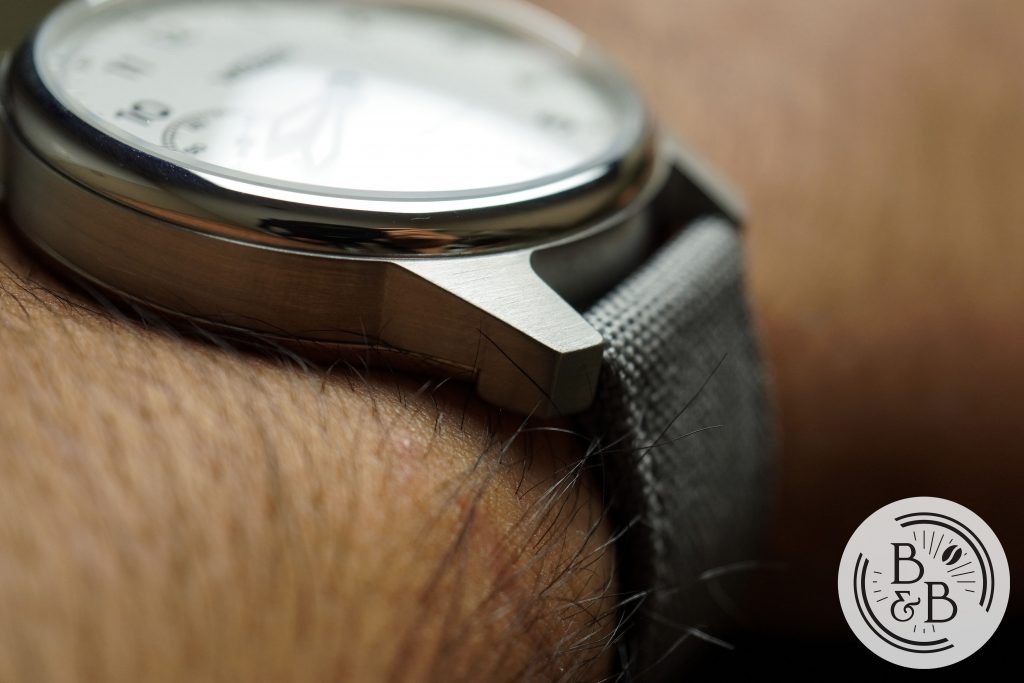 I love the lug design! The angular lugs have radially brushed top surfaces and horizontally brushed sides. The lugs slope down a bit towards the wrist, and are not drilled through.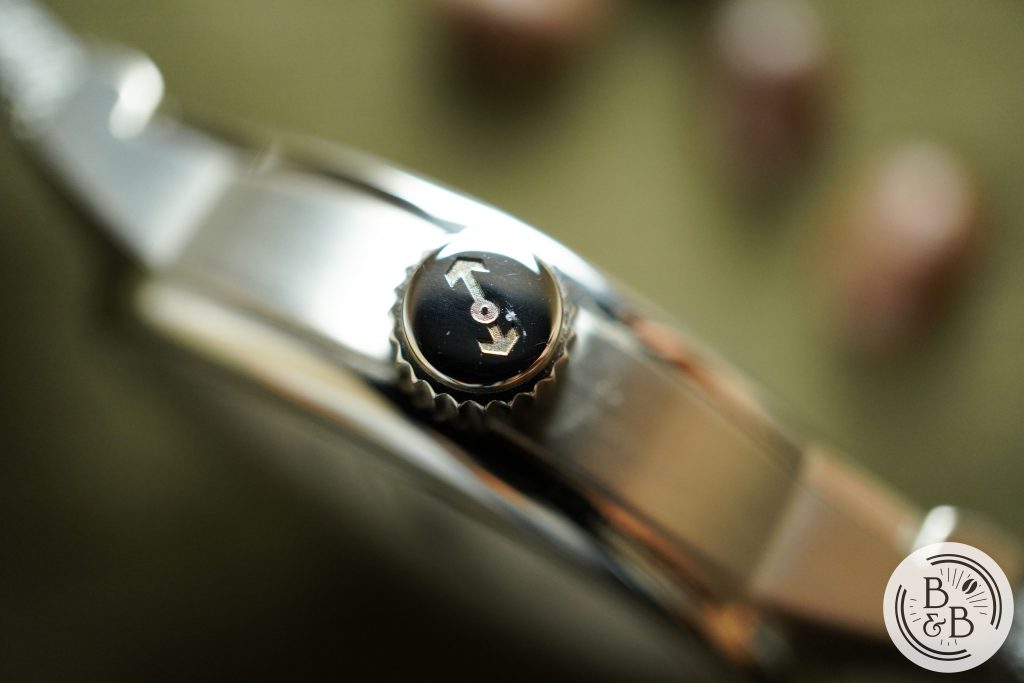 There is a signed crown at the 3 o'clock position that has deep ridges, making it very easy to grip and operate. Since this is a manual wind watch, it is important to have an excellent crown operating experience, and this watch does deliver. There isn't any crown or stem wobble.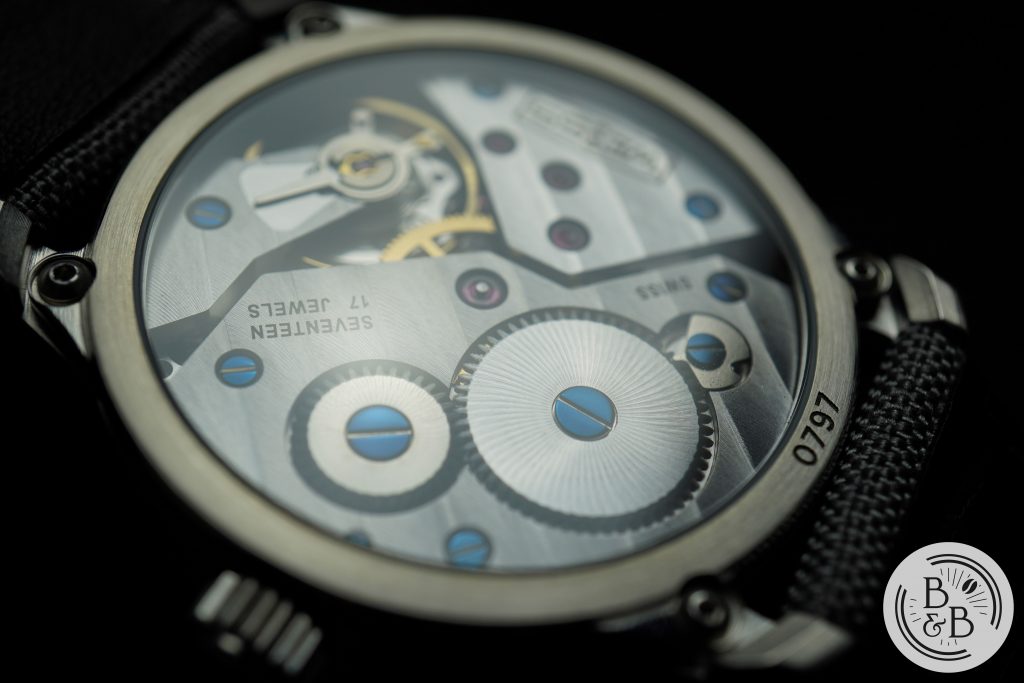 Flipping it over, you have a large exhibition window on a case-back that is screwed into the case by means of four hex screws. The exhibition window is also made of sapphire crystal. A very cool design element here is the fact that the sides of the case-back are polished, making the side profile look like a brushed mid-case that is sandwiched by two polished surfaces. The bottom of the case-back is brushed, and the case-back and lugs sit perfectly flush. Brilliant design work here! The watch lacks both a screw-down crown and case-back, but is rated for up-to 100m of water resistance.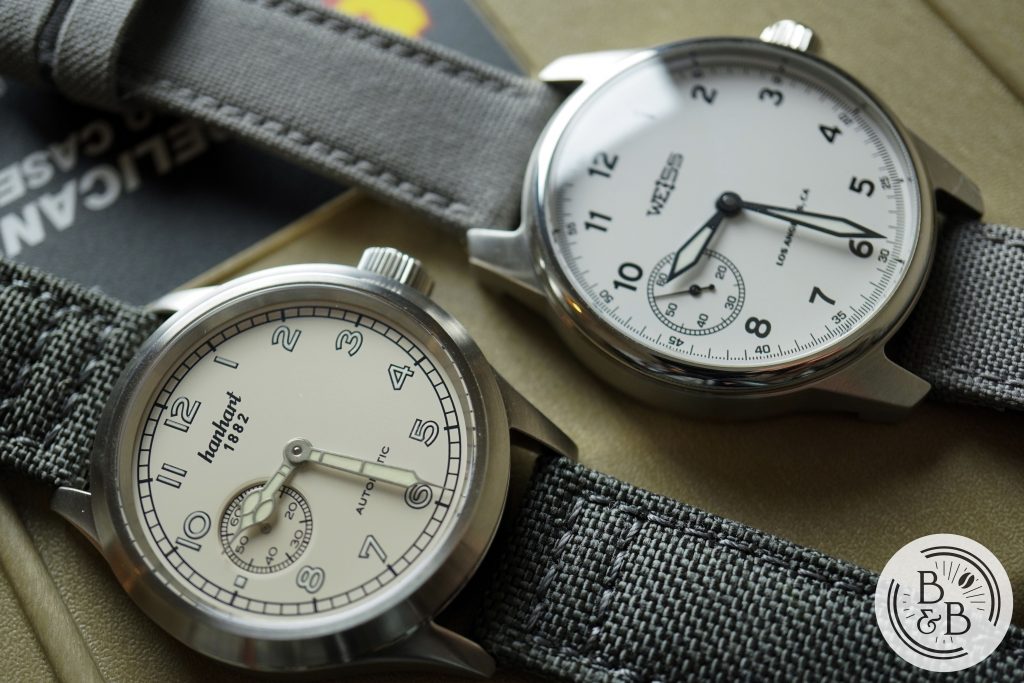 If I had to compare this case design and manufacturing with my Hanhart, I'd say that the Hanhart feels slightly better finished overall, and I'm torn between which design I prefer more.
---
Dial
The dial is pretty typical for a field watch or any other direct descendants of a pocket watch, but is not boring and has lots of character. This dial layout has a running seconds hand at the 9 o'clock position, similar to my Hanhart Preventor9.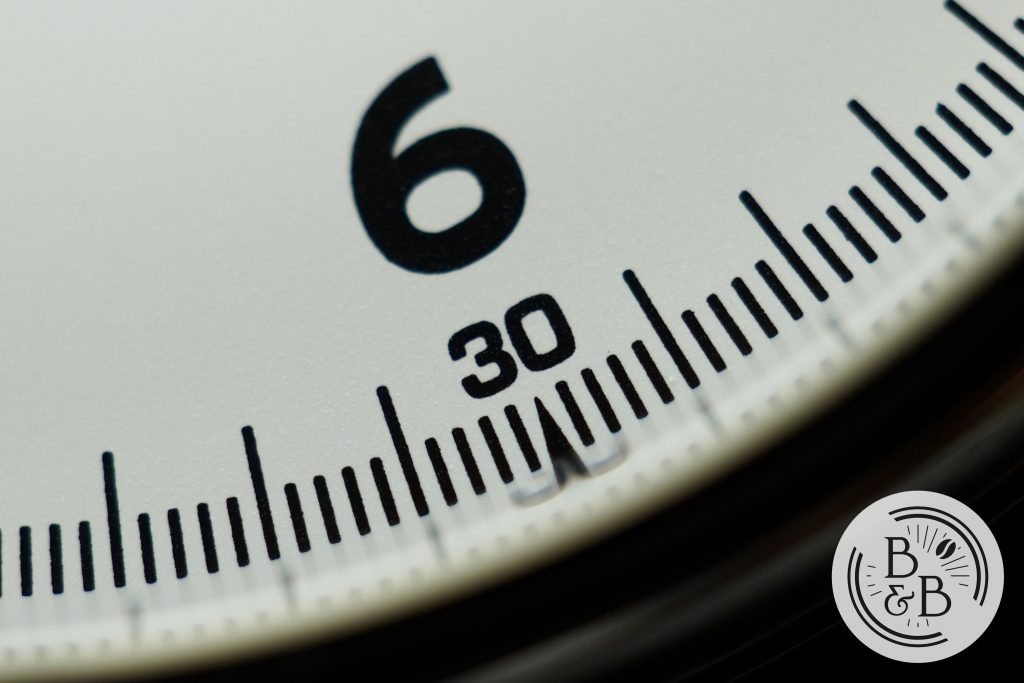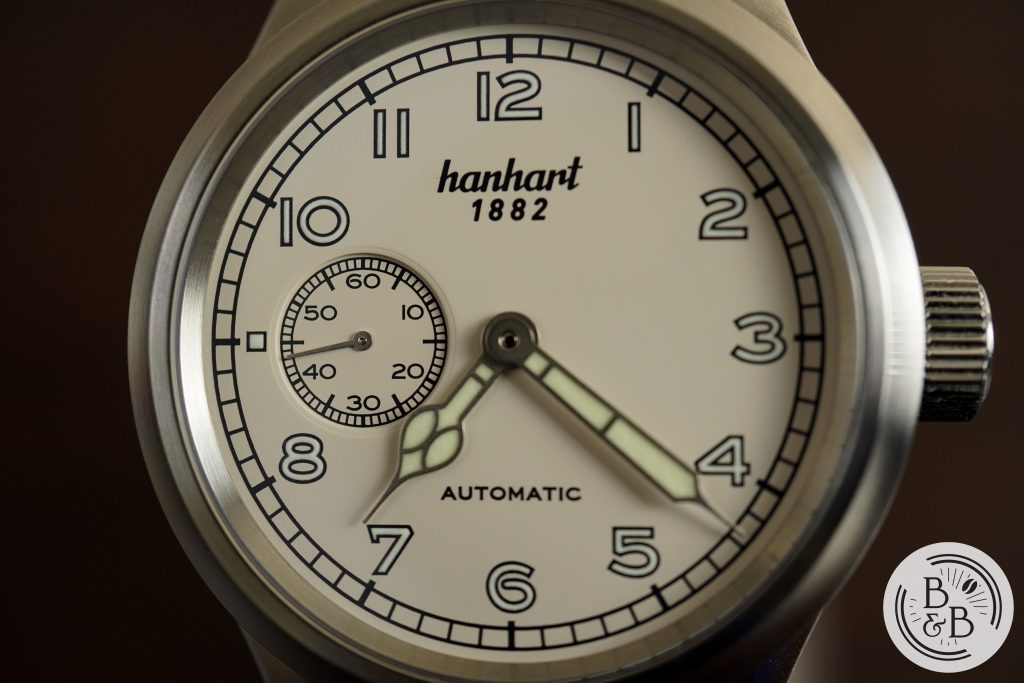 Instead of a traditional railroad style minute/seconds track, you have a sequence of ticks – large ticks for every minute and four small ticks for the milliseconds. Each increment of five is accented with a triangle that points to it's corresponding Arabic numeral. The printing is crisp and it is very easily legible.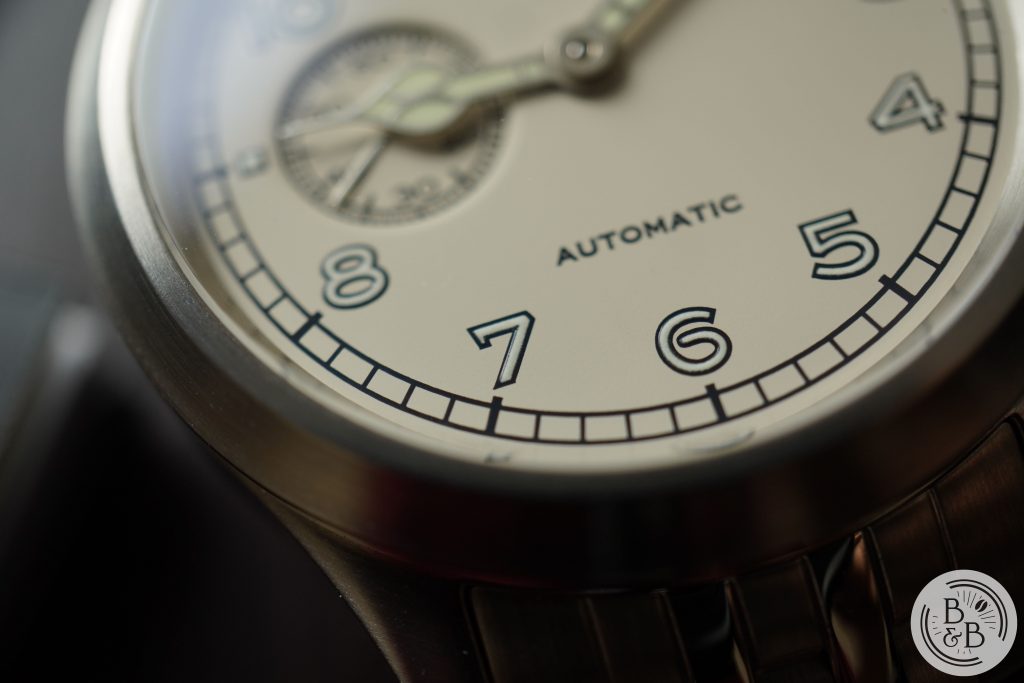 You then have modestly sized Arabic hour numerals for all the hours except the 9 o'clock. The printing of these, like the rest of the dial, is excellent. Some might prefer the larger lumed numerals on the Hanhart over this, but these numerals don't feel disproportionate in any way and are easy to read.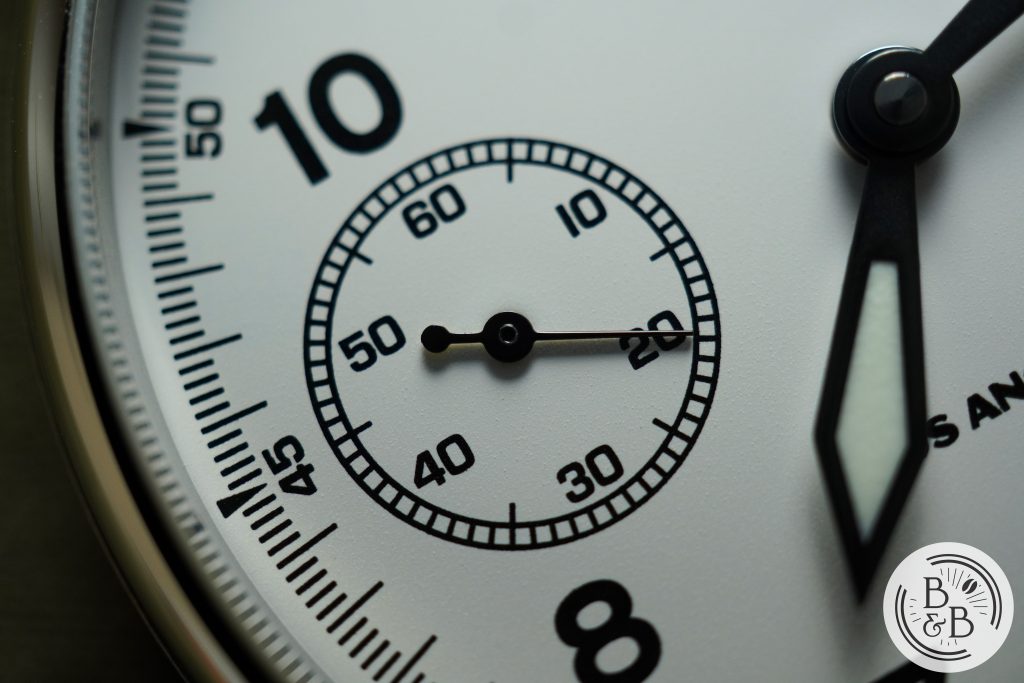 There is a small seconds sub-dial at the 9 o'clock position that has a railroad style seconds track. There are Arabic numerals for every 10 second increment, and extended line markers for other increments of five.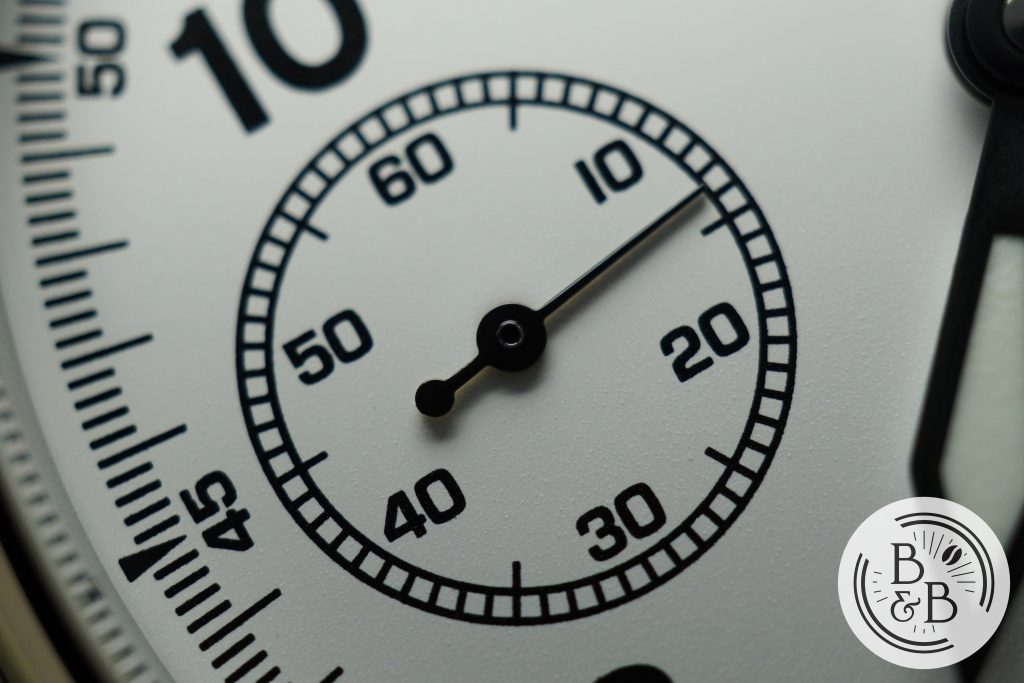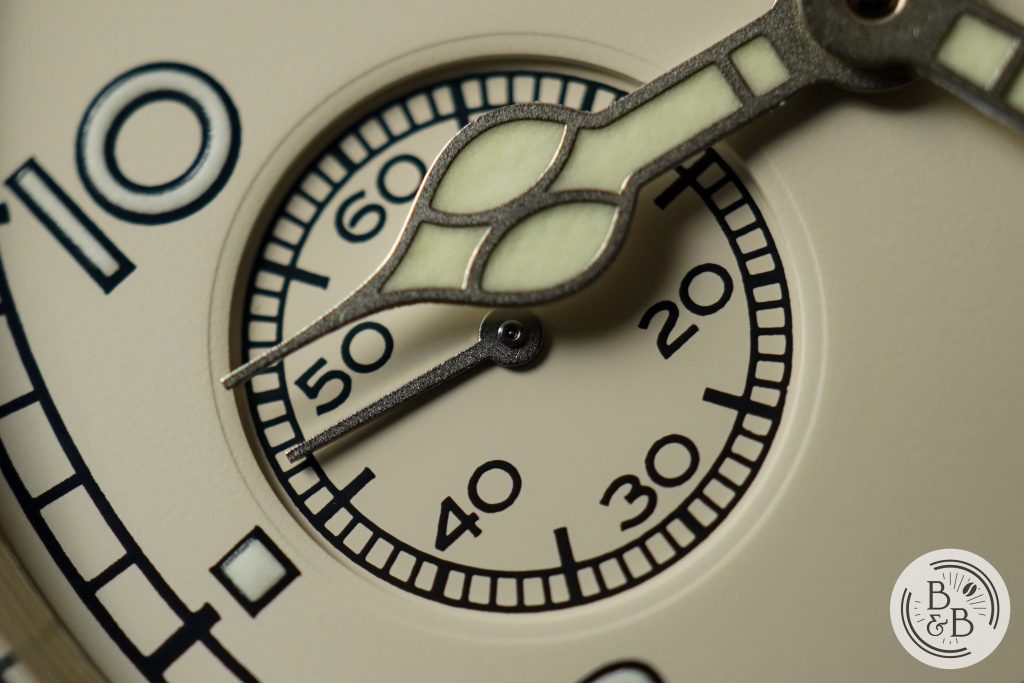 I would've preferred if the small seconds hand extended into the seconds track like on the Hanhart. I find the Hanhart's sub-dial design easier to read.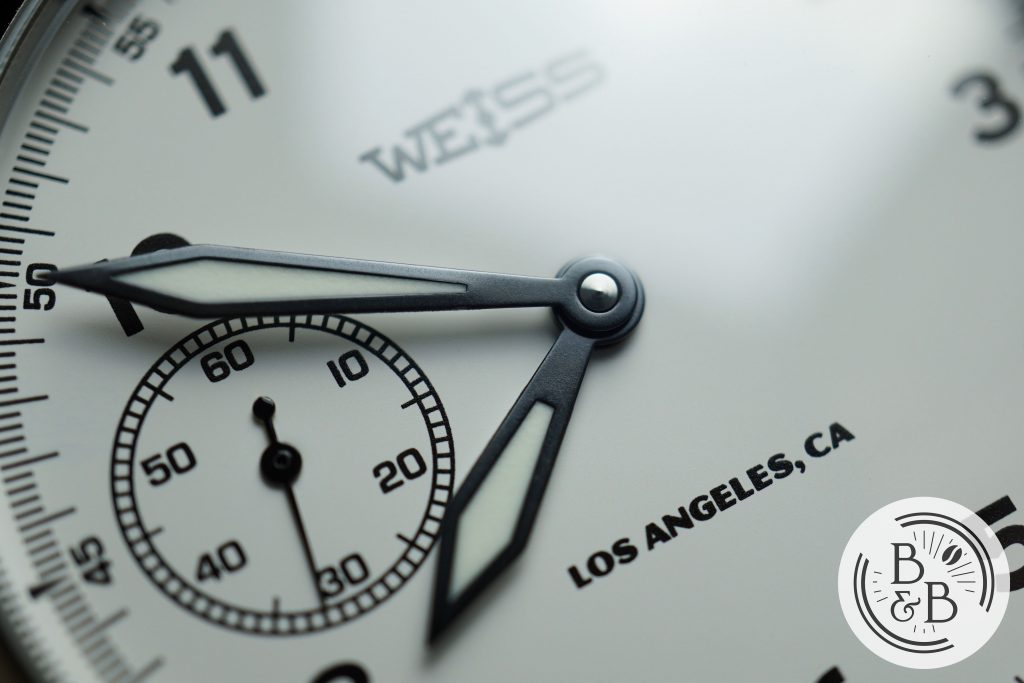 I love the choice of hour and minute hands on the Weiss – these sword style hands have a black border and are generously filled with C3 Super LumiNova. The black color is not paint, and is black oxide treated steel.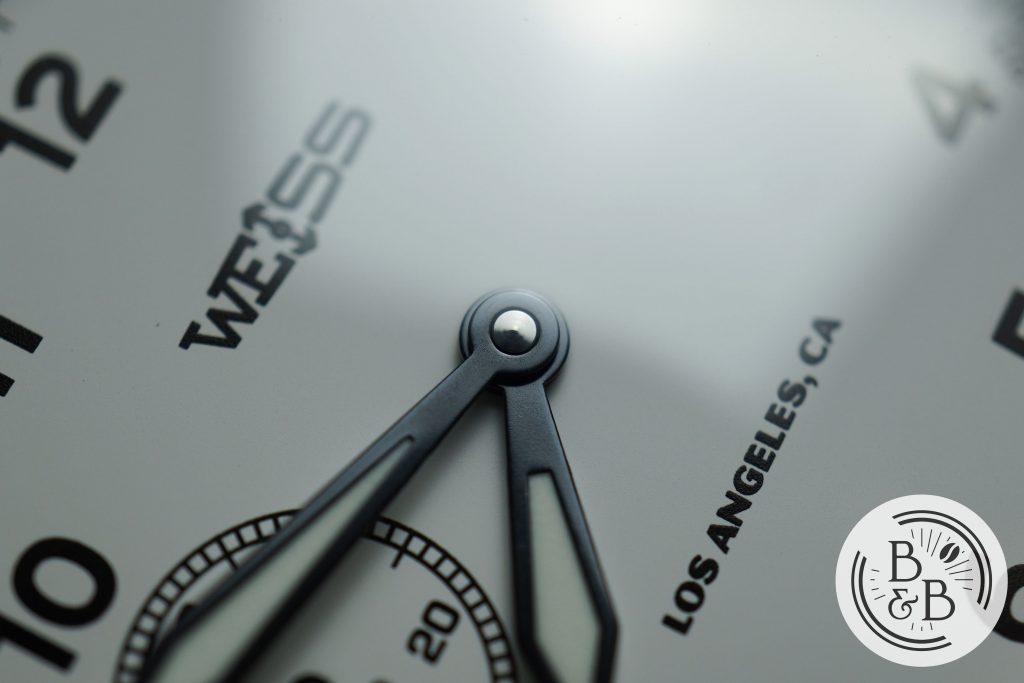 The finishing on the hands is excellent, and I couldn't find any blemishes or finishing irregularities. Even the center cap is finished really well, which to me says a lot about a brand's attention to detail and quality control.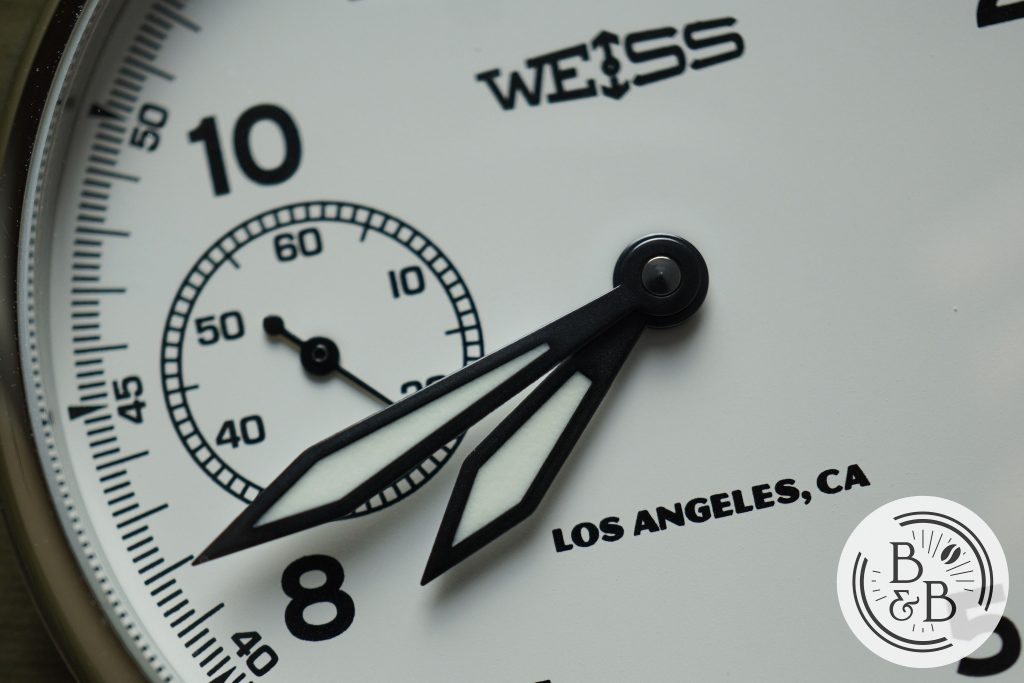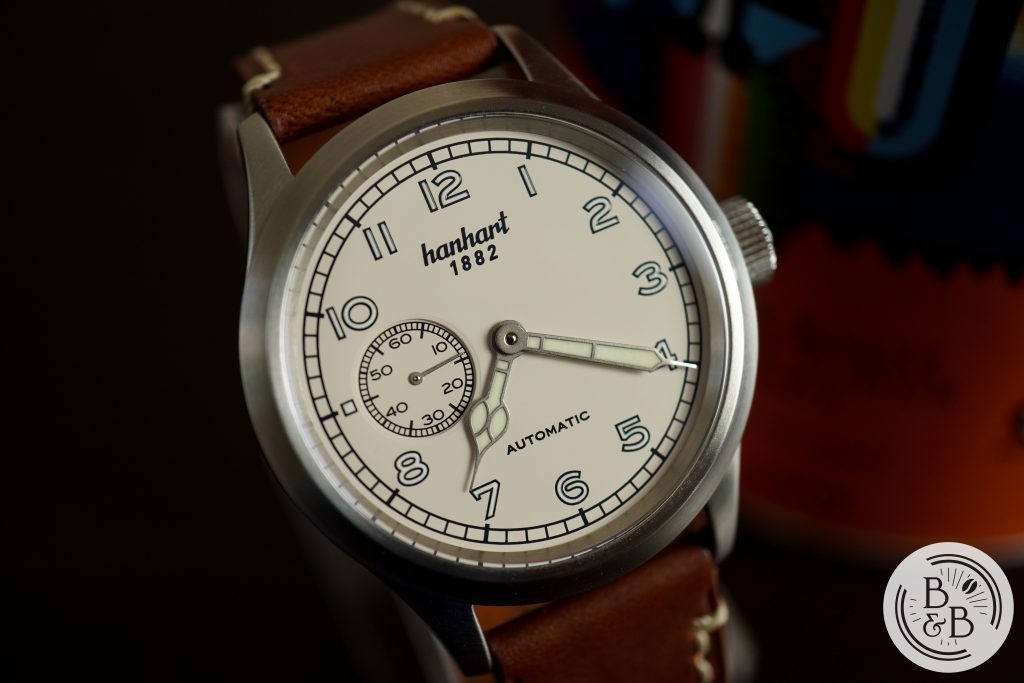 As with the seconds hand, I wish the minute and hour hands were a bit longer, and were closer to their respective dial markers.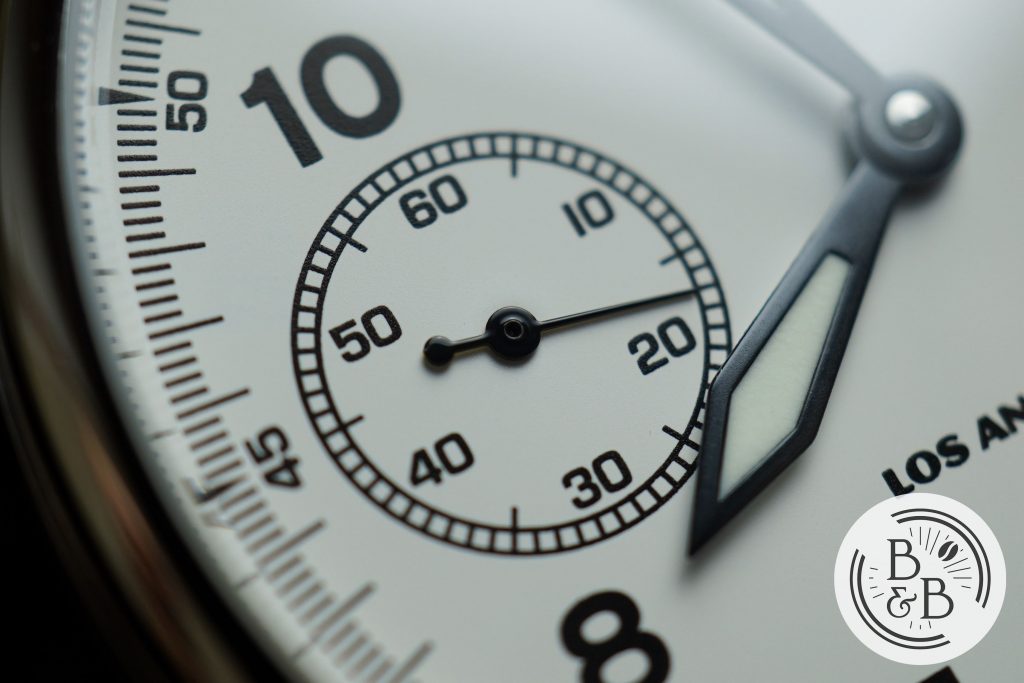 But the overall quality of finishing and printing of the dial is really very impressive. And it is great to see this level of finishing being delivered by a local brand.
---
Lume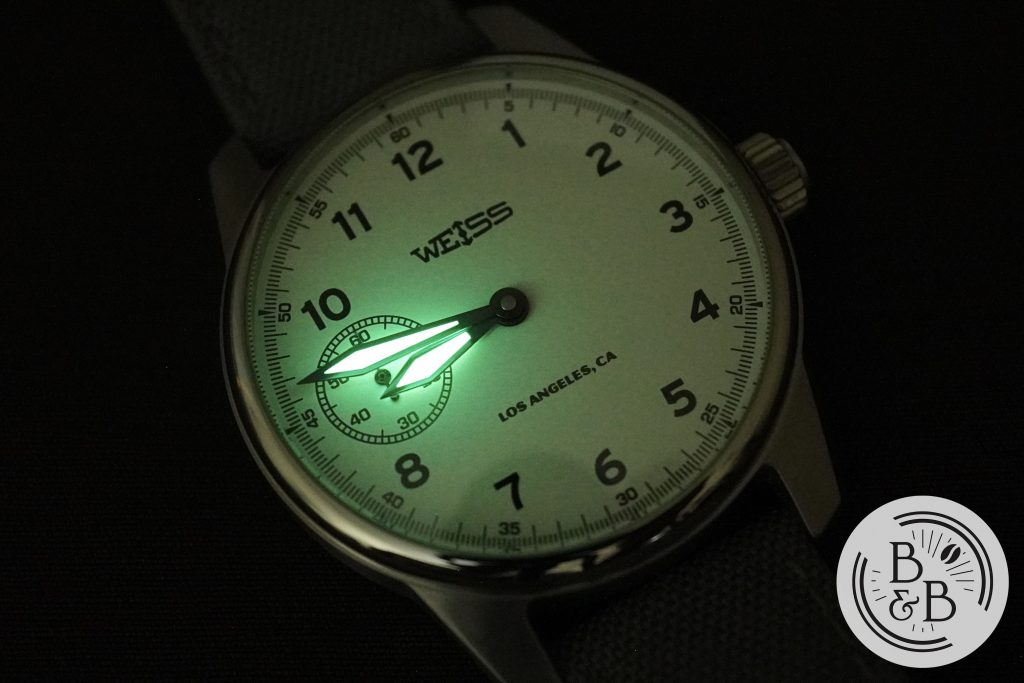 As with a lot of field watches, the lume design is a bit limited. Only the hour and minute hands are filled with C3 Super LumiNova.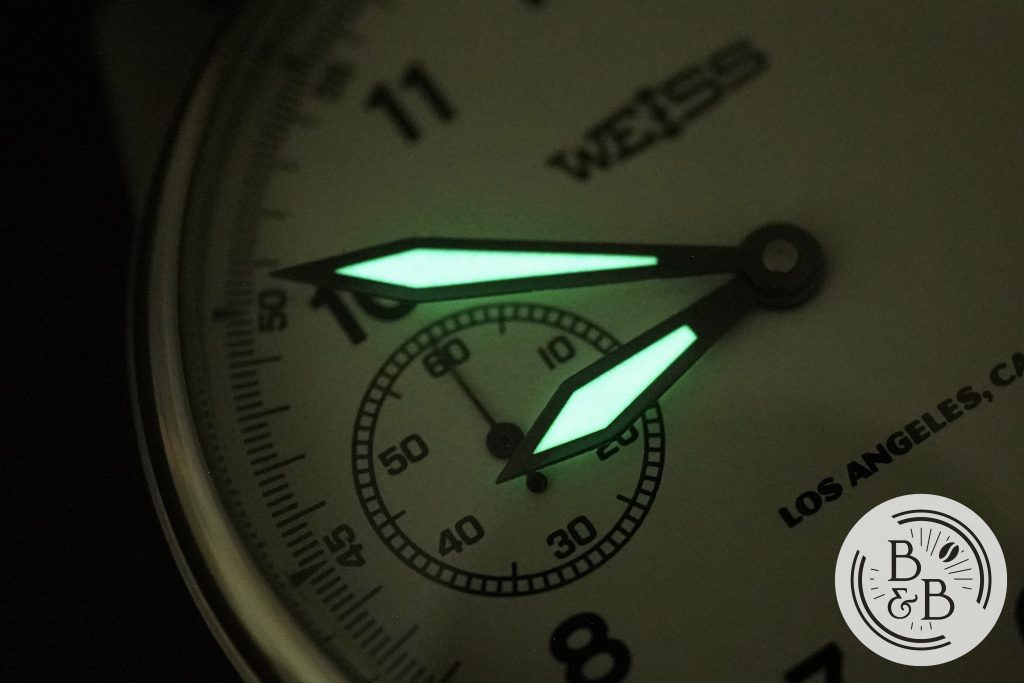 They are generously filled, so brightness and longevity isn't much of an issue. Don't expect the best reading experience late into the night though.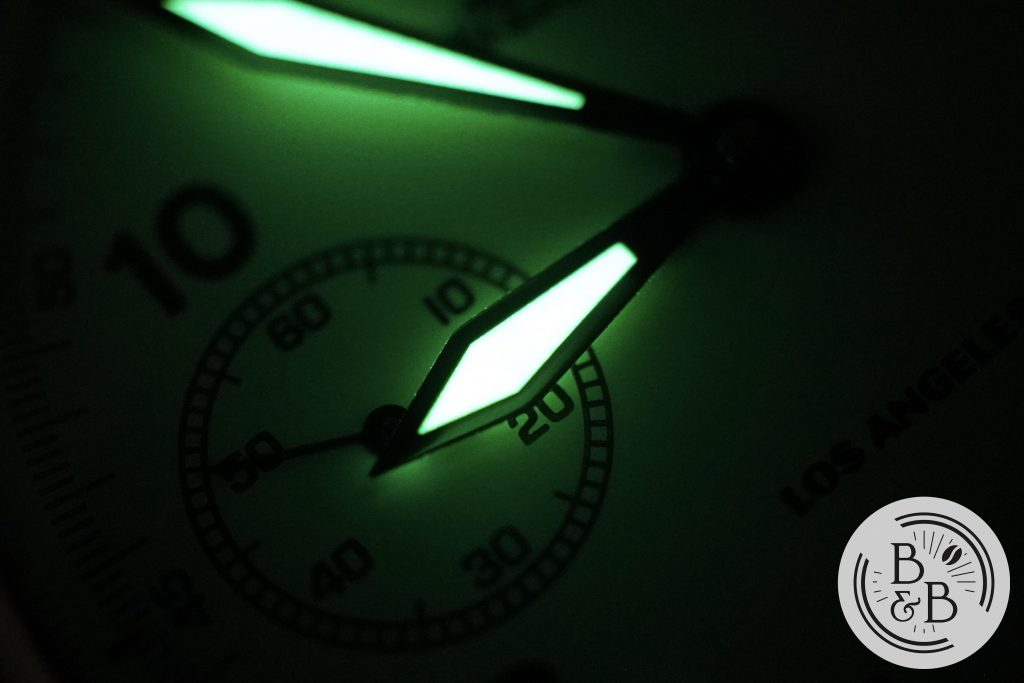 I would've liked to see the numerals also lumed. It looks like a lot of folks might've preferred the same, because the latest generation of Weiss field watches do have lumed numerals and markers, along with the hands. They have also switched to using BGW9 Super LumiNova.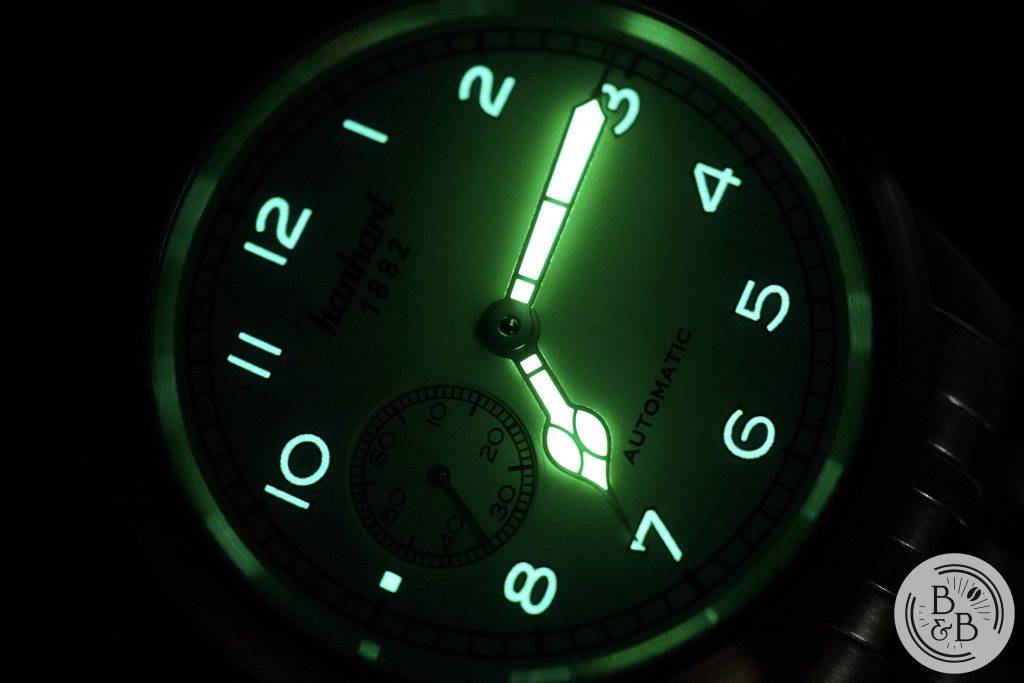 The Hanhart, along with most other small seconds pilot watches, are more generously lumed with lumed hands, and reasonably well lumed numerals. And if you're generally considering other small seconds hand watches, most deck watches (marine chronometers) will lack lume entirely, like the Stowa Marine lineup. You'll observe similar design choices with typical small seconds dress watches too.
---
Movement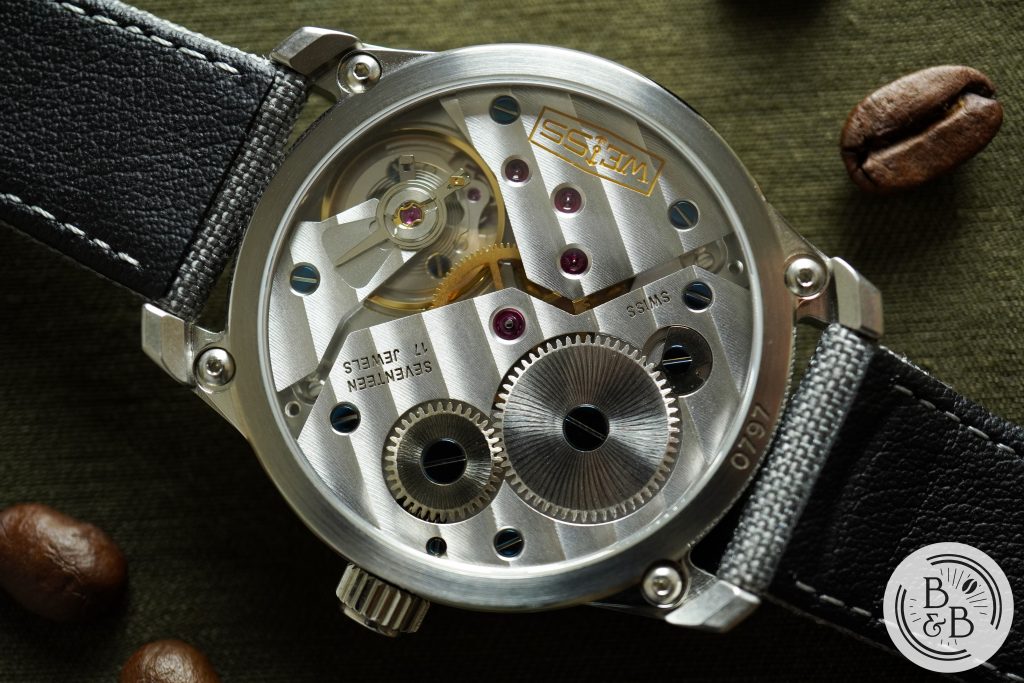 While Weiss does offer a more in-house, USA-made movement experience through their Caliber 1003, the 42mm Standard Issue Field Watch has a Caliber 1001 instead.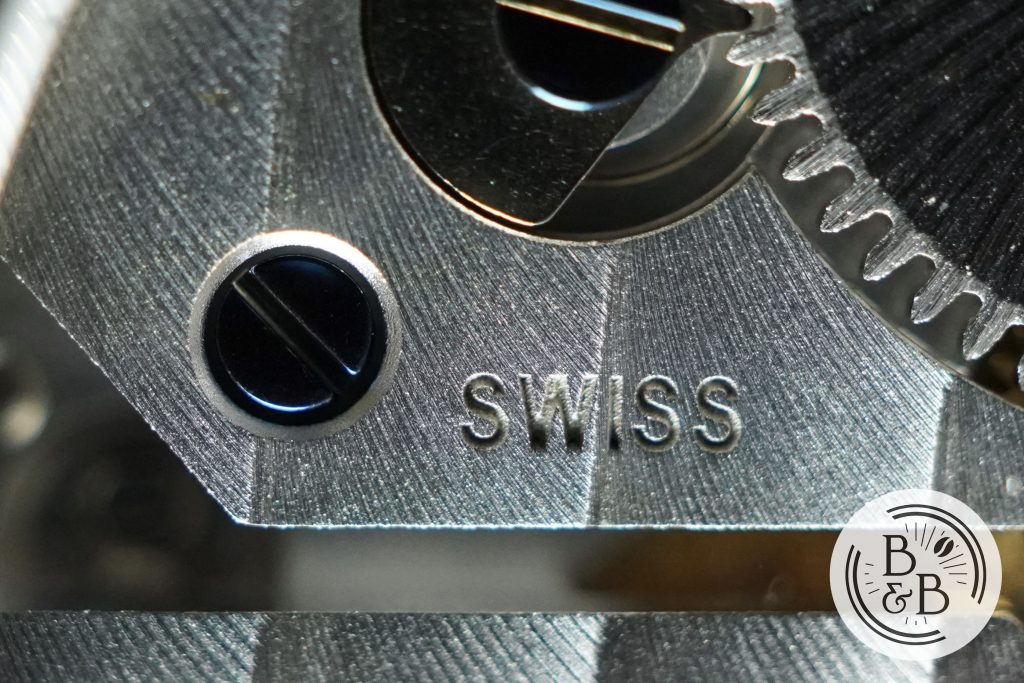 This movement is based on a standard ETA/Unitas 6497, and I believe it is finished, assembled and regulated in-house. Their website isn't clear about this, so it could also be done in Switzerland. Either way, I'm not too concerned.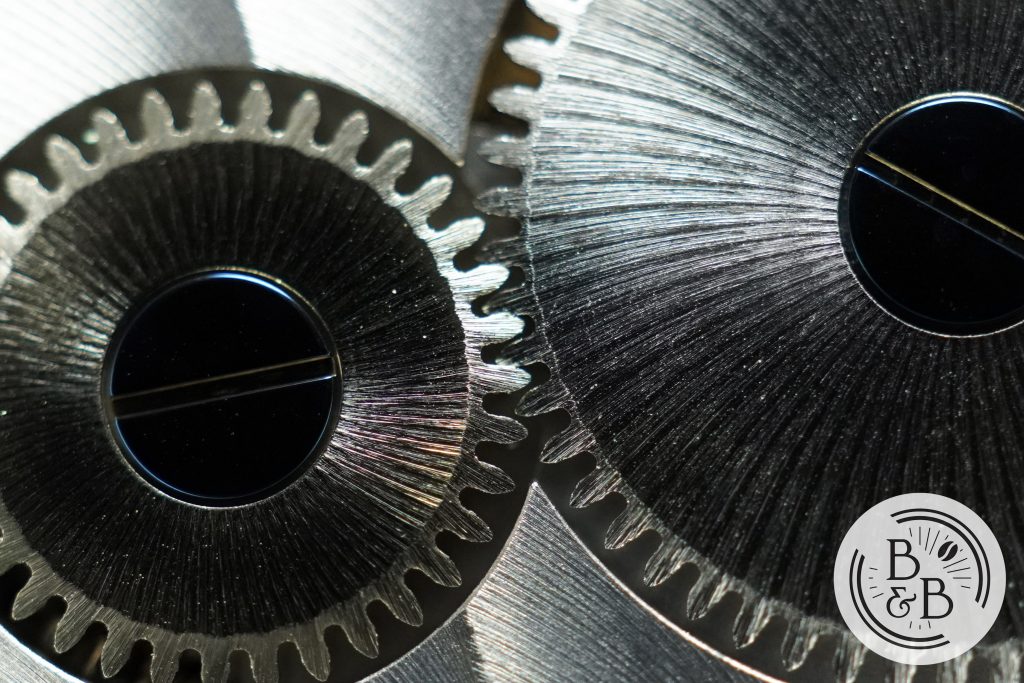 This is my first encounter with an ETA 6497/ETA 6498. I've usually avoided watches with this movement because they're often 42mm in diameter or larger, but I've been trying to get hold of a Weiss watch for a while now and couldn't pass this one up.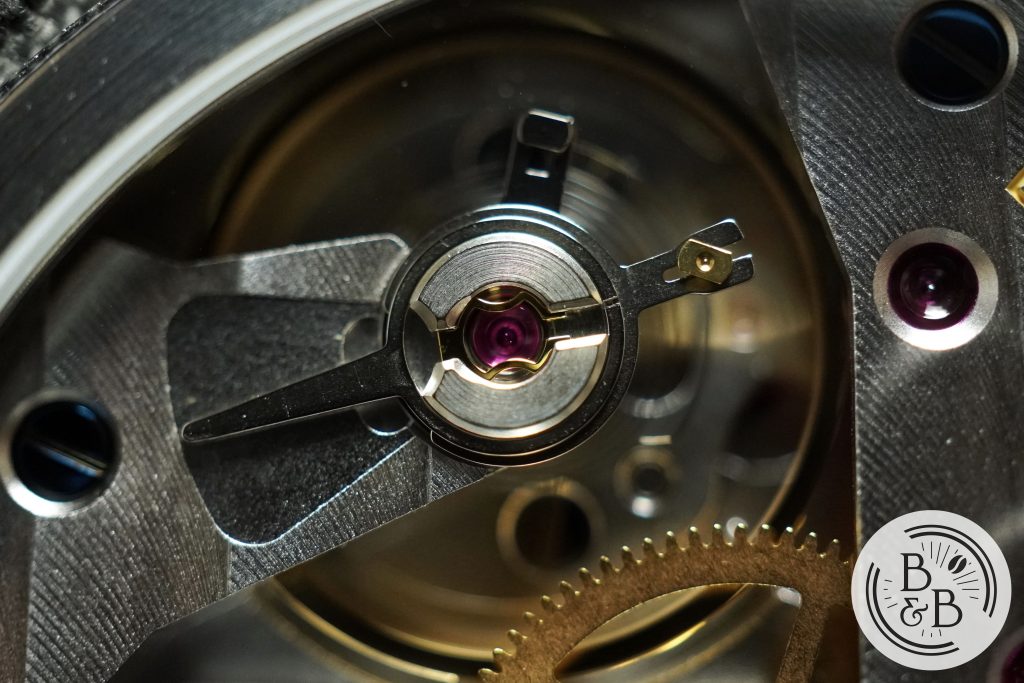 These movements have an incredible history, and have been around for about 70 years! This movement beats at 18,000 bph, has a 46 hour power reserve, and does not have a hacking seconds hand or a date complication.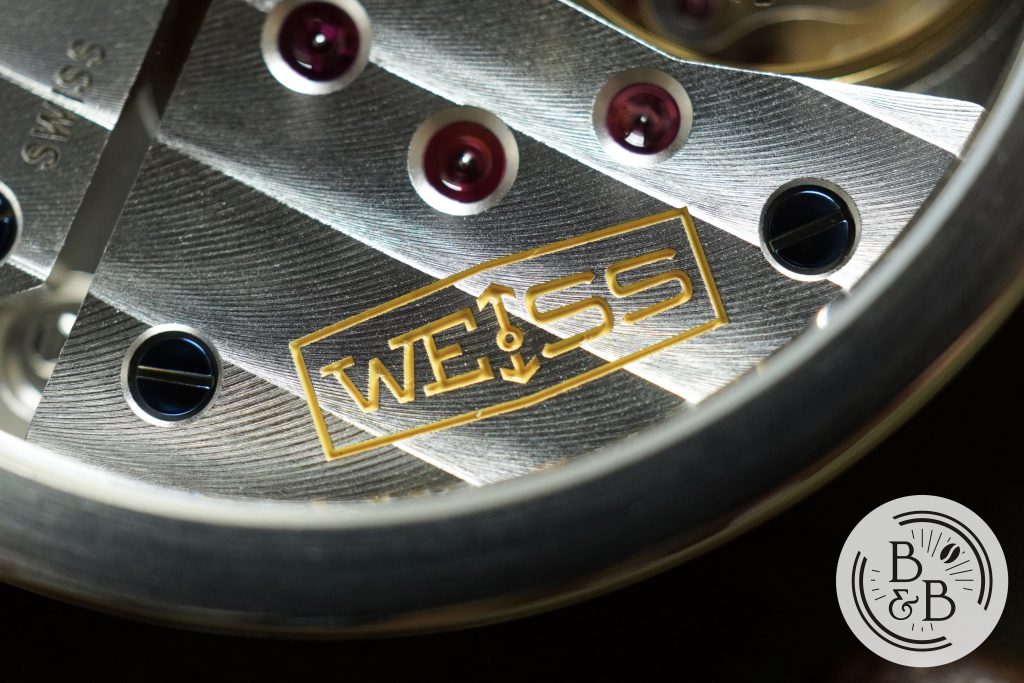 This movement itself is quite large and measures just under 37mm in diameter, which is why the watches that house these movements are typically well over 40mm in diameter.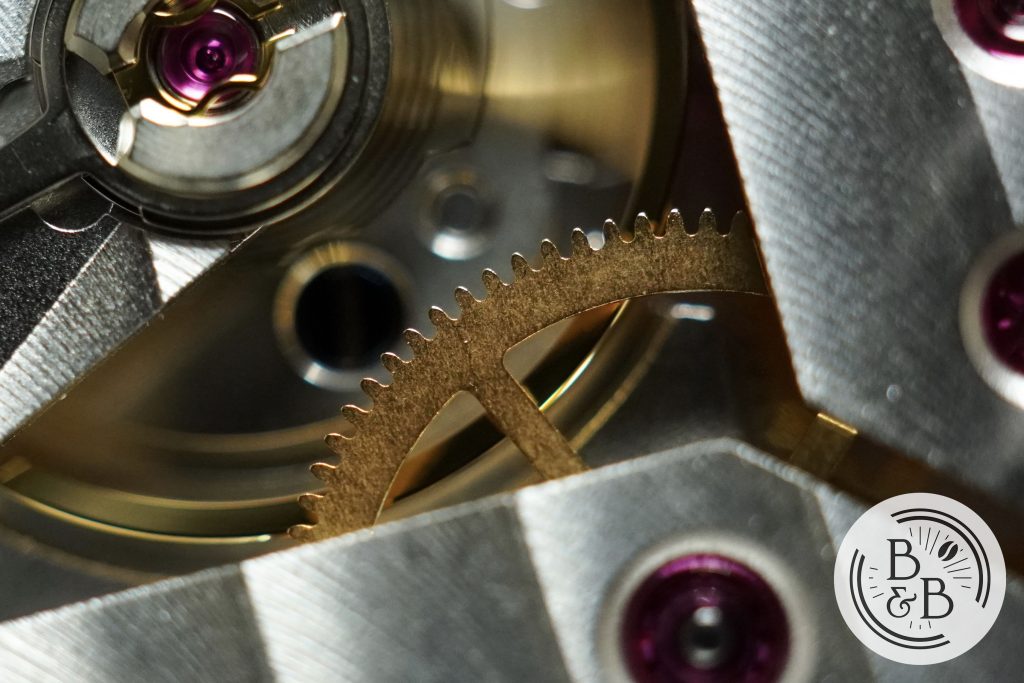 Weiss has done a terrific job on keeping the movement clean and free from dust, fibers and all the other weird stuff that you see chilling inside of a watch that suffers from poor quality control.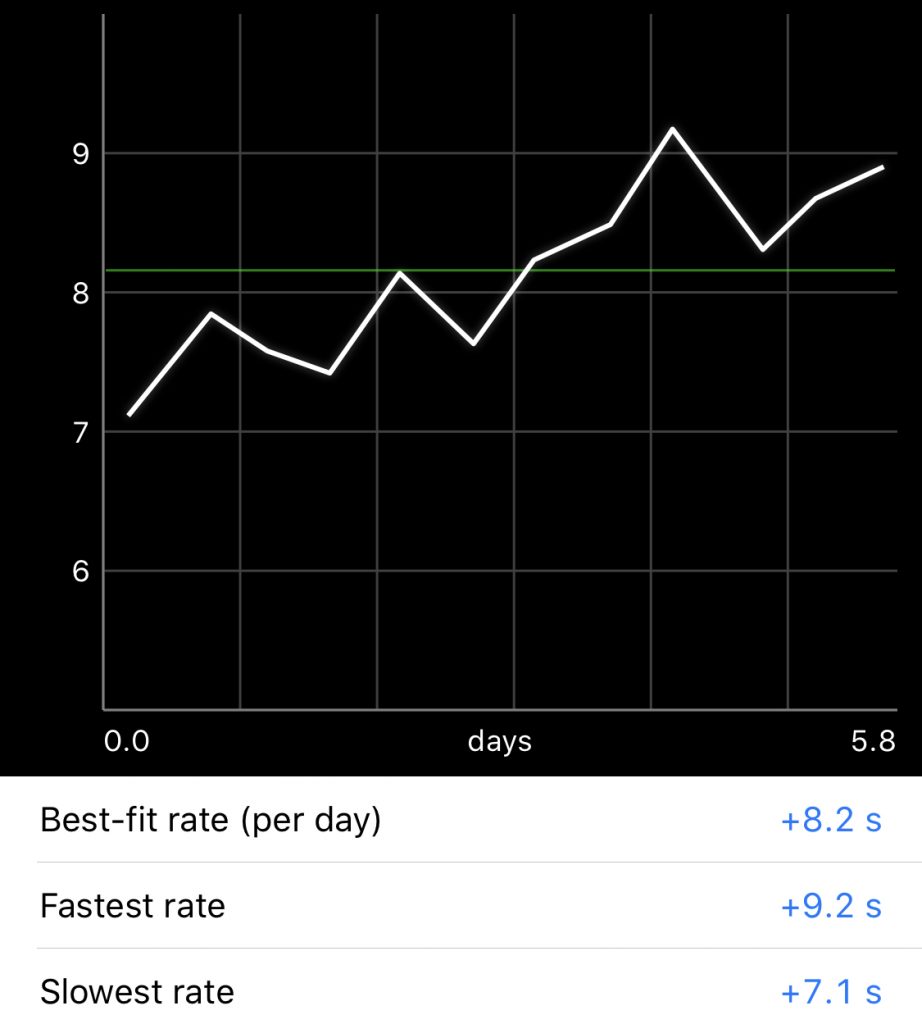 I logged the accuracy of this watch over a 6 day period and observed roughly +8.2 spd. For a 3 year old watch that hasn't been regulated/serviced, I think this is keeping excellent time and is quite stable too. These 6497 movements are very easy to regulate, and can be made to keep excellent bounds on accuracy so I have no complaints here.
---
On The Wrist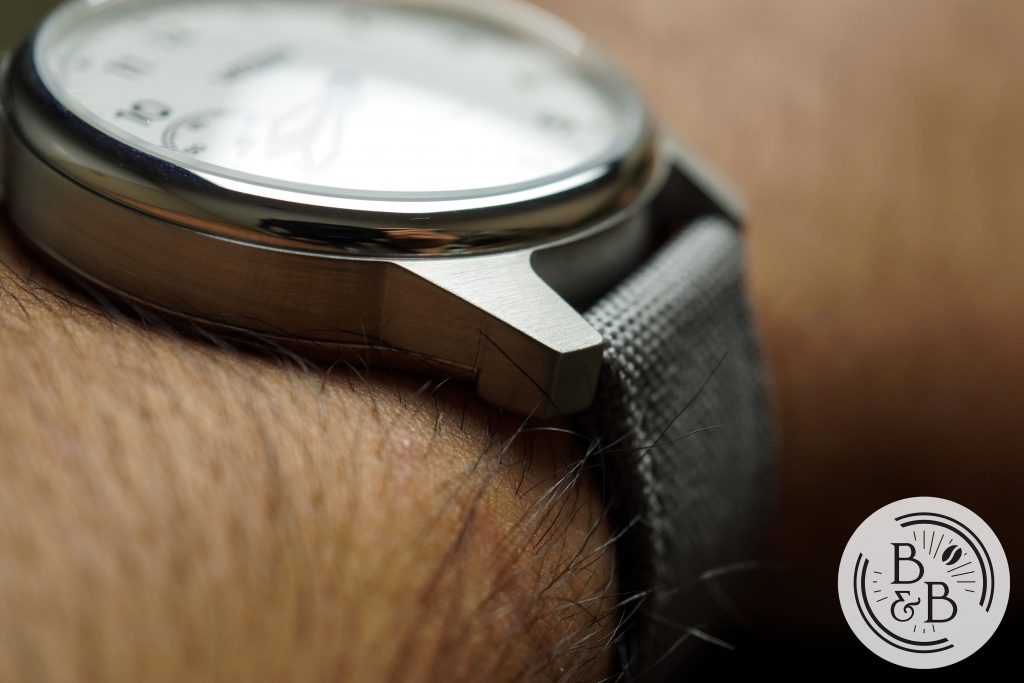 I have a 6.25″ wrist, and I think the 38mm case option would've been more appropriate for my wrist size. But those have a different dial layout, and use an ETA7001 movement instead.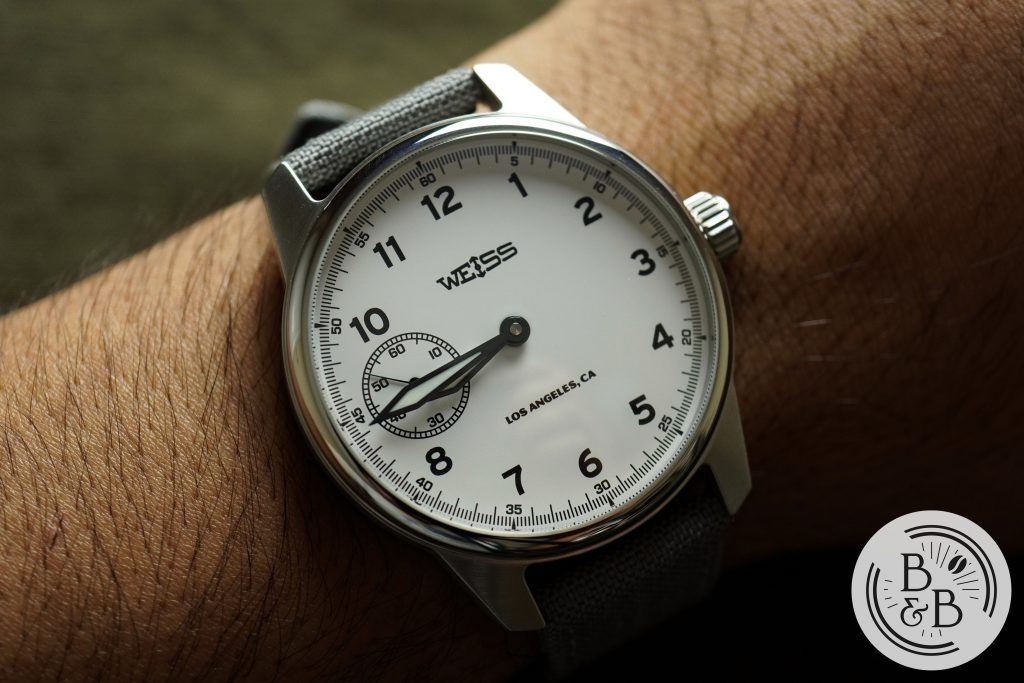 The 50mm lug-to-lug width (49.6mm, according to Weiss), and 42mm wide case feels a bit larger than a typical 50mm lug-to-lug width watch, and I don't really know why, because the lugs do have a decent amount of curvature and don't sit too high from the wrist.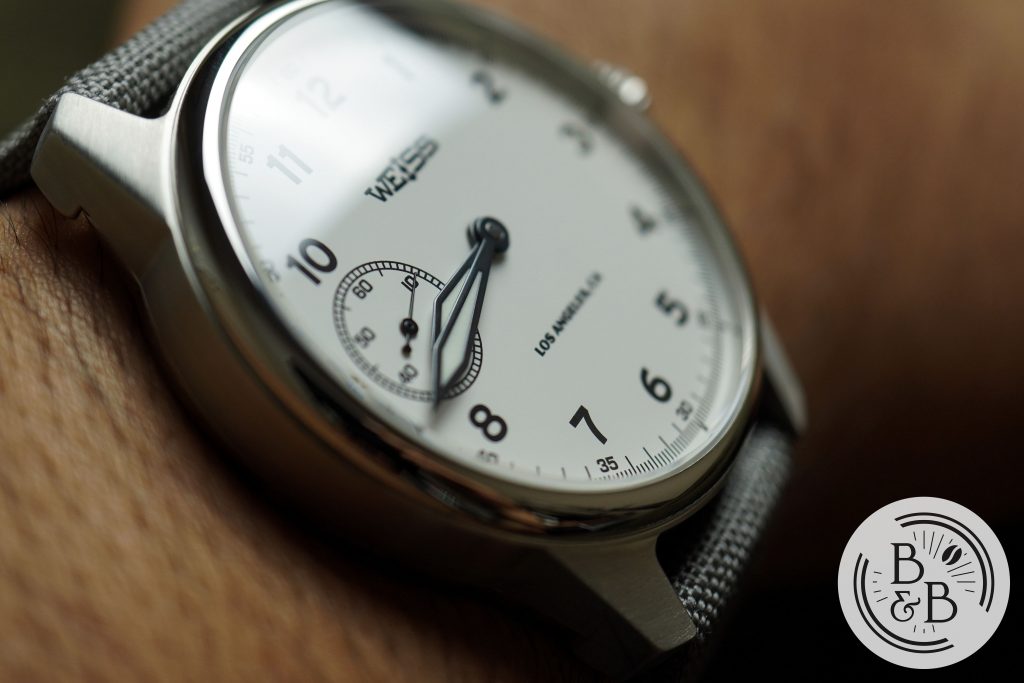 I would say that this watch is appropriate for 6.75″ wrists and larger, but that's very subjective. The case-back is flat and lines up nicely with where the strap attaches to the lugs. I find watches designed this way to be extremely comfortable.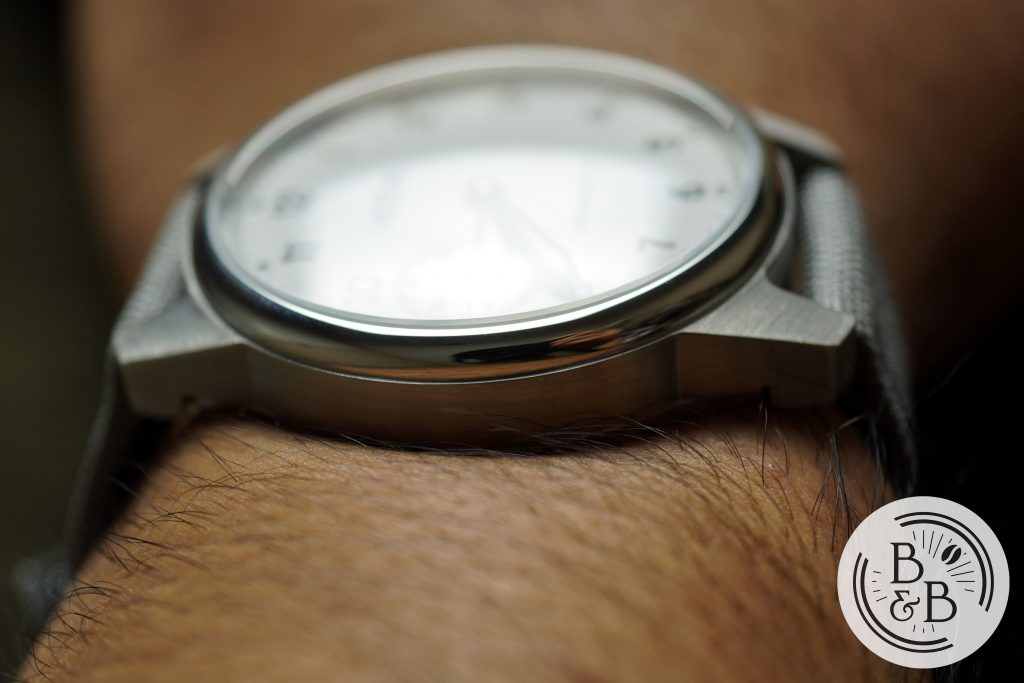 The watch sits low on the wrist and has an excellent, albeit slightly large, wrist presence.
This watch came with a canvas strap with a stamped buckle. The strap is of excellent quality and is very comfortable.
---
Concluding Thoughts
This has been a longer-than-usual review, so I'll wrap it up quickly. I find this watch being recommended to people quite often, and usually the only areas of focus are the fact that this watch has a lot of components made in America, and then the fact that Cameron Weiss has worked for Audemars Piguet and Vacheron Constantin. While these two facts are definitely of value, I think that narrative does this watch a disservice. RGM also manufactures a lot of their watches and movements in-house, and Vero does a lot of in-house manufacturing too, and build solid watches. And I'm pretty sure if you dig deep enough, you'll find ties to larger, more well established brands within their personnel too.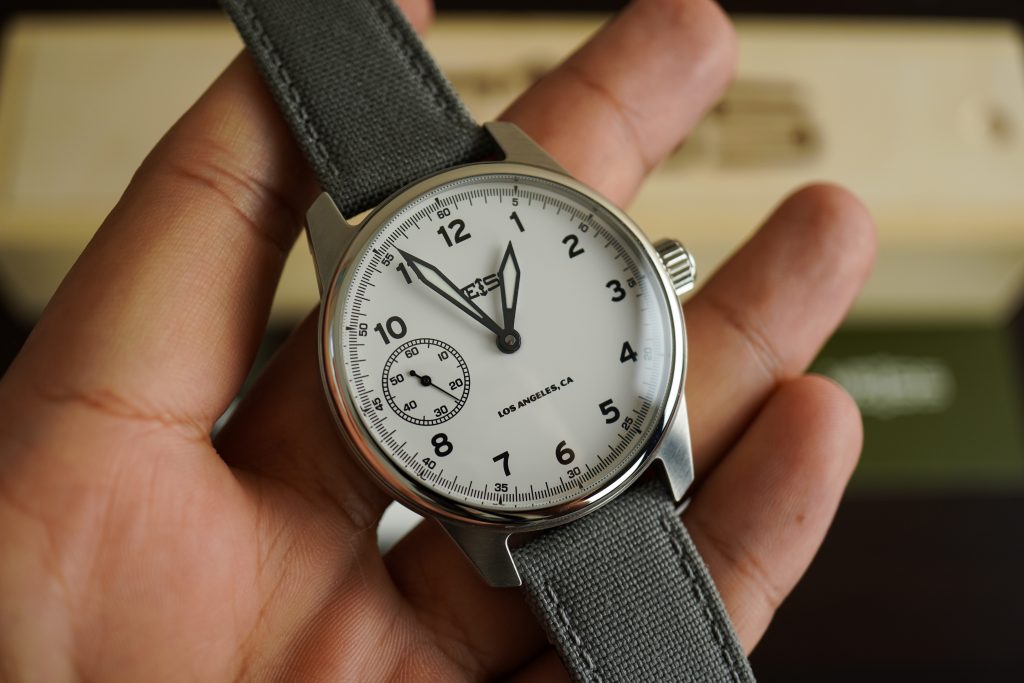 What you really need to know about these watches is that when you consider the build quality and finishing, the $1200 price tag is quite reasonable. Sure you're not getting an in-house Caliber 1003, but the neatly decorated ETA6497 is still a thing of beauty. The case design and manufacturing is excellent, and able to compete with similarly priced Swiss and German watches too. So you're not just getting a watch with strong ties to America, you're getting just a very well built watch, period. So if you like what it looks like, and if your wrist can pull off the 42mm case, go buy it. You're unlikely to regret it.
---
Strap Change
---
Thanks for reading!