---
Disclaimer: I purchased this watch new from Zelos for around $400 USD and was not externally incentivized in any way to make this review. This review is in no way sponsored by any entity. All opinions here are my own.
---
---
Contents
---
Zelos & Bronze Watches
In my opinion, Zelos is probably the most successful micro-brand out there today. This also depends on how you define micro-brand, but either way they've been consistently putting out very popular watches that often sell out within a day or two. They have quite a large following, and manage to cater to all the different requirements of their current and future customers. The owner, Elshan Tang, seems to have a sixth sense of being able to effortlessly navigate the micro-brand waters and has even helped launch a few other successful brands apart from Zelos.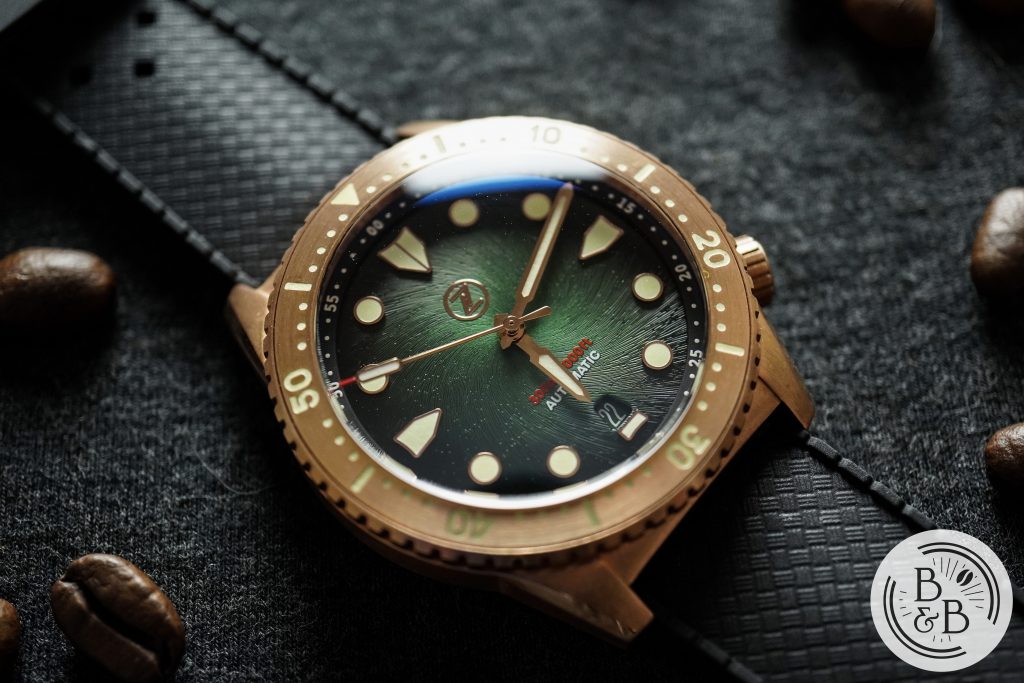 Getting to the Mako – I'm not a fan of Bronze as a material. I love what it looks like; the almost rose-gold aesthetic, but I am not a fan of patina. I had an Oris BiCo for a few weeks and did not enjoy the patina process. But it isn't a secret that Bronze watches have become extremely popular now, and it would be a shame not to feature one on the channel. When I think of popular and successful Bronze watches, Zelos automatically comes to mind, which is why I decided to purchase and review the Bronze Mako V3 in Hunter Green. I was debating between the Burgundy and Green, but ended up with the Green because I think it looks a little nicer. These two models sold out within the first 24 hours, which is quite impressive considering around 200 100 of each (I think?) colorway were released and there were at least half a dozen different options.
Let's check it out!
---
Case
The case is 40mm in diameter, 46mm from lug-to-lug and 11.5mm tall if you exclude the crystal. Excluding the case back, the entire case exterior is bronze and has an almost rose-gold color to it that I really like.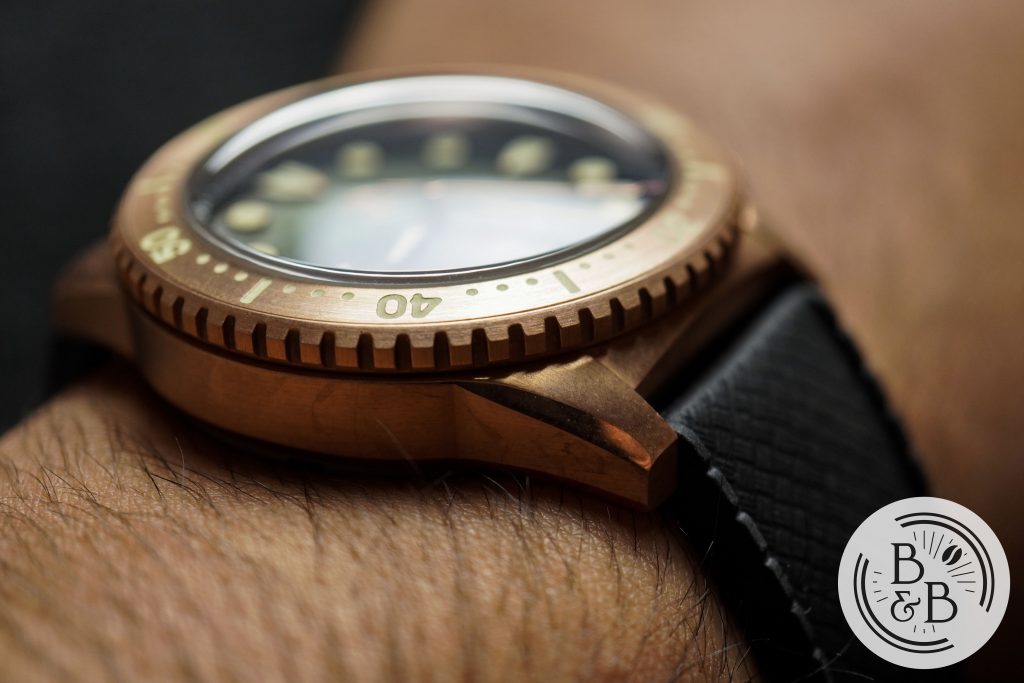 The lugs are very short, and curve down slightly towards the wrist. This design decision makes it suitable for most small and medium sized wrists.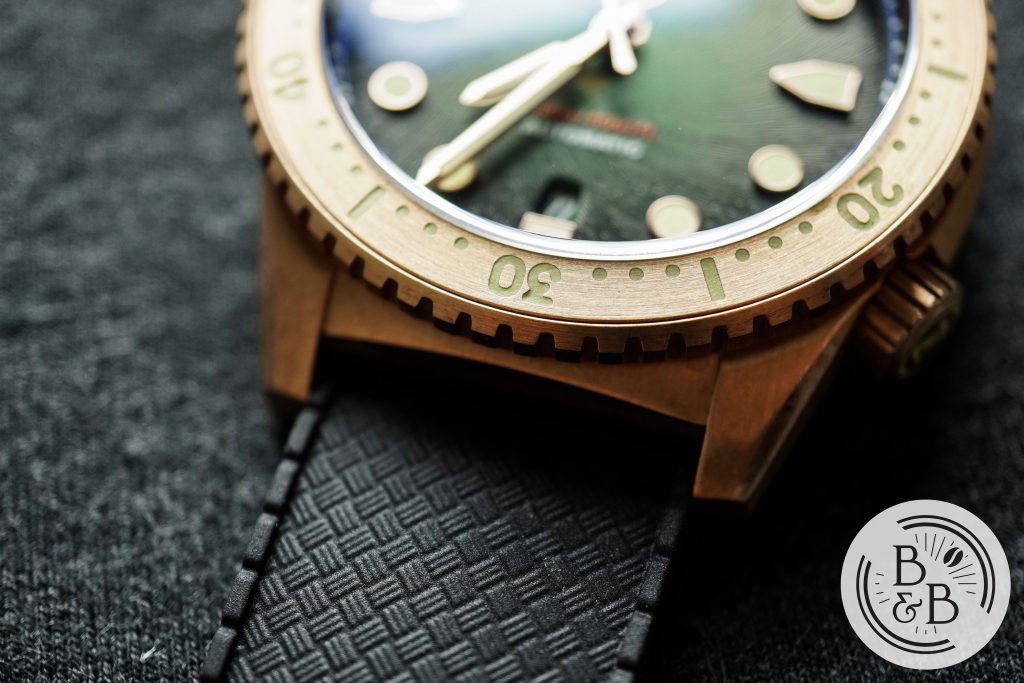 The case and bracelet joint is almost flat, similar to some of the old Grand Seiko GS44s and the recent Mitch Mason Chronicle. I like this design and I think it works well with the rest of the case.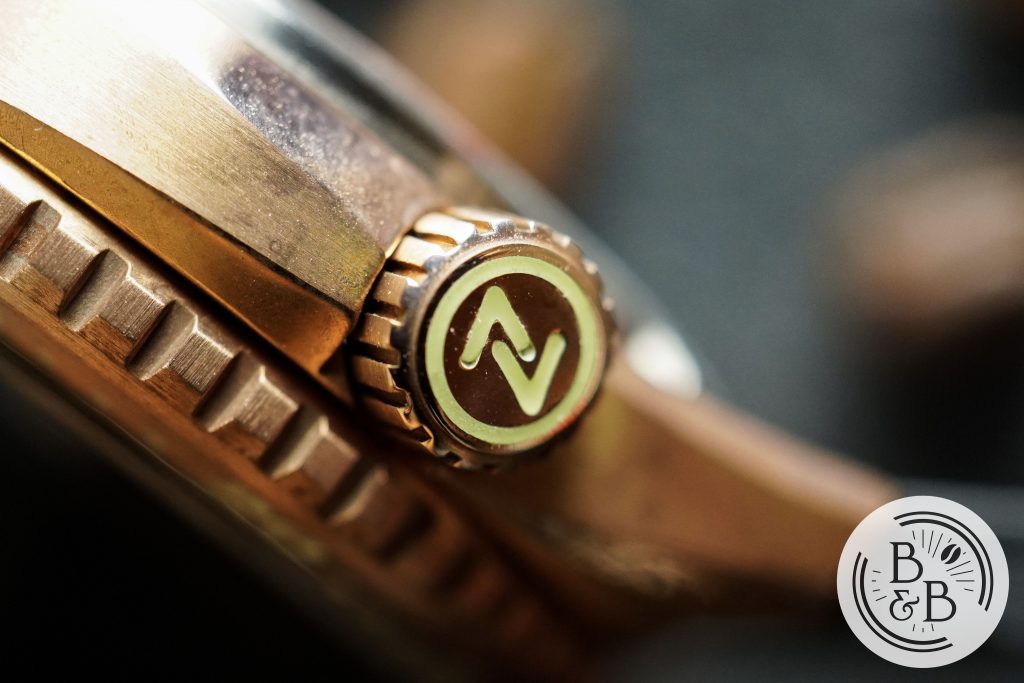 There is a signed and lumed crown at the 4 o'clock position. The crown is also made of bronze, has sufficiently deep ridges and is easy to grip and operate. The crown is signed and lumed with C3 Super LumiNova, but on close inspection, the lume application isn't perfect and has a few missing spots.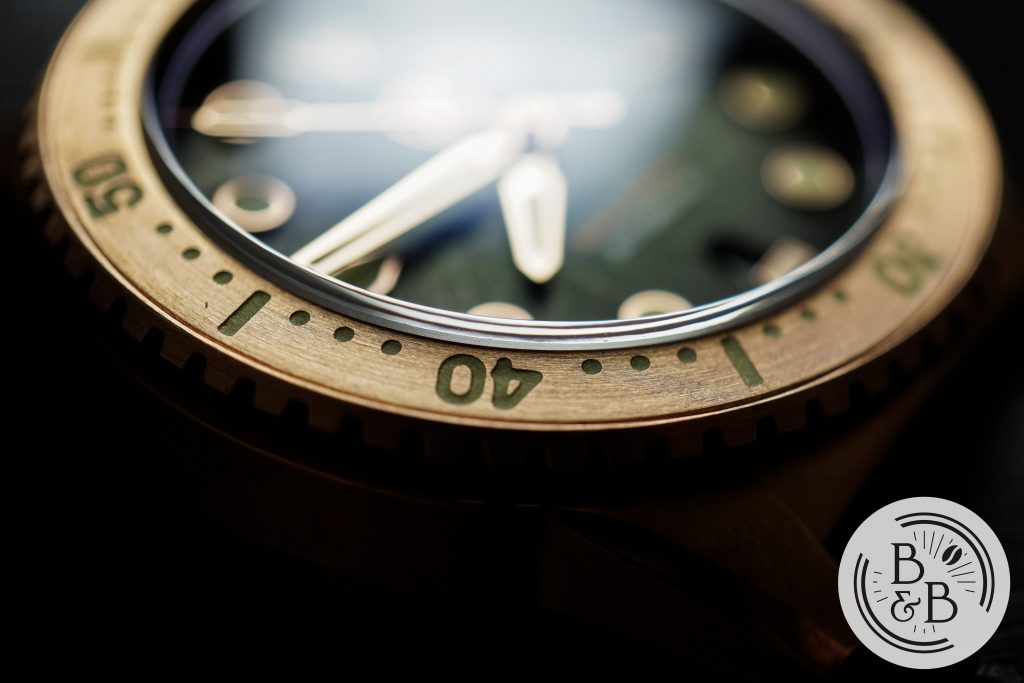 There is a 120-click unidirectional bezel that is also made of bronze, with a bronze insert. All the elements on the insert are lumed with C3 and quite generously so.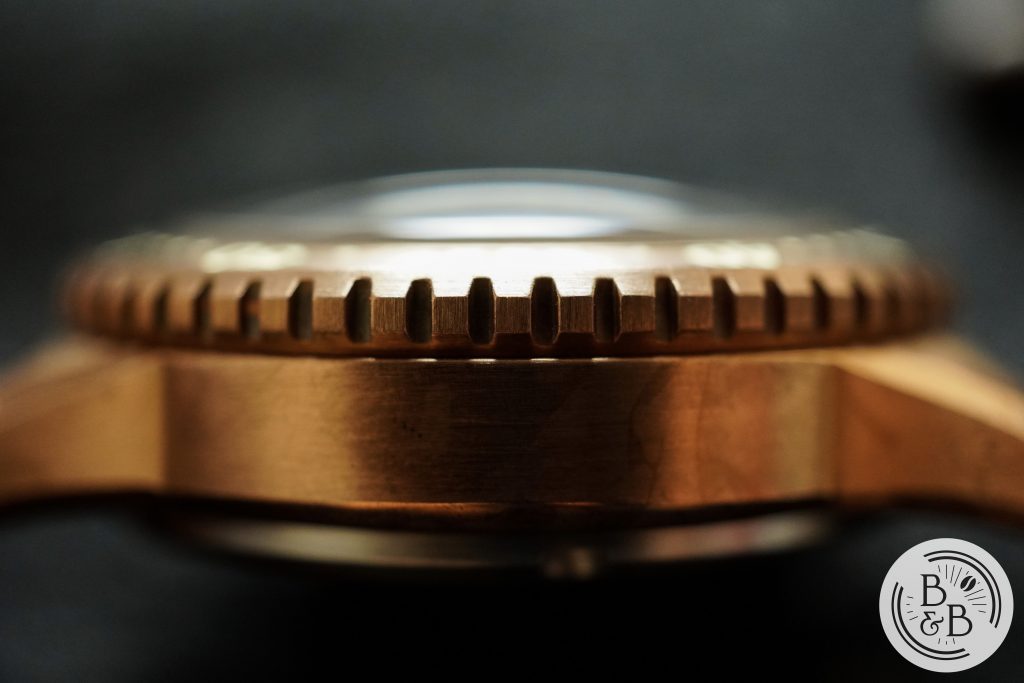 The bezel action is good and there isn't any back play, but some clicks felt less tactile than others. The bezel teeth are well designed and the bezel is very easy to grip and operate.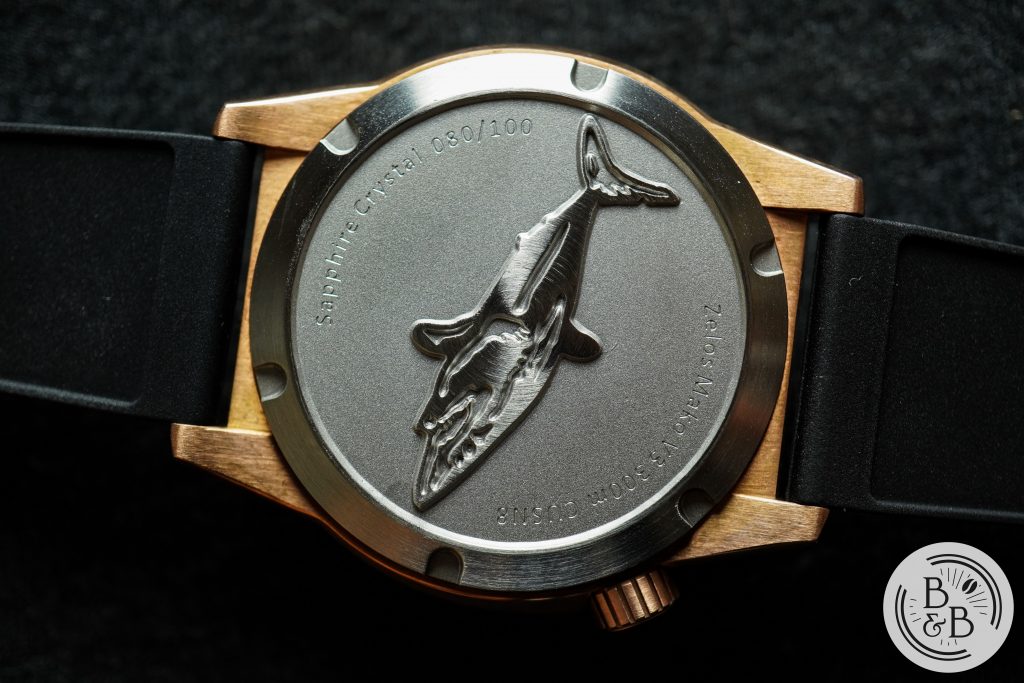 Flipping it over you have a solid stainless steel case-back with an embossed Shark (Mako) on it. Both the crown and case-back screw into the case and this watch is rated for up-to 300m of water resistance, which is quite impressive given how compact the case is.
---
Dial
The dial, as on most Zelos watches, has a lot going on. The base is textured with a swirl pattern and the color is an almost metallic fume. The finishing on the dial base is good and the choice of color is excellent.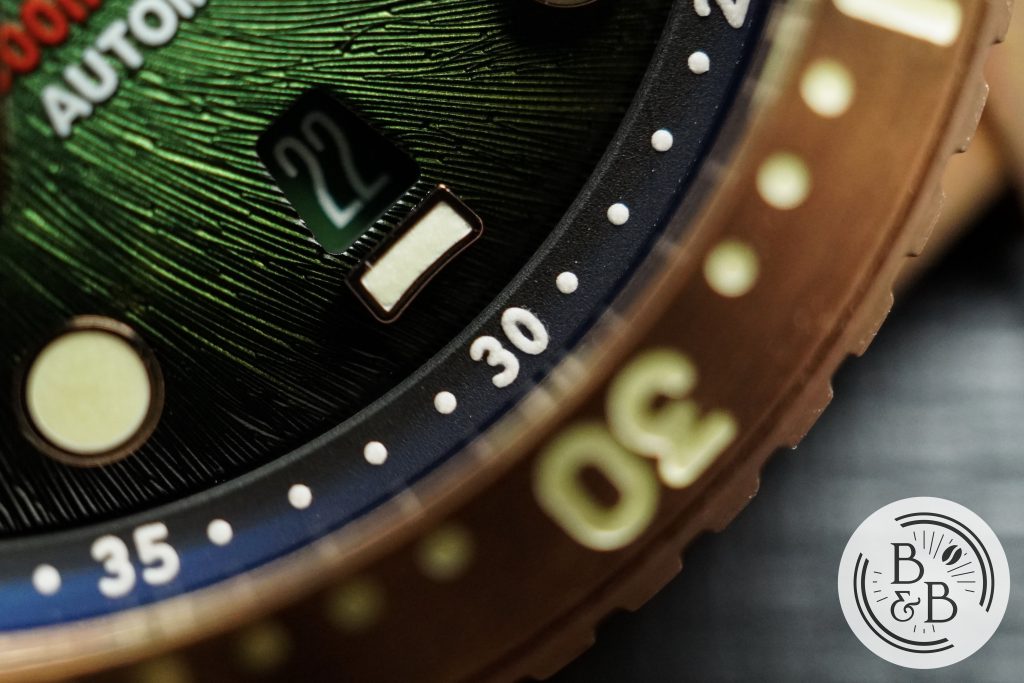 There is a black outer chapter ring that has Arabic numerals for every increment of five, and large white dots for the other markers. All these elements are lumed with BGW9 Super LumiNova.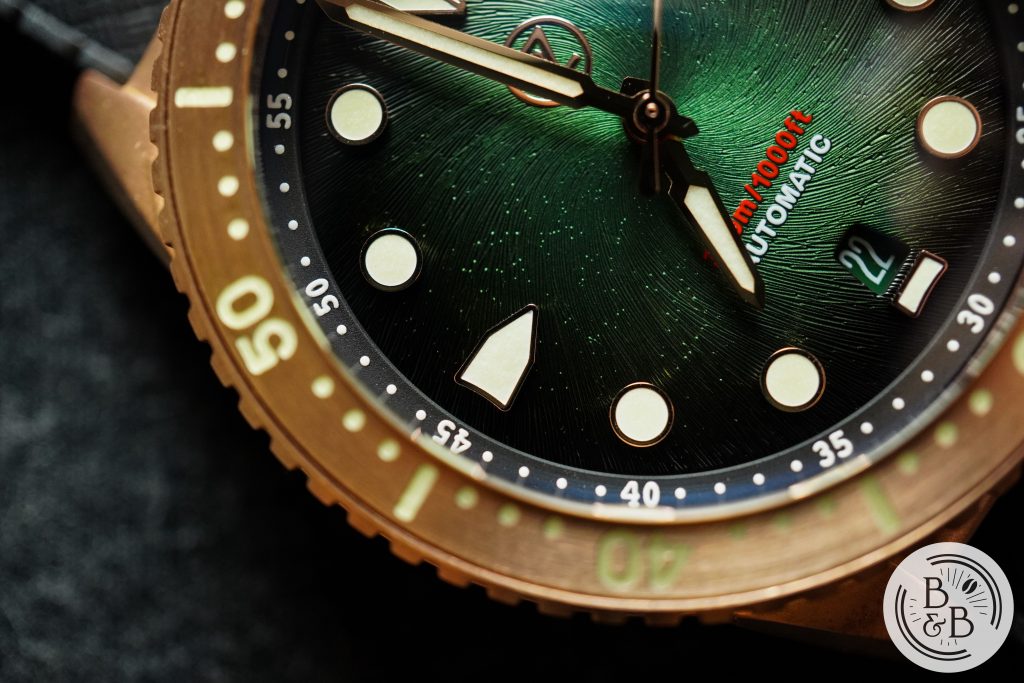 You then have well proportioned applied indices that are golden or polished bronze colored. These are generously filled with C3 Super LumiNova. The 3, 9 and 12 markers are shaped like shark teeth, and the rest are circular.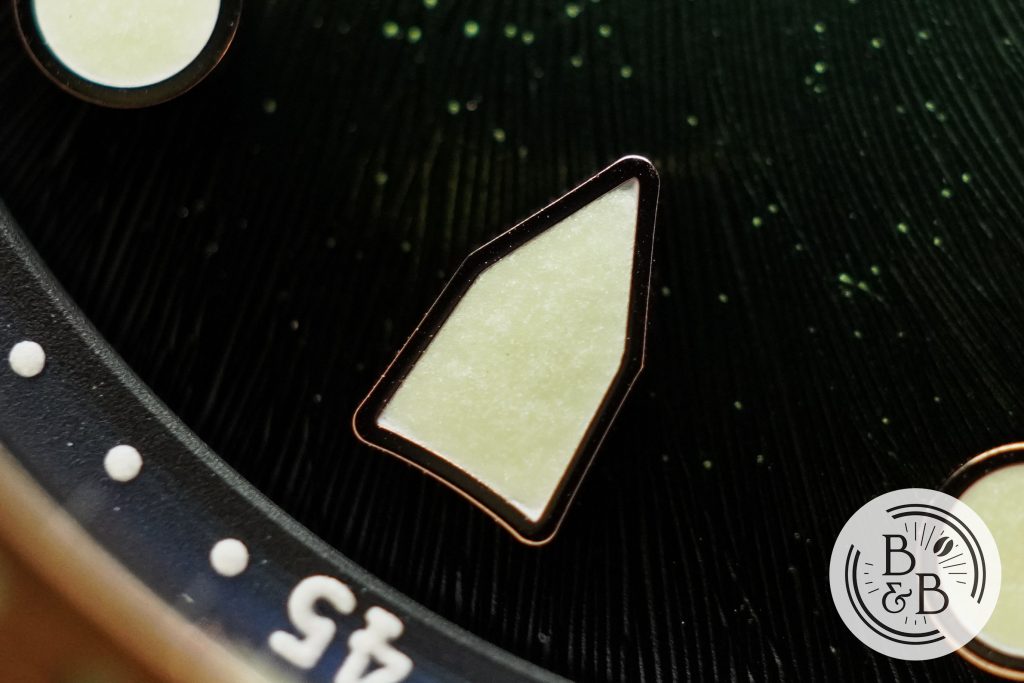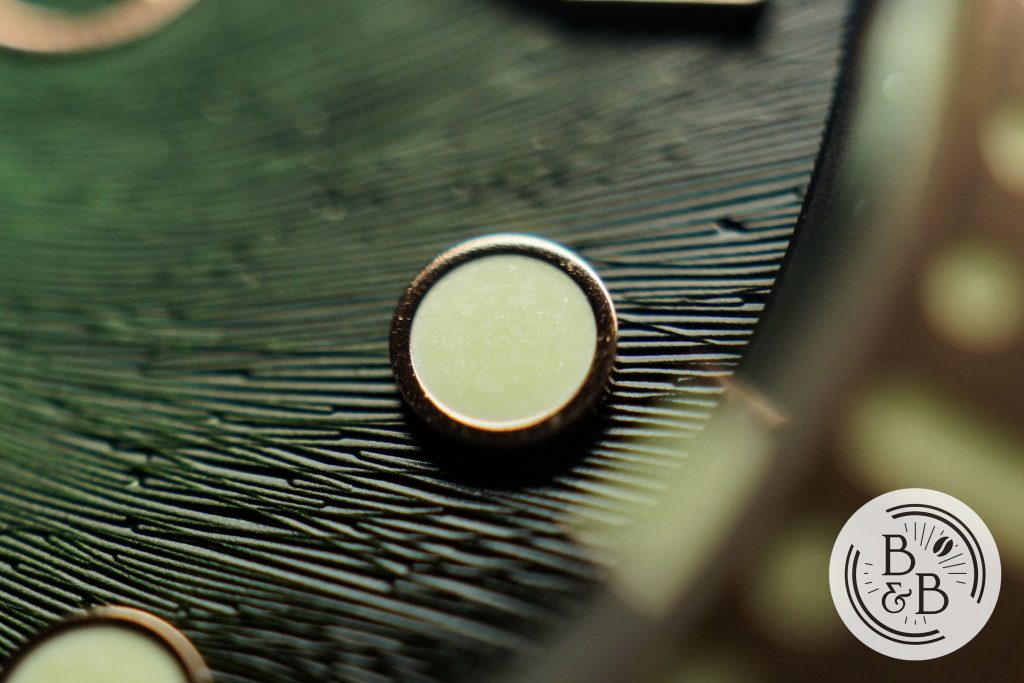 The finishing on these indices is good for the price, but I did notice a few blemishes on a few of them – mostly dirt and micro scratches.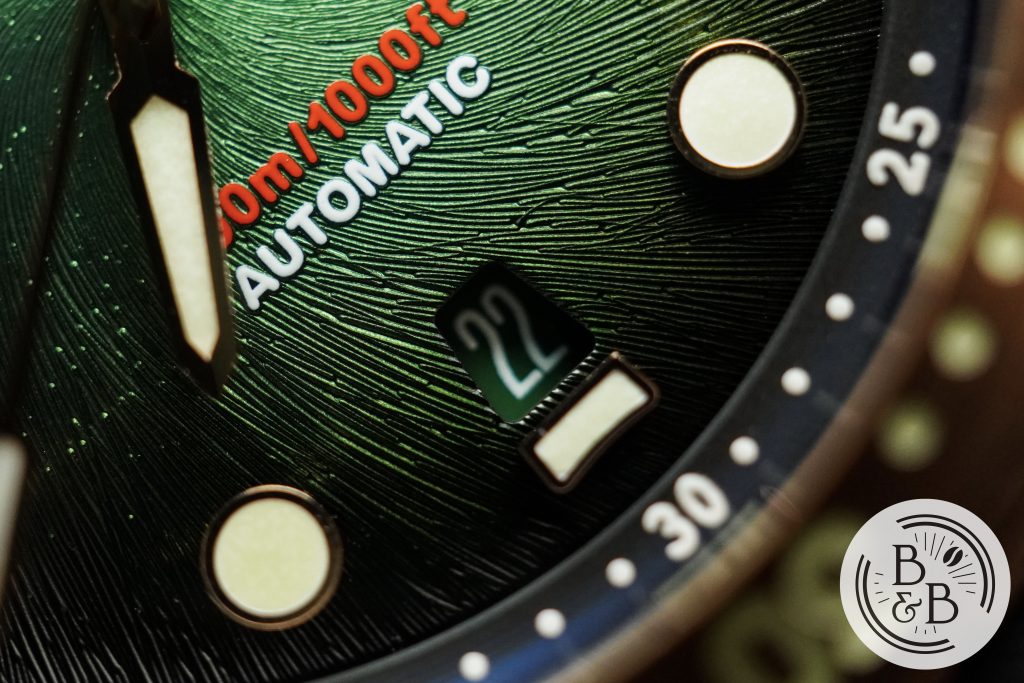 There is a date window at the 6 o'clock position that eats into one of the shark-tooth indices with a color matched date wheel and white font. I love date windows at 6 o'clock so this was a total win for me. The finishing around the window is excellent.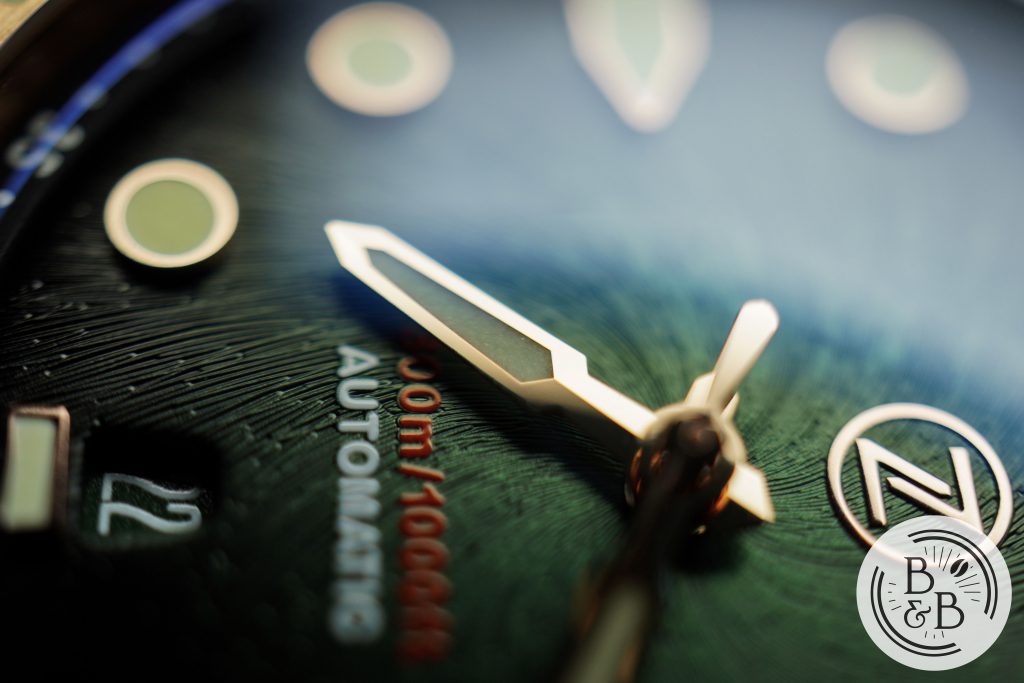 The hand set is simple, and I'm glad it is, because it allows the deep dial texture to come through nicely. The hands are very generously lumed, and the double faceted design plays with light beautifully.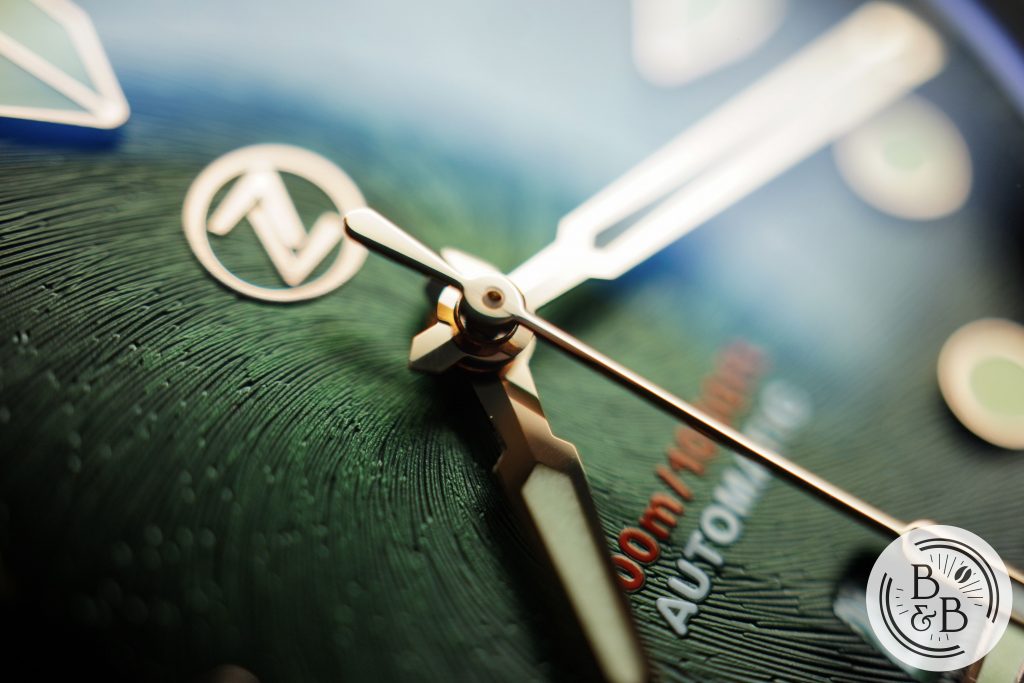 The finishing on the hands is very impressive for the money. I was surprised to see lower quality finishing on the indices than on the hands. I usually see it the other way around on micro-brands. Excellent stuff here!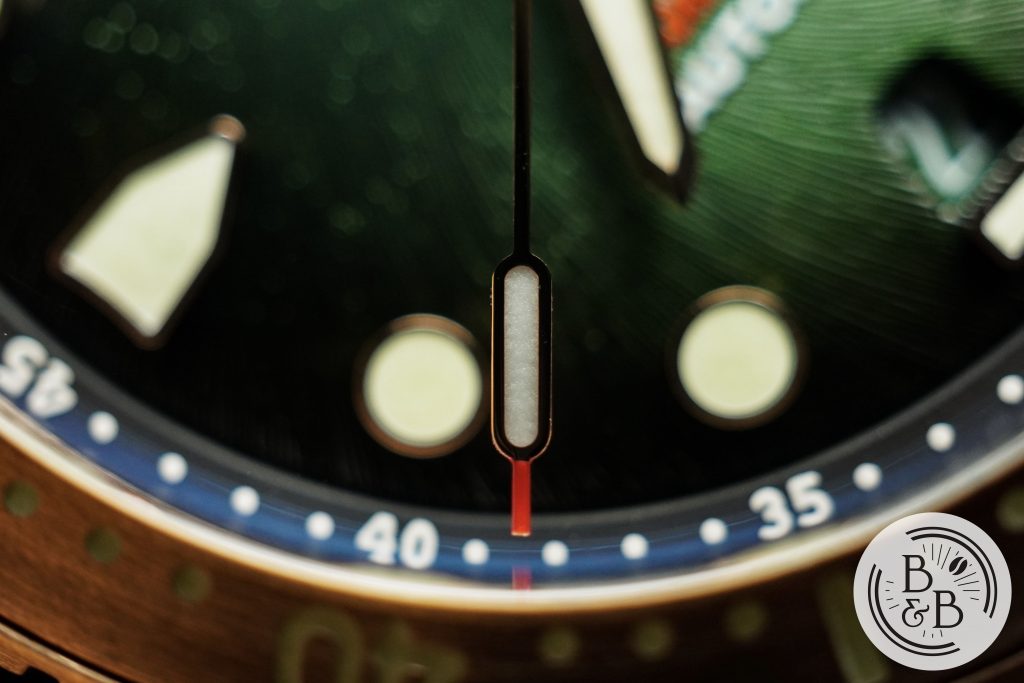 The seconds hand has a lumed element, and a red tip that accents the red text on the dial perfectly. The seconds hand hovers over the chapter ring and makes timekeeping very easy.
---
Lume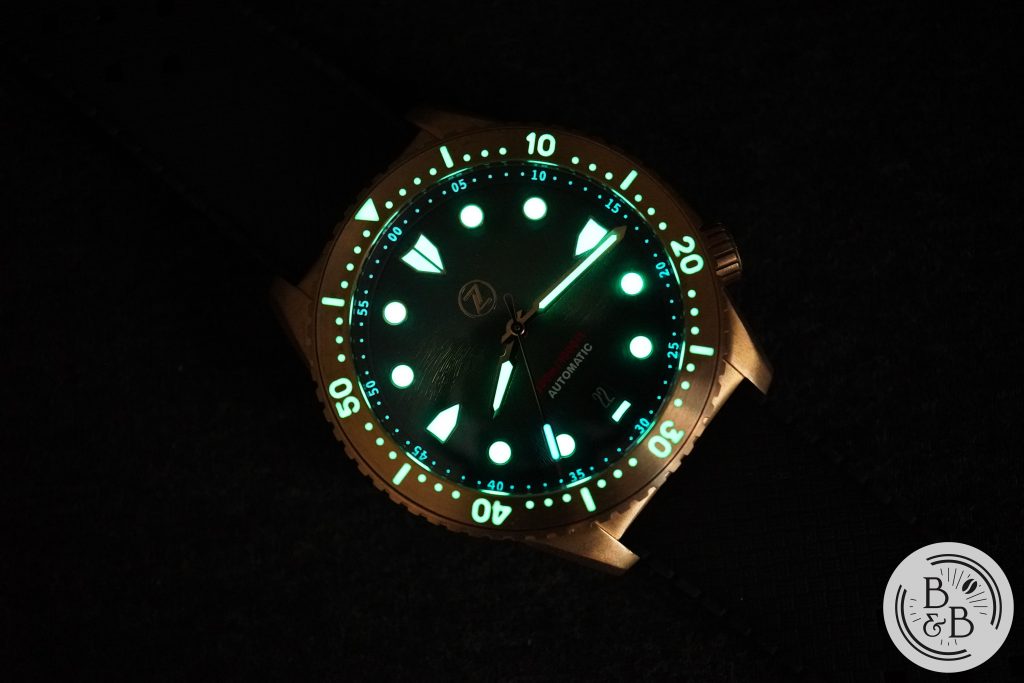 The lume on this watch is incredible. I've reviewed around 37 watches on this website so far, and this watch is in the top 3 for sure (the other contenders are the Guinand Flight Engineer and the Vandaag Schallmauer).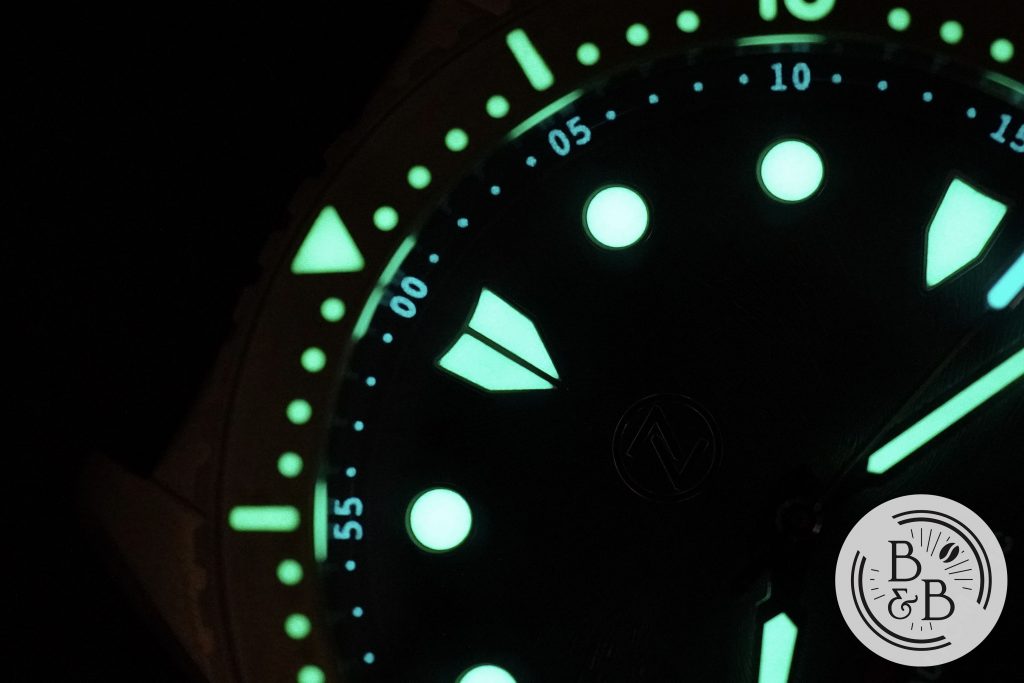 Extravagant bi-color lume design aside, the lume is very, very bright and holds it's charge well into the night.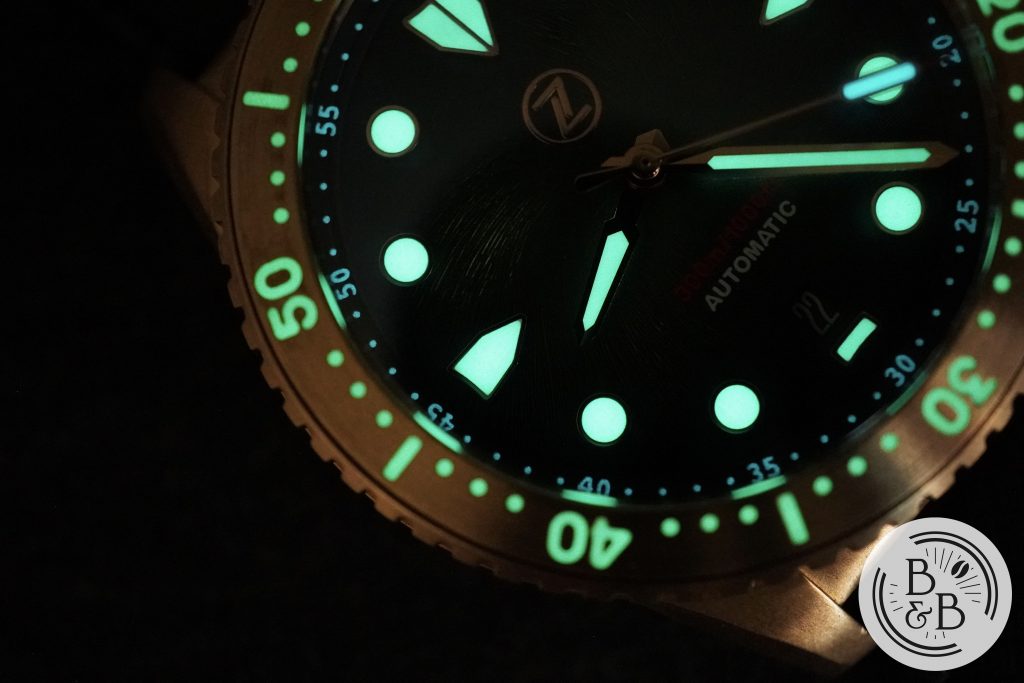 I have no idea what lume magic is going on at Zelos, but just keep doing what you're doing.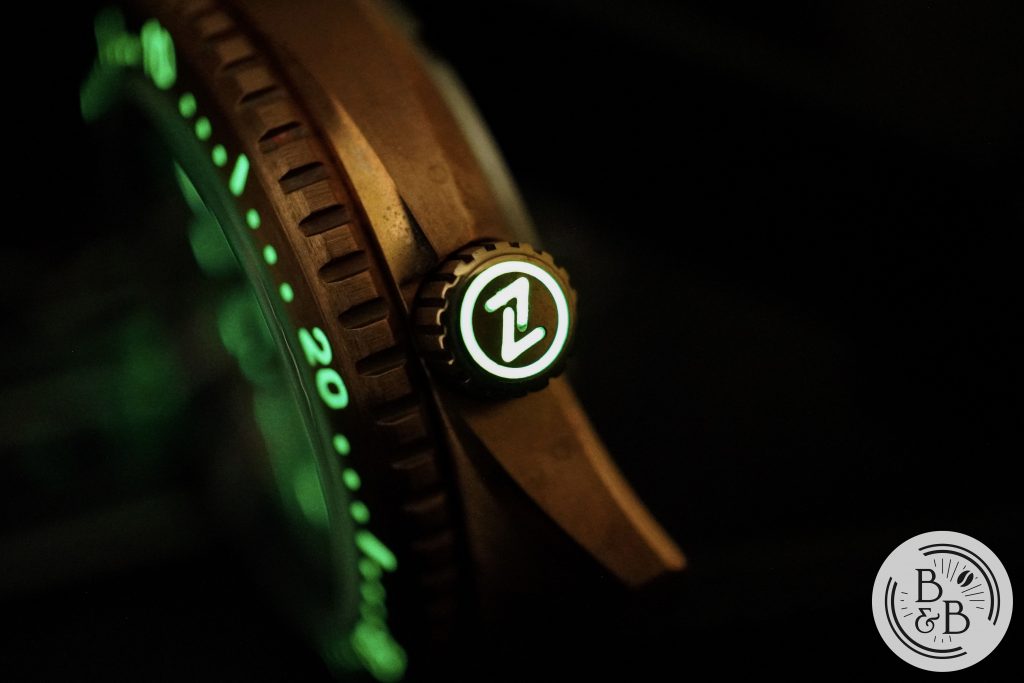 The crown is also lumed, and I think this is a very nice addition. Elshan definitely knows how to pamper his customers.
---
Movement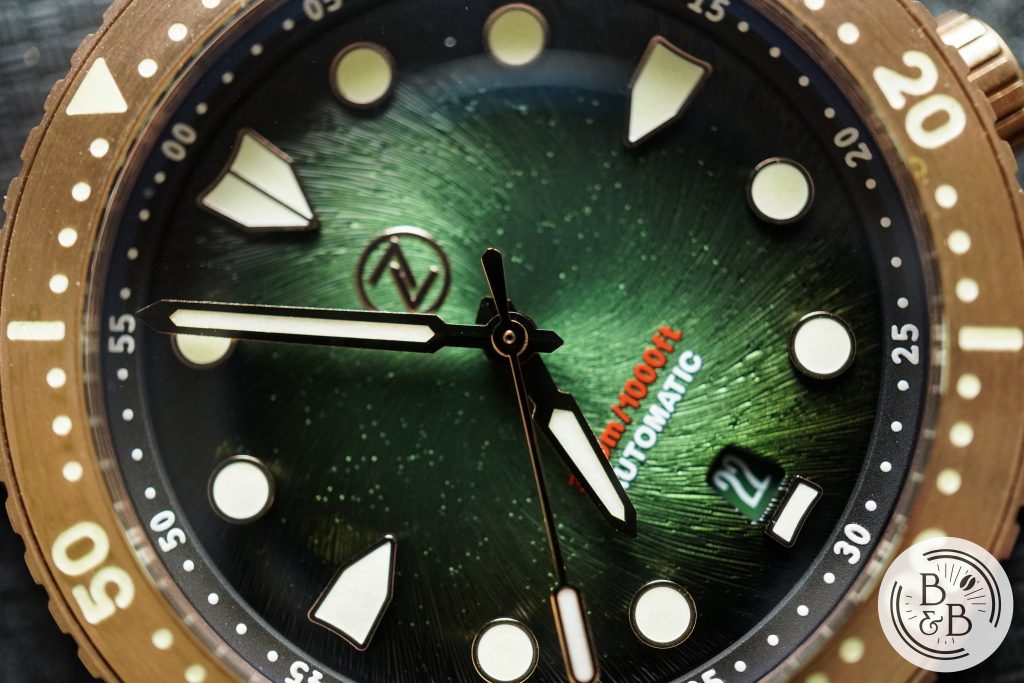 This watch houses a Miyota 9015 movement, a refreshing change after all the Seiko NH35s that come my way. I typically prefer Miyota 9XXX movements to their Seiko alternatives, with the only drawback being the rotor spinning noise and sometimes a gyroscopic feeling on the wrist.
I'm very pleased to report that either intentionally, or unintentionally, the current case design prevents the rotor from exerting any forces on your wrist, and is relatively quiet too. Great job here, and I often wish my Baltic Aquascaphe behaved similarly. This watch was running at approximately +8 spd over a 2.5 day period, which is more than reasonable for this movement.
---
On The Wrist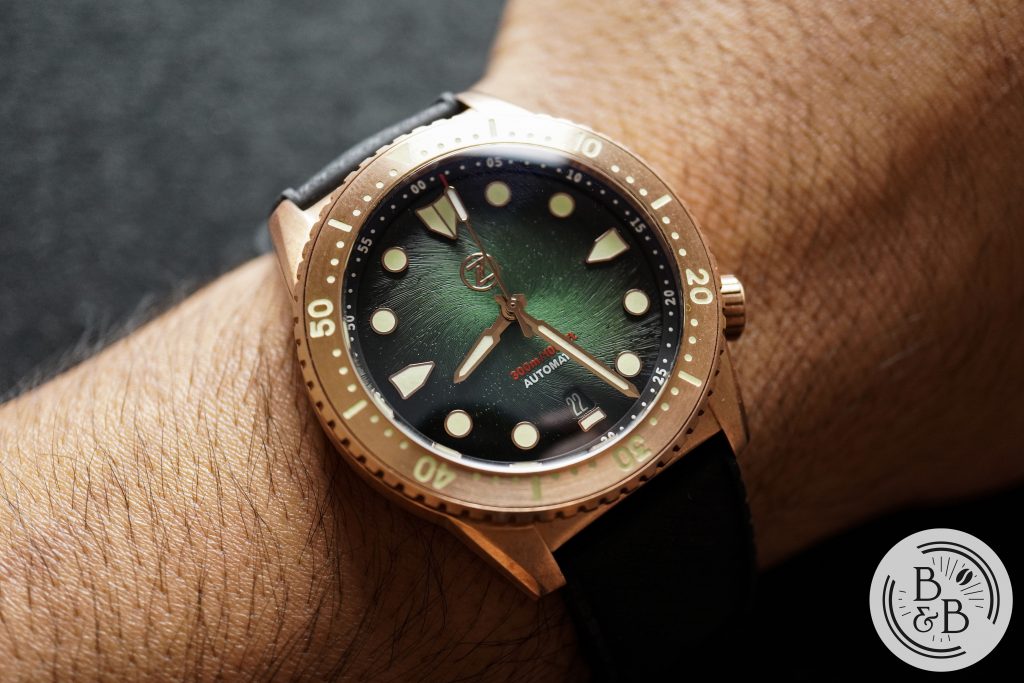 This watch is perfect for small and medium wrists, and is very comfortable on my 6.25″ wrist.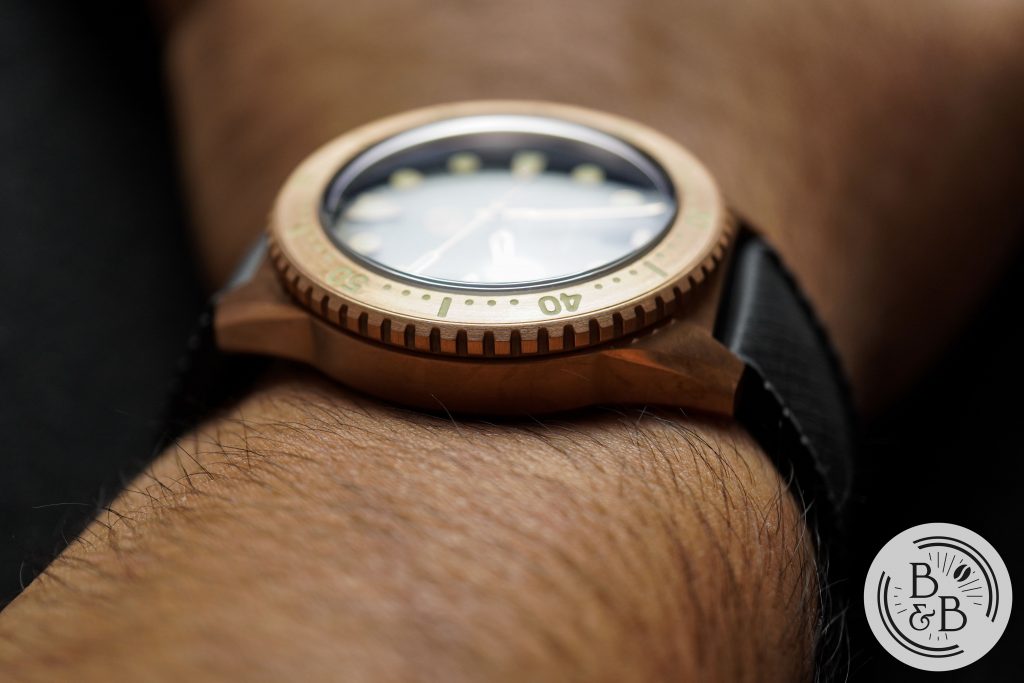 The 40mm diameter, 46mm lug-to-lug width and 11.5mm height are all perfectly selected, and I have no complaints whatsoever.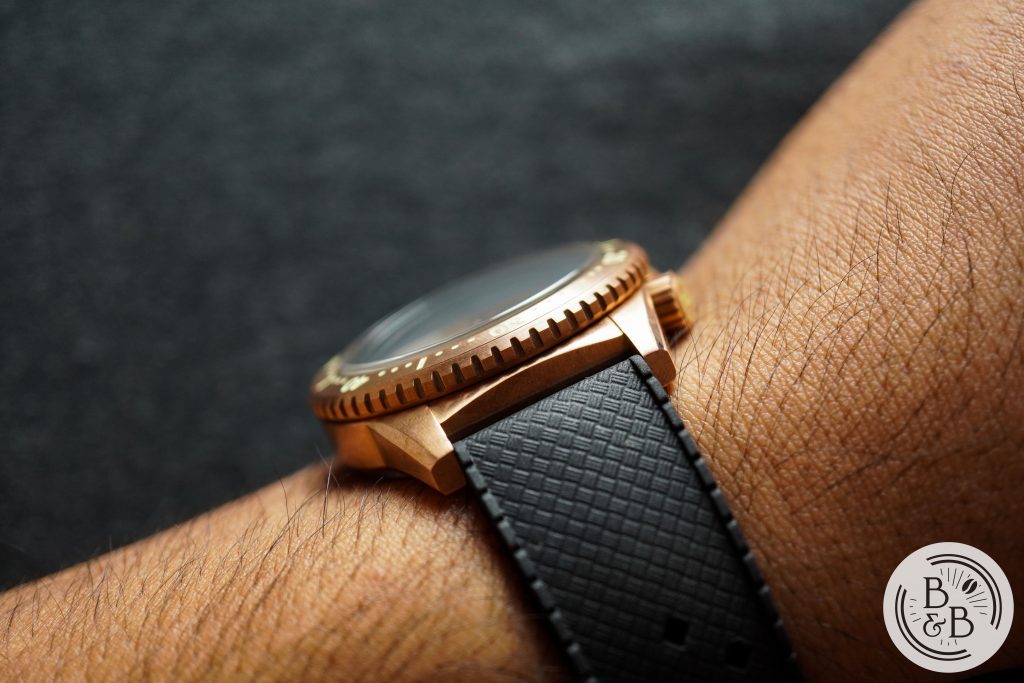 The 105 g weight is well balanced too, and it sits low on the wrist.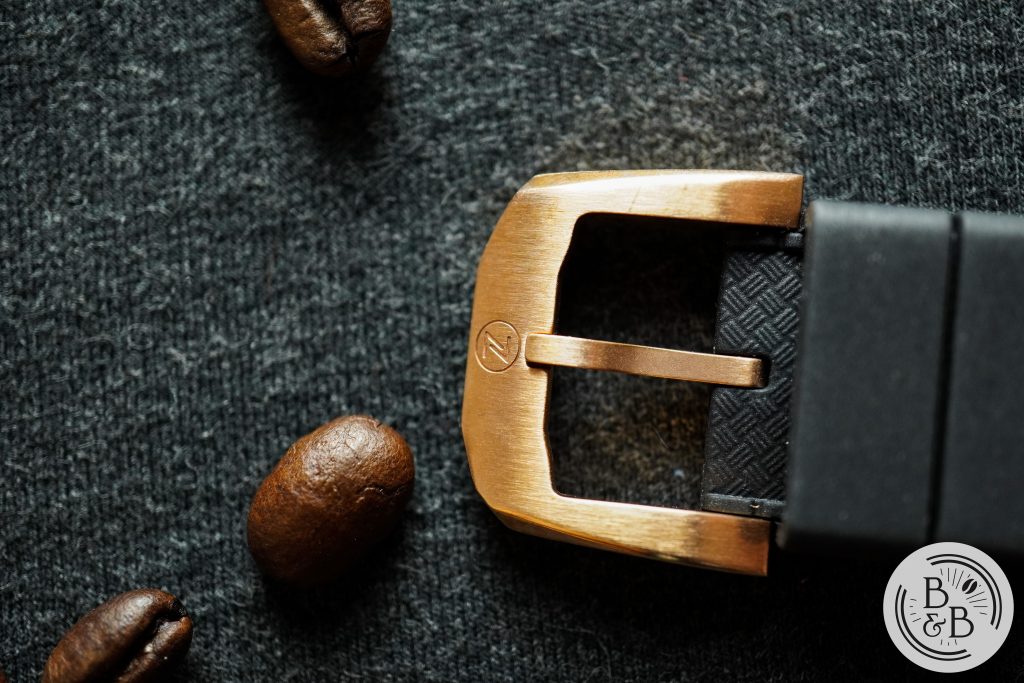 The bronze Mako models ship with a tropic style rubber strap with signed bronze hardware. I enjoy rubber straps, so I had no complaints here. The stainless steel watches ship with a metal bracelet.
---
Concluding Thoughts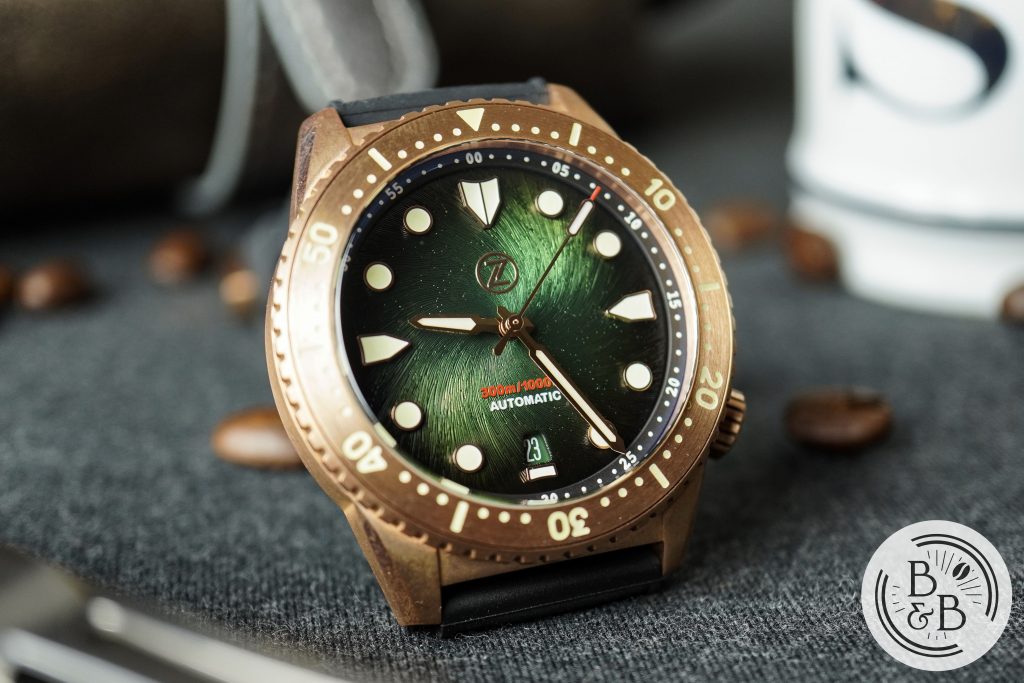 After spending a couple of days with this watch, I'm definitely a fan of what Zelos is doing. While Bronze watches aren't particularly to my liking, I think it is an excellent watch for fans of the material. You'll be hard pressed to find a better Bronze diver for the price. The quality of components you're getting is excellent, the build quality is good, the dial finishing and QC is more than acceptable for a $400 Miyota 9015 equipped watch.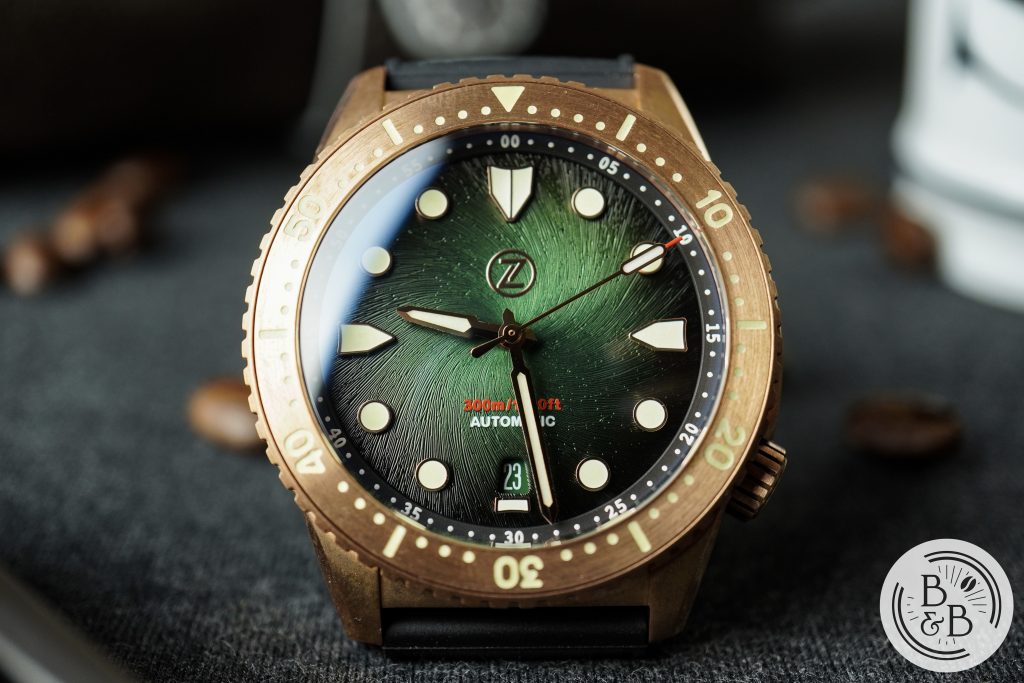 I've heard reviewers and watch influencers call the Mako lineup 'The Best Dive Watches under $500', and I'm not entirely sure I agree. They might not be the best, but in my opinion they're easily one of the best options for that budget. I will definitely look at featuring more Zelos watches here, so this will not be the last one you'll see here.
---
Strap Change
---
Thanks for reading!