---
Disclaimer: this video was not sponsored by Delugs, MING, Formex, or any other entity. Delugs sent me their latest CTS Rubber Straps & Snap Box and I'm not required to return them. They had/have no control over my opinions/content.
Products:
Delugs CTS Rubber Strap 20mm – Grey (MING 18.01 Diver, 37.05 Moonphase, Formex Essence 39): https://delugs.com/products/grey-rubber-cts-strap?variant=40111710797937
Delugs CTS Rubber Strap 22mm – Navy (MING 20.11, Formex Leggera 41): https://delugs.com/products/navy-rubber-cts-strap?variant=40111710666865
Delugs Curved Spring Bars – https://delugs.com/collections/spring-bars/products/quick-release-spring-bars-curved-1-5mm
Delugs Snap Box – https://delugs.com/collections/snap-box/products/snap-box-brown
---
Video:
---
Review:
Delugs is perhaps one of the most exciting brands in the Straps & Accessories space. They're constantly innovating and improving, and doing so by learning and understanding the needs of their customers. Their social media engagement is terrific, and they've built quite an impressive empire on Instagram. I reviewed my first set of their straps a little over two years ago, and the quality and options have only gotten better since, with some very exciting expansion into the Accessory space too. They've also made remarkable strides in designing straps for challenging case platforms like the Tissot PRX.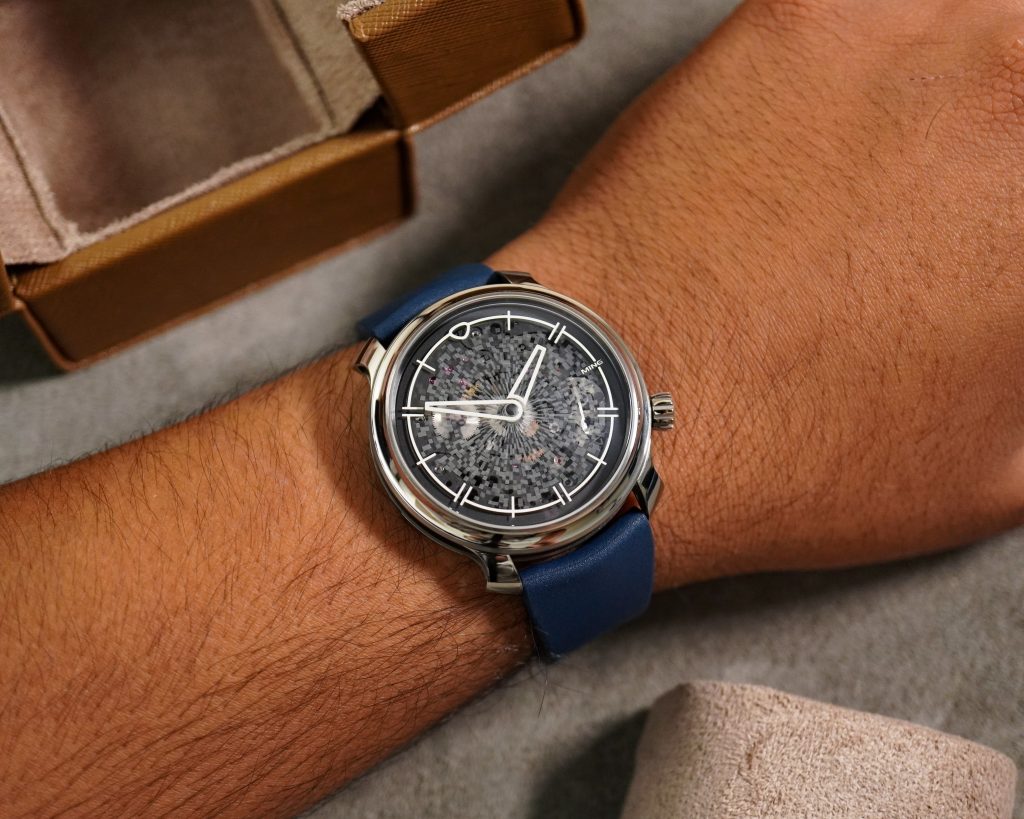 When Ken reached out to me and asked if I would be interested in taking a look at their latest line of rubber straps, I was quick to agree. I tend to mostly wear rubber straps or bracelets, so I'm always eager to find the next good rubber strap option. The CTS Rubber Strap is their take on a cut-to-size rubber strap option, similar in function to those you might find on Sinn or Breitling watches, but a lot less expensive (vs. Breitling, whose strap and clasp will cost you around $500) and a much better material (vs. Sinn, who use silicone).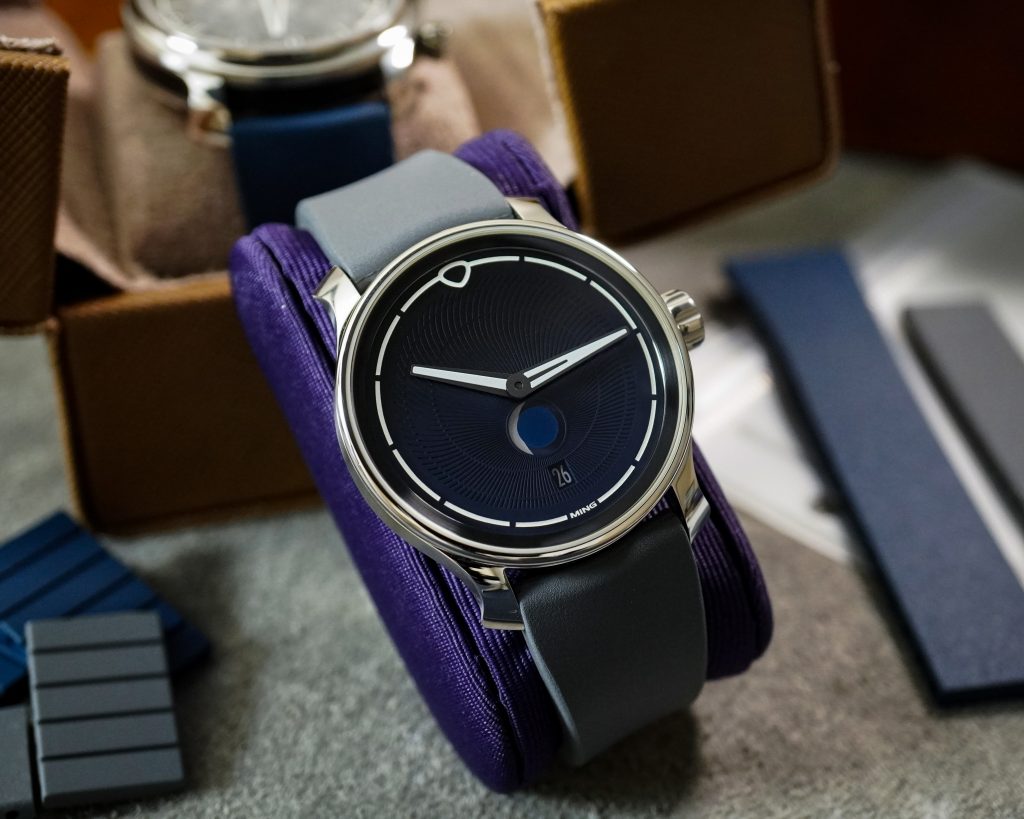 There was a slight problem though – almost all the watches I currently own have curved end lugs and require straps with curved spring bars. But after discussing this with Ken, we decided to go ahead and try some of their curved spring bars (which are the best I've come across, and I've replaced most of my curved straps with them) through and make them work on my watches. The only downside would be that there could be a small gap between the strap and the lugs – not a hefty to price to pay for a good curved rubber strap option.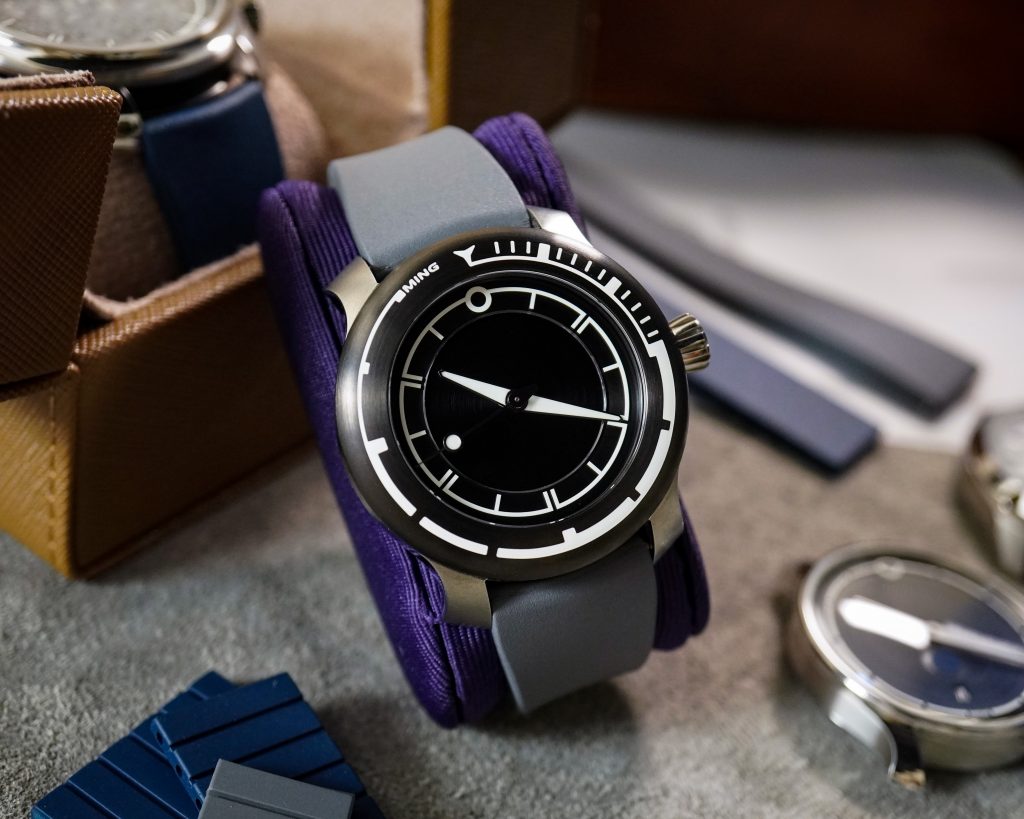 The straps arrived quick, required a bit of massaging to get the new spring bars in there, and take about 5-10 minutes to cut them to size if you work your way through in single unit segments. Since these are straight bar 20mm/22mm straps that are being curved, there is about 0.25mm of visible exposed spring bar. It doesn't bother me at all, but if you have severe OCD, you may want to wait for Delugs to make dedicated curved straps.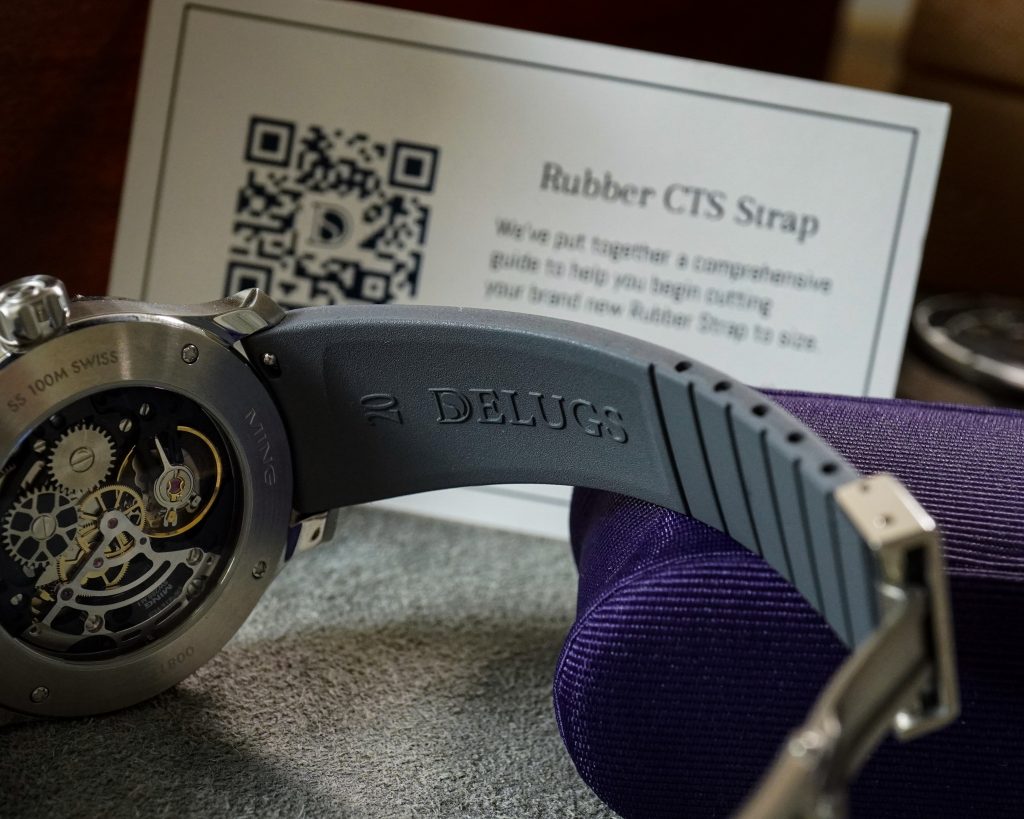 The quality of the rubber is excellent – they are made of high quality fluoroelastomer (FKM) rubber, and have a subtle matte texture. I've owned rubber straps from Everest, Rubber B, Jean Rousseau, etc., as well as most of the usual more affordable options from Barton, Hirsch, Bonetto C. etc. The quality of their material leans more towards the higher end options mentioned above.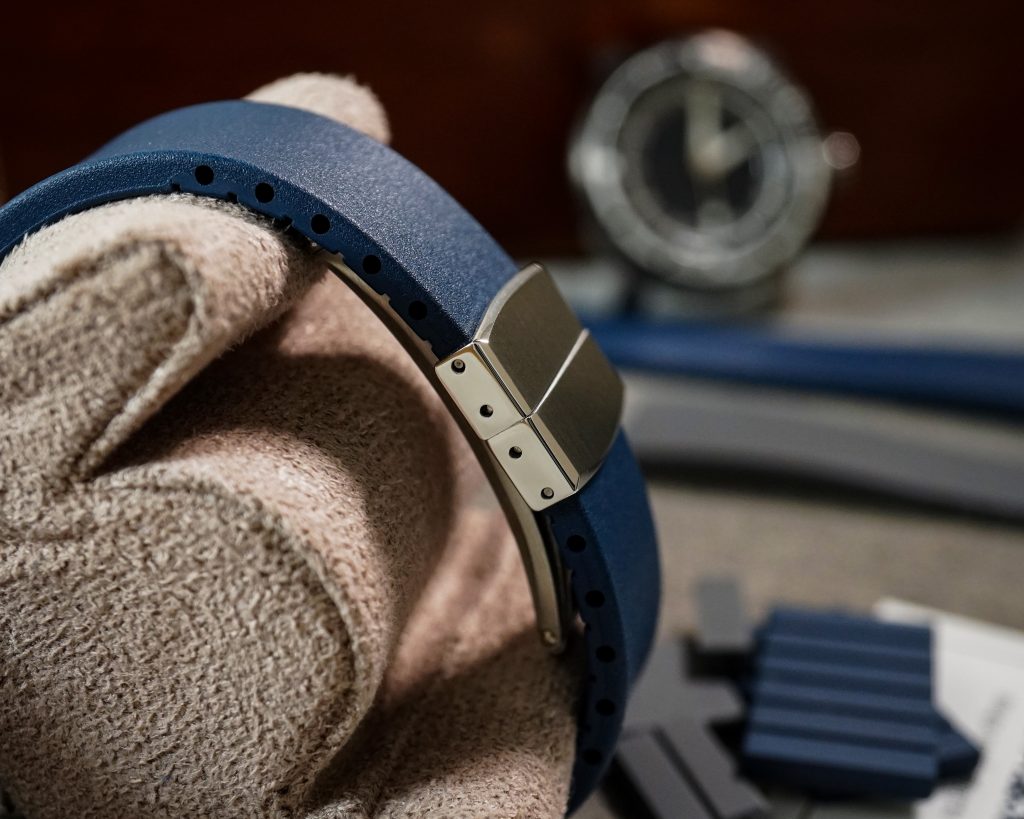 The issue with most rubber strap options available today is sizing. As someone who has a somewhat modest wrist size (6.5-6.75″), most default options from brands like Barton, Hirsch, Everest, Bonetto Cinturini, Zulu Diver are just too d*mn long. And I don't want to imagine what it must look like for folks with ~6″ wrists. By offering a high quality, flexible rubber strap option, they've filled a void in the market. And while their pricing isn't as cheap as the cheapest rubber strap out there, at $145 they are certainly on the affordable side of equivalent straps of this quality. To put it into perspective, I've spent twice as much on a Jean Rousseau rubber strap for my MINGs.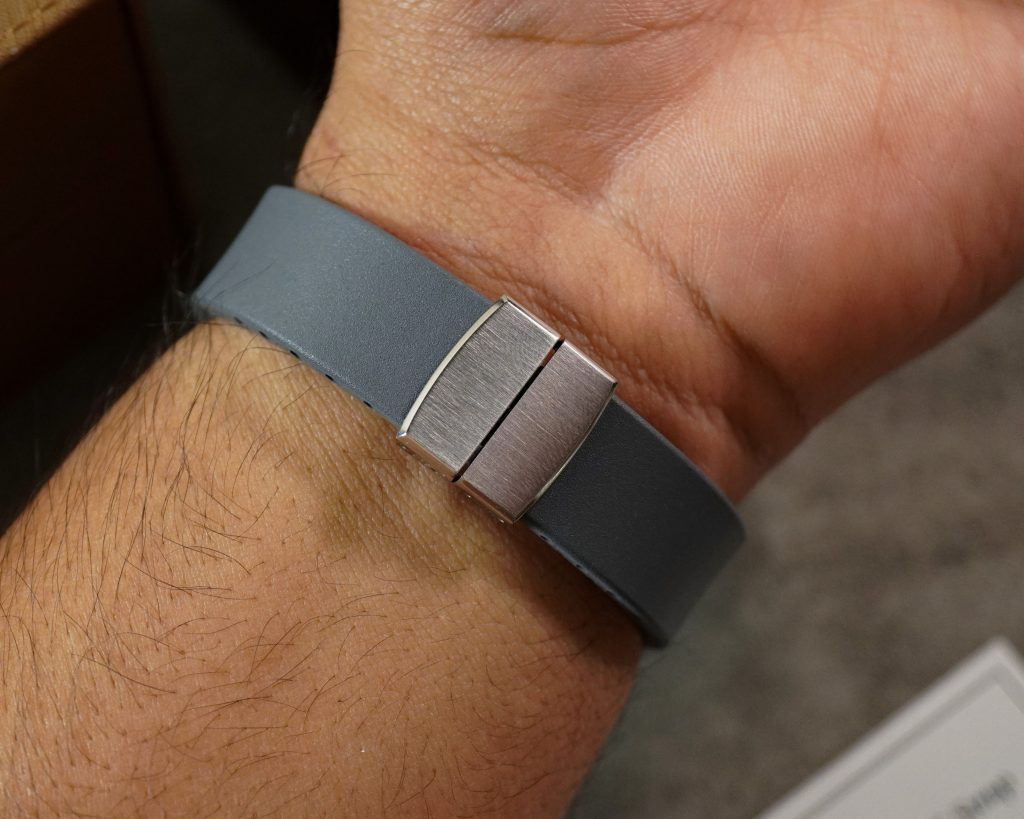 By using a cut-to-size (CTS) design and a sleek clasp, you have the ability to get the exact size you need without any need to show up at a watch meetup with an extra 5″ of pointless rubber dangling off your wrist. The downside to their compact and sleek clasp is that once you dial in a size, you don't have much flexibility to adjust this if your wrists expand or contract significantly. However, they do provide an extra half strap in case you make a mistake or want to switch between watches that may have different lug-to-lug widths.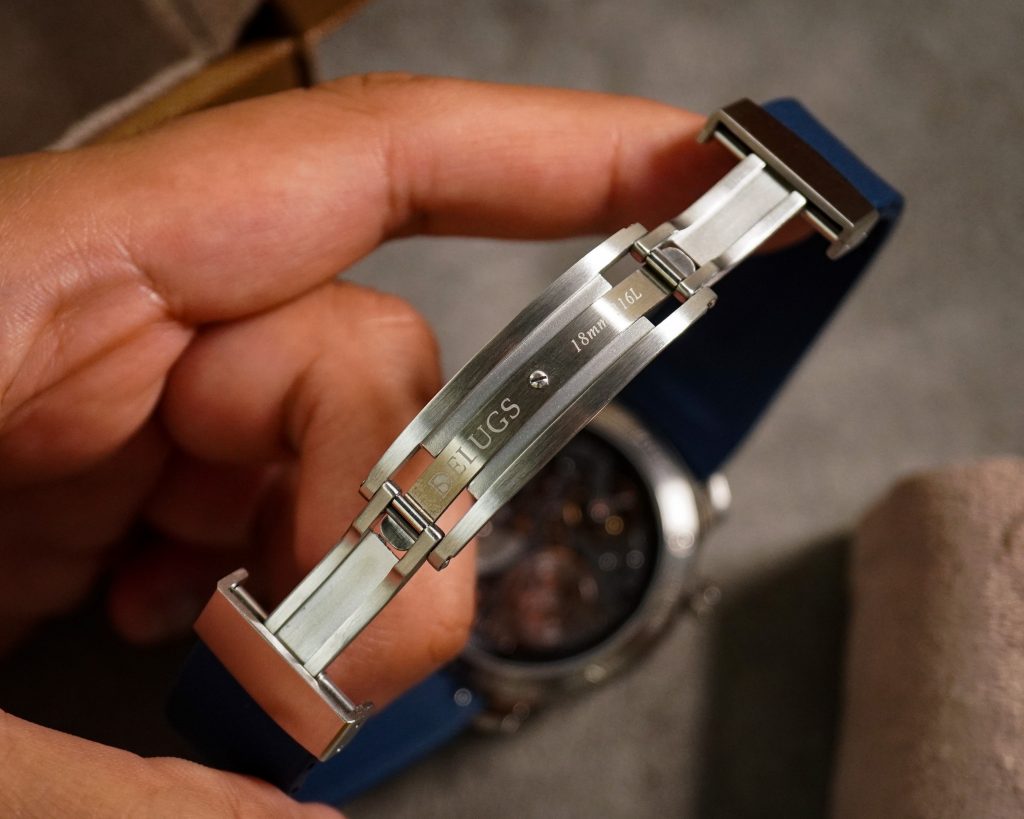 The clasp uses a snappy leaf spring mechanism which snaps it into place and offers enough resistance to keep both ends seated firmly. I was not expecting a mechanism like this, and it did feel extremely unusual at first. Since the two ends of the clasp are essentially 'floating', they don't always perfectly line up on their own. This might bother some, but it wasn't significant enough to bother me.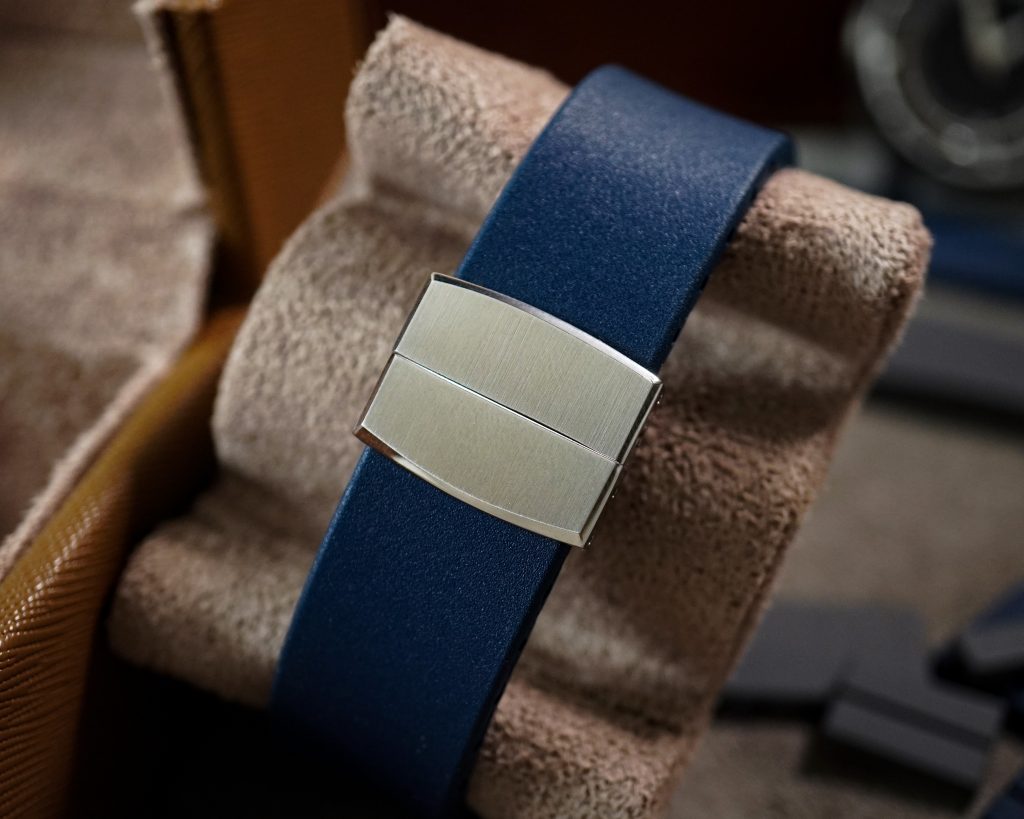 The clasp is very well finished with uniform brushing and some well executed polished accents. It is a great looking product overall, which is what I've come to expect from most of what Delugs produces.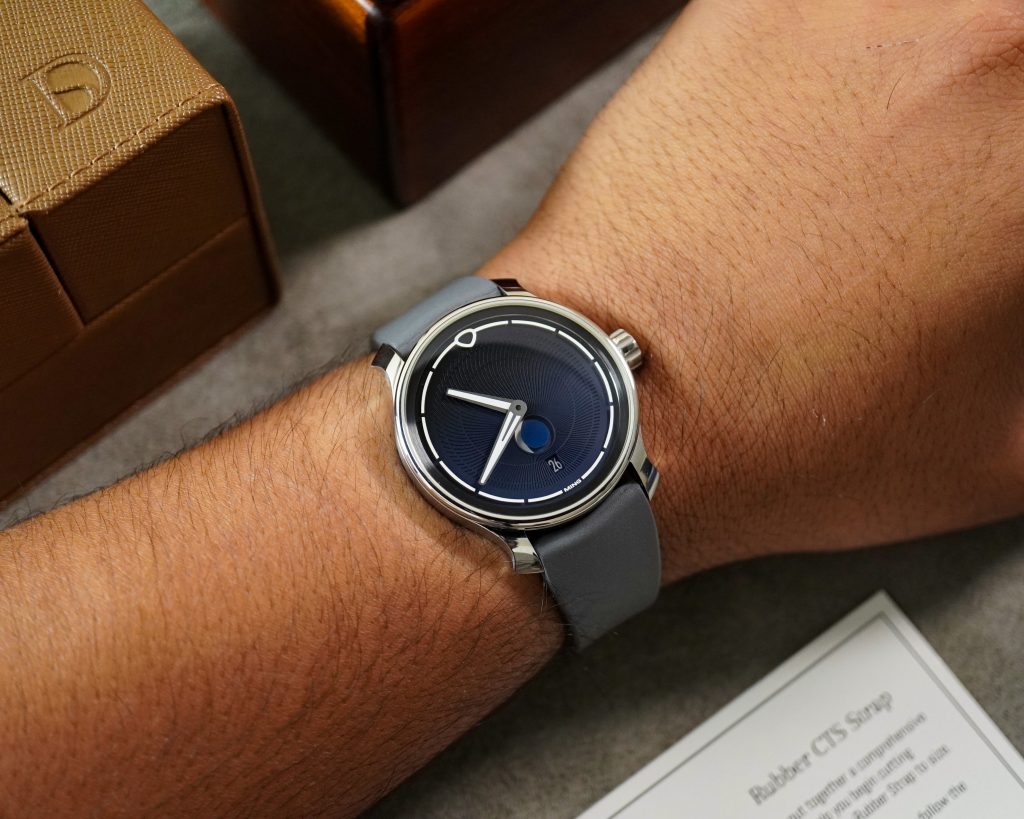 Overall, I think this will make a great addition to their product catalog, and one that will find popularity among those folks like me who love a good rubber strap. Let this review also serve as a proof of concept that these straight end straps work (almost) perfectly with curved end watches too.
---
Pros:
High quality FKM rubber
Can be sized to fit (small wrist-ers rejoice!)
Subtle and versatile texture
Quick-release spring bars are convenient
Sleek clasp design with excellent finishing
Cons:
If you go down the route of replacing the straight spring bars for curved ones, you might notice a small gap between the strap and the spring bars.
The clasp lacks micro-adjustment, so if your wrist expands/contracts drastically through the day you might find it slightly limiting.
---