---
Disclaimer: This watch was sent to me to review and I was not incentivized in any way to make this review. This is in no way sponsored by Valhalla of Norway or any other entity. All opinions here are my own. Since this watch is a prototype and was worn/used by other reviewers, please make note that the experience might differ from that of a brand new watch.
---
---
Contents
---
Valhalla Øks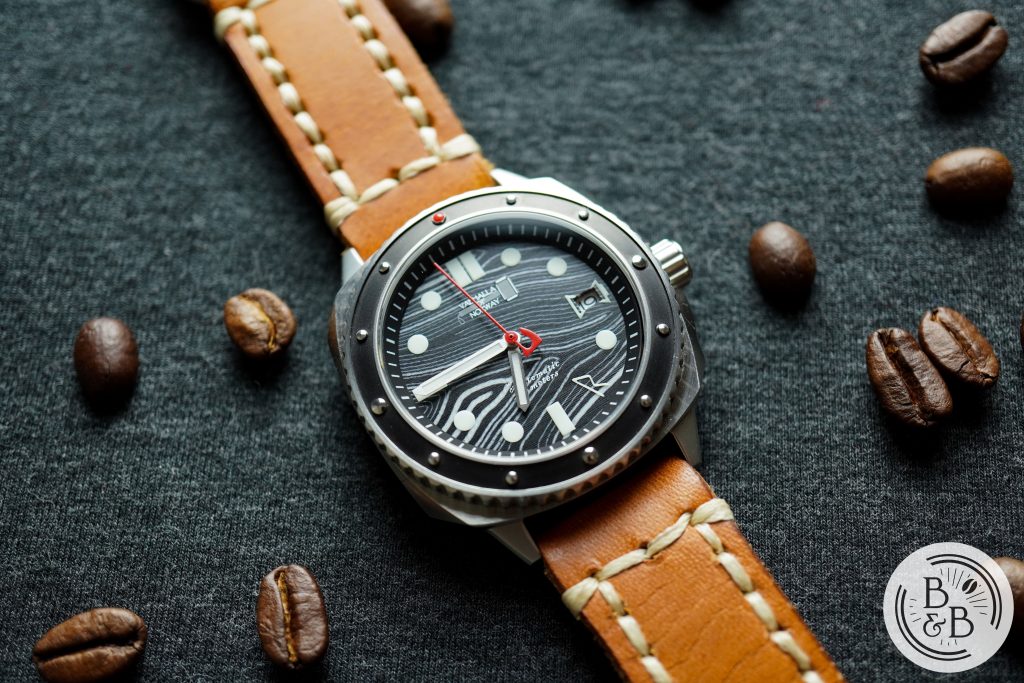 Micro-brands are drawing inspiration from everywhere. Sometimes, they even draw inspiration from events that are completely unrelated to the watch aesthetic itself. But on many other occasions, they draw inspiration from something different, and put together a watch design that helps express that story. The Valhalla of Norway Øks (Axe) is one of those, and I think they've done a great job of combining some Viking and Norse design elements into their watches.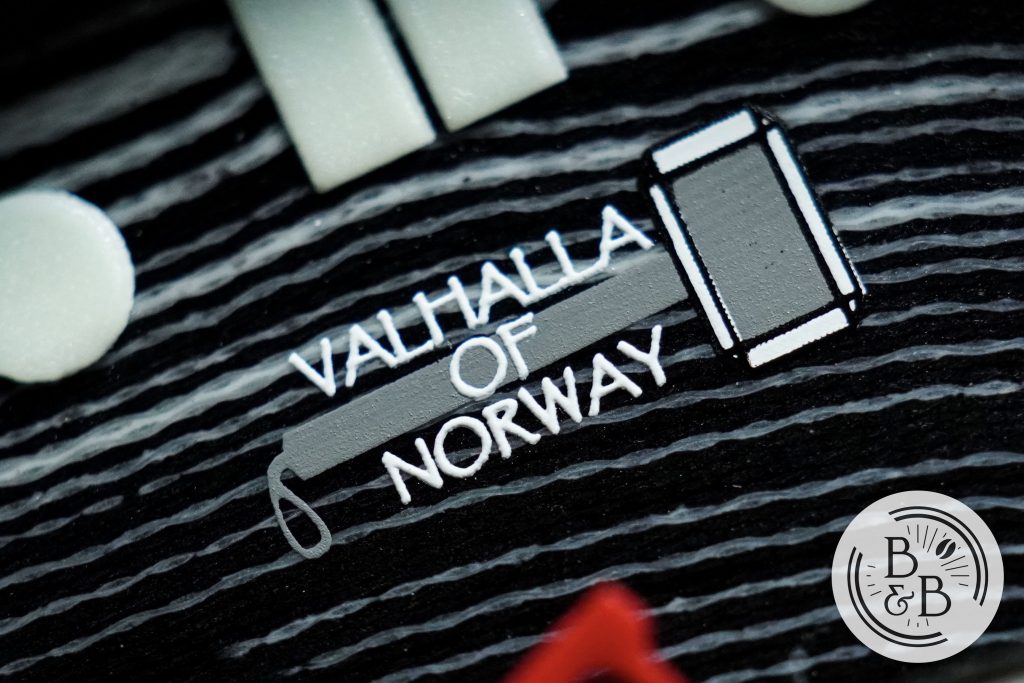 This is not their first watch, and I took a look at some of their older designs that also had some of these Norse design elements. I wasn't sold on those, but I think they really nailed it with the Axe, and all the design elements came together nicely to form a mostly cohesive visual story.
---
Case
The base design is a cushion style case that measures 42mm in diameter, 46mm from lug-to-lug and 13.5mm tall. This entirely brushed cushion style base is then accented with plenty of angular facets, very short lugs and a bold bezel.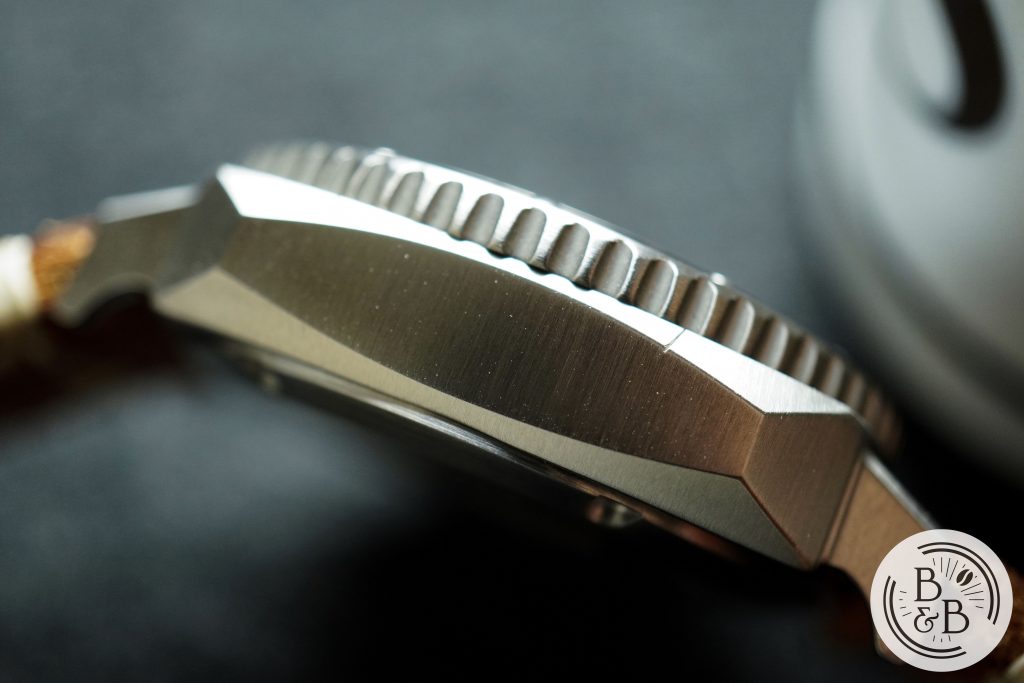 I really like the angular case design, and I think it fits the Norse weapon theme nicely. Maybe similar to the facets on Thor's hammer?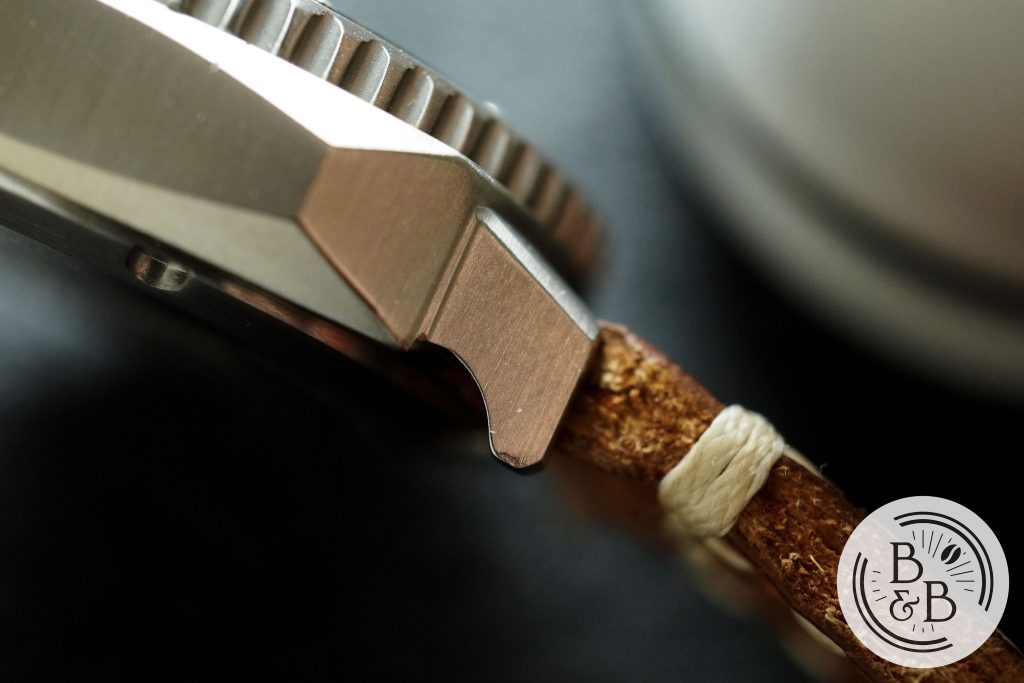 There are short lugs that dramatically curve down towards the wrist. I think this is a pretty cool design and I don't think I've seen something like this before.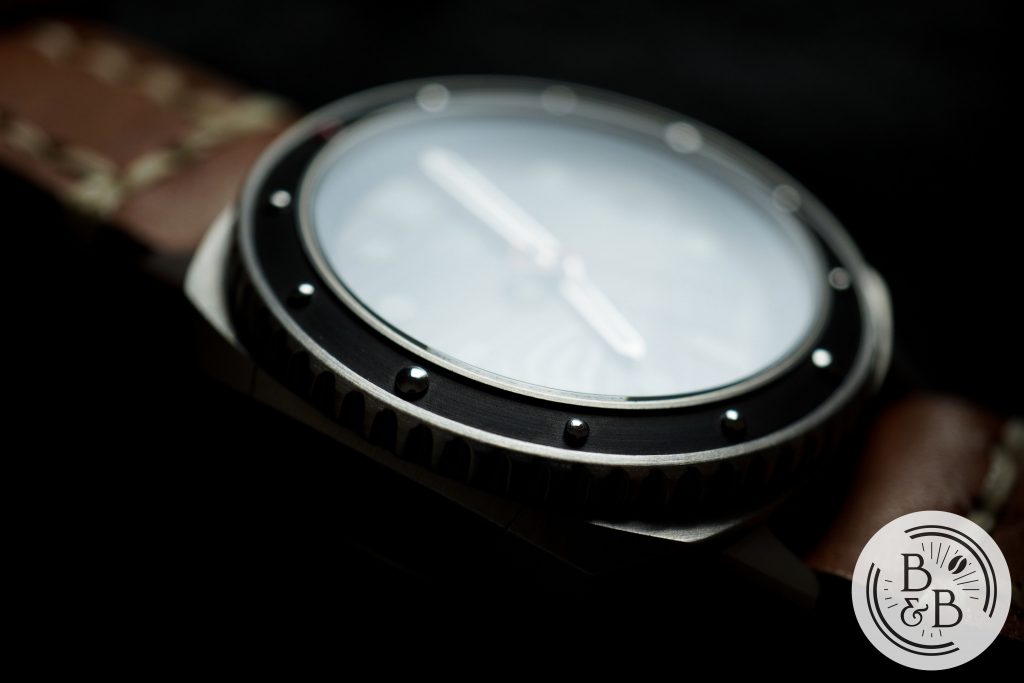 There is a 120-click uni-directional bezel that is not numbered, but has metal rivets for every 5 minute increment. The rivets are made to resemble a Norse shield. The black bezel has a red lumed pip at the 12 o'clock. The bezel construction and action is solid. It is easy to grip and operate, clicks loud and has no back-play.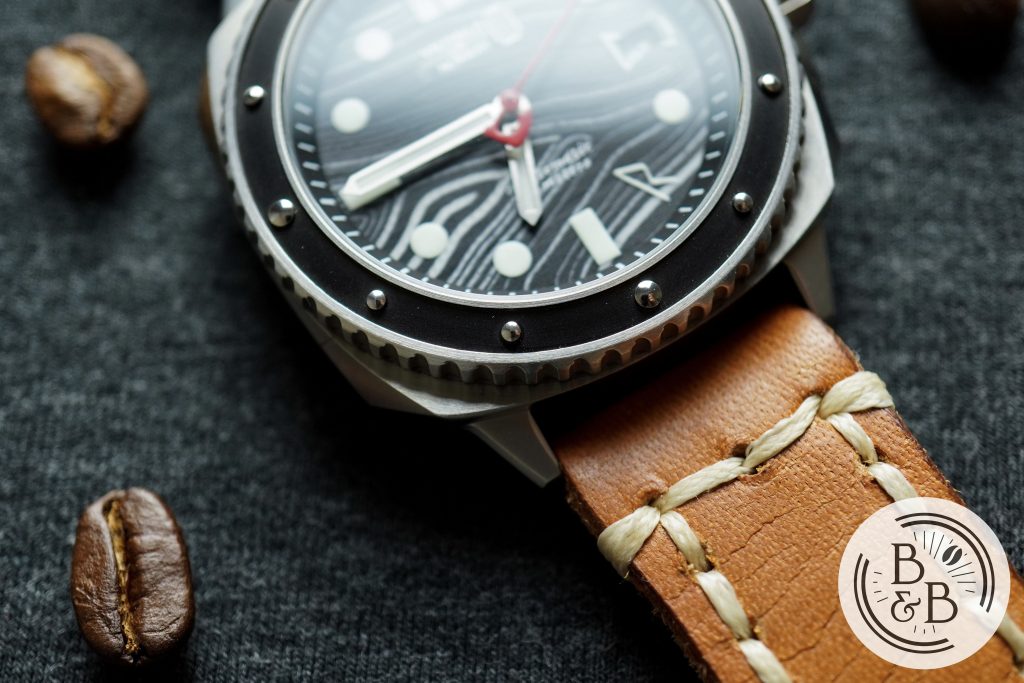 From a functionality perspective, I'm not entirely sure why it was needed. I suppose you can still use it to time stuff, but the fact that all the rivets look the same can be a bit confusing.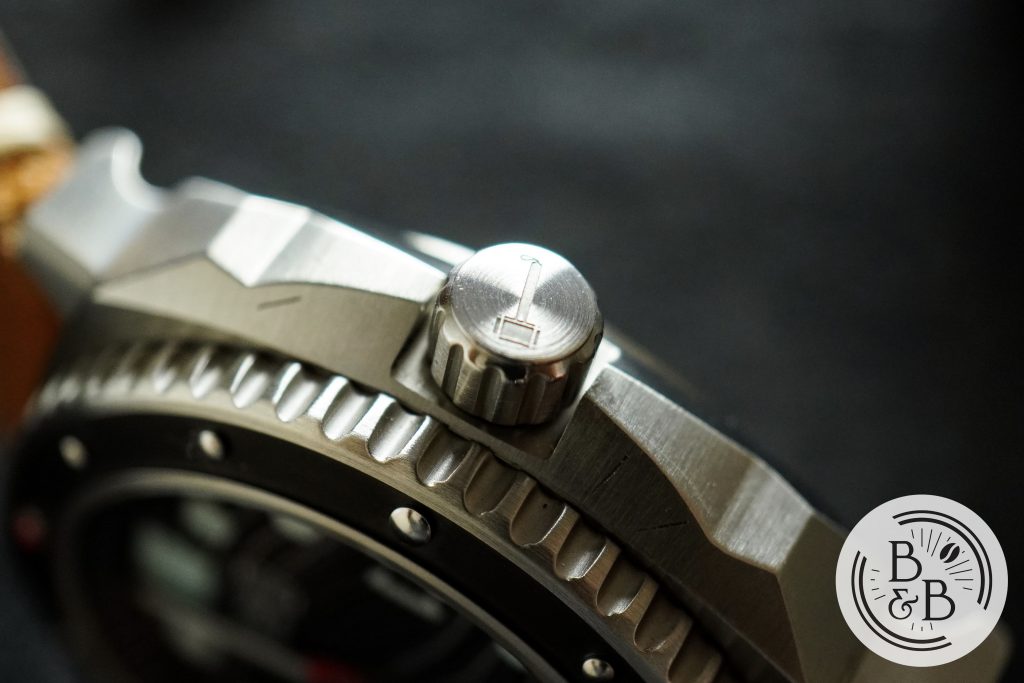 There is a 6.5mm screw-down crown at the 3 o'clock position that has crown guards that fit the angular case design perfectly. The crown is easy to grip and operate and I didn't notice any crown or stem wobble. The crown is also stamped with the brand's hammer insignia.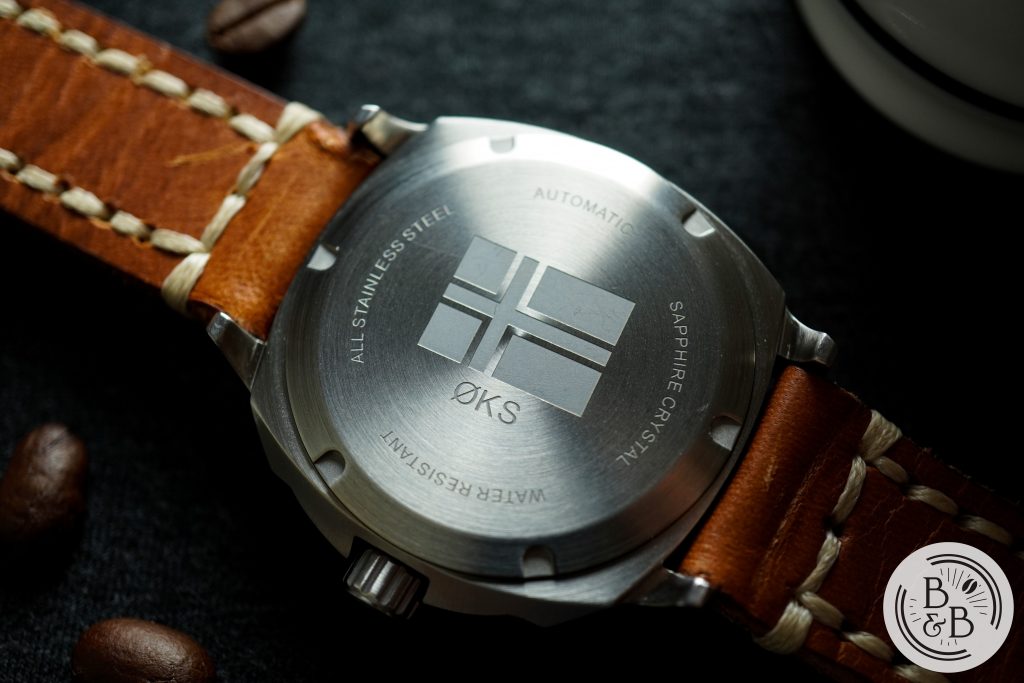 Flipping it over, you have a simple screw down case-back with the flag of Norway etched into it. There's a lot of symbols on this case, and I would've preferred some of them were repeated for a more cohesive story. But this is just a small issue. The watch is rated for up-to 200m of water resistance.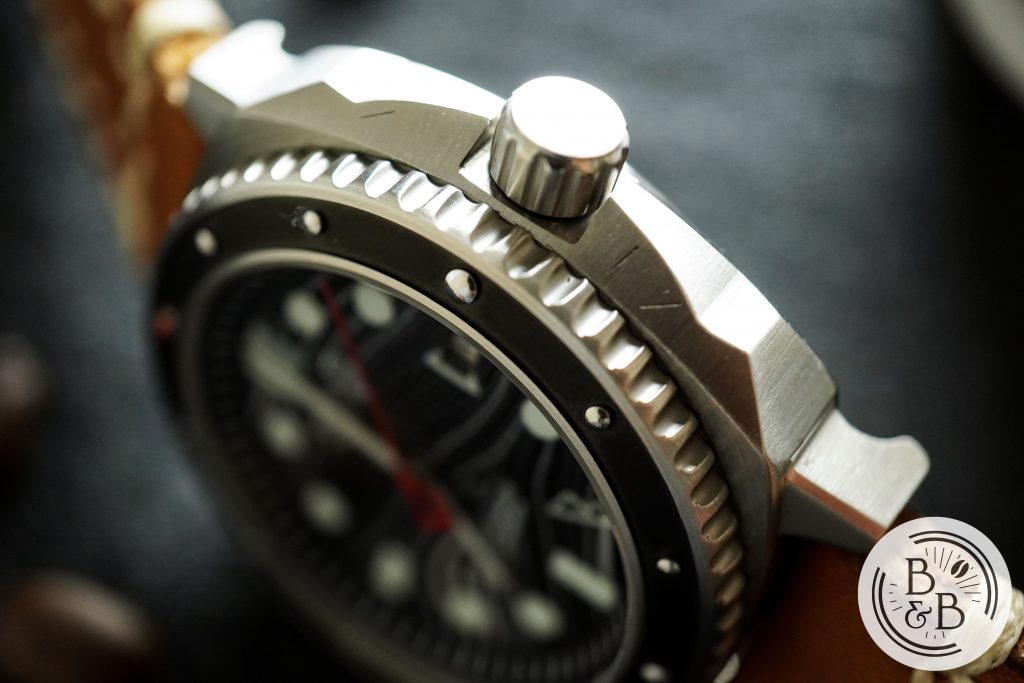 There are some artificially introduced scratches on the case that I do not much care for. There are 5 of them randomly scattered on the case surface to appear as 'battle scars'. I don't have a problem with artificially weathered watches, but these scratches don't look remotely real as they are all the same size, too clean and too uniform. Instead I would've liked to see real scratches and real weathering like on these Laco watches.
---
Dial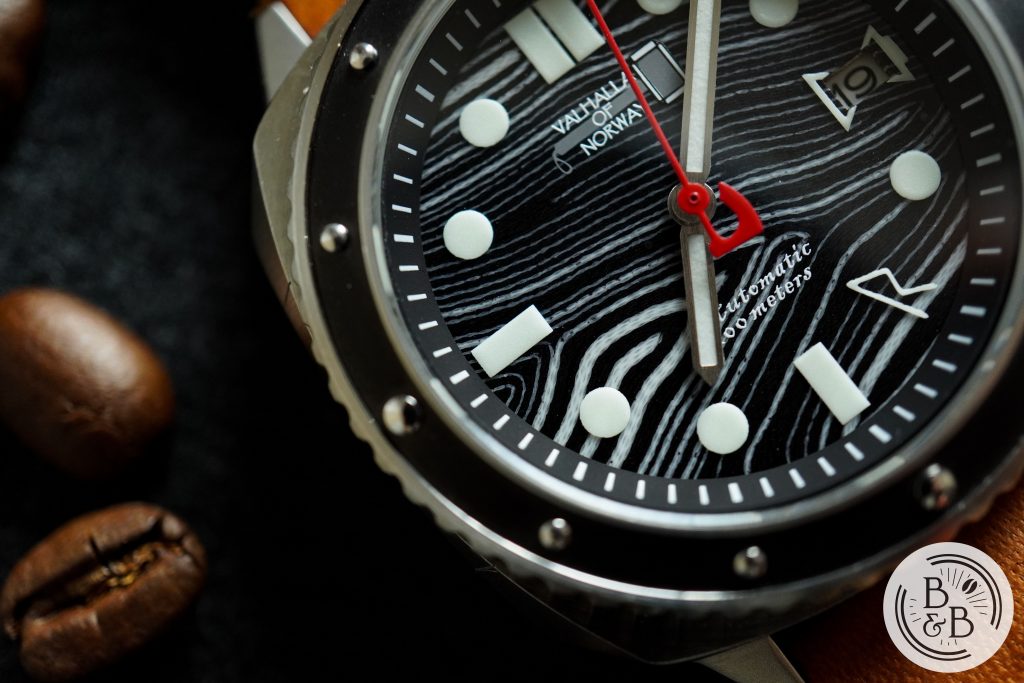 The dial is very interesting, with a black and white carbon base. The finishing on this is matte, so there's no reflections or light play, which is a good thing for a material like this. The grain on the carbon is very cool and it works perfectly with the small red accents on the bezel and seconds hand.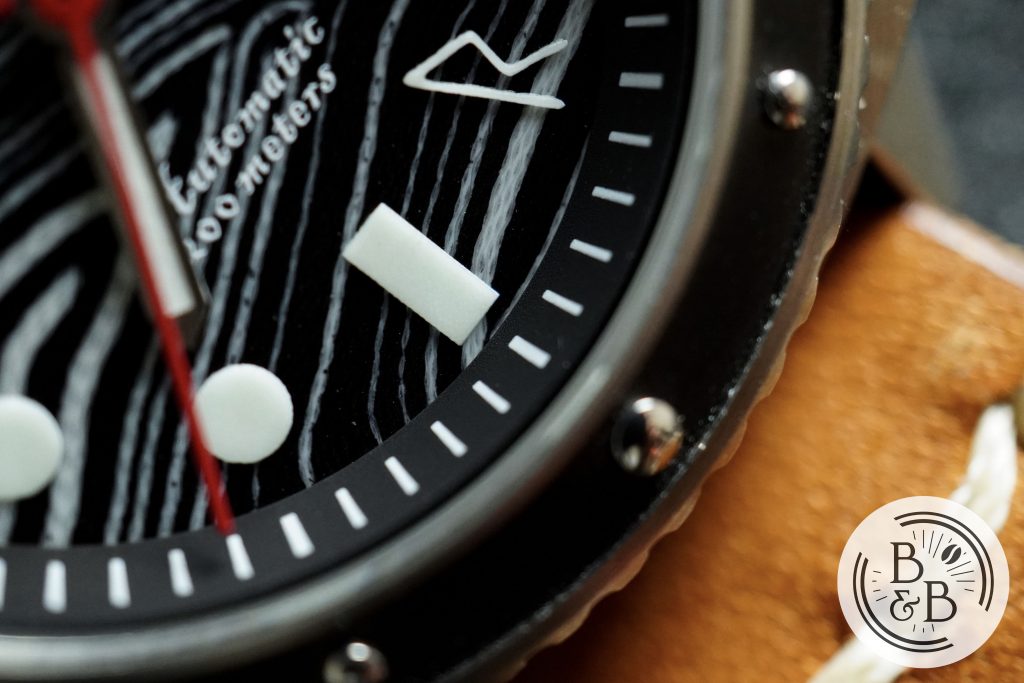 There is a black chapter ring with white markers. Nothing fancy here, just simple and easy to read; as it should be.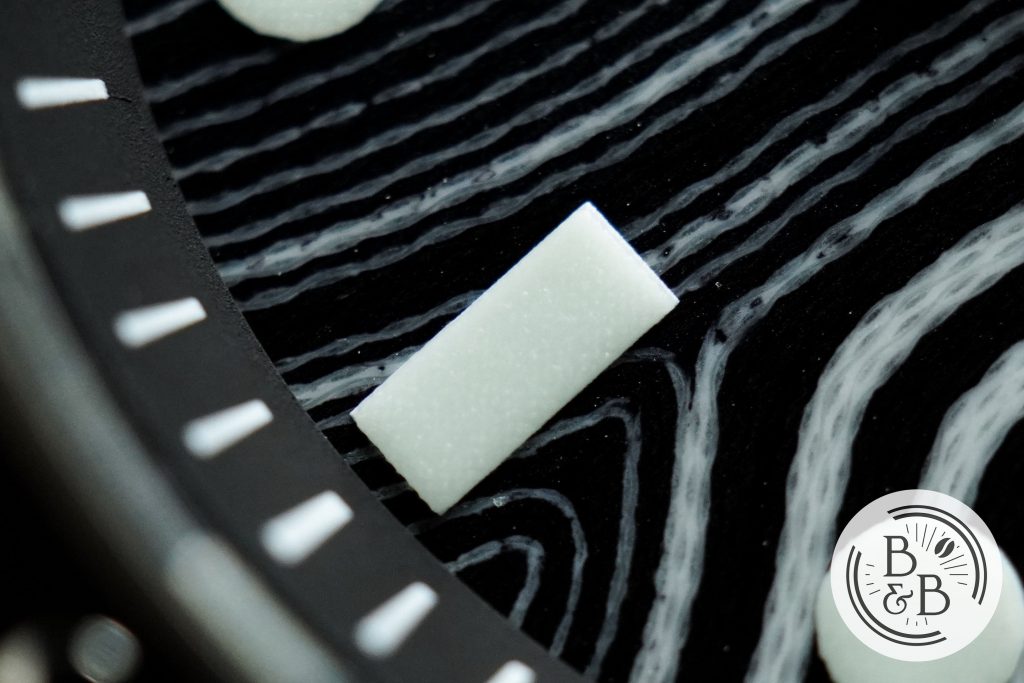 You then have oversized rectangular and circular indices for most of the hour markers. These are generously, and I mean very generously, filled with BGW9 Super LumiNova. The finishing is good and I'm glad they didn't try aged white or yellow elements.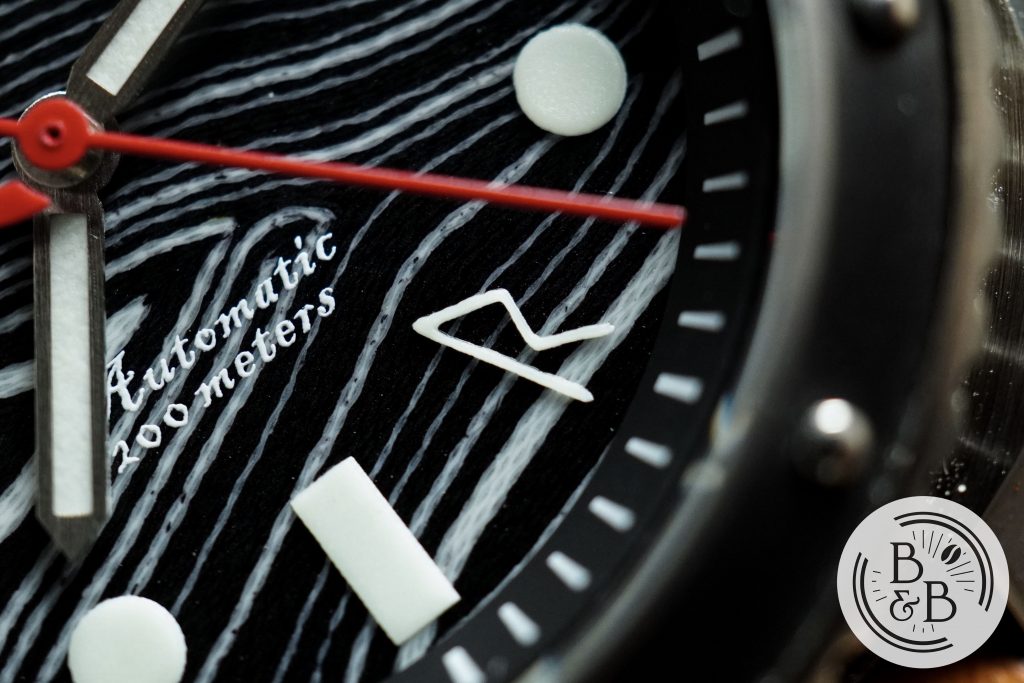 You have an interesting Norse Rune symbol instead of a regular hour marker at the 5 o'clock position. After some brief Googling, I learned that this symbol 'R' translates to 'journey' and symbolizes work and growth.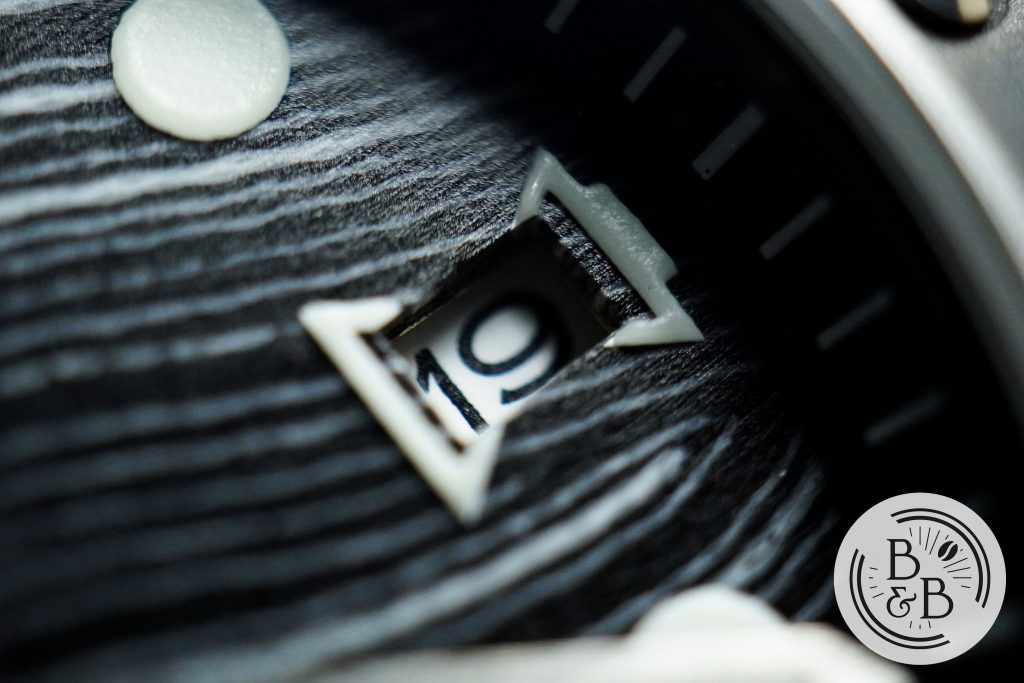 There is a date window at the 3 o'clock position. It isn't framed, but has another Norse Rune symbol surrounding it. This translates to "day", which is appropriate considering it is a date window. The date wheel is white and has black text. I usually like dial matched date wheels, but this one works to balance the symmetry for the missing white hour index.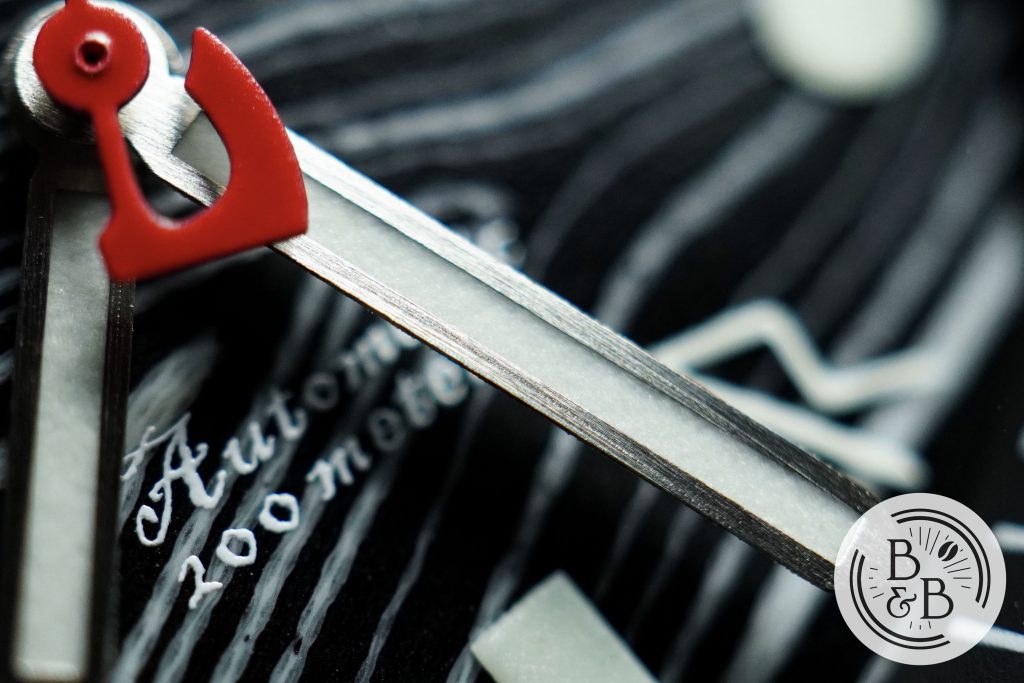 The hour and minute hands are quite simple. They are made of brushed stainless steel and appear to be reasonably well finished for the price. They are generously lumed, and the simple design works well for an otherwise busy dial.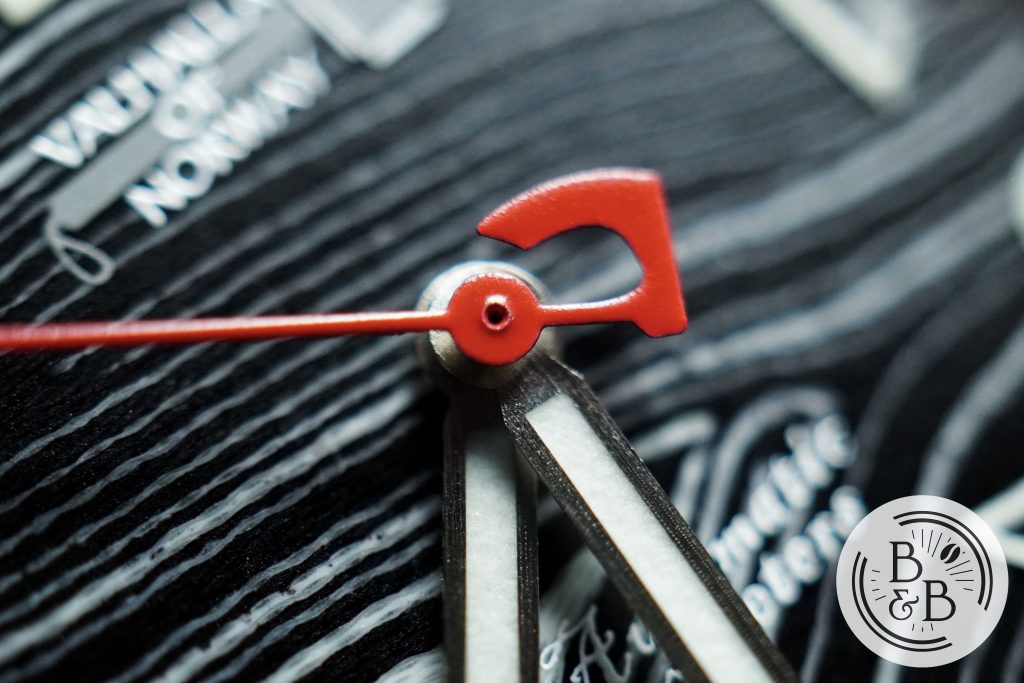 The star of the show is the bright red seconds hand. Apart from the name (Øks / Axe) there aren't many Axe motifs – except for the large axe shaped counter balance for the seconds hand. I think this is pretty cool and allows this watch to live up to it's name.
The seconds hand and minute hands are well proportioned, and extend almost all the way to the chapter ring. Overall, I like the dial. I think the quality of finishing is quite good for the $299 price tag, and I didn't see anything to complain about. The big swinging red axe will be an acquired taste, but if you like it, I think this is a watch worth considering.
---
Lume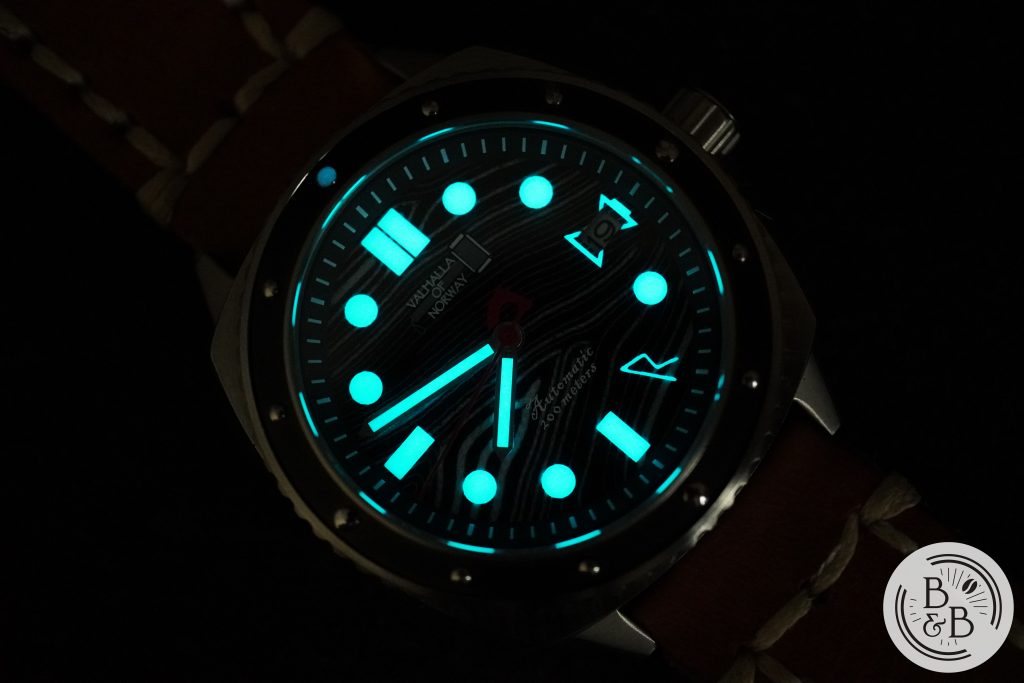 The lume layout is simple, but the quality and quantity of lume used is excellent. All the BGW9 lumed elements are very, very bright and hold their charge really well. I think even the most hardcore lume junkies will approve of this watch.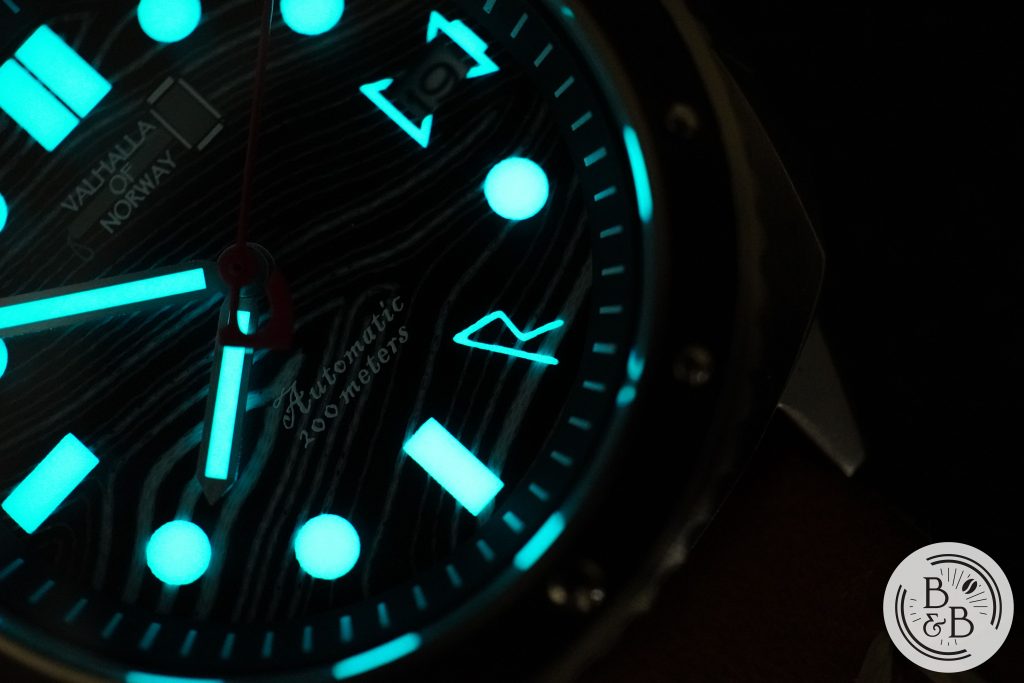 Even the 5 o'clock hour index (Norse Rune) symbol is well lumed, and looks great.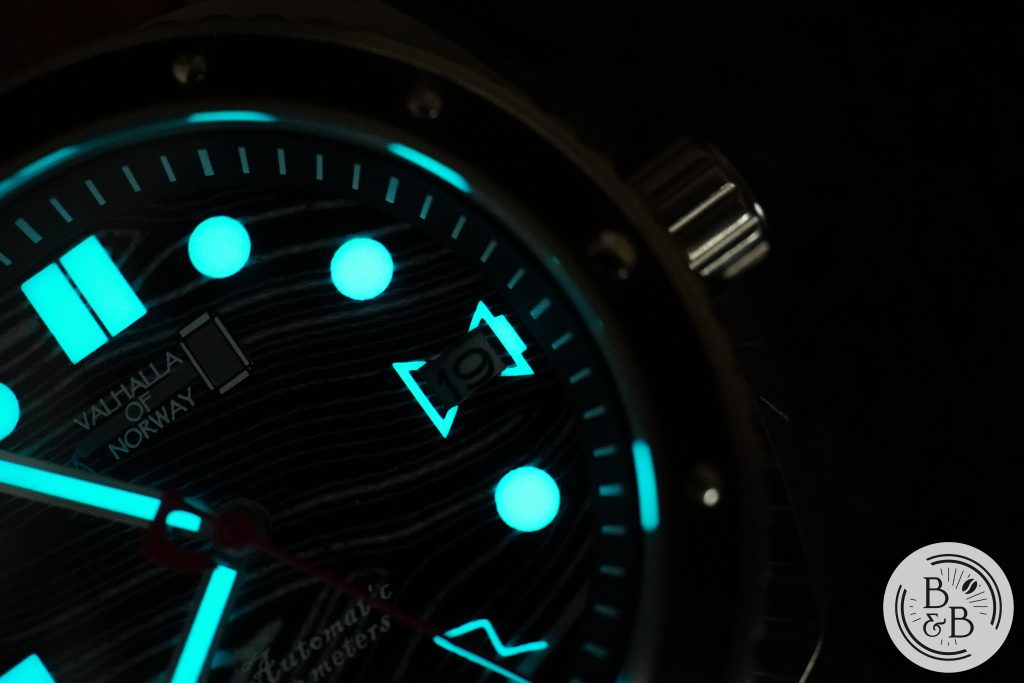 The date window border (another Norse Rune) is also generously lumed. Overall, I'm sold on the lume on this watch. Great job here!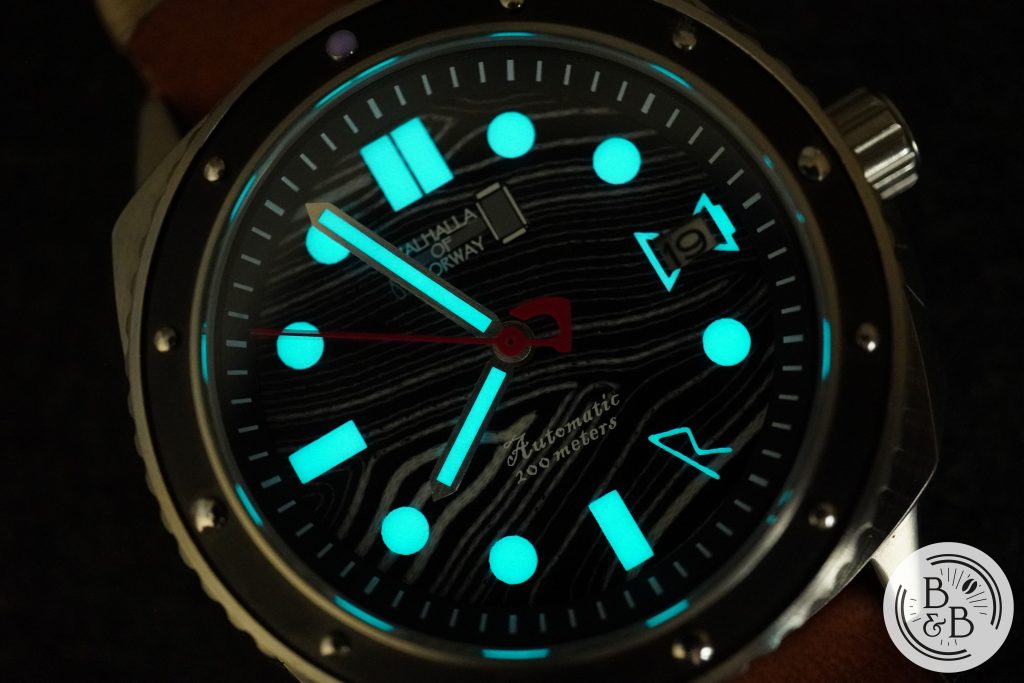 ---
Movement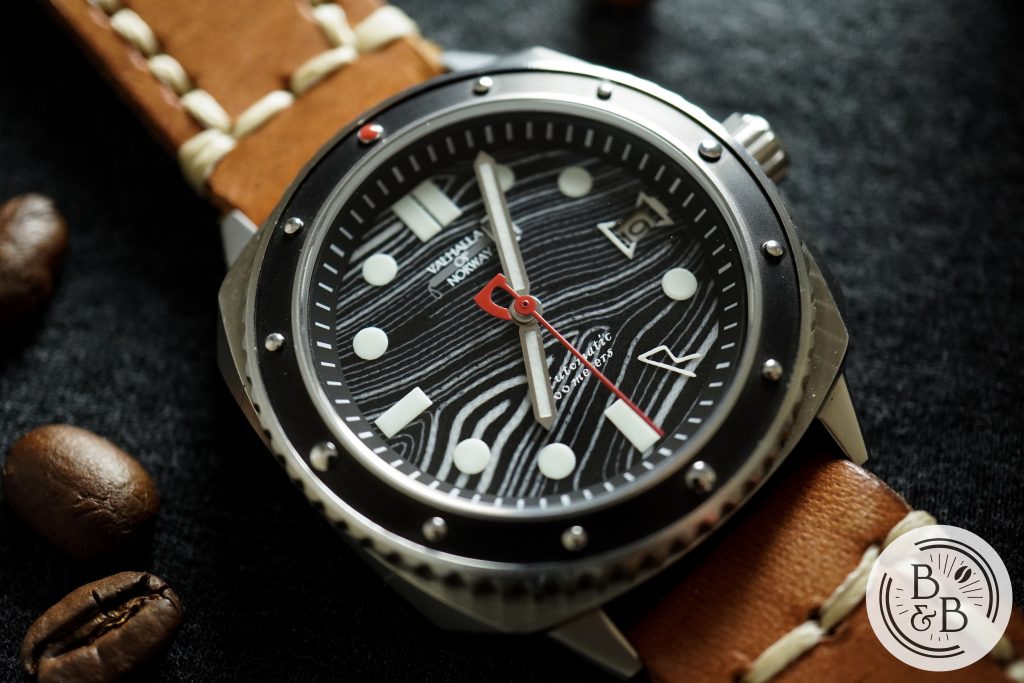 This watch houses a Seiko NH35 movement, which is more than appropriate given the roughly $300 Kickstarter price. I was seeing roughly -10 spd on this watch for the duration that I had it, which is within reasonable range for this movement.
---
On The Wrist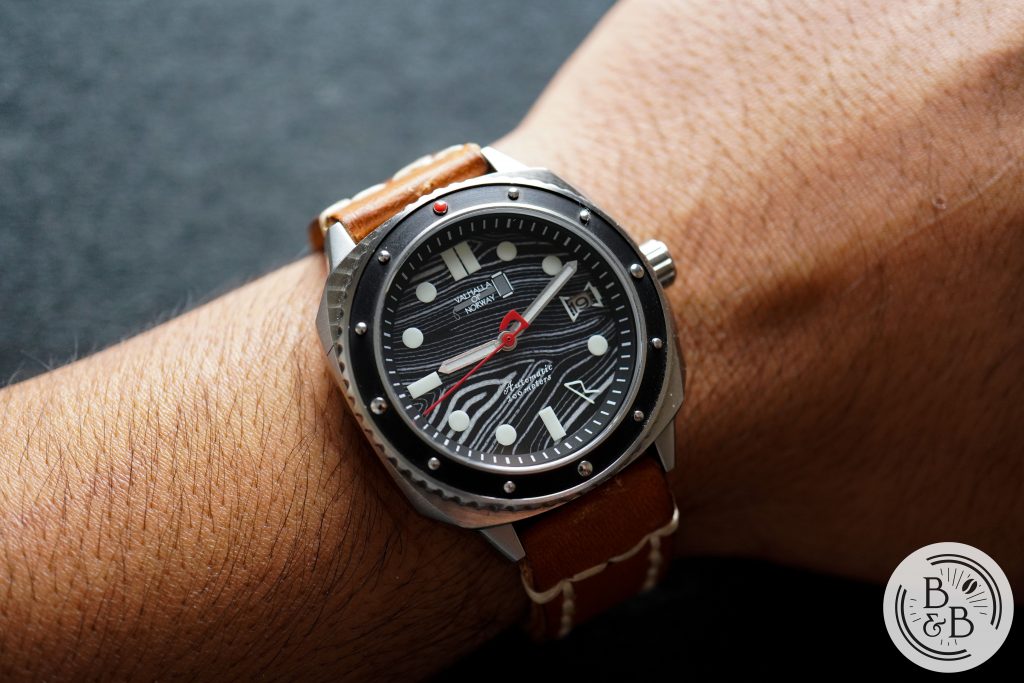 The 42mm diameter, 46mm lug-to-lug width and 13.5mm tall case makes for a substantial yet accessible wrist experience.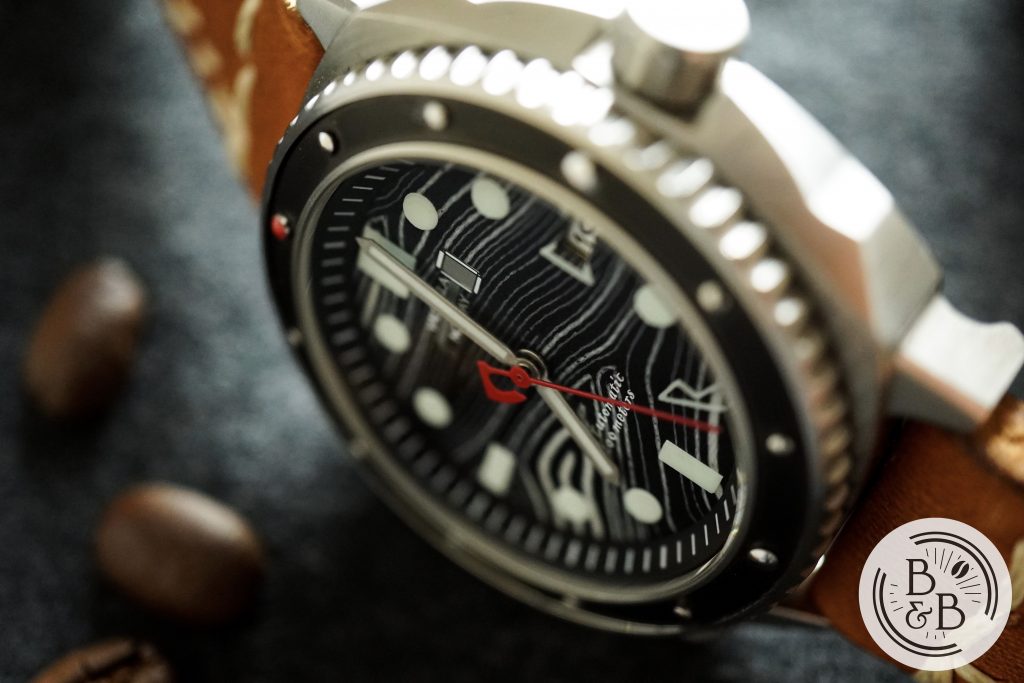 You don't feel the size of the 42mm diameter because of the almost square-like cushion case shape, and it wore quite nicely on my 6.25″ wrist.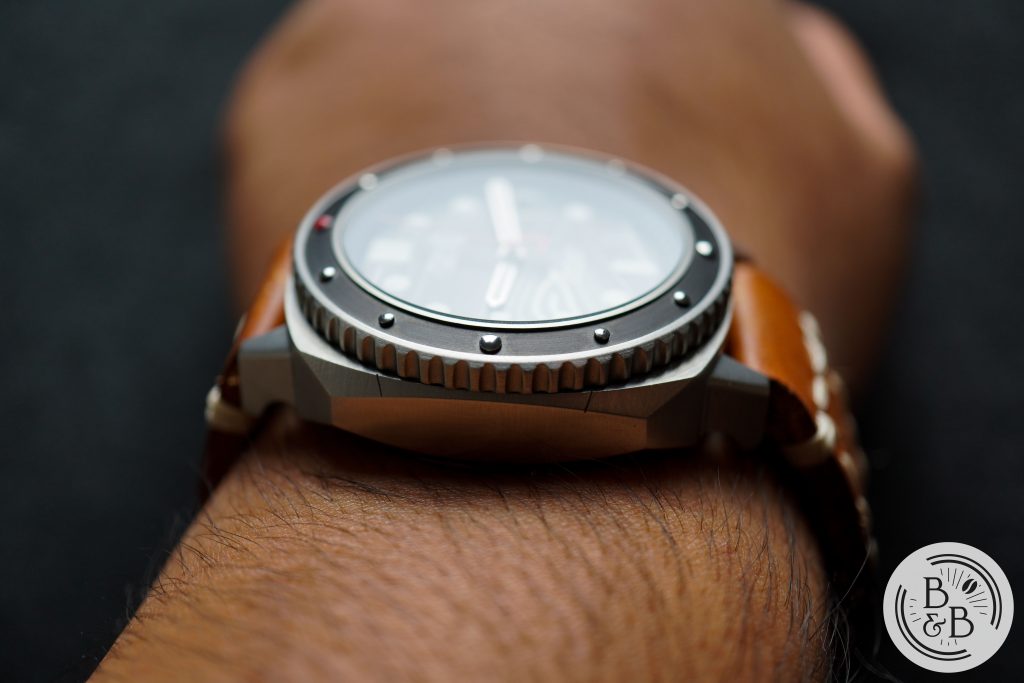 The 13.5mm height is a bit on the tall side, but the very flat case back and lowly seated lug holes help balance the weight nicely.
---
Concluding Thoughts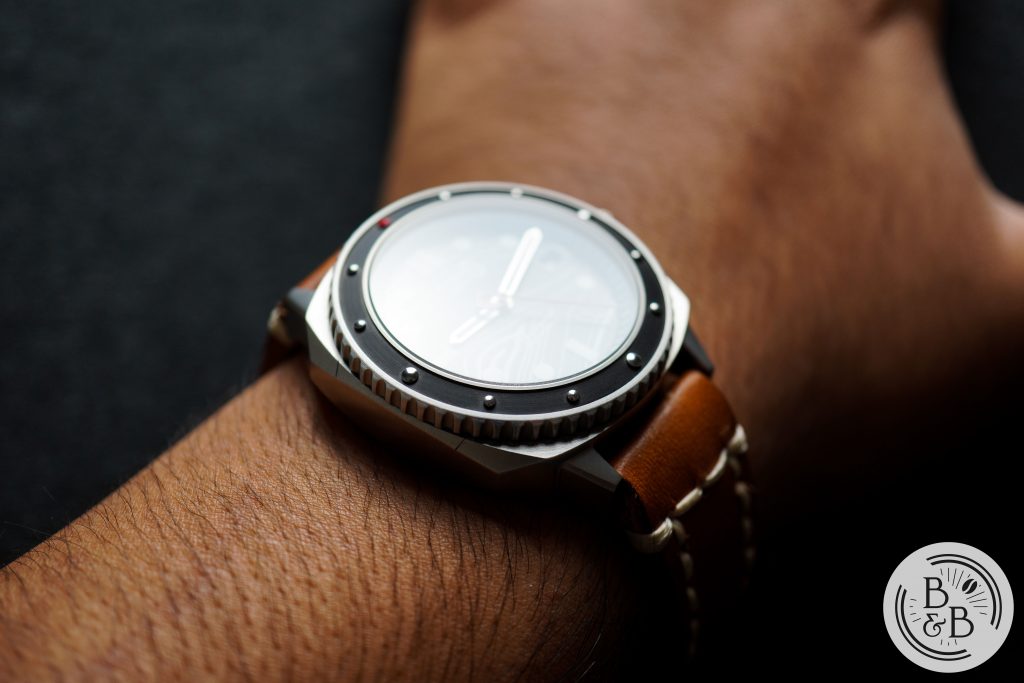 I was pleasantly surprised by this watch. It is very well built and feels like a watch that will last. The design elements are bold, but also give the watch a lot of character. This particular variant makes good use of the red color accents, and I thought the carbon dial was a great addition.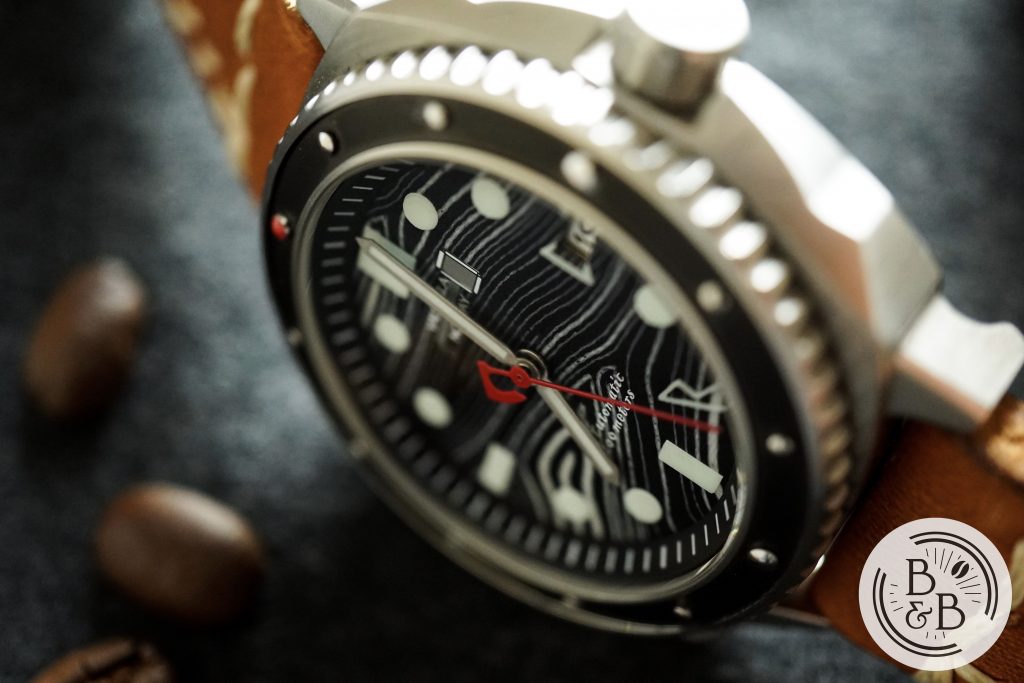 For the $299 Kickstarter price, this watch delivers a good amount of value if you like what it looks like. I don't have any complaints about the quality or finishing, and if they market this watch correctly, I think it will be very successful on Kickstarter!
---
Strap Change
---
Thanks for reading!