---
Disclaimer: I purchased this watch pre-owned and was not externally incentivized in any way to make this review. This review is not sponsored by Sinn, or any other entity. All opinions here are my own. Since this watch was purchased pre-owned, and worn/used for over a year, please make note that the experience might differ slightly from that of a brand new watch.
---
---
Contents
---
EZM 3F
Earlier this year I began my search for an everyday tool watch – something that was built well, had a good water rating and would be a watch I could put on my wrist and not worry about at all. Most importantly, I wanted a dial that was clean and easy to read. I came across the Guinand Flight Engineer, and after a few months of learning about the brand and their watchmaking style, I finally bought it.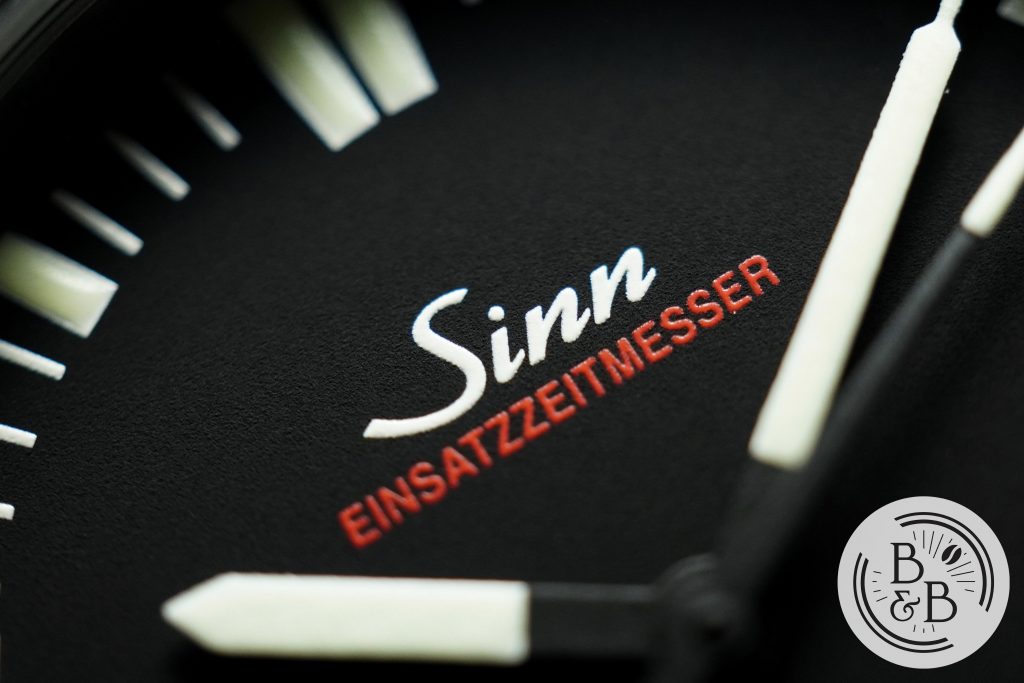 While that watch ticked all the above boxes and more, I sometimes felt that the case shape wasn't perfect for my small 6.25″ wrists. And after reviewing the Sinn 104, I began to imagine what my life would've been if I went with a Sinn 104 styled case instead. I wasn't in love with the 104 dial design and case finish, but I really enjoyed the case dimensions. I finally narrowed down my search to the Sinn EZM 3 and EZM 3F, as they also offered a 1000 Gauss anti-magnetic case, similar to the Flight Engineer.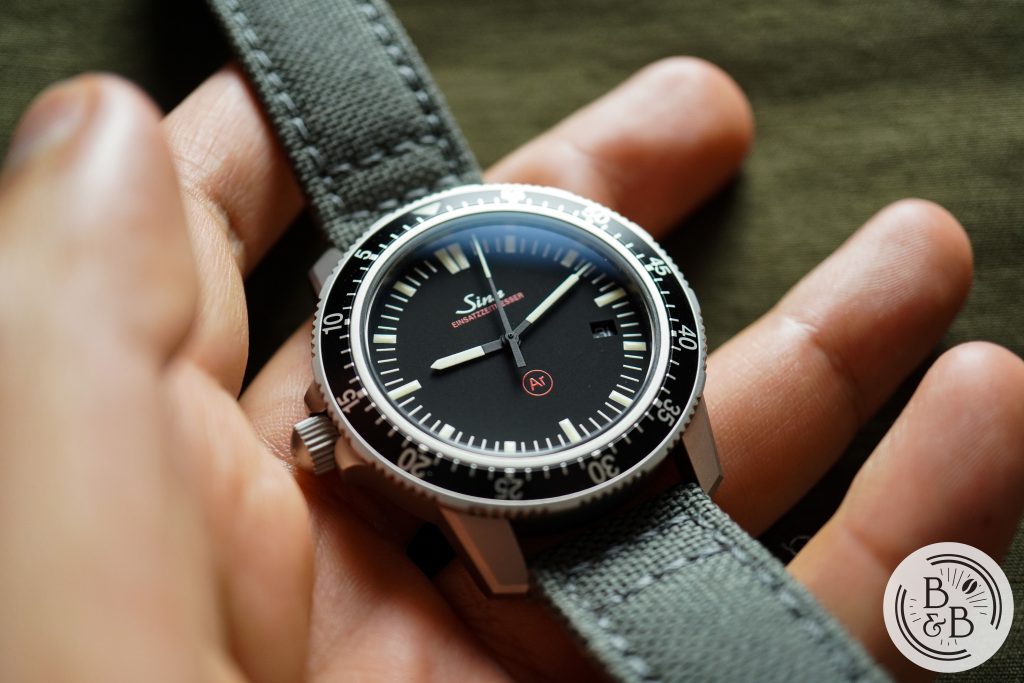 I was fortunate enough to find an EZM 3F pre-owned and in excellent condition, so thank you Mike for making this happen. I've had this watch for a little over three weeks now, and I love it.
Let's check it out!
---
Case
This case is almost identical to the 104 that I reviewed, except this has a left hand crown. This is done to allow a greater range of wrist movements, and additional protection for the crown. The entire case is bead blasted, and the finish is perfect, as you would expect from Sinn. The case measures 41mm in diameter, 47mm from lug-to-lug and 11.7mm tall.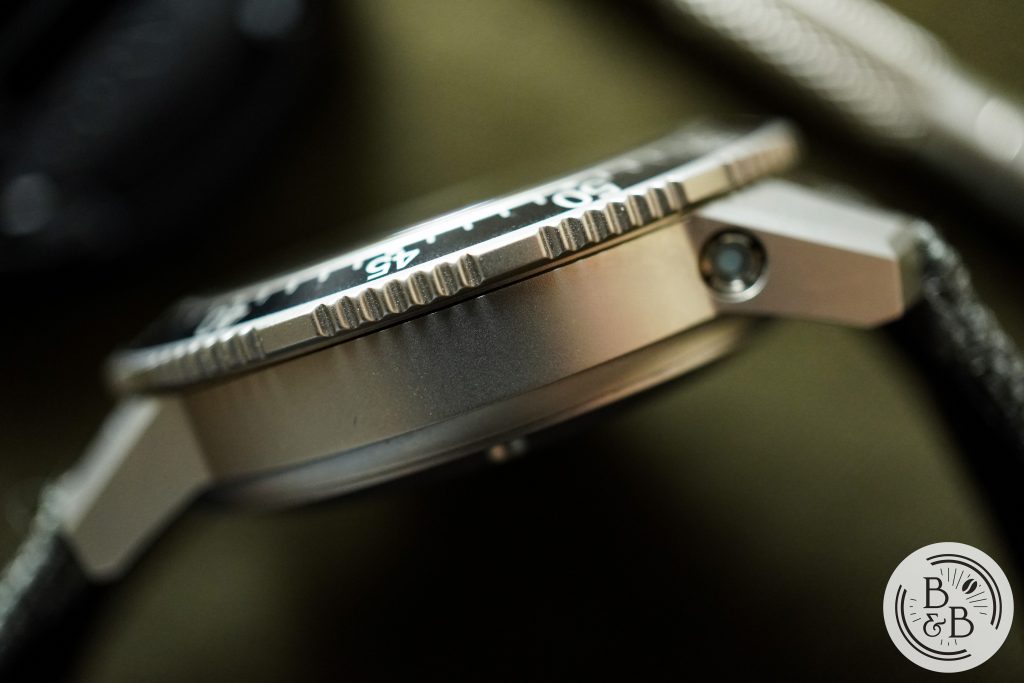 Similar to my Flight Engineer, this case also has an anti-magnetic soft iron cage built into it, making it resistant to magnetic fields up-to 1000 Gauss. Additionally, this watch has an operating temperature range between -45 degrees and +80 degrees Celsius. So the next time I leave my watch in my freezer while grabbing an ice cream, at least I'll know it's safe.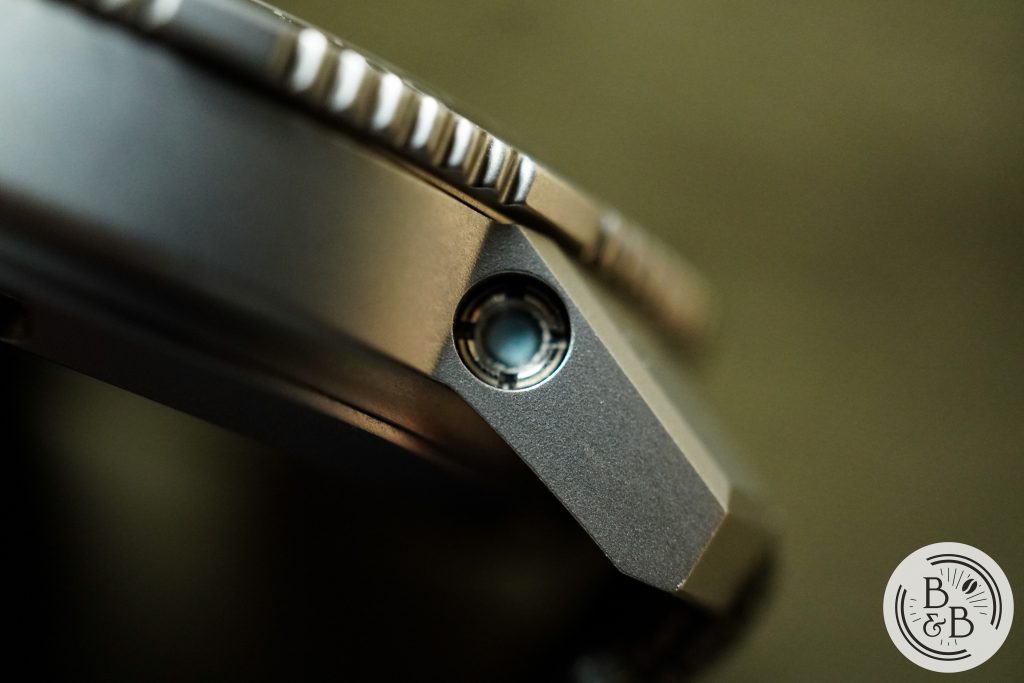 And lastly is the dehumidifying capsule to delay the any moisture build-up in the case. As an Engineer by profession, all of this makes me scream like a little girl on the inside, even though my use case mainly requires being resistant to Cheetos dust and being resistant to up-to 5m of coffee immersion.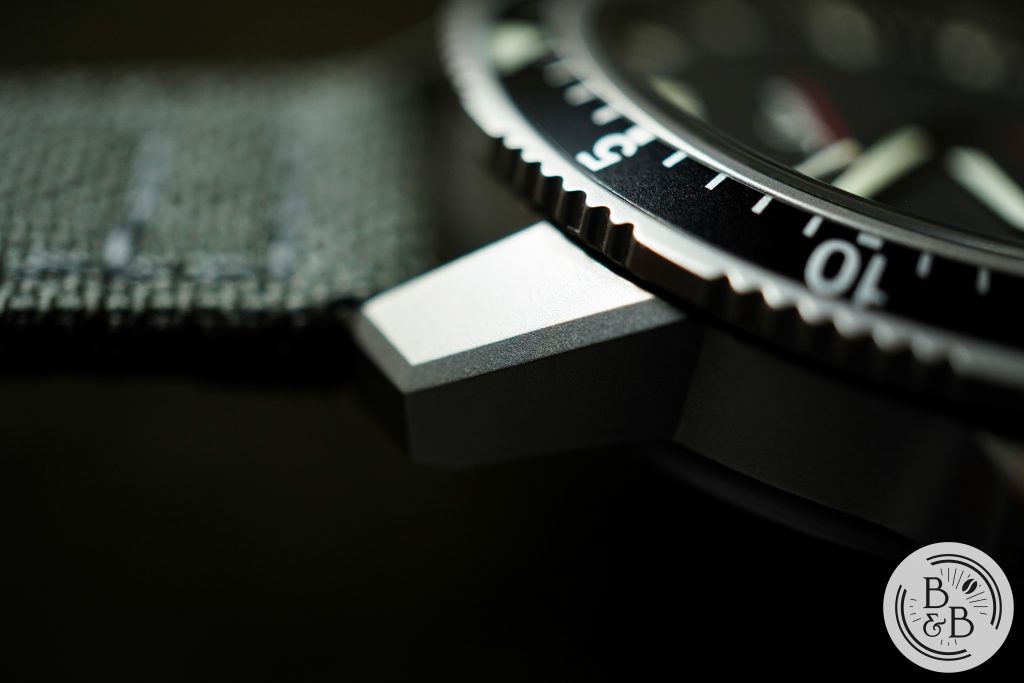 The lugs are the standard Sinn design, angle downward towards the wrist and this angular design is further accented by sharp beveled edges that look amazing.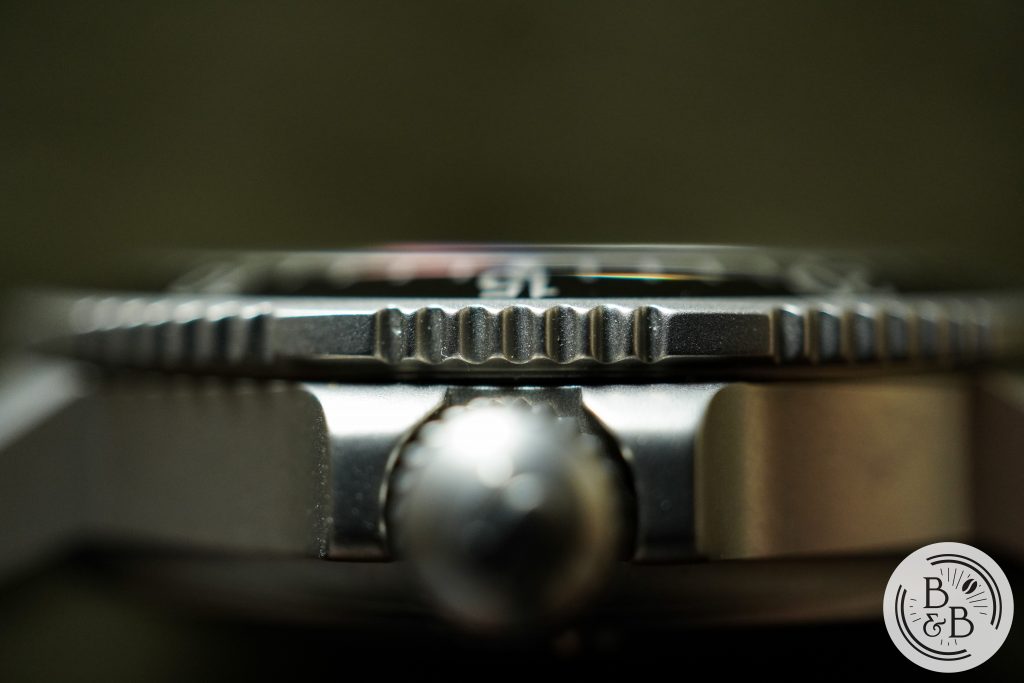 There is a ratcheting 60-click countdown bezel that is bi-directional and has a lumed triangle at the 12 o'clock. The insert appears to be made of aluminum, and is sloped downwards towards the edges of the case. The quality of the bezel insert, bezel grip and design are all excellent, and I didn't notice any back-play. This does not have their captive bezel system, but is still one of the best I've come across.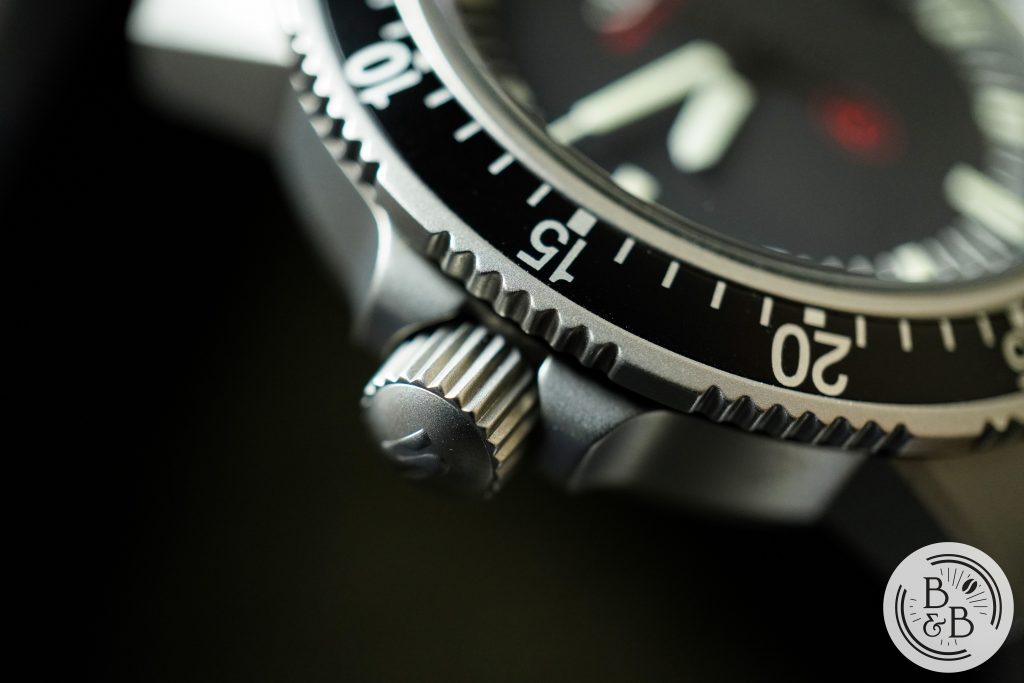 As mentioned earlier, there is a screw-down crown at the 9 o'clock position. The crown is very easy to grip and operate, and is accompanied by a pair of well designed crown guards. The crown operation is excellent, with no crown or stem wobble.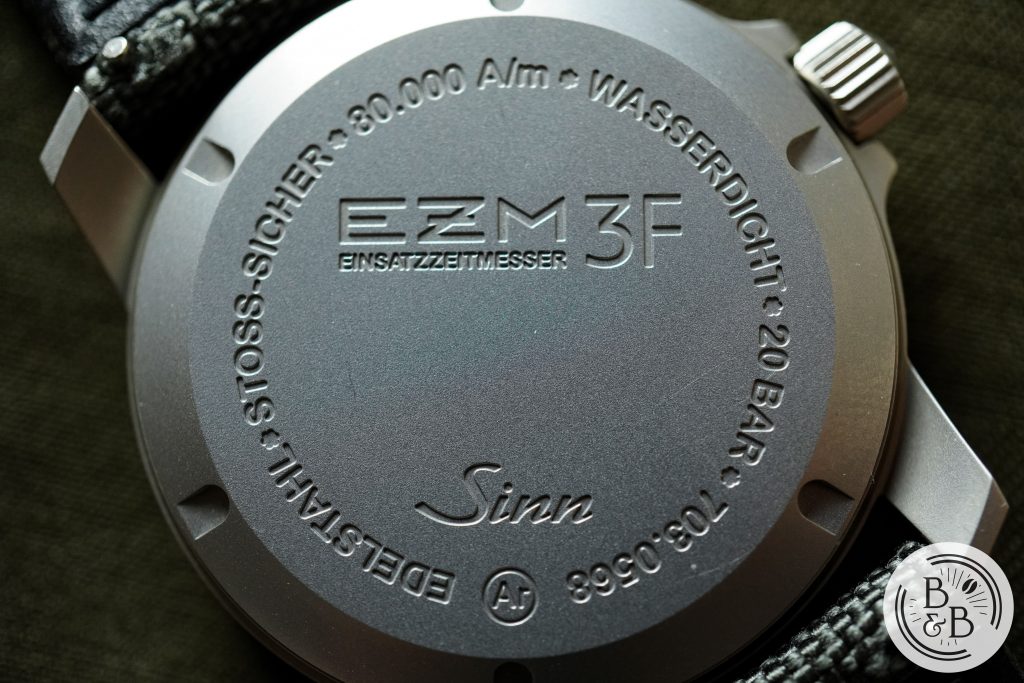 Flipping it over, you have a solid screw-down case-back with some text engraved onto it. This watch is rated for up-to 200m.
---
Dial
The mission timer (EZM – Einsatzzeitmesser) series is a more functional and practical take on their already functional and practical watches. This series was originally designed for a special unit for the German border forces. These dials take on a less is more attitude, and this is one of the main reasons I fell in love with these watches. The EZM 3F takes inspiration from traditional flieger dials, hence the 'F' in the name.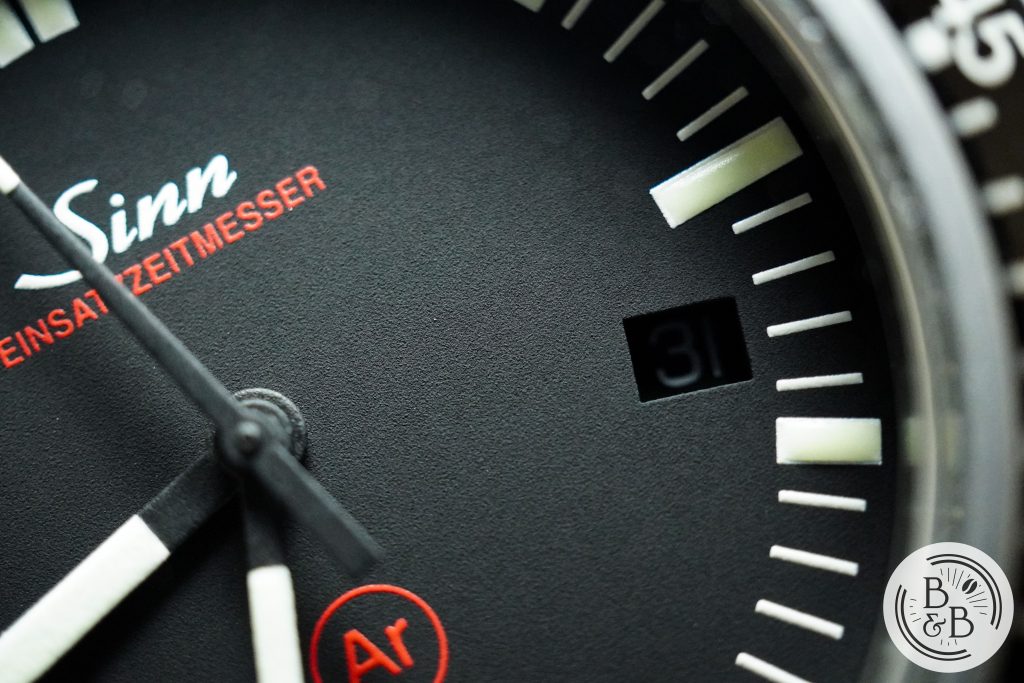 The base of the dial is media blasted and painted black. The finishing is good, and I didn't notice any dirt, dust, stray paint particles etc. You have the brand's logo under the 12 o'clock, along with 'Einsatzzeitmesser', which translates to 'Mission Timer'. And you then have 'Ar' printed above the 6 o'clock, which indices the presence of their proprietary dehumidifying technology.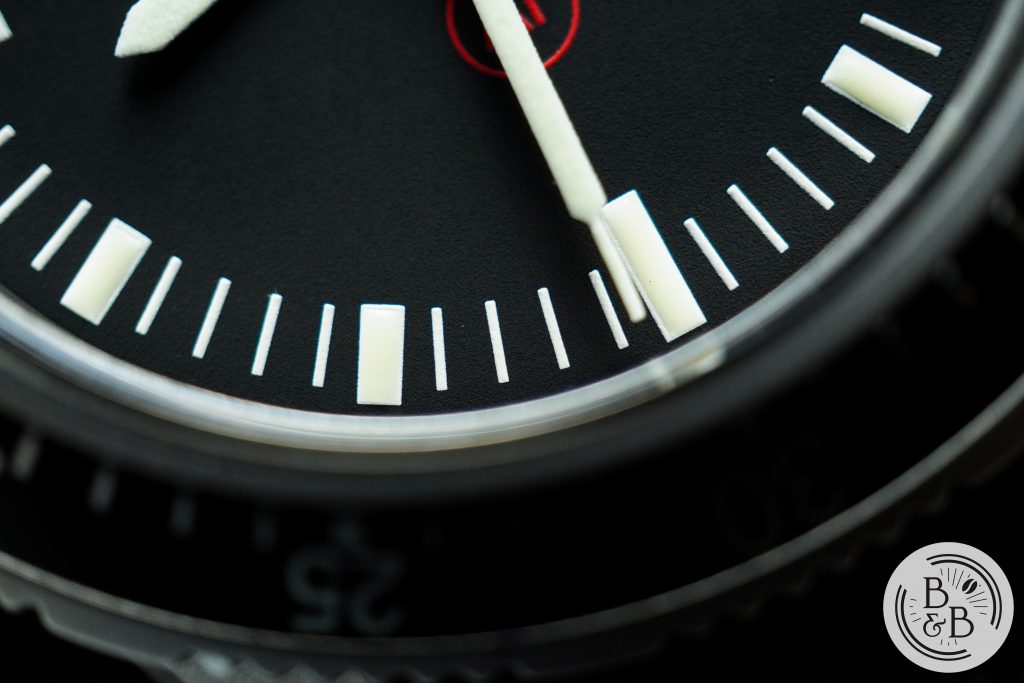 The entire time measurement is done in a single track, that makes use of painted white ticks for each minute or seconds marker, and large lume filled hour markers. The orientation of the watch is identified by the double marker at the 12 o'clock. These are all generously lumed with C3 Super LumiNova.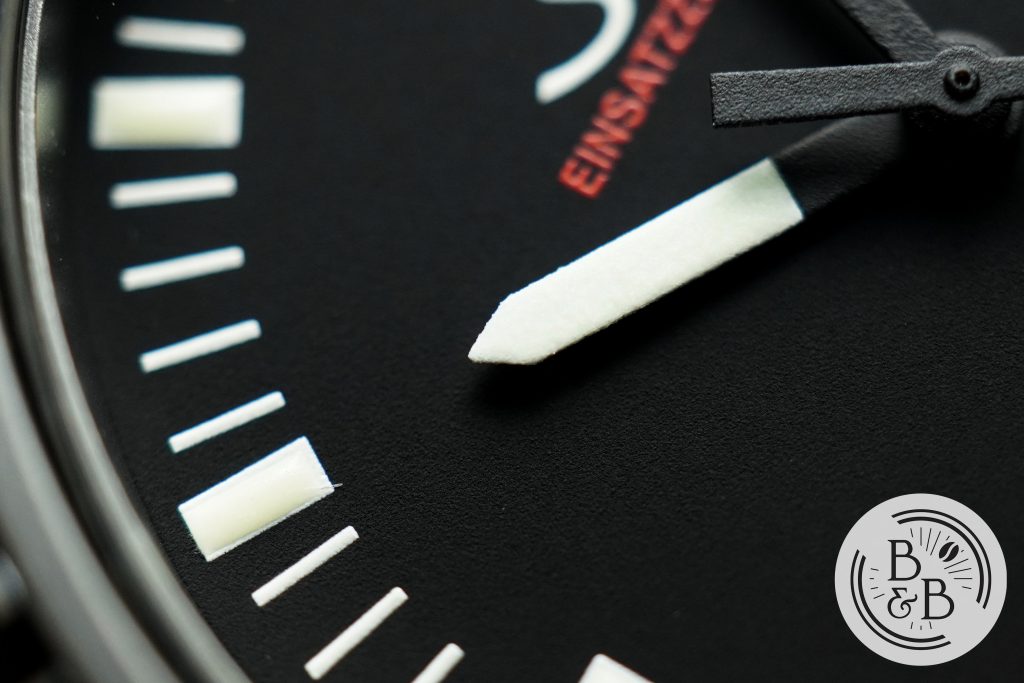 The quality of printing of these markers is good. I did notice a micro-fiber stuck to an hour index, but this couldn't be seen without a macro lens or loupe. I'd say the finishing is at around 90%.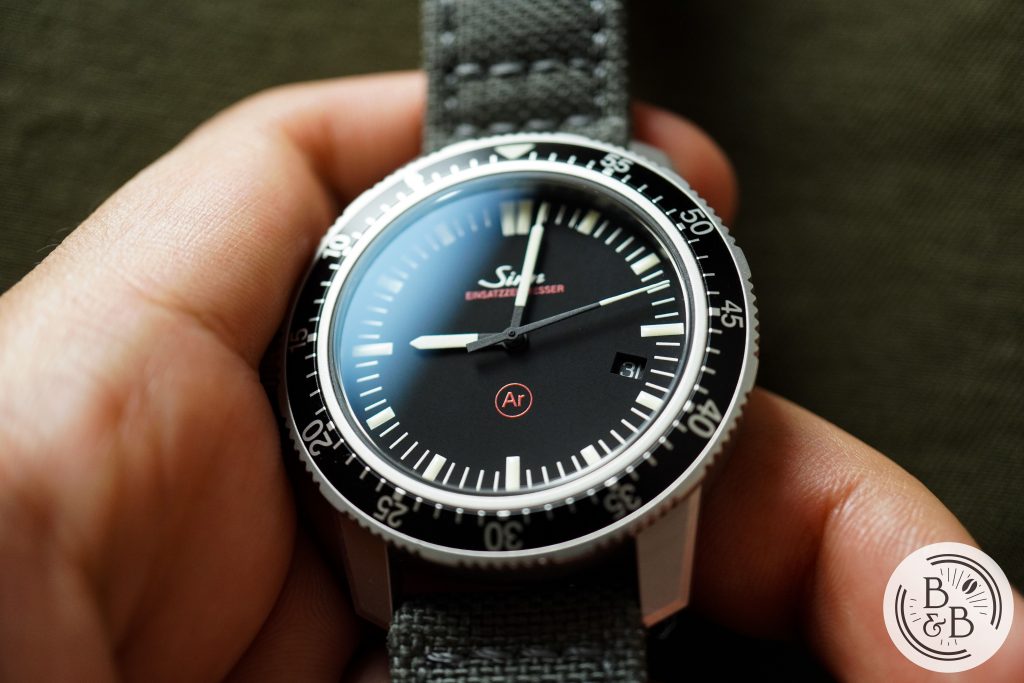 There is a date window at the 3:30 position, which although awkwardly located, does a great job of blending into the dial and going unnoticed. They were able to achieve this by using a color matched date wheel with a subtle white font.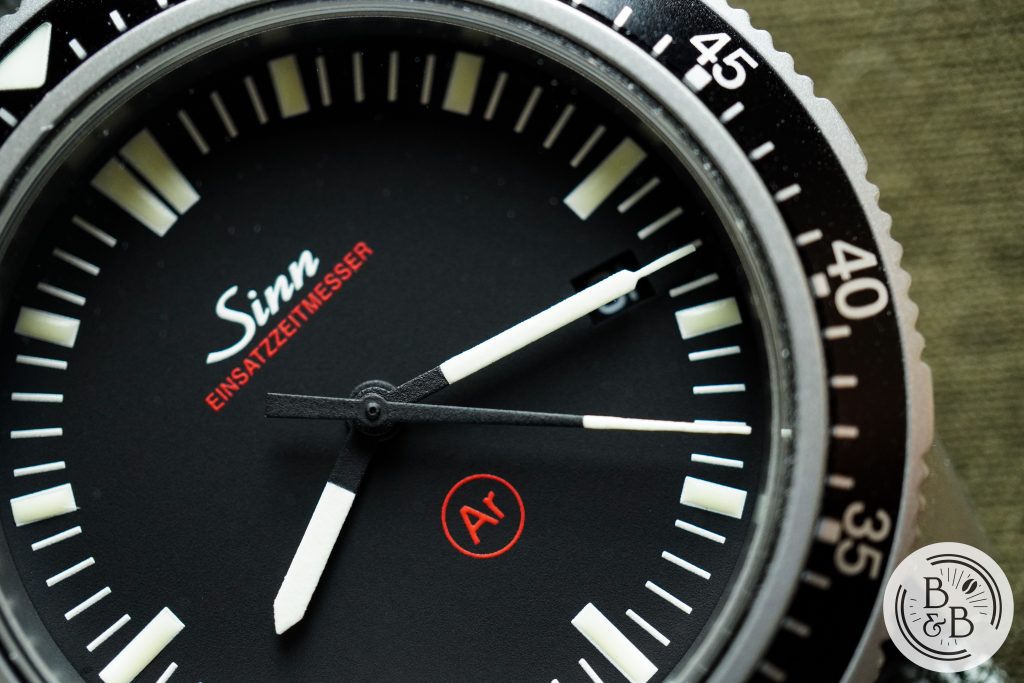 I really like the hand set on this watch. The hands are also media blasted and painted, with black painted bases to better blend in with the dial, and rest painted white and lumed. If you're looking at this dial from a distance, you only see the three floating white hands and not the rest, and I thought that was very cool.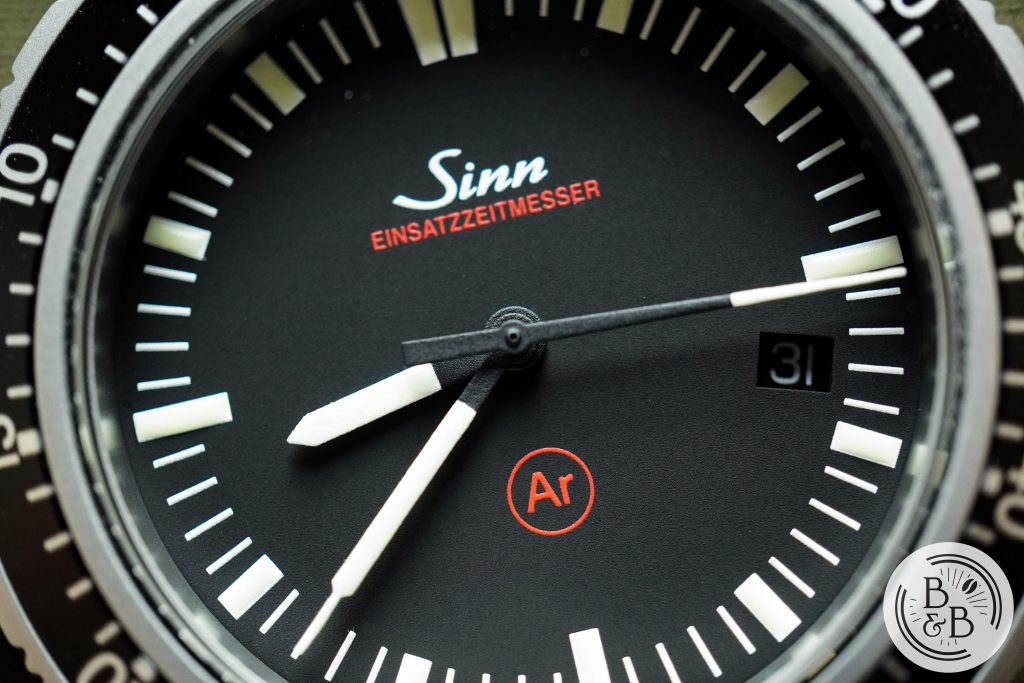 The proportions are perfect, and both the minute and seconds hands extend to the minute and seconds tracks. The minute hand has a small syringe style tip that hovers over the minute track without occluding any of the other markers. Great design work!
---
Lume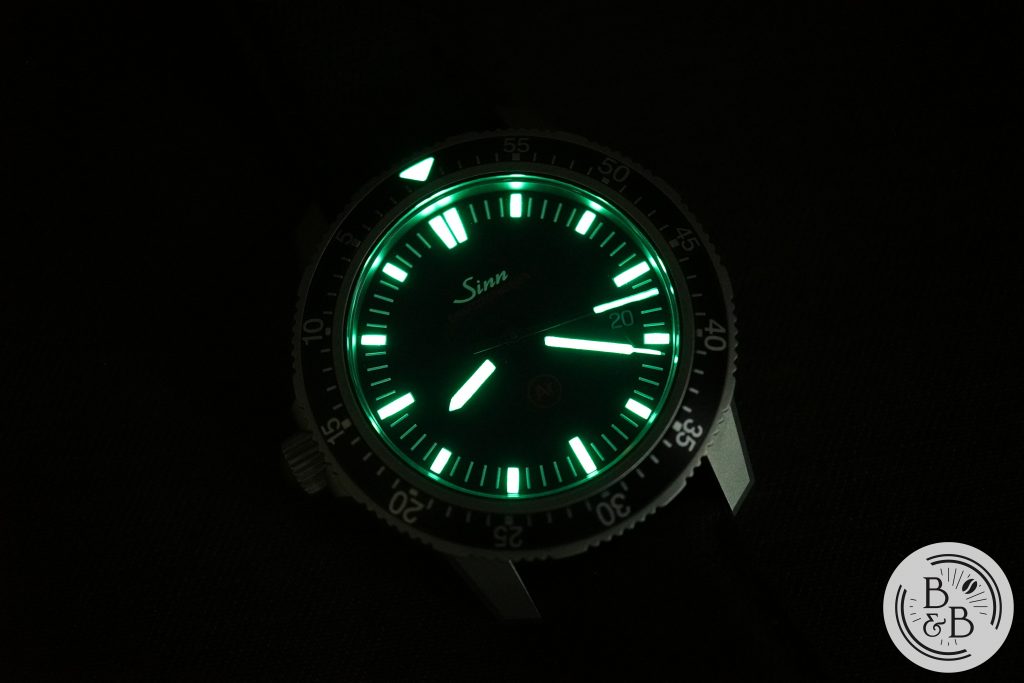 I hear complaints about Sinn lume often, but this watch and the Sinn 104 that I previously reviewed, had excellent lume. It looks like some of their watches are better lumed than others, and I'm happy to report that this one is one of the good ones.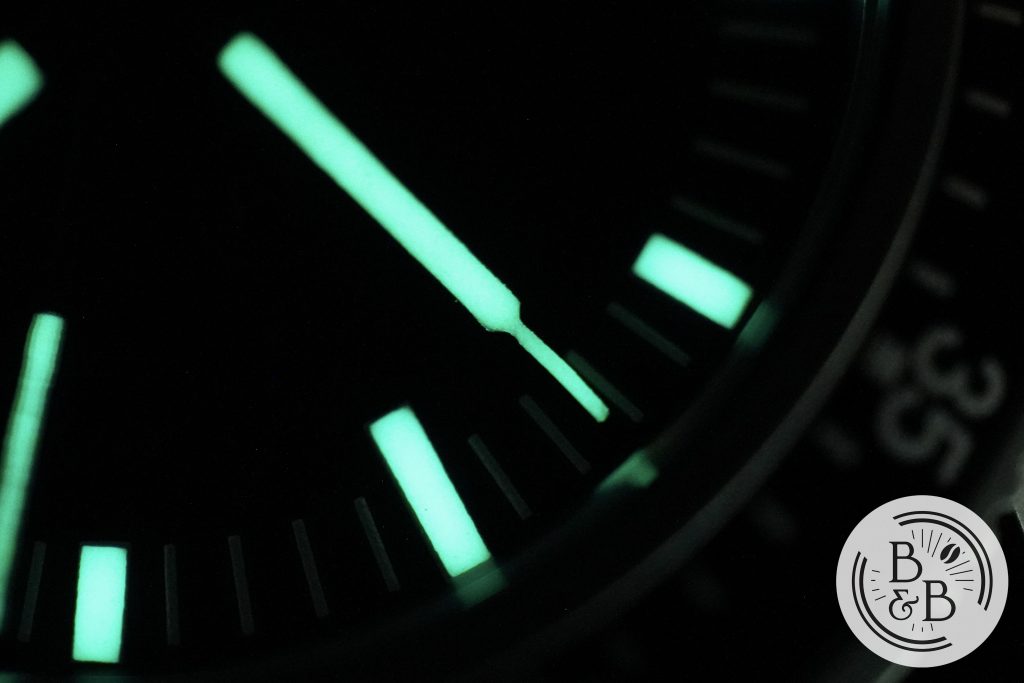 The indices, hands and bezel triangle are all very generously lumed. They shine bright and hold their charge well. I'm not sure if the lume isn't perfectly applied on the tip of the minute hand, or if the hand itself is slightly bent at the tip, but it looks to me like the tip isn't perfect.
I compared this watch with my Guinand Flight Engineer, and they were nearly identical. The triangular marker on the bezel of the Sinn is much brighter and lasts longer than the Flight Engineer though.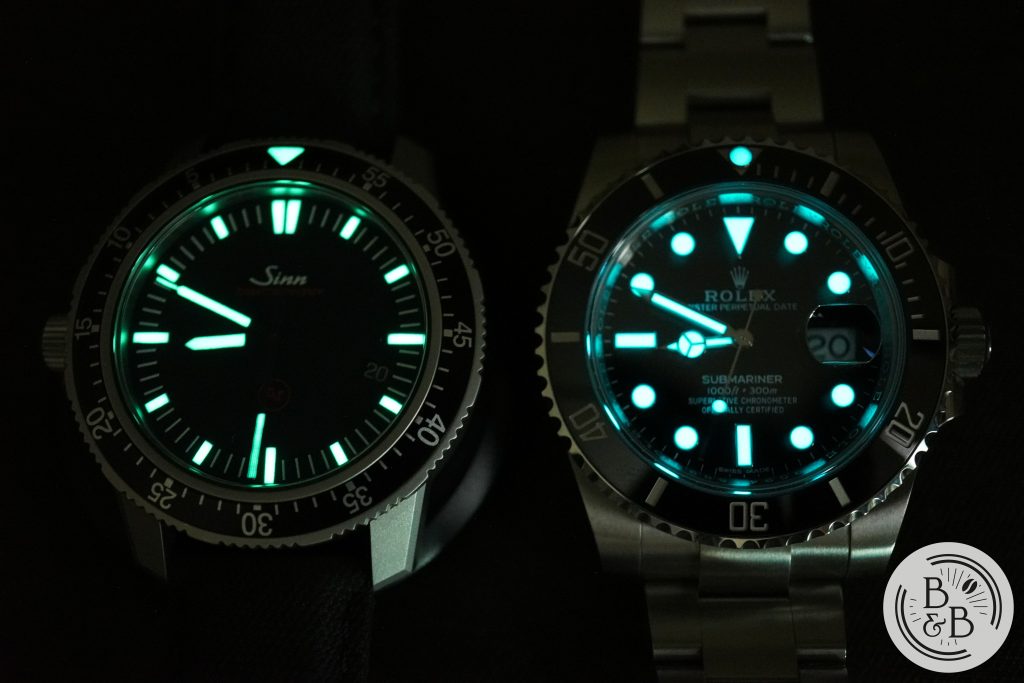 I also compared it with my Rolex Submariner, and didn't notice any clear winner here, but take a look at my video to get a better idea of how they both faded.
---
Movement
This watch uses an ETA 2824-2 movement. It isn't clear from their website or marketing material which grade of movement they're using, so I'll just assume this is the standard grade. It is an appropriate movement for a no-nonsense watch, as it is very easy to service and regulate and is proven to be reliable too.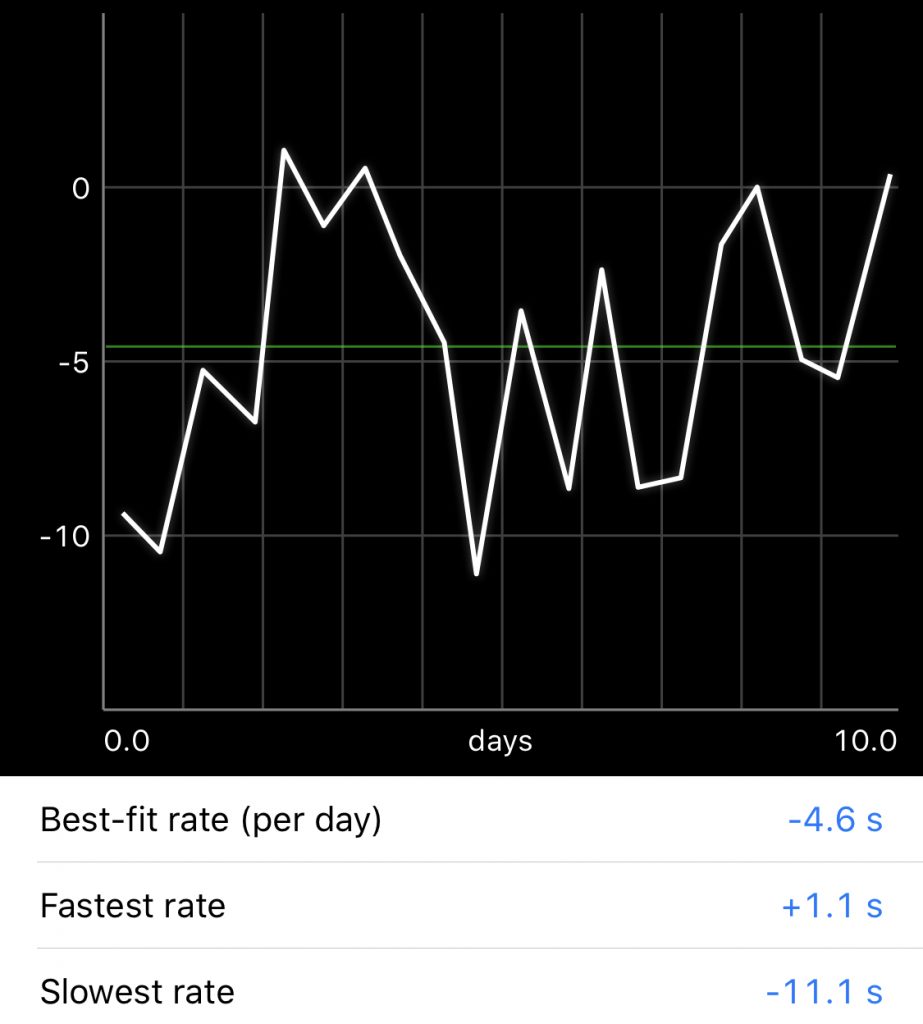 I logged the accuracy of this watch over a 10 day period, and observed roughly -4.6 spd. I put this watch through quite a bit during those 10 days, so I'm fine with these numbers. I would've liked to see less variance, but I did leave it in different positions every night just to try and trip it up.
---
On The Wrist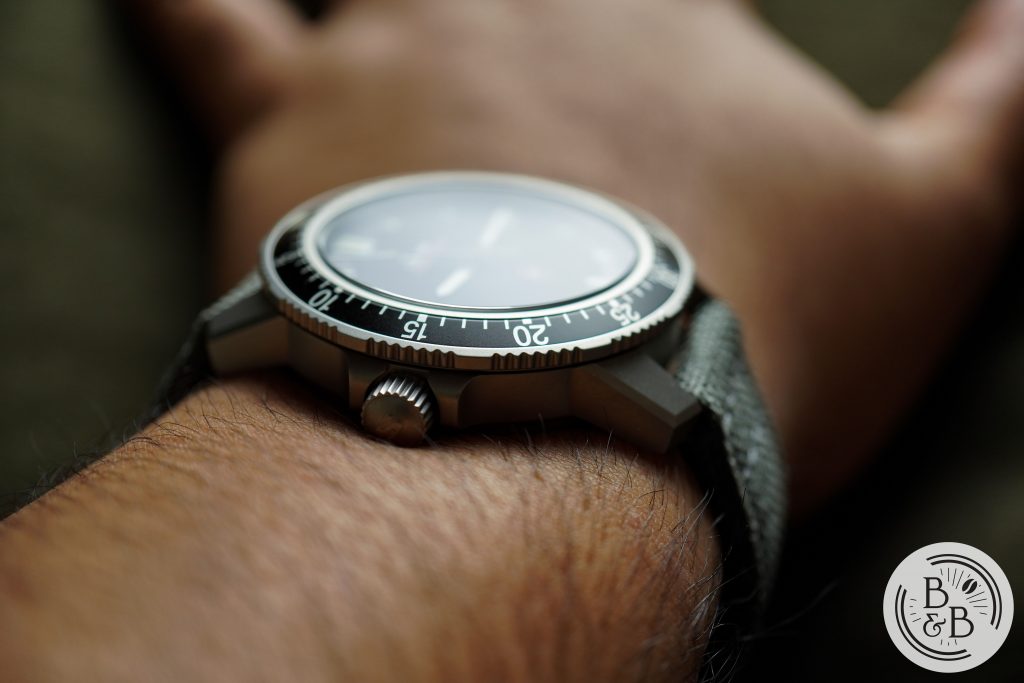 As mentioned early on in this review, the primary draw towards this watch was the comfort. The 11.7mm height and almost flat case-back profile make this watch perfect for my 6.25″ wrist.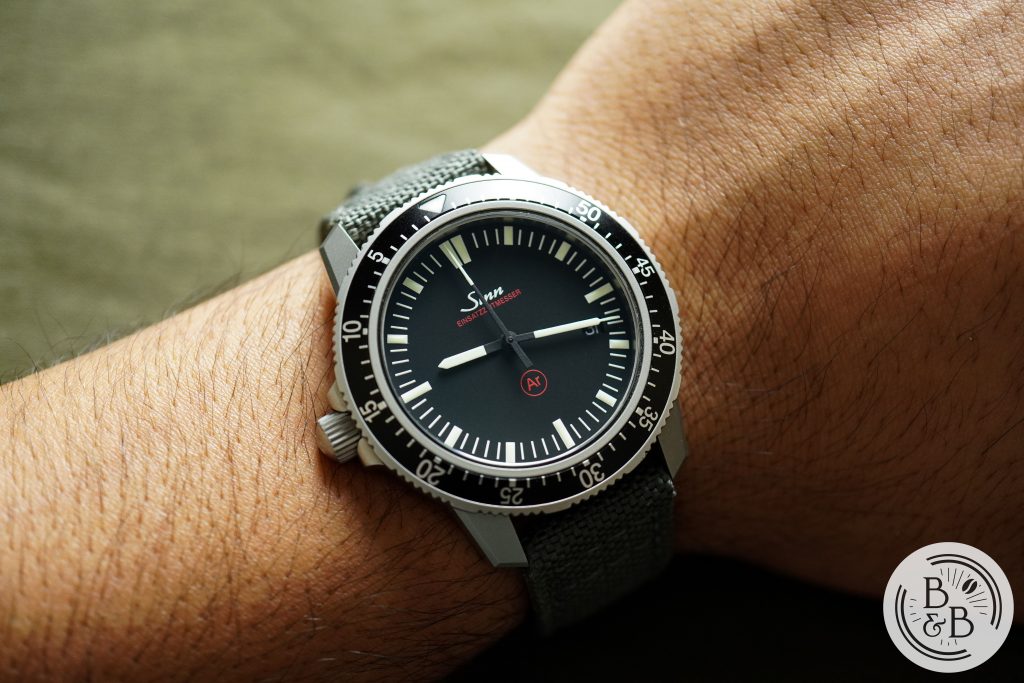 The diameter is in fact larger than the Guinand Flight Engineer, coming in at 41mm instead of 40.6mm, but in my opinion is indistinguishable.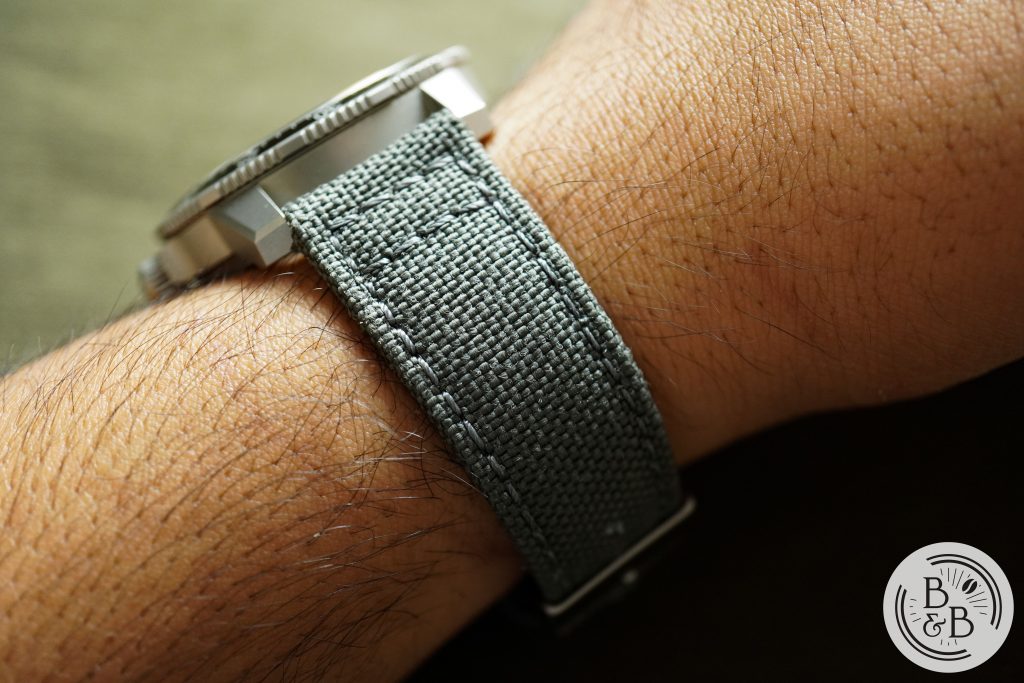 I love metal bracelets, so I initially planned to buy the matching bracelet for this watch before doing this review. But after putting it on a few different straps, I realized that I was perfectly content with how it wore on a few of the straps that I already own. Here it is on a Hadley Cordura Canvas Strap. The stock leather bracelet is of good quality, but I don't typically enjoy thick leather straps.
---
Concluding Thoughts
When you buy one of these watches, you aren't looking for a glamorous dial, or an extravagant case design. You can forget about the diamond like glimmer of rhodium plated indices, beautiful sun burst blue dials, and all the other bells and whistles that you'd see in a similarly priced watch. Instead ,you get a bead blasted case that looks like any other case in the Sinn catalog. But what you're paying for is their excellent engineering innovation, that makes these cases some of the toughest and most functional cases in the business.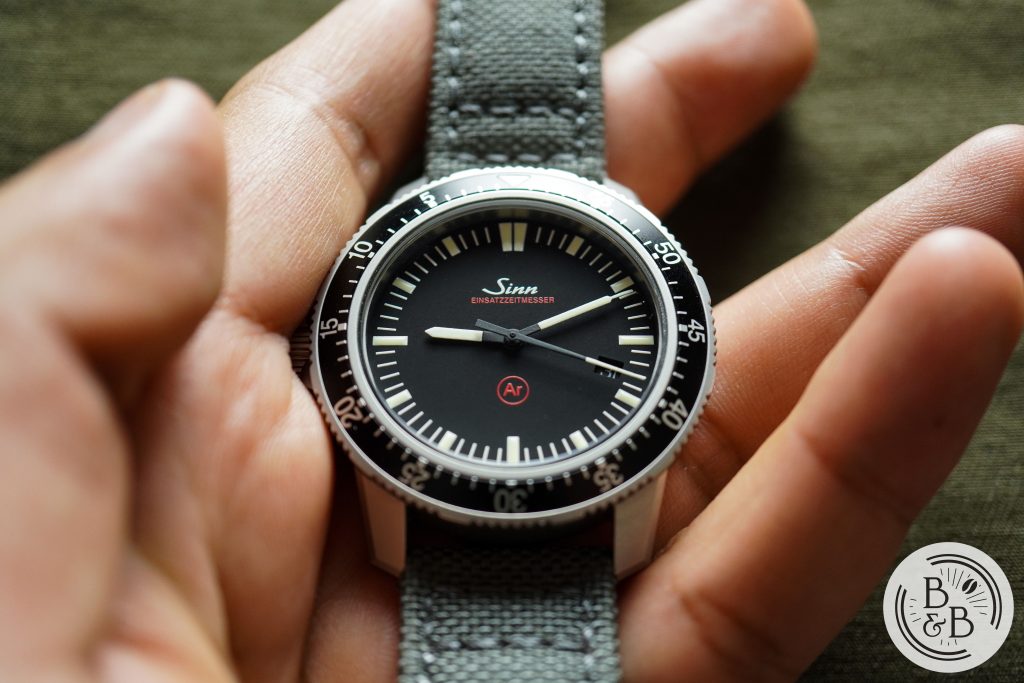 I really wish this case was tegimented to be more resistant to scratches, but that's a trade-off I'm willing to make, to have a dial with an incredible level of legibility, and an overall very appealing and symmetric design. This watch is perfect for me, and what I currently want from an everyday watch.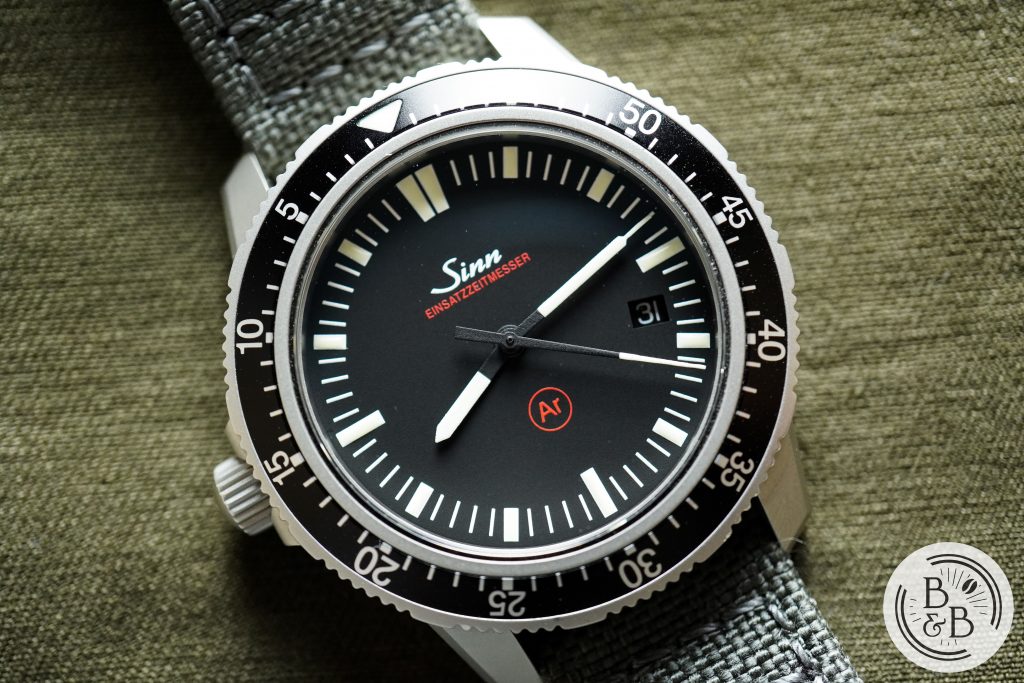 That said, this watch is not objectively perfect. The tip of the minute hand on this unit looked a bit odd, and the clasp on their bracelet really needs to be upgraded to feature an on-the-go quick adjust system.
---
Strap Change
---
Thanks for reading!