---
Disclaimer: I purchased this watch pre-owned (but in excellent/mint condition) and was not externally incentivized in any way to make this review. This review is in no way sponsored by Christopher Ward or any other entity. All opinions here are my own.
---
---
Contents
---
C60 BLUE
Over the last two years, Christopher Ward went from being a brand I easily looked past, to one that I now actively follow and have tremendous respect for. Their quality has been getting better and better, and their design team have been doing a fantastic job as well. But the real icing on the cake is that they've managed to always impress where pricing is concerned. This maybe one of the few instances where a brand successfully cut out the middle man and brought more value to the customer, because if you were to find a mainstream Swiss watch brand with similar levels of quality, you're certainly going to be paying at least 2-3x these prices.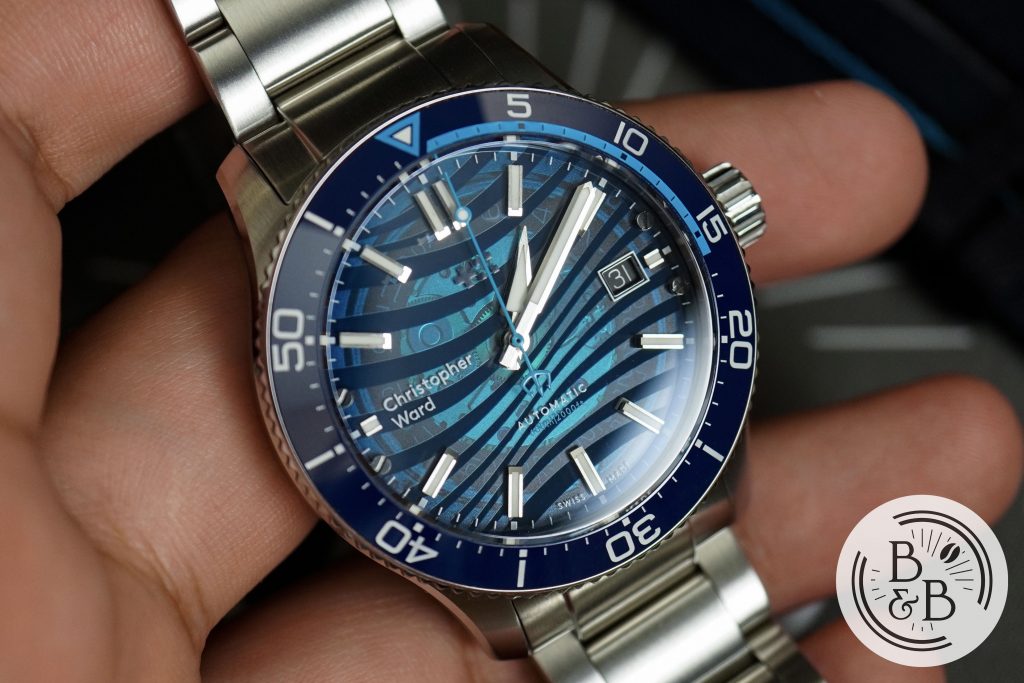 In November last year, they released this beautiful blue dial C60 BLUE, which was a limited edition watch designed to raise money for the Blue Marine Foundation (BLUE). All profits from these sales went to BLUE, and I thought that it was an excellent release. They raised roughly $275,000 with this release! By now, you should already know that I'm a sucker for blue watches, so this was equivalent to winning the blue watch design lottery. I had other watches I wanted to buy at the time of release, but figured I'd get one of these on the secondary market eventually. A couple of weeks ago I found one pre-owned but in mint condition, and I jumped at the opportunity.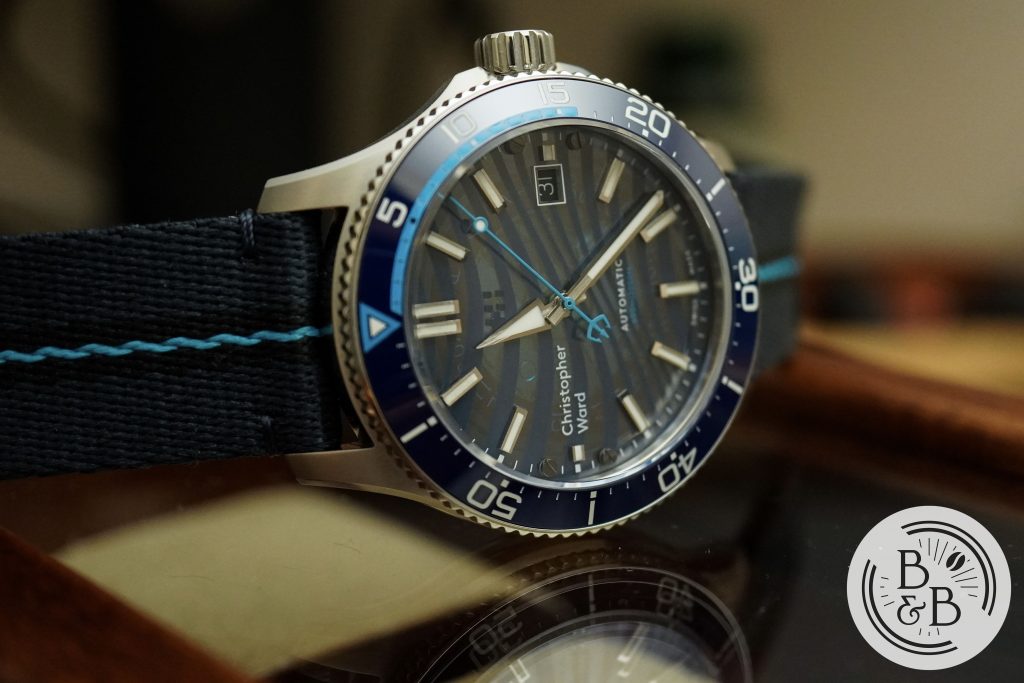 These watches had a retail price of around $1025 on the #tide recycled plastic strap, and I believe an extra $200 for the metal bracelet. Just as a side note – apologies for the poor photography and videography in this review. I struggled to shoot this dial!
Let's check it out!
---
Case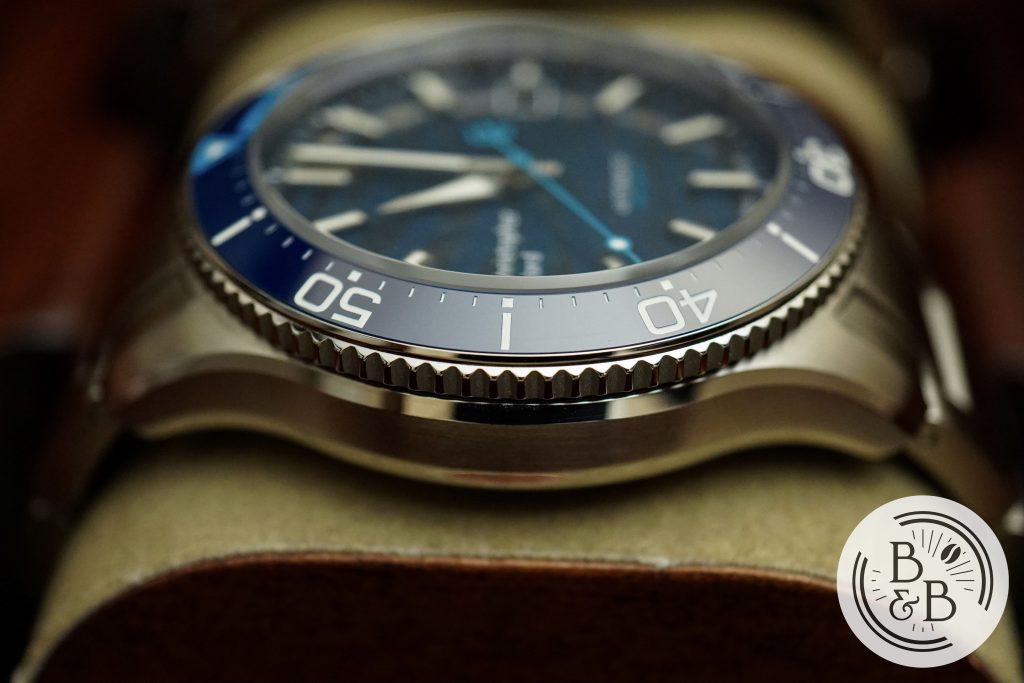 I measured the case to be 39.70 mm in diameter, 46.75 mm from lug-to-lug and 13.5 mm tall. The case is made entirely of stainless steel, and their light catcher case design makes excellent use of brushed and polished elements, along with aerodynamic curves and beautiful transitions.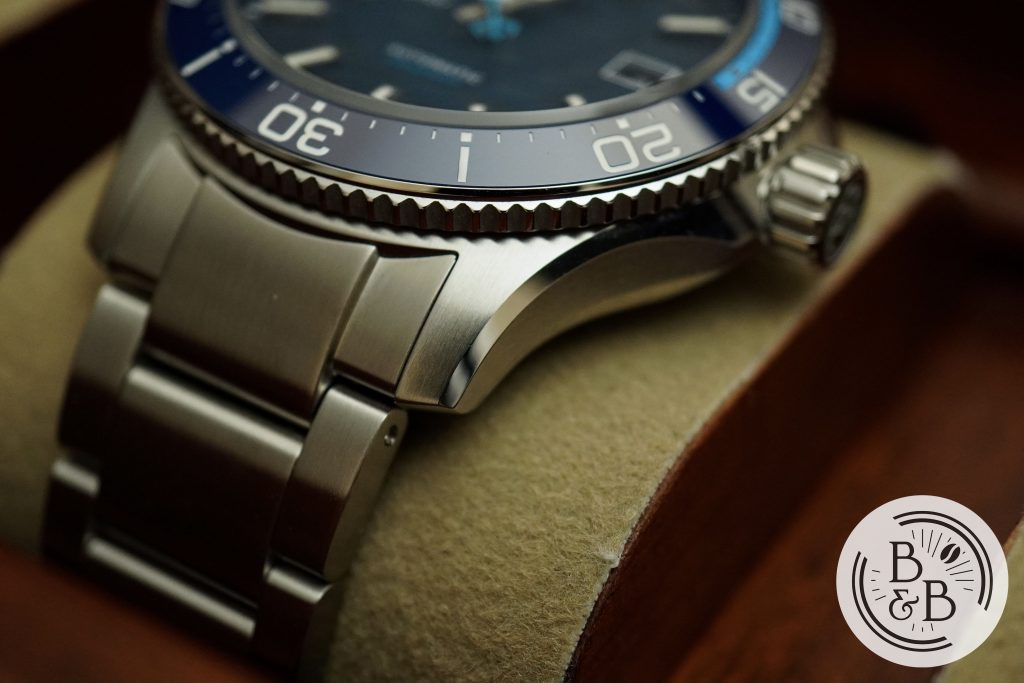 The mid-case is sleek and extends out into a pair of short lugs that curve down towards the wrist. There is a beautiful polished edge on the side of the case that runs down the lugs. It looks very sporty, but also elegant. The lug width is 20 mm.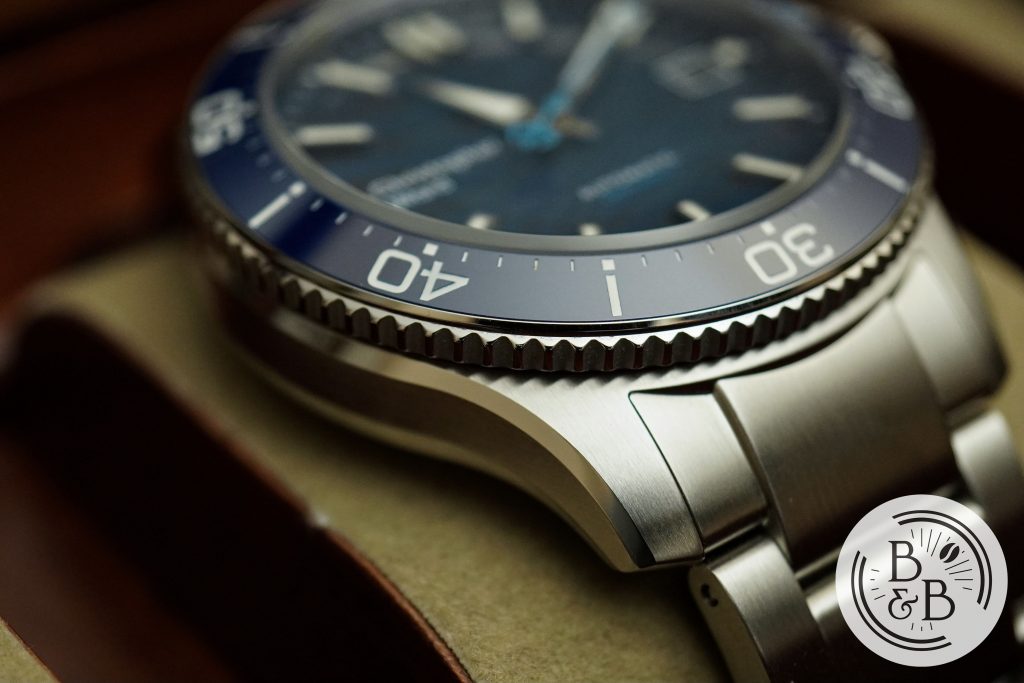 There is a 120-click uni-directional dive bezel that has an excellent grip. It is easy to operate with great bezel action and no back-play. The ceramic bezel insert slopes downwards and is blue with a combination of blue and white lumed elements.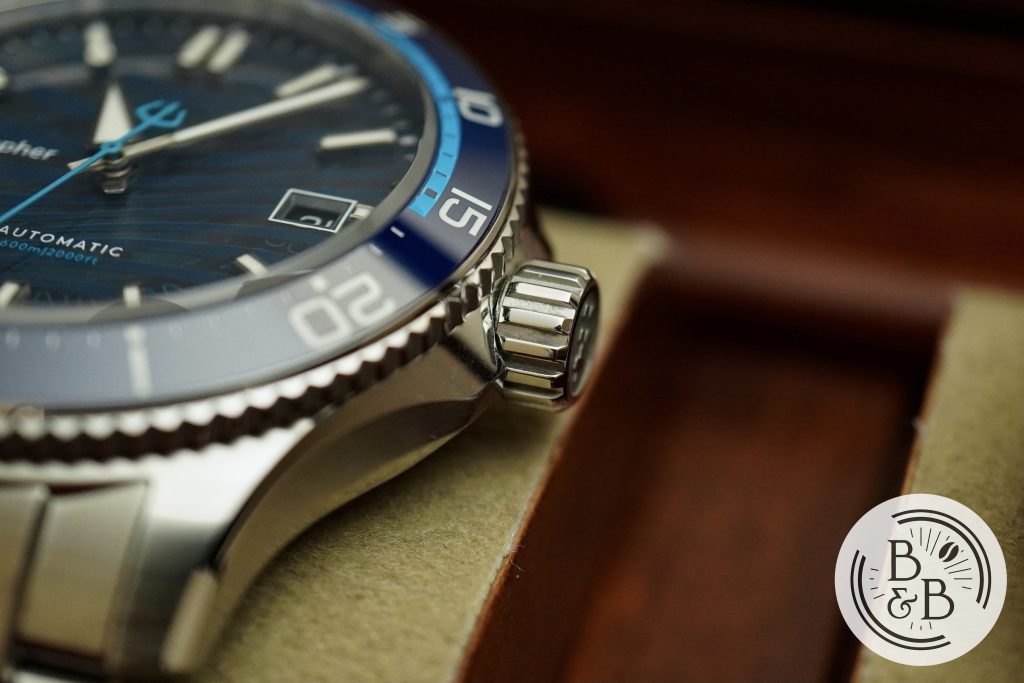 There is a 6.5 mm screw-down crown at the 3 o'clock position that is set within a pair of sleek and comfortable crown guards. I love this design and the transition of textures and surfaces. The crown is easy to grip and operate, and there isn't any crown or stem wobble here.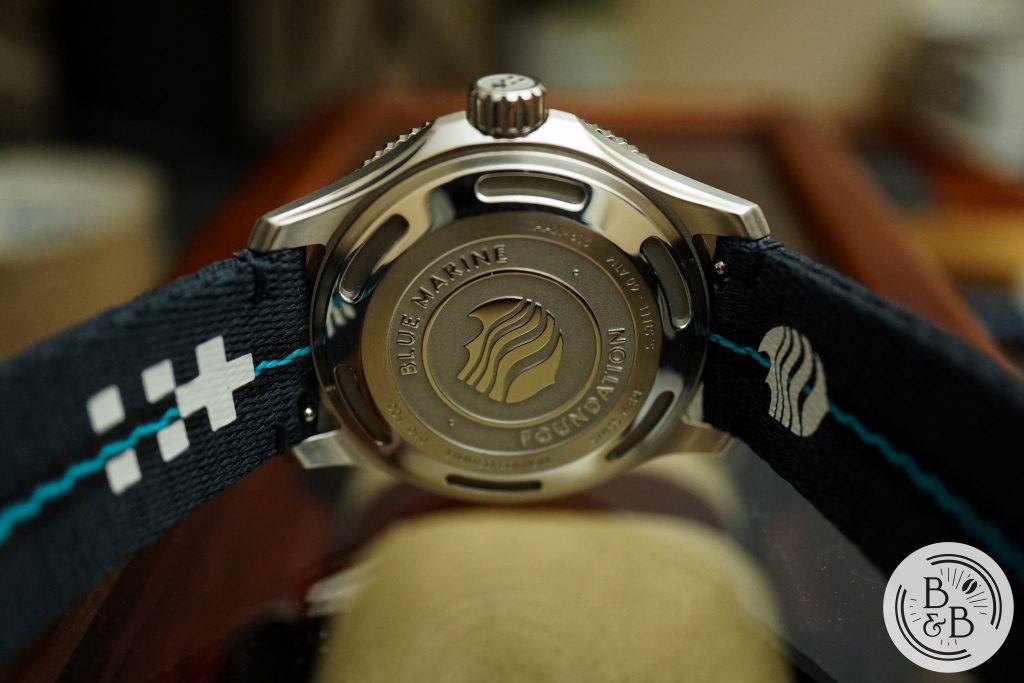 Flipping it over, you have a solid screw-down case-back with the Blue Marine Foundation (BLUE) logo and branding embossed on the back. I prefer this decorated solid case-back to the blued sapphire case-back on the regular C60 Sapphire Blue models. This watch is rated for up-to 600m of water resistance, which is pretty impressive given it's compact case size.
---
Dial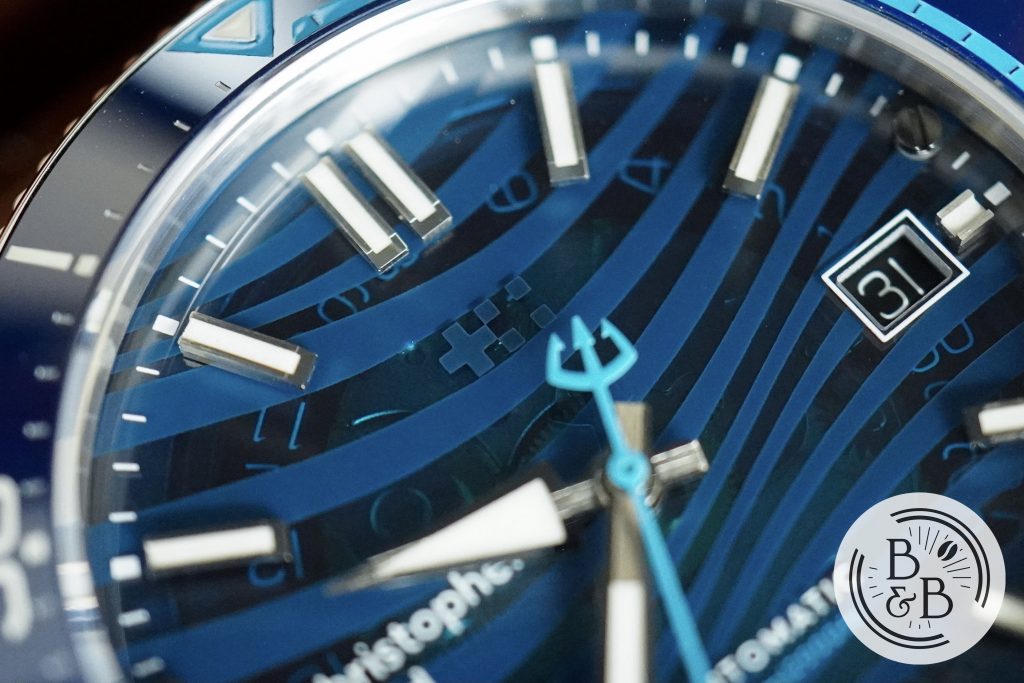 This dial is a variation of their C60 Sapphire, but with more focus on both the color blue as well as the BLUE foundation. The base of the dial is blue sapphire, with the Blue Marine Foundation logo on the lower surface of the dial. I like this a bit more than the plain blue C60 Sapphire dial, and the wave pattern adds a lot of character.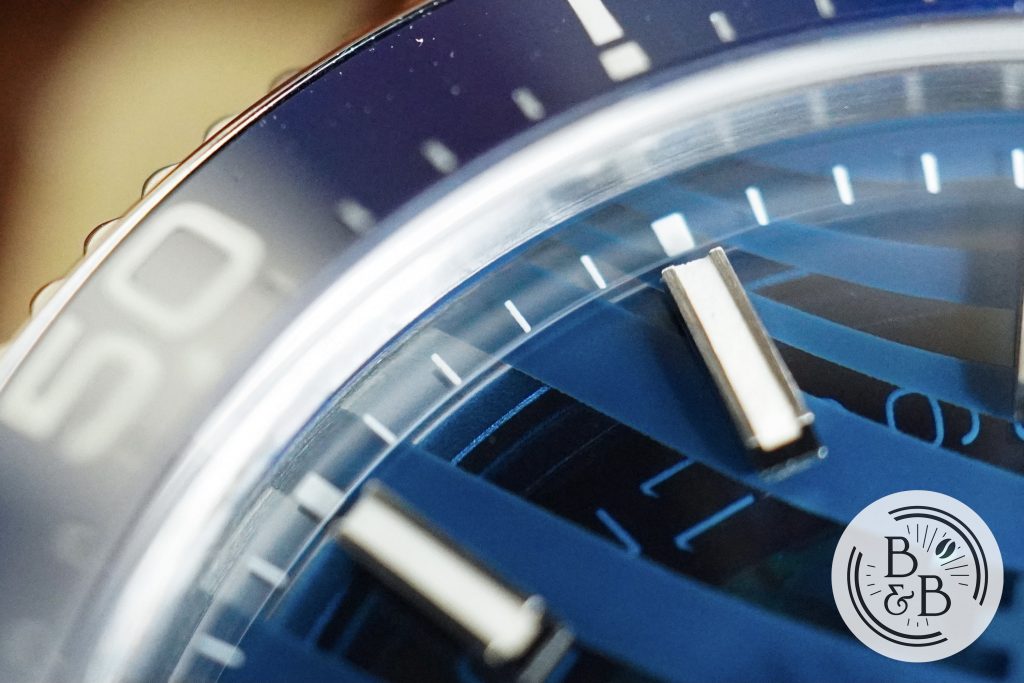 There is a transparent raised sapphire outer track that has printed minute markers in white, with rectangles for every 5 minute increment, and white ticks for the rest.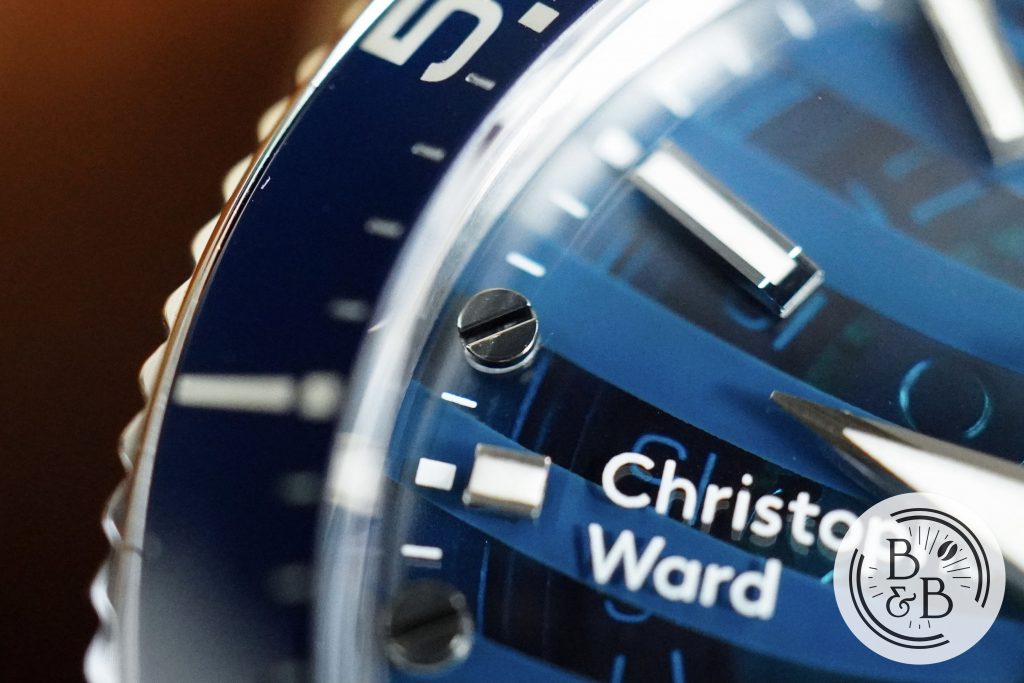 Also on this track are the four black screws that hold the sapphire dial down and fix it to the movement. I thought this would bother me, but it isn't noticeable at all when it's on your wrist.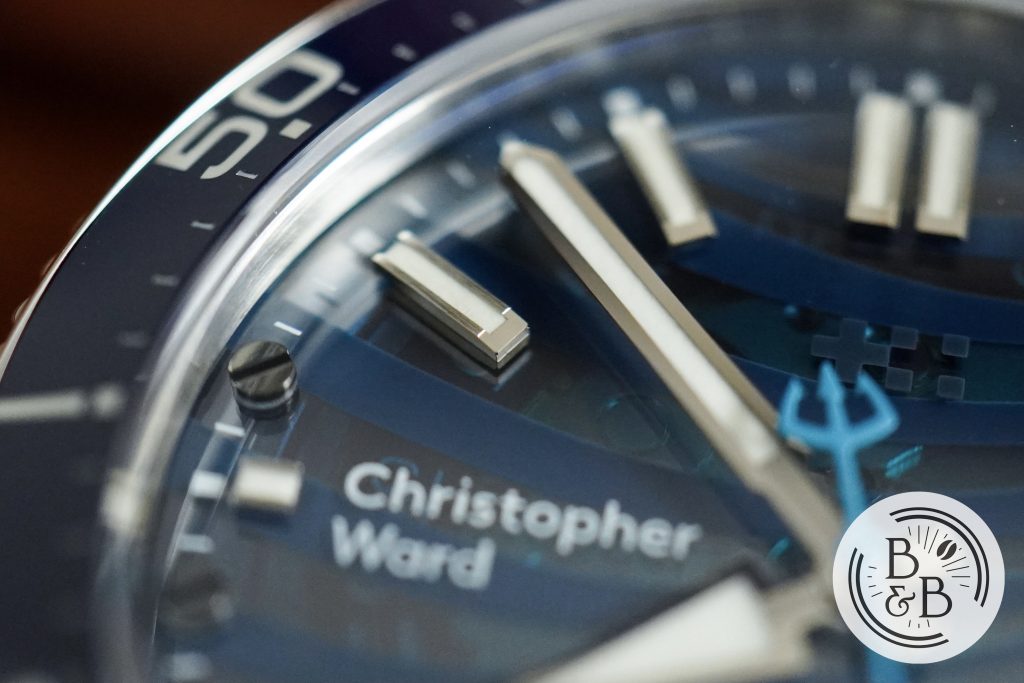 You then have applied stainless steel indices for all the hour markers, including stunted hour markers at the 9 o'clock and 3 o'clock positions. These are finished well, and filled with lume. The design is similar to the other C60 and C63 watches that I've reviewed already.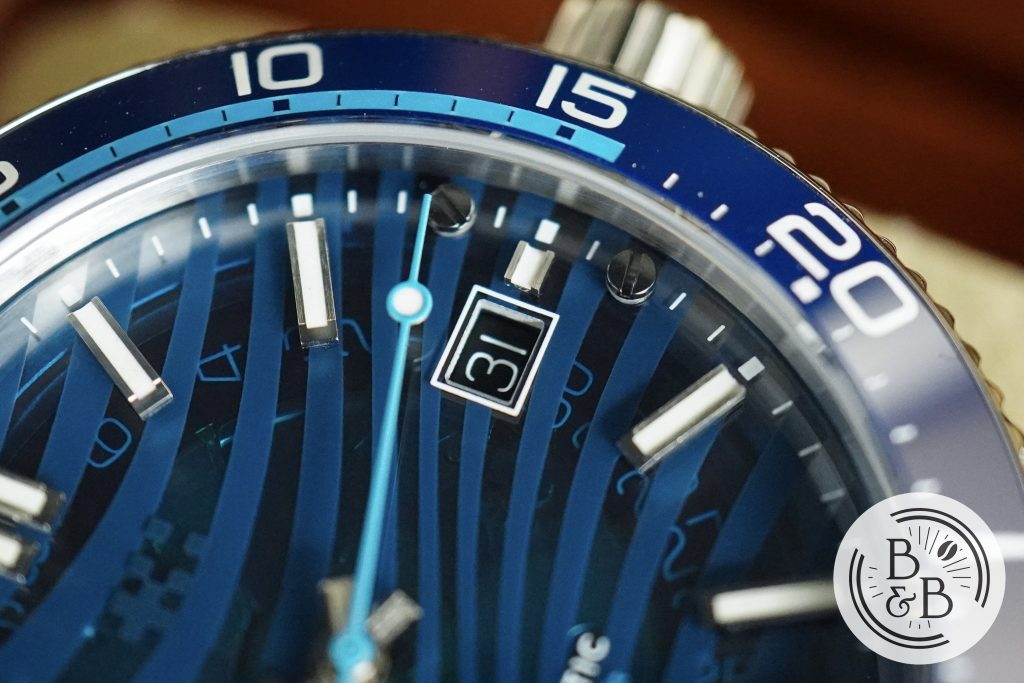 There is a well executed date window with a white printed frame at the 3 o'clock position. The date wheel has a black background with white text, and the finishing is good. One of the interesting design elements here is the fact that you can see the entire date wheel beneath the surface of the sapphire dial, and I think that looks amazing.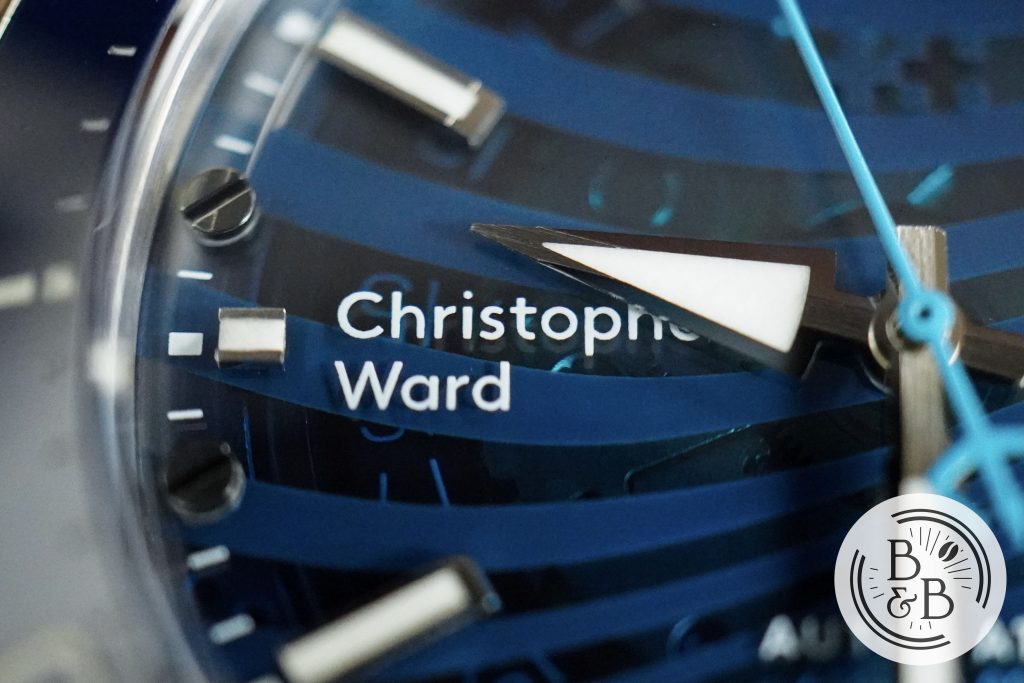 I don't usually like the 9 o'clock Christopher Ward branding, but this execution feels well balanced given the date window at the 3 o'clock position, and the balanced out indices. Ideally, I'd like the CW flag logo under the 12 o'clock, no branding and a date window at the 6 o'clock, but this works too.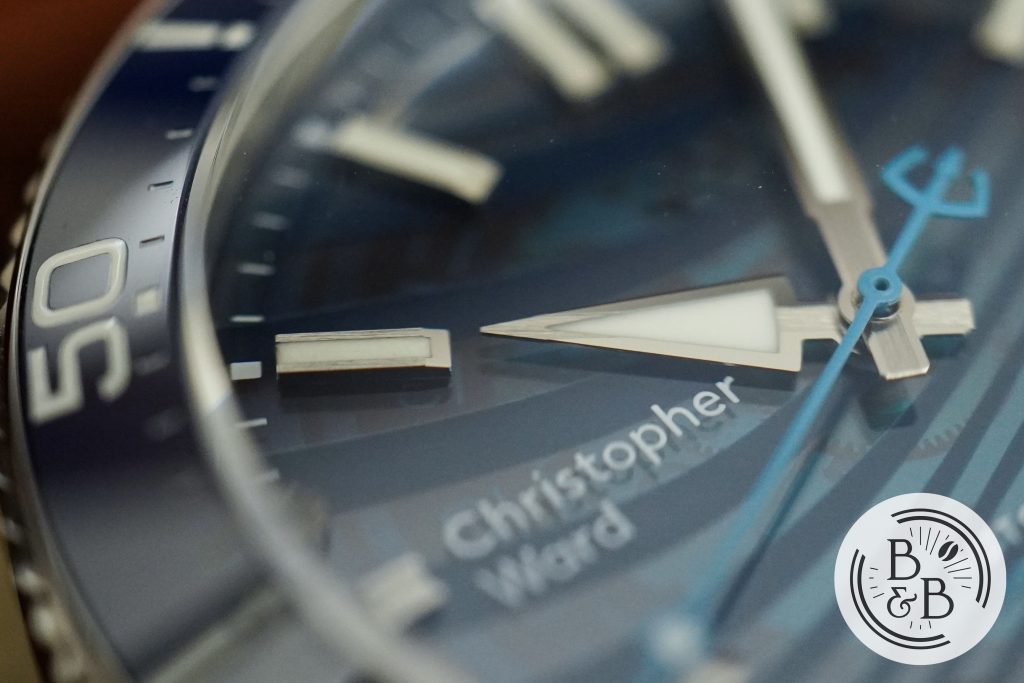 As usual, the hands are very well finished, and have large lume filled sections, with a combination of brushed and polished finishing. The finishing on their hands is always excellent for what you're paying, and I have no complaints at all.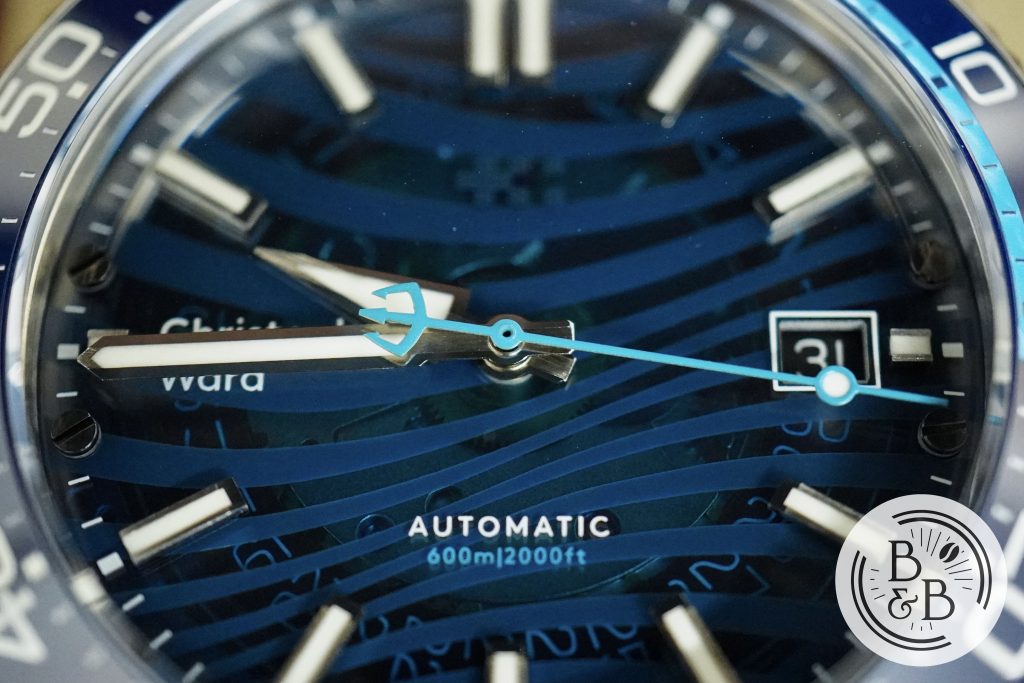 The seconds hand is painted sky blue with lumed circular element. This watch truly is for someone who loves blue, and one of those somebody's is me. The overall finishing and quality control on this dial is excellent for the money, and I'm sold on the design.
---
Lume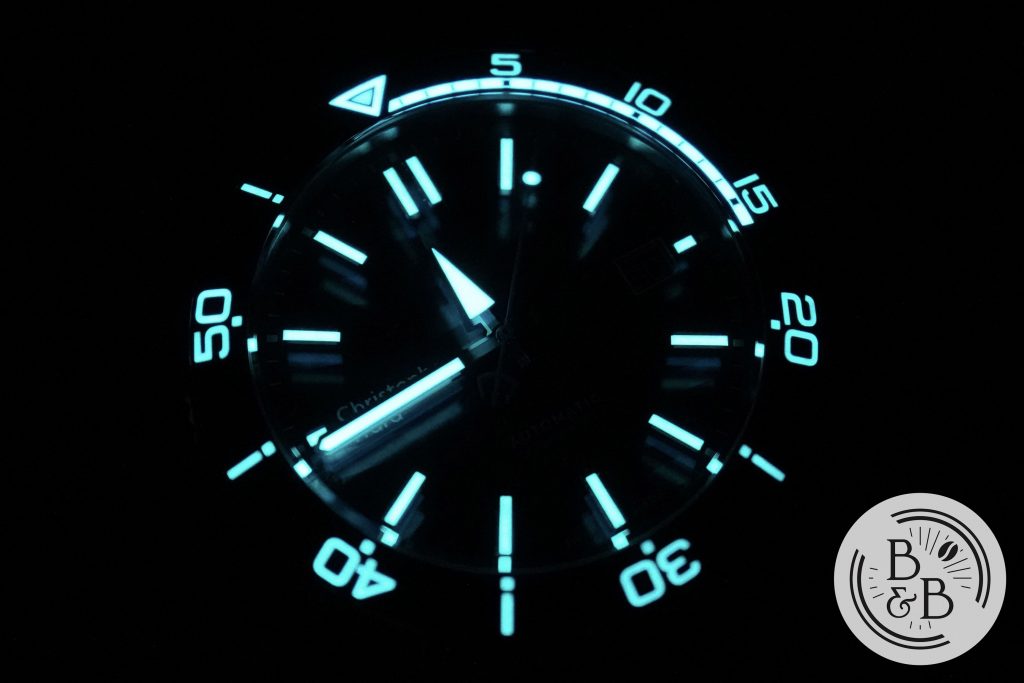 There isn't a shortage of lumed elements on this watch, and the performance is good. I won't say great because the Sealander GMT that I recently reviewed was noticeably brighter than this, and was in Seiko LumiBrite territory.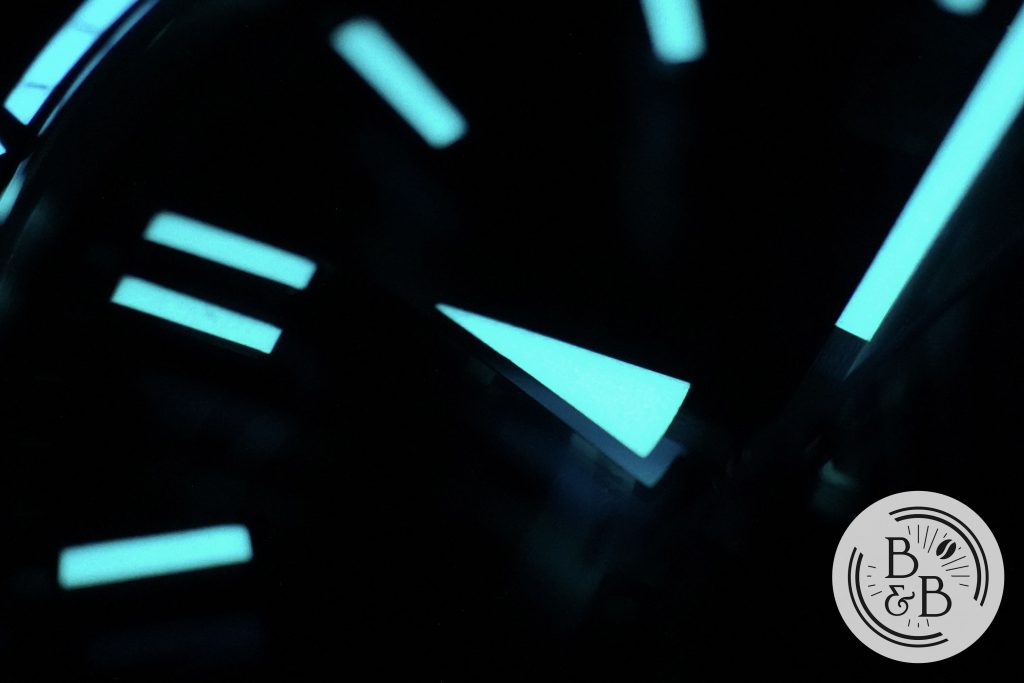 What the lume lacks in brightness, it sure makes up for in design. The way the lume bounces off the crystal and back onto the sapphire looks absolutely stunning. And the blue glow of the Grade X1 GL C1 Super LumiNova works with the blue theme of this watch.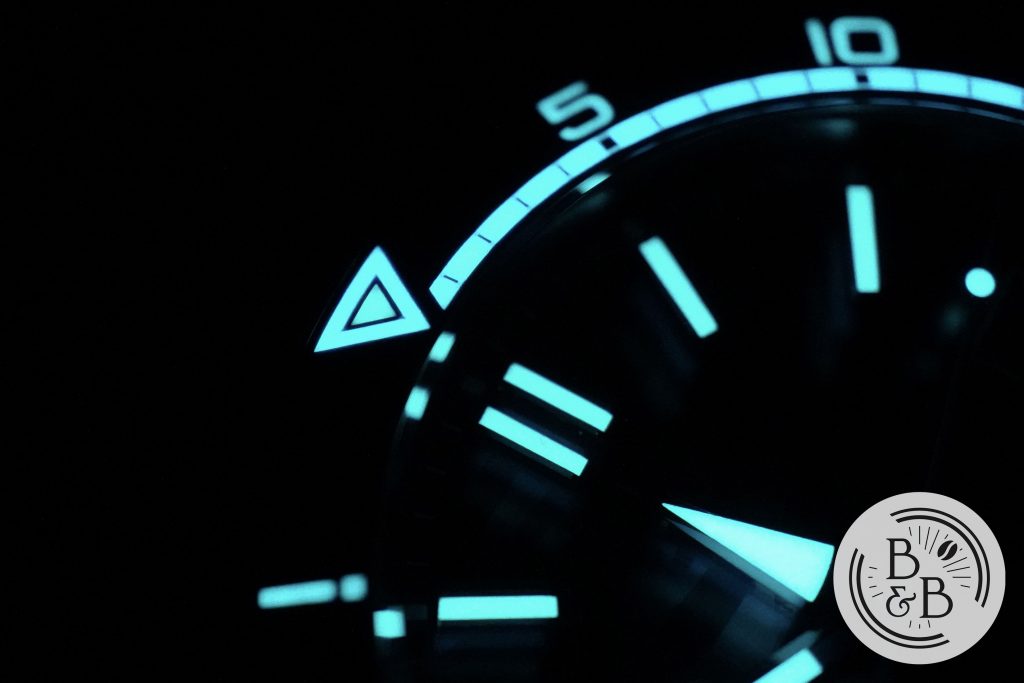 All the bezel elements are lumed and pretty generously so, including the 15 minute diving timer, and the little rectangles under the Arabic numerals.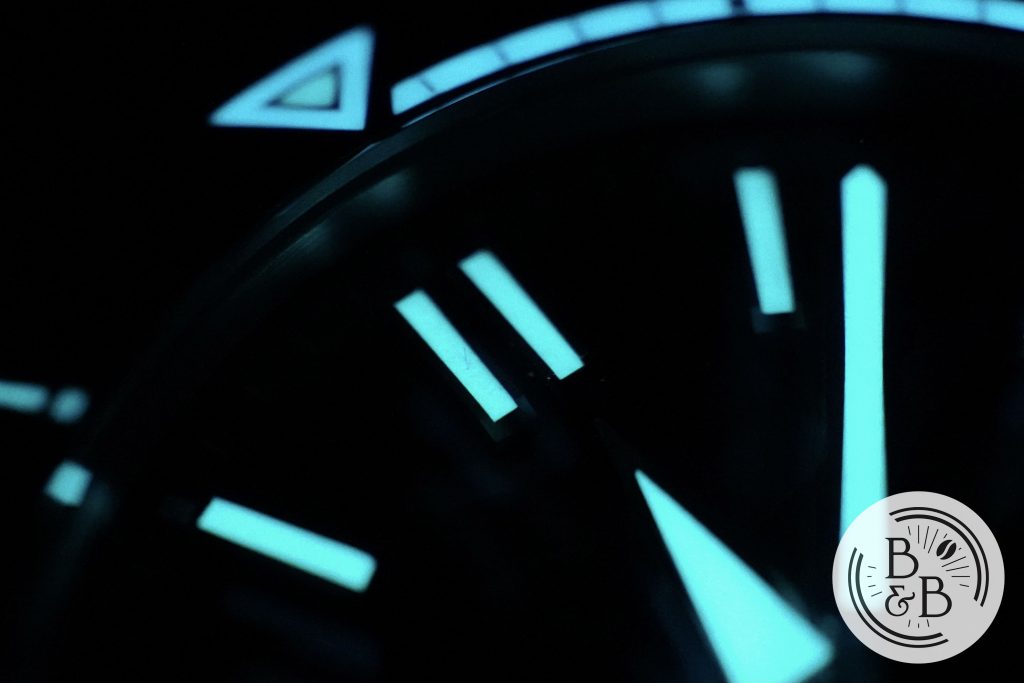 All the indices are lumed, and the stunted indices at 3 o'clock and 9 o'clock are well balanced from a design perspective.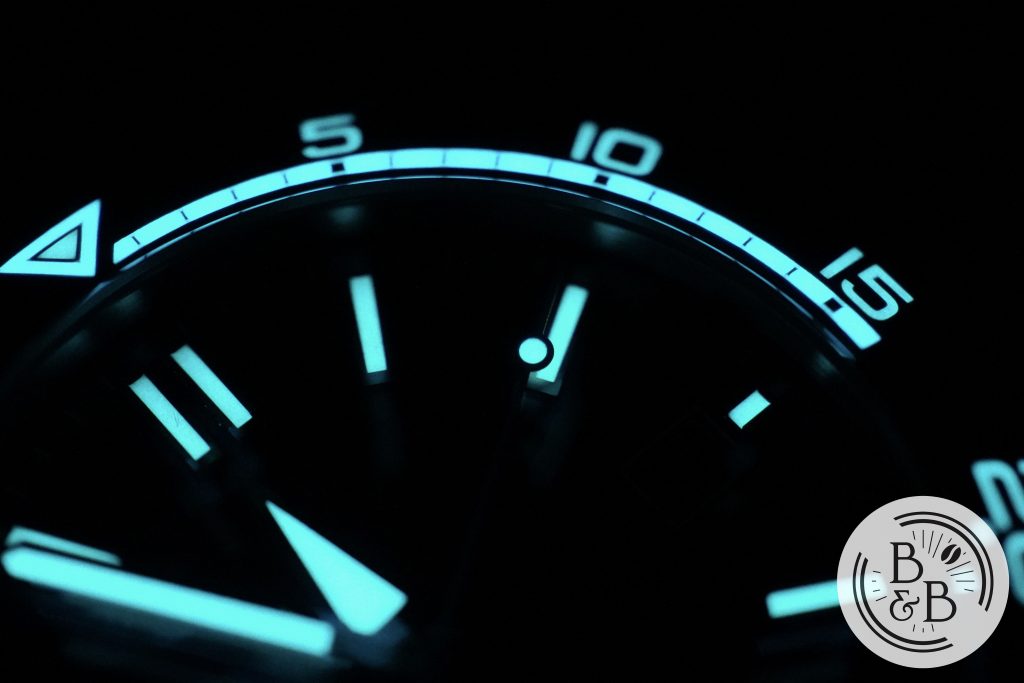 The hands are generously lumed with have large lumed sections. There is a circular lumed element on the seconds hand for uncompromising low light legibility.
---
Movement
This watch uses a Sellita SW200-1 movement, which is Christopher Ward's go-to movement for a lot of their three hand automatics. These are good movements and I've lost track of how many watches I've owned or currently own with this movement. Just like their ETA 2824-2 predecessor, they can succumb to the windmilling rotor issue, but it's a fairly easy fix that just costs you some time apart from your watch.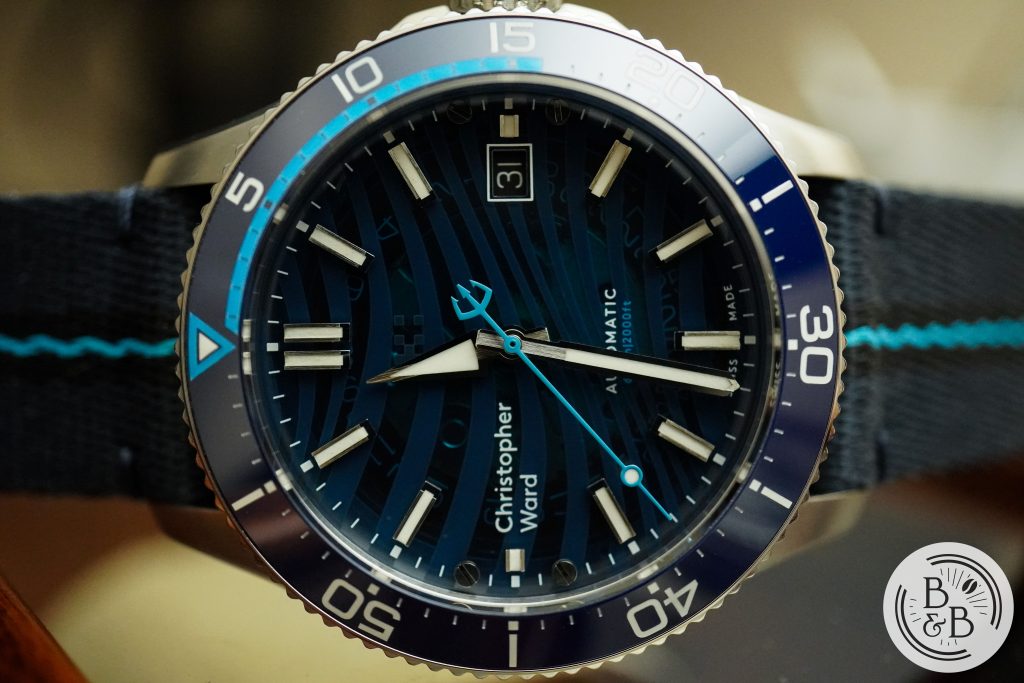 I put this watch on my time grapher and observed roughly +6 spd in the dial-up position and +5 spd in the crown up position. So pretty good numbers and I'm more than pleased with it.
---
Bracelet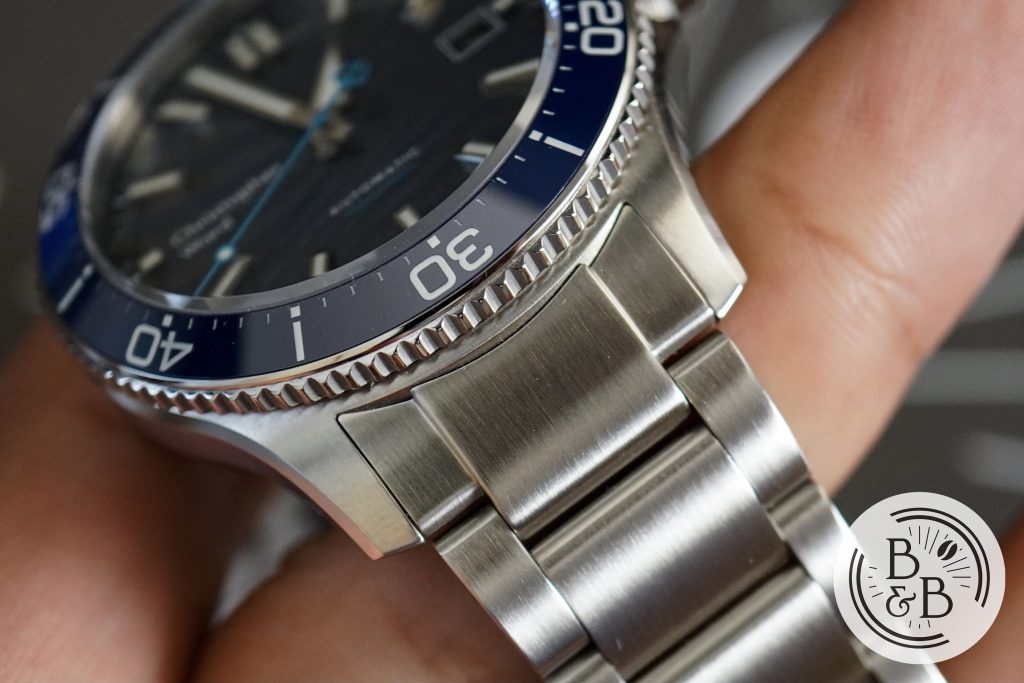 I've found Christopher Ward to have one of the most comfortable bracelets in this price category and below, along with Halios, Formex, Monta and Zelos. The end link fitment on this watch is great, with negligible horizontal wiggle.
The links articulate well, are well finished and taper down from 20 mm at the end links to just under 18 mm at the clasp. The only drawback of their bracelet is the fact that they use pin and collars, but I prefer this to poorly executed screws like you typically find on micro-brands.
The clasp is the real winner here and is very well finished and designed. It has a tool-free micro-adjustment feature that makes it easy to resize the bracelet during the day if you have a wrist that swells up like mine. The design is similar to Zelos, but I find Christopher Ward's to be just a bit better finished and smoother to operate.
---
On The Wrist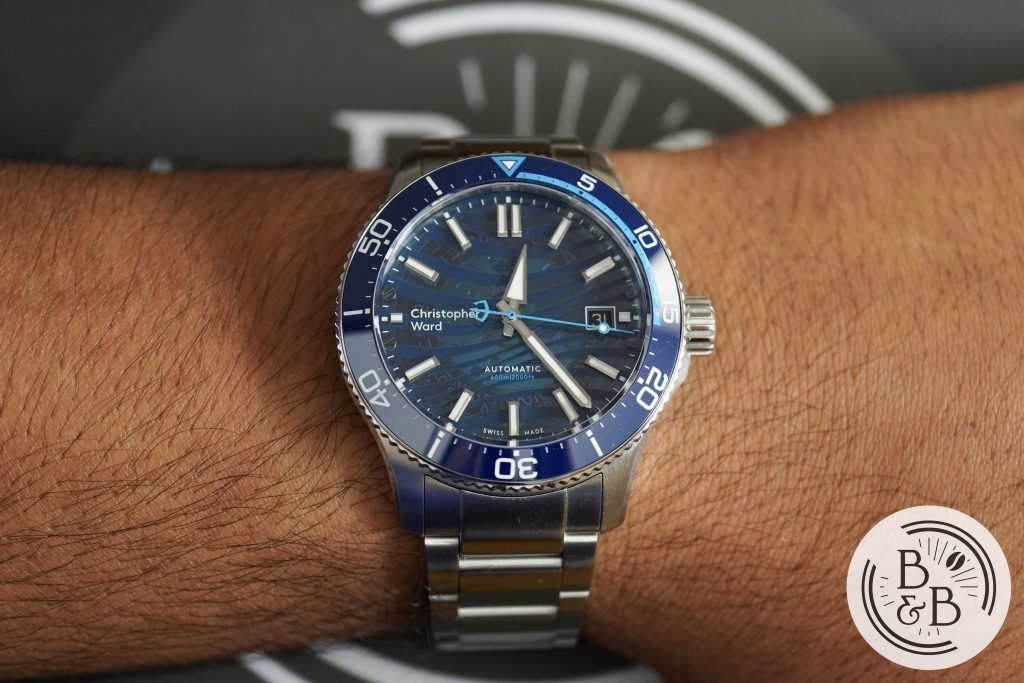 The C60 is a great case design for a wide range of wrist sizes. The 39.70 mm diameter is paired with a compact 46.75 mm lug-to-lug width, which makes it accessible to small wrists as well. It fits great on my 6.5″ wrist.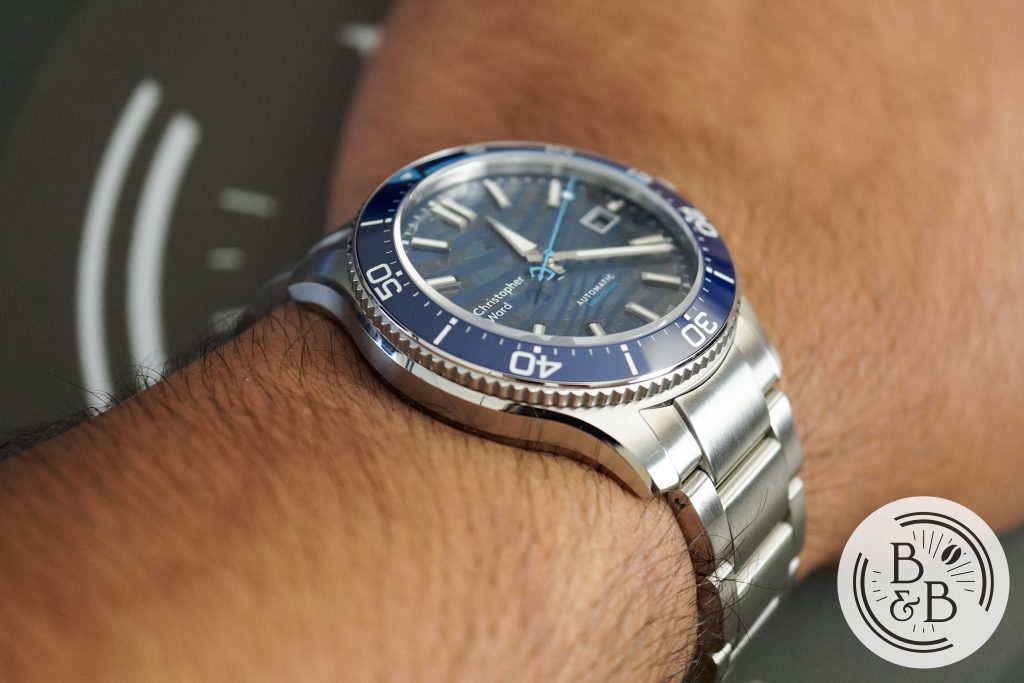 The height of 13.50 mm might seem like it's on the thicker side, but the case has very carefully placed relief edges and transitions that make it look like a very slim watch on the wrist. Seriously impressive design work here!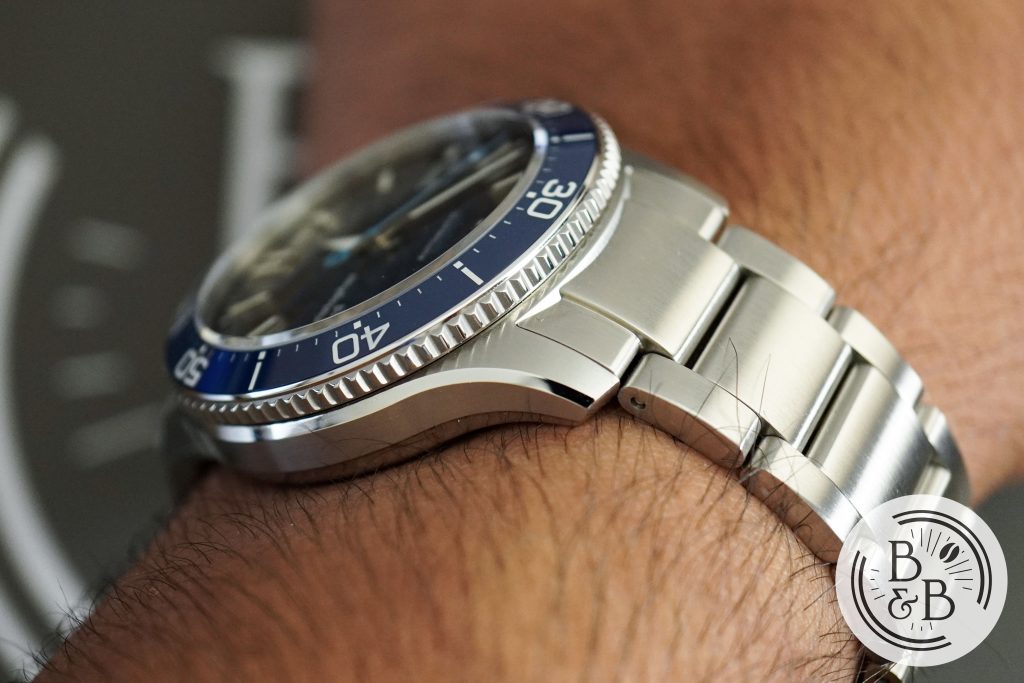 Overall, between the comfortable bracelet and well designed case, I have absolutely no complaints about how this watch wears and I think it is easily one of the most comfortable 13 mm watches I've worn.
---
Concluding Thoughts
Overall, this is another winner. This is the fourth Christopher Ward I've reviewed, and they've all been fantastic. This watch is for those who love blue and are happy to support the Blue Marine Foundation (BLUE). The design is fantastic, the build quality is excellent and the finishing and specs are pretty impressive for the money.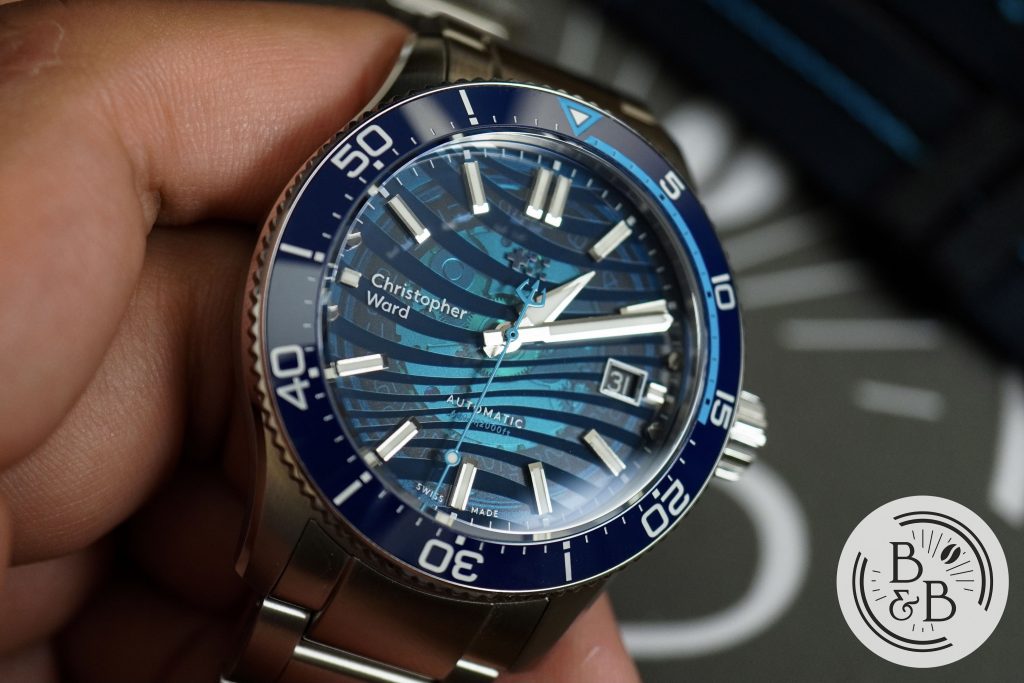 I don't really have anything else to say about this watch – buy it if you happen to come across one on the pre-owned market at a reasonable price. You won't regret it.
---
Strap Change
---
Thanks for reading!