---
Disclaimer: This watch was sent to me to review, and I was not incentivized in any way to write this. This is in no way sponsored by Sólás or any other entity. All opinions here are my own.
---
---
Contents
---
Sólás Starlight Review
A few weeks ago I posted a very detailed and interesting conversation with Diyu Wu, the founder of Sólás watches, regarding his upcoming watch – the Starlight. I'm not going to spend time introducing this brand and watch again, but I urge you to read this interview if you wish to learn more about what motivated this watch and it's materials.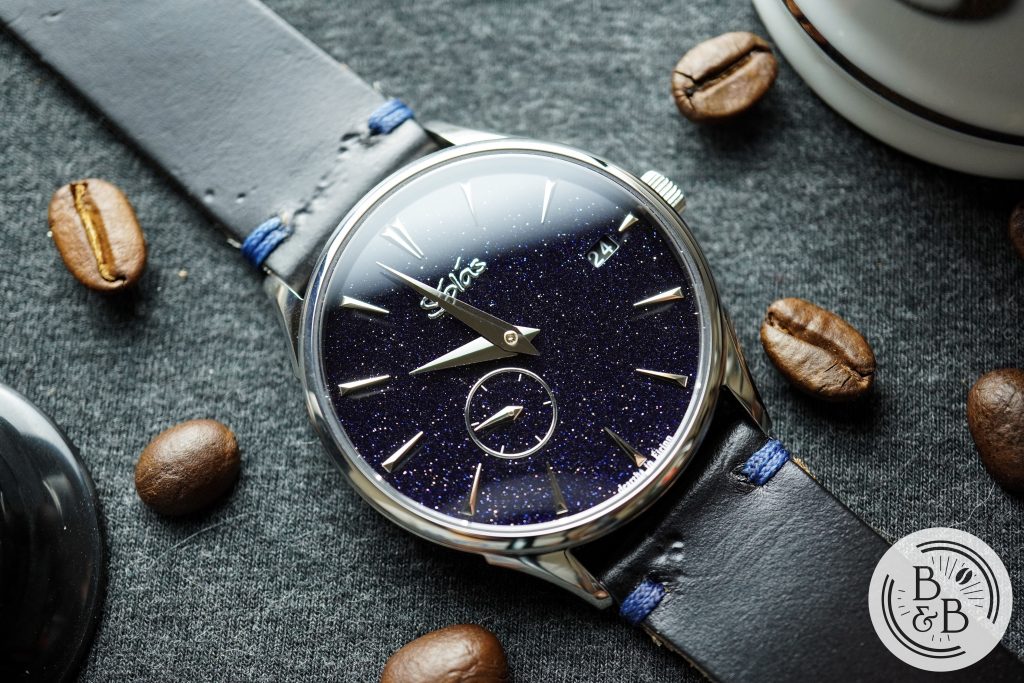 This watch was shipped to me directly from the manufacturer in China, and bypassed Diyu's personal QC check as well as movement regulation in Ireland. This was done in the interest of time, to get the reviews out in time for the Kickstarter launch. Future watches will be personally inspected and regulated (if necessary) by Diyu in Ireland. This watch is set to launch on Kickstarter at around $390.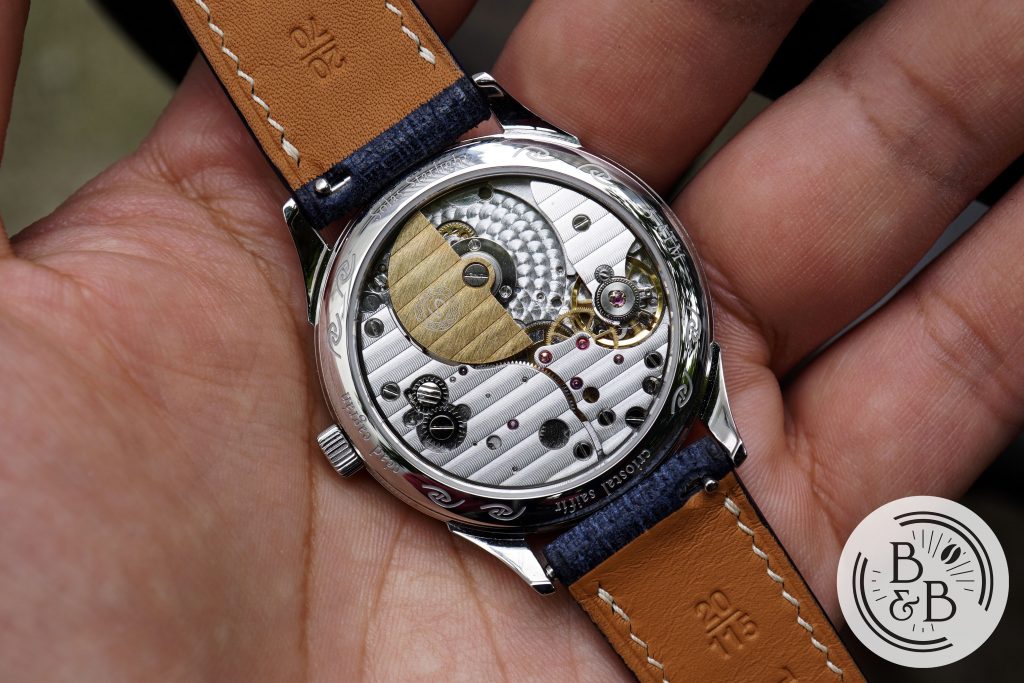 The Hangzhou 5000A movement and Aventurine dial take center stage with this watch, so I'm going to almost entirely skip over the case.
Let's check it out!
---
Case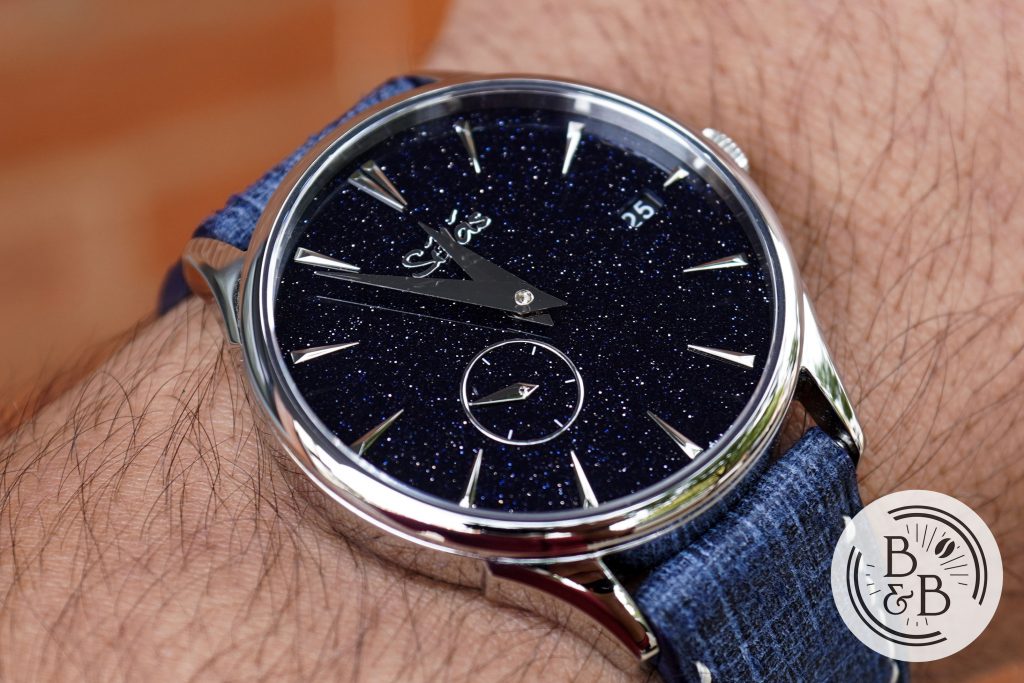 The case is 38mm in diameter, 44mm from lug-to-lug and and 9.7mm in height. The case shape is pretty typical for a dress watch and is entirely polished.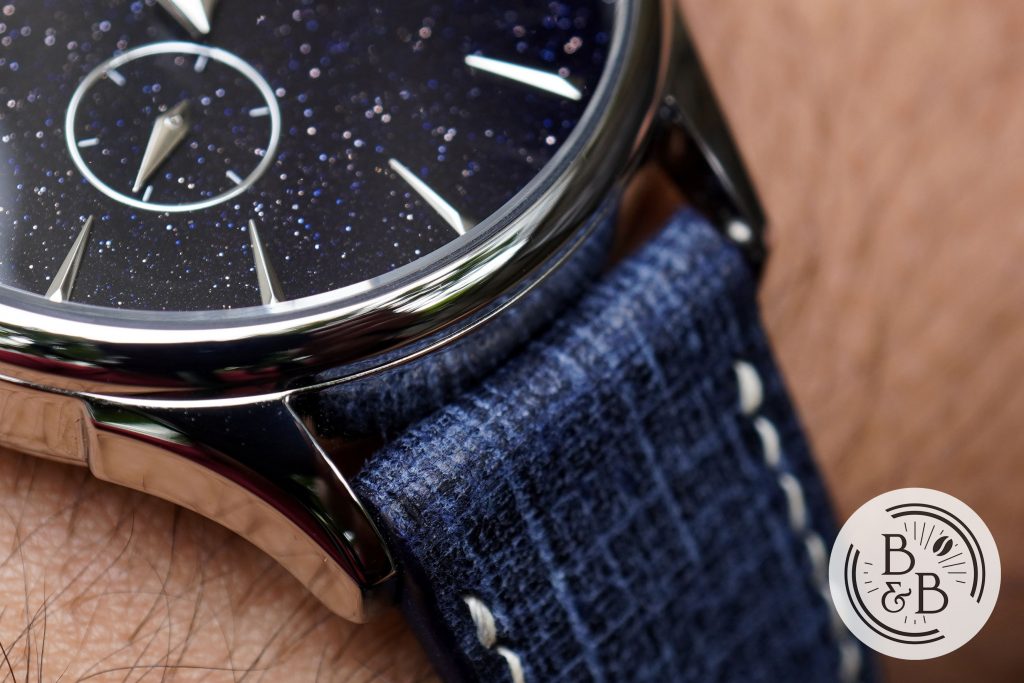 The lug width is 20mm, and the lugs curve down slightly beyond the case-back, which I like.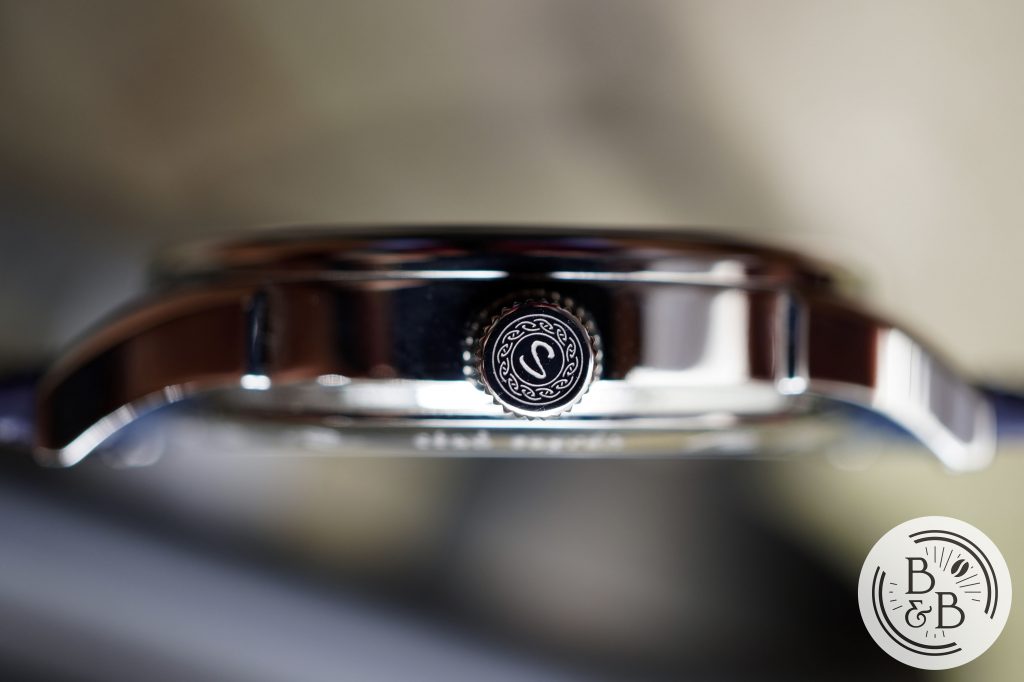 There is a signed crown at the 3 o'clock position, and with a non-screw down crown and large exhibition window case-back, this watch is rated for up-to 50m of water resistance, which is reasonable for a dress watch.
---
Dial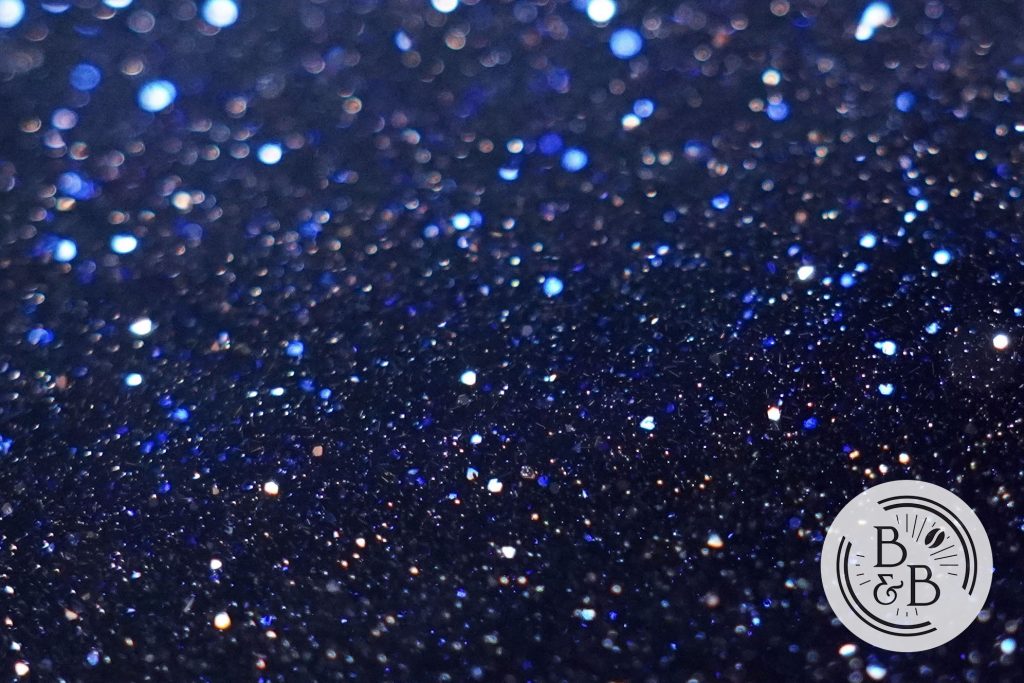 The dial base is a single piece of Aventurine, with a small rectangular cut-out for the date window at the 3 o'clock. The appearance of Aventurine is incredibly dynamic, and the way it plays with light is beautiful. The cosmic glimmer makes it a very interesting material for jewelry, and this material has been gaining popularity within the watch community as well. But this dial is painfully difficult to photograph, and I tried my best to capture some of the blue hues and sparkles.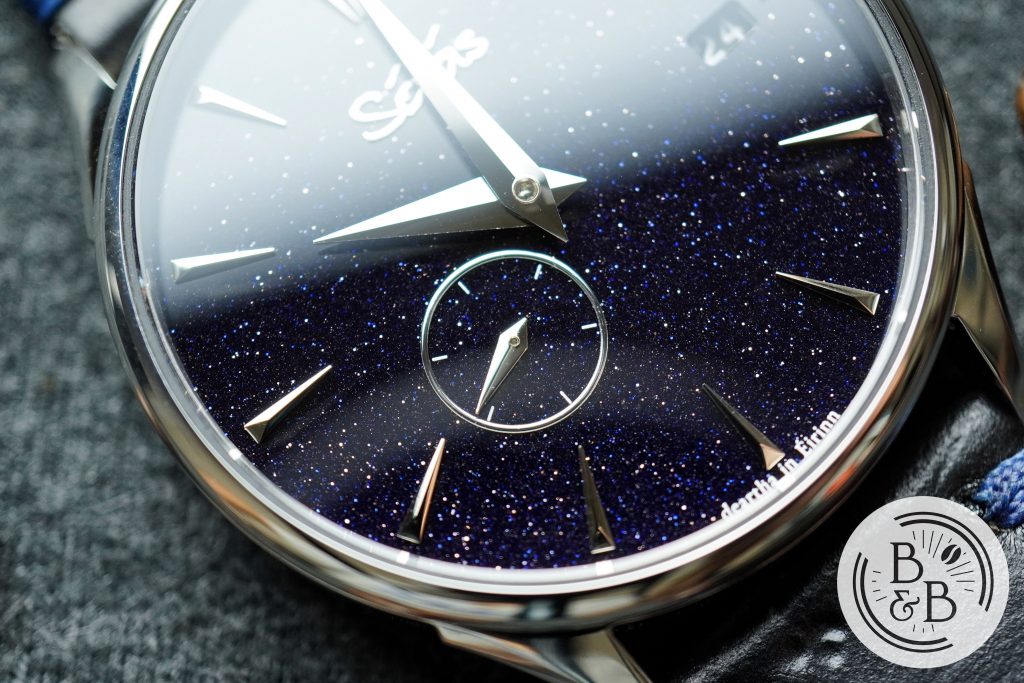 As with most dress watches, there isn't an outer minute or seconds track, and the applied and polished stainless steel indices are the primary time keeping references.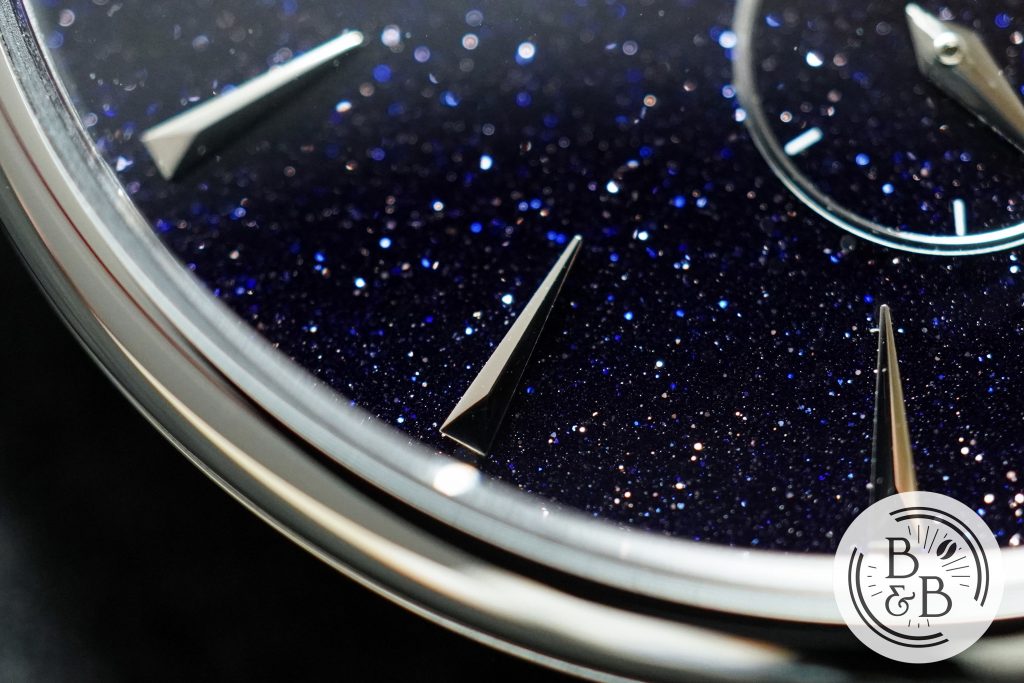 The indices are well finished, and sometimes reflect the dial finishing in photographs. This made macro photography very, very difficult.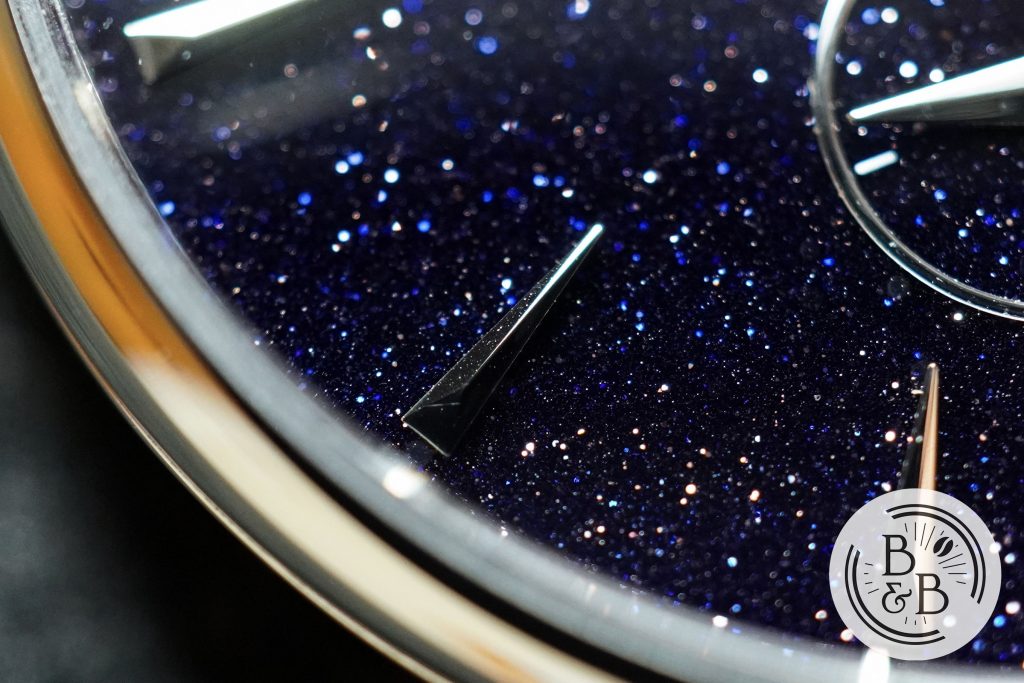 These amazing reflections aren't noticeable to the naked eye, but I thought it was very cool and worthy of sharing.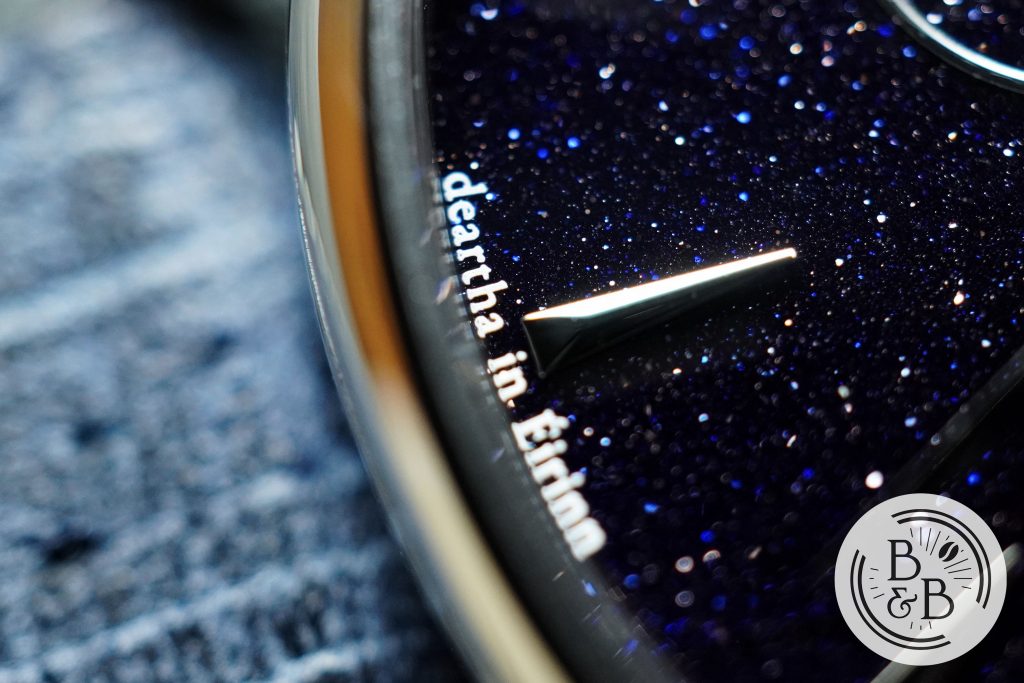 Under the 6 o'clock index, you have the phrase deartha in Eirinn, which is Irish for designed in Ireland.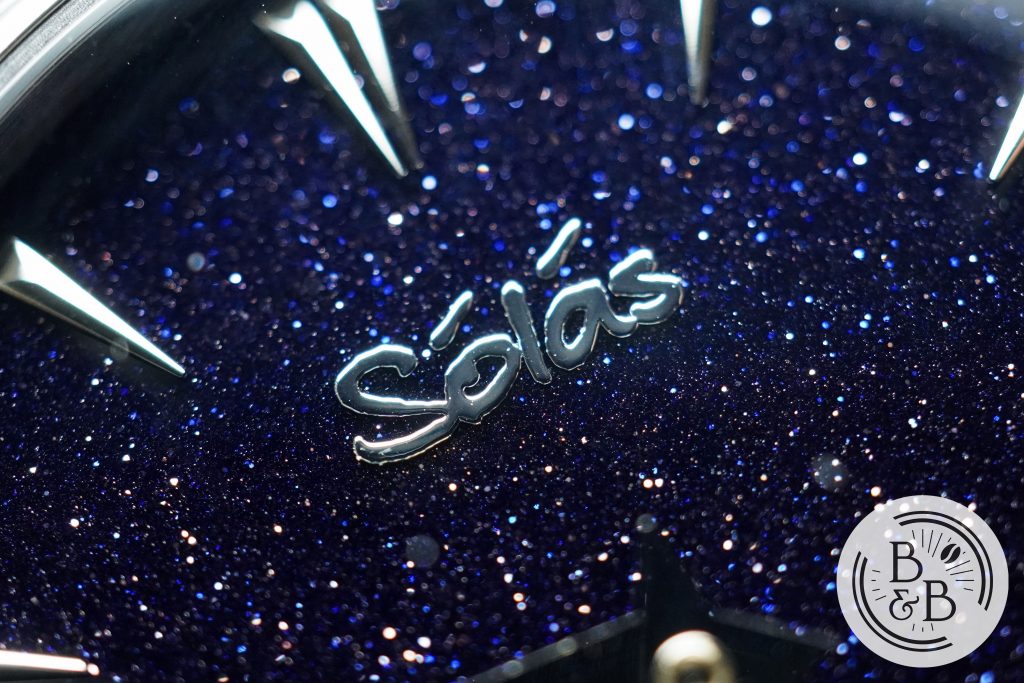 Diyu designed this watch with a lots of Irish elements, and the choice of font reflects this too.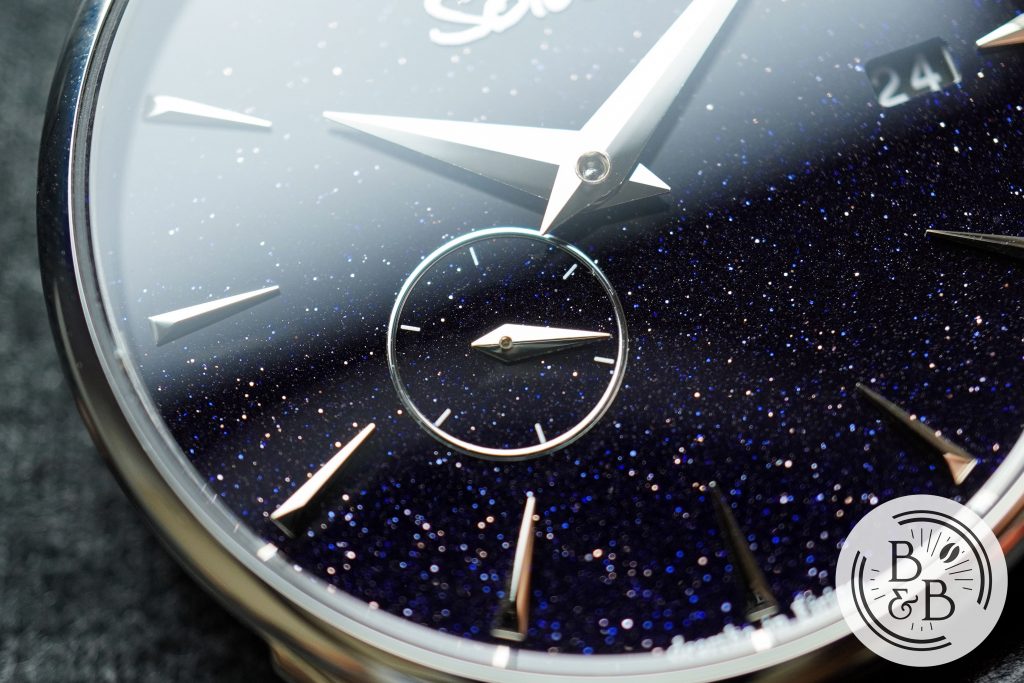 I'm a big fan of small seconds watches. There is an offset small seconds register between the 7 o'clock and 8 o'clock indices.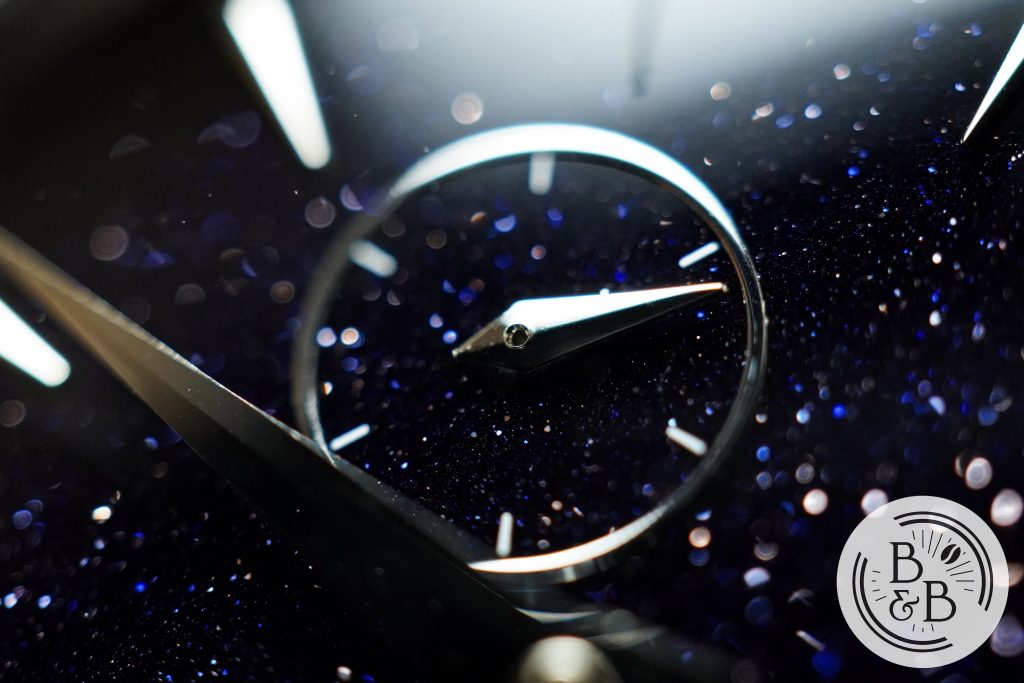 The outer ring is polished stainless steel, and there are seconds markers for every 10 second increment. These are printed and not applied.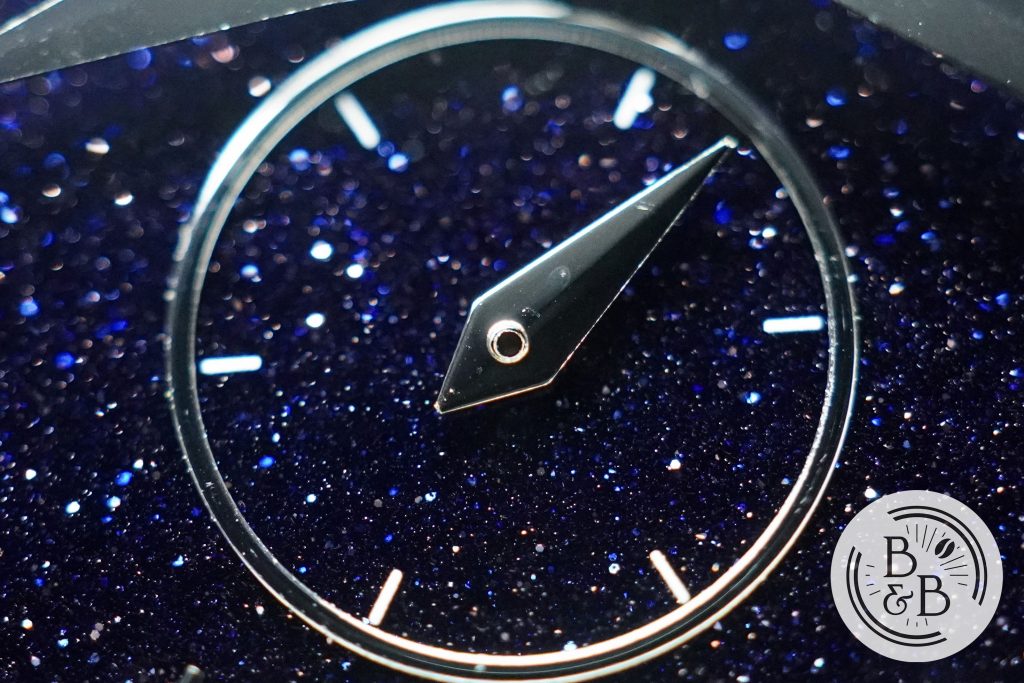 There is a small dauphin still seconds hand that is polished. The finishing is OK on this, and I noticed some small marks on it under the macro lens. This is unfortunate, but for the $400 price-tag, this is acceptable and not uncommon.
There is a date window at the 3 o'clock position, and I would've preferred if there wasn't one. But as discussed in my interview with Diyu, he did not want to have a ghost date position and this movement is only offered with a date, so this is the way it is.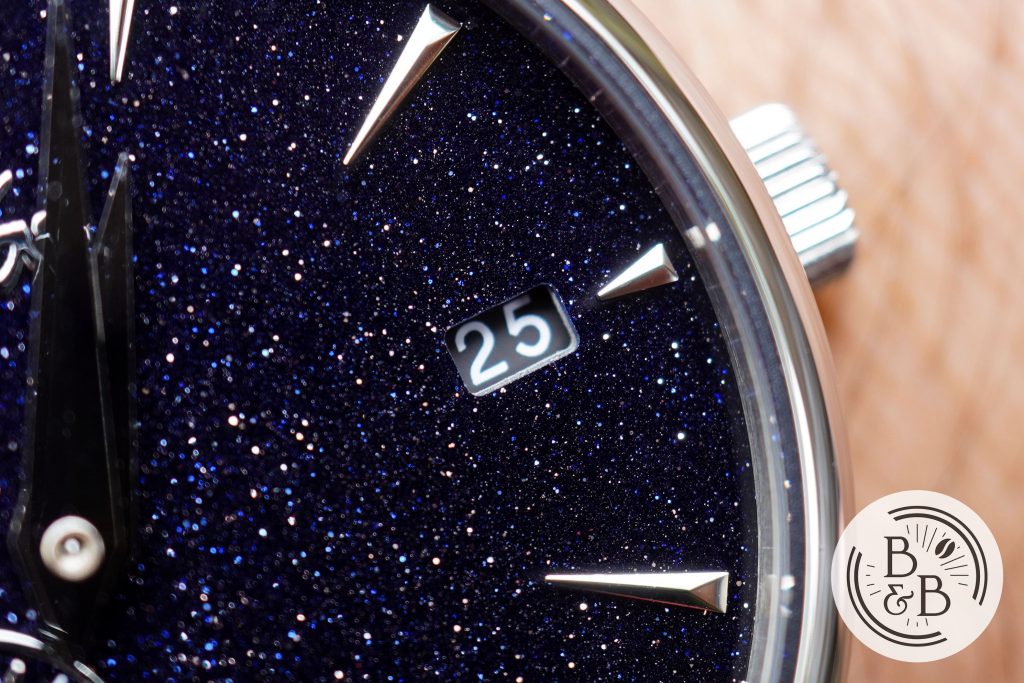 I'm not sold on the rectangular window design either, and I think a circular date window might've looked nicer given the circular case and circular seconds register. Or maybe even a framed date window that continued the design of the indices.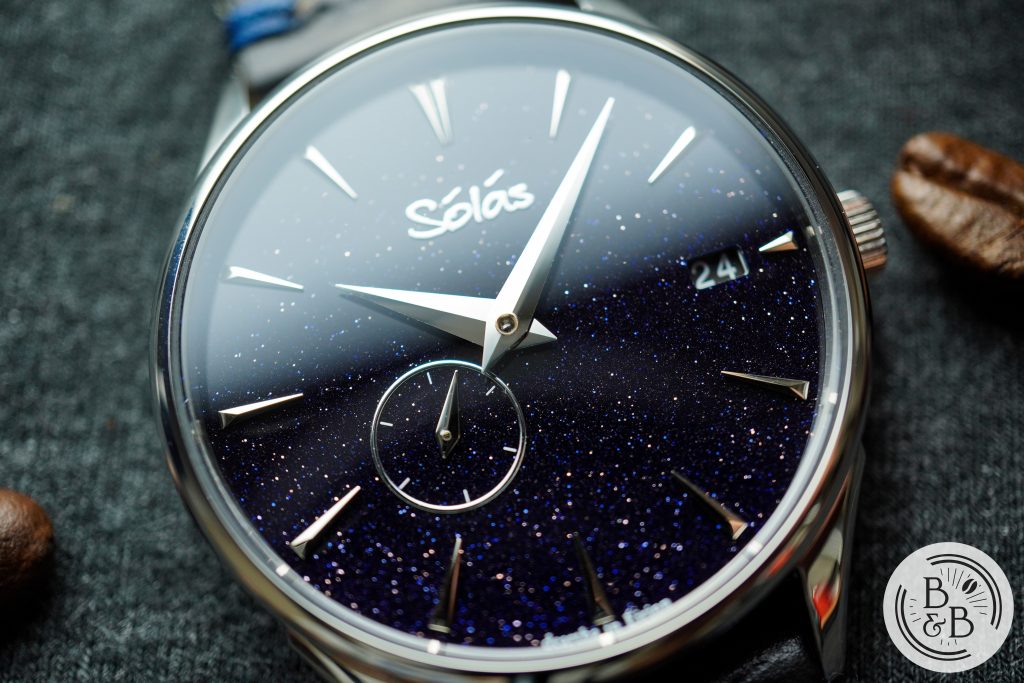 The hour and minute hands are also in a similar dauphin style, and are reasonably well finished.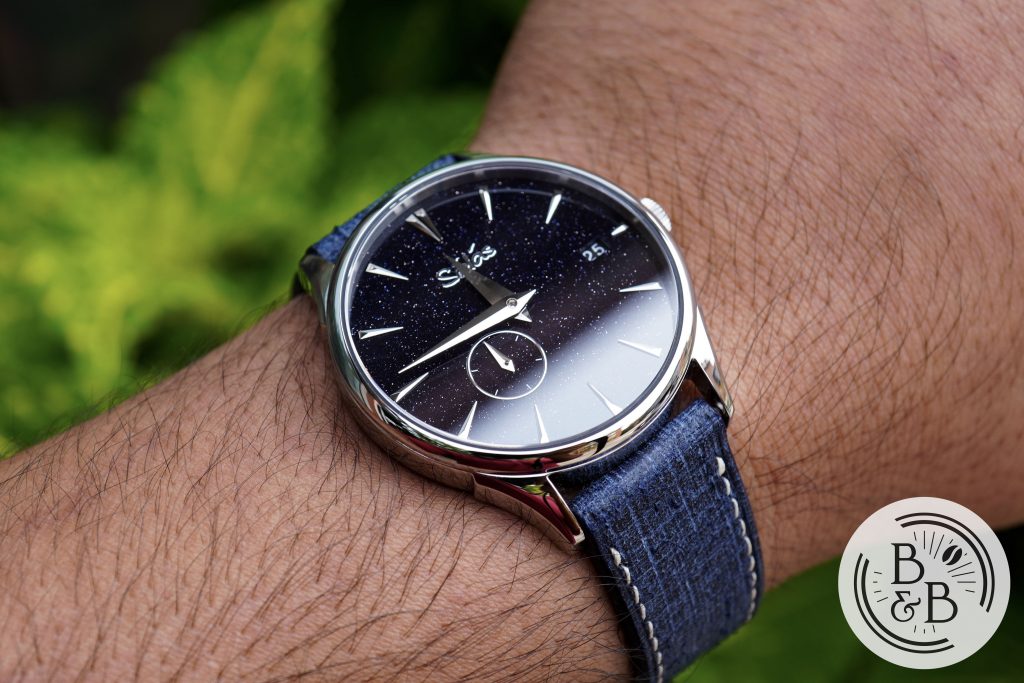 There were some marks on the hands, but not visible to the naked eye, and easily masked by the way it plays with light. Overall, this is a very interesting dial. It isn't going to be for everybody, but I think Diyu has done a great job of trying to do something different.
---
Movement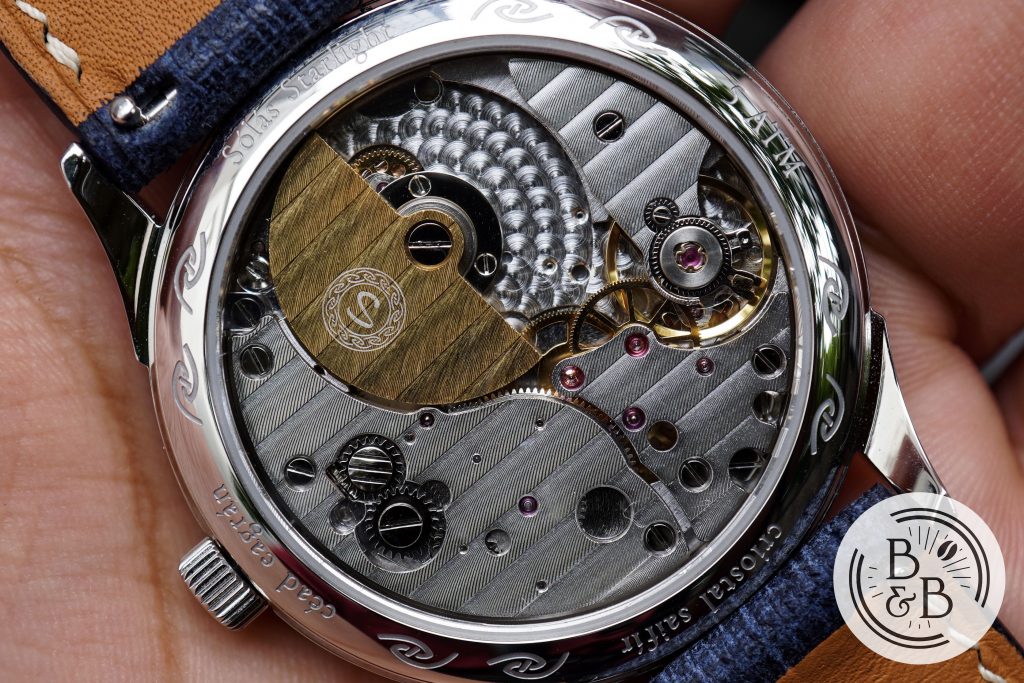 Let me start off by saying that I'm no watchmaker, and have no watchmaking experience, but humor me while I make some observations about this movement. This is the Hangzhou 5000A, and has been around for a few years now but hadn't really picked up much interest.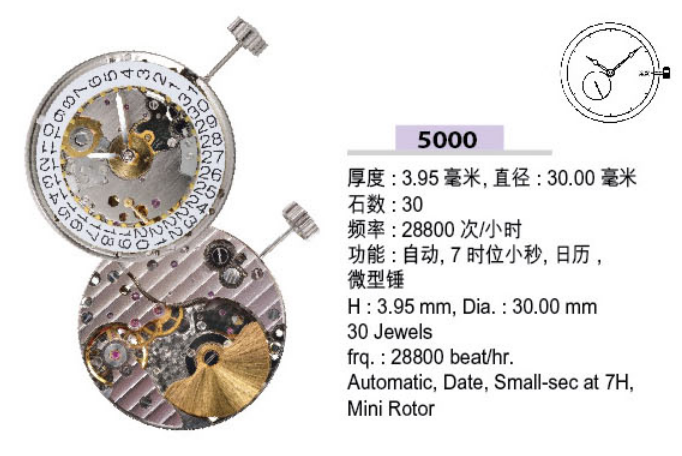 This movement has a date complication, 42 hours of power reserve, and beats at 28,800 bph. It has a small seconds hand, and is rated for +/- 20 spd.
This is a micro-rotor movement, typically seen on high-end luxury watches, and unheard of in the sub $500 range. Micro-rotor movements make better use of movement real estate, and result in slimmer watches. They also look pretty awesome.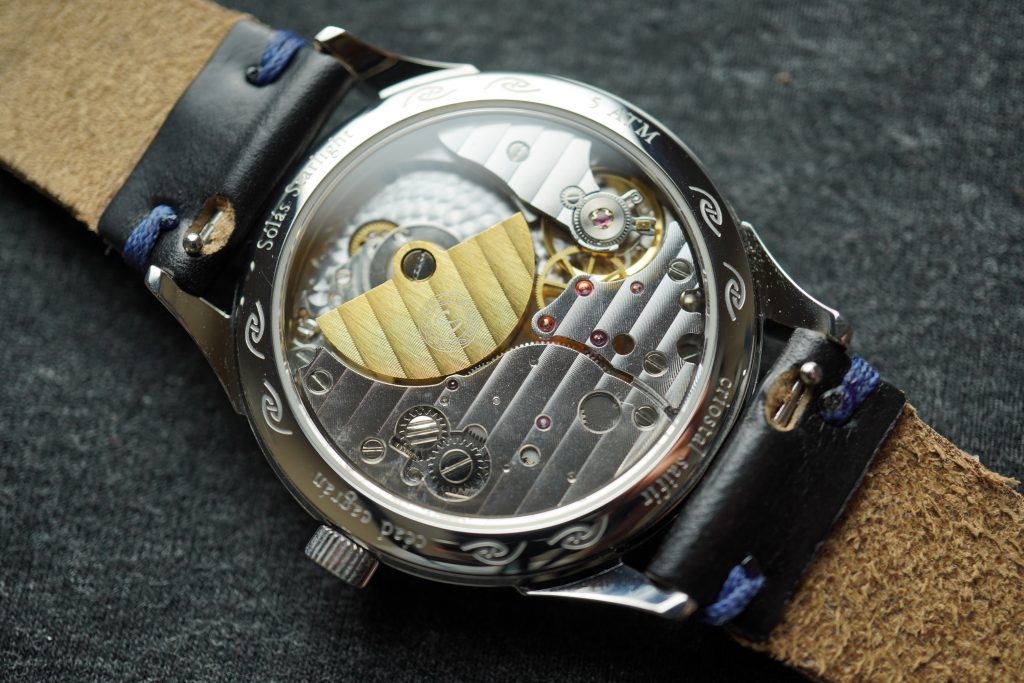 On the topic of this movement being made in China – I don't really have a problem with Chinese movements, and I've got a Peacock SL3006 in my Atelier Wen Hao. I've had that watch for a little under two months, and the movement has performed well. The winding action isn't perfect, but I have no complaints for what it costs.
Similarly, this movement doesn't have the best feeling winding action, and operating the crown to adjust the time is a bit tactile and not smooth, similar to most Seiko NH35s. But it has been performing within spec, and I logged roughly -9 spd over a 3.5 day period. Don't treat these numbers as concrete scientific results, but more as an indicator of average behavior patterns. And I'd say this is acceptable for a $400 watch. This particular watch was not tested and regulated by Diyu in Ireland, so one could assume slightly better performance on the commercial units.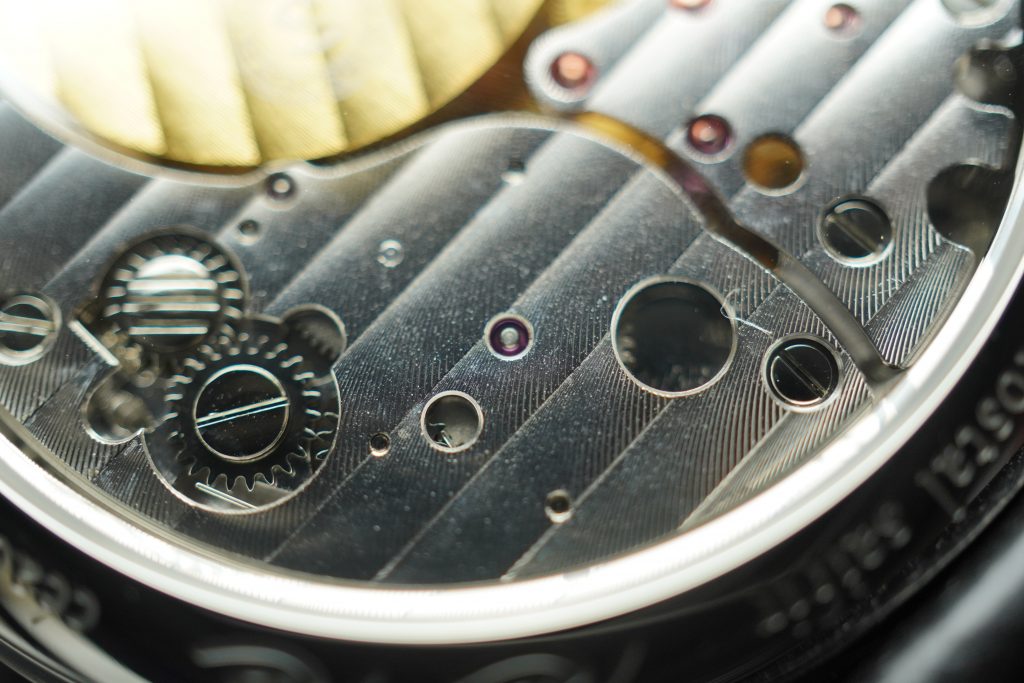 The finishing on this movement is surprisingly impressive! The entire back plate and rotor are finished with Geneva style stripes, and quite nicely executed too.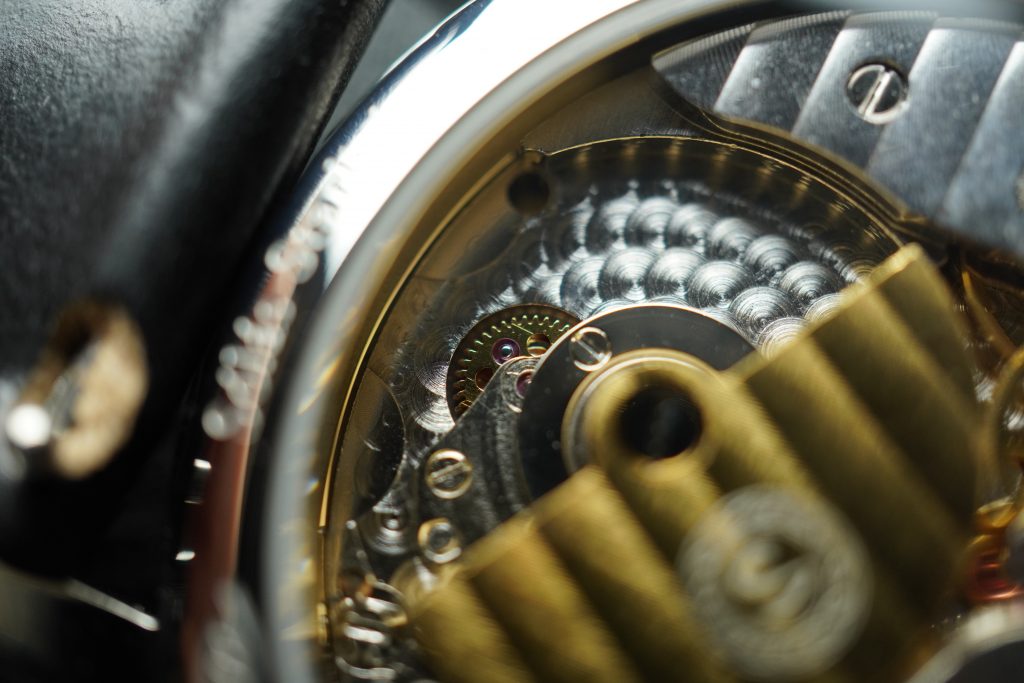 Care has been taken to also finish a lot of the under surfaces, and the base of the rotor cutout is finished with a decent perlage finishing.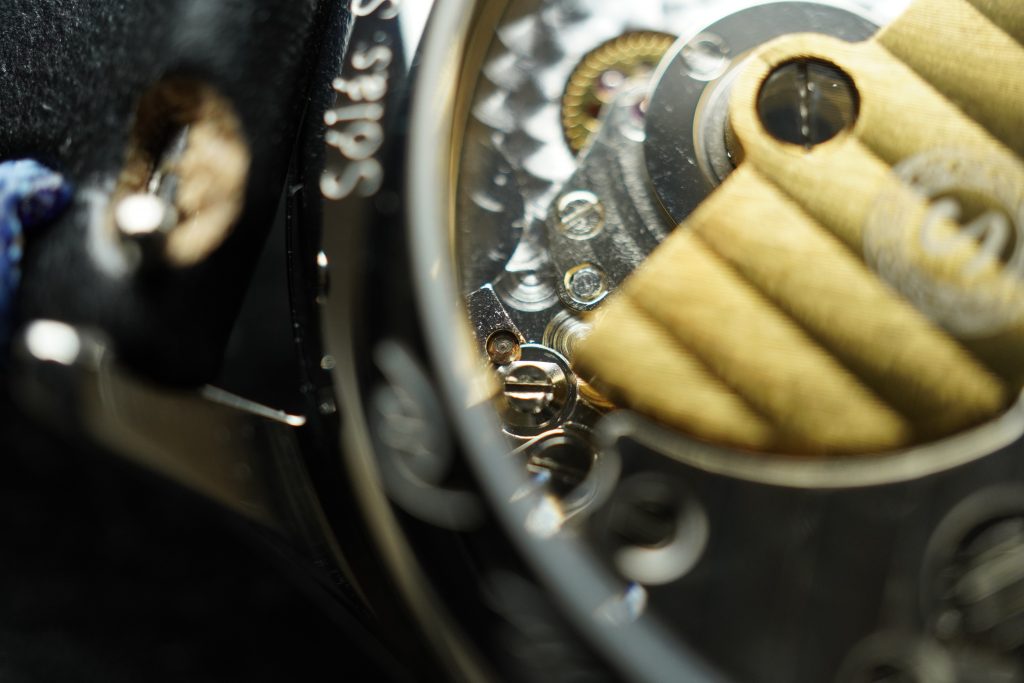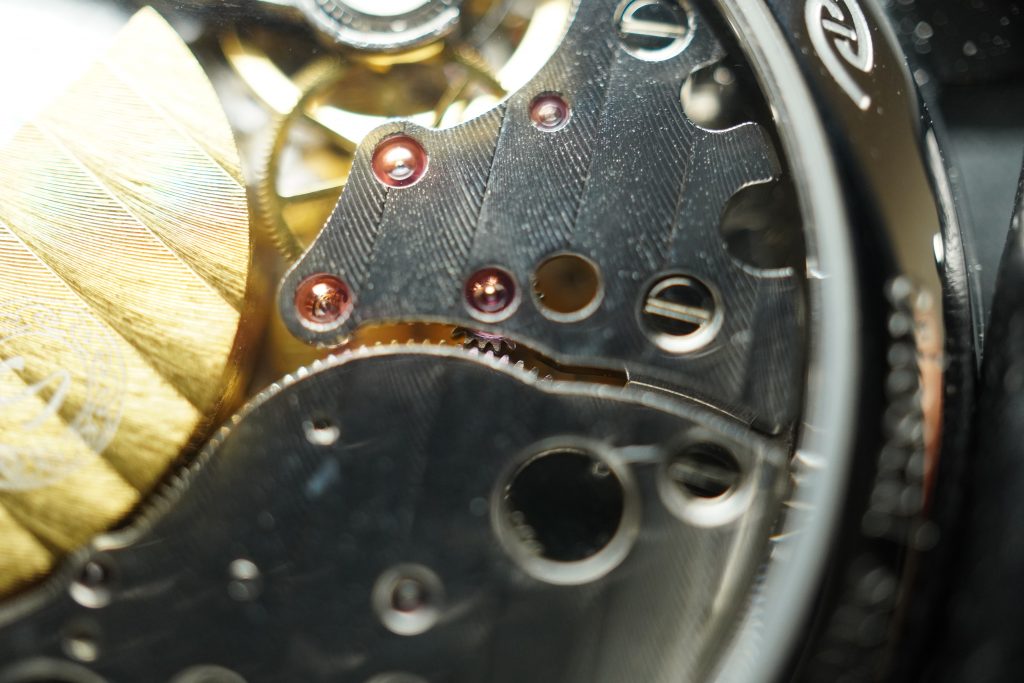 I tried to peek under the main components to see how the hidden areas were finished, and they all look to be fairly well done.
I don't believe I've seen a movement this well decorated for $400 before. You will most likely see Seiko NH35s and Miyota 8xxx / 9xxx movements, which look quite boring and are often very poorly decorated. To the naked eye, this movement looks like it belongs on a watch that is in the $1000 category. But nothing in life is free, so where did they cut back?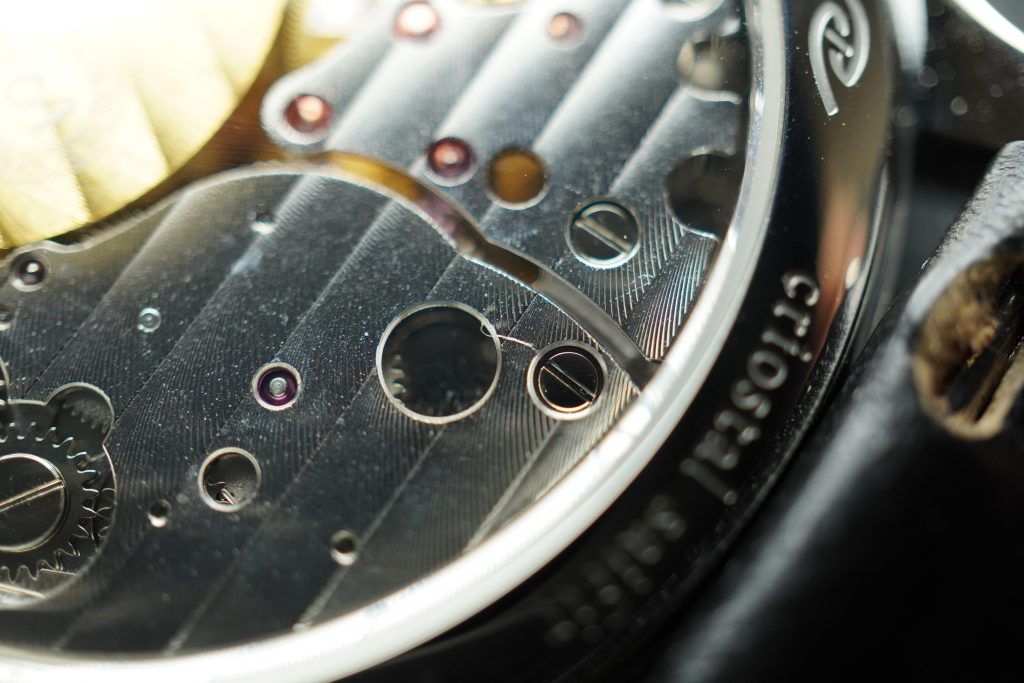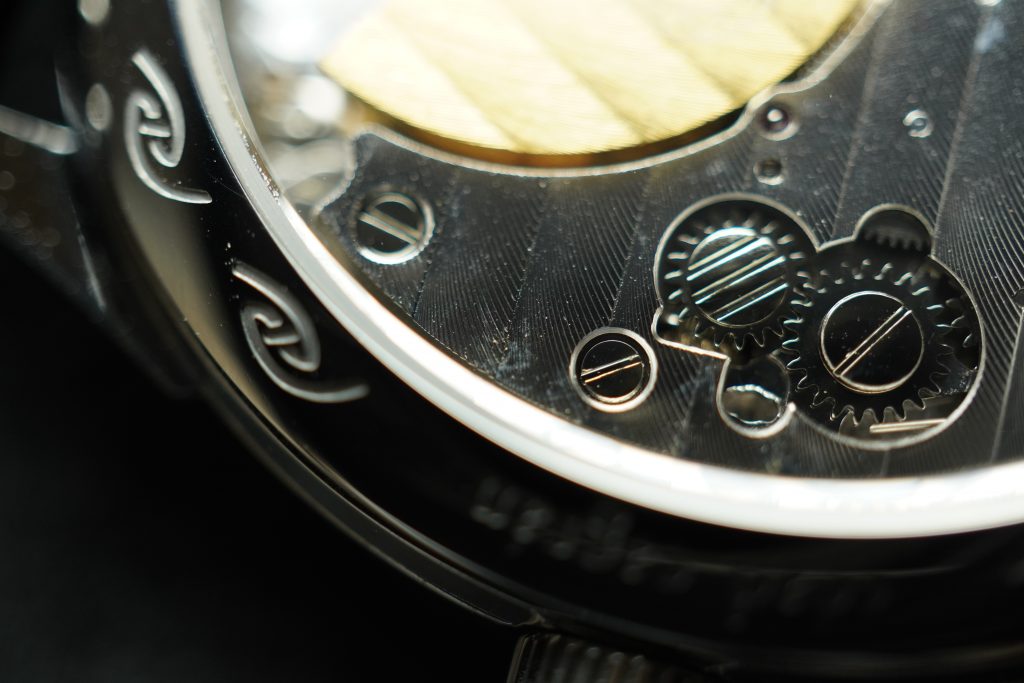 As mentioned here, it appears that quality control is where corners are usually cut to make these movements available at these insane prices. And the 5000A is no different. Under my macro lens, I noticed a lot of finger prints and dirt particles on the movement, and a piece of fiber/fuzz sitting on the back-plate. To be fair to them, this isn't very different from the type of quality control seen on some Seiko movements too. Diyu assured me that the fiber/fuzz would not have passed his quality control in Ireland, and that wasn't something future customers need to be worried about.
But as a whole, I'm willing to live with the slightly less than ideal quality control given that the finishing is excellent for the money, and because I find the idea of a micro-rotor movement extremely fascinating.
---
On The Wrist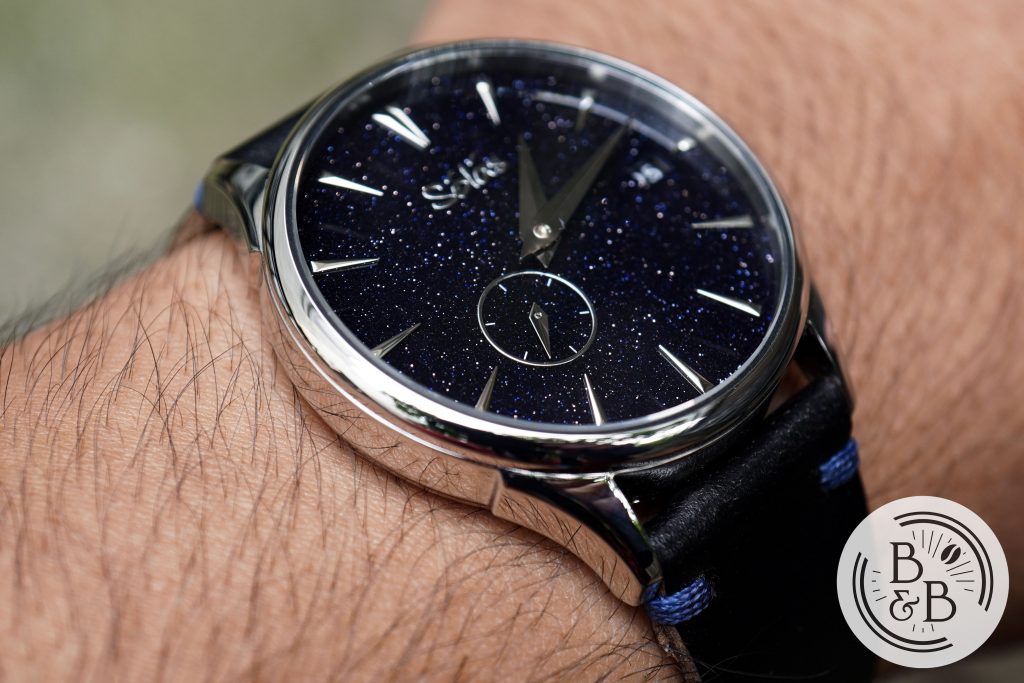 This watch is very comfortable on the wrist given it's 38mm diameter, 44mm lug-to-lug width and roughly 10mm tall case.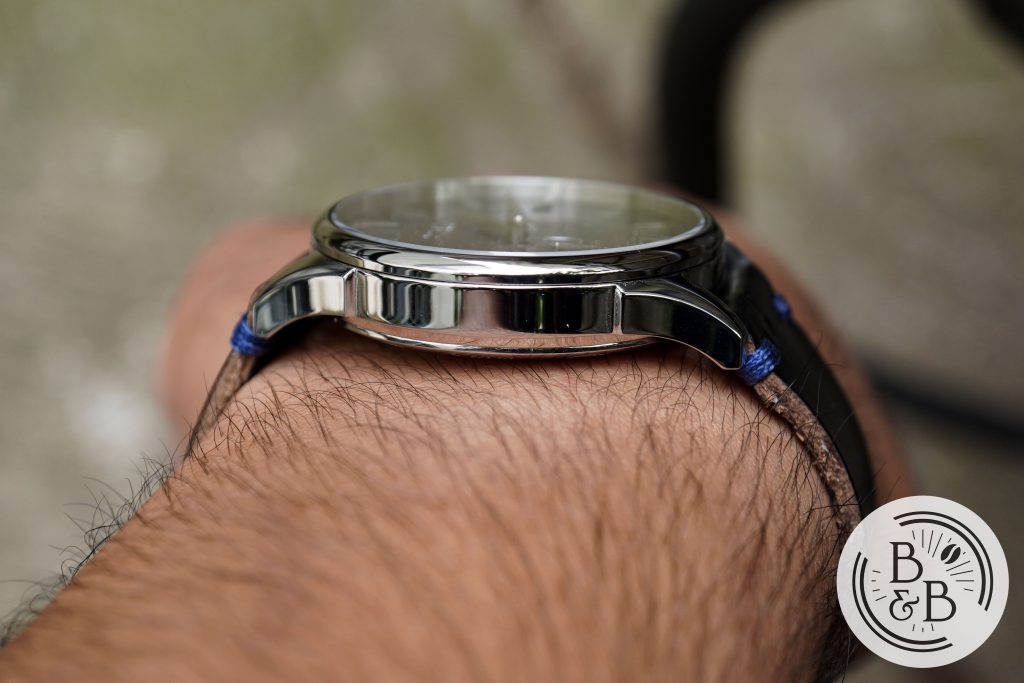 It sits very low on the wrist and definitely checks of all boxes for a dress watch.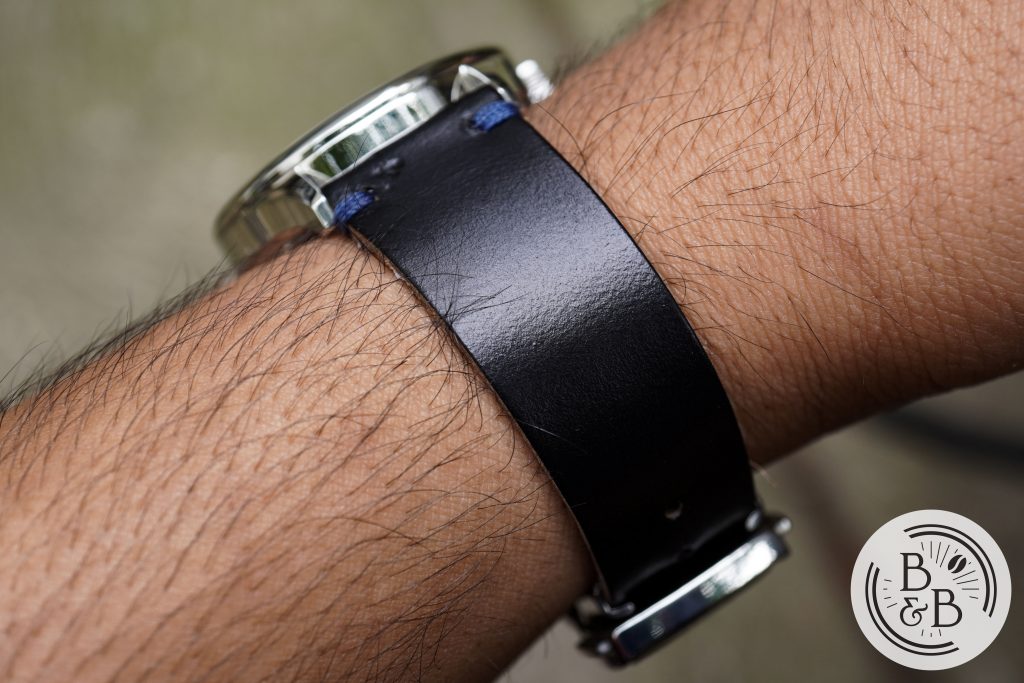 These watches come with a leather strap and a stamped stainless steel deployant clasp.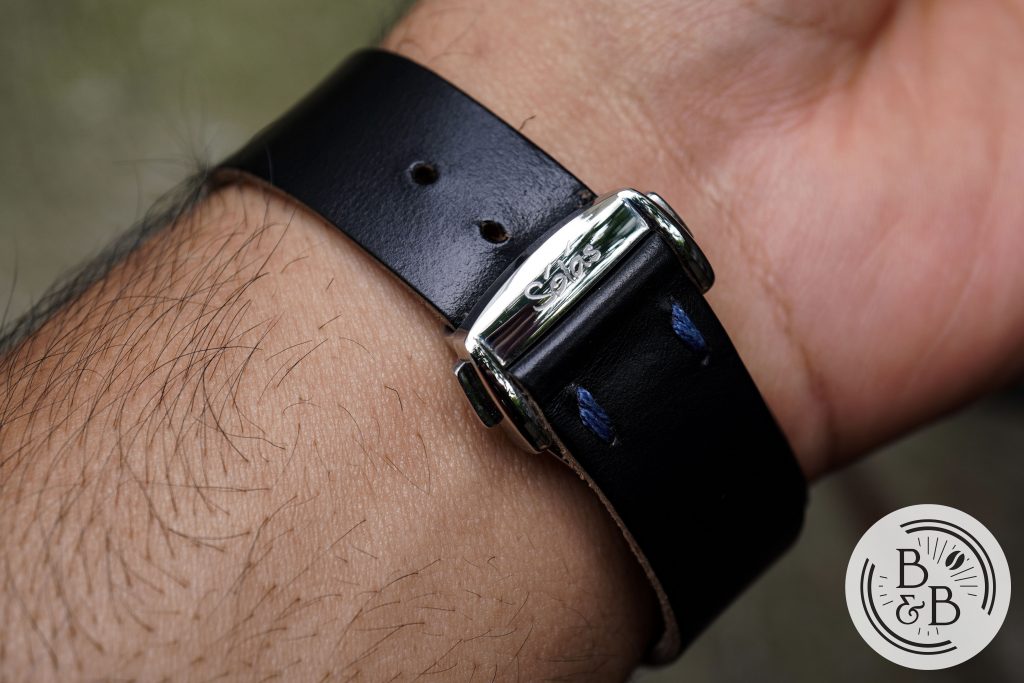 The clasp is good, and the leather strap is alright.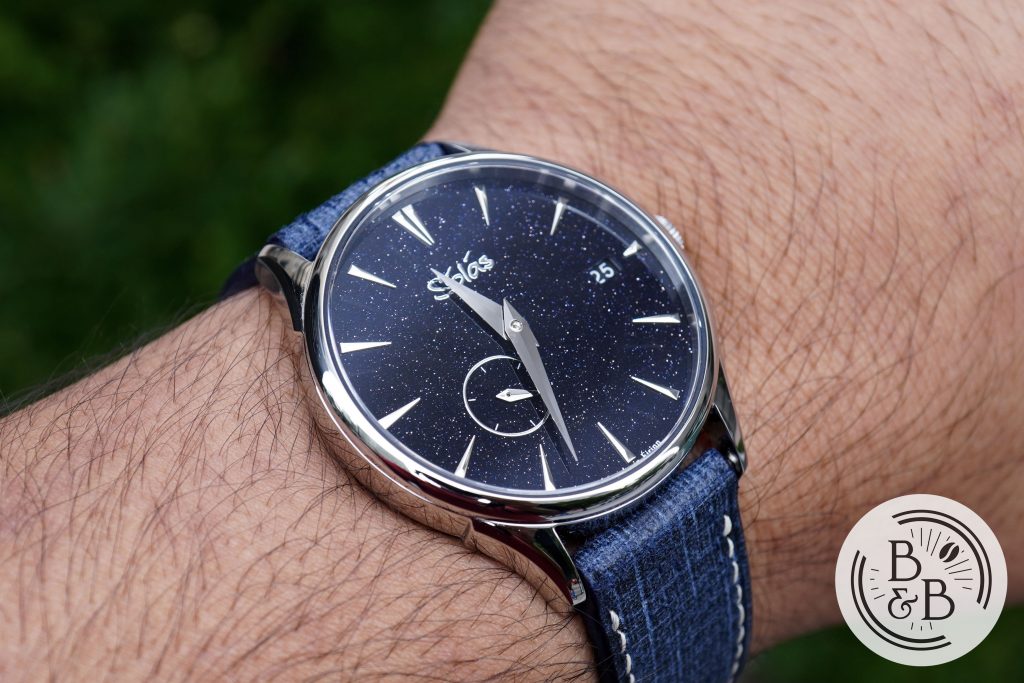 You can't expect the best from a $400 watch that is already delivering plenty in the dial and movement department, but this is good enough until you can pick out your replacement.
---
Concluding Thoughts
This is a very cool watch that is packing some interesting features. To get a micro-rotor movement for around $400 is pretty exciting stuff for a lot of us watch folk. The Aventurine dial is nice to have too, so there isn't much to complain about by way of value for money.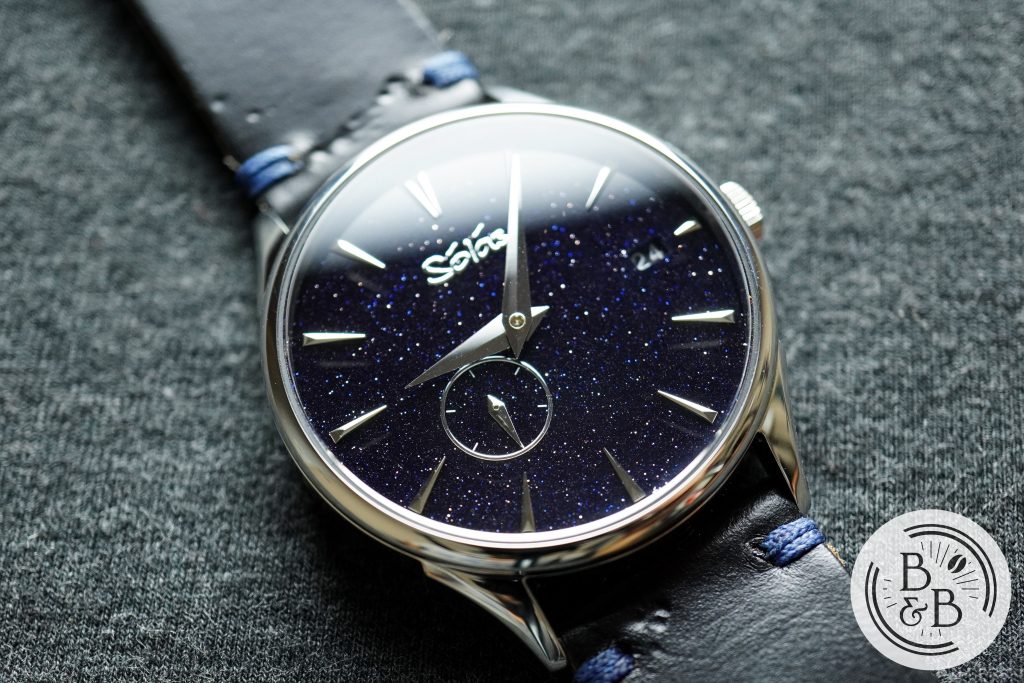 The Starlight, to me, is a conversation piece. I couldn't see myself wearing this everyday because the dial is a bit too extravagant for me. I can see that it has been designed with passion, and those that decide to back this project are going to get something very unique.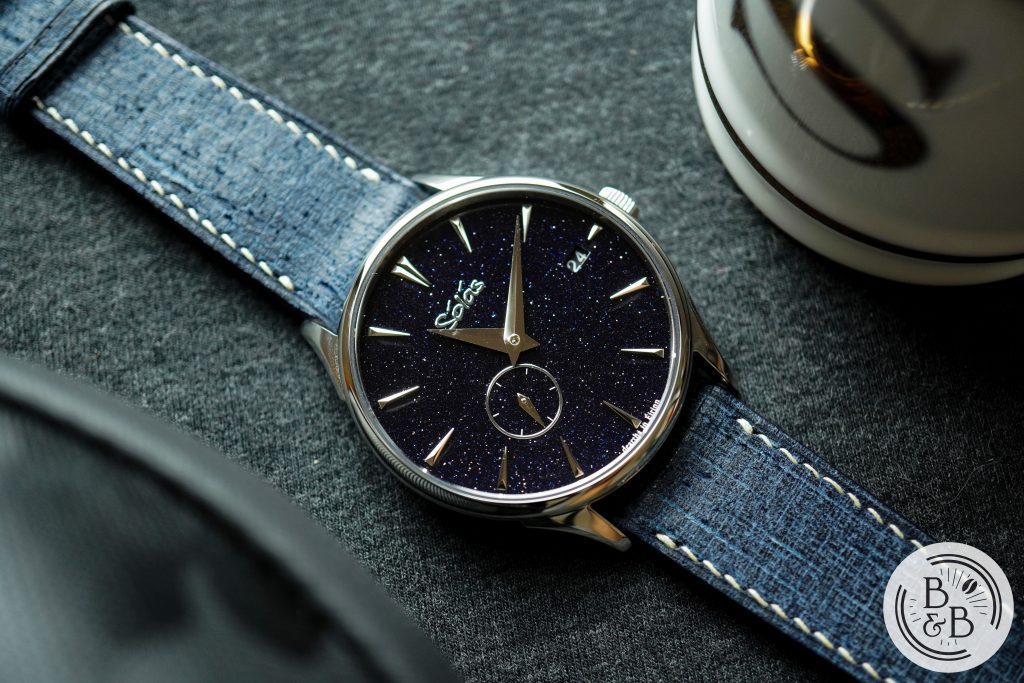 I wish Diyu the best of luck with his campaign, and I hope to see more of this movement in other Sólás watches in the future.
---
Strap Change
---
Thanks for reading!