---
Disclaimer: This watch was sent to me to review, but I was not incentivized in any way to make this review. This is in no way sponsored by Reverie or any other entity. All opinions here are my own. Since this watch is a prototype and was worn/used by other reviewers, please make note that the experience might differ from that of a brand new production piece.
---
---
Reverie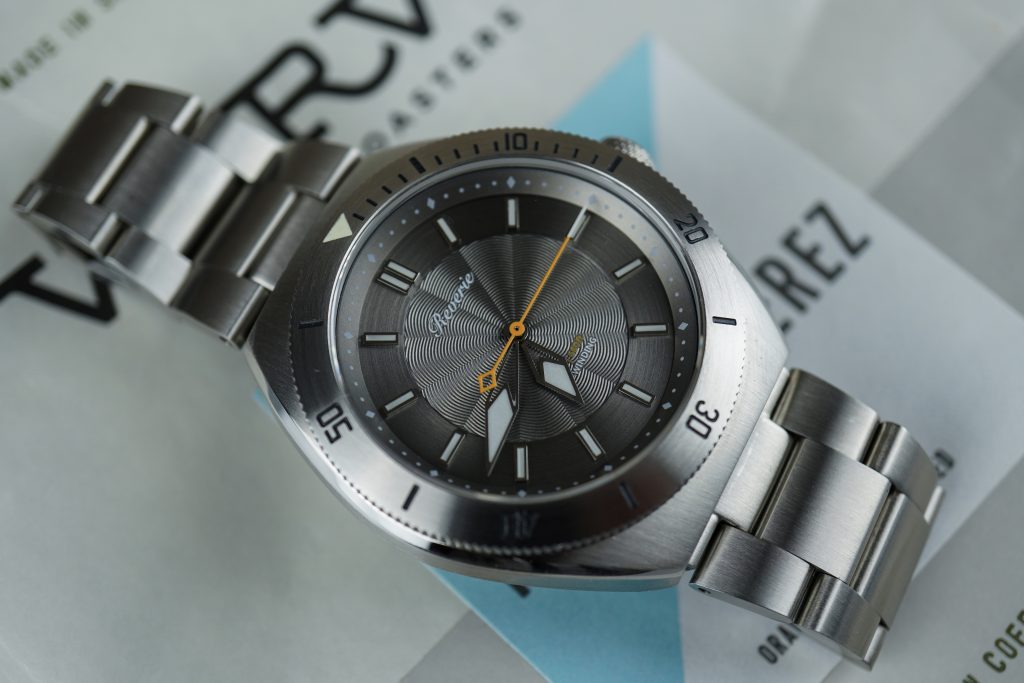 Reverie is a micro-brand based in Singapore and they've been around since 2014. They've created their identity around designing affordable limited edition watches with guilloché dials. These guilloché dials are stamped and not mechanically engraved, but this should be obvious considering the price category of these watches. This watch is the Reverie Diver and it is a prototype. Reverie are currently running a Kickstarter campaign for this watch and it is priced at under $350. At the time of writing, they've successfully surpassed their funding goal.
---
Case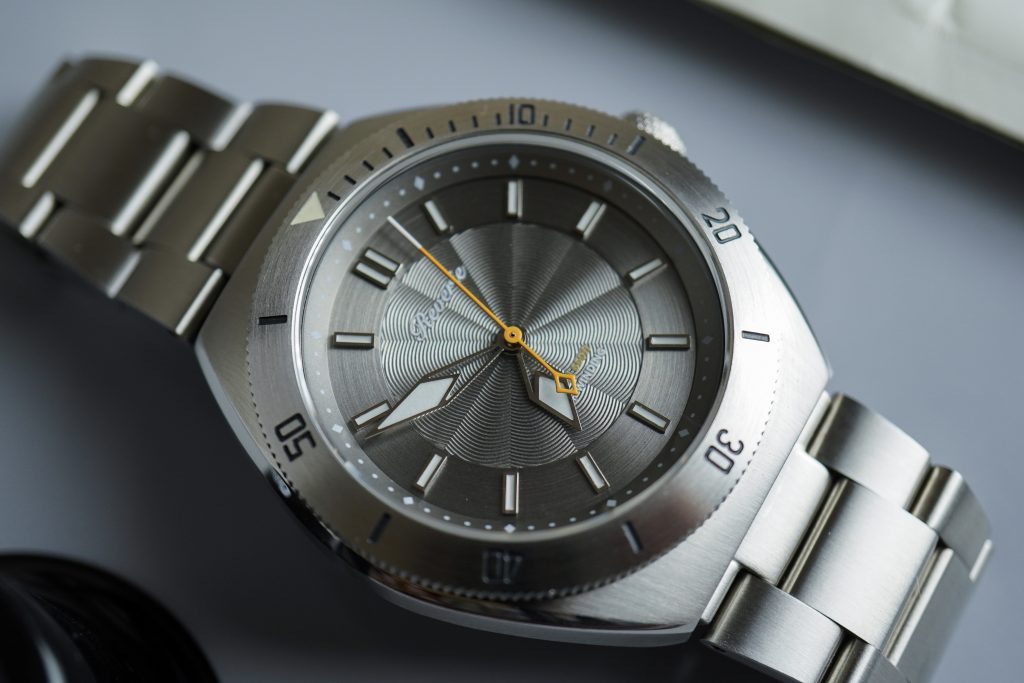 The case measures 40mm in diameter and 43mm from lug-to-lug. The overall height is 12mm, which altogether makes for a very compact case size – medium and small size wrist folks can celebrate! The hidden-lug case design is similar to that of the Archimede Outdoor Protect 39 that I reviewed recently. They both share a similar case silhouette, but this watch is a bit larger along every dimension. The 316L stainless steel case has interesting beveled edges that are polished, and the rest of the case is brushed.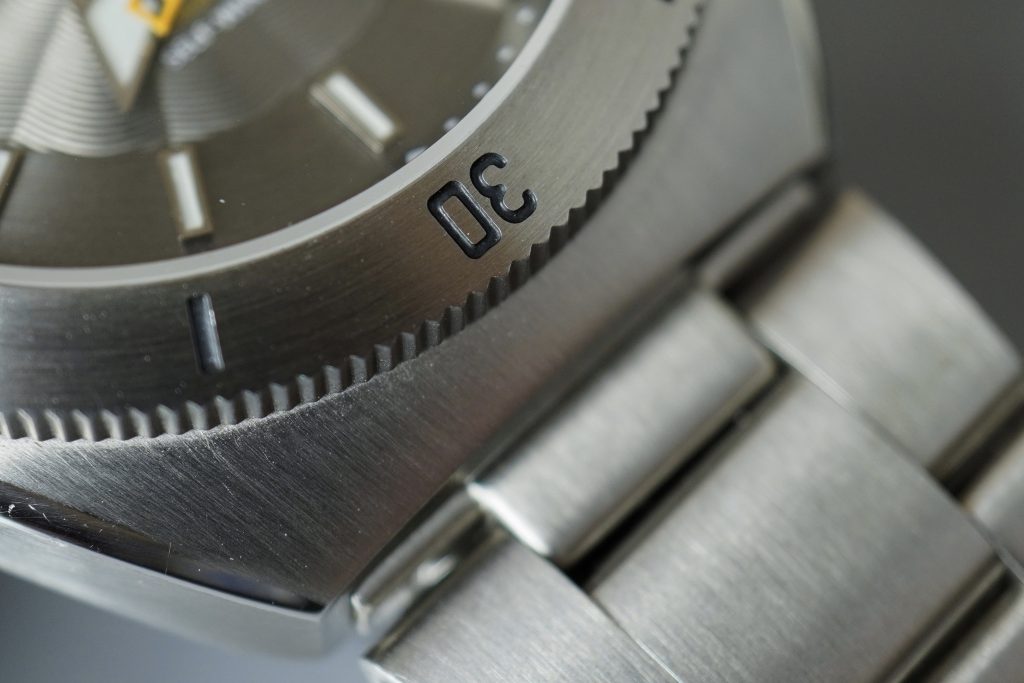 The bezel appears to be a single piece of stainless steel with a lumed triangle at 12 o'clock. The bezel action is nice and clicky and there is no backplay. There is a bit of slack until it snaps into the right groove, but once it's in there it is wiggle-free. This particular prototype has a slightly misaligned bezel. It's not too bad, and the offset is roughly half a millimeter.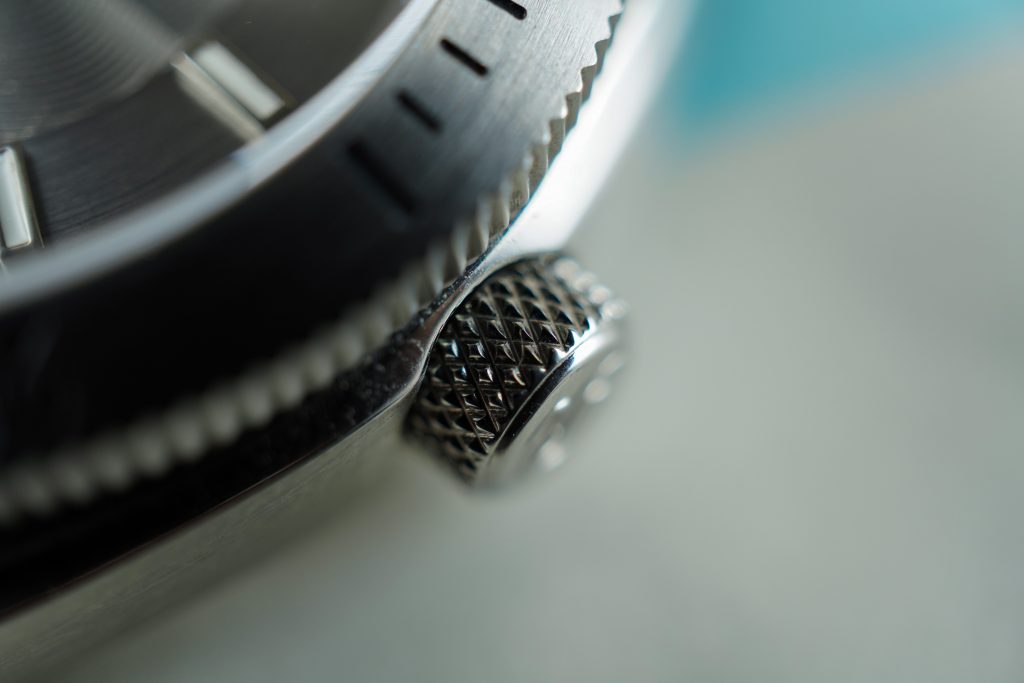 The crown is slightly recessed into the case, which automatically earns the Reverie Diver some Beans & Bezels points. The crown is signed and polished and has a good grip thanks to the well spaced and sized ridges. There is just a small amount of crown wobble, and no stem wobble, which is impressive for a watch of this price. The crown action is smooth and not scratchy like some Seiko NH35s that I've reviewed. Overall, very nice crown design and operating experience.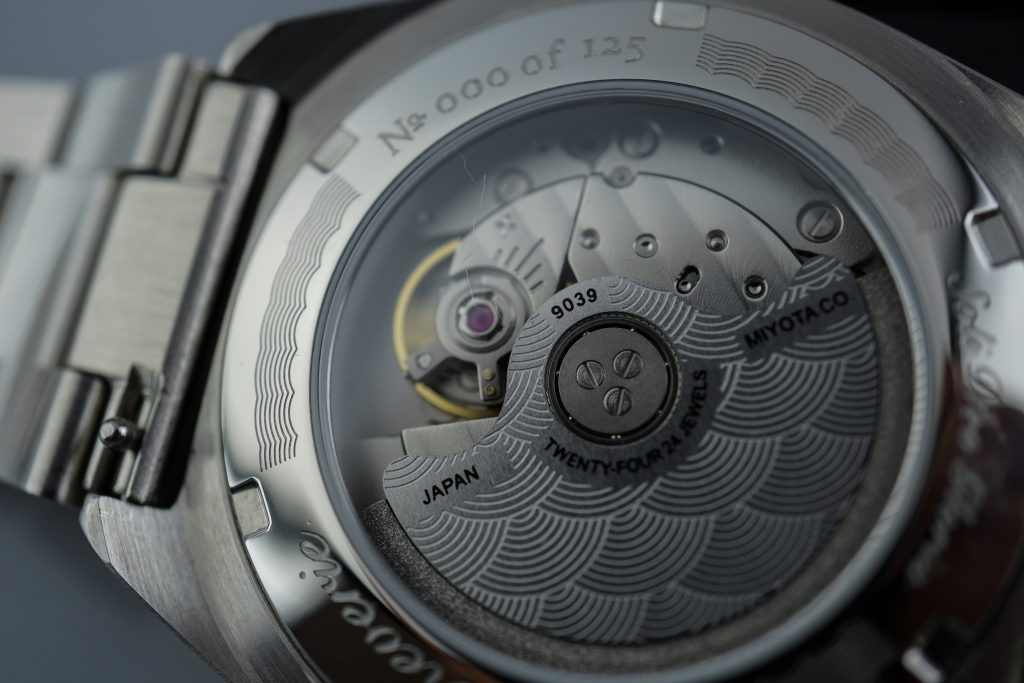 Flipping it over, there is an exhibition style case-back which is polished and has the watch name and serial number engraved onto it, along with the Latin phrase "Soli Deo Gloria", which means "Glory to God alone". This might not appeal to everybody, but I'm sure bears a significant meaning to the founder, Samuel Tay, and I can respect that.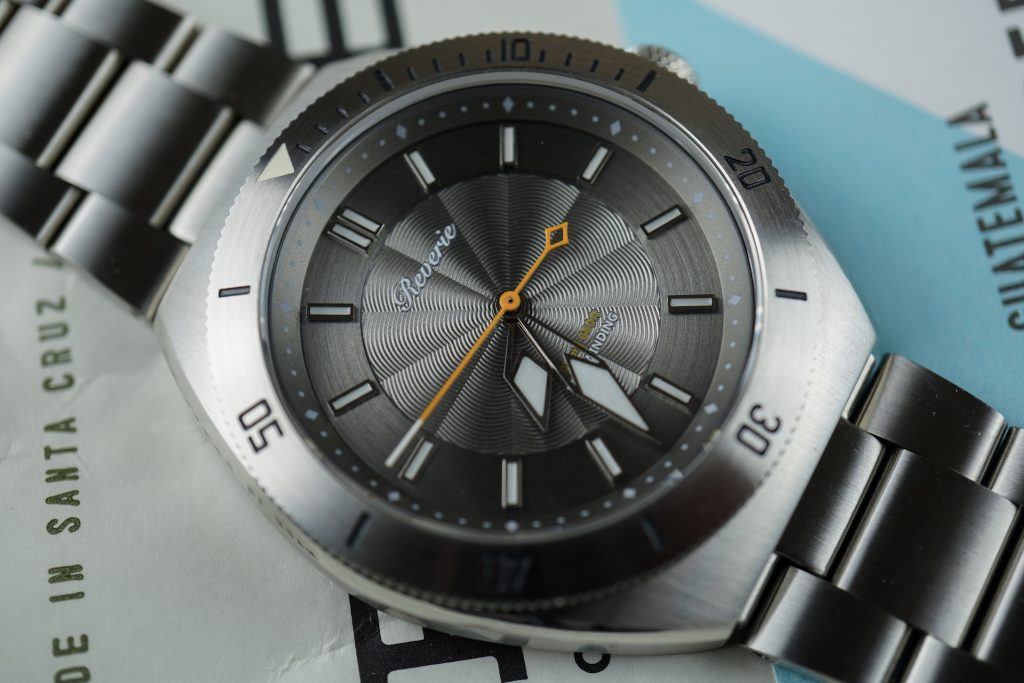 Overall, the case quality and finishing is good. I think what is most appealing is the case shape and the case dimensions. The Archimede Outdoor case is one of my favorites from my collection, so it's no surprise that I've enjoyed this case too. It feels solid and well built, and has a design that is not common to the dive watch world.
---
Bracelet
The bracelet and clasp are an easily discernible copy of the Rolex Oyster bracelets. The good thing is that it isn't a bad copy, so the links are good and they articulate well. The links have screwed pins, which is refreshing to see in a watch of this price. I was worried about the clasp being a poor copy of the Rolex, but it is surprisingly good and even has a functioning Glidelock mechanism, like on the original. I was able to dial in a perfect fit extremely quickly and this bracelet has been very comfortable to wear. It's obviously not as good as a Rolex Oyster bracelet, but it's better than majority of the sub-standard bracelets and clasps you see on micro-brand watches of this price.
---
Dial
This watch is offered in 3 standard colors – Navy Blue, Moss Green and Warm Grey. I believe they also introduced a Burgundy dial option as a stretch goal. This is the Warm Grey variant and it has yellowish orange color accents on the seconds hand and at 6 o'clock. I'll be completely honest, I had seen a bunch of photographs of these watches online and I wasn't too impressed. But that immediately changed when I saw this watch in person.
The dial plays with light beautifully. In terms of design, it isn't a 'busy dial', but each surface appears to react differently to light and this makes it look like there's quite a lot going on. I mean this in a good way, because these different surfaces add tons of character to the watch. I'd say the Grey dial is the most subdued of them all since the dial effortlessly blends into the case and bracelet.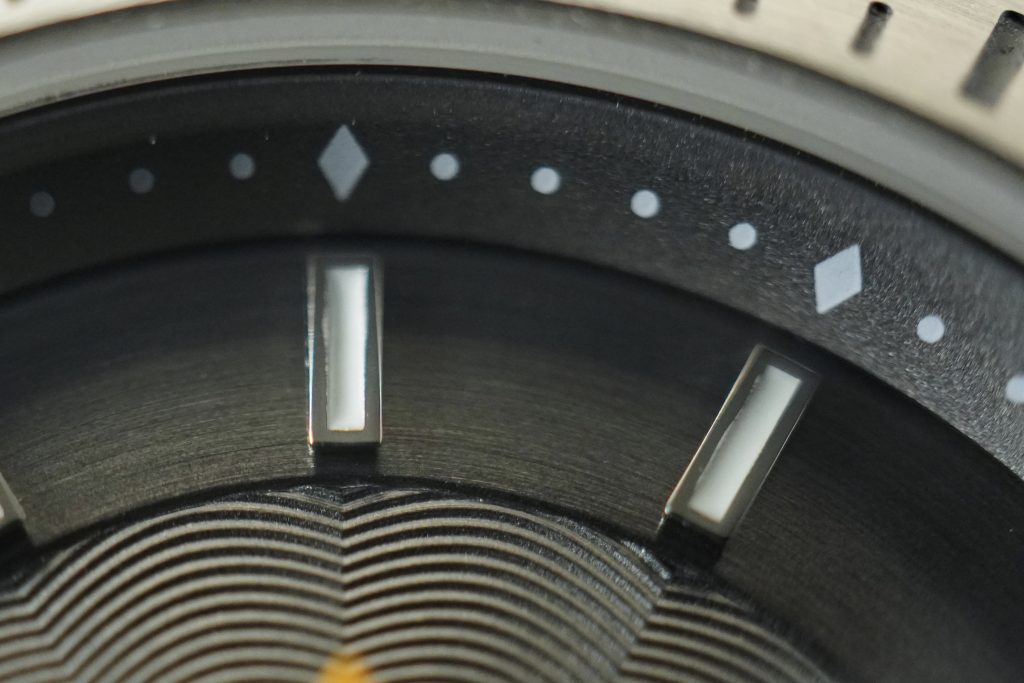 There is a grey outer chapter ring that has white diamond and circular markers. The chapter ring lines up with the dial perfectly and thanks to the flat sapphire crystal, it is very legible. The rectangular applied indices are filled with lume (Super-LumiNova C3) and are reasonably well finished for the price. They are applied onto a radially brushed metal dial surface that is very well finished and simple. This brushed surface helps balance out the inner guilloché perfectly.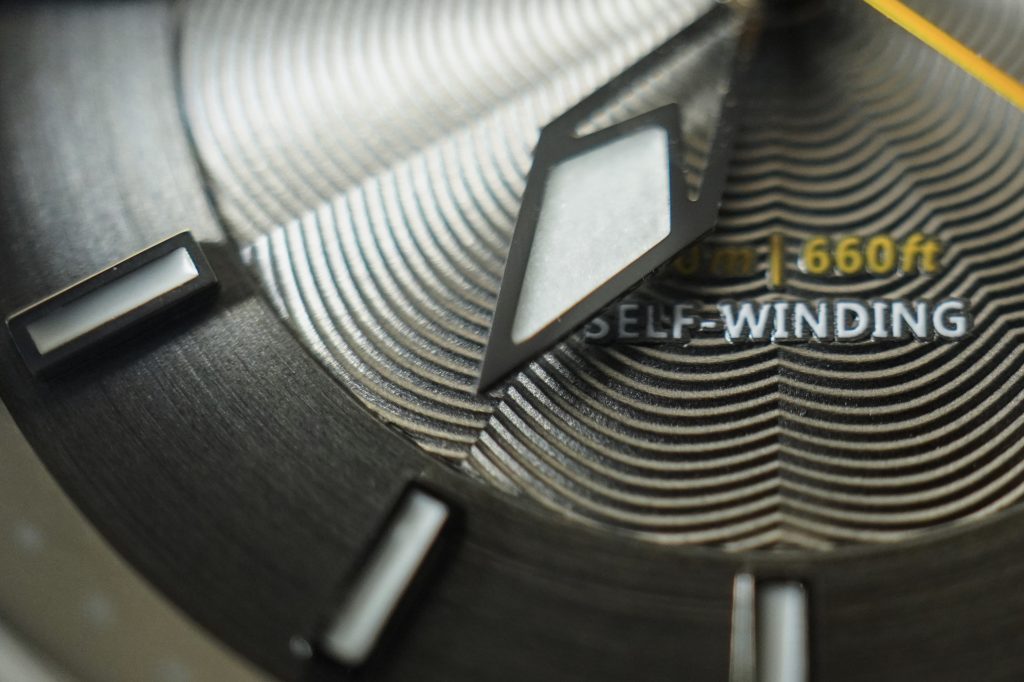 The inner region of the dial has a stamped guilloché pattern that is executed really well for a watch of this price. The dial has to be seen in person to be fully appreciated, and the guilloché pattern is the reason for this.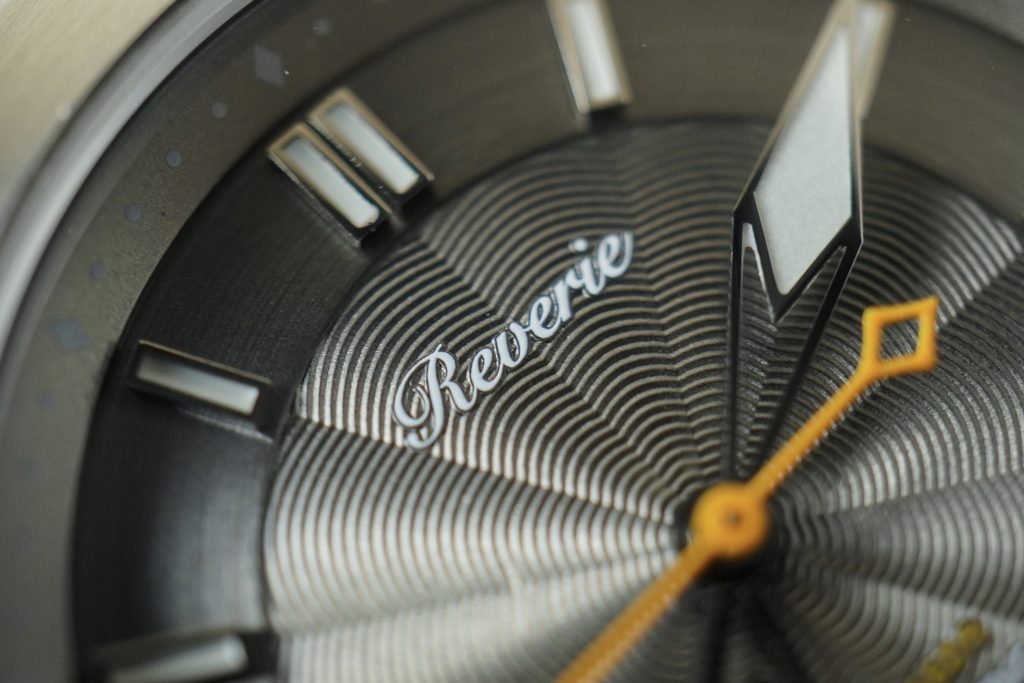 The brand's logo is printed at 12 o'clock and the text at 6 o'clock is also printed directly onto the guilloché pattern, which is something I really like about this dial. I don't like when the background is raised to a flat surface to print text on, resulting in breaking the continuity of the background design.
The hands continue the diamond motif seen on the chapter ring, with elongated diamond shaped hour and minute hands that are filled with BGW9 Super-LumiNova. The seconds hand also continues the diamond motif with it's counterbalance. The seconds hand is painted yellowish orange and is tipped with BGW9 lume, which again earns this watch more Beans & Bezels points. The seconds hand extends right up to the chapter ring, which makes tracking time very easy. I also appreciate the minute hand extending up to the end of the hour indices. This results in a pleasant reading experience.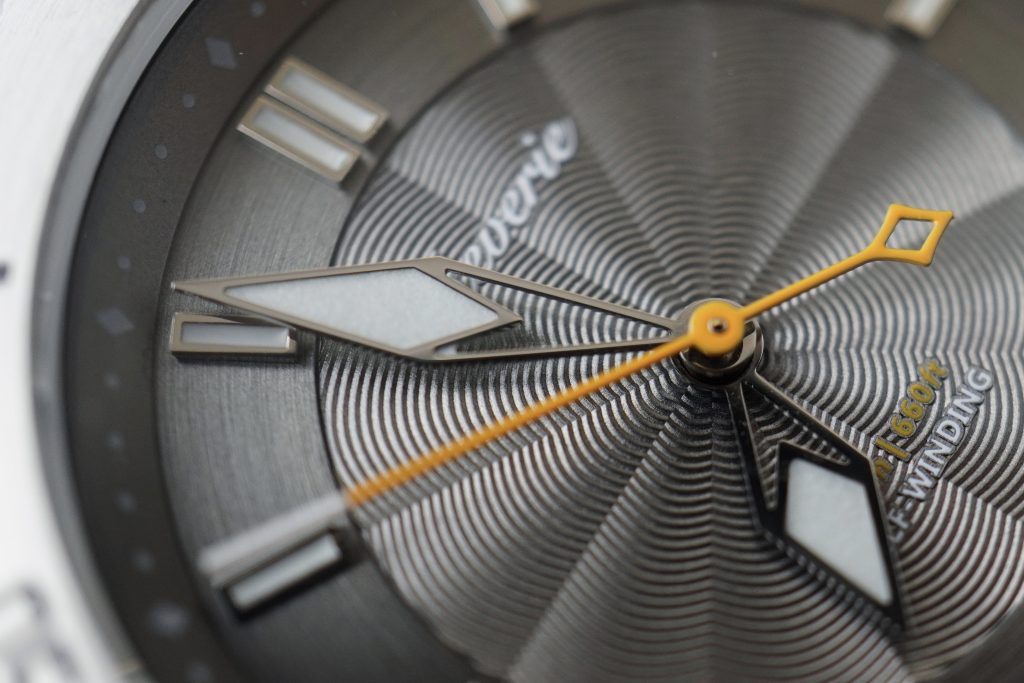 In terms of finishing, the hands are good but I found a few small surface irregularities on the hour and minute hands. To be honest, at the $350 price tag, this is not unexpected and I don't expect the hands to be perfect. This was only visible under a macro lens and cannot be seen with the naked eye. There is a bit of 'spilled over' lume on the minute hand that is visible. But considering this is a prototype, I'll forgive them. I don't expect this to carry over into the production pieces.
---
Lume
The lume on this watch is excellent. The hour indices and bezel triangle are lumed with C3 Super-LumiNova while the hands are lumed with BGW9. I like the use of two types of lume as the contrast makes night time readability easier.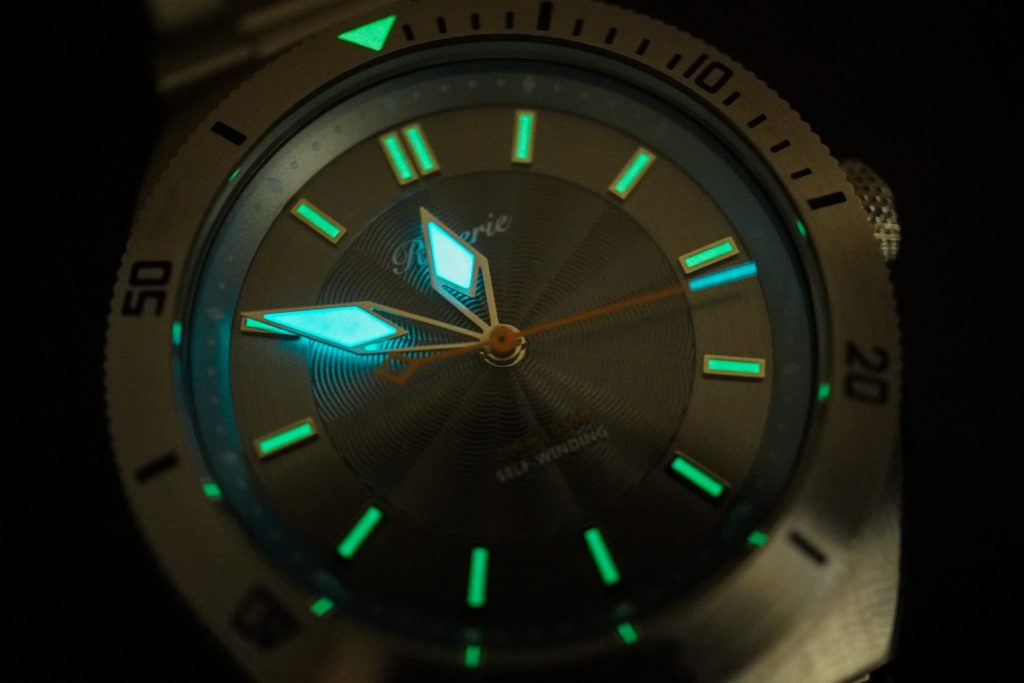 The lume is strong and generously applied on the hands. I don't have any problems with the lume on this watch and I'll say that even the Seiko lume addicts will be sufficiently impressed with this. I've noticed that most watches cheap out on the bezel triangle or bezel pip lume (including many higher end brands), but this watch really nailed it. I would've liked to see more of the bezel elements lumed, but I know this costs money and requires significantly more effort. However, if they did it, I'm confident that they'd do it right.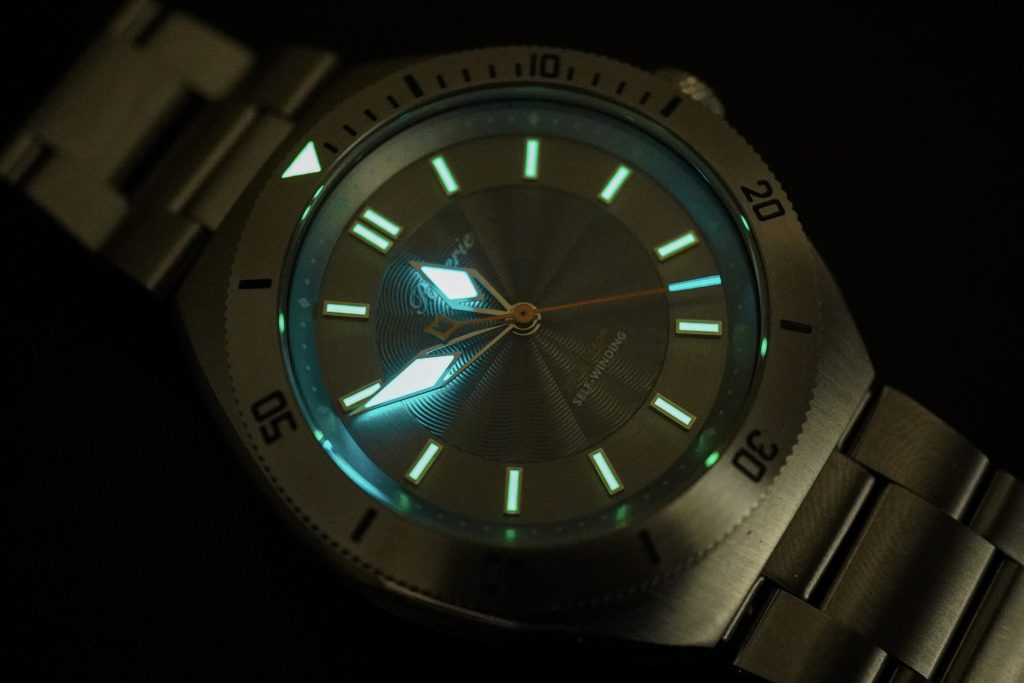 ---
Movement
This watch ships with a Miyota 9039 movement. The 9039 is slim and allows the watch to achieve it's 12mm height. I don't mind this movement at all, but there is some rotor and self winding noise. I know this bothers some people, but it really isn't that bad.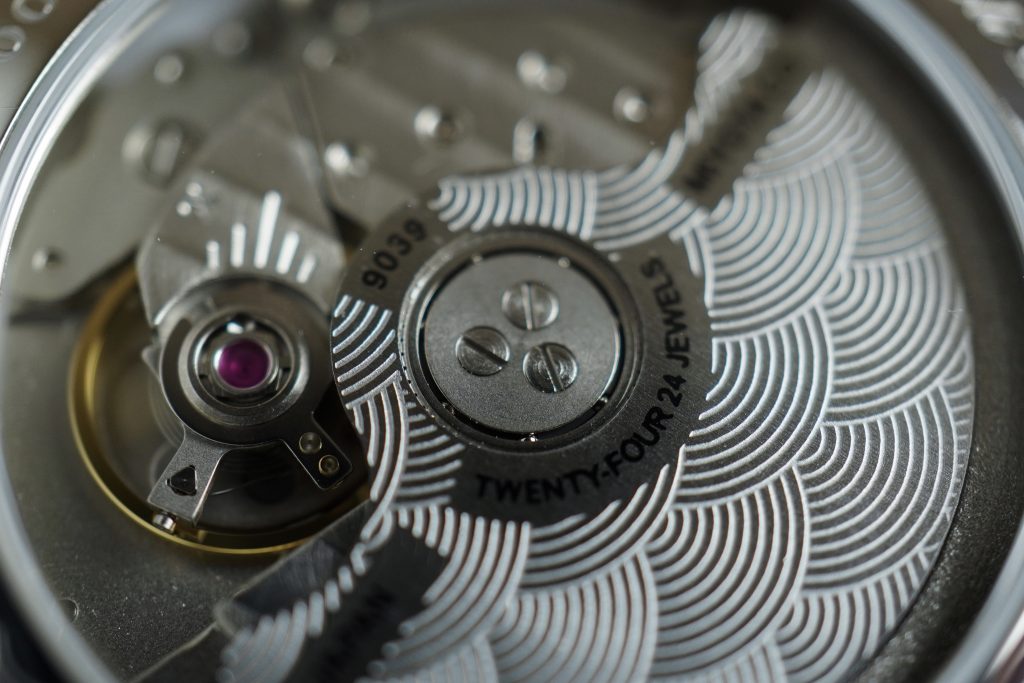 The movement is on full display thanks to the exhibition case-back. Unfortunately, it isn't a well decorated or beautiful looking movement, but Reverie has tried to make it interesting with a custom rotor.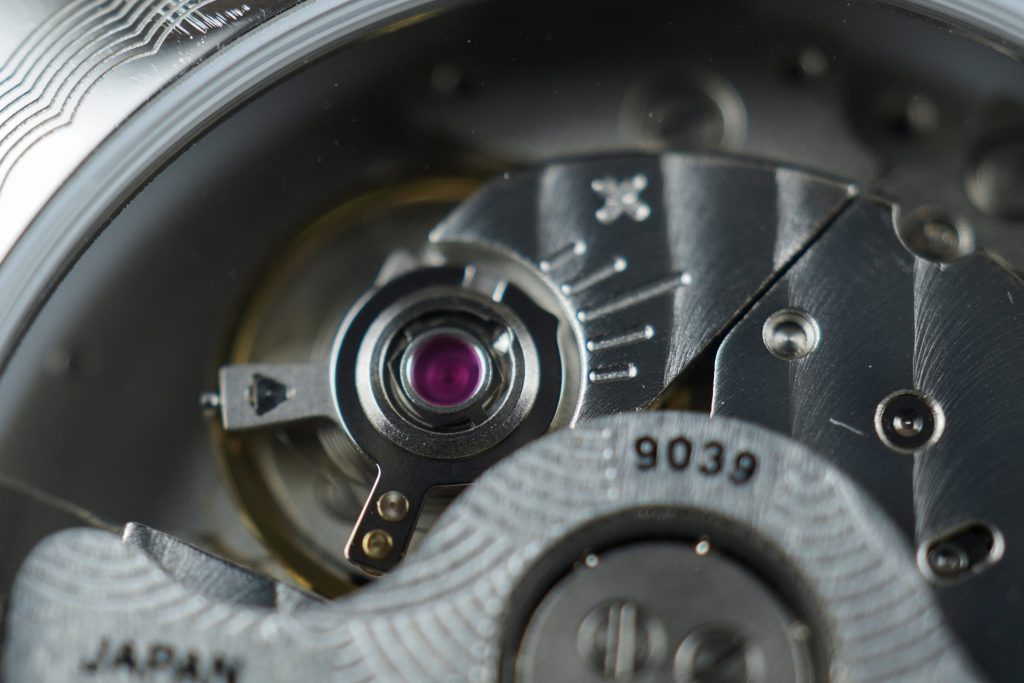 I logged the accuracy of this watch over a 24 hour period and observed an average accuracy of approximately +14.2 spd. This is well within the specified tolerances for the watch, so I think this is pretty good.
---
On The Wrist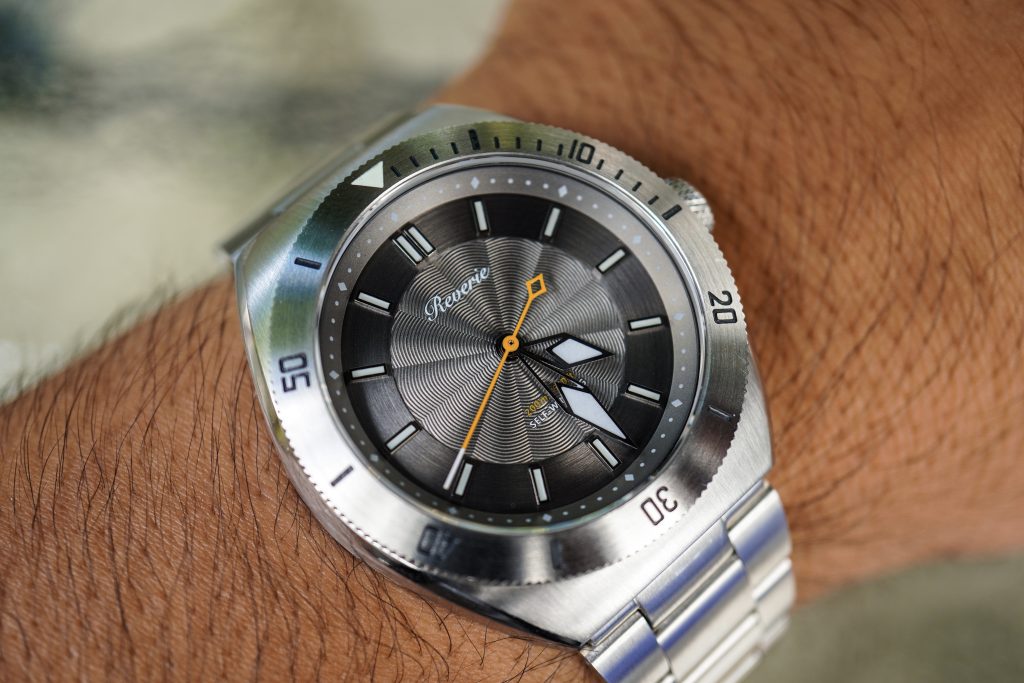 The 40mm x 43mm x 12mm dimensions work perfectly for my 6.25″ wrist. I think many small and medium sized wrists will celebrate this watch as it can sit comfortably on a wide spectrum of wrist sizes. The watch sits low and compact thanks to the height and lug-to-lug width. Overall, a very good wrist experience, but may be too small for wrists that are 7″ and above.
---
Concluding Thoughts
To wrap things up, the Reverie Diver is an interesting option in the sub $400 dive watch category. It has some strong competition from watches like the Traska Freediver, but the this category is also filled with tons of really bad watches, that either lack any design imagination or are just poorly made. The Reverie Diver is able to deliver a great value proposition on both those fronts with the atypical case and dial design, along with the good build quality. At $325, you're unlikely to regret this purchase and it's definitely not one to fall into the ocean of 'derivative dive watches'.
---
You can find the brand's Kickstarter campaign here – https://www.kickstarter.com/projects/reveriewatches/the-reverie-diver-an-elegant-and-functional-dive-watch
---
Thanks for reading!