---
Disclaimer: I purchased this watch new and was not externally incentivized in any way to make this review. This review is in no way sponsored by Bremont or any other entity. All opinions here are my own.
---
---
Contents
---
Bremont
Bremont is not a brand I actively sought out to own, and there's a few reasons for this; none of them related to the quality of the watches that they produce. I've tried on their watches multiple times, usually while at Heathrow airport, and I've always believed that these watches were well made.
Their pricing strategy pushes the limits of what I'd personally spend on a brand like this though, and I find myself slightly overwhelmed by their aggressive marketing strategy. What I mean is that I often found it difficult to navigate their catalog – so many special editions, so many elaborate stories, and so many different designs. I typically prefer brands and designs that are a bit more focused, and have a more cohesive identity. Sure they're not as scattered as Seiko, but I perceive them as having their fingers in too many different pies.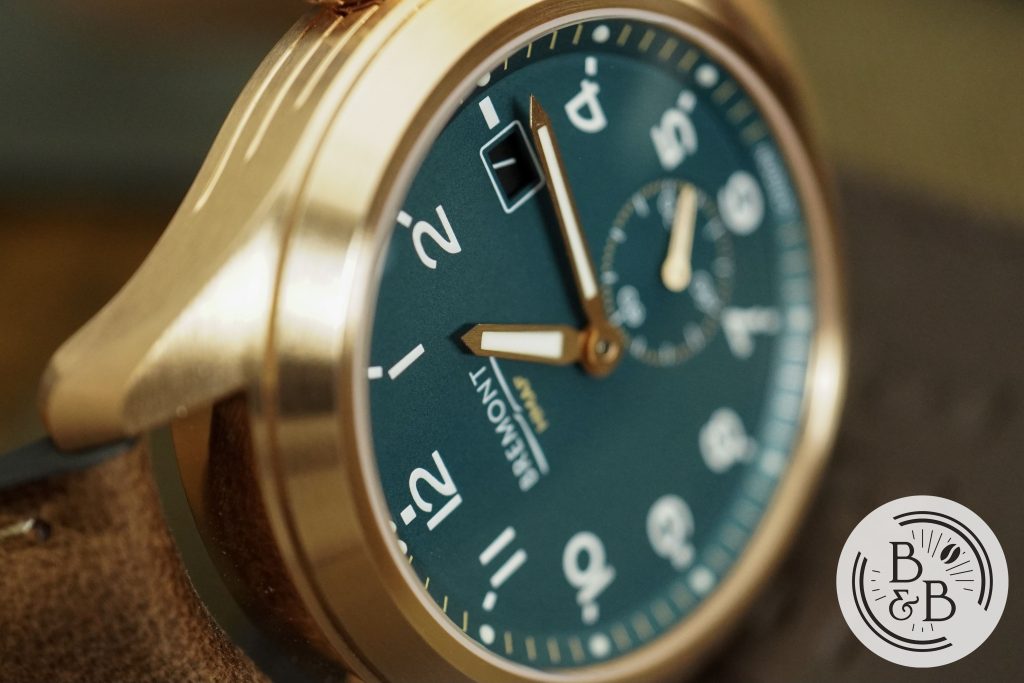 That said, they're an impressive brand that seem to be constantly improving and consistently growing. They recently opened a pretty large manufacturing facility in England, and they do a lot of R&D and testing on site. I respect their desire to move as much of their manufacturing in-house, and they're turning out to be one of the proponents of British watchmaking.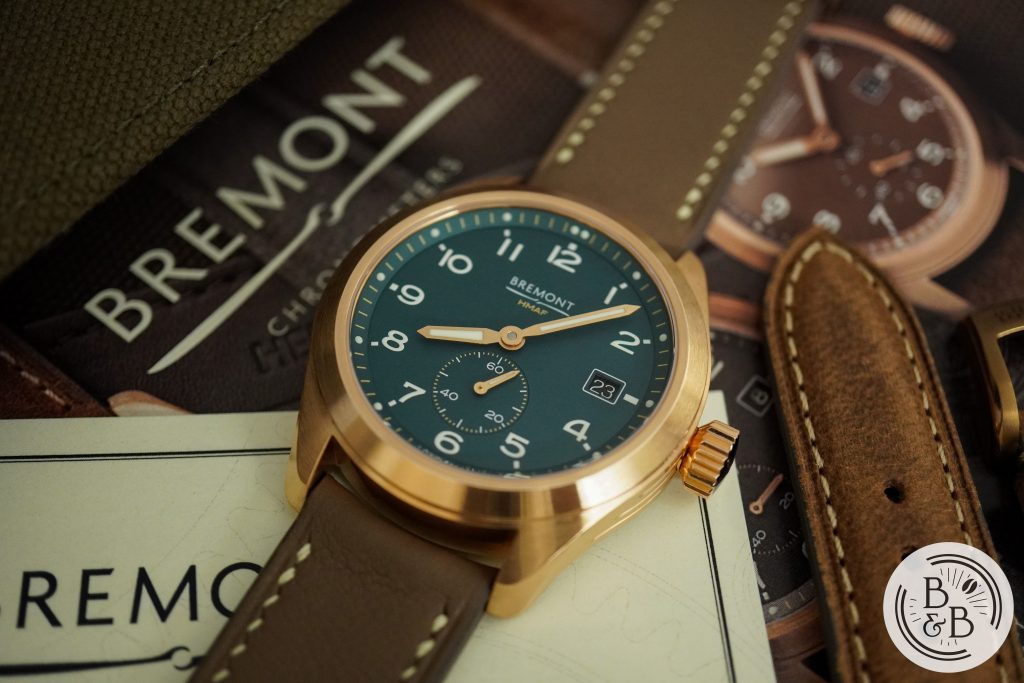 I'm a sucker for small seconds watches, tool watches and good looking dials, so when I saw the Broadsword Bronze at what I believed to be a good price, I did not hesitate. And I'm glad I didn't, because I finally get to put my grubby paws all over this watch and dive into the details. And the details speak volumes. This watch has a retail price of $3800 USD, but if you keep your eyes peeled and are patient enough, you'll find some deals on them like I did.
Let's check it out!
---
Case
I measured the case to be 39.70 mm in diameter, 46.25 mm from lug-to-lug and 11.90 mm in height. The case is made of CuSn8, which is a Bronze alloy with an 8% Tin content, that makes it more resistant to wear and corrosion. I expect this to patina slowly and more uniformly when compared to what happens to Oris watches. If this alloy patinas in a similar way to the Aluminium (CuAl8) based alloy that Tudor and Halios use, I'll be thrilled. I believe this will take on a dark brown patina, rather than the lighter reddish brown that Tudor and Halios watches eventually settle at.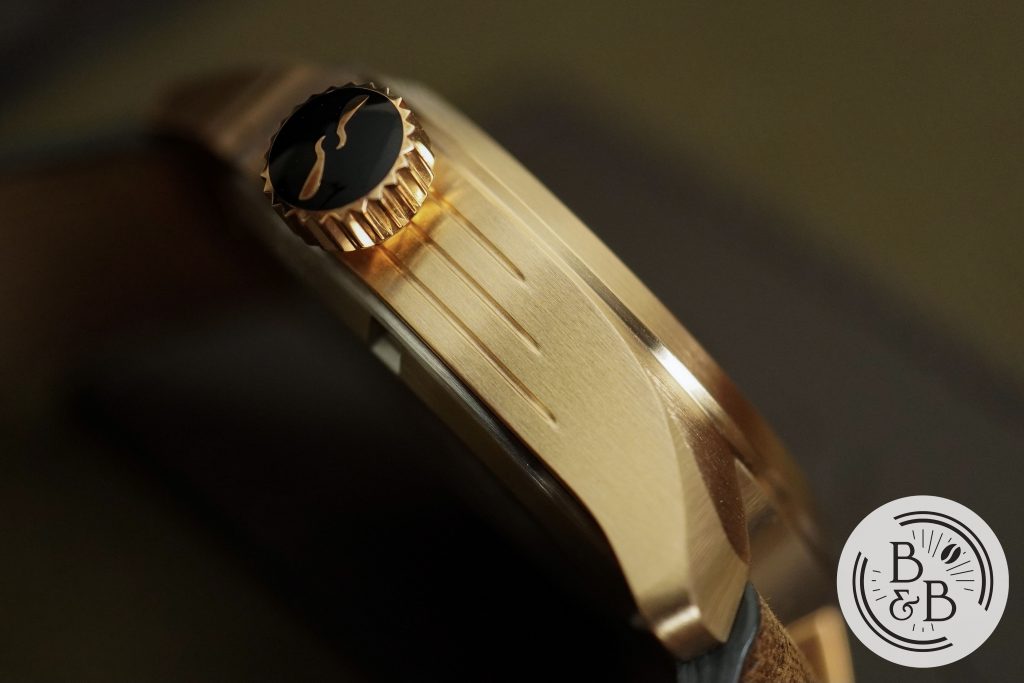 Right now it is brand new and therefore is in it's purest form, which is a stunning rose gold color. The finishing on this case is beyond incredible, and the corners, edges and brush strokes are on par with my Grand Seiko.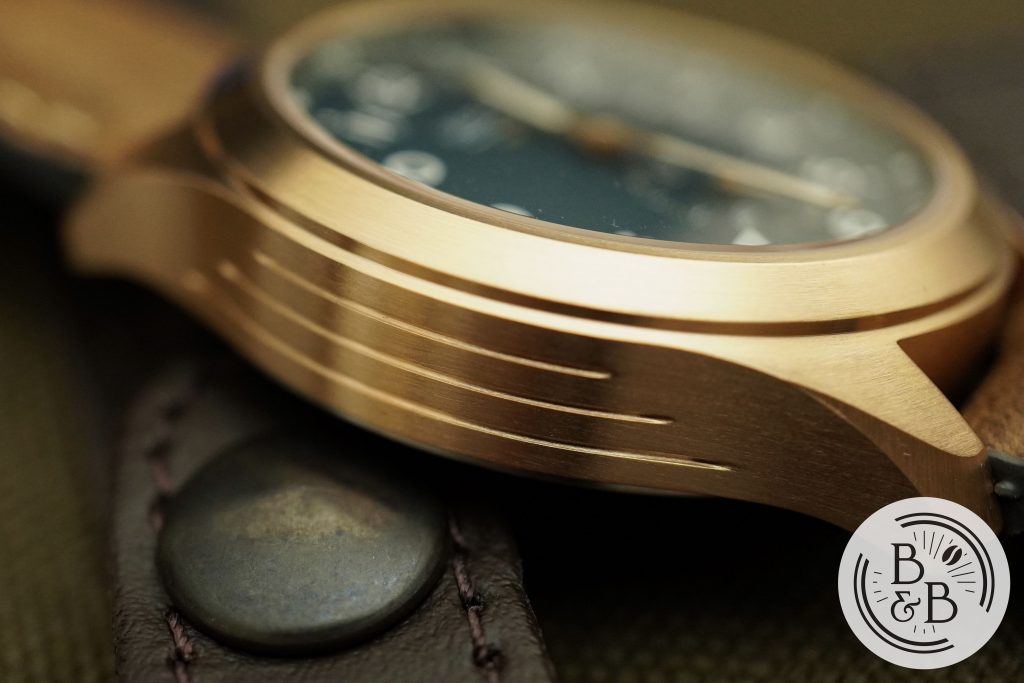 The case makes use of all of it's 11.90 mm height because of it's short bezel section and flat case-back, so it appears to be a taller case than it really is. There are lines running along the case flanks to add some relief to the otherwise plain brushed finishing.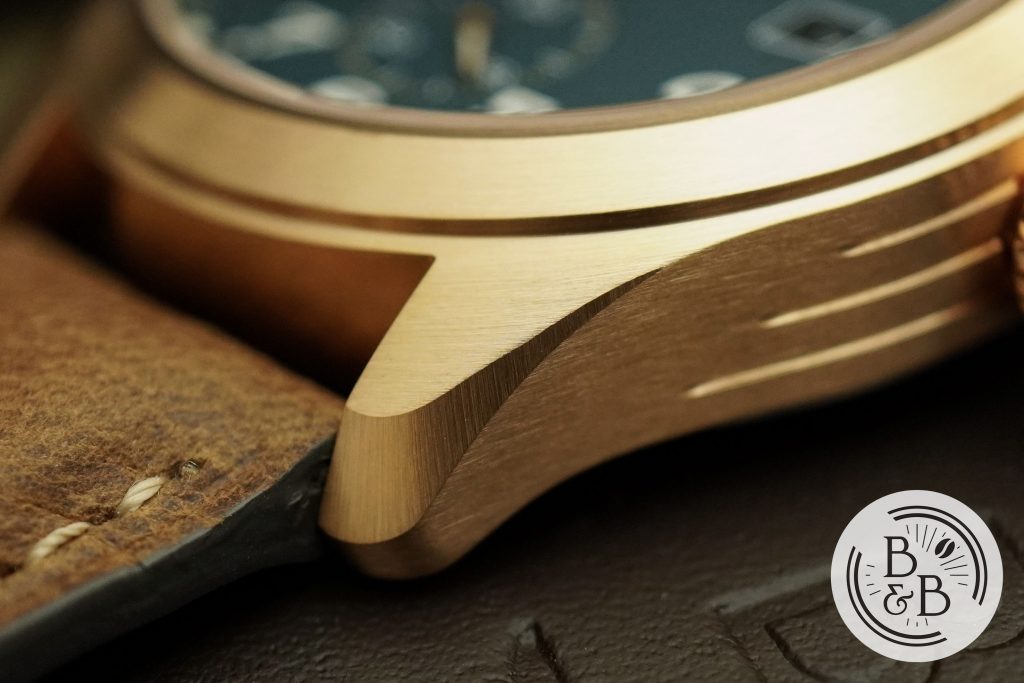 A beautiful beveled edge transitions from the case to the bottom of the lugs, which look pretty incredible in person and under a lens. Great design work and an excellent combination of brushing patterns on the lugs. The lug width is 20 mm and the lugs are not drilled through.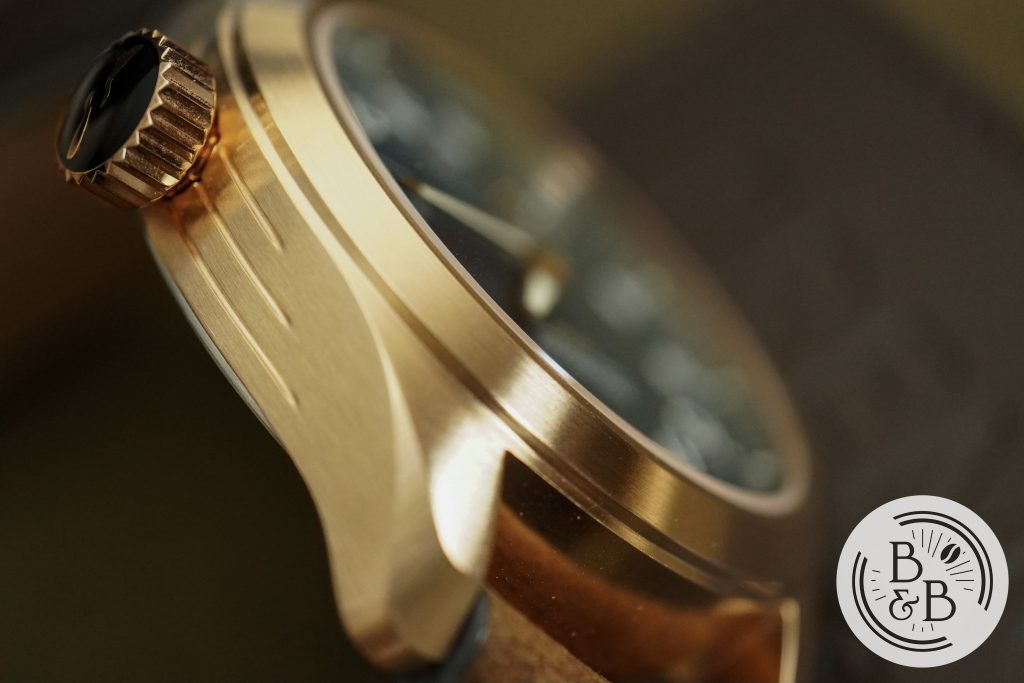 There is a brushed bezel section that seats a slightly domed sapphire crystal. Bremont says it has been treated with AR coating, but I think it could've used some more layers as it tends to pick up light given it's curved design.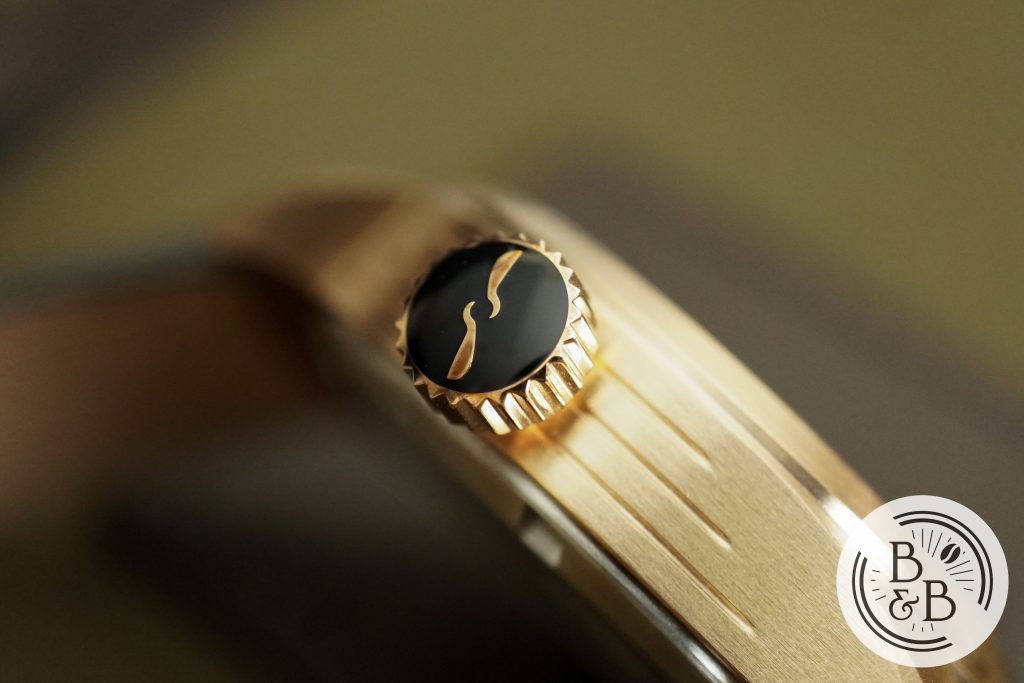 There is a 6.85 mm screw-down crown at the 3 o'clock position that is very easy to grip and operate. I love the design and the size, and it is definitely true to older military pilot and field watches. The crown has a black enameled(?) top with the brand's propeller logo in the same rose gold/bronze color. There isn't any crown or stem wobble and the crown feels great to operate.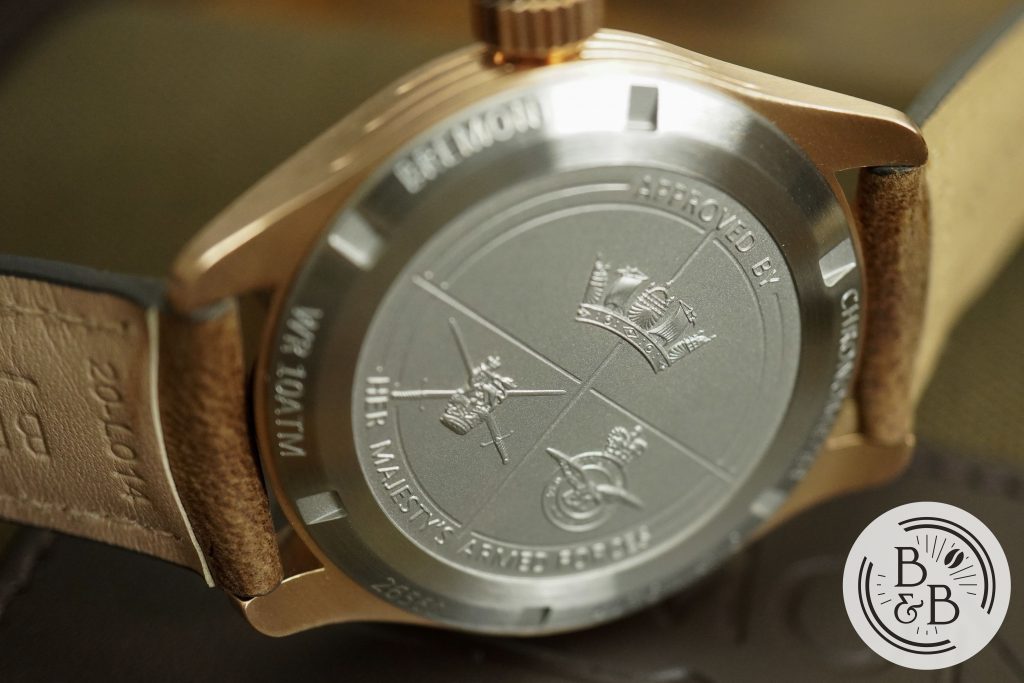 Flipping it over, you have a screw-down case-back made of stainless steel that has the Heraldic Badges of the Royal Navy, British Army and Royal Air Force. The case-back is flat and results in a very comfortable wrist experience. I will say that this stainless steel looks more like titanium given it's pale grey color. This watch is rated for up-to 100m of water resistance.
---
Dial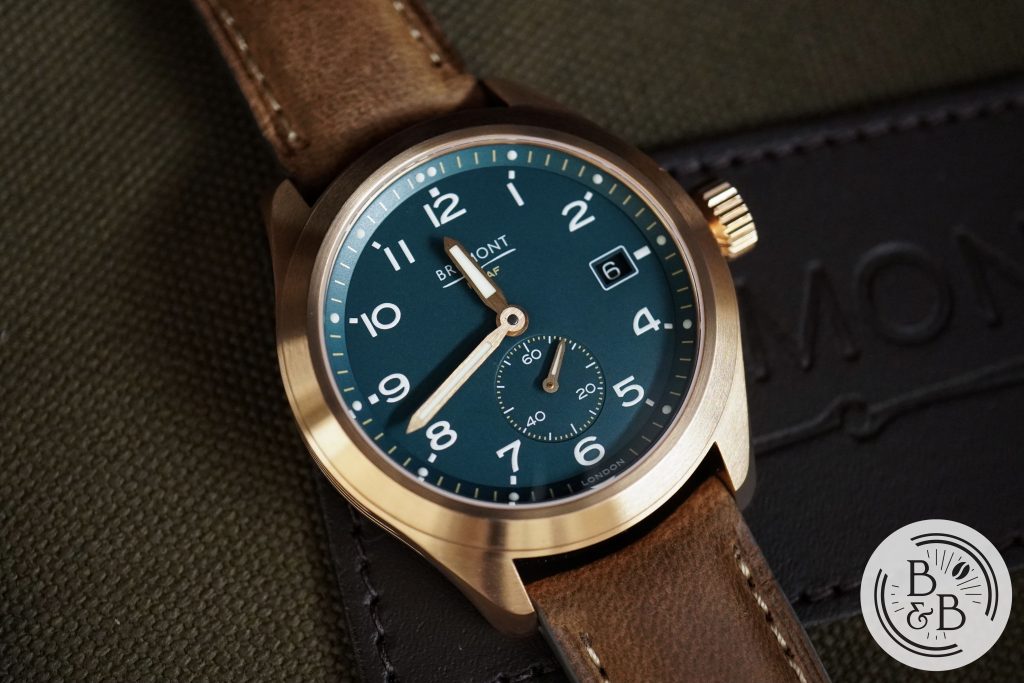 The Broadsword Bronze is offered in three dial colors – a brown 'Tobacco' dial, a grey 'Slate' dial and this 'Sotek' dial, which is a very interesting color as it takes on many personalities depending on the lighting, all the way from teal to a deep green. I think their choice of colors for these bronze watches is perfect for both their fresh state as well as what they will look like once it starts to patina.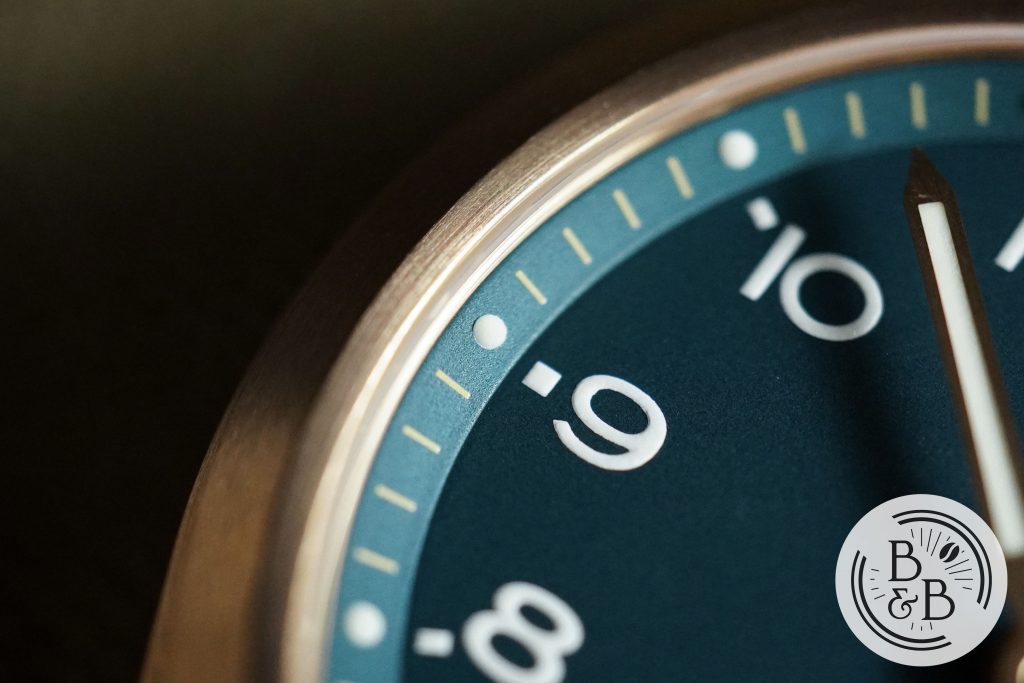 There is a sloped chapter ring that has lumed white pips for the hour markers, a beige ticks for the minute markers, dual pips above the 12 o'clock marker, and LONDON printed below the 6 o'clock marker. The printing quality is excellent and the finishing is spot on.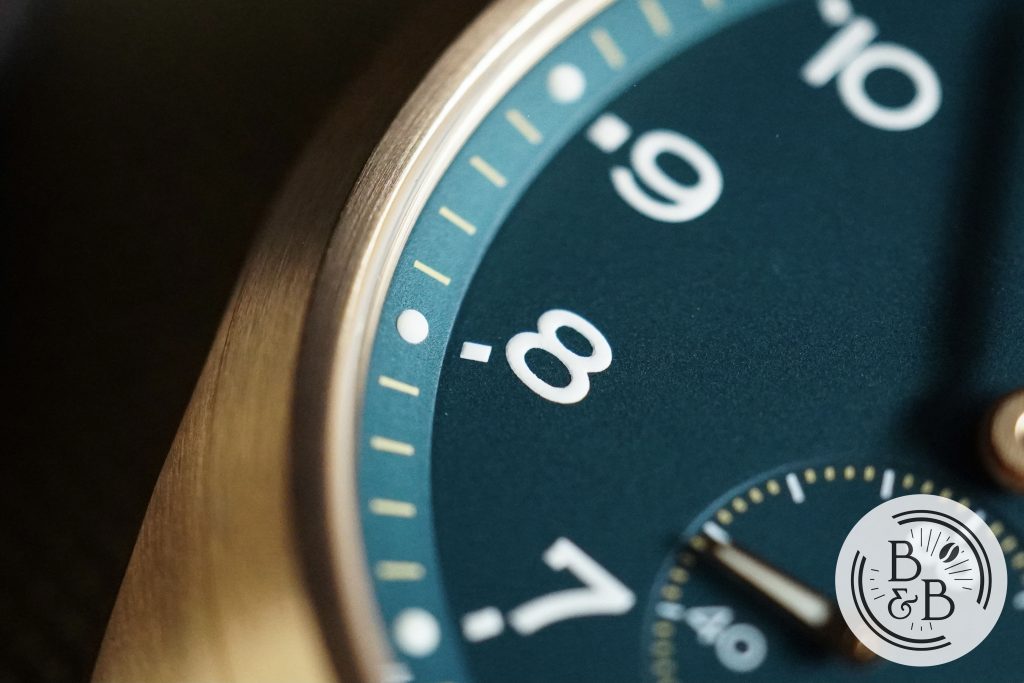 This watch has printed Arabic numerals in white that are also lumed, and each hour marker also has a marker between it and the chapter ring. I love these little markers as they balance out the overall symmetry of the dial when you get to the date window and the 6 o'clock marker. Great stuff!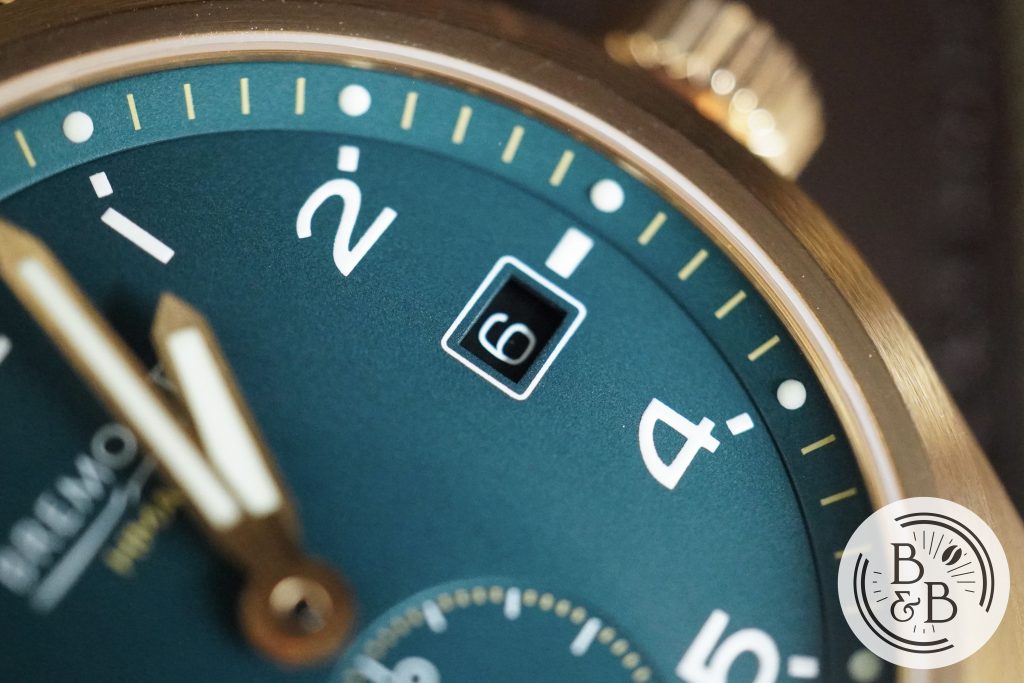 You then have a date window at the 3 o'clock with a black date wheel background and white text. A color matched date wheel would've looked nice here, but the black date wheel doesn't stand out on this dial as much as it would on the grey and brown. The date window has a printed border, and the finishing is excellent.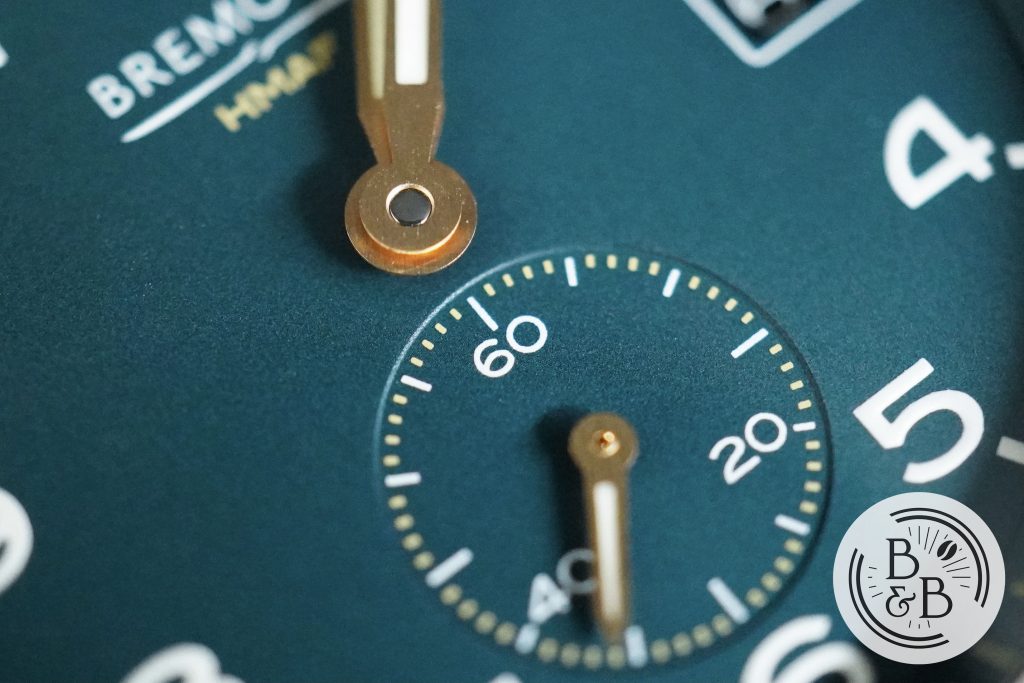 Above the 6 o'clock hour marker, you have a small seconds sub-dial that is slightly recessed into the dial. There is a printed seconds track with white ticks for the 5 second increments and Arabic markers for 20 second increments. The printing quality on this watch is excellent, and this sub dial is no exception.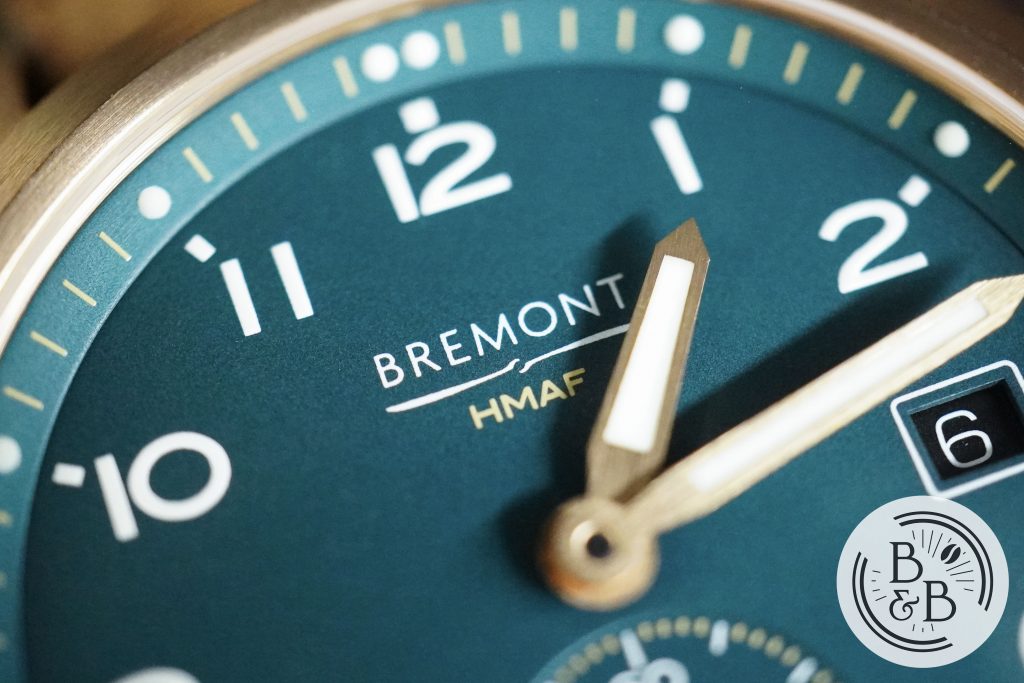 The brand's name and logo is printed below the 12 o'clock index, with HMAF below it, which is an abbreviation of Her Majesty's Armed Forces, since this is a Bremont, and you can't have a Bremont without a connection to the Military.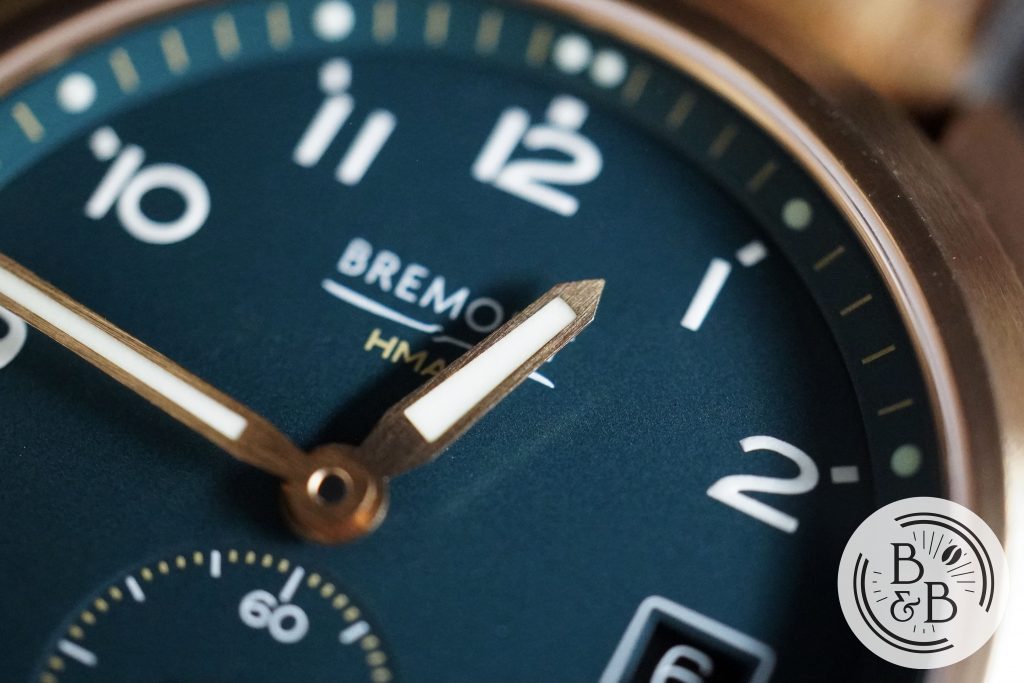 The hands look like Bronze, and have a brushed finish. The proportions are excellent, small seconds hand included. All three hands have large lumed sections and the overall finishing is excellent.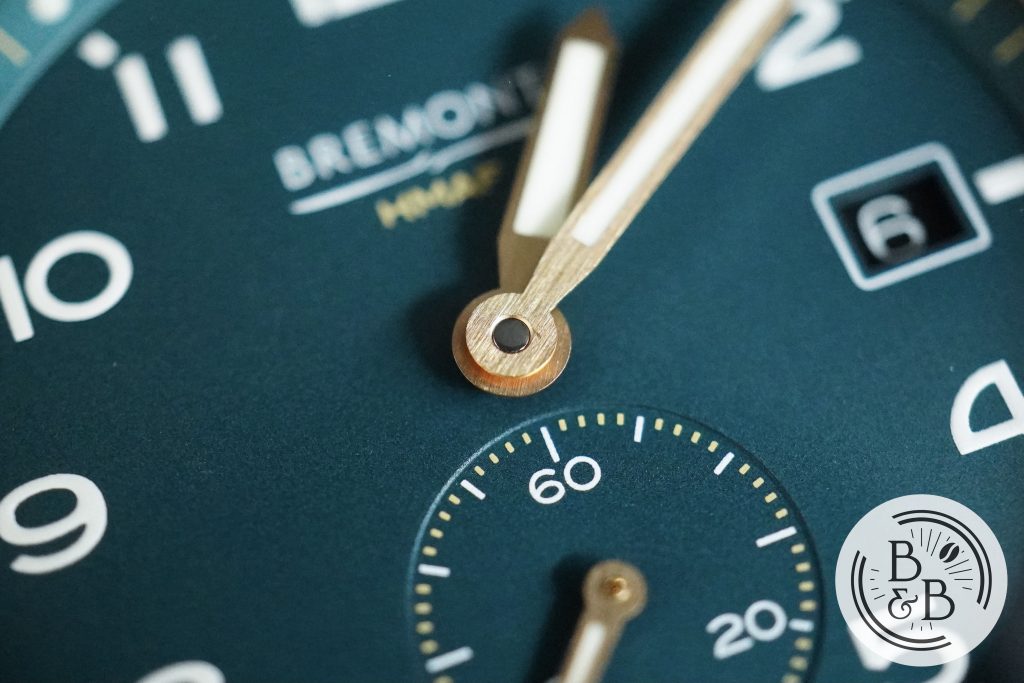 Another minor detail that I love is the fact that the pinion is capped. Not a lot of brands do this, but I think it is the right way to do it and everything looks very neat and clean. Overall, I'm a fan and I love this dial. I would've preferred no date at all, or a color matched date window, but apart from that, everything else is just perfect.
---
Lume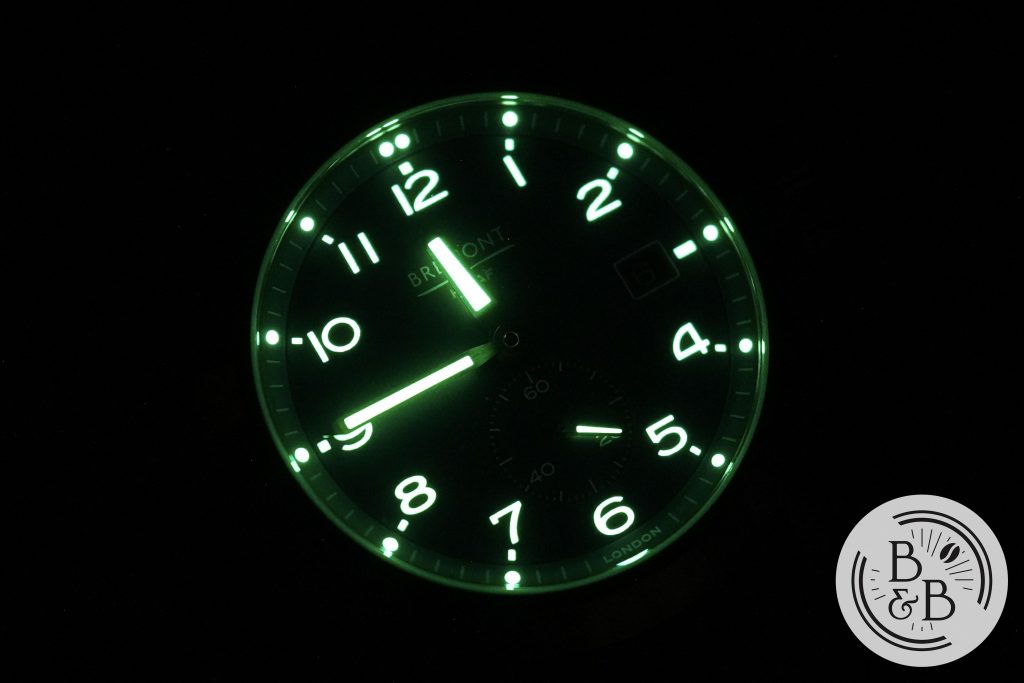 Since this is supposed to be a functional tool watch, I expect very good lume design and performance. And this watch happens to deliver on both fronts! Bremont doesn't mention what grade lume they're using, but I'll take a guess and say this is Grade X1 Super LumiNova.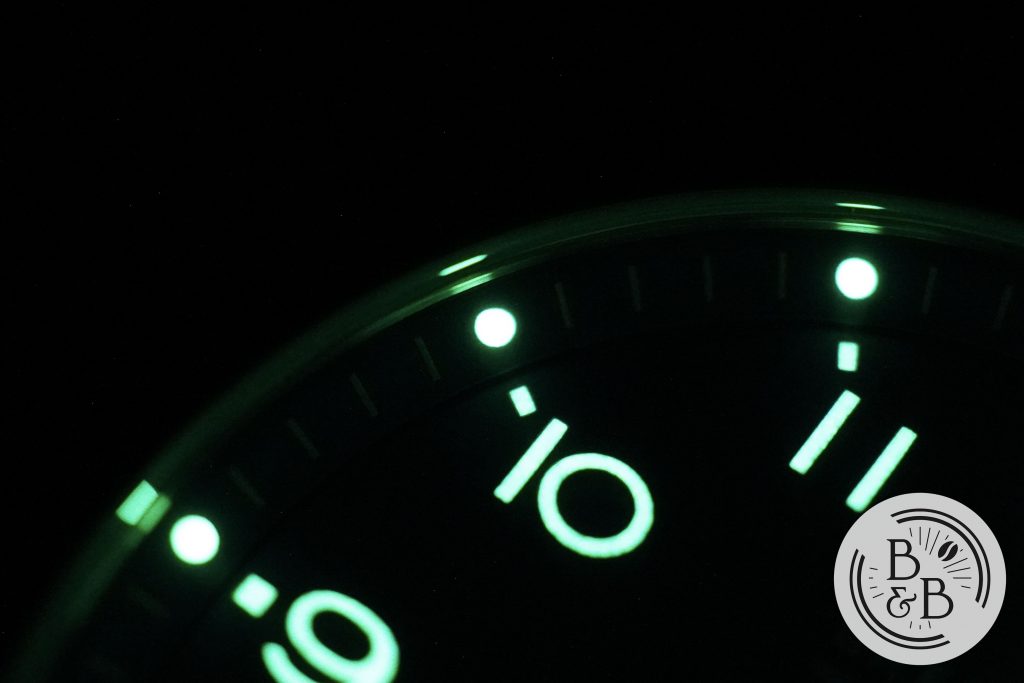 The hour marker pips on the chapter ring glow very bright and hold their charge well. The Arabic numerals are also generously lumed, along with the little ticks that accompany them. I love how symmetric and legible this dial is in the dark.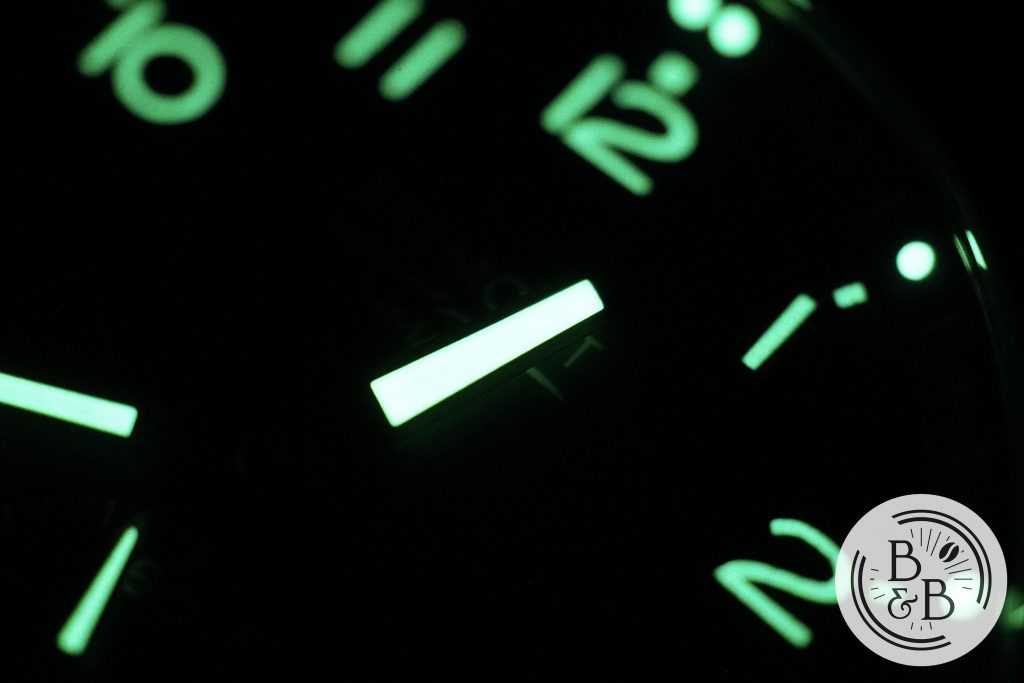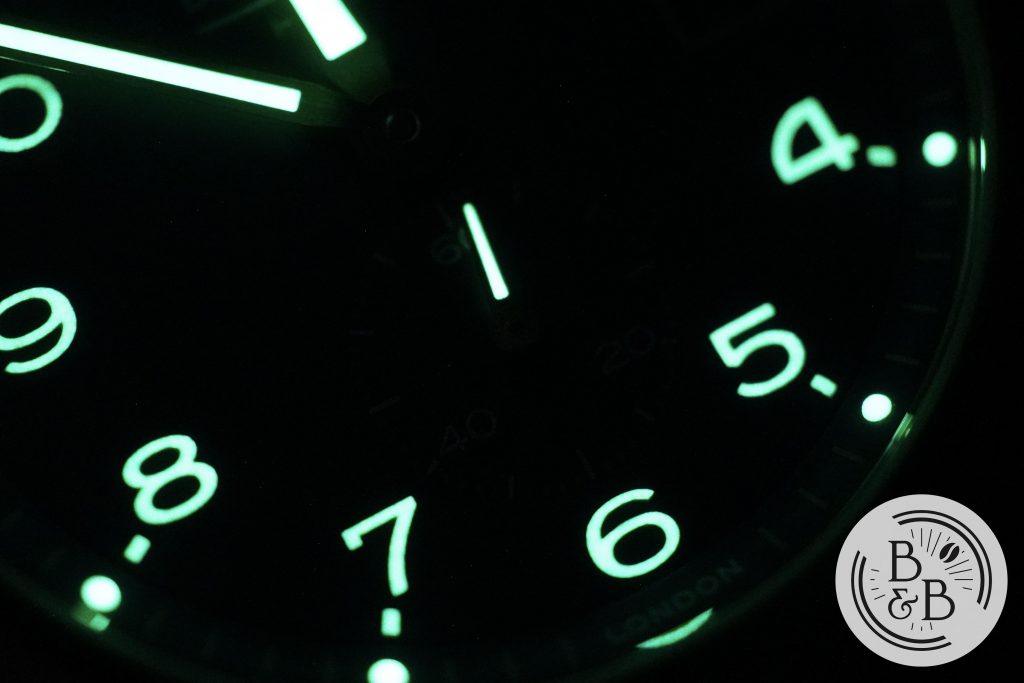 Both the hour and minute hands are very well lumed, but the real icing on the cake for me is the lumed small seconds hand above the 6 o'clock marker. I love sub-dial hands that are lumed, and this one design element says a lot about the brand.
---
Movement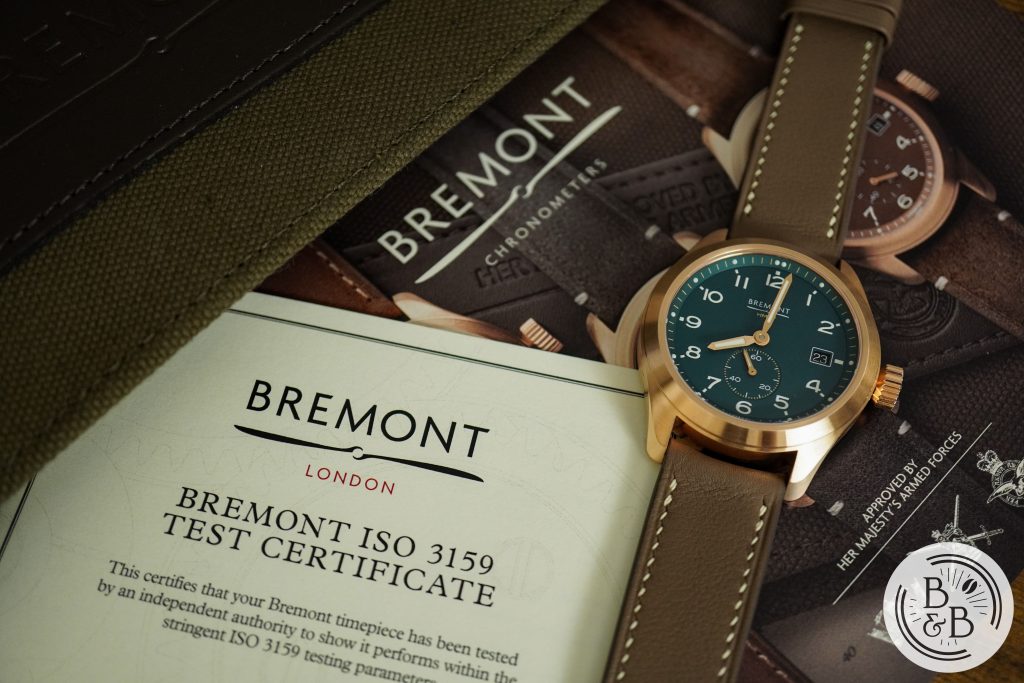 This watch uses what Bremont calls the BE-95-2AV, which I believe is a Sellita SW260-1 movement, or a similar ETA2824-2 based architecture. This movement is Chronometer rated and ISO 3159 certified, and the package includes this testing certificate.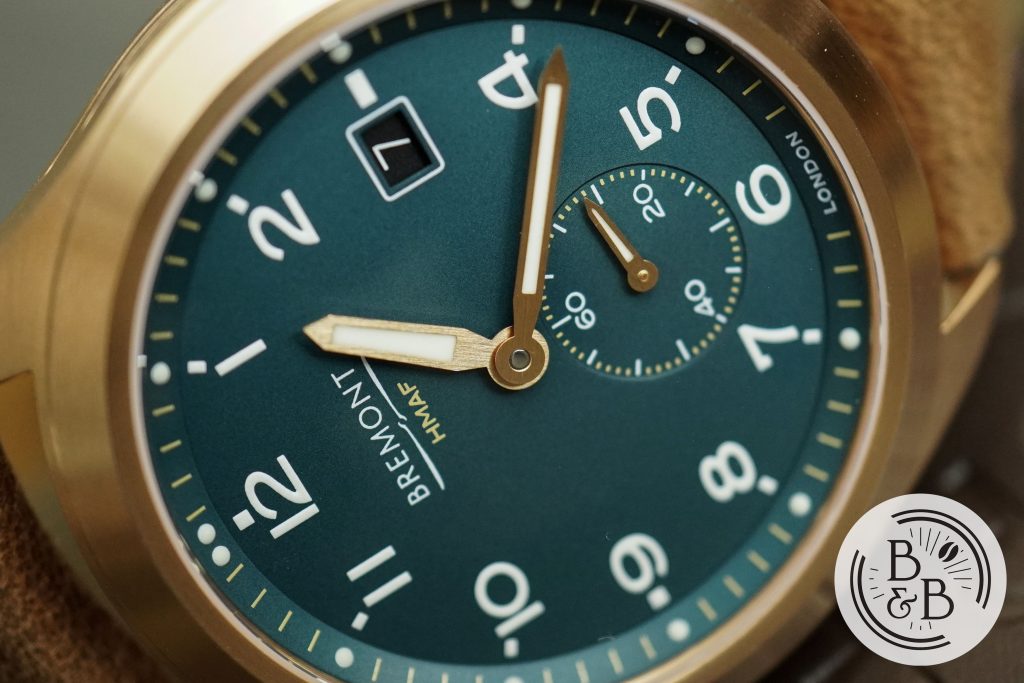 At the suggested retail price of roughly $3800 USD, I think it is reasonable for a buyer to expect an in-house movement. Personally, I'm fine with a Chronometer rated off-the-shelf movement in a watch like this just because of how easy it is to have it serviced.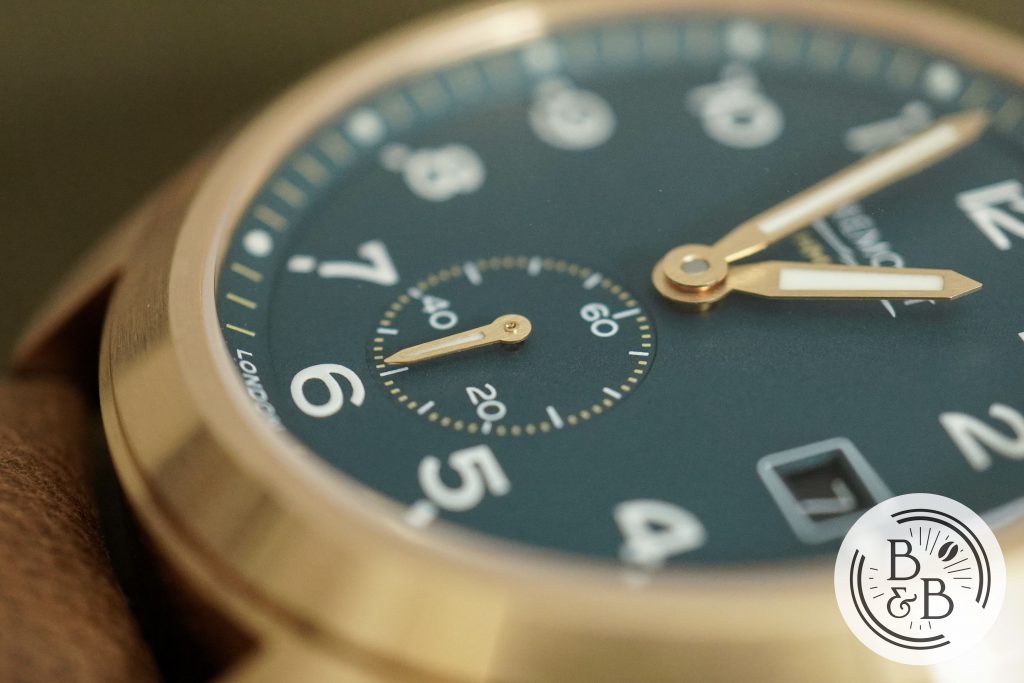 But those looking for an in-house movement experience will likely go with a Tudor Black Bay 58 instead of this. The Kinessi movement in the Tudor doesn't look any prettier than an ETA/Sellita to me, but the 70 hour power reserve compared to 48 hours on this one makes it a tempting alternative. But in-house vs off-the-shelf is a decision you have the luxury of making in this price range, so enjoy it.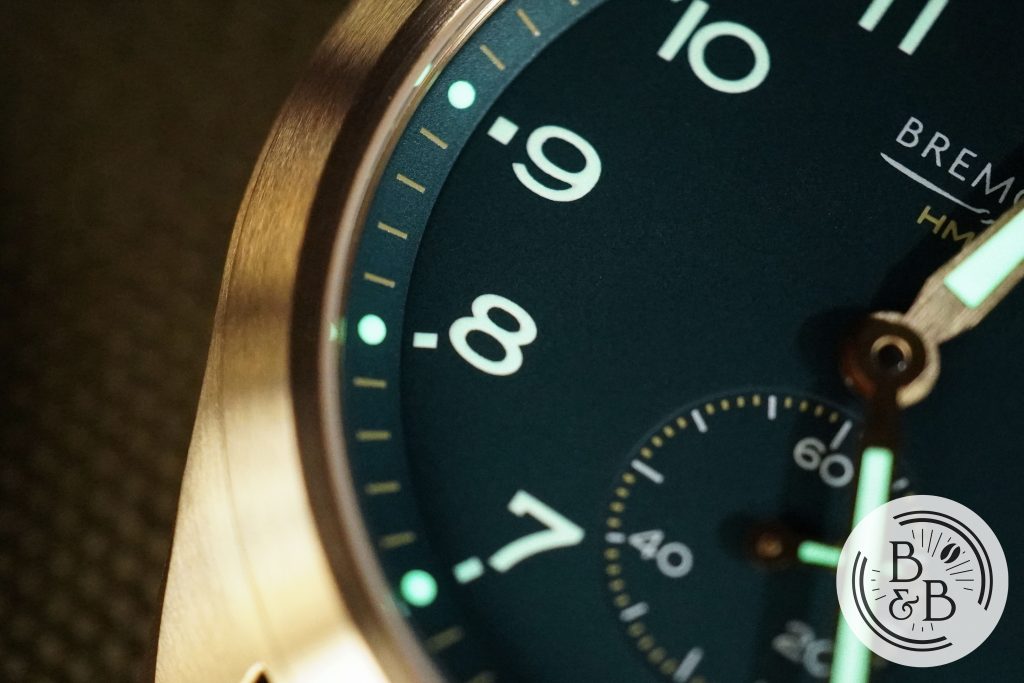 On my time-grapher, I observed roughly +5 spd in the dial up position, +2 spd in the crown up position and +2 spd in the 12-up position. So seems to be fairly healthy and operating within the certified bounds.
---
On The Wrist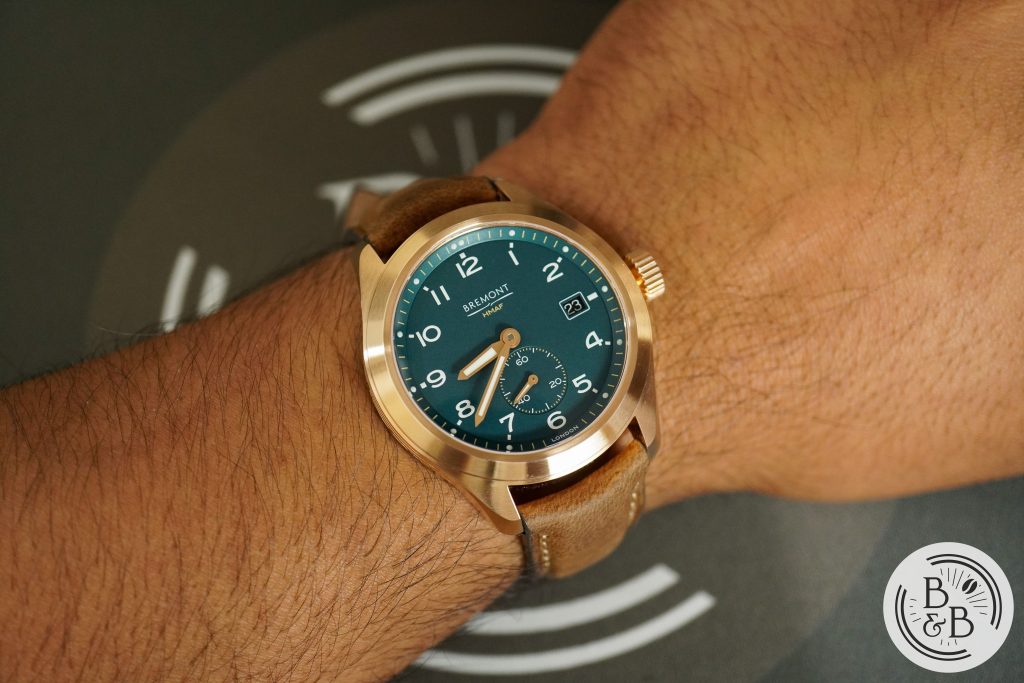 The 39.7 mm diameter and 46.25 mm lug-to-lug width sit well on my 6.5″ wrist. I think this watch wears exactly how you'd imagine the dimensions to wear.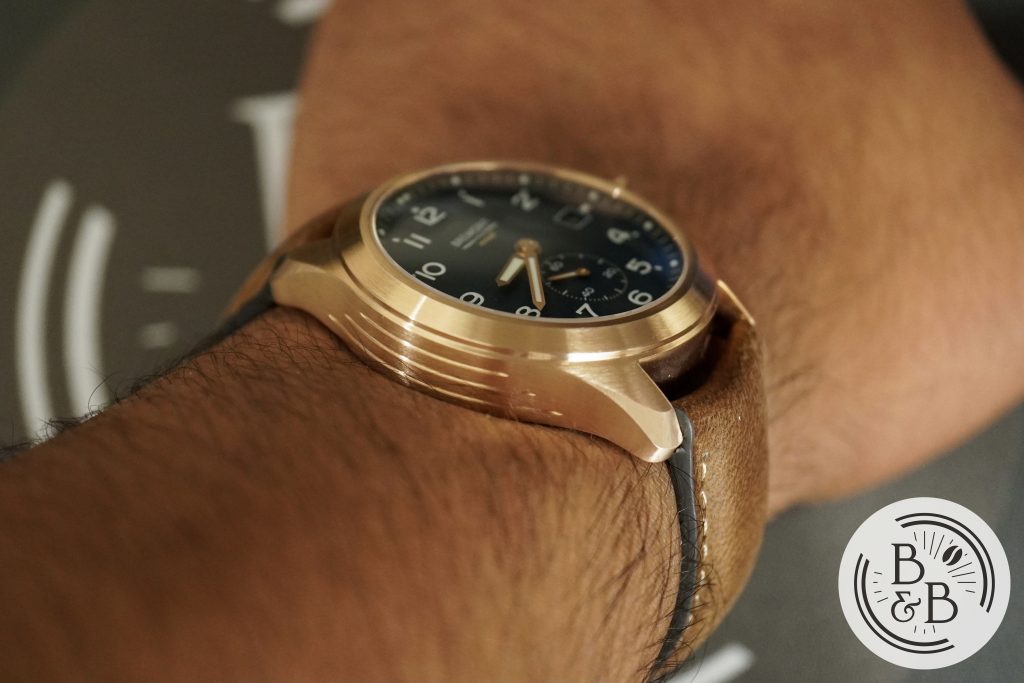 The height of 11.90 mm actually feels a bit thicker than you'd expect, since the entire 11.90 mm height is being used, without any relief cut out of the case sides, and a flat case-back.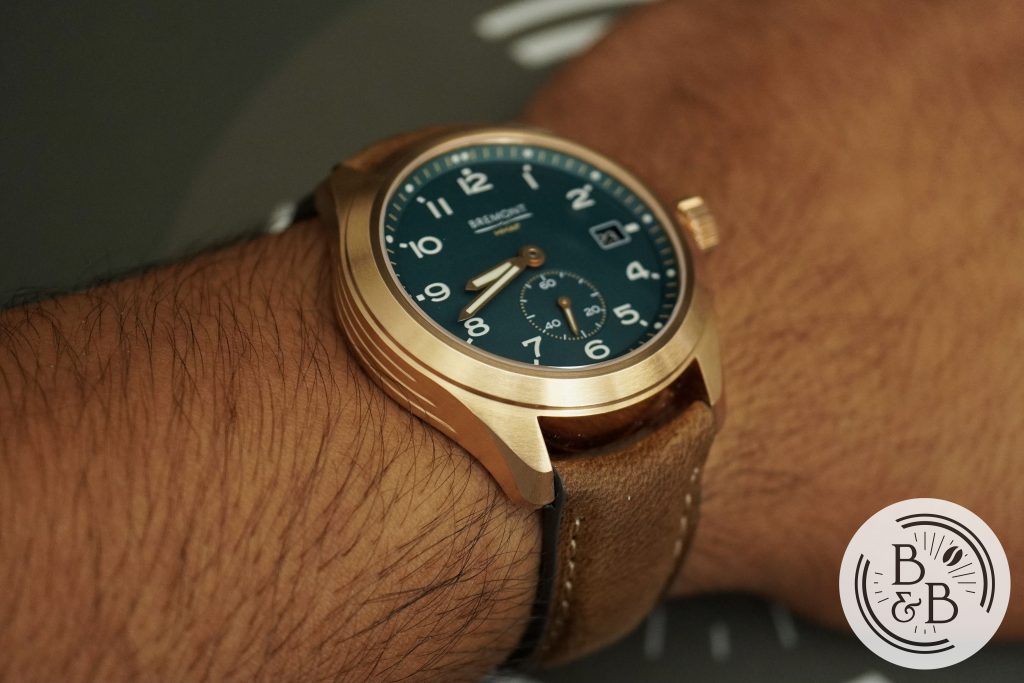 It feels hefty and utilitarian, and I like that. It isn't a big watch, and it isn't a small watch either. It wears comfortably on my wrist and everything just comes together well.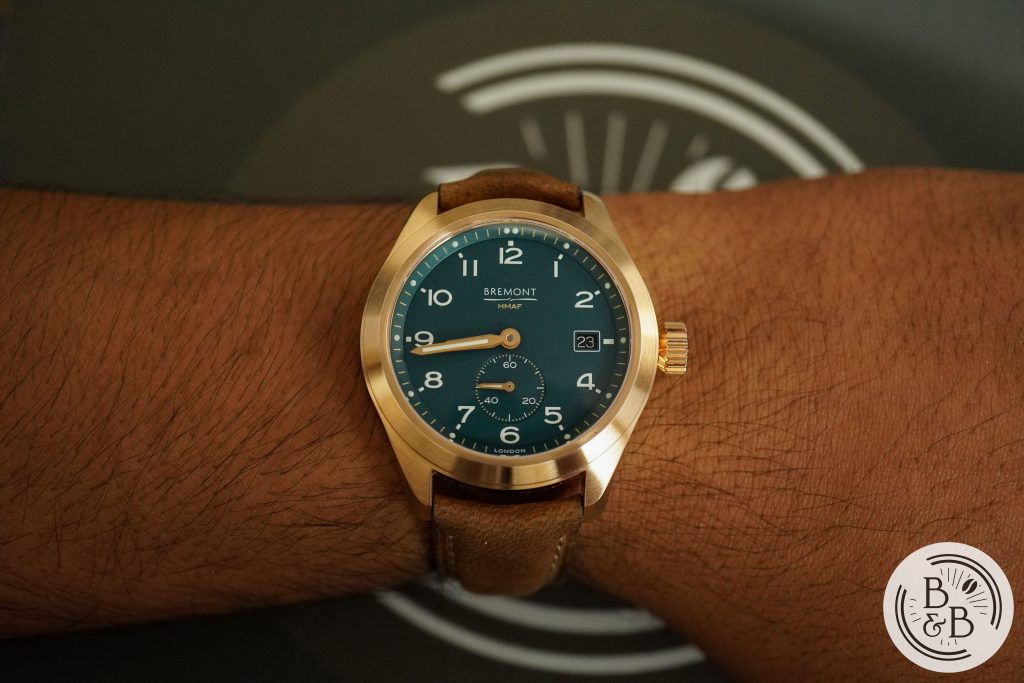 This watch ships with a leather strap and a matching bronze buckle. I'm not a big fan of the strap and a piece of glued leather came undone after less than an hour of wearing it. But Bremont customer service has been beyond excellent and have offered to ship me two replacement straps of my choice. Errors are inevitable when buying watches, but what sticks is good customer service, and so far they've been brilliant.
---
Concluding Thoughts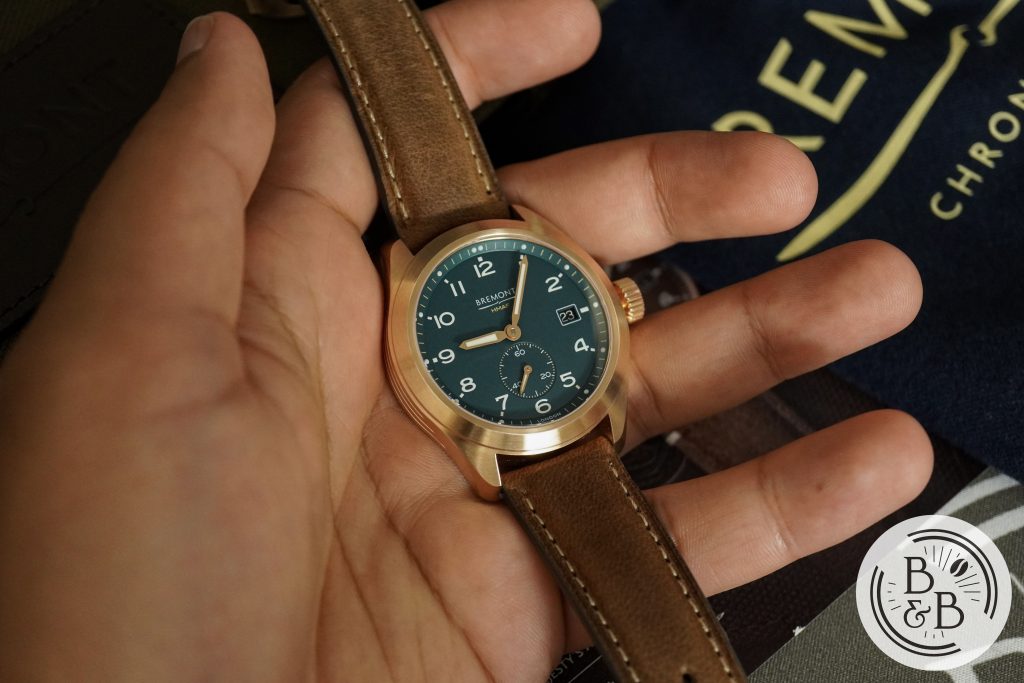 Overall, I think this watch is fantastic. This isn't the first Bremont I've handled and I've checked out their watches a few times over the past few years. The quality wasn't ever in question, but it was always the pricing. At $3800, I think you're going to really have to love this watch to ignore some of the other competition in the price range. The $3000-4000 range is currently being dominated by Tudor and grey market Omega. But if you've already got watches like that in your collection and are looking for something a bit less mainstream, this is a great option.
If you can find one of these watches in the $2500-$3000 range on the pre-owned market, I highly recommend checking it out. It is built well, designed well, finished well and delivers a really enjoyable ownership experience. From here on, I'll restrain myself from cracking more jokes about Bremont and some of their marketing cliches, because the final product being delivered is pretty solid stuff and I'm a fan.
---
Strap Change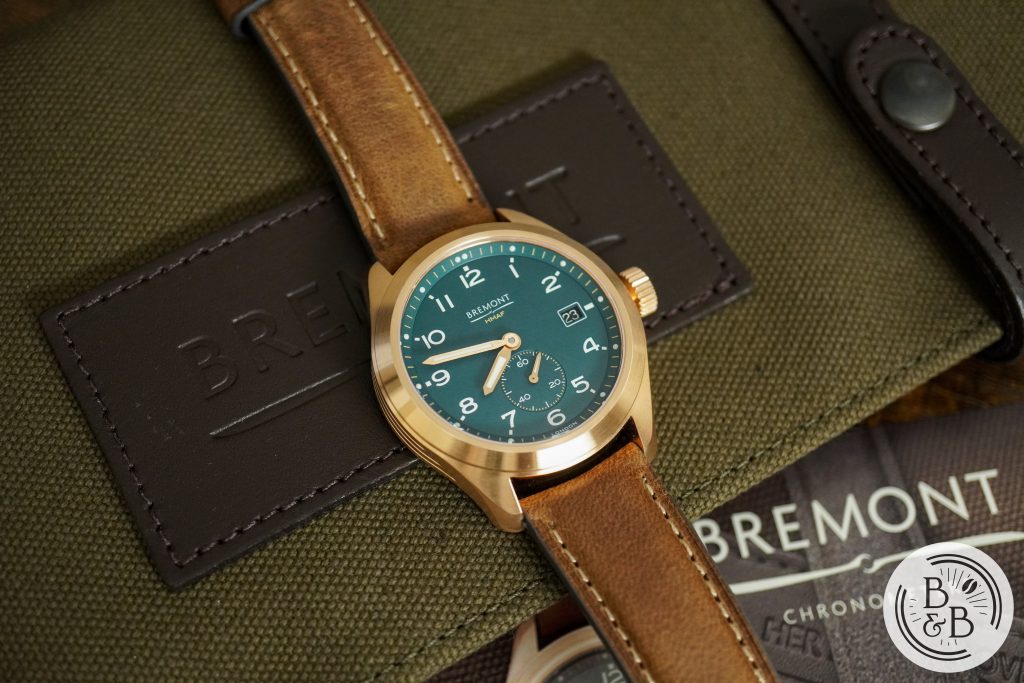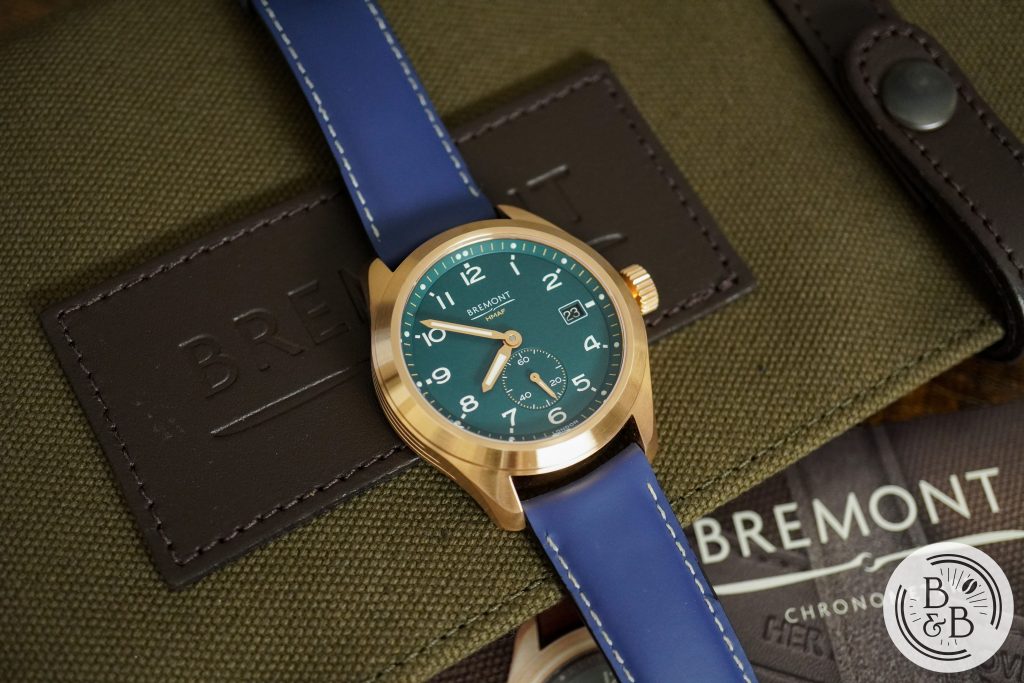 ---
Thanks for reading!