---
Disclaimer: I purchased this watch new and was not externally incentivized in any way to make this review. This review is not sponsored by Frederique Constant, or any other entity. All opinions here are my own.
---
---
Contents
---
Frederique Constant
I've been a pretty vocal advocate for micro-brand watches, and for good reason. I've found that many micro-brands are able to deliver excellent quality products, and for great prices. This isn't typically a knock on more established luxury watch brands, but given the nature of the industry, smaller teams operating with direct to consumer sales models are able to better optimize their final retail prices. But if micro-brands start to drive up their prices, then there should be no reason to avoid larger brands like Hamilton, Frederique Constant, Certina, Tissot, Alpina, etc. These brands have been around for a while, and some of their watches are pretty impressive.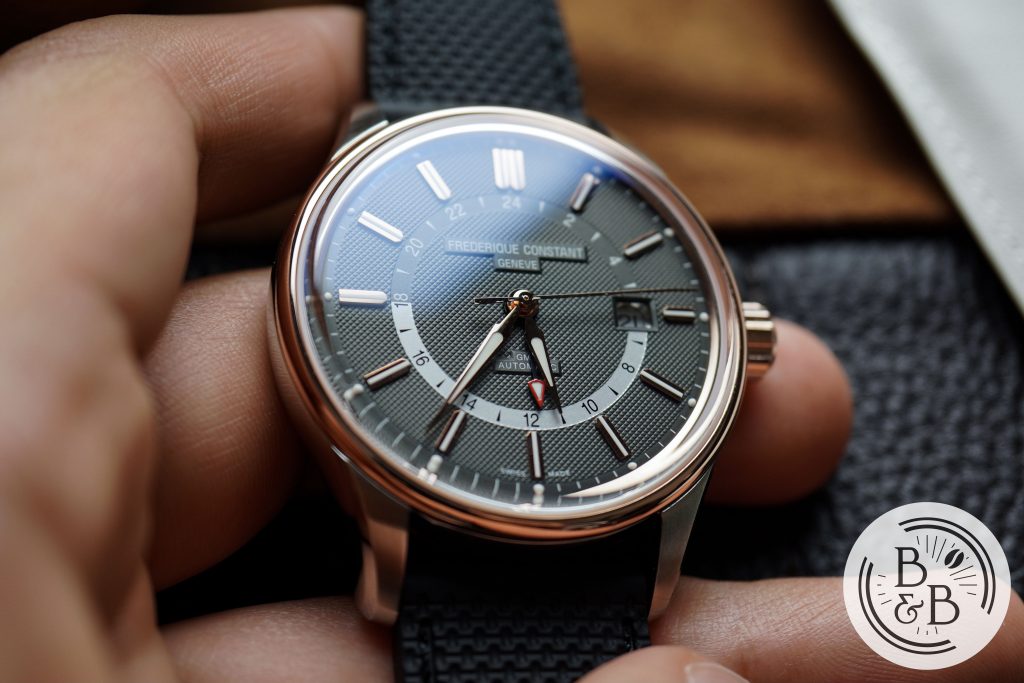 Since Baltic and Lorier decided to venture close to the $1000 category, with mostly typical GMT watch designs and specs, I decided I would take a look at some of the other options available in this category. The Baltic and Lorier were very well received, but there are other GMT watches out there at similar prices. The Frederique Constant Yacht Timer GMT is one such watch; although following a very different design aesthetic. This particular watch has a retail price of around $2000, but can be found close to the $1000 mark.
Let's check it out!
---
Case
The case measures 41.75mm in diameter, 50mm from lug-to-lug and 12.5mm in height. The case is bi-color, and combines a stainless steel base material with PVD coated rose gold elements. PVD coating isn't the greatest as it will eventually succumb to scratches and wear, but it's cheaper than real rose gold and looks pretty great.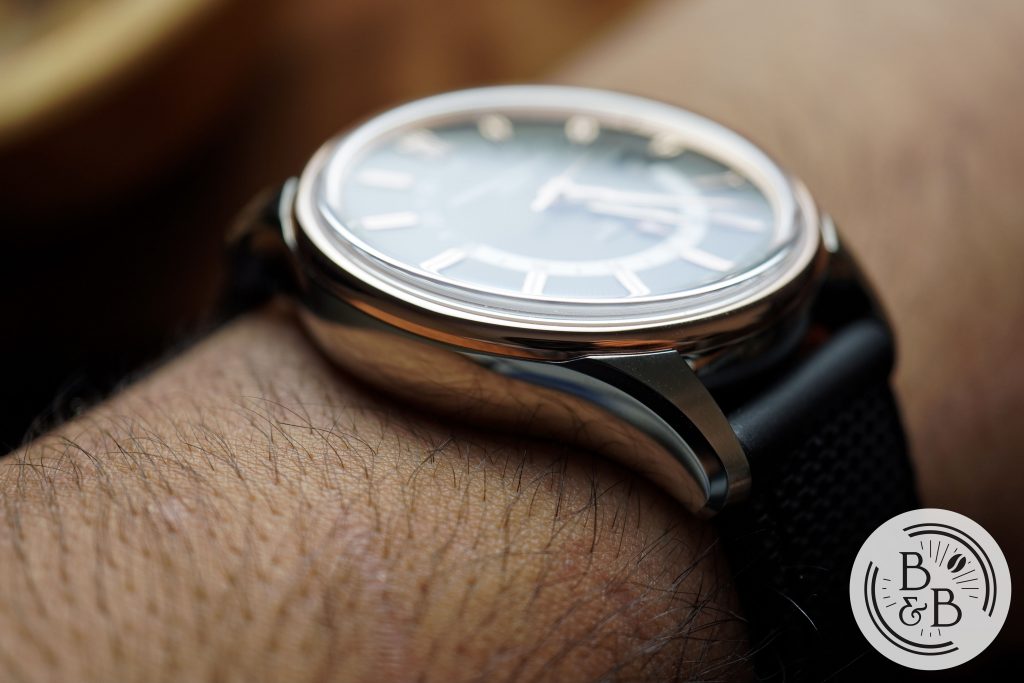 The polished case is very sleek, with curved sides that elegantly extend into a pair of lugs that have brushed top surfaces and polished bevels. The lug width is 21mm, which is a bit unfortunate as it makes finding after-market straps a bit challenging.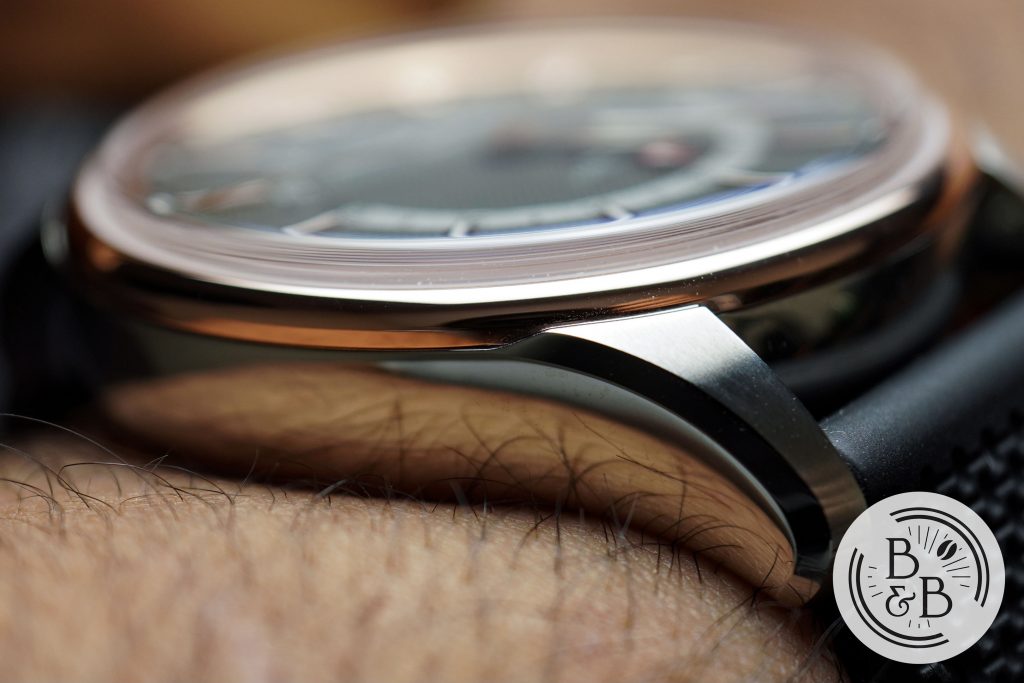 There is a rose gold bezel layer that is slightly recessed into the case, which I love. The bezel seats a flat sapphire crystal with plenty of AR coating.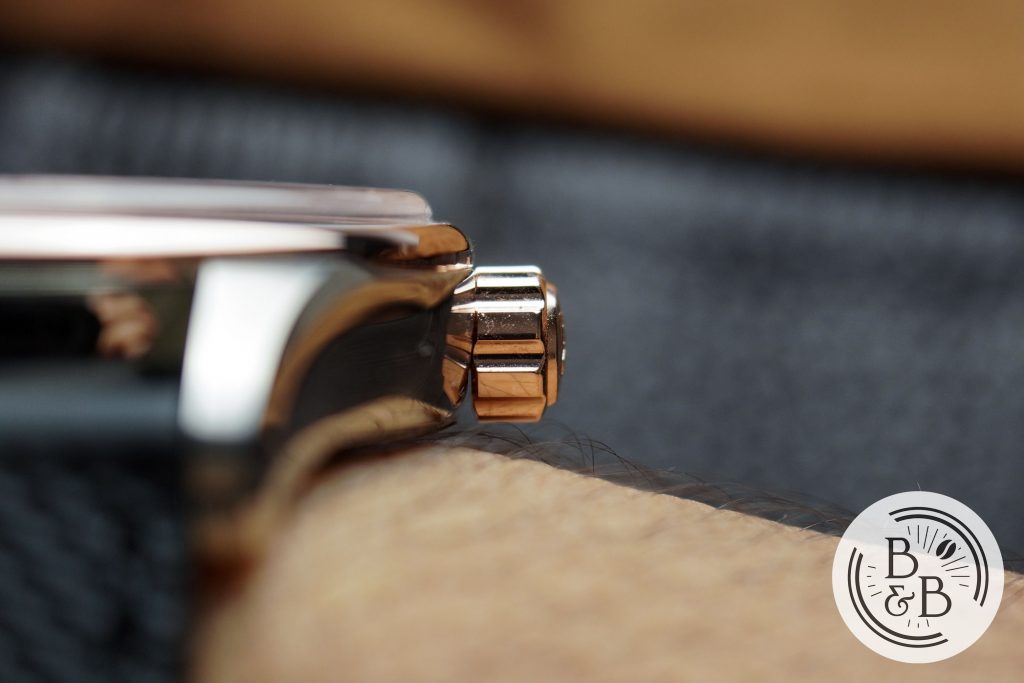 You then have a push-pull crown at the 3 o'clock position that is also rose gold, and signed with the brand's logo on top. The crown is easy to grip, and has no crown or stem wobble.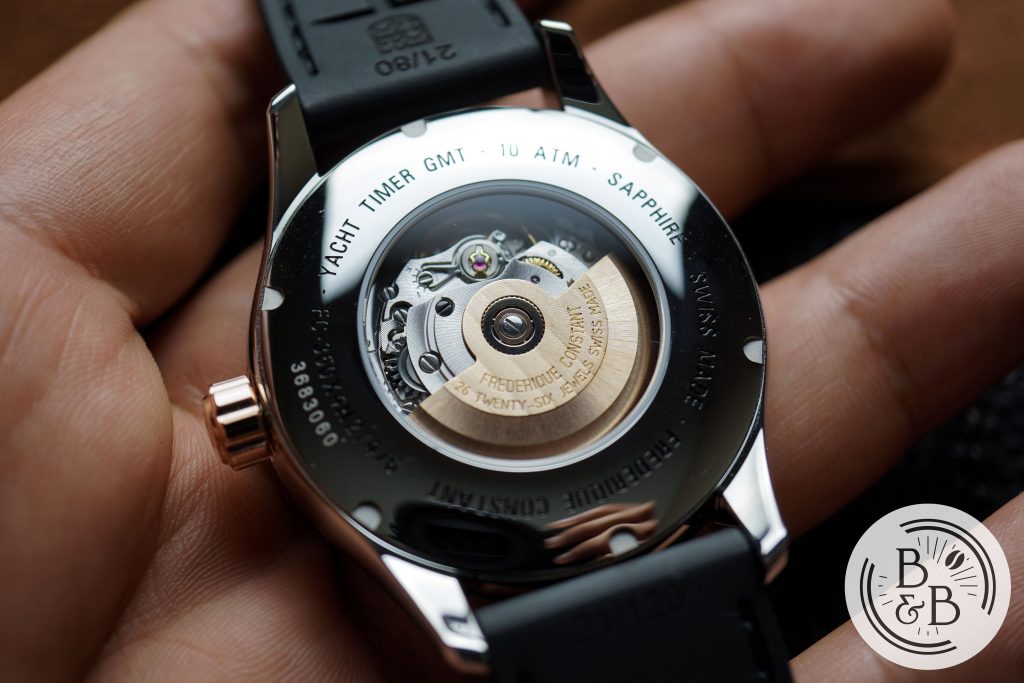 Flipping it over, you have a screw-down case-back with an exhibition window that shows you a pretty neatly decorated movement. This watch is rated for up-to 100m of water resistance.
---
Dial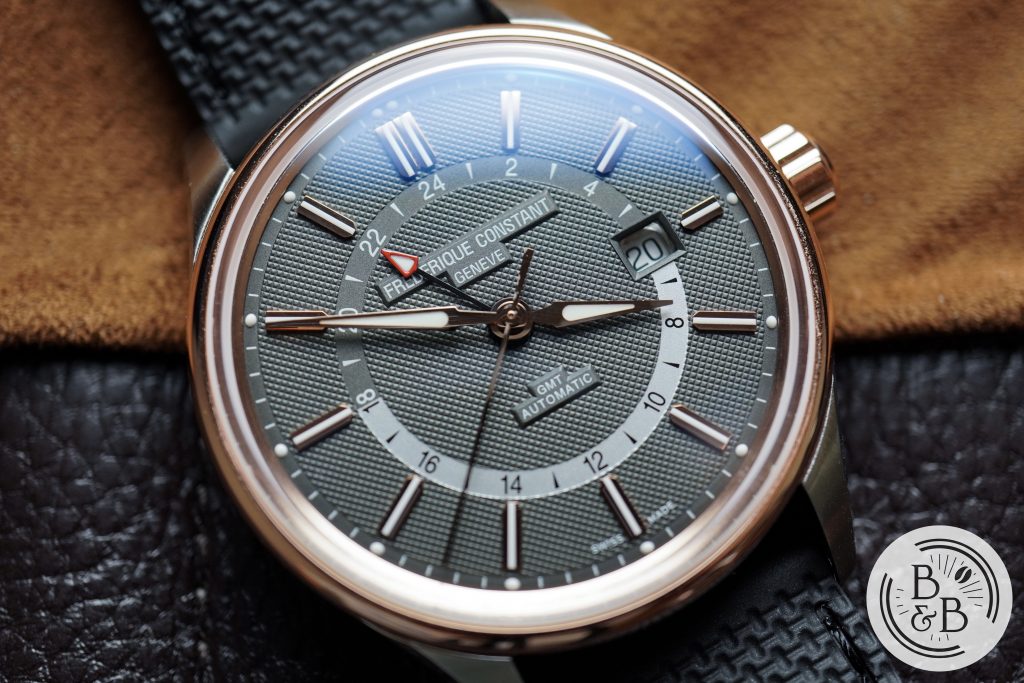 The dial here is stunning, with a gray textured base, rose gold elements and a few subtle accents of color.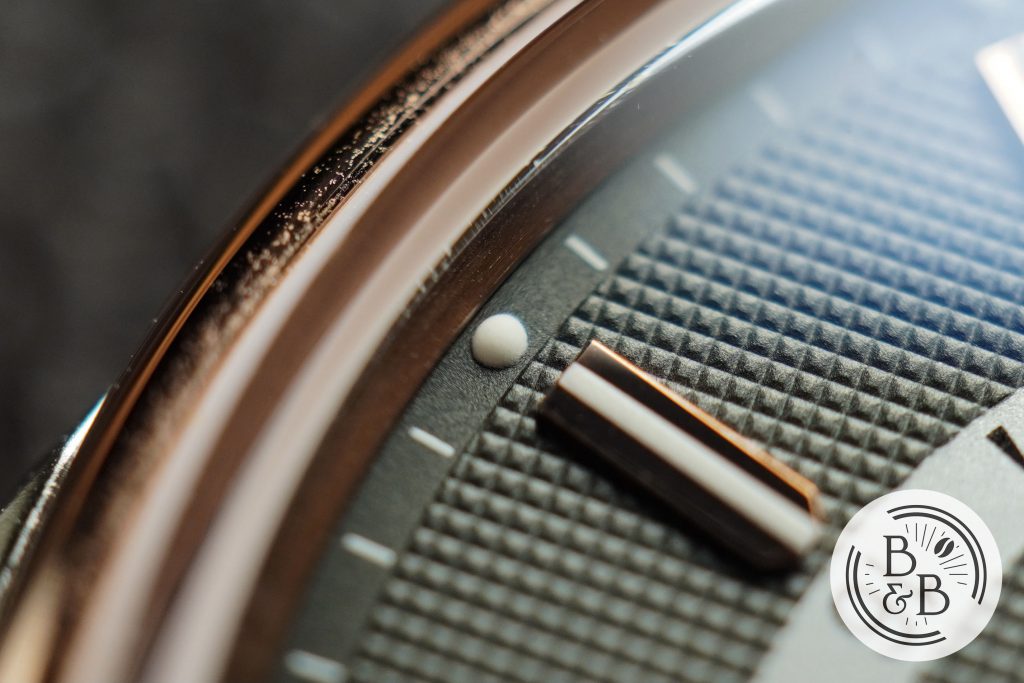 There is an outer minute track that has a gray base with white minute ticks and lumed circular pips for hour markers.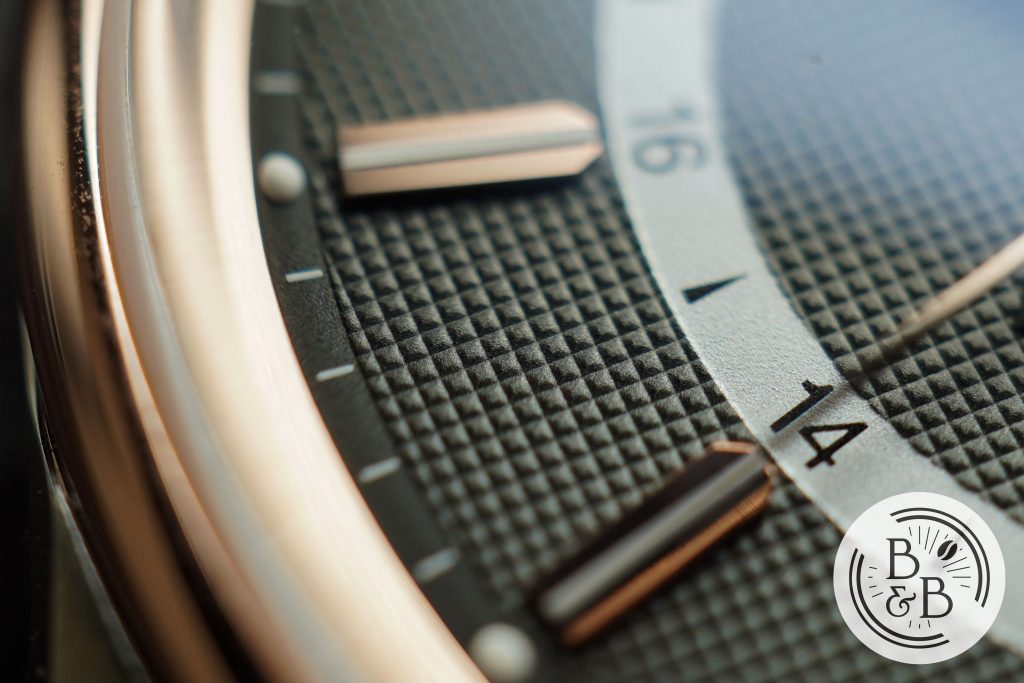 Moving inwards, you have a textured ring that contains the rose gold applied indices that are also filled with lume. The finishing on the indices is good, but I noticed some minor micro scratches, not uncommon to watches in the sub-$1500 category.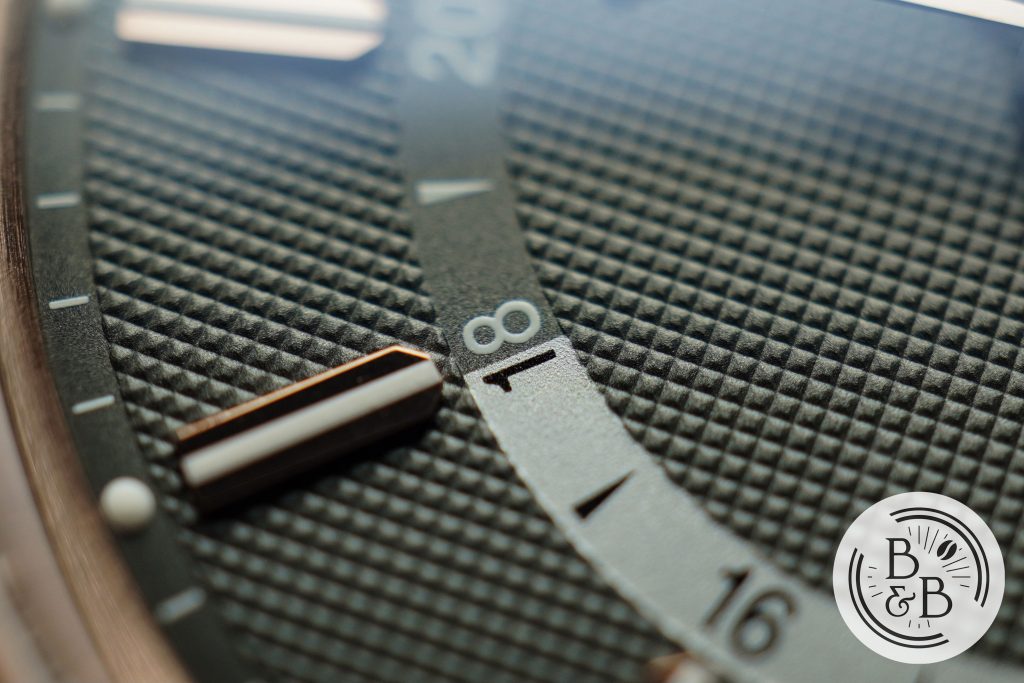 You then have a GMT 24-hour ring, with a background matched gray section for the night-time hours, and a lighter grey section for the daytime hours. A great choice of colors and a neat design here, with good printing quality.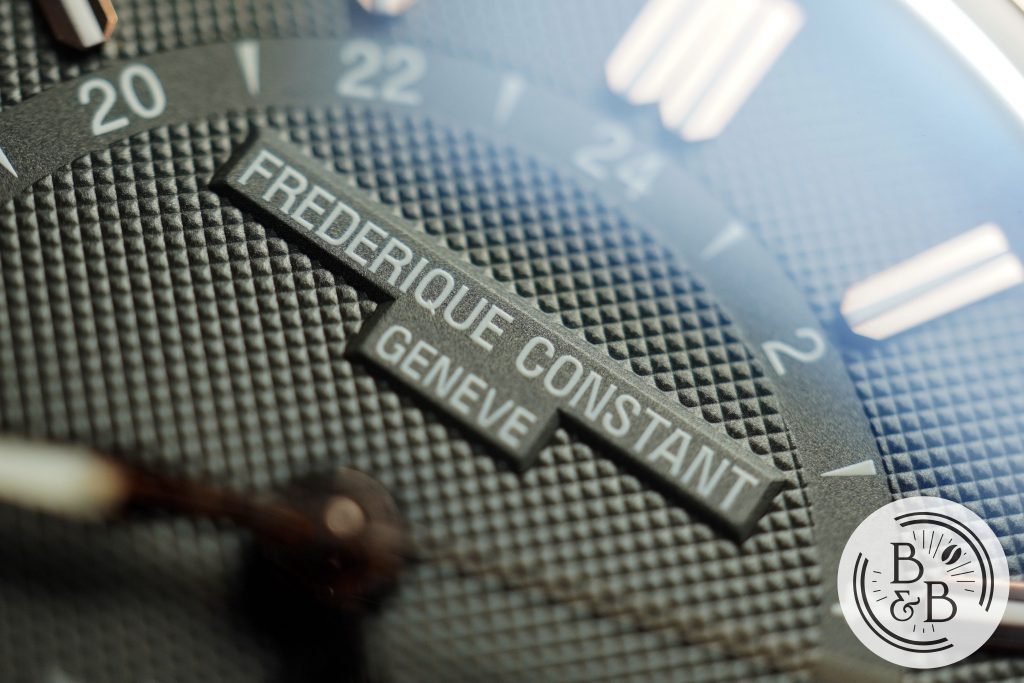 The inner circular textured section has raised plates for the brand's logo at the top as well as some text at the bottom. I typically prefer the text to be printed onto the textured surface directly, but I think in this case I like this better. Once again, excellent quality of printing, and the overall dial is clean without dust or dirt.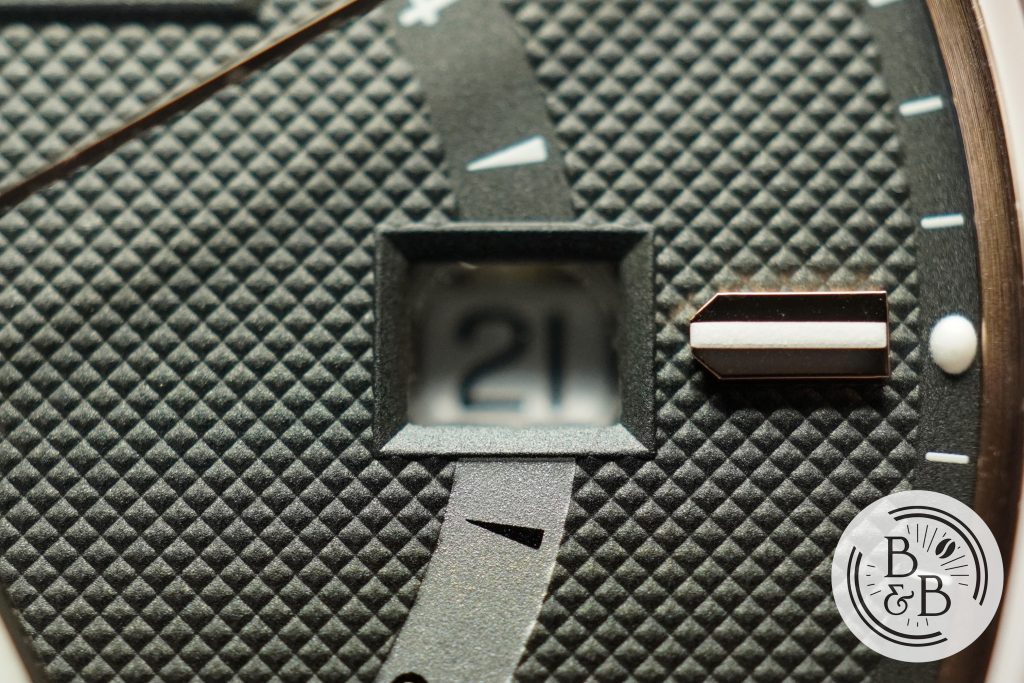 There is a date window at the 3 o'clock position that is cut into the dial surface without a frame. I've never seen this before, and I think it is really cool – there is a cyclops date magnifier that is inserted into the date window. A brilliant idea in my opinion, and one that is executed well, with great finishing around the window.
Moving onto the hands – I was impressed to find that the hour and minute hands are lumed, even though they have a very dressy design. These rose gold hands are reasonably well finished, and I think the proportions are excellent.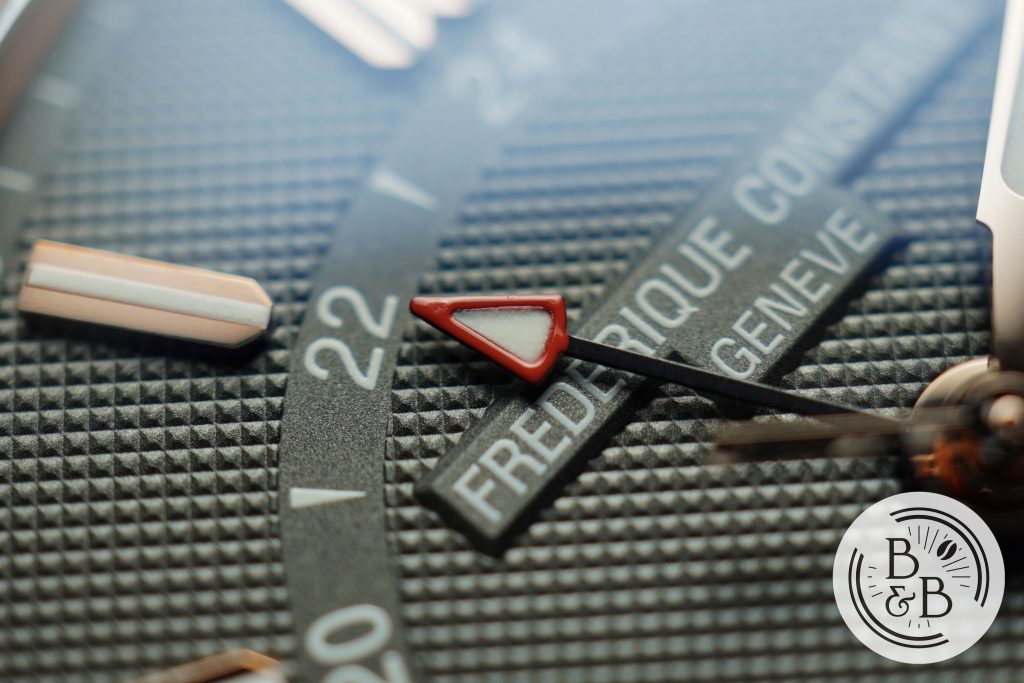 The GMT hand is painted black with a red arrow head tip that is filled with lume. I love this dash of color, and I think it is also finished very well.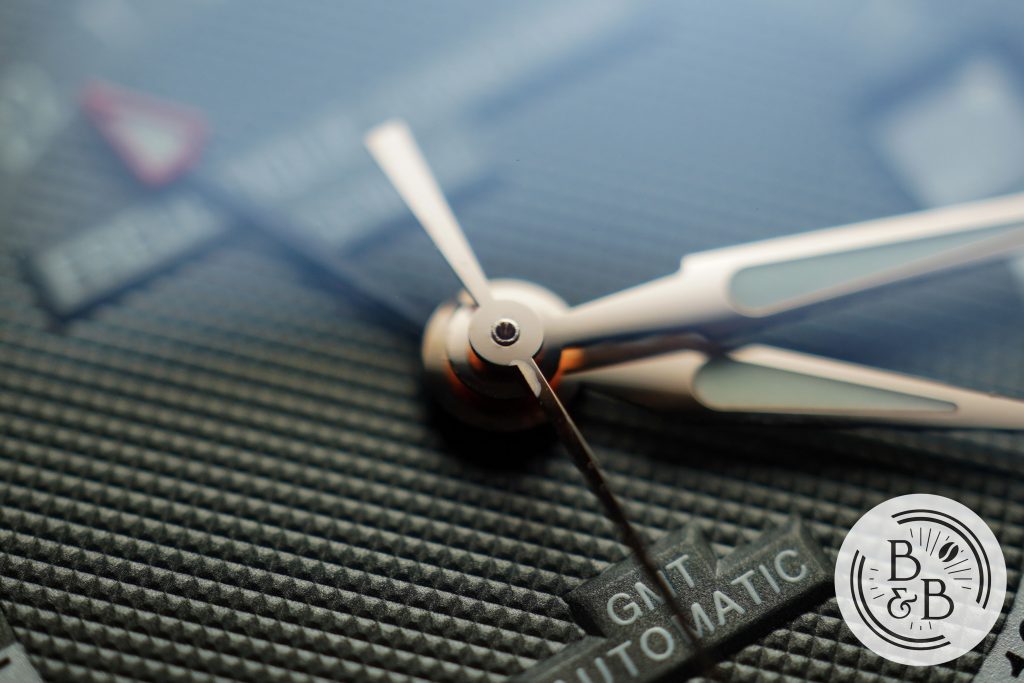 My only criticism with respect to finishing is the seconds hand. I noticed a few micro patches of color discoloration. You can't see this with the naked eye, but they are visible under a macro lens or loupe.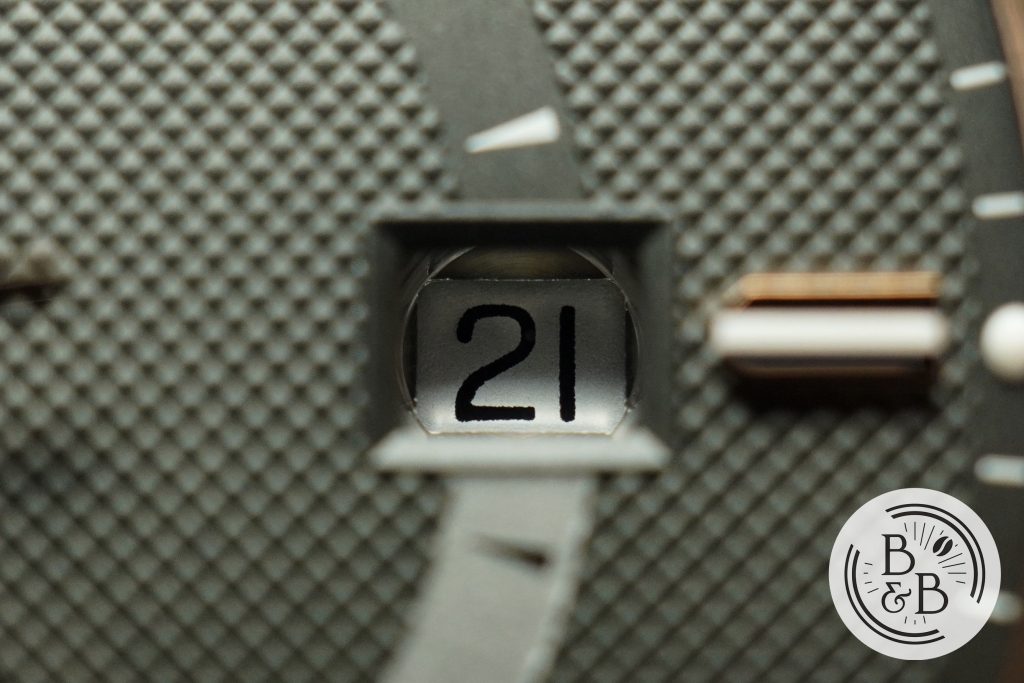 Overall, seconds hand aside, this dial is excellent, and I love the overall choice of colors and dial layout. The cyclops inside the date window has also slightly blown my mind.
---
Lume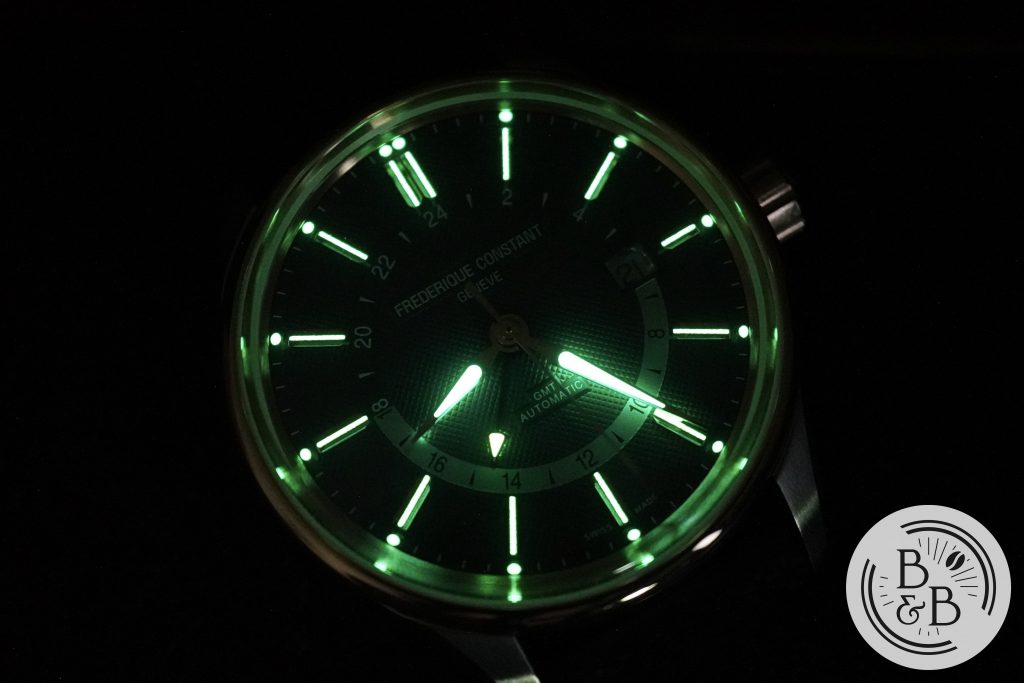 I don't expect watches like this to have any lume, and definitely not good lume. I was surprised by how elaborate the lume design is, with lumed hour pips, lumed indices, and lumed hour and minute hands.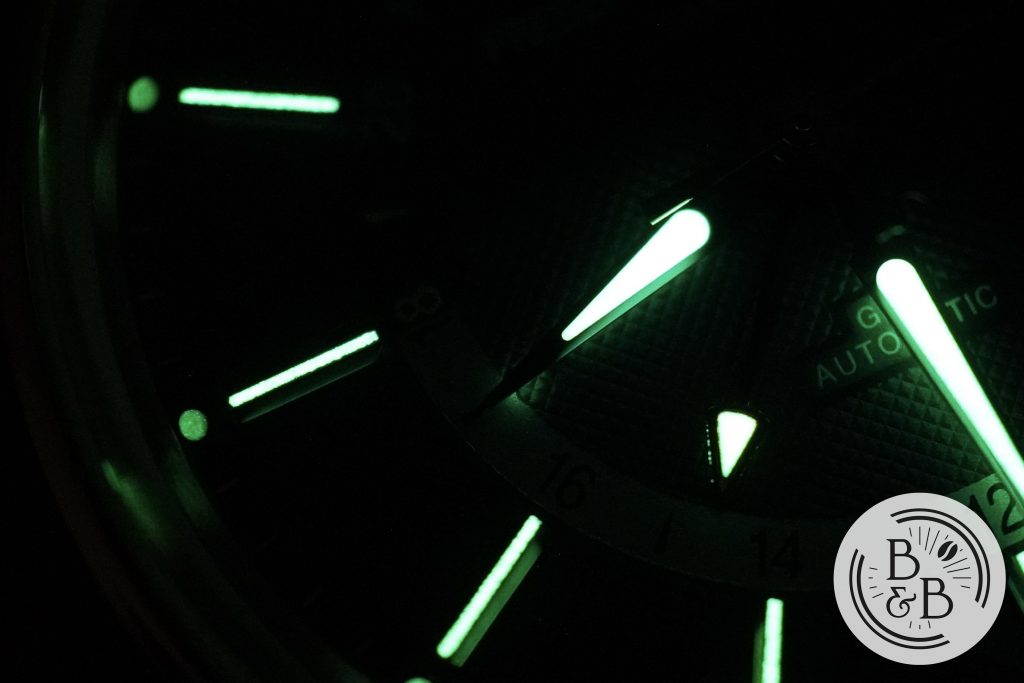 The GMT hand is also lumed. All the lumed elements appear to be using C3 Super LumiNova.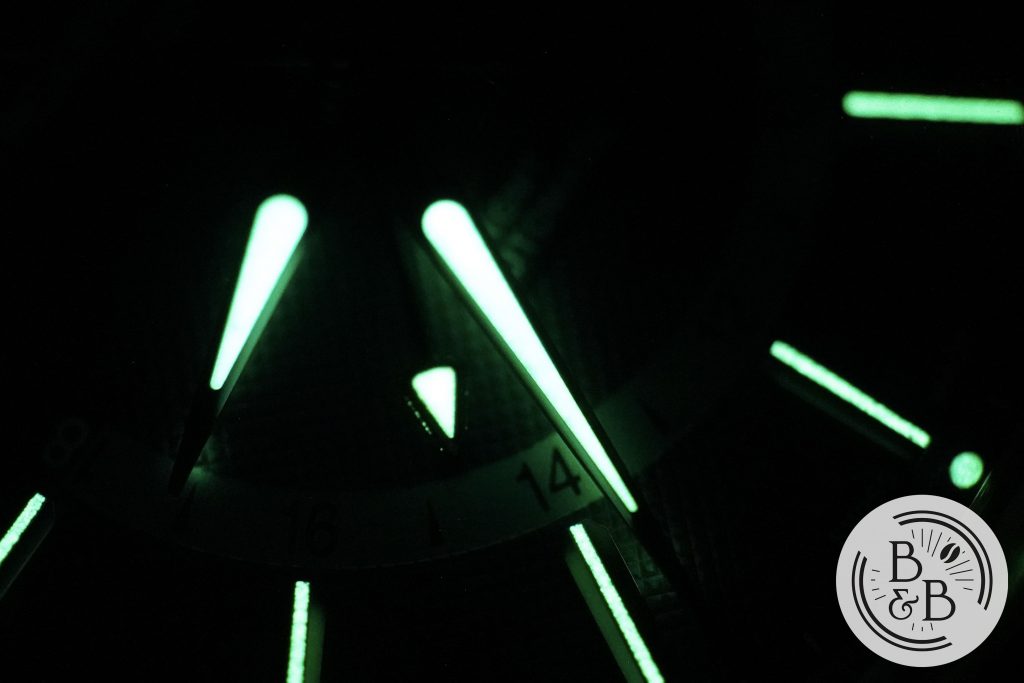 They are reasonably bright, and hold their charge well for a dressy sports watch. No complaints from me here.
---
Bracelet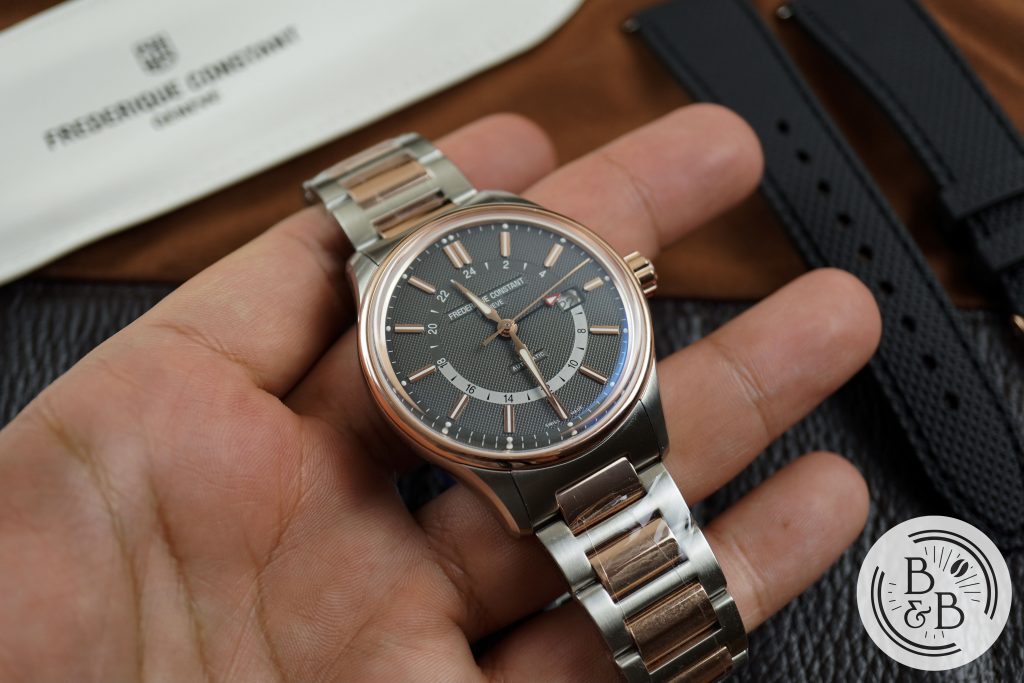 I did you all a bit of a disservice here, and didn't actually unwrap the bracelet. Since I plan on selling this watch after my review, I didn't want to risk adding too much wear to it.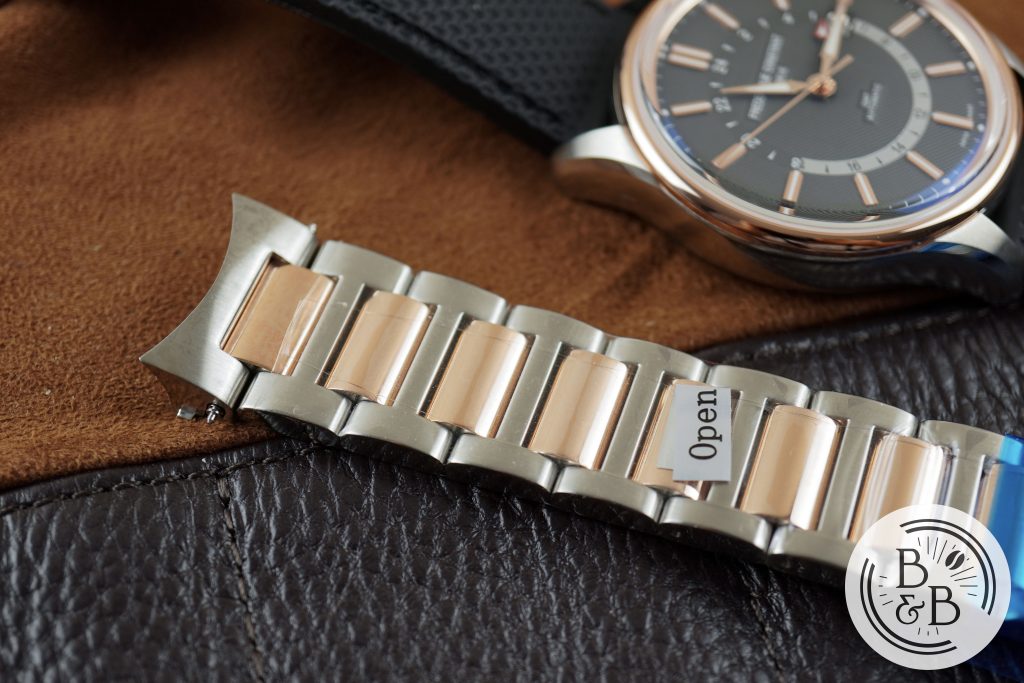 I can, however, comment on the end link fitment, which is excellent. And the bracelet feels pretty solid with a decent amount of weight to it. It's got a butterfly style clasp, with half links included. For a dressy watch like this, I don't mind a butterfly clasp system.
---
Movement
This watch is said to use an FC-350 movement, which is typically an ETA 2824 or Sellita SW200 base movement with an in-house GMT module built on top of it.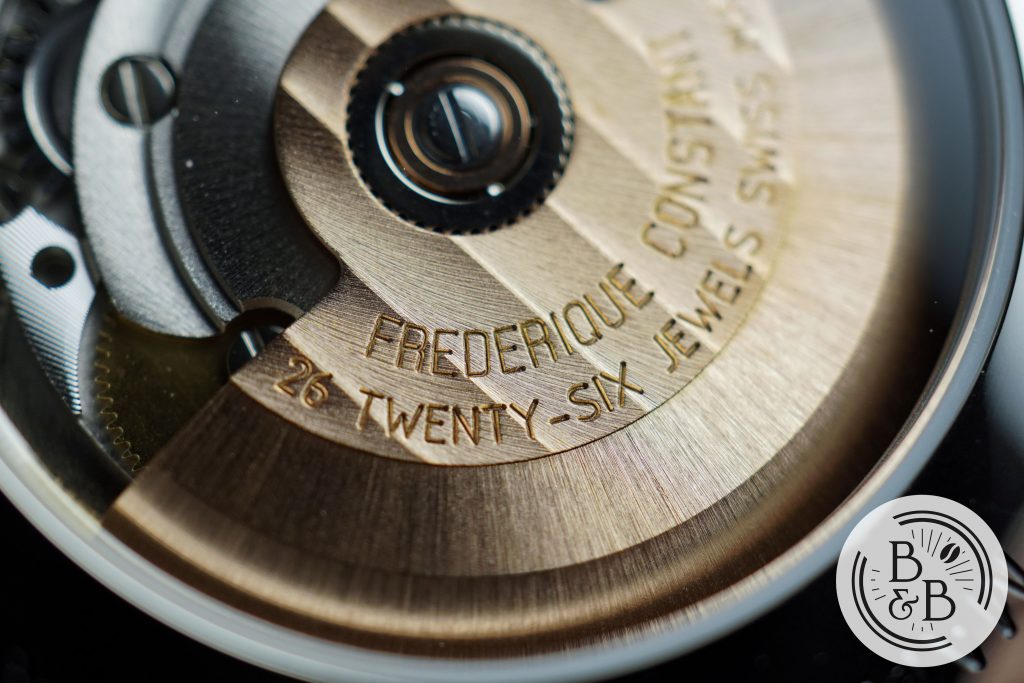 It has a beautiful rose gold colored rotor that is engraved with the brand's name.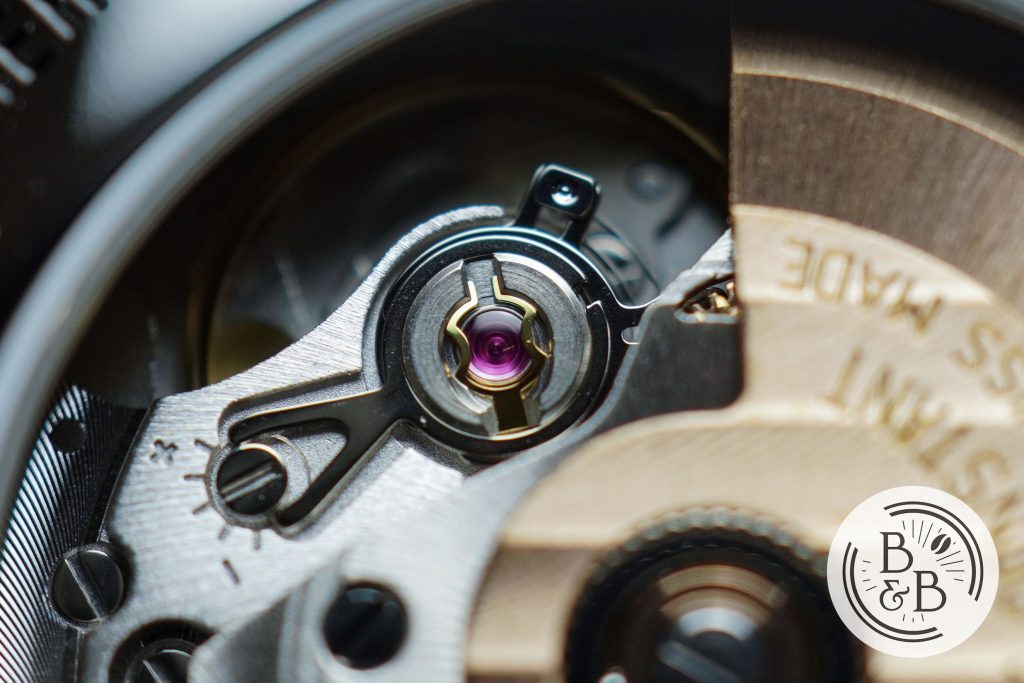 It appears to be reasonably clean too, indicating decent quality control protocol.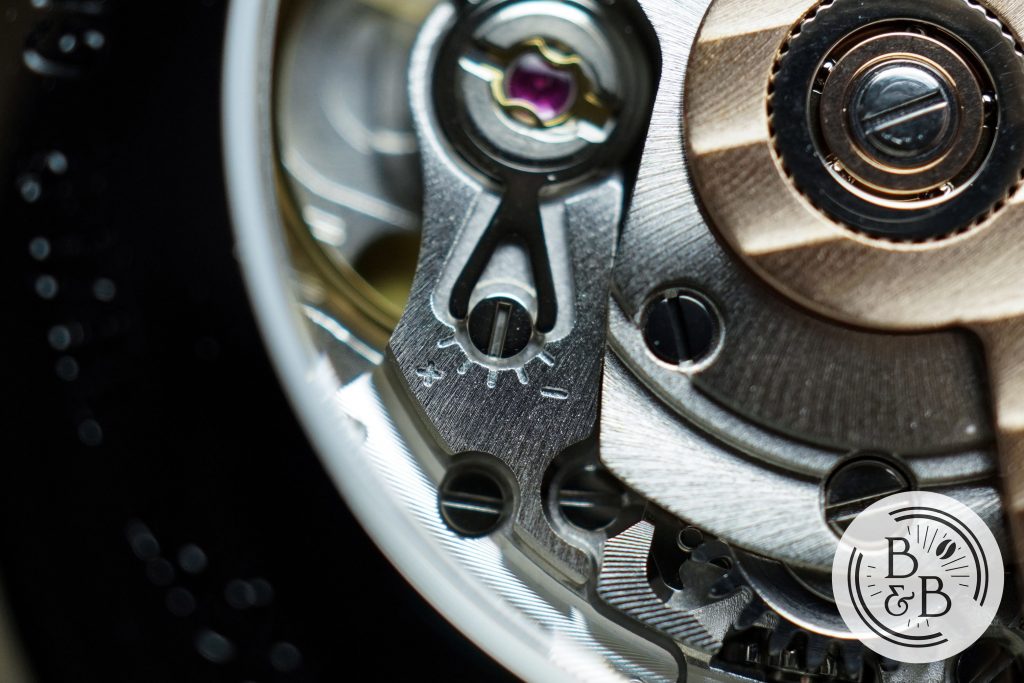 On my time-grapher, I was seeing about +9 spd in the dial-up position. So not the best regulation in the world, but still good accuracy within acceptable bounds for an ETA 2824 or Sellita SW200.
---
On The Wrist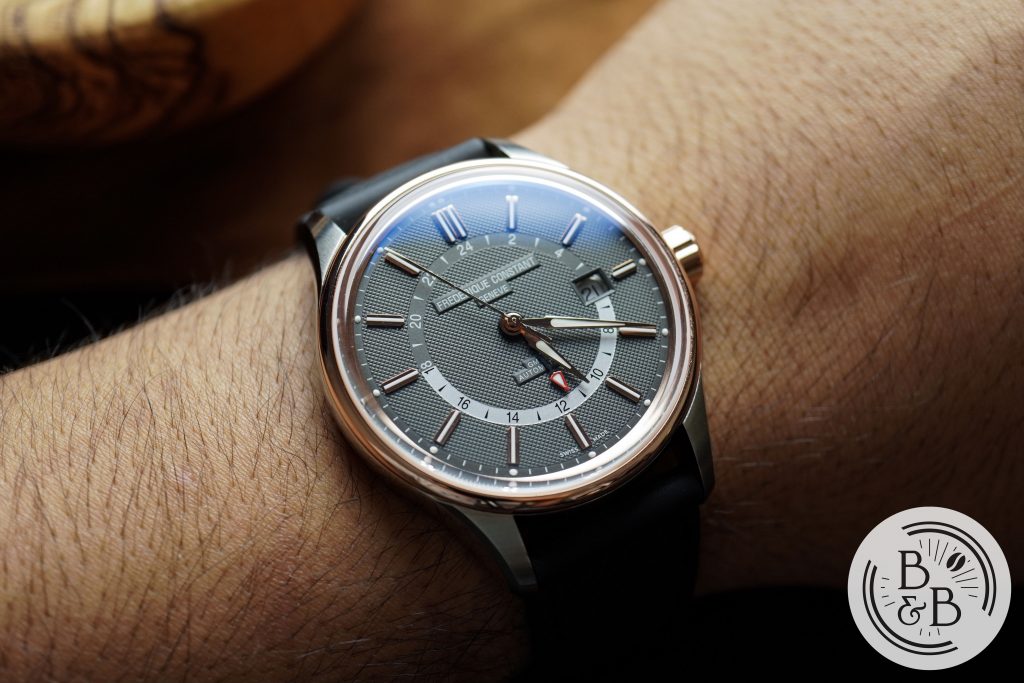 I typically avoid 42mm diameter watches for my 6.25″ wrists. I measured this one to be around 41.75mm in diameter, 50mm from lug to lug and roughly 12.5mm in height.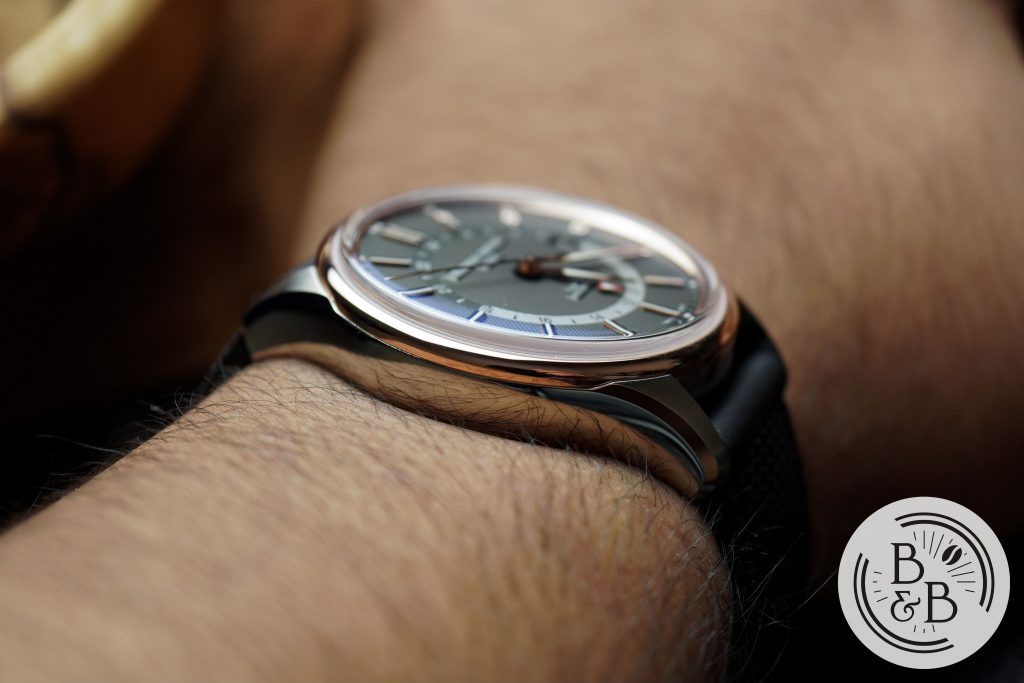 I think I'd be willing to wear this watch because of how sleek the case feels on the wrist, mostly because of the super flat case-back and the curved lugs. It is actually very comfortable, and doesn't feel as large as you might think.
I only spent time with the included rubber strap, and the watch was very comfortable on the wrist. The quality of the strap is good too, with matching rose gold hardware that is signed.
---
Concluding Thoughts
Overall, I think the roughly $2000 retail price is a bit steep for this watch. But as with many of these old school luxury Swiss watch brands, their retail prices mean very little, and you can often find them at pretty significant discounts. So in the $1000 range, this is a good GMT watch option for someone looking for a well designed and well constructed watch, with mostly good finishing. I think the hands leave room for improved finishing, but the rest of this watch is spot on.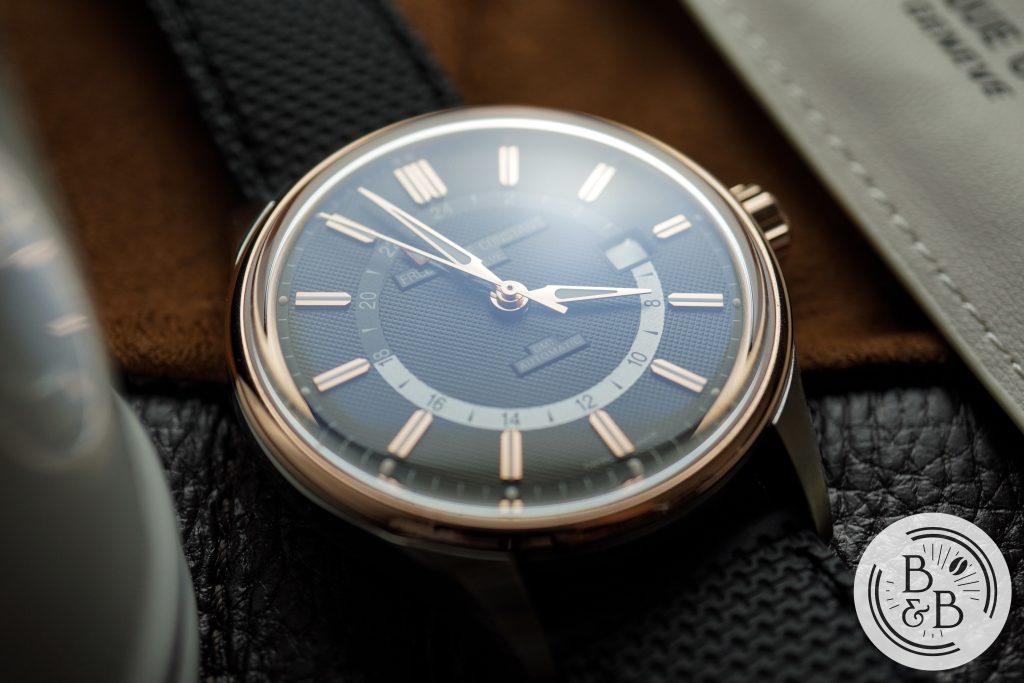 $1000 is still a lot of money, but with brands like Lorier and Baltic playing close to this price target, I think a significant part of the affordable micro-brand appeal wears off for me, and makes room for more established brands like Hamilton, Frederique Constant, Alpina, etc. to get back in the game. Don't be afraid to check these out, they're good watches.
---
Thanks for reading!