---
Disclaimer: This watch was sent to me to review and I was not incentivized in any way to make this review. This is in no way sponsored by Laco or any other entity. All opinions here are my own. Since this watch was worn/used by other reviewers, please make note that the experience might differ from that of a brand new watch.
---
---
Contents
---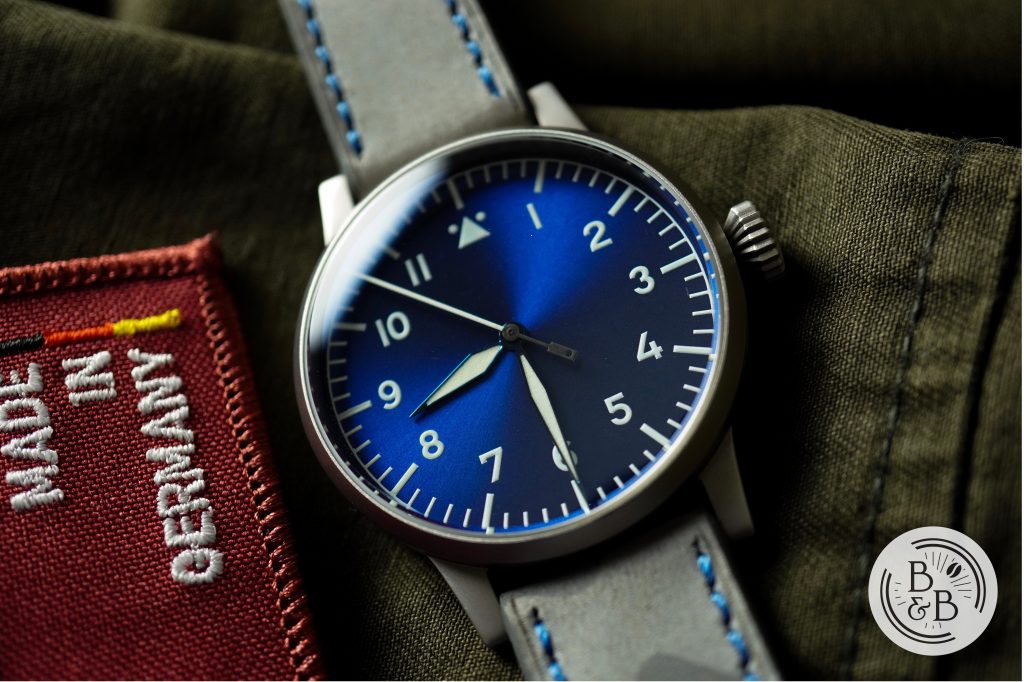 Flieger Watches
Owning and wearing a mechanical watch, to me, is a form of self expression. Different watches evoke different feelings of uniqueness, and that transfers over to how I feel as the individual that wears them. This has as much to do with how a watch looks and feels, as it does how it functions. So the idea of an entire genre of watches (Fliegers – pilot & aviation watches) made by a handful of watchmakers that all look very much alike, without any "unique personality" (or so I ignorantly believed), didn't resonate with me. But even in my narrow-mindedness, I could still appreciate every aspect of the Flieger watch that defined it's purpose – to be accurate, durable and effortlessly legible. I'm not an expert in the field, one that has a rich and illustrious history, so I will point you to the direction of two experts – Bhanu Chopra and Mike Stuffler, and their excellent articles and reviews on the topic.
As I got more interested in German watchmaking, it became obvious to me that I had to get some experience with these watches. I reached out to Laco to ask if I could review theirs, as they are one of the few brands that were selected to manufacture these watches for the German Airforce during WWII. Additionally, they also still produce watches quite close to the original WWII fliegers. They were kind enough to agree, and allowed me to decide which one to review. It should come as no surprise that I was automatically drawn to their line of blue fliegers, and I decided to request the Type A (Baumuster A) dial option, i.e the Münster Blaue Stunde from their Original Series. This watch typically retails at around $1100 – $1200 USD.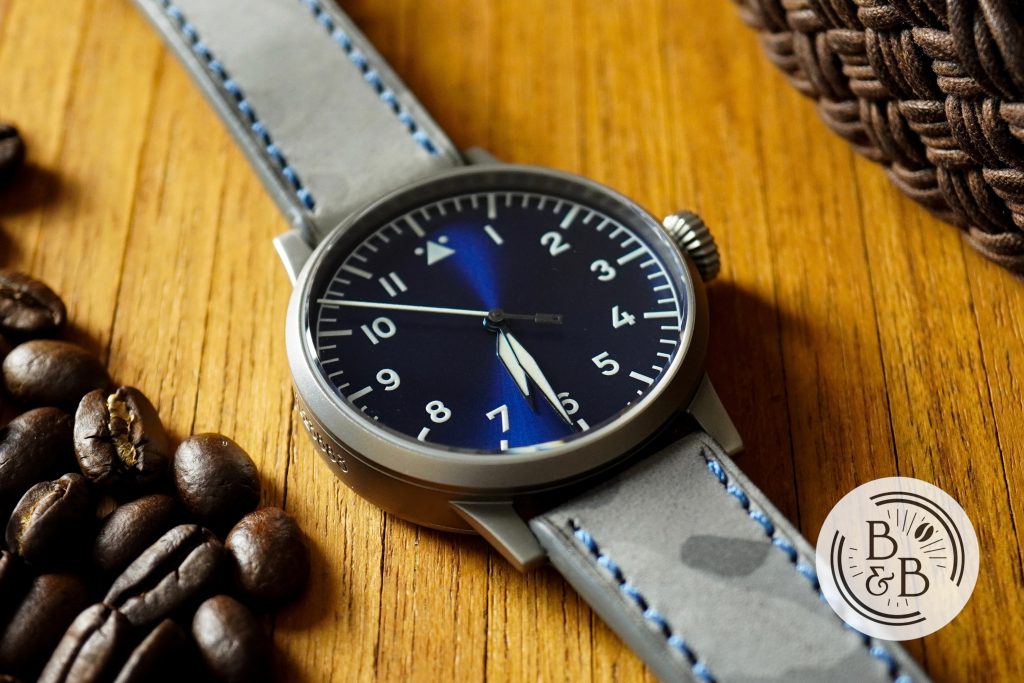 While this beautiful blue flieger is a departure from the original aesthetic, I personally believe it is the perfect bridge for those that appreciate the flieger design, but also want a bit more of the 'X' factor that makes certain watches more visually appealing than others. For the purists, Laco does make watches that are much truer to the originals, like their 45mm Dortmund and their 42mm Leipzig. And for the most hardcore of collectors, maybe the 55m Replika or one of these vintage Durowe D5 based Laco fliegers will do the trick?
---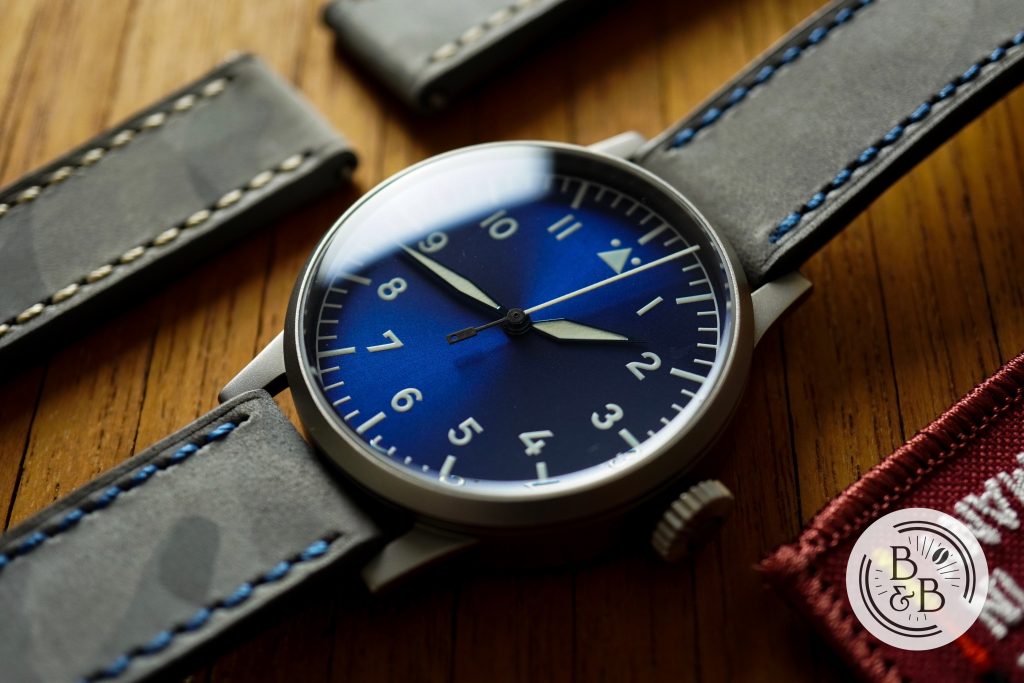 Case
The original flieger watches measured in at an impressive 55mm in diameter and over 20mm in thickness. This large diameter aided in visibility. So no, German pilots didn't have unusually large wrists – these watches were typically worn over pilot jackets. And given that they were originally powered by pocket watch movements (Durowe D5 in Laco's case), some of the pocked watch design cues carried over to these watches as well – from size to style.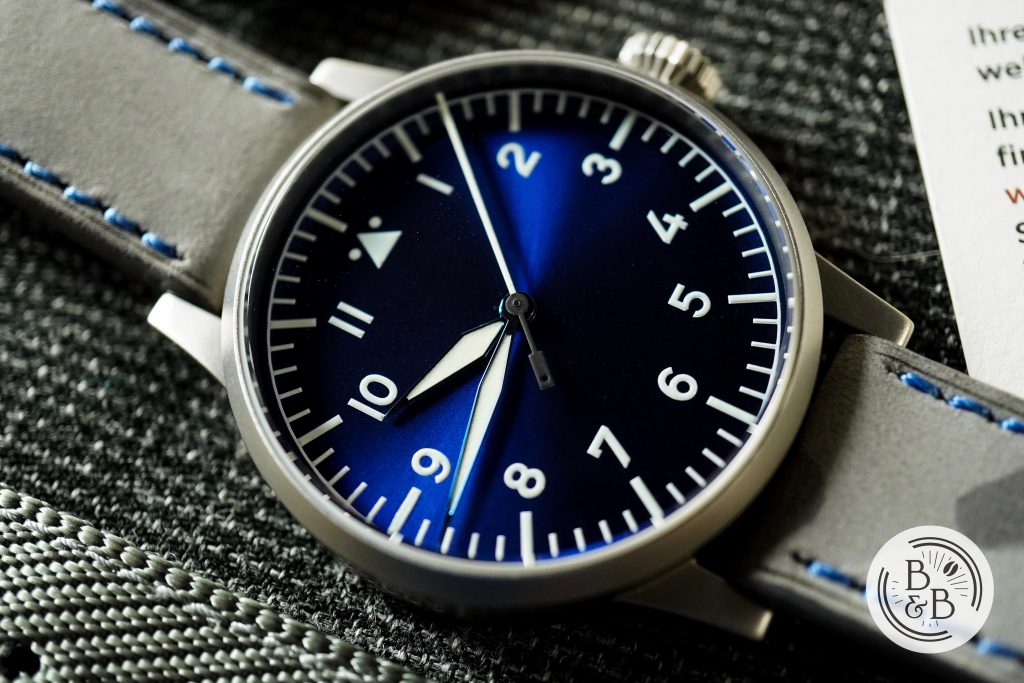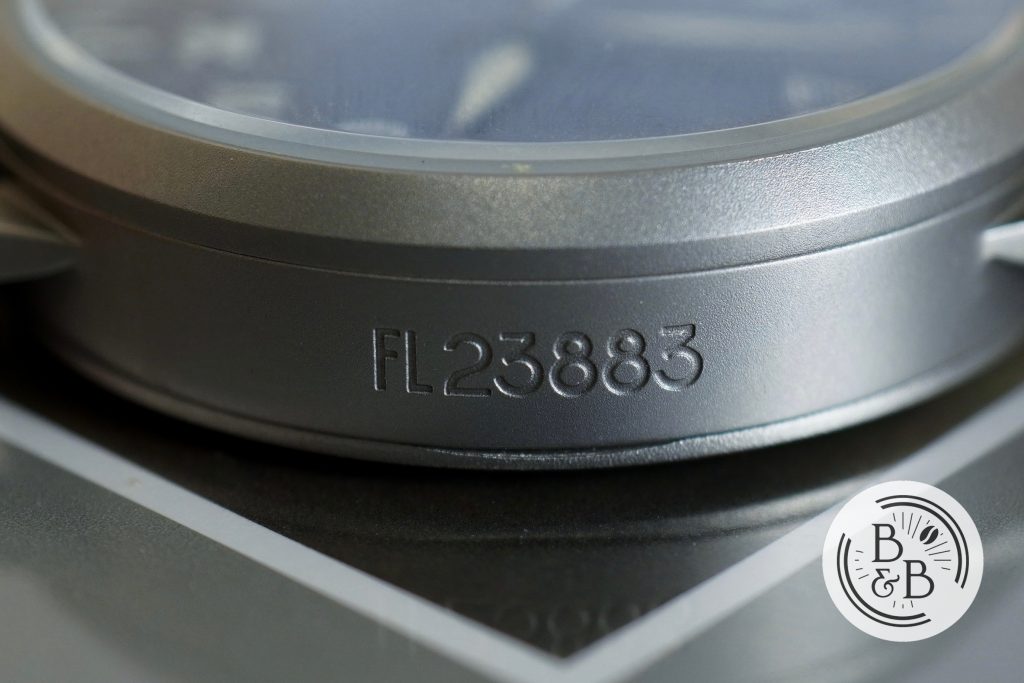 The Münster still echoes these design attributes with it's 42mm diameter case, 50mm lug-to-lug width and it's hockey puck like shape. The top of the case is slightly beveled and smooth to touch. The entire case is sandblasted, giving it a beautiful texture that is smooth but not shiny. Just like the original, the case has FL23883 engraved on the left flank. According to this article, 'FL' indicated that this was registered aviation equipment, '23' indicated that it was a device used for navigation and the '883′ code was to signify that this watch passed the necessary tests.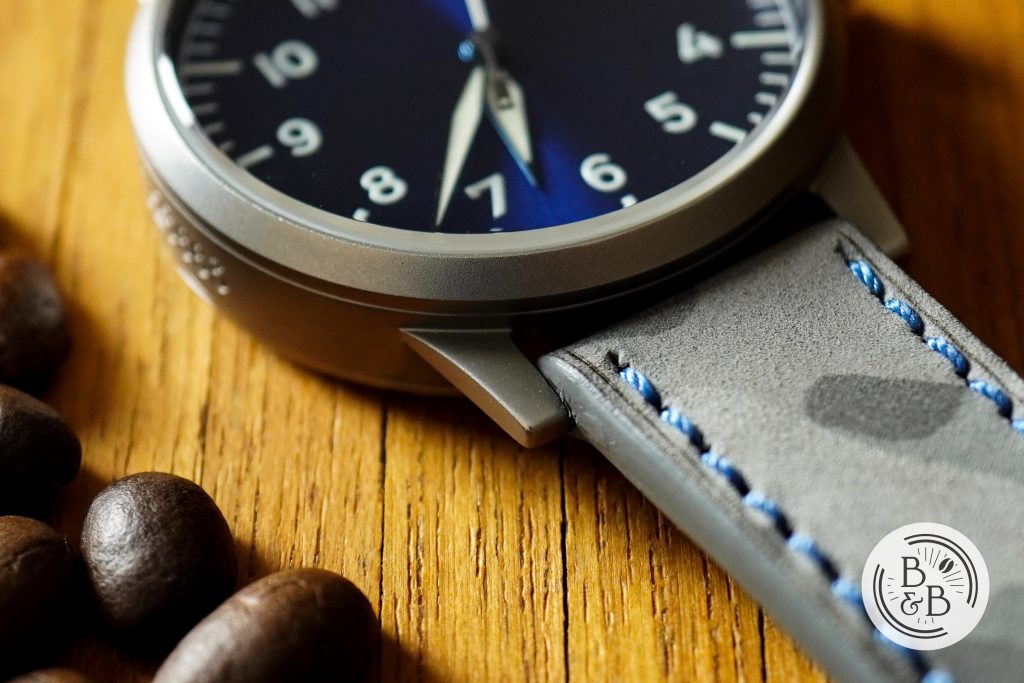 The lugs are narrow, thin and extend straight out of the case just as they did on the original Laco fliegers. This is one of the aspects of the case I was worried about, since typically I prefer watches that have curved lugs that are angled to wrap around the wrist. My worries were only with respect to comfort, because in terms of appearance, I've grown to love these lugs. Laco appears to be one of the few brands that offer these authentic lugs and I respect them for it. This one design aspect makes the watch even more convincing as one that continues the flieger heritage.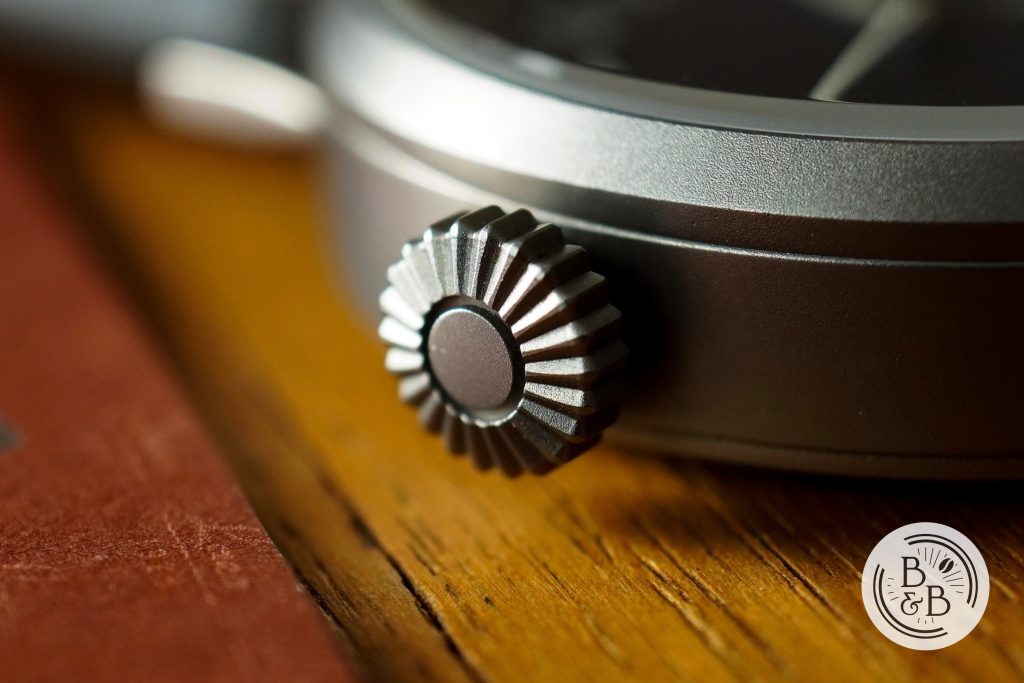 To be able to operate these watches with gloves on, they typically had oversized crowns that were easy to grip. Similarly, the Münster's crown is very easy to grip and operate and comes in at roughly 7.75mm in diameter. This could be considered oversized given the case is only 12.8mm tall, but to me it feels perfectly proportioned. But then again, I like big crowns and I cannot lie. The crown action is excellent – stable, with no crown or stem wobble.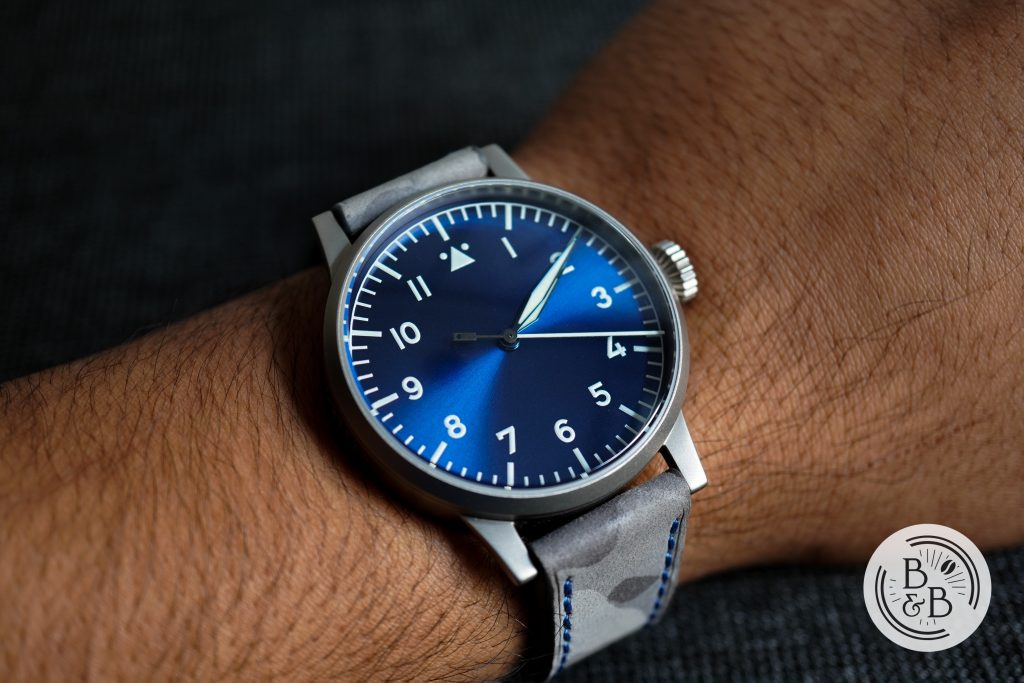 The crystal is very impressive, and just by looking at it you can tell they've used a very high quality double domed crystal. There is little to no distortion and the viewing angles are excellent, just as you would expect from a pilot's watch. There is adequate anti-reflective coating on the watch, which is another hard requirement for these watches. Overall, I think the choice of crystal here is excellent and it often feels like there's no crystal at all.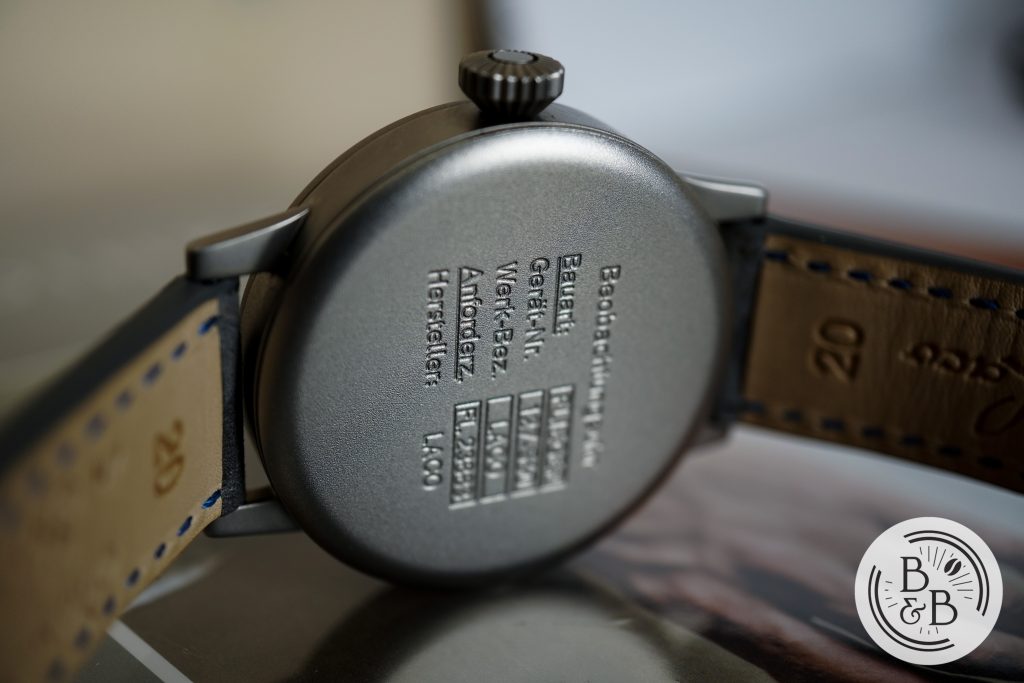 The case-back is a simple solid snap-on case-back with details of the watch such as the movement, manufacturer and it's purpose. To my knowledge, these inscriptions were originally found on the inside of the case-back on the original watches. Both the case-back and crown do not screw down and the watch is rated for only 50m of water resistance, which according to Laco's watch manual suggests only exposure to water splashes and bathing. Let's be real though – if a pilot finds himself/herself in the water, he/she's got more to worry about than his/her watch.
The quality and finishing of the case is excellent. I'm very impressed with the case finishing and I don't believe pictures can do this case justice as it ends up looking very boring and unassuming in photographs and videos.
---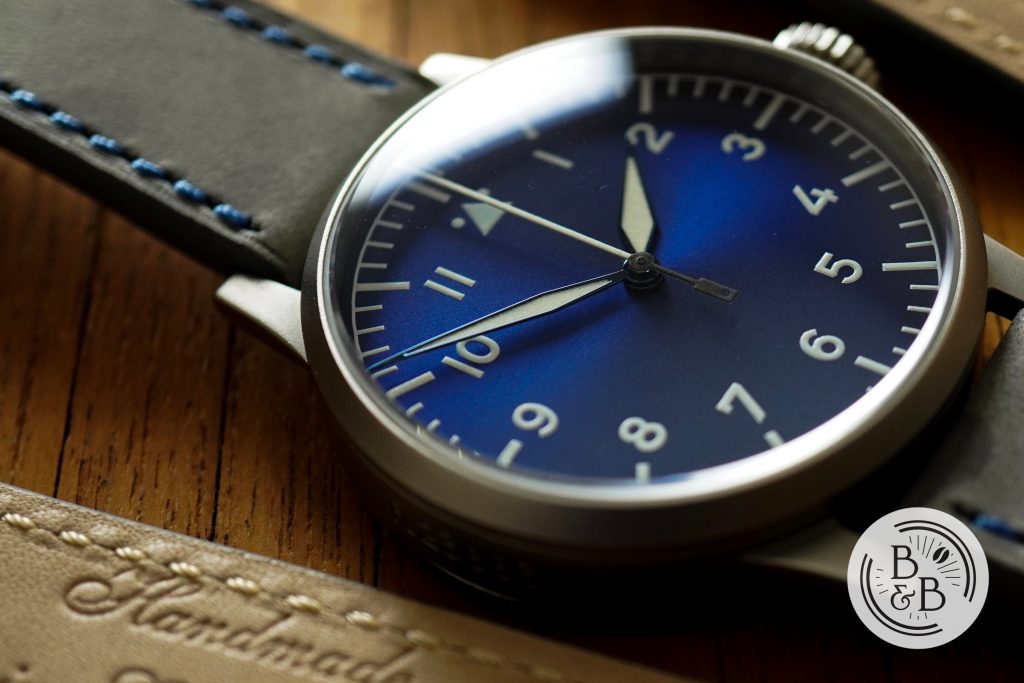 Dial
The Münster is a Flieger Type A dial with hour numerals from 1 to 11. I prefer this dial type for the blue dial option as the excellent color comes through more easily thanks to the empty space. In keeping with the spirit of the original WWII fliegers, the dial lacks any branding or text. The only notable design element is the triangle that replaces the 12 o'clock hour marker. This triangle, along with the two dots, was introduced to help the pilot quickly discern the orientation of the watch, and provides a reference or pivot for reading the dial in general. Every painted element on the dial is also lumed with C3 Super-LumiNova.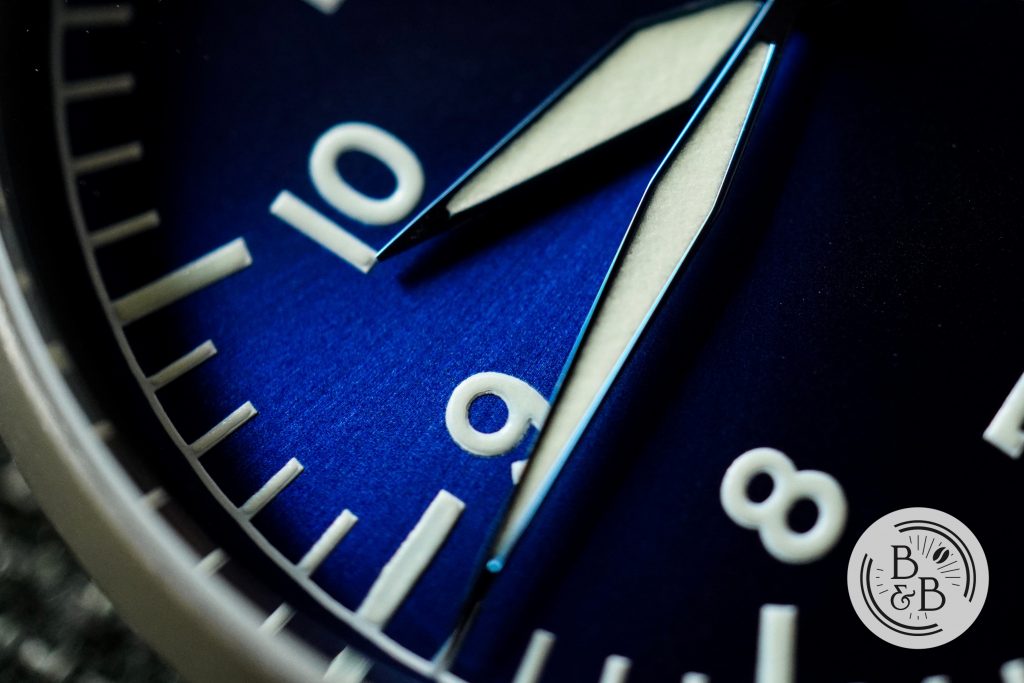 The base of the dial is a stunning matte blue. This matte surface isn't free of reflective shimmer like the original watches were designed to be, but this was obviously done intentionally to let the blue color shine through, and I wholeheartedly welcome it. The choice of color and finish is perfect. I'm a self proclaimed connoisseur of blue dials, and this dial is definitely in the top 1%. It's not too vibrant or loud, but it's not disappointingly dark either. This isn't one of those dials that looks black indoor and bright blue outdoor either. It maintains a lot of it's color even under low light and gets incrementally more vibrant under direct sunlight. This blue dial definitely gets the Beans & Bezels Blue Dial Seal of Approval (No there isn't one, but if there was, now would be the time I used it).
The hour and minute hands are typical sword style hands. They are thermally blued and finished very well. The hands are generously filled with C3 Super-LumiNova. Both the minute and seconds hand extend right up to the edge of the dial, which makes timekeeping very easy. The seconds hand is a simple white rectangular hand with a matte black counter weight.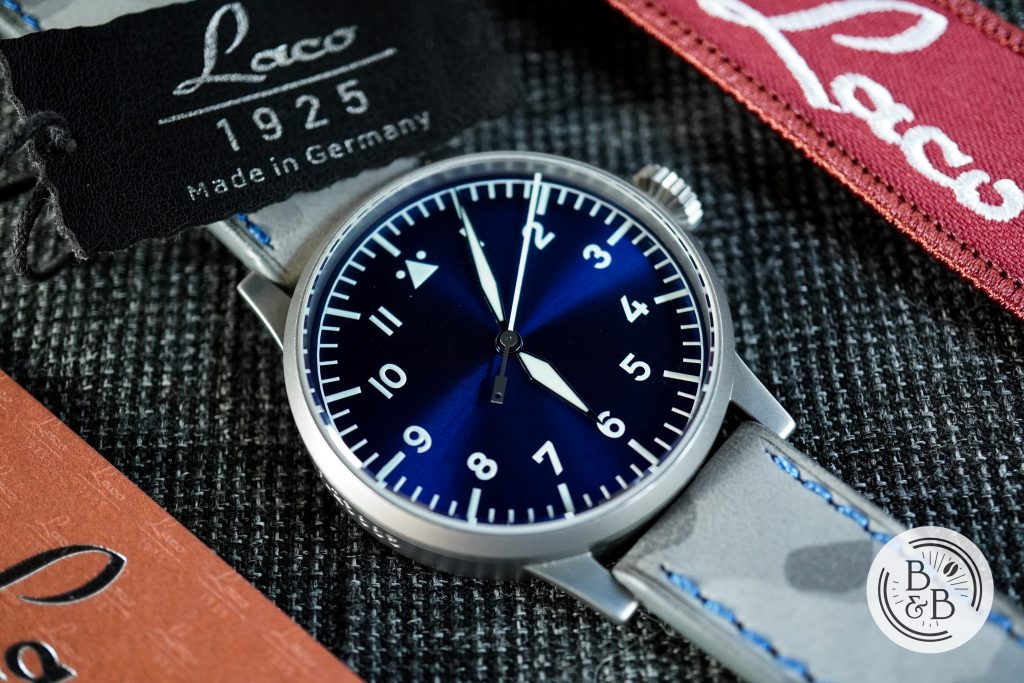 Overall, the finishing on the dial is exceptional. I couldn't find any dust or dirt on the dial, the painting and lume application is very good and the hands appear to be finished very well too. The underside of the hands appear to not be finished the same way as the top, but if you're familiar with WatchFinder's excellent macro work, you'll know that even watches 10x the price don't do this either.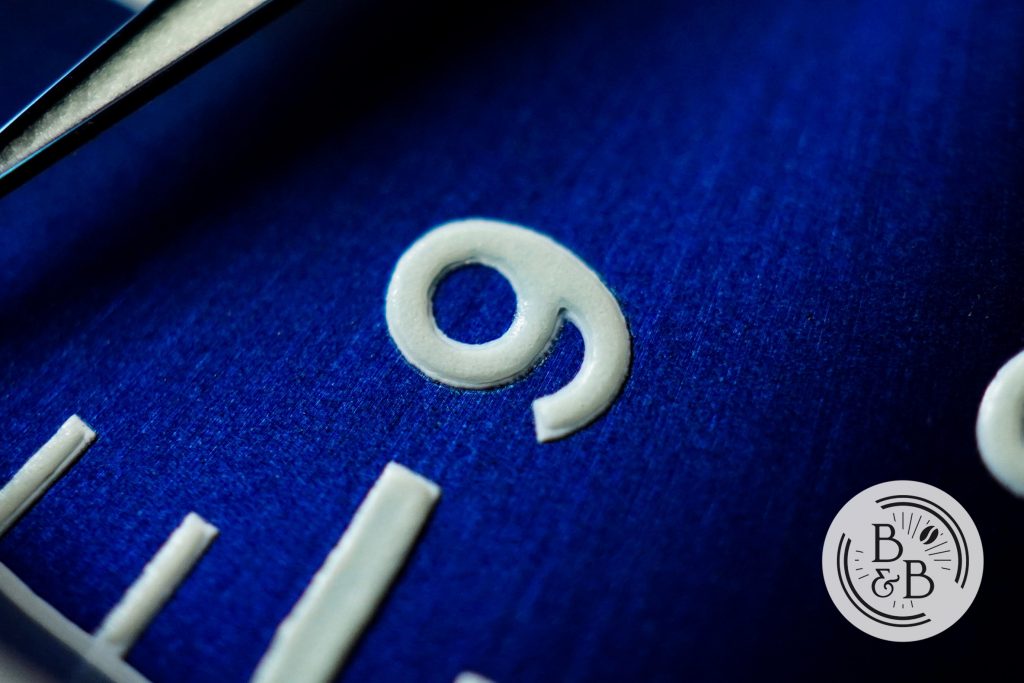 ---
Lume
As I mentioned above, every dial element is lumed, except for the outer dial ring. The hands are well lumed, but the seconds hand is particularly impressive. Instead of applying lume to only the tip of the seconds hand, the entire hand is lumed and this looks amazing. I love watching this hand at night, and when in motion it reminds me of a lightsaber. The lume is bright and holds it's charge very well. I can read the dial clearly well into the night, and the legibility is almost undiminished from that of the daylight viewing experience.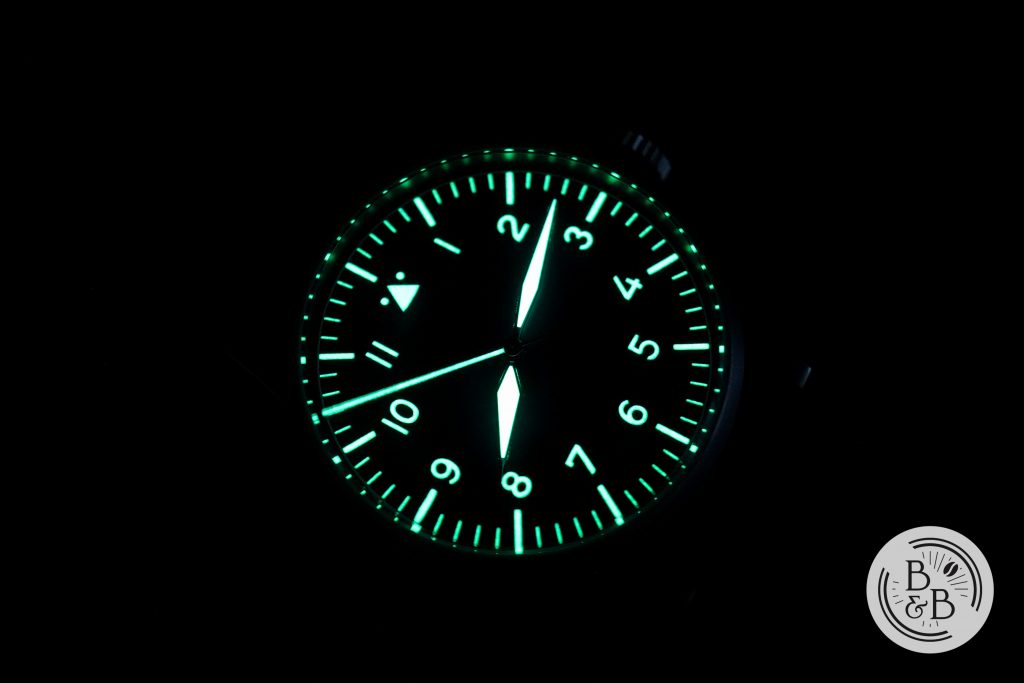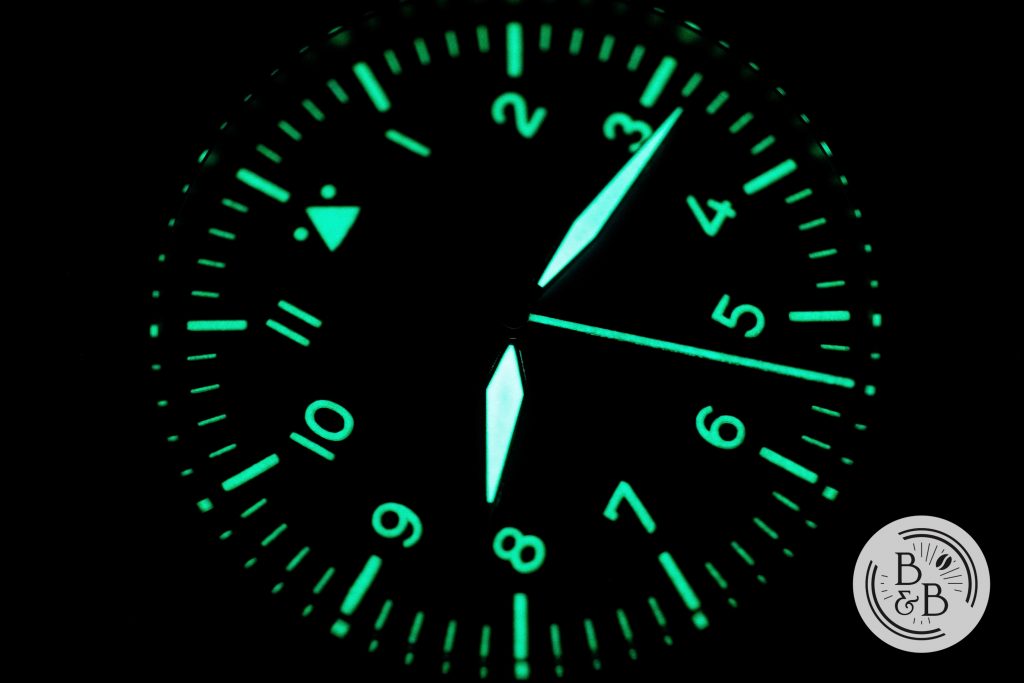 ---
Movement
This watch uses an ETA 2824.2 (Elaboré) movement, but can also be upgraded to the Top Grade variant for another $150 USD. I logged the accuracy of this watch over a 5 day period and observed roughly +2.2 spd, with impressive bounds on variance. No complaints here whatsoever!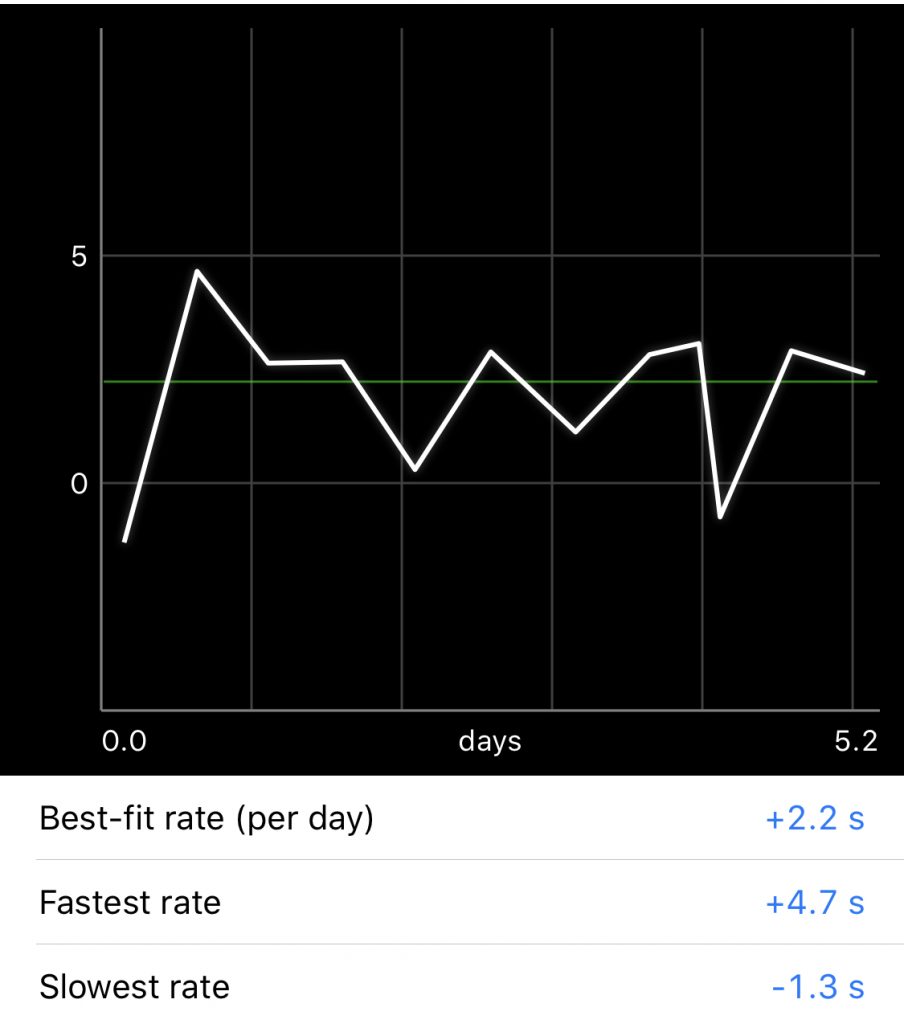 ---
On The Wrist
The 42mm case diameter and 50mm lug-to-lug width are on the larger side of what I would typically wear, given my modest 6.25″ wrist. But given that flieger watches are meant to be large, I decided to give this a shot. I also recently reviewed the Limes Endurance GMT which had similar lug-to-lug dimensions and wore great. The 12.8mm case height is great and it sits pretty low on the wrist. I think the dimensions are perfect if you're after the slightly over-sized flieger watch aesthetic, and I think I'm sold on it. The perceived large size has more to do with the size of the dial, rather than the case. The 42mm case is almost all dial, so this does make it appear like a larger watch than it actually is. Initially, having the lugs 3-5mm above the wrist felt strange, but I quickly got used to it. The straight lugs don't really have a negative effect on comfort as I initially expected, but they add a lot of vintage charm to the watch.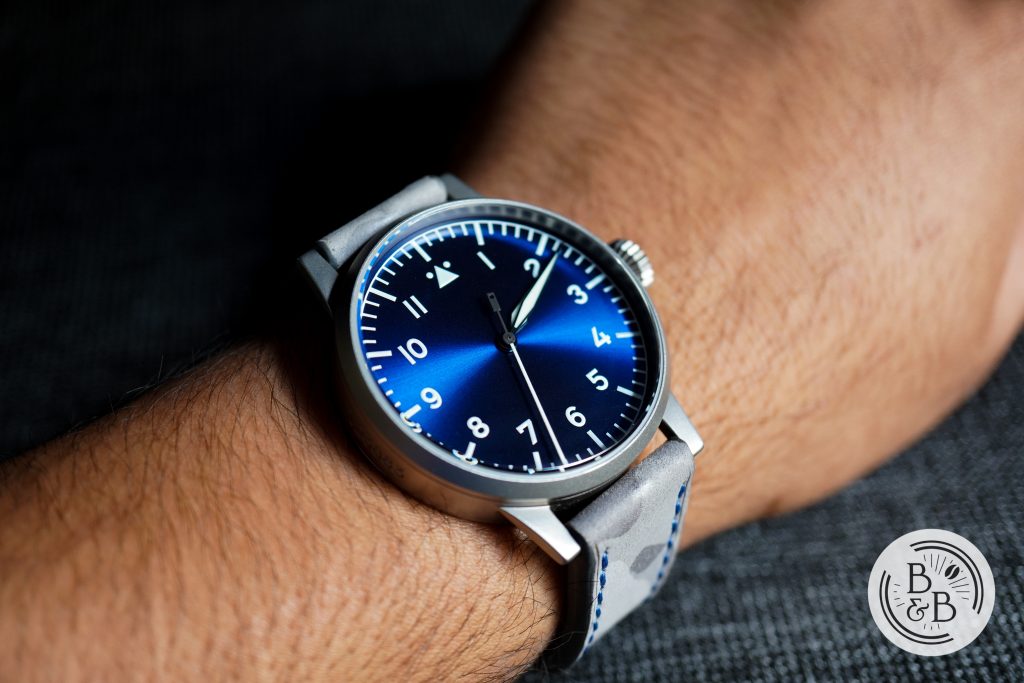 In terms of wrist presence, I think the Original series does an excellent job at trying to cater to all the different wrist sizes and preferences that people might have (39mm – 55mm). But with the blue dial option, there are only 42mm versions available, and I wouldn't recommend this watch for wrist sizes under 6″ as the lugs will start to extend out of your wrists (assuming typical wrist shapes).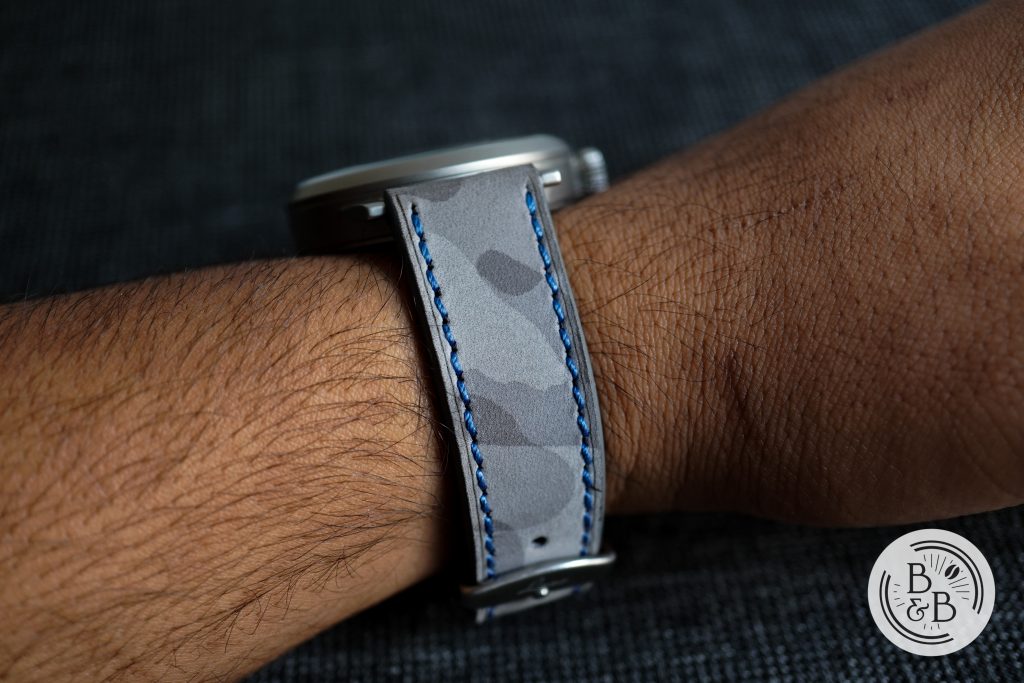 Those particular about blue dials and small cases can look at their Basic series, which I will be reviewing next, or look at Stowa's Flieger Classic 40, which is 40mm and has a more contemporary case design. The blue dial on the Stowa has a more solid color, compared to the metallic/burst finishing on the Laco.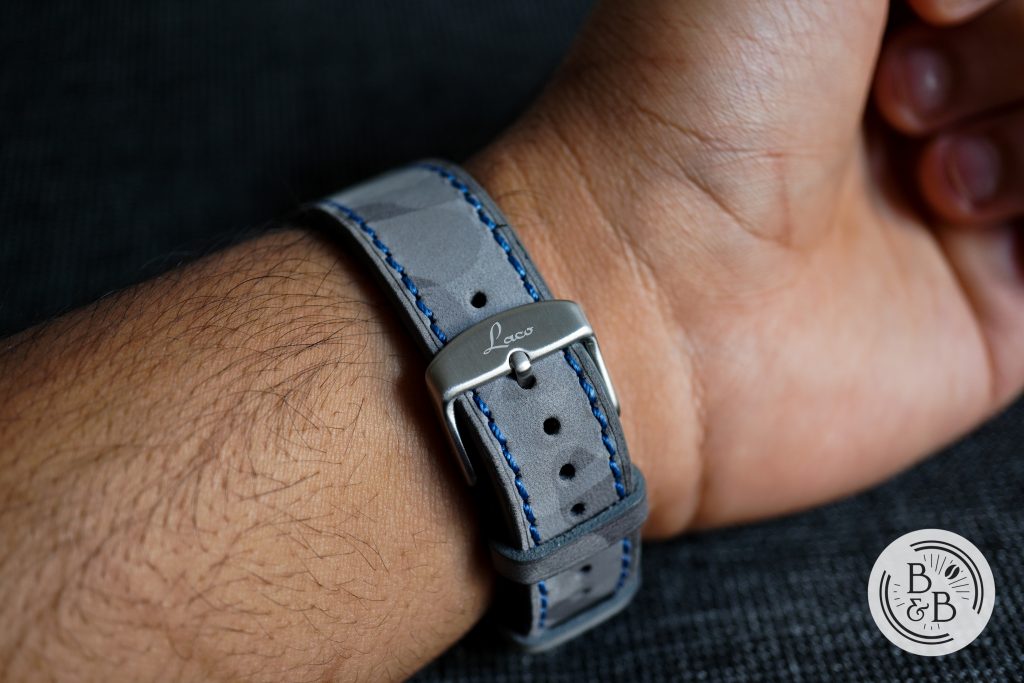 This watch ships with a reasonably good quality two piece nylon strap, but Laco also sent me two of their grey camo straps that I have now fallen in love with. I spent 99% of my time wearing this watch on the blue stitch grey camo strap. The quality of these straps is good, but the colors are awesome and the blue stitching looks great against the dial.
---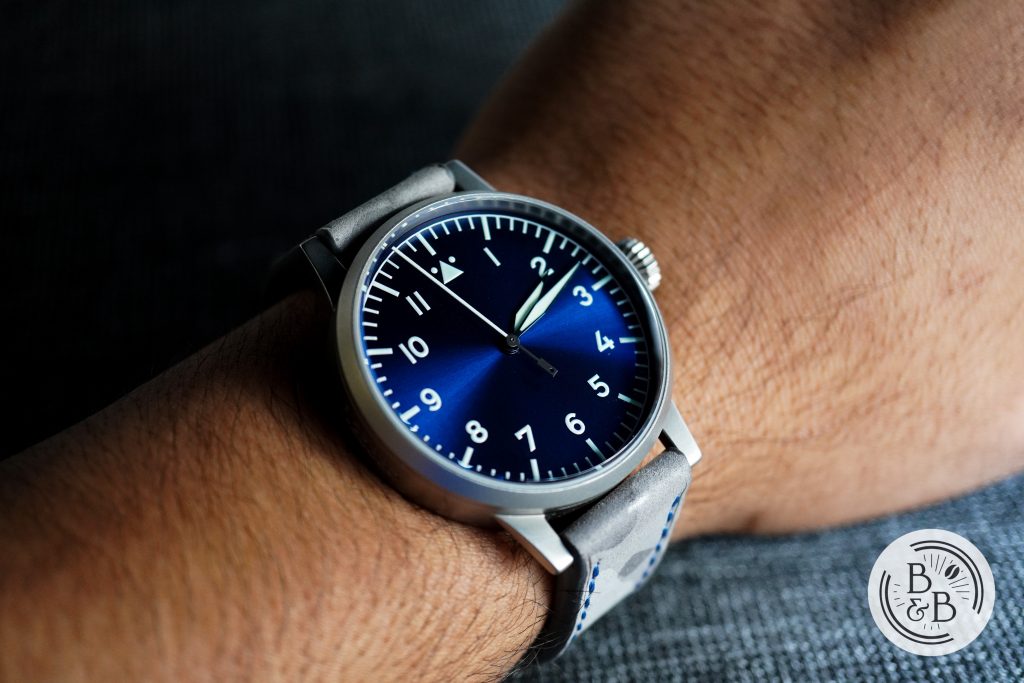 Concluding Thoughts
This has been a somewhat lengthy review, so I'll wrap it up quickly. This watch is perfect for someone who wants an (almost) authentic flieger experience but also wants a bit of color, luxury and elegance. After wearing this watch for about 10 days, I've let go of my pre-existing belief that flieger watches lack individuality. My opinion might be slightly biased since I did experience a relatively more conspicuous dial color (blue), but I think after this experience I'd be happy to own a regular matte black dial flieger too. There's much to be admired and appreciated about these watches that goes beyond the outwardly appearance. To add to this, I also really enjoyed wearing the blue stitch camouflage strap with this watch and I think it puts a modern spin on an otherwise traditional watch. This might just be the perfect combination of vintage flieger design and heritage, and modern trends and preferences.
The build quality and finishing is excellent all across the watch, and Laco seems to be doing all the right things with their quality control. I am impressed! Enough so that I have been contemplating adding a Laco flieger to my own personal collection.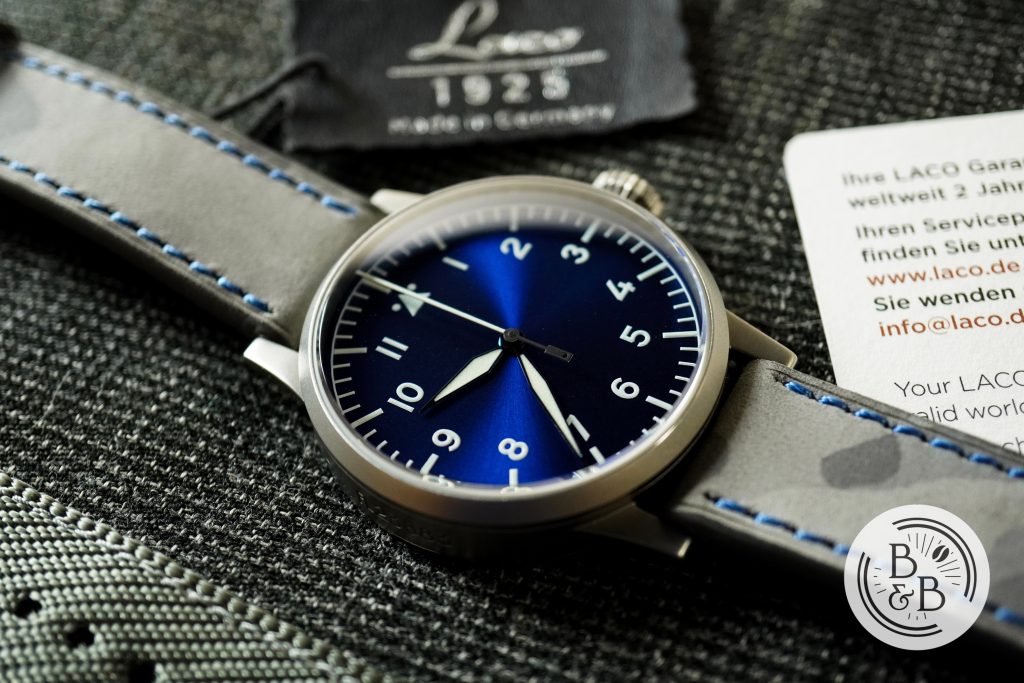 At the roughly $1200 price tag, this watch might be out of budget for some folks. But worry not, there is a blue little something for everybody. The next review will be of the $400 Augsburg Blaue Stunde 39, which has a lot more in common with this watch than you would think!
---
Thanks for reading!