---
Disclaimer: This watch was sent to me to review and I was not incentivized in any way to make this review. This is in no way sponsored by alkin or any other entity. All opinions here are my own. Since this watch is a prototype and was worn/used by other reviewers, please make note that the experience might differ from that of a brand new watch.
---
Contents
---
alkin
Alkin is a British micro-brand based in Bristol, and has been quietly designing and producing some excellent watches. I happened to come across Mike Razak's review of the Model Two for The Time Bum, and I really liked what I saw. Alkin was founded by Charlie Fowler, and after spending a few hours with the Model Two, it was evident that he has an excellent eye for design. The Model Two is a compressor-style dive watch and these watches appear to be making a small come-back in the microbrand world. The Jaeger-LeCoultre Polaris is one of my all-time favorite watches, so you can say I have a soft spot for these watches.
The Model Two is currently available for pre-order at a very reasonable price of $450.
Let's check it out!
---
Case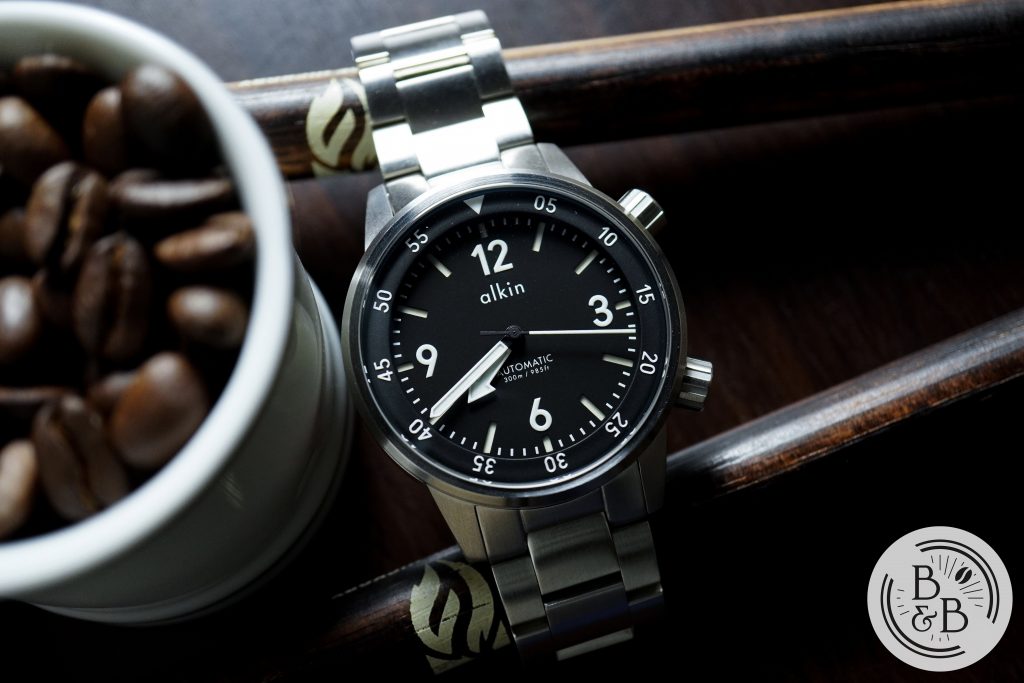 The case is 41mm in diameter, 48mm from lug-to-lug and 12.8mm in height. These dimensions make it accessible to a wider range of wrist sizes. The case appears to be a three-piece construction, that is entirely brushed. There is a beveled upper case component (the bezel), that supports the slightly domed sapphire crystal.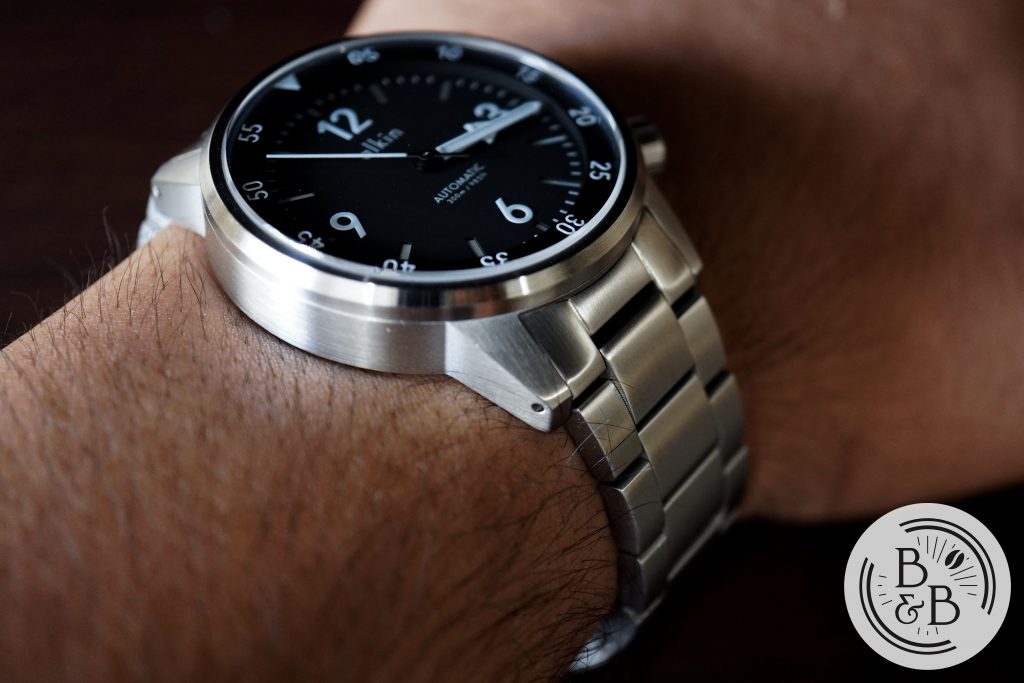 The circular silhouette is aggressively broken by the angular lugs that bend towards the wrist. The lugs span the entire height of the mid-case section and taper down nicely with well defined surfaces.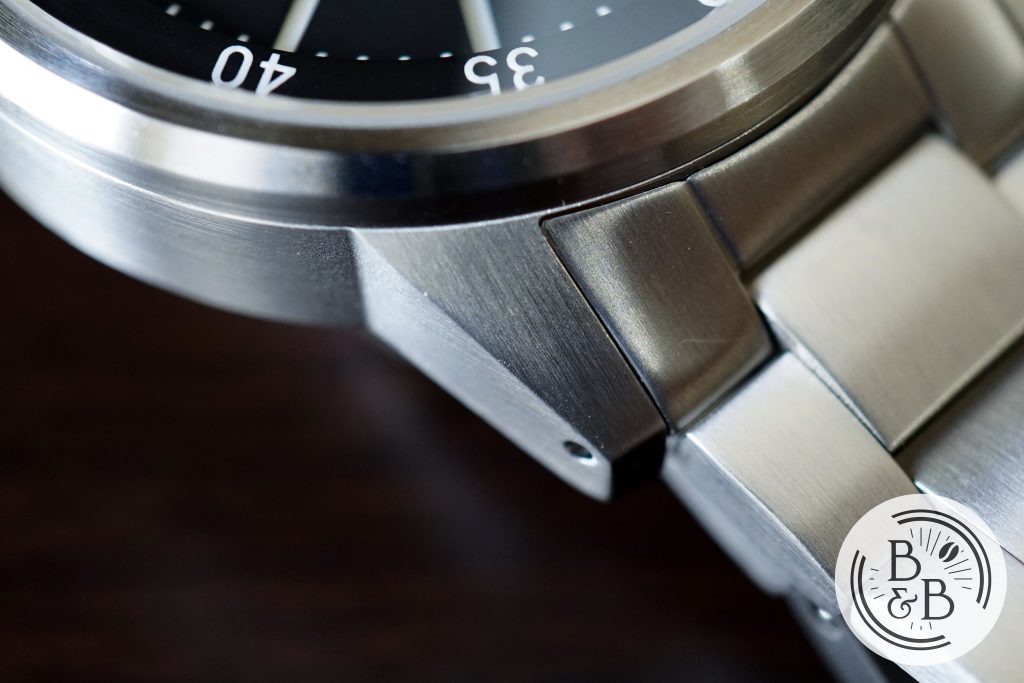 I really like the lug design and I think it suits the case design perfectly. The lugs are drilled through, so strap changes are a breeze.
The lugs, case and end links sit quite snug with just a little wiggle room on one side of the case.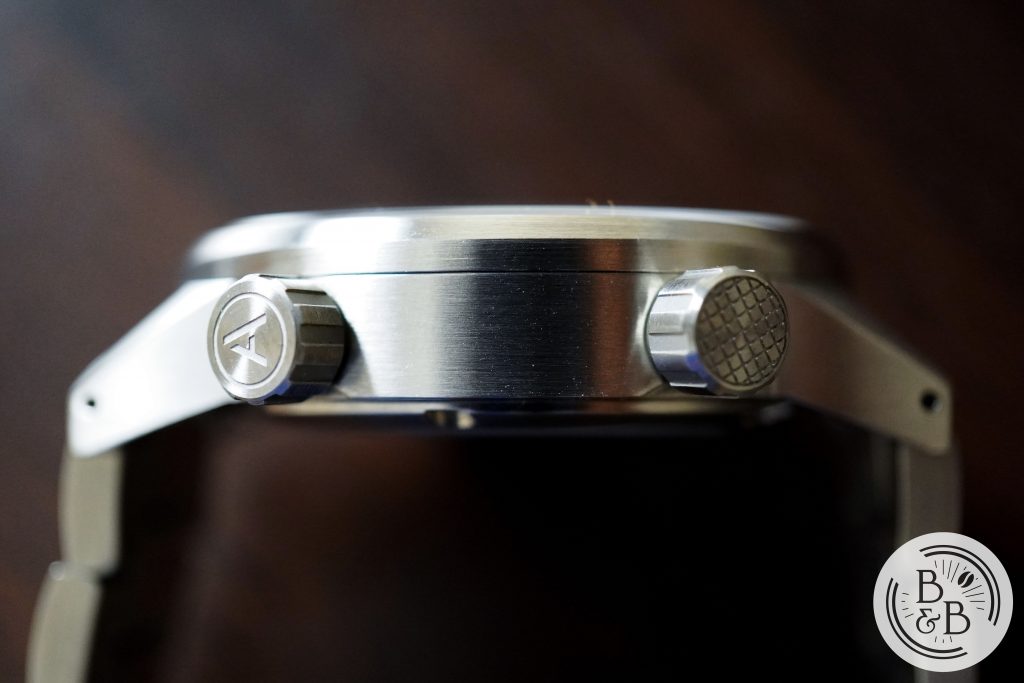 Since this is a compressor style watch with an inner rotating bezel, there are two screw-down crowns, each signed differently.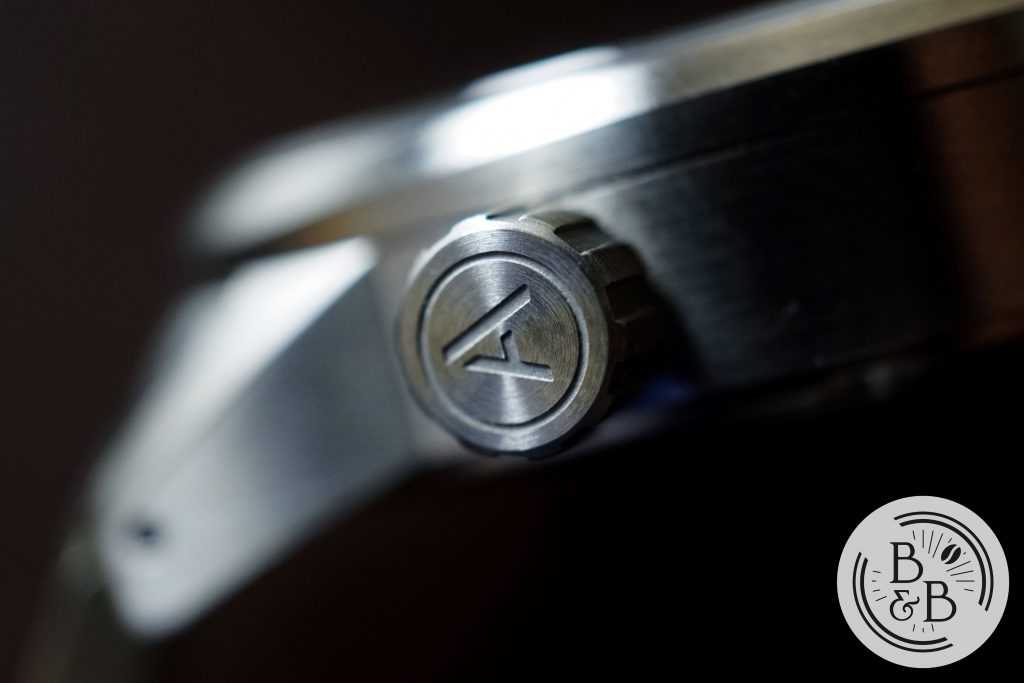 The primary crown that operates the movement is situated at the 4 o'clock position. The secondary crown that operates the bezel is situated at the 2 o'clock position. They are identical in design and are comfortable – easy to grip and operate. The crown operating experience feels a bit 'light' to the touch, but I was informed that the final production units will offer a bit more resistance. There wasn't any stem wobble but I noticed a bit of crown wobble on the bezel operating crown.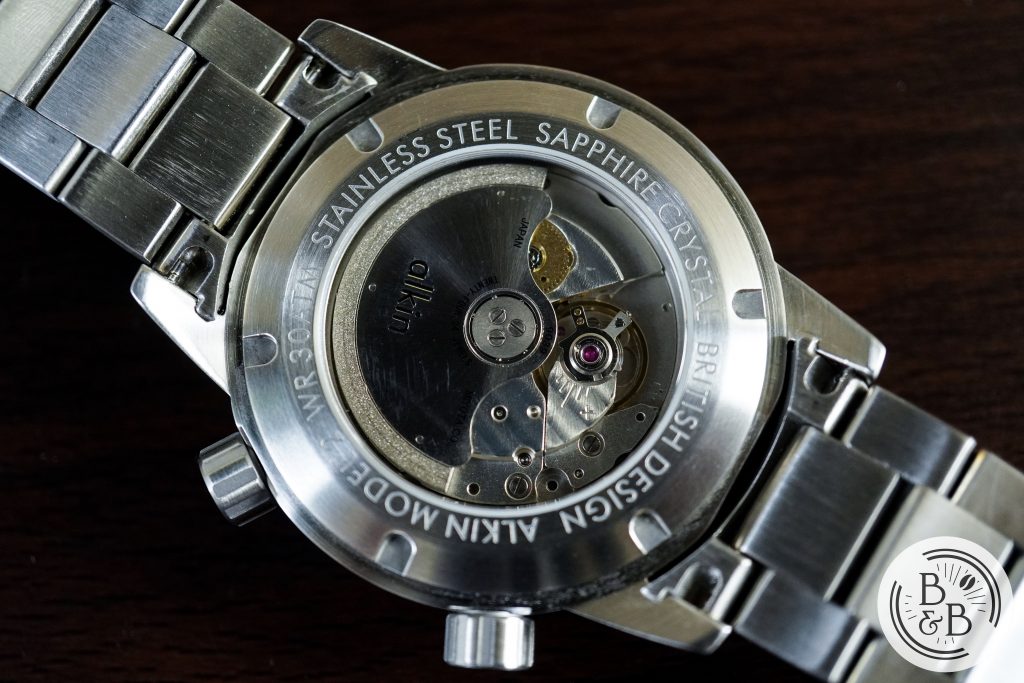 Flipping it over, there's a screw-down exhibition case-back. Together with the two screw-down crowns, this watch is rated for up-to 300m of water resistance. This is noteworthy, since it has an exhibition case-back and an overall thickness of around 12.8mm.
---
Dial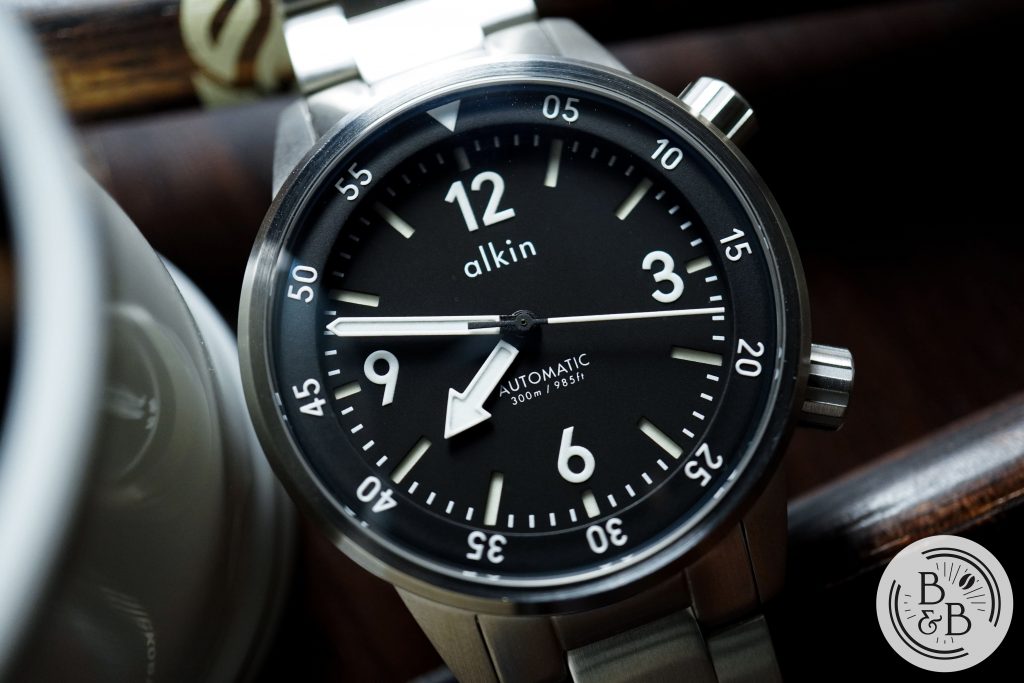 The Model Two is offered in three color options – black, blue and a lumed white dial. This is the black option, but the blue dial is quite subtle too.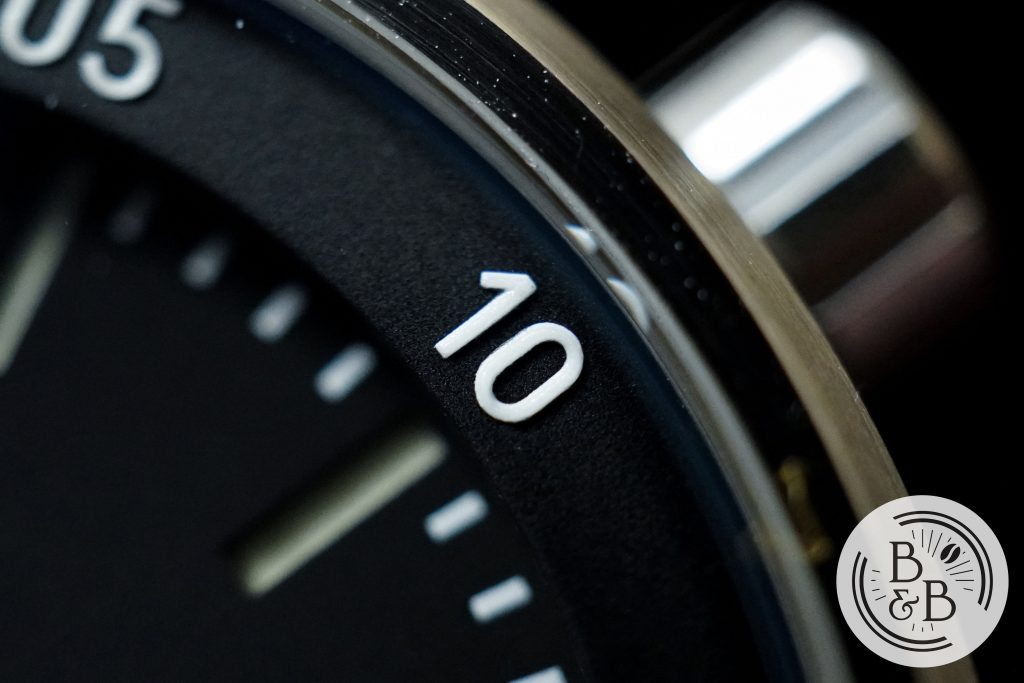 The outermost element is the elevated inner rotating bezel that can be adjusted by using the crown at 2 o'clock. The bezel has a triangular marker at the 12 o'clock and arabic numerals for increments of five. Like most inner bezels, the bezel rotates without clicks and therefore the accuracy of alignment is in your hands (or fingers).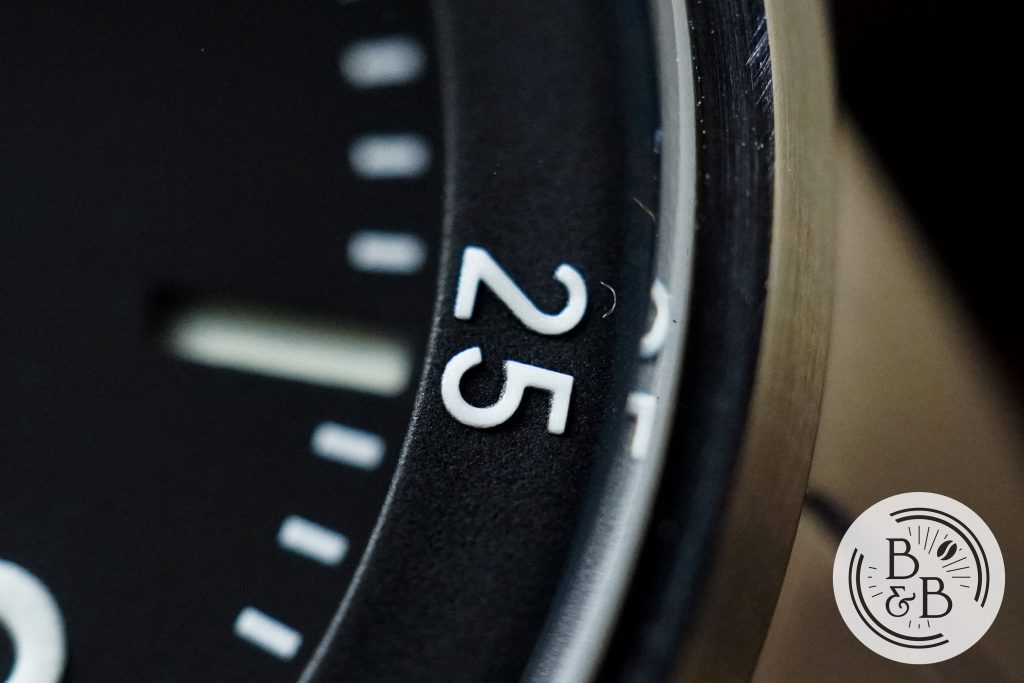 The finishing of the numerals is great, but I did find a strand of fabric on the bezel. But this is a prototype, so I will assume that the production versions will be held to higher standards.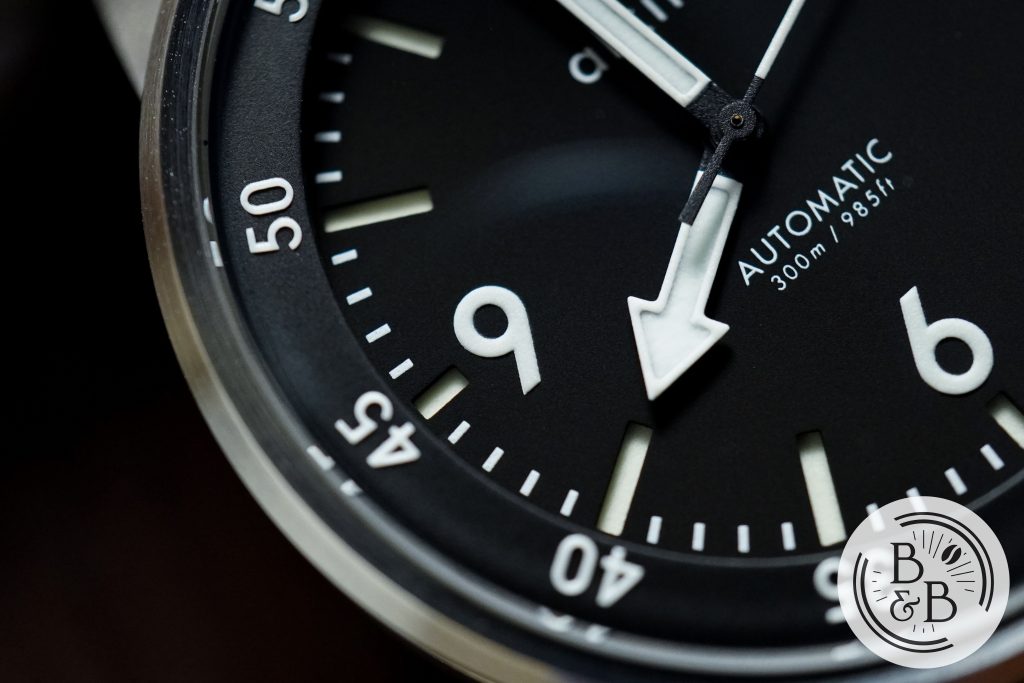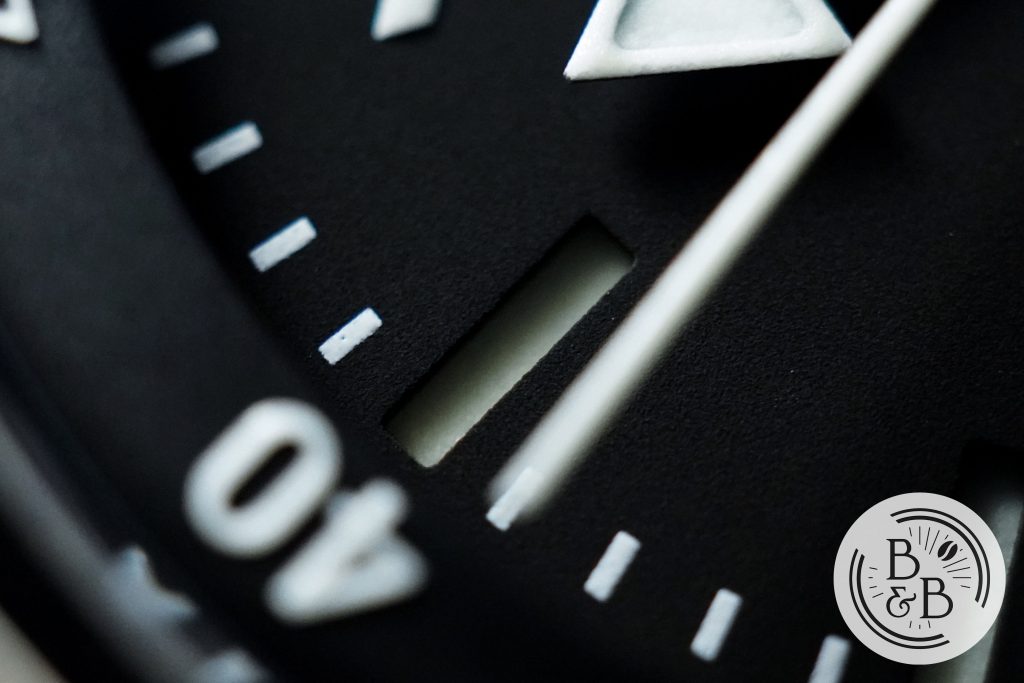 The next set of elements are the markers, which are an excellent combination of clearly legible white minute/seconds markers, recessed and lumed white hour markers and aviation style 3-6-9-12 lumed markers that I absolutely love. Together this comes across as an effortlessly legible dial.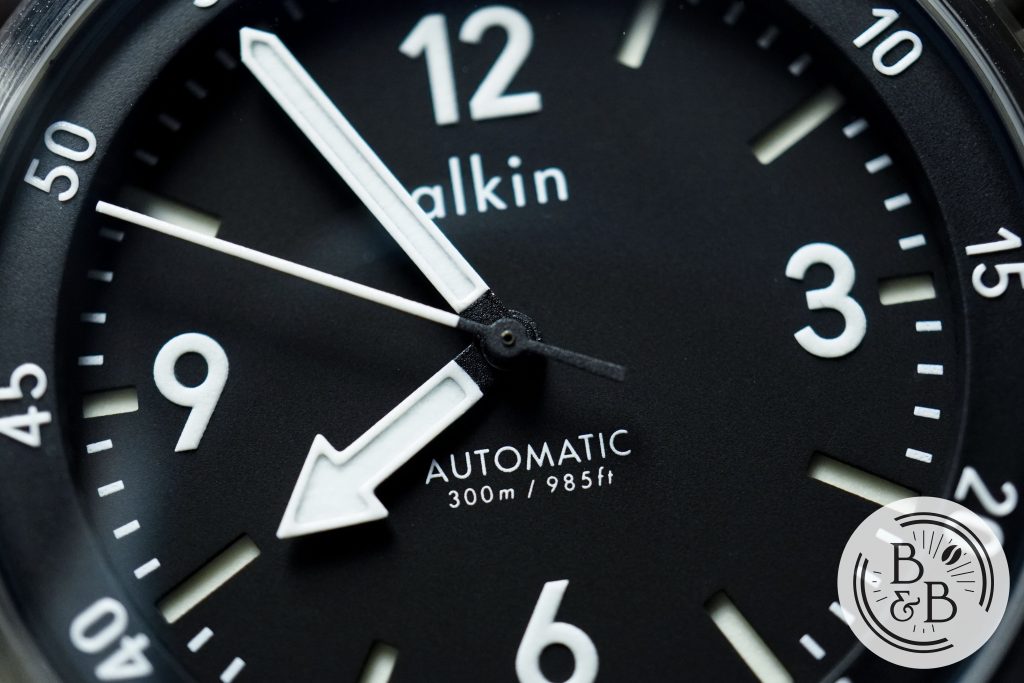 The hands continue this excellent legibility with their bright white painted exterior, that is generously filled with BGW9 Super LumiNova. The hour hand is a well proportioned arrow style hand that is perfectly paired with simple minute and seconds hands.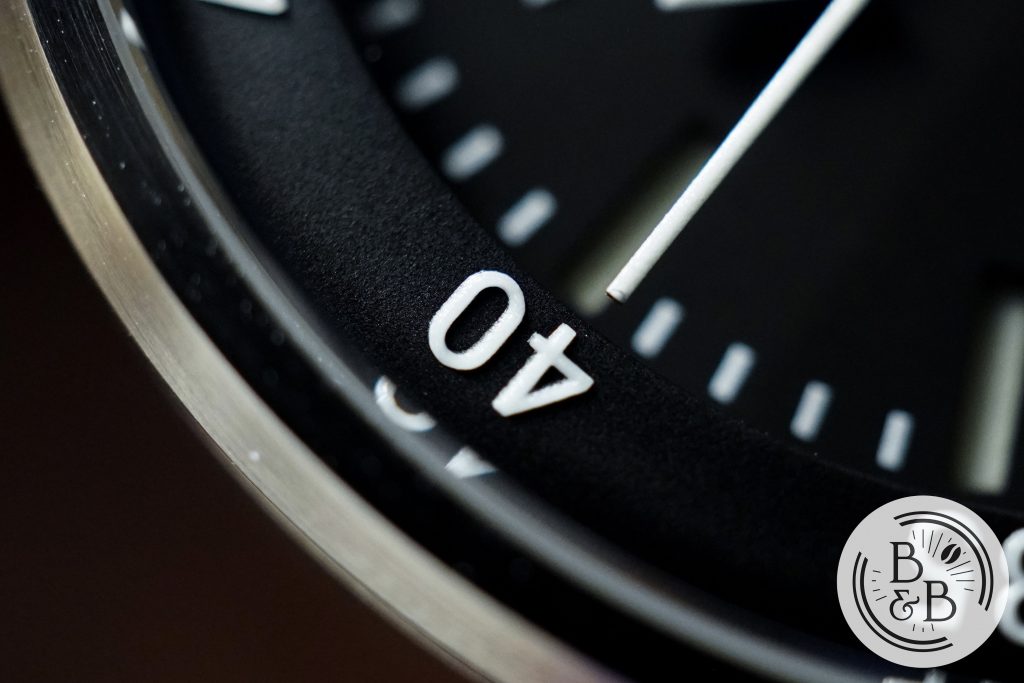 The minute and seconds hand is extends up-to and over the minute/seconds track, which gets this watch extra points for legibility and practicality. To add to this, the seconds hand is entirely lumed. The entire dial comes across as being well thought through, and results in a very pleasant reading experience.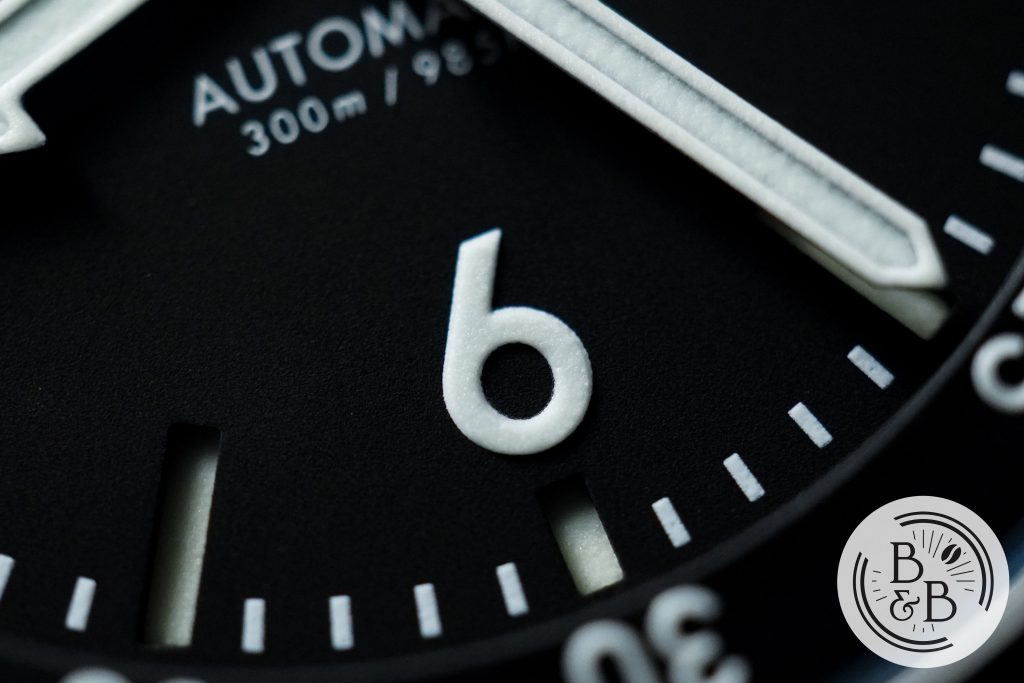 For a roughly $450 watch, the quality of finishing on the dial is very good, and apart from that speck of fabric and a slightly uneven seconds hand tip, I couldn't find anything wrong with the dial. And to give credit where it is due, executing recessed elements on a dial perfectly is very challenging and you will often see anomalies in paint and on the actual cut out surfaces. This watch had neither, so it is definitely deserving of recognition.
---
Lume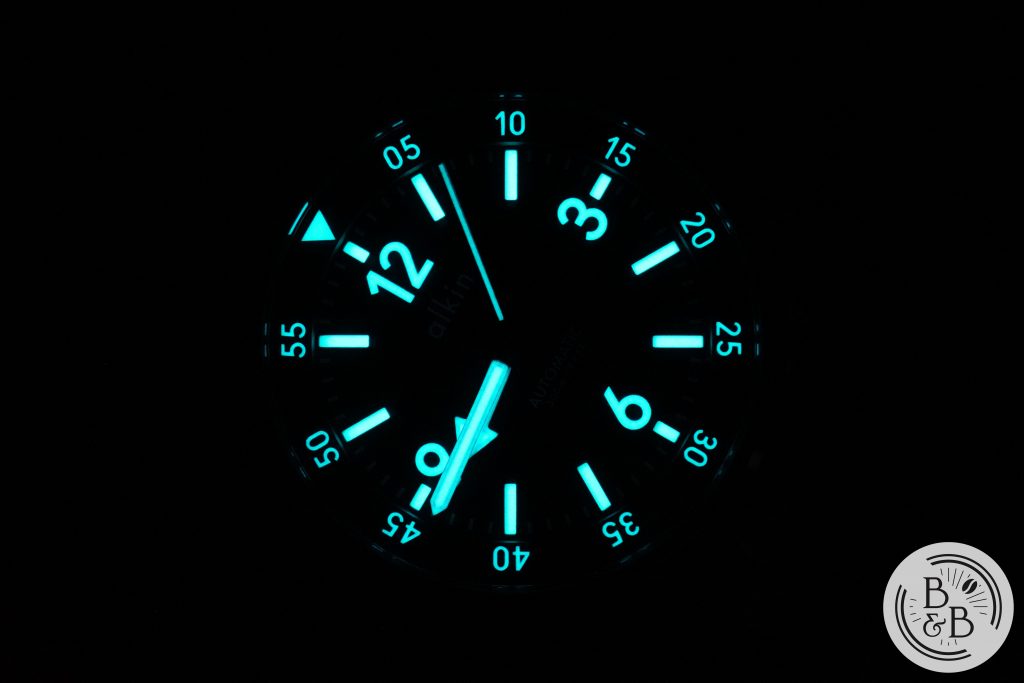 I was informed that the lume on this prototype is of a lower intensity than what will eventually be produced, but I don't have any problems with the way it currently is, so even if they don't make this better, it is very good as is.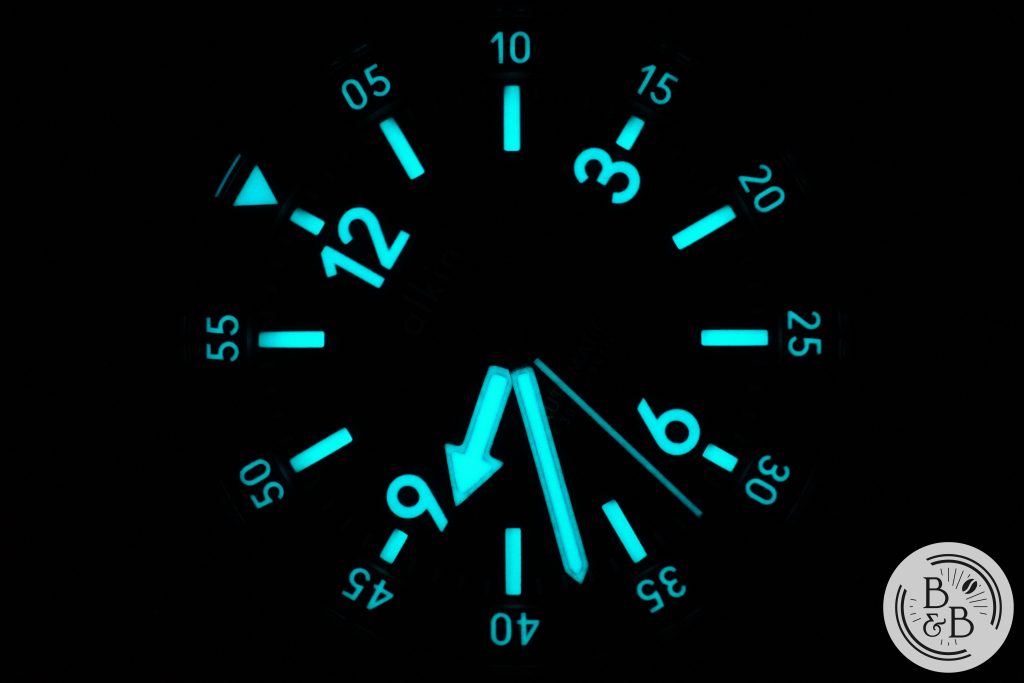 All the lumed elements are BGW9 Super LumiNova and they are quite bright and retain their charge well. The inner bezel fades quicker than the rest of the elements, but that is due to the relatively small surface area of the lumed bezel elements.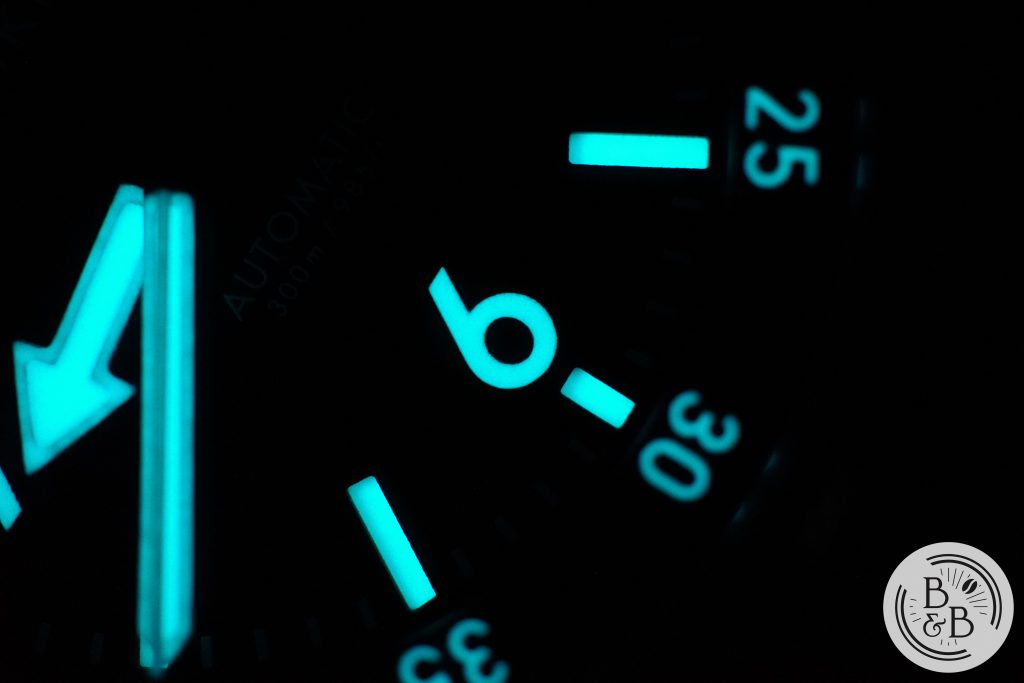 ---
Movement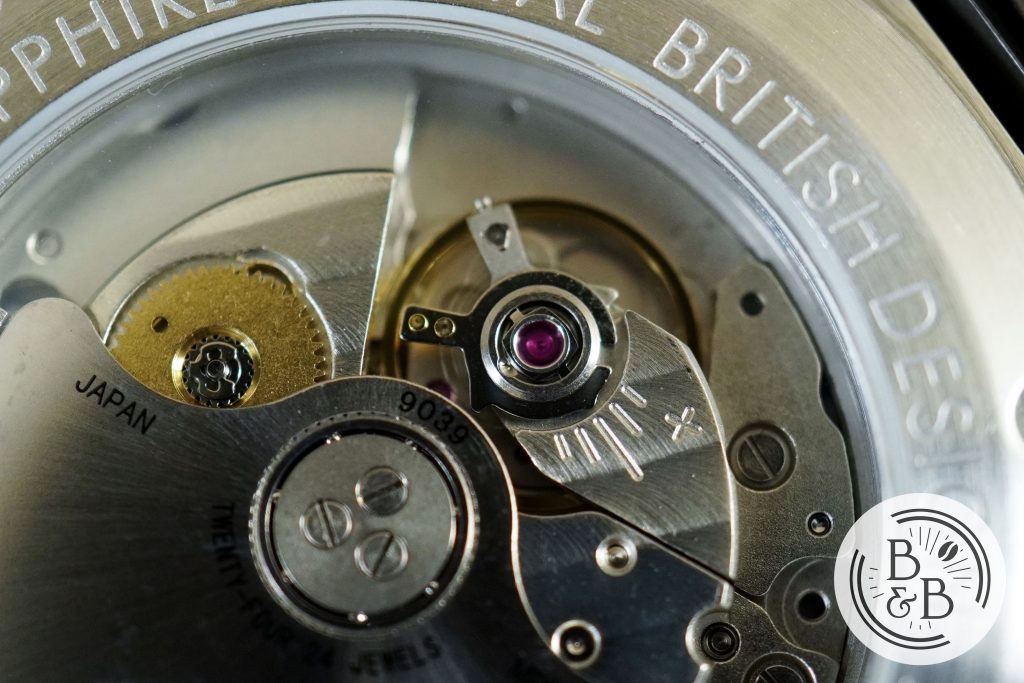 This watch houses a Miyota 9039, a movement that I've had good experiences with in the past. The exhibition case-back gives you a good view of this movement, that has some decoration, but is mostly hidden by the boring Miyota rotor. But this movement is more about reliability than great looks, so all is forgiven.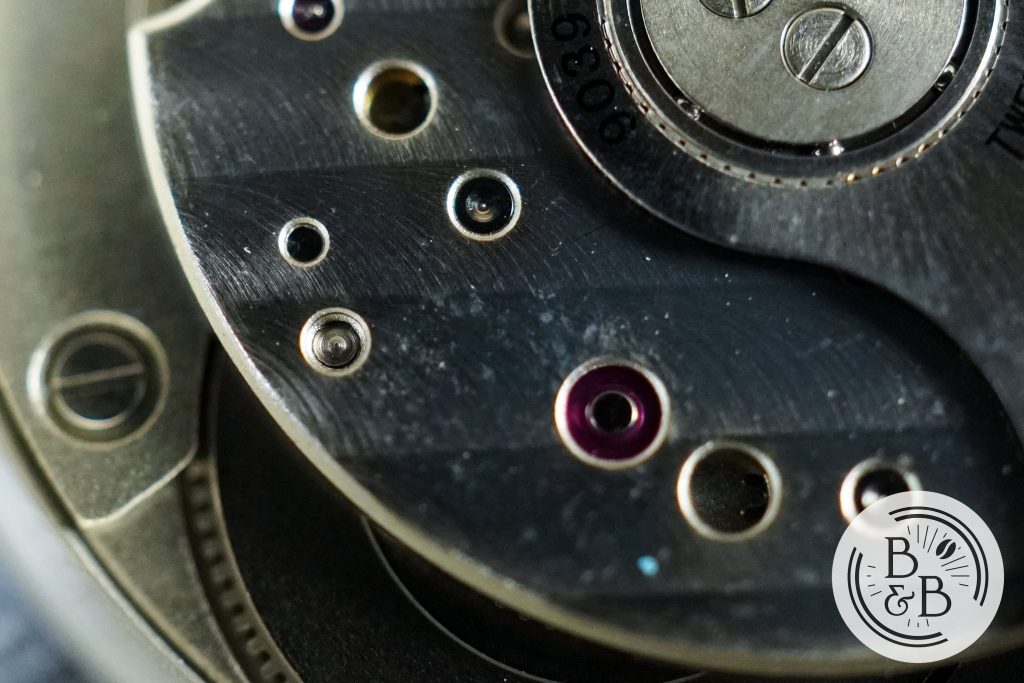 I did notice some finger prints and dirt on the movement, but again this is a prototype so one must assume the production versions will have a more air tight quality control.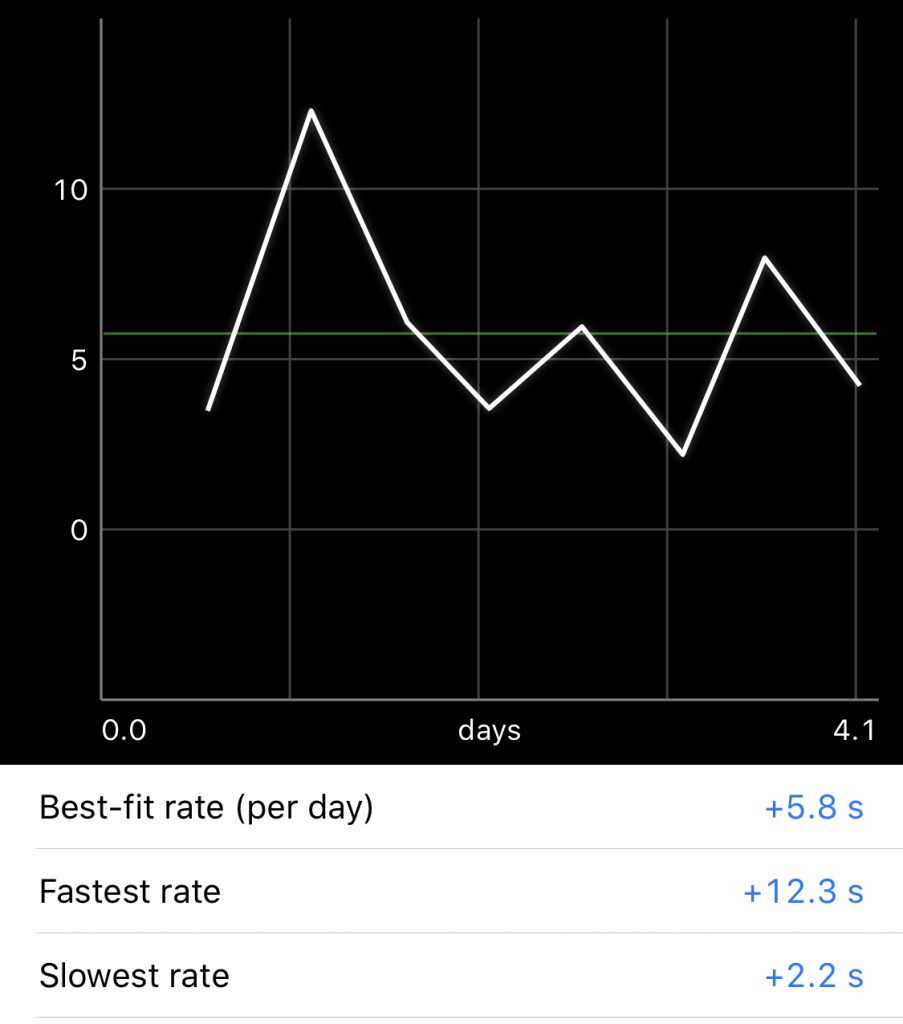 I logged this watch over a 4.1 day period and observed an average accuracy of +5.8 spd, with a minimum of +2.2 spd and maximum of +12.3 spd. So overall, within the manufacturer spec for the 9039.
---
On The Wrist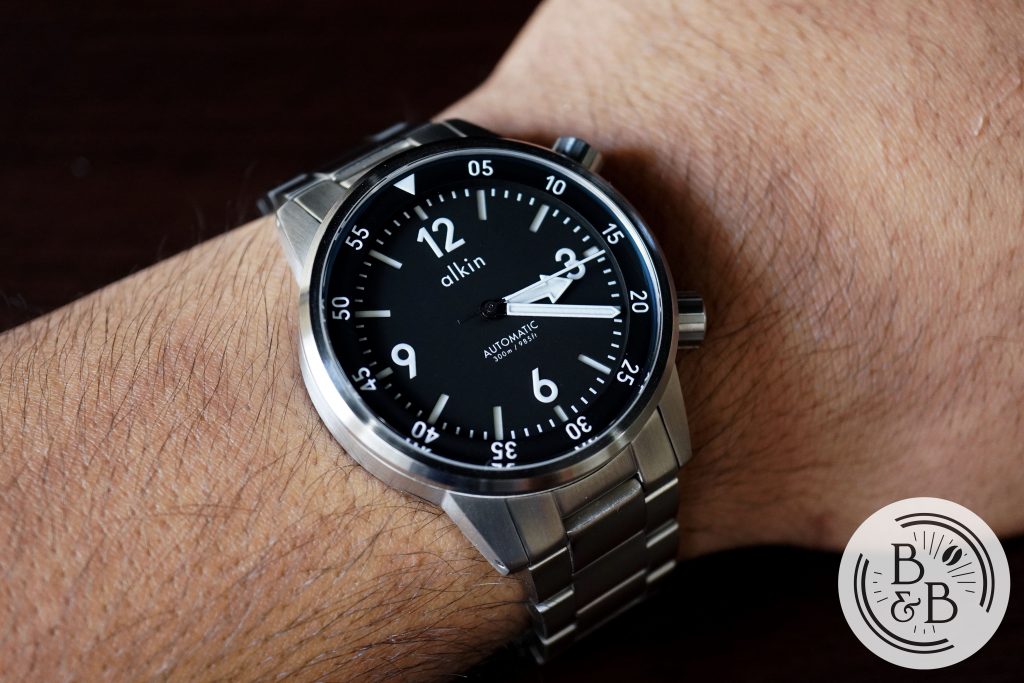 The 41mm diameter and 48mm lug-to-lug dimensions are just around the sweet spot for my 6.25″ wrist.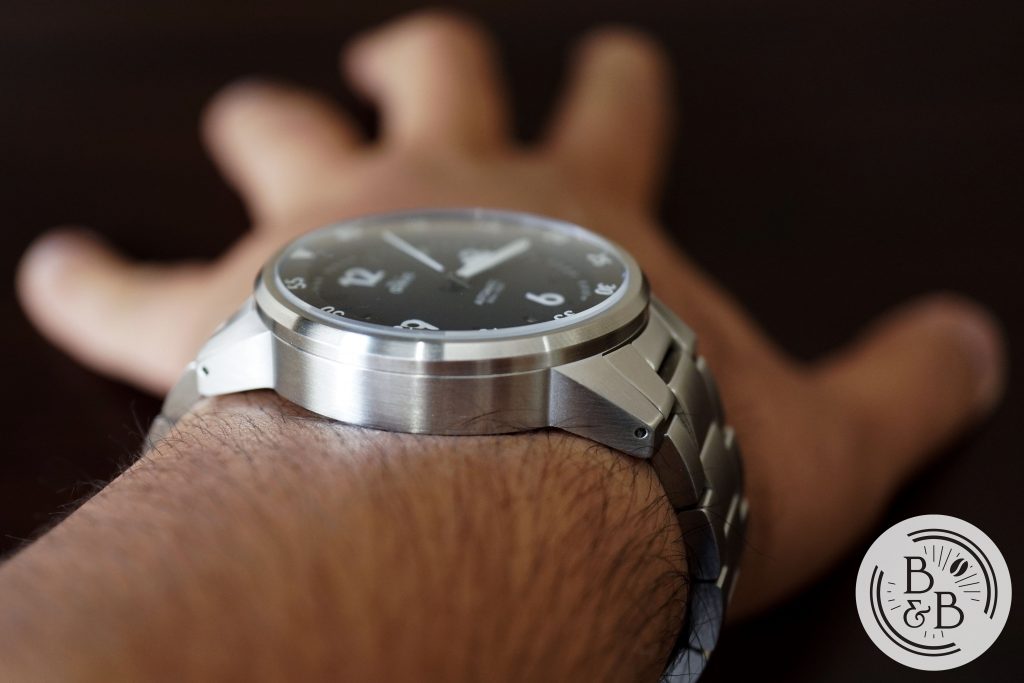 The 12.8mm height, together with the slim case-back and angled lugs help it sit very comfortably on the wrist. I really enjoyed wearing this watch, and the weight of x g is perfect for a solid and substantial feeling wrist experience.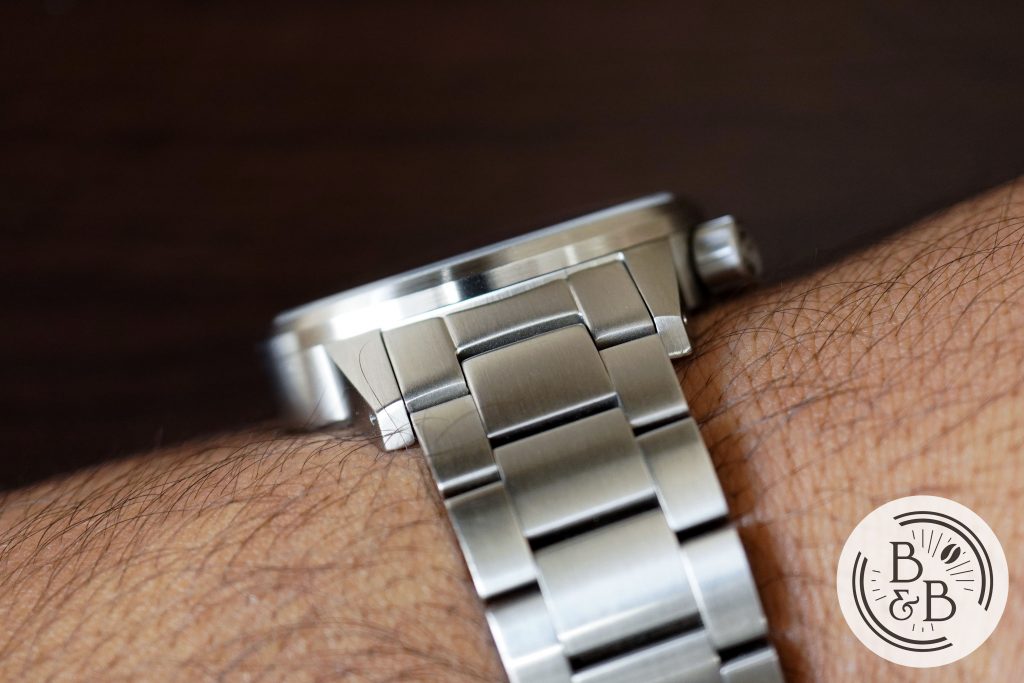 The bracelet also helps the watch sit perfectly on the wrist, with a perfectly snug bracelet-to-case fit and generously articulating end links. I think it's worth repeating, but I find this watch is very, very comfortable.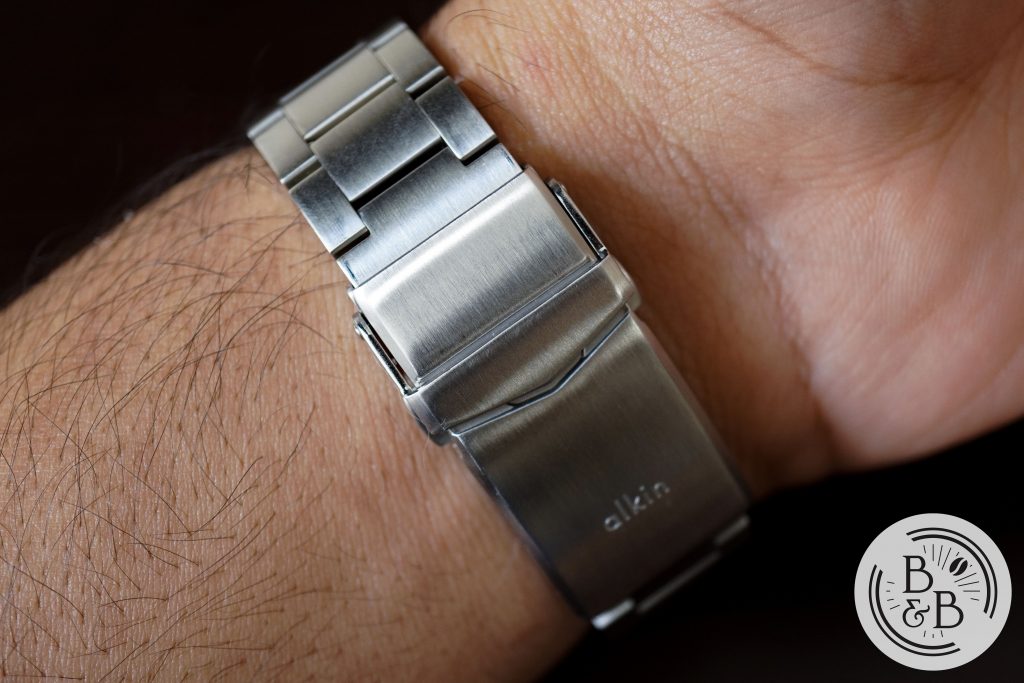 The links are screw based, articulate well and appear to be of good quality. You'll recognize the clasp as it seems to be popular among some of the better micro-brands these days. The push button clasp is completely milled and the quality is excellent for the price.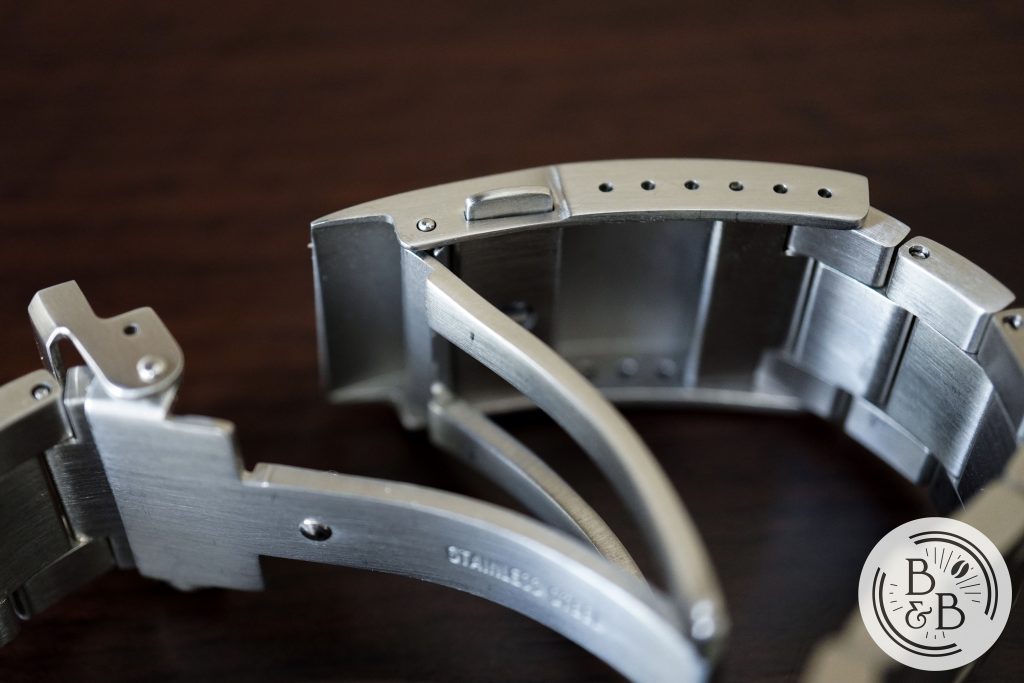 There's six micro adjustment slots, so you're most certainly going to find a perfect fit. I've been informed that the alkin logo is to be bigger on the production models and I agree with that decision.
---
Concluding Thoughts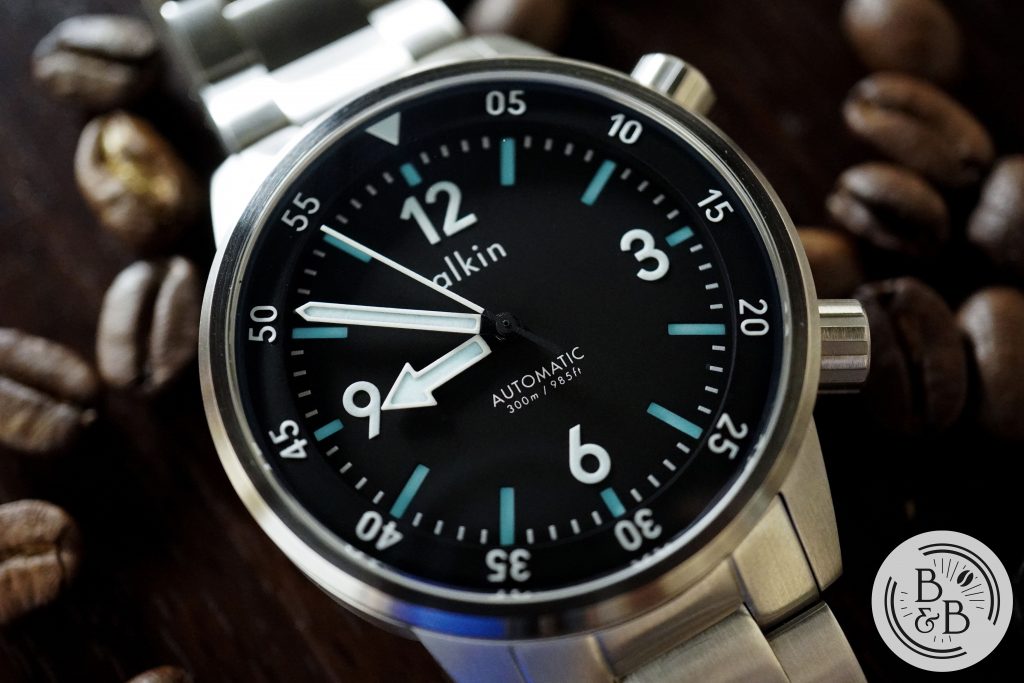 To wrap things up, this is an excellent dive watch for the money. You are getting quality components – the case, bracelet, clasp and movement are all a step above what you typically see in micro-brand dive watches under $500. This watch is also very comfortable on the wrist! Additionally, you're getting a dial that has been very thoughtfully designed. Every element on this dial has earned it's right to be there, and indicates careful and thorough design iterations.
While there are a few other options in the compressor style dive-watch category, I'd say the Nodus Duality would be worth considering, but this watch is $700. Another option is the Marnaut Seascape, and is $450 without a metal bracelet; and an arguably less practical dial design. So the alkin Model Two sits in a comfortable spot, offering both value and quality in a dive watch sub-domain that is not completely saturated with a million uninspired designs.
---
Strap Change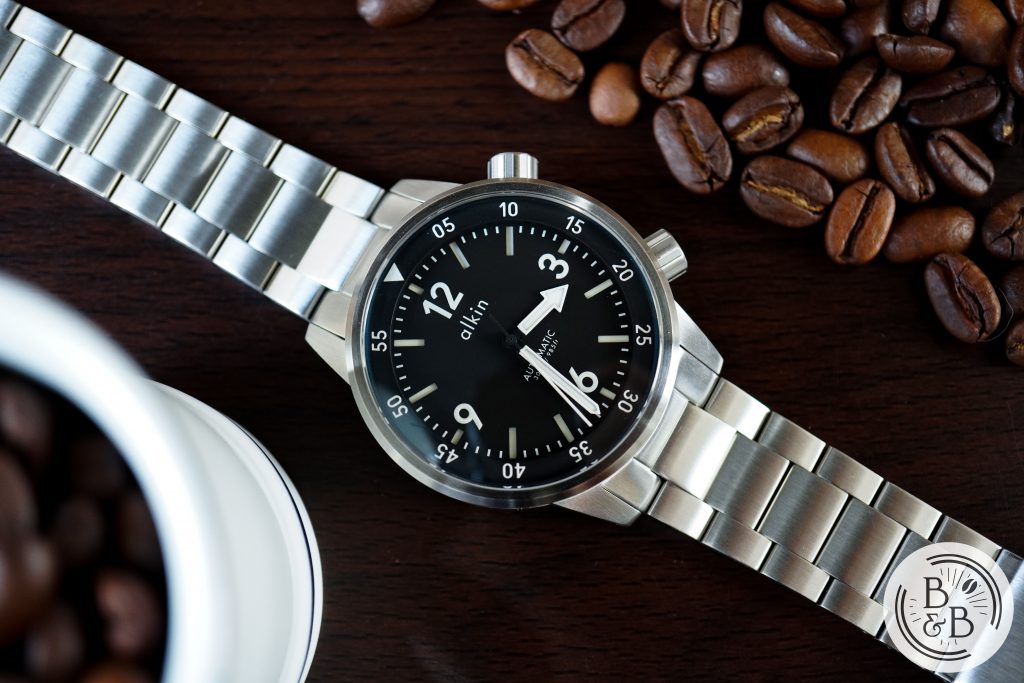 ---
Thanks for reading!