---
Disclaimer: This watch was sent to me to review, and I was not paid to write this. This is in not sponsored by Diving Armour, or any other entity. All opinions here are my own. Diving Armour will send me a watch from this collection if/when it goes into production, but they have no control over the content of this review.
---
---
Contents
---
Diving Armour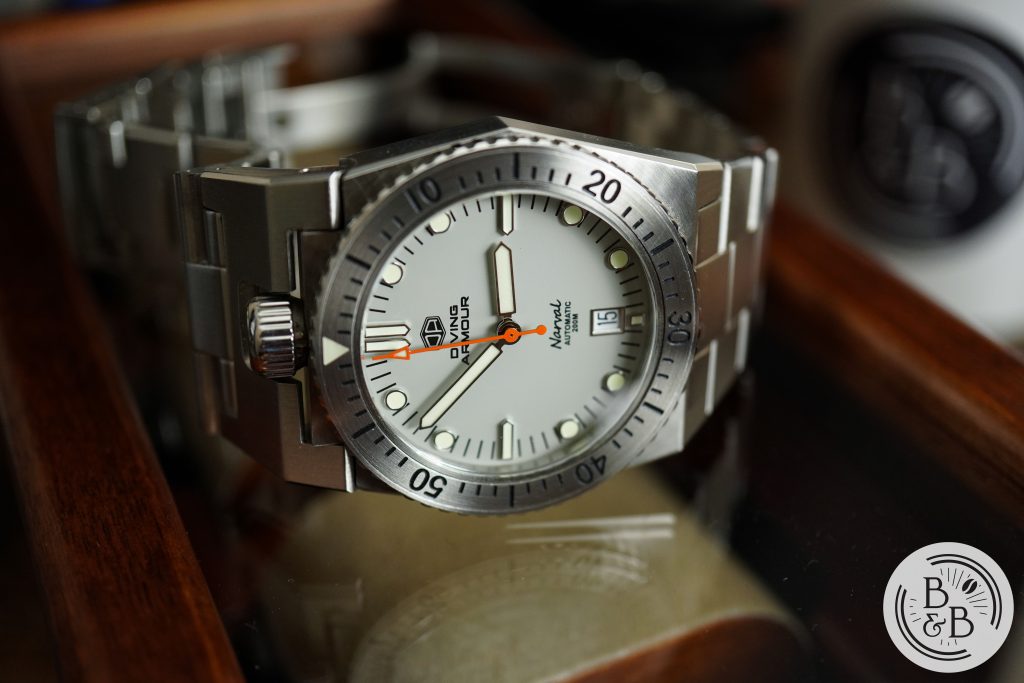 Diving Armor is a micro-brand that has been around for a while under two different sub-brands – Pontvs and Fonderia Navale. They've focused on making bulletproof looking dive watches and tool watches, and Diving Armor is their parent company. Under this title, they've released a new watch, the Narval, which is an affordable way to experience the protected crown design made famous by brands like ZRC in their Grand Fonds collection. The Narval is directly "inspired" by the Triton Subphotique and it's faux-integrated bracelet design, but the Triton costs over $4500, so the Narval is catering to a different price category.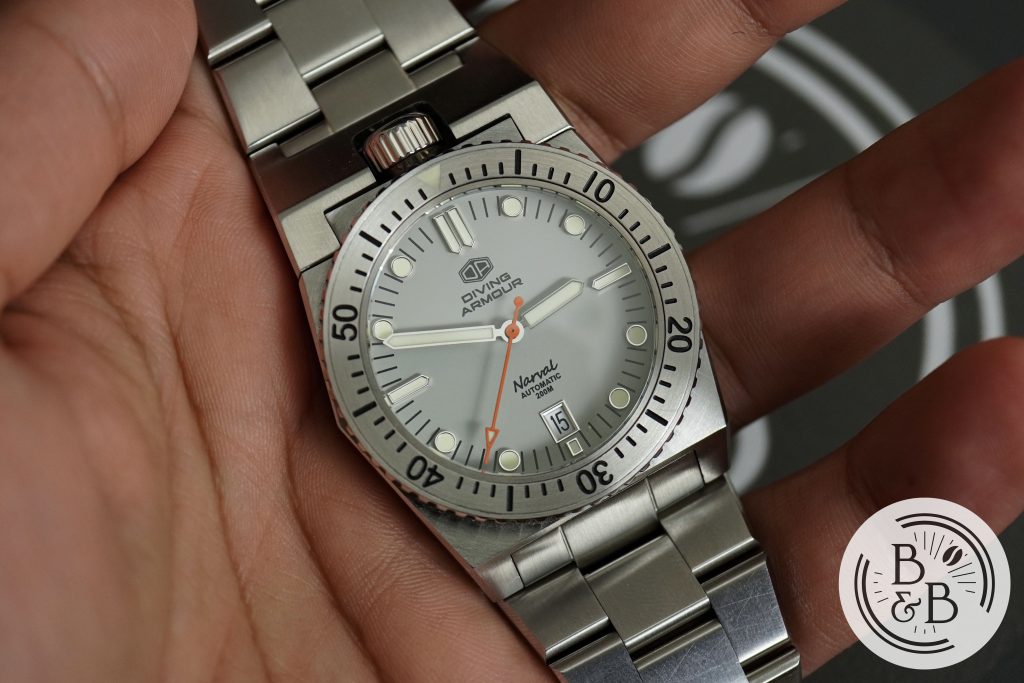 The Narval is currently on Kickstarter with an early bird price of roughly $400. For the spec hunters, you're getting a Miyota 9015, a sapphire crystal, an integrated bracelet, good dial finishing, good build quality, 200m of water resistance and a dive watch design that hasn't been used to death already.
Let's check it out!
---
Case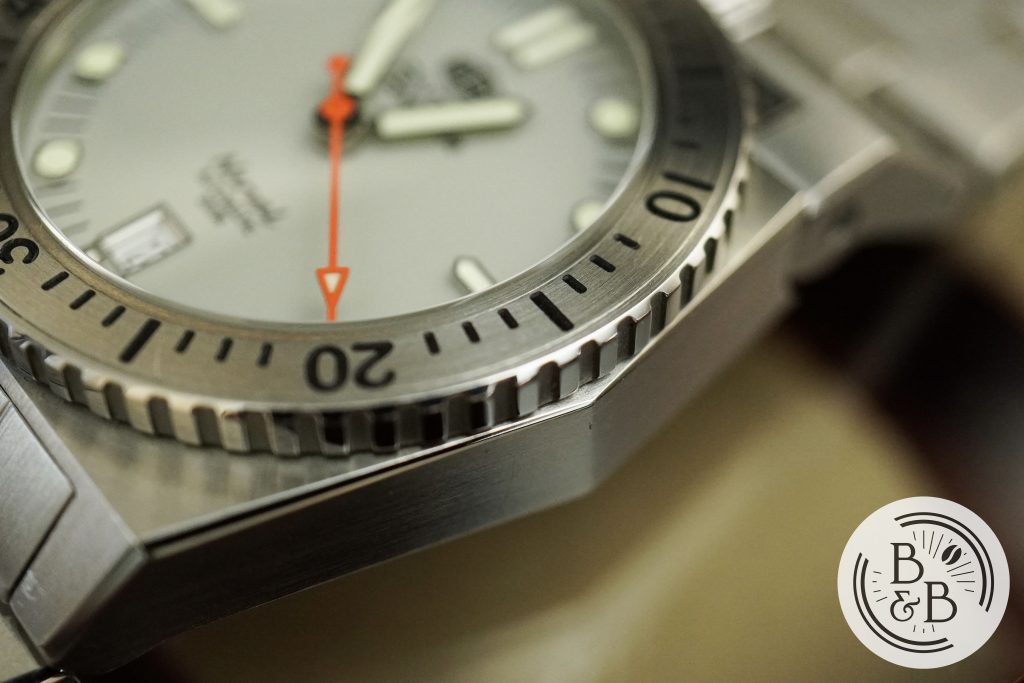 I measured the case to be 39.5 mm in diameter at it's widest point, 54 mm from lug-to-lug with the flexible lug stretched out completely and 12.4 mm in height. The case is made entirely of stainless steel and is mostly brushed, with a few polished accents.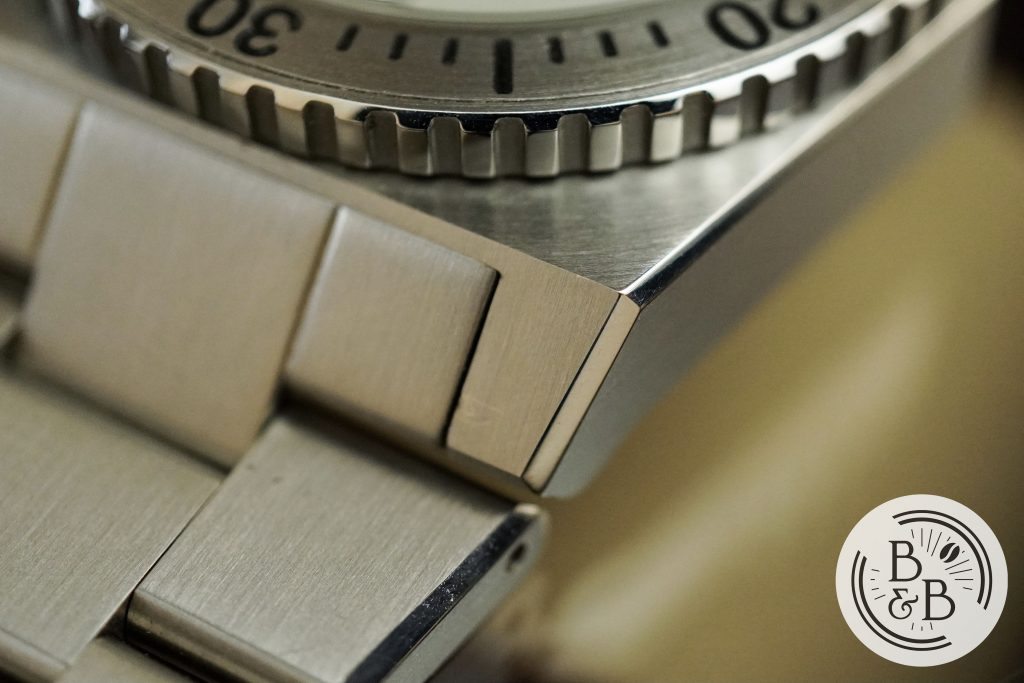 The case design is nearly identical to the Triton Subphotique, and has a flat slab-of-metal appearance with flat lugs that angle down towards the wrist. This particular unit has traveled the world and taken a beating, but beneath the scratches and dings the finishing appears to be pretty good and the whole watch feels solid.
The crown at 12 o'clock was originally designed for clearance divers who found the 3 o'clock crown design to be vulnerable to damage. Moving the crown to the 12 o'clock got it out of the way, but required some additional thinking to maintain a somewhat sleek profile.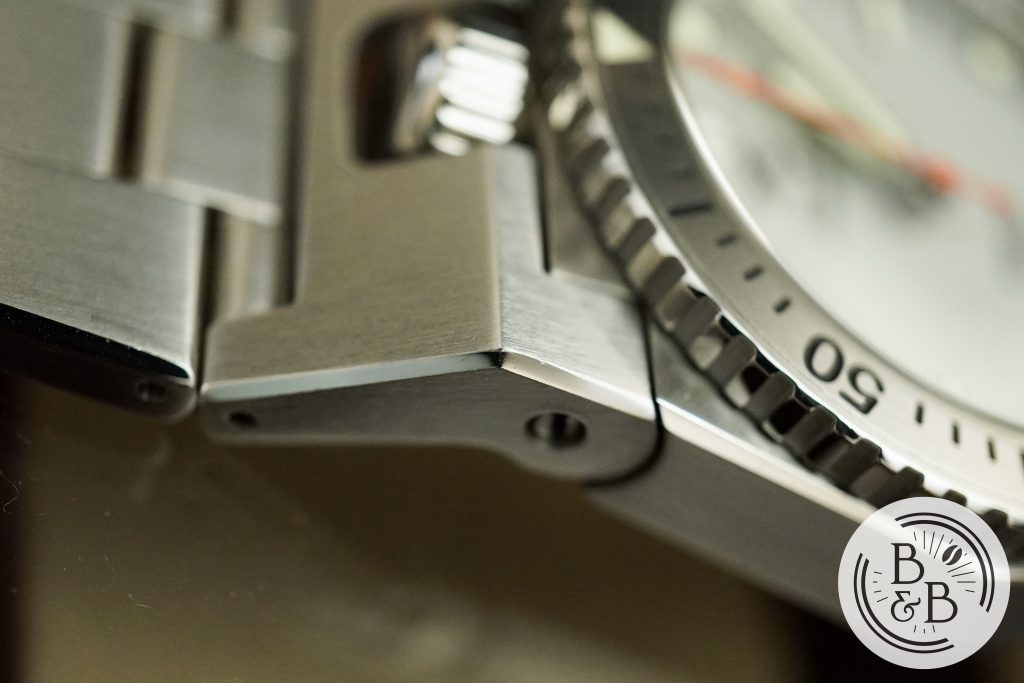 The adjustable lug with a cutout for the crown meant that the crown didn't have to protrude out of the case diagonally, and could preserve the overall watch thickness. This top lug is adjustable to a little over 45 degrees, which also alters the effective lug-to-lug width based on how big your wrists are, so the 54 mm lug-to-lug goes down to about 45 mm if you need it to.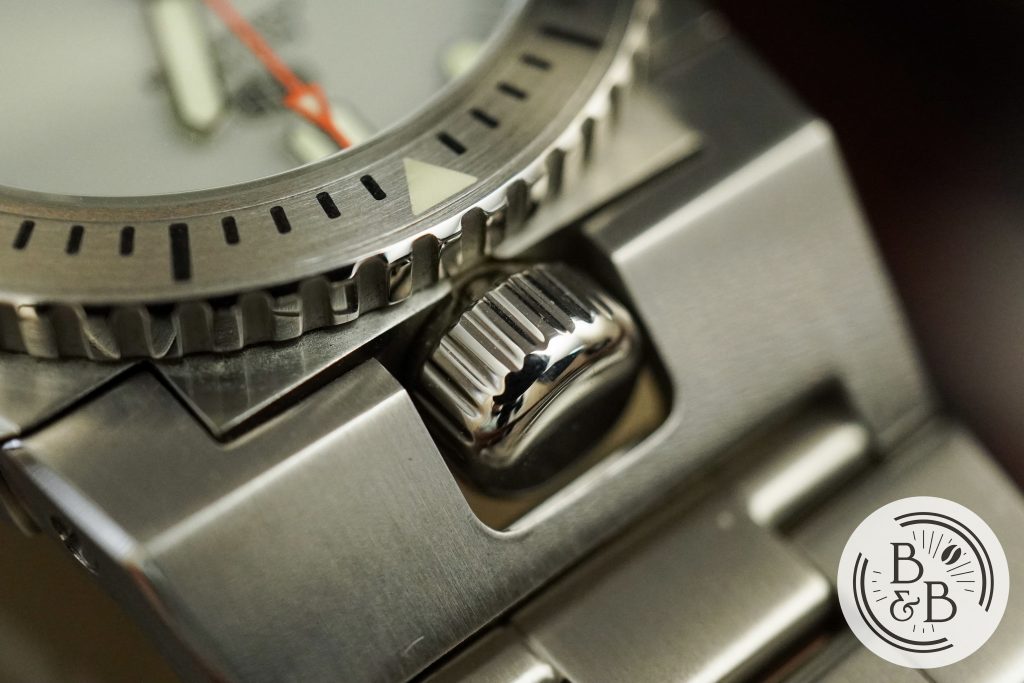 The crown is just under 8 mm and is surprisingly easy to operate given it's unusual positioning. The crown grip is easy to use and there isn't any crown or stem wobble here.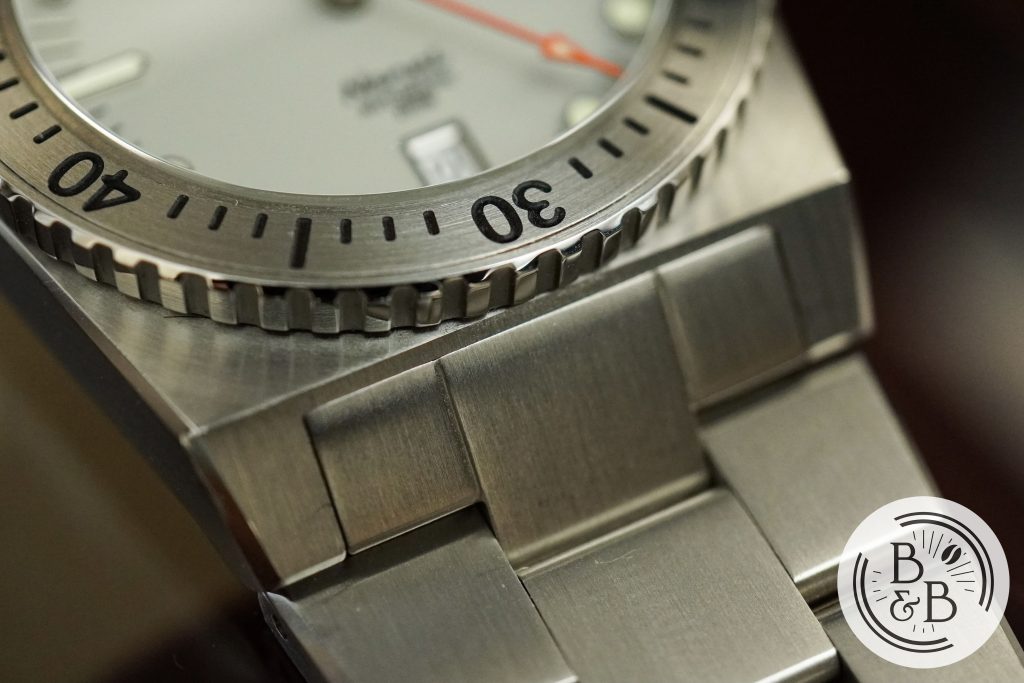 There is a 120-click uni-directional dive bezel with a stainless steel insert. The bezel has deeply cut teeth, but the bezel is just a bit narrower than I would've liked, which makes gripping and operating it a bit difficult. I would've liked for the bezel to be about 1 mm wider than the case diameter. The bezel action is good and there's little to no back-play.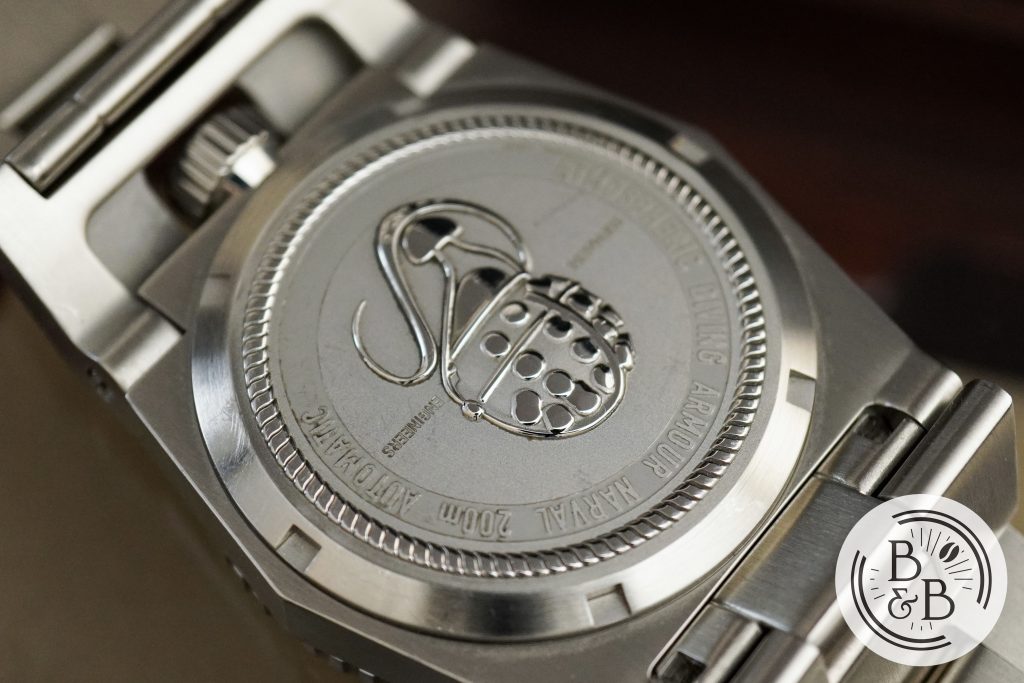 Flipping it over, you have a solid screw-down case-back with some specs and case-back artwork embossed on it. This watch is rated for up-to 200m of water resistance.
---
Dial
This watch is offered in blue, black and grey dial options, and a special meteorite dial option at $500. I was sent the grey dial option, which comes with a stainless steel bezel insert instead of ceramic. The dial is simple, legible and well executed.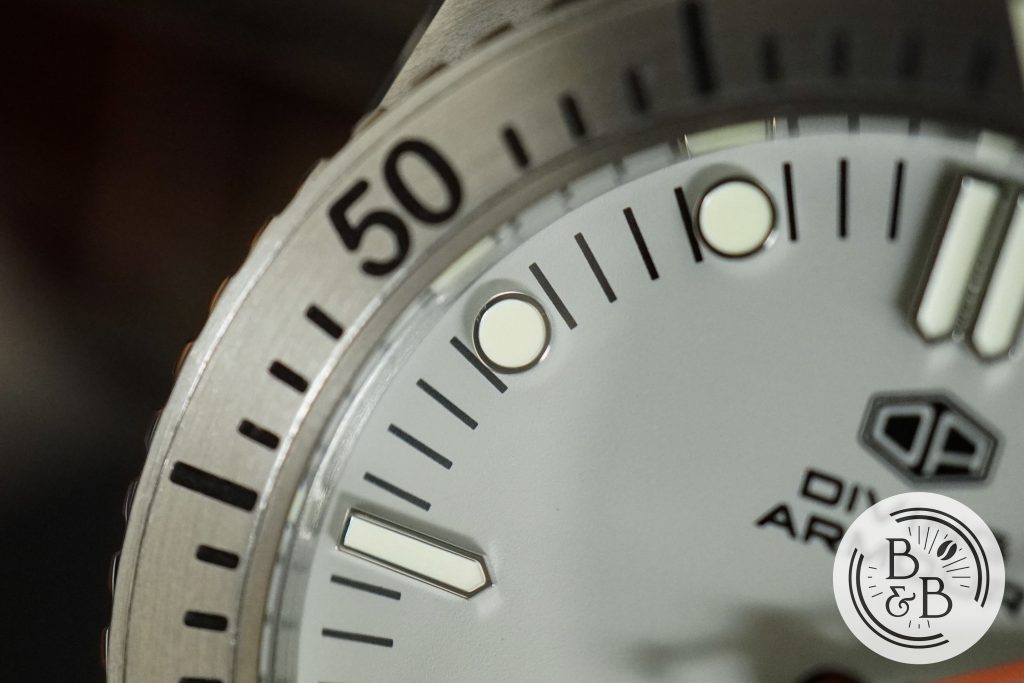 There is a single reference track, with large black ticks for minute markers, and applied stainless steel indices for the hour markers. The printing quality on the ticks could be better as I noticed some holes in the paint. This is impossible to see without a loupe or macro lens though.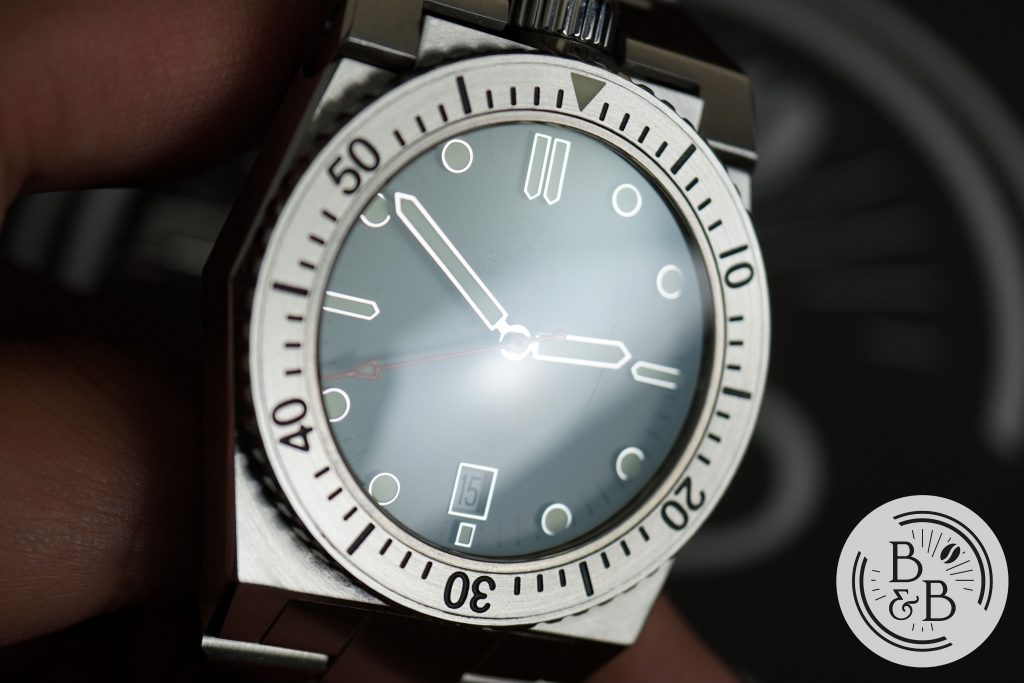 The indices are well finished for the price, and generously filled with lume. The indices are a combination of circular indices and pointed rectangles, with a double index at the 12 o'clock position. These indices put on a good light show!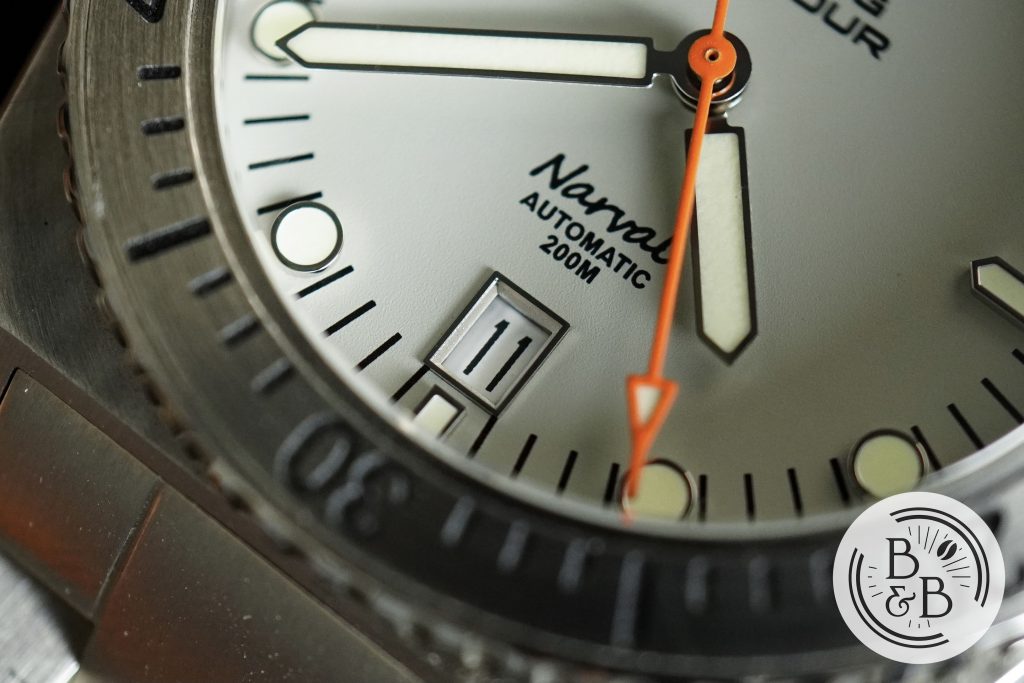 There is a framed date window at the 6 o'clock position that I love. It has a white date wheel with a black font. A dial matched date wheel would've been nice, but it's less obvious on this grey dial than on the black and blue options.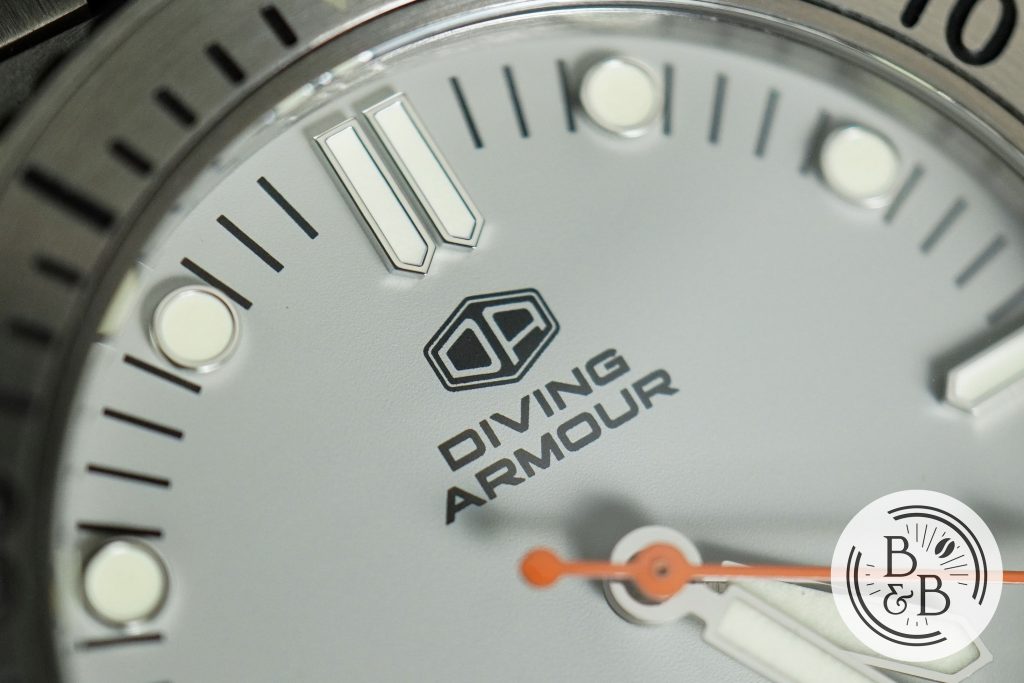 The brand's name and logo is printed below the 12 o'clock indices and Narval above the date window. If you were to scrutinize the printing quality, you'd find a few holes in the paint, but this is a prototype and you're not going to see it unless you go looking for it.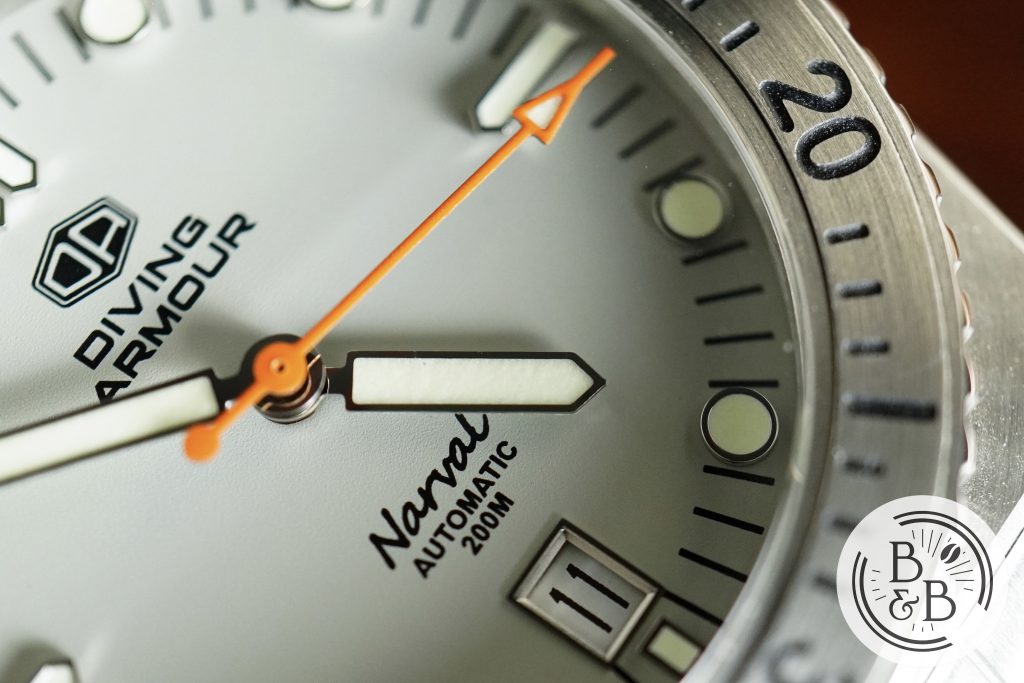 The hour and minute hands are well proportioned and similarly finished to the indices and generously filled with lume. I'm actually surprised at how nice the finishing is on the indices and hands considering this is a prototype.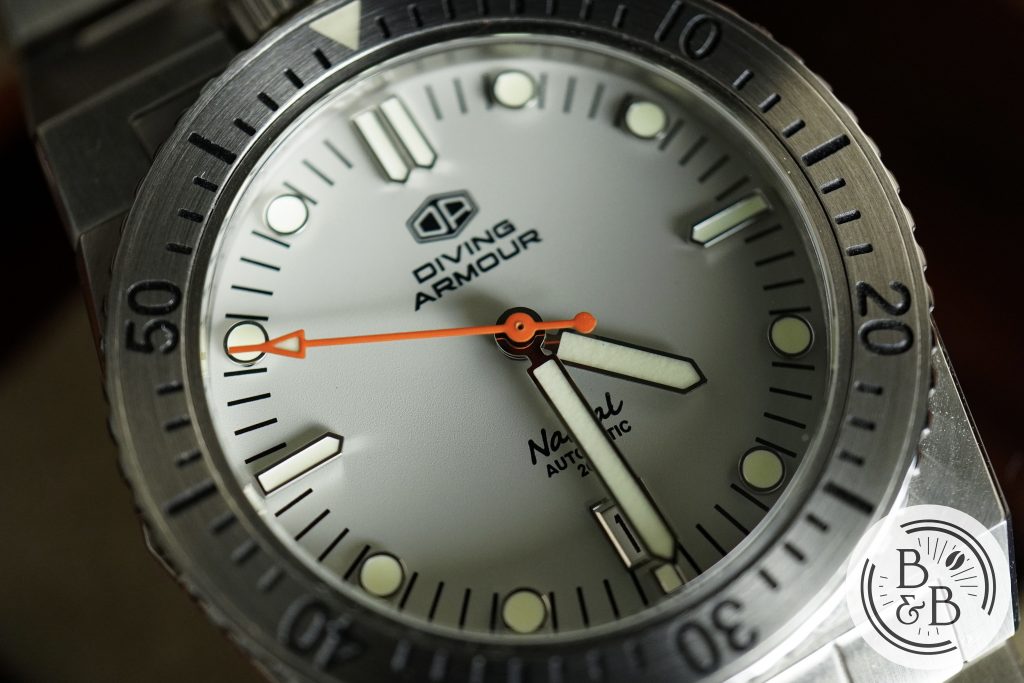 The seconds hand has a lumed element at the tip and is painted orange. This is the only accent of color on this watch, and I think it is perfectly executed. Overall, I like this dial. The simplicity works for what appears to be a functional dive watch design.
---
Lume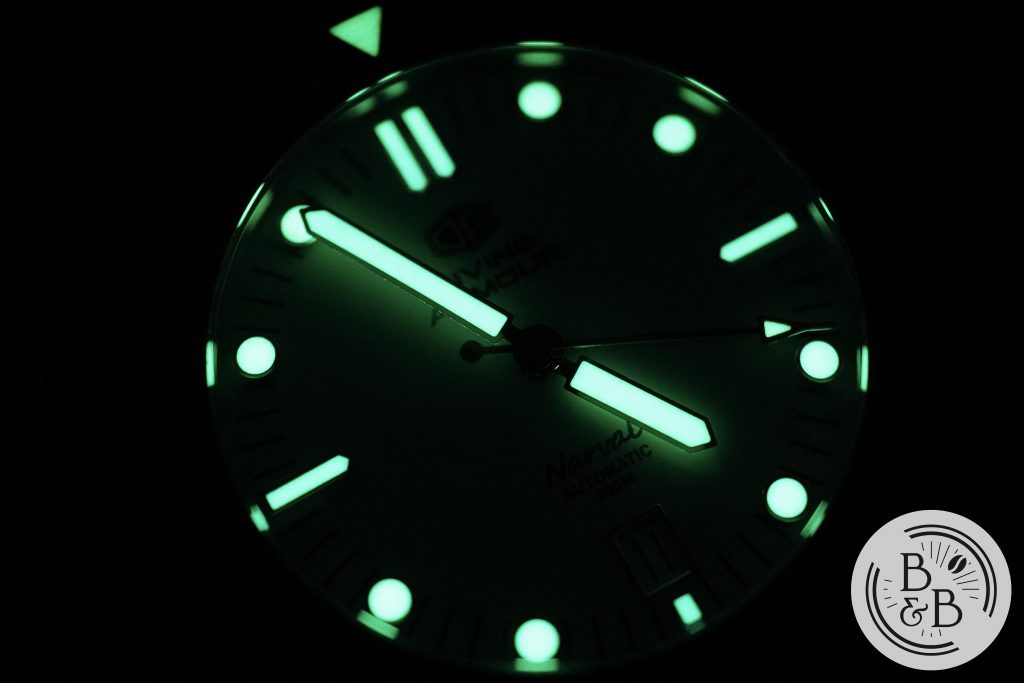 Diving Armor hasn't mentioned what kind of lume they're using, but it sure is good. I suspect this is Grade X1 Super LumiNova, just based on how bright it is and how long it lasts.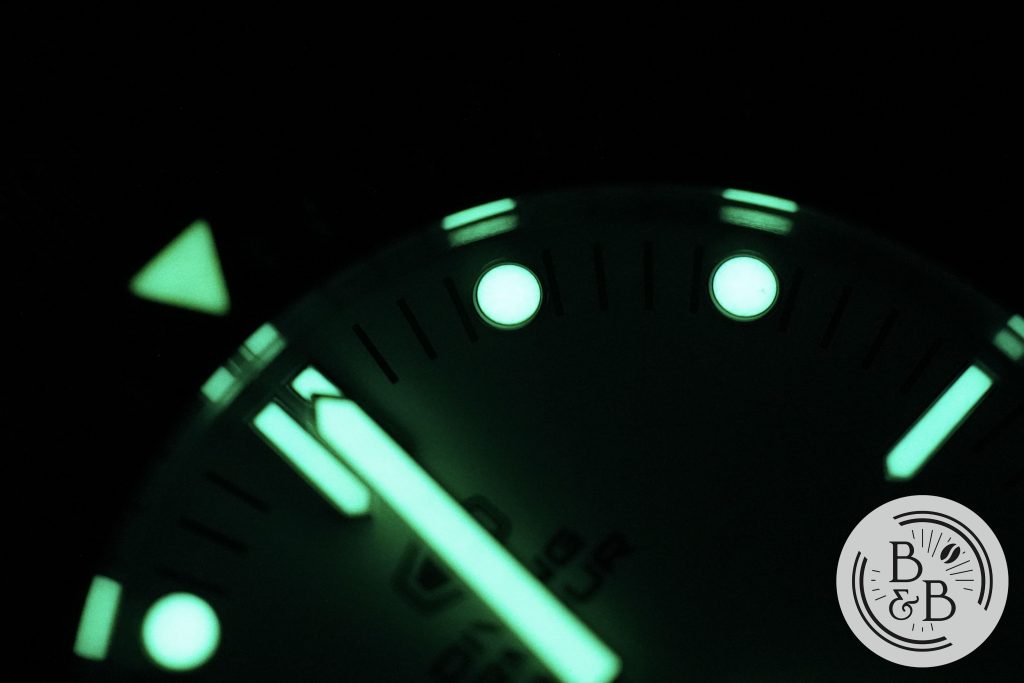 All the indices are lumed, included the stunted index below the date window. They glow bright and hold their charge very well.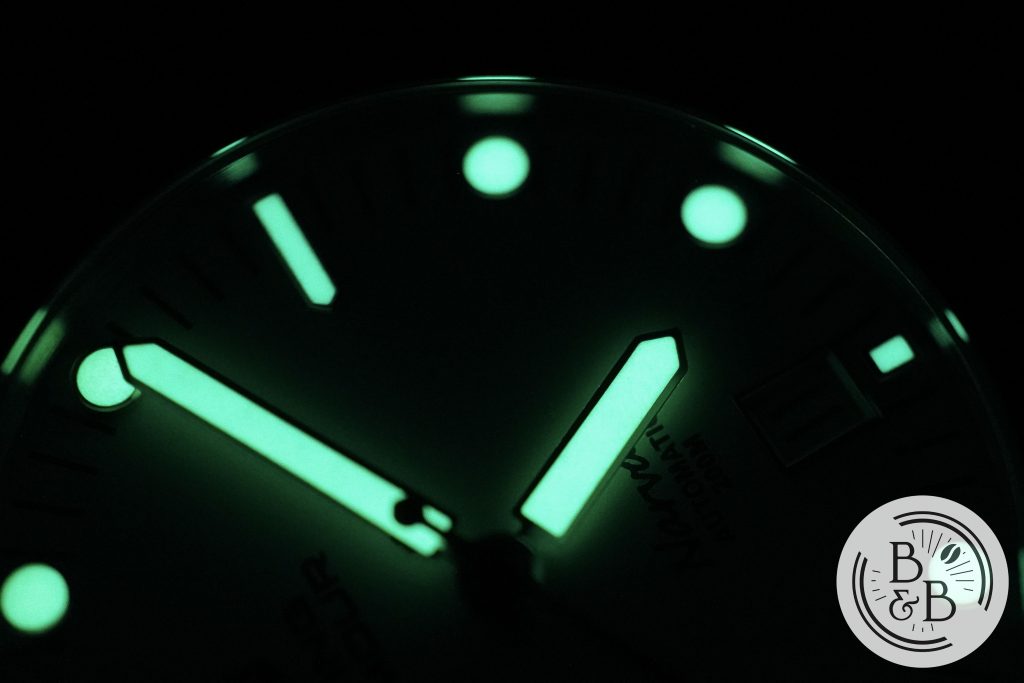 The hands are lumed too – seconds hand tip included! I think the lume on this watch will make most folks happy.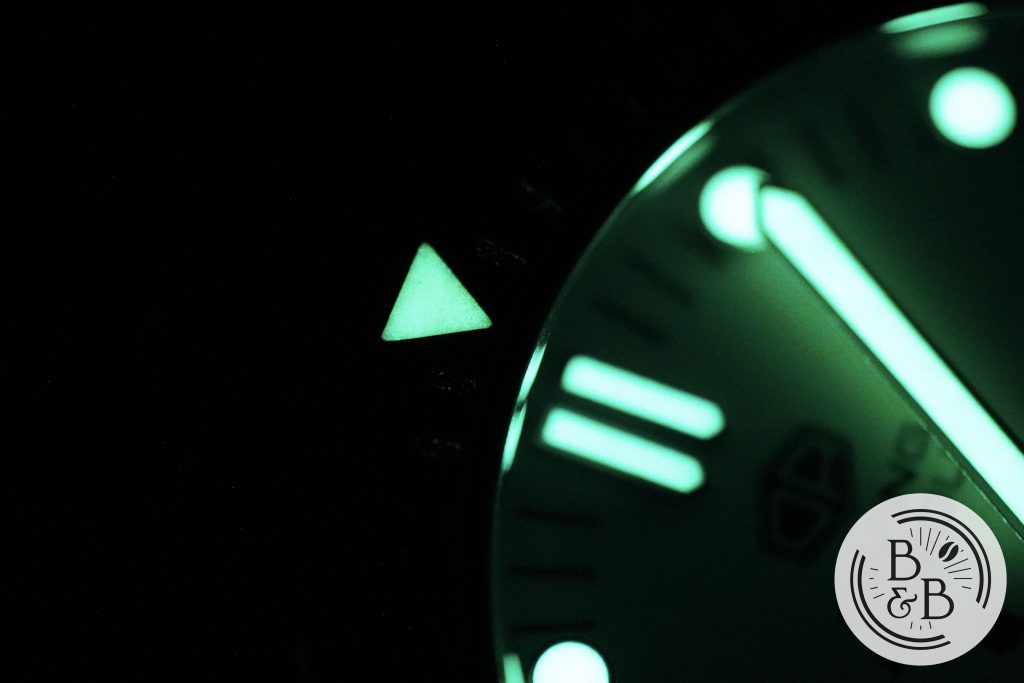 The bezel only has a lumed triangular marker at the 12 o'clock position. It is sufficient, but more lumed elements on the bezel are always nice to have.
---
Movement
This watch uses a Miyota 9015 movement. In a $400 watch, I think this is an appropriate movement to use, and I'm glad to not see a Seiko NH35 here.
The typical wobble and rotor noise that you find on Miyota 90XX series watches isn't very noticeable here because of it's pretty hefty case design, so I don't really have any complaints about this choice of movement.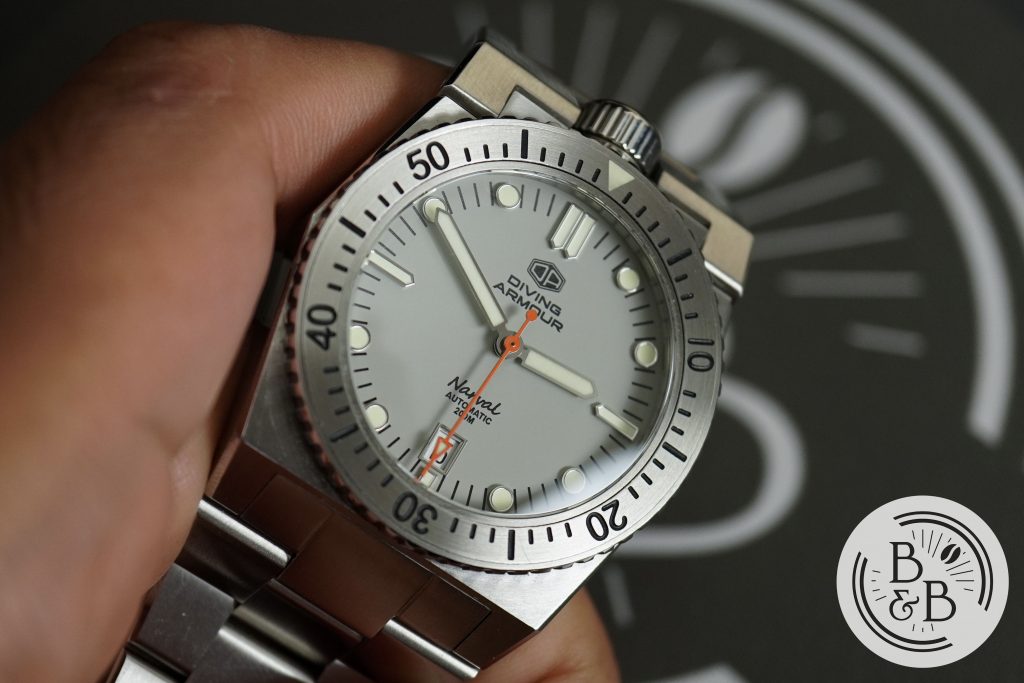 On my time-grapher, I observed roughly +8 spd in the dial up position and +7 spd in the crown up position. This watch has been traveling around the world these past few months and is on the last leg of it's tour, so I think these values are fine all things considered.
---
Bracelet
The bracelet design, and the way it integrates with the case is different from the ZRC Grand Fonds, and I think they were going for more of an integrated bracelet aesthetic here, closer to the Triton Subphotique. With any faux-integrated bracelet, end link fitment is critical to the design flow, and this one gets it right with end links that fit perfectly snug.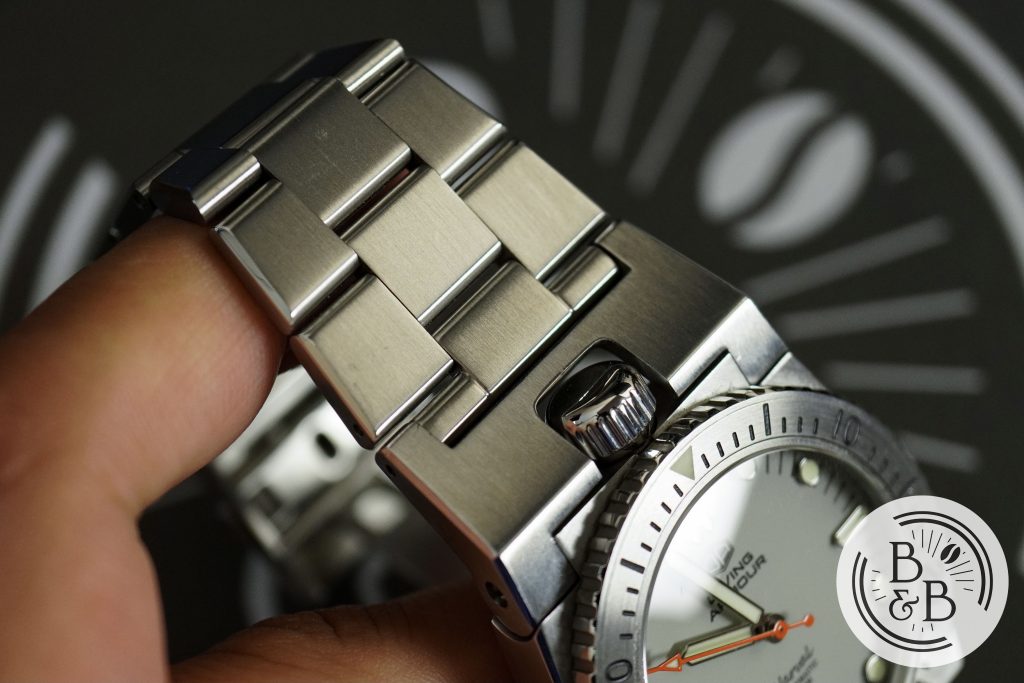 The 22mm bracelet, flares out to 28 mm and then tapers down to 20 mm at the clasp, with all screwed in links that are brushed and articulate reasonably well.
The clasp is not uncommon to microbrands and is a typical ratcheting clasp design seen on brands across the price spectrum, from Helson to Doxa. This one is closer in quality to the one Strapcode sells. It is big, but it gets the job done and I like the flexibility offered by on-the-fly adjustment.
---
On The Wrist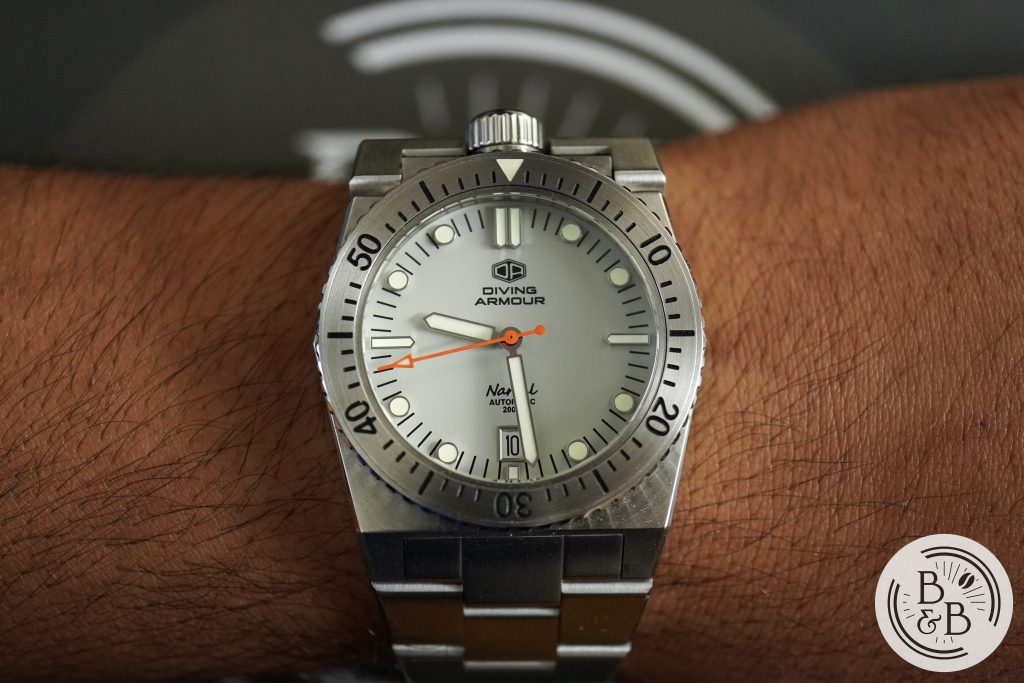 I expected this watch to look bulky on my wrist, but it wears surprisingly well on my 6.5″ wrist. The diameter at it's widest point is 39.5 mm, and it has a height of 12.4 mm.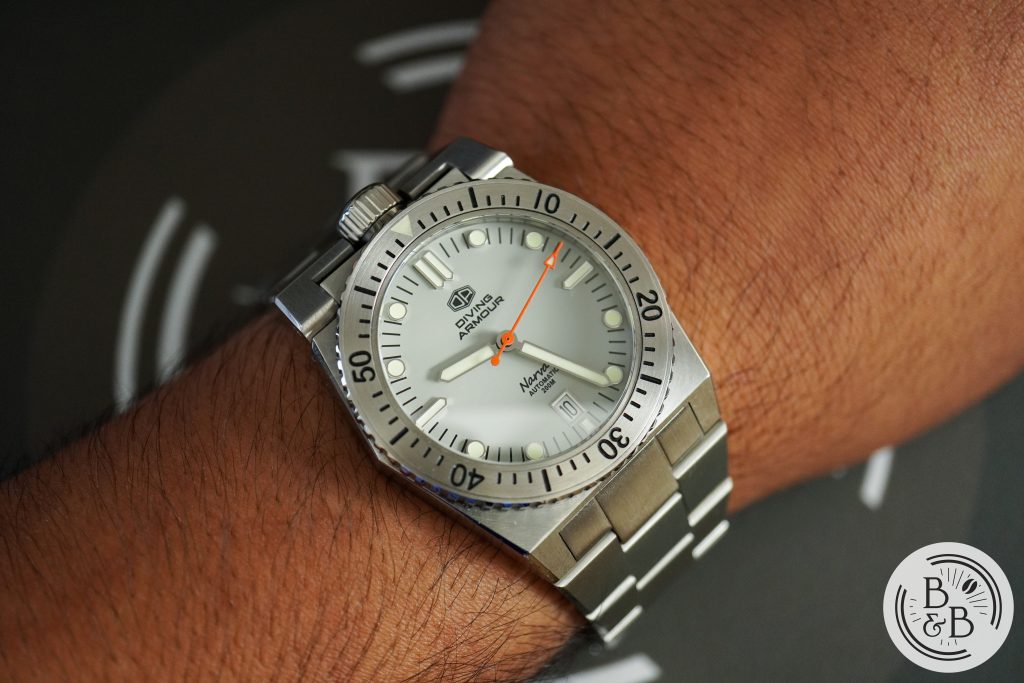 The lug-to-lug is more complicated to measure, since one of the lugs can move. At it's shortest setting, the lug-to-lug width is 45 mm, and 54 mm in it's stretched out state. If you measure it from end-link to end-link, you're looking at about 57 mm and 48mm in both extremes. So as long as your wrist span is greater than 48 mm, you will be good to go.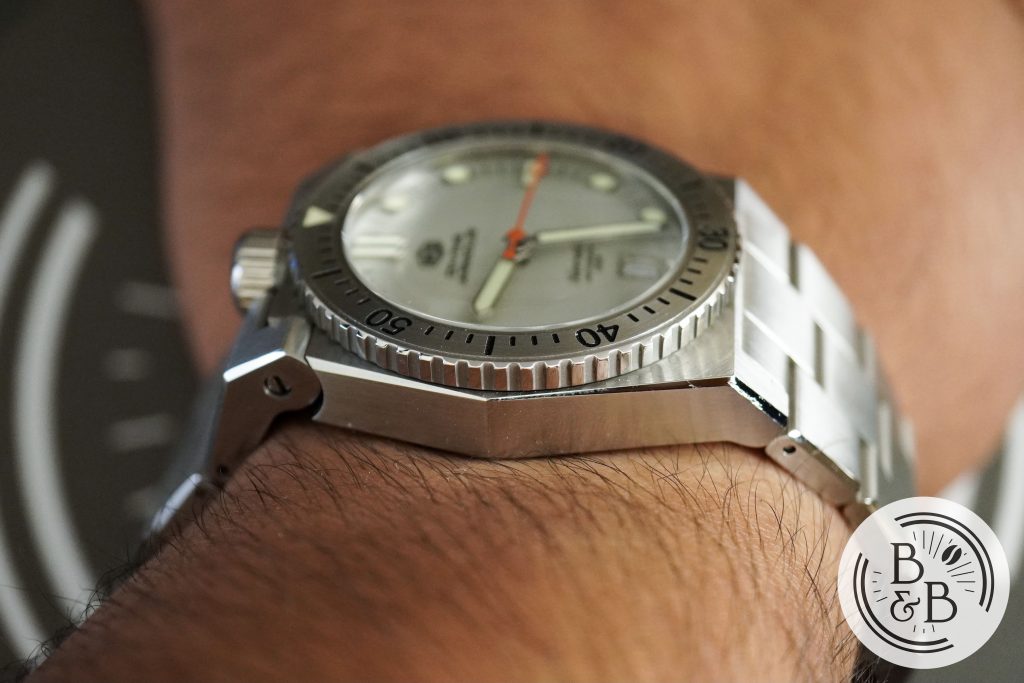 The height of 12.4 mm is pretty compact for an otherwise hefty looking watch, and it sits comfortably on the wrist and is well balanced. No real complaints from me here.
---
Concluding Thoughts
Overall, I like this one and I think you get to experience a very interesting watch design at a reasonable price. I've always loved the ZRC Grand Fonds and Triton Subphotique design, but those prices were difficult to swallow for me, without seeing them in person. This watch is a way to experience that styling for $400, and I can't think of any reasons not to buy one. Where prototypes and quality control go, this is one of the better watches I've been sent to review, and I only imagine it'll get better from here.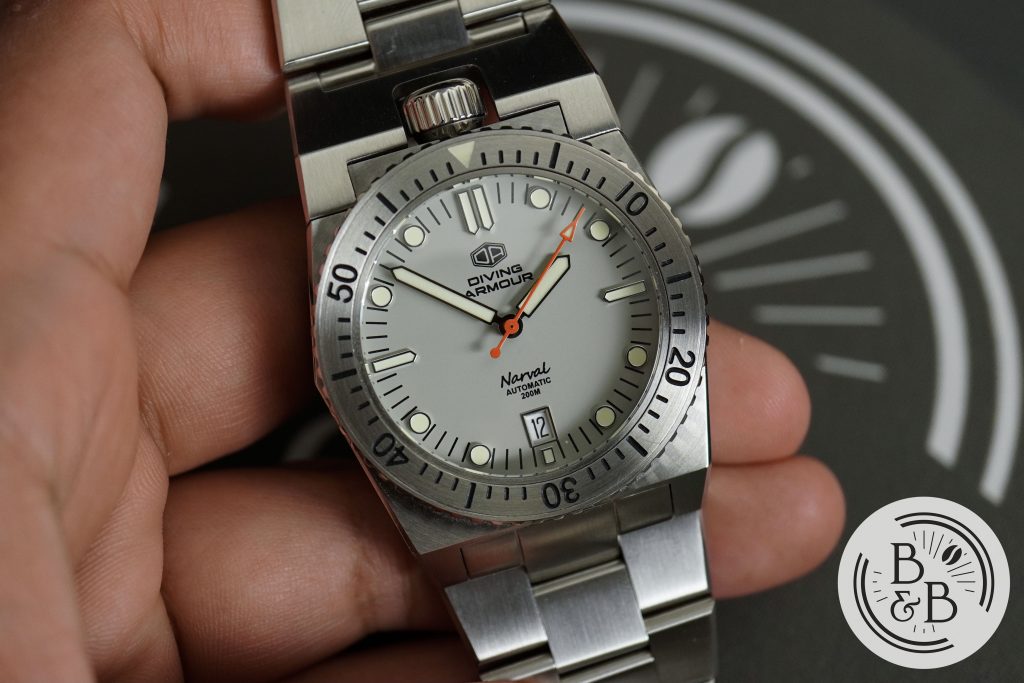 So if you're looking to try something different in the diver realm, go check this one out. As always, exercise caution with Kickstarter projects and do your research. But these guys seem to have been around in the industry for a while, with multiple successful projects already, so I suspect things will go smoothly.
---
Thanks for reading!