---
Disclaimers:
Last updated – September 14th 2022
This article is a work in progress, so there might be errors and bracelets that I have missed. I expect to have missed many bracelets using Generic Ratcheting Clasps, given how easy it is to integrate into existing bracelets. Apart from those, if you wish to submit an entry that I have missed, feel free to reach out to me.
---
Index
---
Guide
Price Guide:
$: $250 – $500
$$: $500 – $1,000
$$$: $1,000 – $2,000
$$$$: $2,000 – $5,000
$$$$$: $5,000 – $10,000
$$$$$$: $10,000+
Bracelets & Clasps – What qualifies?
I will do my best to stick to metal bracelets only, but will include other flexible strap and clasp designs if I come across something particularly interesting. As for what it takes to make this list – any mechanism on a metal bracelet that can be adjusted to increase and/or decrease its size in increments friendly to wrist expansion/contraction. This excludes clasps that have fixed length wet suit dive extensions, but includes dive extension clasps that can be adjusted in finer increments (like a ratcheting clasp). This also includes bracelets that can make minor fixed length increments to aid in wrist expansion/contraction, such as the Rolex Easylink.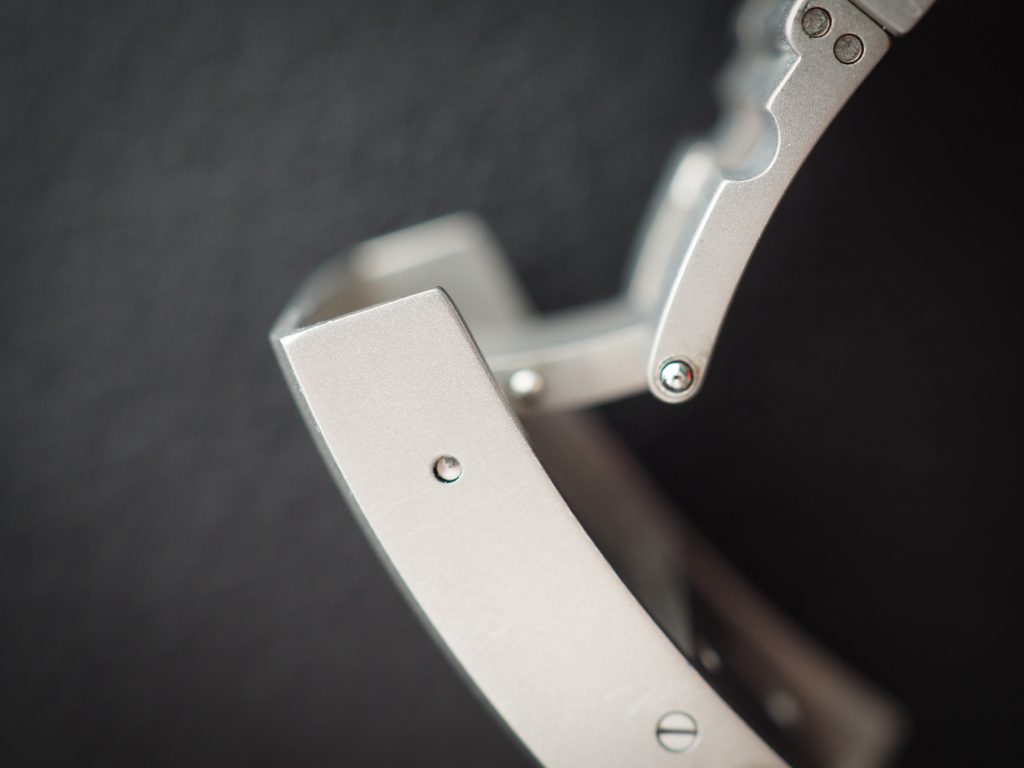 Generic Ratcheting Clasp (GRC) – this will refer to any clasp that is based on the now dated ratcheting design, commonly seen on Strapcode bracelets. These clasps get the job done, but are heavy and bulky.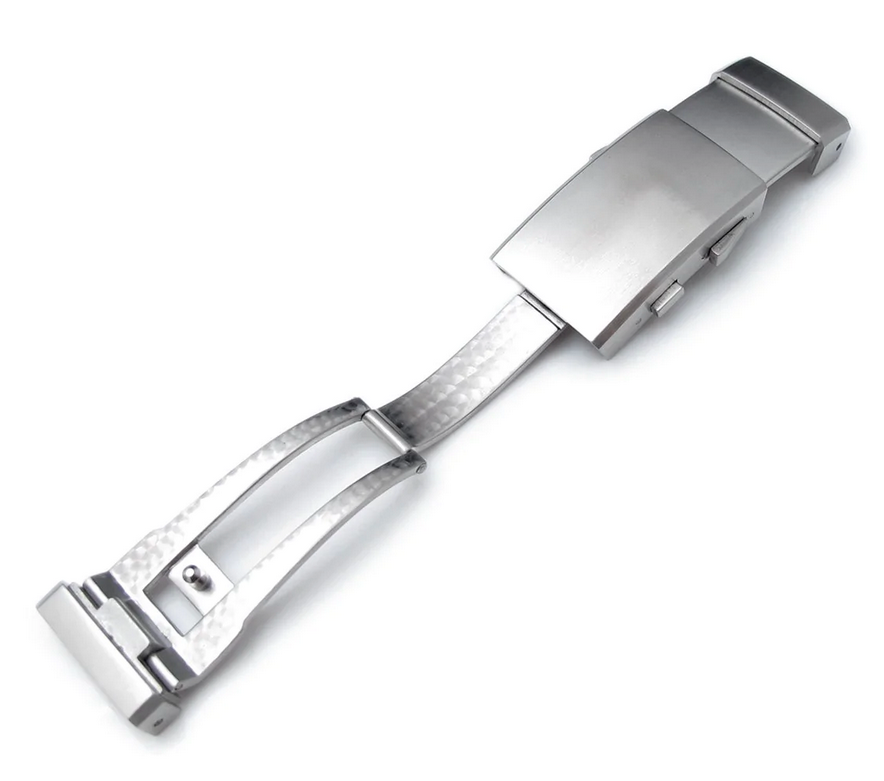 ---
List of Brands:
A
B
Breitling – most of the sports watches feature excellent adjustable clasps, such as the Superocean, which features an adjustable clasp on both the metal bracelet and rubber strap options. Some of these rubber strap + clasps can be used on other watches too (20mm and 22mm, and cost about $450-500) – $$$$$
C
D
Dango – Dango DV-01, but the bracelet works as a generic 22mm bracelet too – $$
Doxa – the Doxa divers that feature an on-the-fly adjustable clasp (like the Sub 300T) use a variant of the GRC design – $$$
DuFrane – DuFrane Travis – $$
E
Eterna – Eterna Kontiki Diver – $$$$
F
G
H
I
International Watch Co. (IWC) – many IWC models (all Big Pilot for example), have an excellent adjustable clasp – $$$$
J
Jaeger-LeCoultre – most bracelet equipped watches from the Polaris, Master Control and Reverso categories have an adjustable clasp – $$$$$
K
L
M
N
O
Omega – the Seamaster (except the Aqua Terra) collection, and some variations of the Speedmaster (like the Speedmaster '57, Chronoscope) collection.
Oris – Aquis 43mm (rubber strap only)
P
Patek Philippe – Nautilus 5811/1G debuts a new on-the-flly adjustable clasp – $$$$$$
Q
R
Raven – certain Raven bracelets use a GRC design, or can be upgraded to by purchasing the clasp separately – $$
Rolex – currently, most sports watches feature either an EZ Link adjustment system (Rolex Explorer, Rolex Oyster Perpetual, etc.) or a Glidelock clasp (Rolex Submariner, Rolex Sea-Dweller, Air King etc.) – $$$$$$
S
T
U
Unimatic – most of their watches support their universal steel bracelet, which uses a GRC design – $$
V
Vacheron Constantin – Overseas – $$$$$$
W
X
Y
Z
Zelos – almost all Zelos watches (like the Spearfish 40mm, for example) with a bracelet feature a clasp with on-the-fly adjustment – $
---
My Opinions:
The idea of a bracelet providing a mechanism of adjust-ability seems to cause much debate, and if you hang around a Grand Seiko discussion group for long enough you'll know exactly what I mean. I fall into the camp of those that see them as a necessity, particularly so if done in a manner that doesn't compromise the wear-ability of the watch in question.
I've had numerous discussions with other watch enthusiasts, watch brand owners, watch manufacturers and even normies (regular human beings with no interest in watches, but were unwillingly subjected to my opinions on the matter), and there seems to be a few different perspectives on the matter. However, I think what everyone can agree upon (even the normies), is that one size cannot fit all, and in an ideal world more flexibility is always a good thing. I say 'ideal world', because delivering a flexible watch bracelet tends to come at the cost of design, comfort (who would've thought?), price and robustness.
Robustness:
I'd rather not comment on this, and without actual material and product testing, I think making any comments on the robustness of these clasps versus alternatives is pointless.
Price:
This is what I suspect is the biggest roadblock for brands to adopt more flexible clasps. There is investment required to design and manufacture something new, while navigating the complex world of existing clasp design patents. But brands like Zelos ($500), Christopher Ward ($500-1000), Halios ($500-1000), Nodus ($500), etc. are proof that this can be done at a reasonable price. Price should not be an excuse. And slapping on a $20 Generic Ratcheting Clasp to a $2000 watch shouldn't be a solution either – I'm looking at you Doxa.
Comfort:
A lot of watch enthusiasts arguing against sophisticated clasps bring up the lack of comfort with many of the existing options out there. There are many who will avoid bracelets with the GRC design just because it is too big and bulky. I've heard many complain about the length of the clasps on Halios and Monta watches, and even the new Christopher Ward ones. And in many cases, the added function is not worth the change in form, and I think these criticisms are valid. However, I think this can be baked into the next section, design, to show that if done correctly you can have a perfect balance of form and function.
Design:
This seems to be the perspective held by most brand owners and watchmakers that tend to take a stance against adjustable bracelets and clasps. If you talk about an adjustable clasp at a Seiko or Grand Seiko boutique, this is what will likely be parroted to you, even though they use a reasonably well designed version of one on their Seiko Astron and Seiko Prospex LX models. But I suppose that design isn't in perfect harmony with the natural Japanese world. I've owned one, and I think it is, but what I do I know about nature and Japan.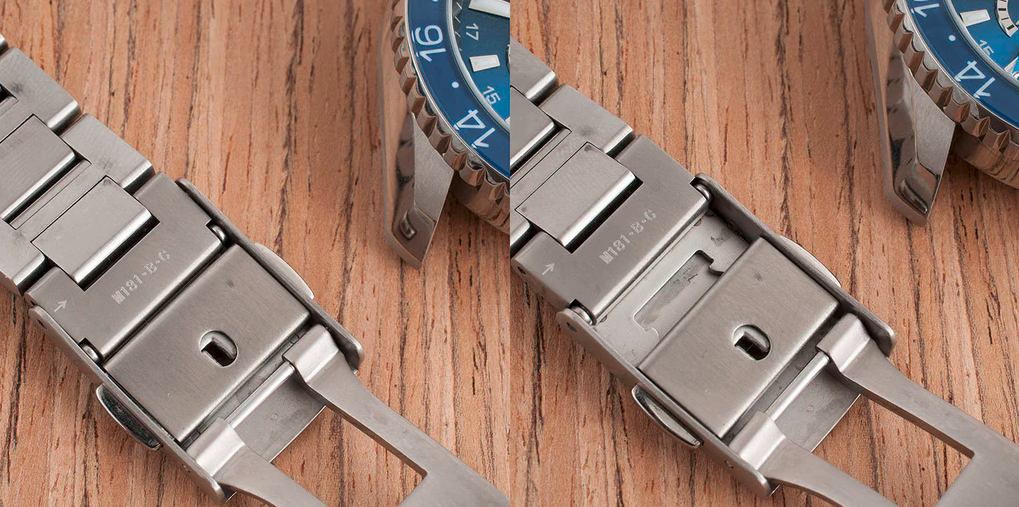 While I do agree that it is inconvenient and could break up an otherwise harmonious design, I don't think it is impossible. And I think what separates good design from lazy design is a good challenge, and one that many brands seem to be doing a great job at.
Here are a few bracelets that I think maintain design harmony, while also delivering flexibility and functionality. You can have your cake, and eat it too..
Formex Essence 39 & Formex Essence 43:
Hanhart Pioneer Preventor9: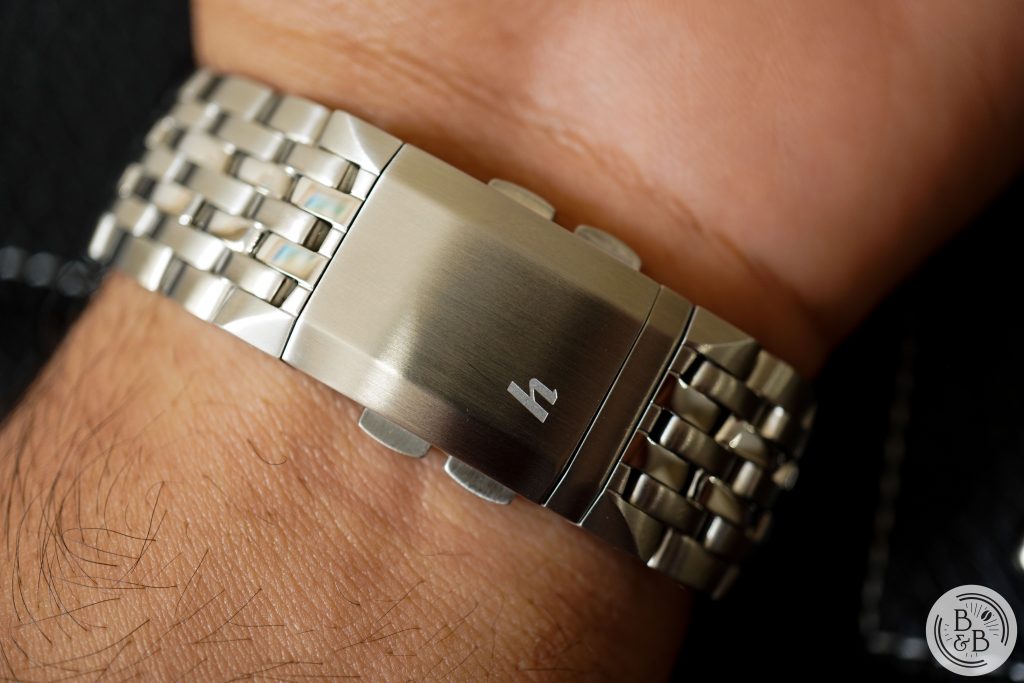 IWC Pilot:
Vacheron Constantin Overseas: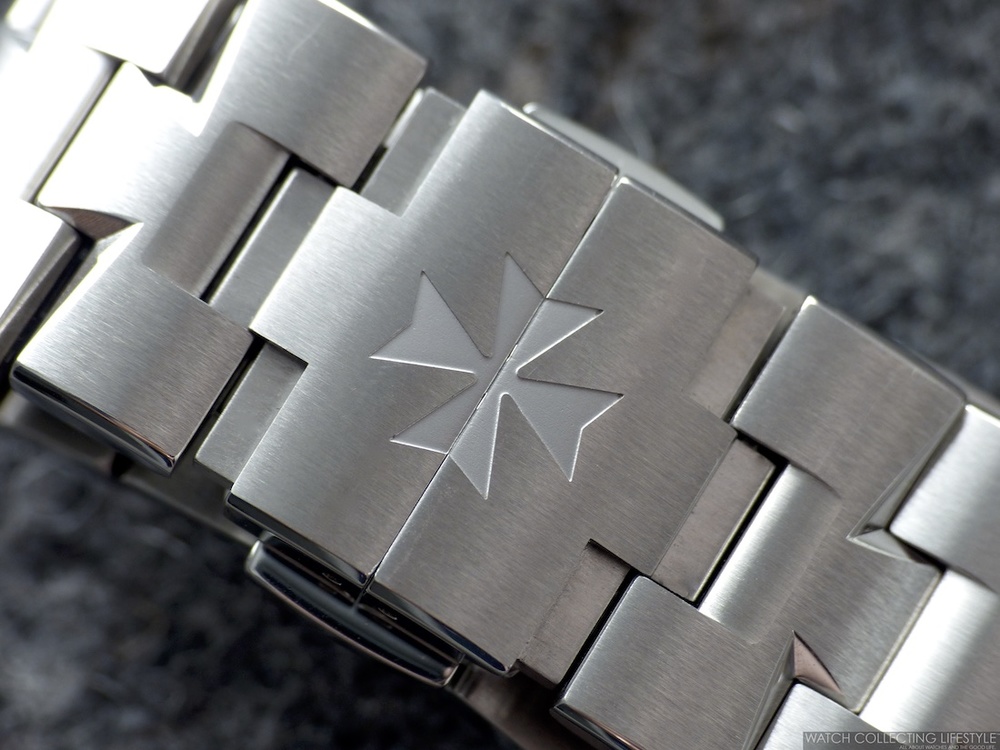 Note: while it is a beautiful design, there appear to be multiple owners who experience the micro-adjustment expanding on its own during the day, specially in activities that involve wrist movement.
Czapek Antarctique: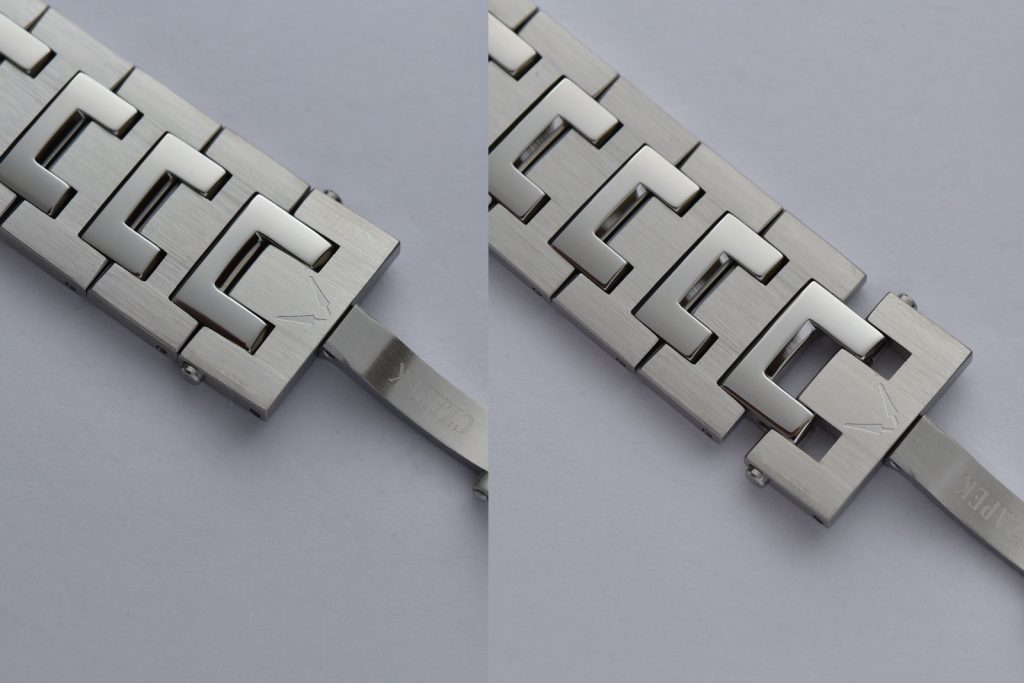 These are just a few examples where I think function was delivered while preserving form, and I'm certain there are more examples of watches and bracelets that I don't even know about. But you get the idea – this isn't rocket science, and it isn't impossible.
Thanks for reading!
---
Straps
The focus of this article is on flexible bracelets, since finding a comfortable strap isn't equally difficult. But there are brands that seem to go out of their way in providing a flexible and better fitting experience with straps too, so I figured I would include whatever I've come across so far, in no particular order.
Formex
They make forged carbon clasps to support 20mm (steel, titanium) and 22mm (steel, black) strap configurations without any proprietary adapters or attachments, so this means you can also use these clasps on other straps that support a keeper-less deployant clasp. Their leather, rubber and fabric straps for the Essence lineup are curved, and can fit other watches that take curved straps, like those from MING, FP Journe, some Zenith watches, etc. These clasps are a personal favorite of mine. Their leather straps for the Field have regular straight ends and should fit most 20mm lug width watches. The clasps will cost you around $120, and their straps are under $100.
Breitling
Breitling have a fantastic rubber strap and clasp for their Diver Pro watches, in a variety of different sizes. If you plan on using one of these straps on a non-Breitling watch, just make sure to check your lug width and ensure that the straps don't have fitted ends. While the rubber straps themselves are not too expensive ($80), the clasps can cost you as much as $450.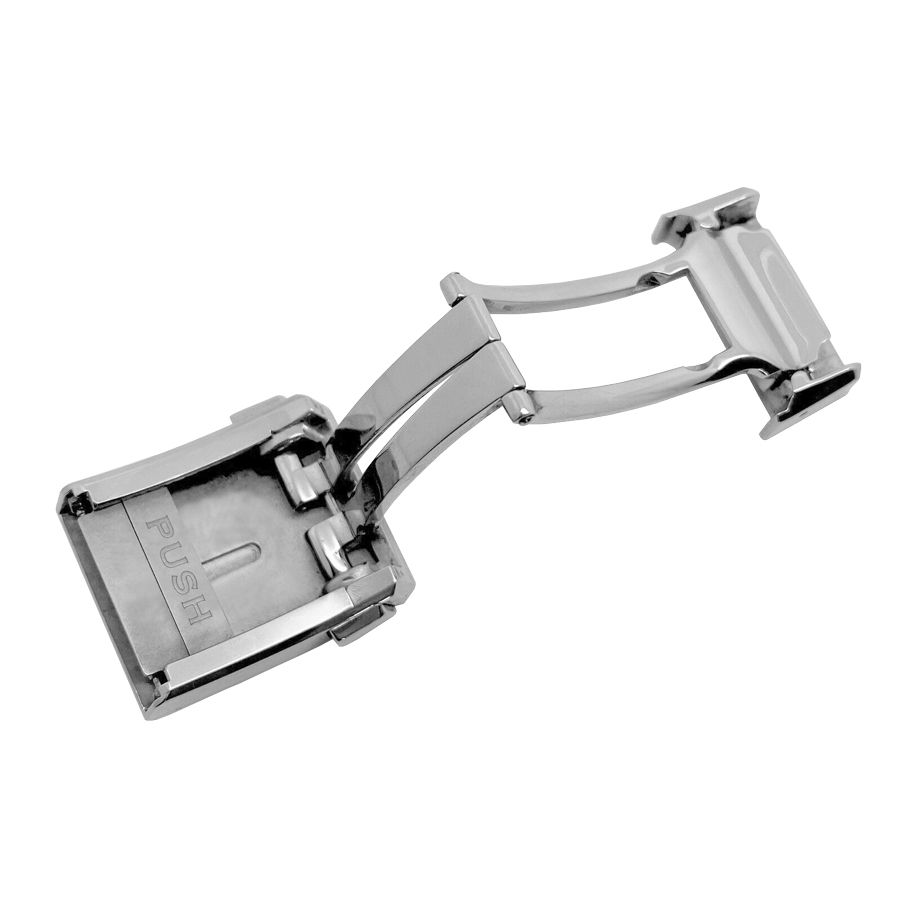 Sinn:
While not the most impressive design, Sinn recently added this DuoFlex clasp to their silicone straps that can be adjusted without tools. Since the actual straps have fitted ends, I think this is only relevant to Sinn owners, and those willing to attempt strap surgery to make it compatible with third party rubber/silicone straps. These are priced at around $300.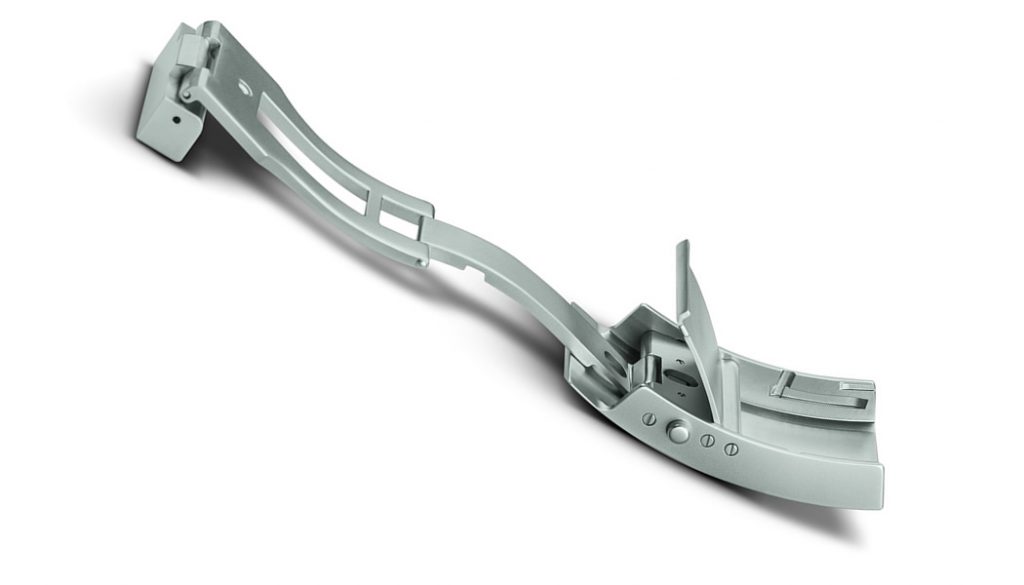 ---