---
Disclaimer: This is not a sponsored article. I'm fascinated by micro-rotor watches and exotic dials, so I asked Diyu Wu if I could pick his brain for a few minutes, and he politely agreed.
---
If you've been keeping an eye on the micro-brand watch world, you must've heard of Sólás recently, and their ambitious watch project, the Sólás Starlight. I got to ask the brand's founder, Diyu Wu, a few questions about how this watch came to be, and some of the interesting aspects behind some of it's key components. Sit back, and enjoy this chat about exotic movements and dials!
The Starlight is going live on Kickstarter very soon, and you can keep an eye on the pre-launch page here. The prices will be as follows – on launch day 50 slots at €349, followed by 100 at €369, and up to a standard price of €399, and an ultimate retail price of €549.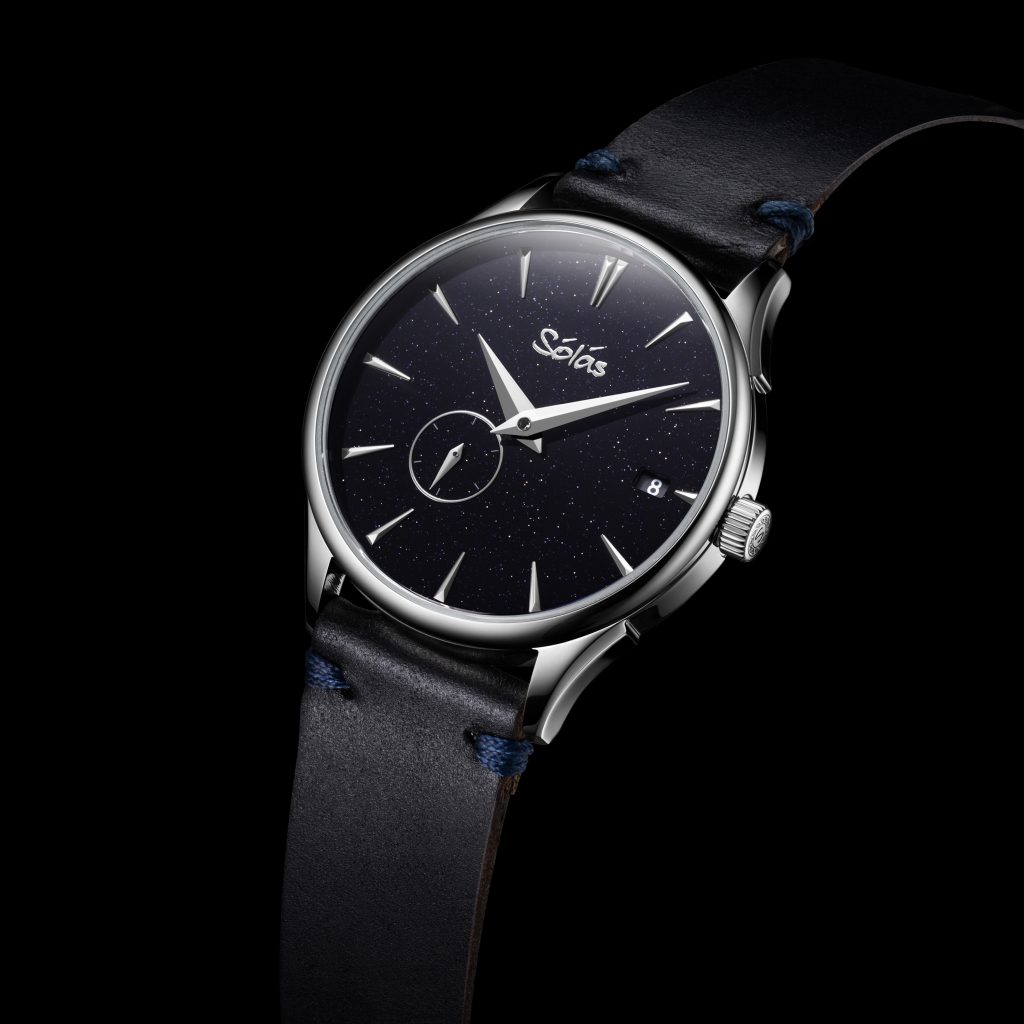 ---
Birth of Sólás & the Starlight
Hi Diyu, it's nice to finally do this. I've been following your release for a while now and it looks like things have come a long way. The latest photographs of the Starlight look stunning! For those that aren't so familiar with you, your brand and your watch, could you give us a quick introduction?
Hi Shreyas, thanks for inviting me to do this and it's a pleasure to give you and your readers a brief introduction to myself, the Sólás brand and its first model the Starlight. Sólás (the Irish word for "solace") was officially set up in 2019, after a few years of thinking about this project and getting in touch with the various people needed to bring something of this scale to life. I have been a watch enthusiast and collector for over 10 years now, starting back in my university days. You can still find my original posts up on Watchuseek, where I go by as "seagullfan" – and with the new crowdfunding method, afforded to people via sites like Kickstarter, I thought that I could bring something genuinely "new" to the world of affordable microbrands. The Starlight is a culmination of more than two years of research, design and discussion with various partners in China and Ireland. It is the world's first microbrand watch with an affordable in-production micro-rotor (the aventurine is an added bonus!). This is what I meant when I stated that I want to bring absolutely new ideas to the microbrand world, and not just tread the path that many others have gone before (and many brands do that very well already).
---
Hangzhou Micro-rotor Movement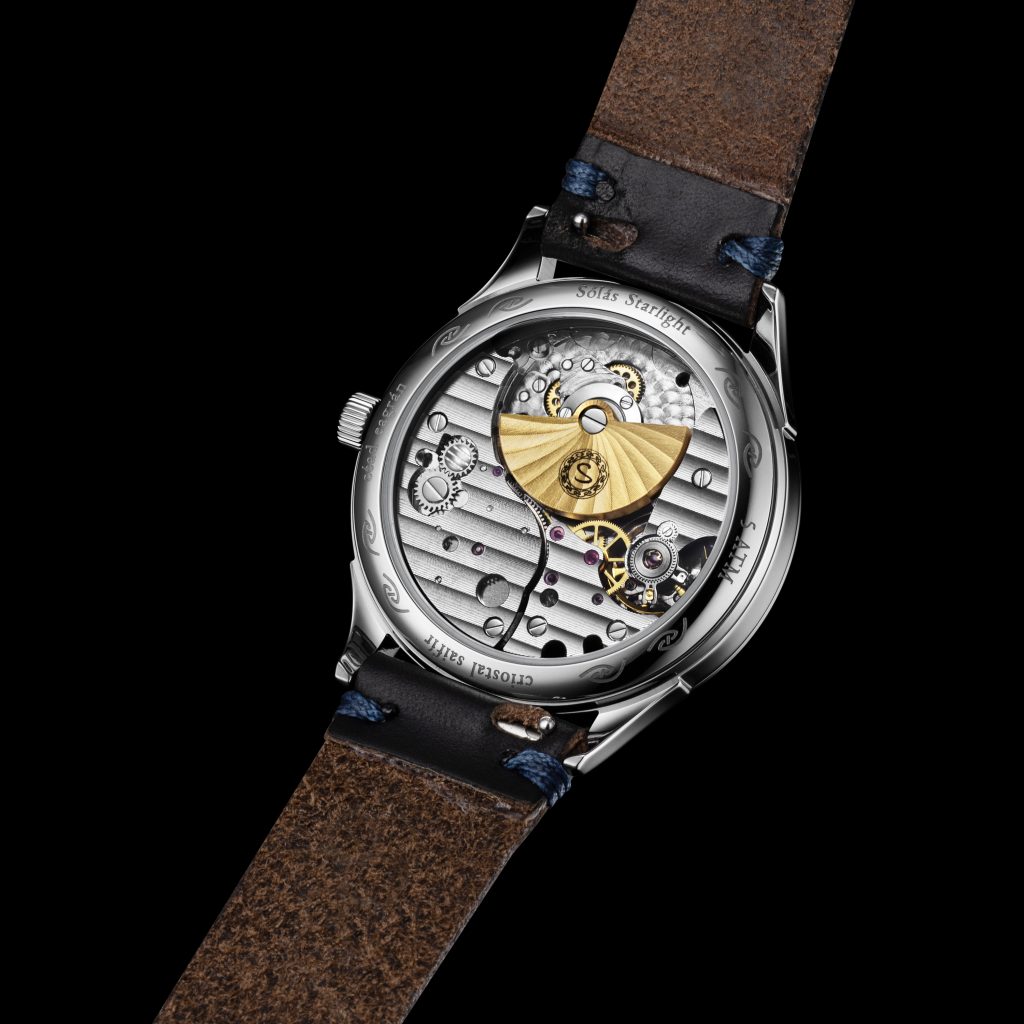 Let's dive right in. You've attempted some ambitious goals in your first watch release. I'm as tired of seeing the same old 'derivative dive watch' flooding the microbrand space as the next guy, so I'll tip my hat to you, or anyone else, for attempting something out of the ordinary. I've also been quite fascinated by micro-rotor watches, and to see one in the more affordable price range is very appealing. Can you discuss some of the challenges you've faced since discovering the Hangzhou and finally getting it into your watches? I suspect this wasn't as easy as just adding 100 of them to a basket and proceeding to checkout, since I believe these movements haven't been in "active" production?
While I'm Irish, from one look at me people can see my Chinese heritage too – so speaking the language of the movement makers certainly helps! You are right that Hangzhou had produced their 5000 series movements around 5-6 years ago – since that time I had been impatiently waiting for some brand to pick it up and produce some watches with them. Micro-rotors fascinated me with the ability to keep the convenience of auto-winding, and still display a decorated movement, not to mention the technical benefit that they are often thinner than comparative movements. A few years ago I got in touch directly with the movement supplier and they had informed me that while there was plenty of interest at the beginning, the interest waned after the supplier informed prospective buyers what the cost of the movement would be (I guess they had expected pricing to be similar to other 3 hander movements from China – or even a Seiko NH35). This wasn't the case – and a micro-rotor movement isn't something anyone can make – if you look at the forums you will see discussions about a Sea-Gull prototype movement the ST4020 which never made it into production status. The 5000 series from Hangzhou was a 2nd attempt at a micro-rotor movement after an original one was prototyped but ultimately not put into mass production.
So the main challenge was price actually – the price of everything (custom case, made in Ireland strap, more costly movement than what people might expect for a "Chinese movement" and the aventurine dial) adds up and then for many microbrands, they are left with a decision – do you attempt to charge €500+ euro for a relatively unknown Chinese movement or do you play it safe – use a workhorse Seiko NH35 and make something you know will sell? It seemed that no-one in those five years chose the first option, and that's understandable – if a microbrand is your one and only income stream then you are reliant on it succeeding to feed you and your family. I can completely understand why anyone when faced with that decision would turn away from a risky choice that may not pay off and create a Seiko/Rolex/Omega-based homage that is guaranteed to sell, make a modest profit and keep the roof over their heads and food on the table.
When that question arose in front of me I decided to choose a 3rd option – I am in the fortunate position to have a day-job which I work hard at and pays me well, so I don't need to make a commercial profit selling the Starlight – instead I can offer this piece at a sustainable (but not commercial) price out of a desire to provide some joy/comfort/solace ("Sólás") to people who love watches and might not be able to afford the average micro-rotor watch or an aventurine one. When I say this is a passion project, I am not saying this as a marketing blurb – my passion for this project allows me to work on this without expectation of pay. Because I love doing it and sharing this with other people, and I have a job that I work hard at that funds this passion, so I have the luxury of choosing not to need to make commercial profits from the Starlight model. This has 3 benefits as I see it:
I am building trust in the brand/movement – people will see that the movement performs well and can be trusted in future models which may be at a more commercially priced point;
This is good for the microbrand industry – someone needs to be first to jump in – and I'm willing to be that guinea pig – I know for a fact that there are other microbrands also looking at the Hangzhou 5000A movement now since they heard that the Starlight is being launched – and that's great – more choice and options to consumers is a wonderful thing; and
This is good for Chinese movements and their reputation too – if you just have experience of $30-50 watches from Chinese online markets then hopefully something like the Starlight can tempt you into trying a higher end Chinese movement and you'll discover a world of difference between a $30 watch and a €300+ one – that's a win for the Chinese movement industry in general and something I'm happy to support too.
---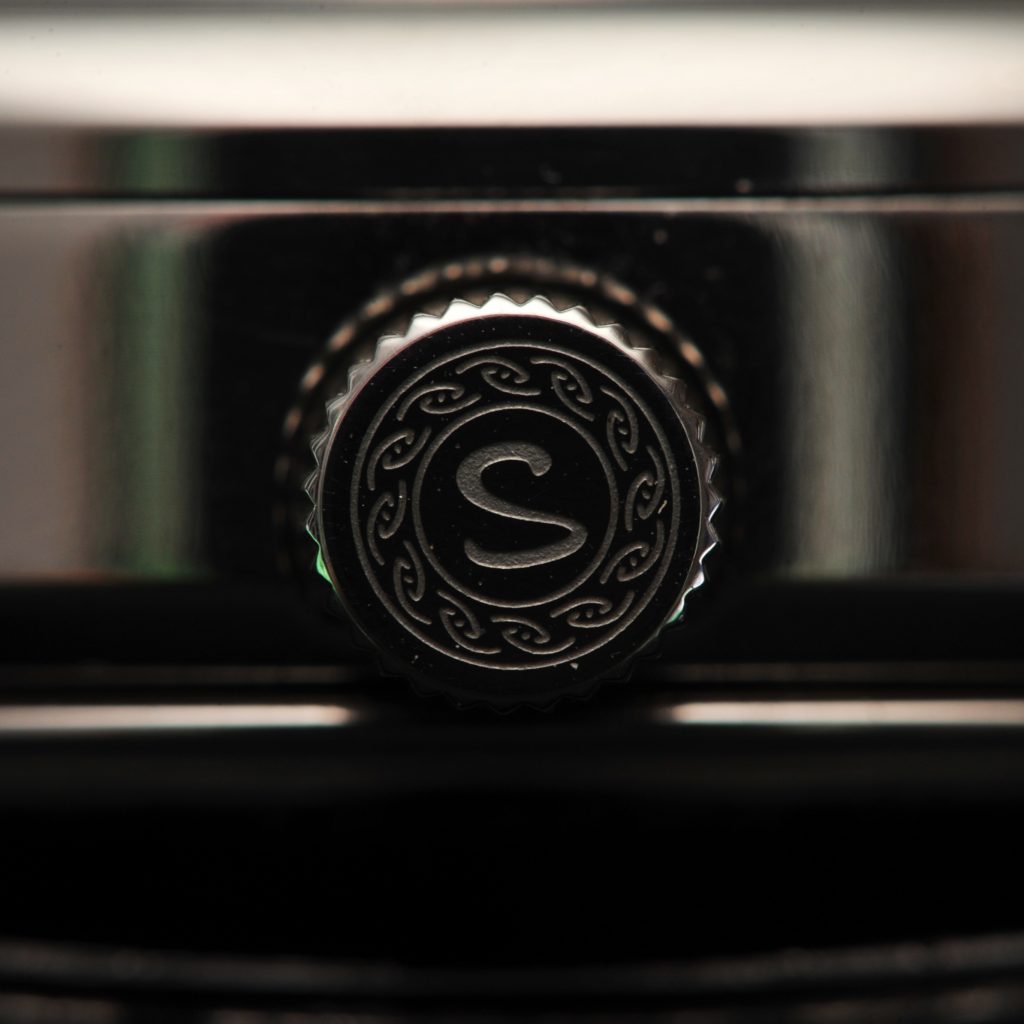 Chinese Movements & Stigma
I had the pleasure of reviewing another watch with a Chinese movement recently (Atelier Wen and the Peacock SL3006). I had it for a week, which is obviously an insufficient amount of time to make any notable claims about a movement, but the accuracy and operating experience were both very good. Even based on this fantastic article here from an expert, it appears that Chinese movements can be good timekeepers, and the main drawback is just poor quality control practices. Given the stigma around Chinese movements, are you taking any extra precautions to ensure each movement is held to higher standards?
I touched on this point in the last question and I'm glad to be able to expand a little more on it here. You're right that certainly some movements as sold online from China have been unreliable (most often they might be automatic converted movements using the "TongJi" (standard movement) developed in the 1970s). The sad thing is that the movement itself is a fine, robust, workhorse design – you can learn more about the history of the movement here, but it is the fact that they are being built to a cost that hinders their reliability nowadays. I can't be certain – but I would think a well built standard movement could probably be built to COSC specs – but no one is paying for that high level of finishing/QC/tolerances.
So the old adage of "you get what you pay for" is applicable – many people might be surprised that Sea-Gull the maker of the ST19 movement used in those $180-200 1963 mechanical chronographs also make a minute repeater watch, a gyro-tourbillon and even a perpetual calendar minute repeater. The top end Sea-Gull watches cost around $80,000 but that is still a "bargain" price compared to what a similar perpetual calendar minute repeater might cost from the Swiss. So the quality is absolutely there – it is just a matter of people being willing to pay for it. In fact I had a tour of the Sea-Gull factory a number of years ago and held one of their minute repeaters in my hand – being able to hear a Chinese made minute repeater was certainly one of the highlights of my watch collecting life.
To answer your question directly – yes, while the Hangzhou 5000A is already factory rated with timing specifications better than a Seiko NH35 or even a standard grade ETA 2824 (more in line with an élaboré grade 2824) and my factory partners will be running their own QC and timing tests in China, I will perform a final QC check in Ireland, using my own water resistance testing equipment and timegraphers – and regulate as necessary. While the original plan was to oversee QC in China personally, the COVID-19 issue has made that plan risky and instead the final QC inspection will be performed in Ireland. I have enough watchmaking experience to disassemble such movements and perform regulation (having done so for my own watches in the past). Separately, for peace of mind Sólás will be providing a two year warranty on the watch and its movement – which also ties into my earlier point about setting a sustainable price for the Starlight – creators need to ensure that enough income has come in that after care for their backers/customers has been factored in.
---
Aventurine Dial
Let's talk about the dial. It seems like it wasn't enough for you to take on one challenge (where the movement was concerned), but you've attempted a very difficult (and polarizing) dial – Aventurine. I particularly love the starry appearance, but it looks incredibly difficult to capture in photographs and videos. Given that your Kickstarter campaign and your sales are all online, how have you managed to correctly capture and present this beautiful dial. To be fully transparent, I have seen some photographs of the watch from reviewers, and some photographs make it look very bland and unassuming, whereas the material is fundamentally the opposite.
I don't think it's just a problem with Sólás – even the high-end German/Swiss makers like Bovet, A. Lange Söhne or H Moser & Cie can run into this problem… I've seen quite a few pictures of the H Moser's Endeavour Moonphase in particular which looks more "glittery" than gorgeous – and I'm sure the dial in person is absolutely stunning. For many reviewers a watch is usually seen best under a nice strong and direct studio lighting – that's not necessarily a true representation of how aventurine looks (or what someone might see day to day in the office) – it's effectively having the dial turned up to eleven 100% of the time. In the end I sought a professional photographer to get an accurate representation of the dial as we saw it by eye. I understand that as aventurine isn't often seen in pieces costing less than $1,000 many people may not have seen (or even heard of) the material before. I would ask that people consider for a moment why brands like Bovet, A. Lange Söhne or Moser choose to use this material in some of their high end pieces – it's certainly not because they think it looks bad.
I have to admit I haven't held any of the pieces those brands made in my hand personally – but the piece that I have inspected personally (and what drew me in to aventurine in the first place) was the Omega Speedmaster Moonphase with aventurine – I'm a Speedy owner myself (the broadarrow moonphase version) and a number of years ago I held an aventurine Omega Speedy in my hands. Alas, the Omega version was a little out of my price league but now I knew how beautiful aventurine can look. So when the chance came to pair the micro-rotor up with an exotic dial like aventurine, I pounced. Because if I'm going to make it hard for myself to convince a potentially skeptical audience that a Chinese movement might be worth 300 (or even 500+ euro), I might as well make it doubly hard and convince them of the beauty of aventurine while I'm at it too!
On the point of reviewers' photos/videos – the great feedback I got from all reviewers (the people who held the watch in their hands) was that they all loved the dial and could see how special it was. Photos and video don't do aventurine justice (even the professionally studio shots) because you still can't see the depth of dial. The metallic flakes aren't sitting on top of the dial – it *is* the dial – the flakes are literally baked into the dial and that's what gives the Starlight its name. I guess the people who are intrigued by aventurine, research it and learn what it's about (the WIS that I'm trying to appeal to) will understand what a special material it is. For every comment I've had that it looks like a $90 supermarket special I've also had someone say to me that they can't believe I can offer both a micro-rotor and aventurine together at this price. The second group of people are the customers I'm hoping Sólás will attract and keep as we develop our brand.
---
Navigating Diverse Preferences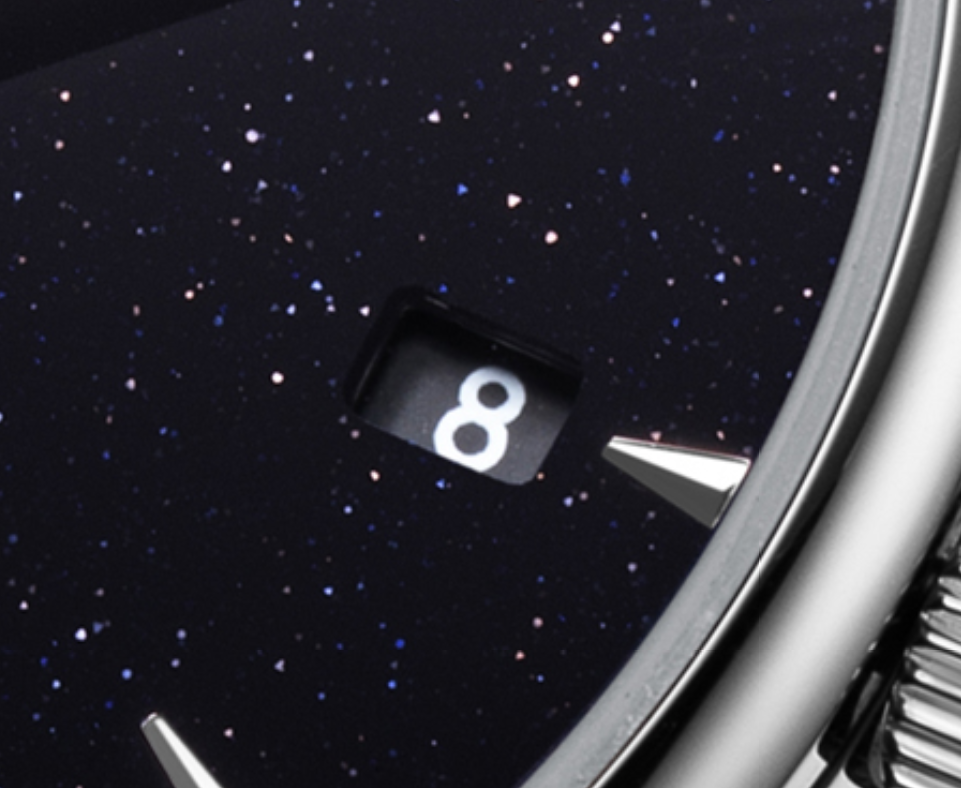 I've seen mostly positive feedback from watch enthusiasts regarding the Starlight, however some age-old preferences still creep up, like folks asking for a no-date variant. Personally, I often find myself in the no-date camp as well, and for a gorgeous dial such as this, it seems like that isn't an unreasonable request. I understand that a no-date variant would result in a ghost date position, but many of us aren't bothered by that anymore given the dozens of watches that have this ugly side-effect, even upto $1000 watches. Would you consider an option for a no-date version with a ghost date position, or is that out of the question at this point?
To answer your question straight off – it's not possible to make any major changes to the design anymore as I've already put my money where my mouth is and put down a deposit for the bulk order – so the cases, dials etc. are currently being manufactured en masse. This was needed to procure enough production review units for reviewers as it is understandable that the factories themselves do not wish to stop a manufacturing line just to make 10-20 individual units. The deposit is being funded wholly by myself so I definitely believe in the Starlight!
I completely understand people loving choice and options. Having analyzed other Kickstarter campaigns and seeing problems creators may have had I think "biting off more than you can chew" is a big problem – some brands end up offering 4 dials, date/no-date, strap/bracelet, 24 hour/diving bezel – all which add to cost, complexity and the possibility of something going wrong. For the very first model that Sólás is launching I decided to take a page out of Henry Ford's book – "you can have any colour you want – as long as it is black". With just the one model – I can work on getting this one model right first before adding future options (which I definitely do have in mind). Accordingly, as I am a believer that:
the date lovers (and I count myself in that camp!) probably constitute the majority of people, even for dress watches;
I have tried to keep the date as inconspicuous as possible (no window frame and a colour matched date disc) to try and keep the focus mostly on the dial while still retaining the useful (to me – it's the complication I use the most) date feature; and
As the movement already has this feature
Then if only one model is to be made for the Kickstarter campaign then the date version is the one to go with. When we enter serial production at retail pricing I would be hoping to offer more options for the Starlight also.
This philosophy of concentrating and focusing on the one model, and getting it right is something I feel like I have carried into the full design of the whole campaign/watch. Things like the quick release springbars, the choice of the type of deployant clasp (which doesn't require retainer loops and minimises metal contact on the skin) and date disc colours were all consciously chosen as things that watch collectors/lovers would appreciate. It's also why there's almost no mention of the box the watch will ship in – because it will be a simple affair – something to keep the watch safe in transit and recycled once used. The funds and money has been spent on the watch itself – and that's something I think people will appreciate if it means the KS price can be kept as low as possible since – going back to your first question I am doing this not because I'll be rich at the end of it, but because I want others to be able to afford a micro-rotor watch (with the bonus aventurine).
---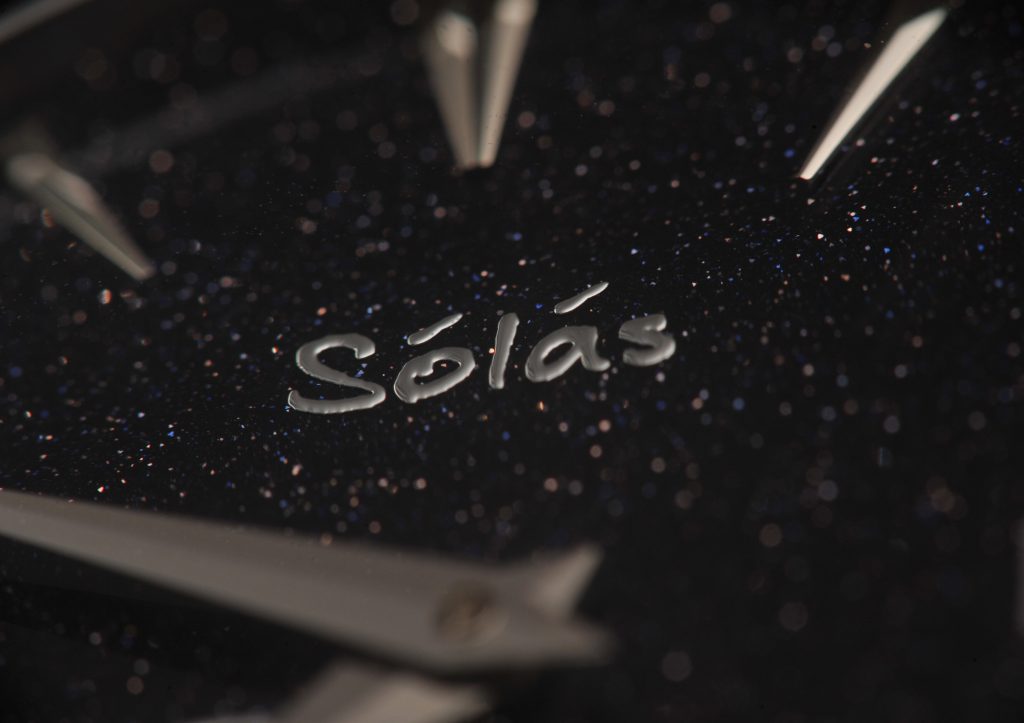 How To Get One
Thanks for doing this quick interview. It has been a pleasure talking to you and following you all across the different forums and discussion groups. I wish you the best of luck for the launch of the Starlight! If you would like to direct our readers to any relevant locations, feel free to include them here!
Thanks again for getting in touch! I hope your readers will see my passion come through in this article – because I hope that every model that Sólás makes will be innovative, creative, if not another world "first" and designed for watch collectors/lovers in mind. Some of the relevant addresses which may interest your readers include:
https://www.kickstarter.com/projects/solaswatches/solas-starlight-an-irish-affordable-micro-rotor-watch – the Kickstarter pre-launch/launch page;
www.solaswatches.com – the Sólás webpage; and
If people want to be notified of the exact launch date as soon as I have it set I would welcome them to email me directly at info@solaswatches.com and I'll add them to the notification list.
Thanks again Shreyas and I look forward to seeing more of your articles on Beans and Bezels.
---