---
Disclaimer: I purchased this watch brand new/unworn on the secondary market, and was not externally incentivized in any way to make this review. This review is in no way sponsored by Zelos, or any entity. All opinions here are my own.
---
---
Contents
---
Skyraider Ti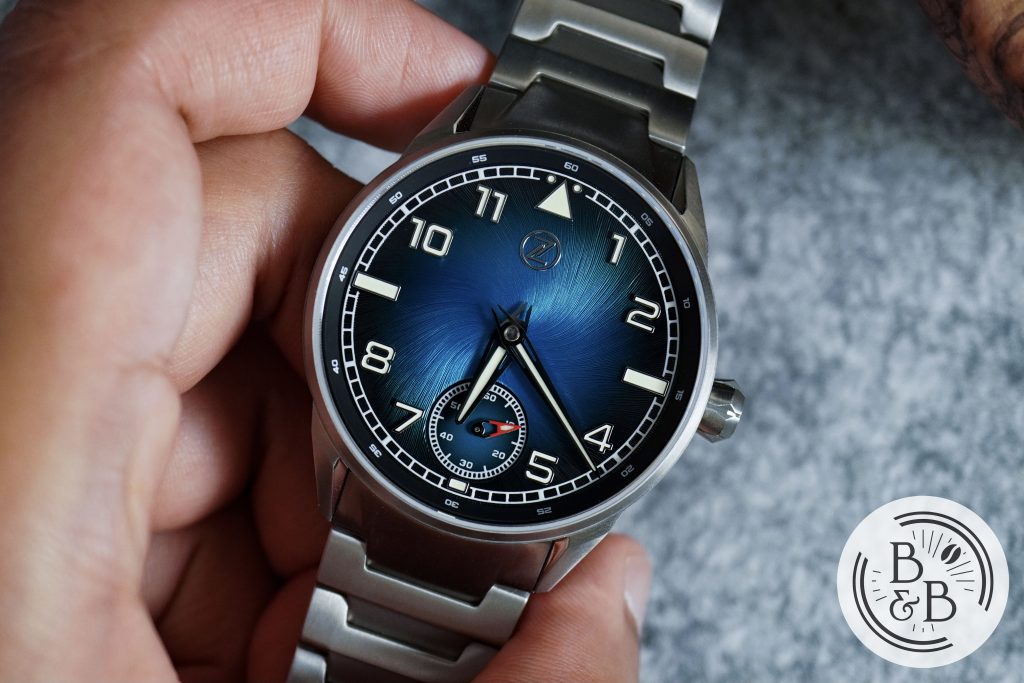 This is the fourth Zelos watch I've handled, and the third one I'm doing a detailed review of. So far, I've bought their more affordable watches to review, and conservatively limited myself to the sub $500 category. And I think it's safe to say that Zelos owns that segment, making it pretty hard to look at other brands, if you're after value and unique designs.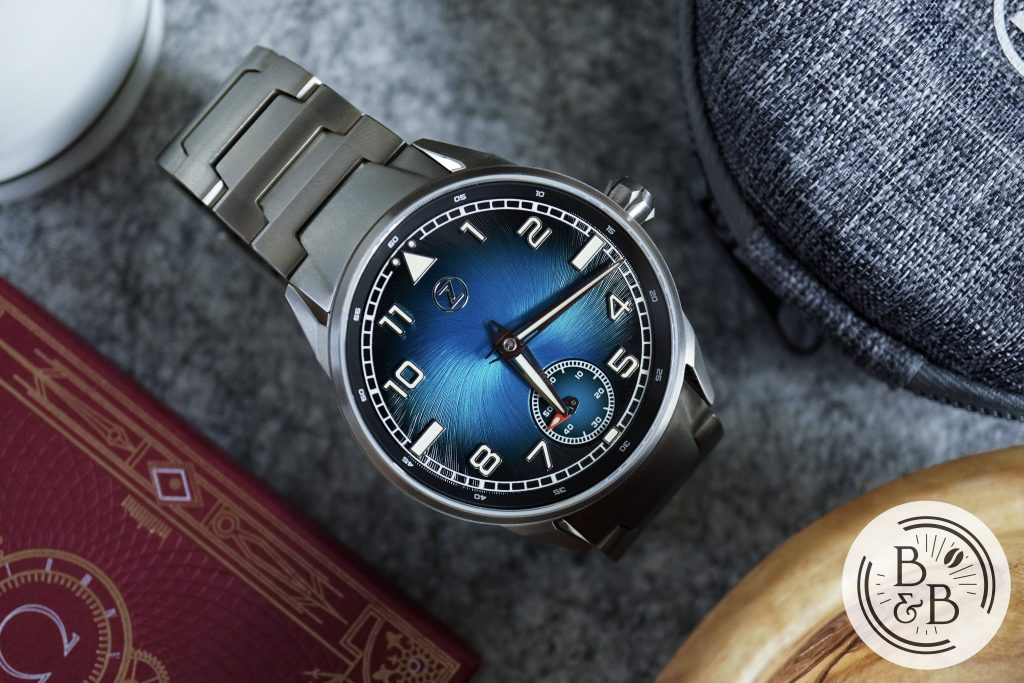 But Zelos makes watches across the price spectrum, all the way up-to $12,000. Making a great $500 watch requires a different set of skills than making a great $12000 watch. At $500 you can get away with mediocre dial finishing, bracelets and clasps that are a bit rough around the edges, and so on. But as you start to move up the price ladder, watch nerds like me become more demanding and expect a certain level of perfection in our purchases. And as a cynical consumer, it is difficult to see the same brand playing in these vastly different price categories, and believe they're actually doing more in their higher end pieces.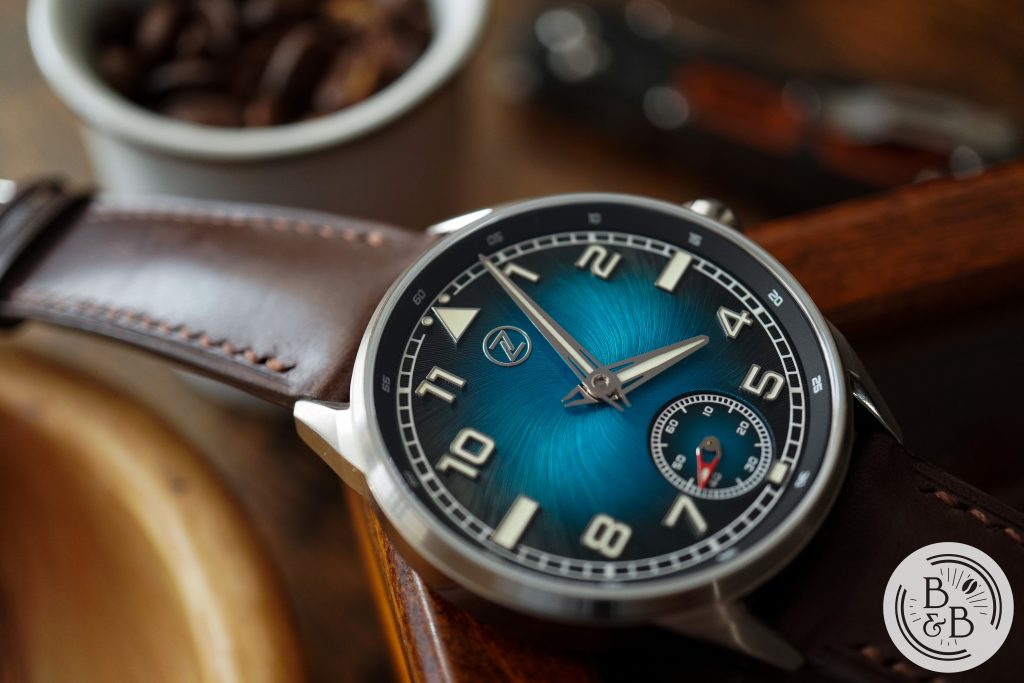 We're not going to go to $12000 watches today, but one tier above the $500 category, with the Zelos Skyraider 2 in Titanium. This watch has a retail price of $1100, and before I even proceed, I will say that this watch does justify that price tag, and Zelos put in the work to make an excellent value for money watch in the $1100 price range, just as they do in the $500 range.
Let's check it out!
---
Case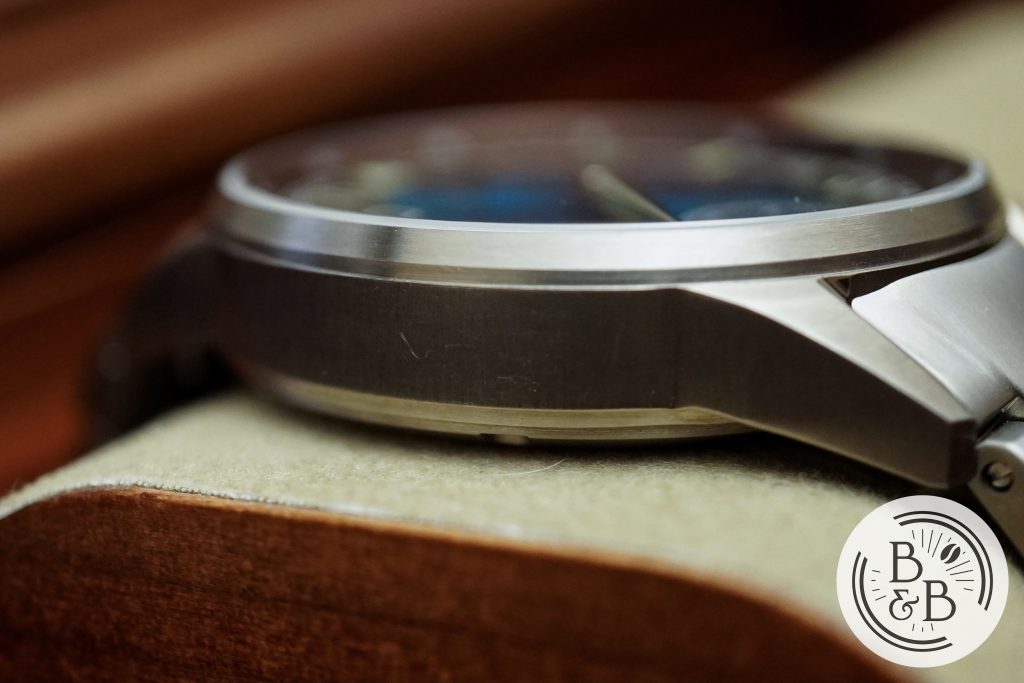 I measured the case to be 42 mm in diameter, 48 mm from lug-to-lug, 54 mm from end link to end link and 10.75 mm in height including the crystal. The case is made entirely of Titanium and lacks any hardening coating, so I managed to get some surface scratches on it during the course of this review. The case is mostly brushed with a few polished accents.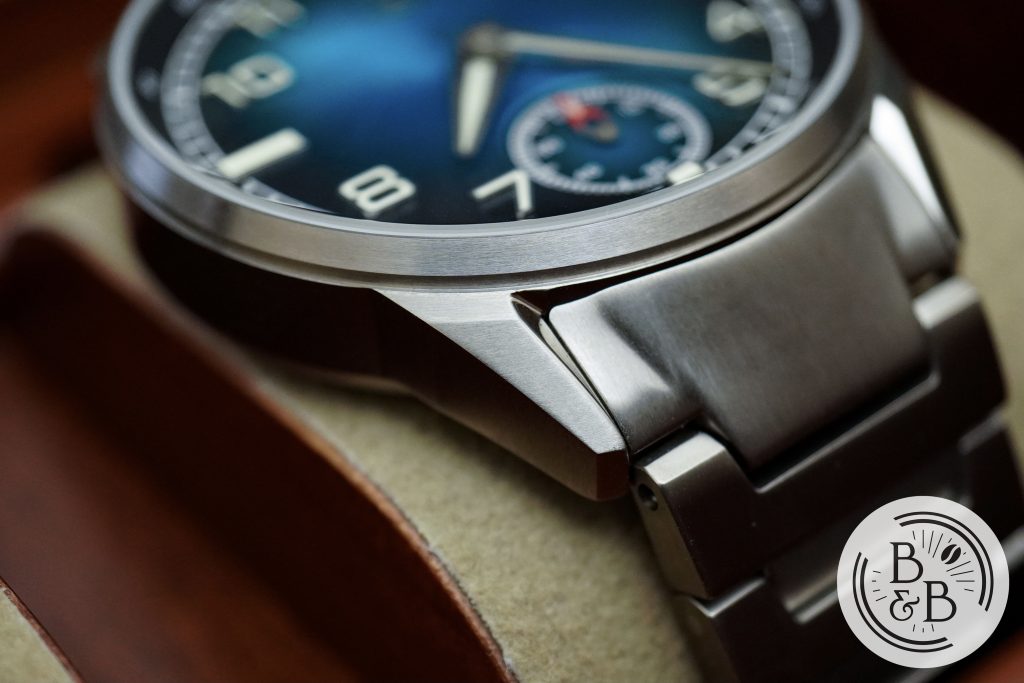 The mid case extends out into a pair of short and narrow lugs and I think the design of the lugs works well with the rest of the case and bracelet. The lug width is 22 mm.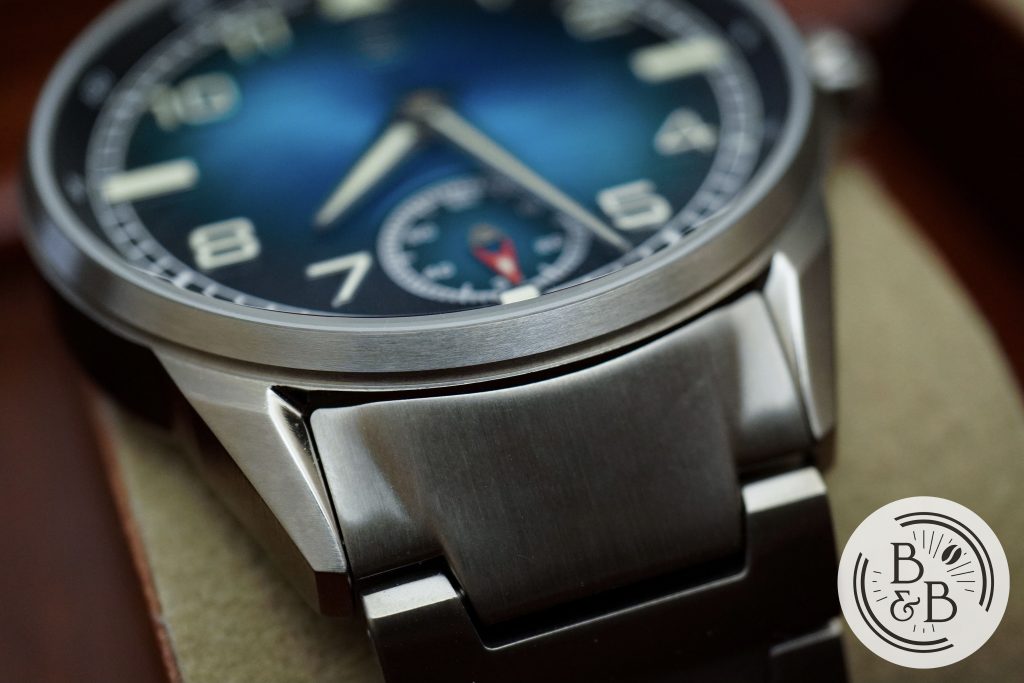 This appears to be a two piece construction and the mid case transitions into a brushed fixed bezel section. The bezel seats a flat sapphire crystal that is slightly raised. The crystal has sufficient AR coating, and the size itself makes for a wonderful viewing experience.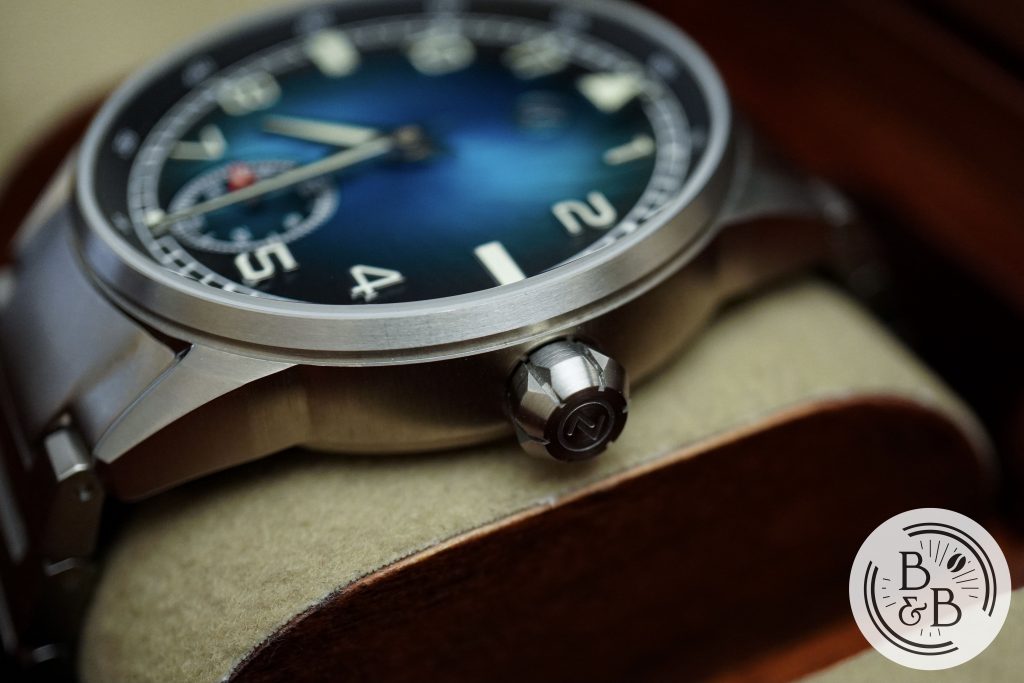 There is a 6.3 mm push-pull crown at the 3 o'clock position that has an angular design that works well with the aviation inspired theme of this watch. The crown is easy to grip and operate and there's no crown or stem wobble.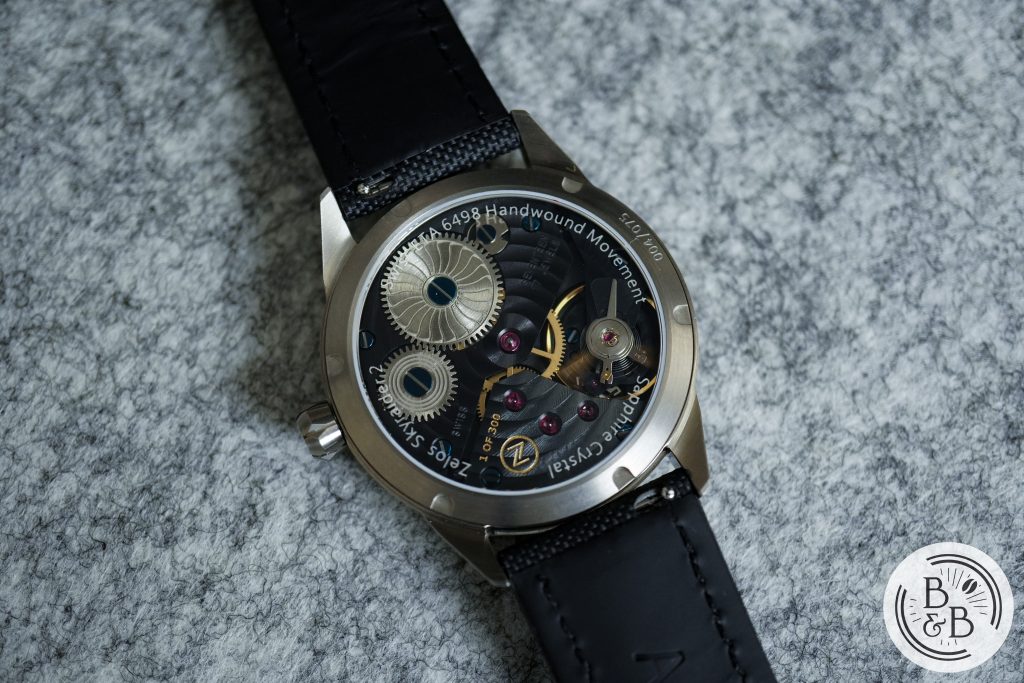 Flipping it over, you have a large exhibition window and a screw-down case-back. This watch is rated for up-to 50m of water resistance. Given the nature of this watch and the large sapphire sandwich design, I think this is more than reasonable. The case design and finishing is excellent and I'm a fan.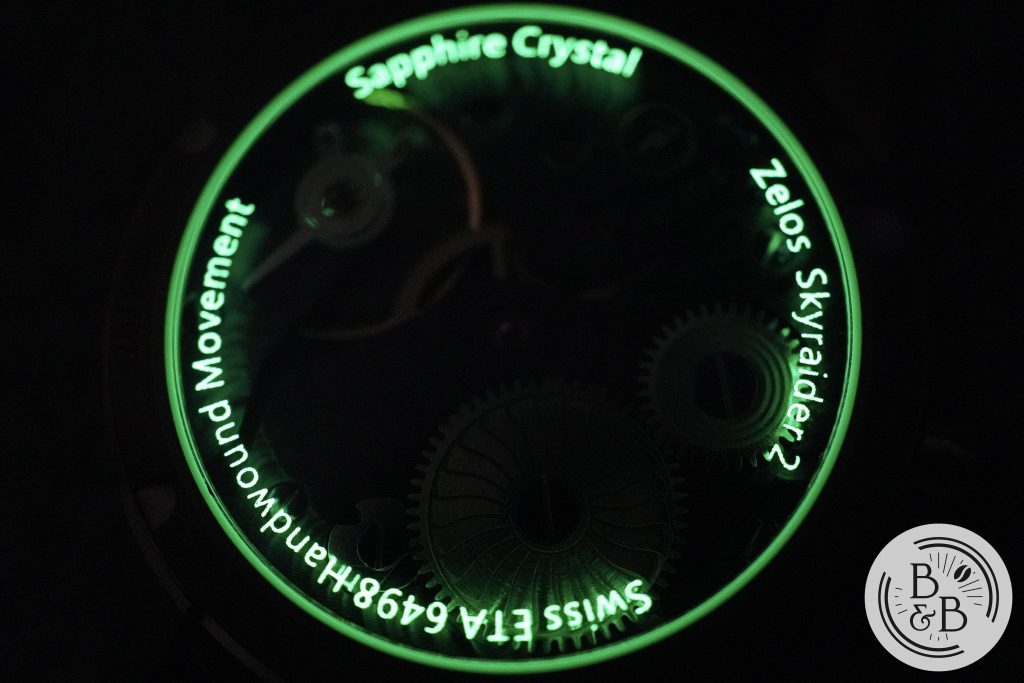 Oh, and the case-back specs are also lumed. If this isn't the coolest case-back, I don't know what is.
---
Dial
Time for some honesty – I've never seen a Zelos Teal dial before, and even though I'm a sucker for blue dials, this one just did not speak to me based on the photographs I've seen on their website. And in my hunt for a Skyraider, this was at the bottom of my preference list. But wow, I'm blown away by the colors, the texture and the overall finishing of the base material.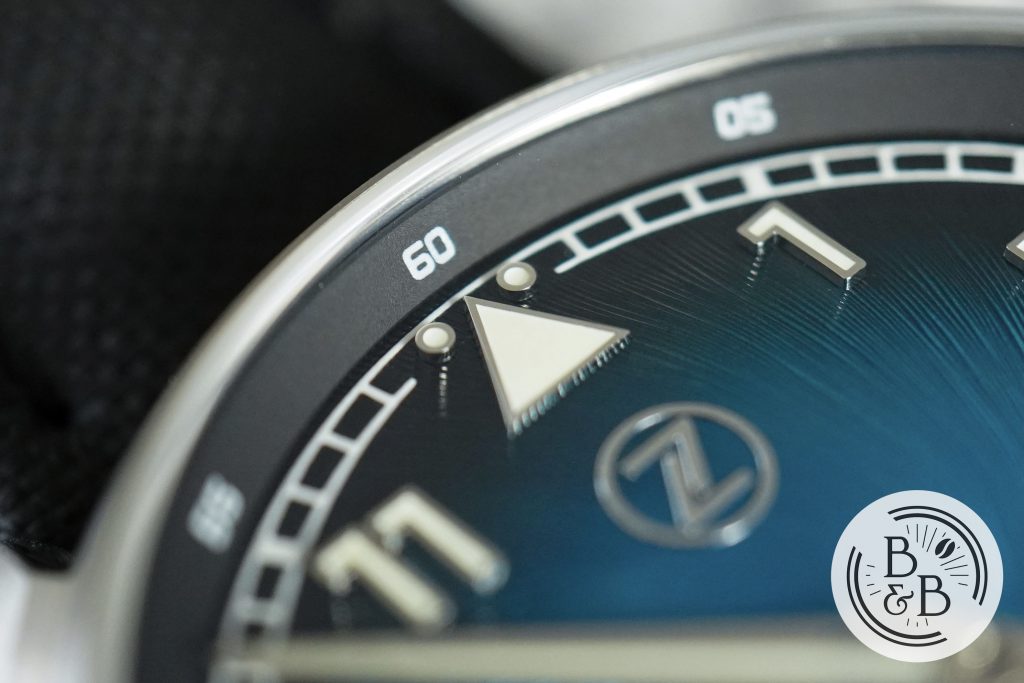 It has what I would call an aqua burst pattern, covering the entire spectrum of teal hues, accented by the swirl pattern on the dial. To make this dial pop even more, the base material appears to have a bit of glossy finishing, which means you'll see some light play on the individual ridges as well. Absolutely brilliant job from Zelos, and I can see why the teal dial has become somewhat of a flagship in their lineup.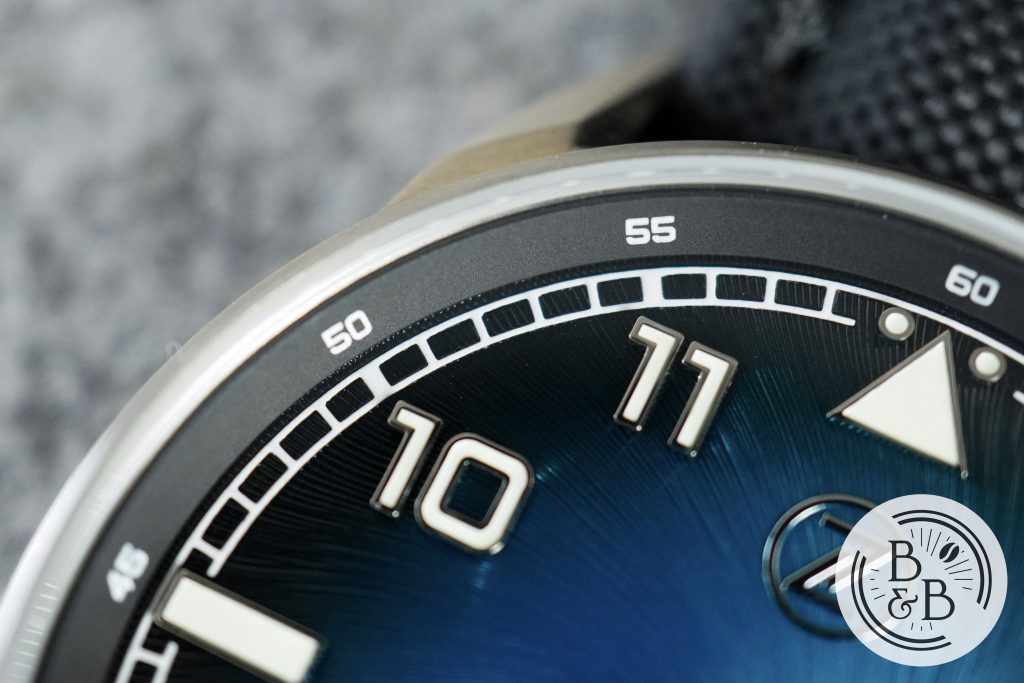 There is a narrow sloped chapter ring that has Arabic numerals printed in white, for every five minute increment. The printing quality is excellent and it adds to the overall legibility of the dial. You then have a rail-road style minute track printed on the base of the dial in white. The quality of printing is good, and this is also lumed.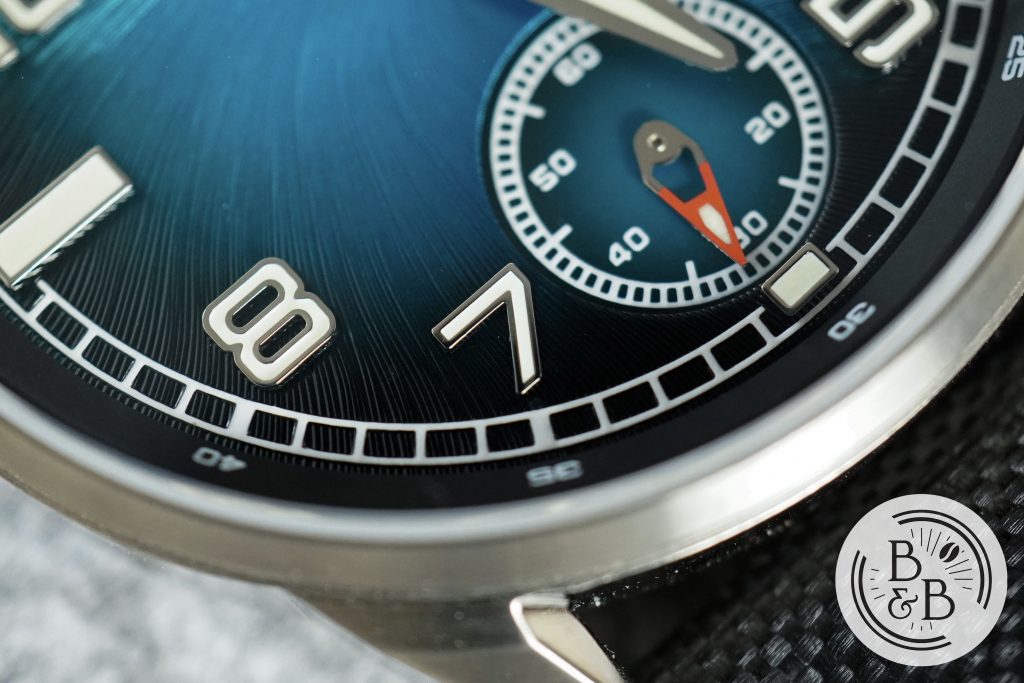 You then have applied stainless steel indices for all the hour markers, with Arabic numerals, rectangles and a triangle for the 12 o'clock index. The finishing on these is very good, and better than the other Zelos watches I've reviewed so far. They are also large, and generously filled with lume. The triangle at the 12 o'clock index with two circular markers is another nod to the pilot watch design.
There is a small seconds sub dial at the 6 o'clock position that neatly sits between the 5 o'clock and 7 o'clock indices. It is recessed into the dial, and has a fume finishing, transitioning from blue in the middle to black at the edges. Once again, you have a railroad style seconds track printed in white and this is also lumed.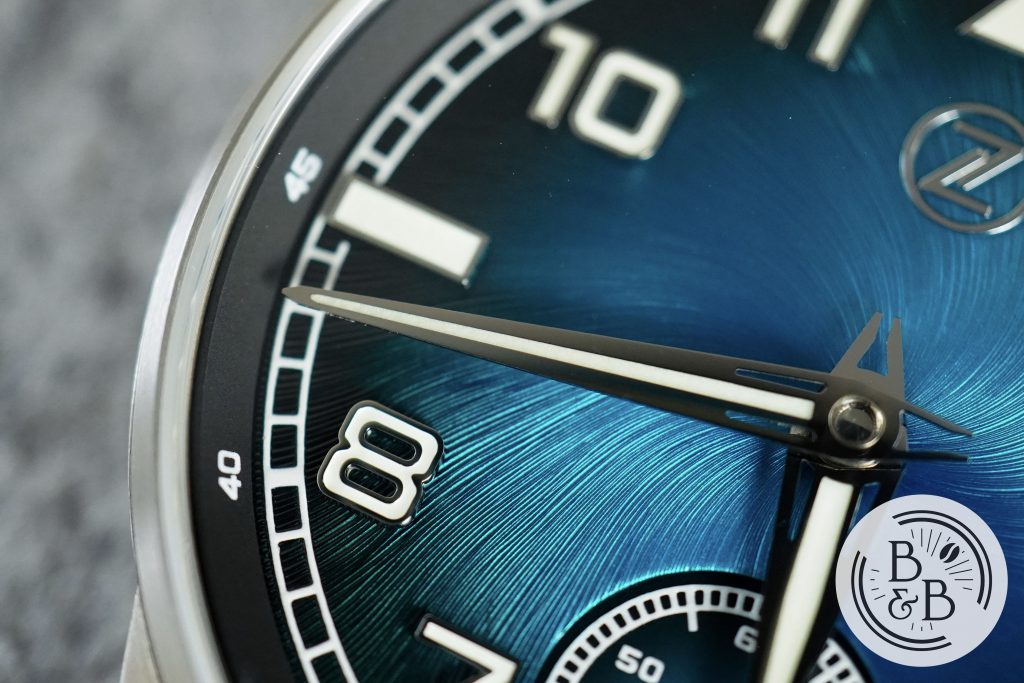 The hand set on this watch is very modern, futuristic and sporty, with a lot of sharp angles and skeletonized accents. I was impressed by the quality of finishing on the hands, and Zelos even integrated a capped pinion, which I will always appreciate.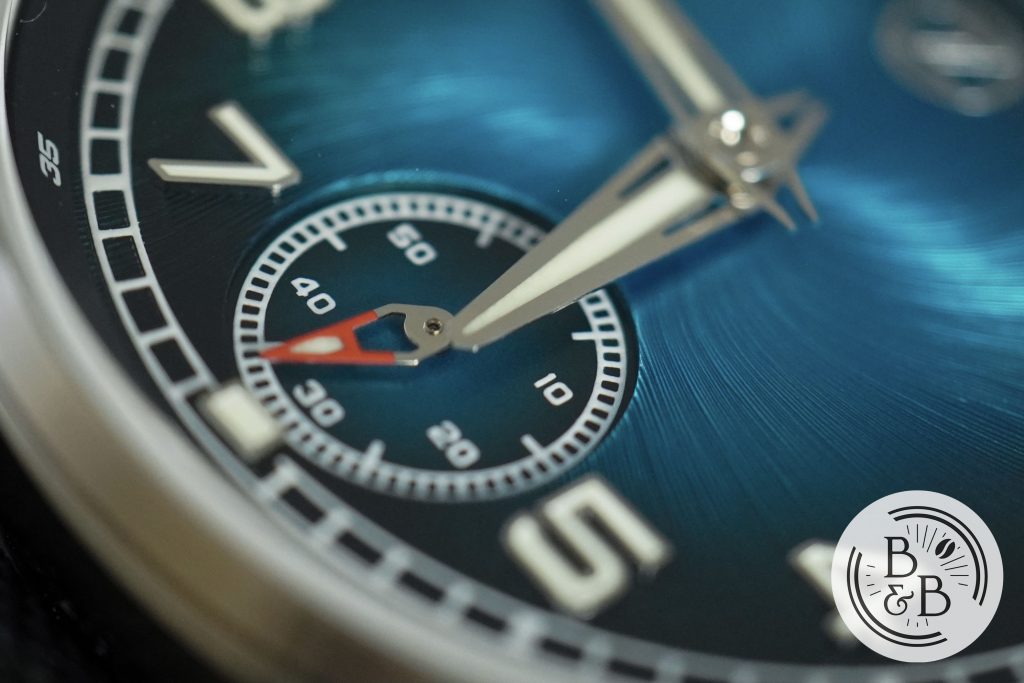 The seconds hand has a similar design style, but is painted orange. All the hands have lumed sections, and their proportions are excellent.
---
Lume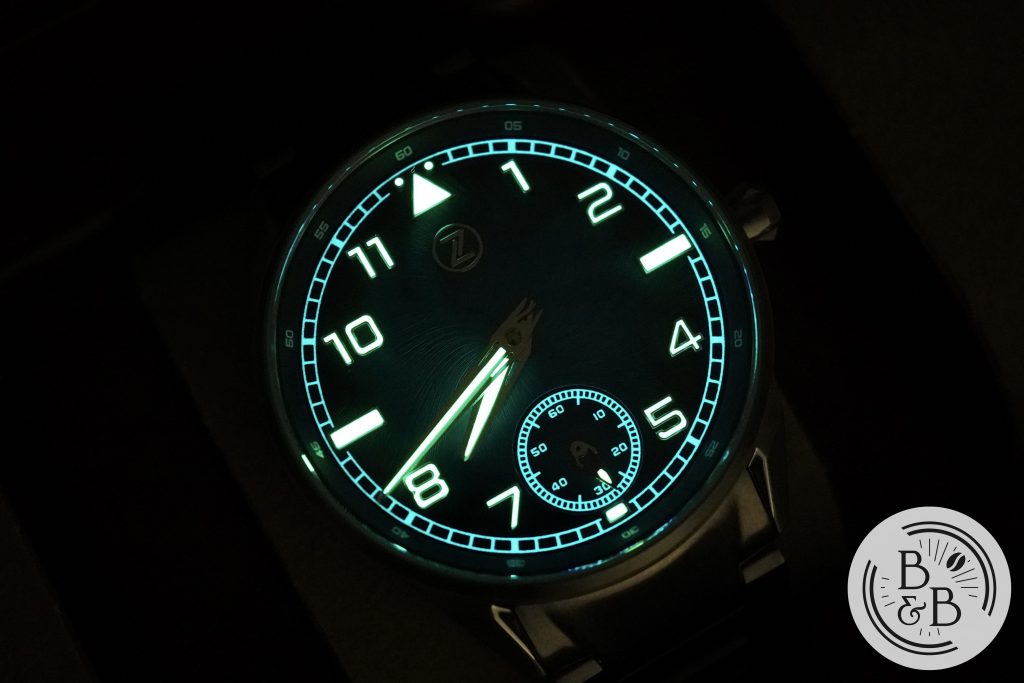 Zelos is notorious for having some of the best lume in the micro-brand space, and some of the best lume in general. This watch does not disappoint, and the large indices and hands actually allow this watch to show off some of Zelos' blinding lume.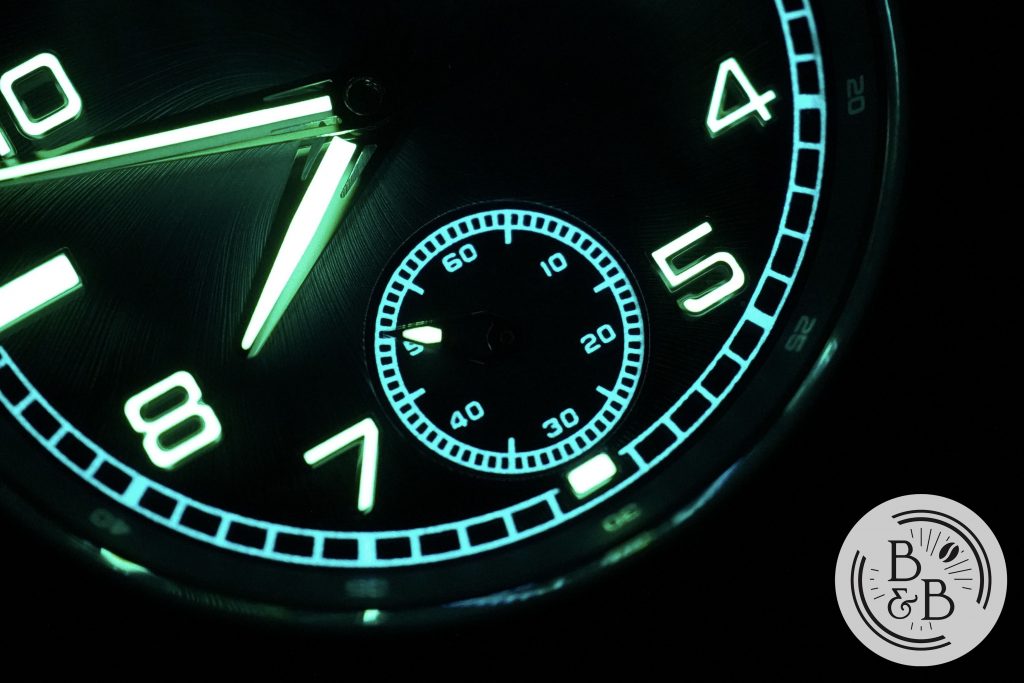 Every element on the dial is lumed, and this looks absolutely incredible in the dark. I can't say I've held too many watches that made me feel this way about lume before, but this stuff is just excessive in every way possible.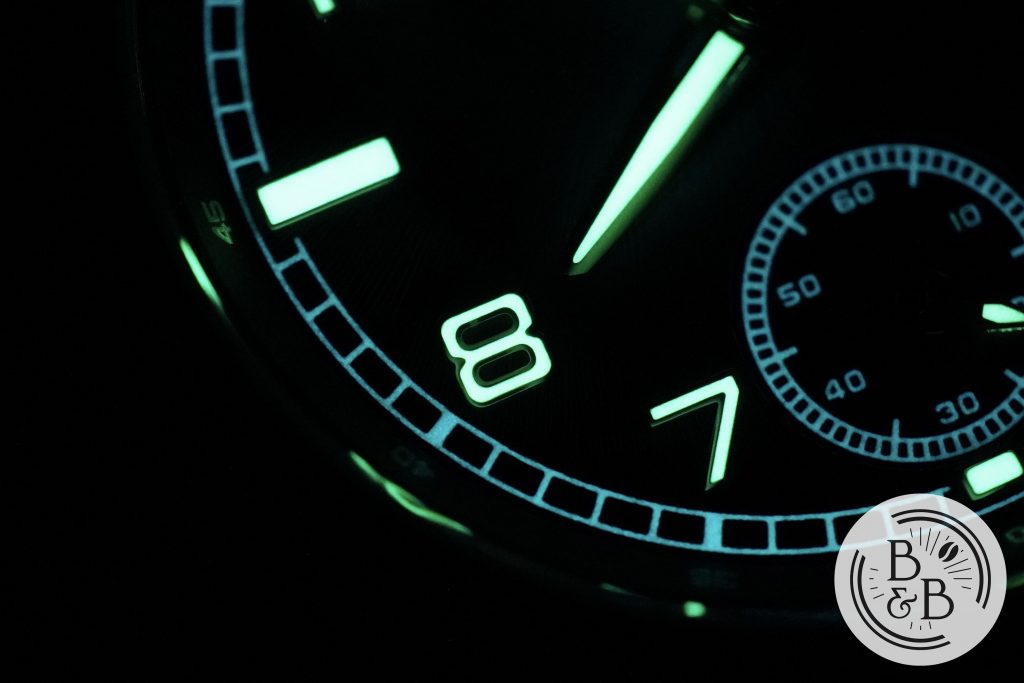 The printed elements are BGW9 and the applied elements and hands are C3. Just by nature of their application, the printed elements fade a bit quicker than the applied ones, but they're both sufficiently bright and should be legible through the night.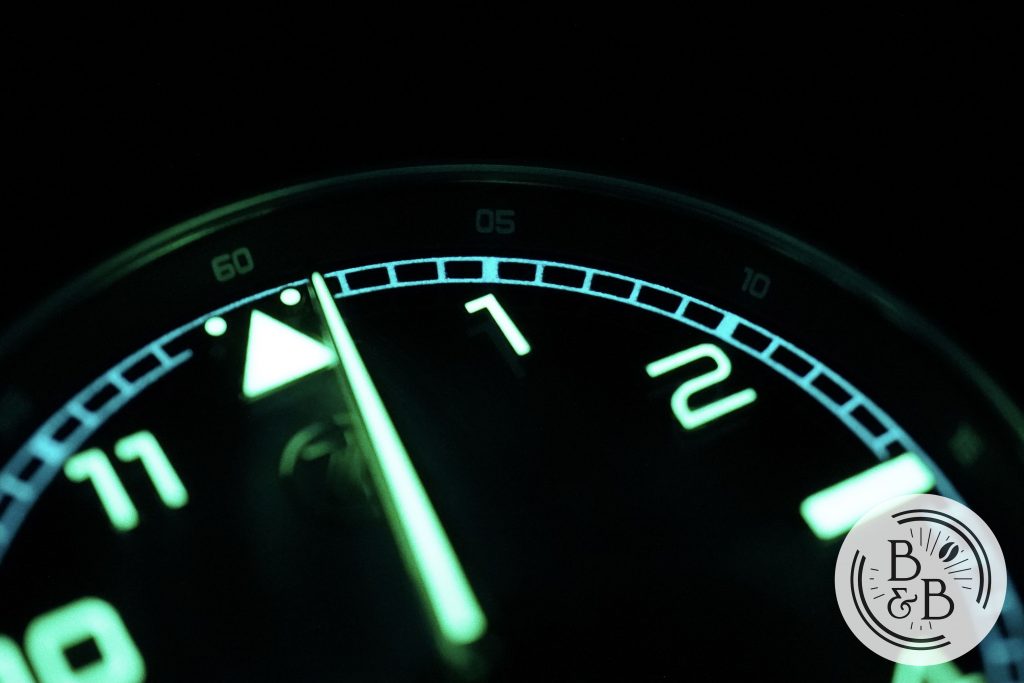 Overall, I doubt there will be anyone that has a problem with the lume on this watch. Maybe some party poopers who think it's too bright, but we don't care about them today.
---
Movement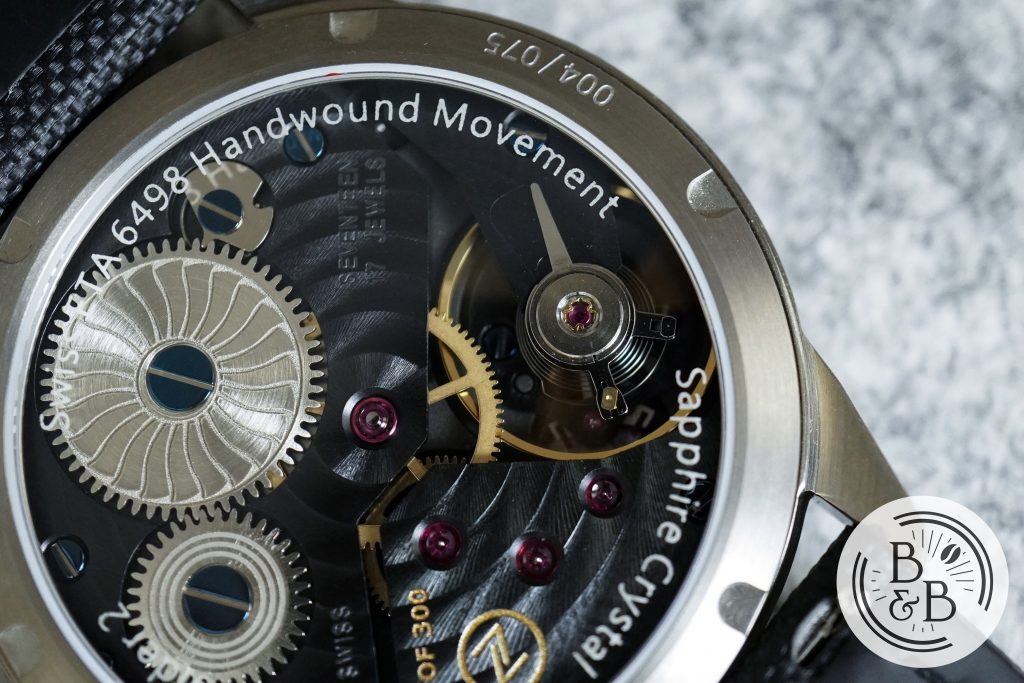 This watch uses an elabore grade ETA 6498. This is a movement family that I have a lot of admiration for, as it has been around for more than 60 years, and is still pretty relevant in the world of horology today. A lot of high end watchmakers still use this movement architecture as a base. I like to think that this movement is in itself a piece of watchmaking history, and you must have one in your collection.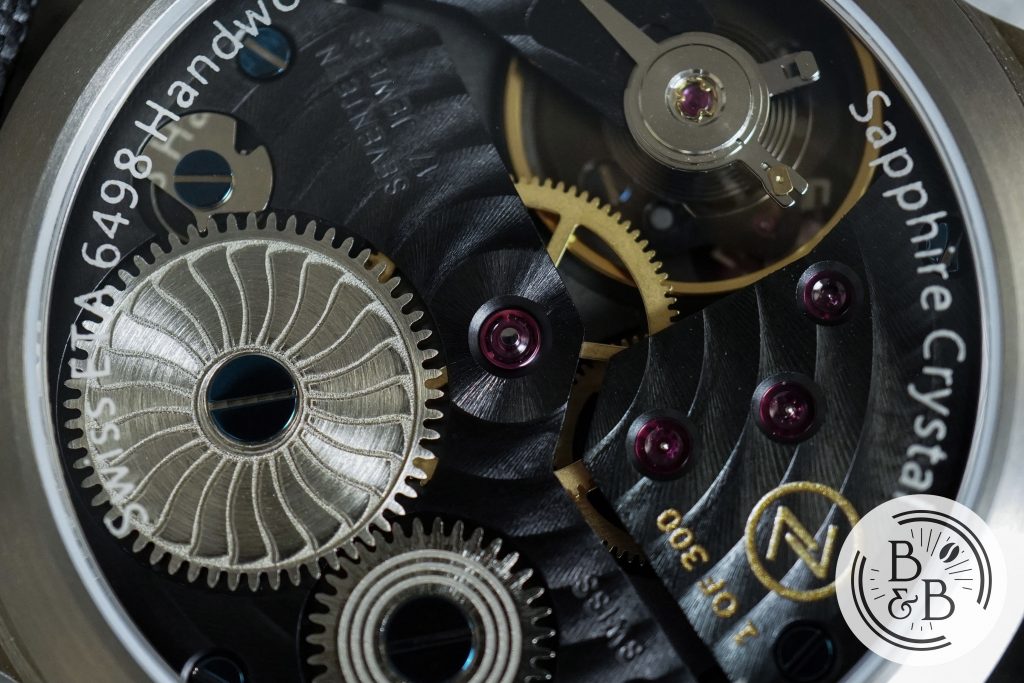 Zelos has mostly stuck to the original movement, but made some very cool aesthetic modifications. All the plates and bridges are PVD coated black and well decorated. The finishing is great and the quality control is good.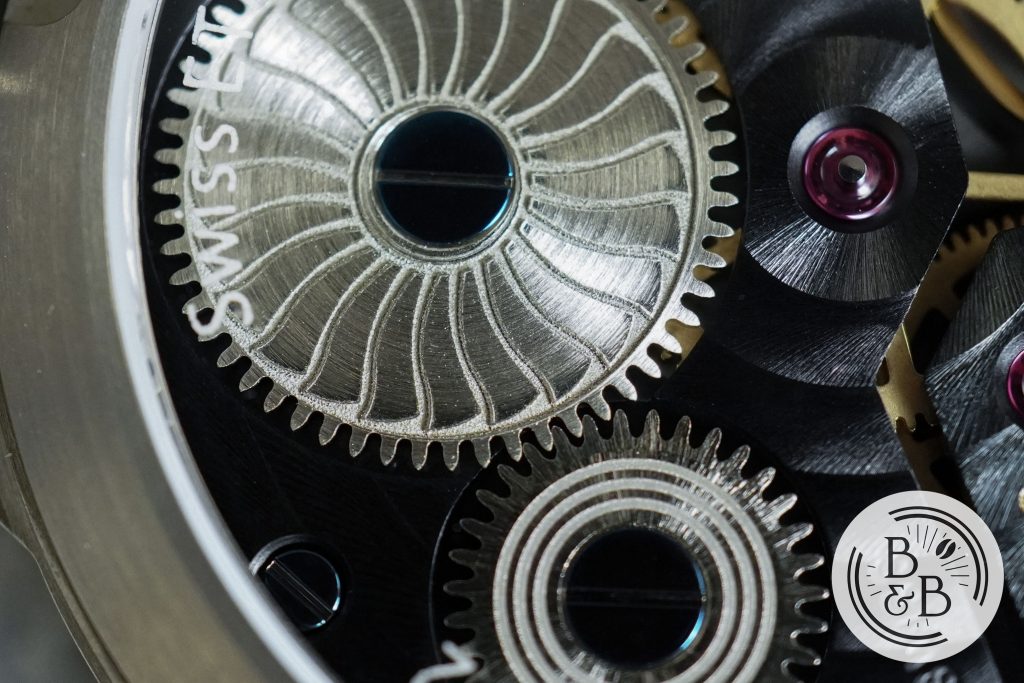 The wheels are engraved to resemble turbine blades, and all the screws have been thermally blued. This has a very space-age design aesthetic and I think is a perfect companion for this watch. Zelos did a great job and modifying a heritage deck and pilot watch movement, and put it into a futuristic aviation watch.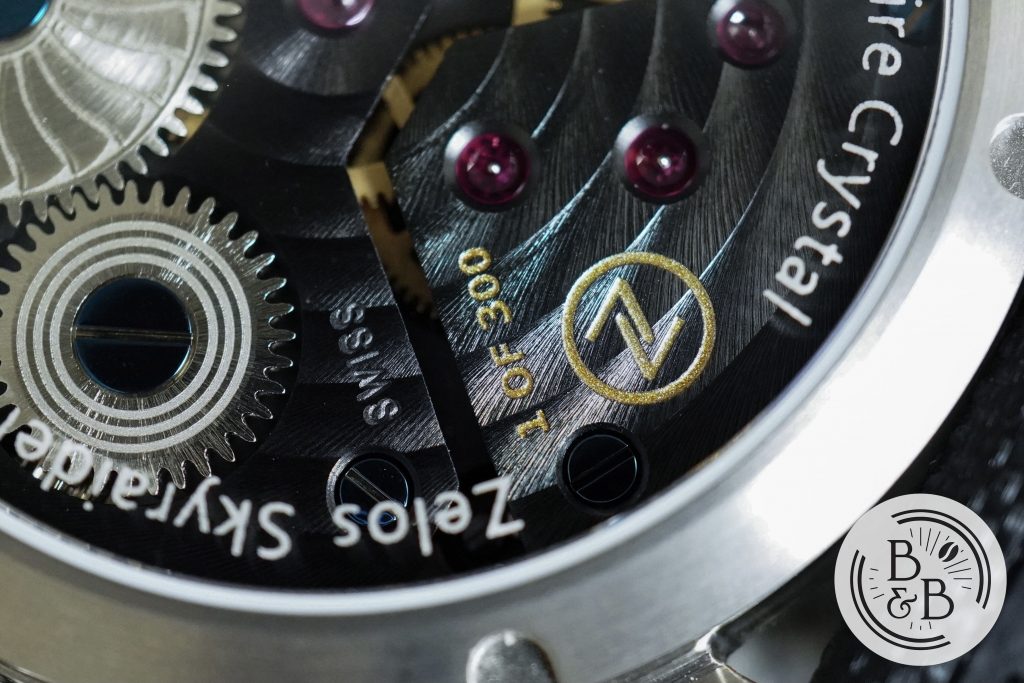 On my time grapher, this watch was running at about +12 spd in the dial up position and +14 spd in the crown up position. This is not unusual for a 6498, but these are very easy to regulate well, so you should be able to get it to much tighter tolerances if that bothers you.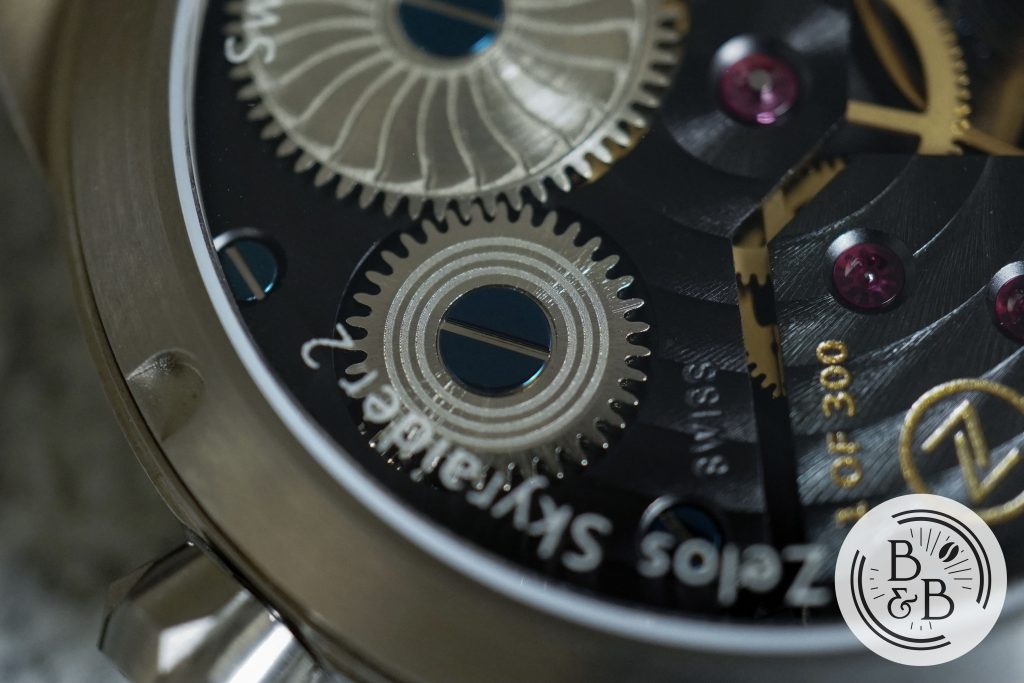 The clicks are tactile and loud, and the hand winding experience is great. I noticed a bit of slack in the crown while winding it up, but I think that's par for the course with this movement and stops you from attempting to over-wind it.
---
Bracelet
The bracelet is also made of titanium and drives the futuristic sci-fi design theme of this watch. The end links fit the case well and there's no wiggle. The end links are "male"…and a pretty well endowed one, which effectively increases the lug-to-lug width of this watch to about 54 mm. I'd say this is my only real criticism of this watch since it makes it hard for smaller wrists to wear, but considering this watch is 42 mm in diameter, I think this watch was made for larger wrists anyway, so I think this is fine.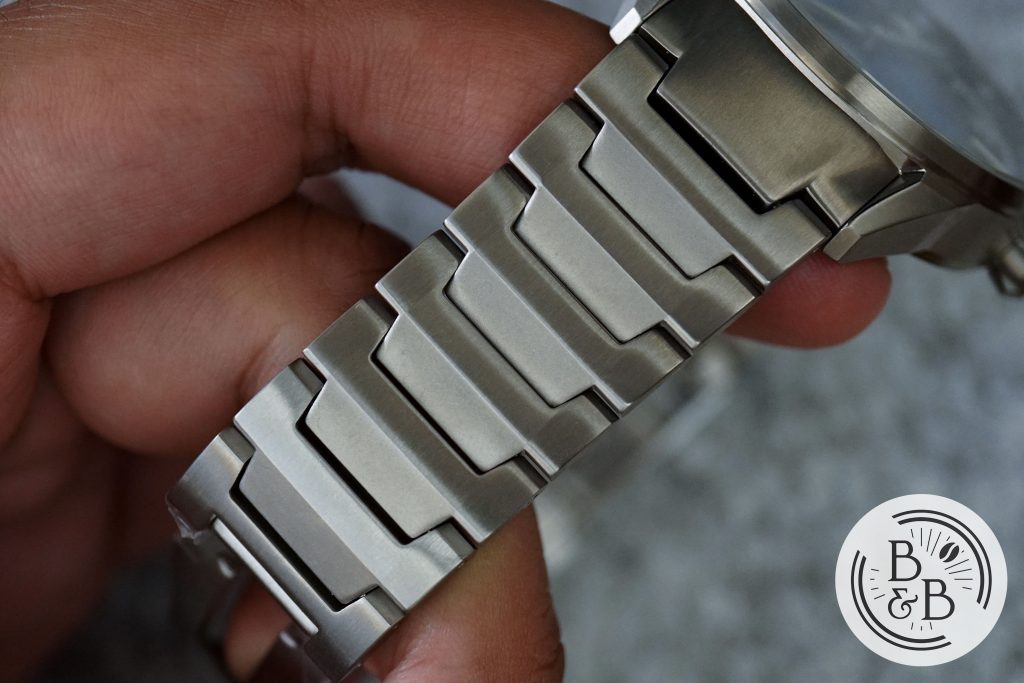 The links continue the angled design aesthetic, and drape over the wrist like body armor in a sci-fi action flick. The links don't articular too well, but there's enough to get a comfortable fit on medium and large sized wrists. The links are fastened together by screws and sizing this bracelet was a breeze.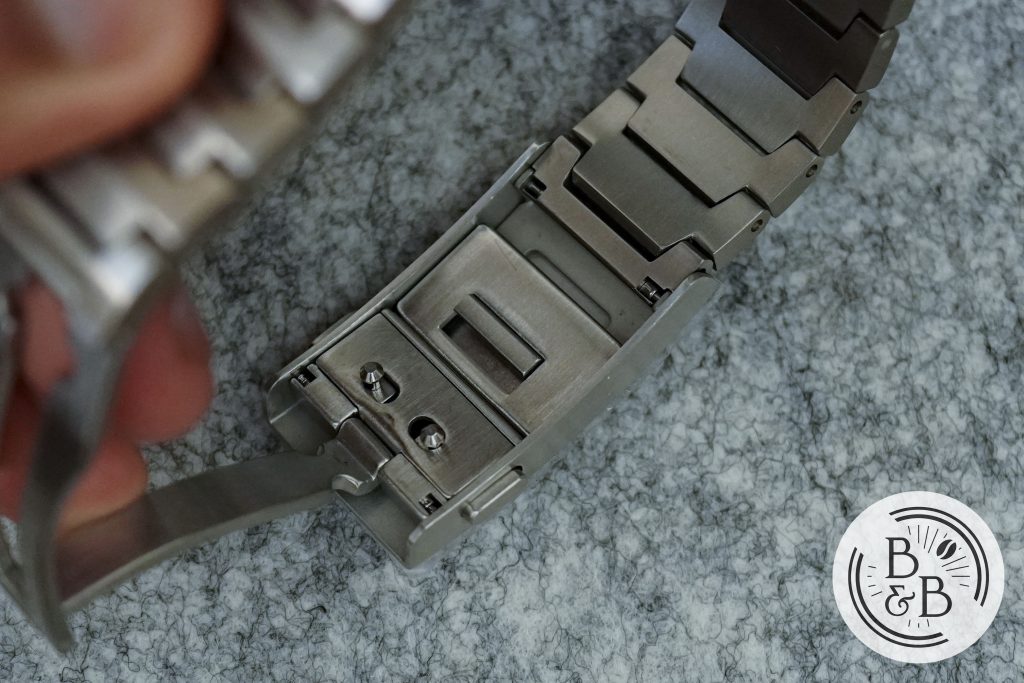 The clasp is made of stainless steel but is color matched with the rest of the titanium bracelet. The clasp is Zelos' standard adjustable clasp, which features a tool-free micro-adjustment and a pretty sleek overall profile. No complaints from me here, and I'm overall very pleased with the bracelet and clasp. The micro-adjustment isn't as smooth as something from Christopher Ward or Halios, but I will easily overlook this based on how much else this watch manages to deliver.
---
On The Wrist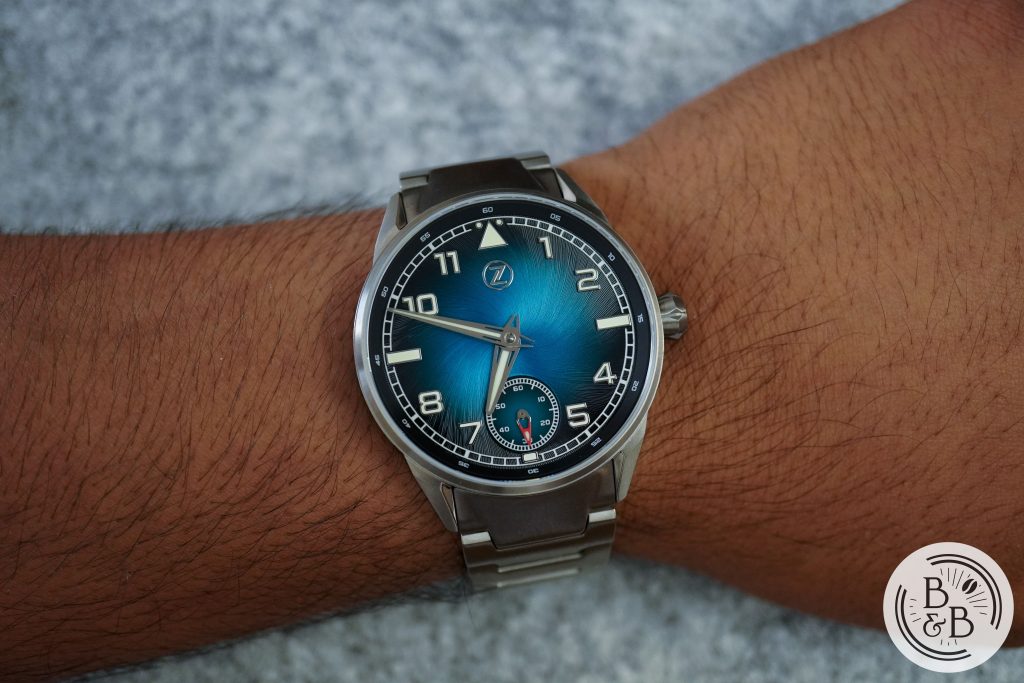 I wasn't sure if this watch would work on my narrow 6.5″ wrists, but I was surprised by how well it fit. Don't let the 42 mm diameter scare you off, because the lug-to-lug width of 48 mm reigns it all in. The male end links do extend that out quite a bit, but it's also sloping downwards so it ends up wrapping around my wrist just perfectly.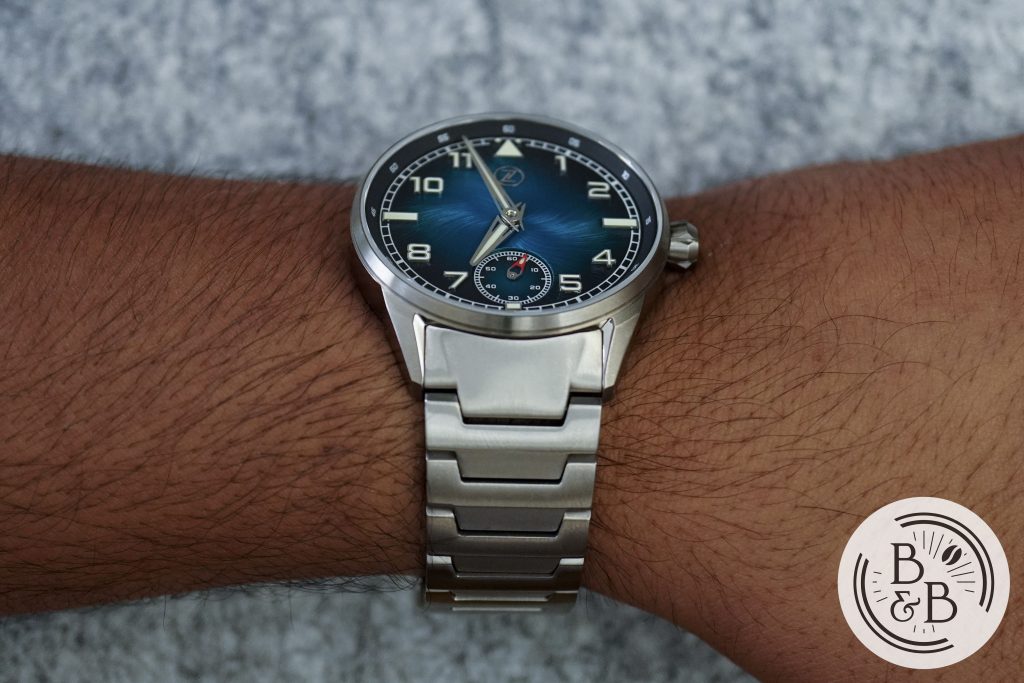 Don't get me wrong, this watch looks big on my wrist compared to my other 38mm and 40mm dive watches. But the pilot watch was inherently a pretty large design for easily legibility, and this one delivers just that.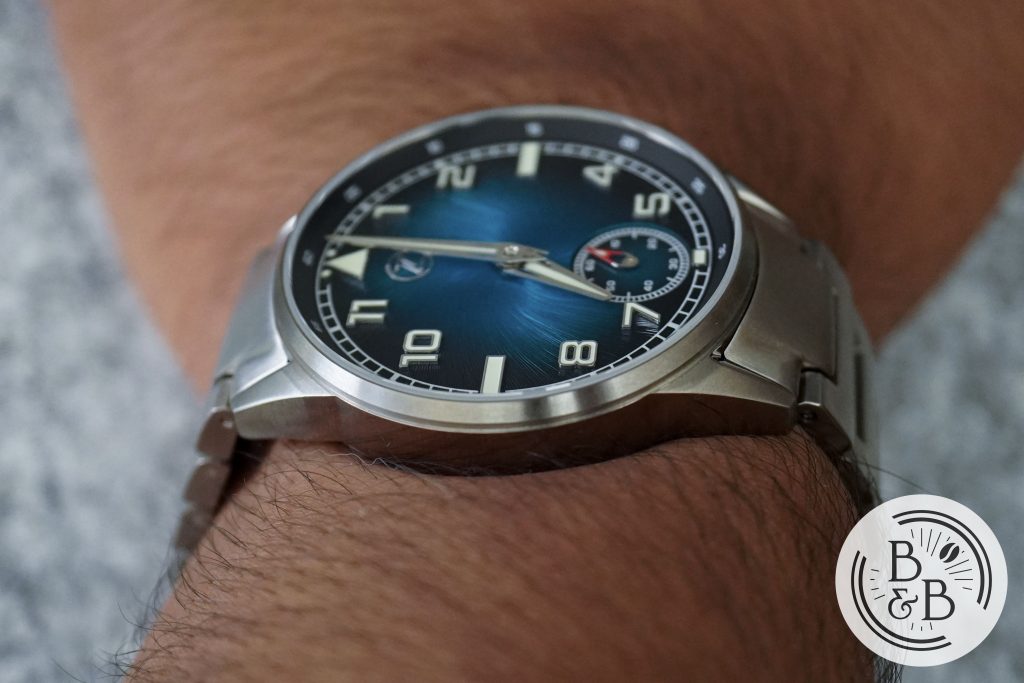 The 10.7 mm height is very reasonable, and the titanium case helps this watch disappear on your wrist.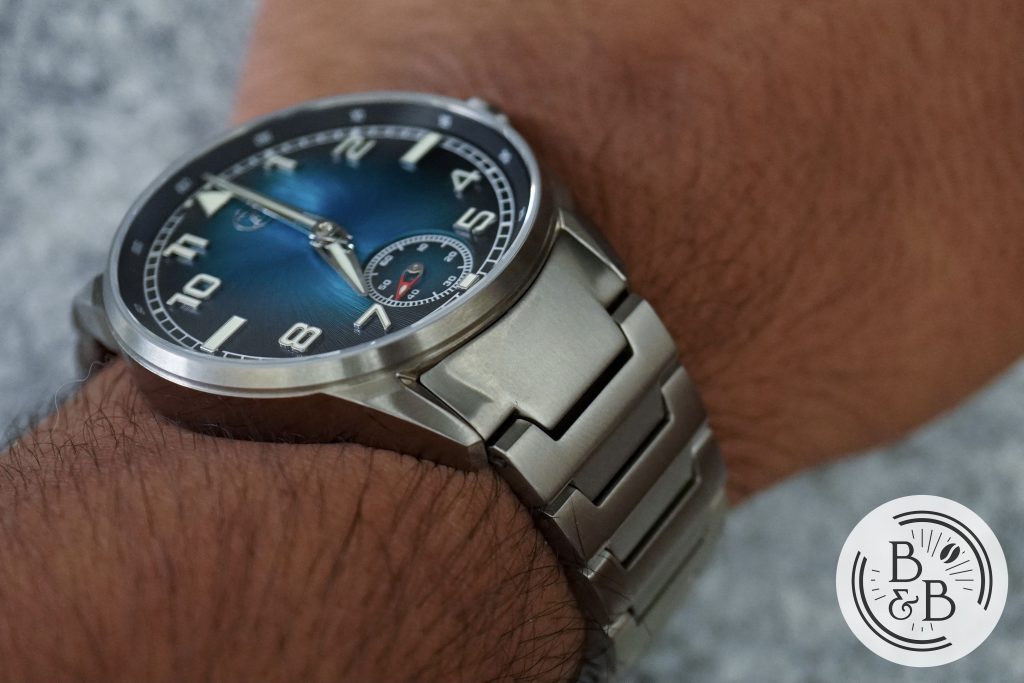 Overall, it is big but it doesn't feel awkward on my 6.5″ wrist. I don't have any overhang, but I'd say this is about as large as I could go without it looking ridiculous on me.
---
Concluding Thoughts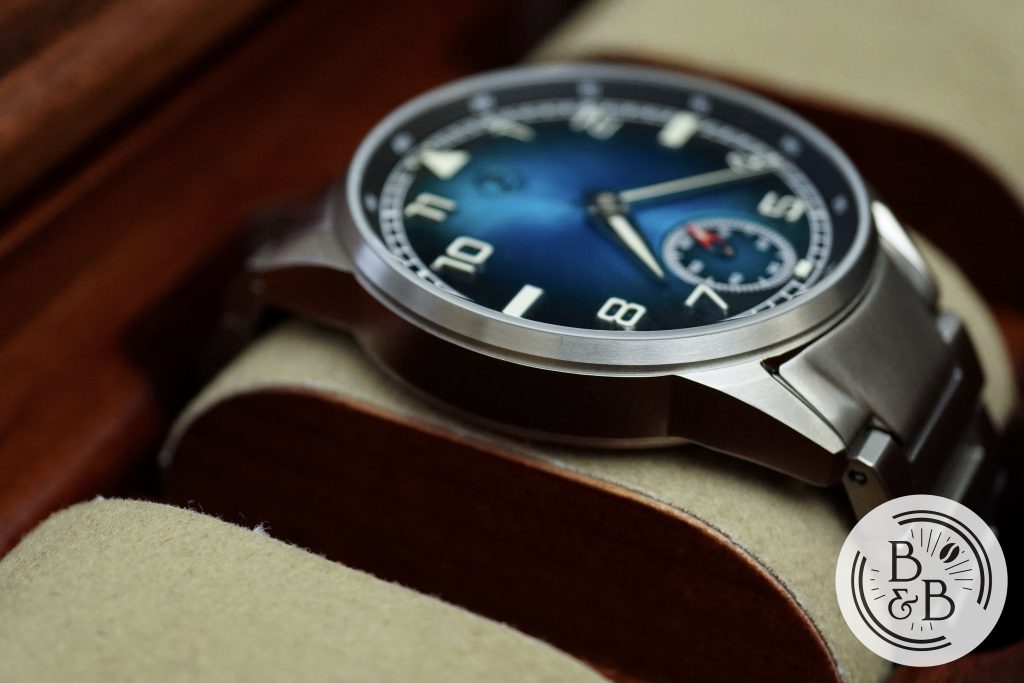 To wrap this up quickly – this watch is amazing. At $1100 you're getting a futuristic take on a traditional pilot watch, and that aesthetic extends to the movement too. You're getting a beautiful dial that is very hard to capture in photographs and videos, with lovely colors and an interesting texture. You're getting some of the best lume you could possibly find, and you're getting a solid titanium bracelet with a good amount of flexibility and comfort.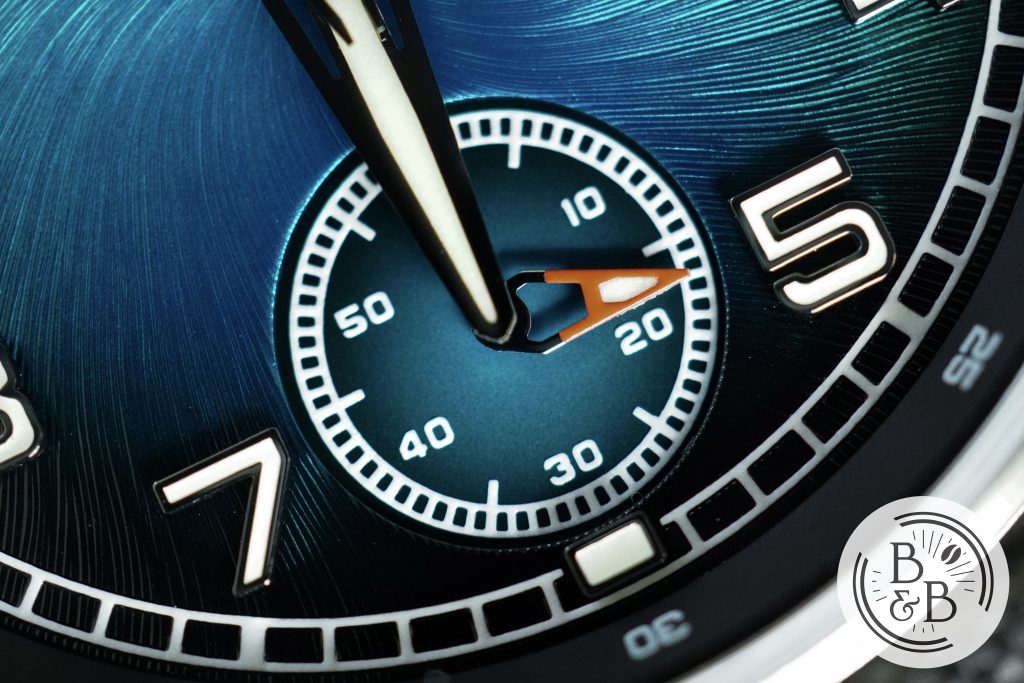 So in terms of value for money, I think this watch delivers. And coming back to my question of whether this watch has also scaled in attention to detail and finishing, I think it has. Everything about this watch is much tidier than the other Zelos watches I've reviewed in the $500 category, and I think makes it easily deserving of the price tag. You're not going to get Stowa levels of attention to detail and quality control, but find me a futuristic titanium Stowa with a badass looking dial and movement for $1100.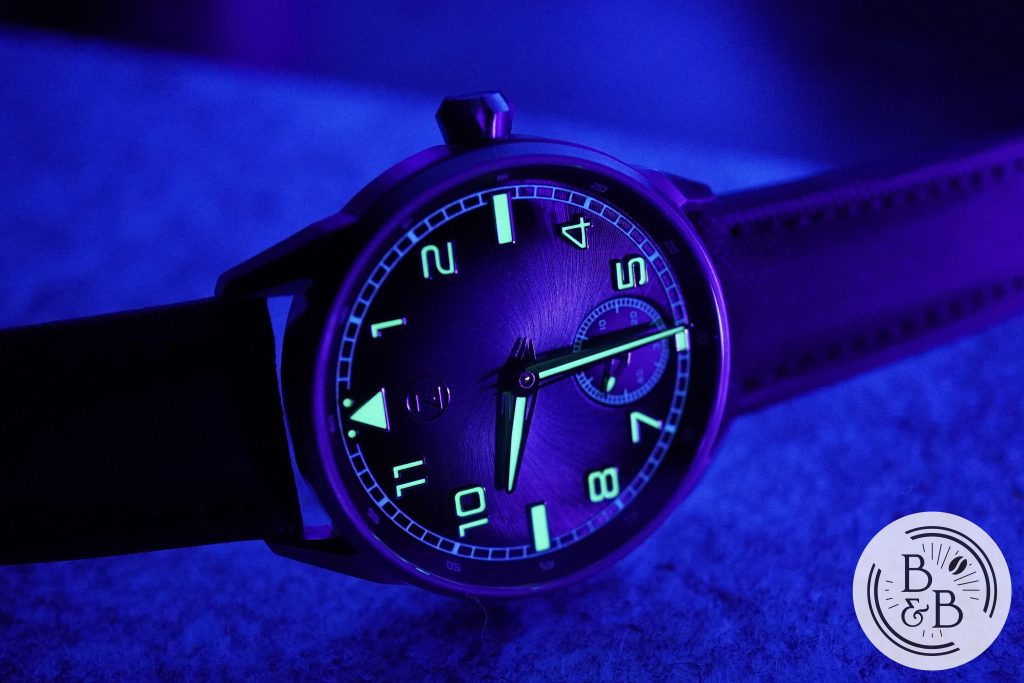 So if you like this watch and manage to come across one at these prices, don't hesitate. I think you're getting something really interesting and unique.
---
Strap Change
---
Thanks for reading!