---
Disclaimer: This watch was sent to me to review, and I do not need to return it after my review is complete. This watch was given to me without restriction and is not contingent upon a particular outcome for my review. All opinions here are my own, and William Wood had no influence over the opinions stated here.
---
---
Contents
---
William Wood
William Wood is a relatively new British watch brand, and they were founded by Jonny Garrett. William Wood was his grandfather, and their entire lineup of watches are a tribute to him, and other fire fighters like him. They use up-cycled fire hoses in their straps and merchandise, and also use recycled firefighter brass helmets to create small ornaments that are part of the watch design. The brand also gives back to the fire fighter and first responder community through charitable donations, and the William Wood watch brand has gotten a lot of media attention over the last few years.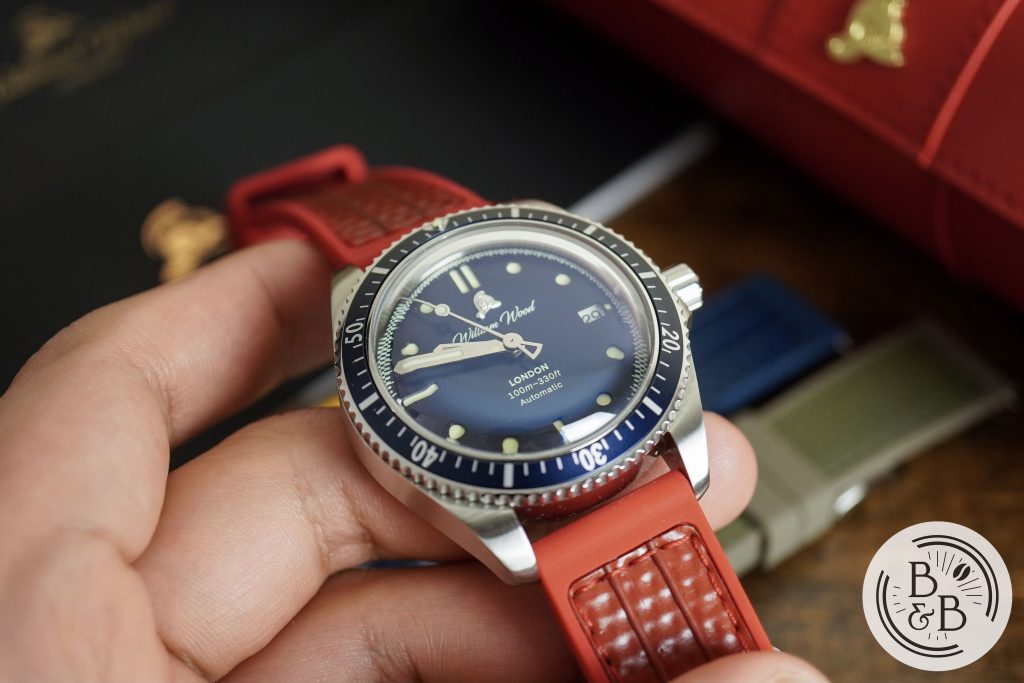 To be completely transparent, I've been skeptical about these watches, and have been critical about their pricing in the past. But when Jonny approached me to ask if I'd be interested in doing a review, I couldn't pass on an opportunity to see if my opinions would change after actually spending time with one of these watches and looking at them up close. Because more often than not, a good watch is able to transcend it's specifications and components, and the intangible stuff can entirely change how I feel about a particular watch.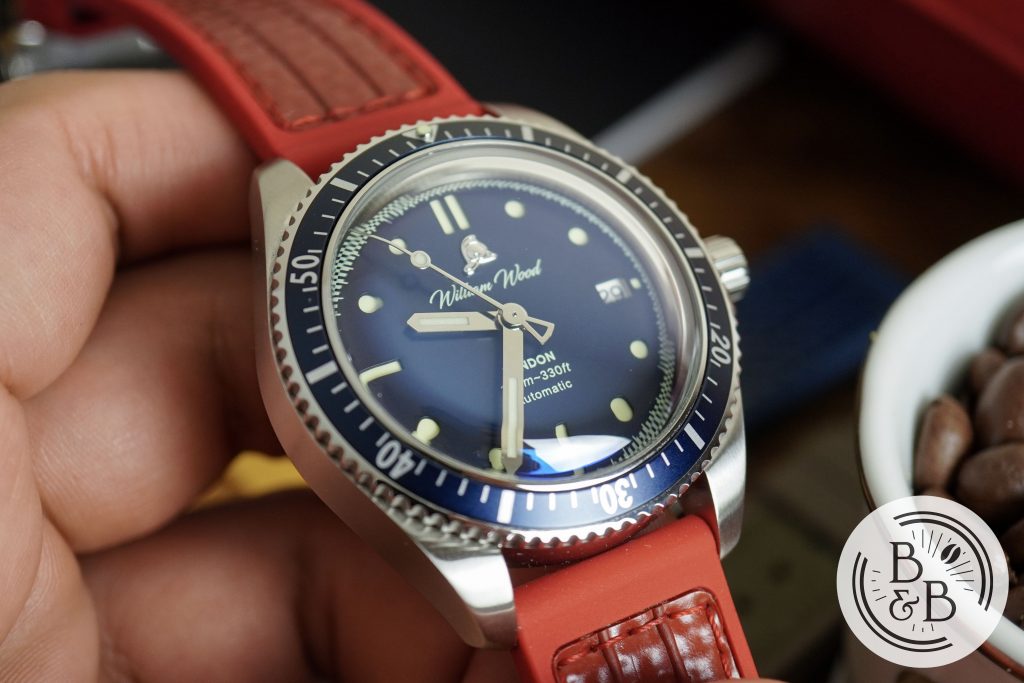 What I'm referring to is the pricing on this watch with respect to the movement that is beating inside of it. To address the elephant in the room, this William Wood Valiant watch uses a Seiko NH35, and is priced at $975. From the perspective of a WIS, this pricing is highly irregular, and even the polarizing Unimatic watches with this movement are in the $600-700 range. But my suspicion is that William Wood isn't interested in being a hit among the micro-brand crowd, and they're likely more interested in entering the designer and fashion brand watch market, where a watch movement carries little to no weight – like the $1800 Gucci Grip for example.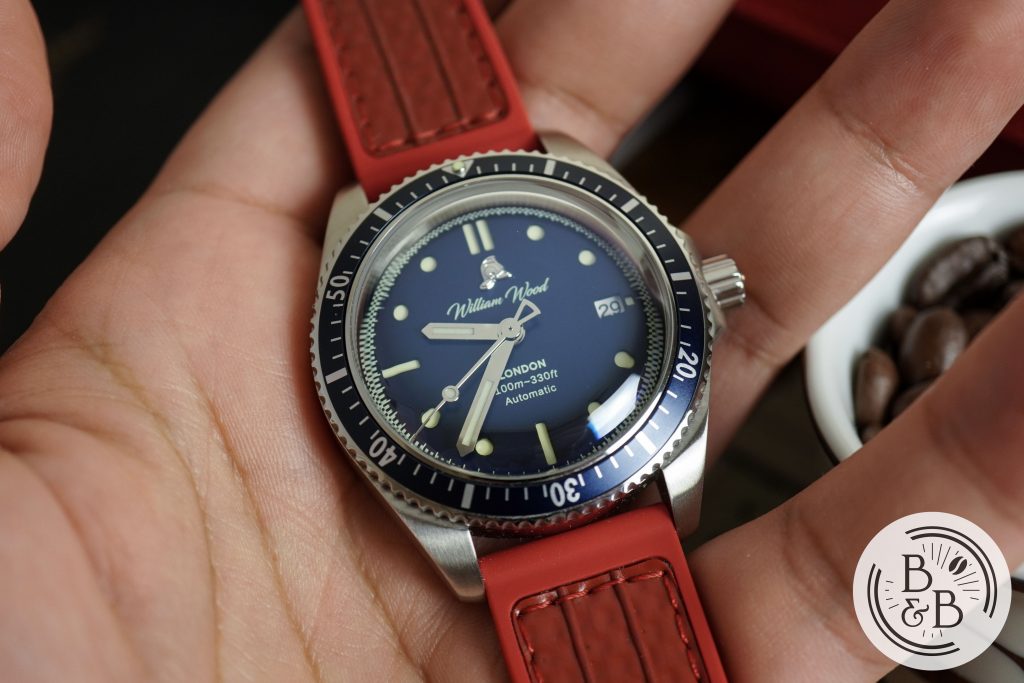 But with that in mind, I choose to still treat this watch as if it were any other $975 watch that came my way. So let's take a look at how it holds up in terms of design, build quality and finishing!
---
Case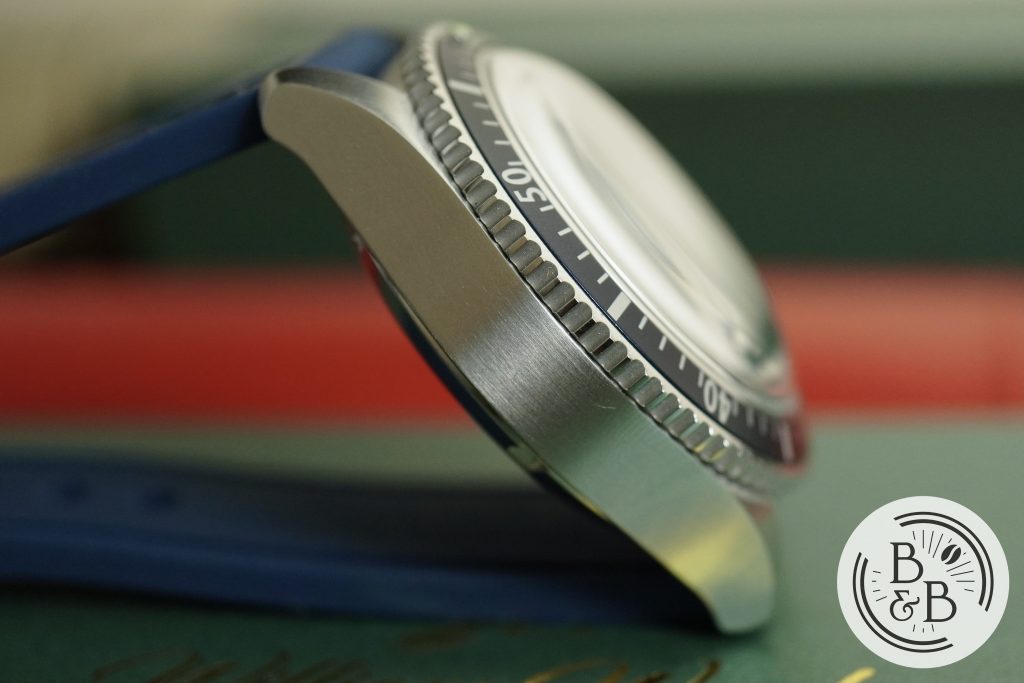 I measured the case to be 41.25 mm in diameter, 48.5 mm from lug-to-lug and 15.75 mm tall (closer to 13 mm if you ignore the large domed crystal). The stainless steel case is primarily brushed, and both the build quality and the finishing on the case are excellent.
The mid-case is pretty tall, tapers slightly and curves into a pair of short lugs. The lug width is 20mm, and the lugs are not drilled through.
There is a 120 click uni-directional bezel, which has an excellent grip and a blue Aluminum insert that looks a lot like the one on my Tudor Black Bay. The insert has only a lumed pip at the 12 o'clock position. The bezel action is OK, and I noticed that there's a bit more play in the bezel than I would've liked from a $1000 watch.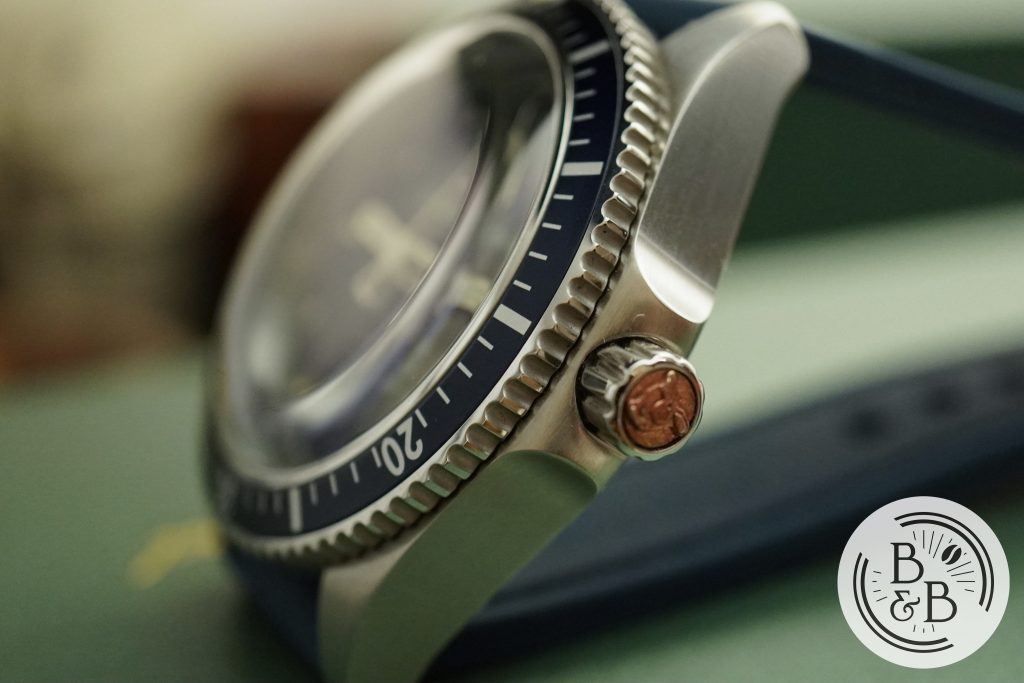 What I do like about the bezel is that it is sloped, and effortlessly extends into the large domed sapphire crystal. The entire curvature of the bezel and crystal is really well designed and well engineered.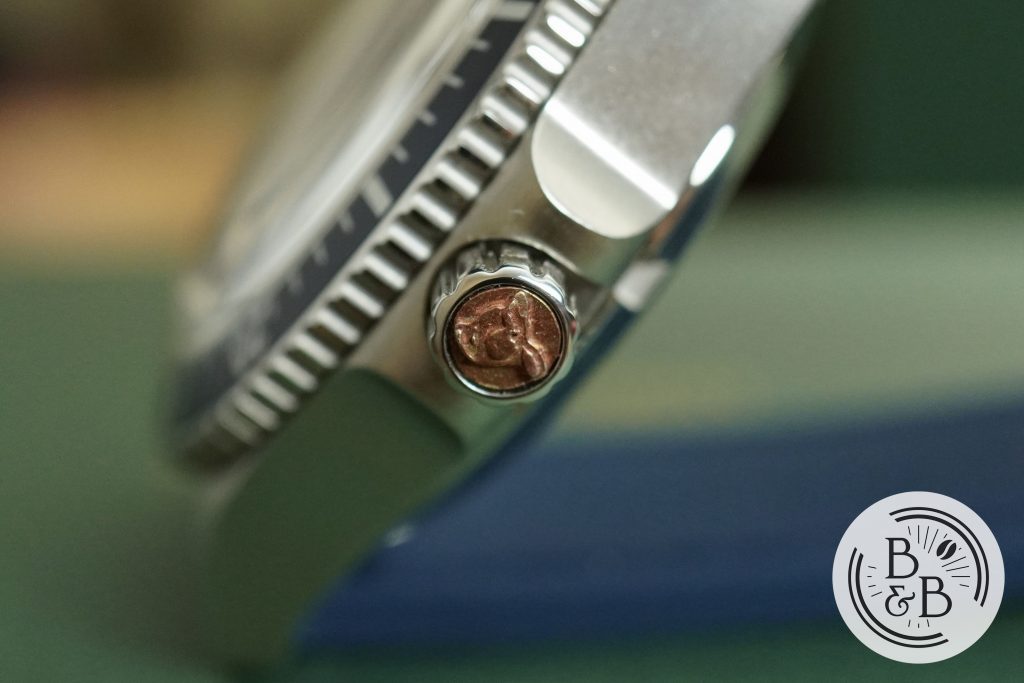 At the 3 o'clock position, there is a 5.25 mm signed crown that is easy to grip and operate, and set inside a great looking crown guard design. The crown is capped with the brand's iconic firefighter helmet logo, made from real brass firefighter helmets.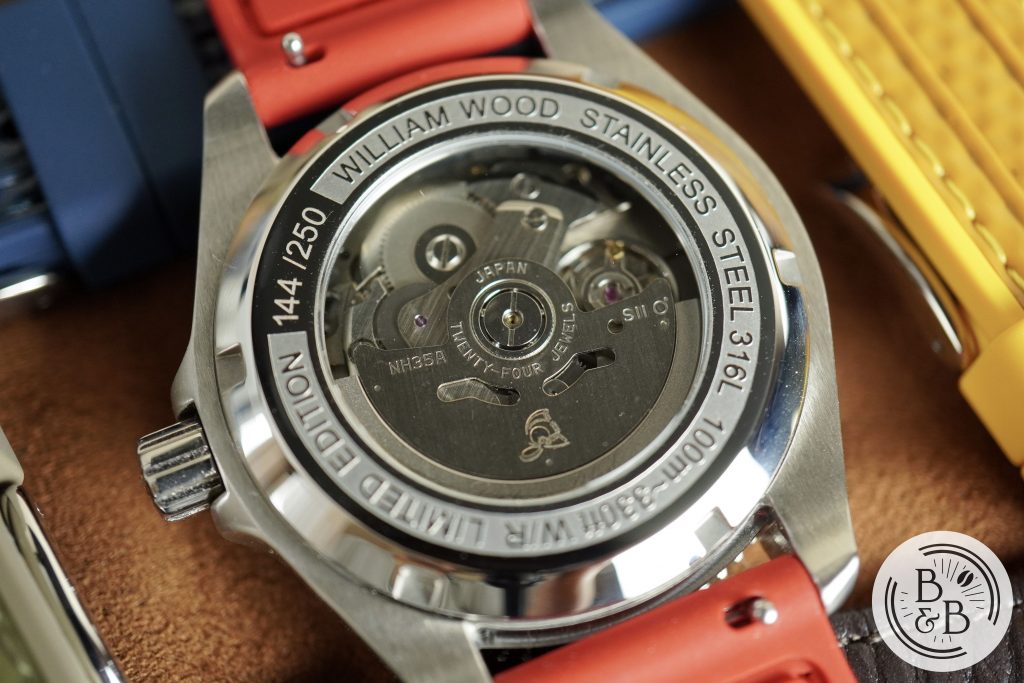 Flipping it over you have a screw-down case-back with an exhibition window. This watch is rated for up-to 100m of water resistance, which is a bit on the lower end for dive watches in general, but still more than sufficient for most lifestyles.
---
Dial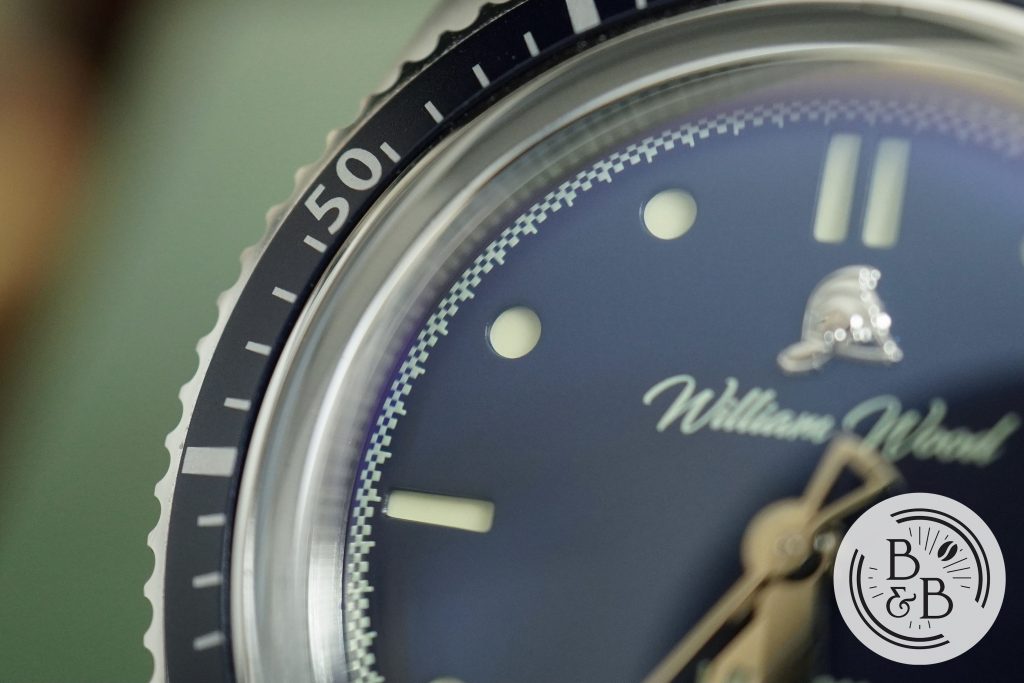 The Valiant is offered in six different color options, and I requested to review the blue dial option. But I think the red and green ones look fantastic as well. There is checkered outer track that has subtle minute markers that extend inwards. I wish these markers were slightly longer, as they are hard to because of the crystal distortion. The quality of printing is great though, and the design is said to be inspired by the checkered markings on British fire trucks.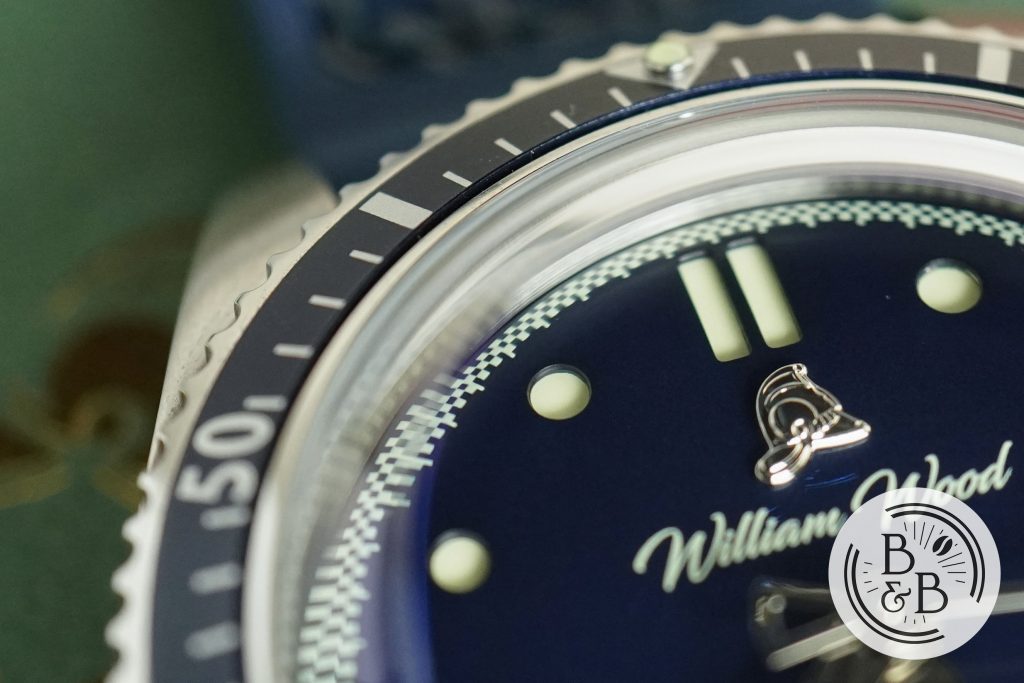 This is a sandwiched dial design with recessed hour markers. The hour markers are rectangular recessed indices for three of the four main axes, and circular recessed indices for the rest.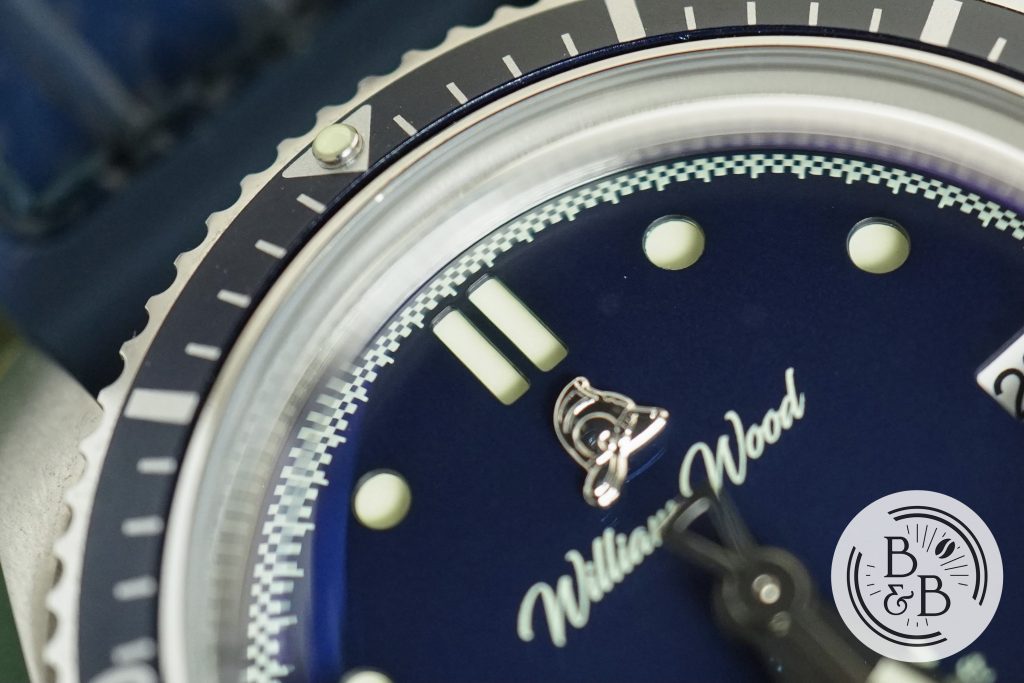 The website states that the double index at the 12 o'clock is inspired by a rank markings of a Crew Manager, but that feels like a bit of a marketing stretch, since double indices are pretty popular among watches. The finishing is very clean though, and I can always appreciate a well executed sandwich dial design.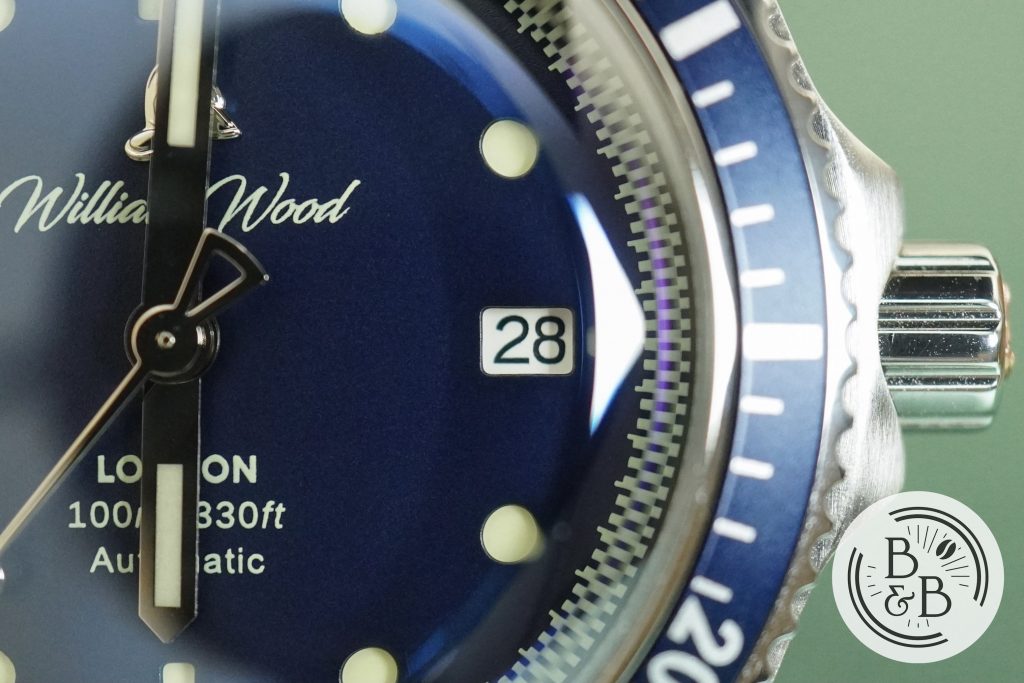 You then have a date window at the 3 o'clock position that is cut into the dial. The date wheel has a white background with black text, and I think these watches would've benefited from having a dial matched date wheel background instead. But the high contrast date window is legible even with the crystal distortion, and the overall finishing is good.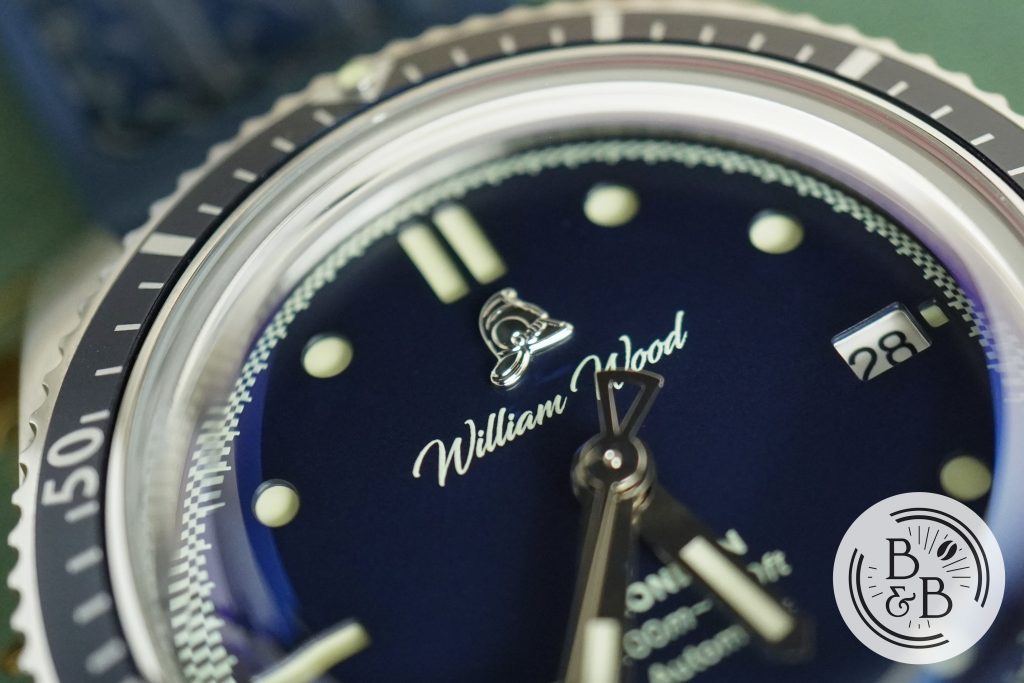 The brand's firefighter helmet emblem is applied under the 12 o'clock marker, along with the brand's name and there is some text above the 6 o'clock position. I like that the color of all the printed elements are uniform across lumed and non-lumed elements.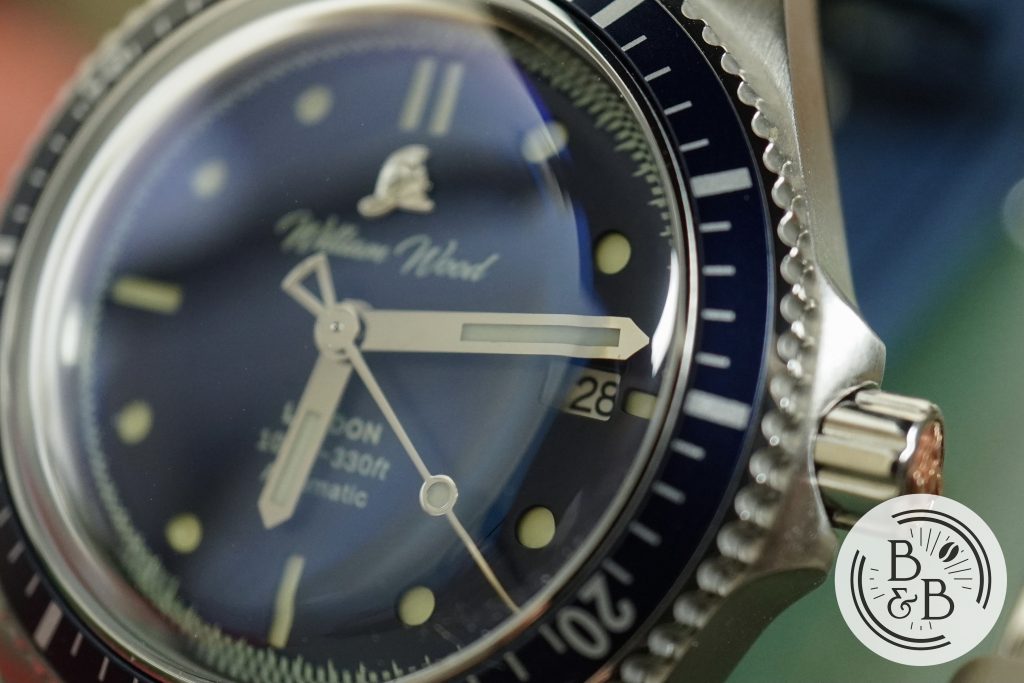 The handset is well proportioned, and has a simple design. The hour and minute hands have rectangular lumed elements, and the finishing seems great.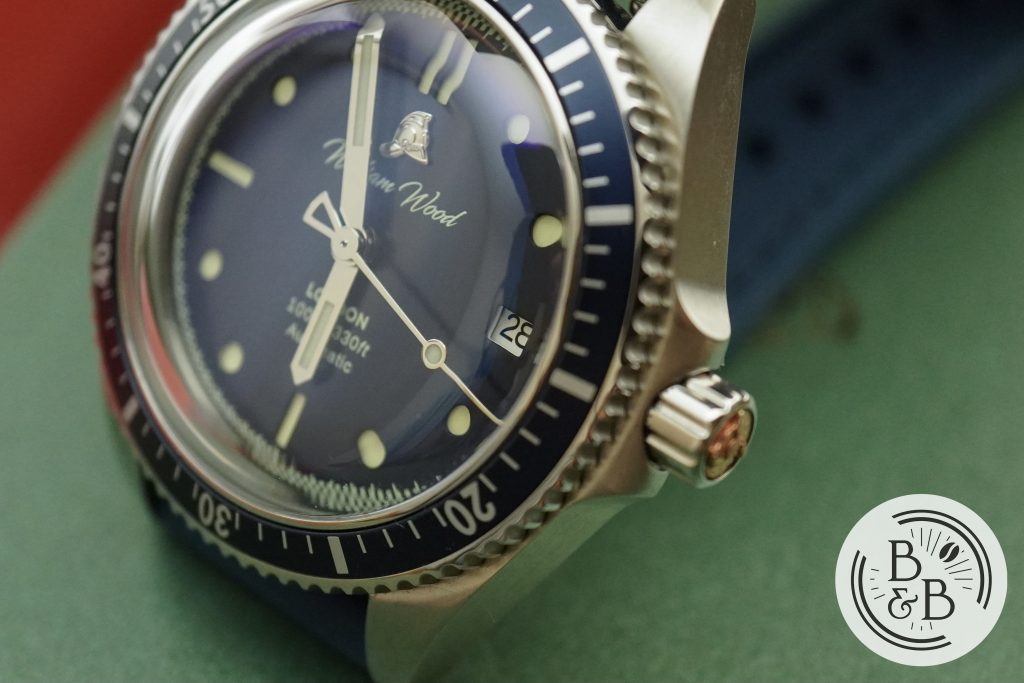 The seconds hand has a circular lumed element and a triangular counter balance element that I believe is inspired by a fire engine bell. I like the legibility of the hands, and I think the finishing is spot on.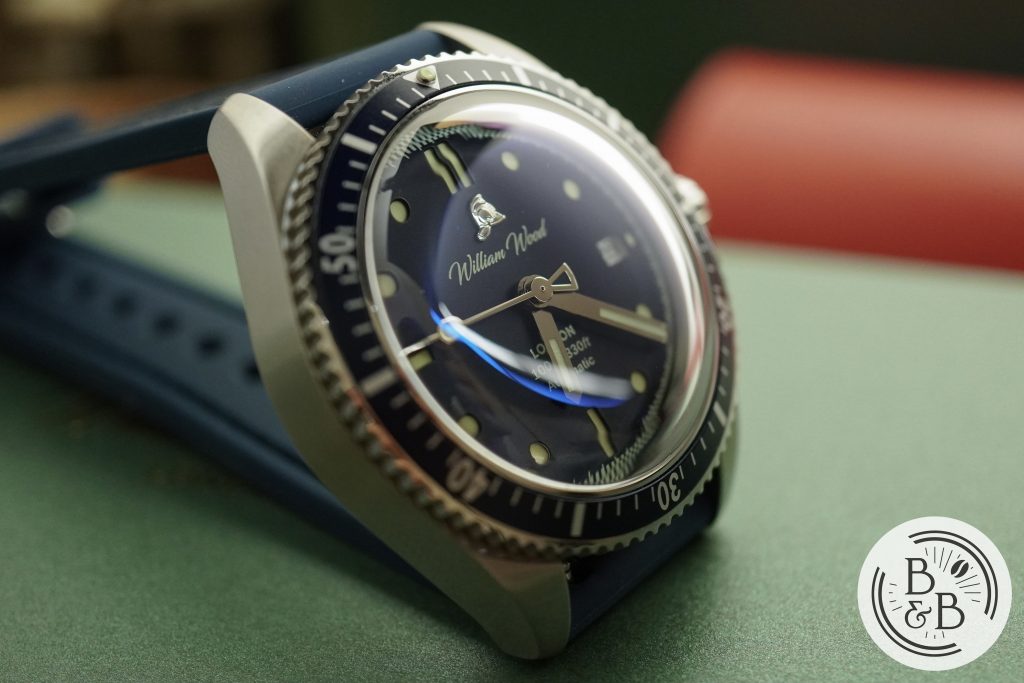 Overall, the dial is neat and has good finishing. Apart from a bit of crystal distortion near the outer track, the legibility is pretty good too. The fact that this is a well made sandwich dial automatically earns this watch some brownie points from me, and I don't have any real complaints about the design or execution.
---
Lume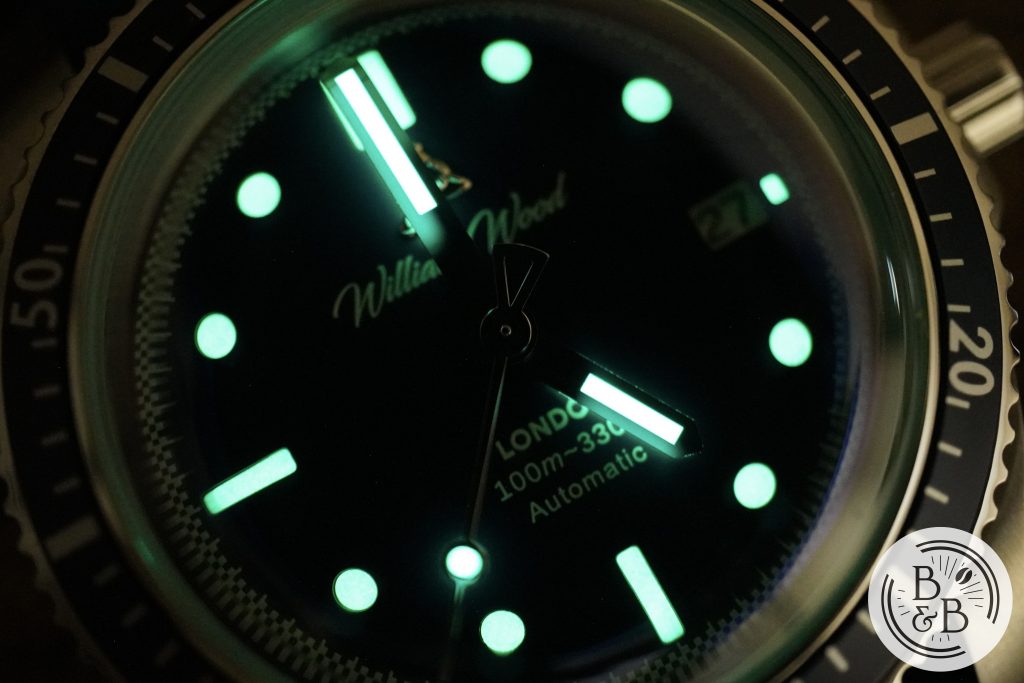 All the recessed elements in the sandwich design are filled with Super LumiNova, and that's another reason to love sandwich dials like this one. The three-dimensional design of the dial makes for an interesting lume experience.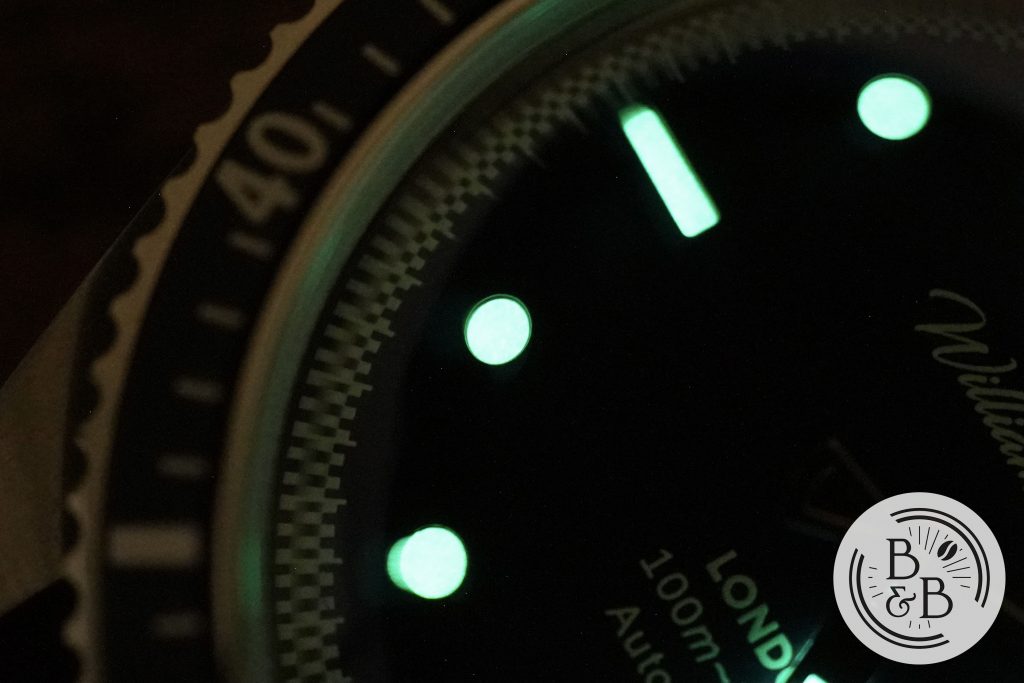 The indices have a good amount of lume in them, and I'd say the brightness and longevity is good.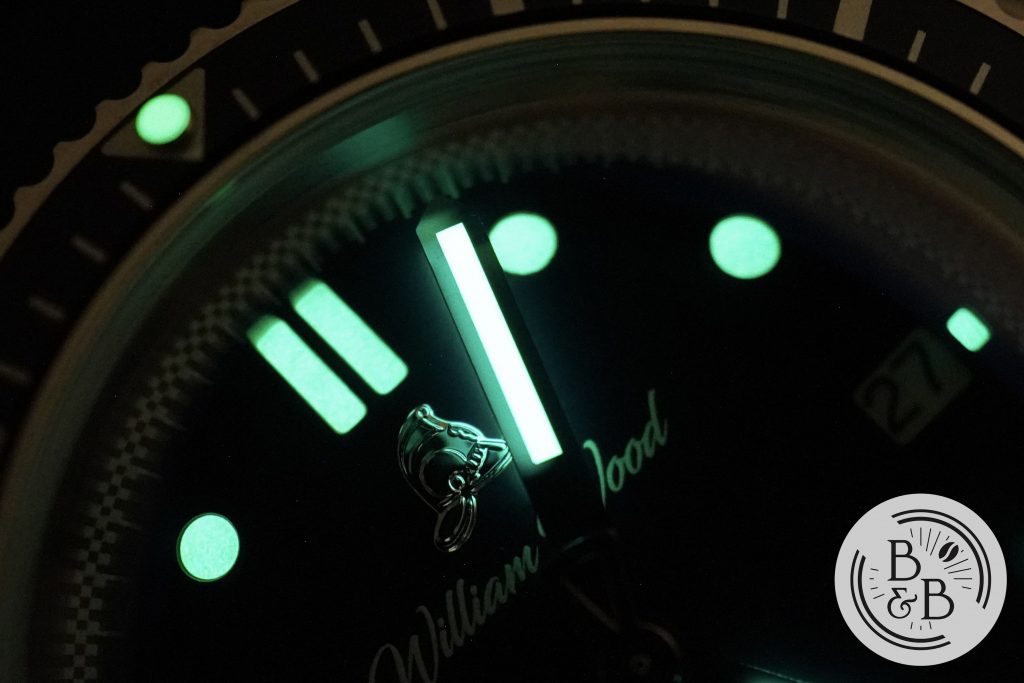 The hands are a lot brighter, and last a bit longer as well. The hands have large sections for lume, and the seconds hand has a circular lumed element. So I think the lume design and performance on this watch is very good overall.
---
Movement
As mentioned earlier, this watch uses a Seiko NH35 movement, and that is a very difficult pill for me to swallow considering the $975 price tag. This is a movement you'd typically find in a sub $500 watch, and to see it on a watch priced twice as much is going to put a lot of people off. And I think this comes down to where this brand is positioning itself – I think they are less interested in catering only to the micro-brand enthusiast community, but they want to also target the fashion and lifestyle watch community as well. And as we've already seen with brands like Unimatic, and a lot of other designer brands that make watches, none of that crowd actually cares about what movement is in the watch. It is just us watch nerds and watch snobs (but I'd wear that Gucci Grip in a hearbeat, I just can't get myself to pay $2k for it).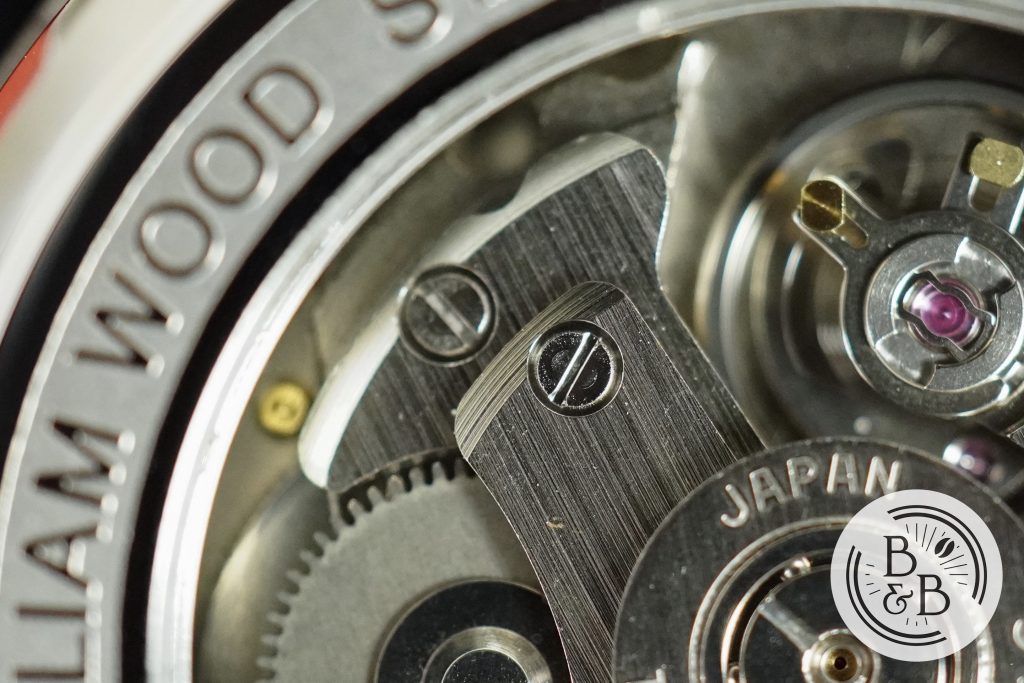 Getting back to the Valiant, the Sellita SW200 equipped version costs $1150, and personally that is the version of this watch I would recommend. I've spent more on Sellita SW200 equipped watches in the past, and I'm comfortable paying the extra money for tighter bounds on accuracy, a higher beat rate, and a movement that is equally easy to service. But even that movement option is going to be insufficient for most value watch seekers, who are a significant fraction of the micro-brand watch community.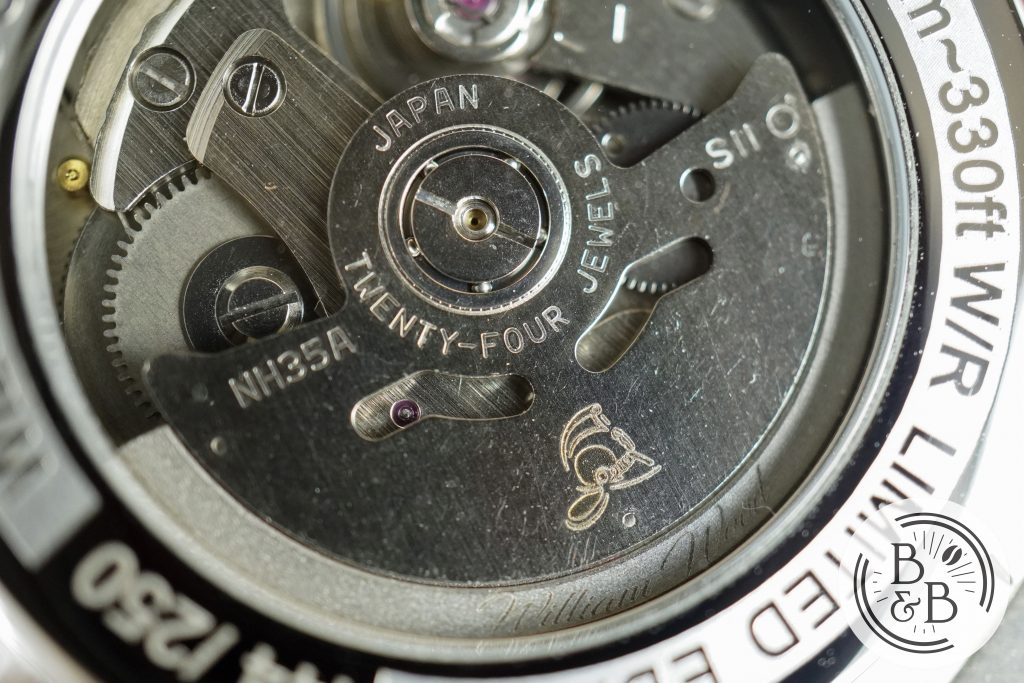 But getting to this movement in specific – this Seiko NH35 has a lot of the usual scratches, dings, dirt and finger prints I usually see on these movements. This is also much cleaner than the Seiko 4R35 I reviewed on my friend's Presage a few months ago, but it still doesn't scream $1000 watch to me in terms of quality control. So that's a bit disappointing as well.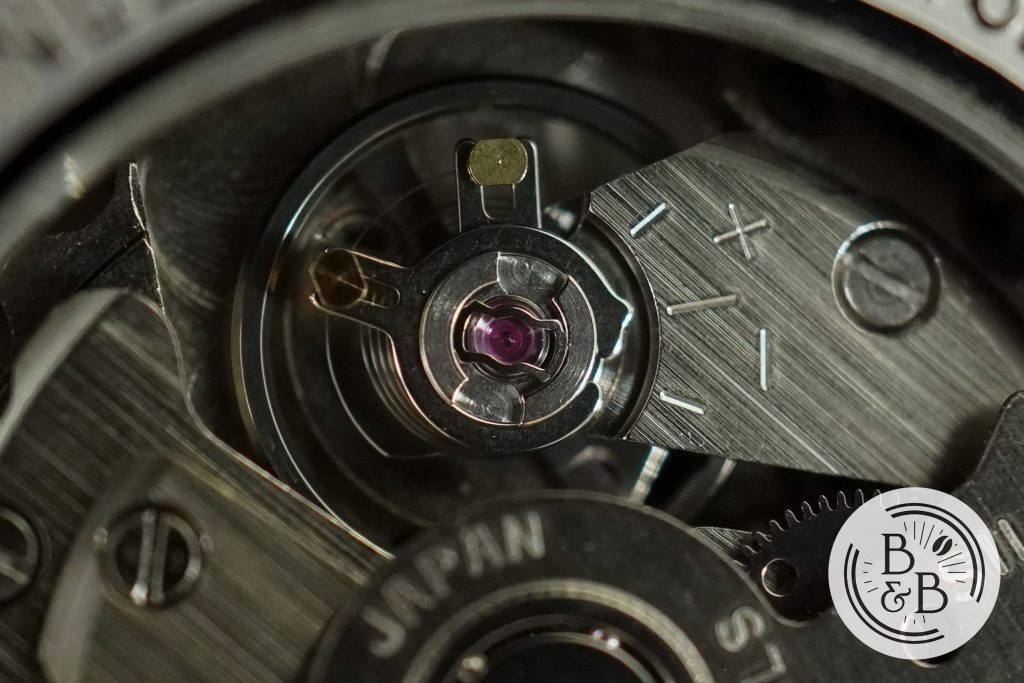 On my time grapher, I observed roughly -1 spd in the dial up position, and -4 spd in the crown up position, so at least the performance is very good!
---
Straps
Jonny was also kind enough to send me one of each of their upcycled fire hose straps. I'm a sucker for good quality rubber and silicone straps, so these are a welcomed addition to my rapidly growing strap collection.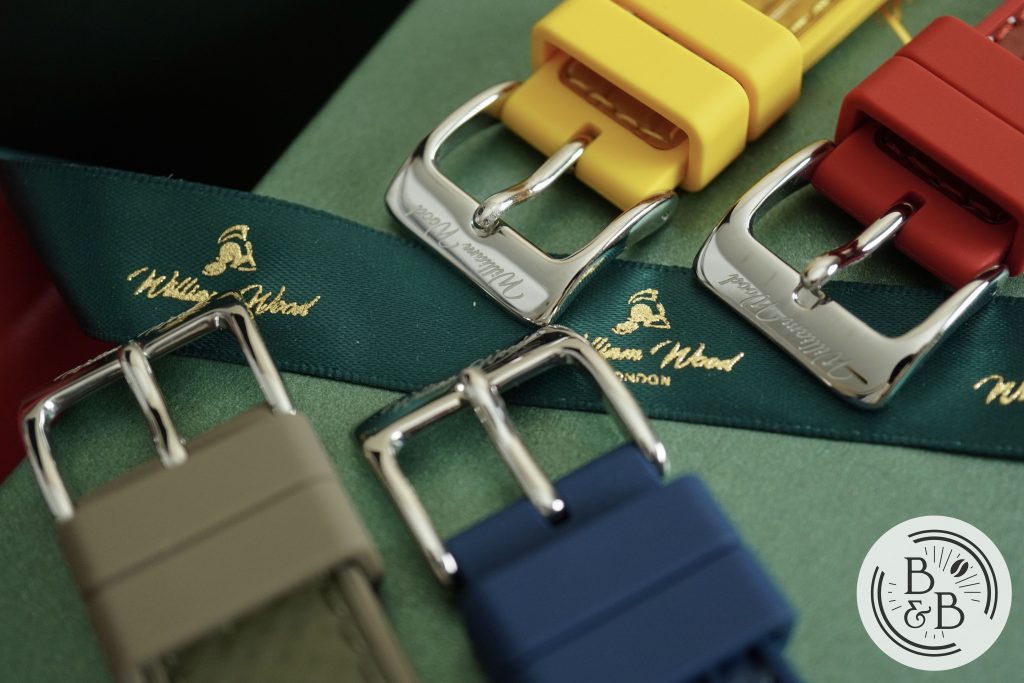 The core of the strap is made out of silicone, with the top surfaces being made of repurposed fire hoses. I think the red strap looks best on the blue watch, and it also lets me channel my inner Kevin O'Leary.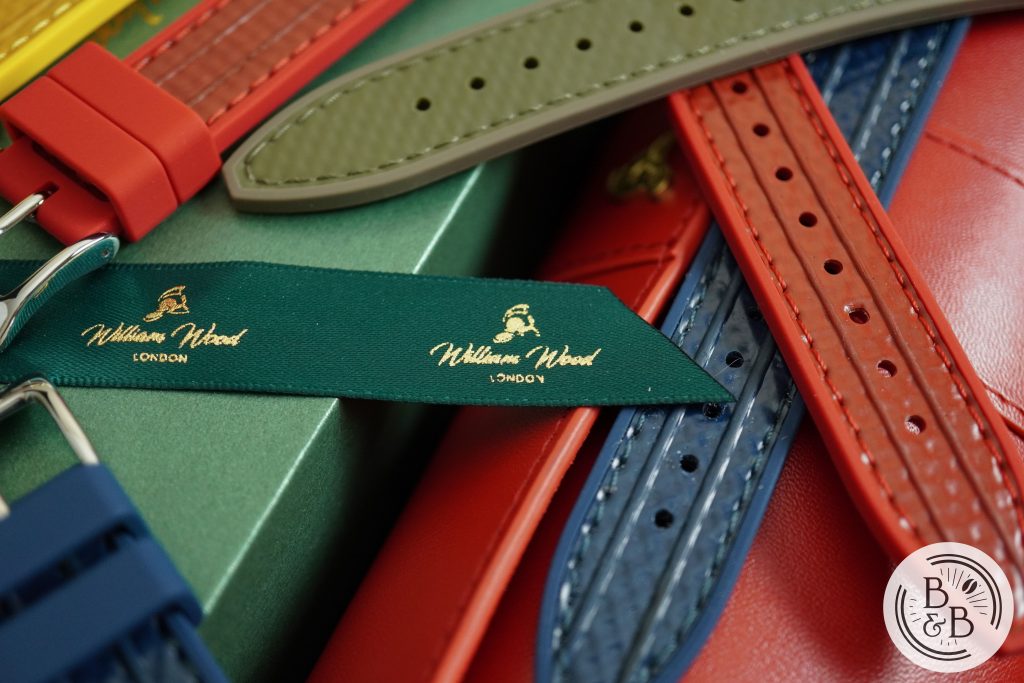 The quality of these straps is excellent, from the stitching to the signed buckle. But this is expected, since they cost about $140 a piece.
---
On The Wrist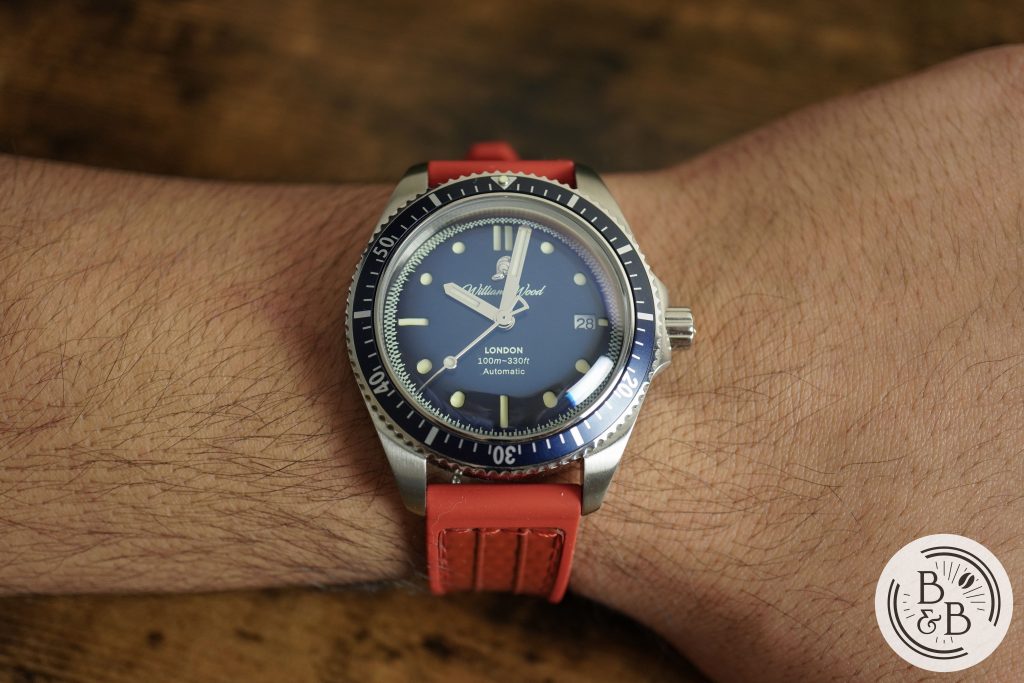 The 41.25 mm diameter and 48.5 mm lug to lug width are compact and fit well on my 6.25″ wrist.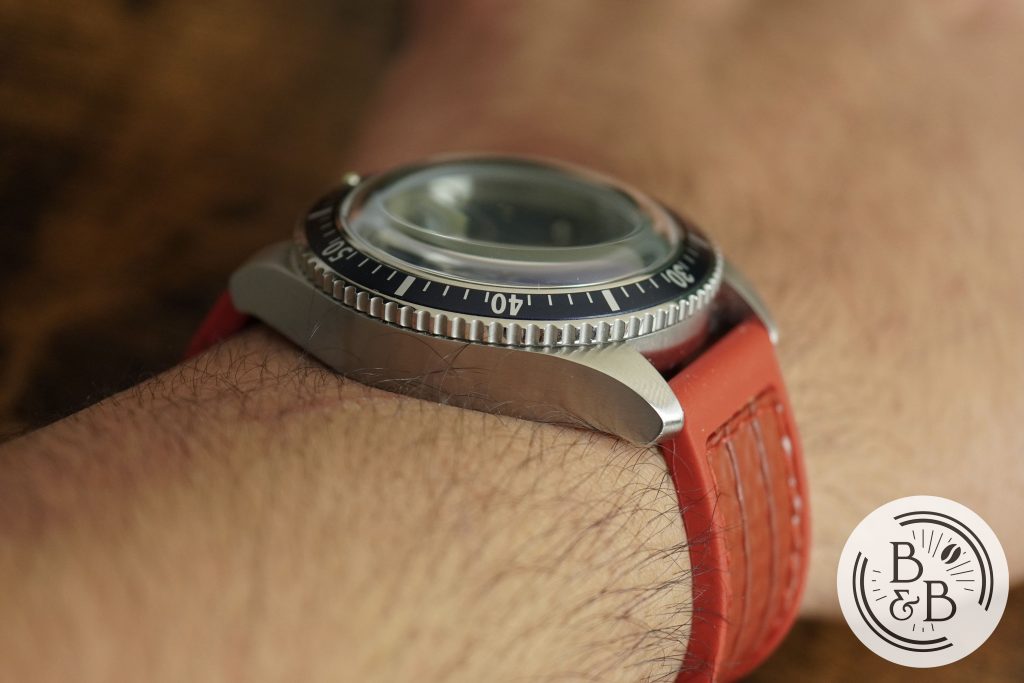 However, the 15.75 mm overall height is definitely on the larger side of what I would prefer. And this is due to the large domed crystal and the sizeable mid-case section. But I also think the crystal and bezel design looks great, and wouldn't really change it, so I'm at somewhat of an impasse where this is concerned.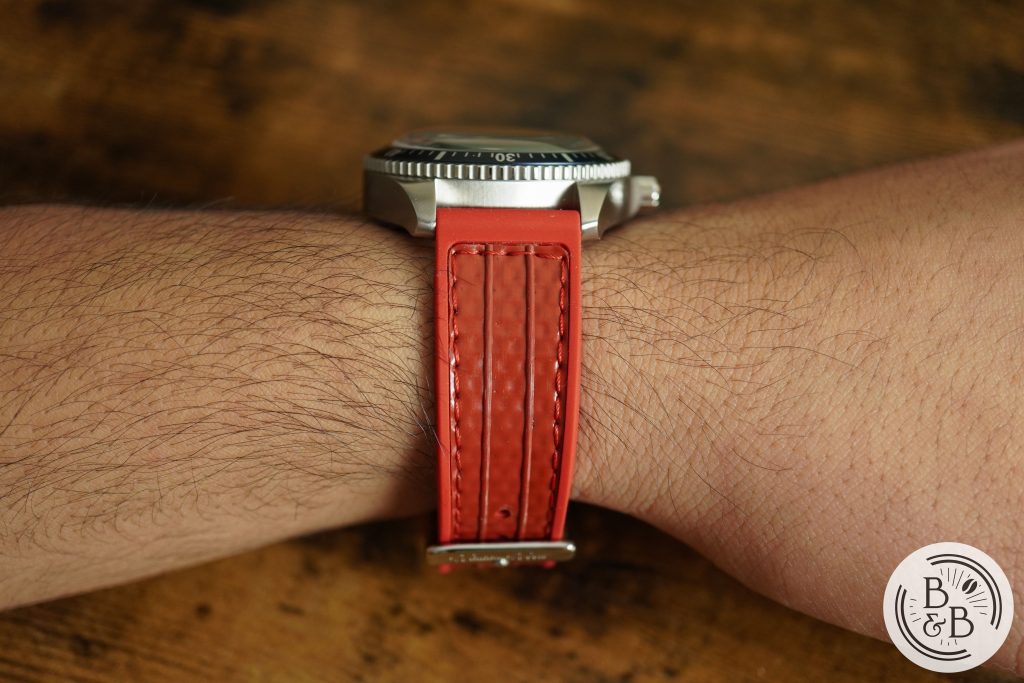 The watch can feel slightly imbalanced at times, specially if you prefer to wear your watch a bit loose. In that case, you might want to get the bracelet, to better distribute the weight. So, I wouldn't call it an uncomfortable watch, but depending on how you wear it, you might notice some movement.
---
Concluding Thoughts
So to wrap this up quickly, I'll say that while I entirely recognize that a watch is more than a sum of it's parts, I still find $975 to be too expensive for this particular watch. I can't shake off the fact that there is a roughly $30 movement inside, while I could get an entirely capable, well built, well designed and well finished chronometer certified (COSC) SW200-1 equipped watch for less than this, and on a bracelet from Christopher Ward. And I think the only real option for us watch nerds is the Sellita SW200-1 equipped Valiant at $1150.
But conversely, those that are able to connect with the story behind William Wood, and those that want to contribute, support or be part of this brand and their story, won't find it difficult to part with that money.
---
Strap Change
---
Thanks for reading!