---
Disclaimer: I purchased this watch new from Unimatic for around $490 USD and was not externally incentivized in any way to make this review. This review is in no way sponsored by any entity. All opinions here are my own.
---
---
Contents
---
Unimatic
Unimatic is an Italian micro-brand, and they've become quite popular over the last few years. Most of their watches are released in limited quantities, and end up sold out within a couple of days. The design team behind Unimatic have impressive portfolios. Giovanni Moro, one of the founders, isn't a stranger to watch design, and was behind the Smiths PRS40 design.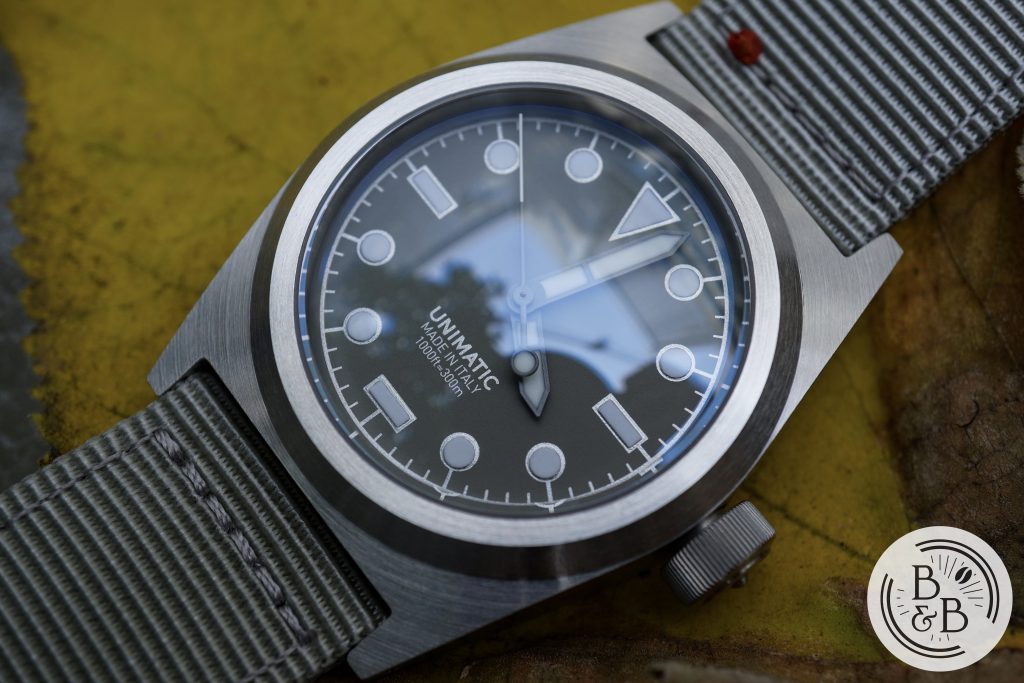 I've often wondered, where in the horological microcosm do these watches fit? After spending a few days with one, I personally believe they fit more comfortably in the designer watch category than in the watch enthusiast's watch category. Primarily because they've managed to alienate a large section of the (micro-brand) watch enthusiast community with their arguably steep prices.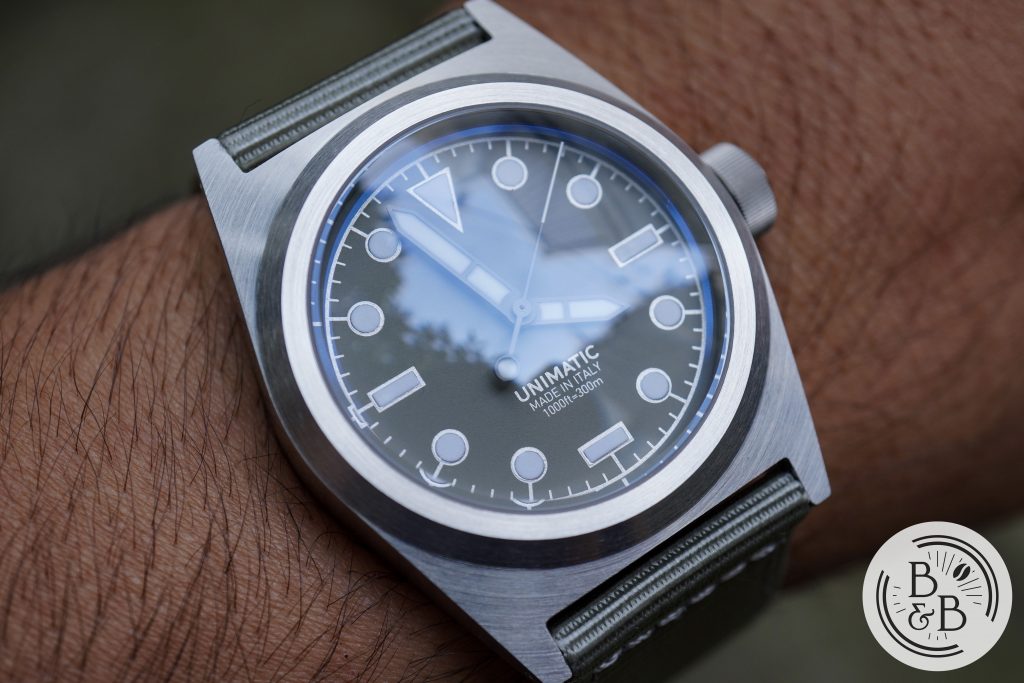 But one thing is for certain – they've built an impressive identity in a very short period of time. The design litmus test for me is if I'm able to look at a watch and know who made it, without having to look at the logo. And just like Ming, when you see a Unimatic watch in the wild, you know it is a Unimatic.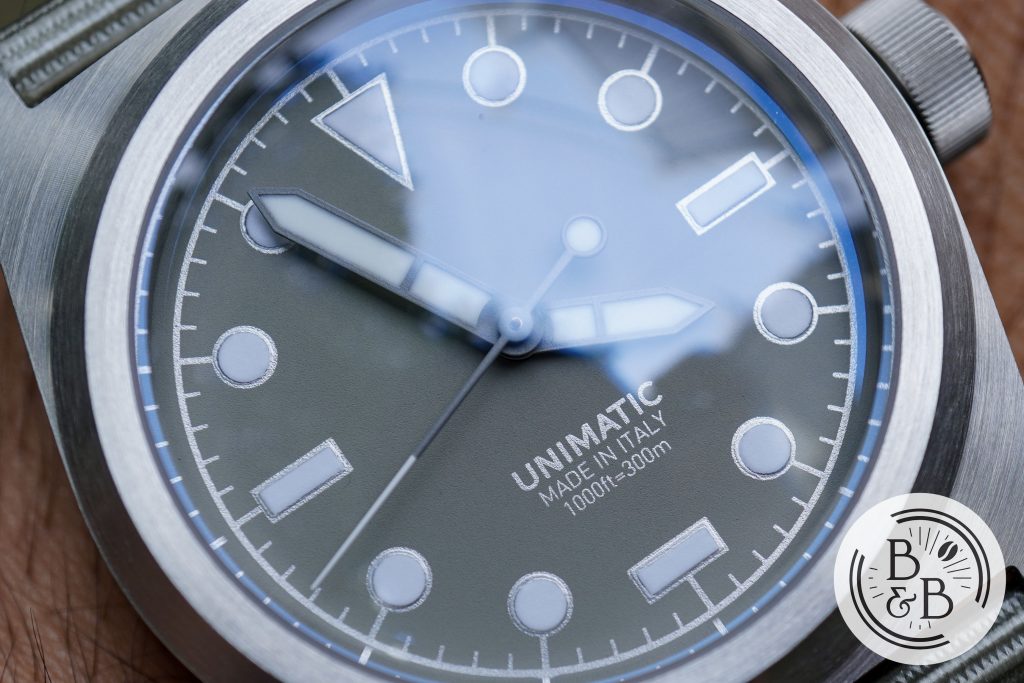 So controversy aside, these are unique watches that appear to be incredibly successful. I purchased the Unimatic U2F from their website an hour after it was launched, and less than 12 hours later, they were all sold out. I'm not sure if the entire inventory of 500 x U2F and 250 x U2FN sold out, but this is impressive either way. I've been seeing this watch already trading on the pre-owned market for well above $500.
Let's check it out!
---
Case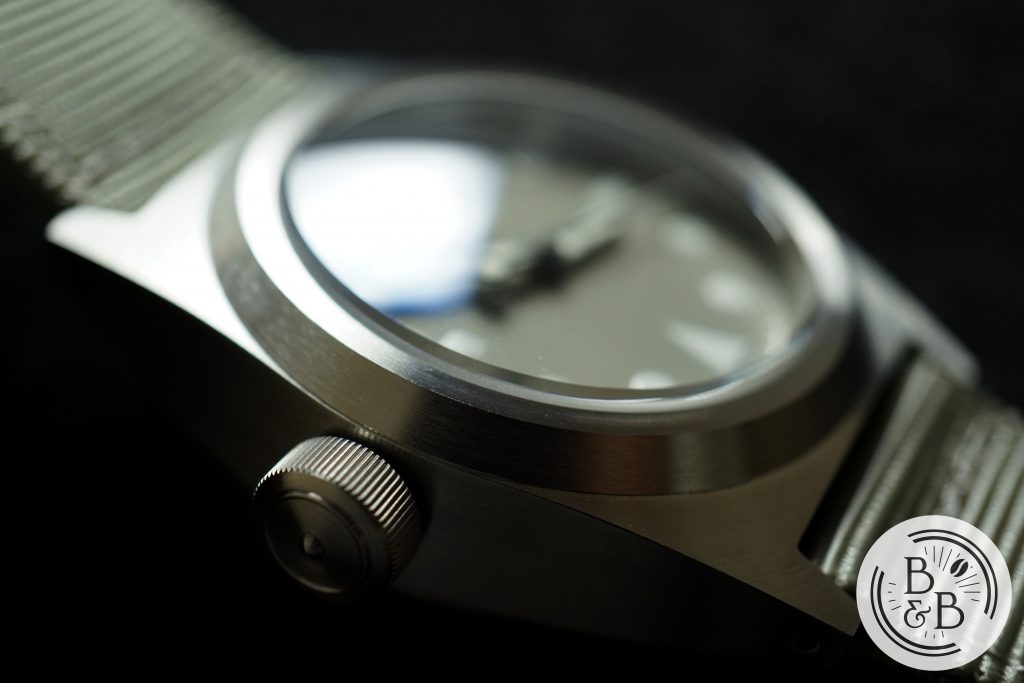 The case has very interesting proportions, with a 38.5mm diameter, 47.5mm lug-to-lug width and a 13.75mm height. 1.5mm of that height is the crystal, so you're looking at 12.25mm in case height. The case is finished with a combination of radial and horizontal brushing. The finishing is pretty good for what it costs, but isn't jaw dropping.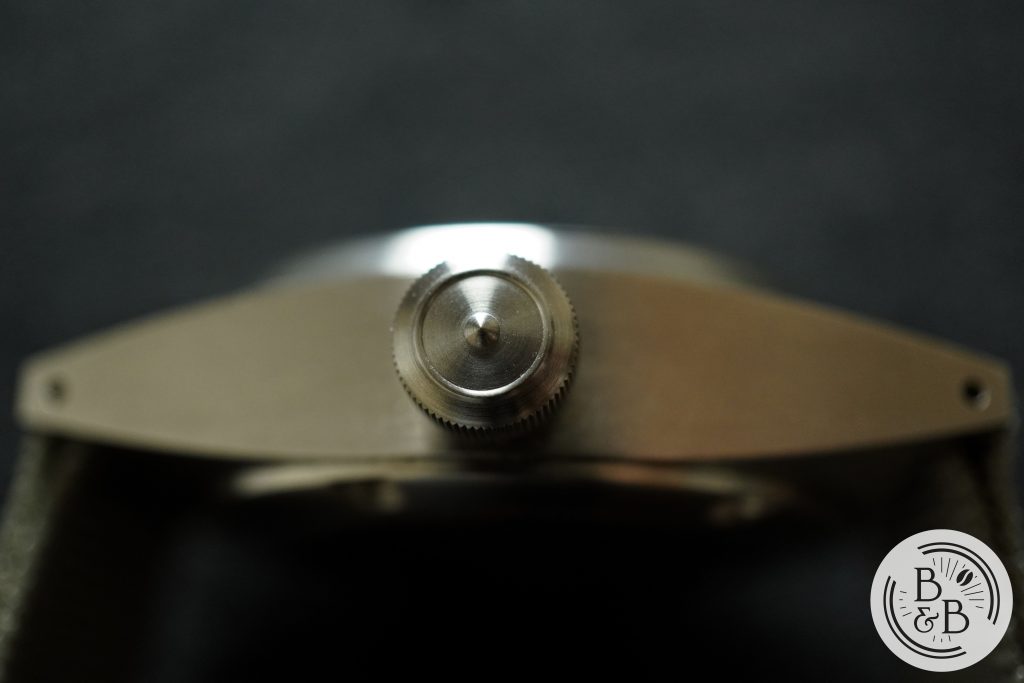 From above, this watch looks quite conservatively designed and looks like a vintage dive watch. But that is a misdirection, as this case design is anything but conservative.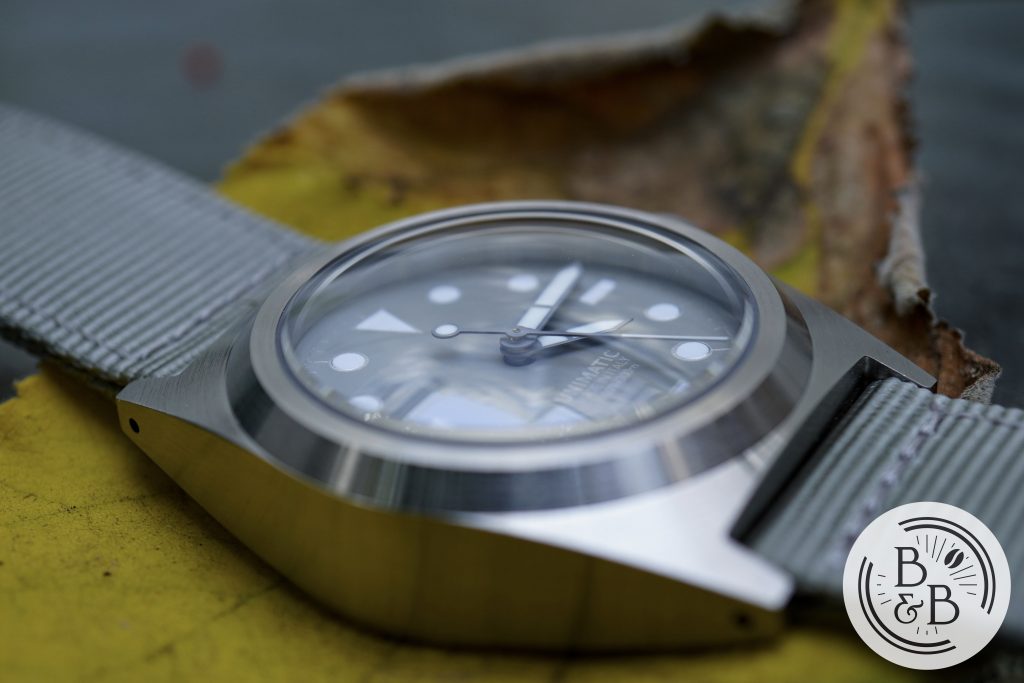 The side profile should give you a better look at the madness that is this case. The lugs remain straight, and both the bottom and top surfaces of the watch curve down to meet it, maintaining perfect symmetry.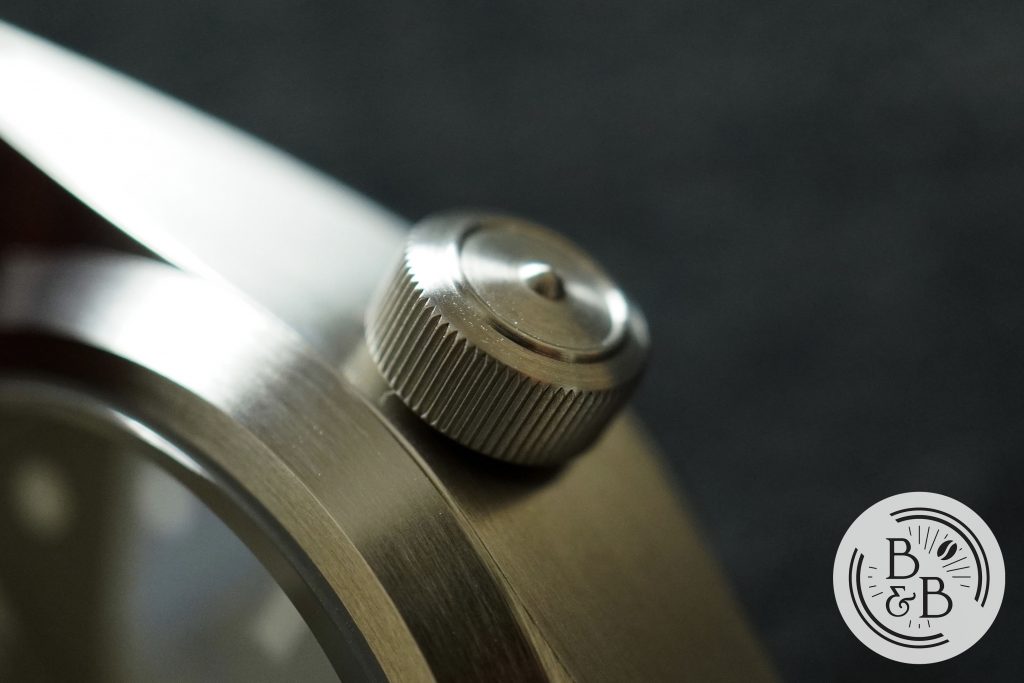 There is a massive 8mm screw-down crown at the 3 o'clock position. I love big crowns, so this is a total win. The crown is very easy to grip and operate. Unfortunately, there was a bit of crown wobble (not uncommon to Seiko NH35s and micro-brands), but the case's crown tube design is fantastic and the way the crown screws into the case is very reassuring of the 300m of water resistance.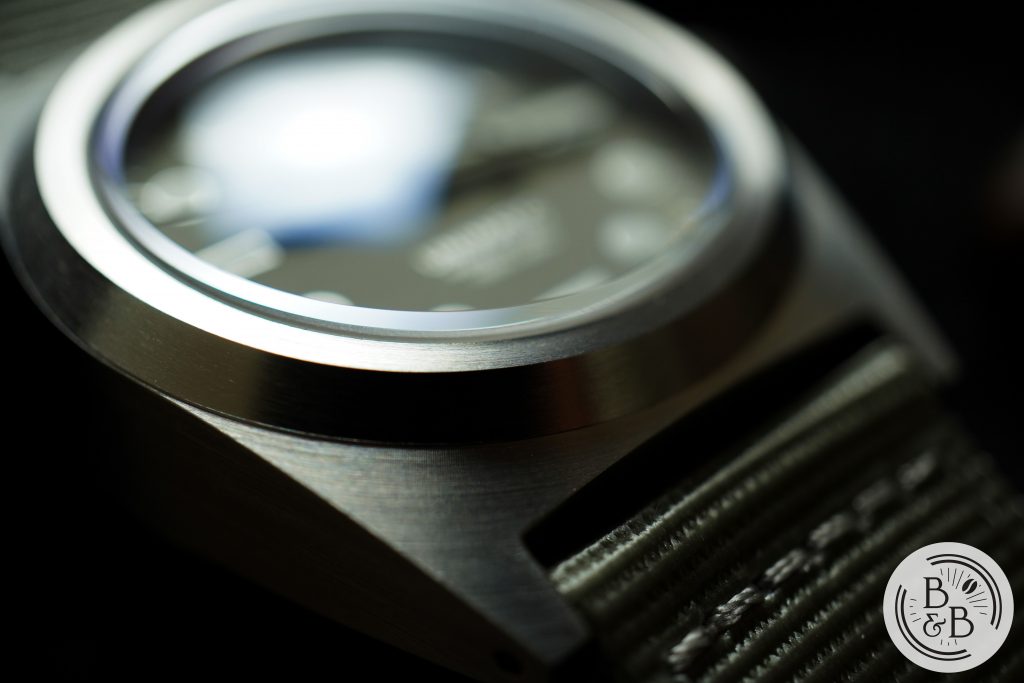 There is a fixed bezel section, and the entire case appears to be a single piece construction. This aggressive bezel houses a heavily domed sapphire crystal that protrudes out of the bezel by about 1.5mm. The quality of the crystal is excellent, and there isn't much distortion or reflection. If you're trying to do component math in your head, I'd say this crystal alone cost them close to $75.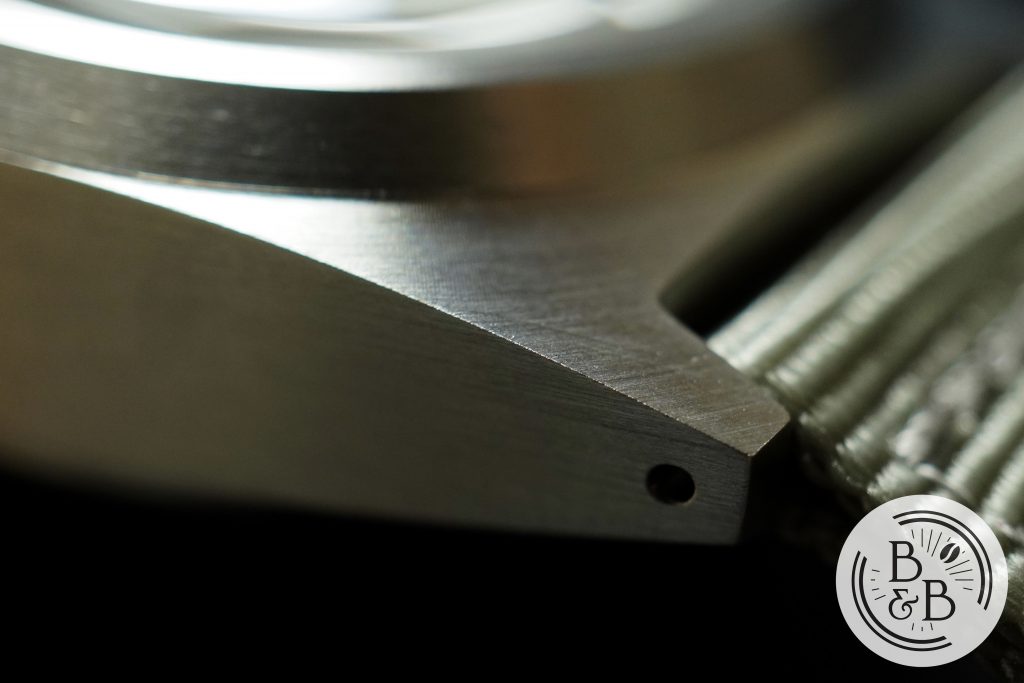 The lugs are drilled through, and strap changes were effortless. The lugs are straight and don't curve down at all, but this doesn't appear to have a significant impact on wrist comfort… more on that later.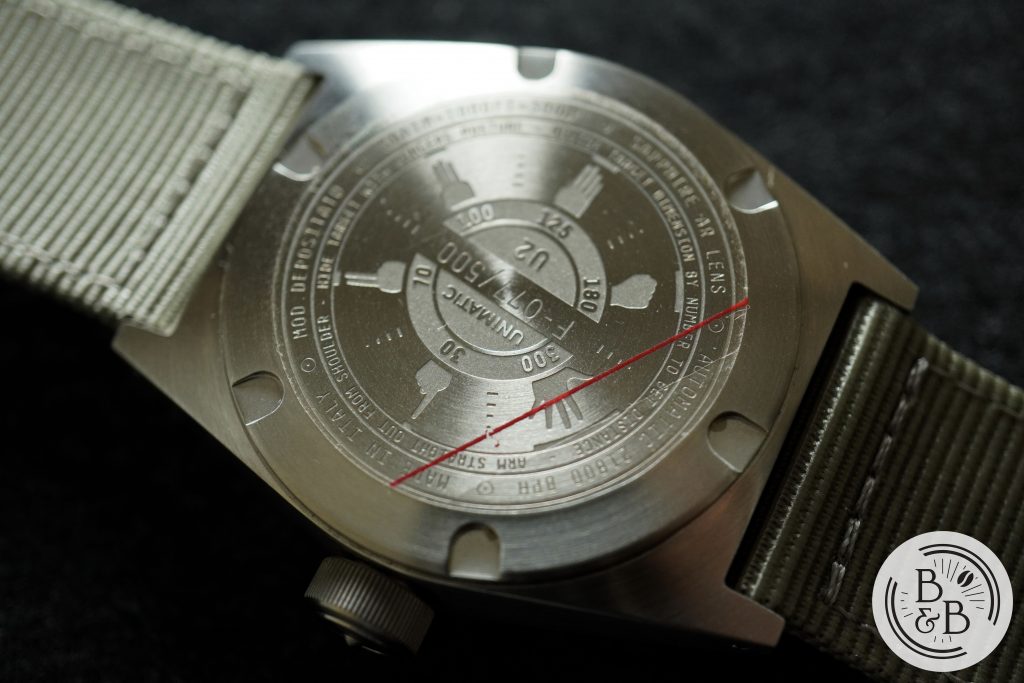 Flipping it over, you have a solid screw down case-back with what appear to be a military hand signal guide milliradian scale for distance calculation on the go, and the serial number engraved onto it.
---
Dial
The dial is clean and restrained, but still leaves much to talk about. Unimatic sells this dial and case configuration as a field watch, but I'm not sure I agree. This looks like a pretty typical dive watch dial layout, minus a rotating bezel.
The dial has a media blasted base that is painted grey (RAF grey). This translates into a matte finish with no reflections or glossy shine.
You then have an outer minute/seconds ring that is printed with a silvery grey paint, that can either disappear into the dial completely, or shine in high contrast. This dynamic appearance is quite interesting to see, and part of the minimalist dial aesthetic.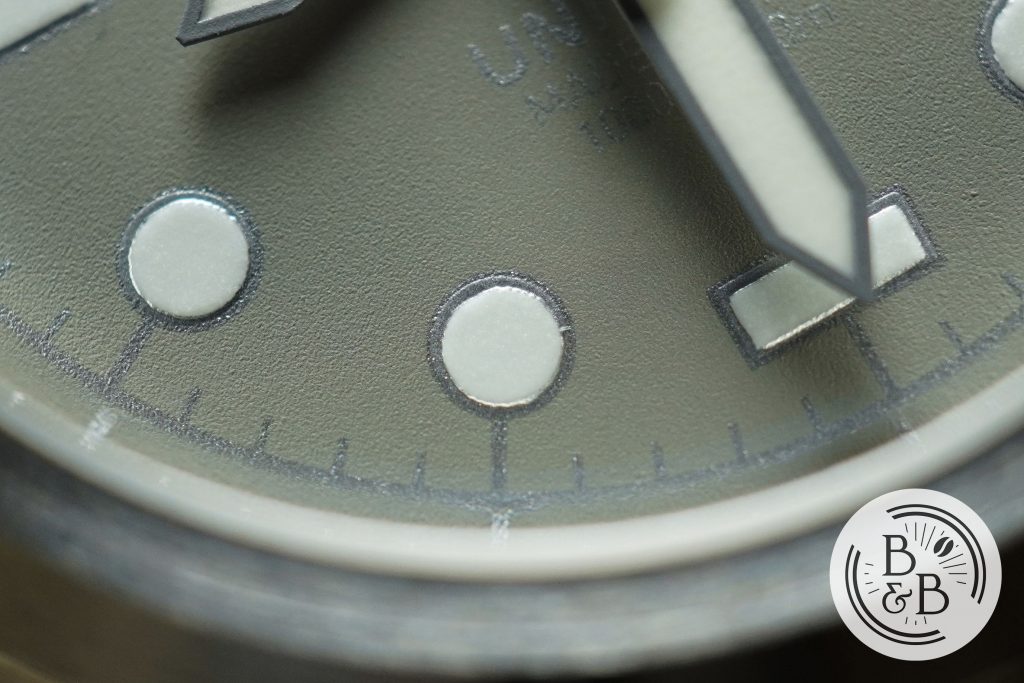 The hour indices are a combination of rectangles and circles, with a large triangle at the 12 o'clock position. These are entirely made of C3 Super LumiNova, and are outlined with the same silvery paint used on the marker ring. These white indices remain in contrast with the dial at all times, making the watch easily readable (and permanently visible).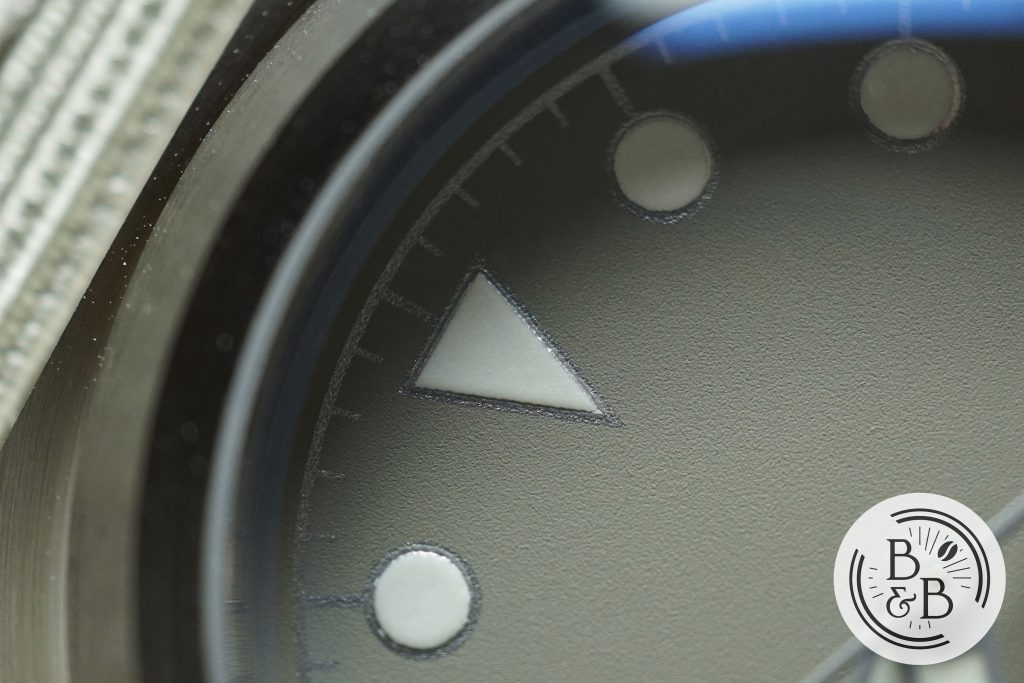 The finishing of the printing and the indices is very good, and the overall dial finishing is very clean for a $500 watch.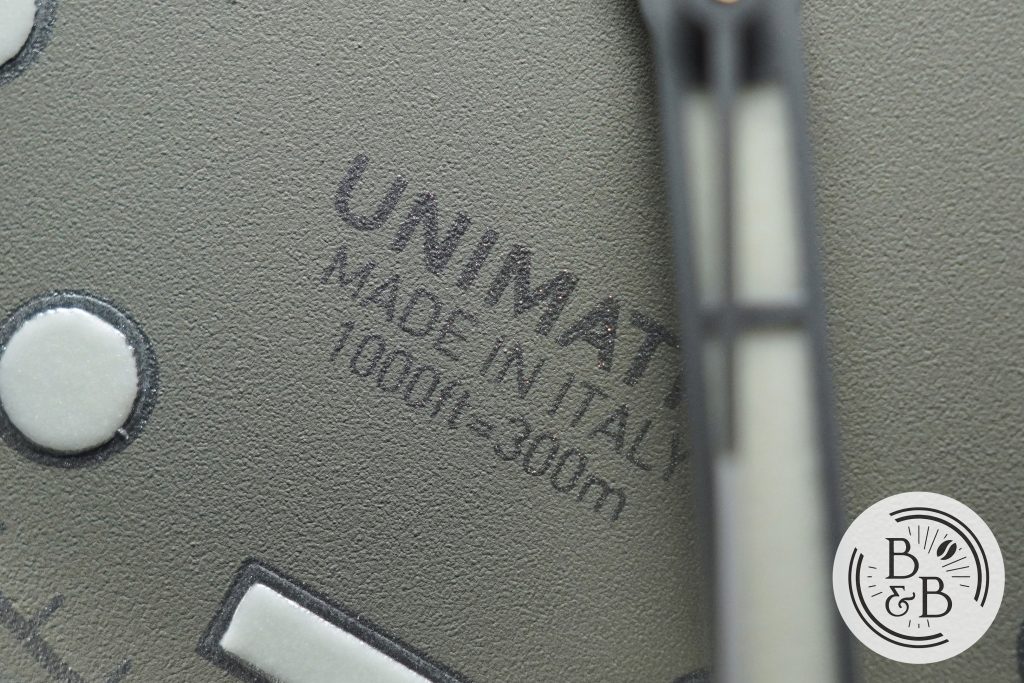 The brand's logo, along with some text, is above the 6 o'clock position. This is printed on the dial using the same silvery paint that toggles between being visible and blending into the dial.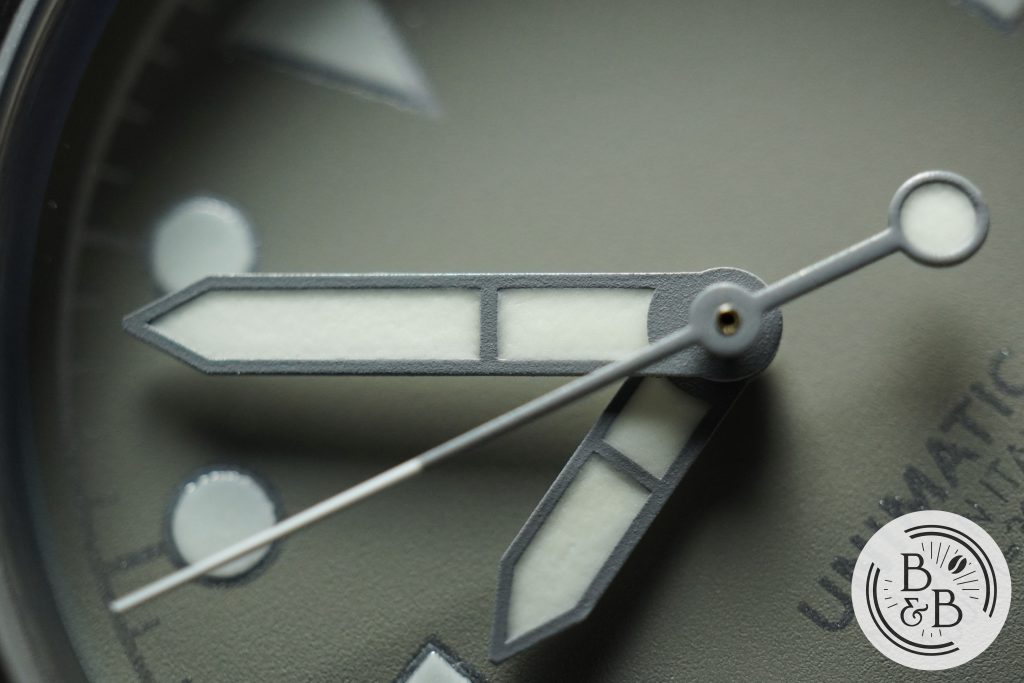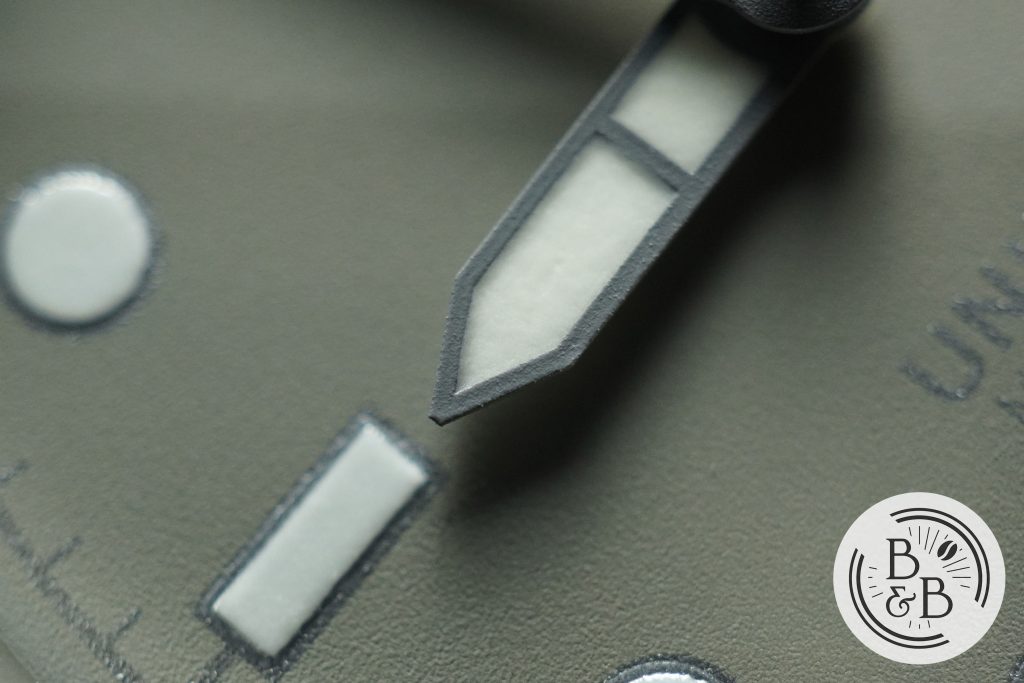 The hands are media blasted and painted with the same color as the base of the dial. The hands are generously filled with lume, and the lume also helps with the visibility of the hands. The hands are finished very well, and very clean.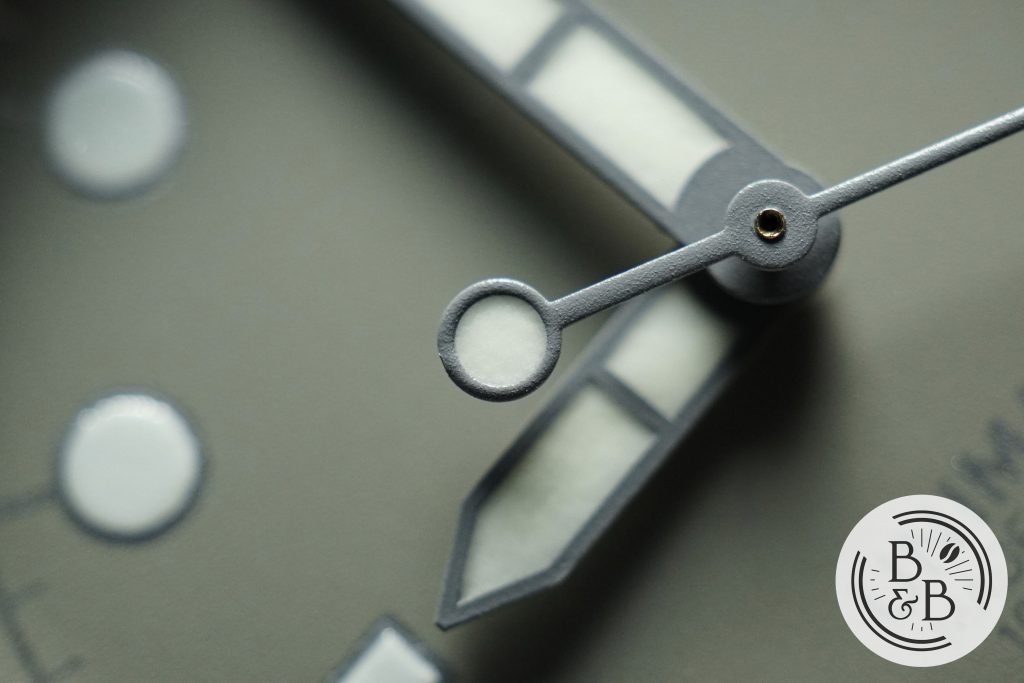 The seconds hand is also painted grey, and has a lumed lollipop counter balance.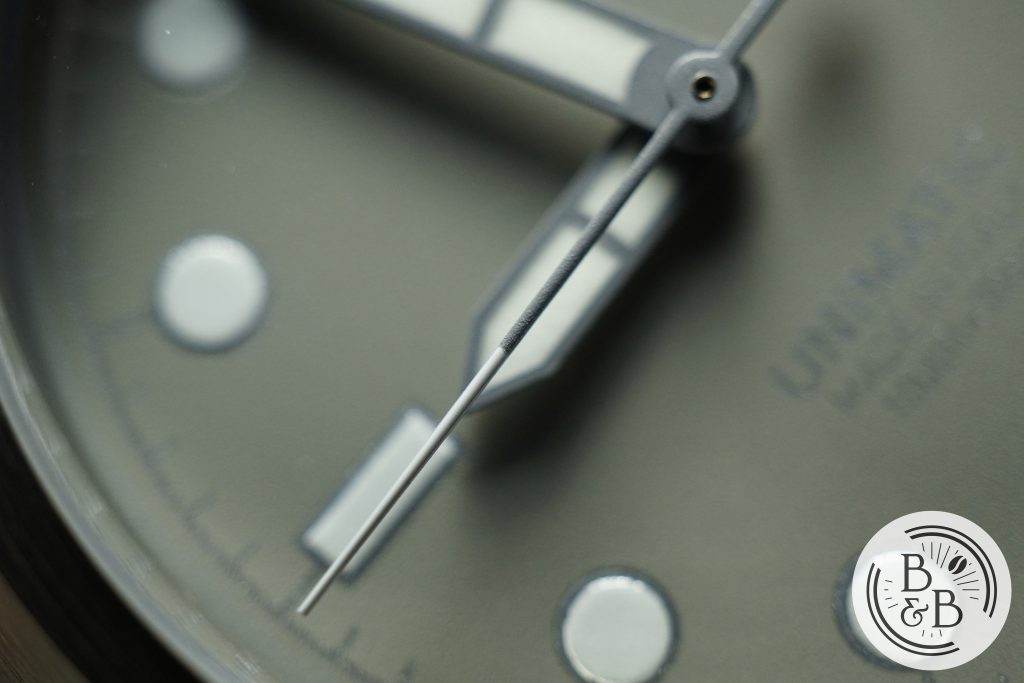 The tip of the seconds hand is painted white to match the other lumed elements but unfortunately the seconds tip is not lumed. All the hands are well proportioned, and the seconds hand extends all the way up to the seconds/minute track.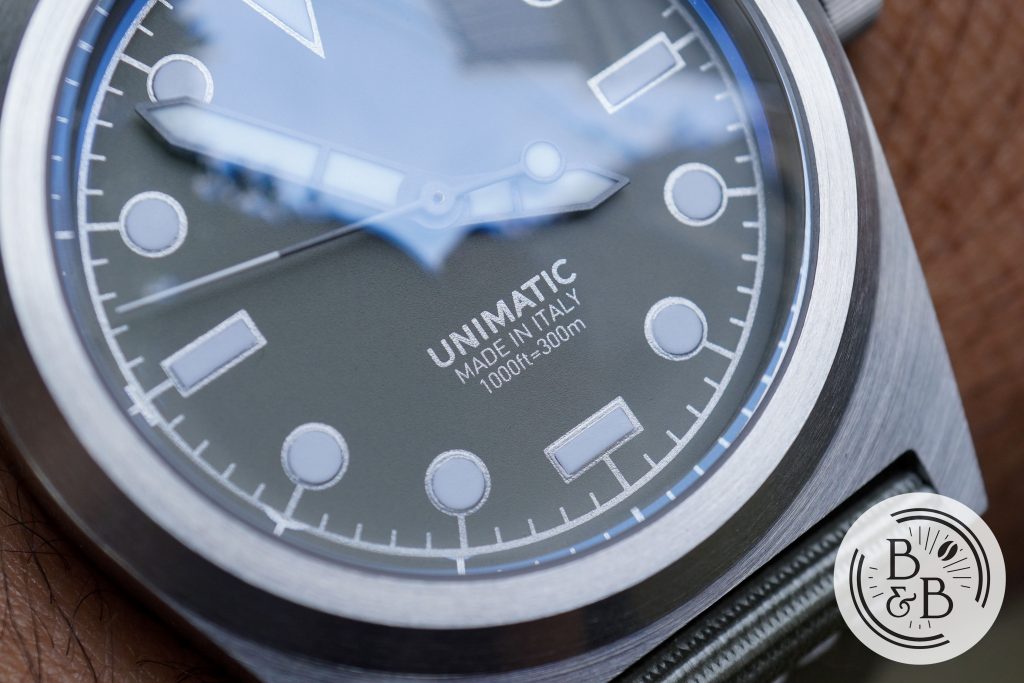 Overall, I think this dial is very unique. It is easily readable, but still has a lot of overlapping colors. The only contrast here is between the grey hues of the dial and the color of the lume. I think this design is pretty cool, and very different from what's been done before.
---
Lume
The lume is not very impressive, sadly. The indices and hands are quite large, which means they could've done a very good job here.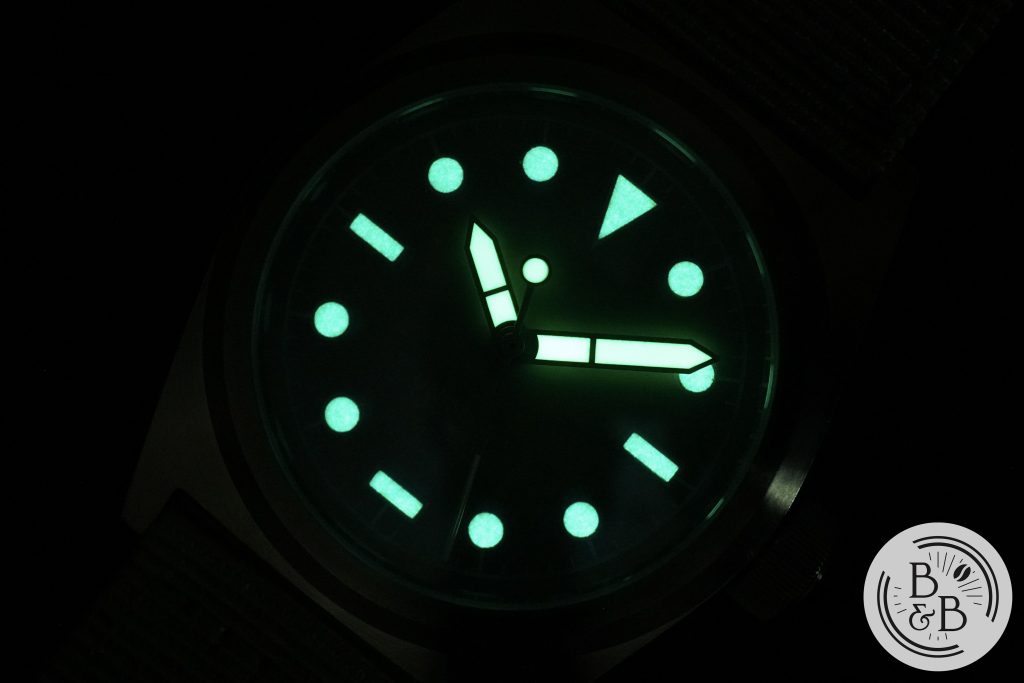 The hands are reasonably well lumed, and the lollipop seconds hand counter balance is lumed too. I think they had a great opportunity to lume the white tipped seconds hand, but did not.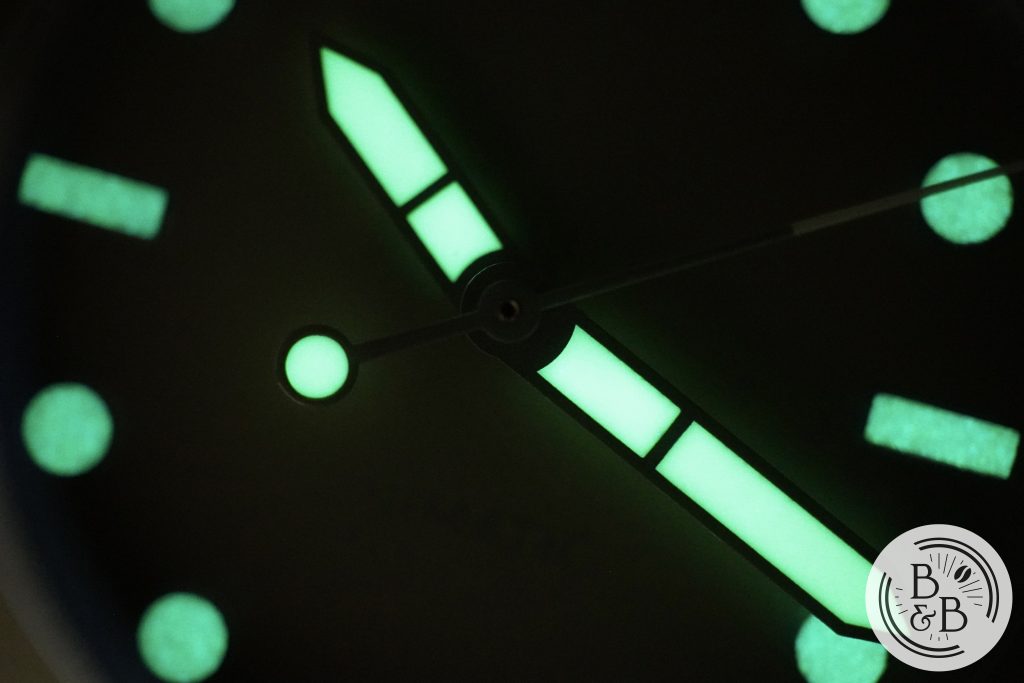 The indices are lightly lumed, and as expected, fade much quicker than the hands. Overall, I'd say the lume is adequate, but not excellent. They had all the ingredients to deliver an excellent lume experience, but unfortunately did not.
---
Movement
This watch uses a Seiko NH35A movement. Unimatic continues to stir up the watch community by offering this $20 movement on their $500+ watches. While I am a firm believer of the fact that watches are more than just their movements, I also expect excellent value to be delivered in other avenues such as manufacturing, design, finishing and lume.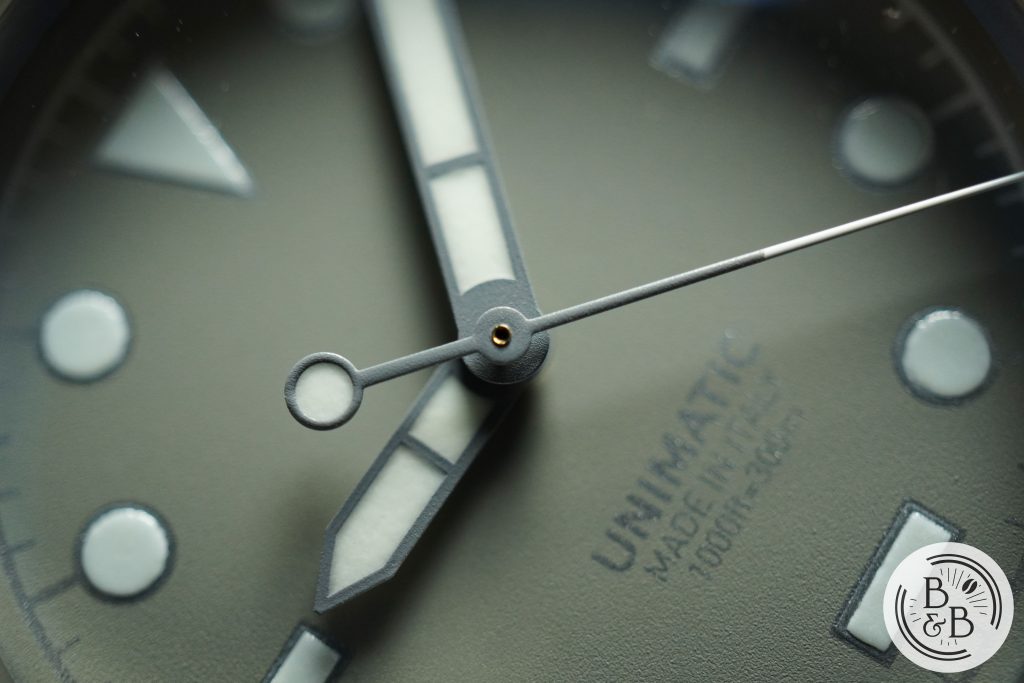 It isn't a secret that you're paying a premium to own this watch, but the ghost date position in this watch doesn't do it any favors in trying to deliver that premium experience. I'm usually forgiving of ghost date positions on watches under $1000, but it feels harder to stomach in this case.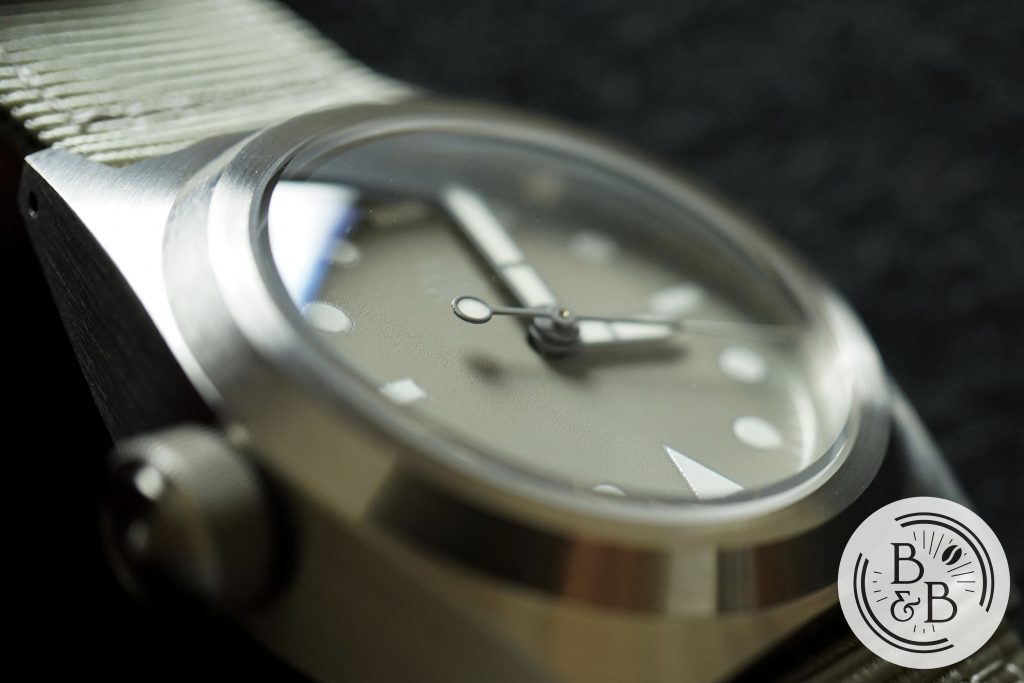 At least they didn't insult your intelligence by shoving the term 'workhorse' down your throat, or tell you that many experts believe that this movement is as accurate as many Swiss movement providers. No, they just give you a Seiko NH35 and tell you to live with it. I'm actually fine with this. Just don't sh*t on my plate, and tell me it is cake.
To give credit where due, this watch came very well regulated, and is probably the best NH35 I've logged so far. Over a 2 day period, I observed roughly +4 spd. So from a purely timekeeping perspective, no complaints here.
---
On The Wrist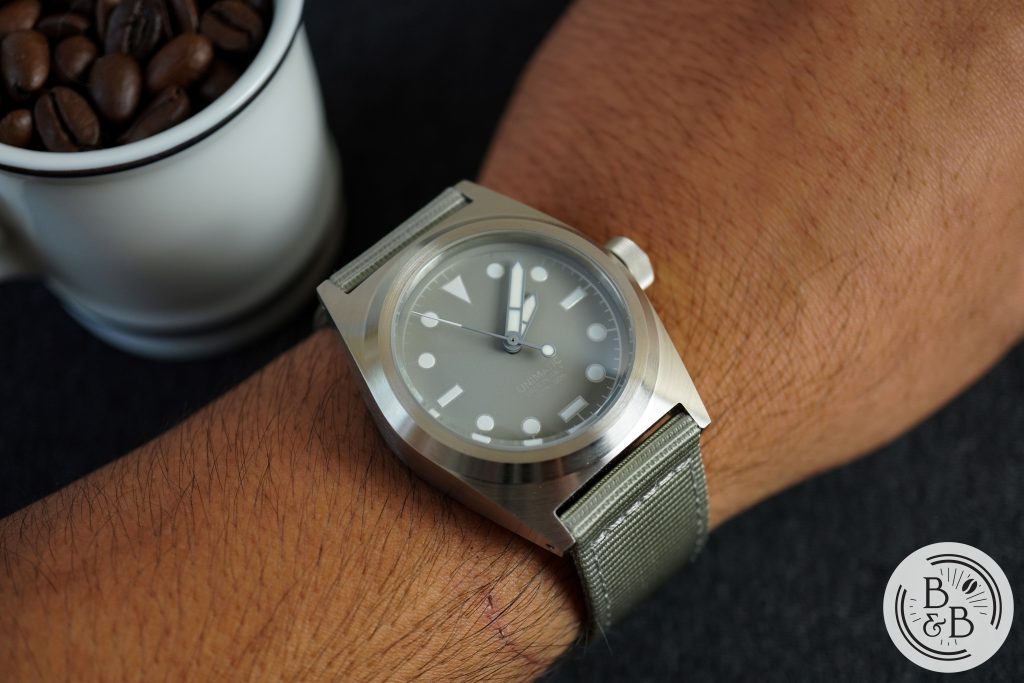 The case was clearly designed without traditional wrist watch ergonomics in mind, but don't let the awkward shape and size fool you. This watch is surprisingly comfortable, and is better balanced than some of the other (more traditional) watches that I've reviewed.
The watch does sit tall; not because of the 13.75mm height, although only 12.25mm of that is the case. But because of the straight lugs. On my 6.25″ wrist, I didn't have any overhang thanks to the 47.5mm lug-to-lug width, which is good.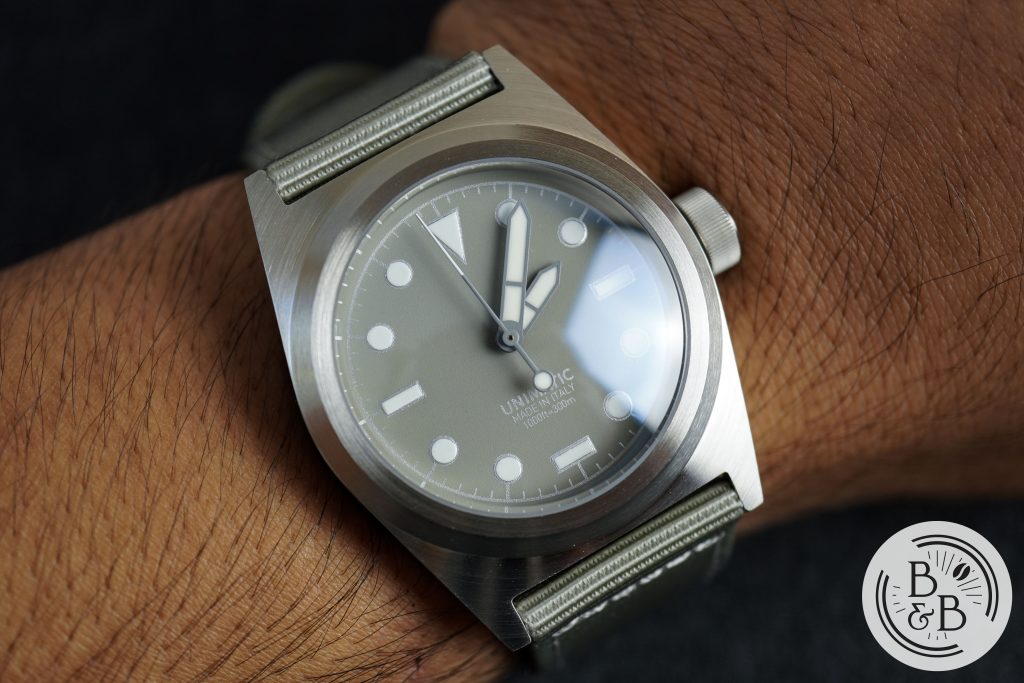 The case-back is flat and close to the case, which helps it stay well balanced. But this watch does wear larger than you would expect from a traditional 38.5mm diameter, 47.5mm lug-to-lug width watch.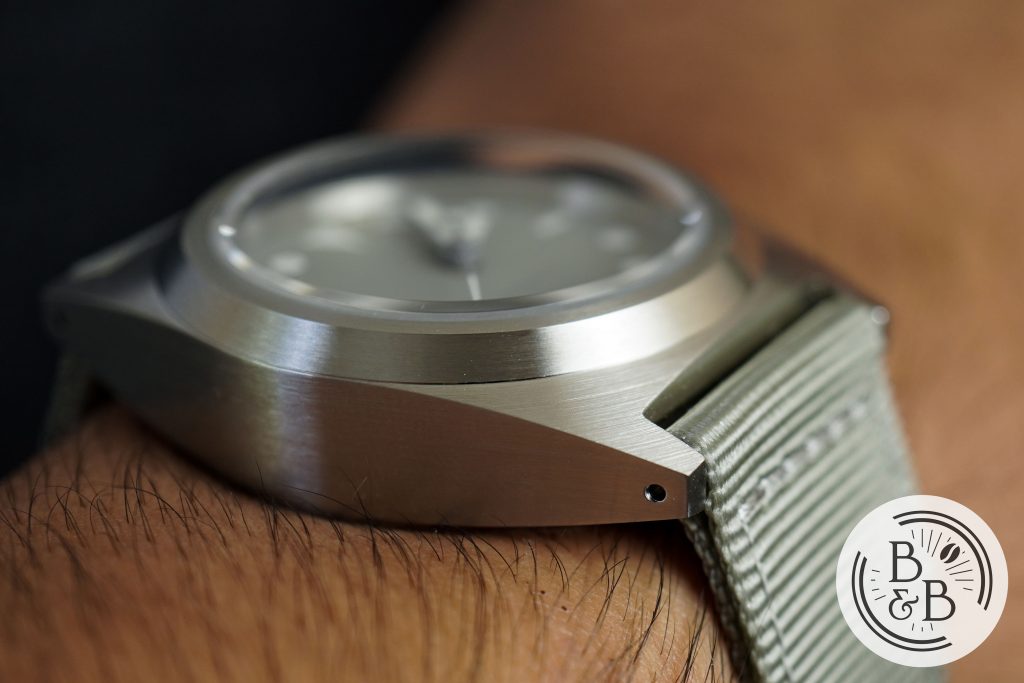 This watch makes a statement, but not in an obnoxious or obtrusive manner. It makes a statement in that it is likely to catch your attention because of it's unorthodox design and unconventional wrist presence.
This watch ships with a well made 2-piece nylon strap. There is matching hardware with a stamped buckle that is of excellent quality.
---
Concluding Thoughts
So to wrap things up – does this watch deliver enough value in terms of build quality, design and lume, to make up for the polarizing choice of movement? I'm still undecided on this. If you are after a watch that is unique and has a lot of very interesting design cues, Yes. But if you're just after a really good watch under $500, the answer is No. The build quality and design are (mostly) deserving of the premium, but the lume and movement do not.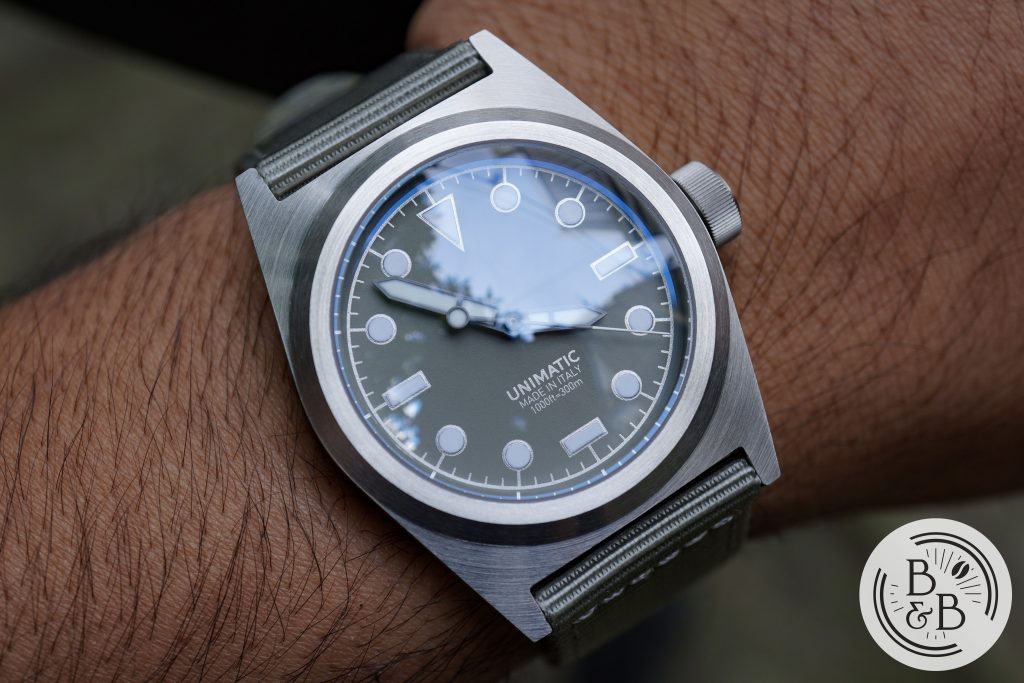 This brings me back to my opening statement – to me this is a designer watch. And a very good one at that. The case is interesting, and the dial is unlike anything I've seen before in terms of the overall experience. But it is going to be a hard sell to the average micro-brand watch enthusiast, but will probably resonate better with someone who just wants a good looking or unique-looking watch.
---
Strap Change
---
Thanks for reading!