---
Disclaimer: This watch was sent to me to review, and I was not paid to write this. This is in no way sponsored by Wicked Watch Co., or any other entity. All opinions here are my own. Wicked Watch Co. will be sending me a watch from this collection when it goes into production, but they have no control over the content of this review.
---
---
Contents
---
Correction: I was under the impression that both the bezel and dial elements were made of LumiCast, but I was mistaken. Only the dial indices are LumiCast. The bezel insert elements are regular Swiss Super LumiNova, but are very deep and generously filled. The bezel insert and dial lume are almost perfectly matched in brightness. My apologies for the error.
---
Intro
Wicked Watch Co. is a new micro-brand based out of Switzerland, and I believe this is their second attempt at releasing an affordable dive watch. Their first, under the 'W Timepieces' name, wasn't able to reach it's funding goal, and was eventually unsuccessful on Kickstarter. But after some careful rebranding and redesigning, the Wicked Watch Co. Pearl Diver will go back to Kickstarter in a few weeks, and with their updated and upgraded watches, I suspect that they're going to do quite well.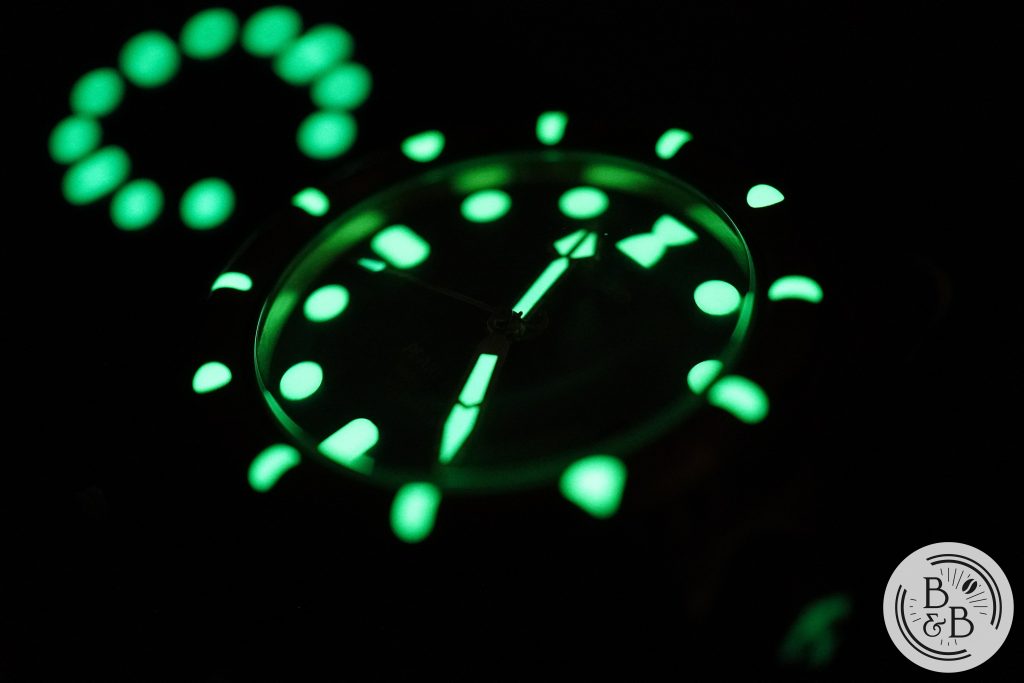 The highlights for me, are the excellent early bird price, the good build quality, but most importantly the incredible LumiCast lume on the dial, as well as very deeply filled lumed bezel elements. I don't usually throw lume shots into my introductions, but this one deserves it!
The brand's owner has been very transparent regarding the manufacturing origins of each component, and has indicated that the case, crystal, straps and accessories are made in China, while the dial and hands are made in Switzerland. You then have an option of a Swiss made STP1-11 movement, or the more affordable Seiko NH35.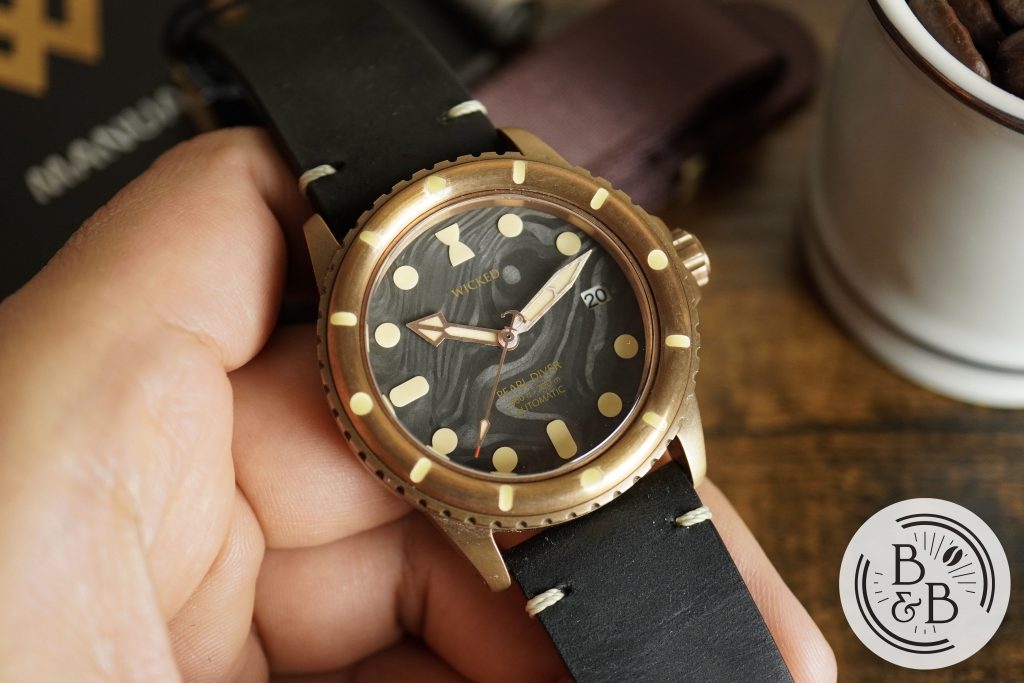 You can argue that the micro-brand watch community doesn't really need another dive watch, but I think if we're going to keep getting more of them anyway, it doesn't hurt that this one is pretty good looking, with solid hardware and insane lume to back it up. I wasn't paid to write this review, but I will be receiving one of these watches once they begin to ship.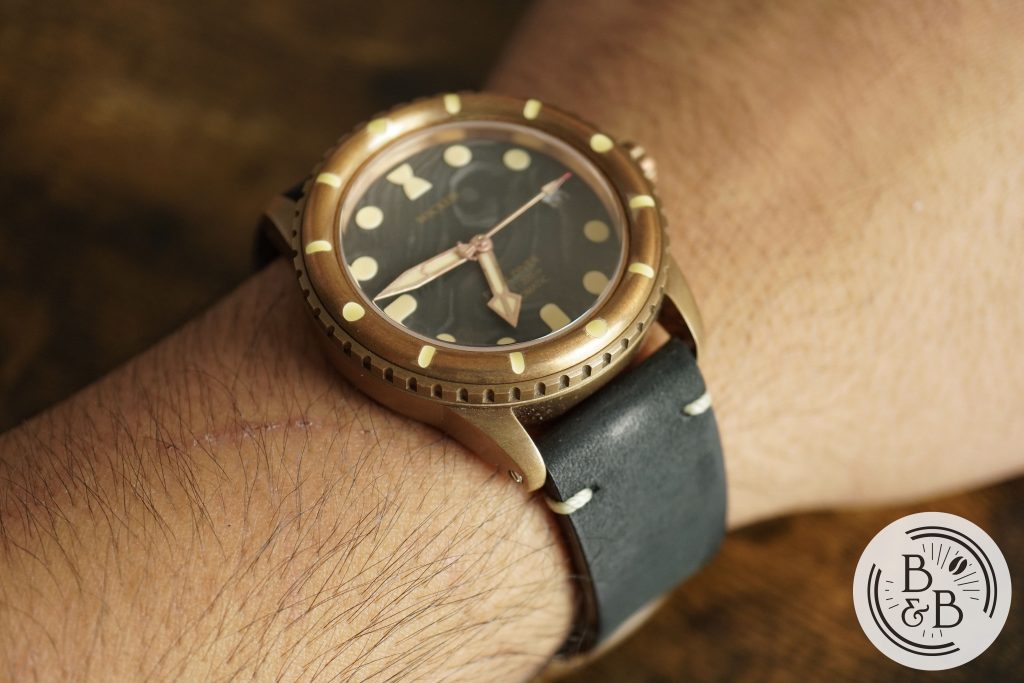 This watch is scheduled to go live on Kickstarter in a few weeks, and will have an early bird price of around $220, and will then see multiple $50 increments. The final retail price after the campaign is set to be $450.
Let's check it out!
---
Case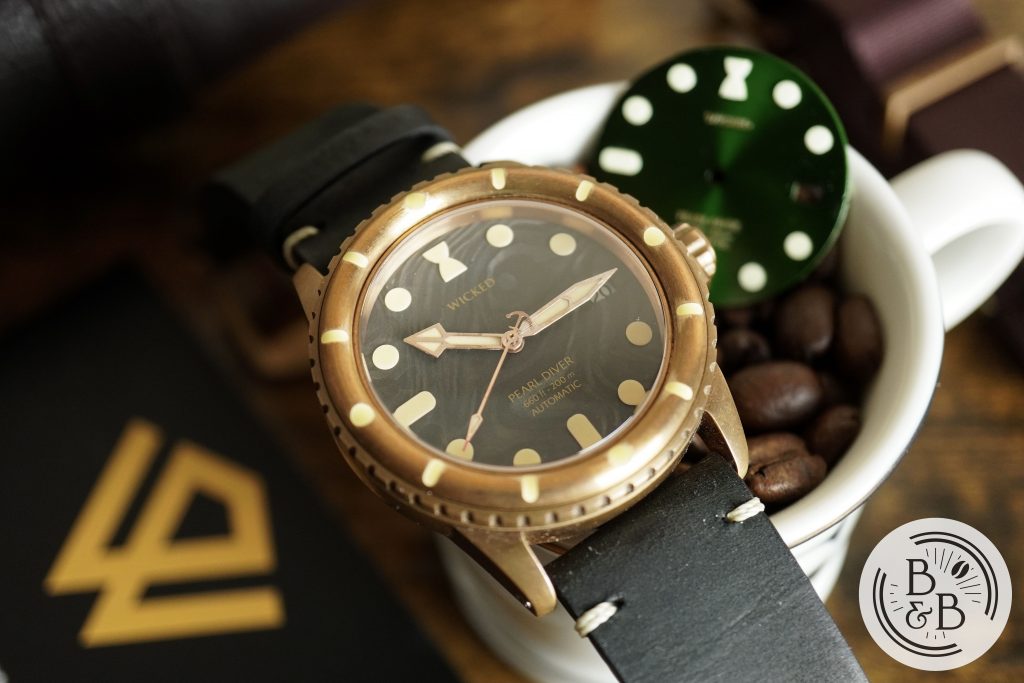 I measured the case to be 39.5 mm in diameter, 45.5 mm from lug-to-lug and 14 mm in height. The case is made entirely of bronze, and borrows a lot of design elements from the Blancpain Fifty Fathoms, which to me is a great looking dive watch.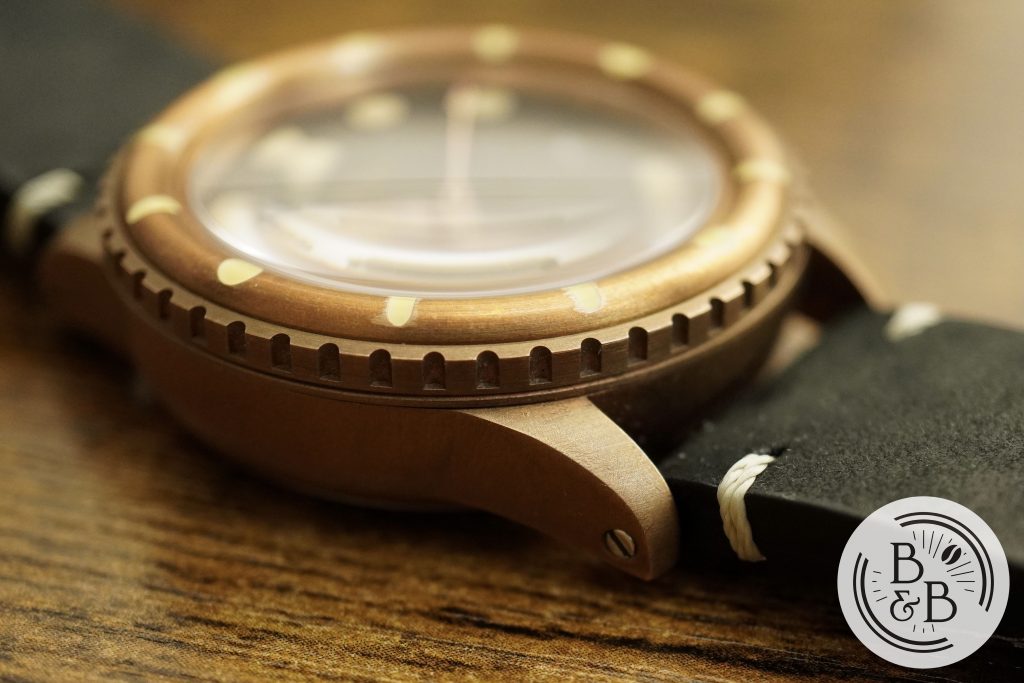 The lugs are short, extend outwards and curve down slightly towards the wrist. The lugs are drilled through, but this prototype has a screw-based spring bar system that makes strap changes a bit time consuming. The lug width is 22mm.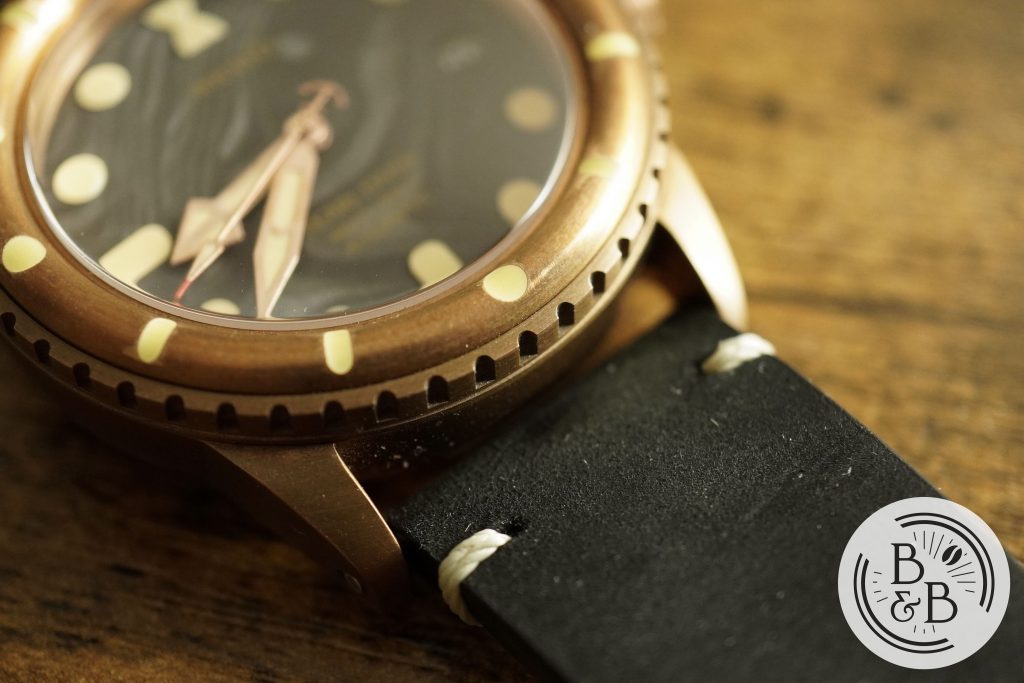 The bezel is one of my favorite aspects of this watch. Similar to the bulbous and convex bezel inserts on the Fifty Fathoms, this watch has a heavily rounded convex bronze bezel insert that looks pretty amazing. The insert contains LumiCast lumed elements actually uses regular Swiss Super LumiNova, but is just very generously applied into the deep insert, and but I absolutely still love it. The bezel is easy to grip and operate, and the action is solid.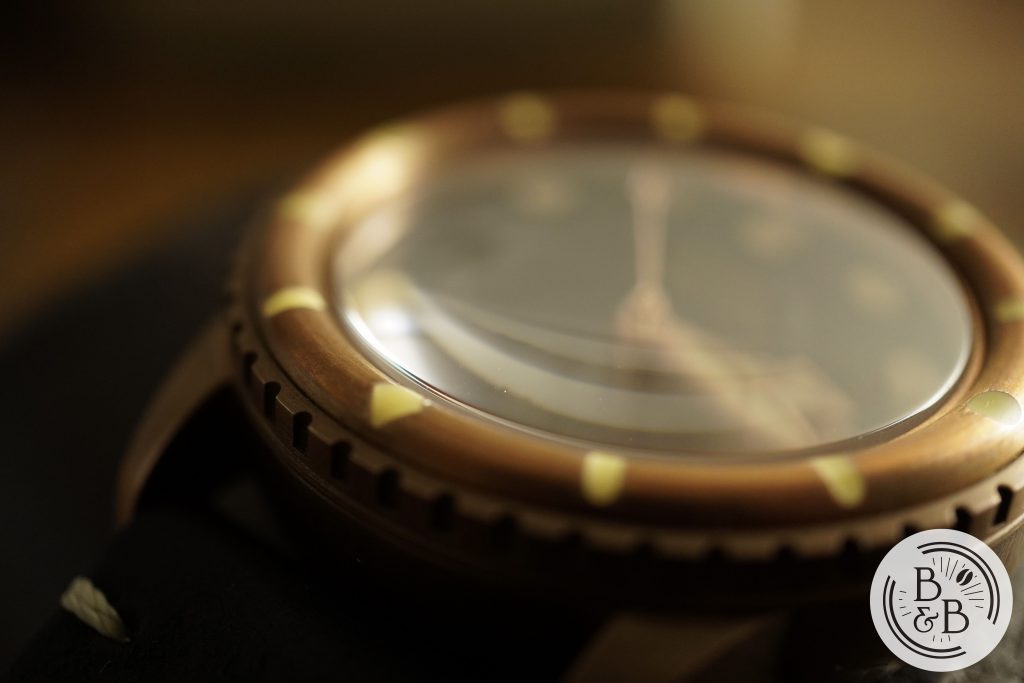 The bezel also houses a curved double domed sapphire crystal that looks great, and suits the watch perfectly. There is a bit of distortion at the edges, but the legibility is unaffected since there isn't a minute track on the dial.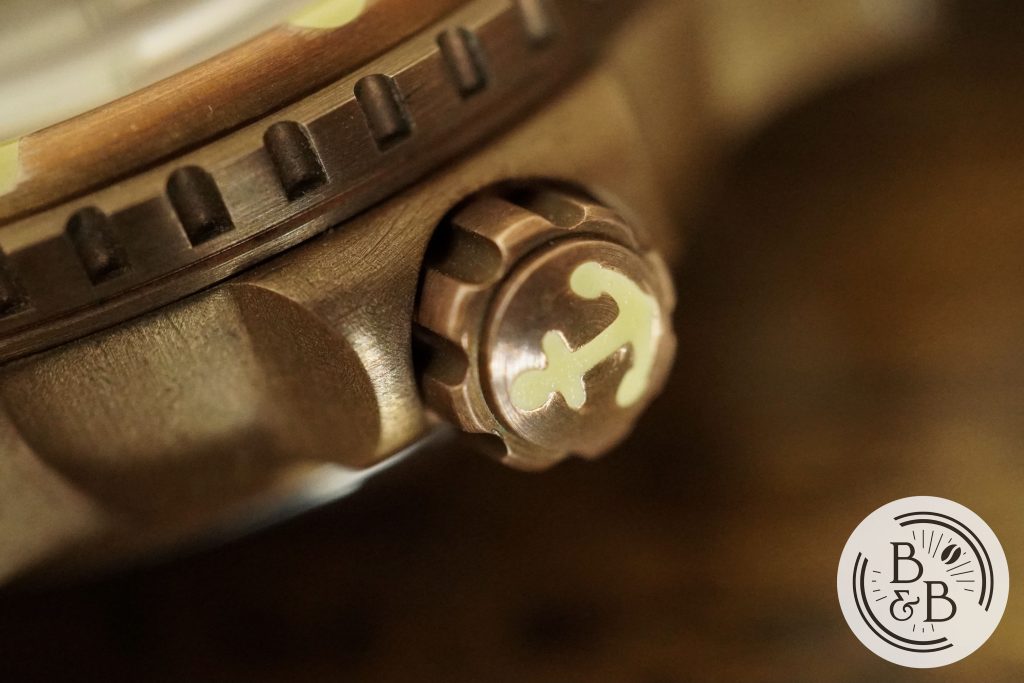 You have a 6.5 mm screw-down crown at the 3 o'clock position that has an excellent grip. The crown is signed and lumed, and also has a wonderful crown guard section. There isn't any crown or stem wobble here, and the whole assembly feels great.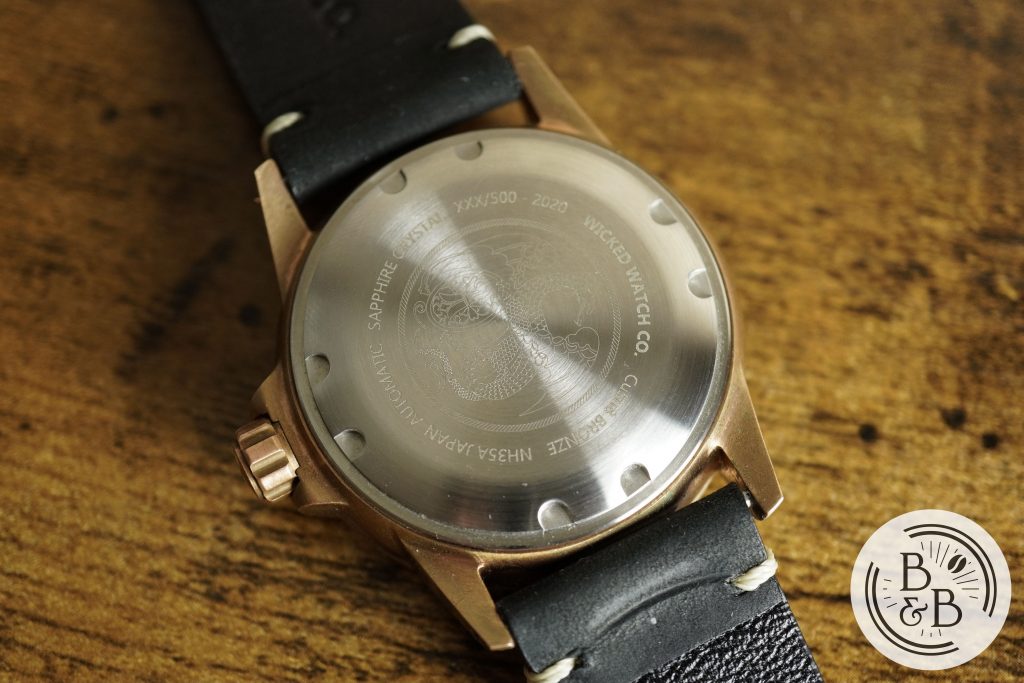 Flipping it over, you have a solid screw-down case-back with a light engraving. I've been informed that the case-back has been mostly redesigned after this prototype though. This watch is rated for up-to 200m of water resistance.
---
Dial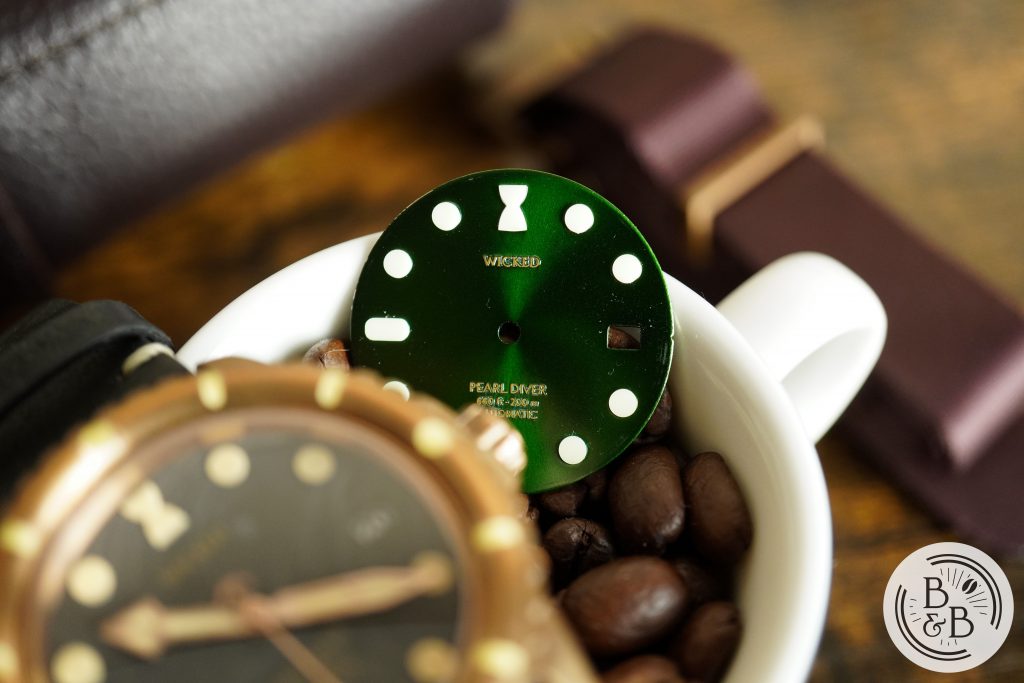 The dial is pretty simple in terms of design elements, but adds a lot of character to the bronze case. This is my second encounter with a forged carbon dial, and I must say I'm liking it a lot. They have a few different dial options available, and also sent me an example of their green dial as a reference.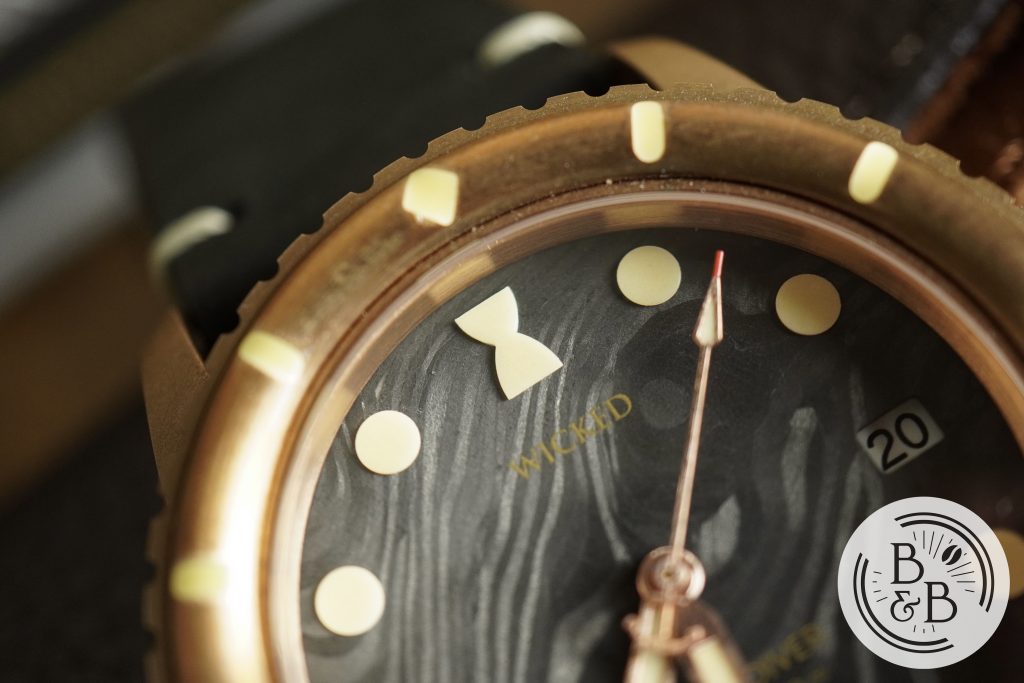 There is no outer minute or seconds track, similar to a few other vintage dive watches. From a functionality perspective, I think this will bother some folks, but where aesthetics are concerned, I like the clean dial.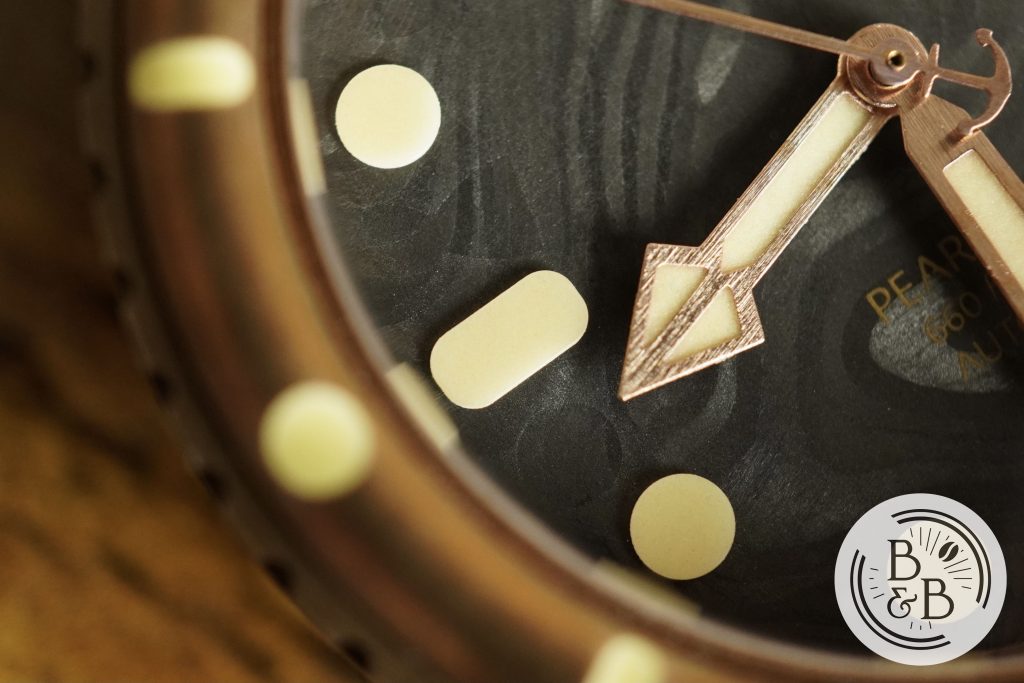 There are large applied hour markers that are all lume. The lume being used here is a denser, and more effective version of Swiss Super LumiNova, called LumiCast. These indices appear to be cut out from solid pieces of lume, rather than painted or filled. These indices have a good amount of depth to them, which also gives them sufficient amount of material and area to hold charge.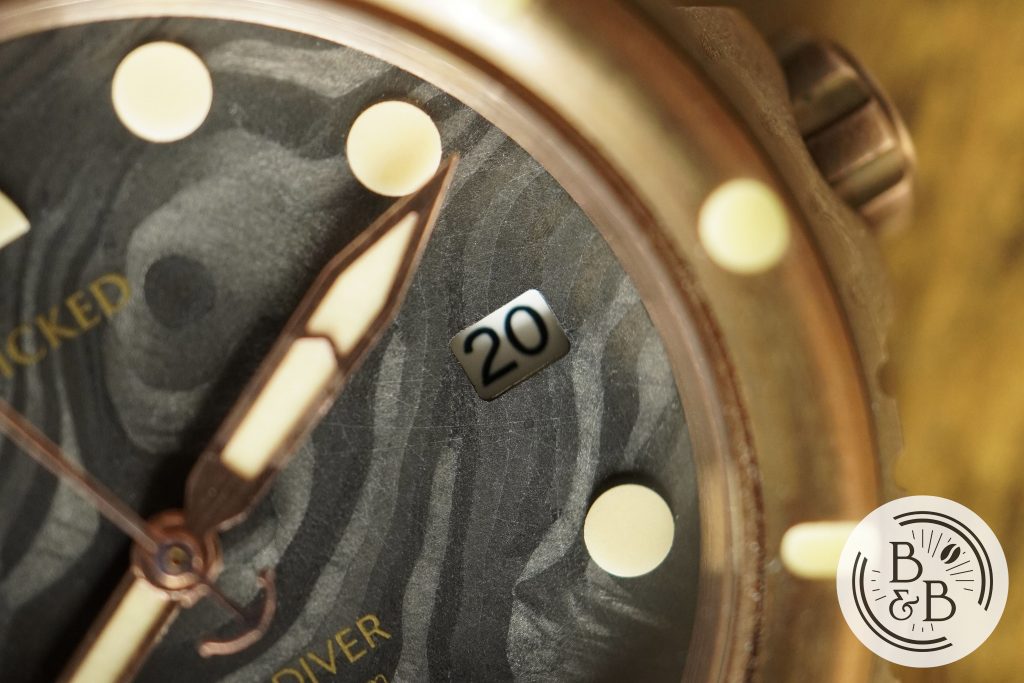 There is a frame-less date window at the 3 o'clock position, with a white date wheel and black text. I believe this is being changed to a black date wheel with white font, but I actually like the white window here, and while not perfectly aligned with the index layout, it serves as a way to balance out the lack of a lumed index. The window is cut neatly and the finishing is pretty good.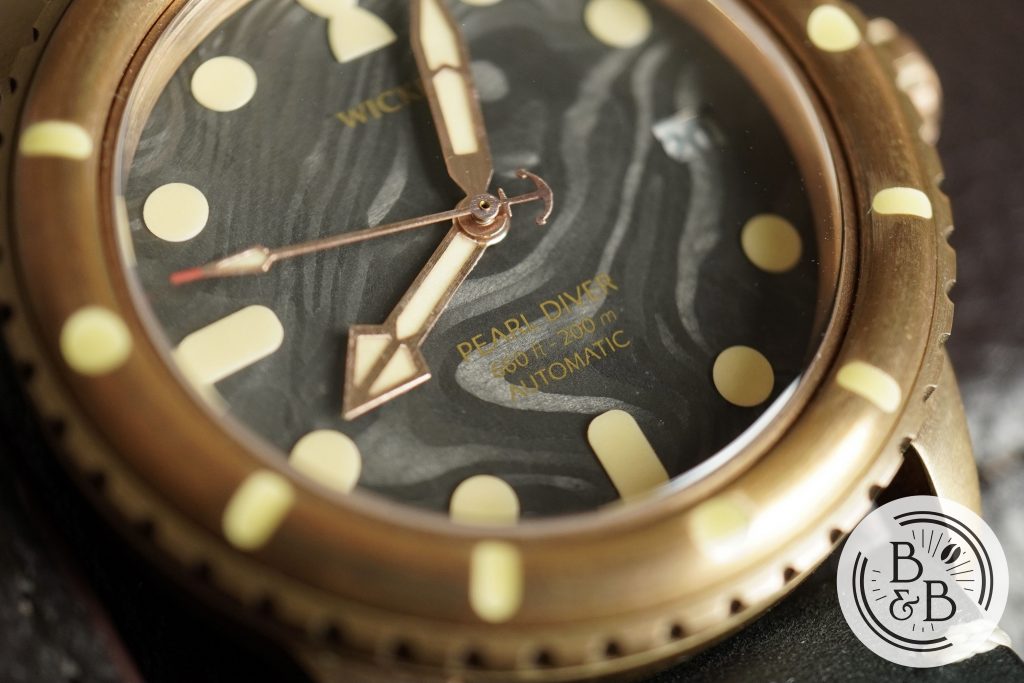 You then have the brand's name printed below the 12 o'clock and some text above the 6 o'clock. This is currently printed in a gold color, but I've been told that this is being changed to white for better legibility. While I agree that this text does disappear from time to time, I don't see why that's a bad thing considering the rest of the dial deserves more attention anyway. Subtle is good.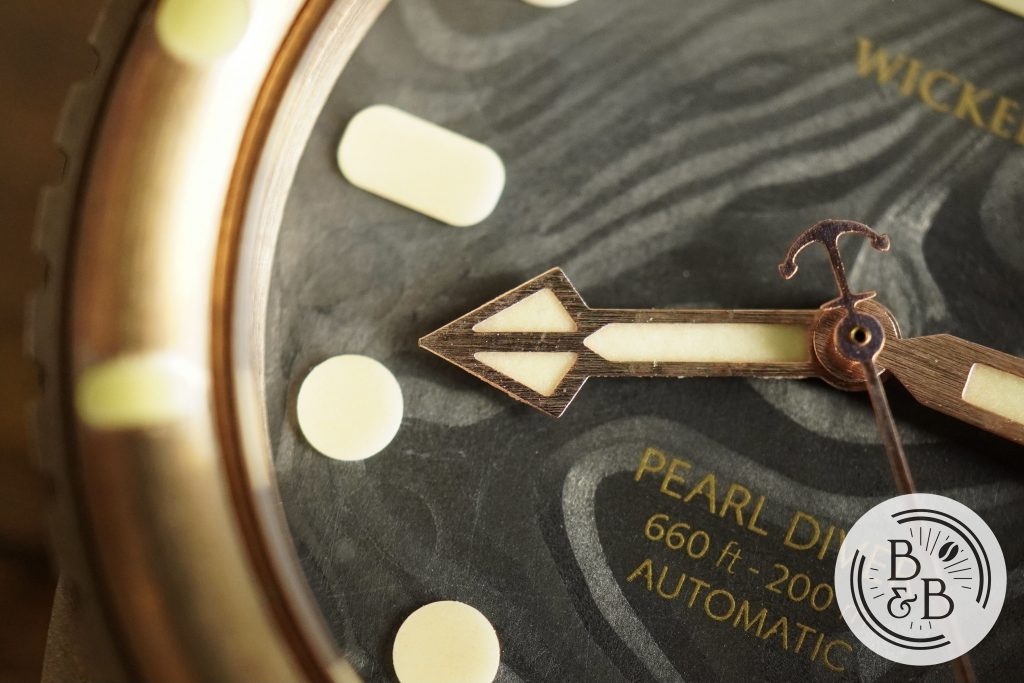 The handset is good, with large lumed sections and brushed finishing. I was told in advance that the quality control on these hands isn't great and that a new supplier has been found in Switzlerland to manufacture the hands for the final production units. I think the design is good, but I did notice some dirt on the hands as indicated. The seconds hand has a neat red tip and the brand's logo as a counter balance. I tend to prefer longer seconds hands, but since there is no explicit seconds track here, I think this works.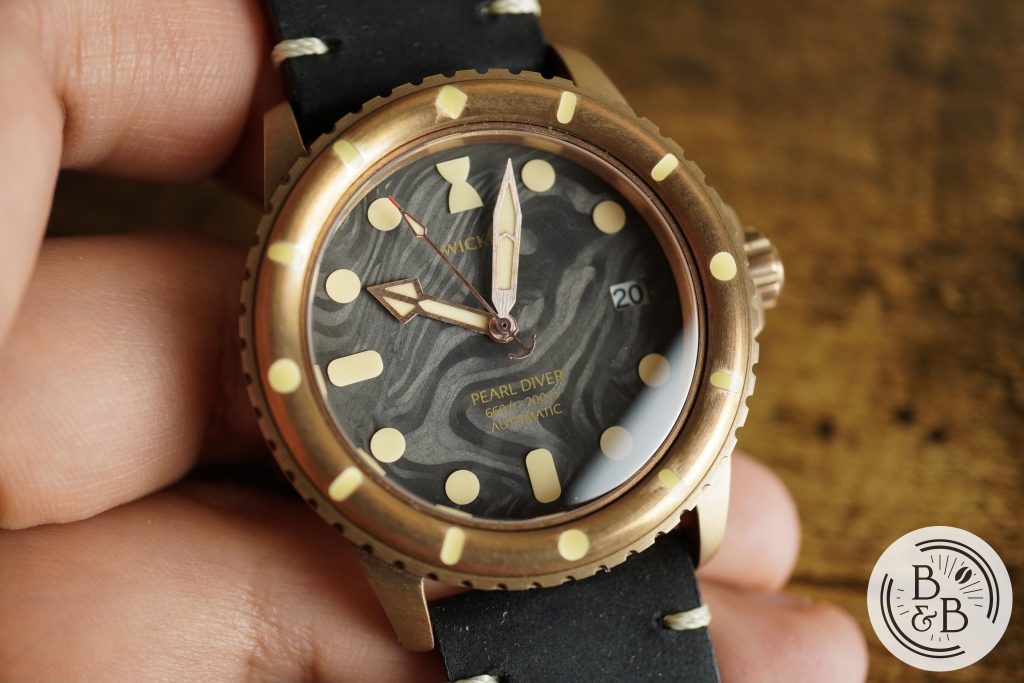 Overall, I like the dial, love the material and think they did a good job with the overall design. The quality control on this prototype was decent, but not perfect. But for watches in this $220 price category, anything you can't see without a loupe or macro lens can be forgiven.
---
Lume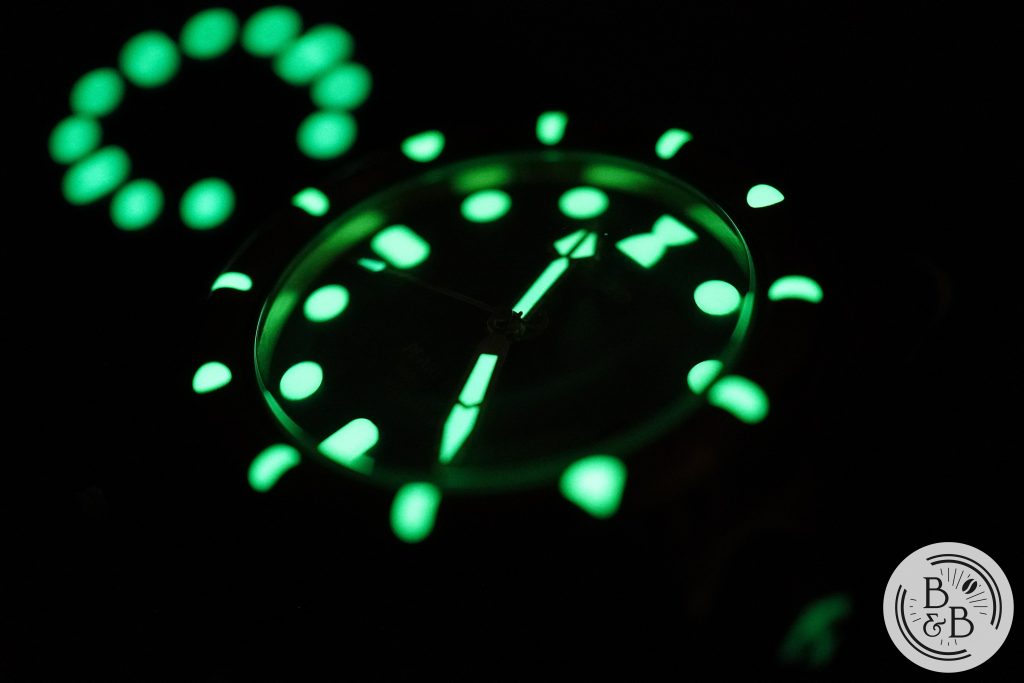 Let's get to the fun stuff now… The lume on this watch is insane. I thought the micro-brand lume game was already at it's peak with the insane lume performance being delivered by brands like Zelos. But I think this watch is trying to take the next step.
I believe all the lumed elements apart from the hands are made from LumiCast, Only the dial elements are made of LumiCast, a type of solid high density Super LumiNova that has much better performance than regular lume that is applied or painted. There isn't too much information available regarding this, but I believe that a few high end brands like Sarpaneva have already used this in their watches.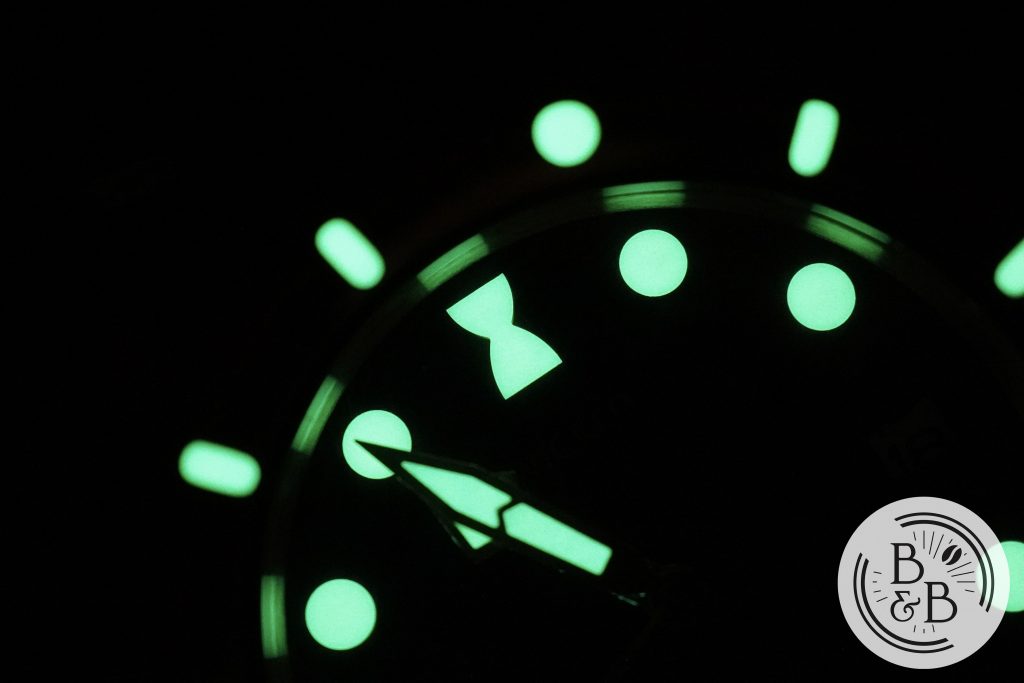 The bezel elements and indices are ridiculously bright, and held their charge very well, with excellent legibility well into the night.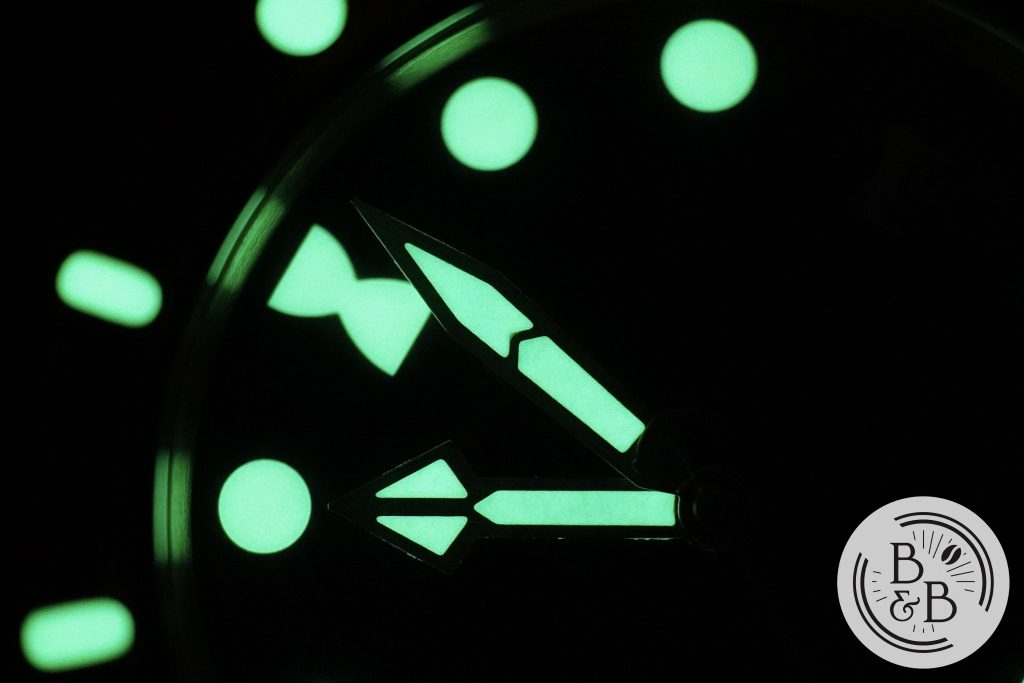 The hands are very well lumed too, and the night time legibility is excellent across the board.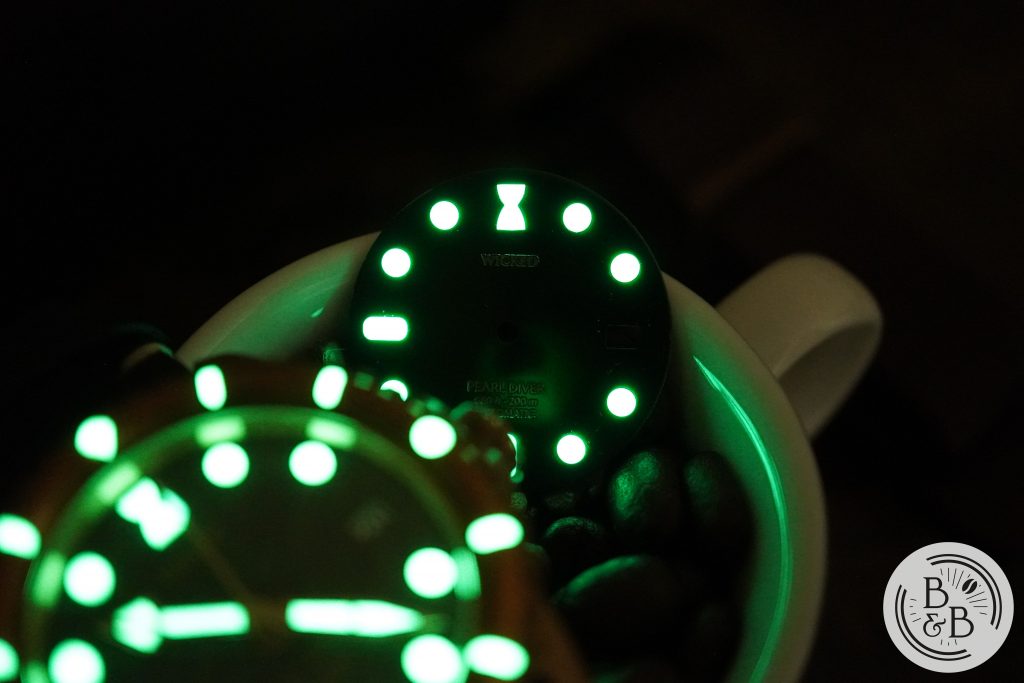 They also decided to lume all of their accessories too, so the strap buckles are lumed, the strap changing tool's cap is lumed and the watch roll lanyard is lumed too. I think they need an intervention for the amount of lume being used here.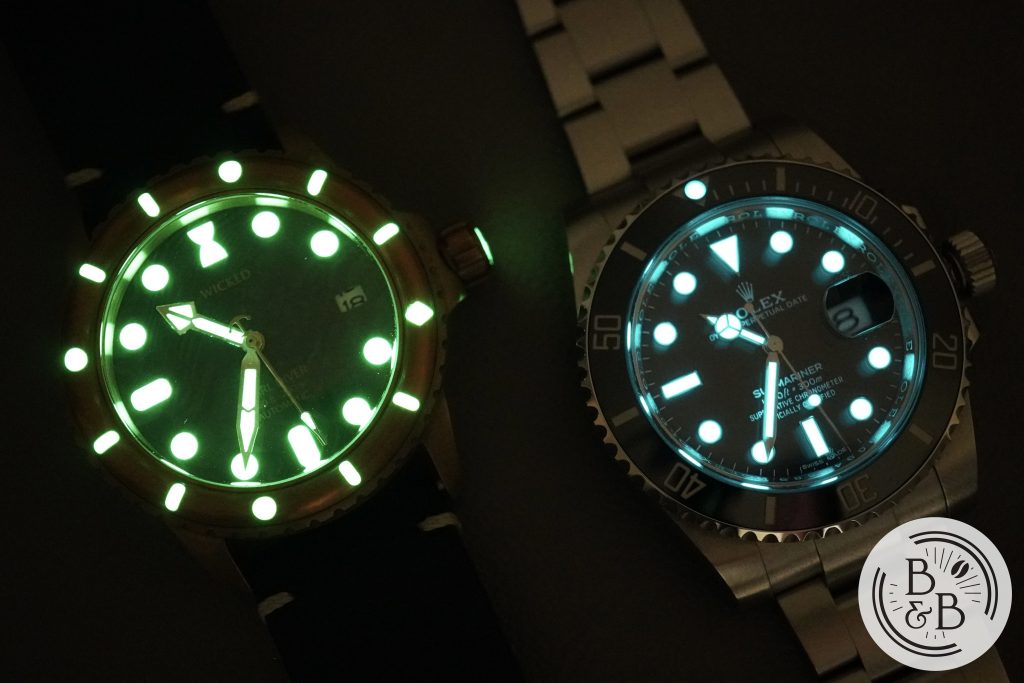 I compared this watch against my Rolex Submariner, and the Pearl Diver appears to glow brighter and fade slower than the Rolex.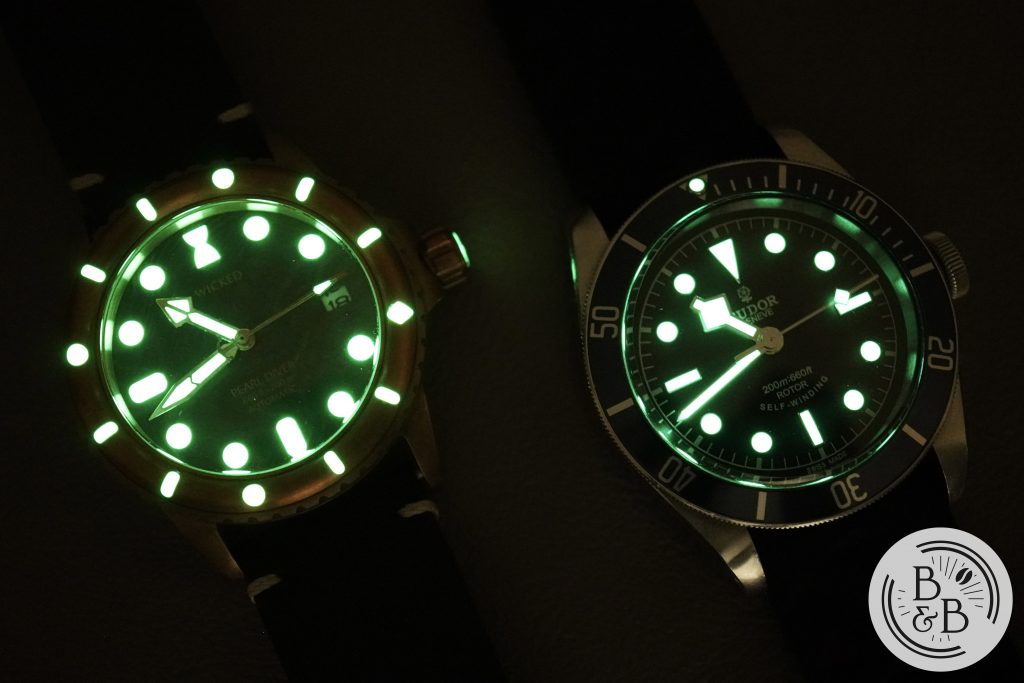 I also put it up against my Tudor Black Bay, and noticed the same kind of performance. I would like to see this compete with a Zelos for a true microbrand lume battle.
---
Movement
This particular watch has the Seiko NH35 movement, which isn't a big surprise considering the price of this watch. I believe they will also be offering a Swiss STP1-11 movement as a more expensive option.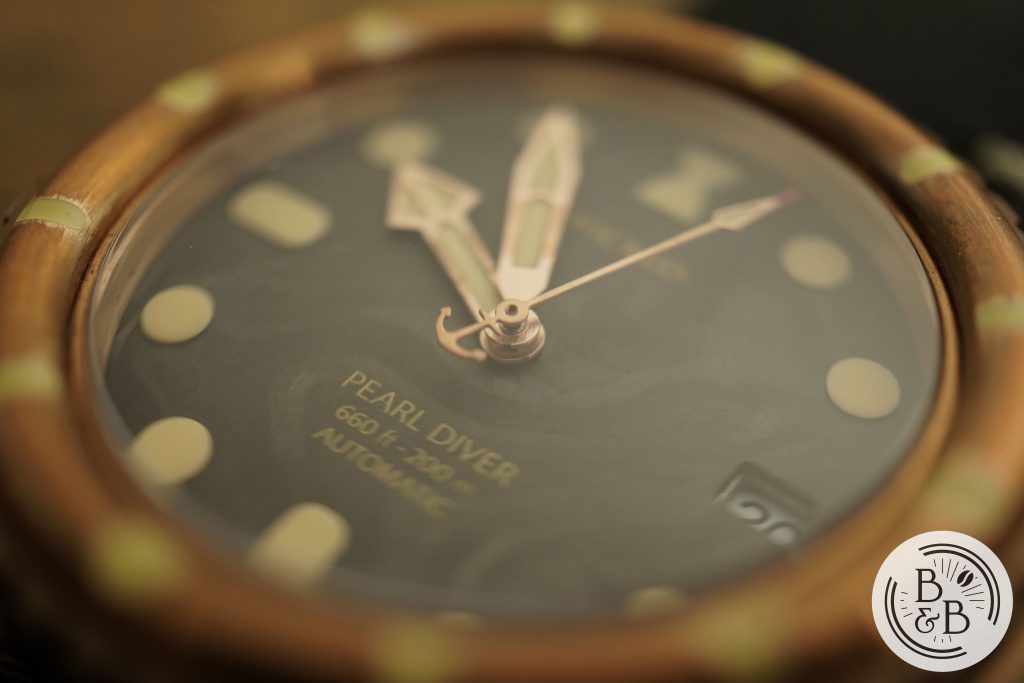 On my time grapher, I observed roughly -3 spd in the dial up position, and -8 spd in the crown up position. Within the tolerances for this movement, so not much to talk about here.
---
On The Wrist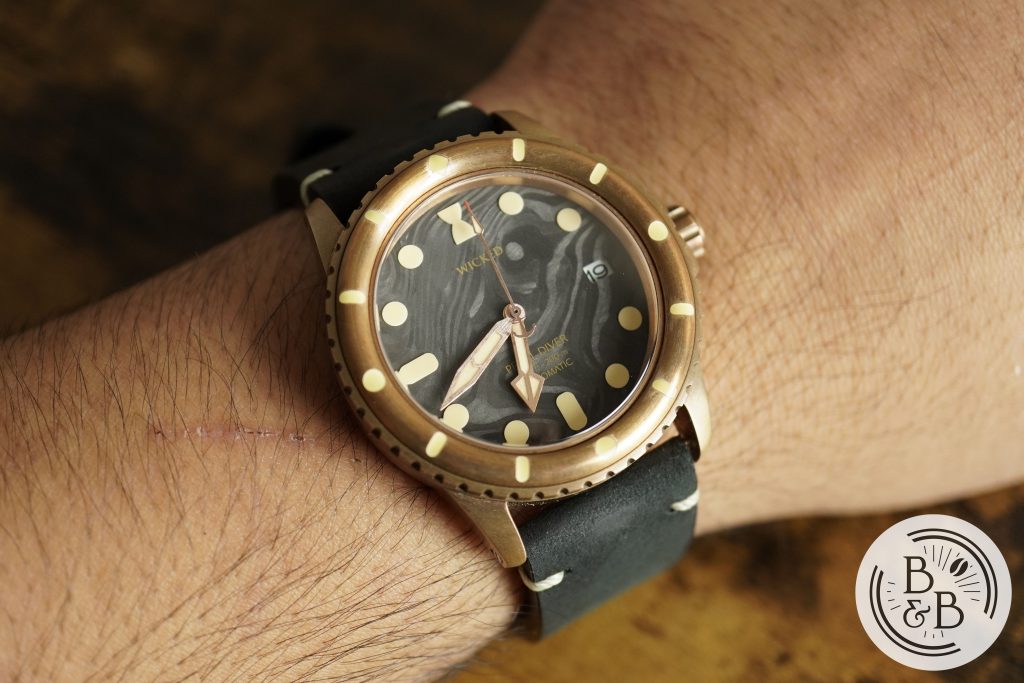 The 39.5 mm diameter and 45.5 mm lug-to-lug width work well on my 6.25″ wrist. I think this watch will suit a wide range of wrist sizes.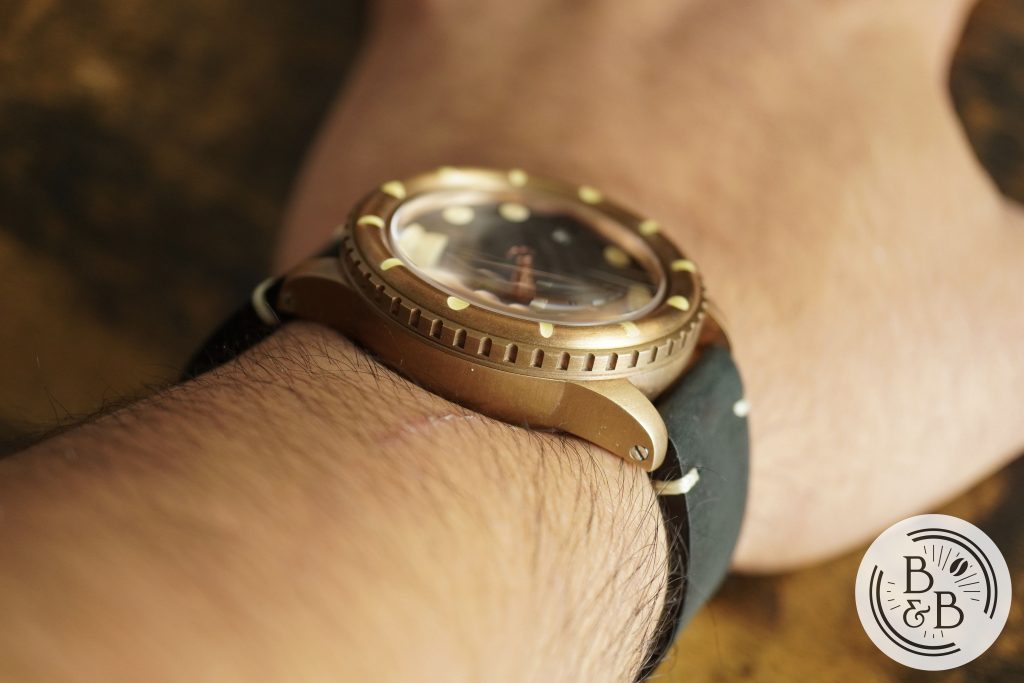 The height of 14 mm reads greater than it wears since a lot of that height is the curved bezel (4mm) and protruding case-back (1.75mm). It does wear like a hefty tool watch at 105g on the leather strap, but I like this and wouldn't have it any other way. I suspect the STP1-11 movement equipped watches will be slightly slimmer.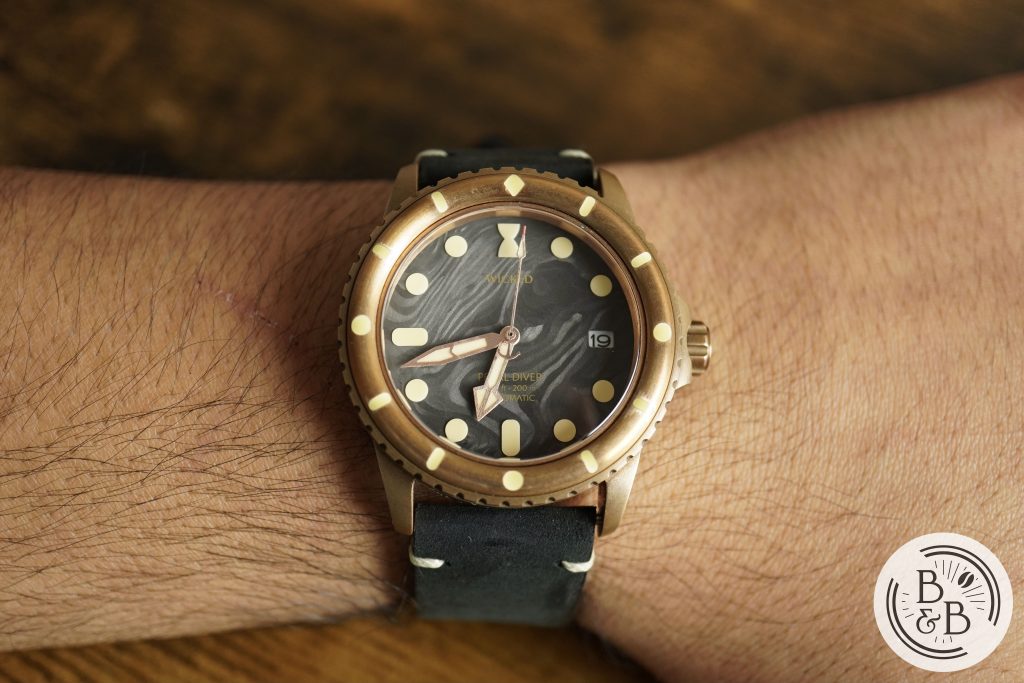 Overall, it's a very nice watch to wear and I really enjoyed my time with this one. There's no denying the Blancpain Fifty Fathoms influence, but it's also nice to see that design language in a case that isn't 44mm in diameter, and accessible to smaller wrists too.
---
Concluding Thoughts
Overall, I really like this watch. I think for the price, you're getting an excellent package. The build quality is great, the design is very appealing, the choice of materials is impressive, and the lume is jaw dropping. There are a few areas of finishing on this prototype that don't look great, but I've been told that these have already been addressed and are sure to be improved on the final production units.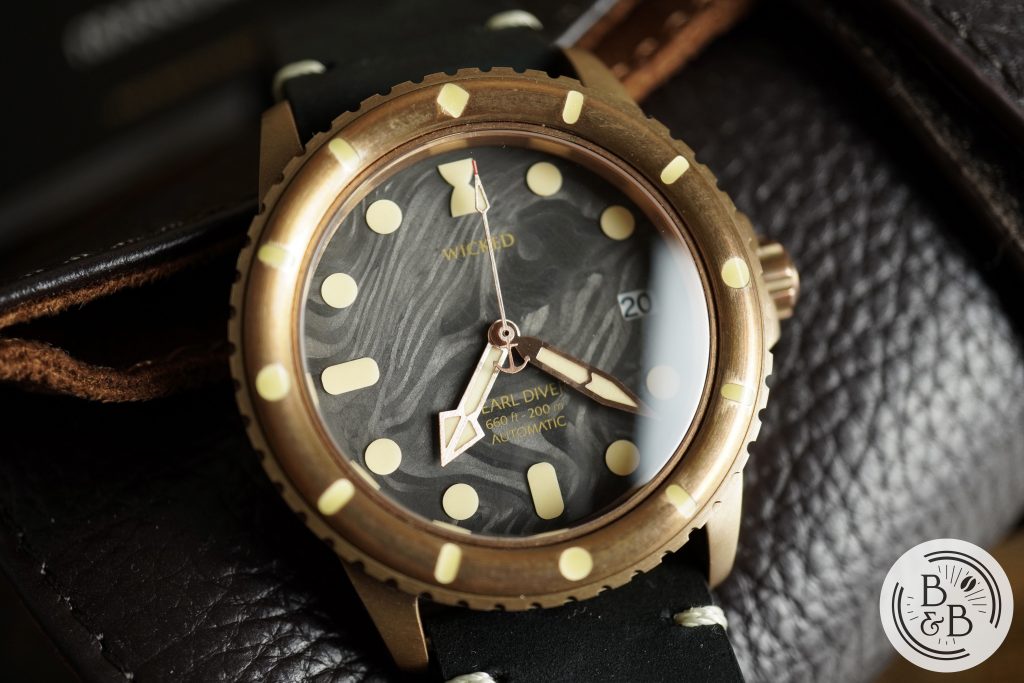 So in a sea of affordable micro-brand divers, this one has piqued my interest again, and may do the same for you. So if you like what it looks like, the best time to get in on this project is early, since the prices will increase from $220 in increments of $50 and eventually settle at around $450 retail I believe. And I know some folks might be worried about this campaign since their last attempt was unsuccessful, but I personally think this watch looks leaps and bounds better than their last watch.
---
Thanks for reading!