---
Disclaimer: I borrowed this watch from a friend, who recently purchased it pre-owned. This is a late 2019 piece, but was used as a daily beater, and hence looks battle worn. Since this watch was worn/used, please make note that the experience might differ from that of a brand new watch.
---
---
Contents
---
Sinn 104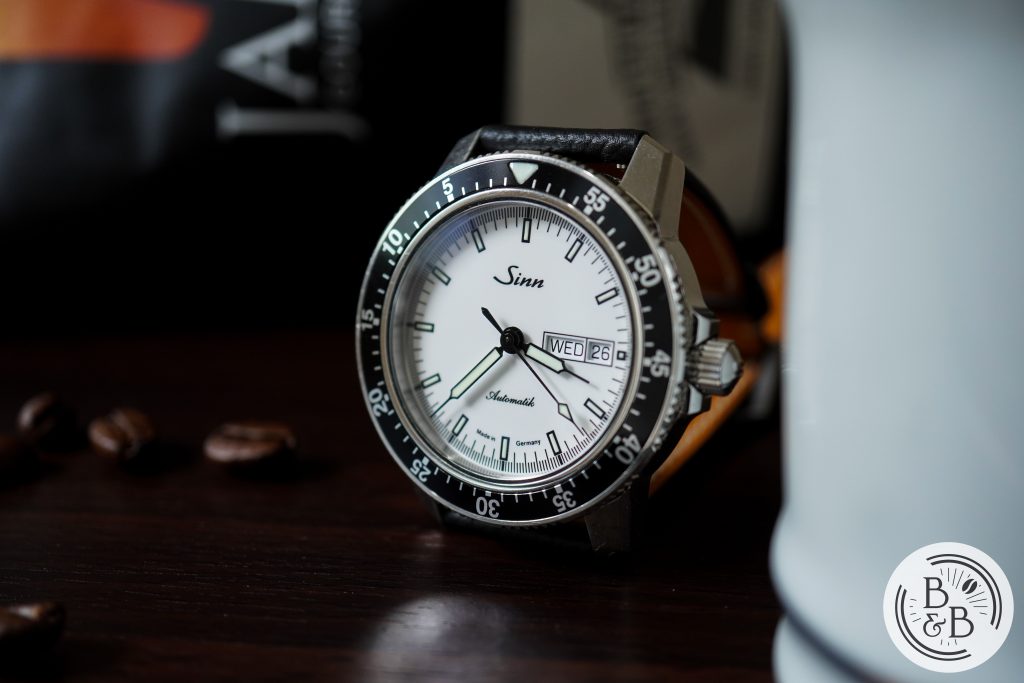 While I was shopping to buy the Guinand Flight Engineer, one of the watches that frequently came into consideration was the Sinn 104 (the 104 St Sa A, in particular). These watches have a lot in common, from the price range to the interesting pilot/tool watch identity. But this watch fell out of the running because I was trying to avoid polished cases, and I had heard from multiple first hand accounts that the clasps on their metal bracelets are quite disappointing.
I ended up purchasing the Flight Engineer and I've had it for about three months now. After releasing my review of that watch, I got quite a few messages asking for my thoughts on the Flight Engineer vs 104 dilemma. Fortunately, a friend of mine recently acquired this 104 i St Sa White, and let me borrow it for a few days to review. So, thanks friend!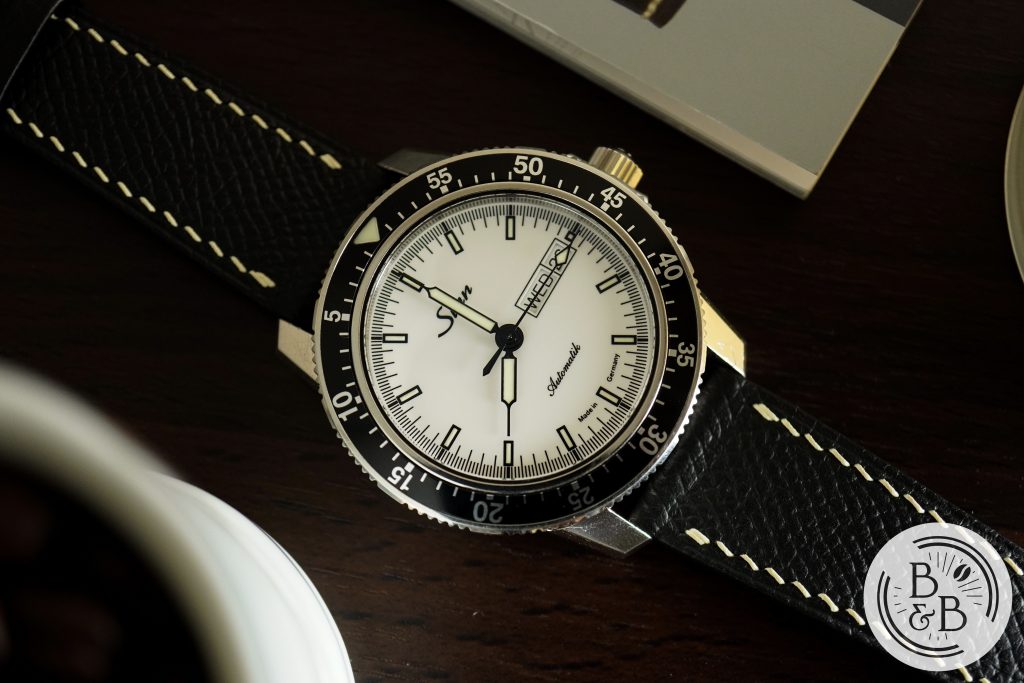 This will be mostly a standalone review of the 104, but I will draw a few parallels to the Flight Engineer for certain aspects of this watch that I think deserve highlighting. Let's check it out!
---
Case
While the case dimensions are very appealing, at 41mm in diameter, 47mm from lug-to-lug and 11.5mm in height, the case design is quite typical of Sinn and Guinand watches, so I won't dwell on this aspect for too long.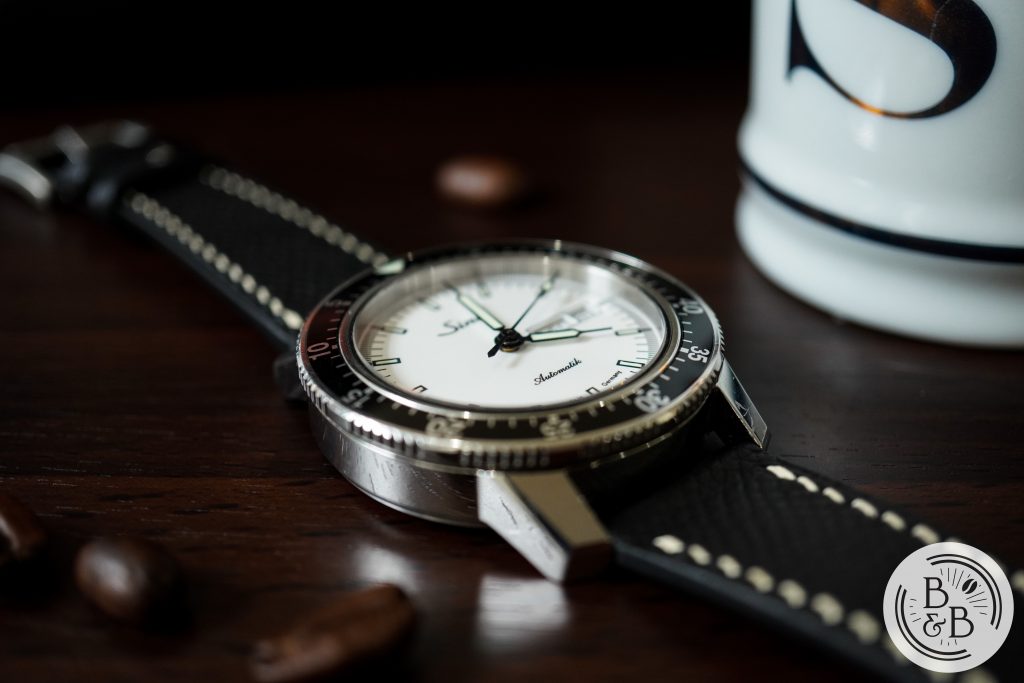 The entire case is polished, which was one of the reasons why I bought the Flight Engineer instead of this watch. The polished case does help it stay more versatile, and with the white dial, could even work well with formal attire. I would love to see them offer these models in a brushed or blasted case finish too. Recently I learned that WatchBuys does have a bead blasted special edition 104, but this is available only in the US currently.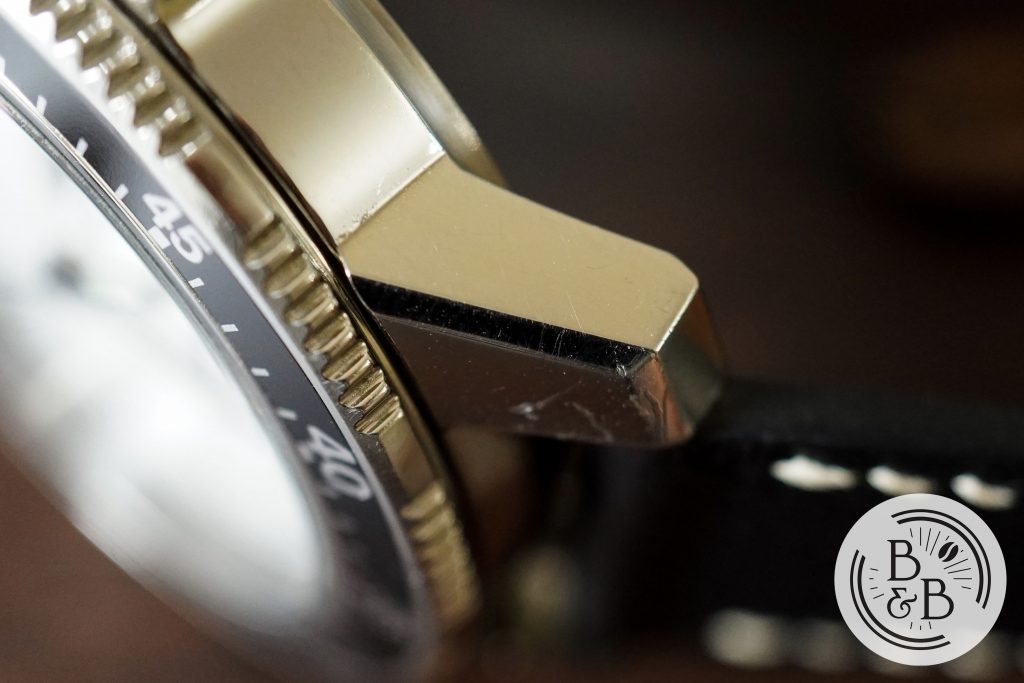 The lugs are pretty typical of this case design, and sharply angle down towards the wrist. The lugs do have beautifully beveled edges that definitely look more dress watch than tool watch.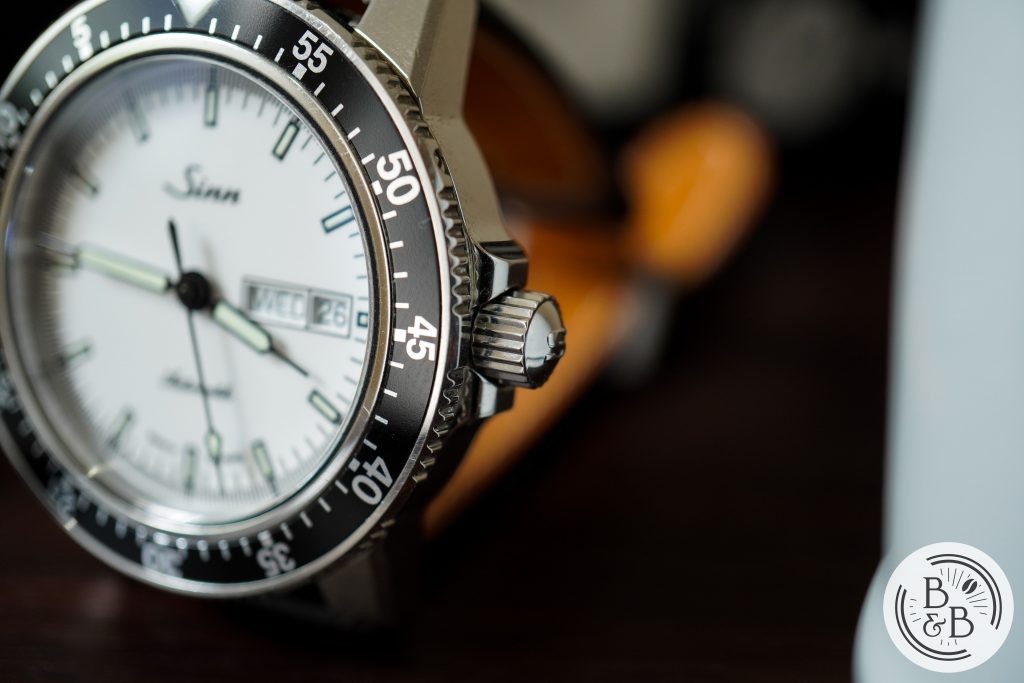 There is a well proportioned crown at the 3 o'clock position, that is accompanied by a subtle crown guard design. The crown has perfectly machined ridges that are very easy to grip and operate. The crown operating experience is excellent and there's no stem or crown wobble here. The entire interaction between the crown and case is just a tad better than the Flight Engineer.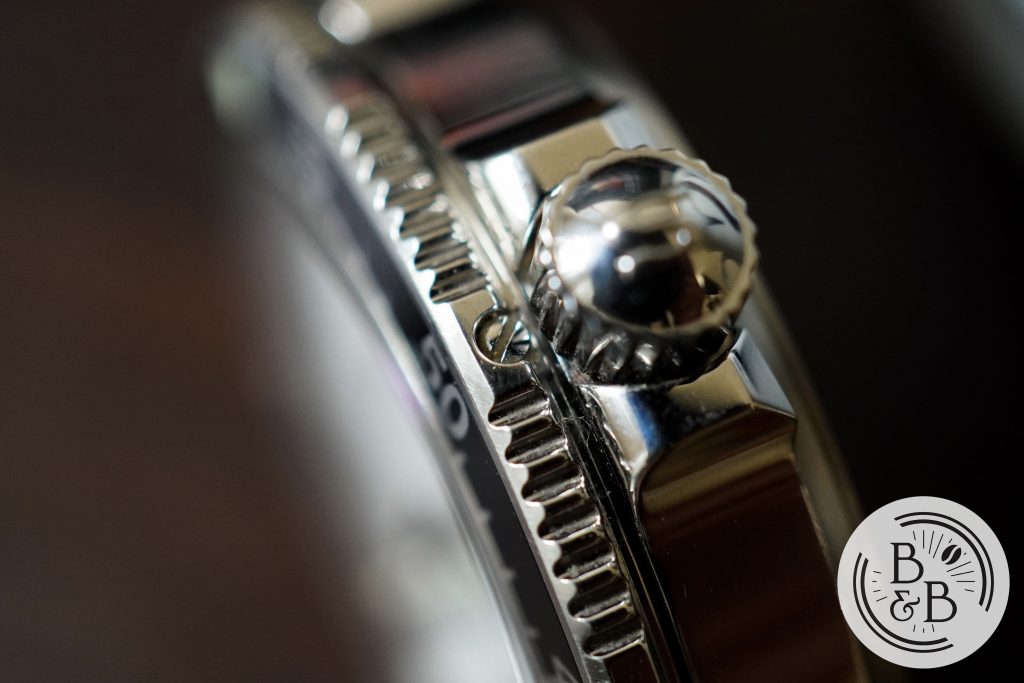 Where this watch really shines is the bezel – Sinn calls this their captive bezel system, which makes use of ball bearings instead of a spring, and the bezel is screwed into the case instead of being friction fit.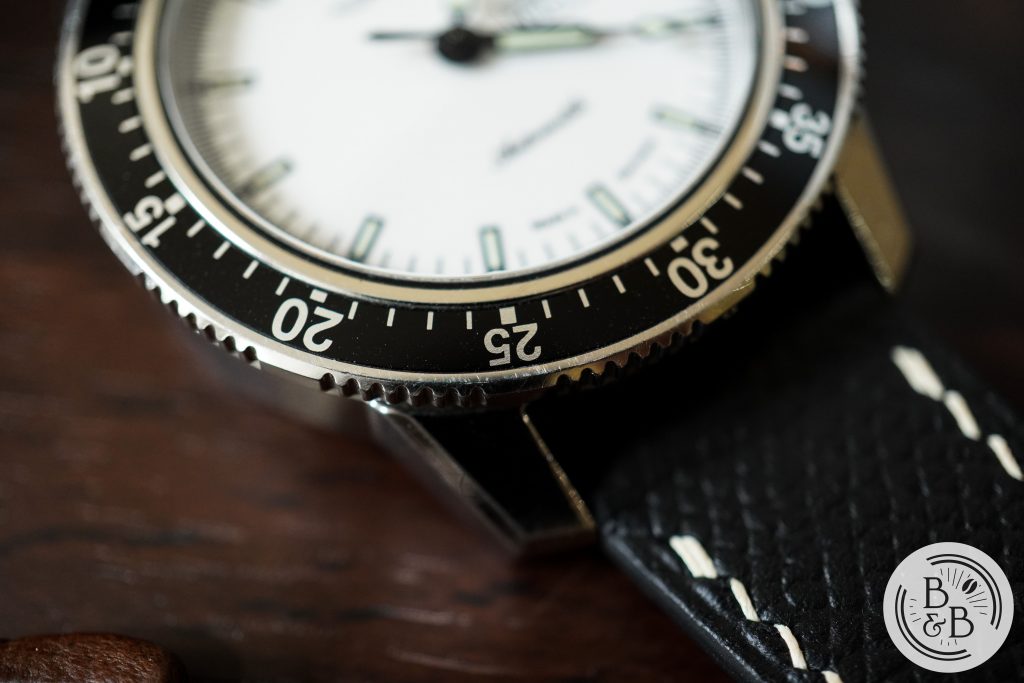 The bezel operating experience is unlike anything I've experienced before, and instead of tactile and hollow clicks, you feel a more rounded snap instead. There's also no bezel play and everything lines up just perfectly. The grip is well designed and easy to use. No problems here whatsoever!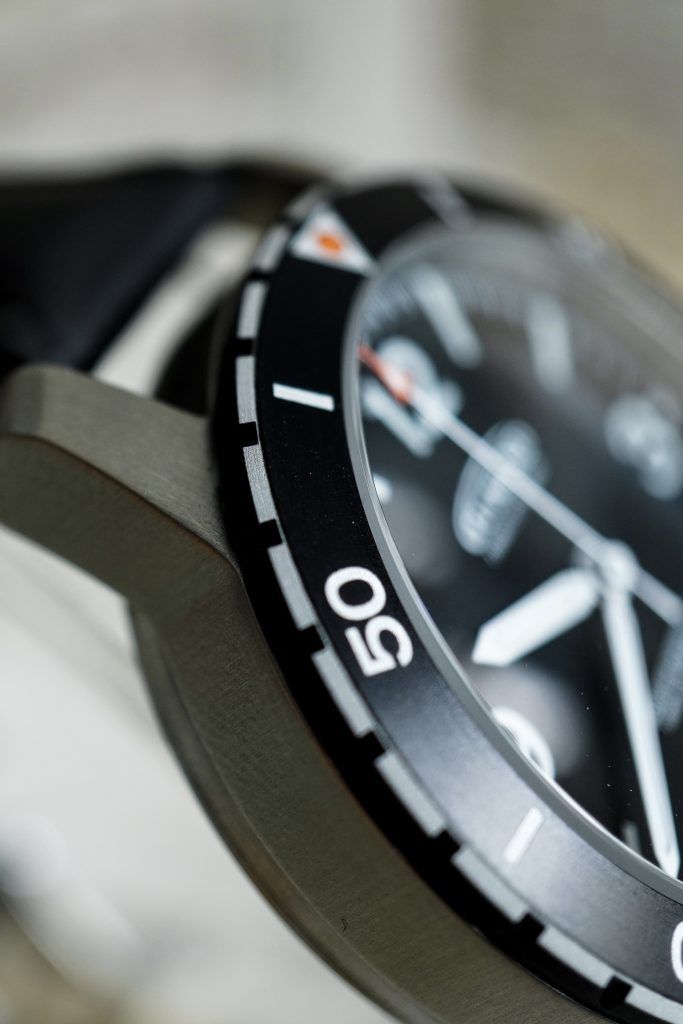 Comparing this bezel with the Flight Engineer's friction based bi-directional bezel is a bit unfair since they both do different things, but if I had to pick one, it would be this 'captive bezel' system with minute ratcheting and since it is more securely locked into the case.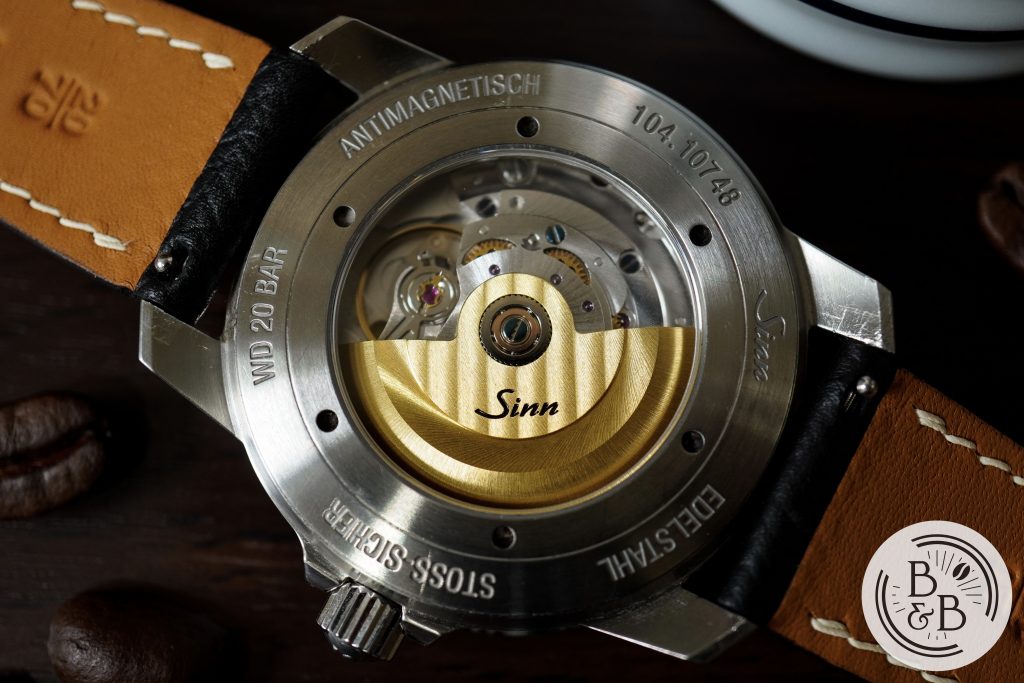 Flipping it over, there's an exhibition case-back that gives you a look at the nicely decorated SW220-1. The case-back and crown screw down into the case and the watch is rated for up-to 200m of water resistance, which is pretty cool for a self proclaimed pilot watch.
As a quick aside, I do prefer this case-back to the Flight Engineer. Not because of the exhibition window, but because of how flat it is. The Flight Engineer's case-back bulges out of the case significantly.
---
Dial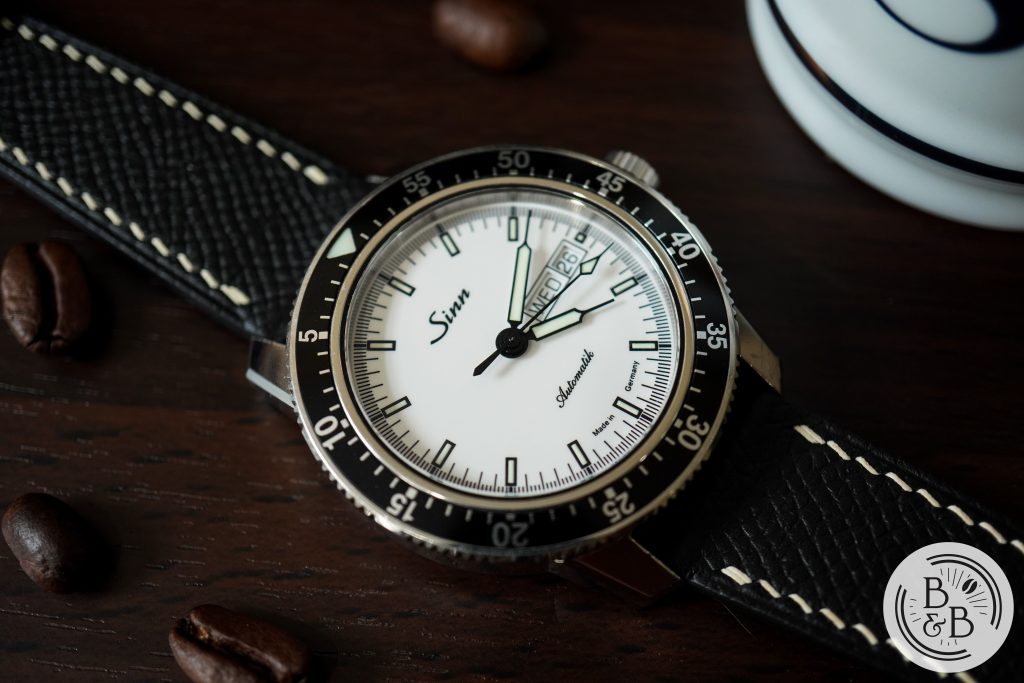 After getting rid of my white Omega Globemaster, I've slowly started to get interested in white dial watches again, and this Sinn 104 has an elegant, legible and practical dial layout.
The outer sub-second markers are very easy to read, with three ticks between every minute marker.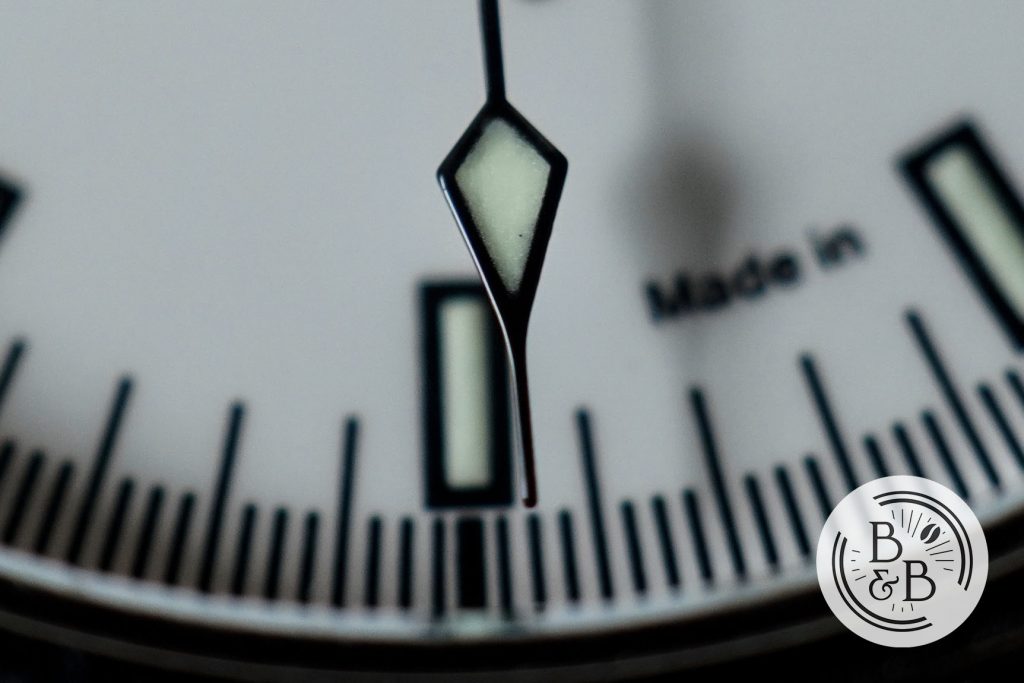 These are smaller than the minute markers, but line up perfectly with the seconds hand – this is some good old fashion German excellence!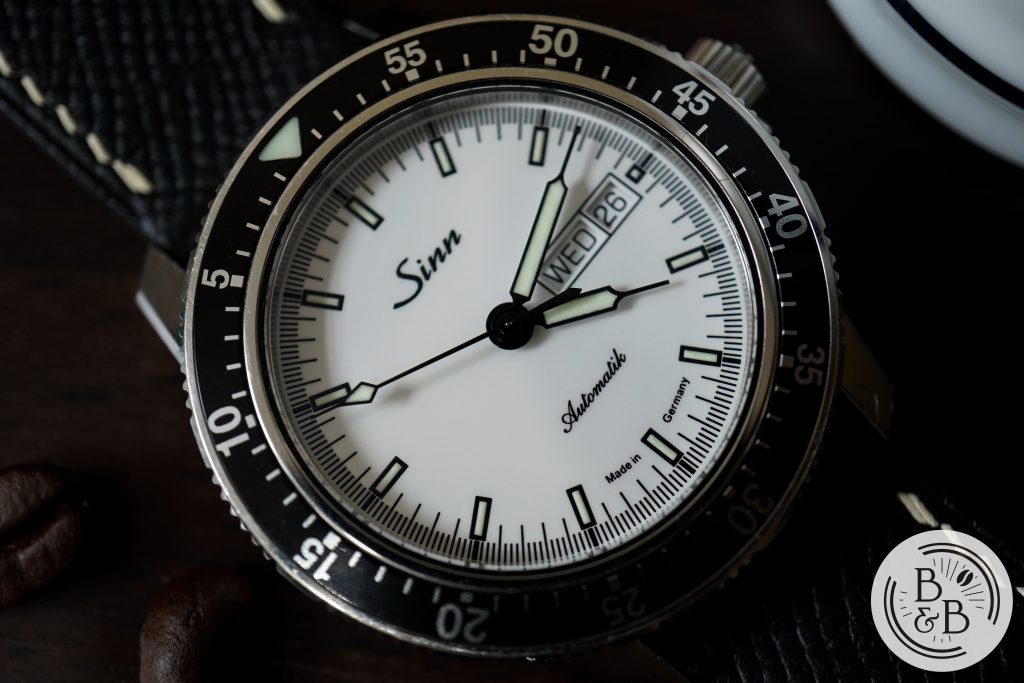 We then have lume filled painted hour indices that are simple, but effective. These indices are small-mid sized, and help in maintaining the overall versatility of the watch. The Guinand Flight Engineer's dial is driven purely by functionality, and not much of it's dial screams elegance. For a tool watch, I prefer it that way, and I still gravitate more towards the Flight Engineer's dial layout.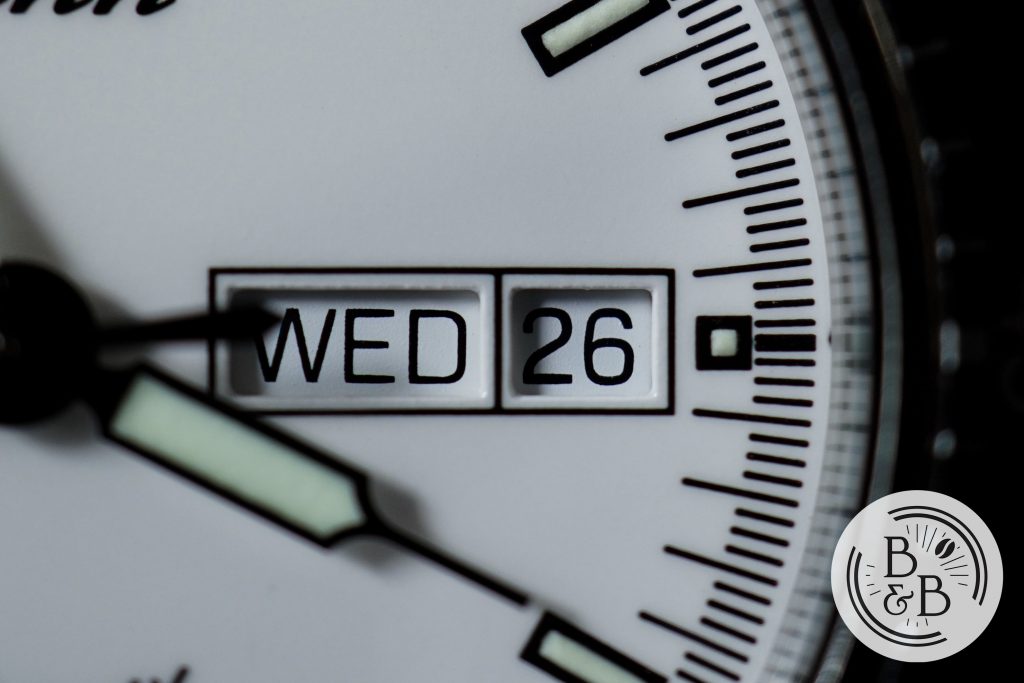 Moving onto the day-date window – I'm not a fan of these windows. I don't have a problem with the complication, but more so in how they're integrated into the dial. It seems to almost always come at the cost of dial symmetry (Damasko, Sinn, etc). This watch would look incredible without it – without a date window even. But it is finished well and has a neatly painted border.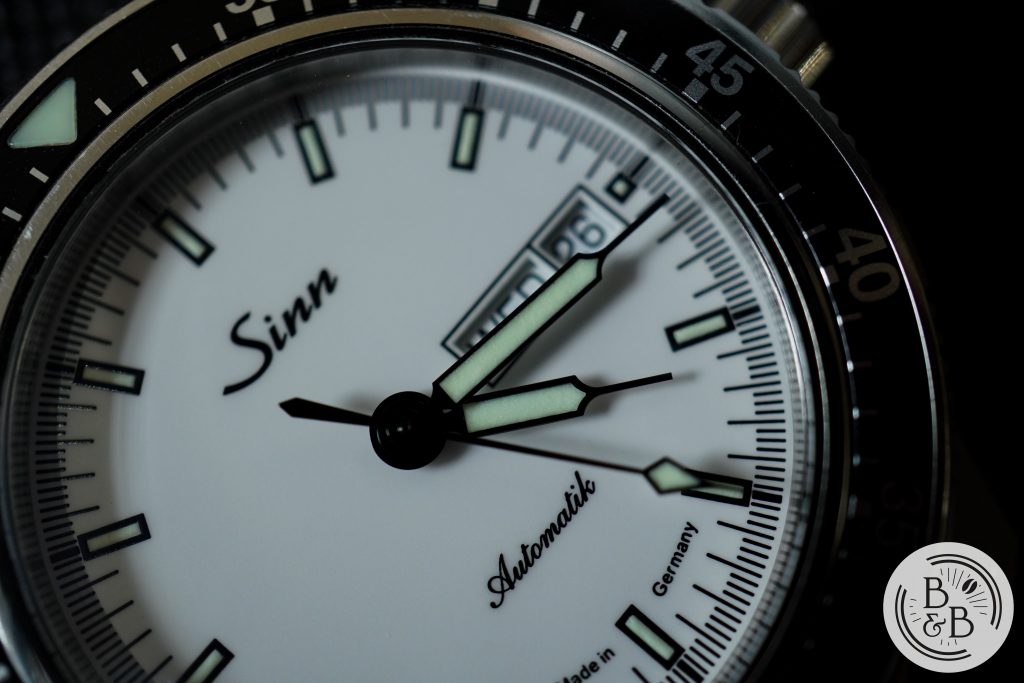 The hands continue the contrasting black and white theme, and are syringe style hands filled with the same lume as the rest of the dial. The minute and seconds hand extend over the minute and seconds track. But the seconds hand just about reaches the sub-second track, which is totally fine by me. The seconds hand also has a lumed element, which altogether makes for a great handset.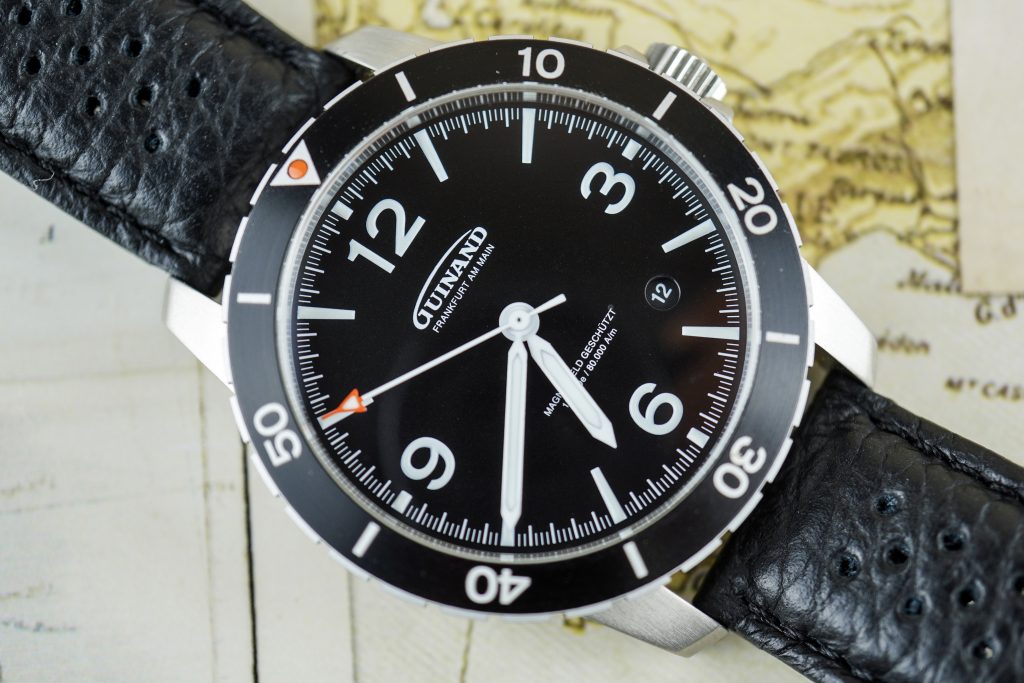 Overall, while this is a more versatile dial, I prefer the serious tool watch aesthetic of the Flight Engineer. So for me, this round goes to the Guinand.
---
Lume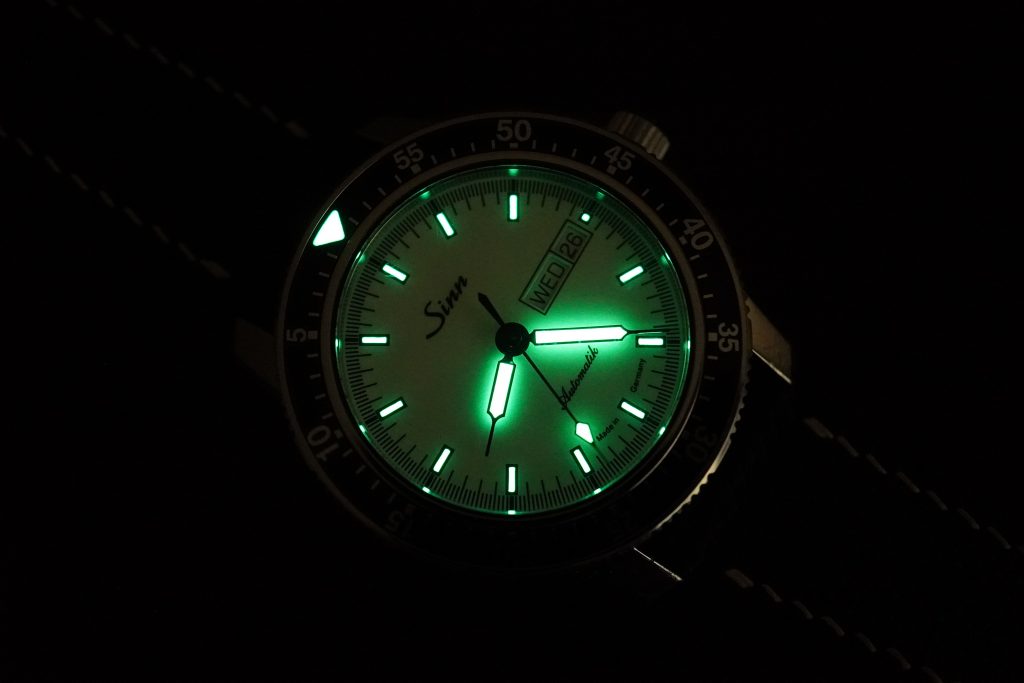 The lume is very good – I believe they're using Grade X1 C3 Super LumiNova, similar to my Guinand Flight Engineer. The hands and bezel triangle are very bright, and the hour indices a little less so because of the small surface area.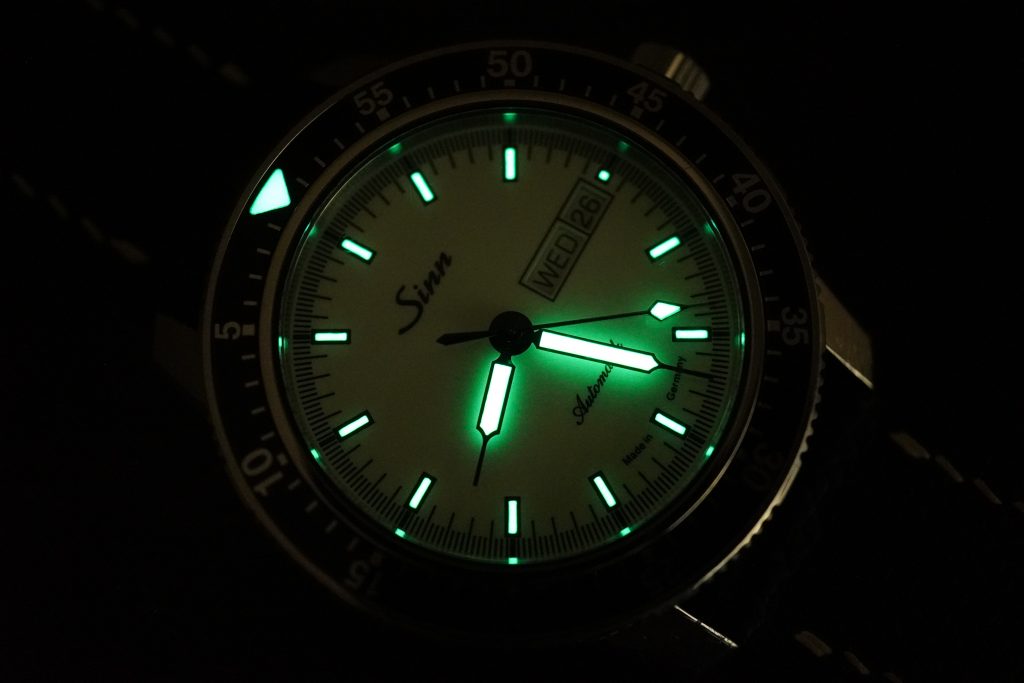 They run bright and hold their charge quite well through the night. No complaints here whatsoever. The lumed bezel triangle is definitely better than that of the Flight Engineer because of the larger surface area and the lack of a weakly lumed pip.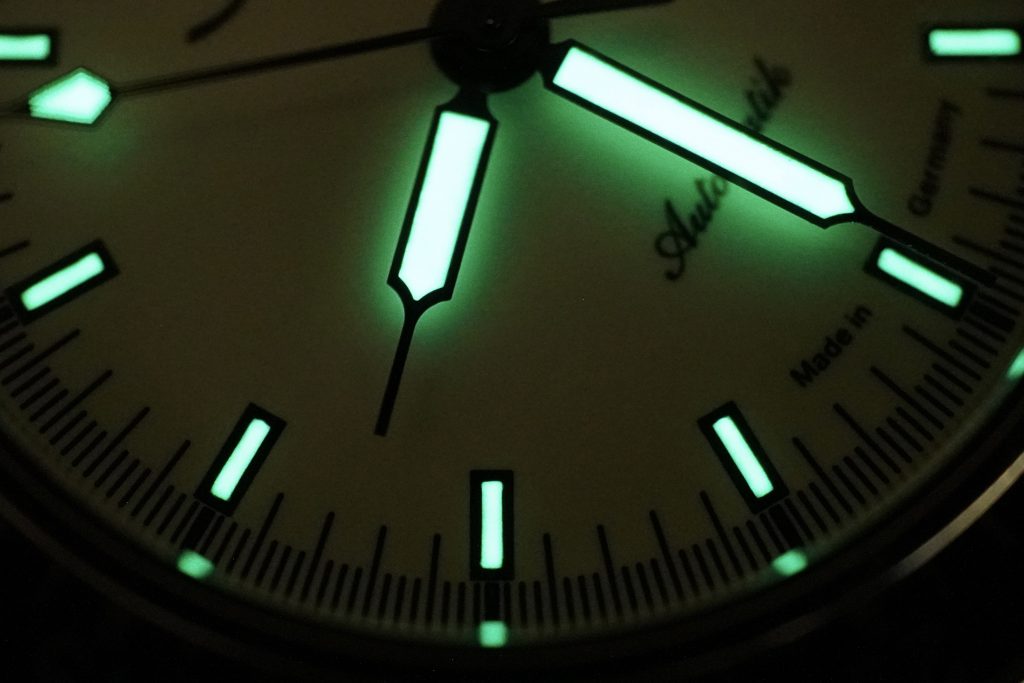 ---
Movement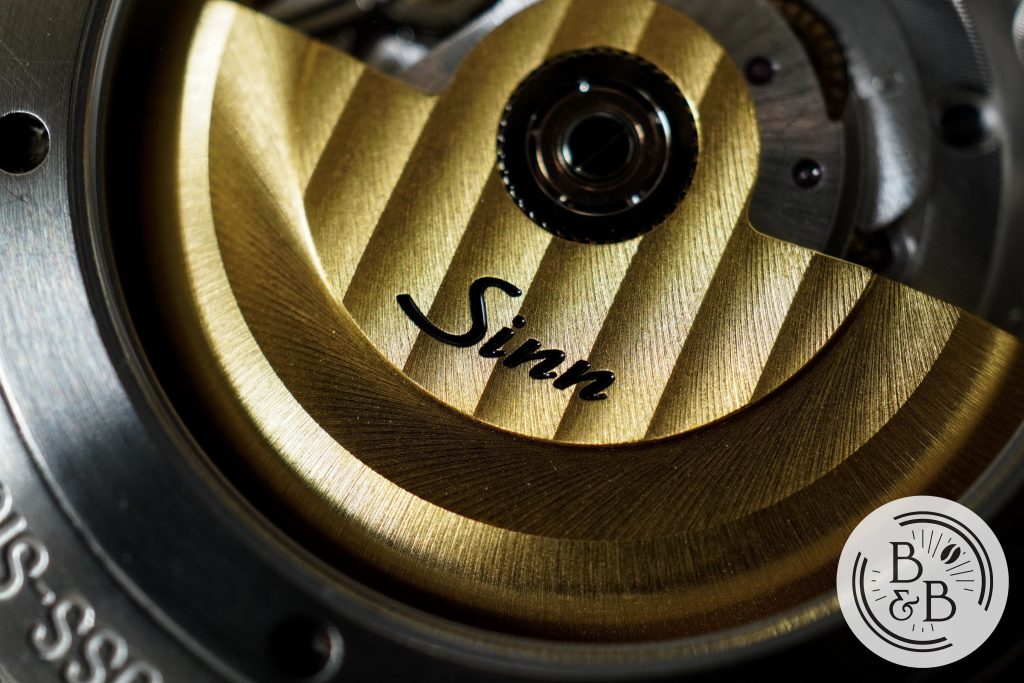 This watch uses a Sellita SW220-1, the same movement used on the Guinand Flight Engineer. Here, the movement is on display thanks to the exhibition case-back. Sinn have done a great job making it look good, with the beautiful gold rotor that has the brand's logo on it.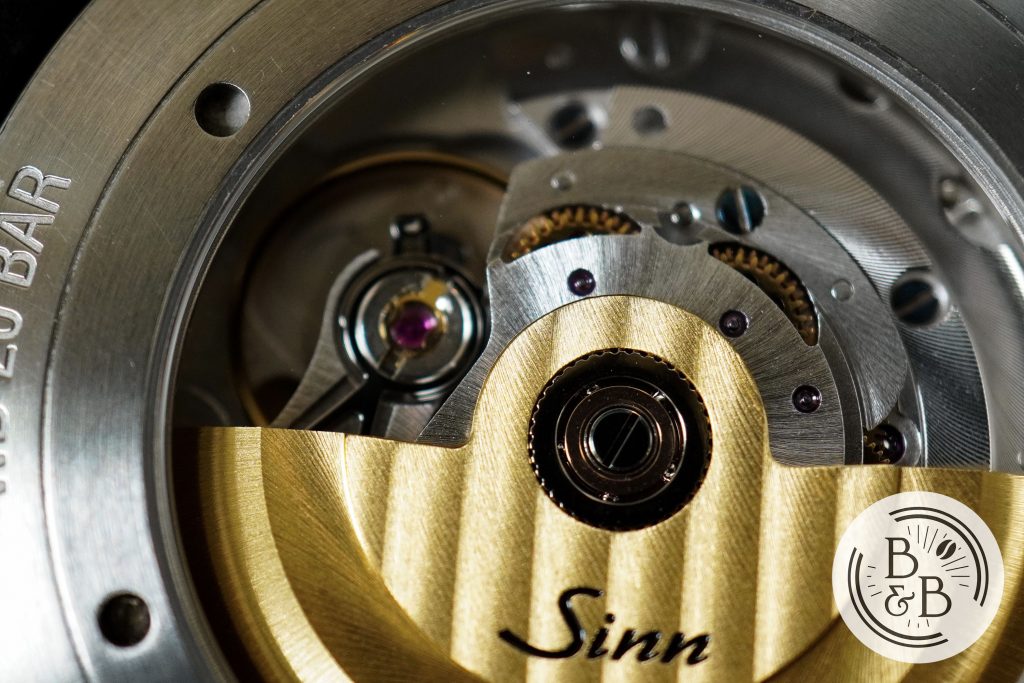 The SW220-1 is typically a good movement, and my Flight Engineer has been keeping very good time, with an average accuracy of around +3 spd. I logged the accuracy of the Sinn over a two day period and observed roughly +12 spd. So this watch could definitely use some regulating. Unfortunately, I only had the watch for a short duration of time, so I couldn't do more extensive measurements.
---
On The Wrist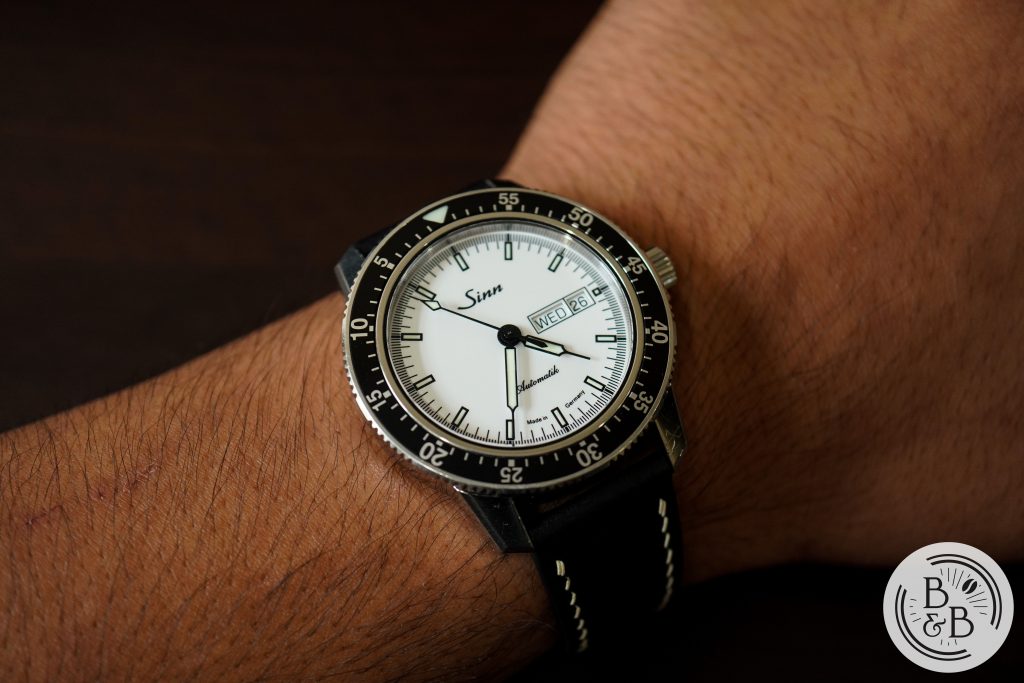 The case dimensions of 41mm x 47mm x 11.5mm are perfect for my 6.25″ wrist. The exhibition case-back is flat, and this allows it to sit very low and comfortably on my wrist.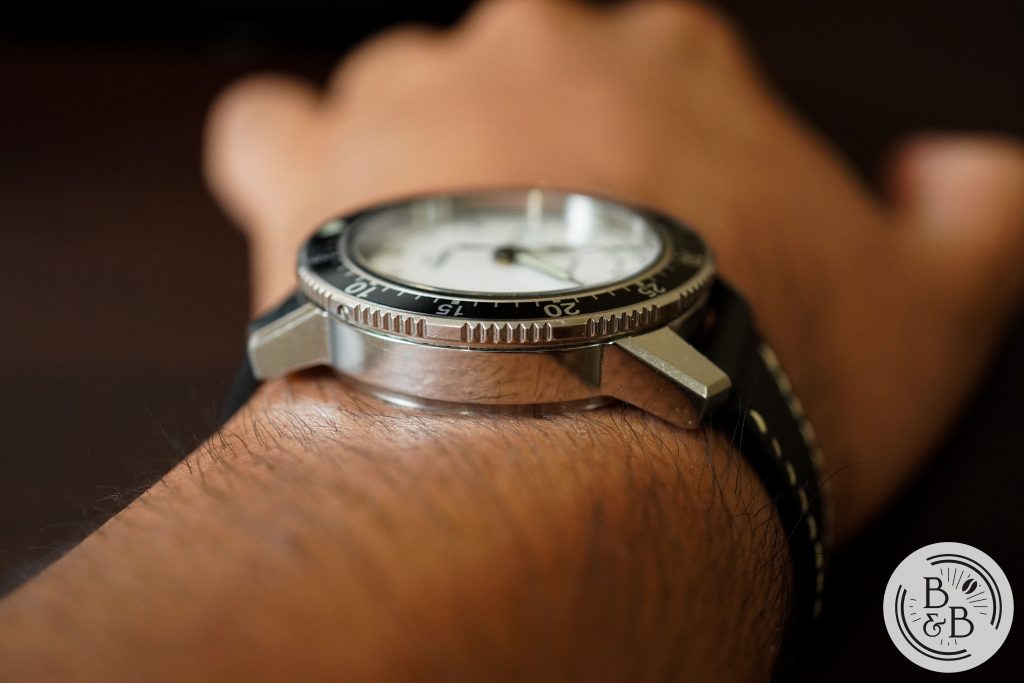 The height of 11.5mm is quite a blessing, and while this isn't dress watch territory, it allows the watch to be easily dressed up or down. Sinn says this is a pilot watch, but it's really just an excellent everyday watch.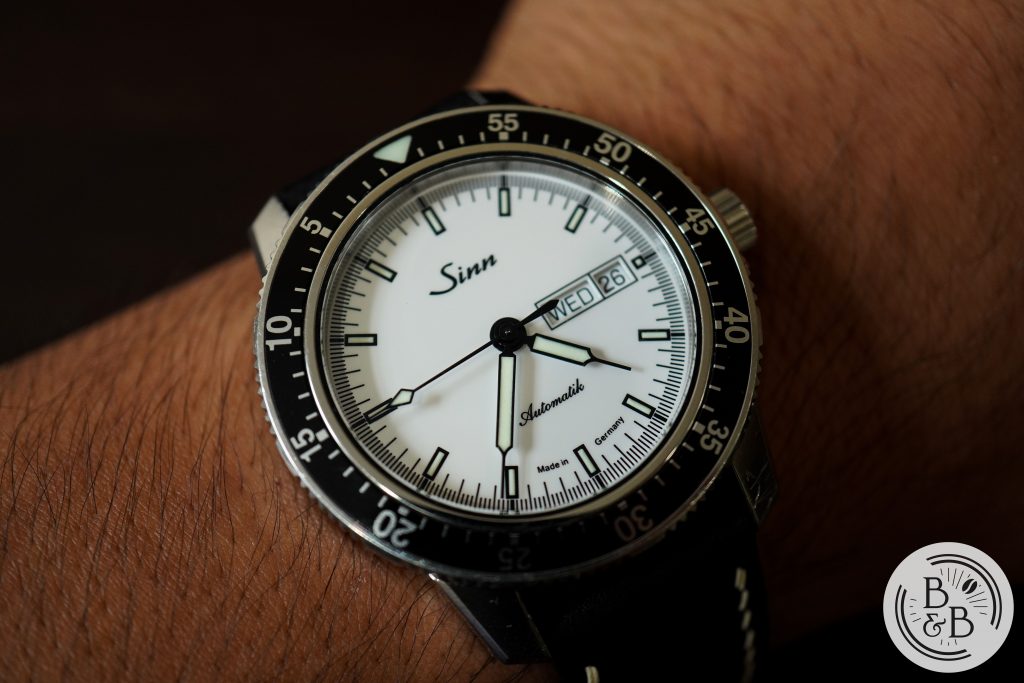 The original brown leather strap came quite battered, so I put it on my Delugs Black Epsom Slim strap, which is very light and supple. The stock leather strap appears much thicker, and heavier. On the Delugs strap, this watch weighs about 80g, which is very reasonable for a 200m WR tool watch.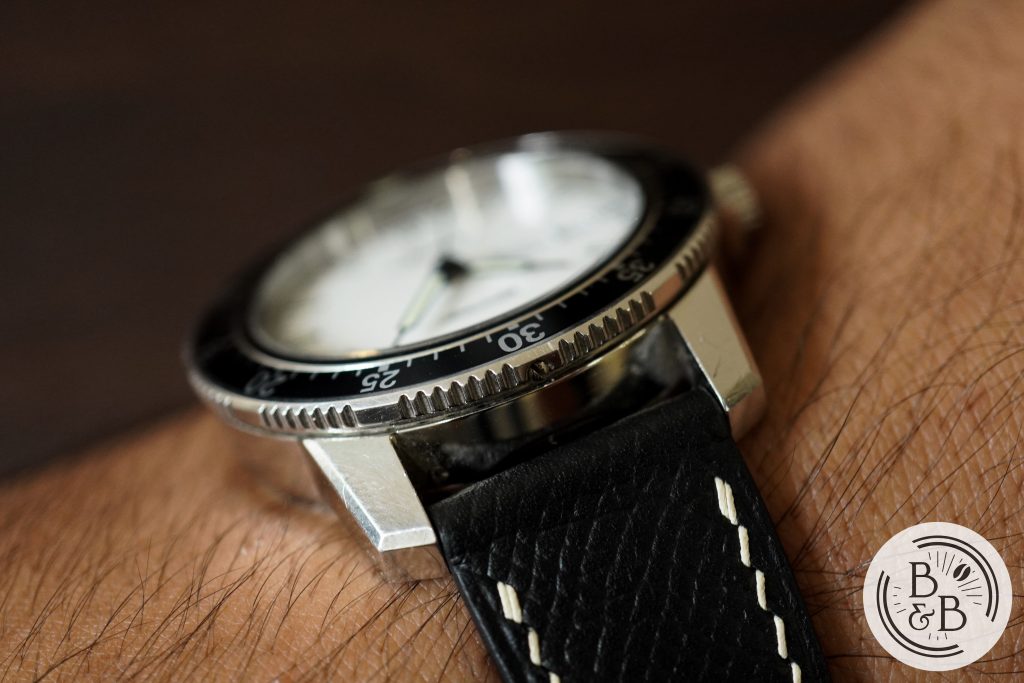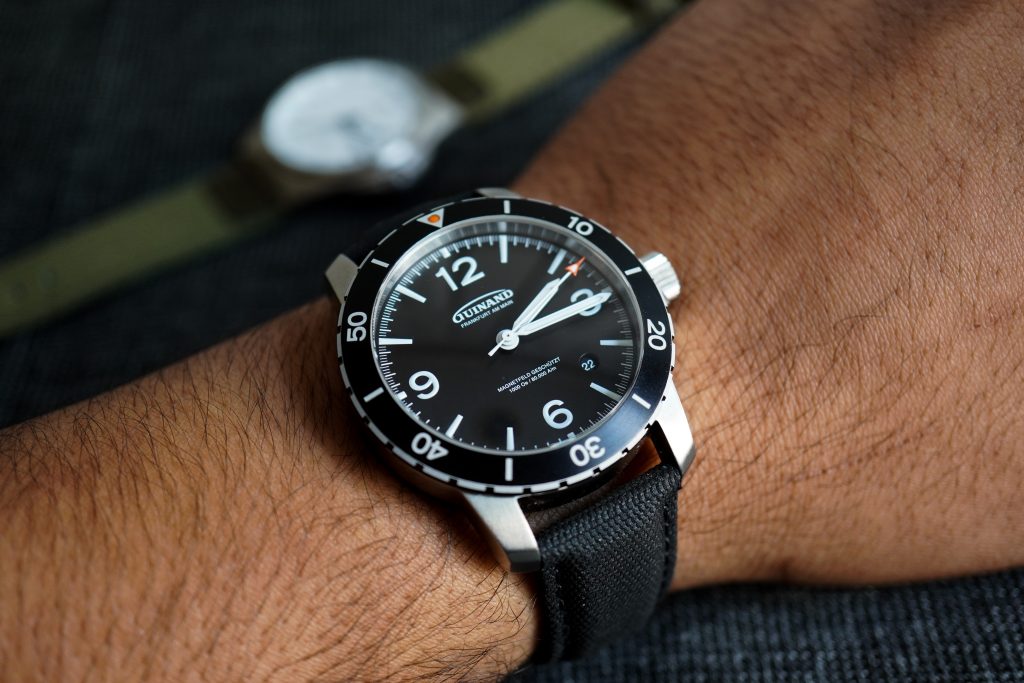 So in terms of comfort, this watch comes out ahead of the Flight Engineer. The Flight Engineer's bulk is a byproduct of the anti-magnetic cage built around the Sellita movement, which results in a 14.8mm case, as well as a significant amount of extra weight.
---
Concluding Thoughts
So to wrap things up quickly, the Sinn 104 is an excellent watch. This white dial variant has incredible range – it's got a dive watch, pilot watch and some casual dress watch DNA. It might just be one of the best GADA (Go Anywhere Do Anything) pieces you can buy today. Sinn is known to make watches that last, so I wouldn't hesitate recommending this piece.
When compared to the Flight Engineer, this watch does stand out with a slightly better crown and case operating experience, the fantastic bezel and the arguably more comfortable wrist experience. I still think the Flight Engineer is a better 'tool watch', with its 1000G anti-magnetic case, purely utilitarian dial and appropriate brushed finish case. In terms of price, you'll pay close to the same amount for both watches.
So to conclude on the least helpful note – buy whichever one you think will suit your requirements better. They're both great choices.
---
Strap Change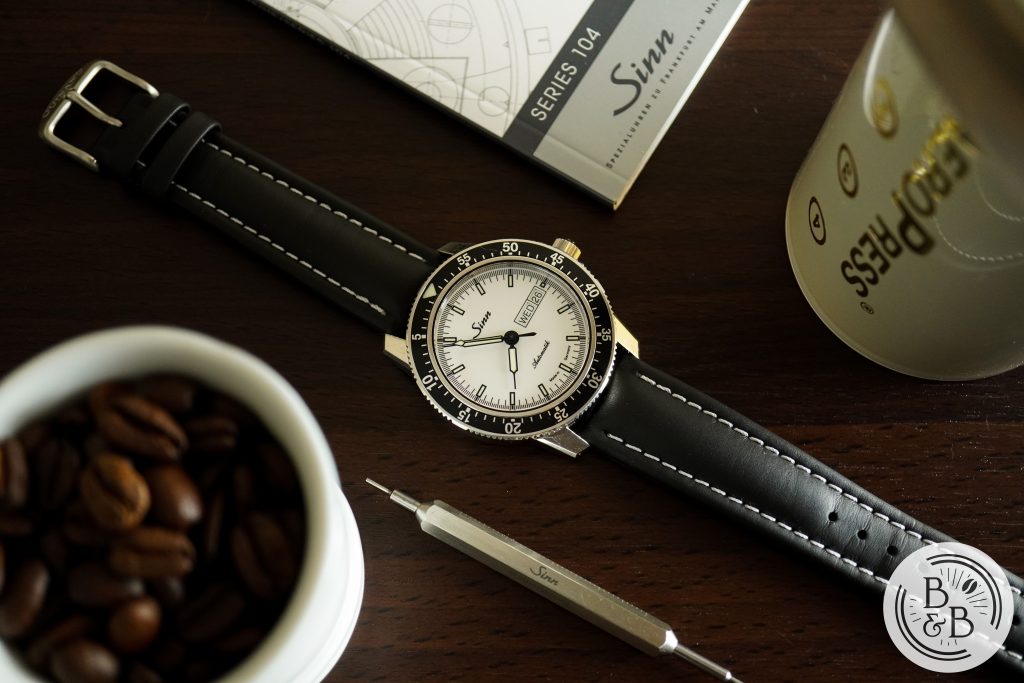 ---
Thanks for reading!