---
Disclaimer: I purchased this watch new and was not externally incentivized in any way to make this review. This review is in no way sponsored by Seiko or any other entity. All opinions here are my own.
---
---
Contents
---
Seiko "MM200"
If you've noticed an up-tick in Seiko reviews lately, you're just witnessing me attempting to cater a bit more towards more mainstream and popular watches, while also trying to cover more ground in the world of Japanese watches, like I did with German watches last year.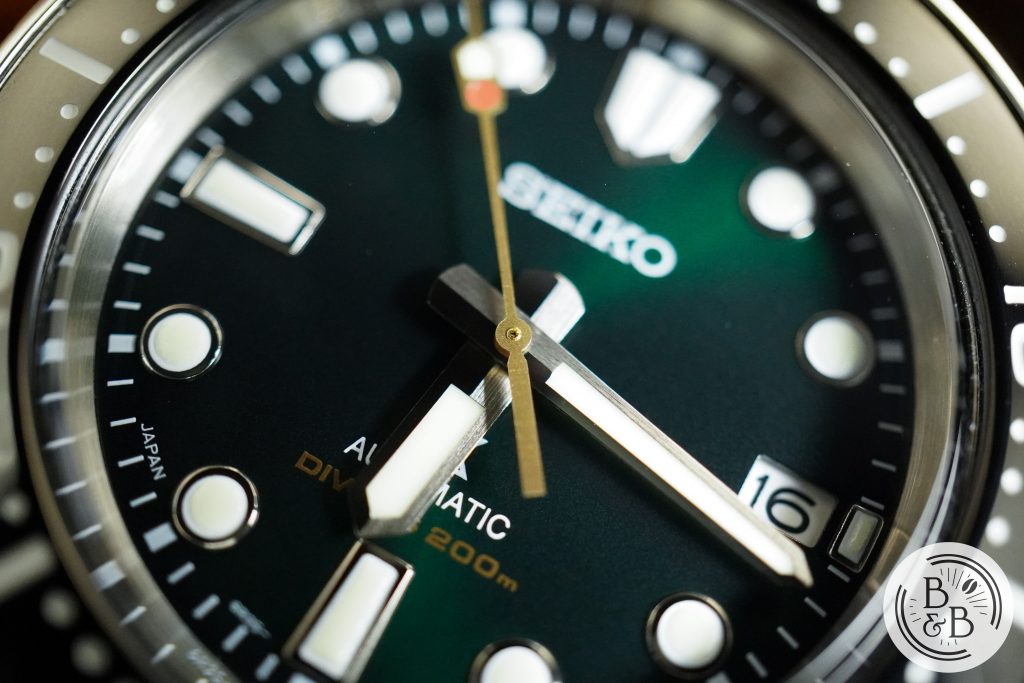 I've been wanting to get one of Seikos slightly more expensive divers, and had an eye on the 63mas collection for the longest time. But every couple of months Seiko seems to add more dials and more options, and that entire range of watches just seems to me like a complete mess, and a dilution of an otherwise beautiful 62 mas heritage design. I've always been a fan of the Marine Master 300, just because of how badass and mean it looks. The monocoque case design is very intriguing, and that watch also brings with it a great amount of Seiko heritage. Unfortunately that unique design was mostly out of reach for mere mortals like me who have narrow wrists that can't handle a watch of that size.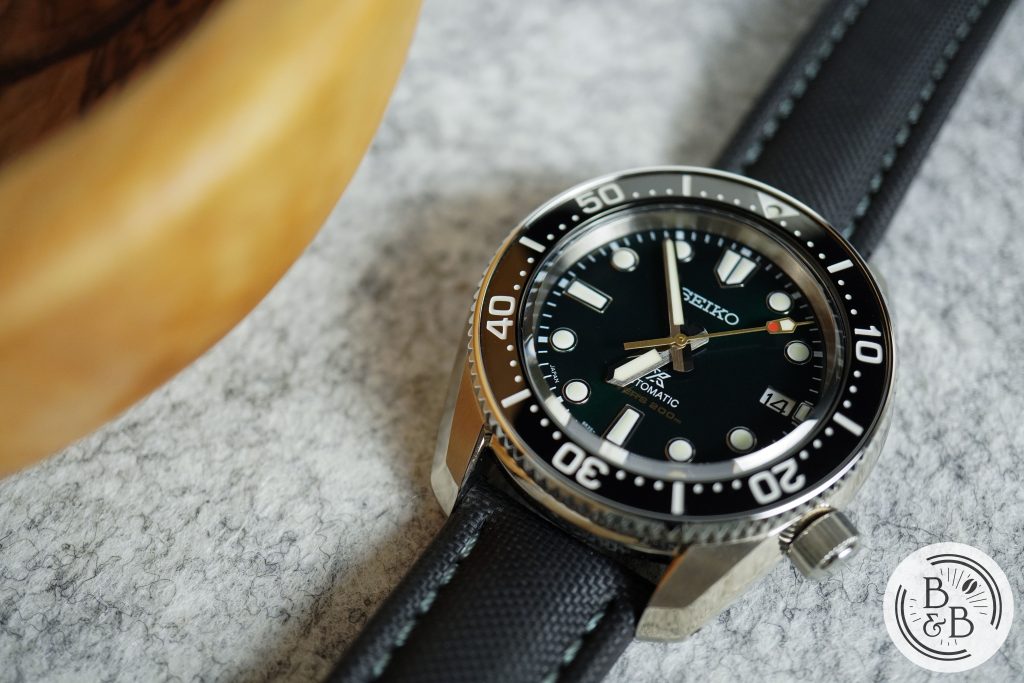 But in a rare act of listening to their fans, Seiko released a range of mini-MM300s that truly looked like the Marine Master 300s but came in a much more compact package. I initially had my eye on the steel bezel SPB185J1 and the blue dial SPB187J1, but what ended up catching my attention and my money was this limited edition green dial SPB207J1. Don't let the limited edition title scare you away. This is a limited release of 6000 units that was released a while ago, and there's still plenty available for everybody at the time of this review. This watch has a retail price of roughly $1350 USD. That's a lot of money for a Seiko, but even as a vocal critic of their poor quality control and diminishing value, I think you should give this one a chance.
Let's check it out!
---
Dial
I measured the case to be 41.75 mm in diameter, 48 mm from lug-to lug and 12.7 mm tall. But in typical Seiko fashion, this watch wears a lot more comfortably and compactly than their dimensions might suggest, and the first thing that stood out to me when I opened the box was how small it looks for a 42 mm watch.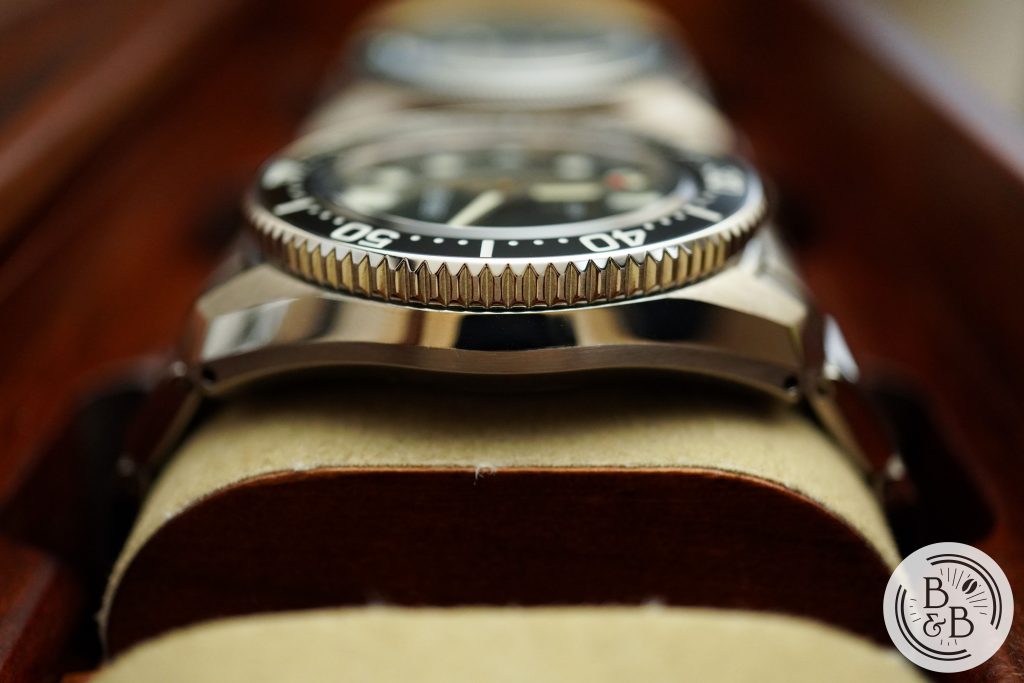 The case design follows the Marine Master 300 (MM300, read: SLA047) closely, but with a lot of mass removed along all three axes. Seiko did a great job making the 12.7 mm height look even sleeker by using a combination of large polished and brushed surfaces that span the entire case length.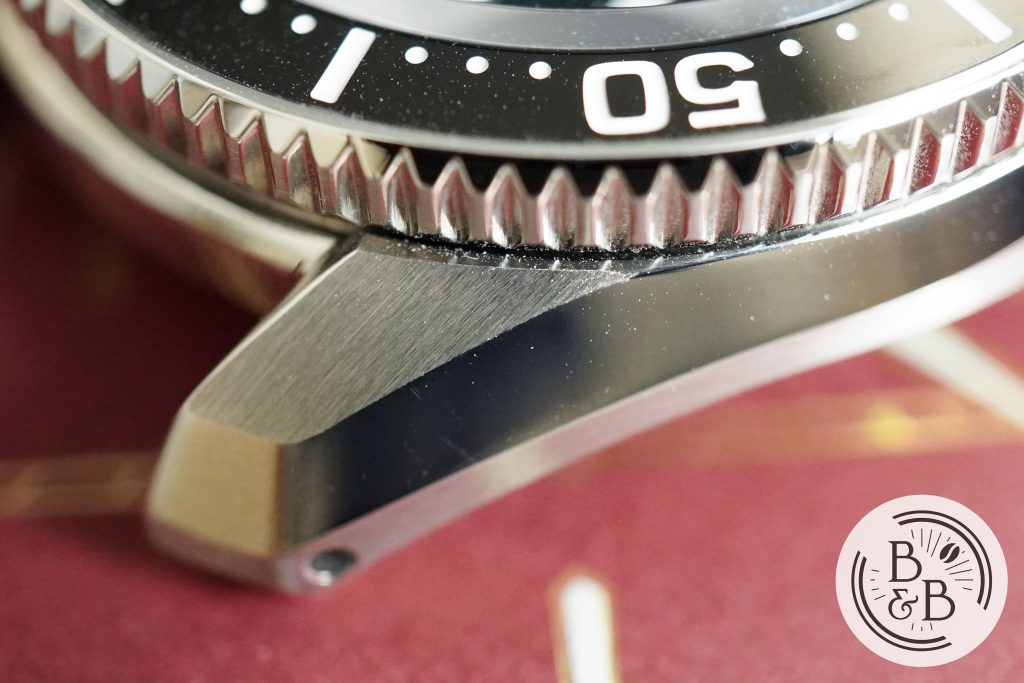 What impressed me most about this watch is the finishing on the case. I've owned a few Grand Seikos recently that cost anywhere between 4-5x this watch, and this little guy makes a pretty darn good case for why it costs $1350, all puns intended. The case is stunning, and the polished and brushed lugs look absolutely fantastic on wrist. And to be true to Seiko design language, the lugs are drilled through and 20 mm.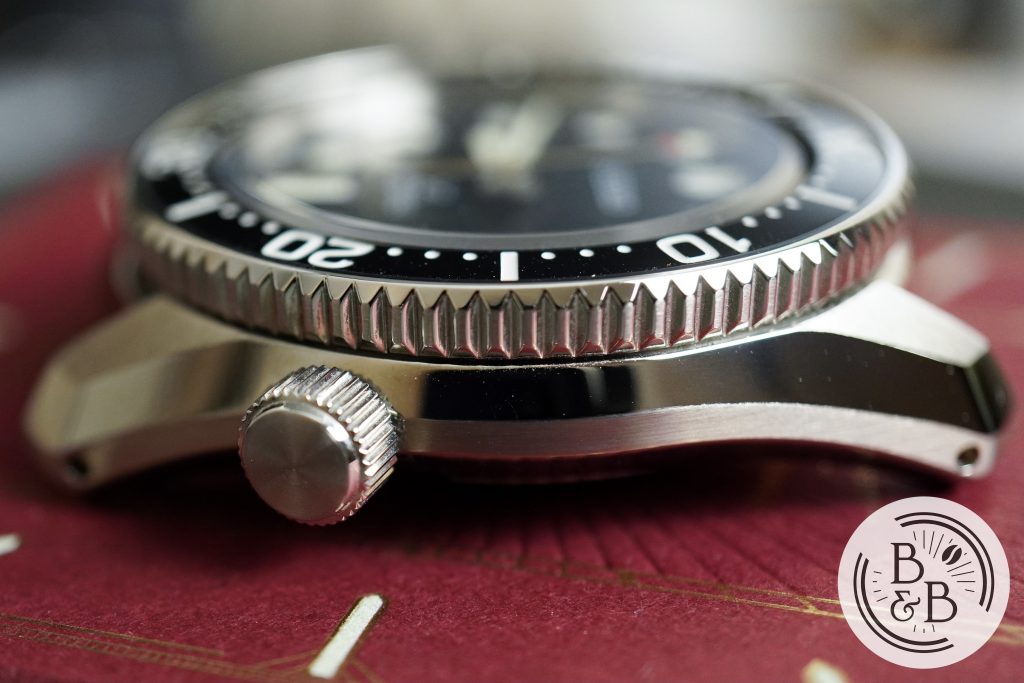 The bezel looks aggressive, like it's MM300 bigger brother, and is very easy to grip and operate. Unfortunately, Seiko bezel action is not my cup of tea, and all their divers seem to feel this way, including their Grand Seiko divers. The action is elastic-y with feedback that really offers no more than a boring and faint click. The positions seem to just flow into others, and it feels like a design decision built to excuse poor alignment.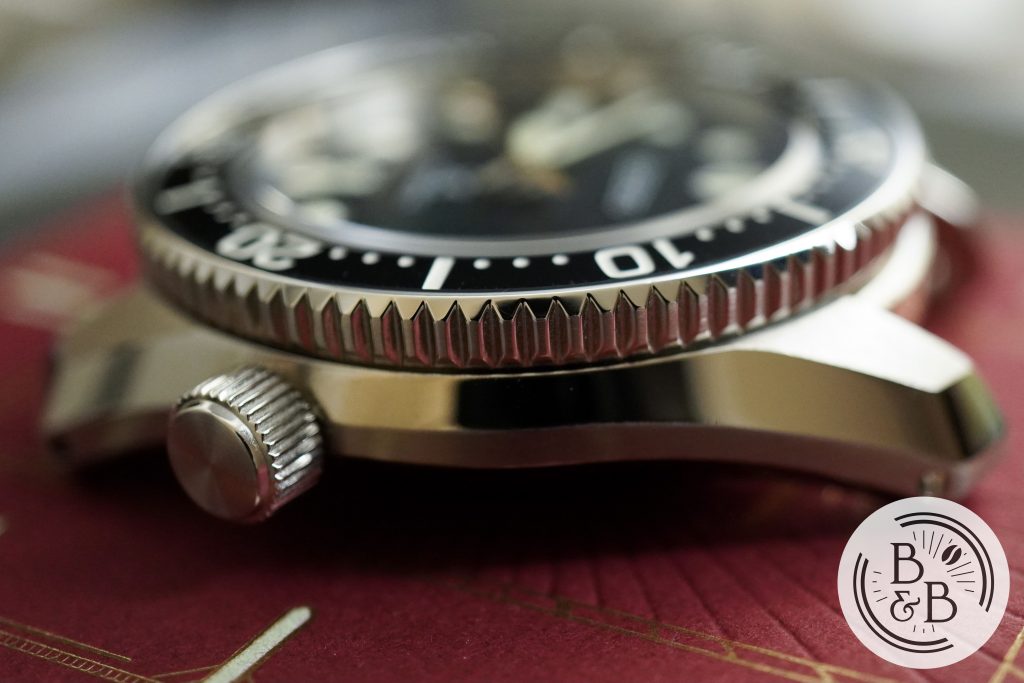 While it is possible perfectly align this bezel, there is more slack than is desirable from a dive watch. But this isn't limited to this watch, and is my opinion of all their divers, Grand Seiko included. The insert is not ceramic, and is identical to the material on the Grand Seiko SBGX339. I'm not a fan of this material because it tends to gather weird looking stains that need a wet cloth to get rid off. But I'm OK with it on a $1350 watch, just not on a $4000 Grand Seiko.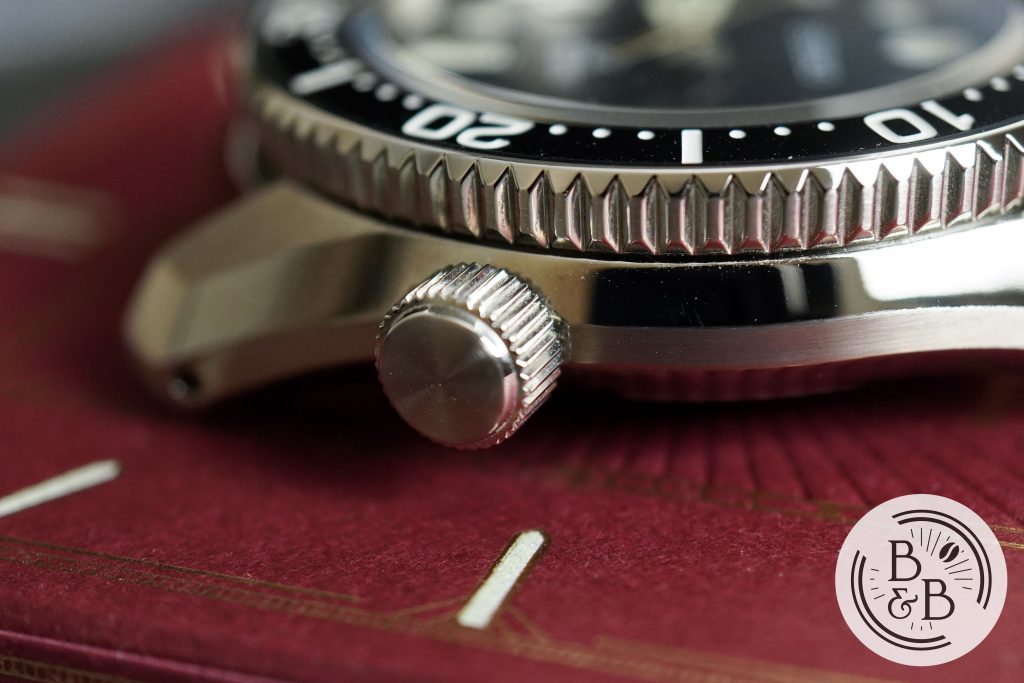 There is a 5.75 mm screw-down crown at the 4 o'clock position that is easy to grip and operate. The crown action on this watch is better than most of the Seiko watches I've owned or handled in the past, and even the threads feel a bit smoother.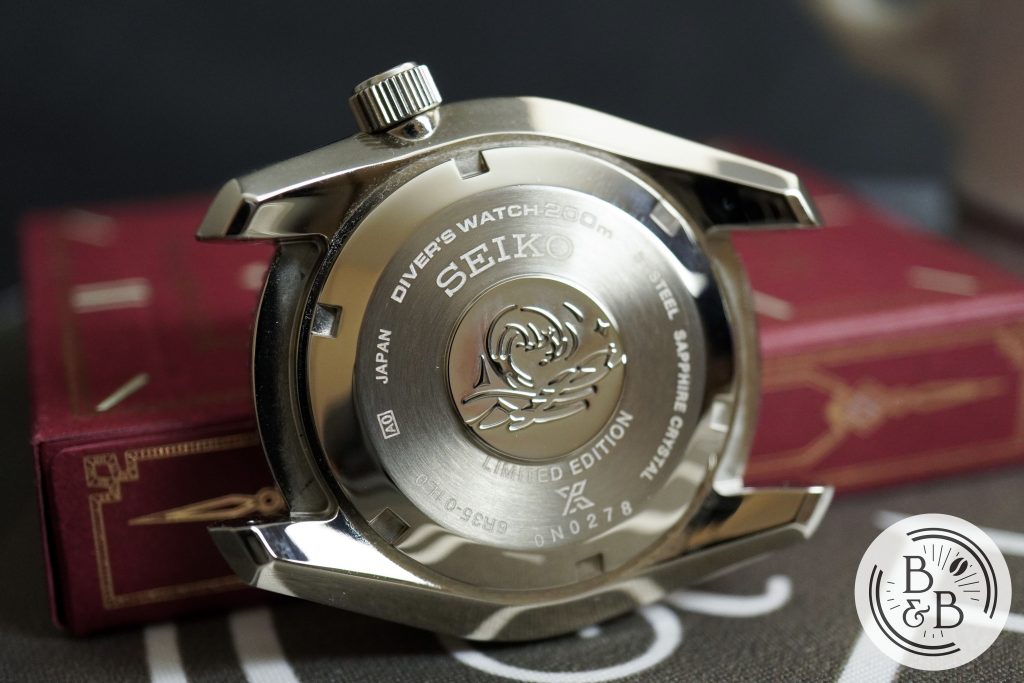 Flipping it over, you have a solid screw-down case-back with some text on it and the typical Seiko insignia embossed on it. I would've liked to see Seiko attempt a monocoque case design for this watch like on the MM300 watches, but given how prone the Seiko 6R movements are to poor regulation, I think that would be a terrible idea for serviceability. This watch is rated for up-to 200m of water resistance, as opposed to the 300m on the MM300.
---
Dial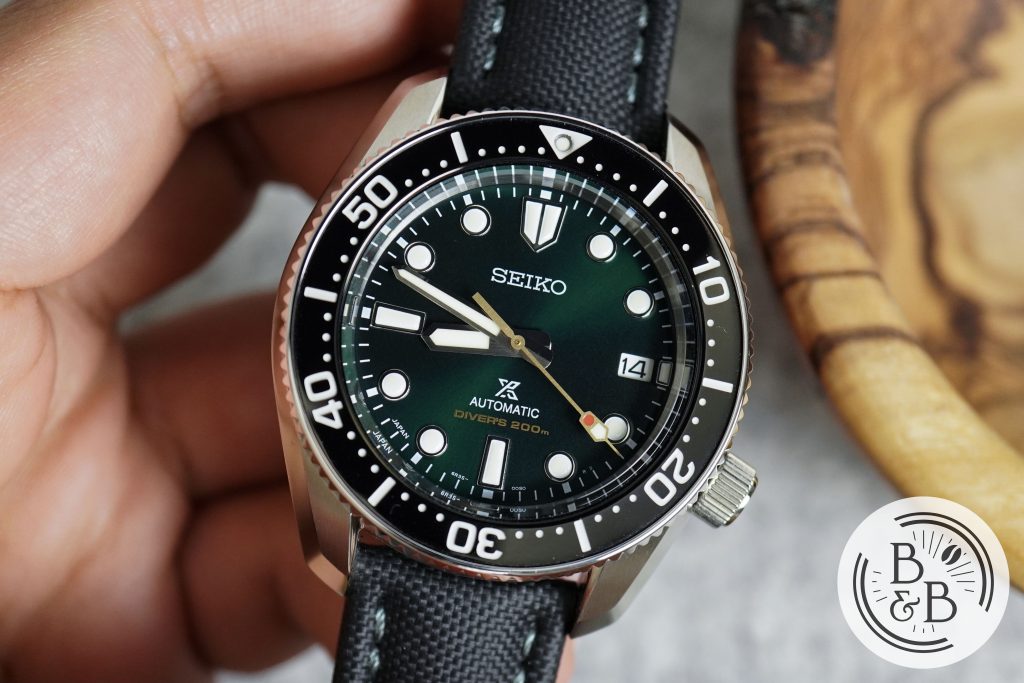 This dial is limited to the 140th Anniversary model, but if it is successful, Seiko won't have any problems making this a regular production unit, as they've done in the past with a complete disregard for their collectors. I'll be honest, the dial looks fantastic in person and the sunburst green tone that they've used looks beautiful and is quite versatile since it transitions to an almost black color in passive lighting. But the quality control isn't the greatest, and you don't have to look too far to find some particles on the dial and indices. But that seems to be just how Seiko operates these days, and I'm enjoying the rest of the watch so I'm not too bothered by it.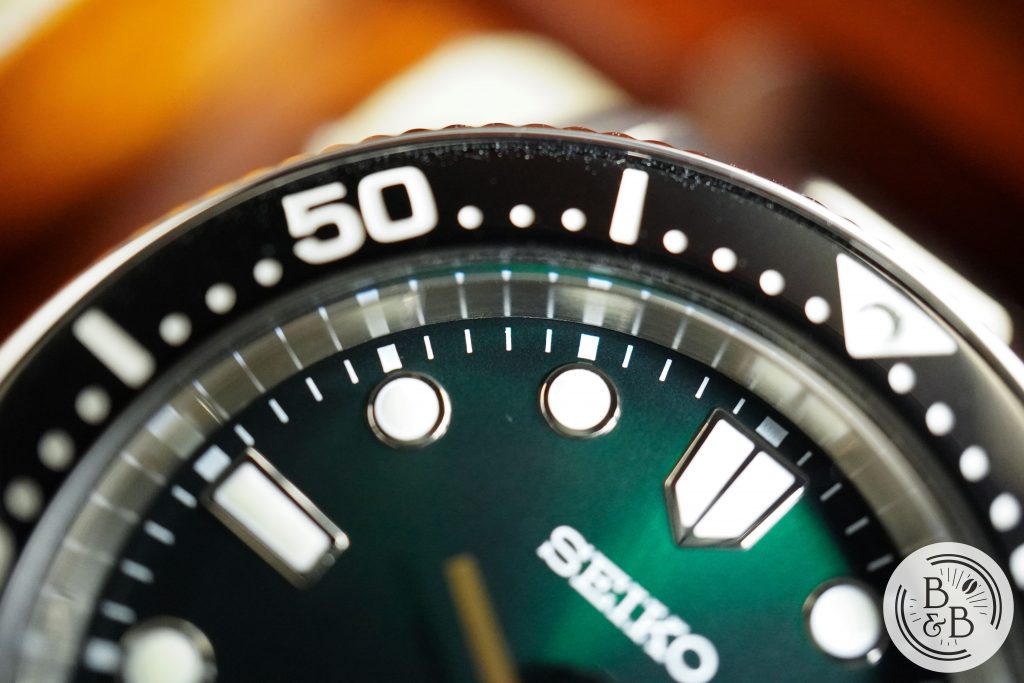 There is an outer minute track printed in white, with large rectangular markers for the hour indices and slim white ticks for the rest. The quality of printing is alright with a few smudges every couple of ticks.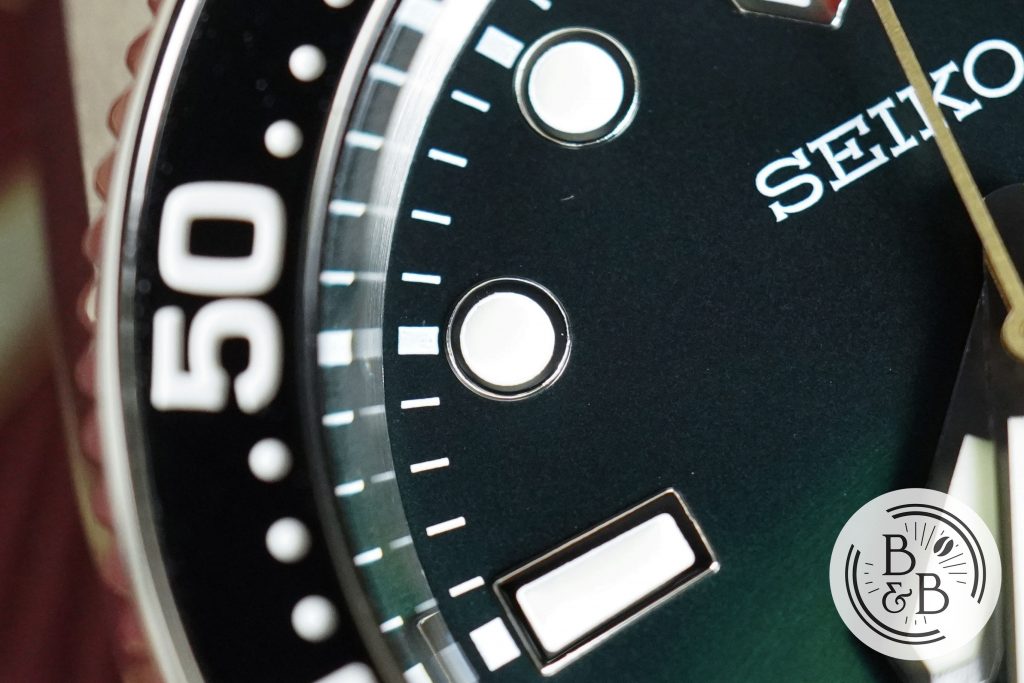 You have raised indices that combine rectangles, circles and Seiko's typical 12 o'clock triangle index. The quality of the indices is good, and they're all filled with LumiBrite.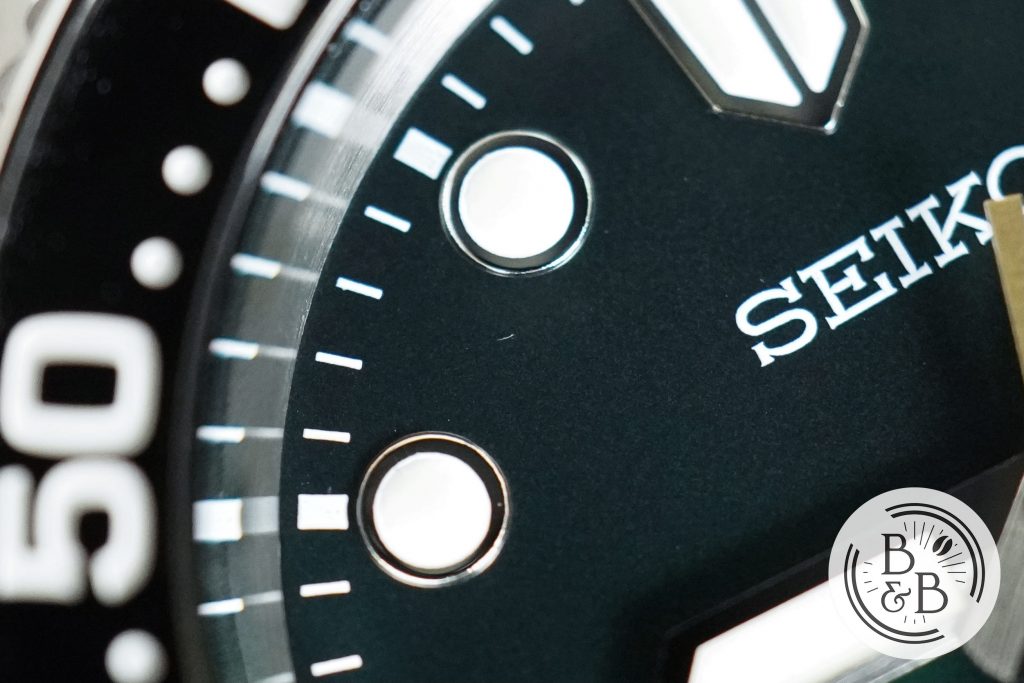 The most obvious quality control error is the little particle or blemish between the 10 o'clock and 11 o'clock markers. It isn't visible under most lighting, but becomes obvious under direct light. If you're obsessive about dial quality and tidiness, I think Seiko isn't the brand for you, and there are other micro-brands in this price category that do an exponentially better job.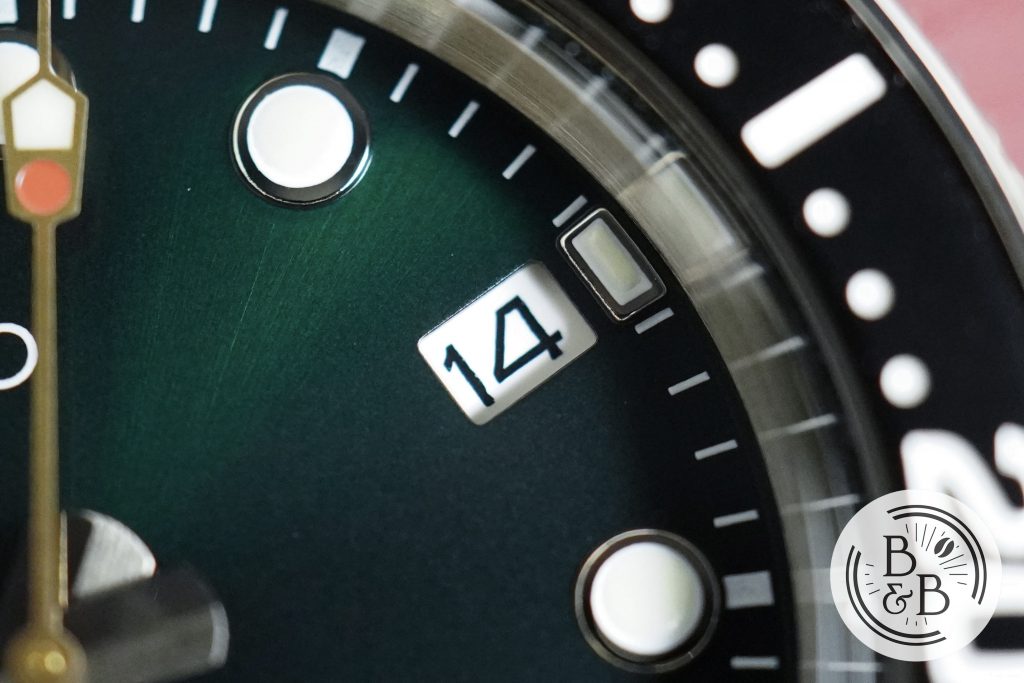 There is a date window at the 3 o'clock position that has a white date wheel and black text. I typically prefer dial matched date wheels, but the white date wheel balances the 9 o'clock index well.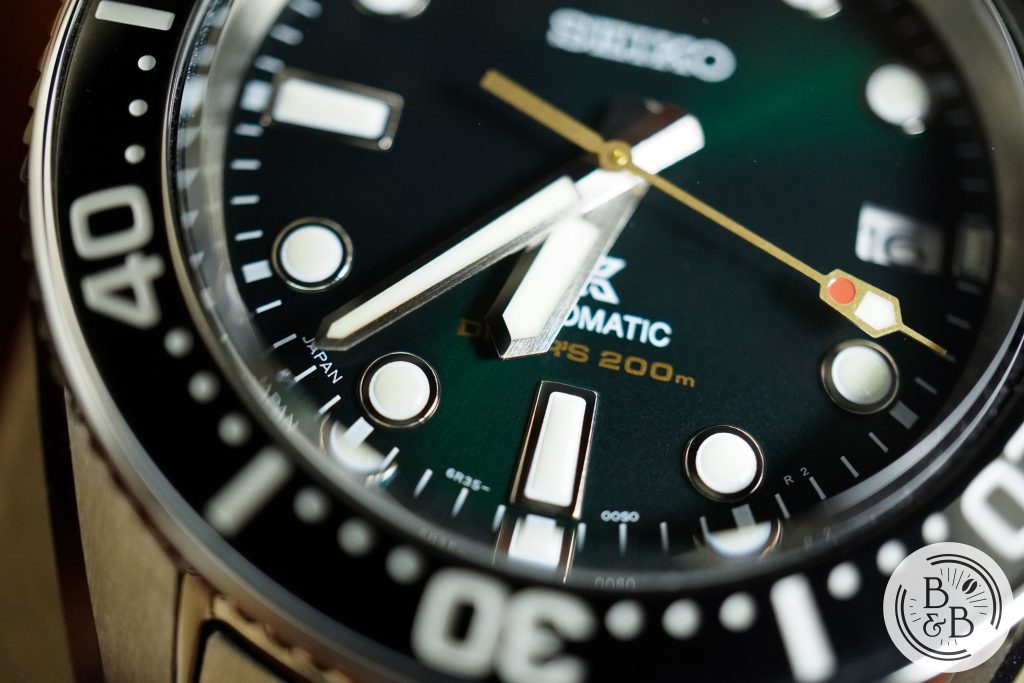 The hand set is excellent as it follows the MM300 design more closely than the previous MM200 equivalents, and is one of the main reasons I was drawn to this watch. You have multi faceted brushed hands for the hour and minutes, and a gold colored seconds hand with a red accent. All three hands are lumed, and all three of them are well finished.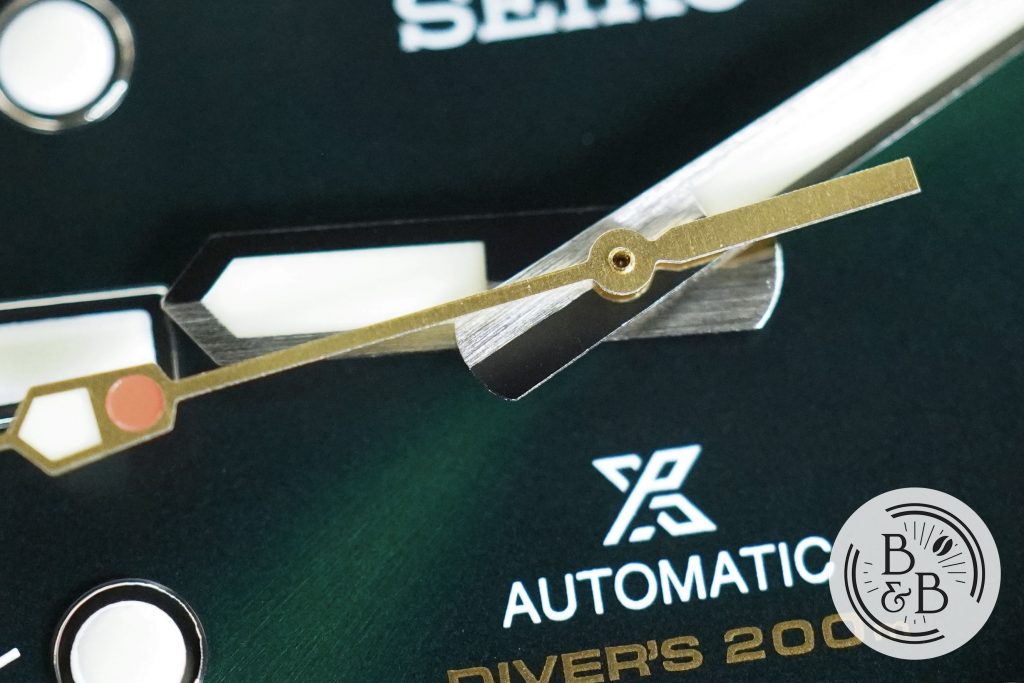 I like that they went with brushed hands, as it is harder to identify poor finishing and quality control on brushed surfaces. But these look well executed, and are not too far off in texture from the brushed hands on the Grand Seiko SBGX339.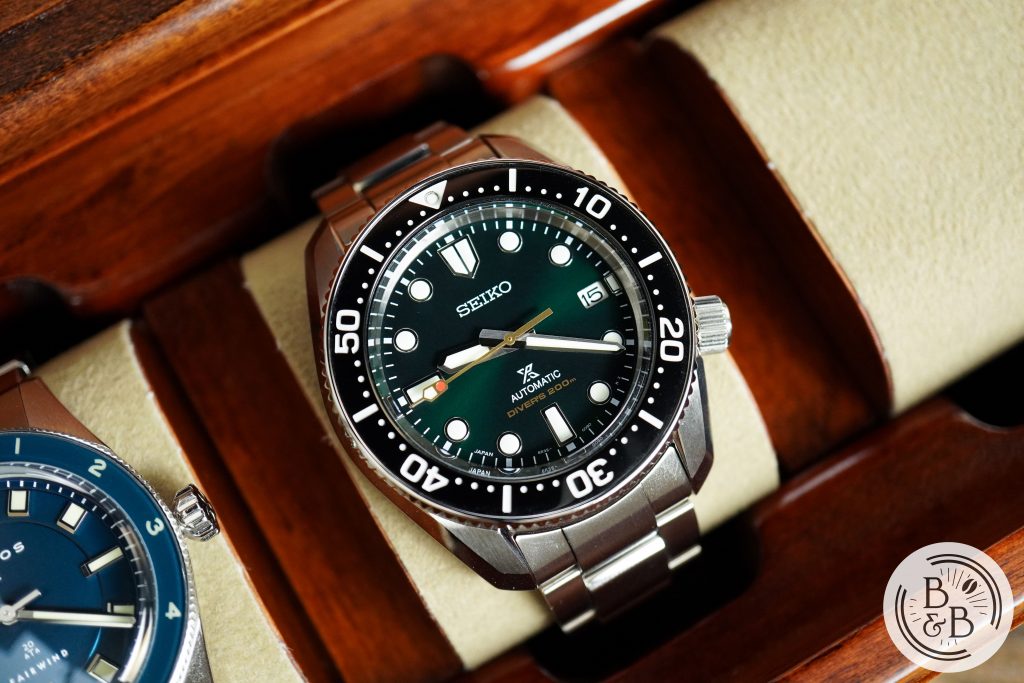 Overall, I like this dial, all flaws included. I've just learned to readjust my expectations with Seiko and try to appreciate the other aspects of this watch that I like, like the case. But if you're looking for a tidy dial, look elsewhere. Seiko will break your heart.
---
Lume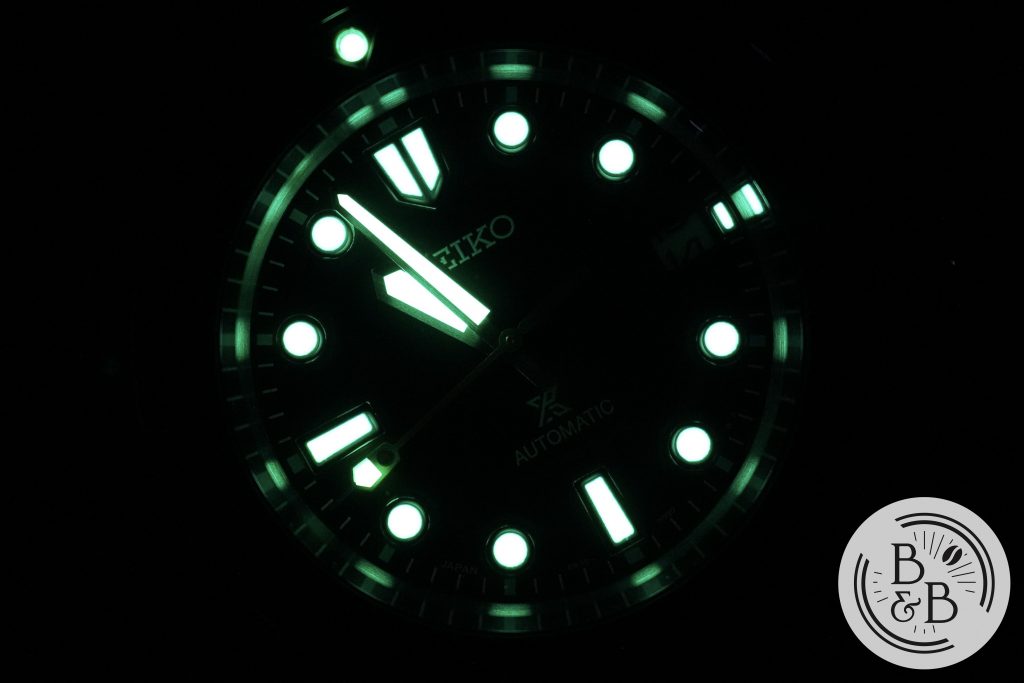 Most Seiko fans quickly noticed that this new breed of mini-MM300s had poorer lume performance compared to other Seikos. But LumiBrite tends to be a bit of an over-performer anyway, so I wasn't too bothered.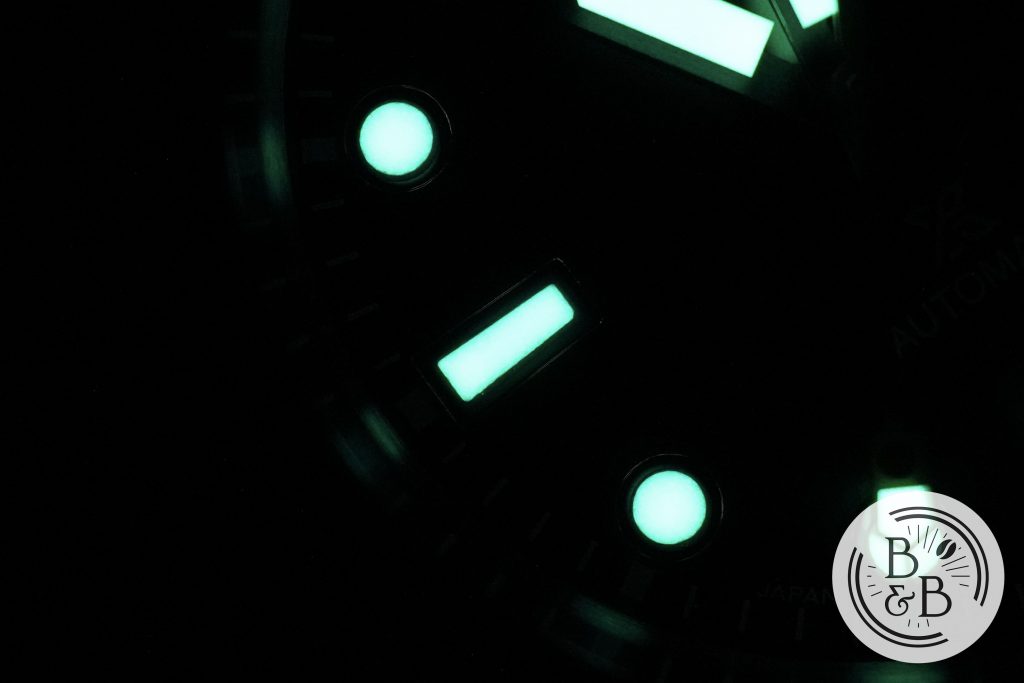 The dial elements glow bright and hold their charge well. There is plenty of surface area on these elements so you get a bright transition and the longevity is good too.
Only the 12 o'clock marker on the bezel is lumed, which is a bit disappointing, but not a deal breaker.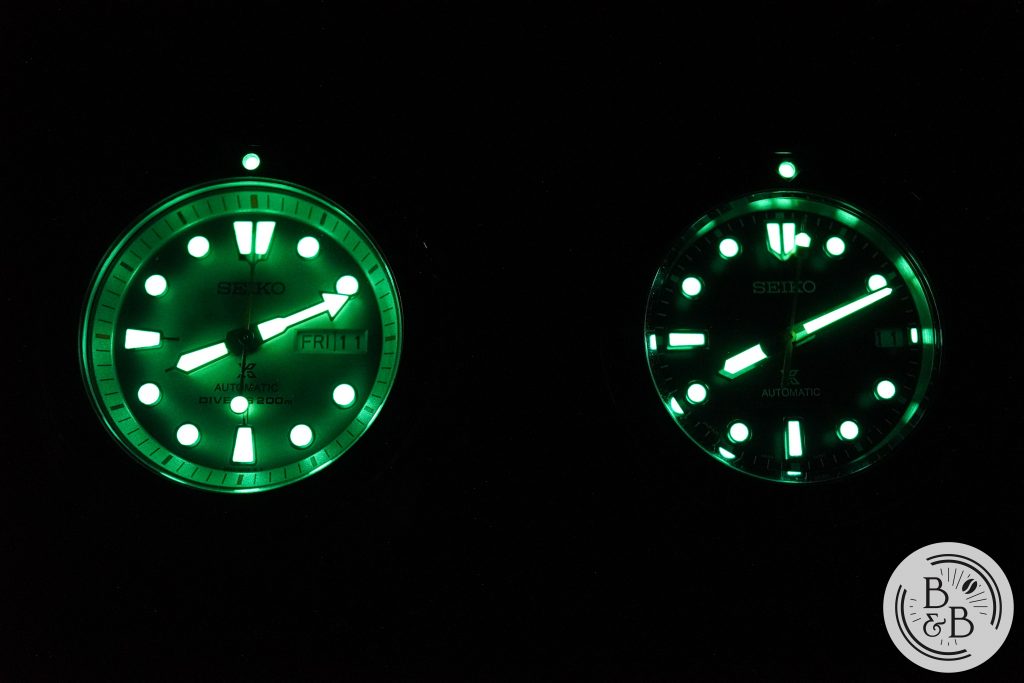 I compared the lume on this watch against a few other watches I had at the time. Here it is with the Seiko "Dawn Grey" SRPD01K1, and yes the Seiko fans were right, this watch doesn't perform as well as the older Seikos.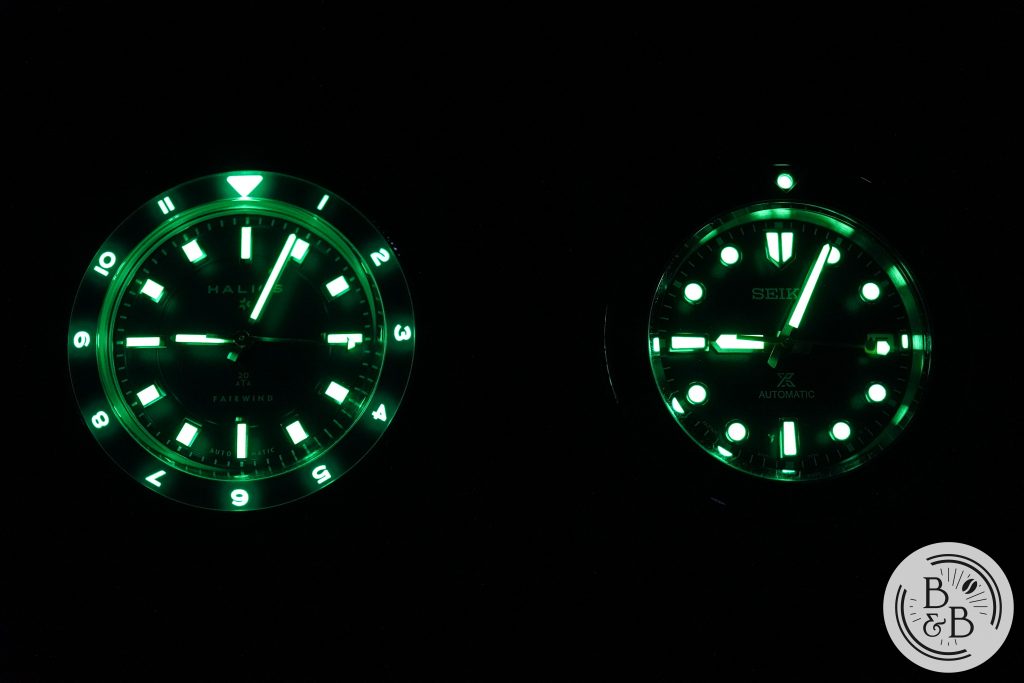 I also compared it with my Halios Fairwind, which I believe is one of the better lumed microbrands out there, and the Seiko does a good job.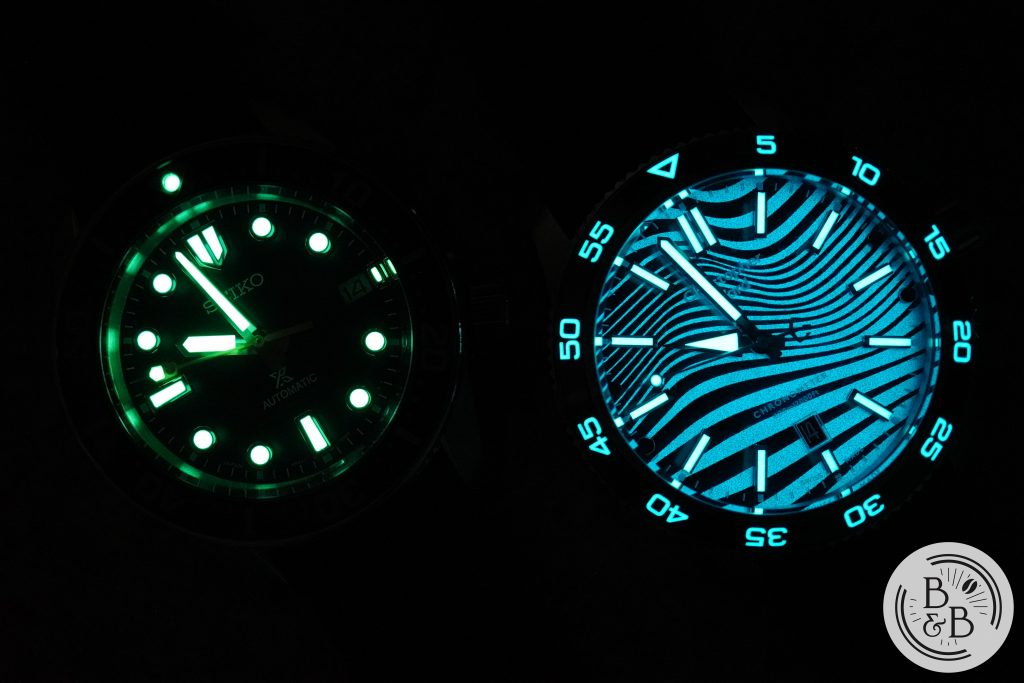 Last, I put it alongside the Christopher Ward C60 #TIDE, and I think the Seiko holds it's own quite well. So may not be the best lume for Seiko fanatics, but still pretty good lume for the rest of us normal folks!
---
Movement
This watch uses the Seiko 6R35 movement. I'm not the biggest fan of Seiko's 4R and 6R movements. At $1350 I'd typically want something with better bounds on accuracy, a faster beat rate and better finishing. Thanks to the closed case-back, I don't have to see the ugly movement, so that's 1/3 off my checklist.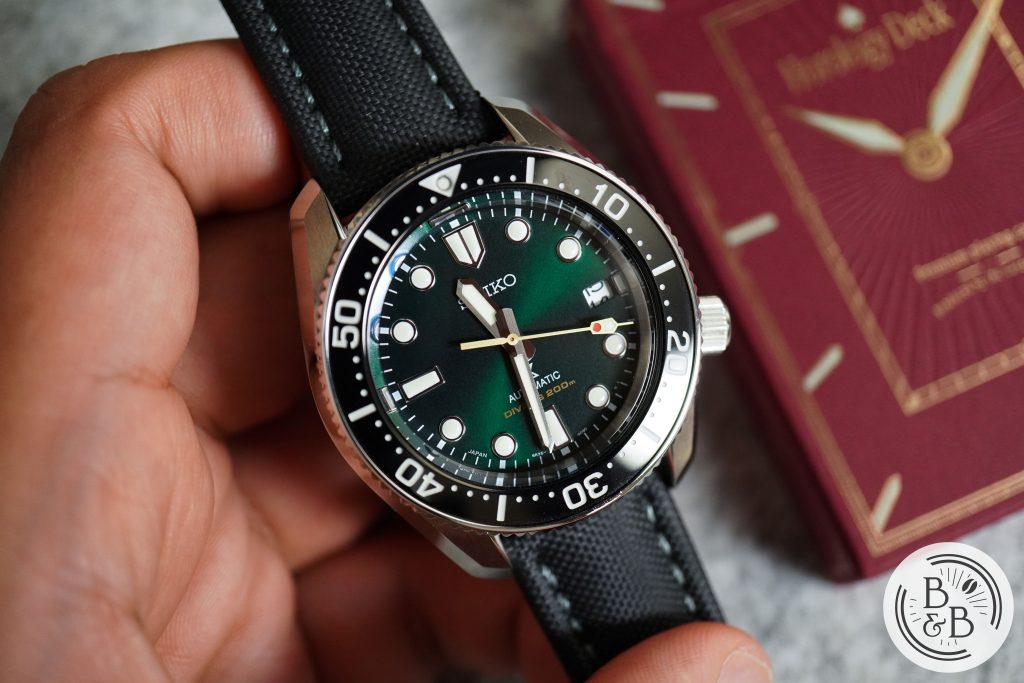 In terms of accuracy, I observed +4 spd in the dial up position and +6 spd in the crown up position. So that's not bad at all, and if it continues to keep this performance, I will be very pleased.
---
Bracelet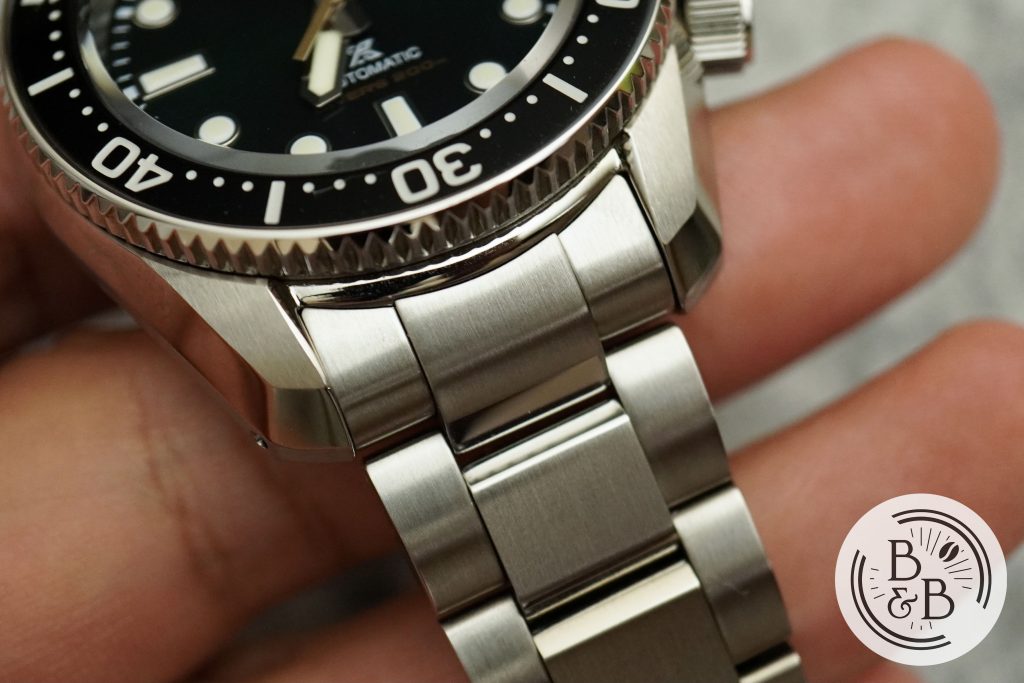 I've never had a Seiko bracelet that I liked, and that extends to Grand Seiko as well. They seem to lack the manufacturing skills to get end link fitment right, and their design, assembly and finishing always feels subpar. And the most horrifying are their clasps. Surprisingly, this bracelet avoids most of the above, with very good end link fitment, a sleek design, excellent finishing and a clasp that feels like it cost more than $5 to design and manufacture.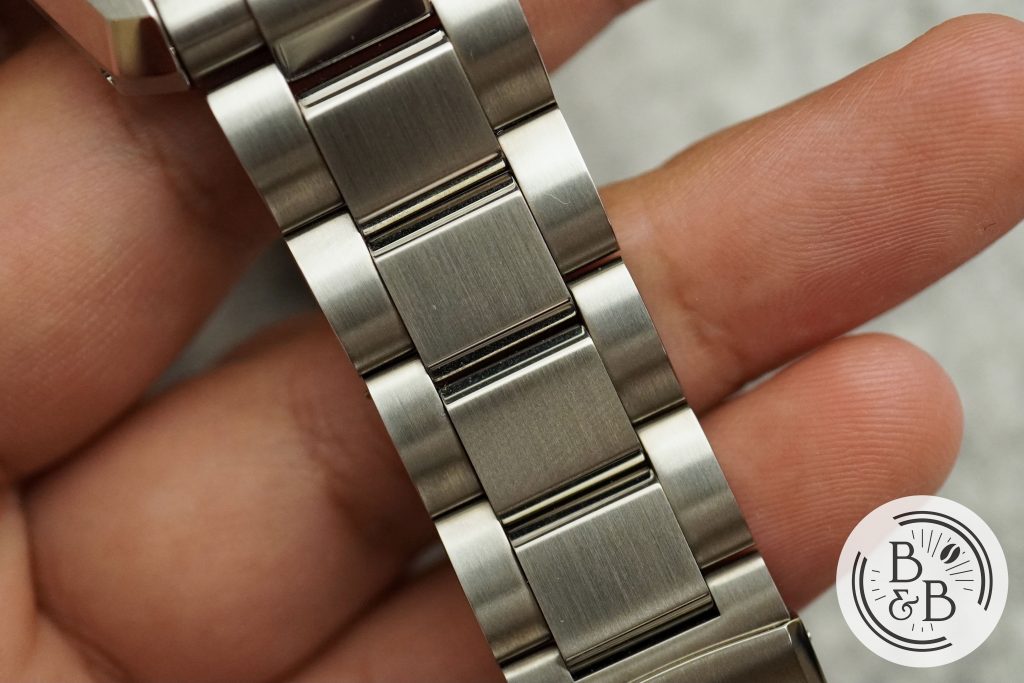 The links are most impressive with the excellent quality of brushing. I wish they'd switch to a screw-based link assembly, but I don't mind the pin and collars.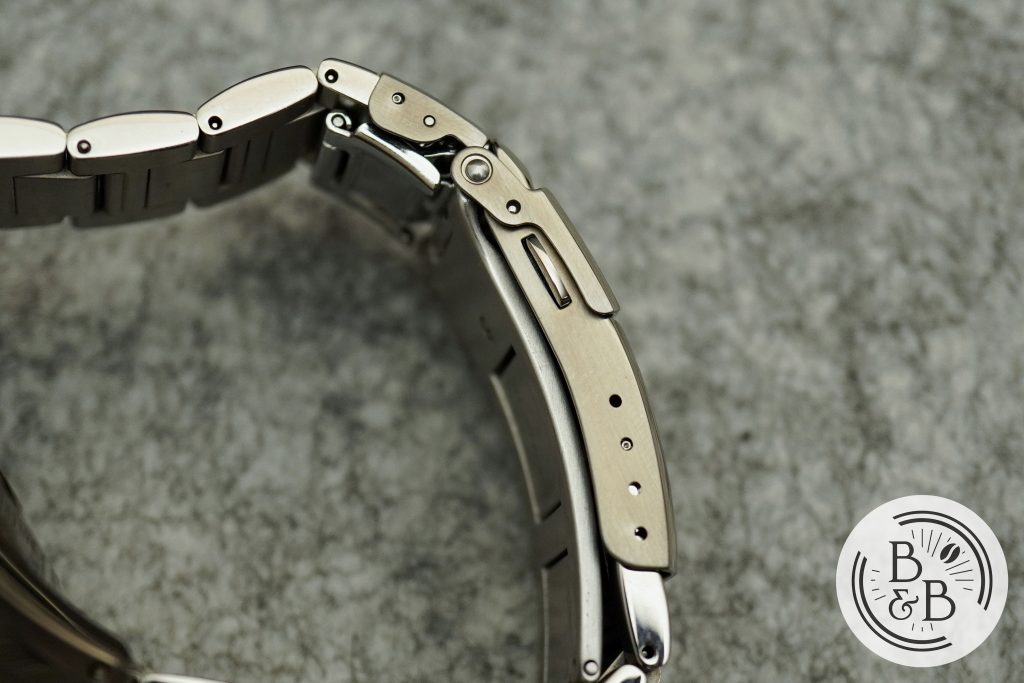 The clasp is surprisingly nice, with a good form factor, solid quality and good finishing. There is a divers extension neatly tucked away at the top of the clasp, and a few micro-adjustment slots. I'm very impressed with this bracelet and it is a big step up from a similar styled clasp on the SRPD01K1 Turtle that I recently reviewed.
---
On The Wrist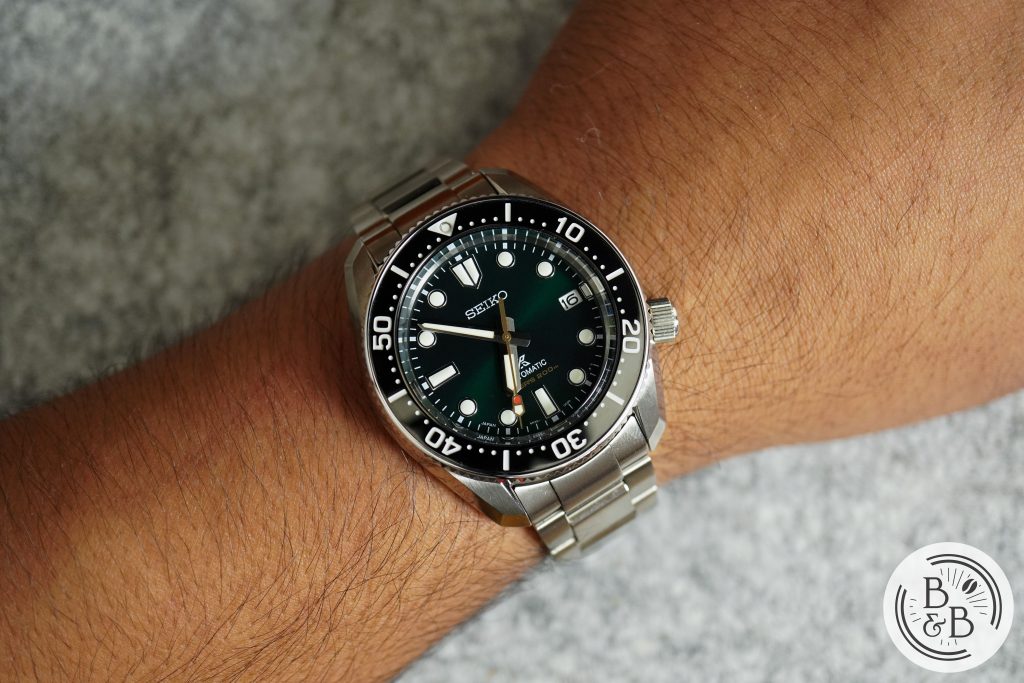 If you read or watch my reviews frequently, you must be asking yourself, "How is he letting that untidy dial slide? After all the macro footage we've been through together?!". And it just comes down to how this watch wears on my wrist. It feels fantastic, and I've been enjoying wearing this watch a lot more than I thought I would. The 41.75 mm by 48 mm dimensions just come together perfectly, and fit my 6.5″ wrist like a glove.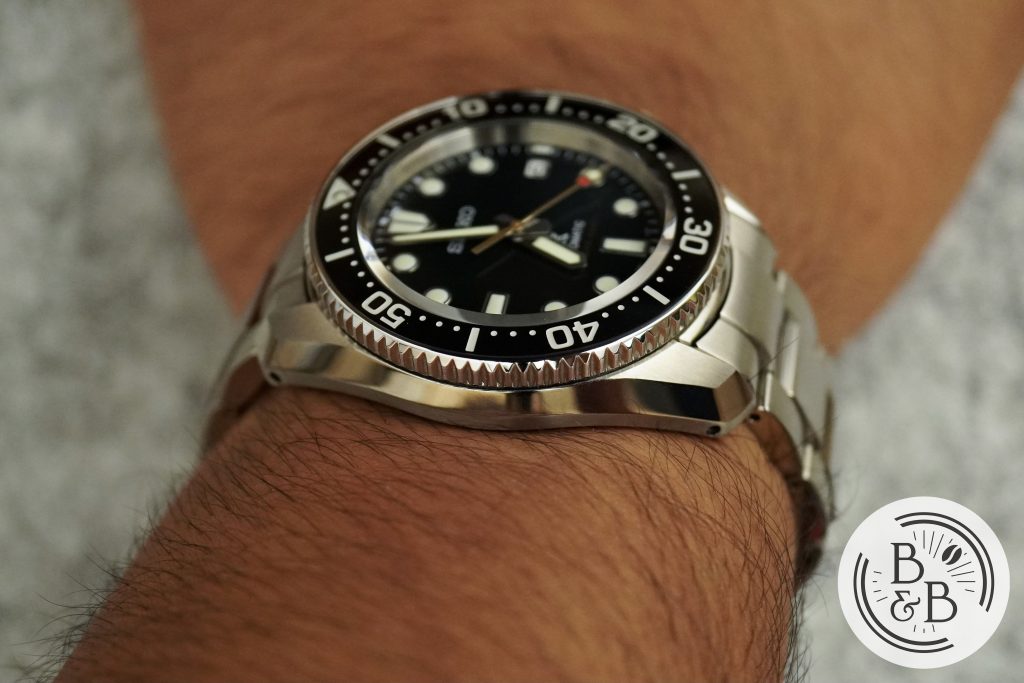 Don't be intimidated by any of these dimensions, as this watch wears a lot smaller than you would expect from any other similarly spec'd watch. I also appreciate Seiko trying to slim down their watches, and the 12.7 mm case height goes a long way in making this watch wear as good as it does. Just for contrast, their Presage Cocktail Time dress watches come in at around 12 mm, which is pretty ridiculous when you think about it.
---
Concluding Thoughts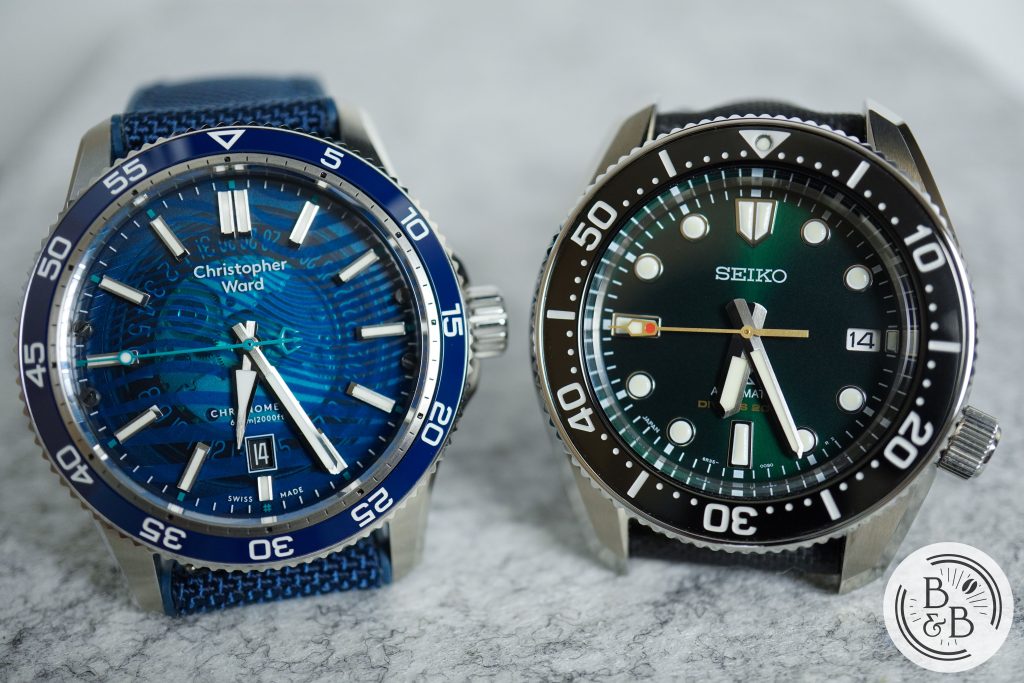 I'll wrap this up quickly – I like this watch, and I think this is one of the nicer Seiko releases in recent times. At $1350, it is on the pricier side of what this watch should cost, but I think the era of Seiko watches being the best value for your money are long behind us now. For $1090 (after $125 discount) you can get a COSC Certified Christopher Ward C60 #Tide with better finishing across the board, and still have $250 to spend elsewhere. But if you're someone that enjoys the brand, the Marine Master design, and doesn't have the wrist size or budget to pull of the Marine Master 300, look no further. This is one of the good ones, and it's not the worst Seiko you could buy with your money.
---
Strap Change
---
Thanks for reading!