---
Disclaimer: I borrowed this watch from a friend, who has kept it in excellent condition. But since this watch was worn/used, please make note that the experience might differ from that of a brand new watch.
---
---
Contents
---
Seiko Presage Cocktail Time
I talk a lot about affordable watches, and good automatic watches that are budget friendly. So it shouldn't have taken me this long to get to reviewing a Seiko watch, as they are arguably one of the most popular watch brands today. Before we get into this, I should make it known that I do like the brand. The second nice watch that I ever owned was a Seiko Premier Kinetic Perpetual Calendar, and I wore that watch everyday for about three years. And even 10 years later, that watch has held up nicely. At some point in the last couple of years, I did give Seiko another shot and bought an SKX009. I was not a fan, and ended up modding it and selling that watch after a couple of weeks.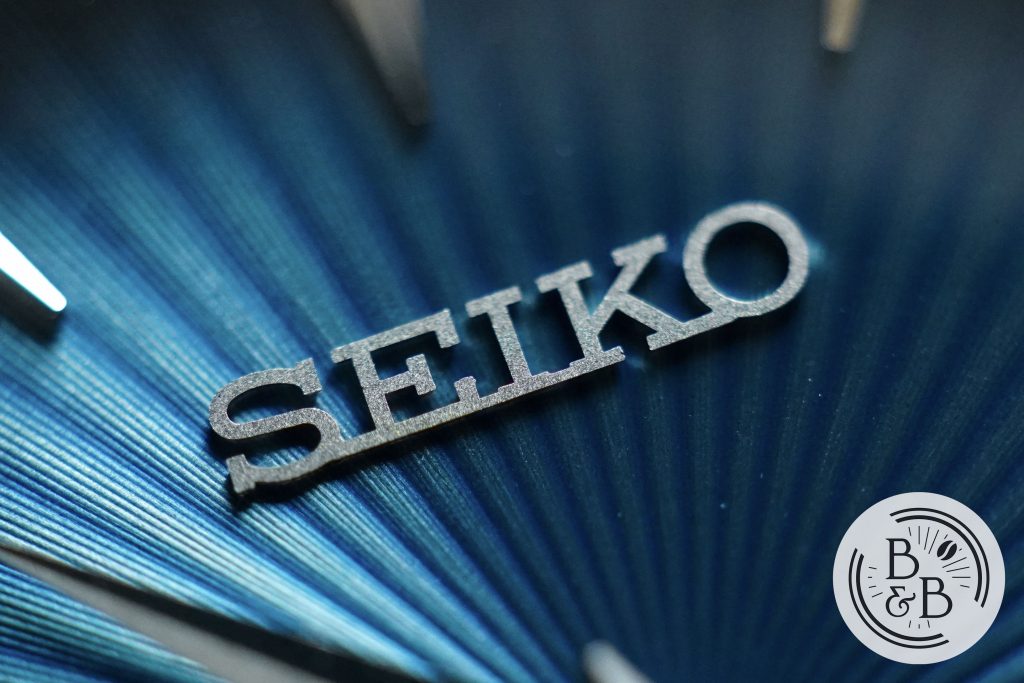 So I took my time trying to decide which Seiko watch I would like to feature here first. I decided I'd like to avoid their divers because they're often prone to QC issues like bezel and chapter ring misalignment, so I was on the lookout for one of their Presage pieces instead. I was fortunate enough that the same kind friend that loaned me his Sinn 104 also owned a Seiko Presage Cocktail Time SRPB41J1, and he was willing to loan me this one to check out too. So here we are, and while I do have mixed opinions about the brand today, I will attempt to be as objective as possible.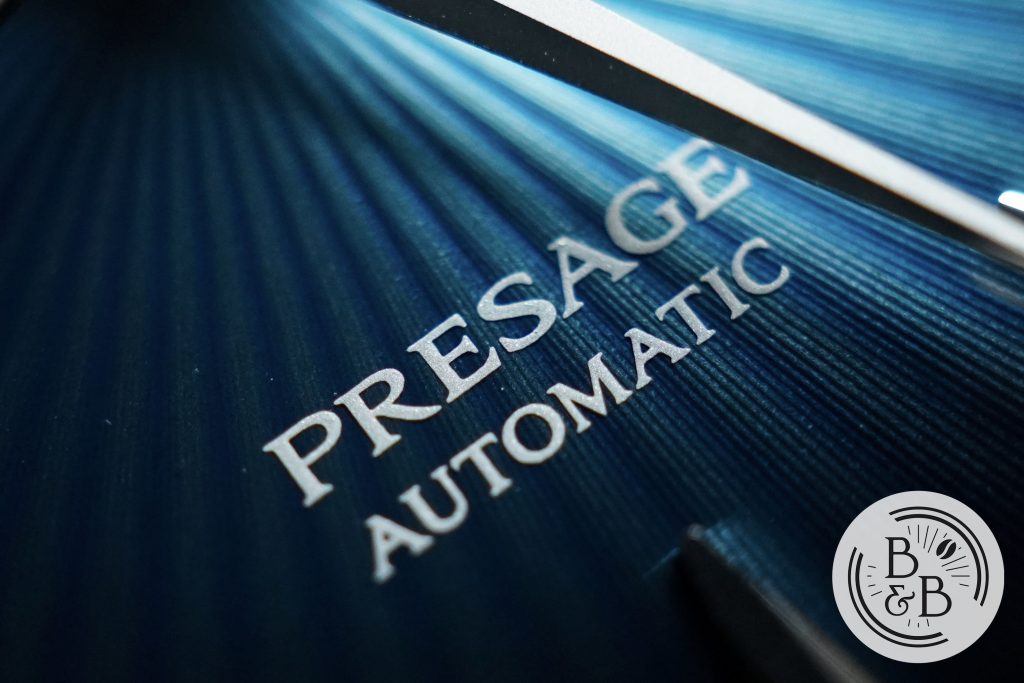 This watch has a list price of $450, but can be found for around $350.
Let's check it out!
---
Case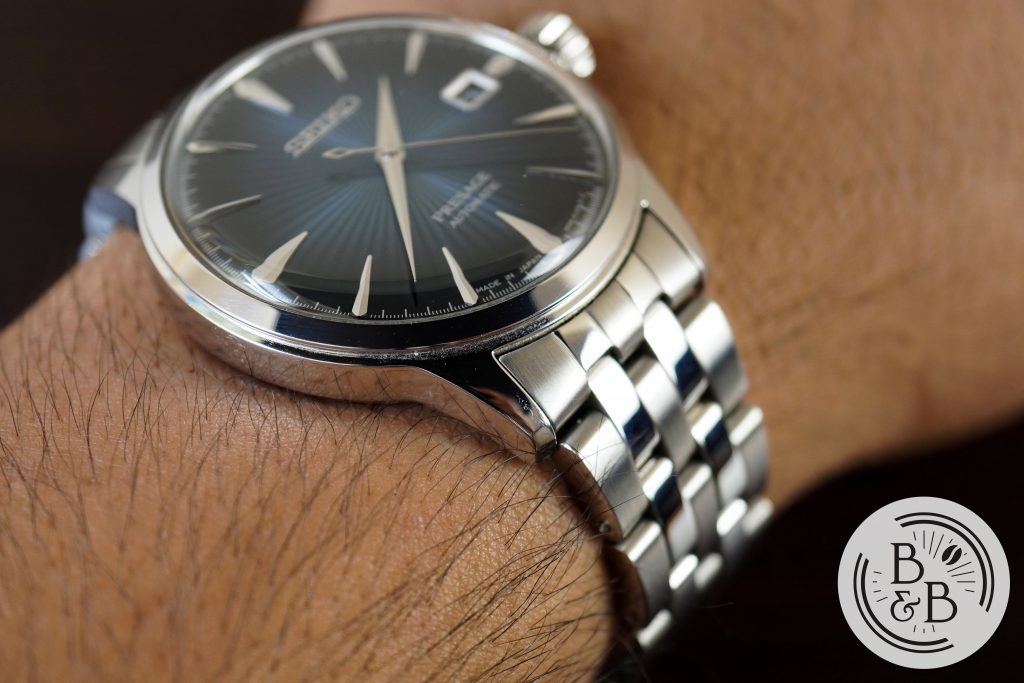 The case measures 40.5mm in diameter, 47mm from lug-to-lug and 12mm in height. The entire case is high polished stainless steel and the finishing is very good. I like the simple circular case shape, with the slim but sporty lugs.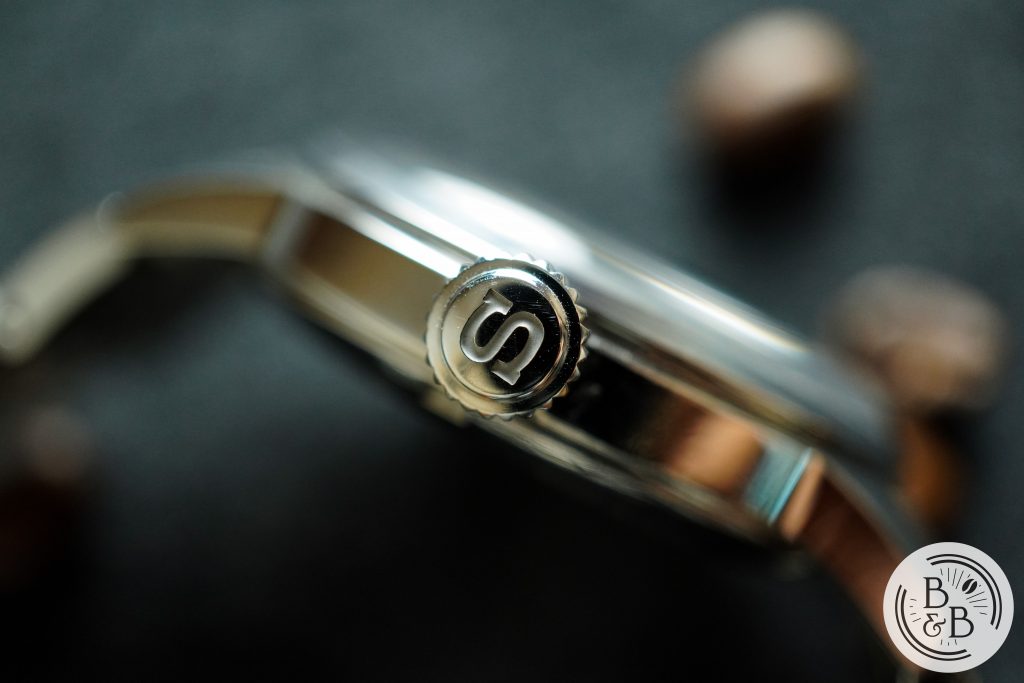 There is a very comfortable, and well proportioned signed crown at the 3 o'clock position. The ridges on the crown are excellent, and there isn't any crown or stem wobble. No complaints here whatsoever!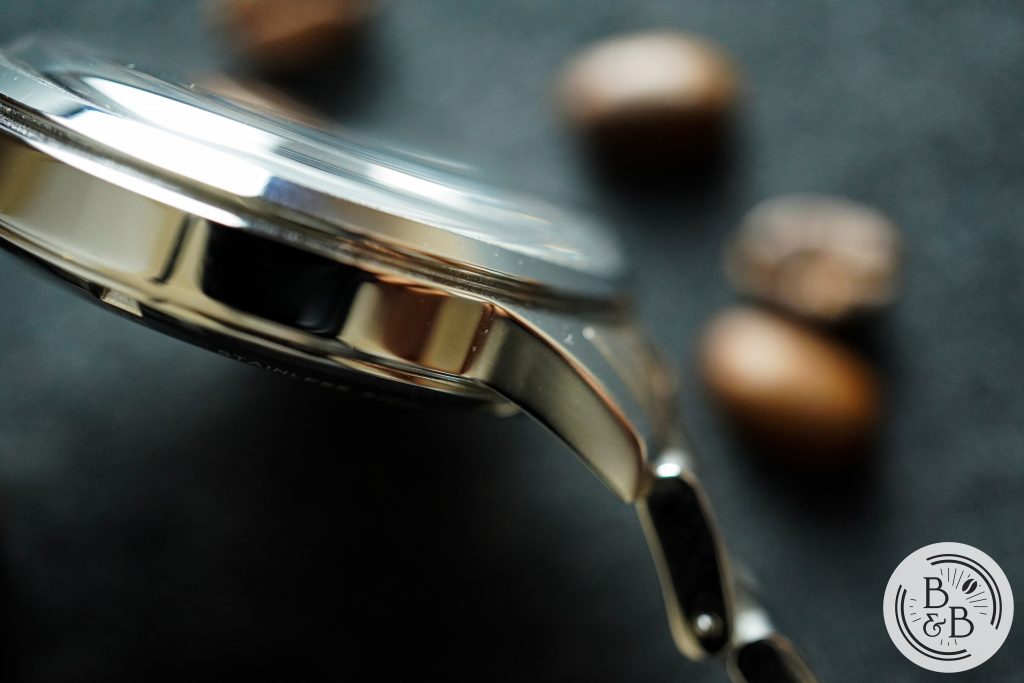 According to my guesstimation, at least 1.5mm of that 12mm height is occupied by the hardlex glass that sits upon the polished bezel. I don't want to make this a hardlex vs sapphire crystal debate, but I'll just say that I personally believe that this should have had a sapphire crystal instead.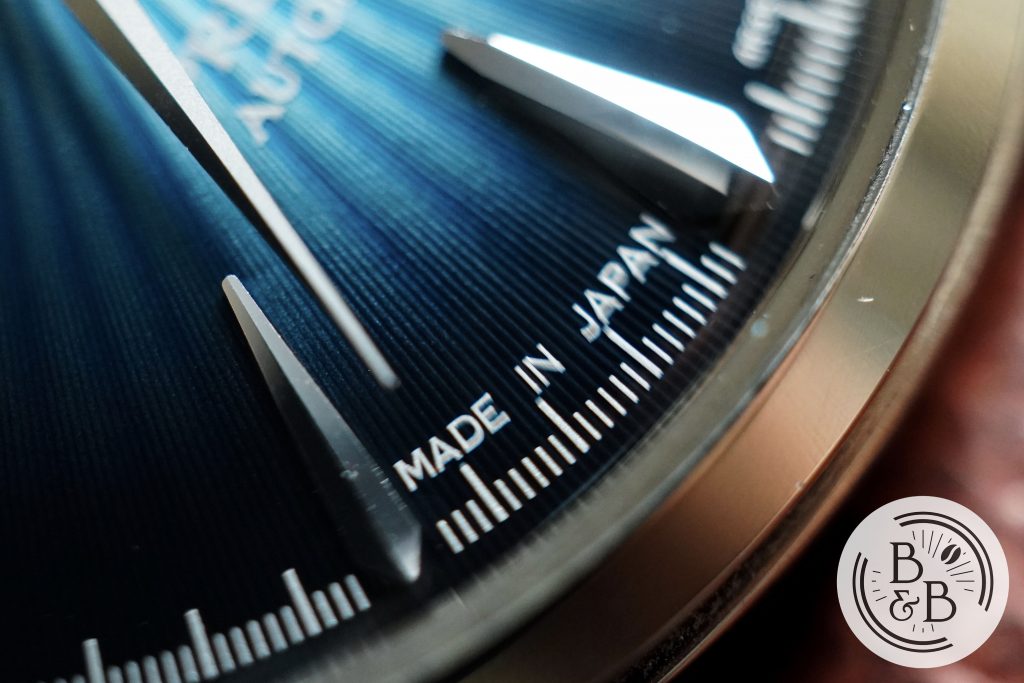 The crystal has some distortion at the edges, but this adds some character to the watch without making it difficult to read.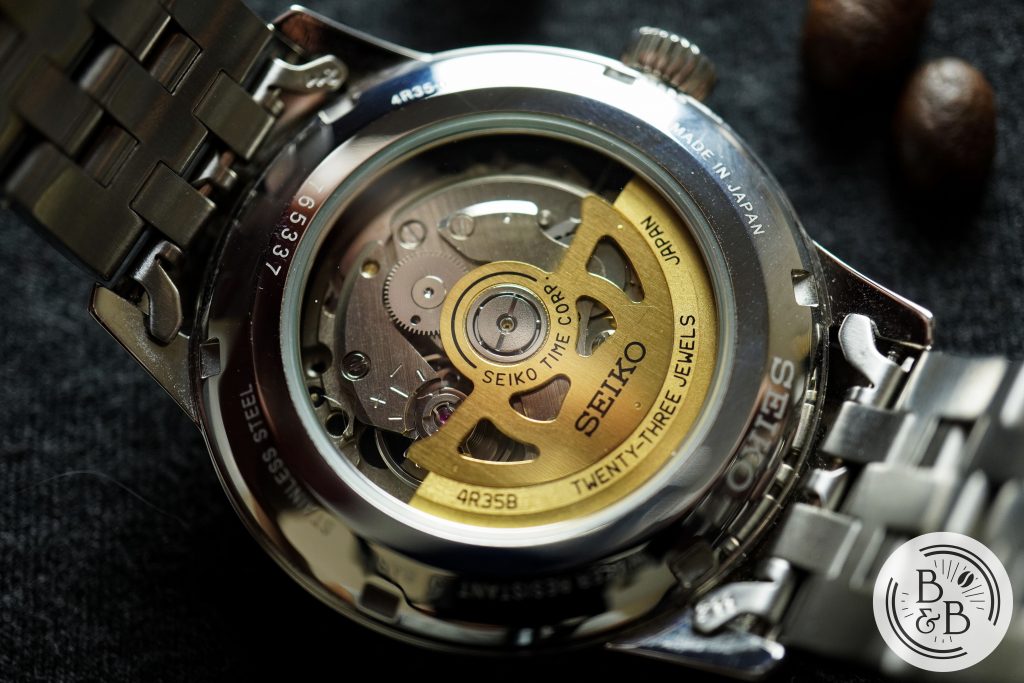 Flipping it over you have a screw down exhibition case-back that gives you a glimpse of the underwhelming but effective 6R35 movement. The crown does not screw into the case, and this watch is rated for up-to 50m of water resistance, which is reasonable for this category of watch.
---
Dial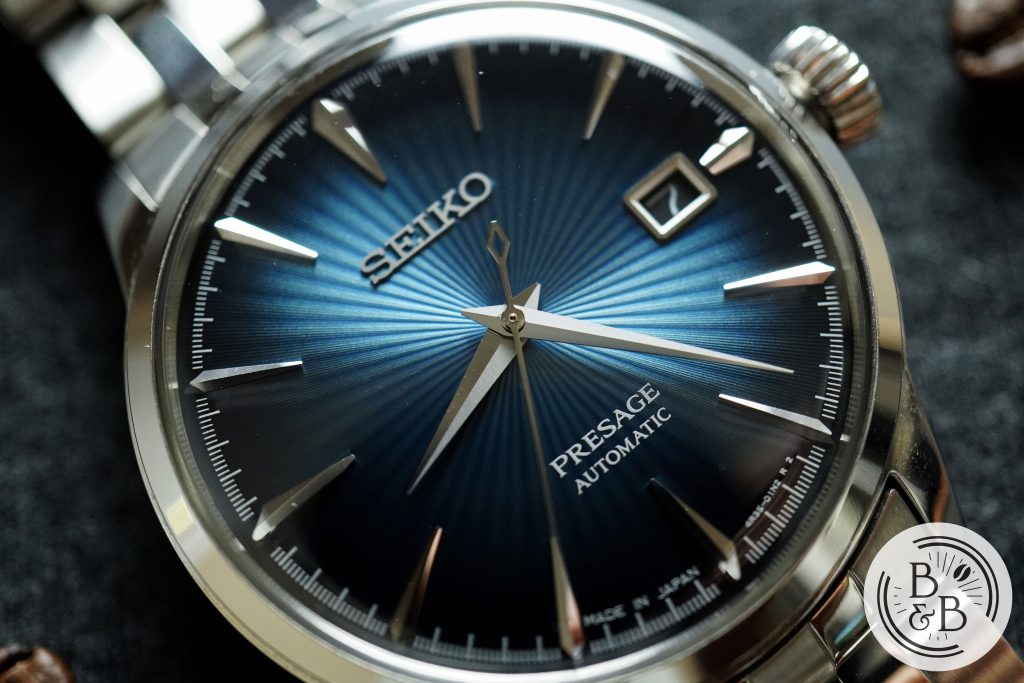 The dial is beautifully designed, and if there's one thing that Seiko has mastered over the years, it is designing some of the best looking dials in the business. They often use the Presage line to also experiment with beautiful new materials and finishing techniques, that draw inspiration from Japanese culture.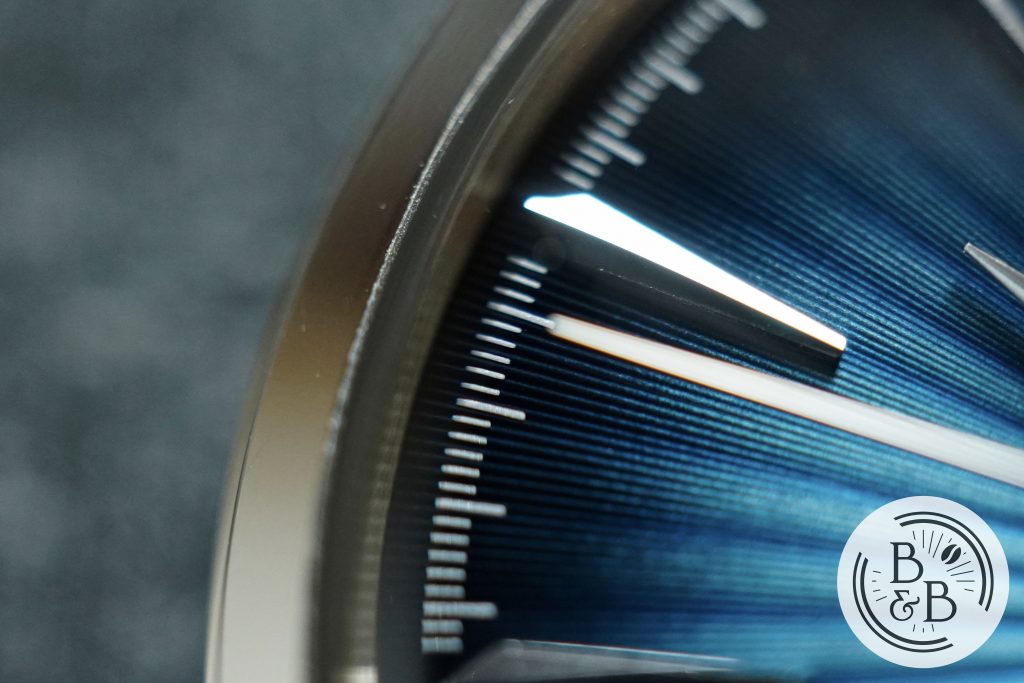 The Cocktail Time lineup have similar dial textures, but different colors. This is the Blue Moon variant, with a blue radial gradient. There is a neatly printed outer marker ring, with 5 small ticks between every two larger minute / seconds ticks.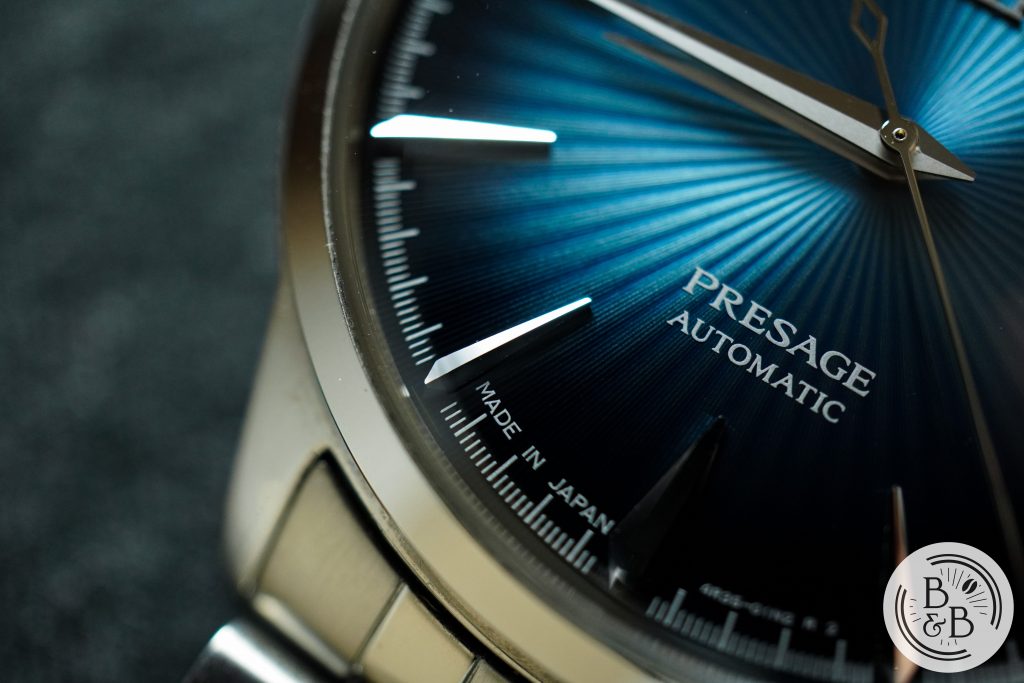 Moving inward, you then have a set of high polished stainless steel hour indices that have sharp angular surfaces that play with light beautifully.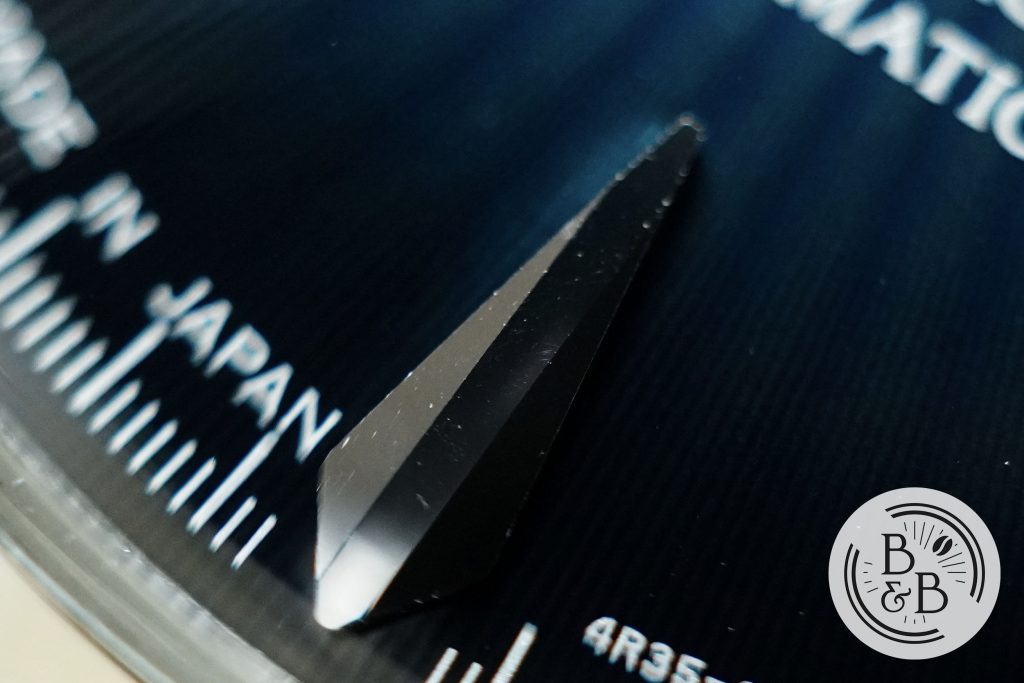 While these look amazing from a distance, closer inspection reveals very disappointing quality control.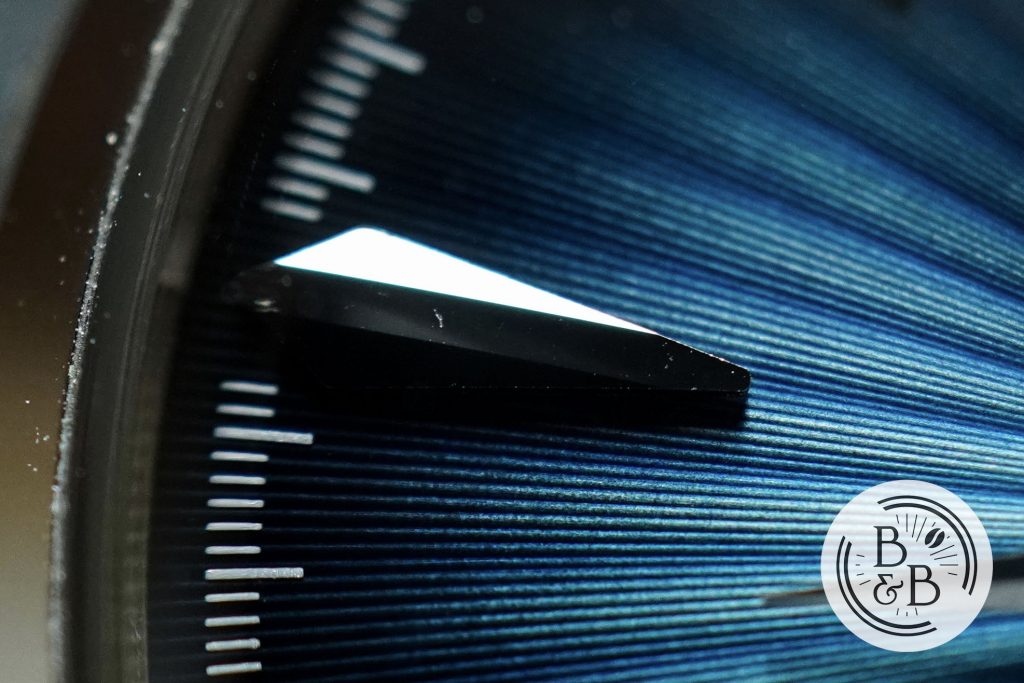 Almost all the indices have finishing irregularities, dirt and one of them even has a gouged surface. This is where someone says, "But it's only a $350 mass manufactured watch". And this is where I say to them, "So what?". A lot of micro-brands are delivering exponentially better finishing for the same price, and if someone is going to spend $350 of their hard earned money, I'd like for them to get the best possible watch their money can buy. And this dial is not the best your $350 can get you.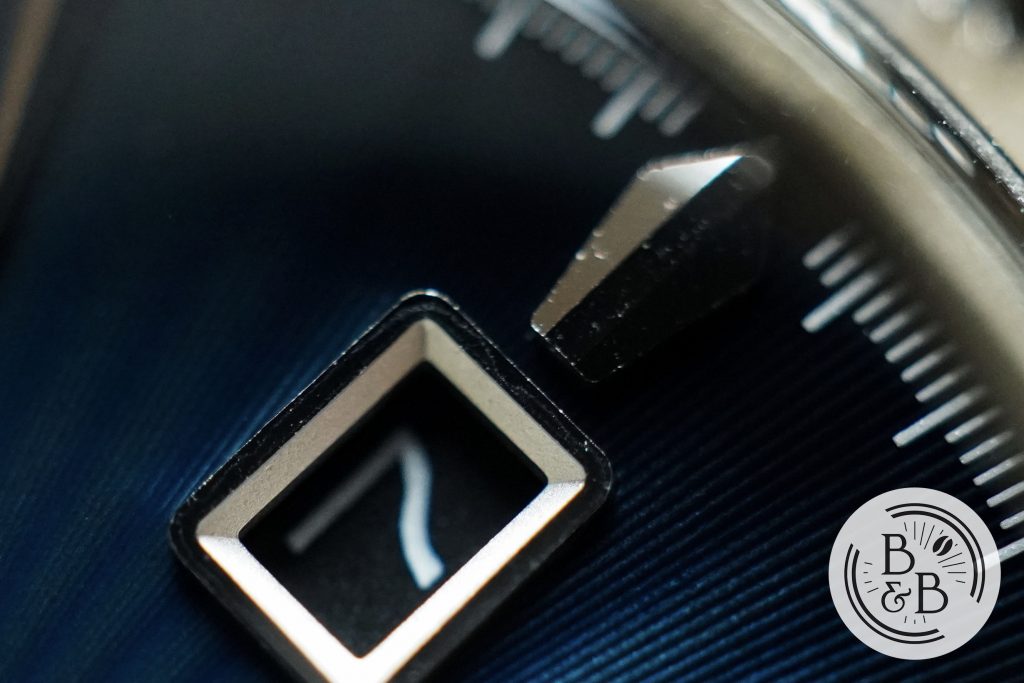 The 3 o'clock hour index is abruptly ended to make room for the framed date window. The date window has a black wheel and white text. I think this date wheel does a good job of staying inconspicuous, but once again, the finishing on and around this window leaves room for improvement.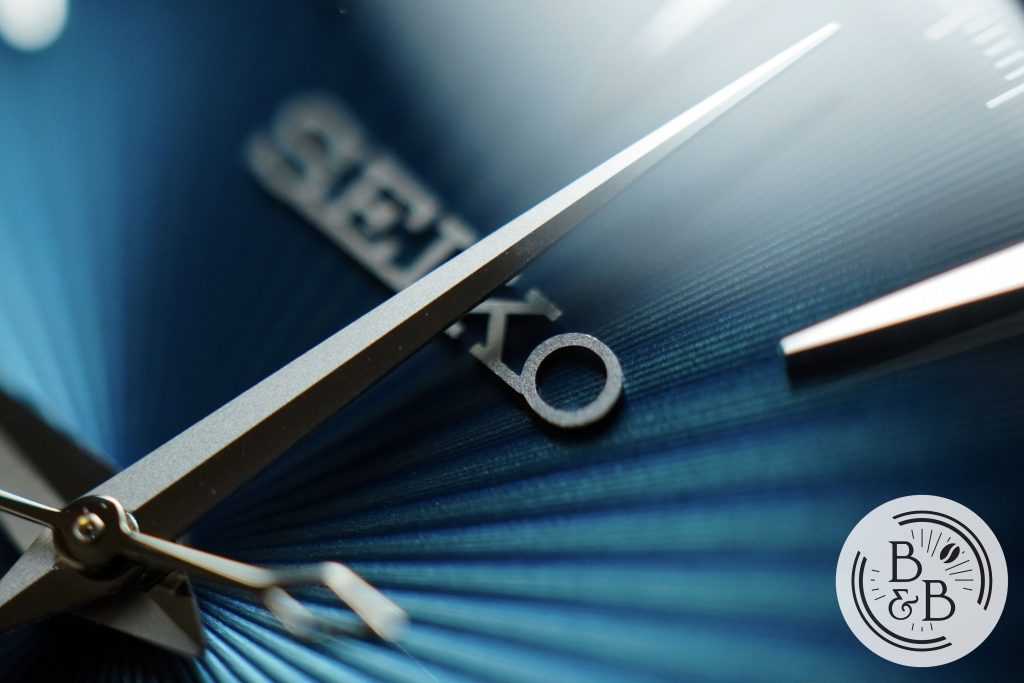 The hands are beautifully designed dauphine style high polished stainless steel hands. I couldn't think of a more perfect handset for this dial. The seconds hand and minute hands fall short of reaching the minute / seconds track, but this is a dress watch, so that's completely fine by me.
The finishing on hands is better than the indices, but not close to be perfect either, with some scratches and surface irregularities.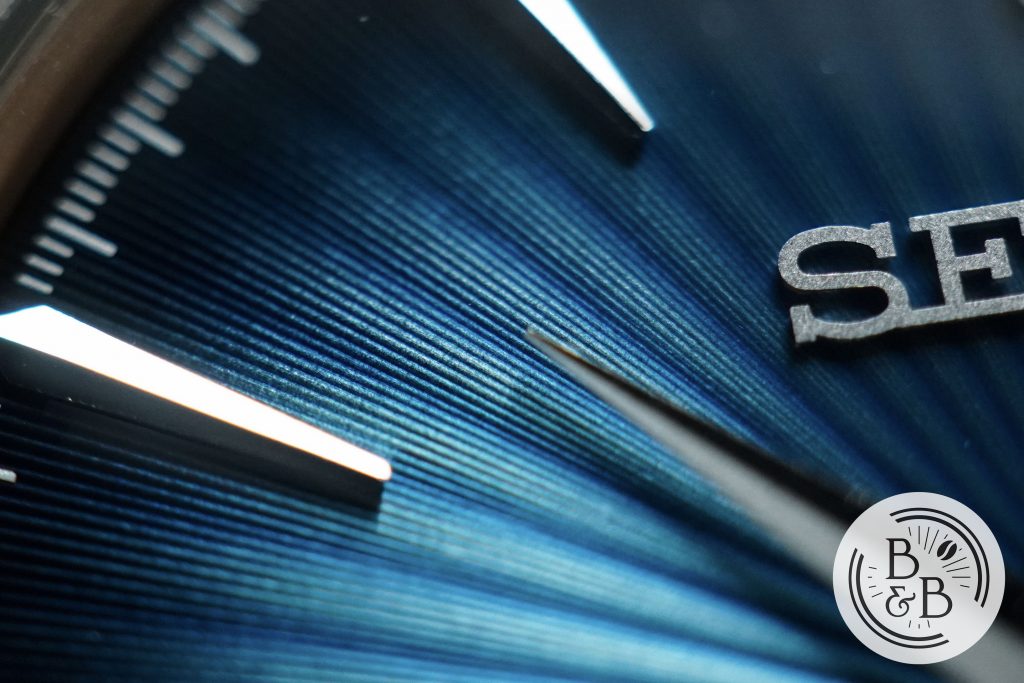 Imperfections aside, you are getting one of the best looking dials in the market. The base of this dial is stunning, and the texture and color is excellent. The sun-ray style ridges are well finished and the blue gradient is stunning to look at.
---
Bracelet
Watch enthusiasts complain about Seiko bracelets a lot. This goes all the way up the ladder through the Prospex line and into Grand Seiko as well. I do agree that Seiko has to offer more in terms of bracelets and clasps for their watches in the $750 category and upward. There just isn't that much improvement between this $350 Seiko and their $1250 Seikos.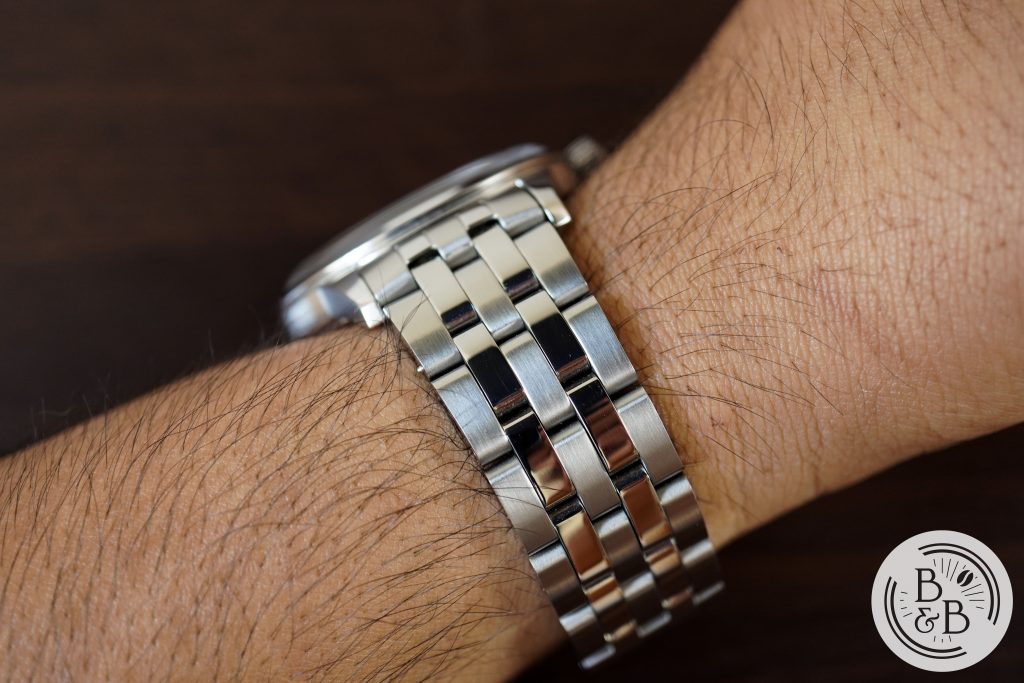 That said, for $350, this bracelet is actually very nice. The links are well machined and polished, with the two center links being high polished and the rest brushed. The butterfly clasp seems partially pressed and partially milled. The pressed pieces feel a bit flimsy, but no complaints for the price point. The links are push pin based, which is OK too, for the price.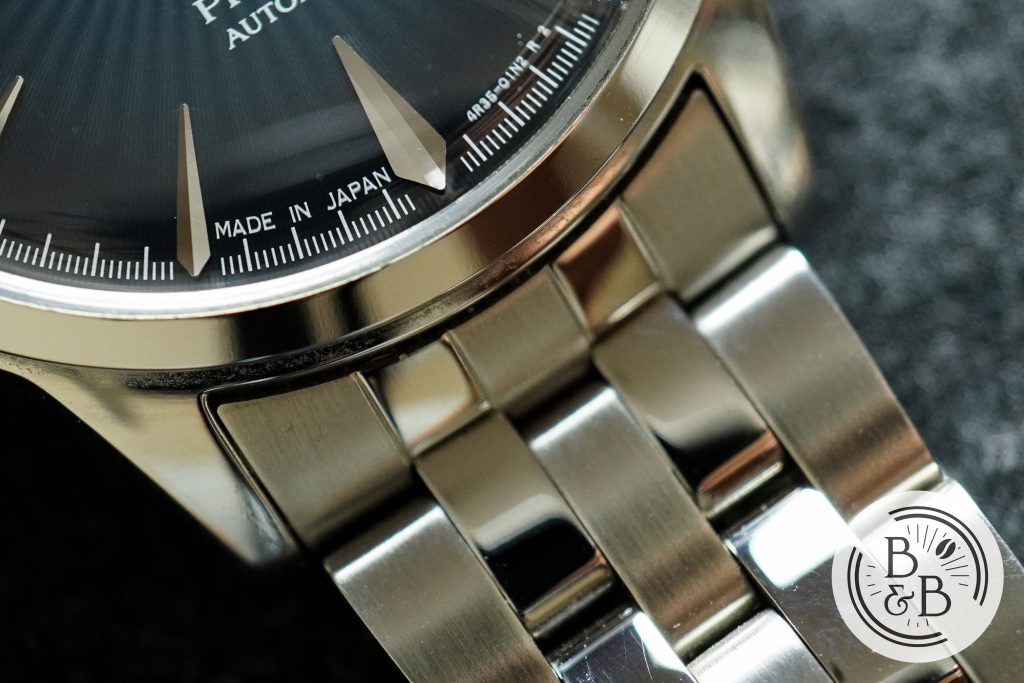 The end links are hollow, which was a bit disappointing, and the end link and case fitment was quite poor. There is about half a millimeter of horizontal wiggle, which is unacceptable now that $350 micro-brand divers can do this without any noticeable wiggle. The vertical fitment is perfect though… but #nomorewiggle.
---
Movement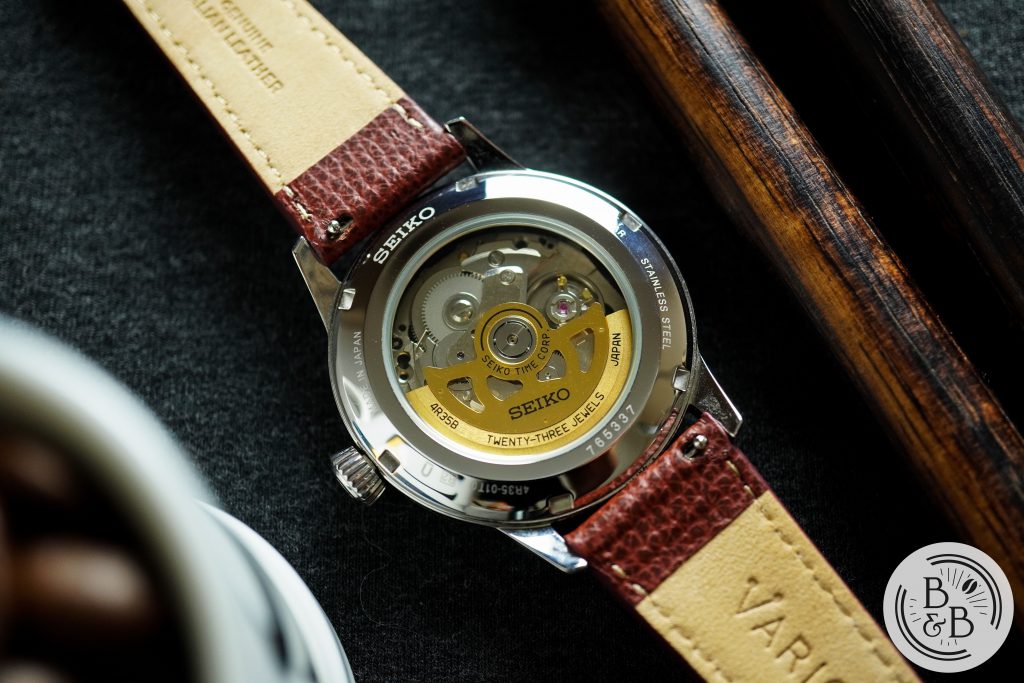 This watch uses Seiko's 4R35B movement, which I believe is the latest in the 4R35 movement family. I'm not a Seiko expert, but I also believe that this movement is the Seiko-only version of the NH35 that we're all so fond of here in the micro-brand universe. There are some differences between the movements because the 4R35B has 23 jewels whereas the NH35A is advertised to have 24 jewels. You can look at the spec sheet for the 4R35B here to learn more.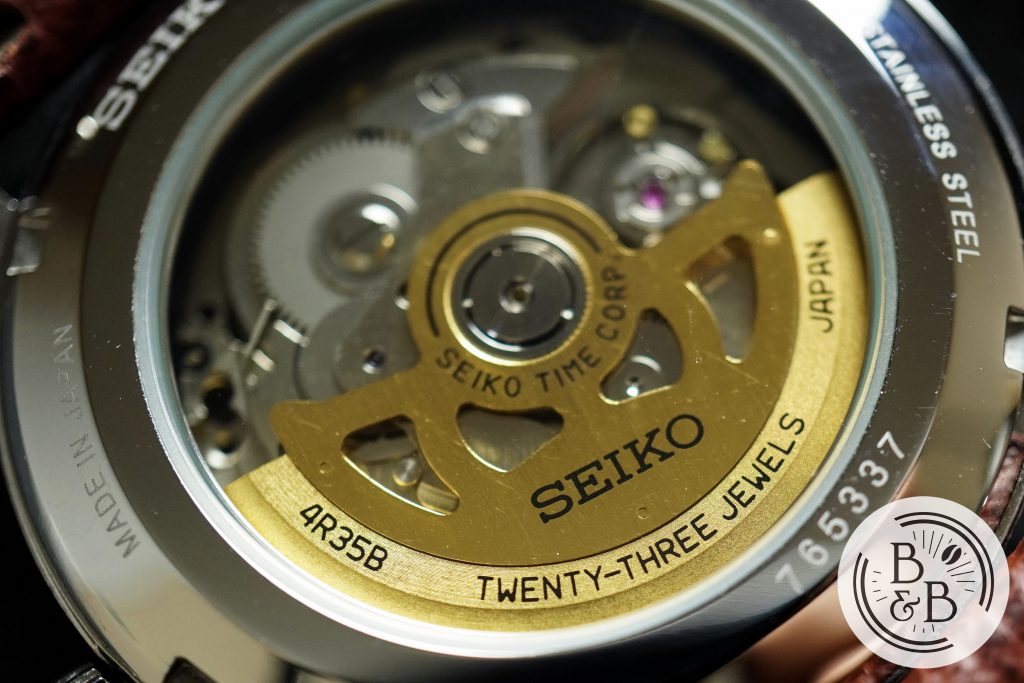 I logged the accuracy of this watch over a 36 hour period and observed roughly -9 spd. This is within their +45 / -35 operating range, so I'd say it's well regulated too. These movements are known to be quite polarizing, and I try to avoid NH35 movements as much as possible for my own collection, but there's no denying the incredible scale at which these movements are produced and how they've almost completely taken over the affordable automatic watch market.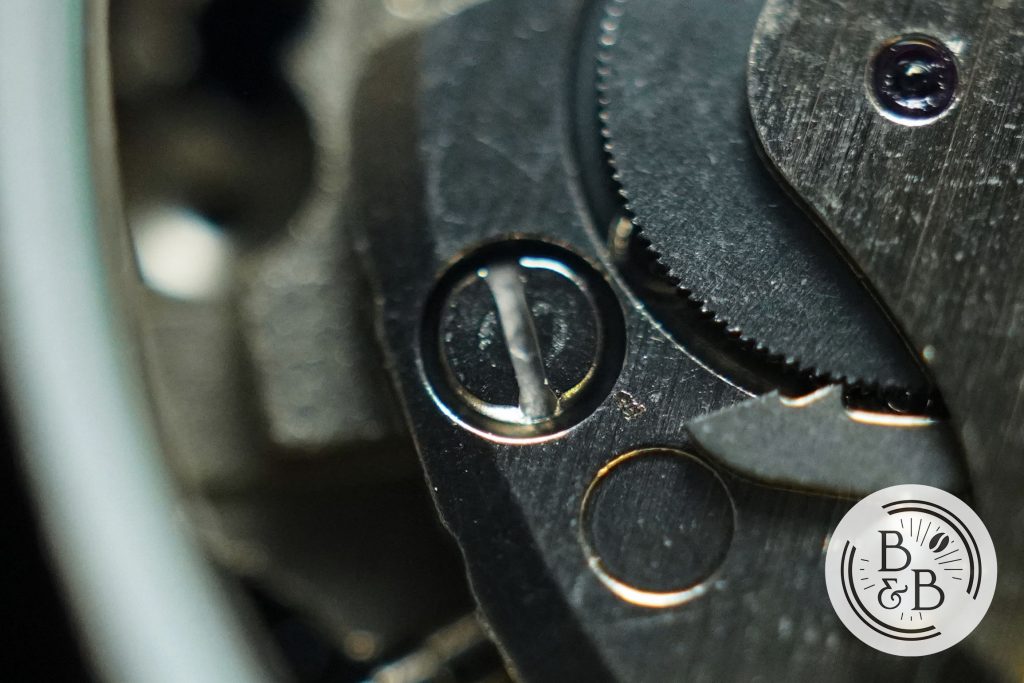 While I don't have a problem with the accuracy of this movement, I think the finishing is quite disappointing on this particular piece. There's tons of small scratch marks and micro-debris scattered around the movement, and it just doesn't live up to the fantastic Japanese QC that we hear about.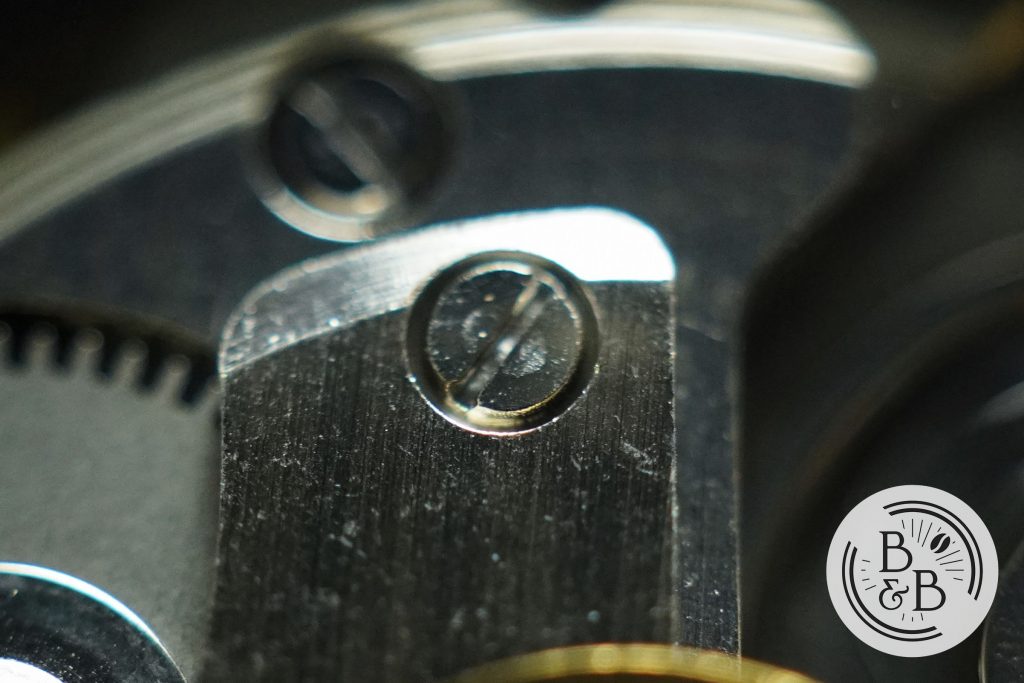 Again, I am aware how much this watch costs, but if you're going to put an exhibition window on it, I expect better.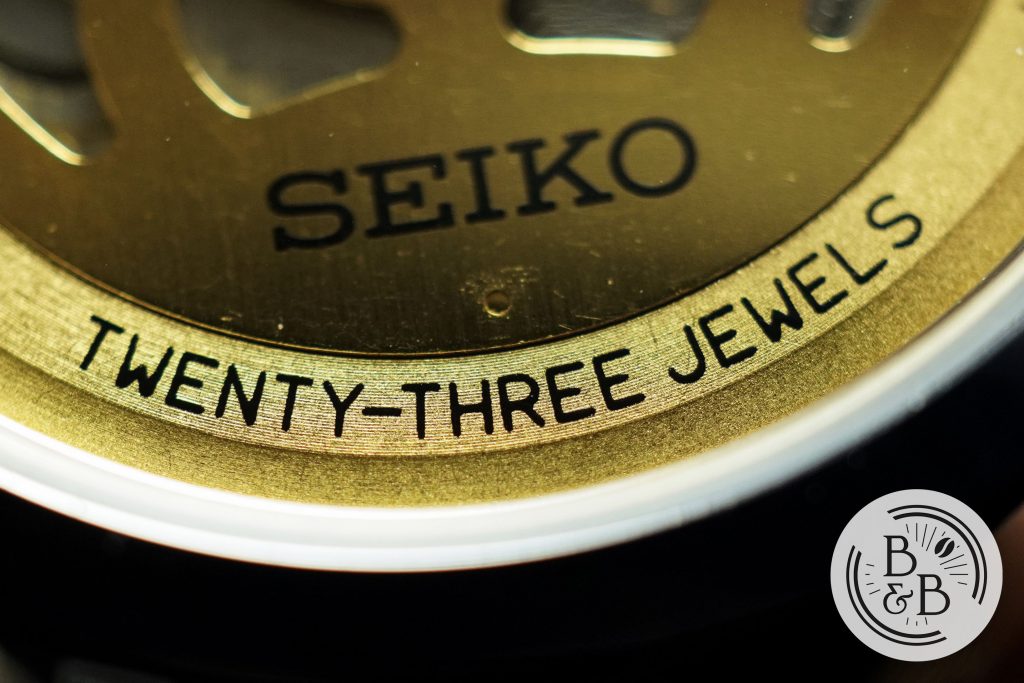 ---
On The Wrist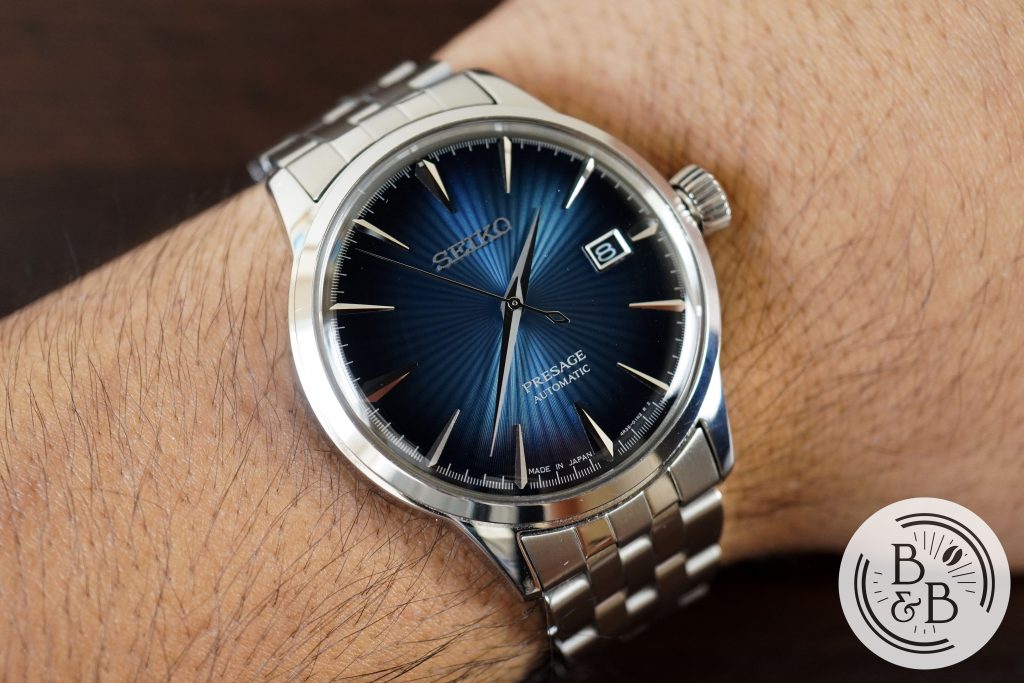 This watch is very comfortable on my 6.25″ wrist. This is essentially a dress watch, so it is reasonable to expect that it'll be slim, sit low on the wrist, and not be too large in diameter. The case is 40.5mm in diameter, 47mm from lug-to-lug and 12mm tall.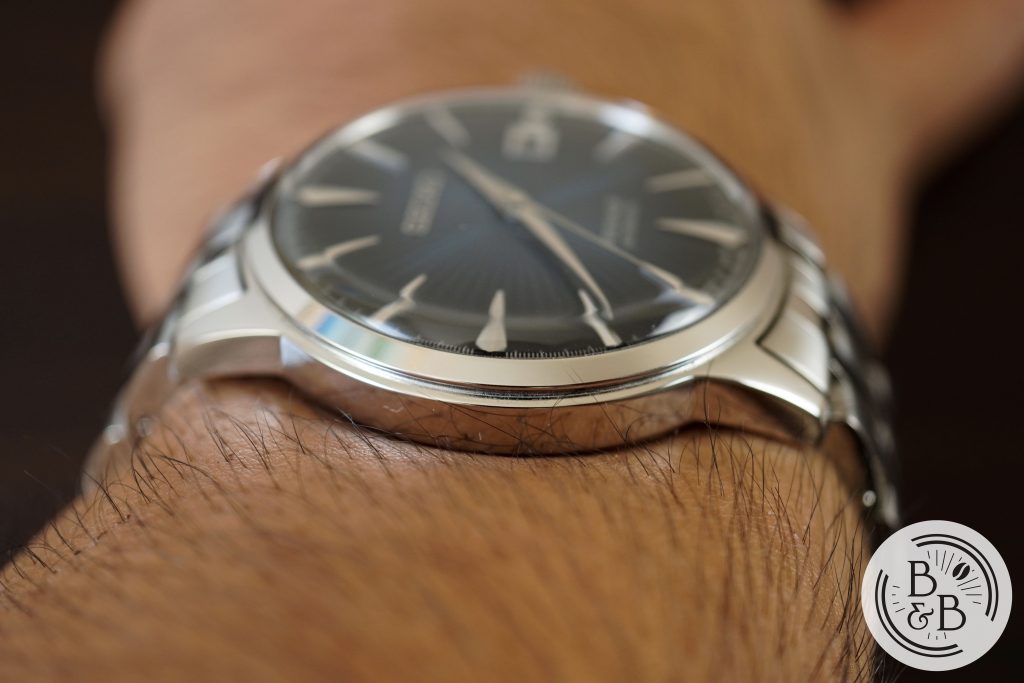 The 12mm height is a bit on the tall end of the spectrum for a simple dress watch like this, but Seiko movements are thicker than their Miyota counterparts so I suppose this is to be expected. This doesn't wear like most 12mm watches, so you don't have to be worried about the height too much.
---
Concluding Thoughts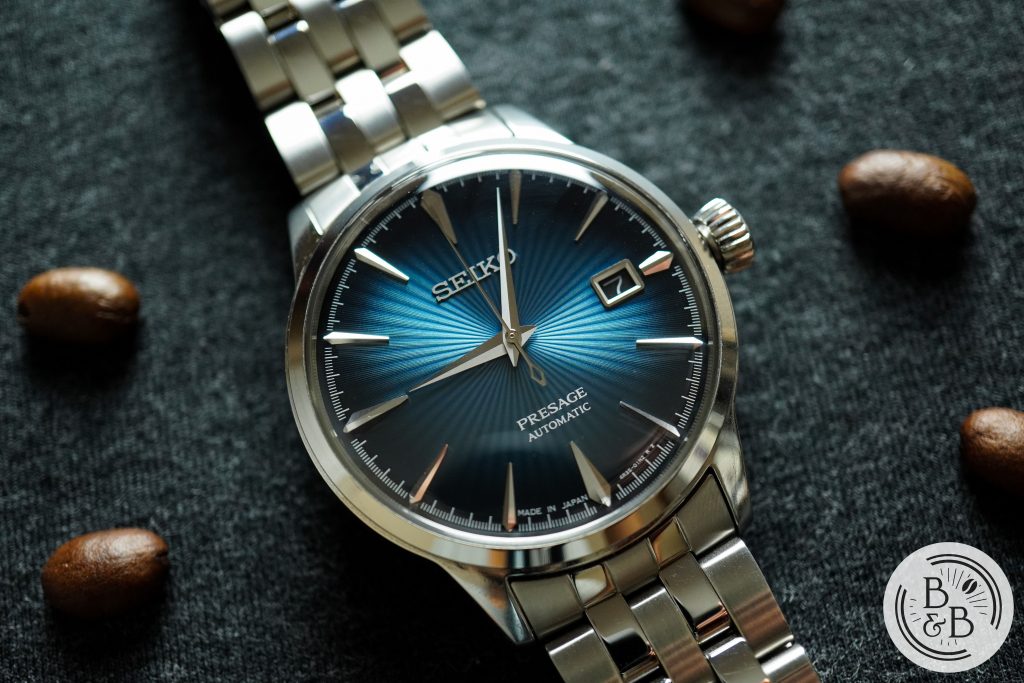 It is very possible that I've upset a few Seiko fans with this review, but I wanted to review one of these watches in the same manner I would any other watch that comes to me. That said, a lot of the value that Seiko delivers goes beyond just one particular watch and it's less than ideal finishing. They have a history of building reliable movements, a massive network of watch technicians who are well versed in regulating and maintaining these watches, and also a global retail network like no other.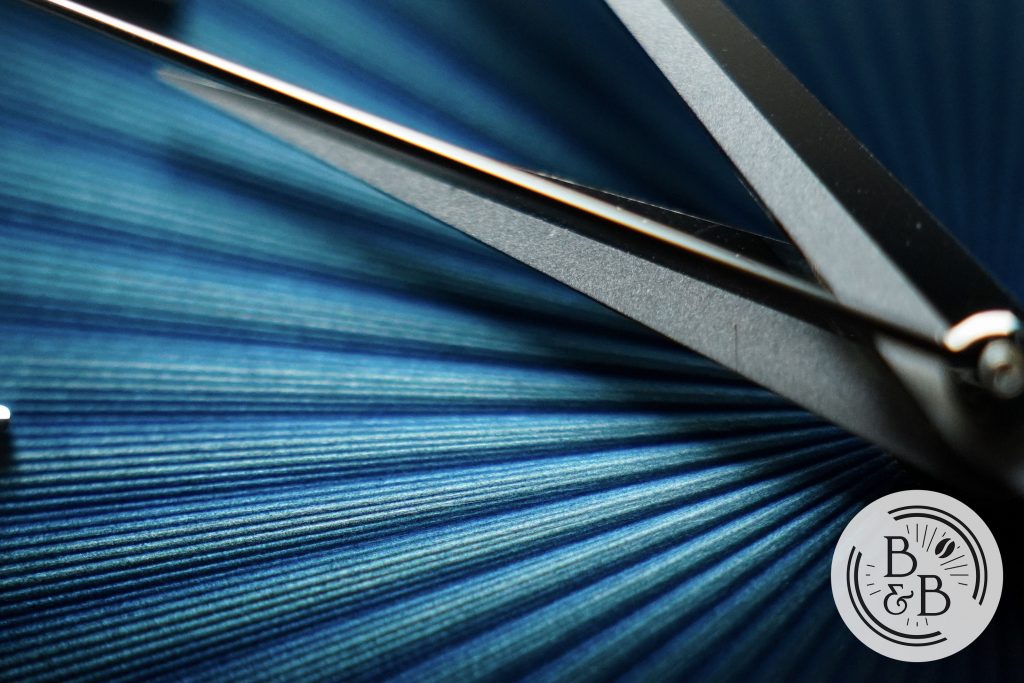 But when you objectively put these watches against others in their price range, it is easy to see that these watches may not, in fact, be the most incredible watches your money can buy. For good reasons, Seiko has developed a reputation of making watches that are 'worth' more than they 'cost', and in many cases I do agree. But with the rapidly growing micro-brand watch market, a lot of incredible watches are flooding the market that can hold their ground against watches like these, and in many cases, outshine them completely. In this category of sub-$400 dressy watches, I would not hesitate to propose the Vario Empire and Mitch Mason Chronicle as worthy contenders.
---
Strap Change
---
Thanks for reading!