---
Disclaimer: This watch was sent to me to review, and I was not incentivized in any way to make this review. This is in no way sponsored by Reise or any other entity. All opinions here are my own. Since this watch has been worn/used by other reviewers, please make note that the experience might differ from that of a brand new watch.
---
---
Contents
---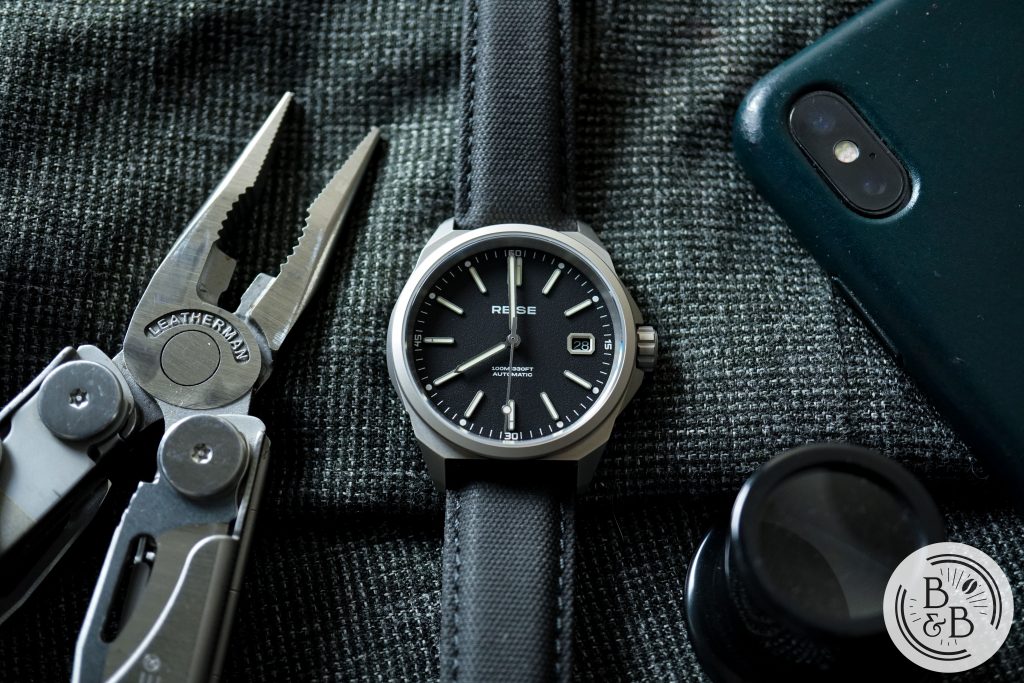 Reise Resolute
Reise (German pronunciation: rai-se) is a micro-brand based in Singapore, and is owned and operated by Travis Tan. Travis isn't new to the watch world and was previously associated with BOLDR watches and Travisleon watches. Reise is his latest venture, and the Resolute is their first offering. The Resolute will go live on Kickstarter sometime in August, and is being sold as the ultimate titanium field watch.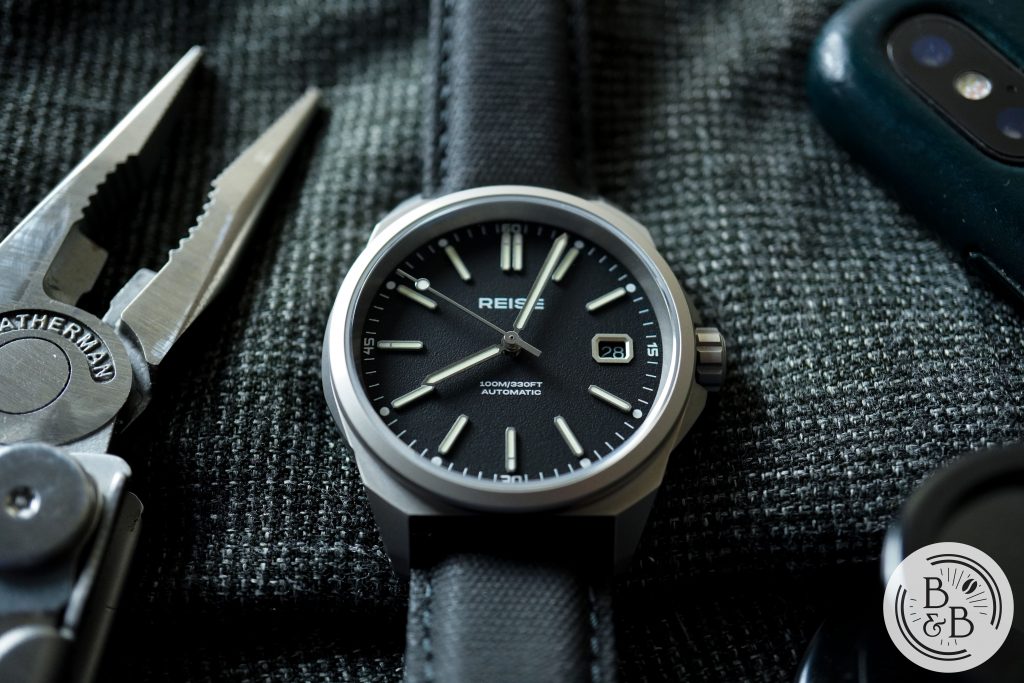 First, I'm going to be that annoying guy that raises his hand and says, "But actually… by the typical definition, field watches have Arabic numerals". But I also don't care, since this is in reality a tool watch, and a pretty awesome one at that. Different people have different definitions of what it takes to be a tool watch, because well… different tools exist for different tasks. But when I think of what I would like to see in a tool watch, here's what comes to mind:
I want something that is comfortable, and the Resolute delivers excellent proportions and weight, thanks to the Titanium case.
I want something that is easy to read – I prefer Arabic numerals, but the clear and easily discernible indices on the Resolute are fine too.
I want something that can resist any unusual environment that it is placed in – so good water resistance. The 100m WR on the Resolute is usually my cut-off.
I want something that can maintain it's original appearance for as long as possible – a sapphire crystal (non-negotiable), brushed or media-blasted instead of polished and a surface or material hardening is a big value add.
I want a movement that is both accurate and has a history of reliability – the Seiko NH35A in this watch isn't the most accurate, but it is hard to argue with the reliability of these movements.
And lastly, build quality. There's no point in having the best of specifications if the overall build quality is terrible.
I'm happy to report that this watch checks off almost all these boxes, and at the $299 Kickstarter price (and $259 & $279 for the very early bird prices), I think that this watch delivers an incredible amount of value at that price and is an easy addition to a large collection or an excellent decision for a first watch.
Let's take a look!
---
Case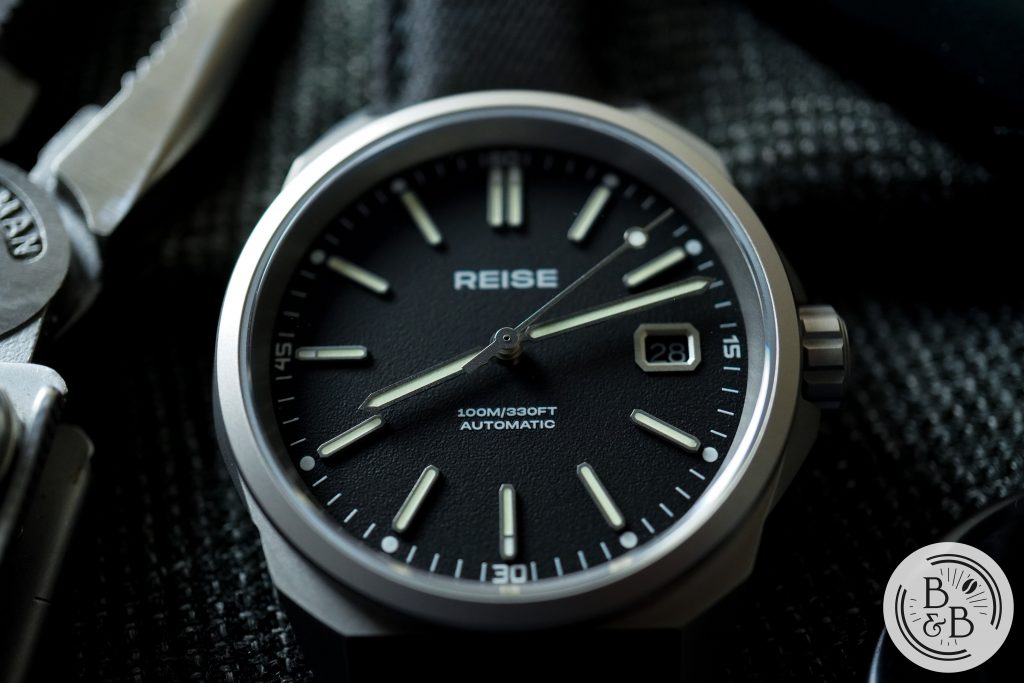 The case is made of Titanium and appears to be media (bead) blasted. The Titanium is then coated with what they call an UltraHEX coating, that gives it a Vickers rating of about 1200Hv, roughly 6-8x that of regular 316L stainless steel. I believe Traska do something similar on their Freediver that I reviewed a while ago.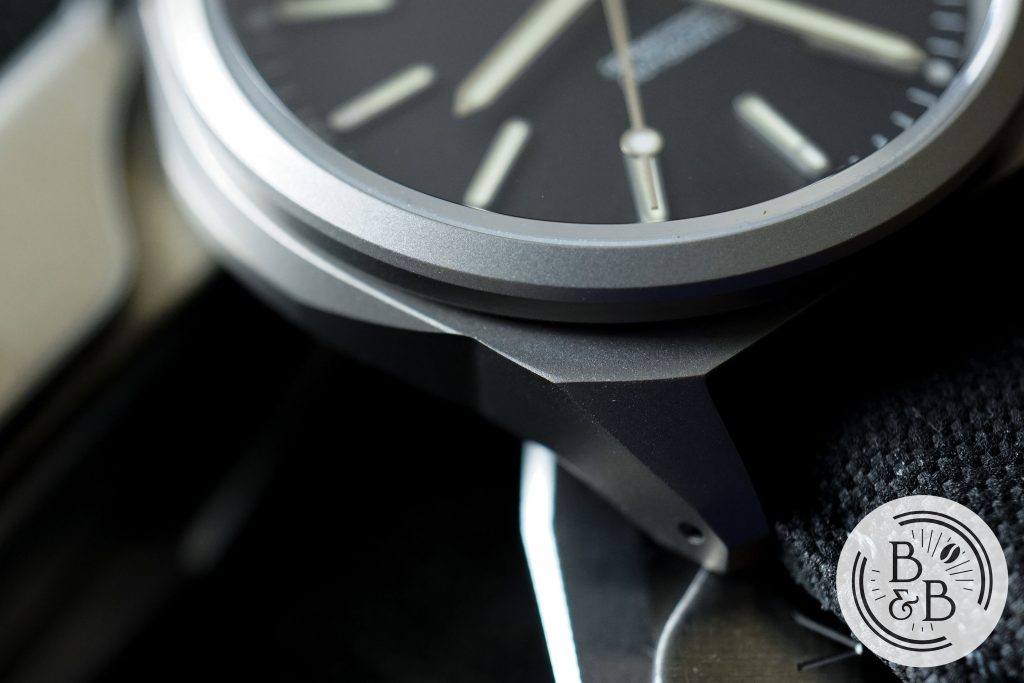 I love the angular case design, it has a very militaristic and tactical aesthetic. If you're a fan of Christopher Nolan's Batman trilogy, this watch will remind you of Christian Bale's polarizing bat-mobile, a.k.a the Tumbler, which was designed to be a monstrous crossbreed of a Lamborghini and a Tank. There's not a smoothly curved surface to be found on the case and I love it! Interestingly, the bezel also extends out of the case by a fraction of a millimeter, like on the Limes Endurance GMT. In many ways, this watch is like a distant relative of the Endurance.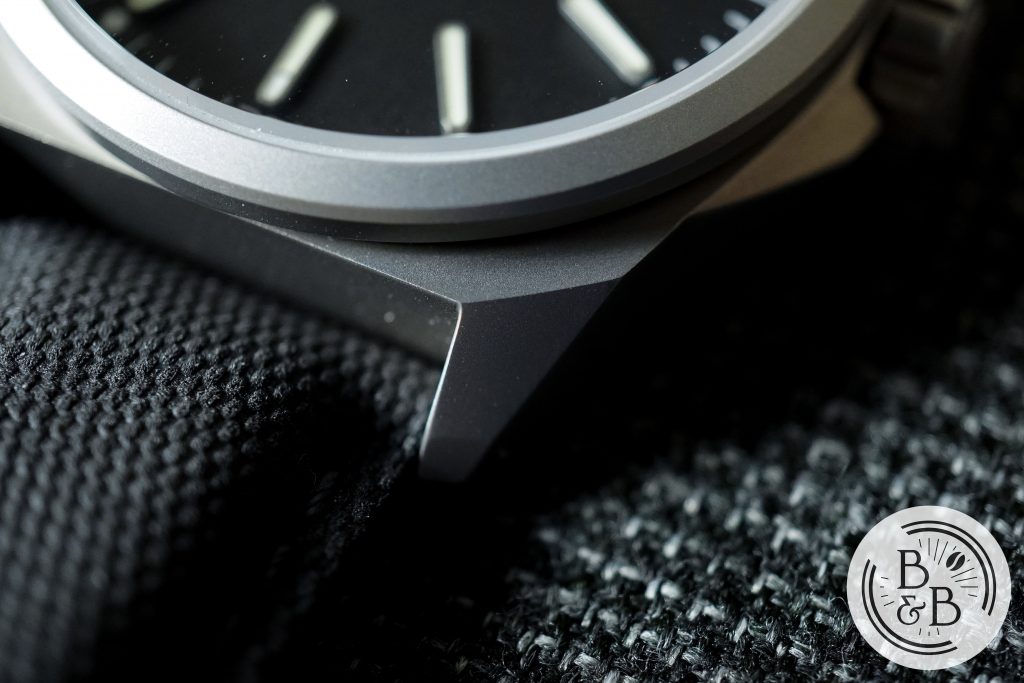 The short, angled lugs are a pleasure to look at but are also functional, with drilled through lugs, allowing for a quick an easy strap change.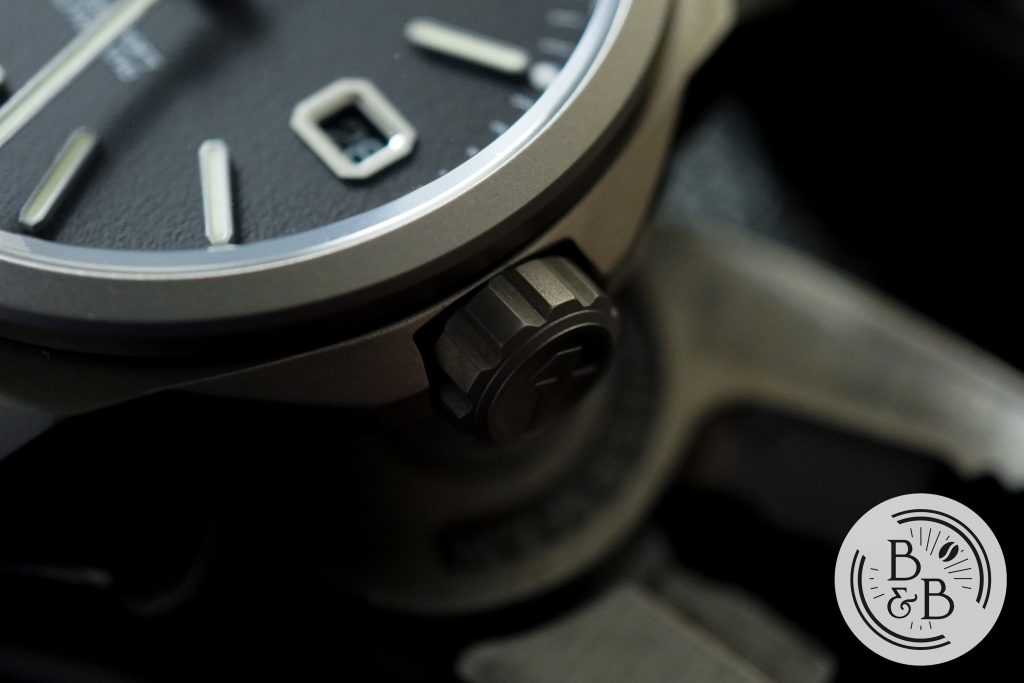 The crown is very well proportioned and is easy to grip thanks to the deep and large ridges. The crown and stem operating experience is good, and is among the better Seiko NH35 based watches I've reviewed. There isn't any crown or stem wobble, which is impressive for the price.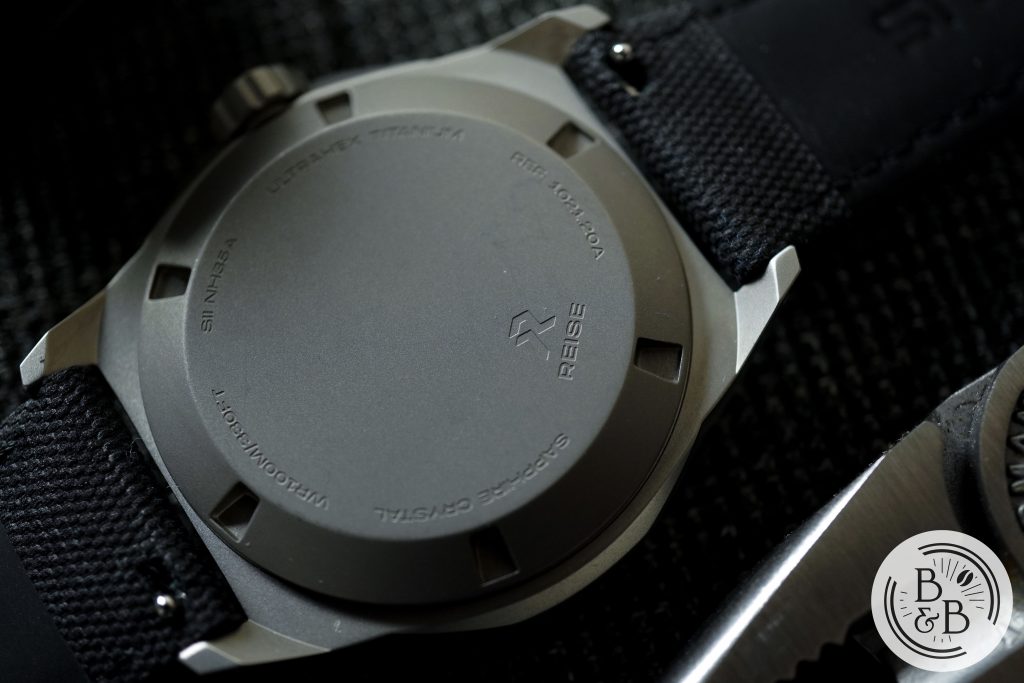 The case-back is a solid titanium case-back with the brand's logo and a few basic specifications engraved onto it. I'm glad they didn't attempt an exhibition window. This is perfect! The case-back is slightly darker than the rest of the case and I suspect the Ultra-hex coating isn't applied here as the case-back has a few minor surface scratches. Both the case-back and crown screw down and allow the watch to be rated for up-to 100m of water resistance. The crystal is a flat sapphire crystal with a layer of AR coating on the bottom surface. I would've liked to see a layer or two on the top as well because it does occasionally pick up reflections.
---
Dial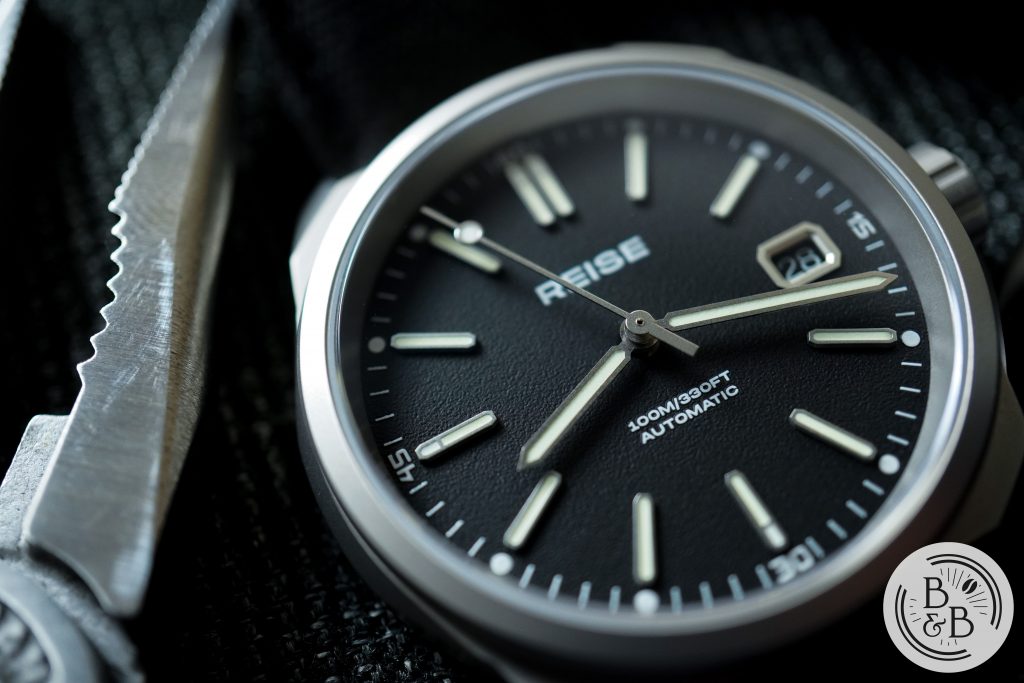 The base of the dial appears to be sandblasted / beadblasted and painted, and has a very interesting texture. I was sent the black dial variant, but they also offer this in some more interesting color burst patterns – in blue, green and gray. By now you must know that I'm a sucker for blue watches, but personally I think the gray is the best looking option of the lot.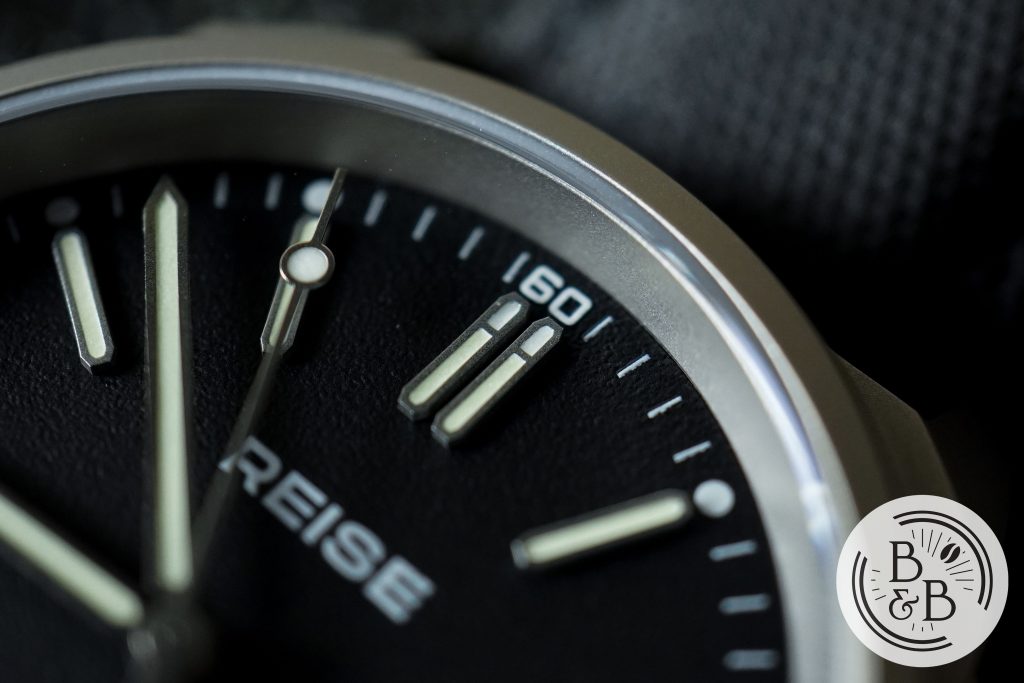 The outer seconds / minute track is executed very well for a tool watch, and is a combination of lumed arabic numerals, ticks and lumed circular accents.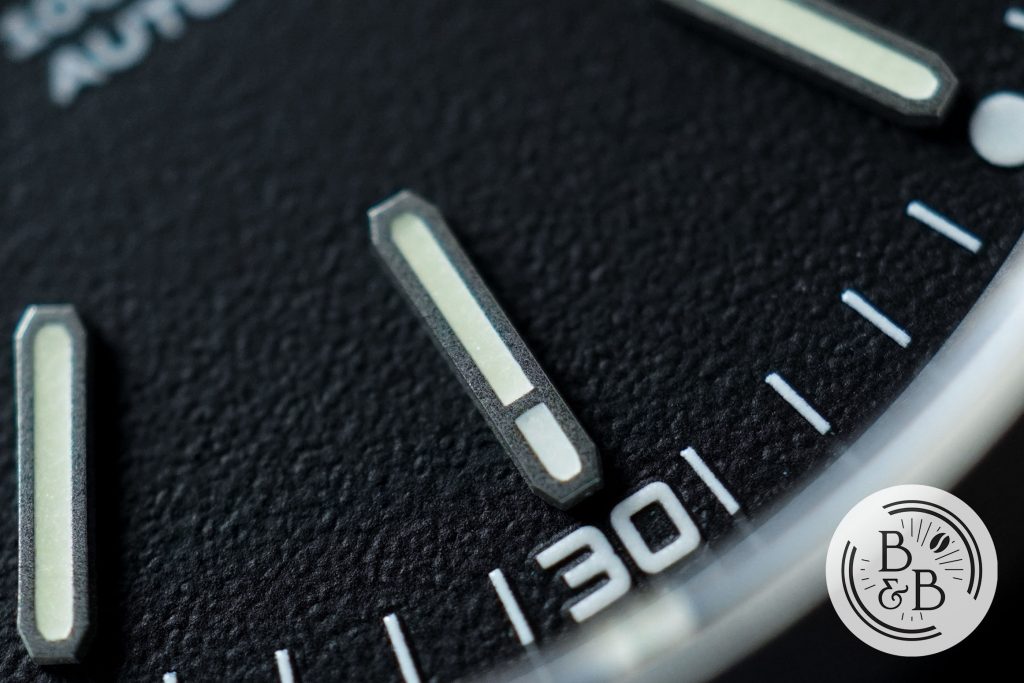 The applied indices are filled with lume, and have bi-color split indices at the 6, 9 and 12 positions. These indices are filled with both BGW9 (blue) and C3 (green) Super-LumiNova. The application of the indices is well done and they appear to be finished very well.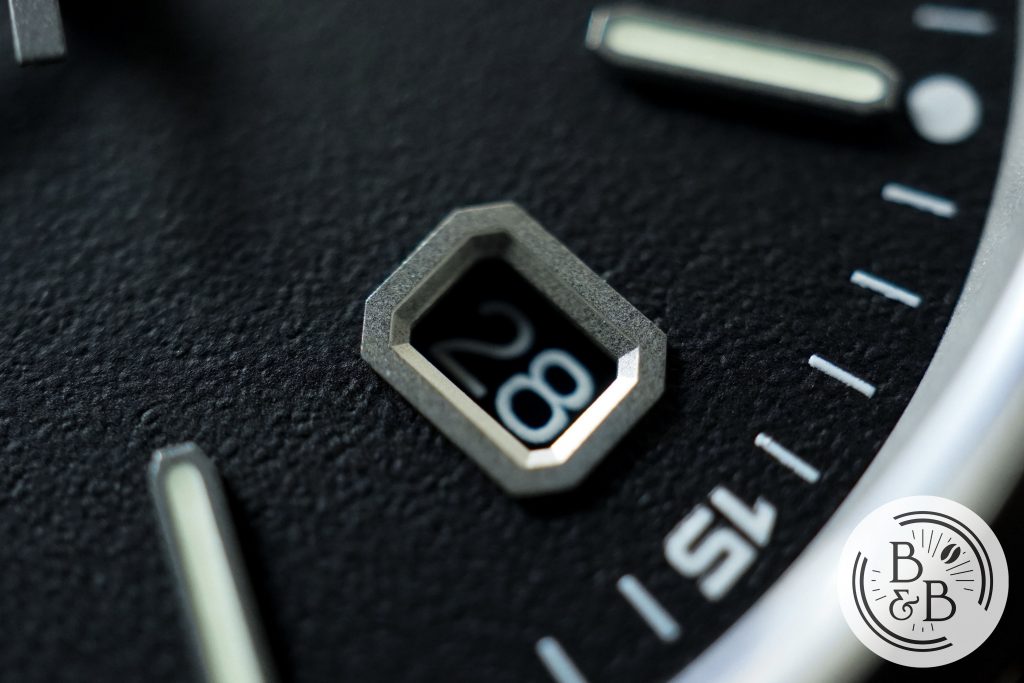 The date window execution is terrific. The framed date window continues the design aesthetic of the indices and the frame is made of the same material and finished similarly. This watch gets extra points for the color matched date wheels, even on their more exotic dial colors.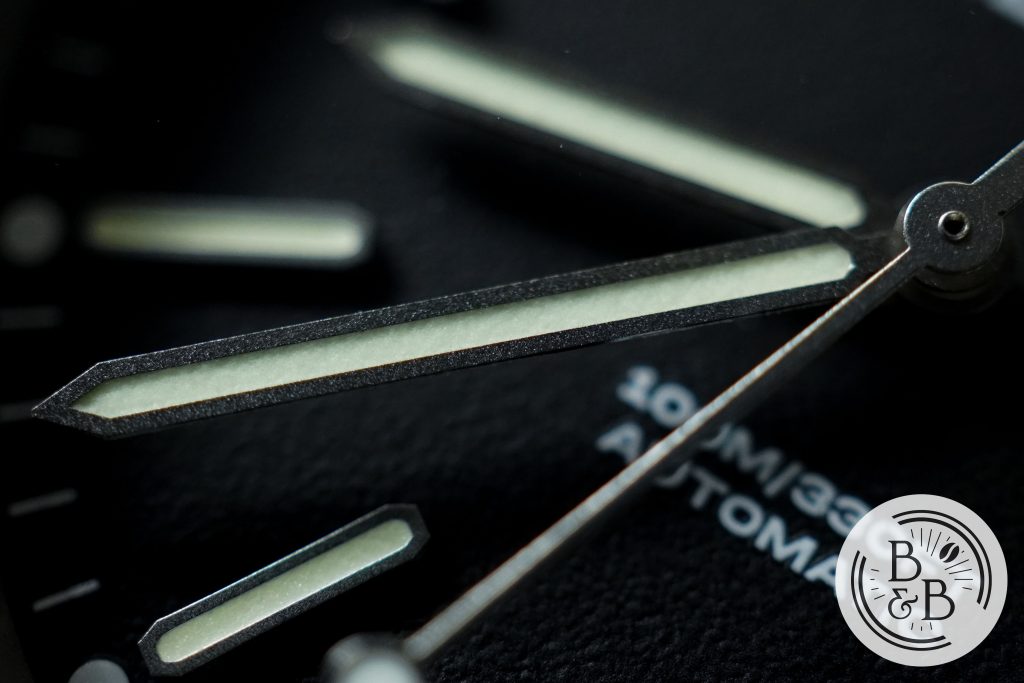 The hour and minute hands are simple batons, and filled with C3 Super-LumiNova. The seconds hand has a circular lumed element that is filled with BGW9 Super-LumiNova. I like that they used two colors here and it really helps with night time readability.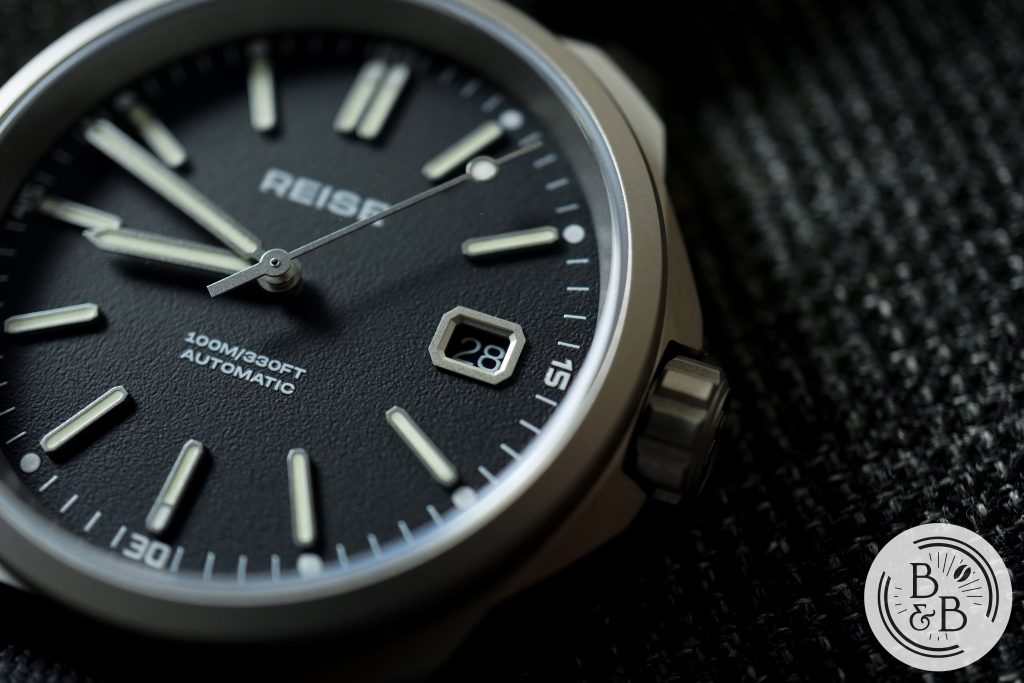 An interesting point to note is the finishing used for all the dial elements. Most brands will attempt polished elements, but given the price point and manufacturing skills allocated, will often disappoint with poor finishing in the form of dirt, scratches, uneven surfaces etc. And my macro lens and loupe are quick to sniff these out. This watch has all media (bead) blasted elements, which makes it very difficult to find such imperfections and for a $299 watch, this is a very smart decision. So from what I can see, the hands and indices appear to be very well finished!
---
Lume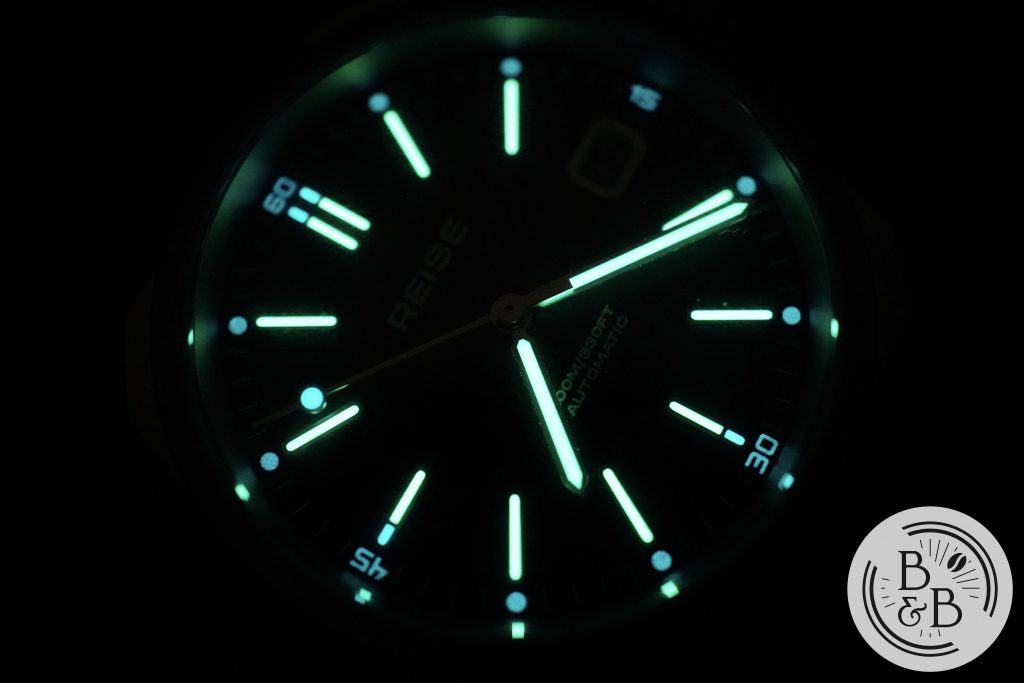 The lumed elements are very nicely executed, with C3 Super-LumiNova on the hour and minute hands, as well as the hour indices. The seconds hand and the lumed circles above the hour indices are BGW9 Super-LumiNova, along with the bi-color lumed indices.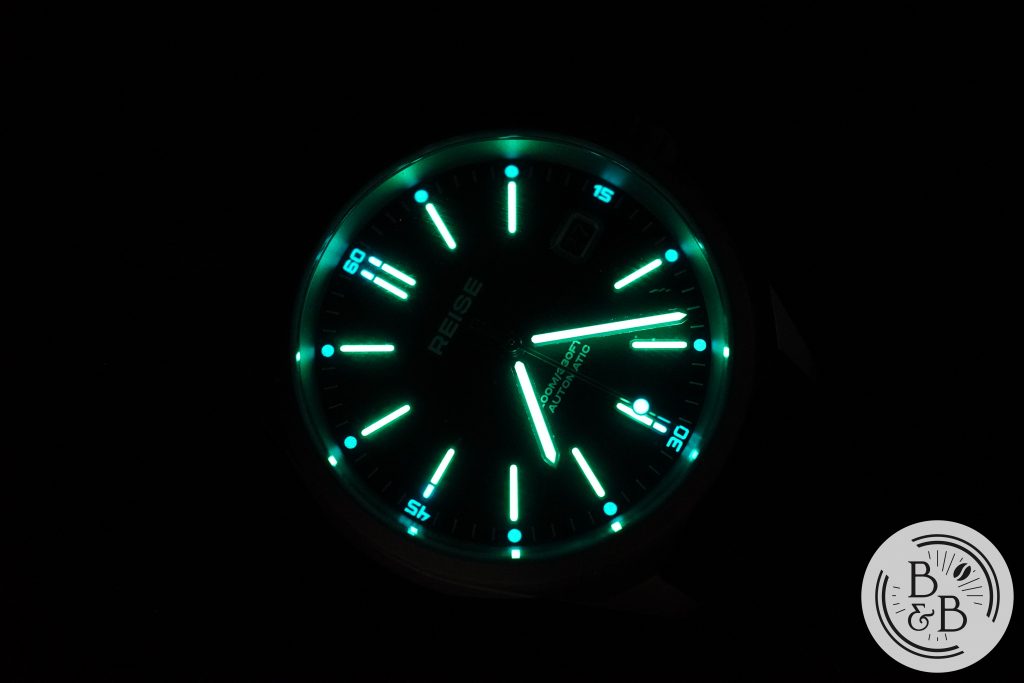 I really like that the 15 interval Arabic numerals are also lumed. Great effort and solid execution. The lume is bright and holds charge well. The C3 elements stay brighter for longer, but that's likely due to the increased surface area of application.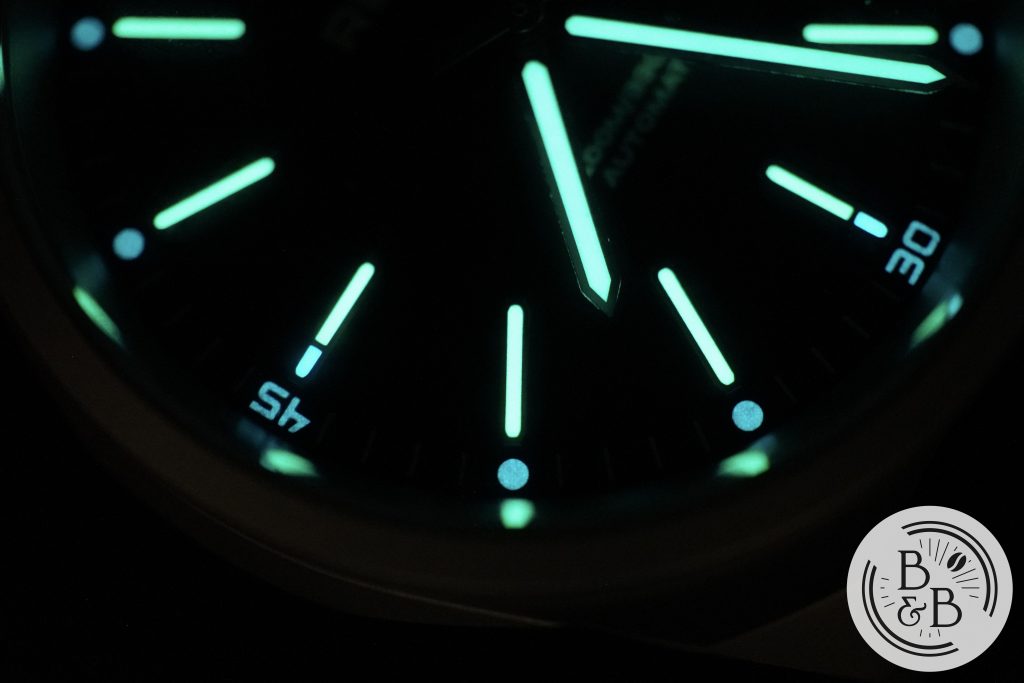 ---
Movement
The movement is a Seiko NH35A. For the price of $299, this movement is a great choice given it's reliability. I logged the accuracy of this watch over a 3 day period and observed an average accuracy of -14.2 spd, which is well within the accuracy spec for this movement (-20 to +40).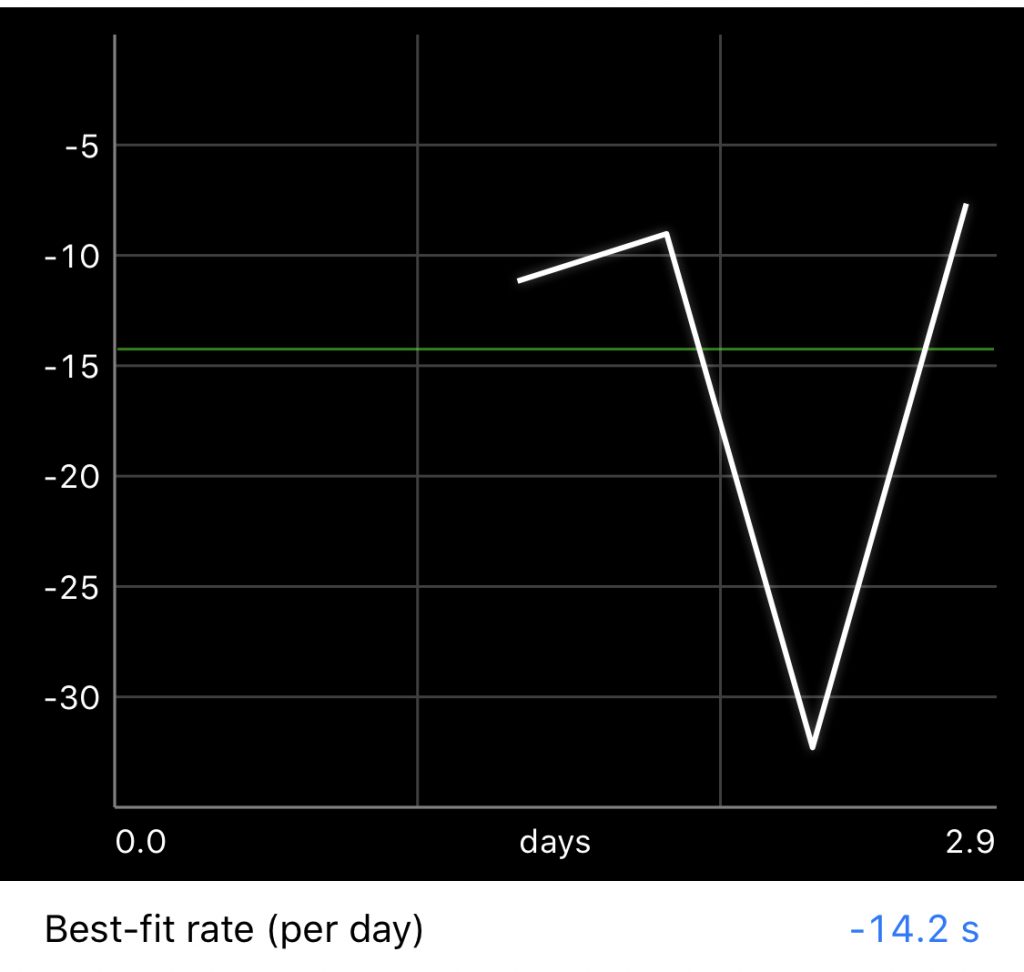 ---
On The Wrist
The case is 40.5mm in diameter, which is a bit tricky to measure since it's less of a circle and more of a rectangle. The lug-to-lug width is 46mm and it is roughly 11.5mm tall. These dimensions, and the 45g case weight, are very comfortable on my 6.25″ wrist, thanks to the compact lugs. This is most likely going to look a bit awkward on large wrists (7″+), but should look and fit great on 7″ and under.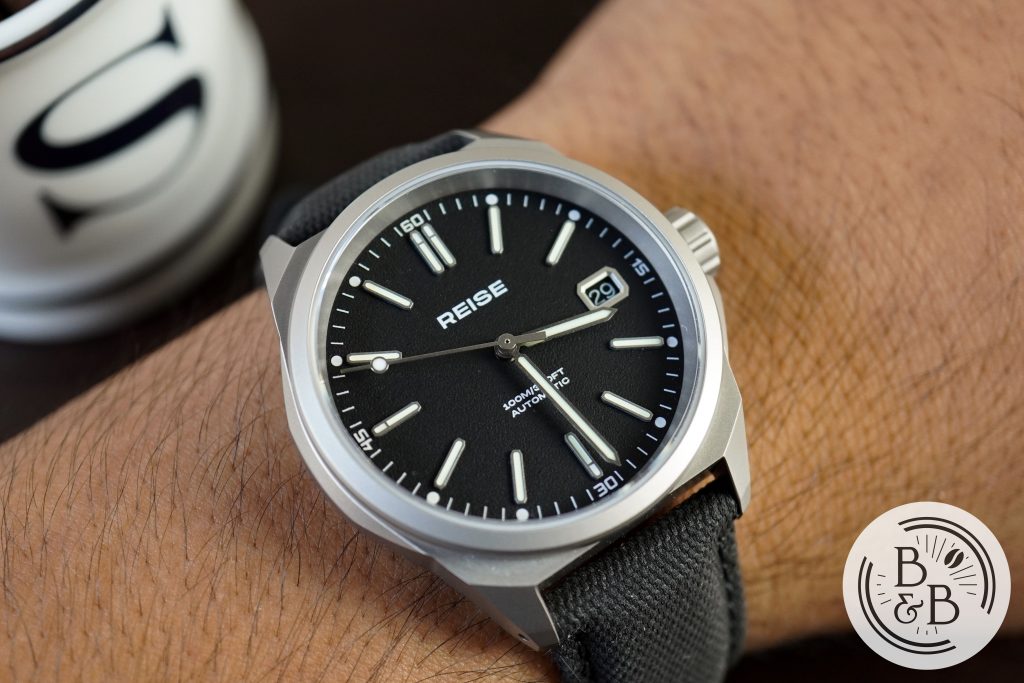 The watch ships with a leather backed canvas strap that has matching titanium hardware. I think the strap is great for the price you're paying for the watch, but I put it on my Nodus TecTuff® Waterproof strap as soon as it arrived. The canvas strap is a bit stiff and will take some time to break in, but looks like good quality. The titanium buckle is very neat.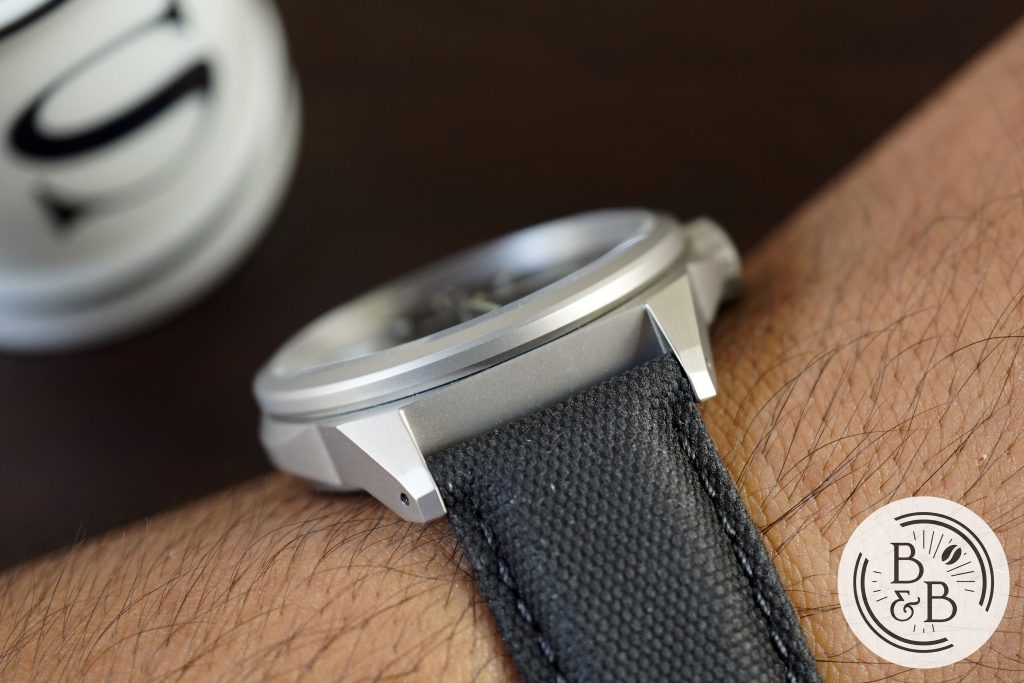 ---
Concluding Thoughts
To wrap things up, I think this is an easy watch to justify buying at $299. There is tons of value being offered, in the way of a unique case design, titanium case with surface hardening, very good and carefully designed lume elements, good finishing and an all round comfortable watch for modest wrist sizes.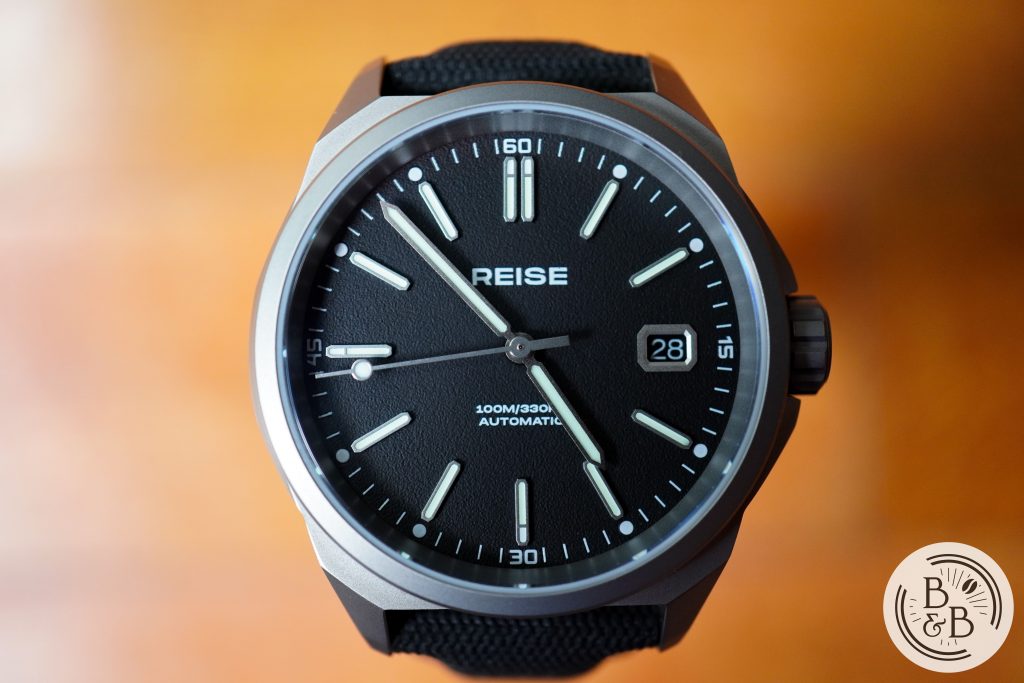 This will make an excellent everyday beater watch, and for that price you're alternatives are the Seiko SKX, the Seiko 5 Sports, a few Hamiltons and a bunch of good Quartz watches. Having owned an SKX, a Hamilton Singapore AF, and a few excellent Quartz watches from Casio and Citizen, I would spend my money here, if given a choice.
With the scheduled launch of the Reise Resolute and the Mitch Mason Chronicle, I think the next couple of months are going to be tough on everyone's wallets, because they're both extremely fun watches and worth adding to your collection.
---
Strap Change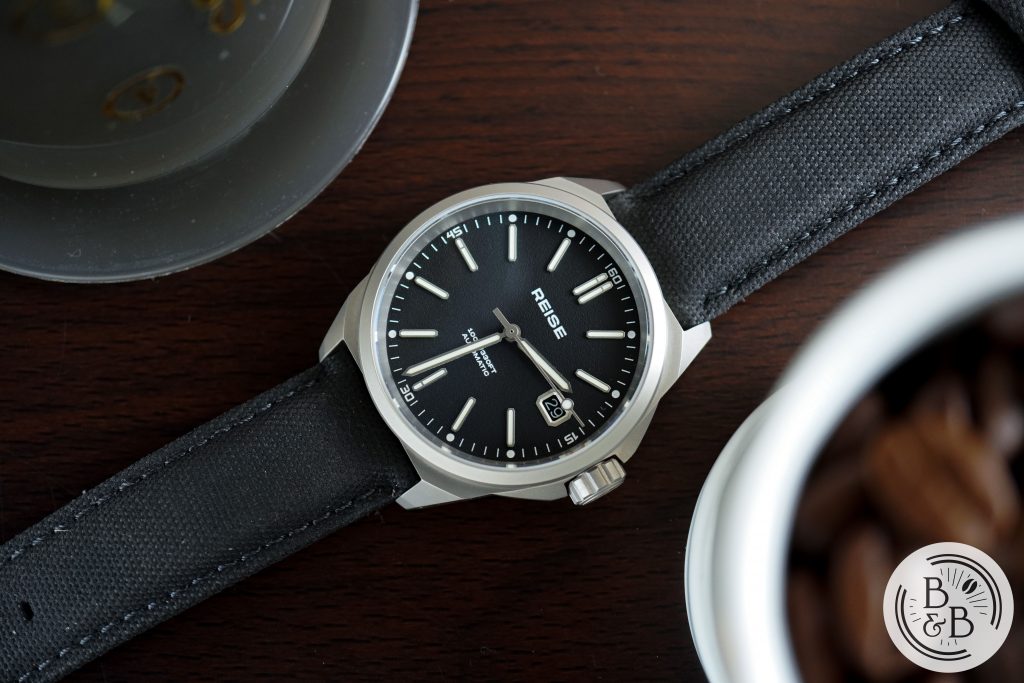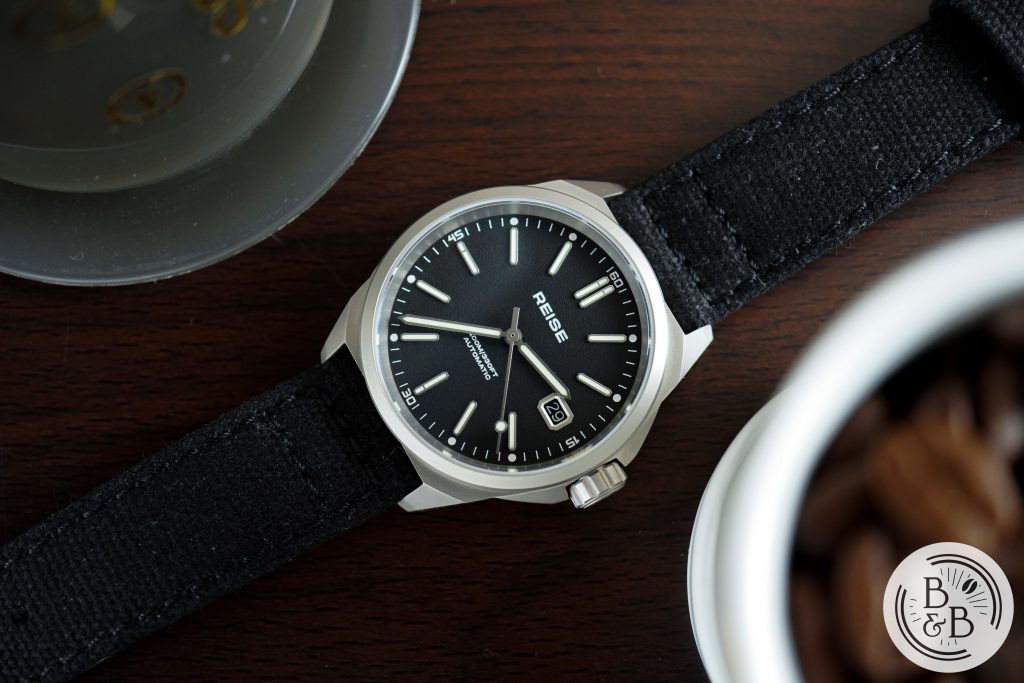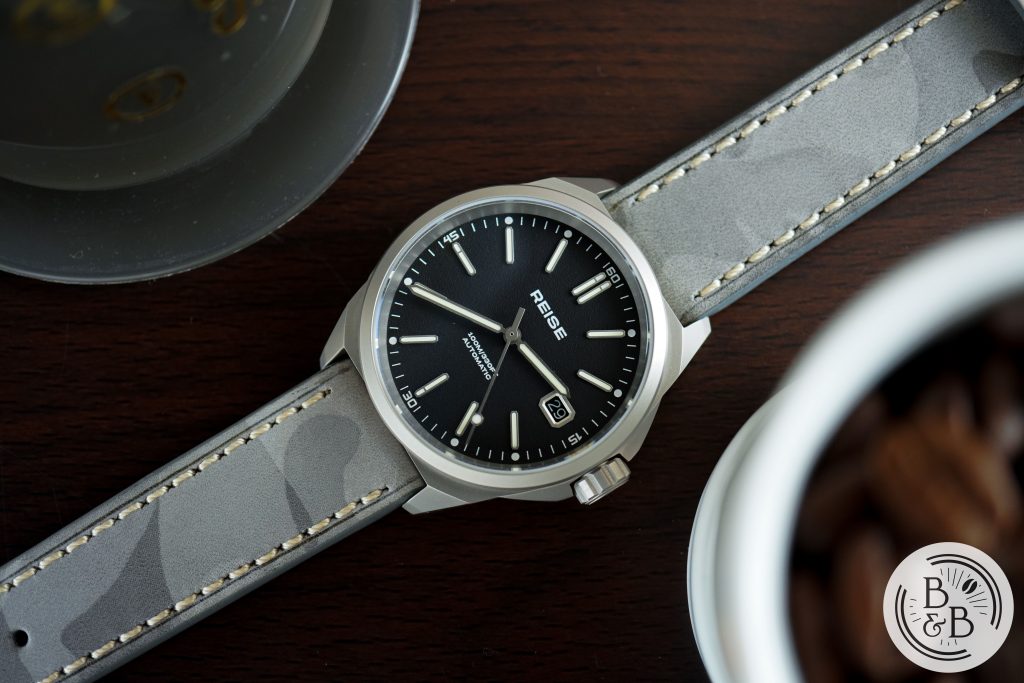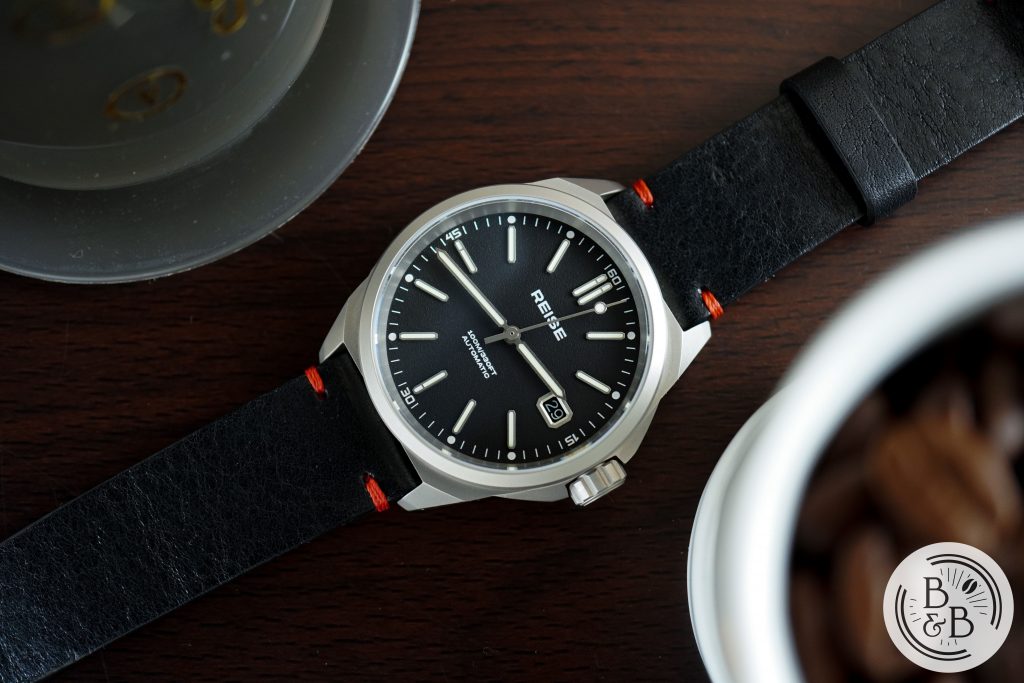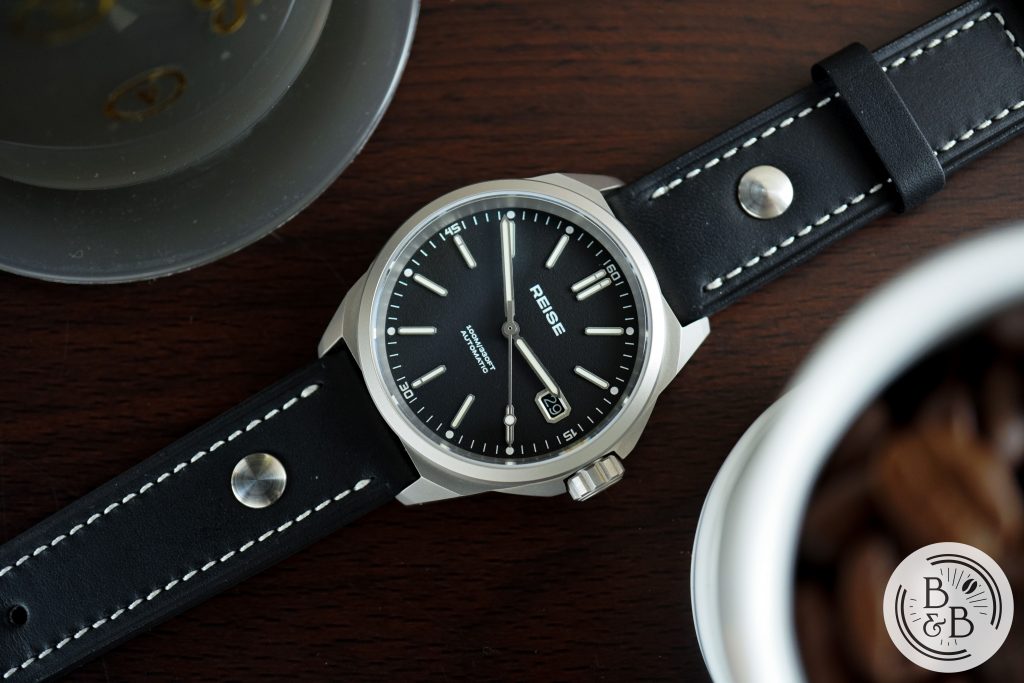 ---
Thanks for reading!