---
Disclaimer: This watch was sent to me to review, and I was not paid to write this. This is in no way sponsored by Matterhorn, or any other entity. All opinions here are my own. Matterhorn will be sending me a watch from this collection when it goes into production, but they have no control over the content of this review.
---
---
Contents
---
Matterhorn
Matterhorn is a new micro-brand based in the United Kingdom, and the Divemaster is their debut offering. I'm a bit desensitized to micro-brand dive watches at this point, and the only two categories that are worth investigating, in my opinion, are along the value axis, or along the design axis. I can't say this watch does much in the design space, since it is a fairly straightforward cookie cutter dive watch design, but the Kickstarter price of just over $250 (190 GBP) piqued my interest.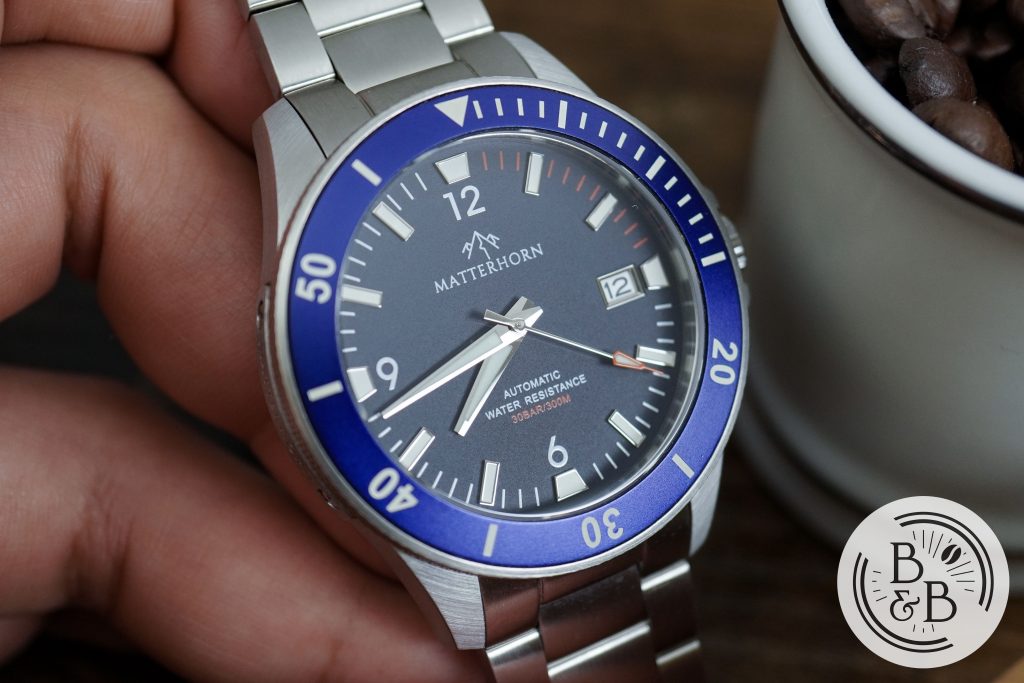 The final production unit will house a Miyota 9015 movement, ship with a bracelet and an extra rubber strap. And to do all that for around $250 is pretty impressive. While it isn't a radically innovative watch design, it is still quite attractive and I can definitely see this design appealing to a lot of folks. So let's get into the details and take a closer look!
---
Case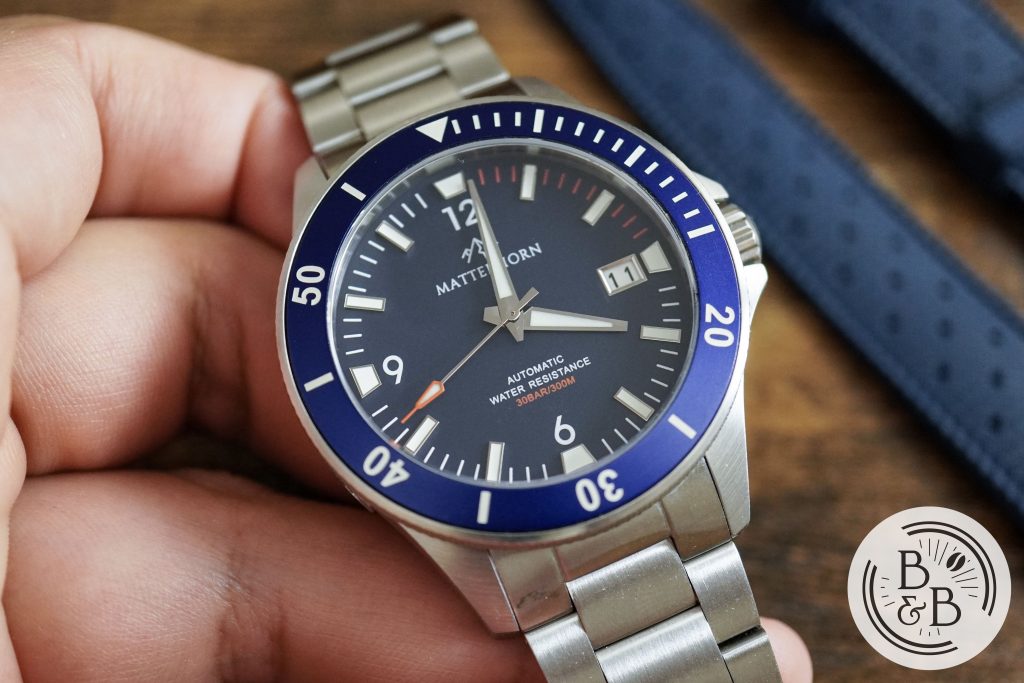 I measured the case to be 40.5 mm in diameter, 48 mm from lug-to-lug and 14.4 mm tall. However the case height will be reduced to 12.8mm once they switch to a Miyota 9015 in the final production units.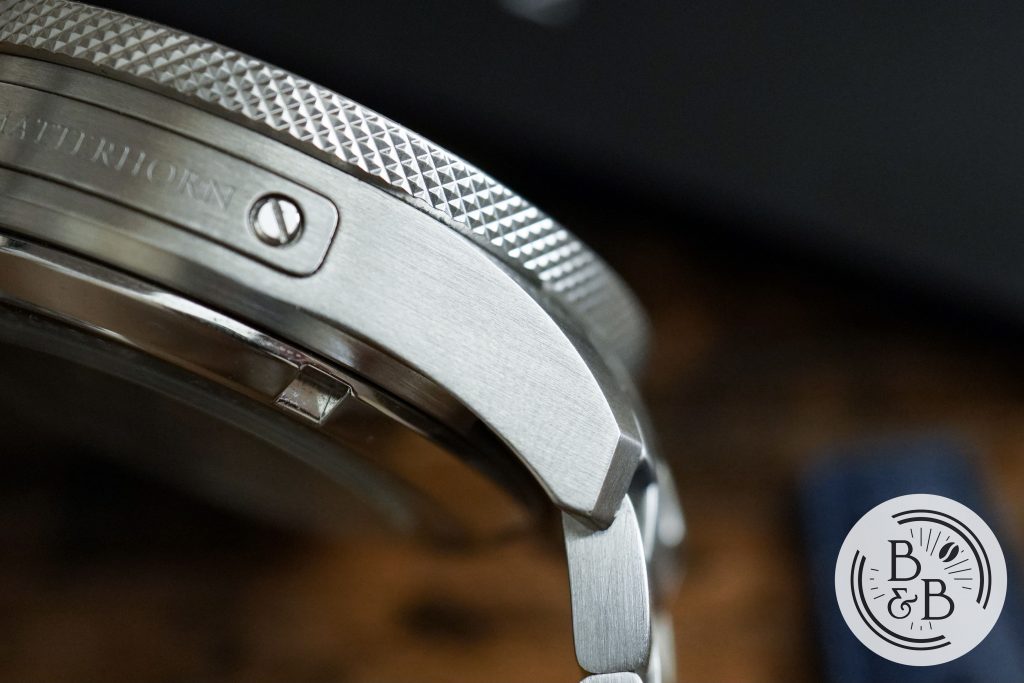 The overall case shape and design is pretty typical micro-brand diver stuff, and there's not too much of a unique identity here. The large mid-case extends out into a pair of slightly tapered and curve down lugs. The lug width is 20mm.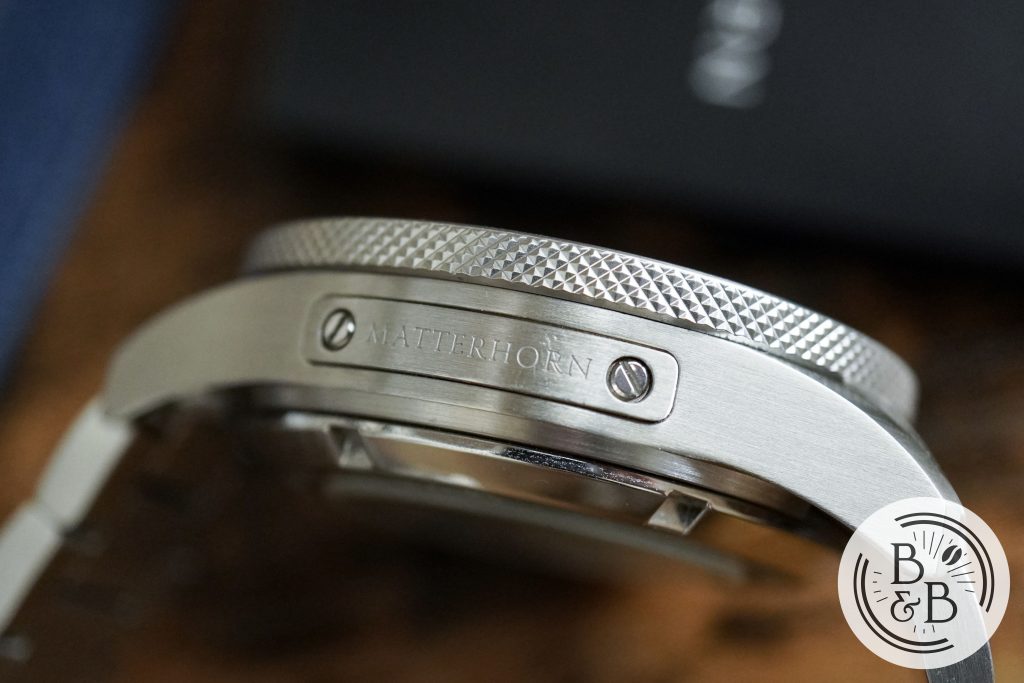 On the left flank, you have a name plate that is screwed into the case, similar to the Norqain Adventure Sport I recently reviewed. This seems to have a very polarizing effect on the enthusiast community, but I don't really mind it.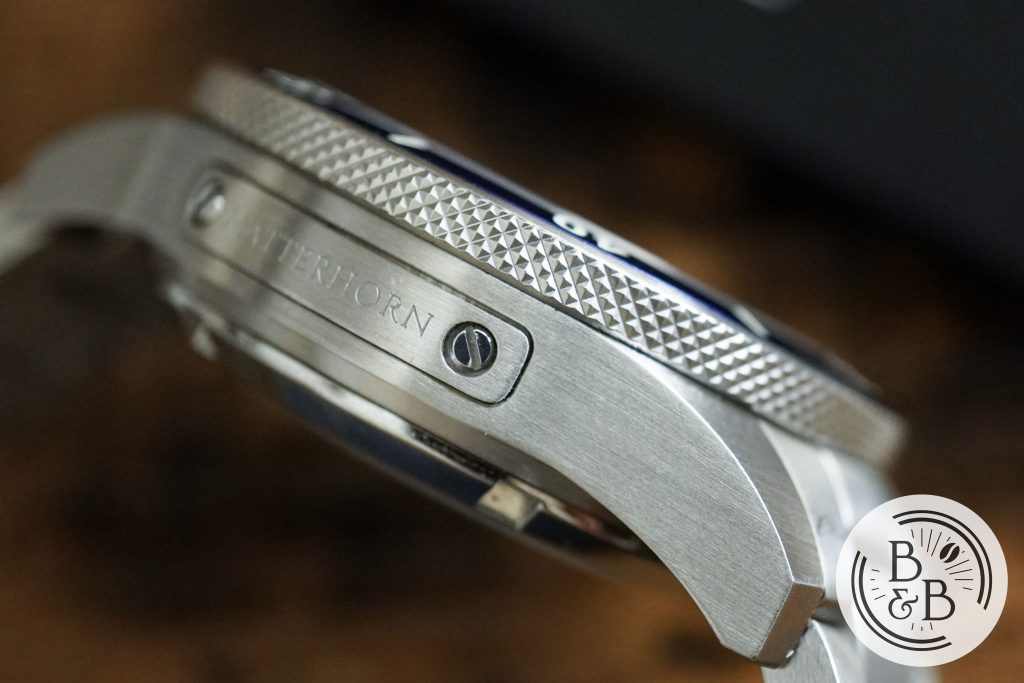 There is a tall bezel that has a good looking knurling, but appears to be a little too shallow as gripping the bezel and operating it requires some effort since the bezel action is quite stiff too. I've been told that this will be addressed before it goes into production.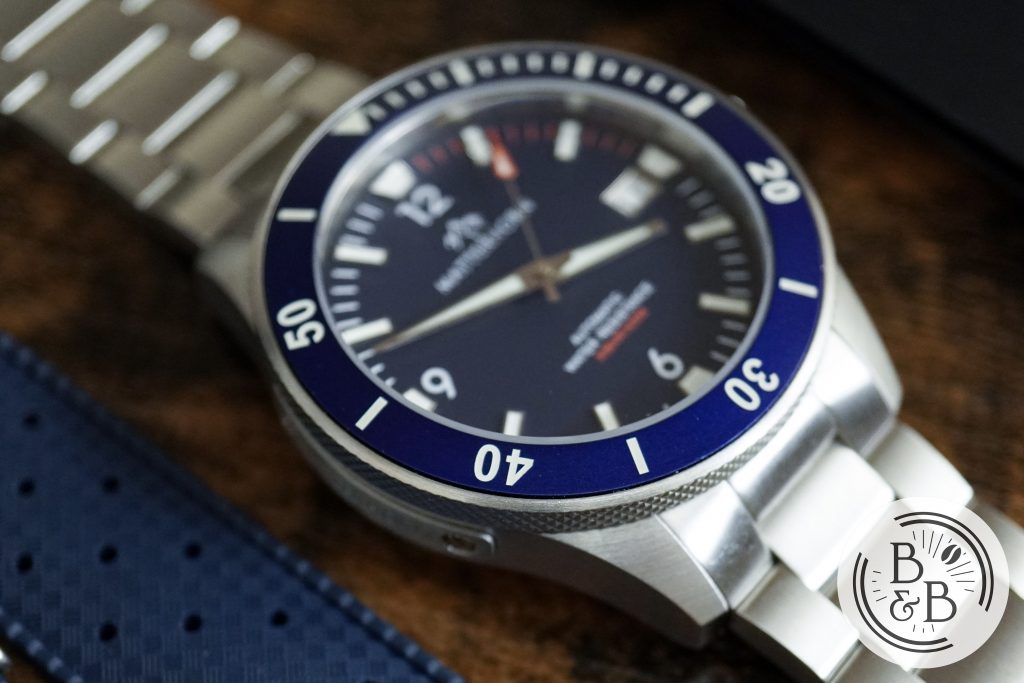 The bezel is a 120-click uni-directional dive bezel and the action is stiff but reassuring. There isn't any back-play, and the tactile feedback is good too.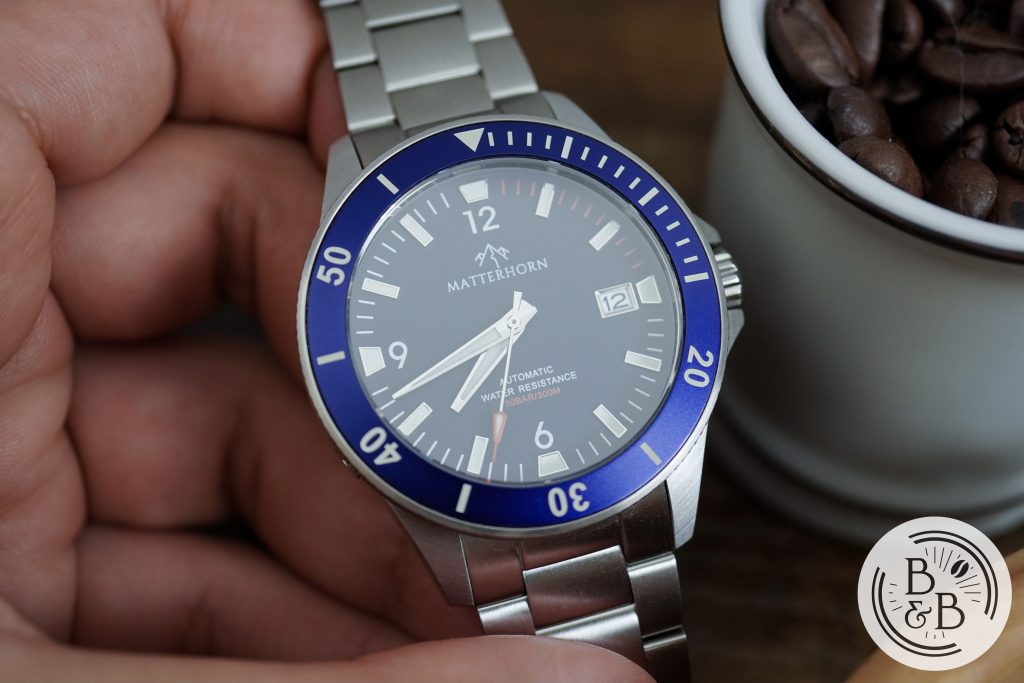 Unfortunately this particular unit has no AR coating, so it picked up tons of reflections and didn't have the greatest legibility in harsh lighting. But the final production units will have sapphire crystals with AR coating on the lower surface.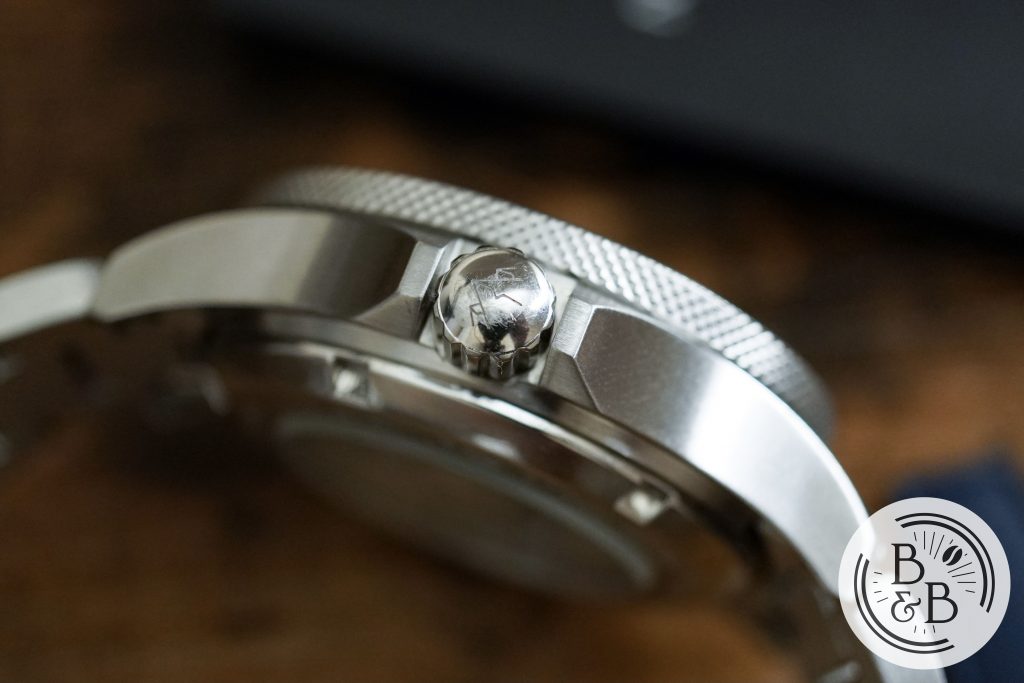 There is a 5.75 mm signed screw-down crown at the 3 o'clock position that isn't the easiest to operate because of the large crown guards. I think the mid-case could use a slightly more dramatic taper into the crown guards for more easy operation.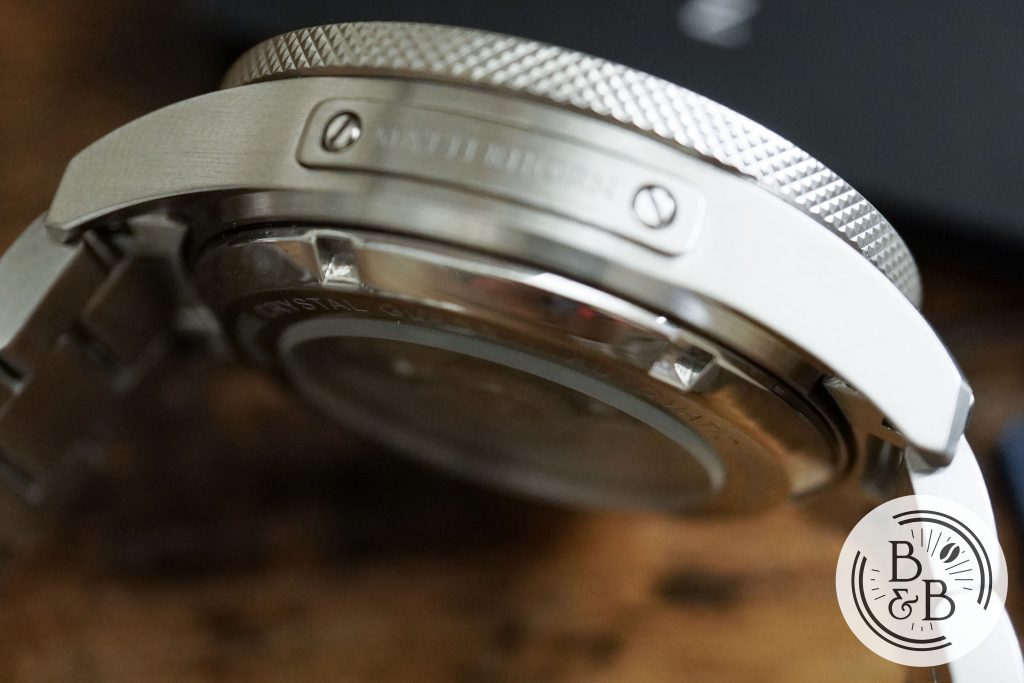 Flipping it over you have a screw-down case-back with an exhibition window. This case-back is the culprit, and reason why this watch is 14.4mm thick. Thankfully, this is being slimmed down with a movement change, and being swapped out for a sleeker closed case-back. This watch is rated for up-to 300m of water resistance.
---
Dial
I believe this watch will be offered in three dial colors – green, black and blue. I was sent the prototype of the blue dial, and I find this one to be quite appealing. The base of the dial appears to have a matte finish, with a combination of printed and applied elements.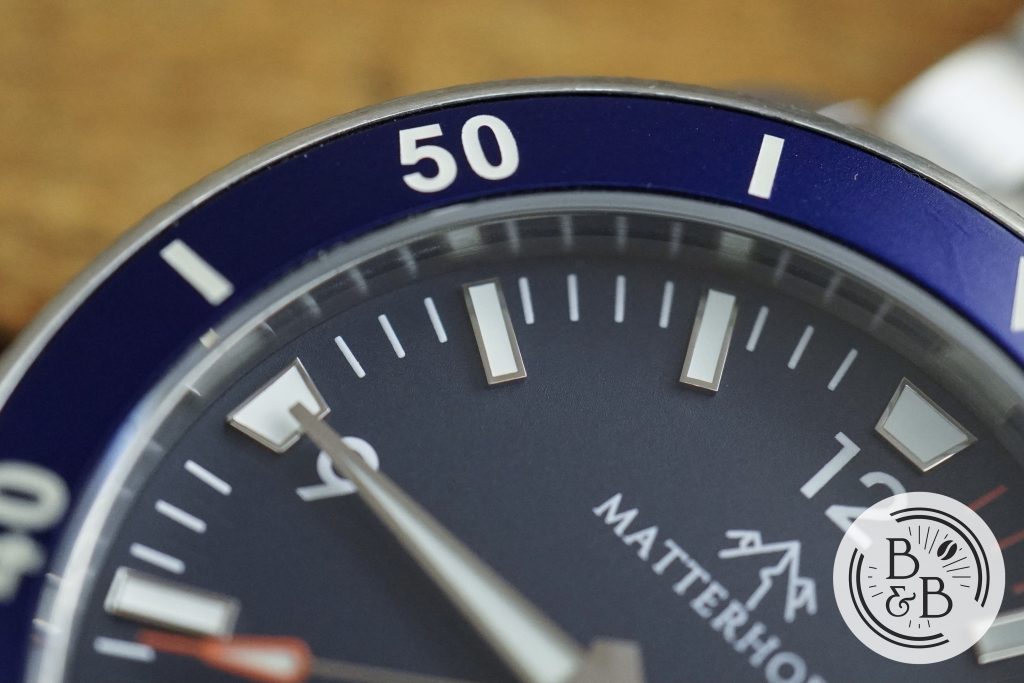 There is a printed outer minute track, printed in orange for the first 15 minutes, and white for the rest. The quality of printing is good, and this is very easy to read.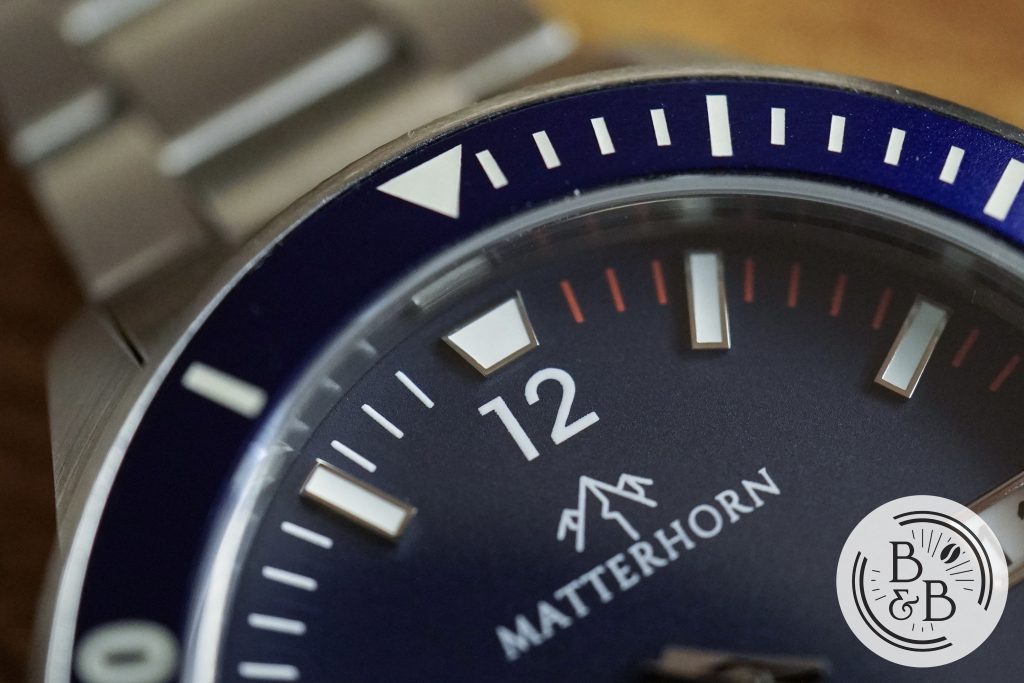 You then have applied stainless steel indices that are polished and filled with lume. The finishing on the indices is good, and quite impressive for a $250 watch.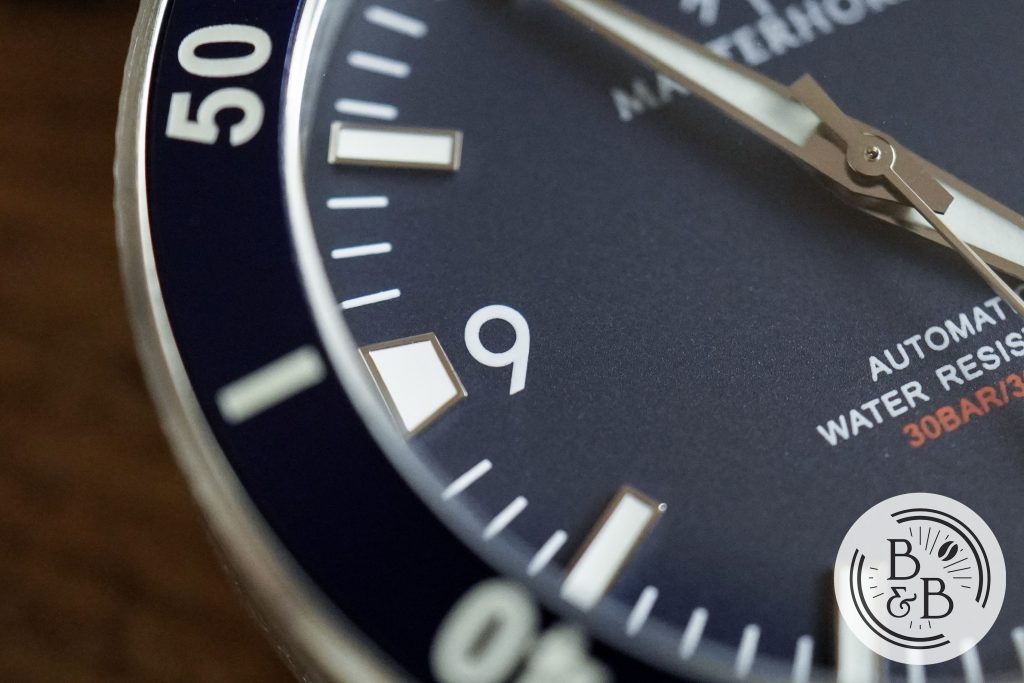 Moving inward, you have Arabic numeral hour markers for three of the four main axes that are printed, and a date window in place of the remaining marker.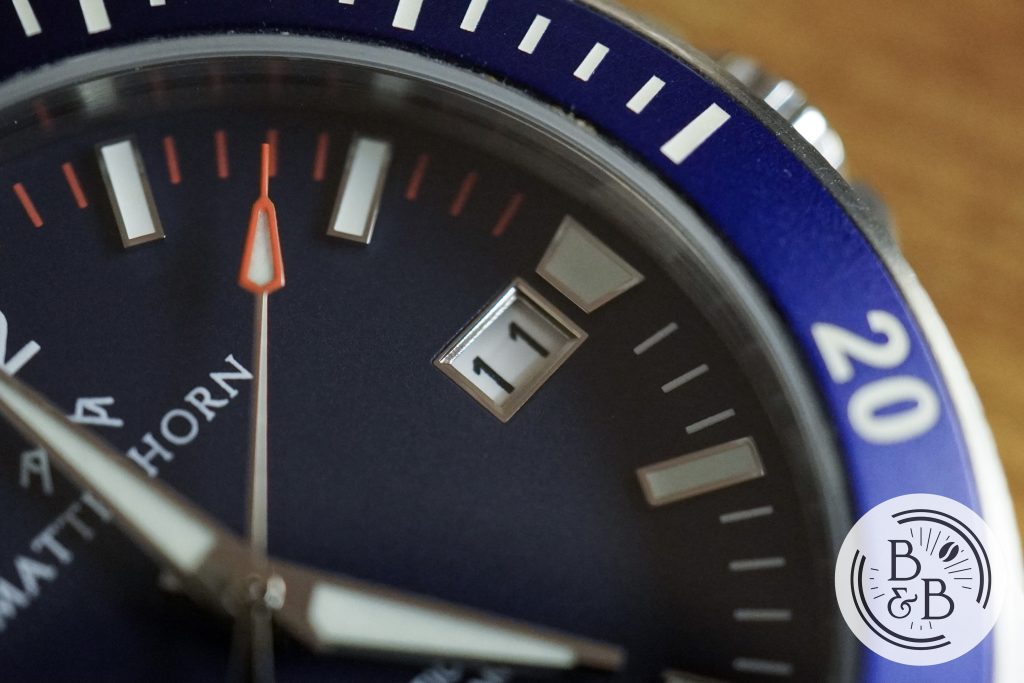 I'm not a huge fan of this date window execution. Given the Arabic numerals on the dial, I think a dial matched date wheel with white text and no date window would've been a much nicer look. I believe a no-date option will be one of the stretch goals for this Kickstarter campaign though.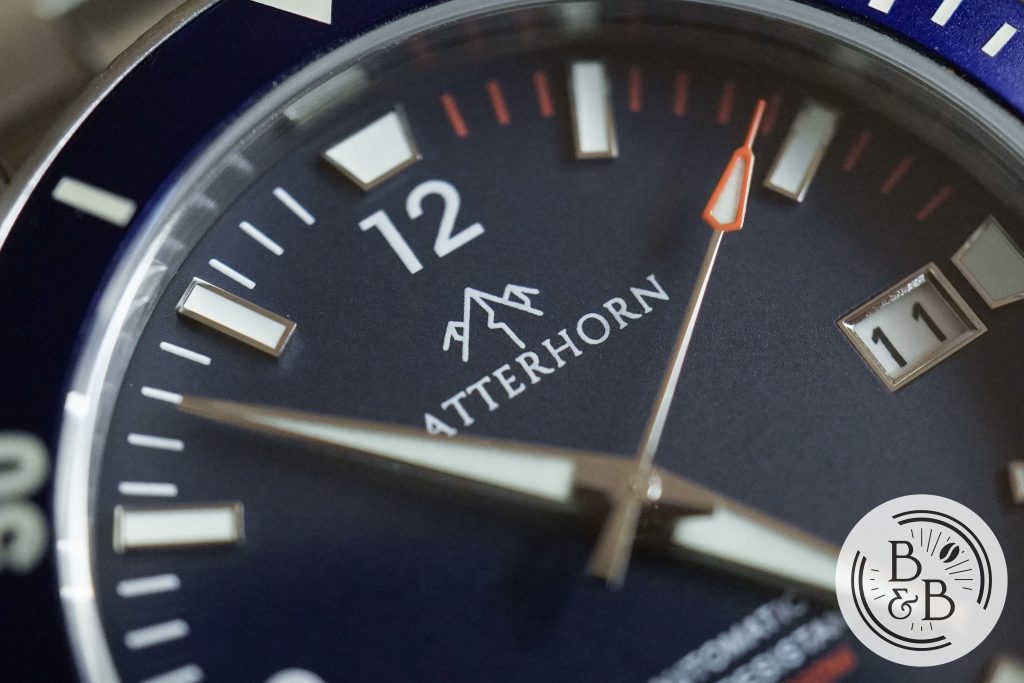 You have the brand's name and logo printed below the 12 o'clock and some text above the 6 o'clock, that is said to be changed to just the name of the watch. The quality of printing is good, as on the rest of the printed elements.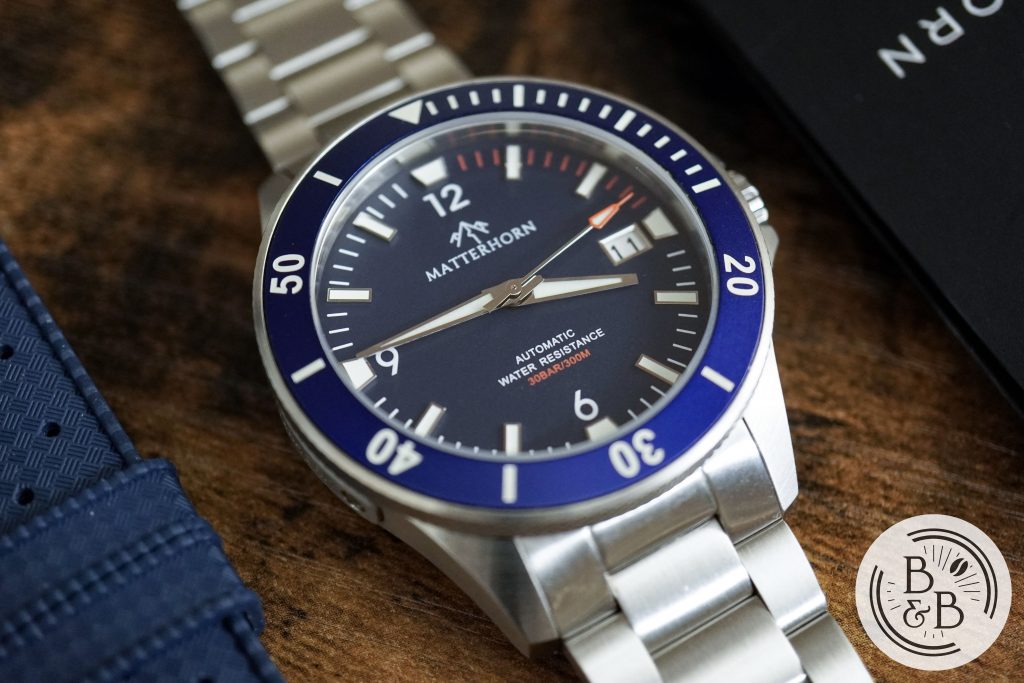 I was surprised by how much I like this dial, even though it has so much going on. I love 3-6-9-12 dials, and this one just seems to work. The date window is a bit of an eye sore, but a no-date option will definitely remedy that.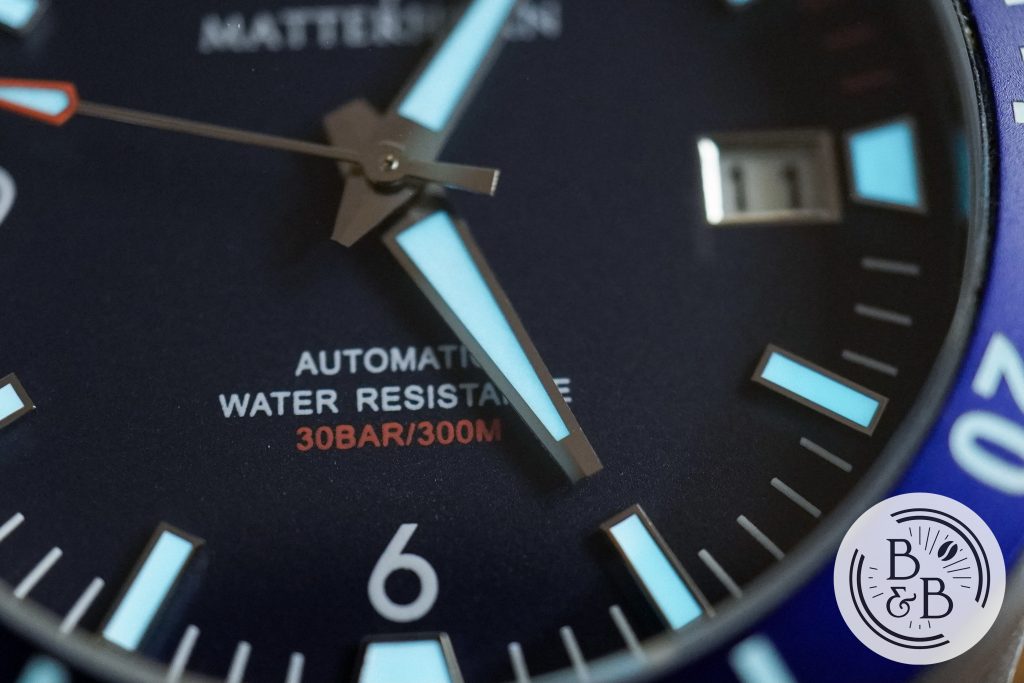 I like the handset used here – it is simple and sleek, and tones down an otherwise busy dial layout. The hands are reasonably well finished, and all three hands are lumed.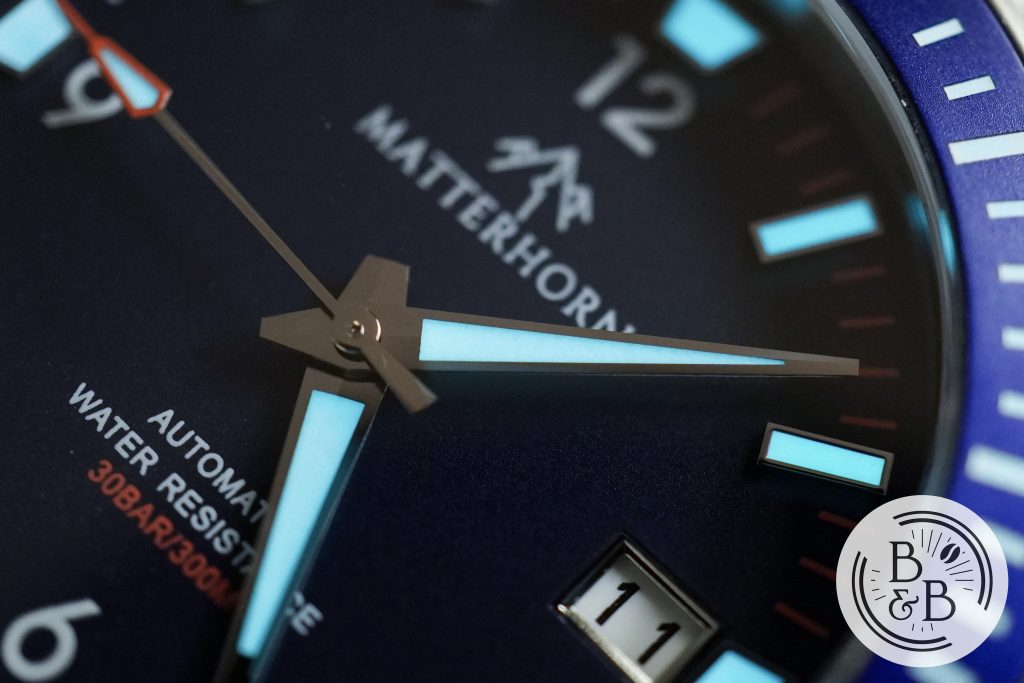 The seconds hand has an orange seconds tip that is lumed, and I like the use of orange accents across the dial. Good stuff here.
---
Lume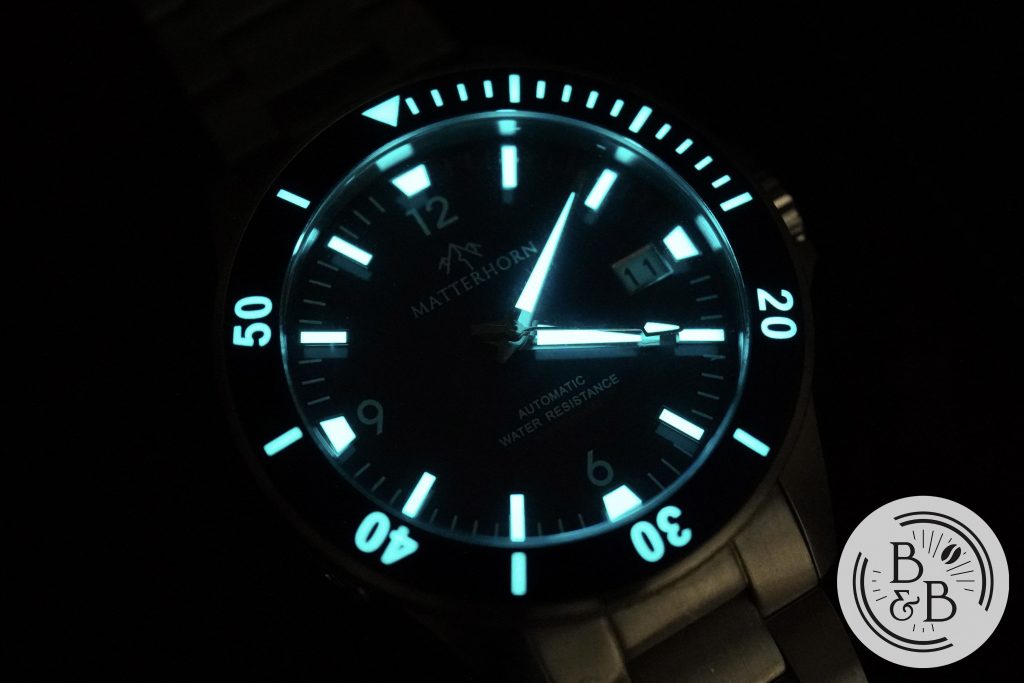 The lume on this watch is impressive, both from a quantity and quality perspective. All the key dial and bezel elements are lumed, and generously so.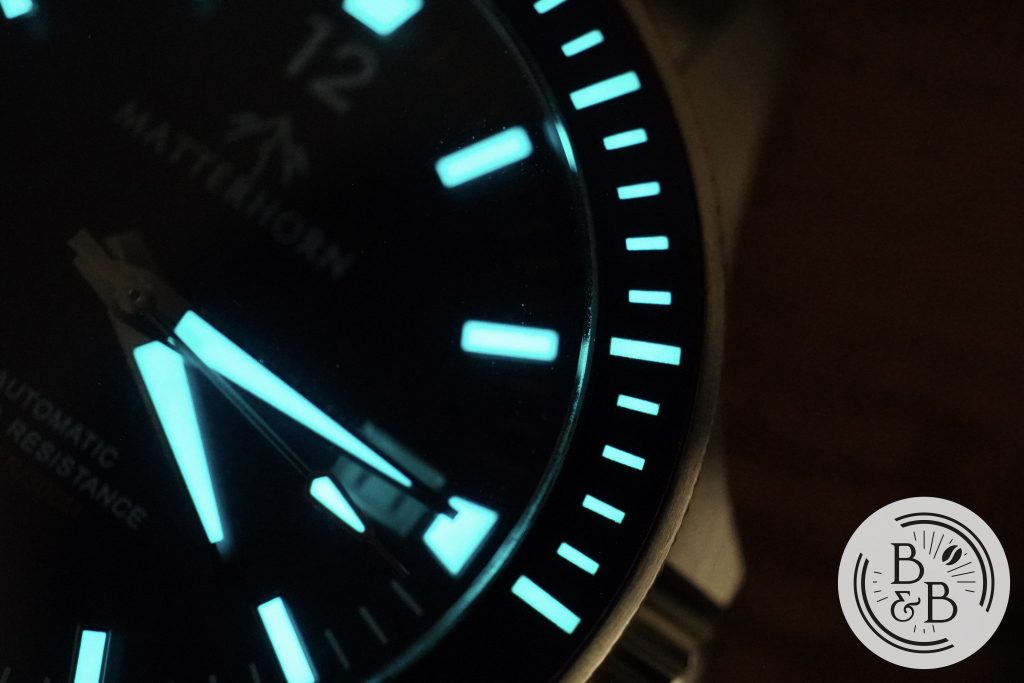 All the bezel elements are lumed, and they glow very bright and have good longevity.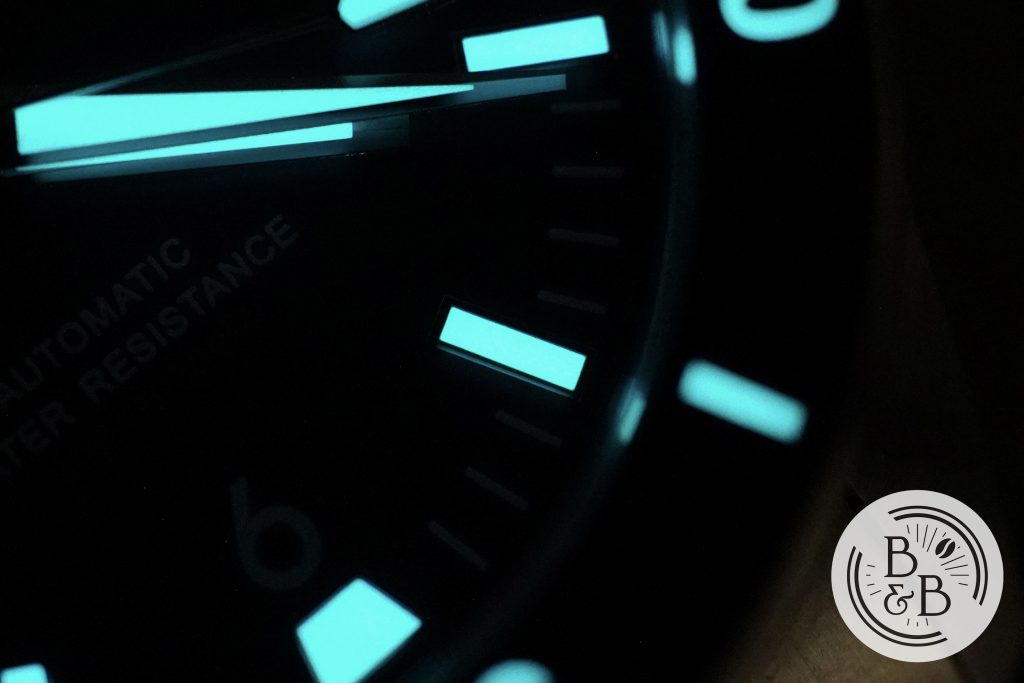 The indices glow bright, but fade slightly quicker than the rest of the elements. That said, this watch is still easy to read through the night.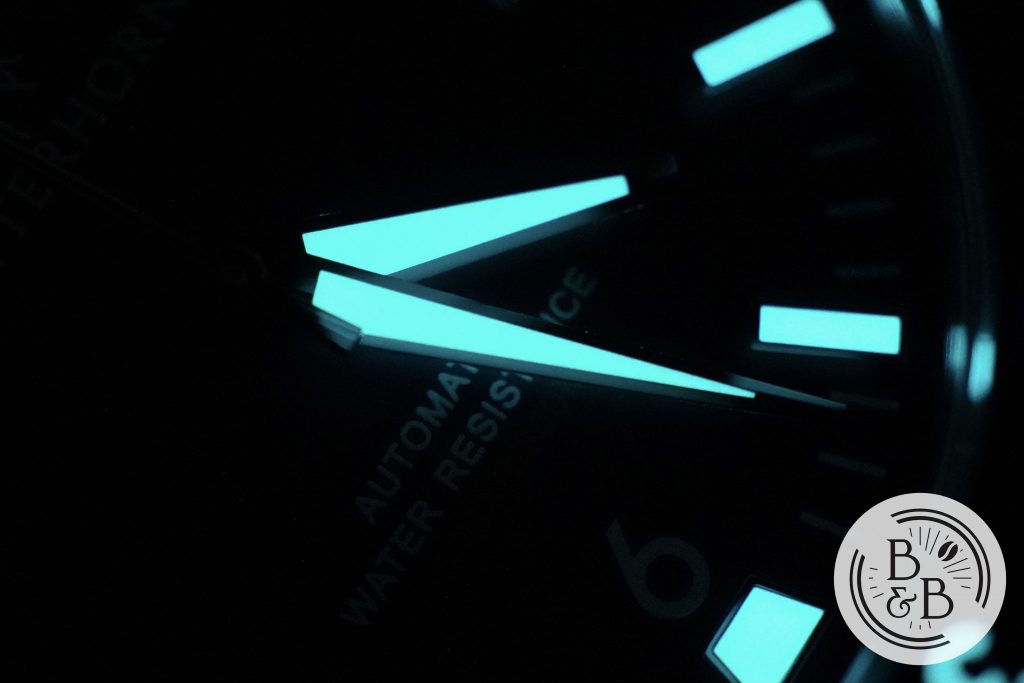 The hands are well lumed, and the seconds hand tip is lumed too. I don't have any complaints regarding the lume, and I think it'll be hard to find faults here. It would've been nice if the Arabic numerals were also lumed, but given that they're printed instead of applied, it would've faded much sooner than the rest of the watch.
---
Bracelet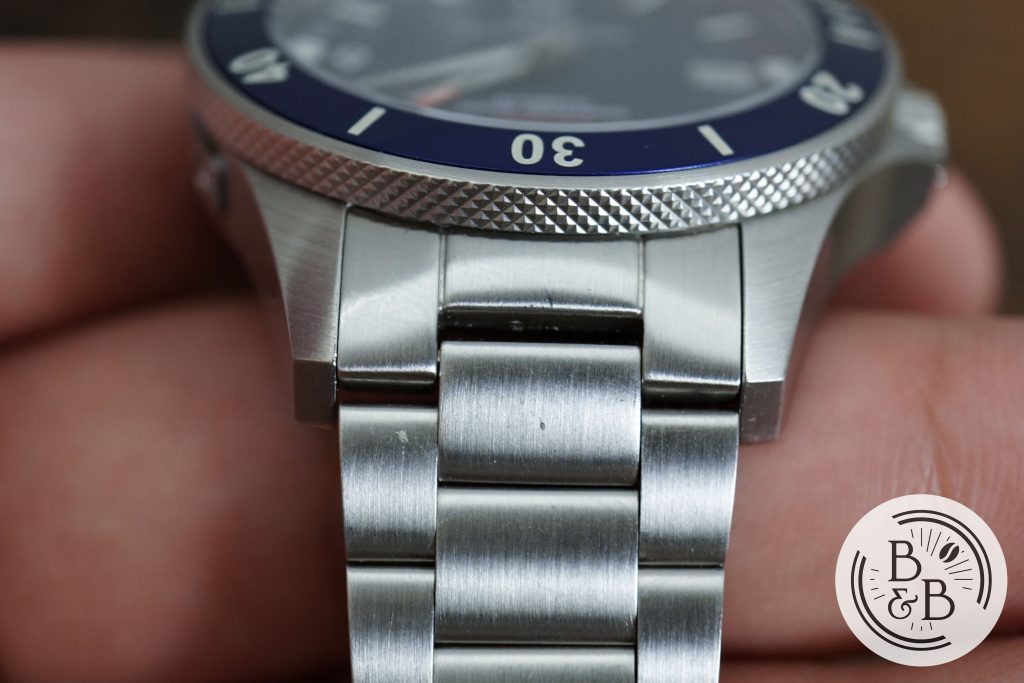 The bracelet is pretty standard micro-brand stuff, with solid end links that have a good case fitment.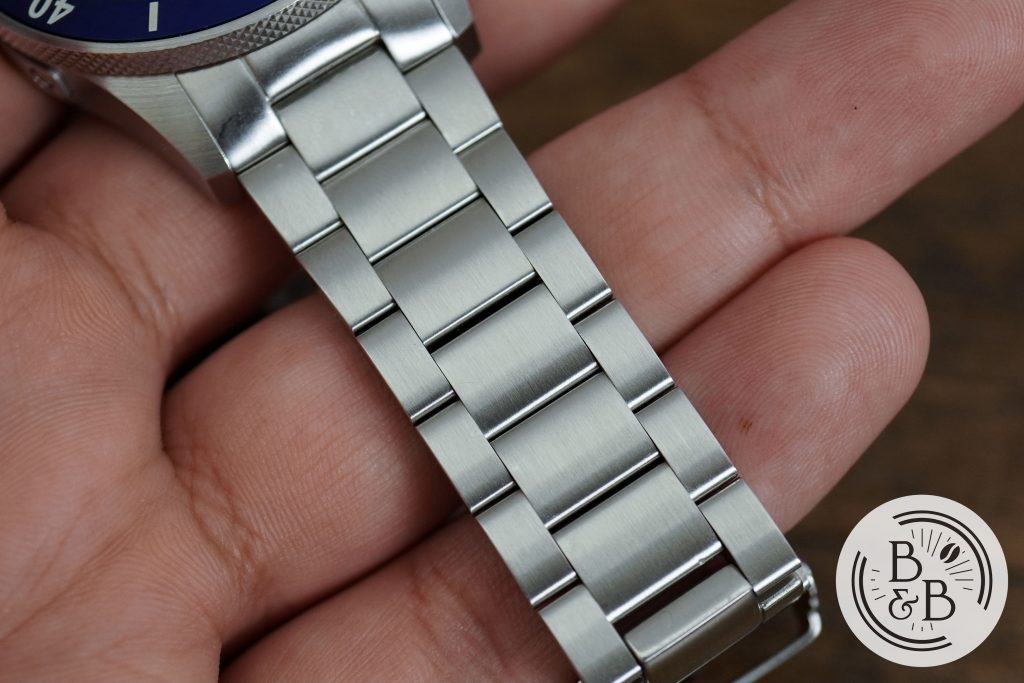 The links appear very tightly packed, but I didn't experience any hair pulling when I had it. The bracelet tapers from 20mm at the lugs to around 18mm at the clasp.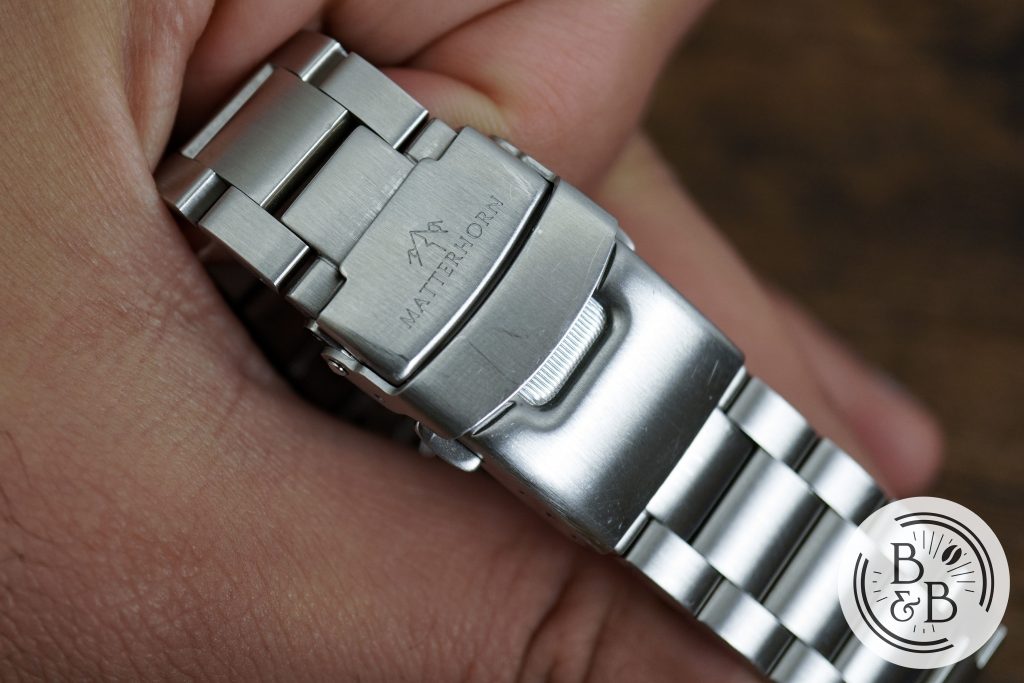 The clasp is pressed, has a few micro-adjustments and a milled inner assembly. This bracelet and clasp is pretty generic and isn't going to win any awards, but I can't complain for the overall price of the watch.
---
Movement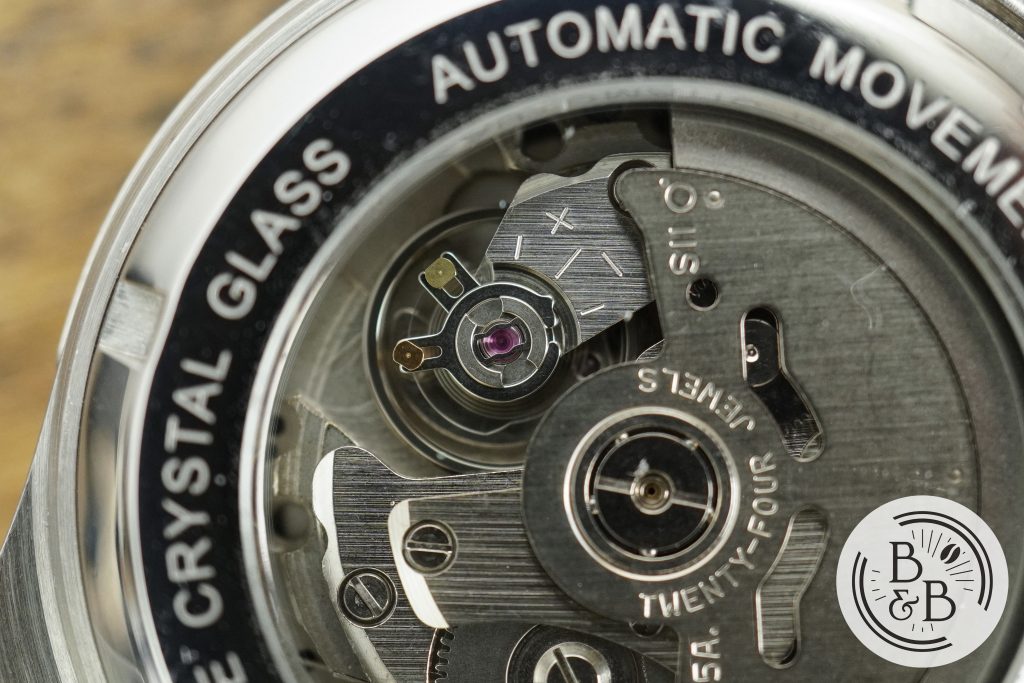 This early stage prototype uses a Seiko NH35, and results in an unfortunately thick case, thanks to some very inefficient allocation of space and an exhibition case-back with a slightly protruding crystal. The good news is that the final production units are scheduled to have Miyota 9015 movements instead, which will bring down the overall case size, as well as tighten up bounds on accuracy.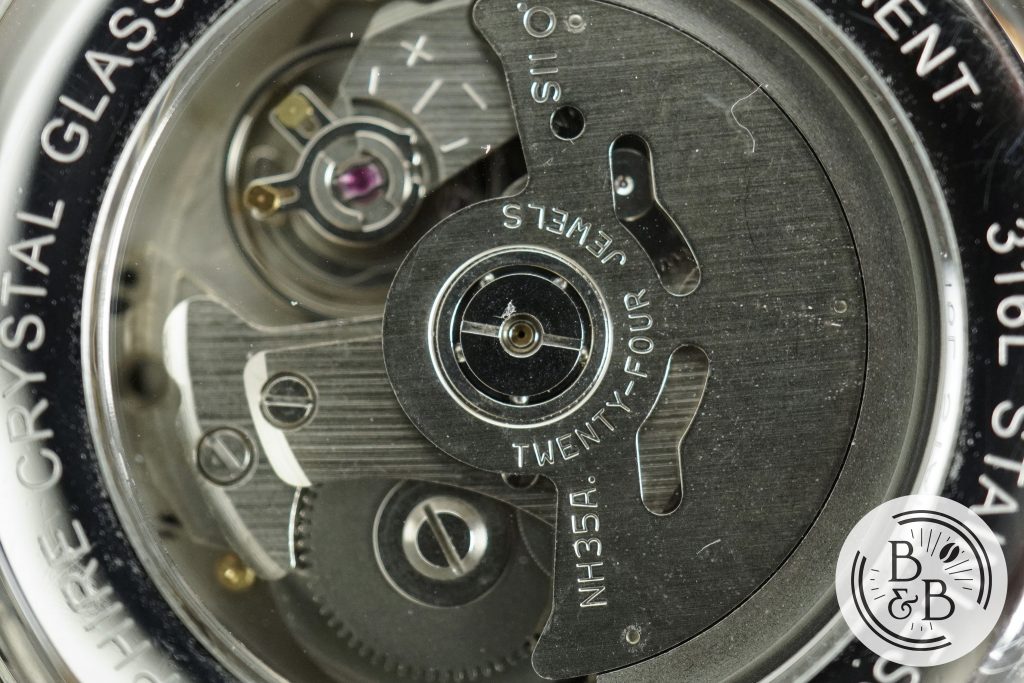 The case-back is also said to be closed for the production units, which is perhaps a good thing, since the quality control on this Seiko movement is quite poor, with some dust and debris on the movement.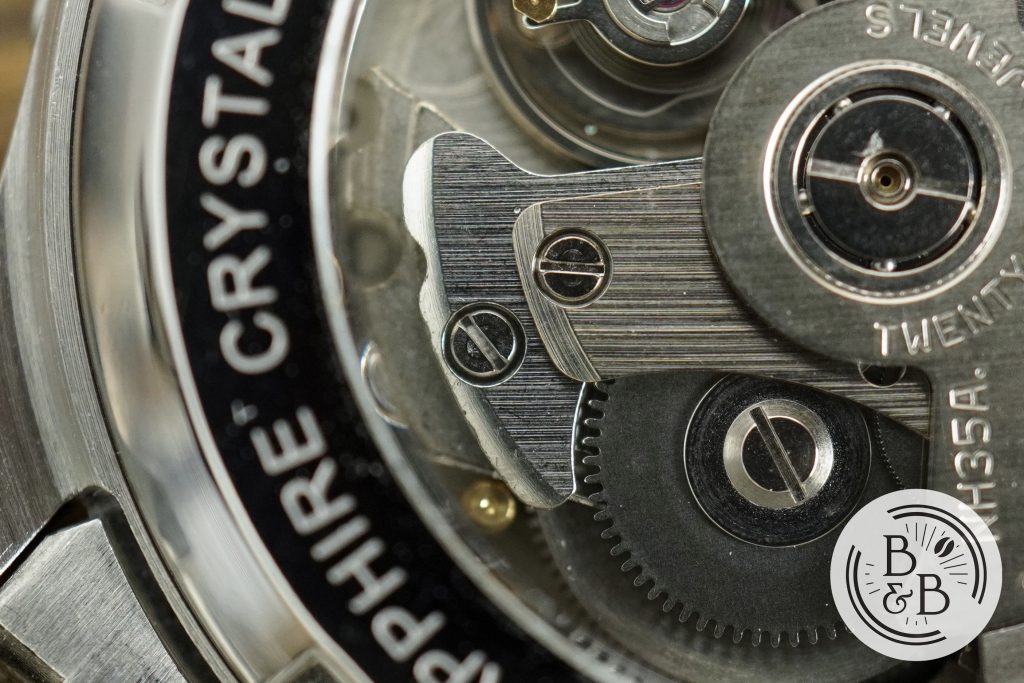 On my time-grapher, I observed roughly +2 spd in the dial up position, and -10 spd in the crown up position. So decent regulation on this particular unit, and I suspect similar or better performance from the Miyota 9015.
---
On The Wrist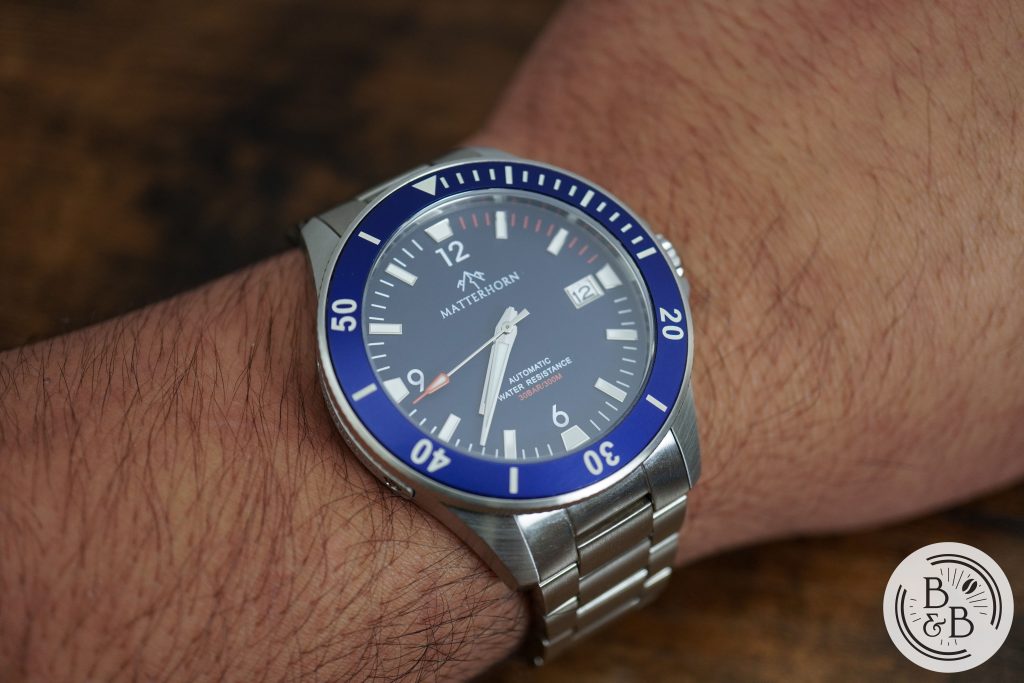 The 40.5mm case diameter and 48mm lug-to-lug width sit will within my 6.25″ wrist, and is pretty much the sweet spot for me for dive watches.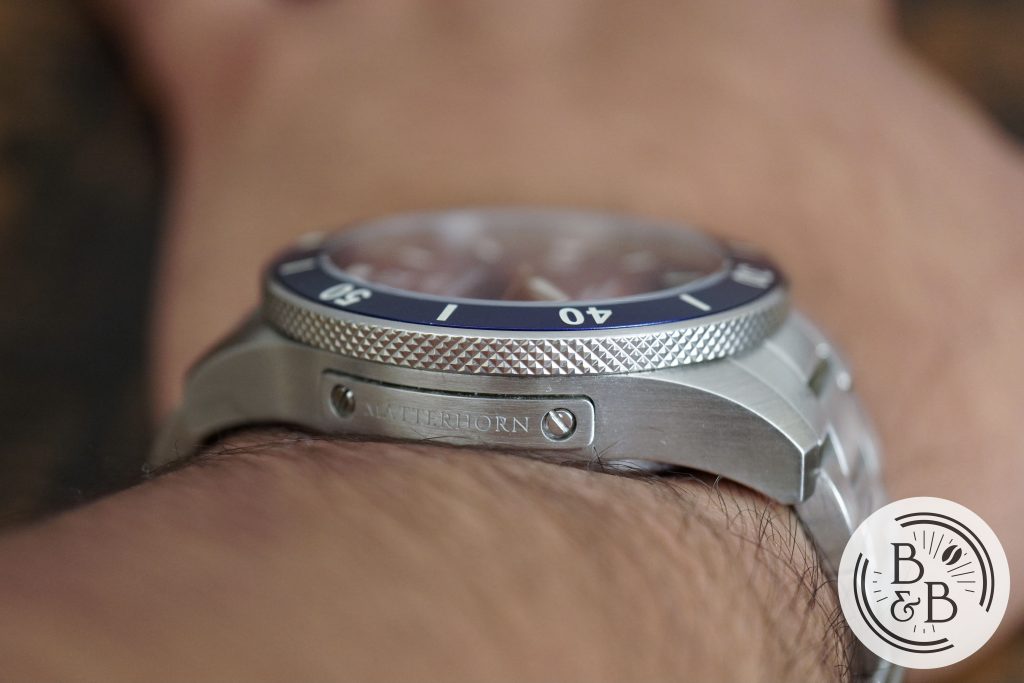 The 14.4mm case height is highly unfortunate for a simple three hander dive watch, but thankfully Matterhorn is making swift changes, and will go down to 12.8mm by switching to a closed case-back and a Miyota movement.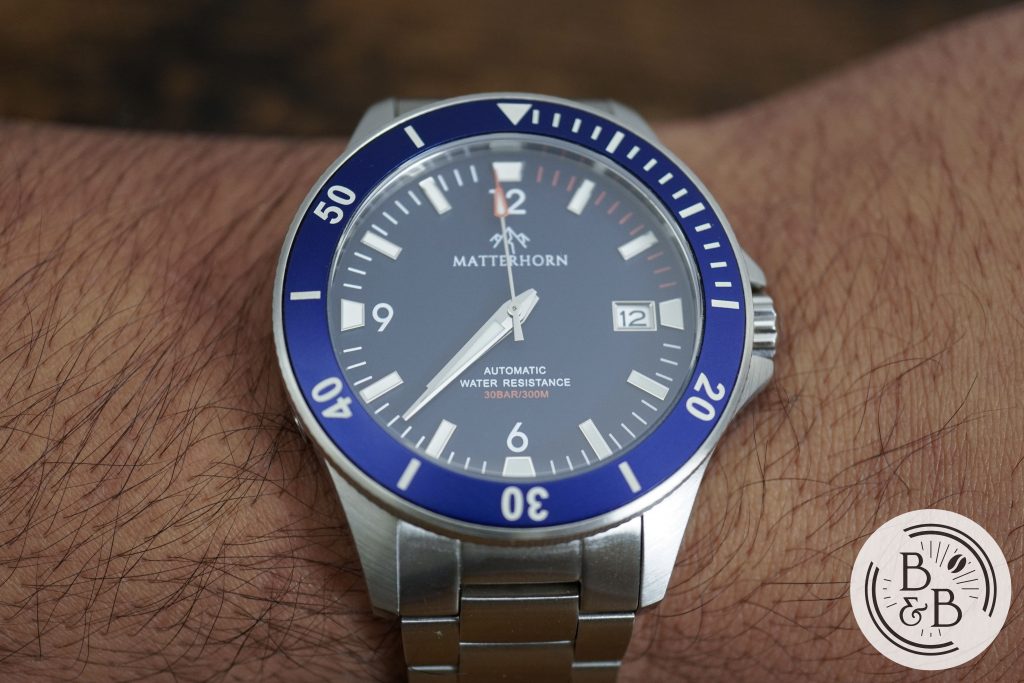 I think that will have a significant impact on the overall wrist experience, and I suspect it will also result in a more sleek overall case design.
---
Concluding Thoughts
Overall, this watch isn't breaking any new ground for dive watches – not by design, nor by construction. But it is a good looking diver that is well priced at just over $250 (GBP 190). You can't argue with pricing like that for a Miyota 9015 equipped watch that is relatively well made, well presented, and comes with an included rubber strap.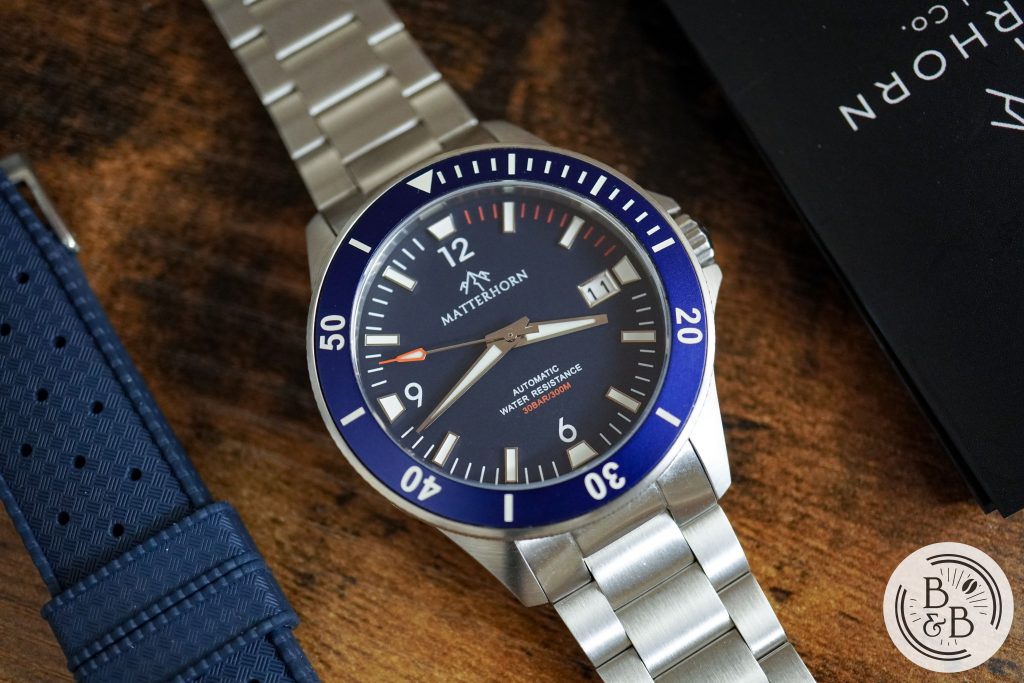 This particularly unit is a very early stage prototype, and I suspect that it will only get better as it goes into production. So if you like what it looks like, and if you're a value watch guy/girl I think this one is worth checking out.
---
Strap Change
---
Thanks for reading!