---
Disclaimer: This watch was sent to me to review, and I do not need to return it after my review is complete. This watch was given to me without restriction, and is not contingent upon a particular outcome for my review. All opinions here are my own, and Égard had no influence over the opinions stated here.
---
Contents
---
Égard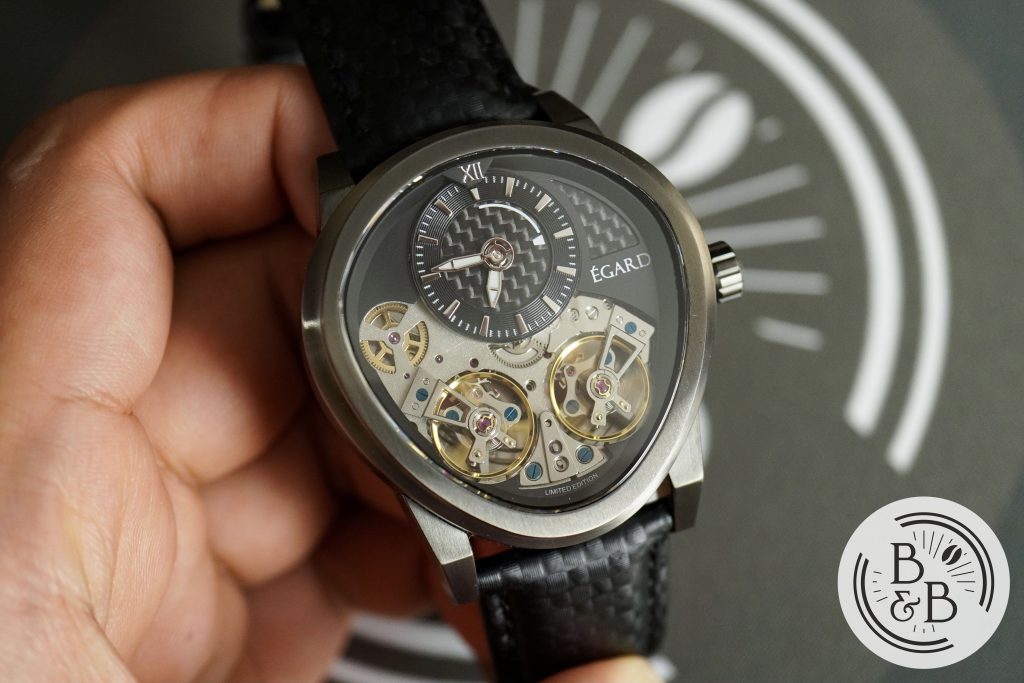 Égard is a watch brand that was established in 2012, and I've come across their watches a few times while window shopping for watches online. This brand appears to be more in the fashion and trendy watch category and less in the micro-brand realm, even though they certainly fit most definitions of micro-brands.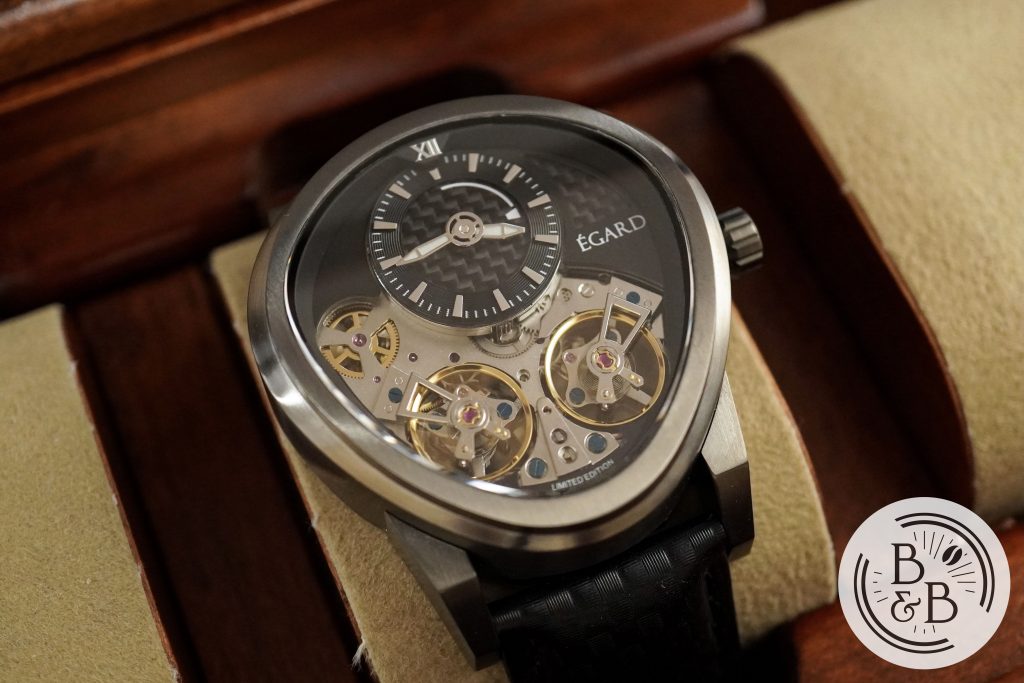 The brand was founded by Ilan and he started this brand to honor his relationship with his father, and they now operate the company together. They are based in the United States and Canada, but these watches appear to be all manufactured in China. Update: I've been informed that Egard works with manufacturers in Hong Kong and Switzerland too, with American assembly for their tourbillons. They've even managed to get these watches on the hands of some famous celebrities, which I thought was cool.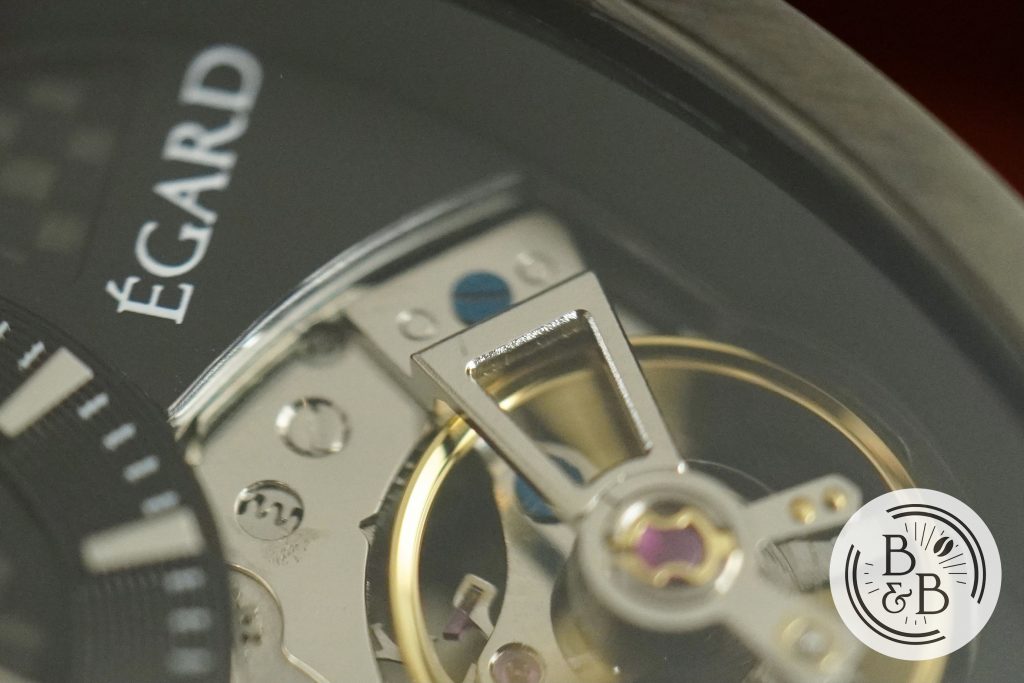 The watch we'll be looking at today is the Quantus Carbon, and I think is among the better watches that they currently offer. Some of their watches look like straight up catalog watches, but this one caught my eye because of it's unusual shape and the interesting movement. This watch has a retail price of $550, but is currently available for $495. This is a statement piece.. a conversation starter, and it is certainly not for those with a more conservative palette.
Let's check it out!
---
Case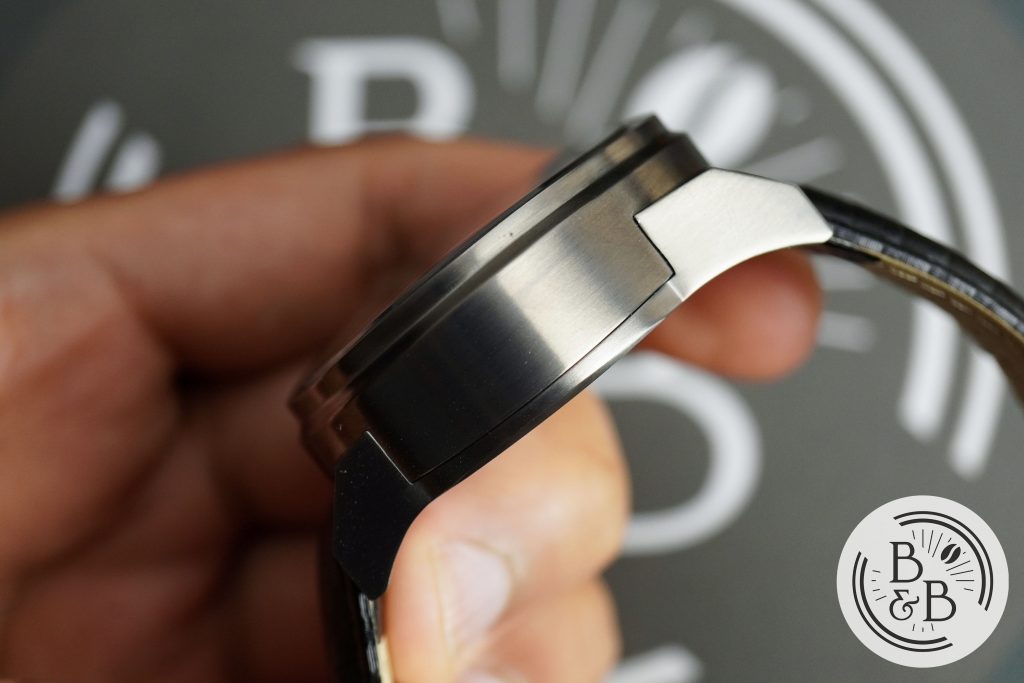 The case measures 42.5 mm across it's widest section, 50 mm from lug-to-lug and a staggering 15.25 mm in height. The case is made of stainless steel but has a gunmetal color that is likely PVD or DLC. The finishing on the case is good, and all the brushing is uniform and well executed for the price.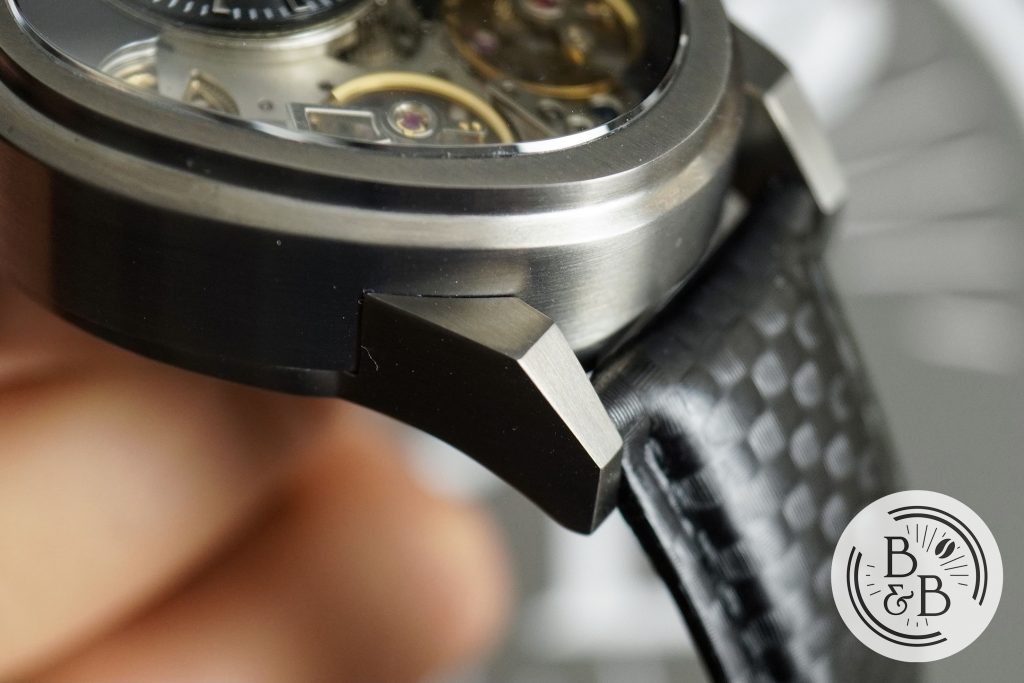 The angular and aggressive lugs are an extension of the case-back plate and are not part of the unusual case design. The lugs are tall, but not too thick, and angle downwards towards the wrist, and extend past the case-back. So they're quite comfortable. The lug width is 22 mm.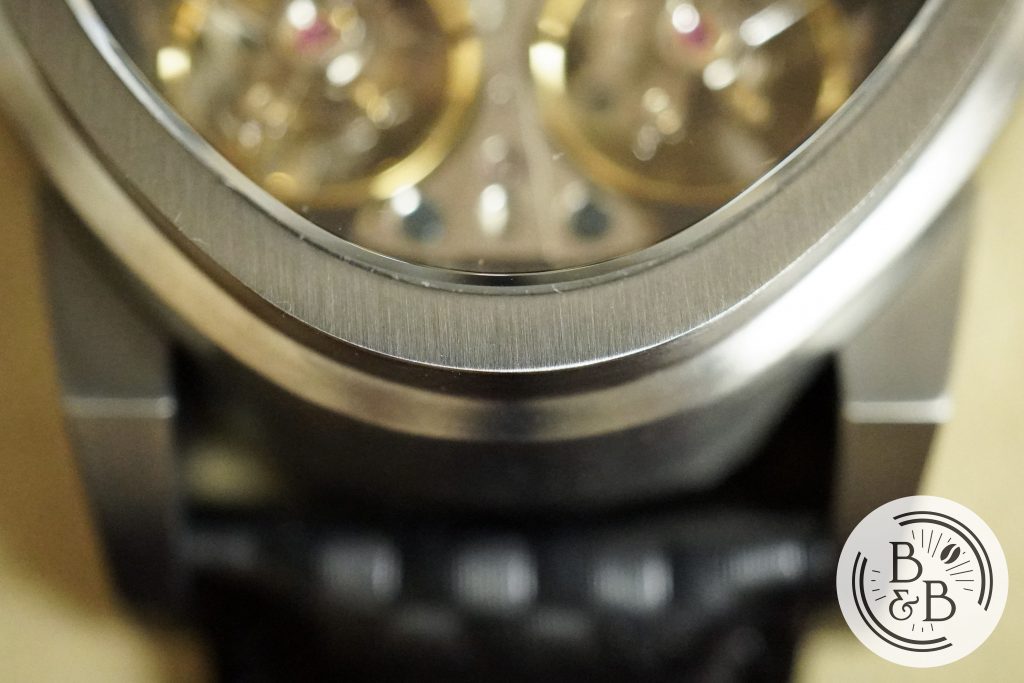 The two piece case design is interesting, as you have a beveled section that transitions into a narrower bezel with vertical brushed finishing. The finishing is quite impressive for the money, and the bezel seats a custom made sapphire crystal.
The crystal appears to be slightly curved, and has a really interesting distortion effect when you view it from extreme angles. I think the crystal maybe one of my favorite aspects of this watch.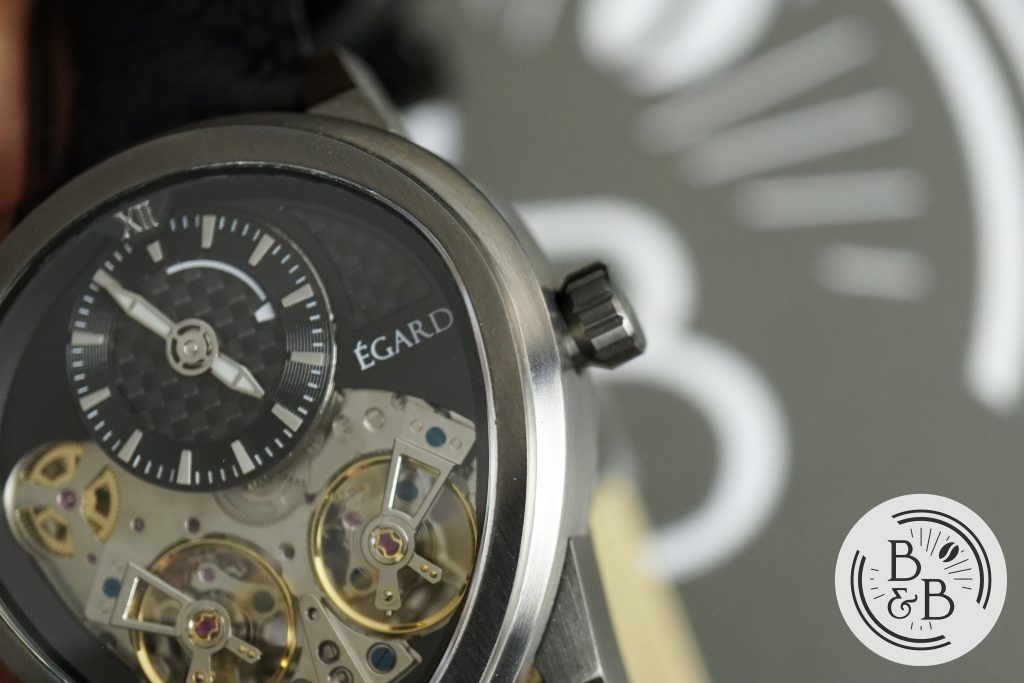 You then have an 6 mm push-pull crown at the 3 o'clock position that is easy to grip and operate. The crown action is great, and there's no crown or stem wobble.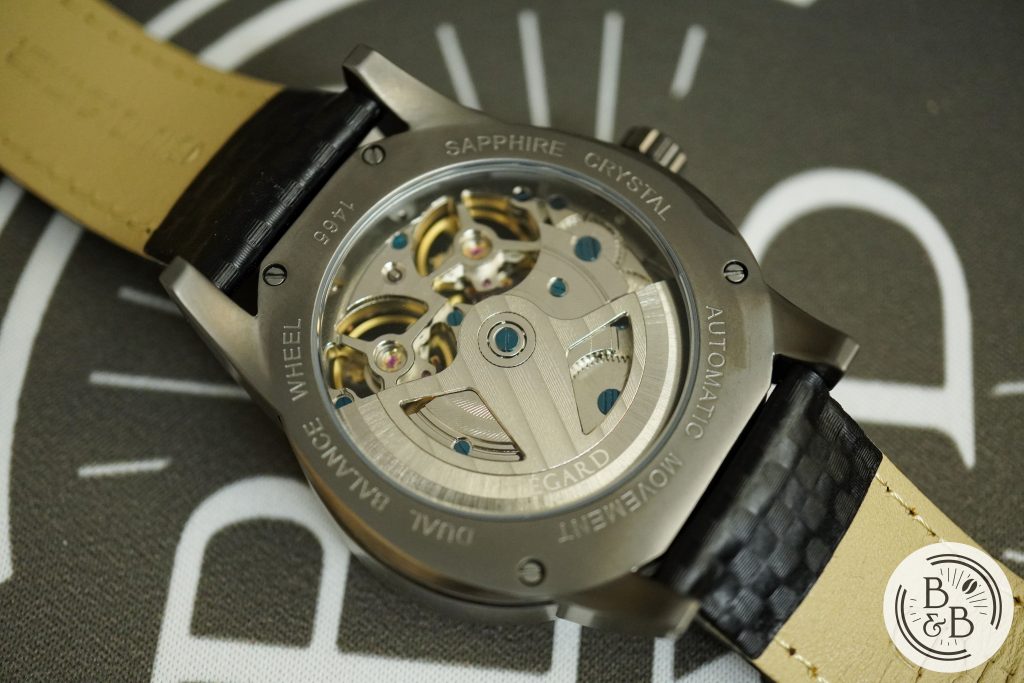 Flipping it over, you have a case-back that is attached to the case by means of four screws, and it has a large exhibition window. This watch is rated for up-to 50m of water resistance. But I think it's best if you leave this one out of your aquatic adventures.
---
Dial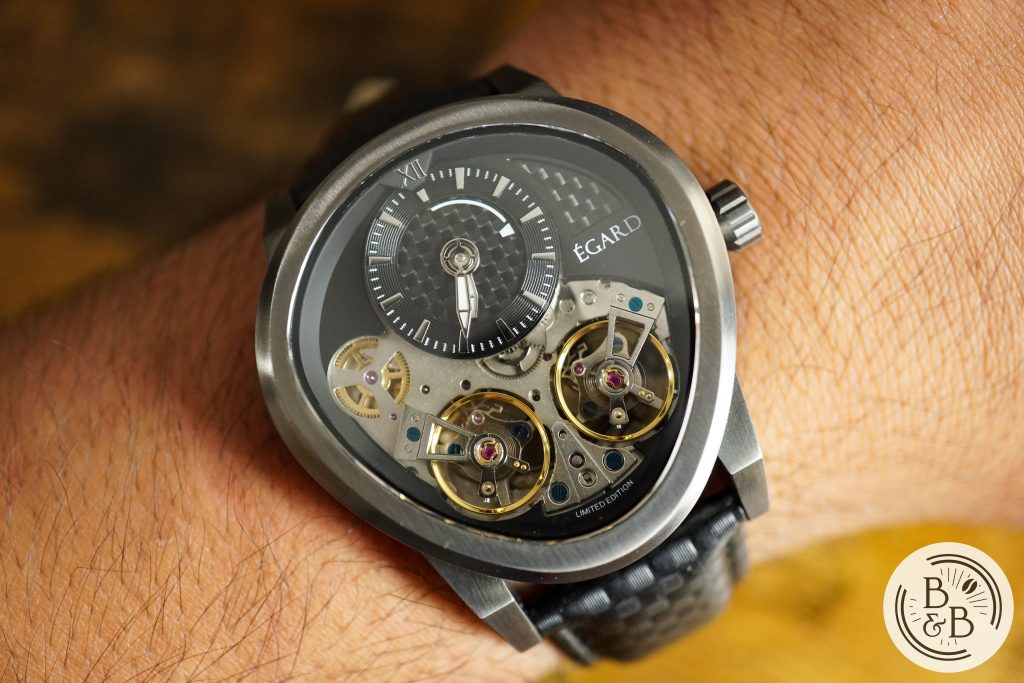 I'm a little confused by which parts to classify as dial and which ones to classify as movement, so I'll just refer to the entire visible section here as the dial. The dial has a more typical circular "legible dial" section at the 12 o'clock and the rest of the dial is mostly just a view of the movement.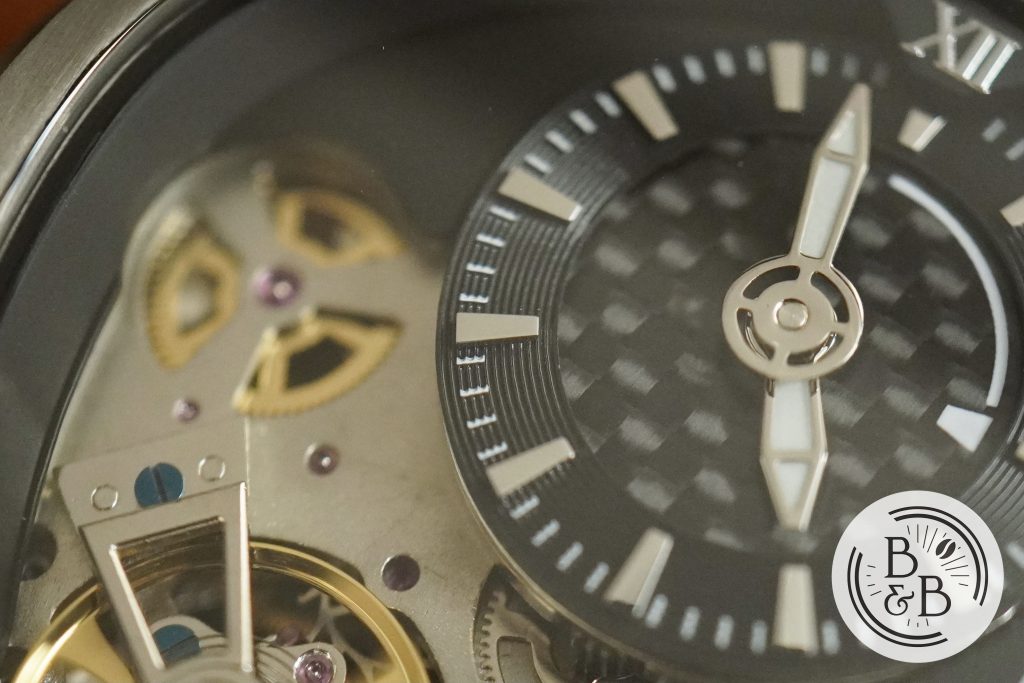 Let's start with the actual functional component of the dial, which is the small dial at the 12 o'clock. You have a combination of polished steel indices for the hour markers, and printed white ticks for the minute markers. The finishing appears to be good. But even if it wasn't, you wouldn't really notice because of how small it is.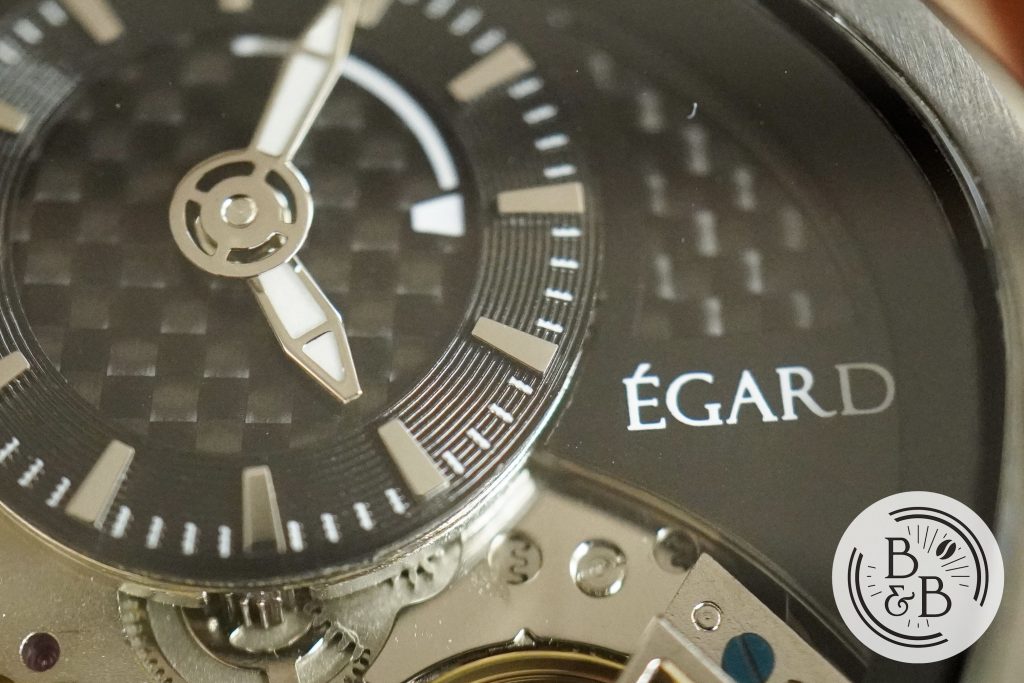 The base of this element has a fine concentric ring pattern that then transitions into a carbon fiber texture that can be seen above the printed logo as well. I think this combination of textures look good, and works with the gunmetal case finish.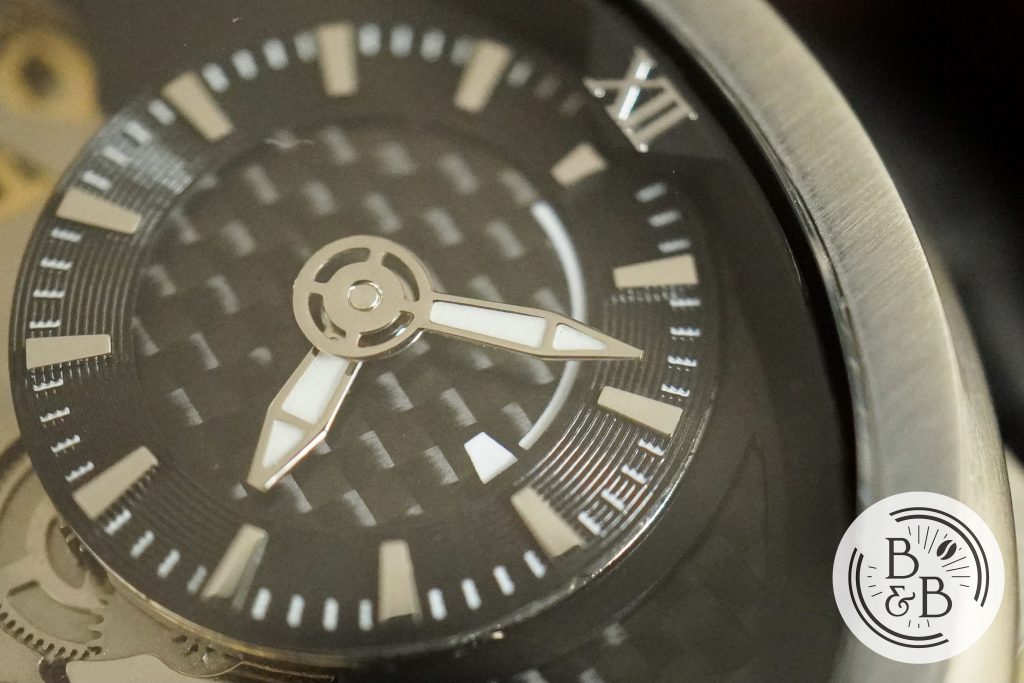 You then have polished stainless steel hour and minute hands, and no seconds hand. I think a seconds hand on such a small dial would be ridiculous anyway, and the two hand layout works. The proportions are good relative to the dial size, and it is moderately easy to read. The finishing on the hands is good, and they both have lumed sections.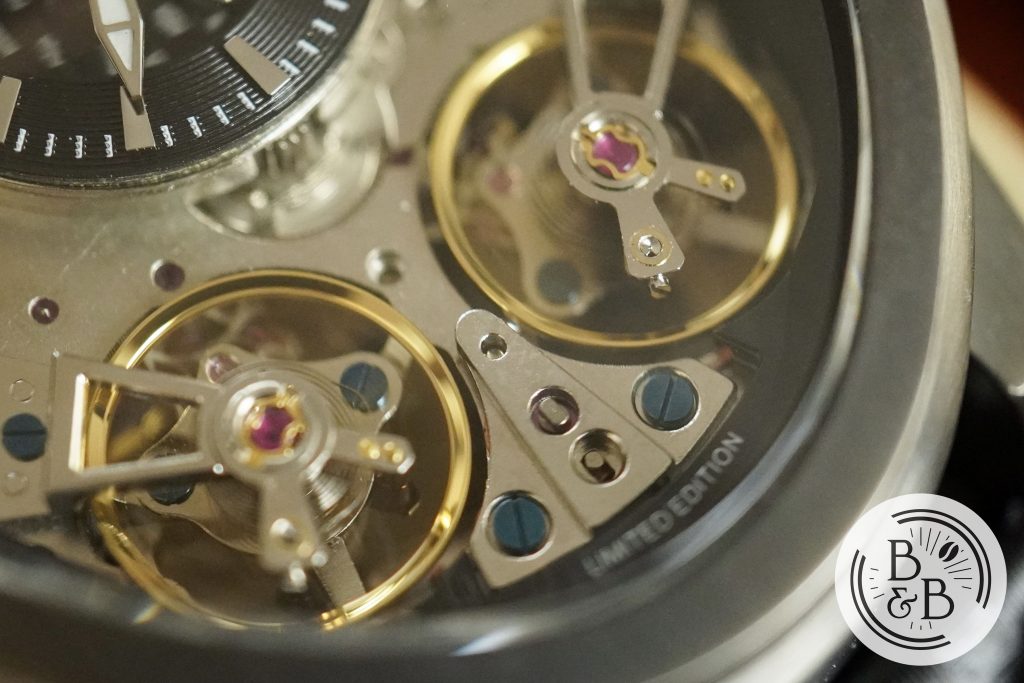 Moving towards the lower half of the dial, you have a really interesting dual balance wheel design that is clearly visible, and is another aspect of this watch I really like. While this appears to be purely for decorative purposes, I think that's fine given the category of which this belongs to.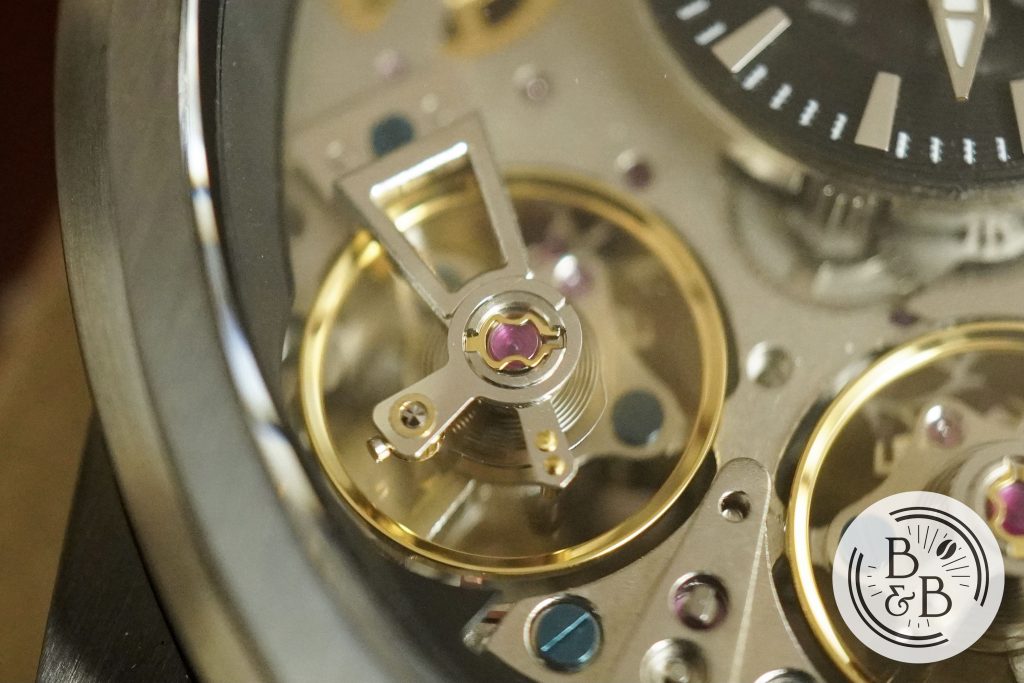 The finishing on all these elements is surprisingly good. If you get up close with a loupe or macro lens, you will find small patches of debris and dust, but I think we can let them off the hook for that considering the price.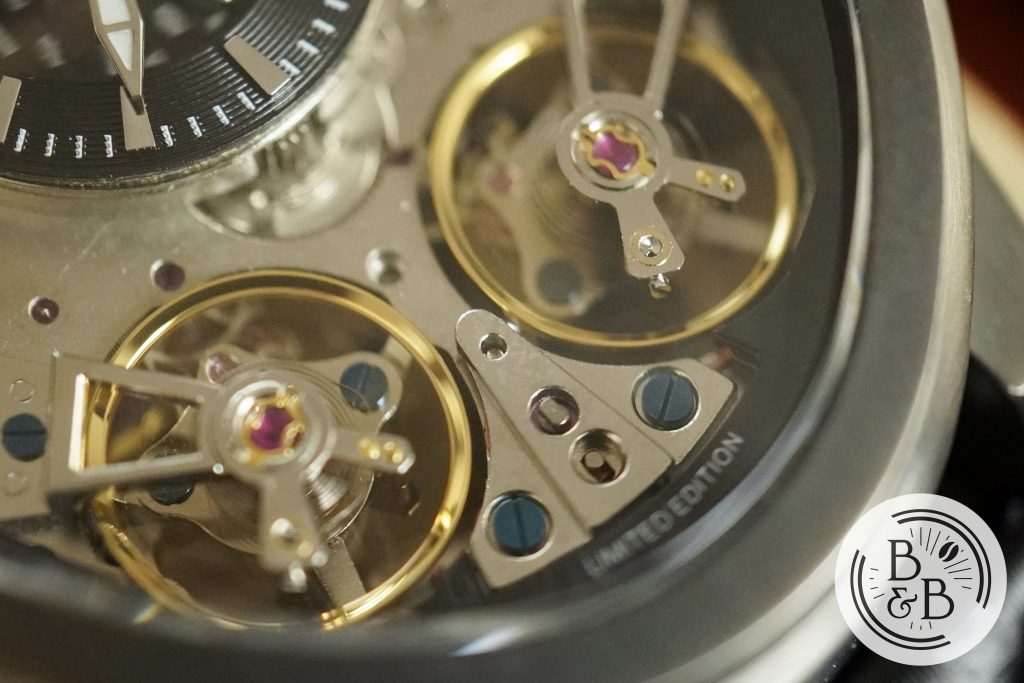 They even threw in a bunch of blue screws wherever possible, along with an attempt at anglage on the balance bridges. You may not be as impressed with this as I am, but I'm mostly amused by the complexity of this movement, and I think Egard did a good job making that part of the dial design.
---
Lume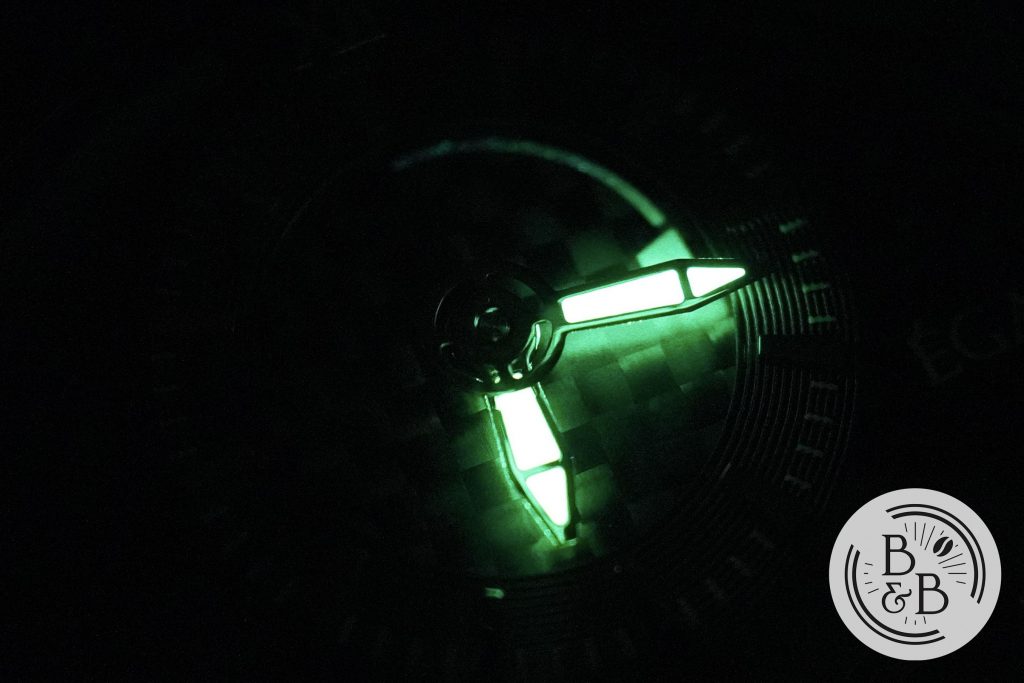 To say this watch is lumed is being generous, but the fact is that it didn't need lume at all given the category to which it belongs. The hour and minute hands are lumed, and the brightness and longevity is about average. For future models, I'd like to see them try a more decorative approach to lume design.
---
Movement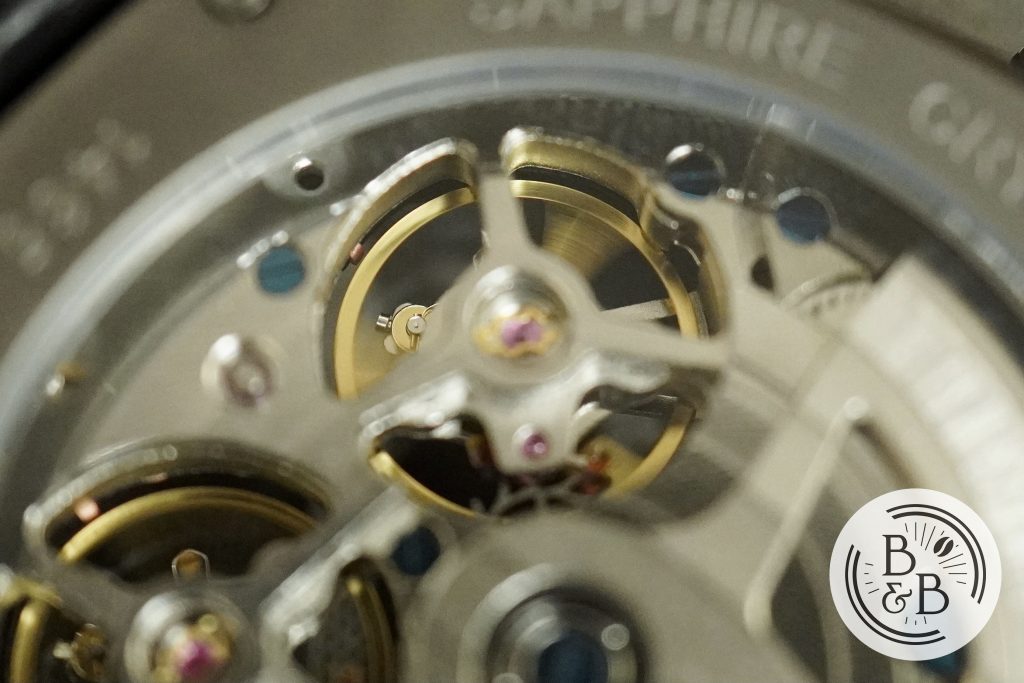 Unfortunately there isn't much information available regarding this movement. These movements are manufactured by Chinese movement maker Jinghe Industrial Co. based in Shanghai. They are then modified and cleaned by Egard's manufacturer.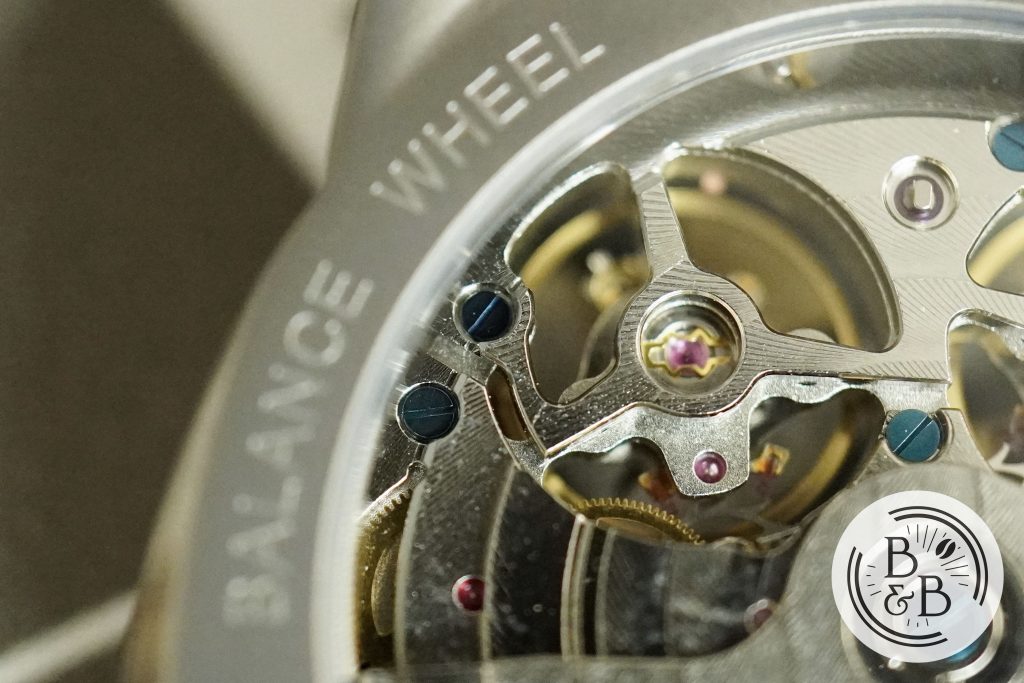 It has a dual balance wheel setup, 47 jewels and a 38 hour power reserve. I don't think there's a lot of technical ingenuity here, and the real aim was aesthetics. In that regard, it sure looks cool and does a decent job at timekeeping. In terms of tidiness and quality control, it looks OK but I noticed some dust and fingerprints, which appears to be pretty common to movements made in China.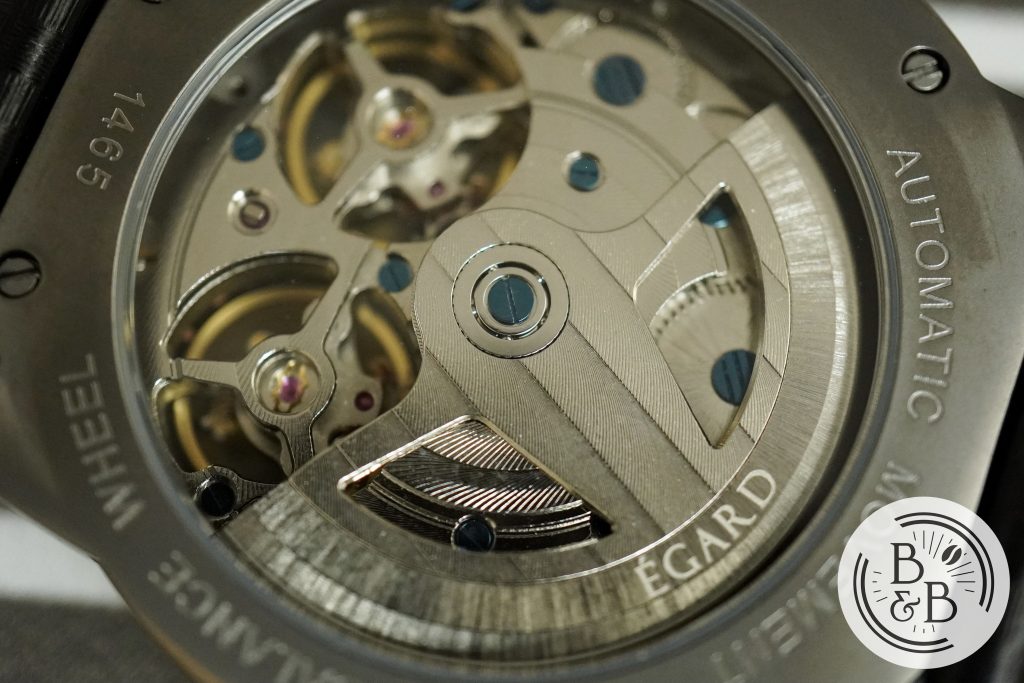 On my time-grapher, I found it slightly tricky to measure this as it reads two beat signatures. But after leaving the watch on there for a few minutes I read an average of +5 spd in the dial up position and +3 spd in the crown up position. So reasonable for a watch in this category if those values read correctly.
---
On The Wrist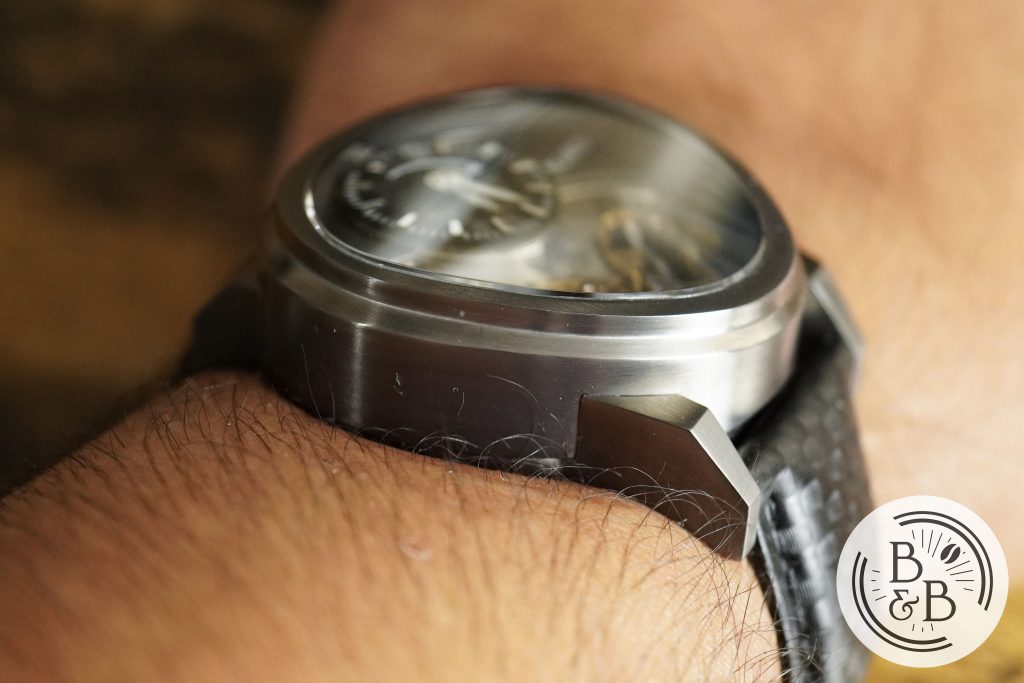 With a statement piece like this, you're not really looking for a subtle or sleek wrist experience. And this watch delivers an aggressive wrist experience that begs for attention with it's 15.5 mm height. The 50 mm lug-to-lug width is surprisingly manageable on my roughly 6.5″ wrist.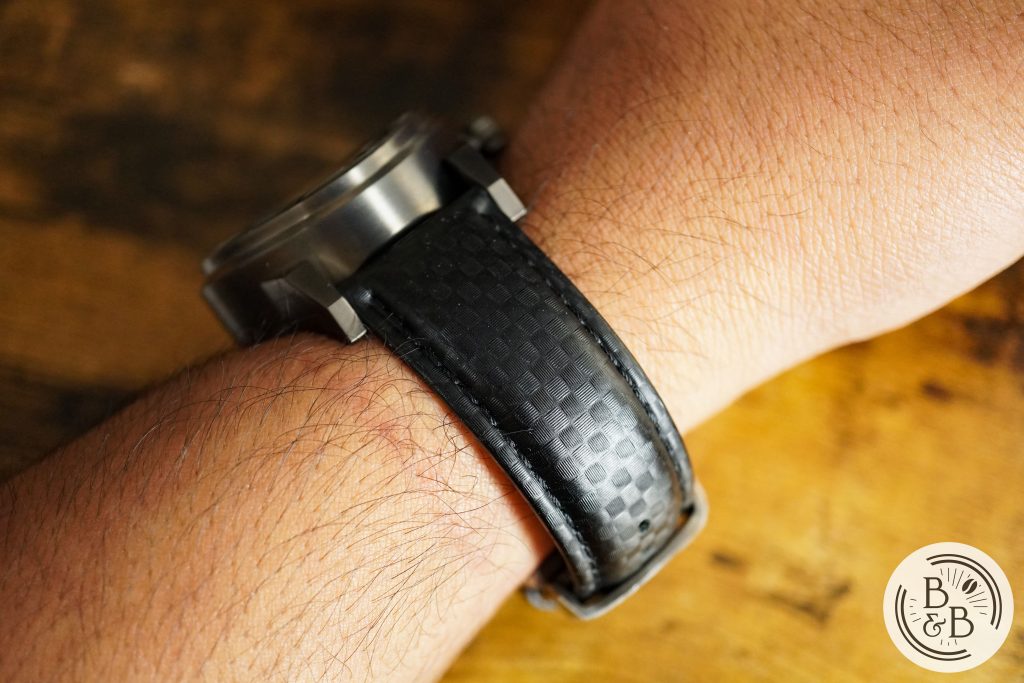 That said, the lugs do extend beyond the case-back, wrapping around the wrists nicely. The flat case-back helps it stay grounded on the wrist, and it is overall well balanced on it's carbon fiber textured strap and deployant clasp.
No, this watch will not fit under a cuff, and no this isn't a watch you wear if you want to maintain a low profile. This is a watch you wear when you're feeling a bit eccentric, and want people to ask you what that cool alien spacecraft is on your wrist.
---
Concluding Thoughts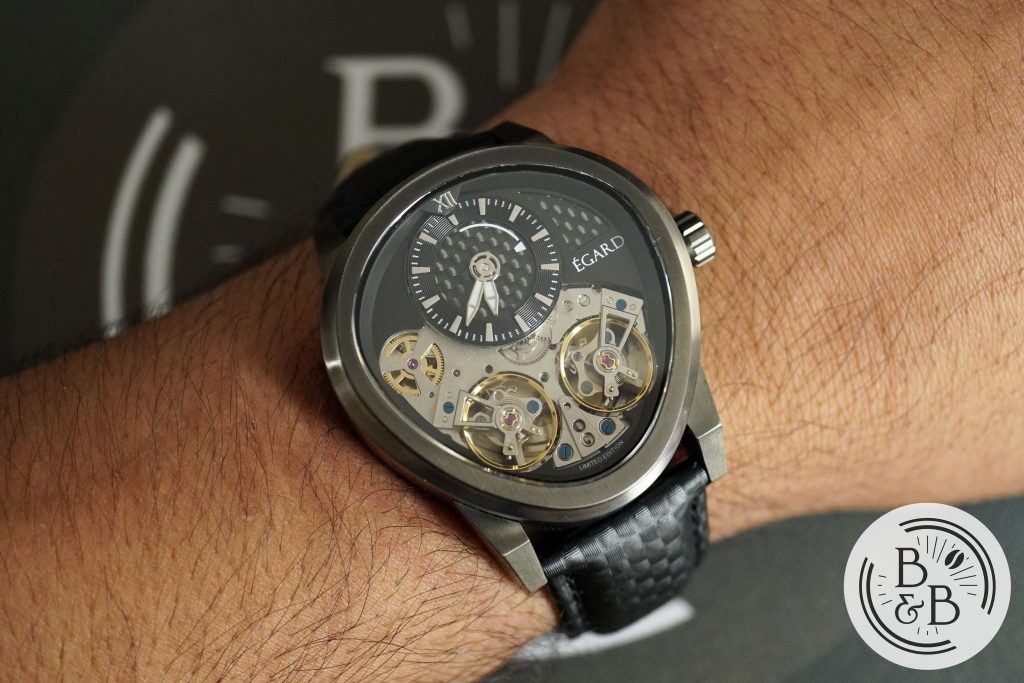 When I look at Egard's entire watch line-up as a whole, I don't see a cohesive design style and some of them look a bit like off the shelf fashion watches. But I think their Quantus series is very intriguing, and I'm glad to see them expanding on this design style with a few different case and dial options, and even a Hangzhou Tourbillon watch with a metal bracelet.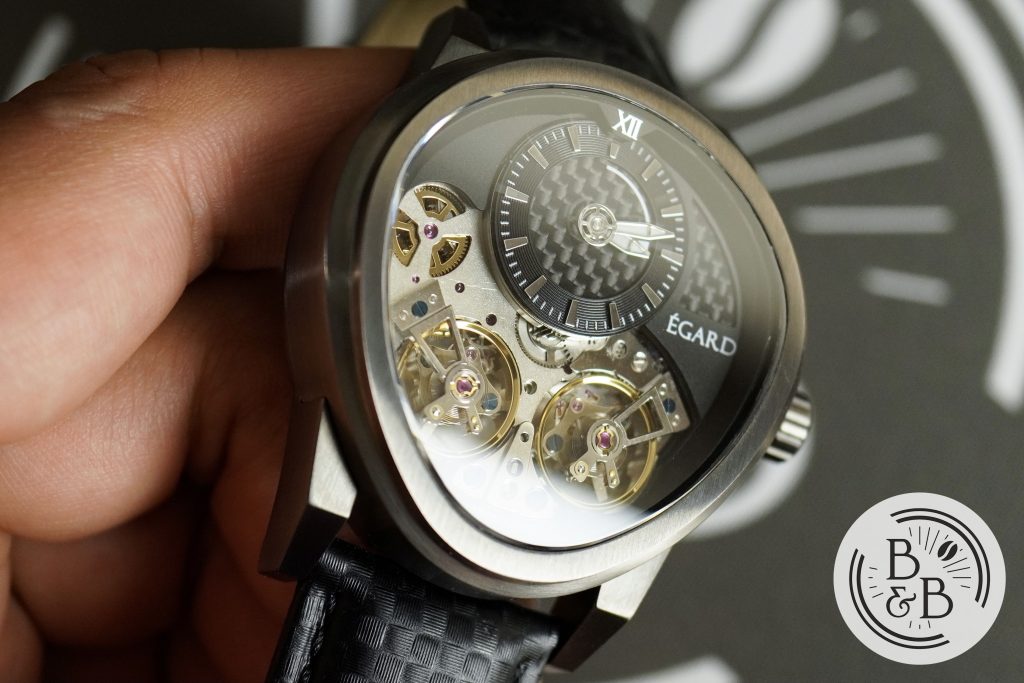 The reality is that this watch is not for everybody. But that's entirely OK, because those that are willing to experiment with watches that are a bit crazy and a bit more bold will thoroughly enjoy this one. I think $495 is a good price for one of these given the custom case and crystal, and while the movement may not be one we're all familiar with, it definitely looks cool. So if you're looking for something unusual and design-forward, you should definitely check this out.
---
Thanks for reading!