---
Disclaimer: I purchased this watch new from Nodus for $425 USD and was not externally incentivized in any way to make this review. This review is in no way sponsored by any entity. All opinions here are my own.
---
---
Contents
---
Nodus
Nodus have been on my radar from the very beginning of my watch review journey. But each time they released a new watch, I either didn't have the money to spare, or didn't really connect with the design. But when I saw the Marina dial option of their latest Sector Field collection, I had to check this out. I love field watches, and I love the color blue, and more importantly I love not having to spend enormous amounts of my own money to review a watch that I'm interested in. So it all worked out.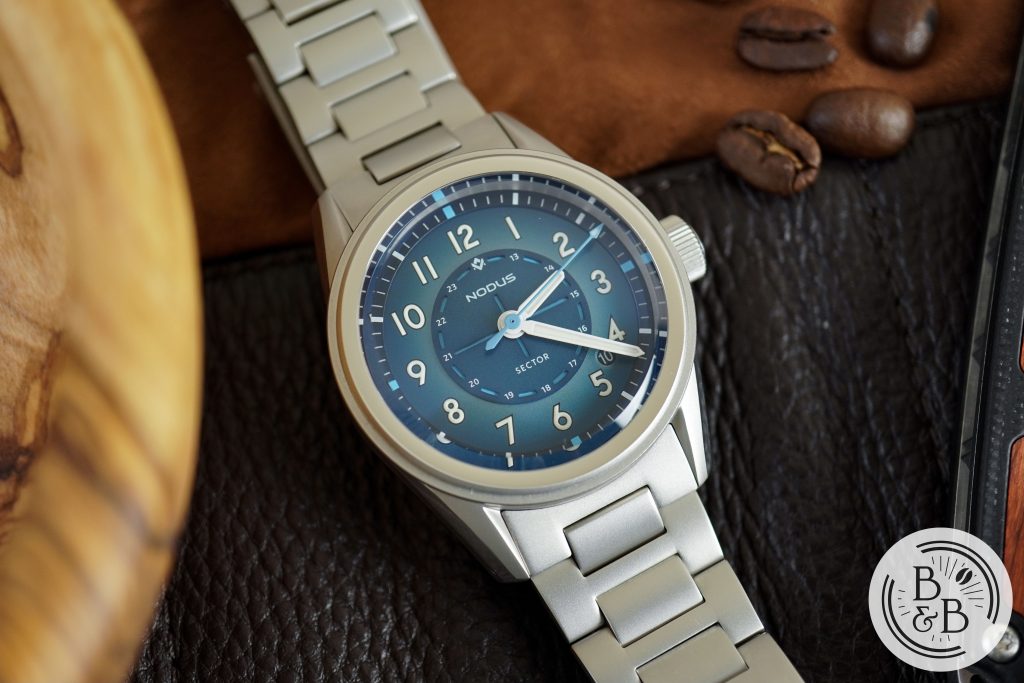 The Sector Field collection is offered in four very interesting dial colors, and costs $425, which includes the metal bracelet. Nodus is based out of California, and their watches are assembled and regulated here in the United States; but manufactured in Asia.
Let's check it out!
---
Case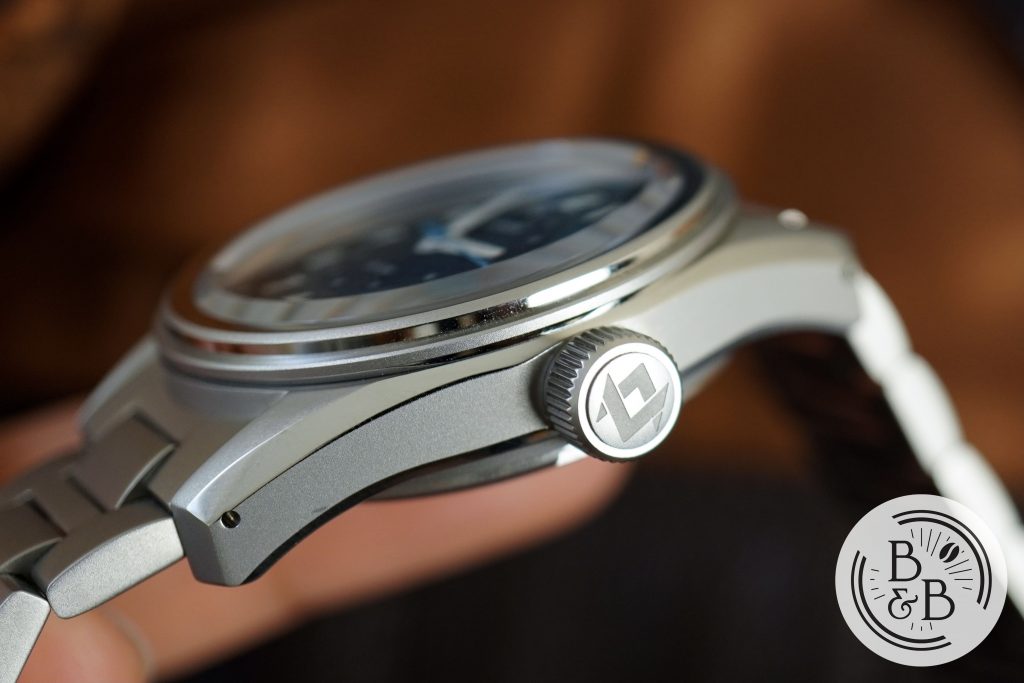 The case measures 38mm in diameter, 47mm from lug-to-lug and 12.75mm in height. The dimensions are a bit peculiar on paper, but they don't look awkward on the wrist. The case is mostly bead blasted, and has some polished accents along the sides, and on the step case surface.
The lugs are quite long, curve down slightly towards the wrist, and have chamfered inner surfaces and polished outer bevels. The lugs are drilled through, but the holes are a bit awkwardly located, both in terms of design and in terms of functionality as we'll see a bit later.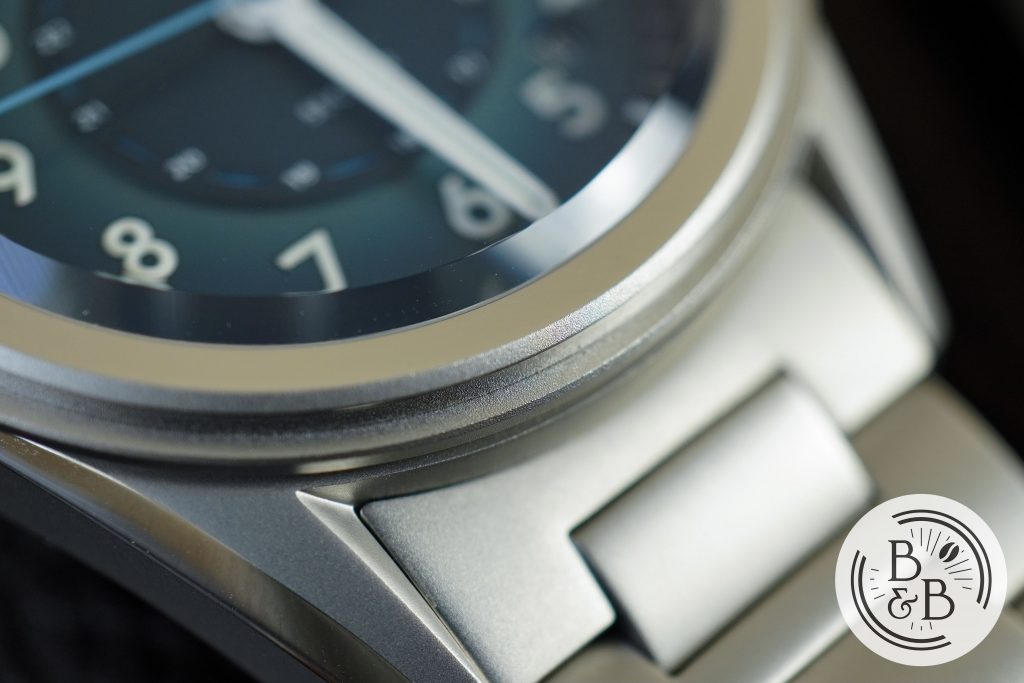 This is a stepped case design, similar to the Baltic HMS 002 that I recently reviewed, which is pretty much a bezel equipped watch without a bezel and a polished surface to replace it. This design is less of a dirt and finger print magnet, compared to the Baltic.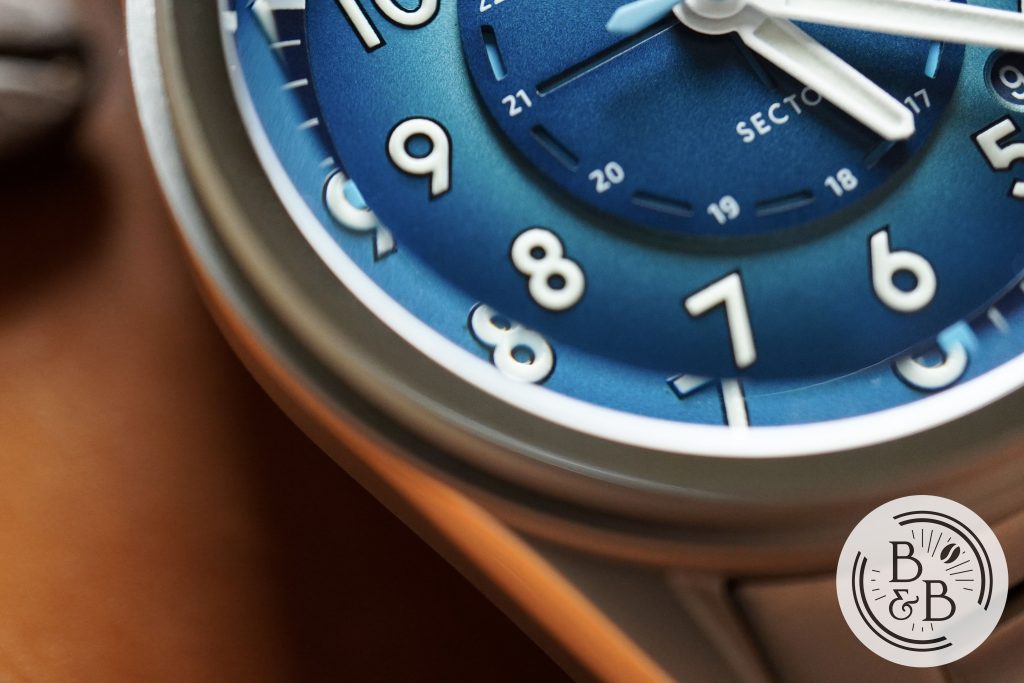 A sapphire crystal sits above this, which has a very unique design, with an angular edge that has lots of distortion and aliasing. I think it looks very cool. The crystal has a domed an AR coated inner surface, and a flat top.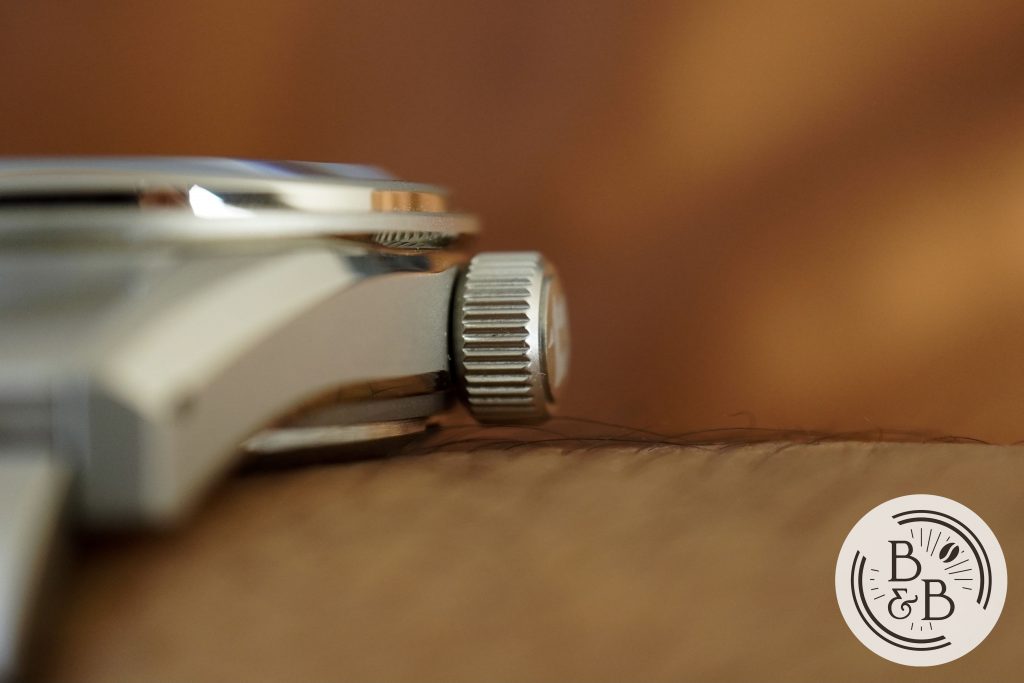 You have an over-sized and signed screw-down crown at the 3 o'clock position that I absolutely love. The grip is excellent, and there isn't any crown or stem wobble. Really well executed crown here!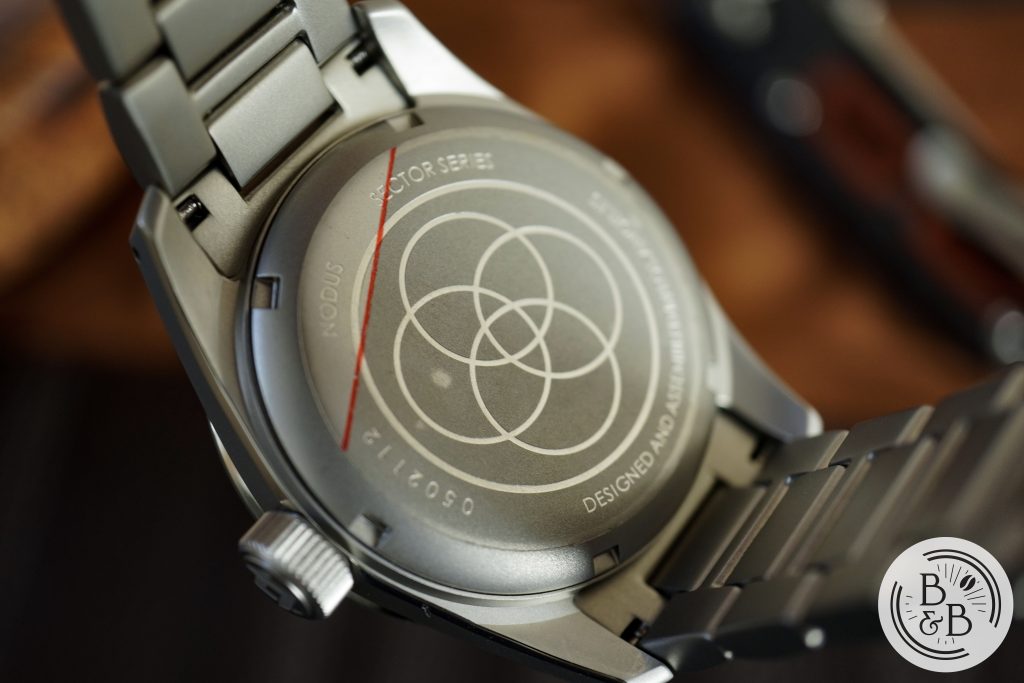 Flipping it over, you have a solid screw-down case-back with a geometric engraving. This watch is rated for up-to 150m of water resistance.
---
Dial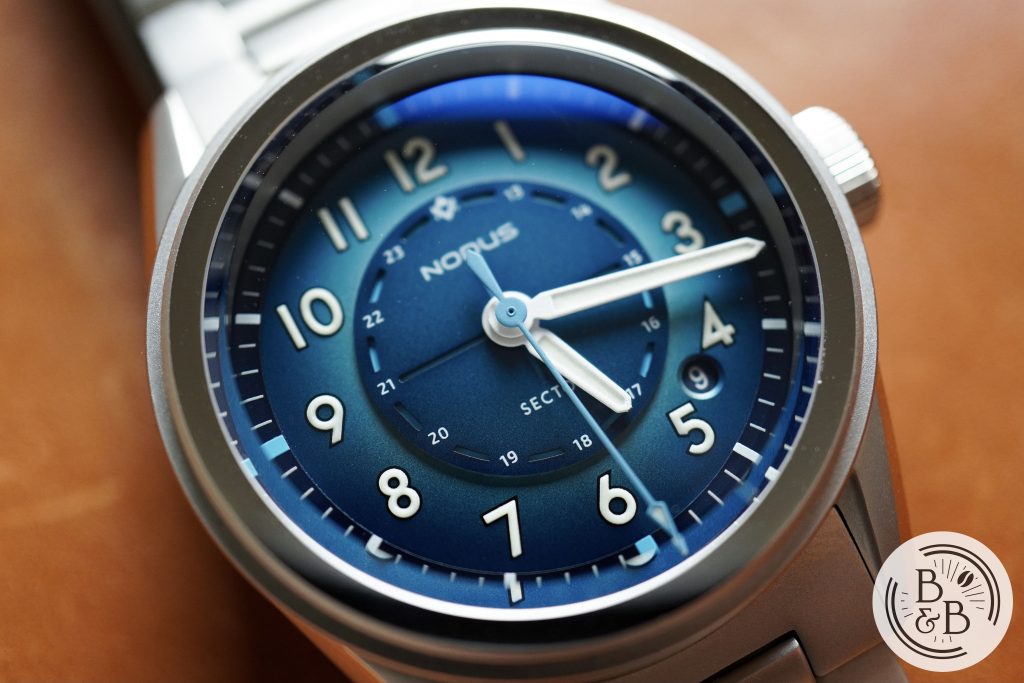 Ok, let's get to the good stuff. This dial design and color are enough of a reason to buy this watch at $425. I love the blue gradient, and all the different surfaces and elements just come together very nicely.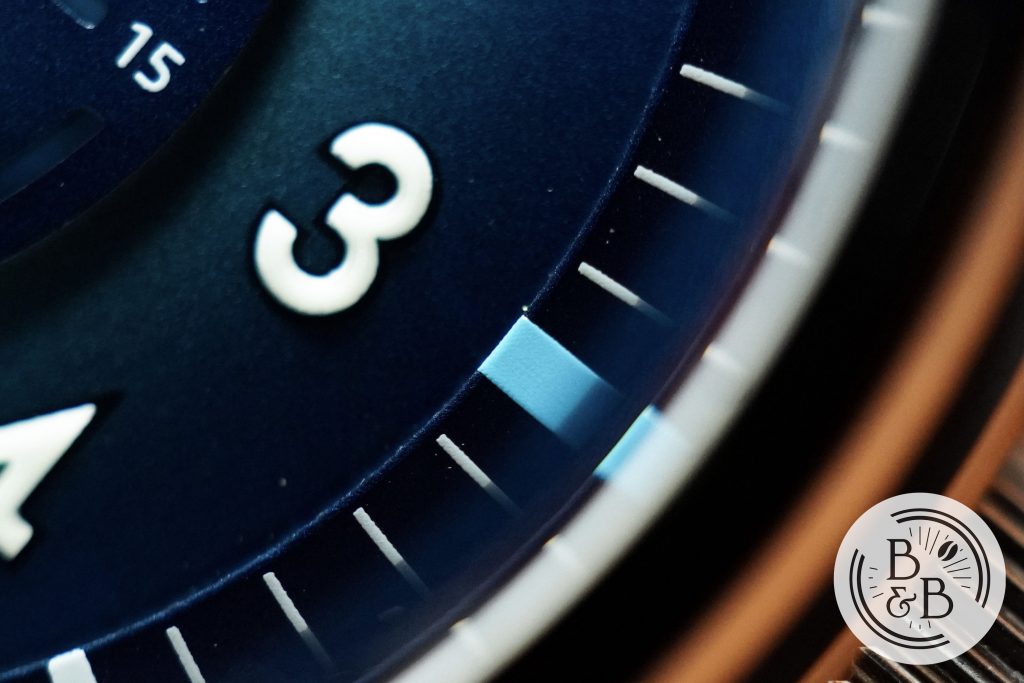 There is a raised dark blue minute track or chapter ring, that has thin white ticks for every minute, thick white ticks for each increment of five, and thicker light blue rectangles at the four axes. I did notice some micro-particles here, but none visible to the naked eye.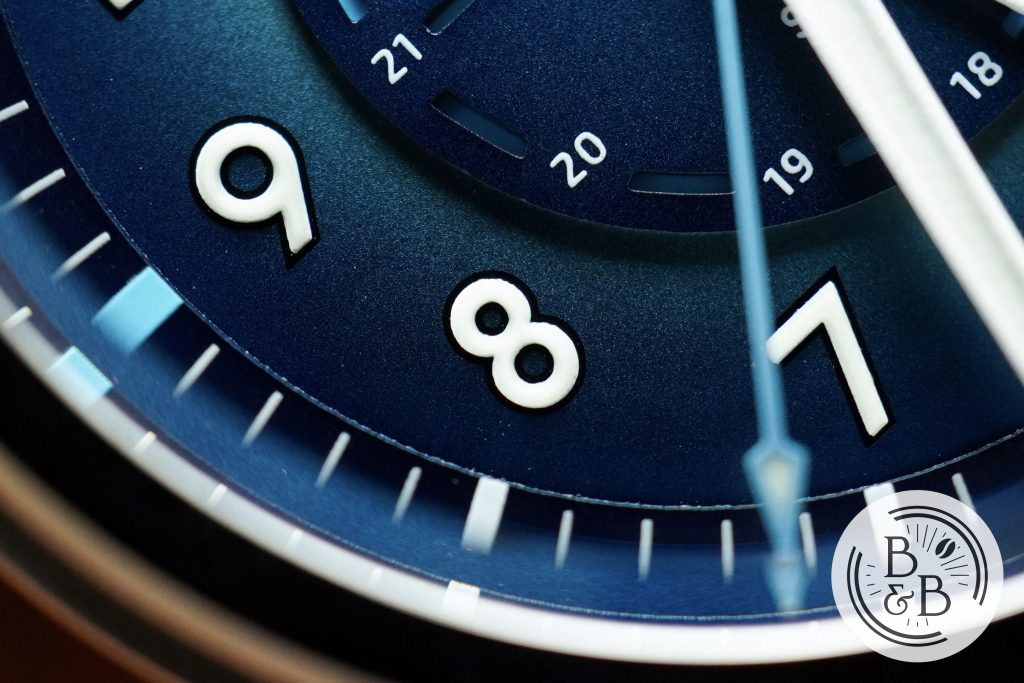 You then have 3D printed indices that are entirely made of lume, and are surrounded by printed black borders. This combination of colors is very easy to read, and just looks incredible in person.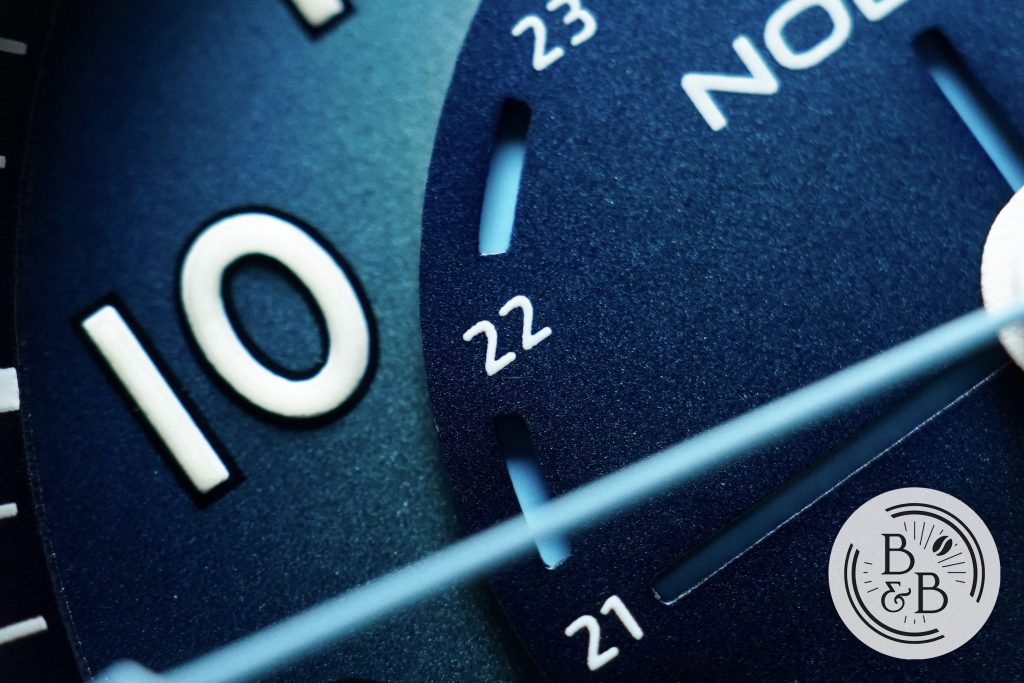 Moving inward to the inner circular disk, you have a 24 hour marker set, that are printed very well. There are recessed sections to this disk, and give you a look at the well matched light blue base.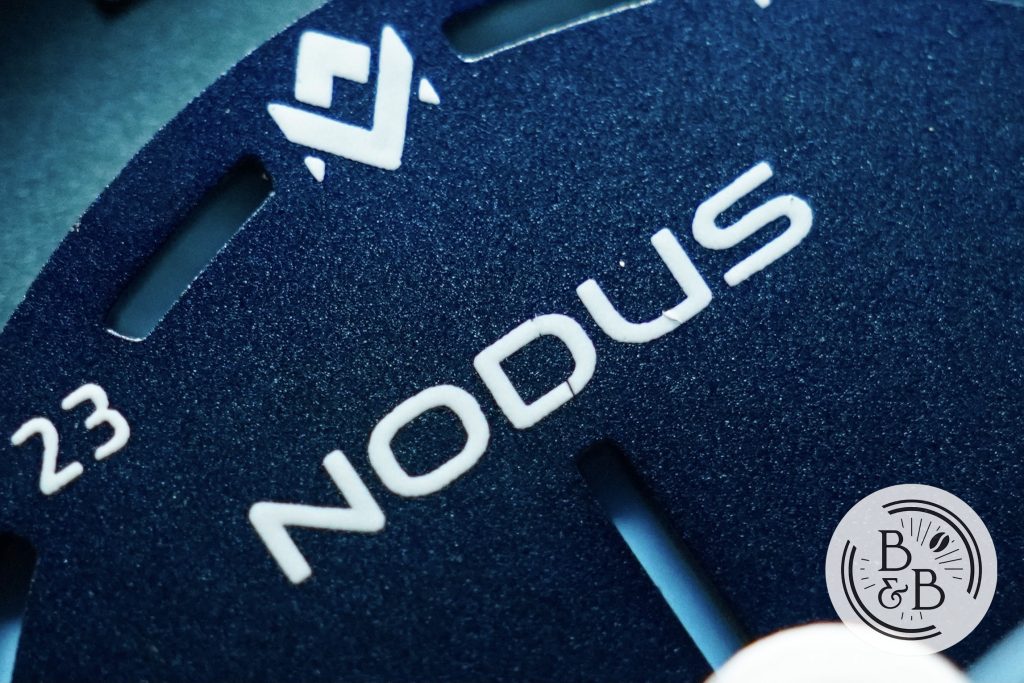 You then have the brand's name and logo at the 12 o'clock. The finishing here is a little disappointing, and has an area of missing paint, a strand of fiber and a stray paint particle. But again, this isn't visible to the naked eye, and can only be seen under a macro lens or loupe.
There is a circular date window at the 4:30 position. Nodus tried to make up for the awkward position with a color matched date wheel background, and… I think it worked. The date window doesn't ask for much attention, but I would've preferred if they didn't have one there to begin with.
The hour and minute hands are very well proportioned, painted white and generously filled with lume. No complaints here, and I think the design works well with the rest of the watch.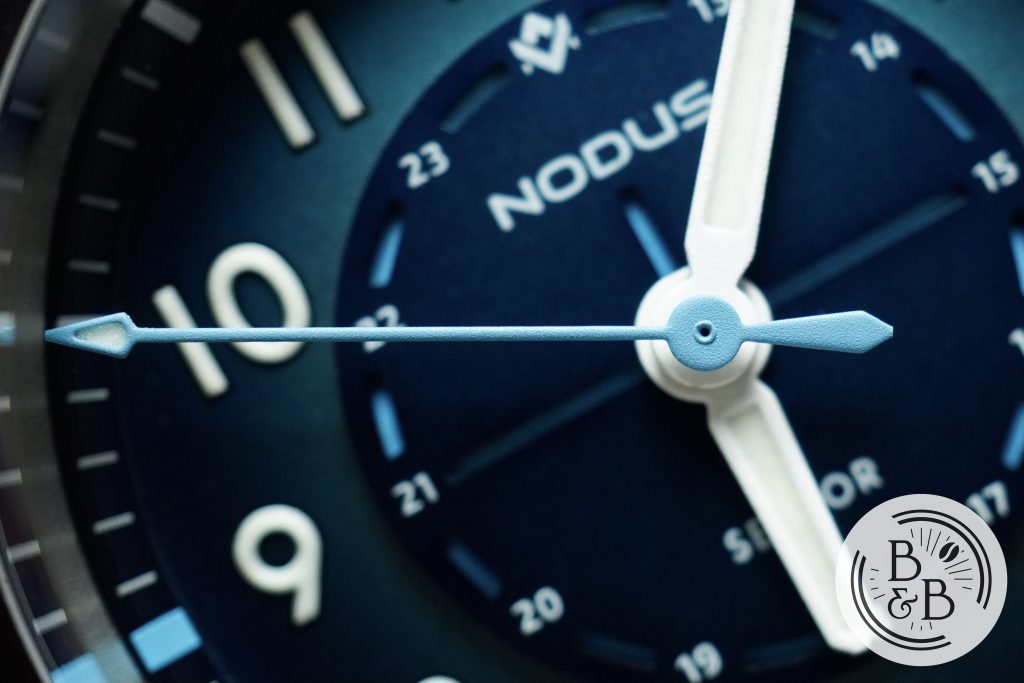 The seconds hand is a bit more bold, and is painted light blue with a lumed arrow head tip. The seconds hand reaches all the way to the seconds track, and the entire watch is very easy to read, as you would want from a field watch.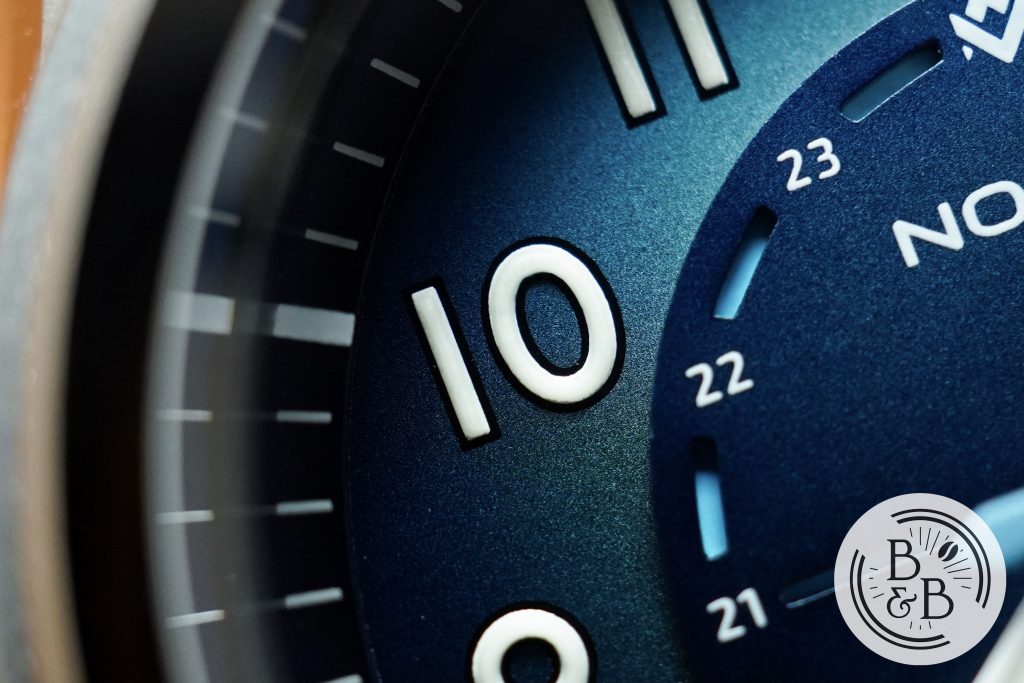 Overall, even with the minor finishing anomalies, this dial is a total win.
---
Lume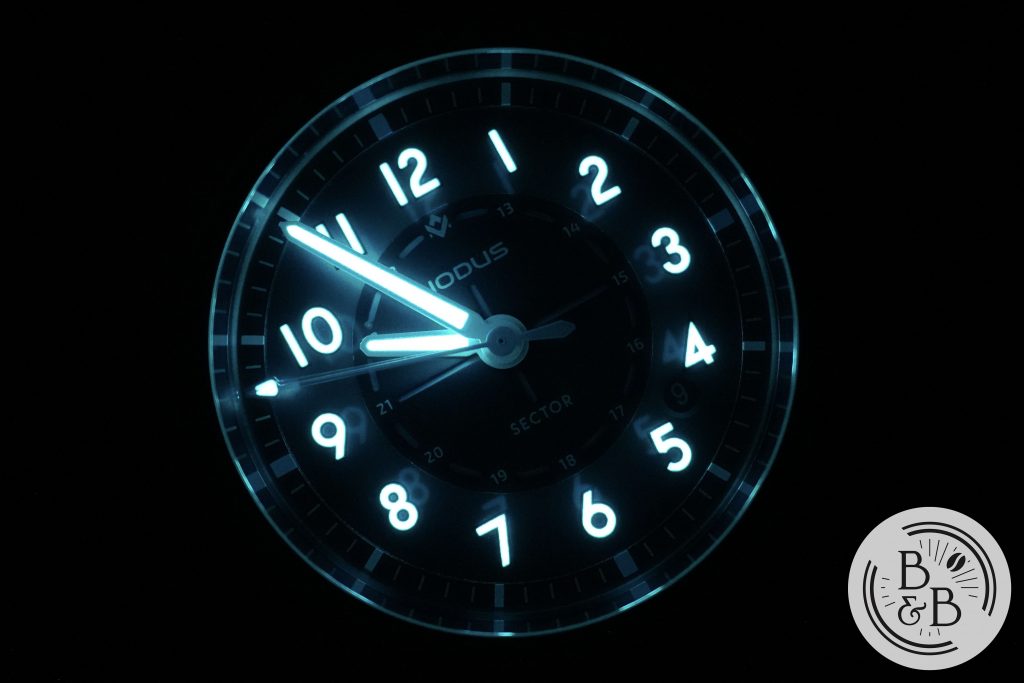 The lume on this watch is well executed, both in terms of design and the quantity of lume used. According to the Nodus website, all the lumed elements are Grade X1 T-C1 Super LumiNova. I'm not sure that T-C1 is, but it looks a lot like BGW9.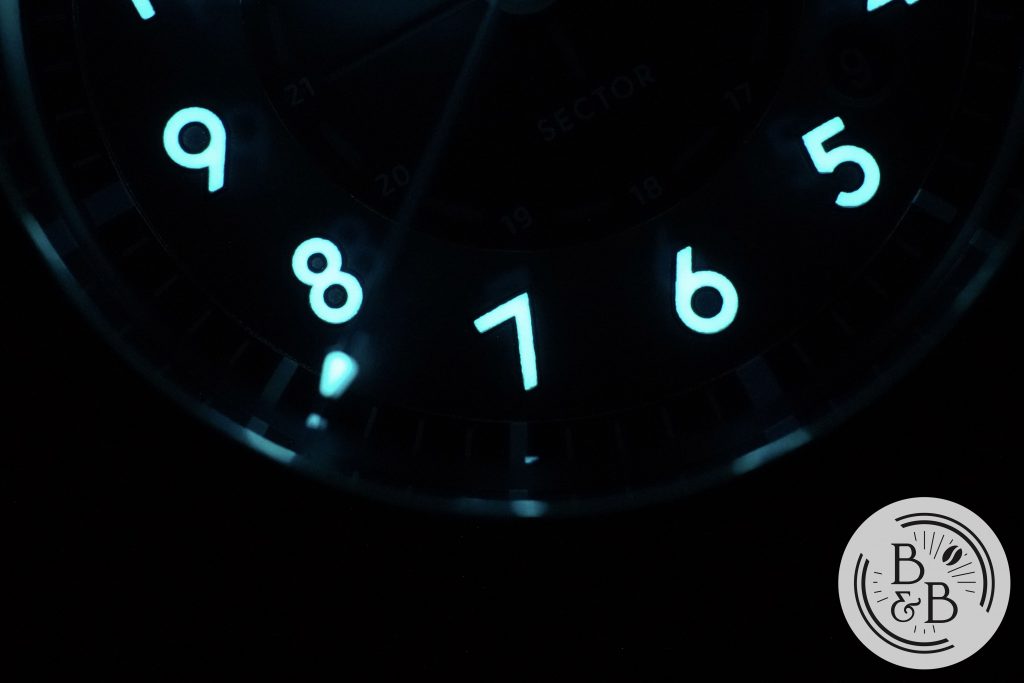 On the dial, the entire set of 3D printed (additively manufactured) indices is made of lume, and shines bright and has good longevity.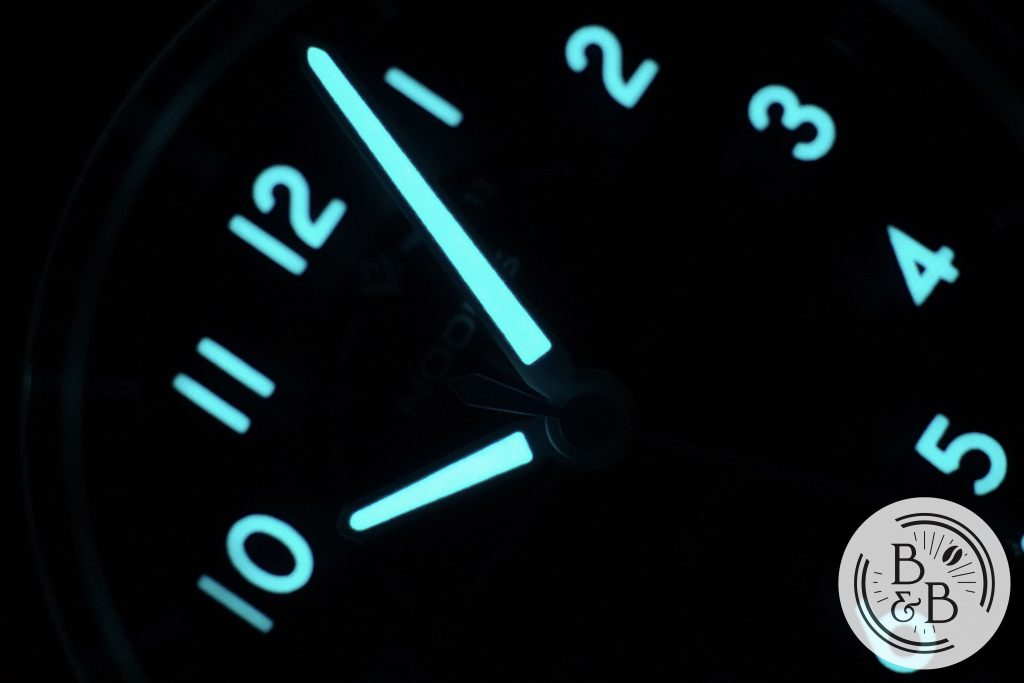 The hands are very generously lumed too, and this includes the arrow tip of the seconds hand.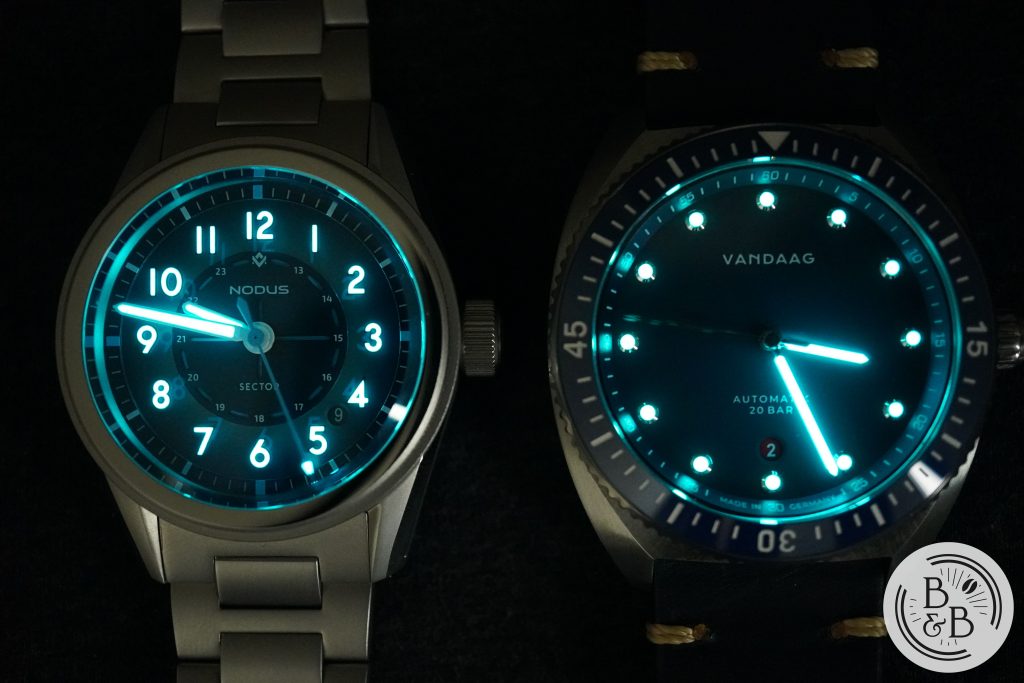 I also compared it against the Nemoto & Co. lume on the Vandaag Tiefsee, which is closer to Seiko in terms of brightness and longevity, and the Nodus held up well.
---
Movement
This watch uses a Seiko NH35, and we're all very familiar with this movement by now.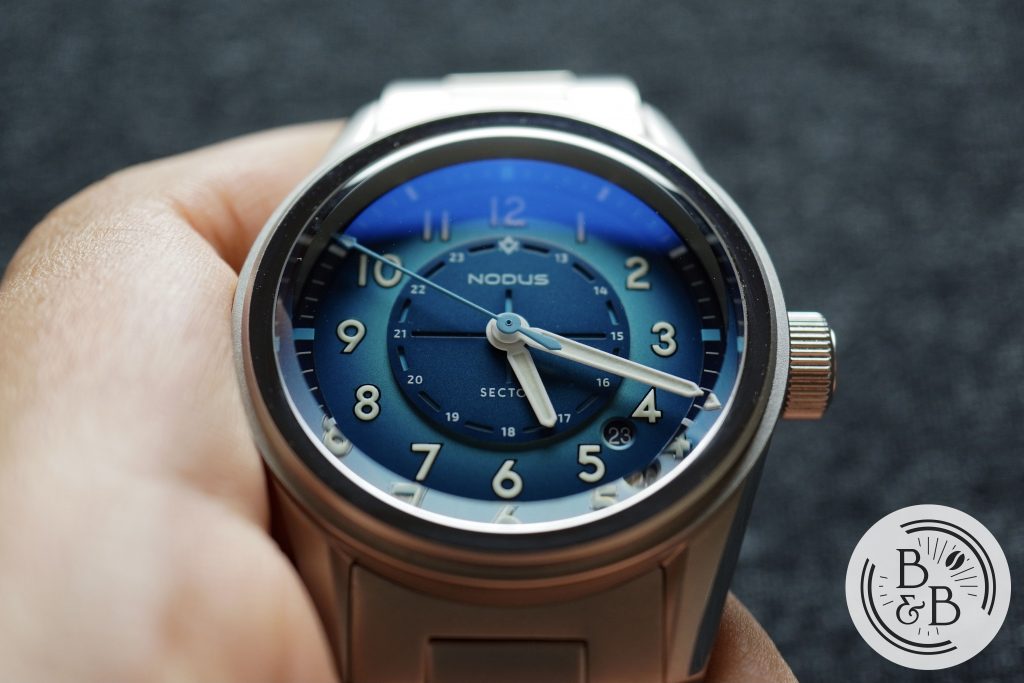 I received a little card with the watch that states that this movement has been regulated in 4 positions:
Crown Up: -7 spd
Crown Down: -6 spd
12H Down: -1 spd
Dial Up: +10 spd
I logged the accuracy of the movement over a 3.5 day period and observed roughly +4.8 spd. For a Seiko NH35, I'll happily accept this accuracy. I left it dial up over night the day I got it, and observed closer to +15 spd, but I didn't test that out enough times to make any bold claims.
---
Bracelet
I like and dislike the bracelet.
I like it because the bead blasted finish looks really well executed, the links are very well made and the screw-based pins made it effortless to resize.
The clasp is also reasonably well made with 3 micro-adjustment slots, and polished edges.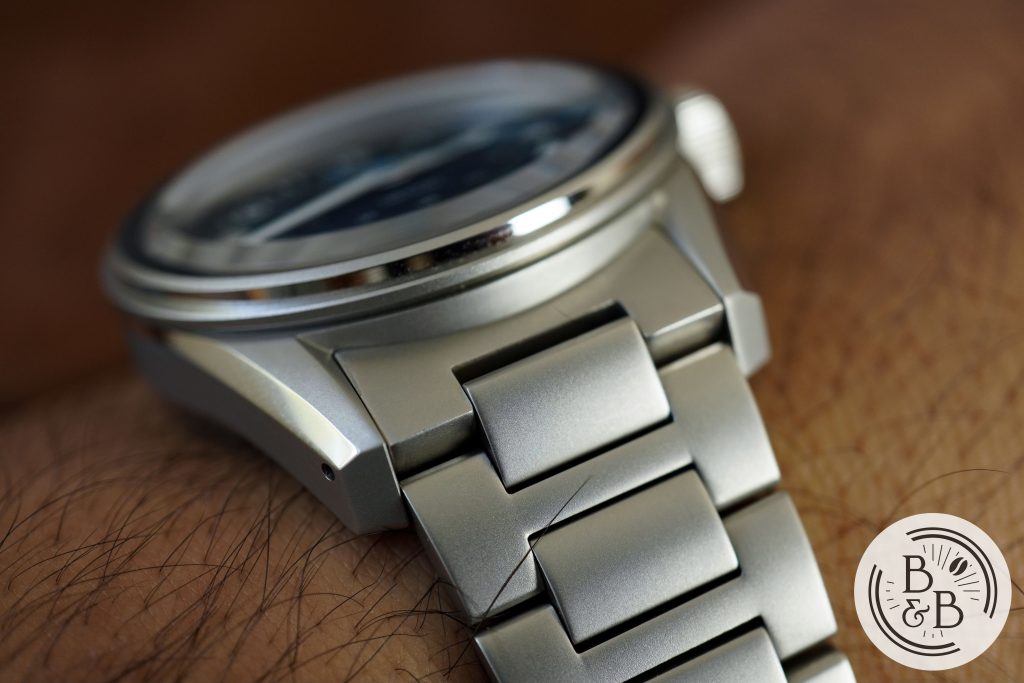 I dislike it because I don't completely understand the end-link design and how it flows into the rest of the bracelet.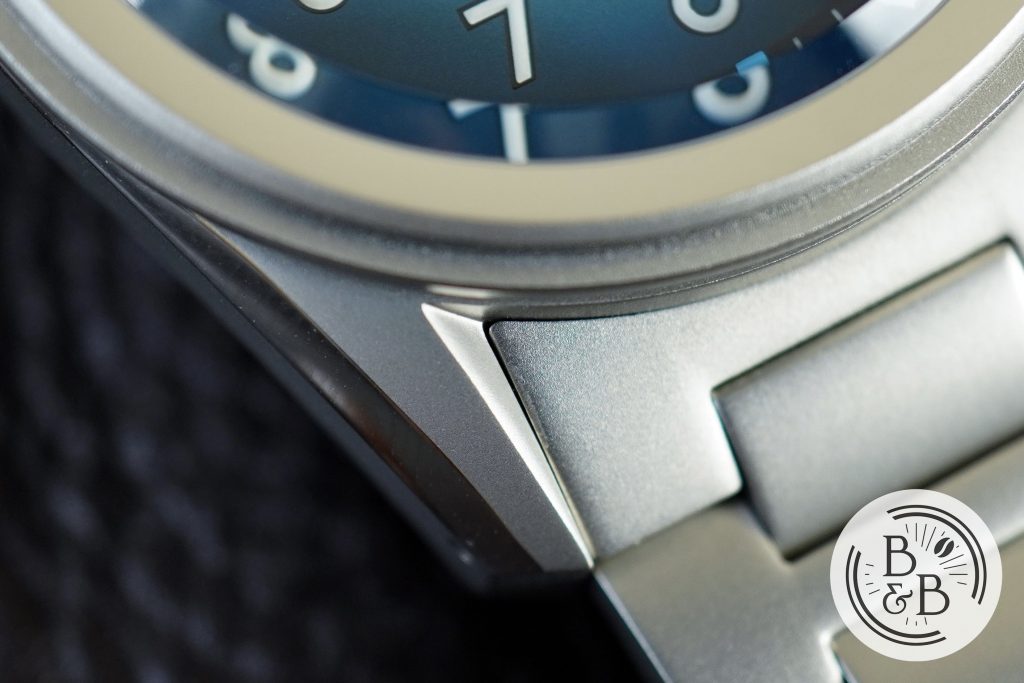 From a construction standpoint, everything is great – there isn't any wiggle at the case joints and the bead blasted finishing is matched well.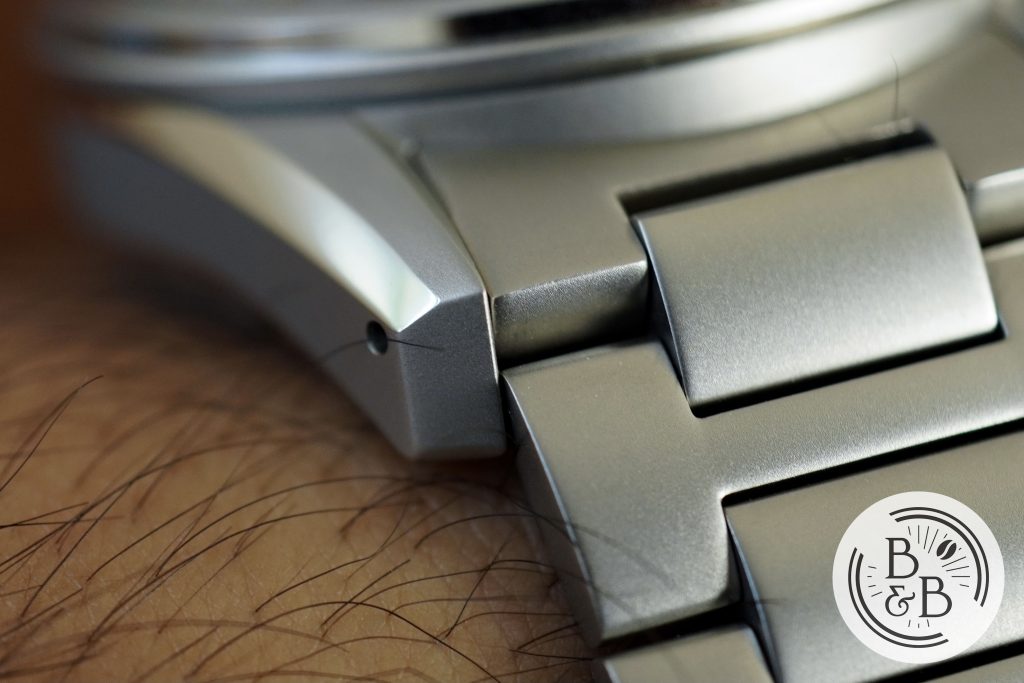 But the drilled through lug holes appear to be too high up, and the end links do not gracefully flow into their respective next links. There is a steep drop, and because of the fully articulating center-links, you end up seeing the side surface of the center links, as well as a sharp edge at the end links.
This doesn't have any impact on comfort, but does accent the case height and looks a bit ugly. This could've been avoided with slightly lower lug holes, more downward sloping end links, and slightly less articulation at the center links.
---
On The Wrist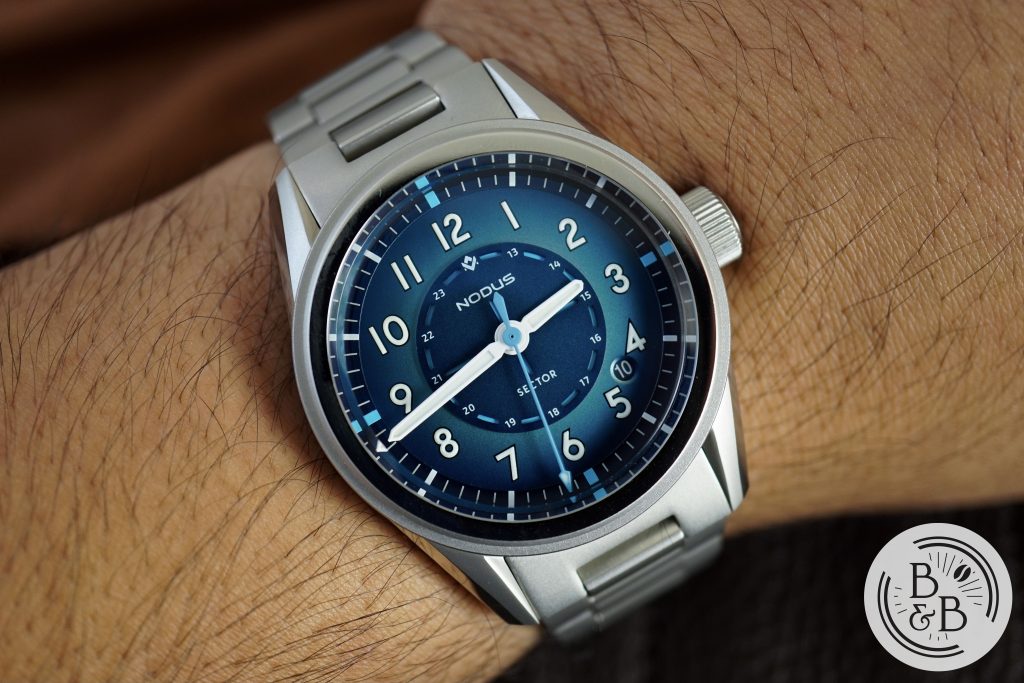 On my 6.25″ wrist, the 38mm case diameter wears nicely, although I think the 47mm lug-to-lug width is on the larger side of what I would've preferred for this watch given it's hefty lugs.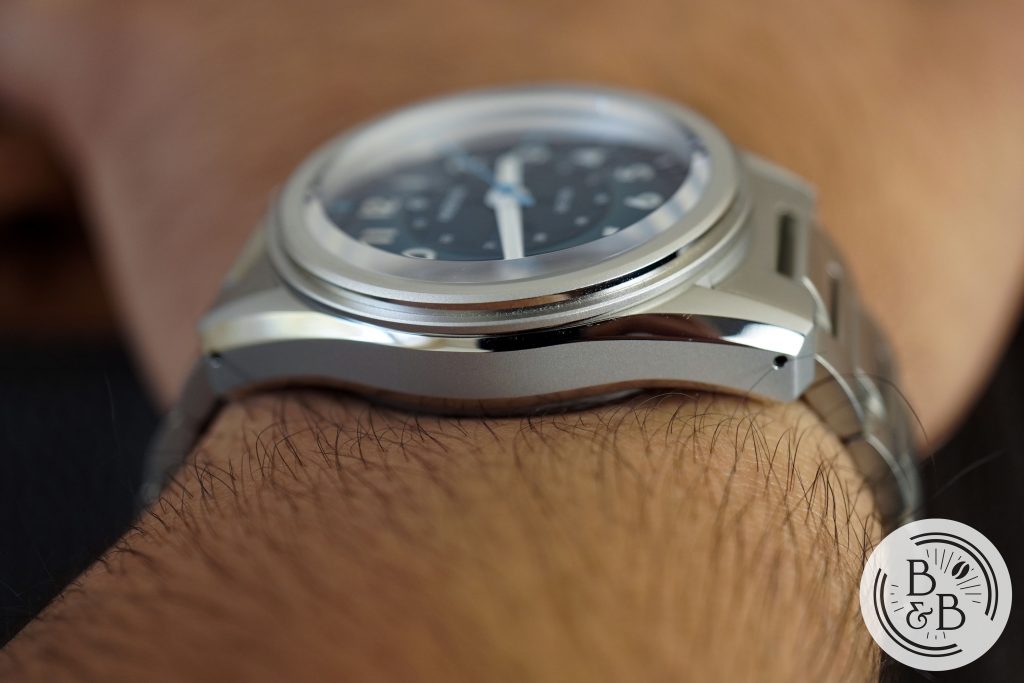 The case height of 12.75mm is on the taller side of what you'd expect from a watch like this, but it doesn't feel awkwardly tall. If the bracelet didn't droop off the end links, you wouldn't notice this height at all.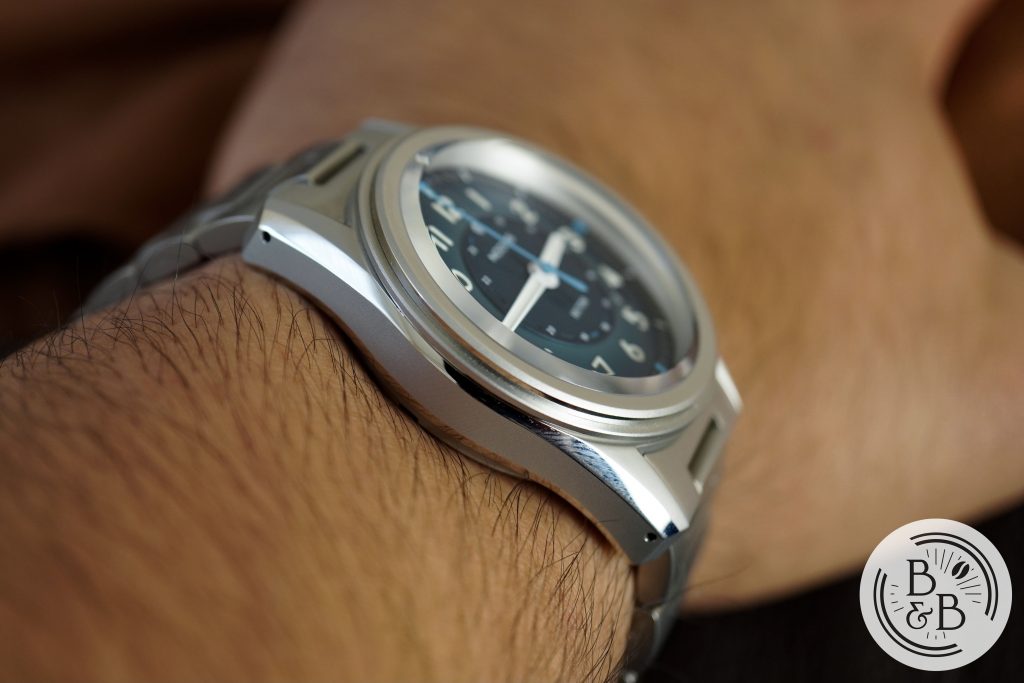 Sized for my wrist, this watch and bracelet weighs xg. So it's not a heavy watch, or a light one either. Overall, I'd say it's a comfortable watch and given this interesting combination of dimensions, is going to look good on a wide range of wrist sizes.
---
Concluding Thoughts
To wrap this up – I will admit I nit-picked at a few aspects of this watch more than I should have with a $425 watch. But the entire watch community holds Nodus to very high standards, so I set mine accordingly. But that said, I absolutely love this watch and I think it is easily worth the $425 price tag. The dial is incredible, the finishing is good, the movement is very well regulated and the bracelet is acceptable.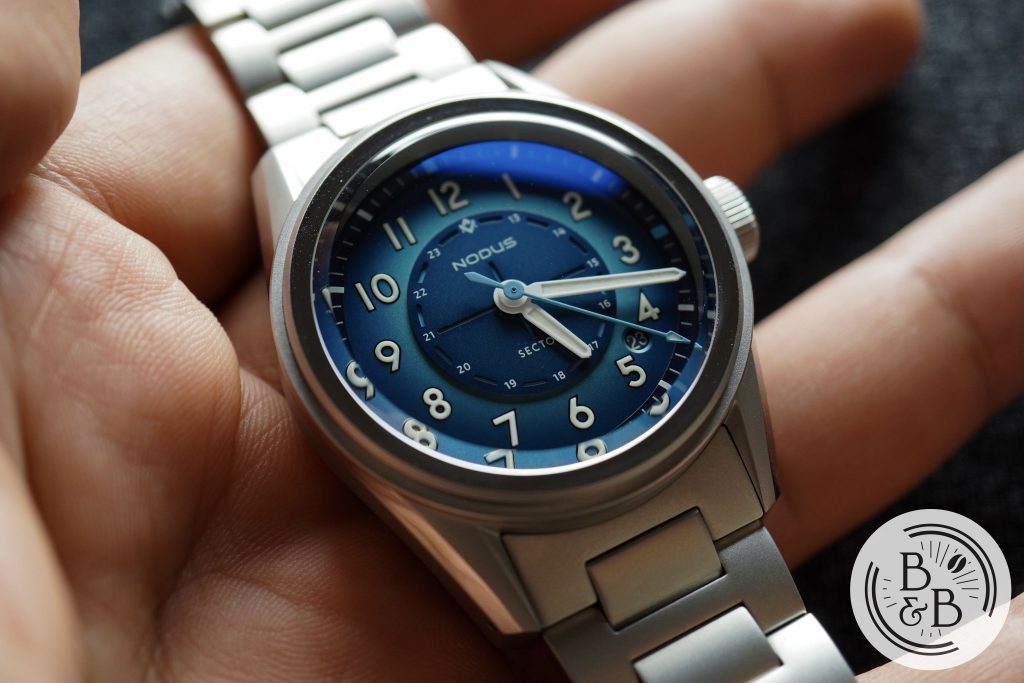 I recently reviewed another sector dial watch, the $465 Baltic HMS 002, which is going for a very different design aesthetic altogether. But if you offered both of these watches to me, I would pick the Nodus in a heart beat. There is just so much more value being delivered here.
---
Strap Change
---
Thanks for reading!