---
Disclaimer: I purchased this watch new from Baltic for around $675 USD on the blue strap and was not externally incentivized in any way to make this review. This review is in no way sponsored by any entity. All opinions here are my own.
---
---
Contents
---
MR 01 Micro-rotor
The first micro-brand watch I owned was a Baltic Aquascaphe, and at that time I didn't realize what kind of rabbit hole was ahead of me. I think Baltic is one of the more successful micro-brands out there today, and with excellent marketing and good looking products, they seem to be gaining more and more momentum.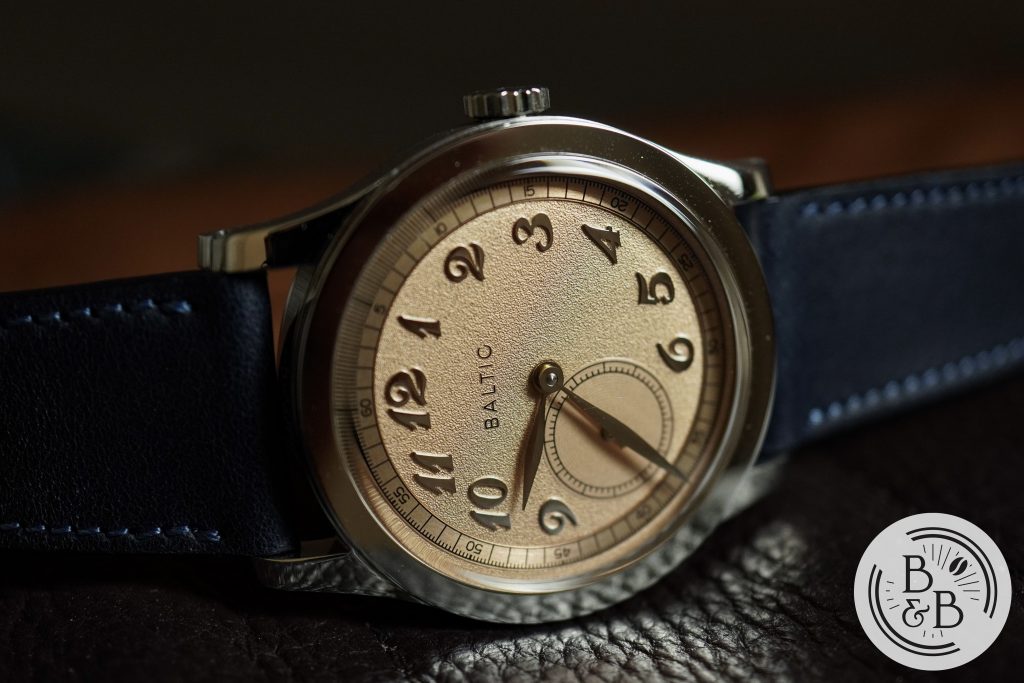 I reviewed the blue gilt HMS002 sometime last year, and while that was a good looking watch, I wasn't convinced enough to keep it for too long. And their GMT and dual crown compressor style diver didn't do anything for me either, and seemed to be just following micro-brand market trends instead of setting it.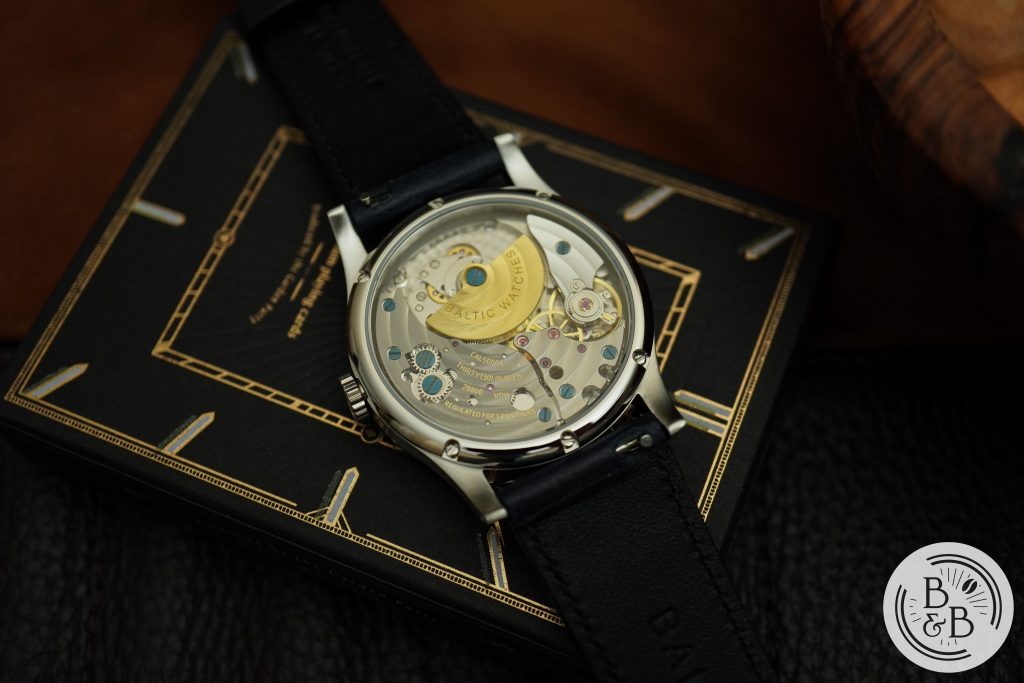 But when they released this micro-rotor equipped MR01, my interest was piqued again, and it felt like a refreshing change of pace for the brand, having just been dabbling in pretty unimaginative dive watch designs for the last year. This is the MR01 in the salmon dial option with a blue leather strap, and cost me about $675 USD.
Let's check it out!
---
Case
I measured the case to be 35.8 mm in diameter, 43 mm from lug-to-lug and 9.8 mm tall. The case is made entirely of stainless steel, and straight out of the box I noticed that the case finishing seems to have improved since the Aquascaphe and HM002. The polished surfaces look nicer, and the brushed areas are a lot more even and finely brushed.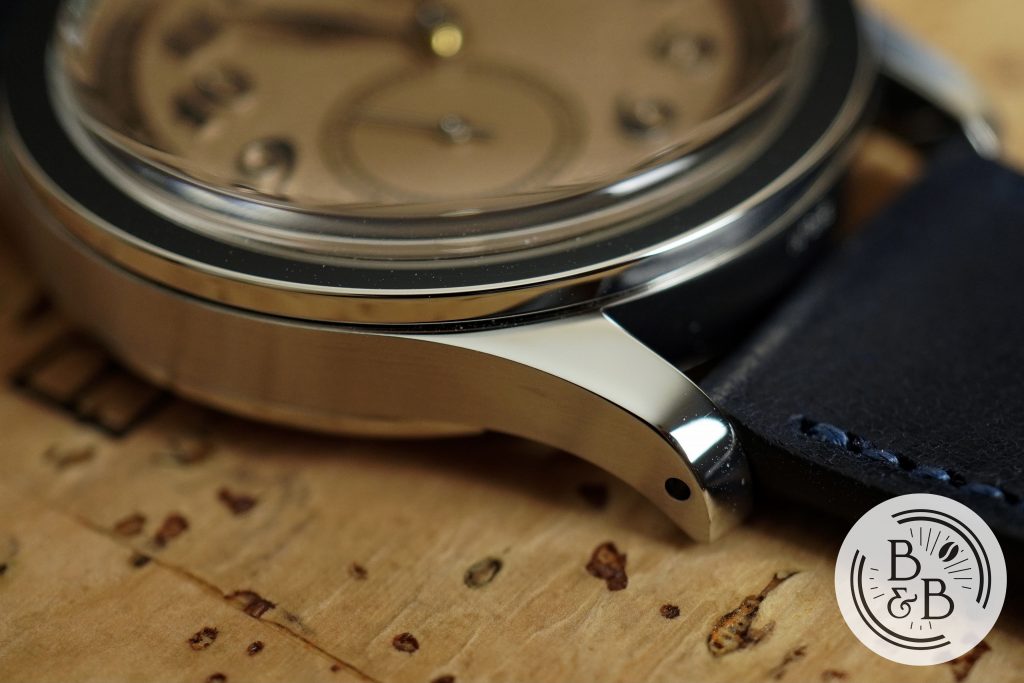 This mid-case design does look a bit similar to the rest of their watches, but the slim bezel and case-back give it a slight make-over, and the lugs are narrower and feel a bit more dressy too. The lugs are drilled through and the lug width is 20 mm, which looks surprisingly good given the 36 mm case diameter.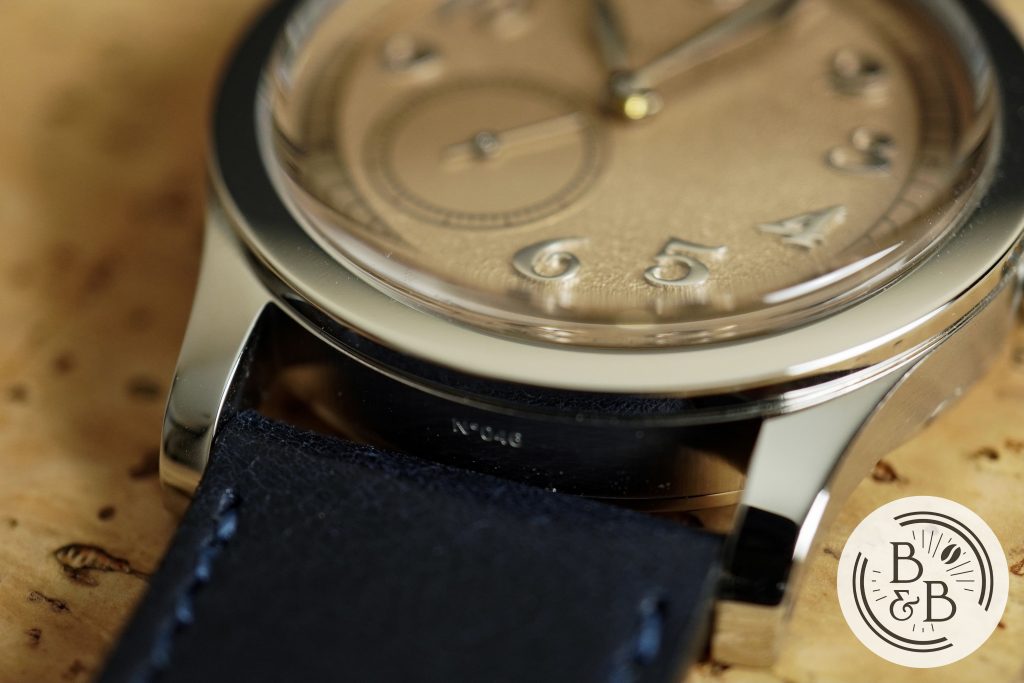 The slim fixed bezel section is entirely polished, and seats a domed hesalite crystal that makes up for at least1.5-2.0 mm of the overall height. I'm not a huge fan of hesalite, but it seems to be Baltic's choice for all their dressy watches. It does look nice, and scratches are fairly easy to get rid of with some polywatch.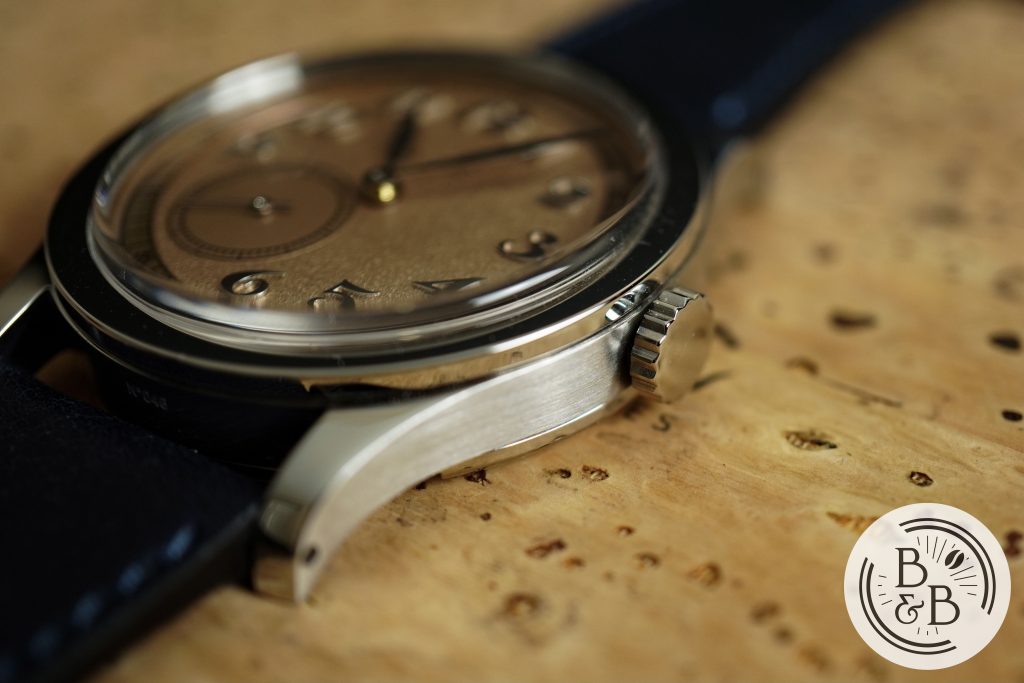 There is a 5.3 mm push-pull crown at the 3 o'clock position that is quite narrow and not very easy to operate. The winding action on this movement is good though.
Flipping it over, you have a large sapphire crystal exhibition window on a case-back that is attached to the mid-case by means of six screws. This watch is rated for up-to 30 m of water resistance.
---
Dial
This watch has been accused of looking similar to some of the Hangzhou 5000A predecesors, like the Solas Starlight and the Lobinni Interlaken. Personally, I only see a similarity in dial layout, which is a constraint of the underlying movement, and the somewhat unique small second sub-dial placement. The Lobinni Interlaken also shares a Breguet numeral design style, which isn't unique anymore to be fair. I'm not here to defend the Baltic MR01 design for any claims of originality, so if you prefer the Lobinni design or the Solas design, go for it. Those watches do nothing for me personally, primarily because of their choice of font and their decision to use a date window.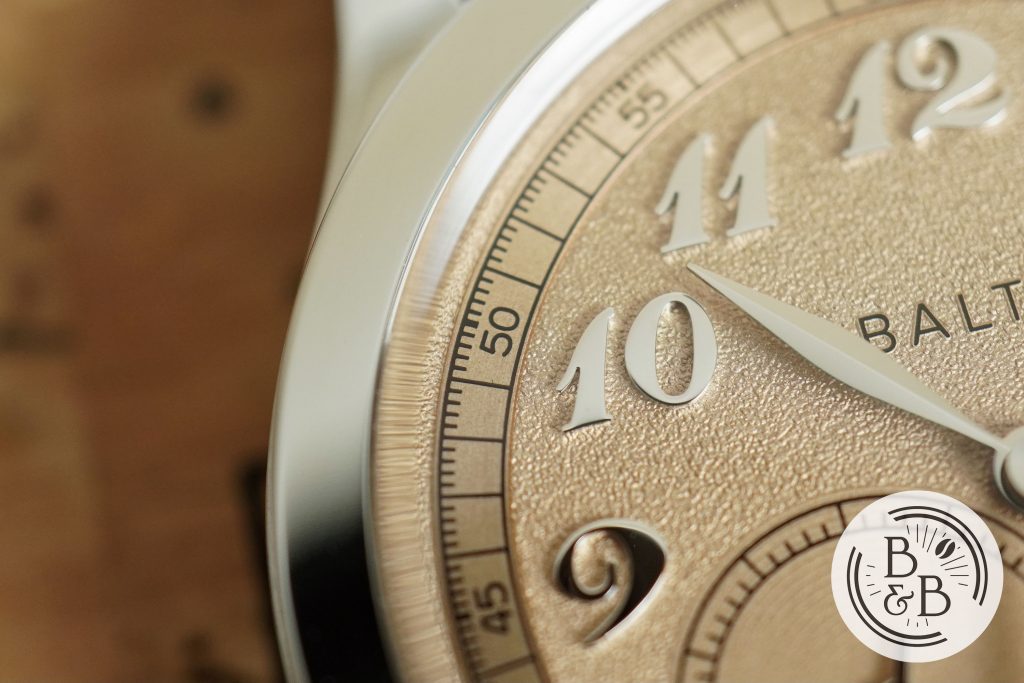 I do however like the Baltic's dial design, and I think details are something they do really well. There is a printed outer minute track in a railway style pattern that is very easy to read even with the domed hesalite distortion. The quality of printing is excellent and the transitions between textures is lovely, like on the HMS002.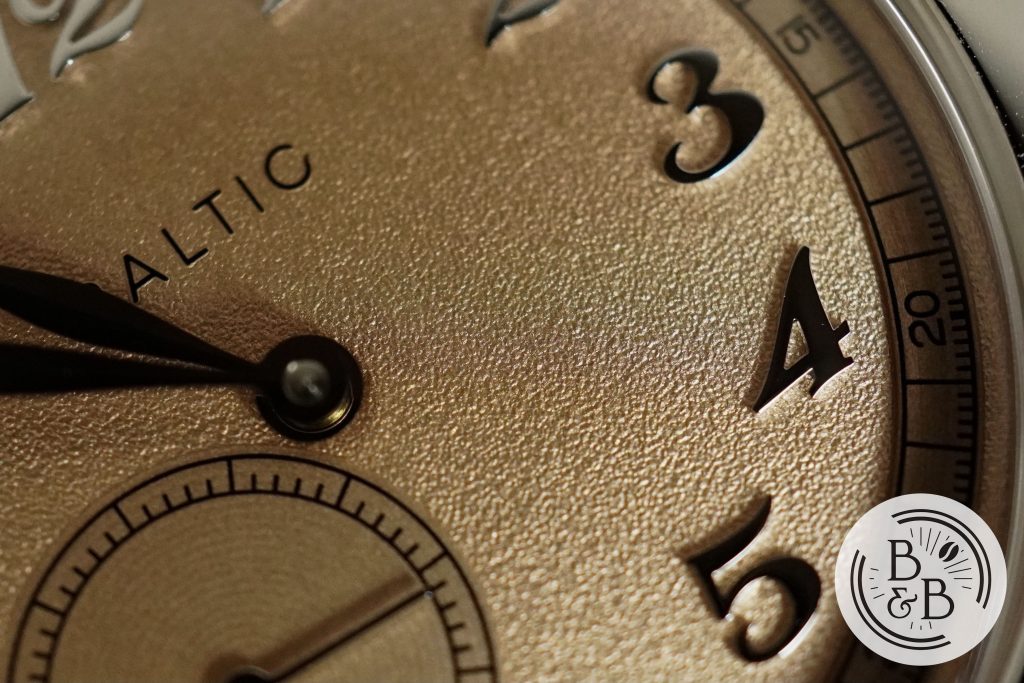 Speaking of textures, this watch combines a few of them, with the primary texture being the rice crispy style rough surface finishing across the dial. I think it looks great, specially combined with the brushed elements and the sub-dial base pattern.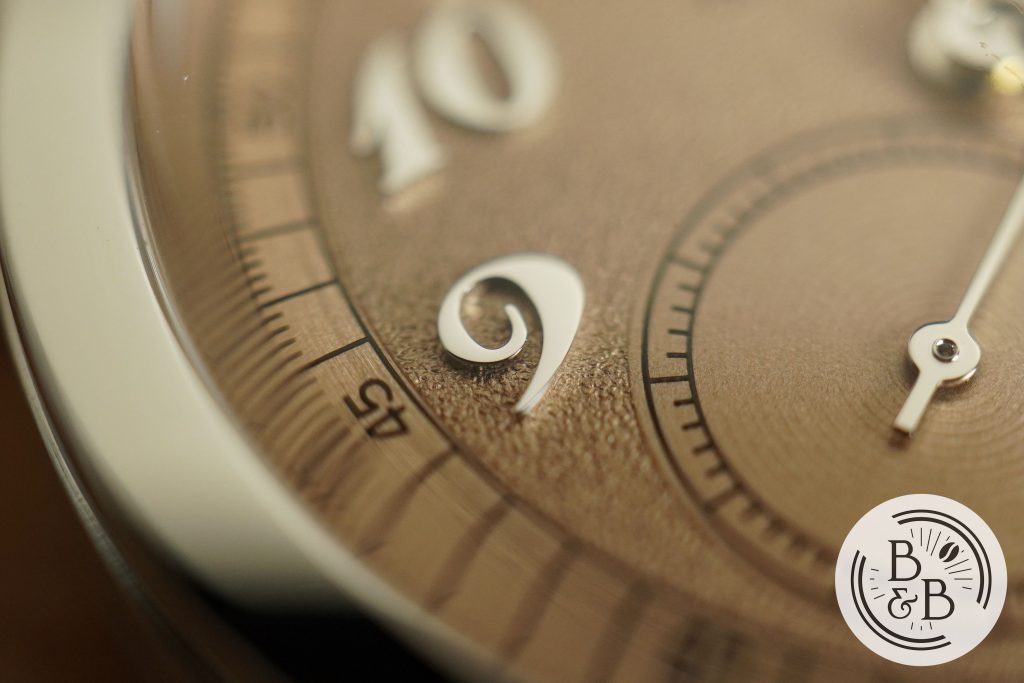 Another design decision that seems to have split people down the middle is the hour markers. Baltic decided to go with oversized Breguet numerals that are undeniably one of the main attractions here. I won't deny that they are larger than is typical on most watches, but for some strange reason, I kinda like it. Its quirky, and makes the watch feel a bit more casual to me.
These markers are finished well, and given their size and polishing, dramatically change appearance based on lighting and perspective. They go from a calm silver to completely black pretty quickly.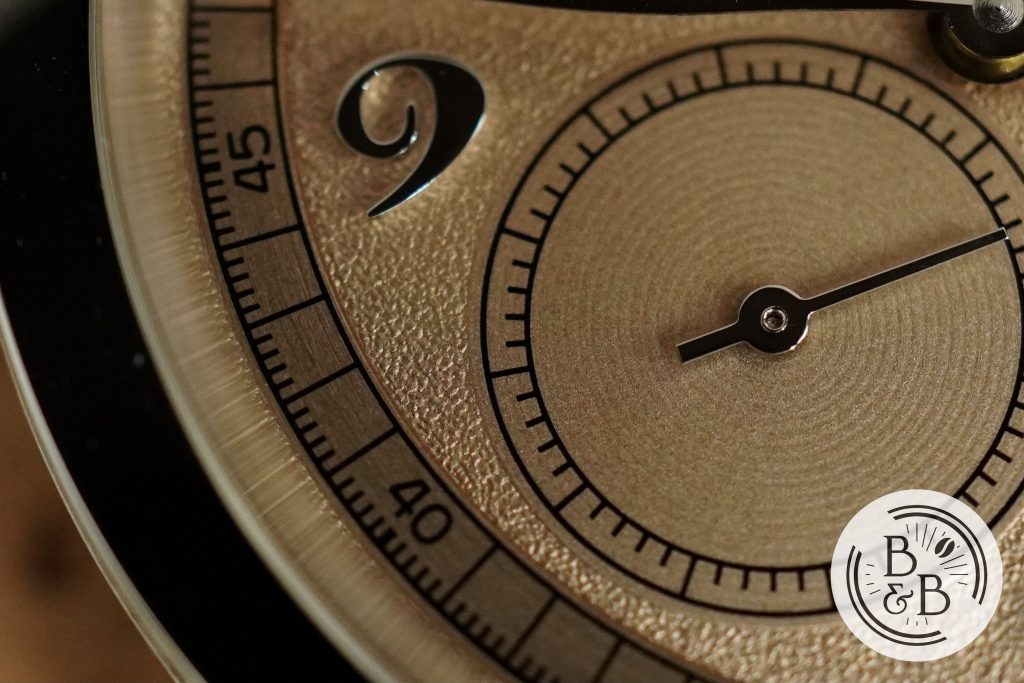 To compete with the oversized numerals, you have an oversized small seconds register between the 6 o'clock and 9 o'clock markers. This sub-register has a concentric ring inner pattern with a printed seconds ring. This is easy to read, and makes this watch very legible overall.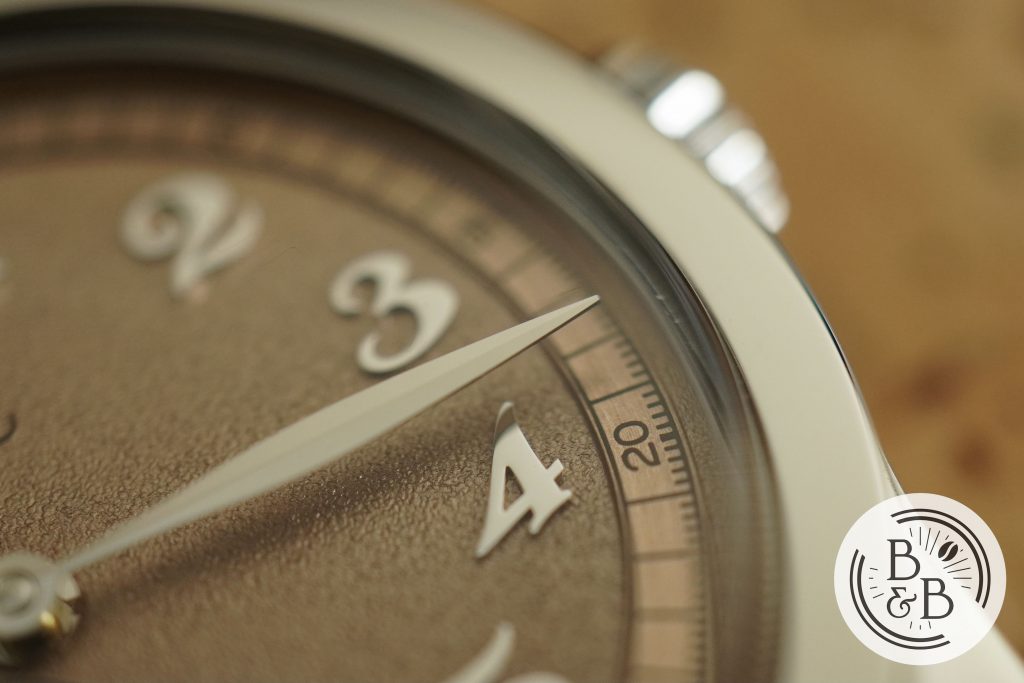 The handset is elegant, well finished and well proportioned. Even though this is designed to be a dress watch, the minute hand hovers over the outer minute track make it a pleasure to read, even down to fractions of a minute. The finishing on the hands is good too.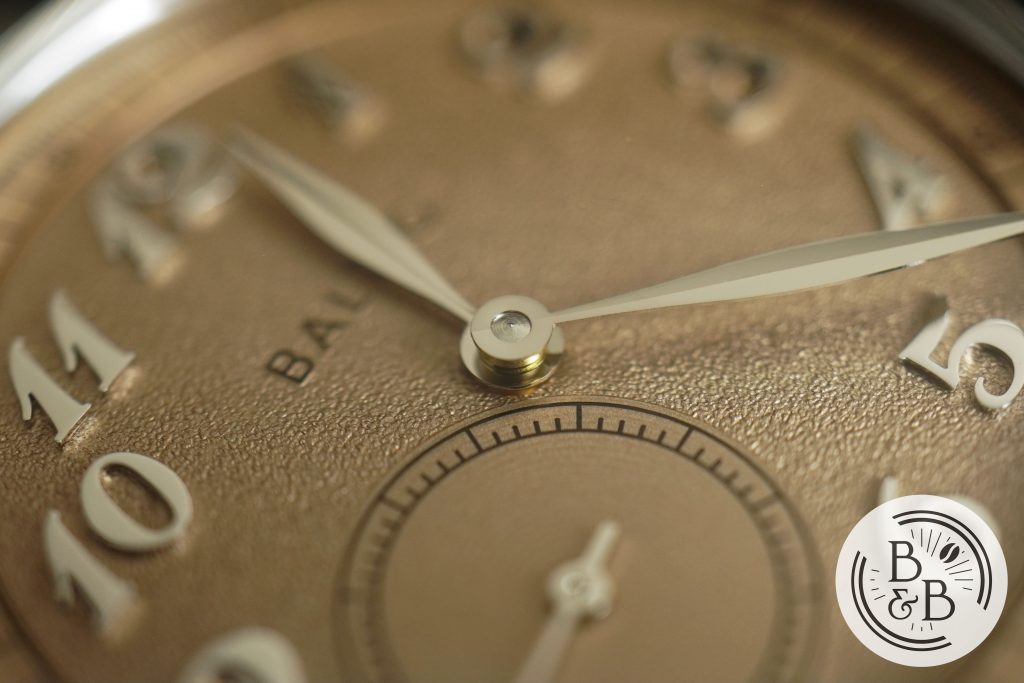 Another design element that shouldn't be overlooked is the capped pinion on the hands, and is a small detail that is nice to see on a watch of this price.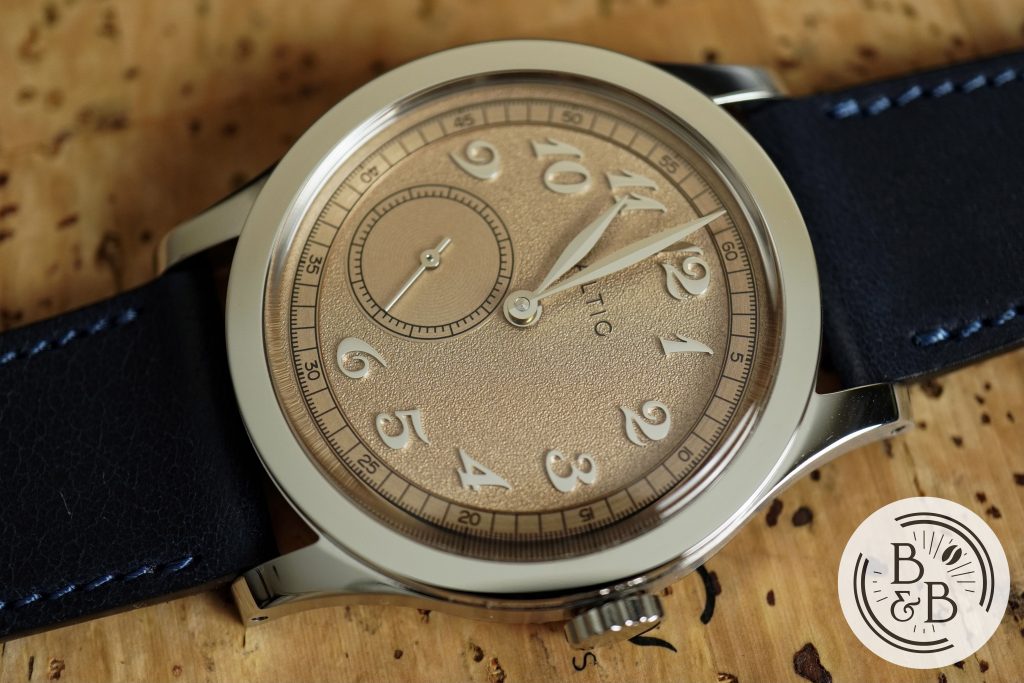 So overall I like this dial a lot. I think the design is a bit quirky, and some of the choices made here might not be to everybody's taste, but its definitely got its own thing going on, even though it follows the design style of some more popular vintage pieces.
---
Movement
The biggest point of debate appears to be Baltic's choice of movement. This watch uses the Hangzhou 5000A micro-rotor movement. If the name didn't give it away, this is a Chinese movement, and has gained some popularity lately. My first experience and only experience with it so far was on the Solas Starlight.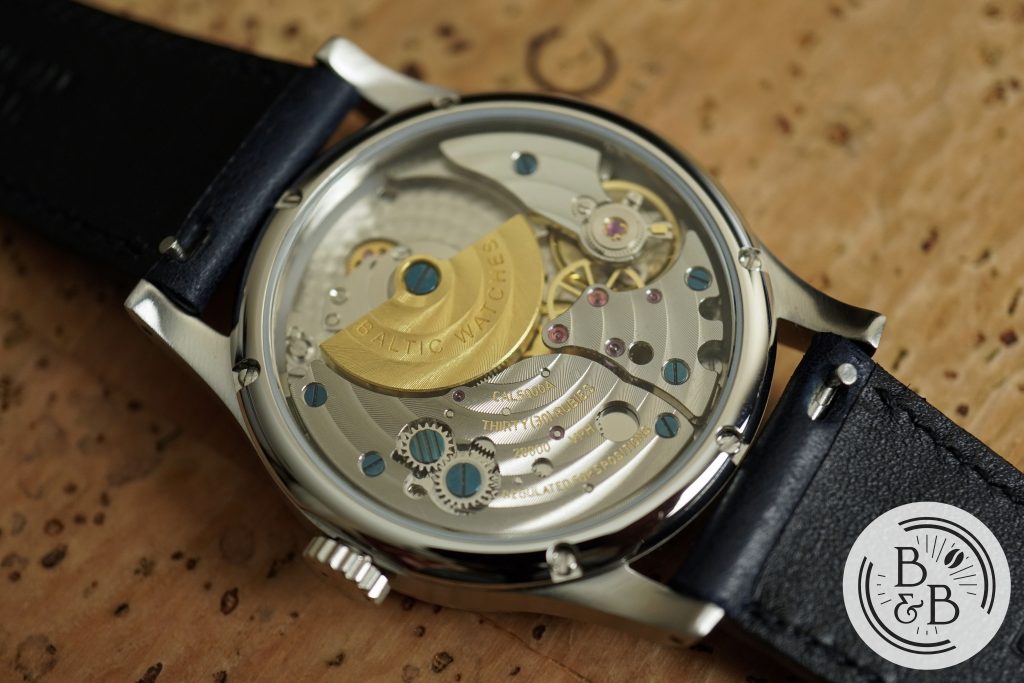 To everybody accusing this movement of being a cheap and unreliable movement – I don't think there is enough of data to support those accusations yet. Heck, even if we did, there's not a single alternative to a micro-rotor movement in this price category. Do we need a micro-rotor in an affordable watch? No, but we don't need a mechanical chronograph movement either, but we'll happily slap a Seagull ST19 in there. So this argument ends up going in circles until you realize that even if this happens to be a movement with a higher failure rate than the hideously bland Seiko NH35, if you have a pretty well established micro-brand like Baltic willing to back it up with their 2 year warranty, it maybe worth the experience. At least that's how I see this.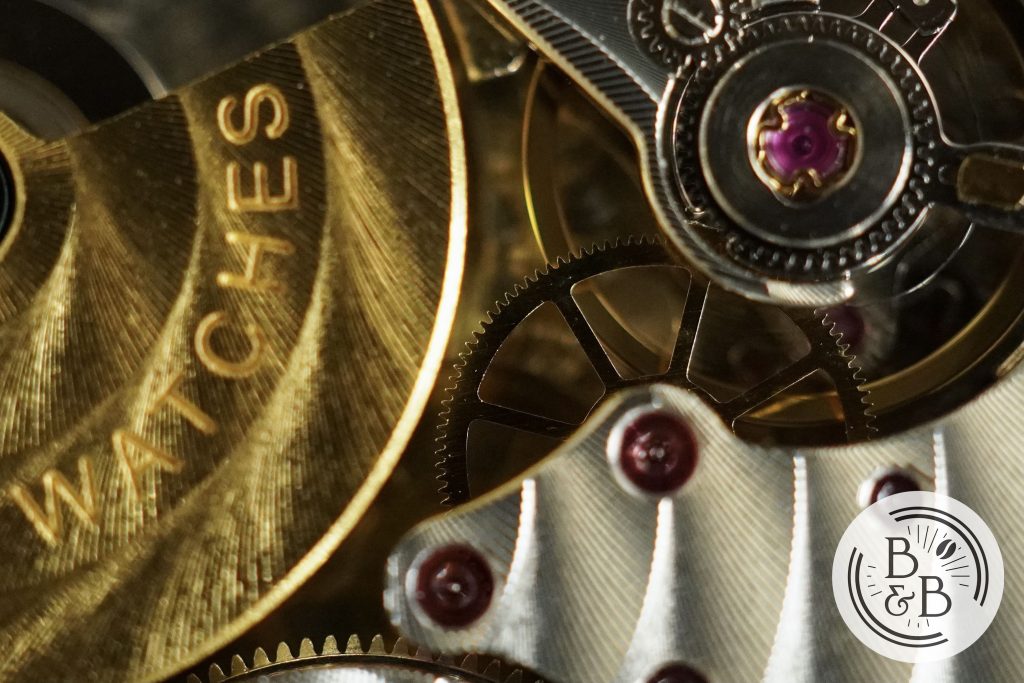 Now, onto the movement. I've lost count of how many affordable watches I've reviewed with Seiko NH35s, Miyota 8 series and Miyota 9 series in this price category. The truth is that the NH35 and Miyota 9 series are pretty good movements – they're reliable, have adequate performance and do what they're supposed to. But they are also some of the most boring looking movements you could find, and in most cases hideously finished and poorly quality controlled. And if you spend your days looking at NH35s and Miyotas, this Hangzhou 5000A looks like a breath of fresh air in this price category – at least from a superficial level. And let's be real, if you're expecting a micro-rotor movement that is finished to Chopard's standards at $700, you're asking too much. Most brands in this price range can barely figure out how to use a simple three hand movement without getting all kinds of dirt, grime and scratches on there.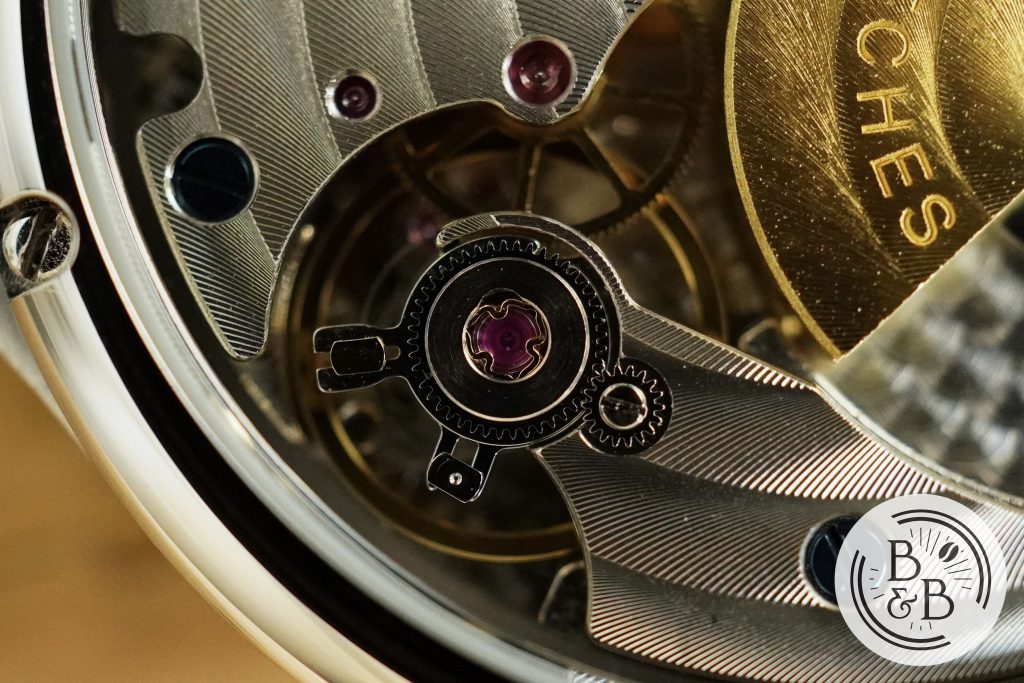 Speaking of dirt, grime and scratches – that's what you'll find when you look at a Seiko NH35 under a macro lens, and that's what you'll find when you look at one of these movements under a macro lens. There's all kinds of micro-particles scattered around this movement, no real fanciful finishing, just superficial machine finished stuff that gives you the illusion of a good looking movement from afar. Is that enough for me at $700? Absolutely. At least they attempted something by way of aesthetics – have you seen what a Seiko NH35 looks like? and a Miyota 9 series?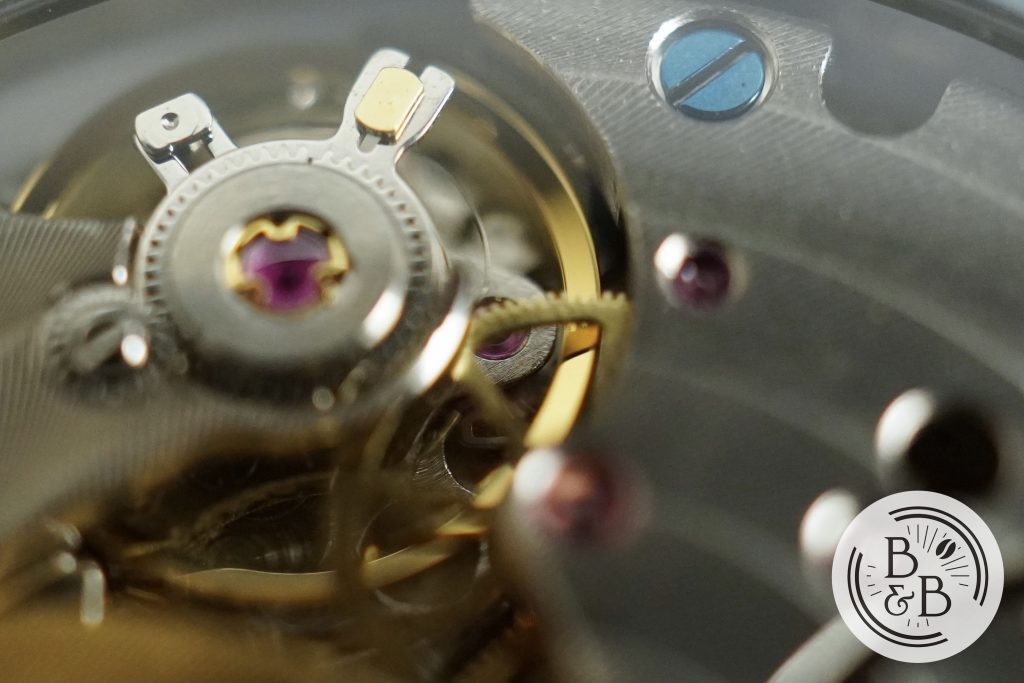 Now.. reliability. I don't have answers for you, and I don't think anybody does, except for maybe the owner of Solas and Lobinni. This movement is relatively new to mainstream production, even though the architecture appears to be a copy of an older micro-rotor design. But I think we'll start to hear more about reliability over the next year or two, once these MR01s are put through their paces.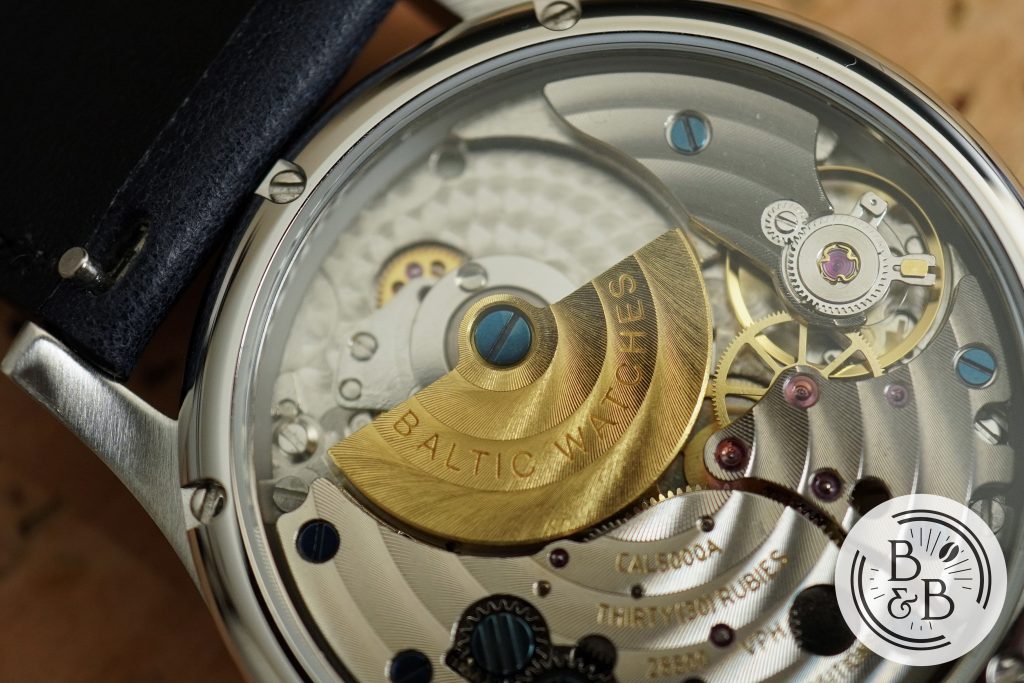 On my time grapher, I observed roughly +20 spd in the dial-up position and +22 spd in the crown-up position. Not great performance if you were expecting to be within +/-10 spd, but the Miyota 9015 also operates in this range with -10 spd to +30 spd bounds, and -35 spd to +45 spd on the Seiko NH35/4R.
---
On The Wrist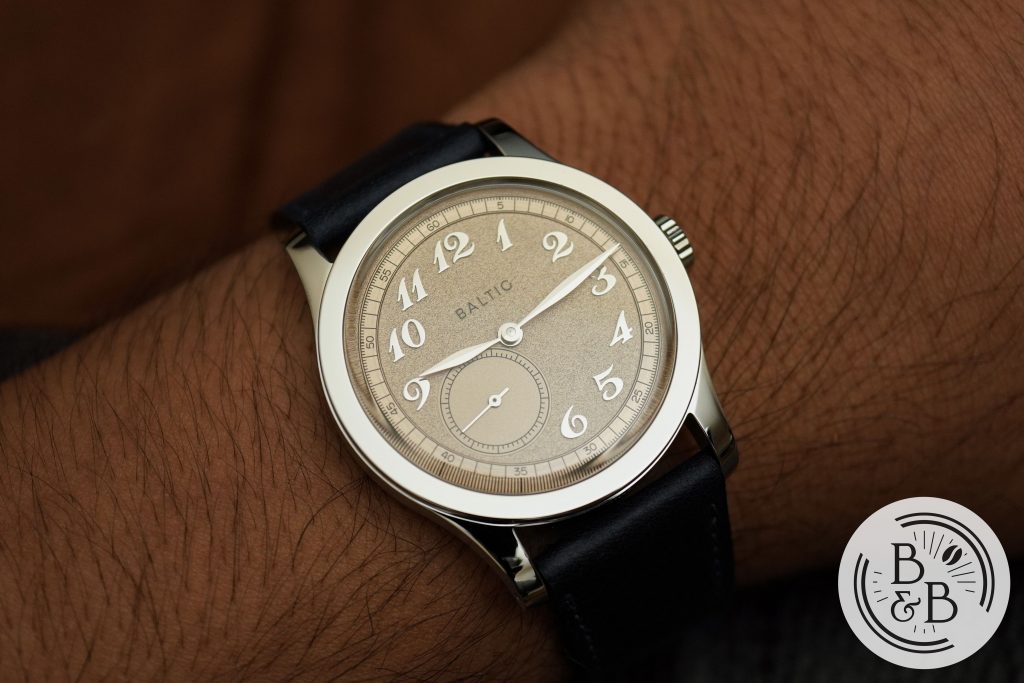 I don't have very large wrists, so the 35.8 mm diameter and 43 mm lug-to-lug width work reasonably well on my 6.5″ wrist. It is intended to wear like a dress watch, so the smaller diameter and overall size seems fitting. But this is a small watch, and if you don't like the small watch wrist presence, you're not going to like this.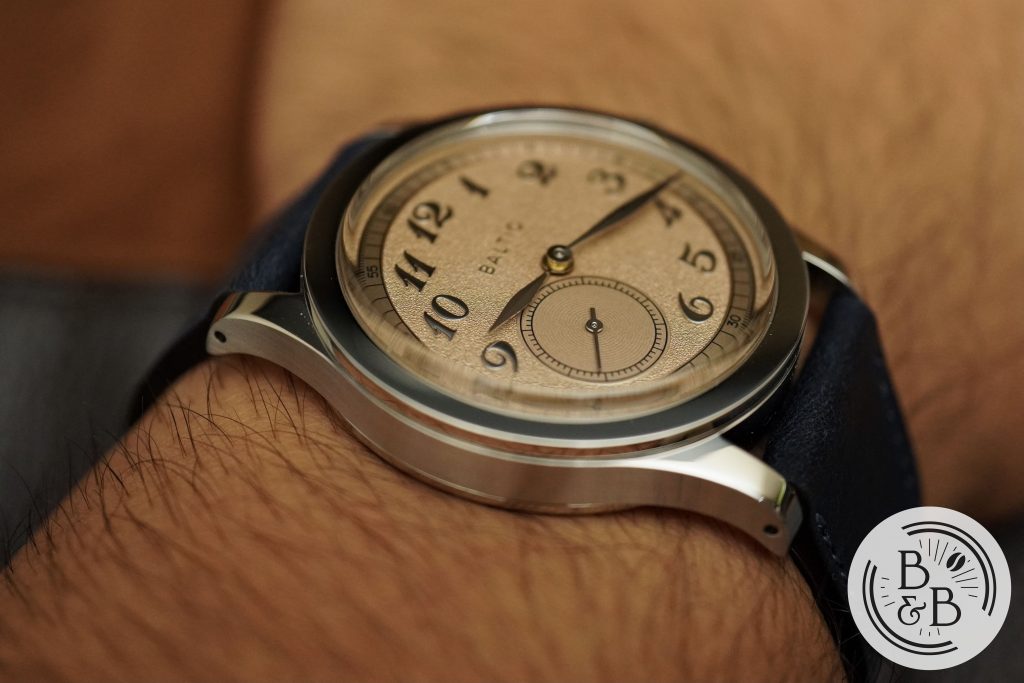 It is a comfortable watch, and mostly due to the 9.8 mm overall height, made possible by the micro-rotor movement I suppose.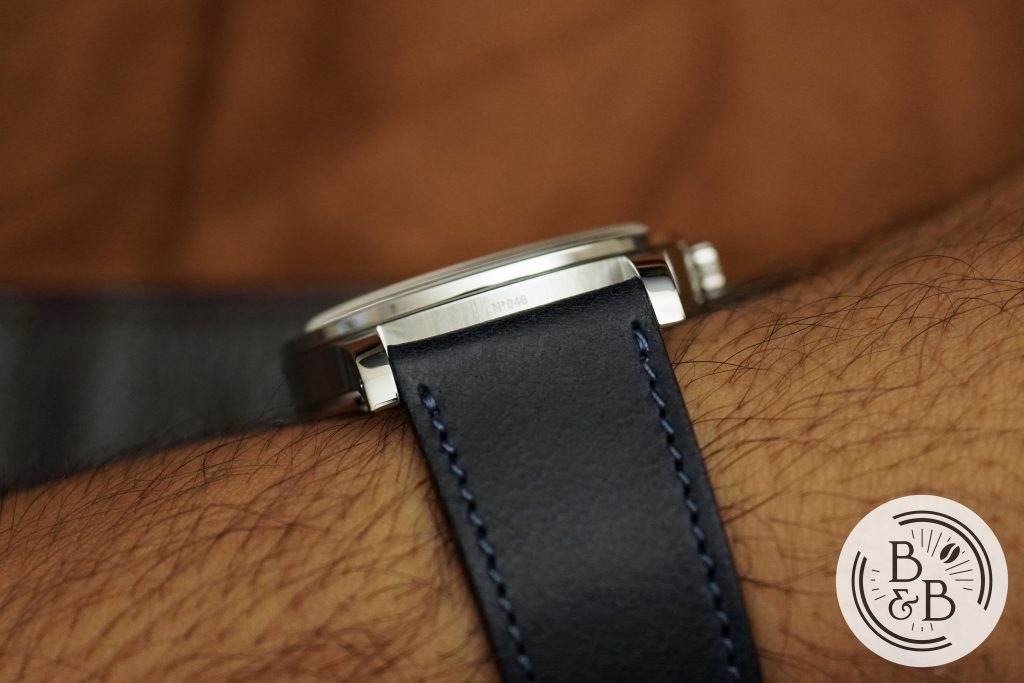 I ordered this watch on the blue leather strap, which appears to be a pretty high quality strap and better than a lot of stock straps you'll find on watches in this price range.
---
Concluding Thoughts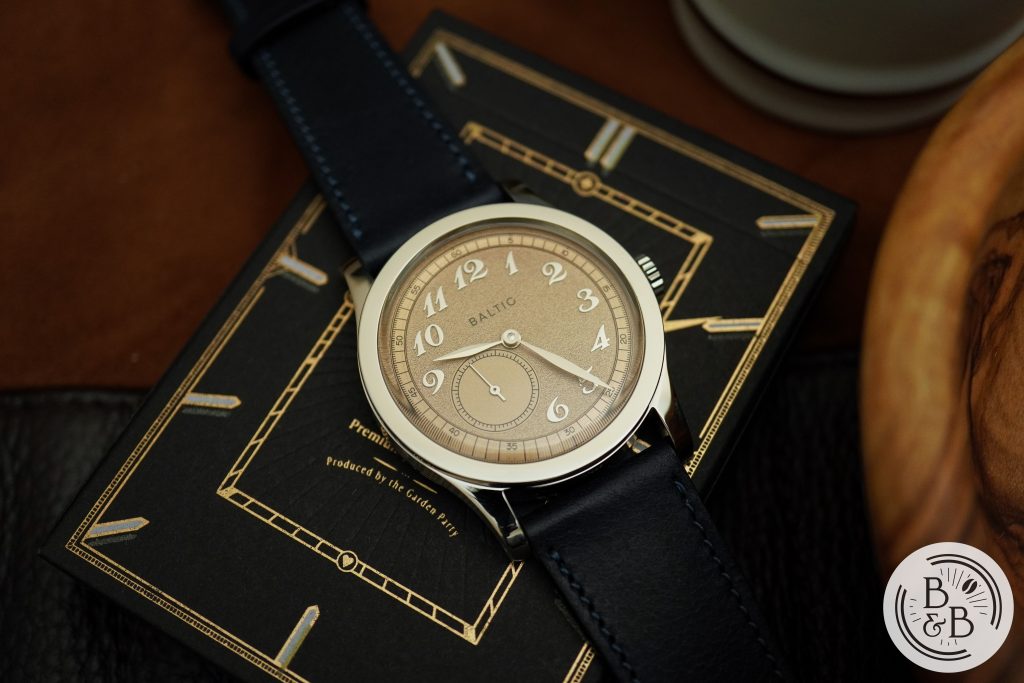 So to wrap this up with some questions that I've been asked since getting the watch, and my answers to them.
Is this watch worth 3x as much as the Lobinni Interlaken? I've never had the Lobinni and likely never will, so I can't comment.
Is this watch worth $150 more than the Solas Starlight? I think the build quality and finishing on the case is superior. I like the design more, and I can appreciate all the details that went into making this dial. I much prefer the absence of a date window, and I definitely prefer the logo.
Why should I care about this micro-rotor movement? Micro-rotor movements typically tend to help make watches slimmer, but there are other 10 mm thick dress watches out there without micro-rotor movements. But I like them mostly because they're different, and interesting to look at when compared to other automatic movements. And this one IS cool to look at.
And I'll conclude with this one – How can Baltic charge you $650 when some brand on AliExpress can do it for $225? Baltic does not manufacture watches – they design, assemble perform quality control on watches, and then heavily market them to enthusiasts. AliExpress brands tend to be directly tied to manufacturers, and hence also bring with that the benefits of lower overheads and arguably boring, uninspired designs. Baltic is charging you for their design, their attention to detail in the assembly and QC process, their brand positioning, and the overheads required to run a profitable business out of France. The choice to buy one is yours, just don't do it because everyone on Instagram is telling you to.
---
Strap Change
---
Thanks for reading!