---
Disclaimer: I purchased this watch new from Halios for around $760 USD and was not externally incentivized in any way to make this review. This review is in no way sponsored by Halios or any other entity. All opinions here are my own.
---
Contents
---
Universa
If you watched my review of the pastel blue Seaforth a few weeks ago, you'll know how impressed I was with that watch. Since then, I've purchased two Seaforth watches of my own, and I've been waiting for this Universa ever since I heard about it's existence a few months ago. This watch belongs to the same design family as the Fairwind, and can be thought of as a fixed bezel Fairwind, however there's more to it than just the bezel, as we'll see in a bit.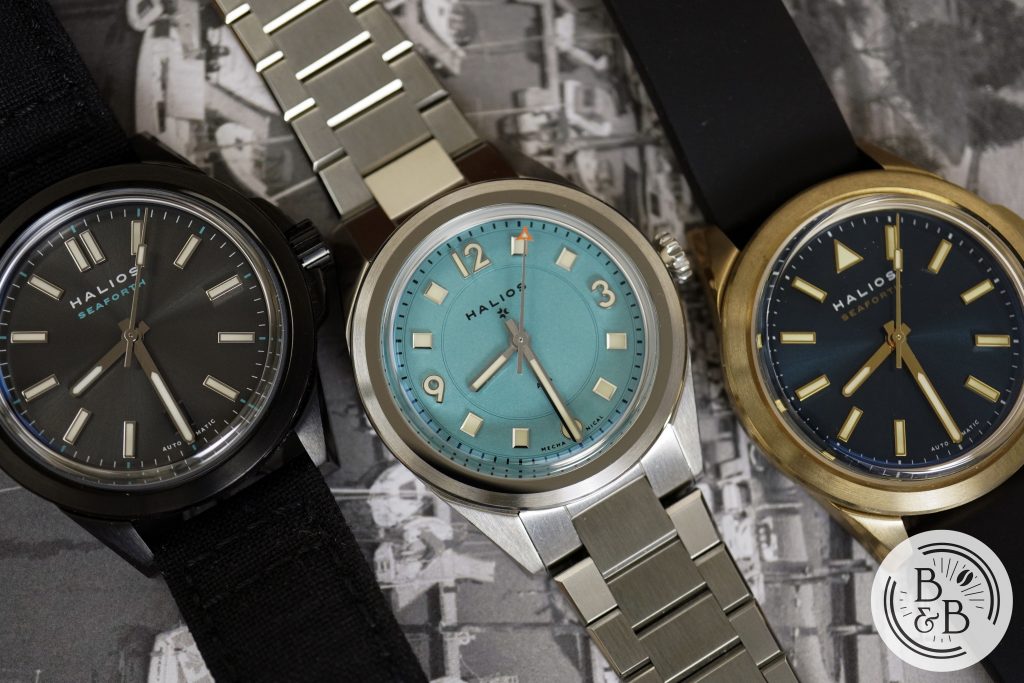 The pastel blue dials for the Universa were released in small amounts for this release, and I believe only 100 of these dials were made as a trial run. Jason has stated that this dial will return in the next release. The bathyl blue and slate grey dial options are still available, and are being released in small batches every 2-3 weeks. Due to the current COVID situation, Jason has moved assembly to Canada, and these watches are being hand assembled to order by Roldorf & Co, hence the throttled release.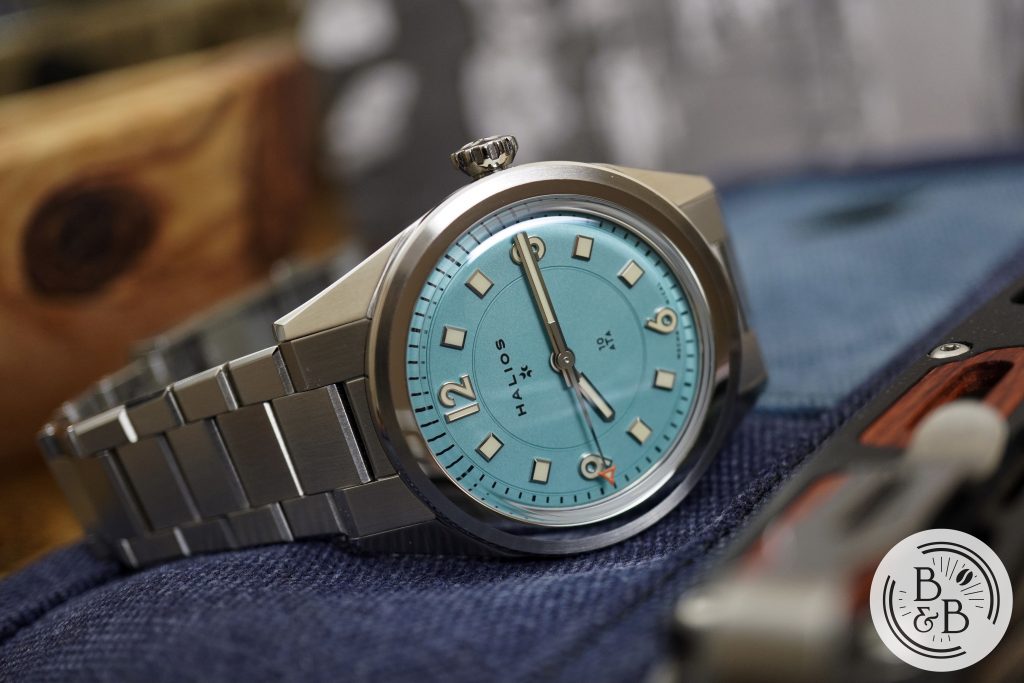 These watches cost $735 USD, with an additional $25 to ship it to the United States. And while I maybe slightly biased since I'm somewhat of a Halios fanboy, hopefully by the end of this video you'll see why I think this is a very reasonable price for what you're getting.
Let's check it out!
---
Case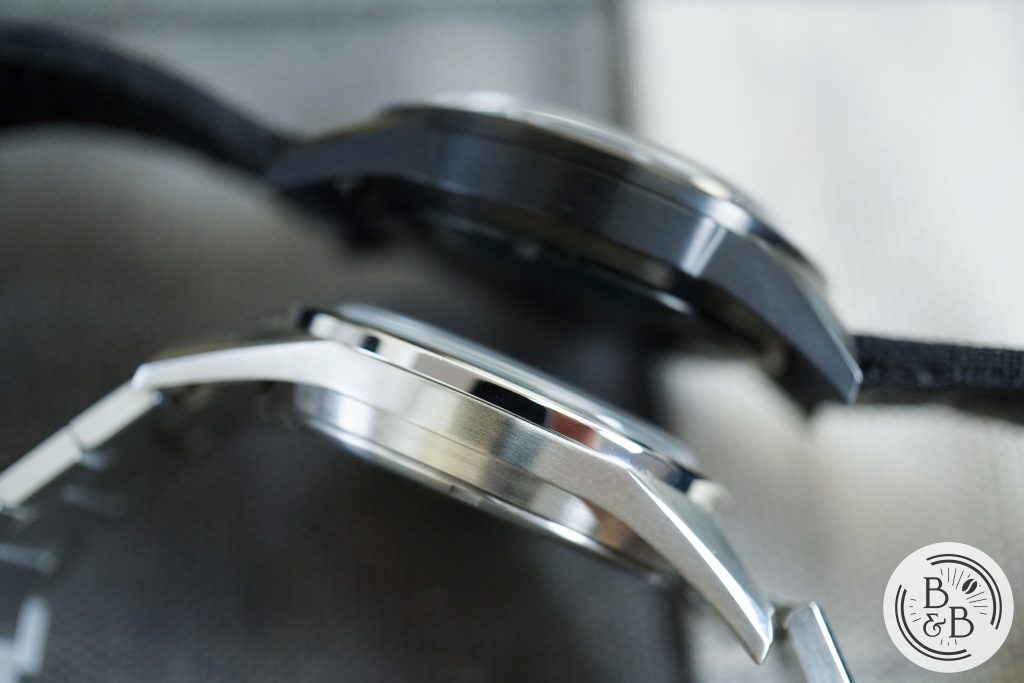 I measured the case to be 37.5 mm in diameter, 47.5 mm from lug-to-lug and 10.75 mm in height. The case is almost identical to the Fairwind I reviewed earlier, except the height is 10.75 mm instead of 12.75 mm, which does alter the way it wears significantly. The case is primarily brushed, with some polished accents, and a polished bezel top surface.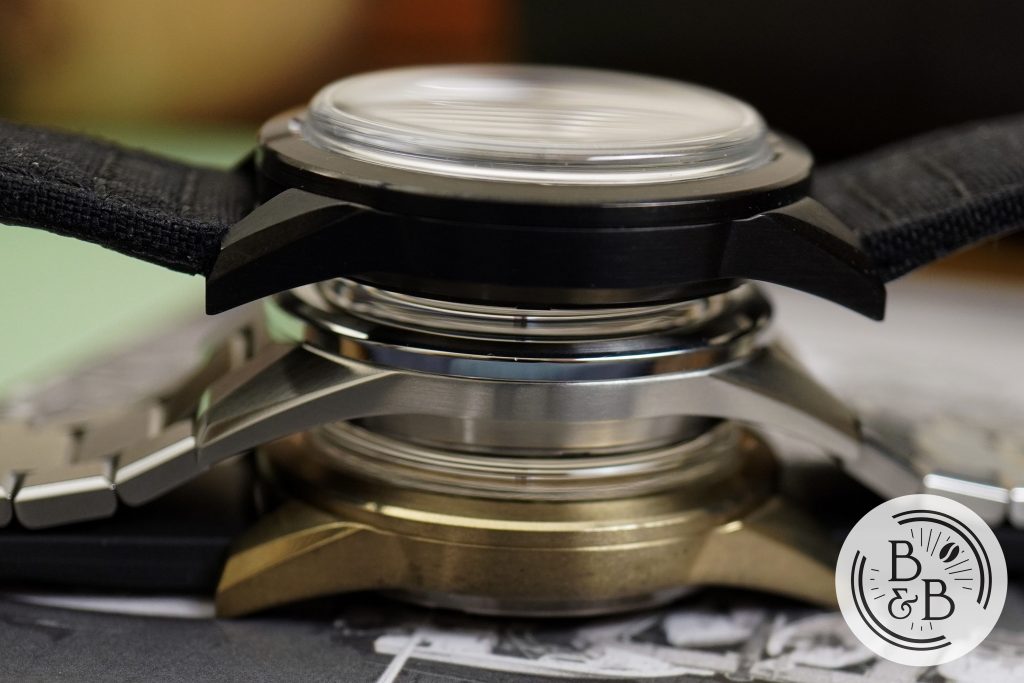 After buying two Seaforths, I've grown to appreciate the design progression between these two series. These watches certainly look related, and the Fairwind and Universa case design seems like a logical and natural design progression from the Seaforth, with a focus on going sharper, flatter and sleeker.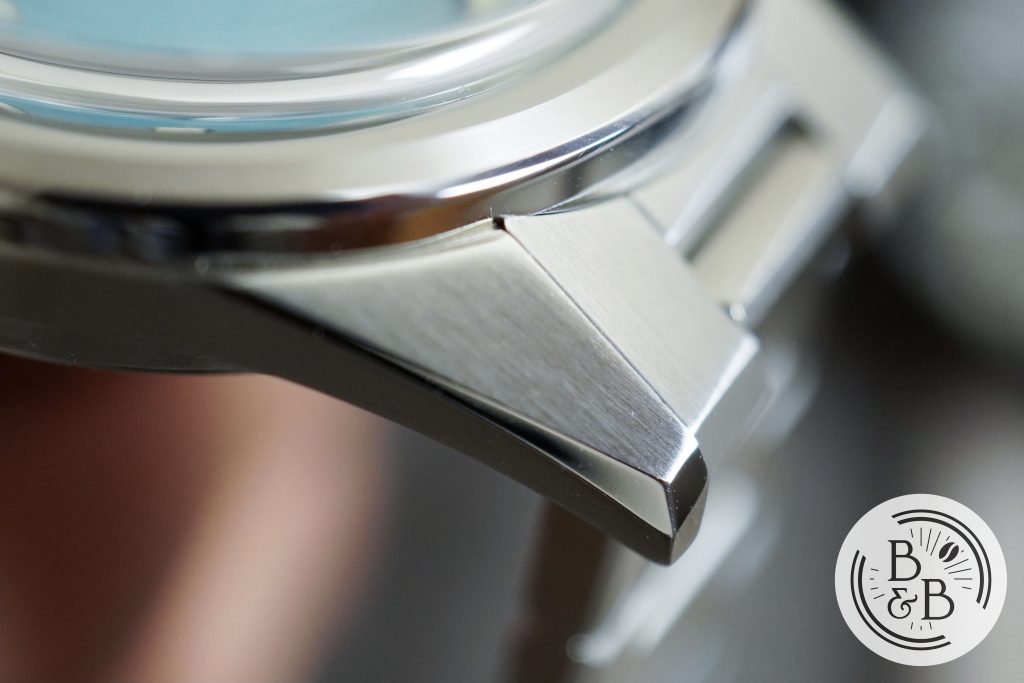 The narrow mid-case section extends out and aggressively angles down towards the wrist into a pair of sharp and flat lugs. They appear to be long, but don't feel that way because of the way they angle down and hug the wrist. I love these lugs, and the brushing on the case and lugs is excellent.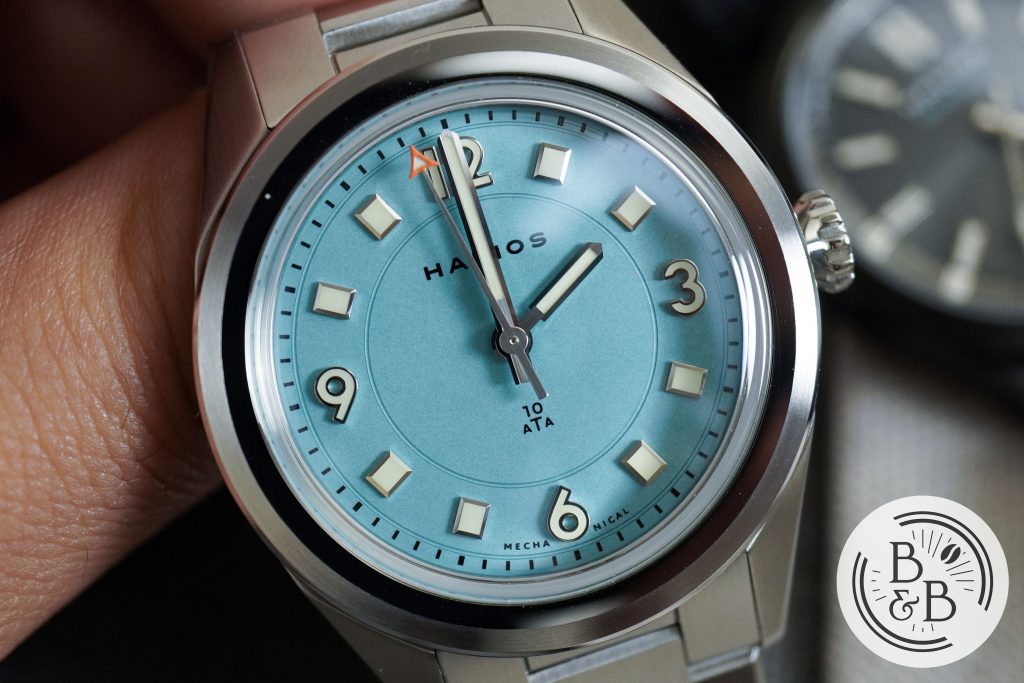 There is a fixed bezel section that has a smooth beveled edge and a flat and polished top surface that appears black in some photographs, but most often just reflects the colors from the environment around it. I like this narrow polished section, but it reduces the perceived size of the dial a bit.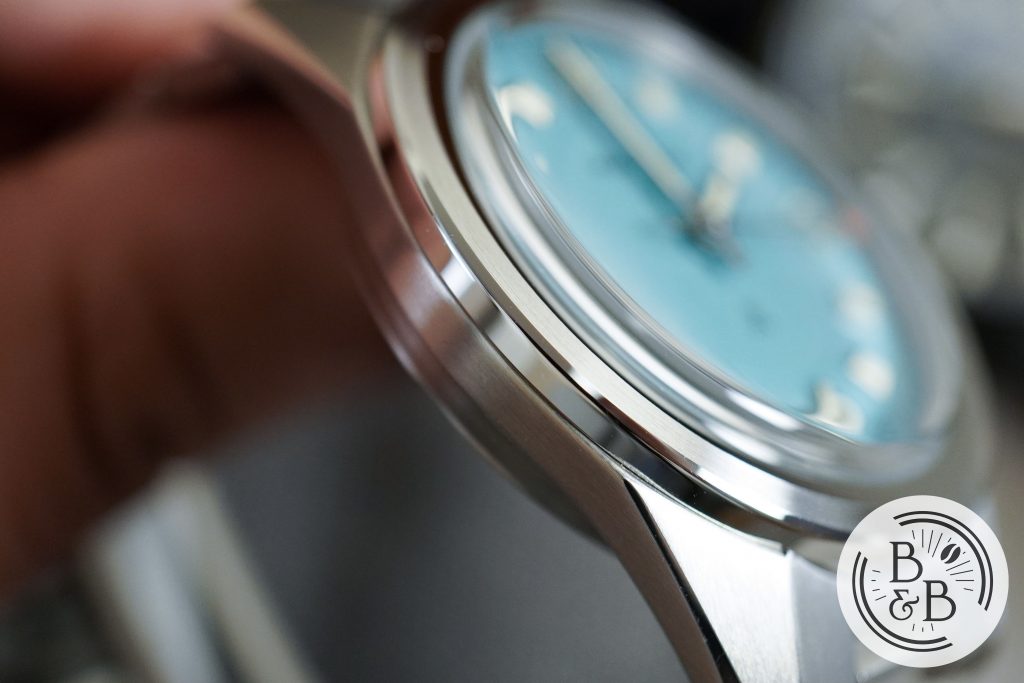 The bezel seats a protruding boxed sapphire crystal with sufficient AR coating on the lower surface. The crystal has some distortion at the edges, but given the thoughtful dial design, it has no impact on legibility.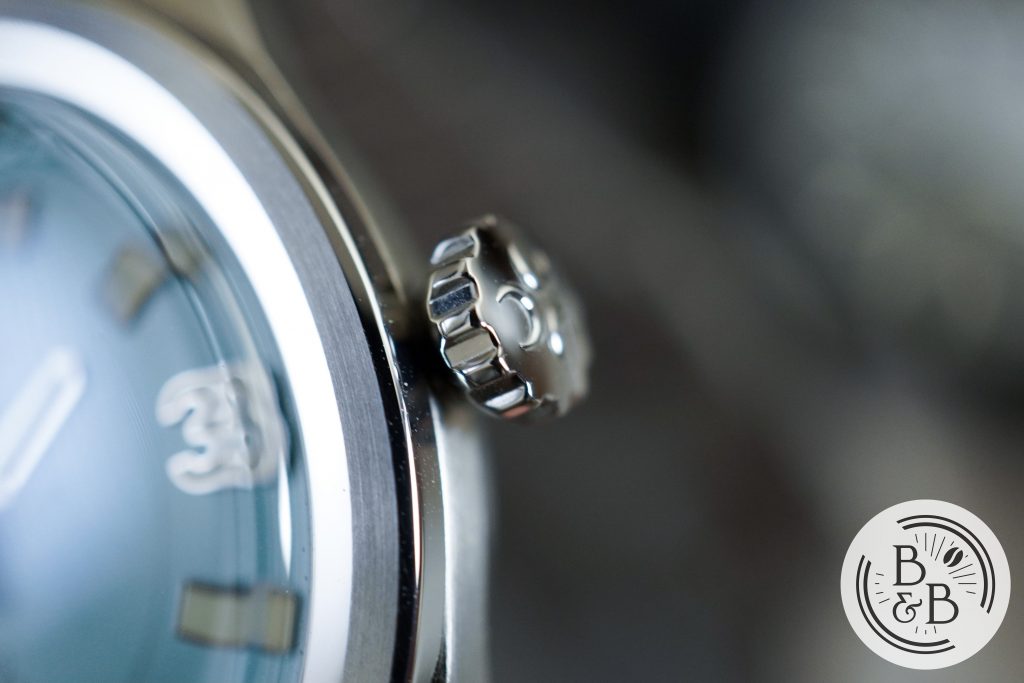 You then have a 5.75 mm push-pull crown at the 3 o'clock position that has a slight conical taper like a traditional flieger crown, with deep ridges and a stamped top. The crown action has quite a lot of resistance, which is something I actually like from a watch I plan to use as a daily wear. But when you couple that extra resistance with the deep ridges on a somewhat small and narrow crown, the operating experience is not very pleasant. I think a larger and wider crown could improve the overall experience significantly. This isn't a deal breaker for me, but it's worth noting if you're sensitive to this stuff.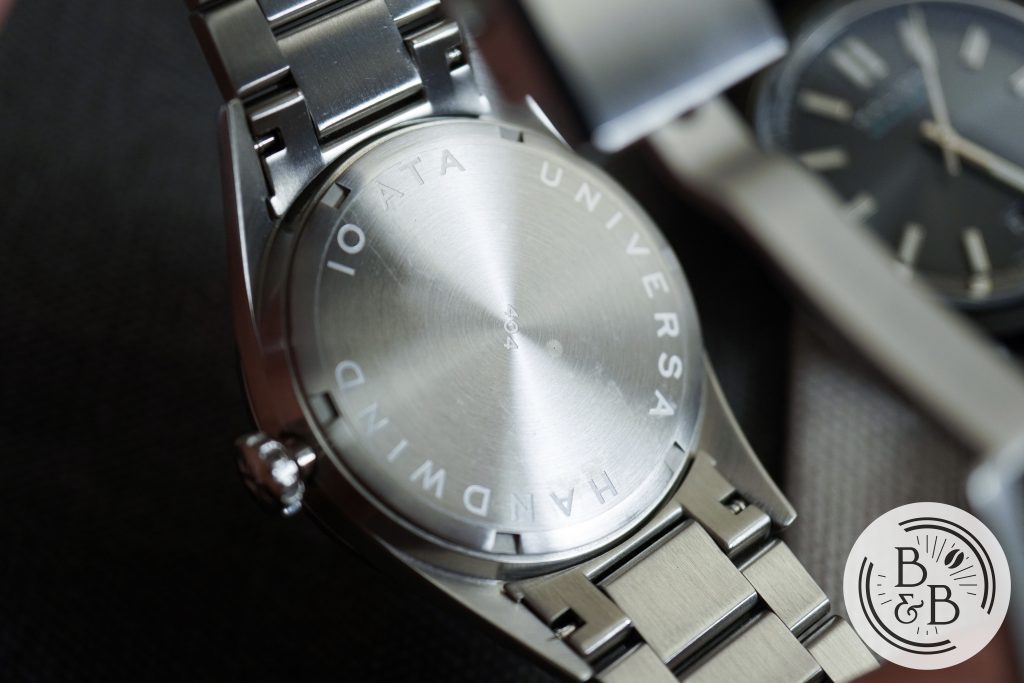 Flipping it over, you have a solid screw-down case-back and this is where the height savings come from. Compared to the 2mm taller Fairwind, the flat and short case-back add a lot to the overall sleek aesthetic and elevated comfort on the wrist. This watch is rated for up-to 100m of water resistance.
---
Dial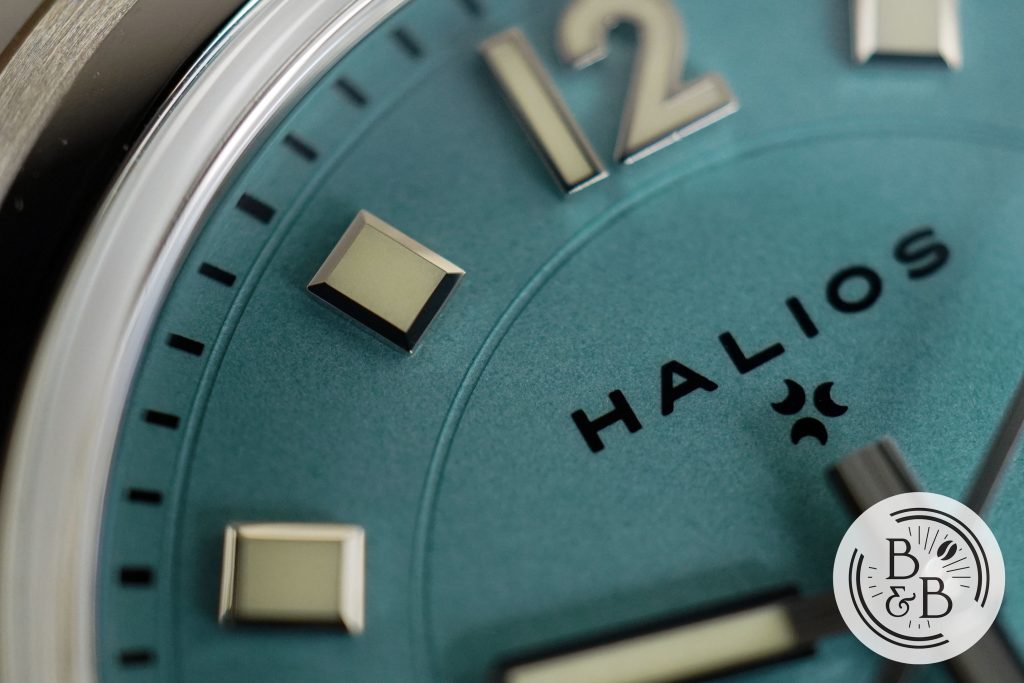 While I think the Fairwind dial maybe the more attractive of the two, I have been actively avoiding dive watches lately, and the Universa dial is certainly good looking. The pastel blue color option made this watch an easy option for me, as I've been obsessed with this color for quite some time now. The pastel blue base layer has a matte finish similar to the pastel blue Seaforth I reviewed a few weeks ago.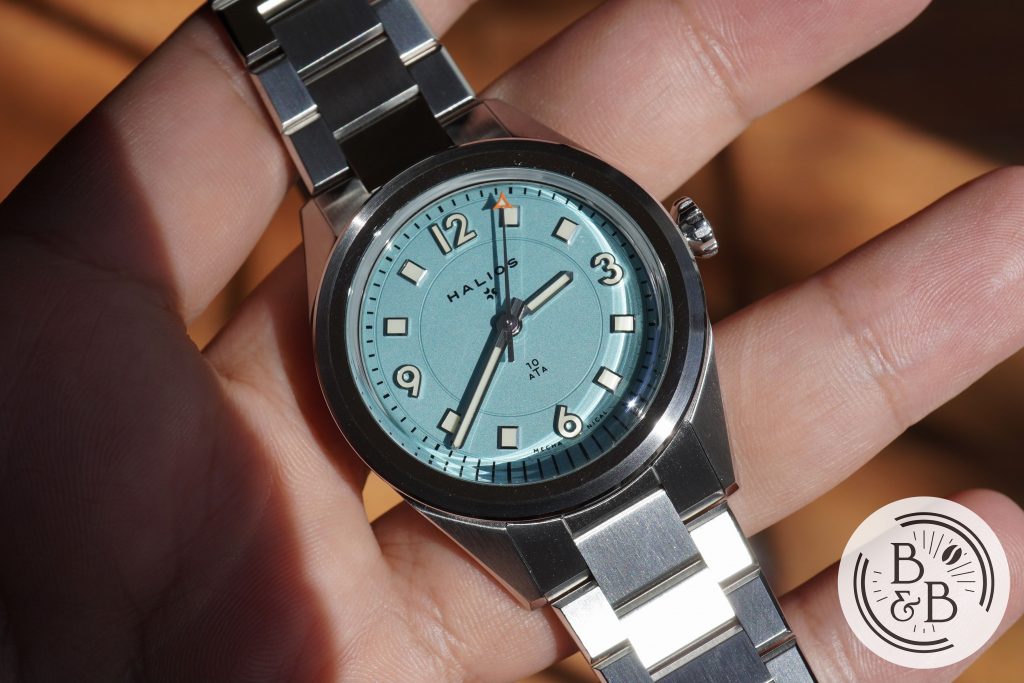 The actual color of this dial seems to be a bit more complex than the more straightforward pastel blue Seaforth. There are green and yellow hues here, and you observe a wide range of colors from this watch depending on the lighting.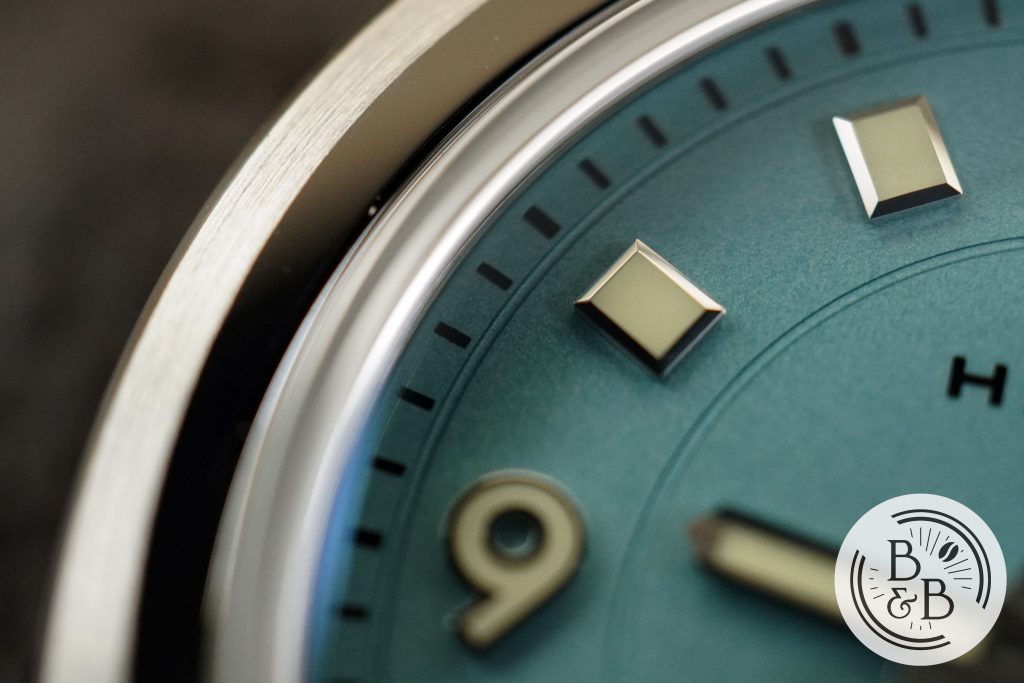 The outer-most dial element is a minute track that is printed in black with bold markers for each increment of five and slimmer markers for the rest. The quality of printing is excellent, and the distortion from the crystal does not interfere with legibility.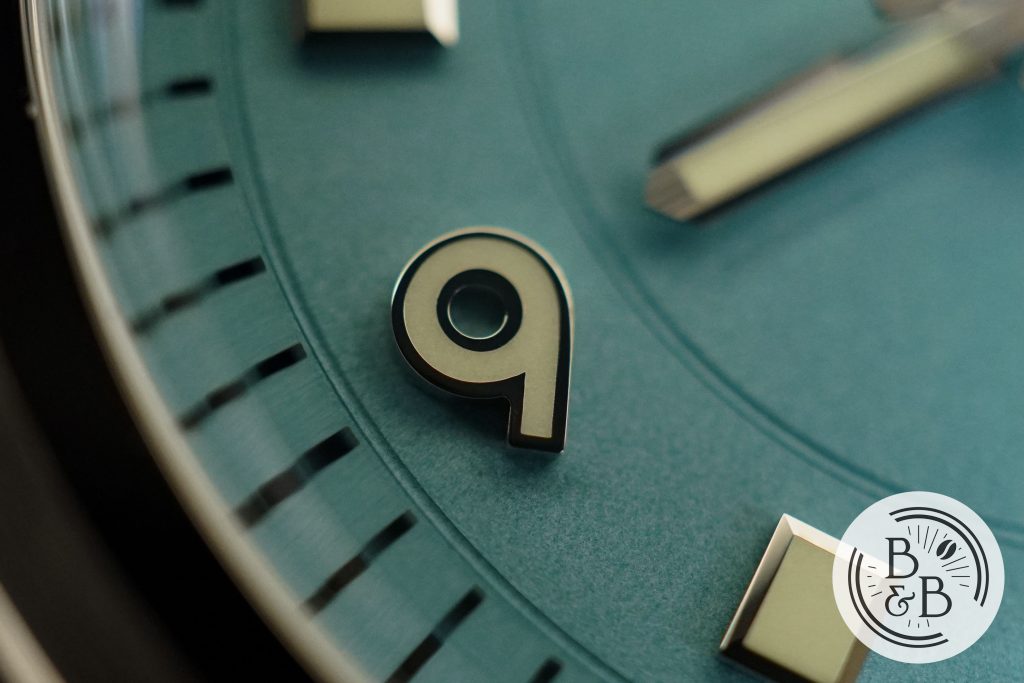 The indices have Arabic numerals for the cardinal indices, and are applied onto the dial and made of polished stainless steel. The finishing on these indices is absolutely remarkable for the price of this watch, and they are very clean.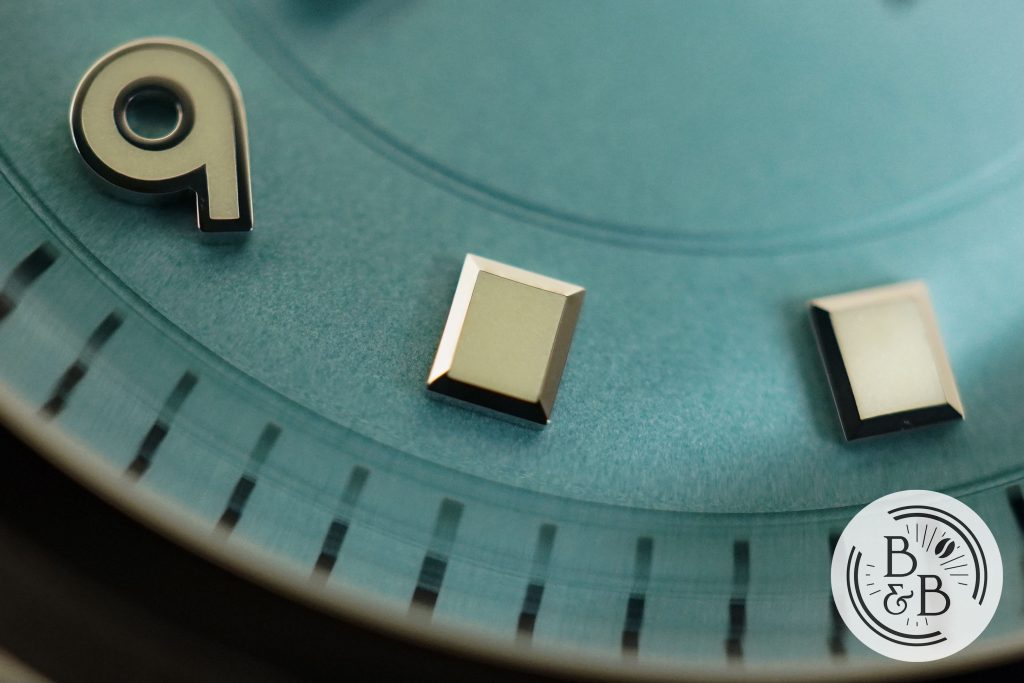 You then have applied rectangular indices for the rest of the hour markers that are held to the same quality standards, but have sloped sides that interact with light differently than the numerals.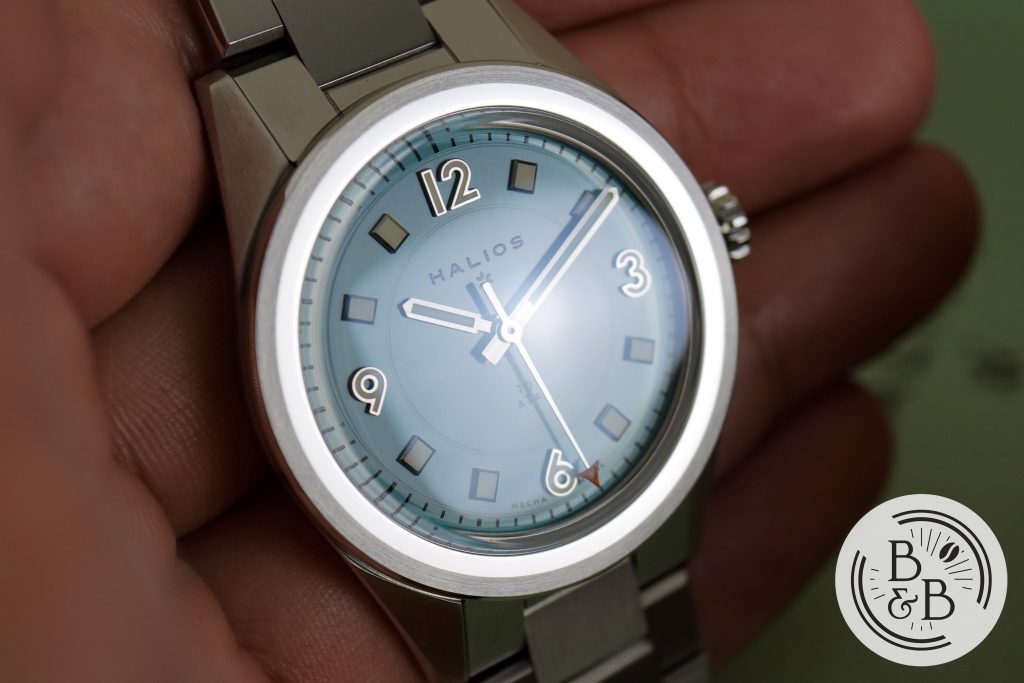 I also suspect that the Arabic numeral indices are a fraction of a millimeter taller than the other indices, as they tend to pop out of the dial under direct light, and the other numerals tend to stay in the background. This transition of appearance is quite brilliant, and a really neat design trick. And yes, it is most certainly intentional.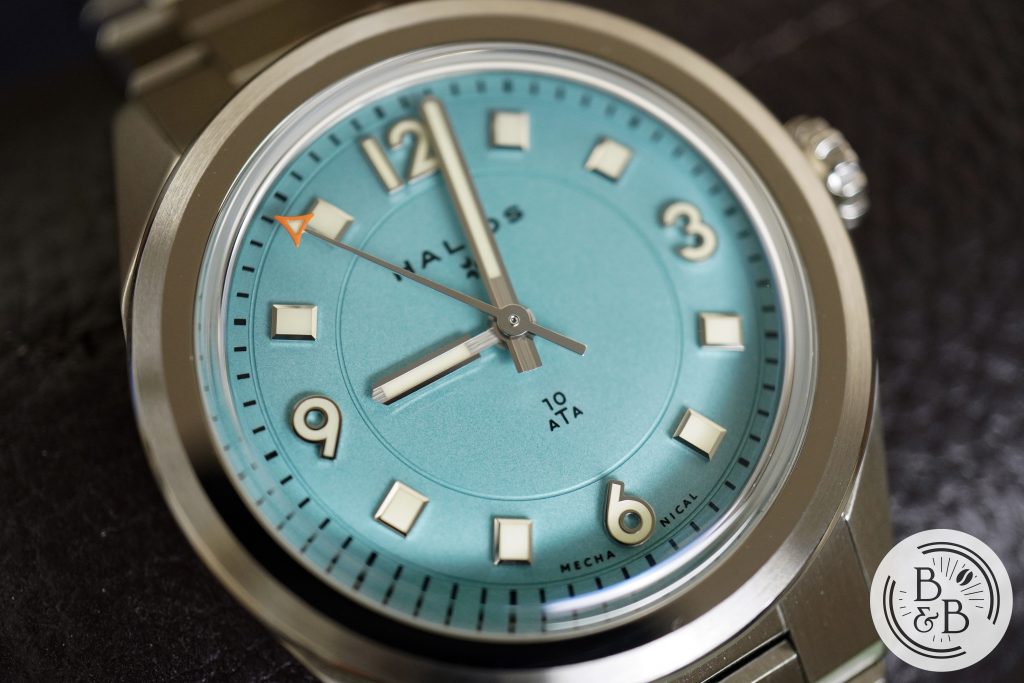 There is no date window here, and the dial is beautiful, symmetric, and checks off all my boxes for good dial layout design. I suspect this is because Jason and I are soulmates and he just doesn't know it yet.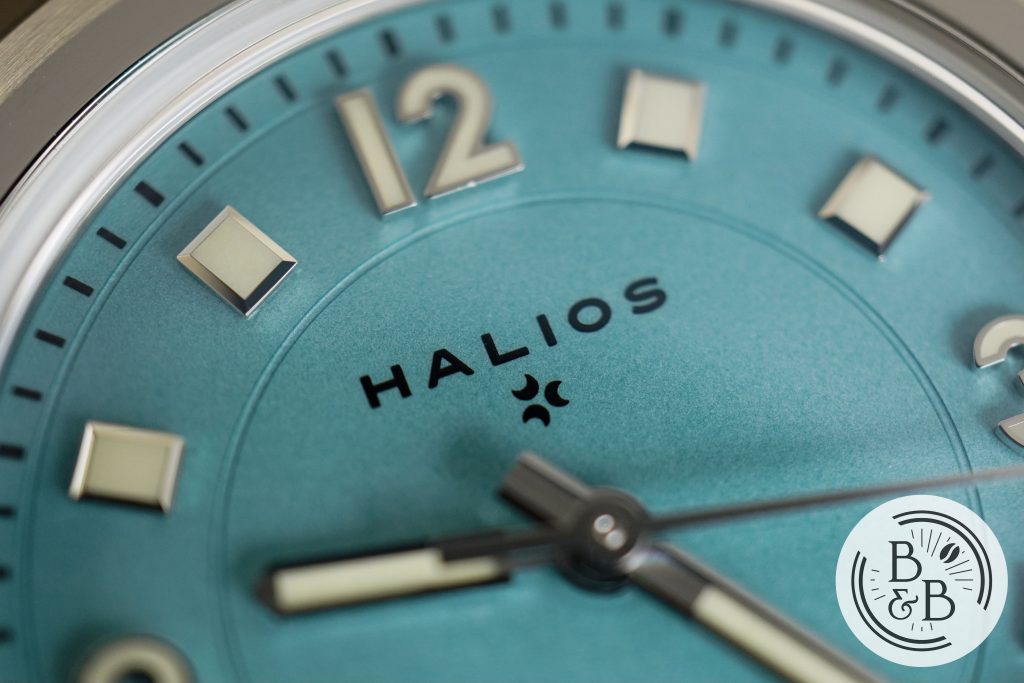 The brand's logo is printed under the 12 o'clock index and 10 atm above the 6 o'clock index. The printing quality is excellent!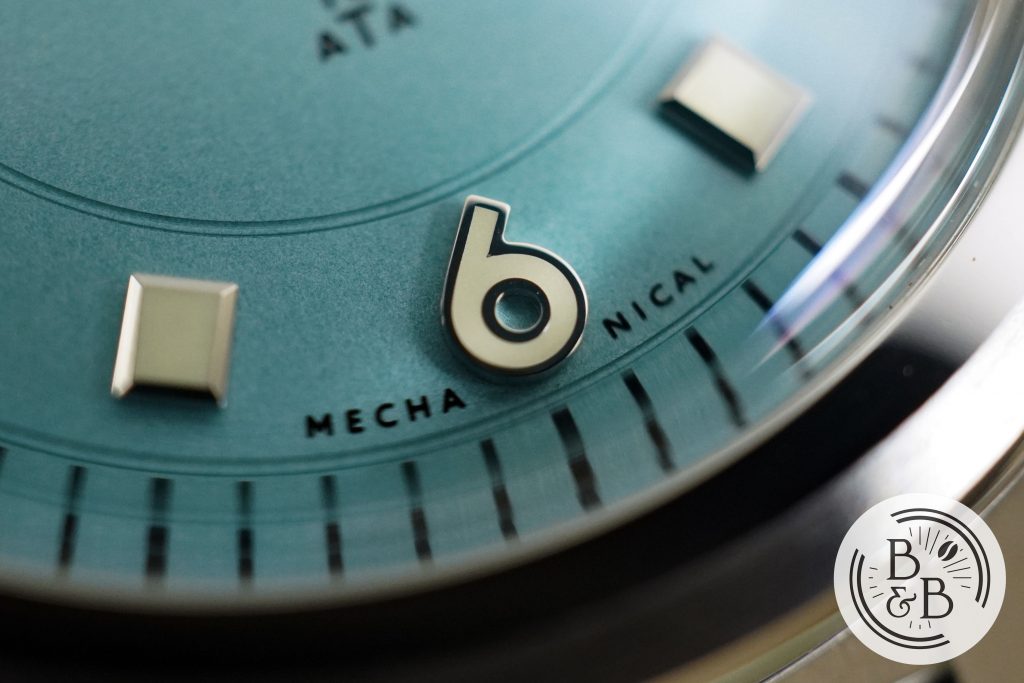 Below the 6 o'clock index, you have the word 'mechanical' printed across, which seems to rub some people the wrong way. I agree that it doesn't have the same effect on the ears and eyes as separating 'automatic' into 'auto' and 'matic', but I really couldn't care less.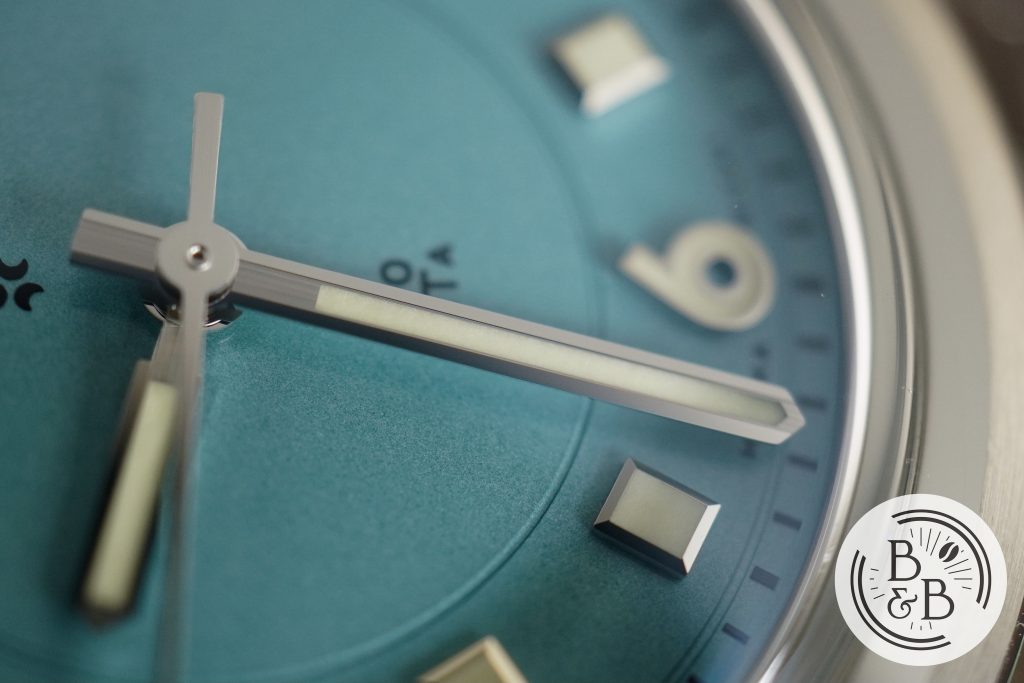 The handset is simple, and I think appropriate for this dial design. The hour and minute hands have brushed center sections with large lumed segments, and polished sides to attract light. The hands are well finished, and I think the proportions are perfect.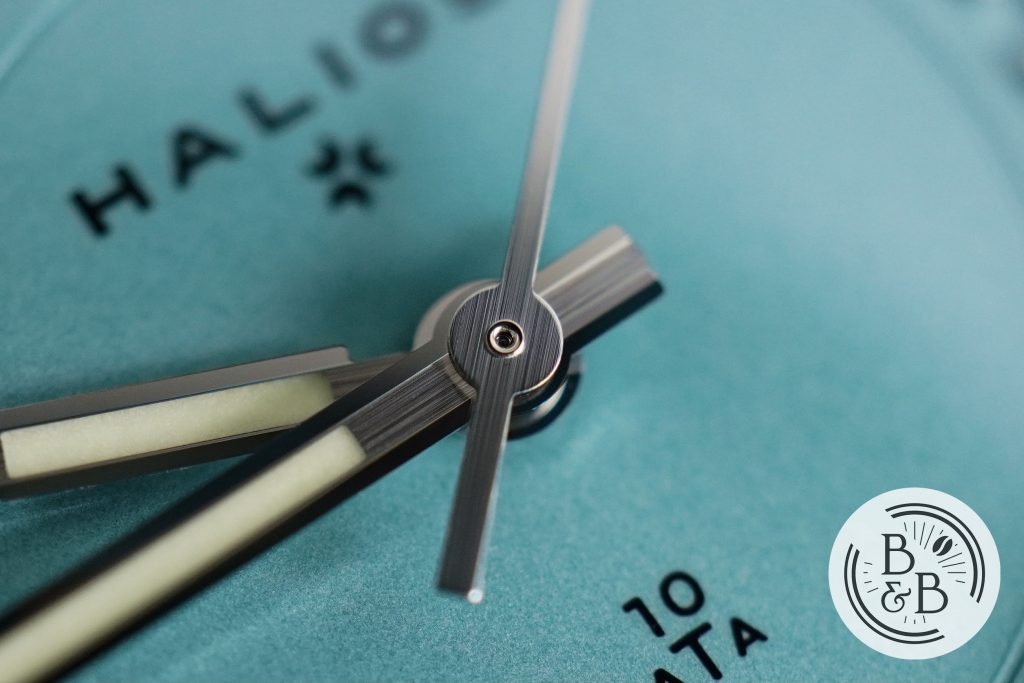 The seconds hand is also brushed with the same exceptional finishing, and has an orange lumed tip that precisely touches the outer minute or seconds track. I'm very impressed with the finishing on this dial, and I think the dial finishing is significantly better than what I've seen from Christopher Ward, which is likely the only competitor for Halios in this category, and a brand I hold in very high regard.
---
Lume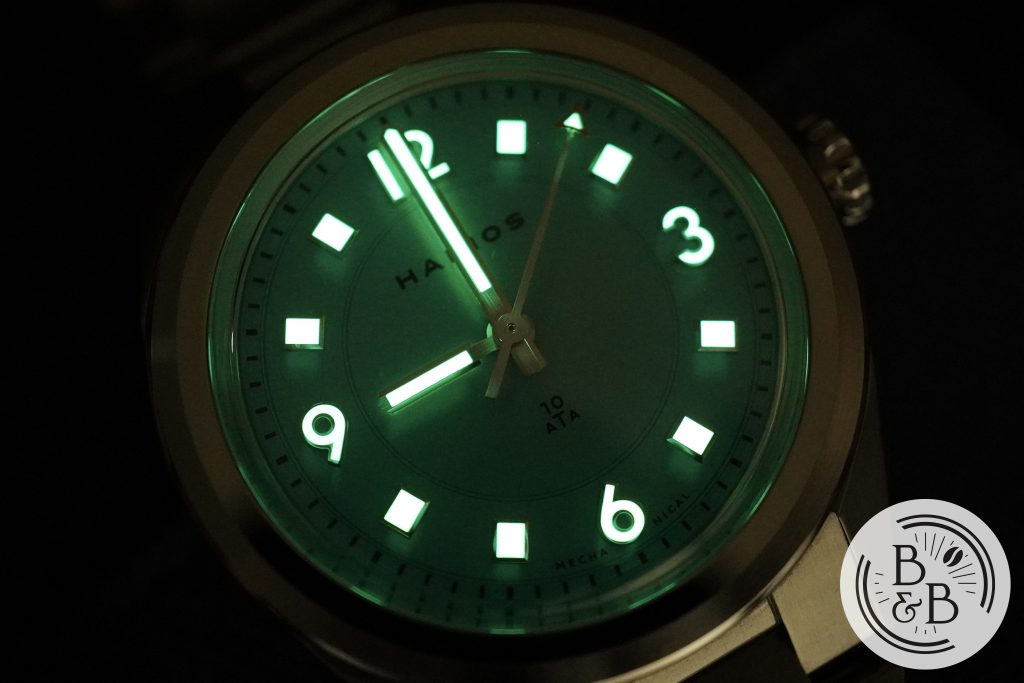 I've owned and reviewed four Halios watches so far, and the lume on all of them has been excellent. Halios seems to always get the quality and quantity of lume right, and this watch is no different. The lumed elements use C3 Super LumiNova and they glow bright and have excellent longevity.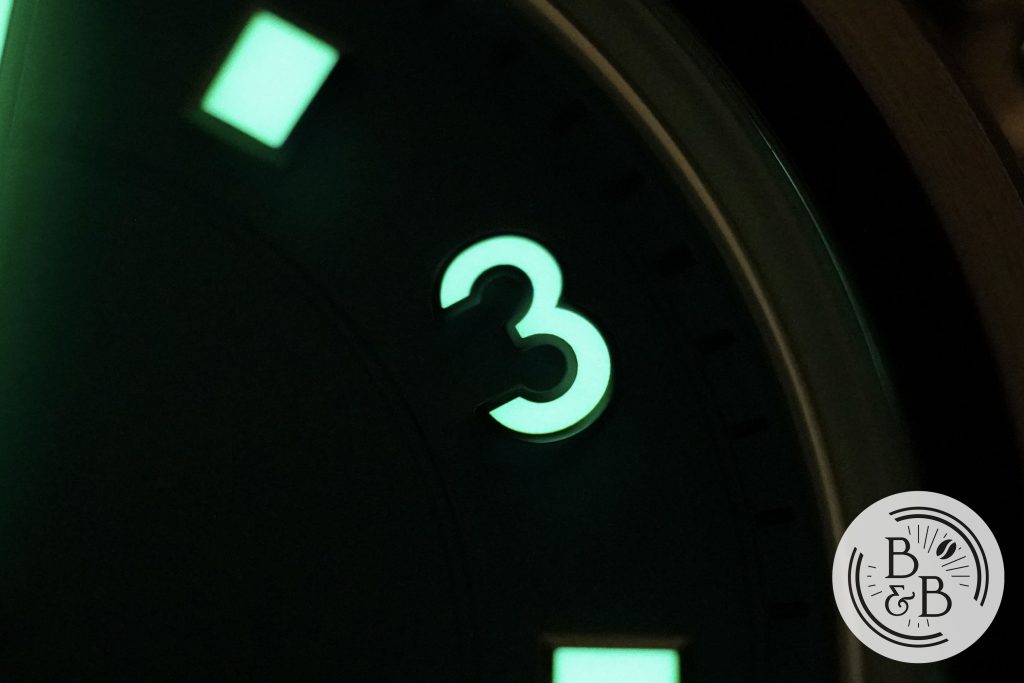 The applied indices are tall, and therefore very generously filled with lume. They charge easily, glow bright and last well into the night. The application of lume on the indices is very neat too.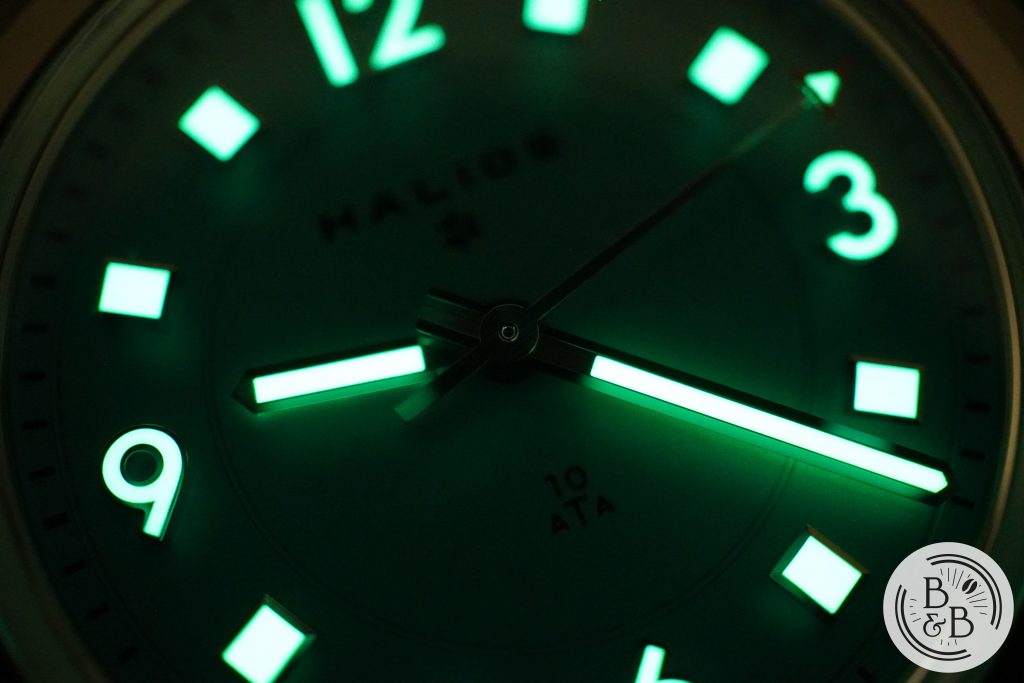 The hands have large lumed sections, so they have similar performance to the indices. I think this watch will satisfy most of the hardcore lume junkies, and the fact that the seconds hand tip is also lumed, is a great bonus.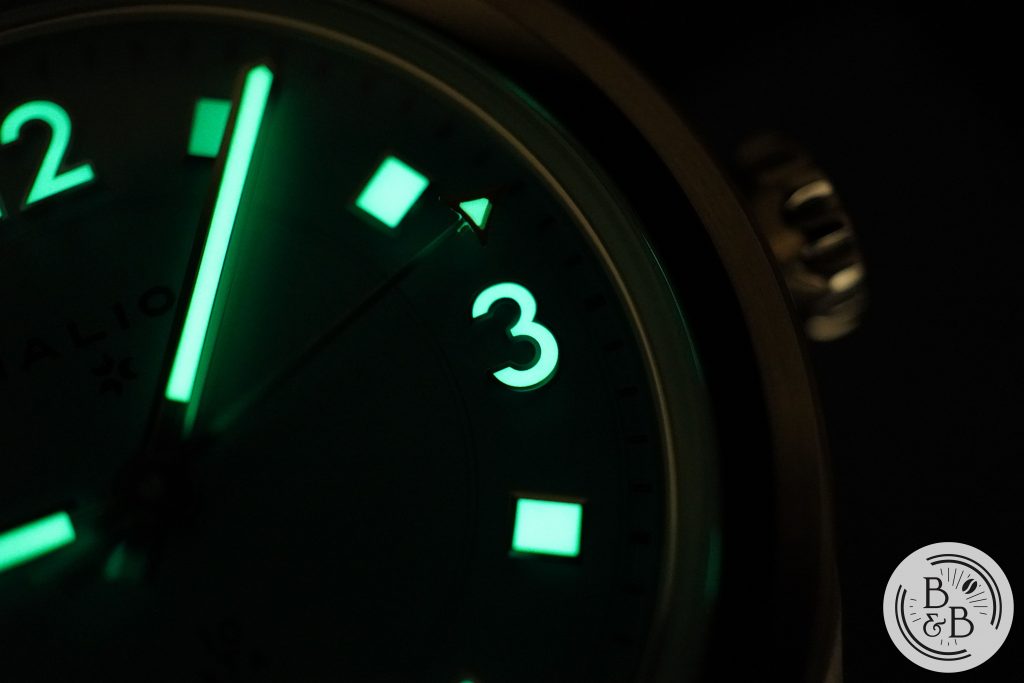 The seconds hand tip has some stray lume particles on the lower surface of the tip. But at this price, I shouldn't even be looking at this. This isn't visible to the naked eye, and isn't a big deal.
---
Movement
This watch uses a Sellita SW210-1 hand-wound mechanical movement. The fact that it was a hand wound movement was part of the appeal, as I don't have any others in my collection. I enjoy the ritualistic nature of these watches, and physically interacting with a watch is a big part of the ownership experience for me – so fidgeting with dive bezels, winding up a crown and adjusting a quick-adjust clasp, are some ways I do this.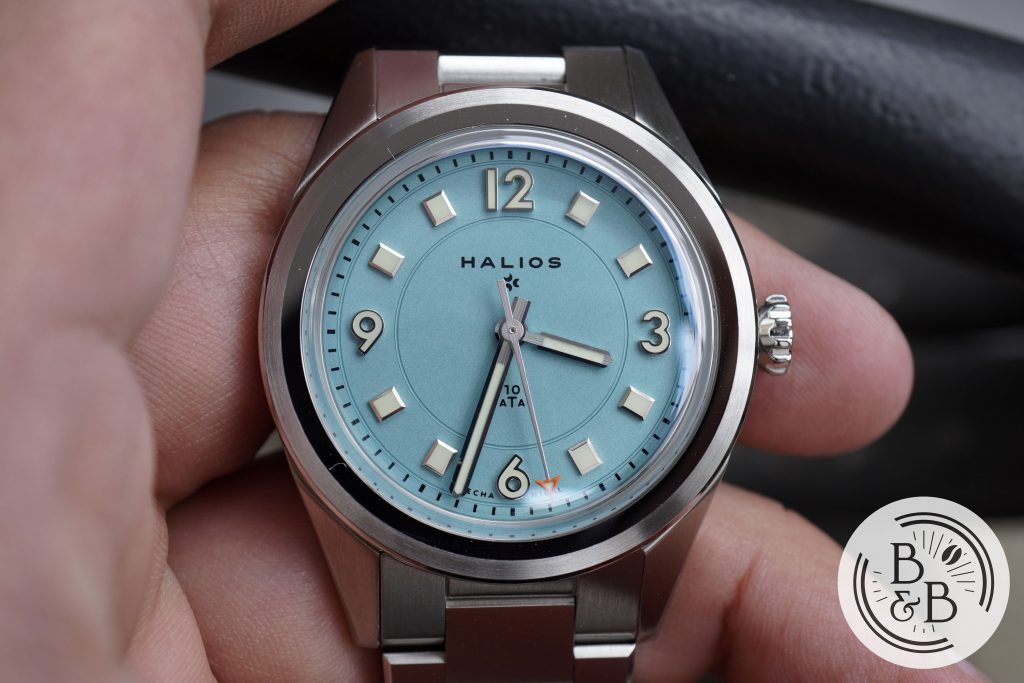 The winding experience caught me by surprise, as it offers a lot more resistance than most vintage hand wind watches I've interacted with, and a lot more resistance than the Stowa Marine 36 and Ming 17.01 that I've previously reviewed. I may be in the minority here, but I really like it. It feels more robust, and I don't feel the need to be careful or worry about over-winding it or being too rough with the movement. It plays into the everyday watch category that I think it belongs to.
On my time-grapher, I observed roughly +2 spd in the dial up position and +2 spd in the crown up position. So excellent regulation, and no complaints from me here.
---
Bracelet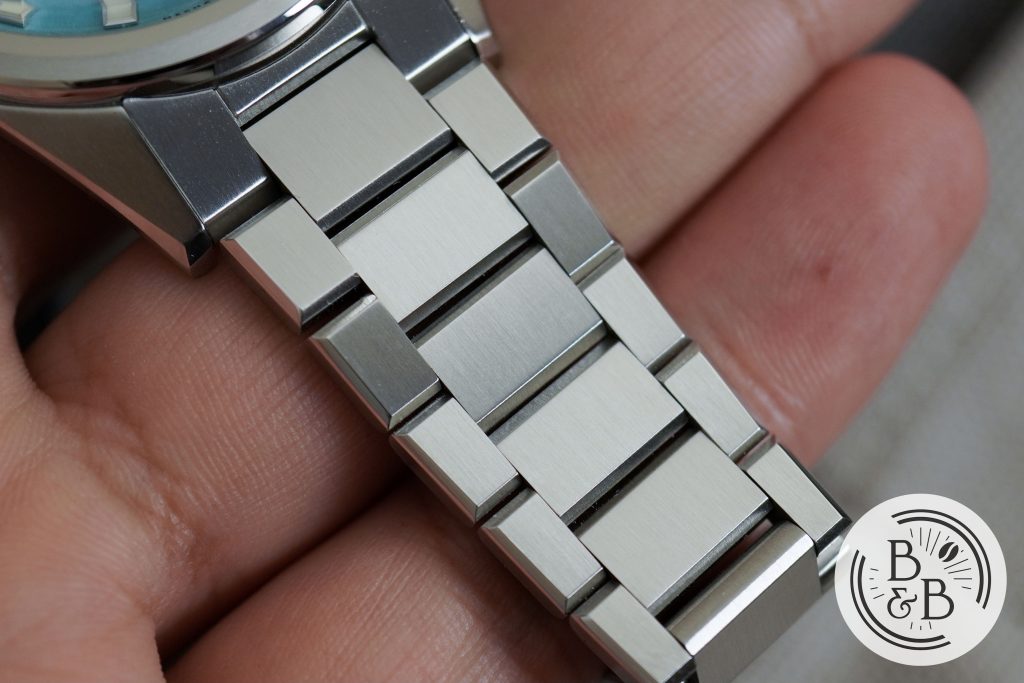 Let's talk about this bracelet – I'm a bracelet guy, and I gravitate towards watches with bracelets over leather, fabric or rubber straps. But when you're dealing with watches in the sub-$1000 category, there are almost always corners that get cut to keep prices down. So I rarely have high expectations from bracelets in this category.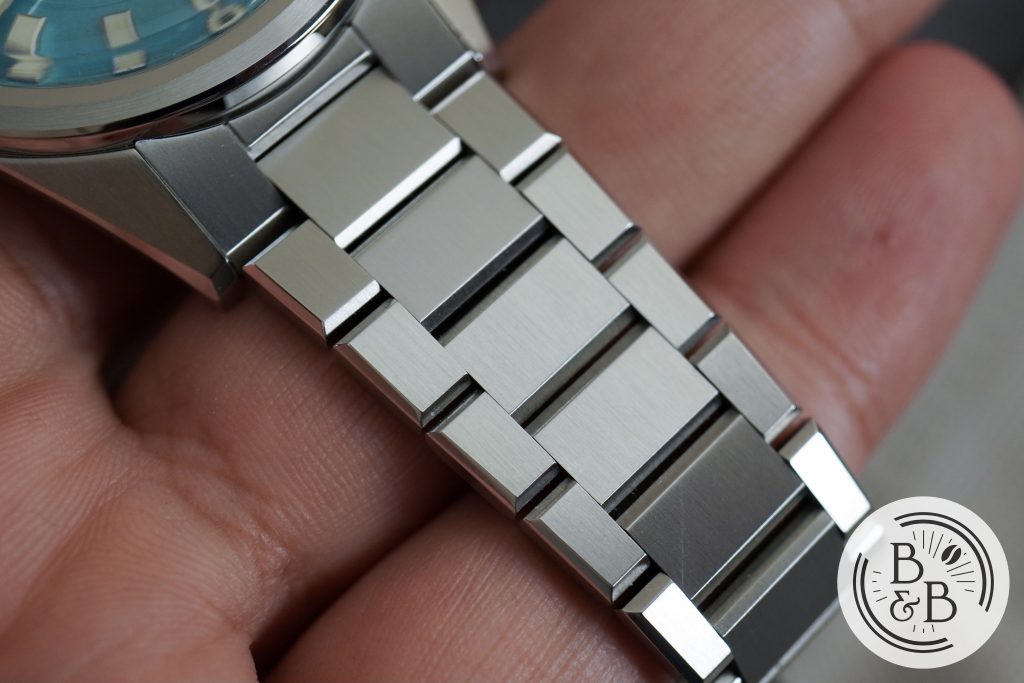 Most brands are able to get the links right, and unless they're very poorly designed and finished, you're not going to notice the difference between good links and excellent links when the watch is on your wrist. The Halios links are well designed and have a rectilinear design language, with flat brushed surfaces and straight lines. I haven't experienced any hair pulling, and the links drape very well on wrist. The bracelet tapers from 20mm at the lugs to about 17mm at the 18mm clasp.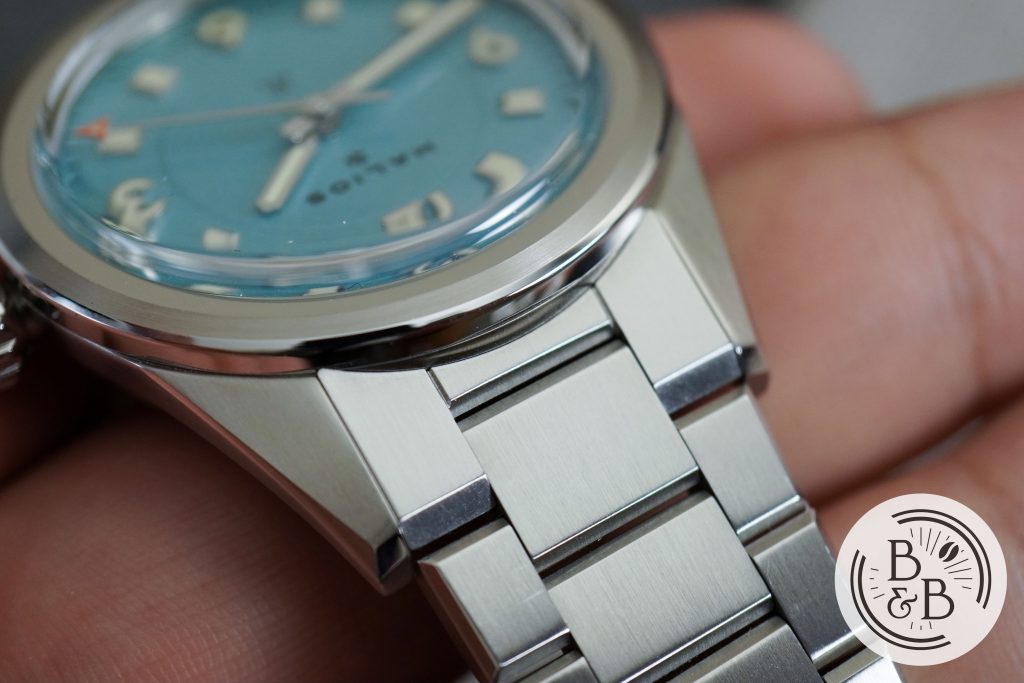 End link fitment is a pet peeve of mine, and I'm quite impressed with the machining tolerances here, as there is little to no movement. The end links also match the design aesthetic of the case and lugs, and the brushing pattern is paired nicely too. It shocks me how micro-brands like Halios, Zelos and Christopher Ward can get this right, and brands like Grand Seiko still struggle with this on watches close to 10x the price.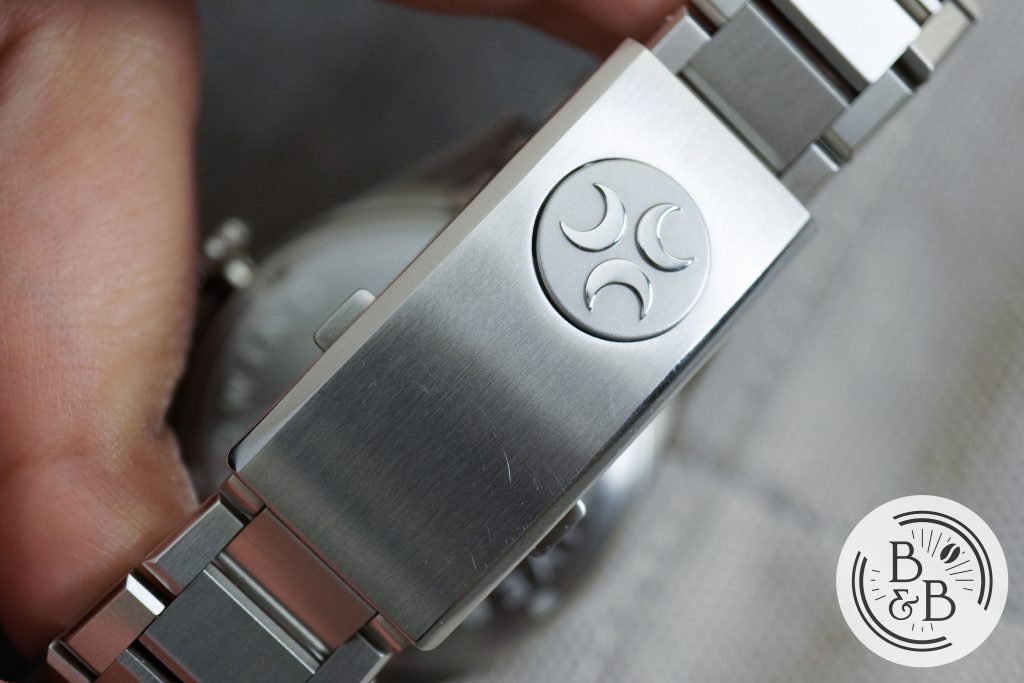 But the most important feature to me is the clasp, and this clasp is an absolute win. I'm a sucker for quick adjustment, and this one goes one step ahead with an on-the-wrist quick adjustment system. All you have to do is push down the embossed logo, and you can increase the length of the bracelet. To shrink it down, you can gently squeeze the links back in, similar to the Formex REEF.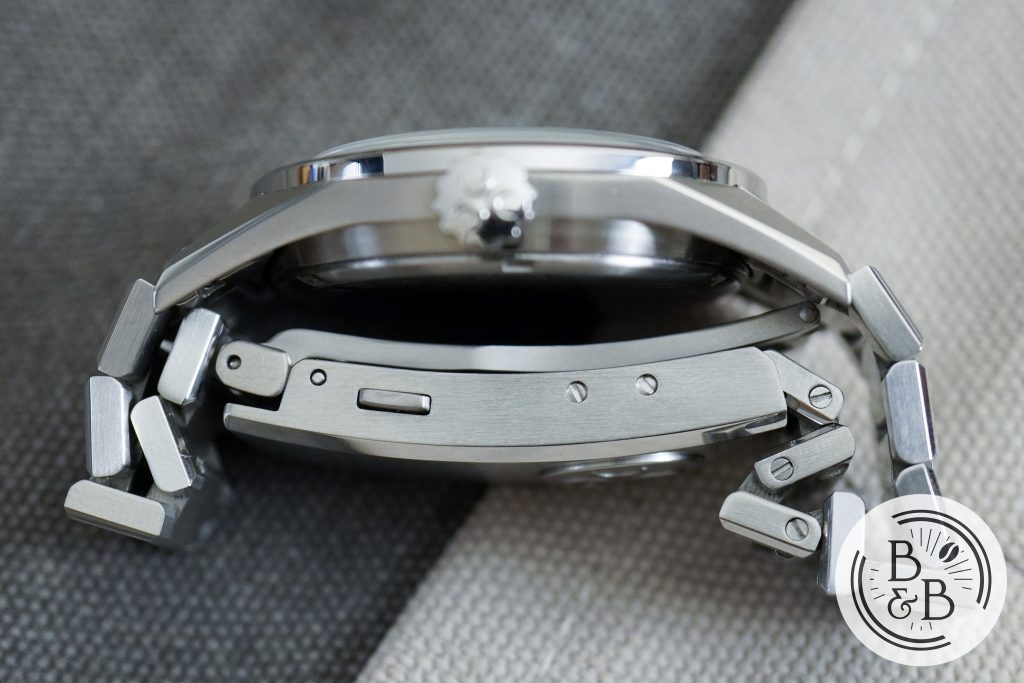 Some have complained that the thickness of the clasp is a poor design fit for the very sleek case of the Universa at roughly 8mm in height with the fold out deployment, but I am happy to make this tradeoff for such a practical and functional clasp design. I use this feature a lot, and it contributes significantly to the overall comfort and wrist experience of this watch.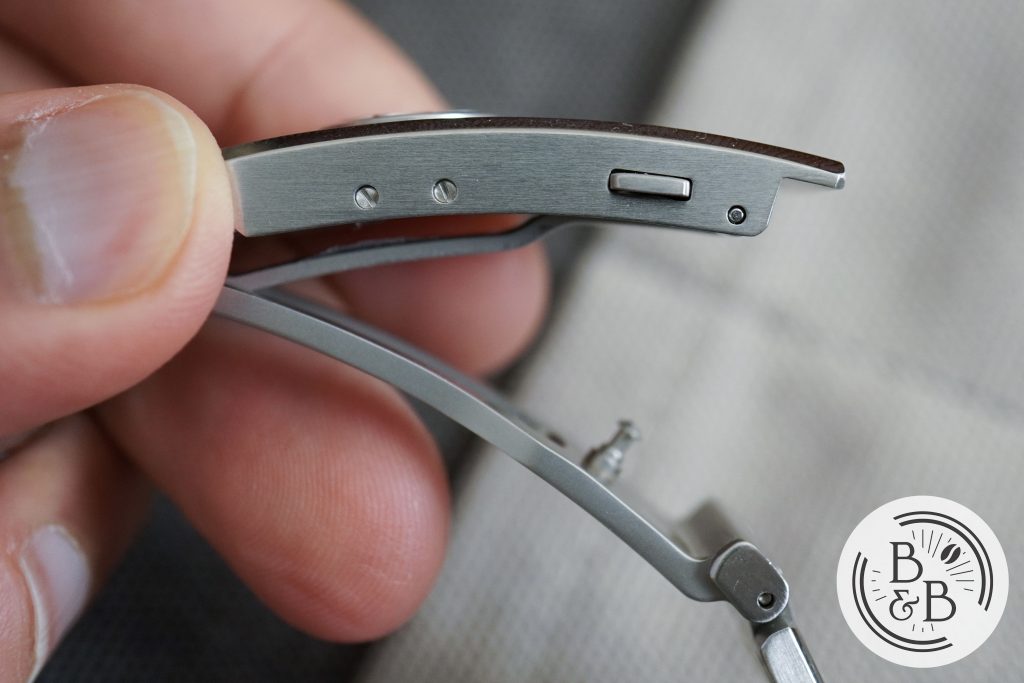 An aspect of this bracelet that I believe deserves criticism is the fact that it is only suitable for wrist sizes of 6.25″ and larger. Given the modest case size, I suspect a significant fraction of those interested in this watch have modest wrist sizes, like myself. I removed all but one link and got a decent fit on my 6.25″ wrist, but the clasp was slightly off-centered on my wrist because of an awkward wrist shape.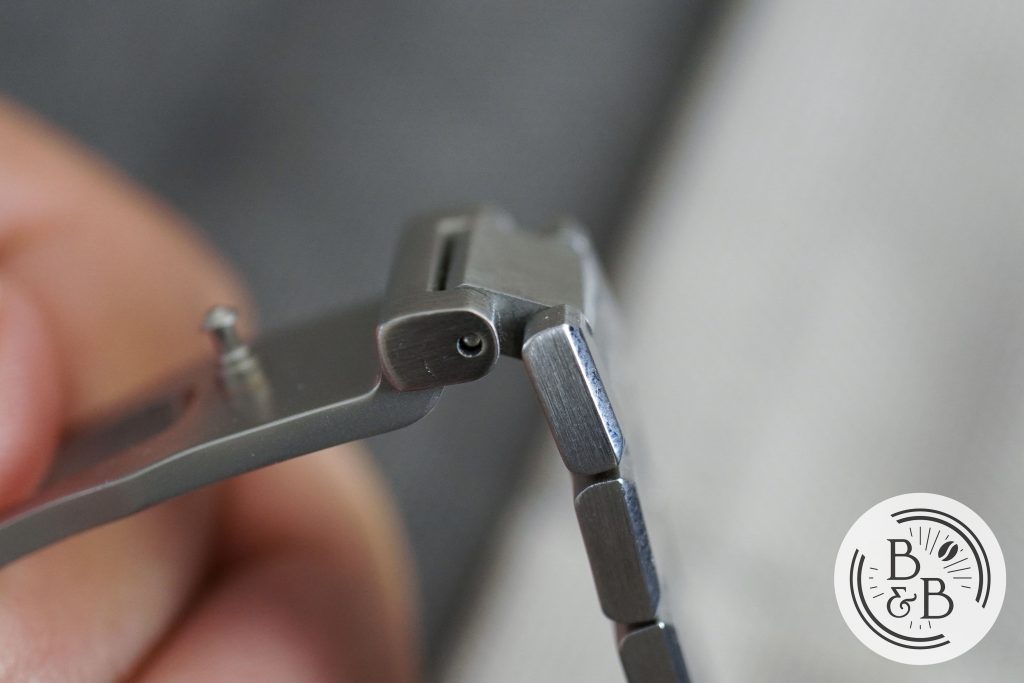 I pondered over this for a while, but then ended up knocking out one of the "semi-permanent" links near the clasp. I now have an excellent fit, and with this "hack", I think folks with wrists around 6" can use it comfortably. This involves removing the last link at the clasp by knocking out a pin, and then attaching it directly to one of the removable pins. This will prevent the last center link section from articulating (unless you want to file/grind that down too), but has no impact on wear-ability.
---
On The Wrist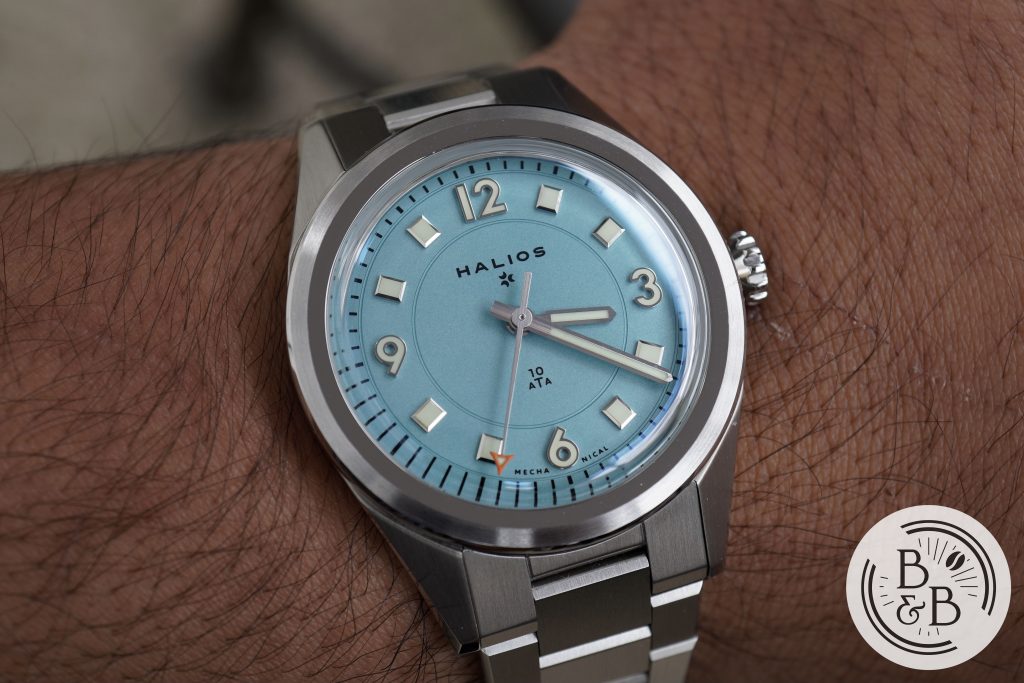 The 37.5 mm diameter and 47.5 mm lug-to-lug width fit perfectly on my 6.25″ wrist. I've heard criticism about the long lugs, but given how dramatically they angle downwards towards the wrist, it does not appear out of proportion, and the lugs almost wrap around my wrists, adding to the overall comfort.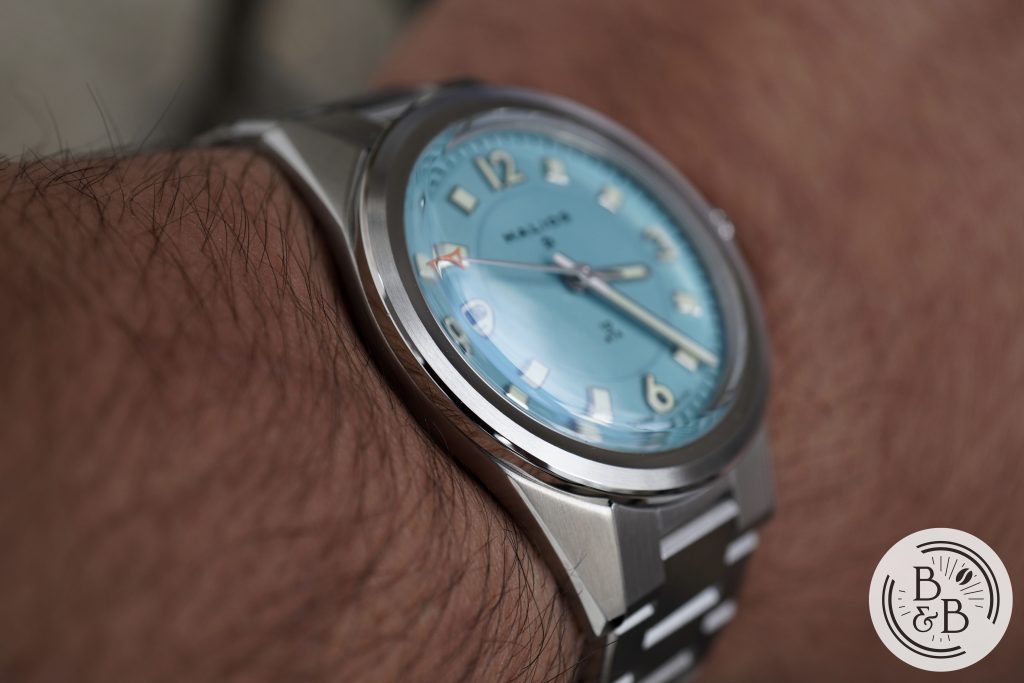 The case sits very low given the sleek 10.75 mm height, flat case-back and extending lugs, and this case is more appealing to me than the exciting pastel blue dial.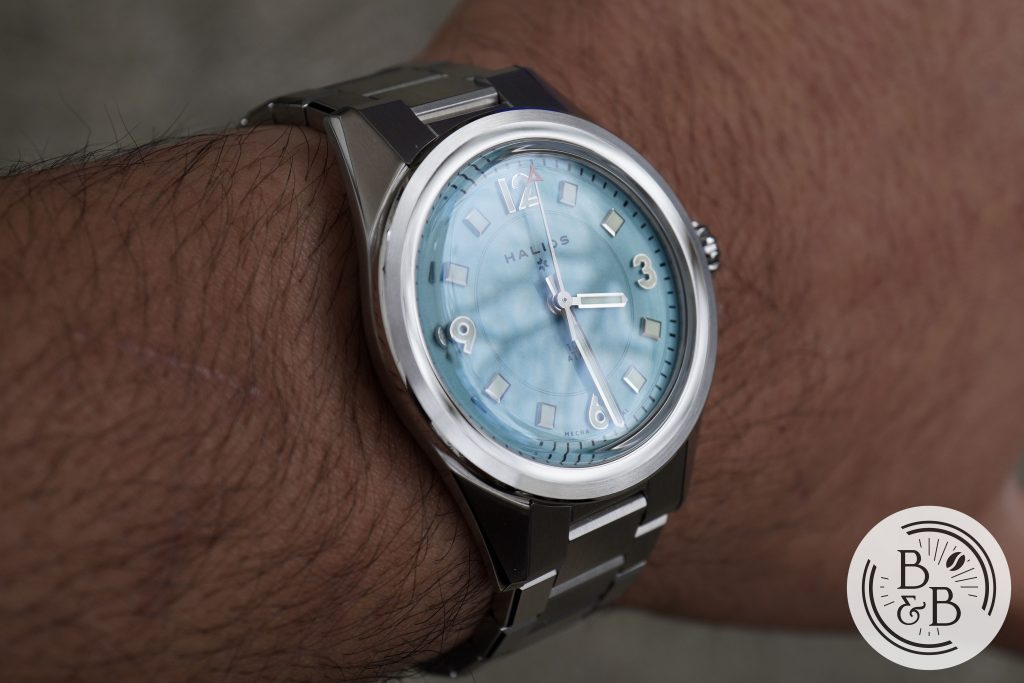 Overall, I have no complaints about the wrist presence and this watch does feel a bit smaller than you would expect from a 38 mm diver, but is a refreshingly well proportioned watch, and I have been enjoying every second of wearing it.
---
Concluding Thoughts
To wrap this up, I'm very happy with my purchase and this watch is going to stick around for as long as possible. I think Halios is making some of the best watches under $1000, and they're also punching way above their weight class in terms of the attention to detail being offered. The only other brands I can think of that come close to matching this value proposition are perhaps Christopher Ward and Formex.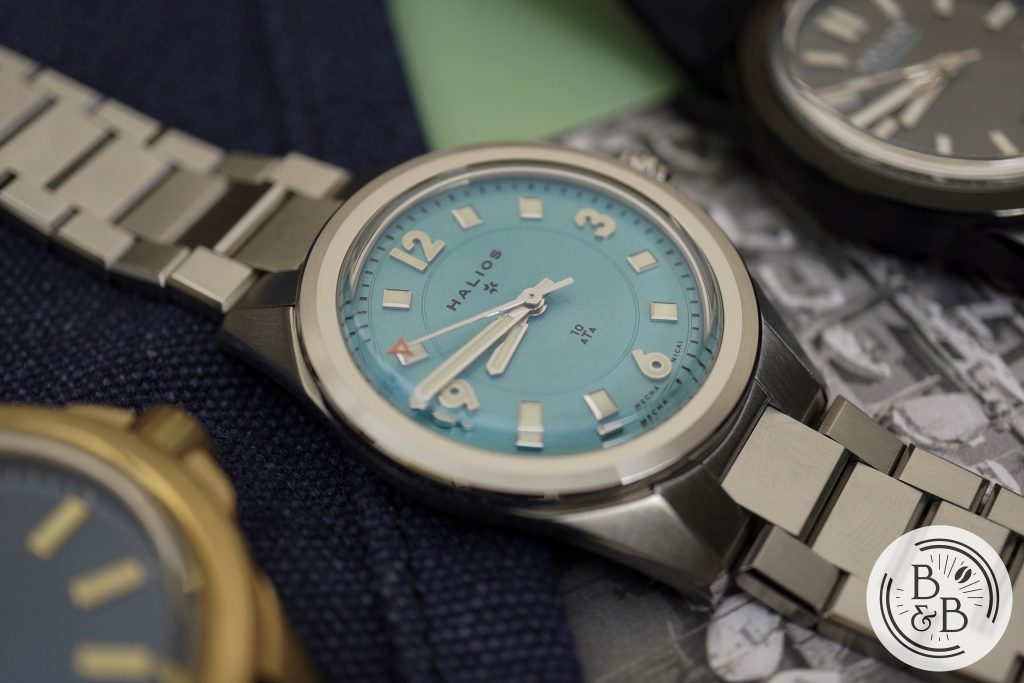 The two Christopher Ward watches I've reviewed had better case finishing than the Halios, but the five Halios watches I've owned and reviewed have had much better dial finishing. I also just prefer the brand ethos of Halios. Christopher Ward seems to be constantly putting out new watches, which makes me hold back from spending money on any one of them. The Formex Essence maybe a good alternative, but only if you can appreciate some nifty and innovative engineering applied to bracelets and clasps. But then you're moving up the price spectrum, and making way for other brands like Monta, which sadly do nothing for me in terms of design, but are very capable.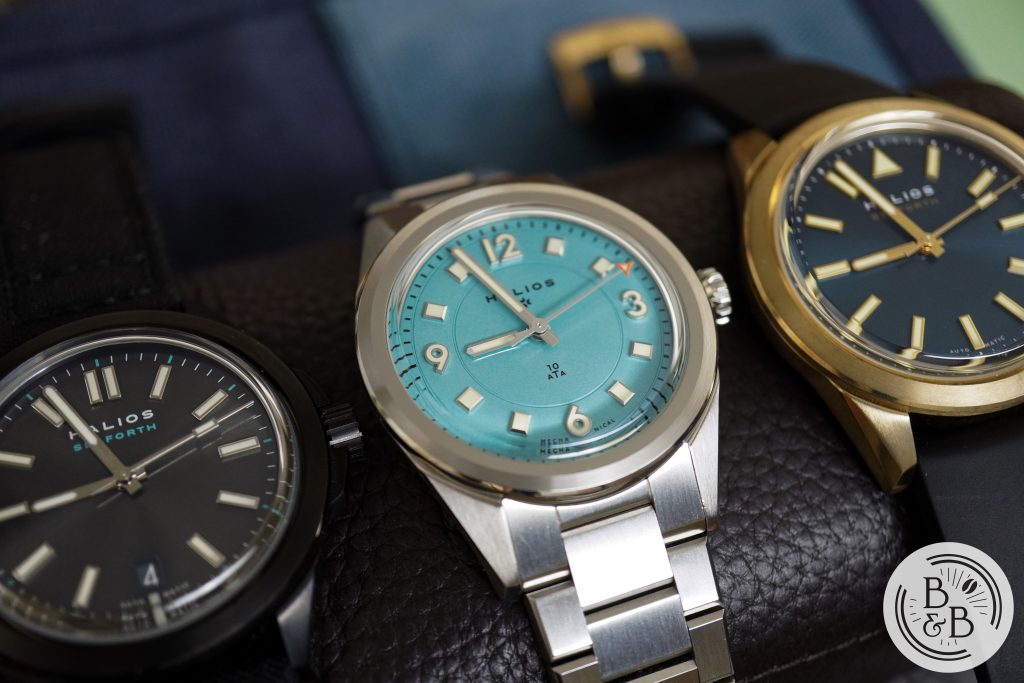 Coming back to the Universa – I love this watch, and I love this brand. Putting aside their history of roadblocks and inconveniences where ordering was concerned, it looks as though Jason is actively looking to put those issues behind him. The Fairwind and Universa release seems to be going much smoother than previous Seaforth releases, and he has already begun gauging the market for interest in the Seaforth IV to make sure he has enough.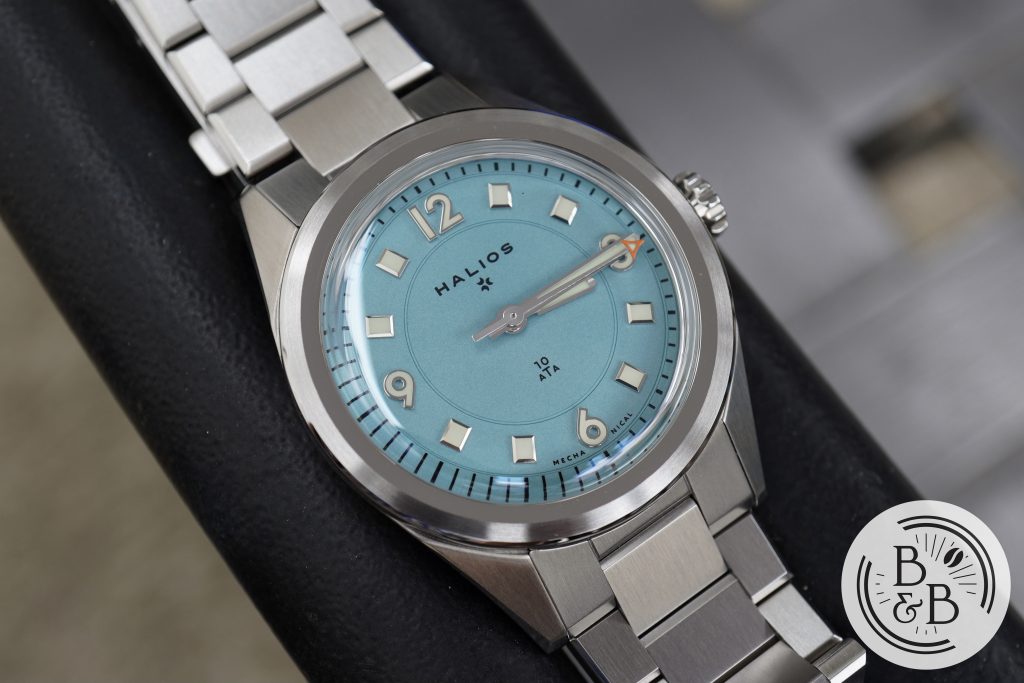 So if you like what these watches look like, go ahead and buy one. You're unlikely to be disappointed, and it's going to be difficult to find a watch that can do everything that this watch does for cheaper.
---
Strap Change
---
Thanks for reading!