---
Disclaimer: I purchased this watch at retail and was not externally incentivized in any way to make this review. This review is in no way sponsored by any entity. All opinions here are my own. To maintain complete transparency, the kind folks at Guinand did throw in a free watch carrying case with my order 🙂
---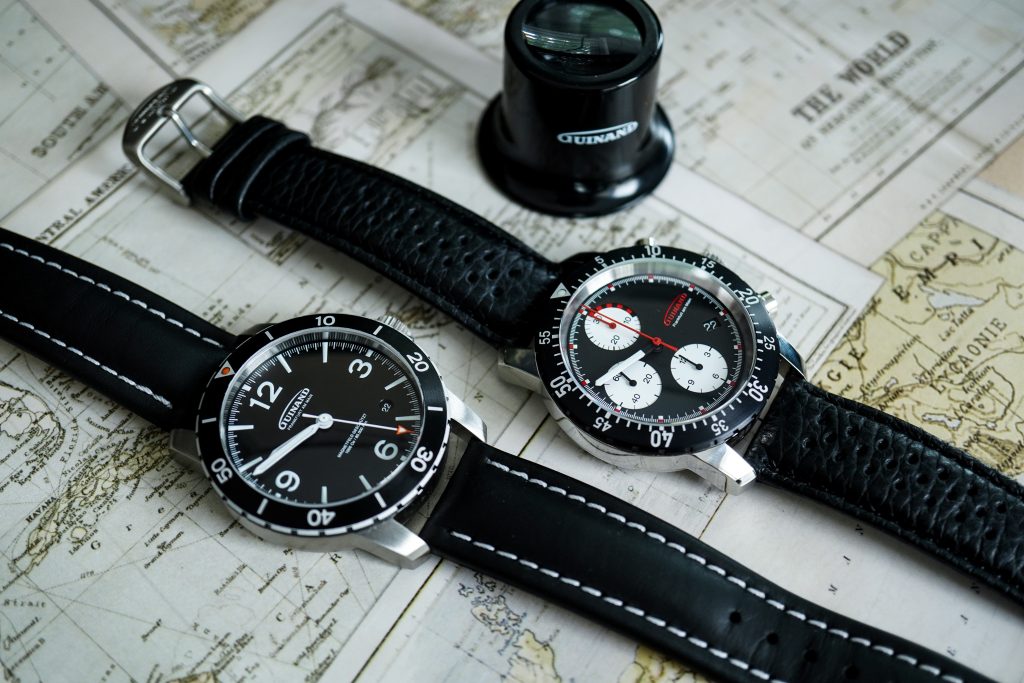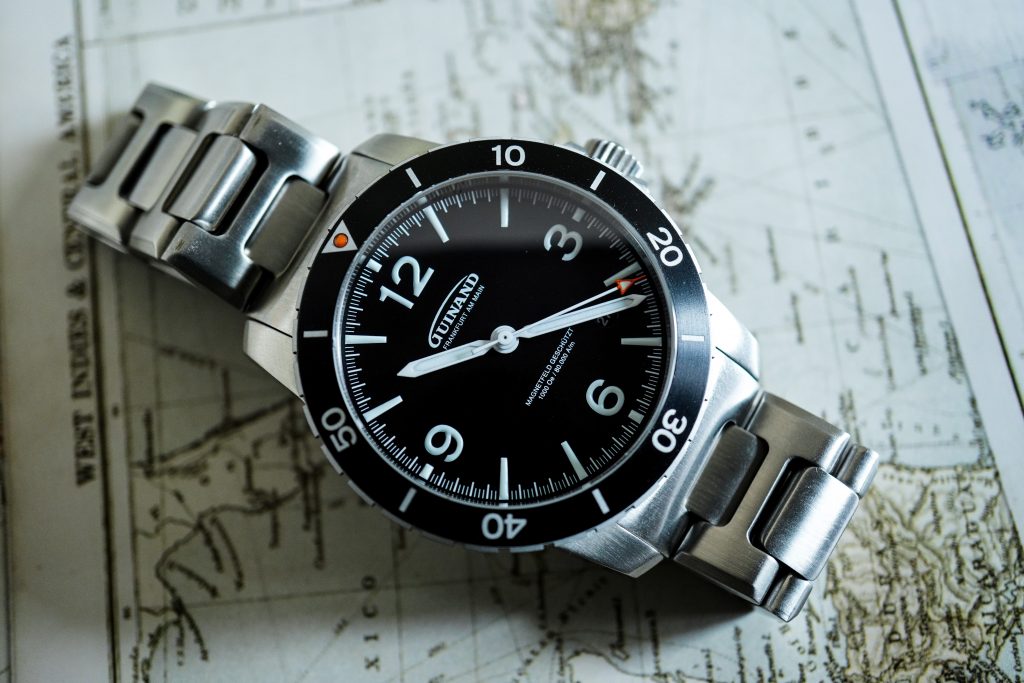 Since the founding of our company, we have been making watches that are worn with an occupational relation in challenging situations. Pilots, scientists, researchers and technicians rely on Guinand instrument watches in everyday life and in extreme situations. With our model Flight Engineer we write a new chapter of our instrumental watches.

Guinand Website
Magnetism & Watches
Similar to the Rolex Milgauss, the Flight Engineer is designed to be able to resist the effects of magnetic interference on the Sellita SW220 movement inside. This is done by using components that are somewhat immune to the effects of magnetism such as Glucydur (or Nivarox for the balance wheel), together with a solid inner casing made of nickel-plated iron. The case is more than just a simple iron cage, and consists of multiple precisely milled and turned parts, with only two small openings for the date window and crown stem. Guinand lists the use of an inner housing made of RFe 60 / 1.105 (still haven't been able to find what the exact composition of this material actually is, but it appears it could be a high grade pure iron mixture) according to DIN1705, a German standard for soft magnetic materials. The entire case is then tested at the Guinand facility with magnetic fields up to 80,000 A/m or 1000 Gauss. Additionally, this watch is easily meets the ISO 764 (ISO 764:2020 – Magnetic resistant watches) standard of being able to withstand fields up to 4,800 A/m or 60 Gauss.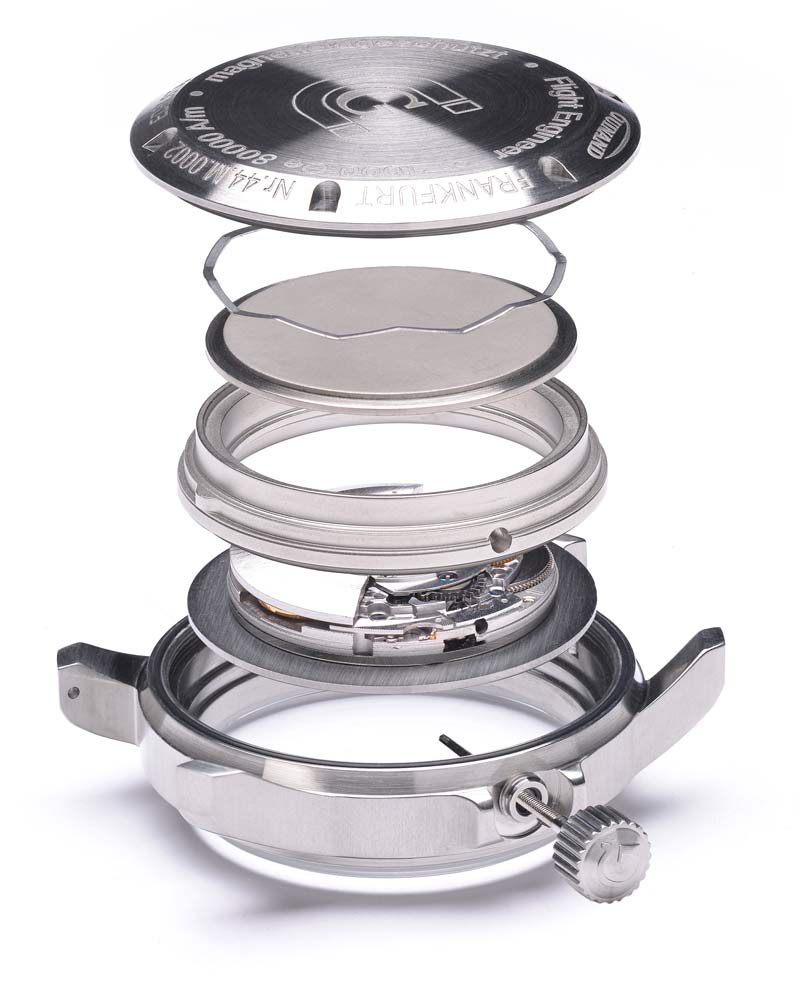 Case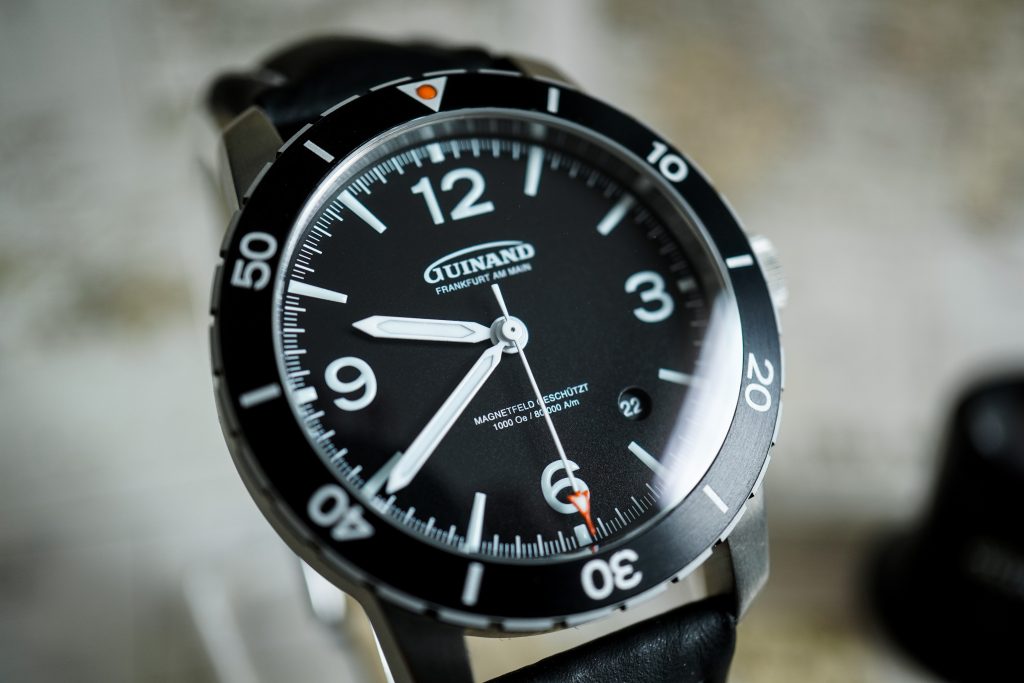 In terms of the overall case design, Guinand has been pretty conservative with this watch and built a watch in a case design similar to their Chronographs. This is not necessarily a bad thing, as I think this design is comfortable on the wrist and looks great. I think the lugs are perfect in length, but I would've liked to see them drilled-through to make strap changing easier.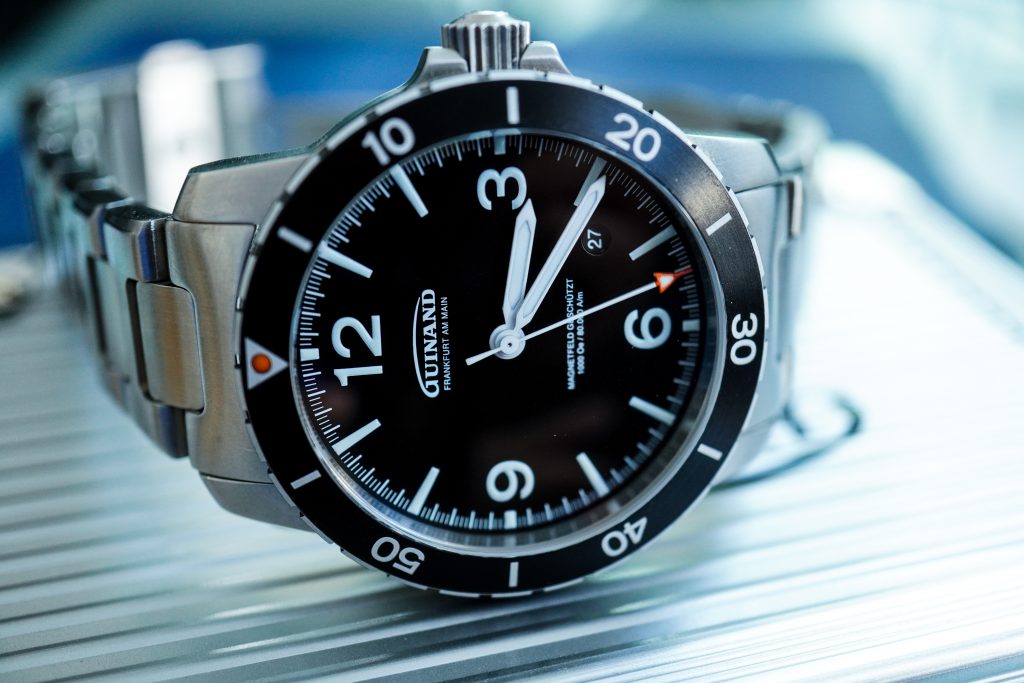 The whole case is made of what appears to be 316L stainless steel and it is satinized by hand, which results in a beautiful vertical brushed pattern around the case. I'm a big fan of brushed cases and bracelets for everyday watches since they're less likely to pick up the really small scratches and scuffs.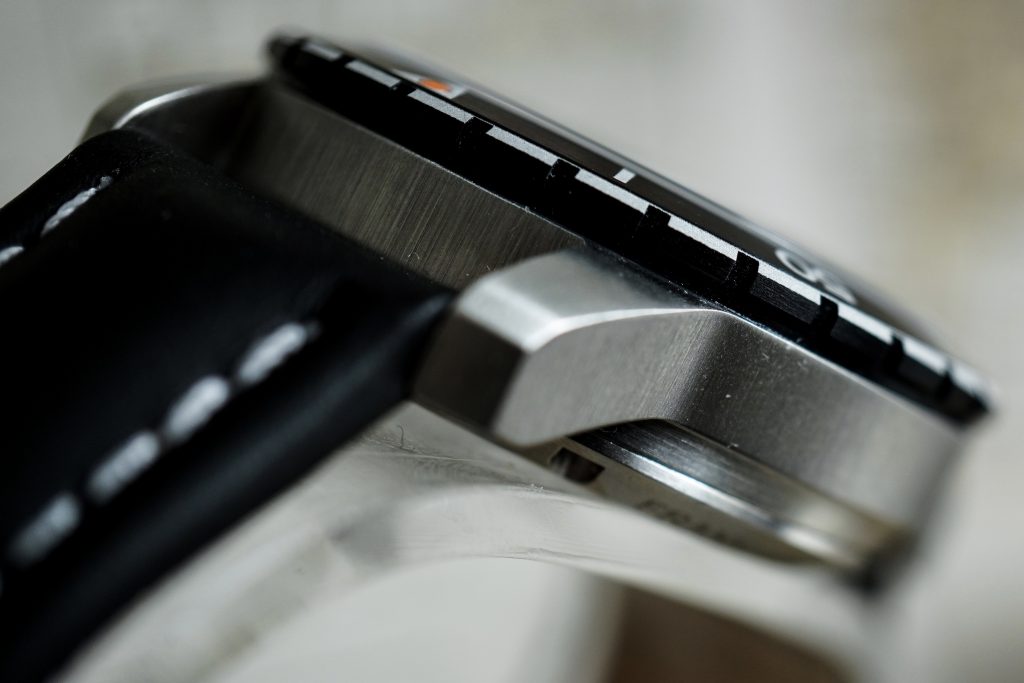 One of the first things I look at when I receive a watch with a metal bracelet is the tightness of the joint between the case and the end-link. To me any easily visible gap or wiggle room is a sign of poor quality control. I sold my Omega Globemaster because of an unacceptable amount of wiggle room, and as a rule of thumb I will not tolerate this unless it is on a watch under $500. However, the Traska Freediver that I recently reviewed was perfectly set and only cost $399. So I really don't think anyone should be excused of this.
As expected from a German watch brand, the tolerances on this joint are perfect. The brushed case and bracelet match perfectly, even though to my knowledge, this bracelet is used on more than one of their watches.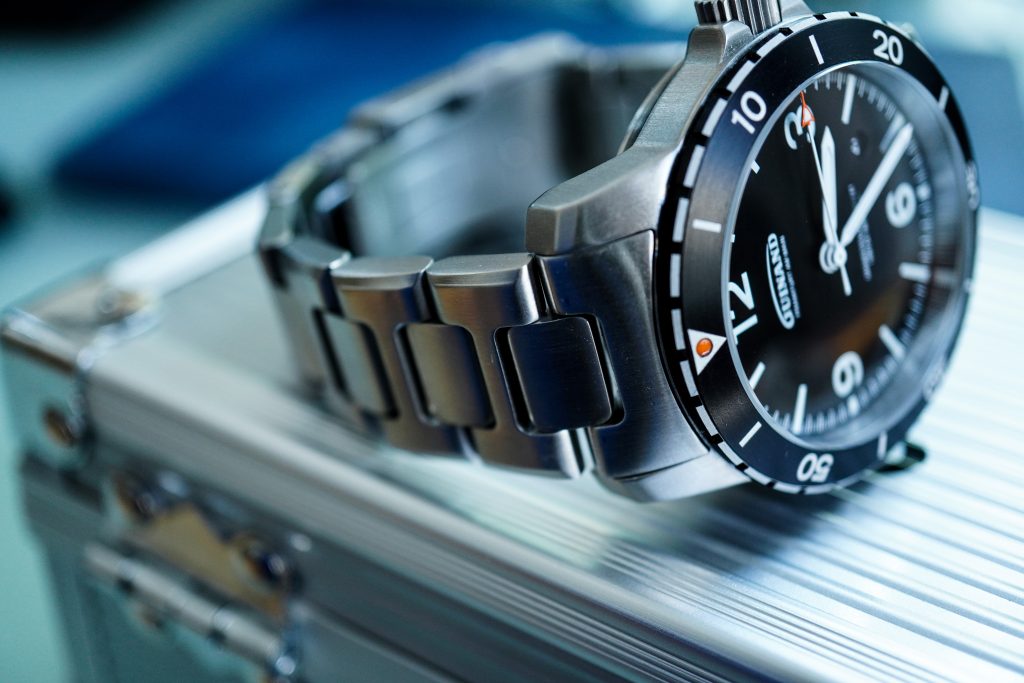 The case has short crown guards similar in style to those on a modern Rolex Submariner. The crown is machined well and easy to grip. The crown is also brushed to match the case and topped with the brand's logo.
Over the last week of using it, I have noticed that occasionally I haven't been able to screw the crown down in my first attempt. I believe this to be due to the threaded support on the case being just a fraction of a millimeter shorter than it should have, which means I end up having to press the crown down just a bit more than usual to make sure the crown catches the threads on case perfectly. Not really a deal breaker, but a re-calibration of my 'crown adjusting reflexes'. But the crown screws down all the way without any gaps between case and crown.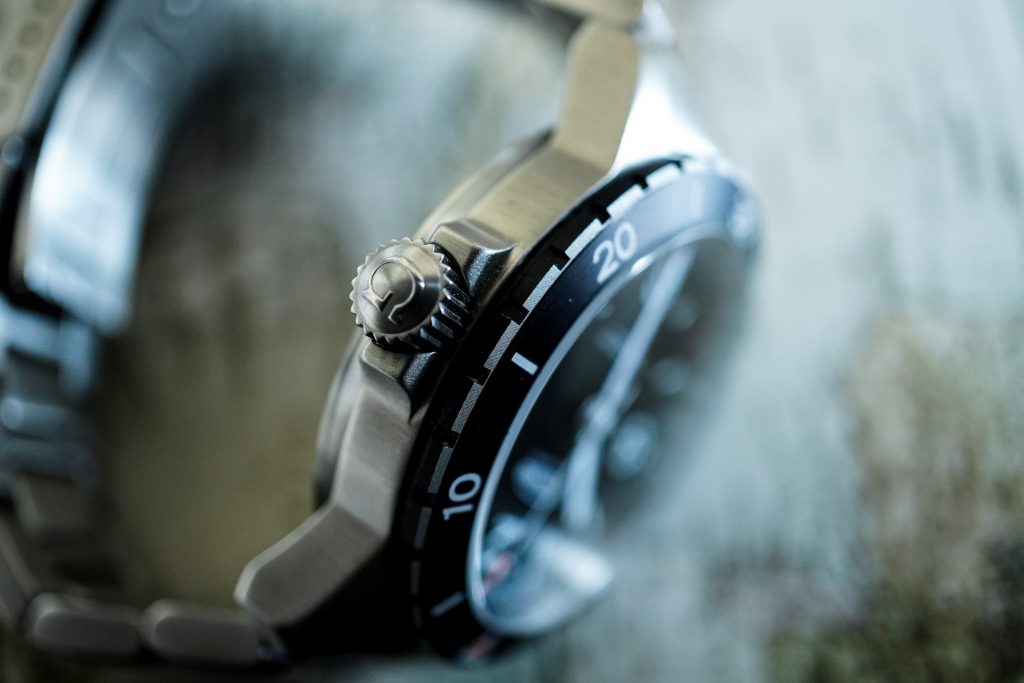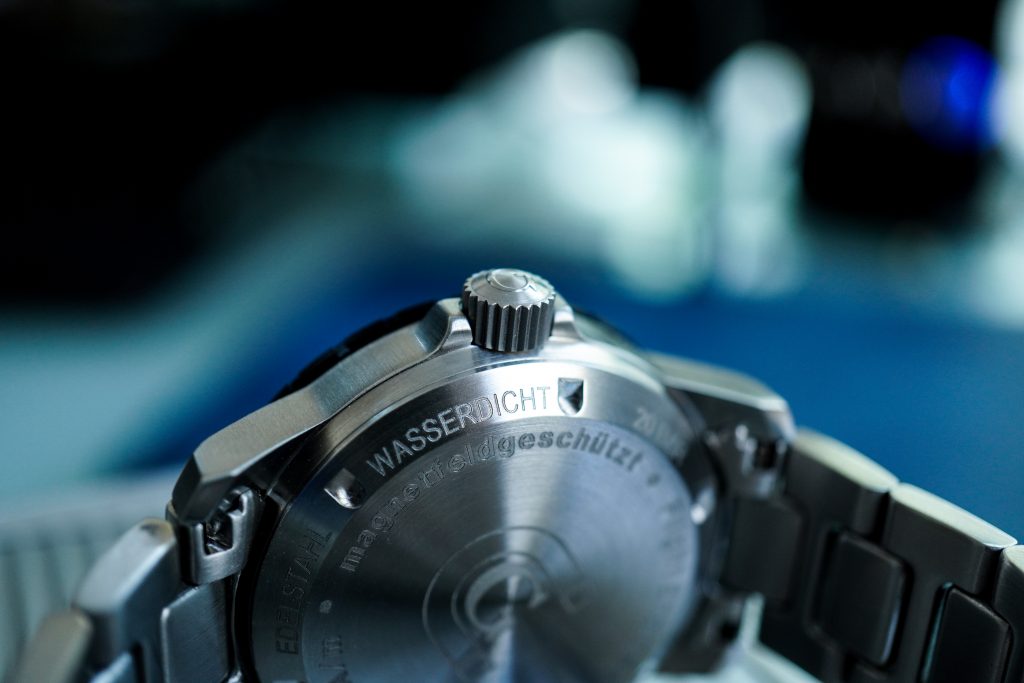 Because of the interesting inner case design, an exhibition case-back is out of the question, and instead you have the brand's logo etched onto the center of the solid case-back, with a magnet engraved around it (which is pretty cool). The rest of the case-back is engraved with some of the specifications of the watch.
The double O-ring sealed screw-down crown together with the screw-down case-back allow the watch to be rated for up-to 200m of water resistance. So while this may look like a pilot watch, this watch can stay on wrist throughout your beach or lake vacation as well.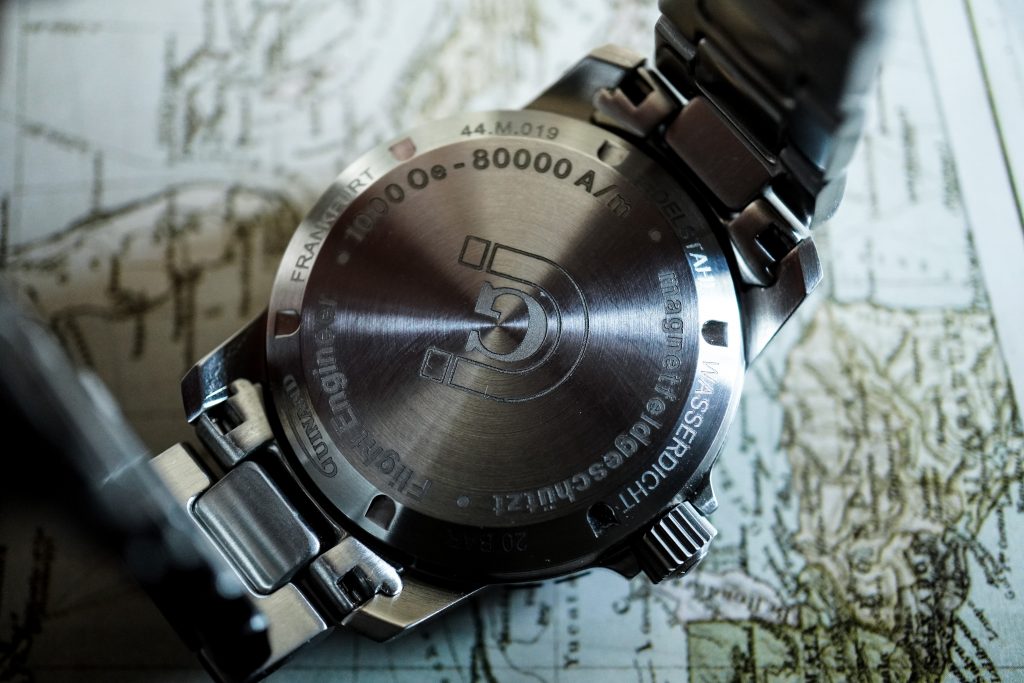 The bezel on this watch is gorgeous. It is a bi-directional friction-based bezel, with 60 minute markers in increments of 20. The outer edge is has white highlighted teeth, unlike any other watch I've owned. It is easy to grip and the bezel action is quite stable once you set it in place. The entire bezel is made of a lightweight metal alloy and has an impressive brushed finish.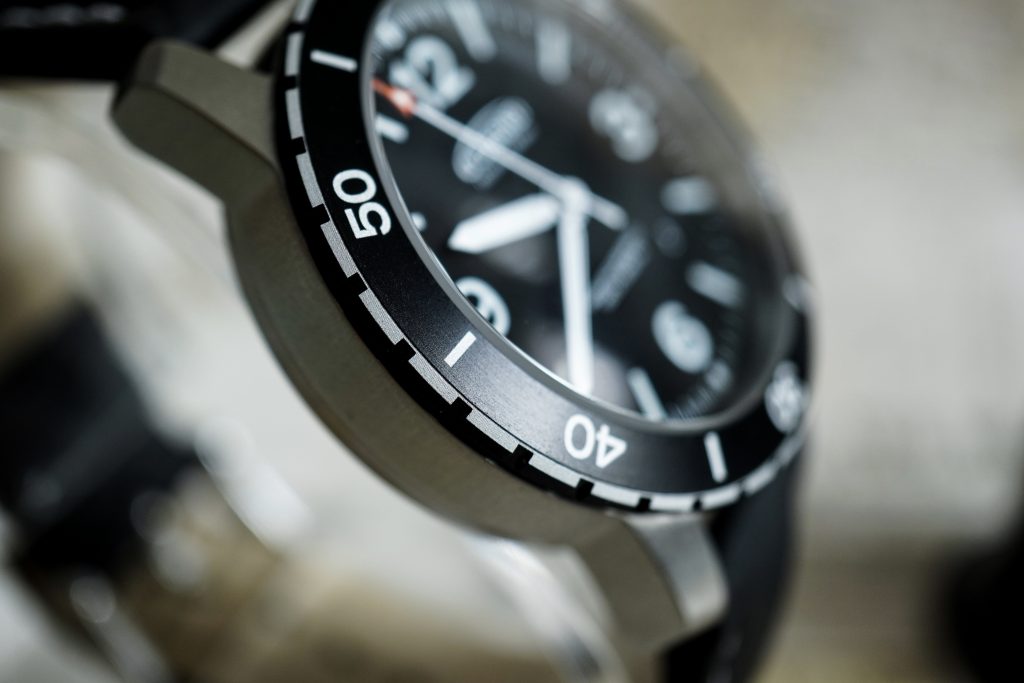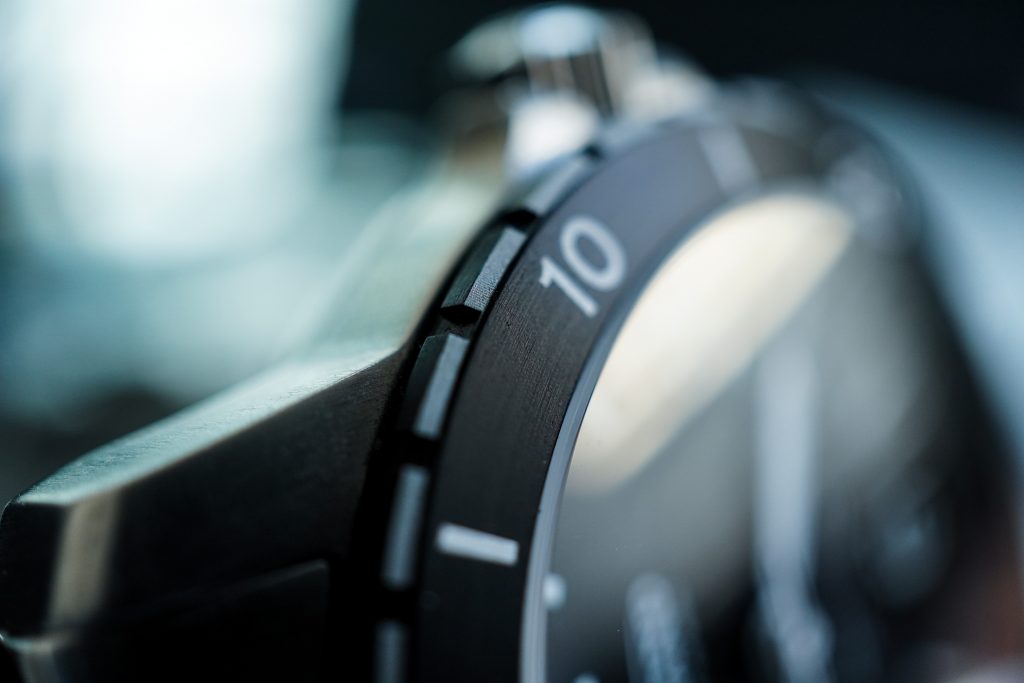 The bezel markers and binding along the edges are white and not lumed, except for the the orange pip at the 12 o'clock position. More lumed components on the bezel might've been a nice addition, since as you'll see later the dial lume is very good and makes for easy reading in the dark.
For those that love the idea of this watch but want a little more color or excitement in their watch, you can get the Flight Engineer with two other bezel options.
Dial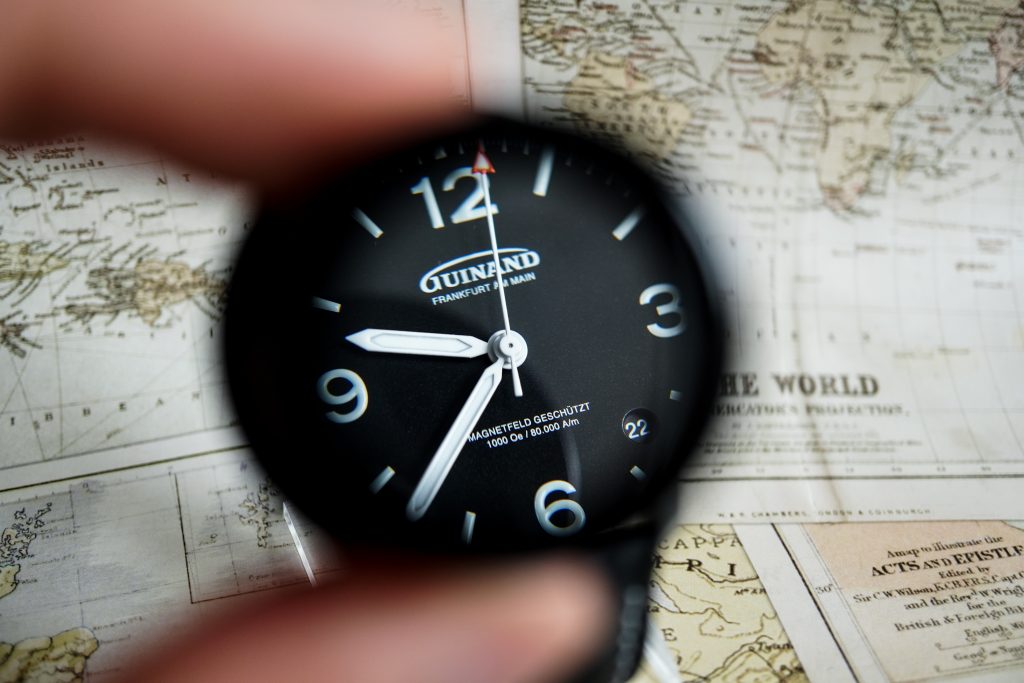 The dial is not glossy, but neither is it completely matte. The overall design is very simple, making use of only black and white to ensure high contrast and excellent legibility. Unlike traditional pilot watch dials, only 3-6-9-12 hour markers are numbered (similar to old Sinn / Guinand dashboard clocks and watches) and are popular among modern Sinn (857) and Bell & Ross (Aeronavale) watches as well.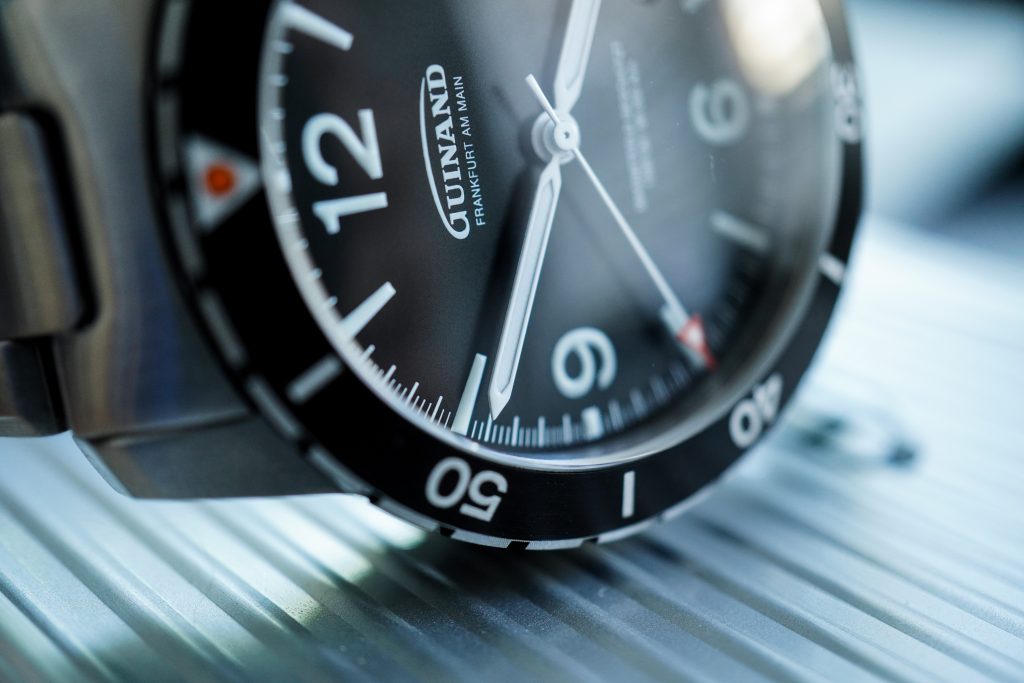 The hour and minute hands are painted white and filled with lume. The only color on the dial is the tip of the seconds hand, which is lume filled with a painted orange border. I think the overall dial design is simple, but in the best way possible. I'm glad they didn't attempt to add more orange accents on this dial, because the dial makes this watch unassuming on the wrist, and the watch can fly under the radar with ease. This is perfect for a watch that by all definitions is an everyday tool / instrument watch.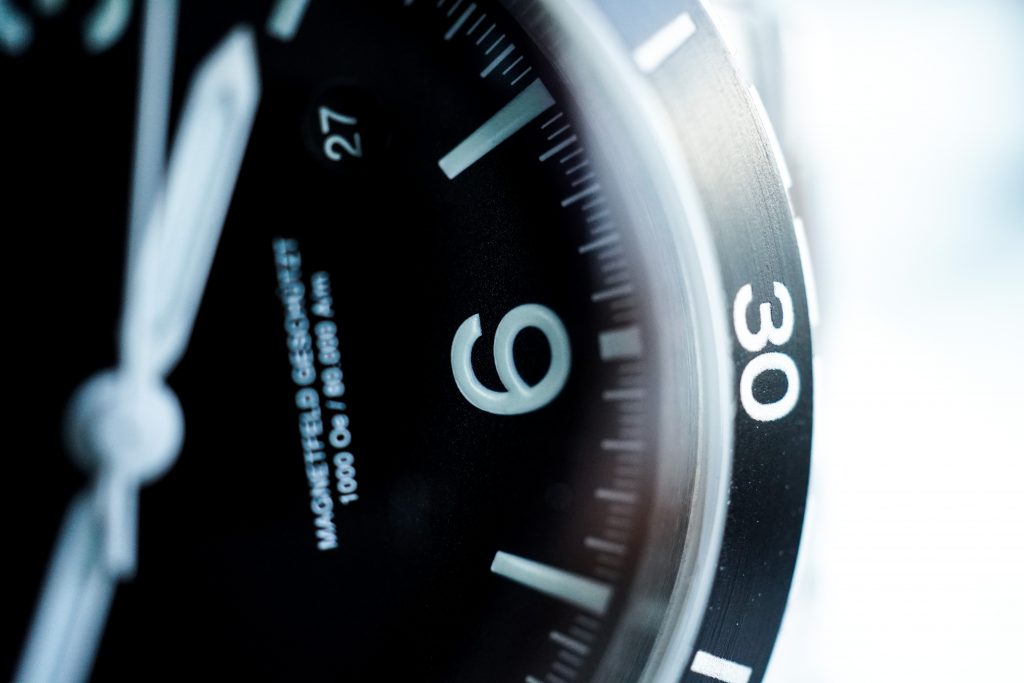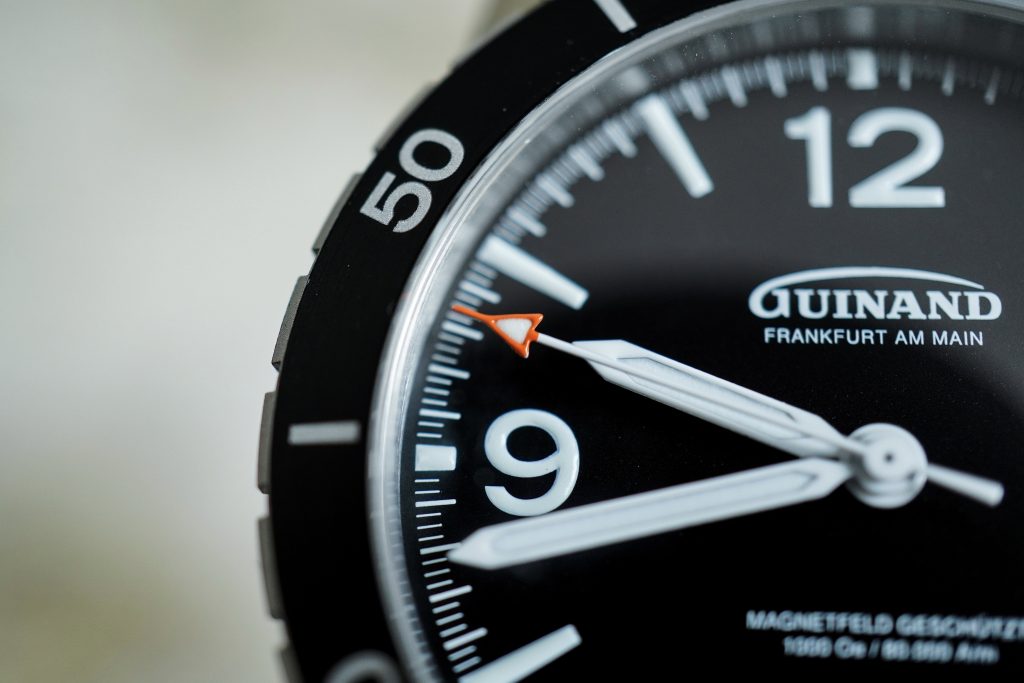 I would have liked to see Guinand offer another dial option for this watch. They have recently shown that they are willing to experiment with color and have released two beautiful blue dials. In my opinion, a blue Flight Engineer would look terrific, and could cater to those that find the current dial lacking in the color department. Personally, I love the black dial and I think the simple aesthetic helps hold on to it's pilot watch roots.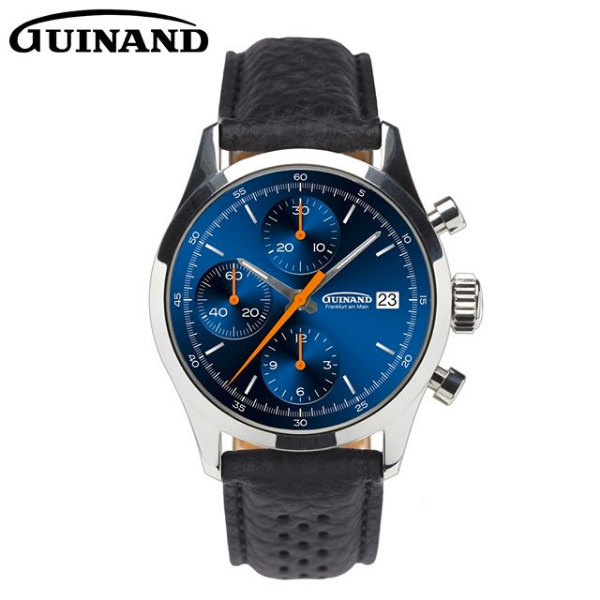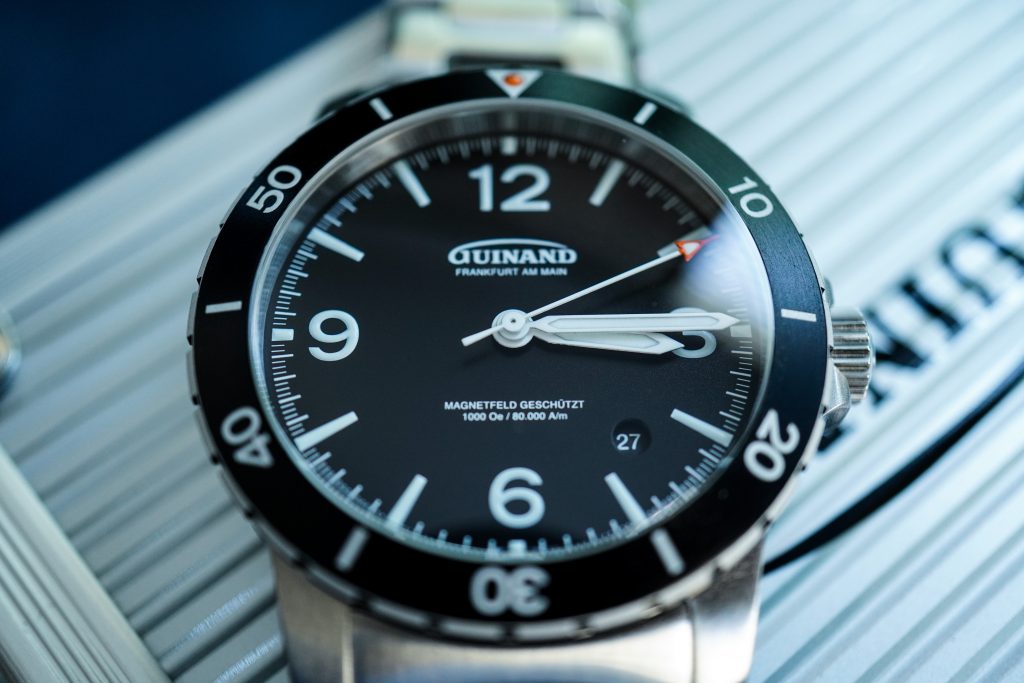 The only element of asymmetry on this dial is the date window. To me the perfect date window is one that isn't visible until you need to read it. It isn't an element that is used frequently enough to warrant a focus of attention. Even though the small, circular date window is awkwardly positioned between the 4 and 5 o'clock hour markers, it is almost completely camouflaged by an excellent use of a black date wheel, with a subtle white date printed on it. The use of a small date window helps maintain the anti-magnetic properties of the watch, but also inadvertently help keep it from interfering with the rest of the design.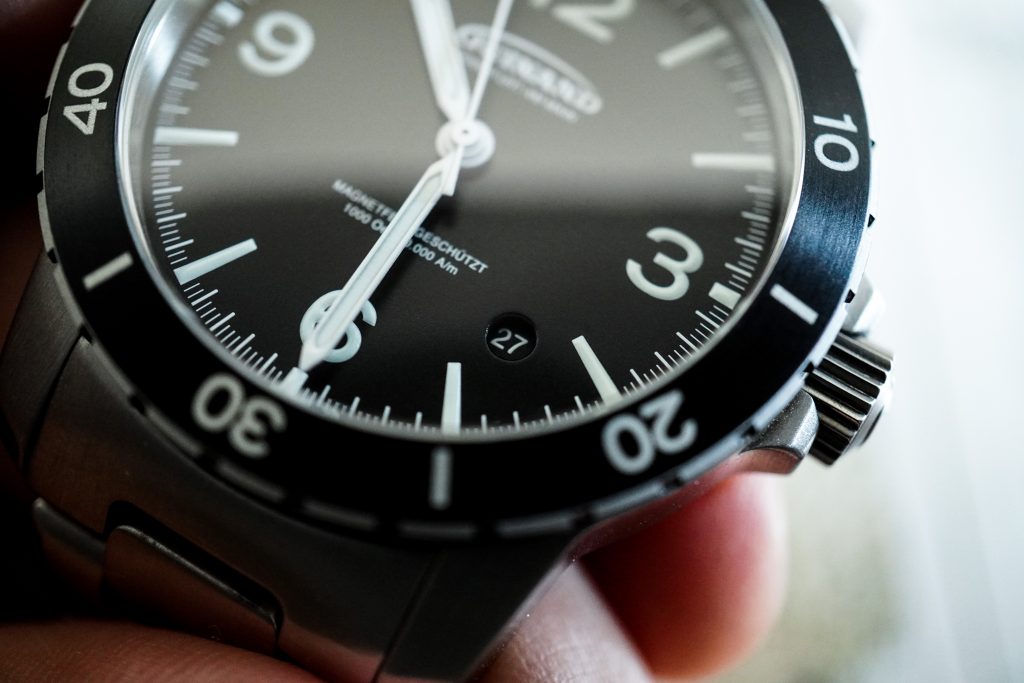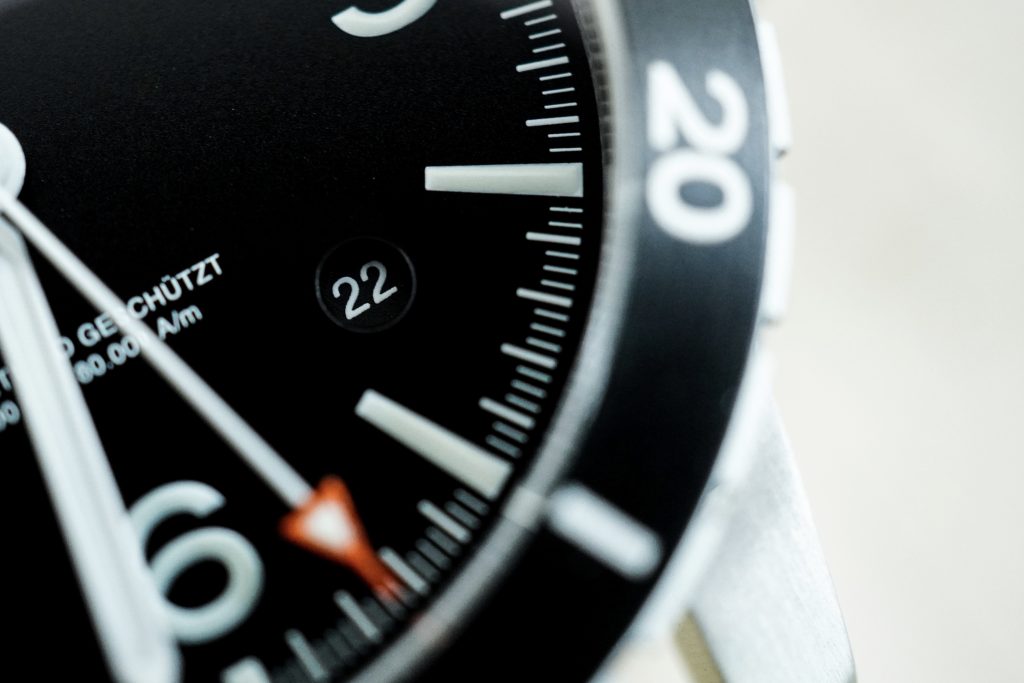 Lume
Lume addicts can rejoice at the fact the dial lume is very impressive. I believe the dial components are using Grade X1 Super-LumiNova, which is the brand's current highest grade material. I keep this watch next to my bed at night and it is well lit and legible through the night. Unfortunately, the luminous orange capsule (pip) doesn't share the same excellent luminous properties as the Grade X1 material and fades relatively quickly. That said, this dial alone makes this one of the best lumed watches in my collection right now.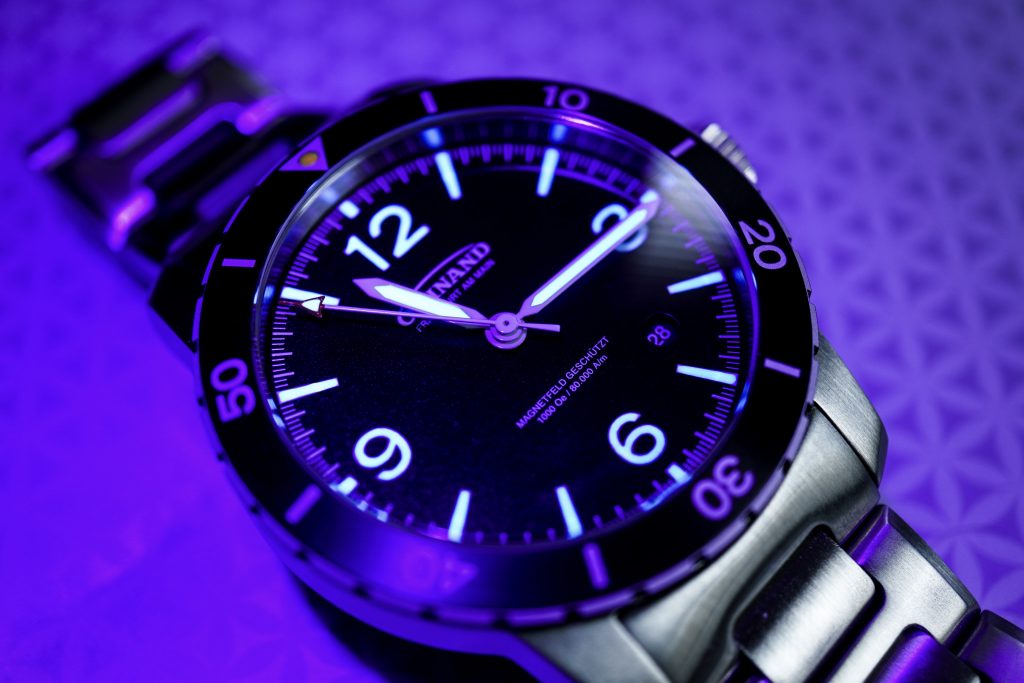 Movement & Accuracy
The Flight Engineer uses a Sellita SW220-1, which isn't a spectacular movement, but is quite a popular movement among watches in the $1000-$2000 range. The Sinn 104 (and Sinn 240) that retails for a similar price uses this movement as well. These are also found on Oris watches in the same price range. My certificate of testing from Guinand states that during 24 hours of activity, I should observe +5 spd. As I usually do, I logged the accuracy of this watch over a 5 day period using an iPhone app, and observed an average accuracy of +4.8 spd. This is within tolerance and definitely acceptable. However, my accuracy estimates are just that – estimates. There is plenty of room for human error to be introduced while logging measurements on the app, so please treat these measurements with error of +/- 1spd.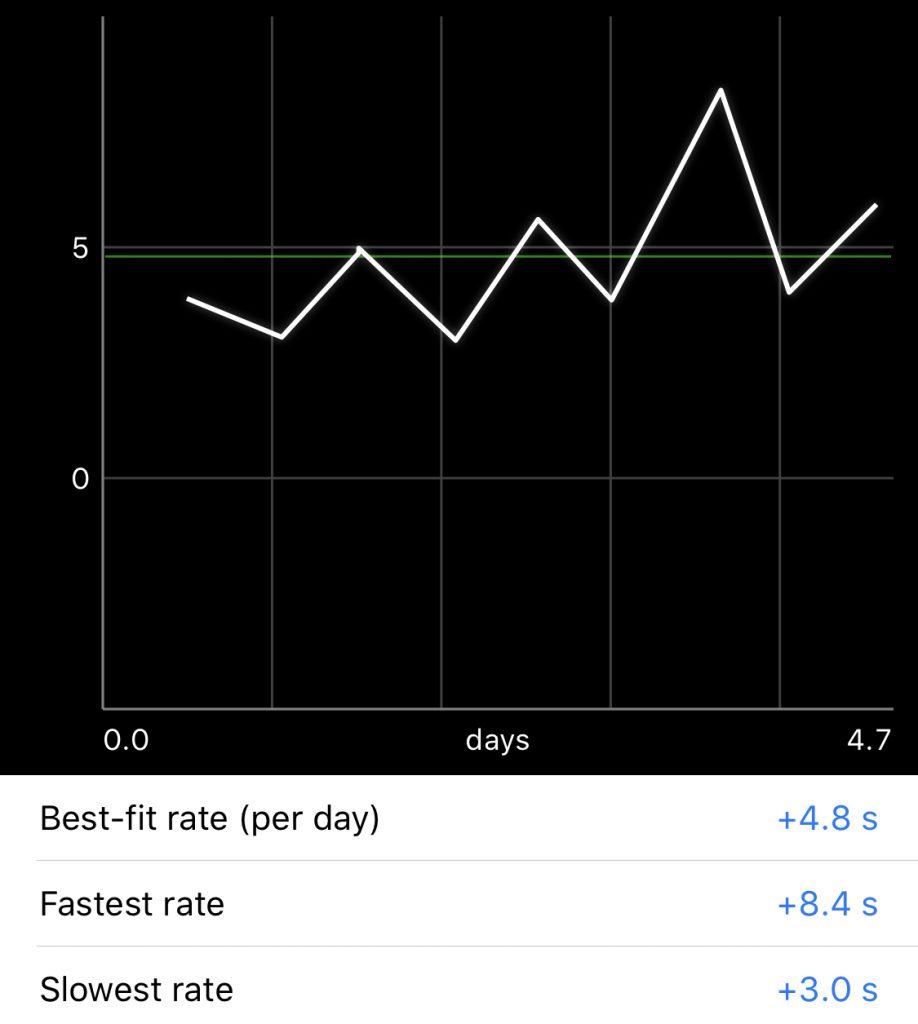 On The Wrist
The 40.6mm diameter, 48.5mm lug-to-lug case sits perfectly on my 6.25″ wrist. The height of 14.8mm is a bit tall for a watch with a simple movement, but the anti-magnetic cage adds to the overall height. That said, 14.8mm is definitely within the realm of reasonably sized watches in my opinion. I haven't felt for a second that this watch is too big for my wrist. However, those with <5.5″ wrists might want to reconsider this watch.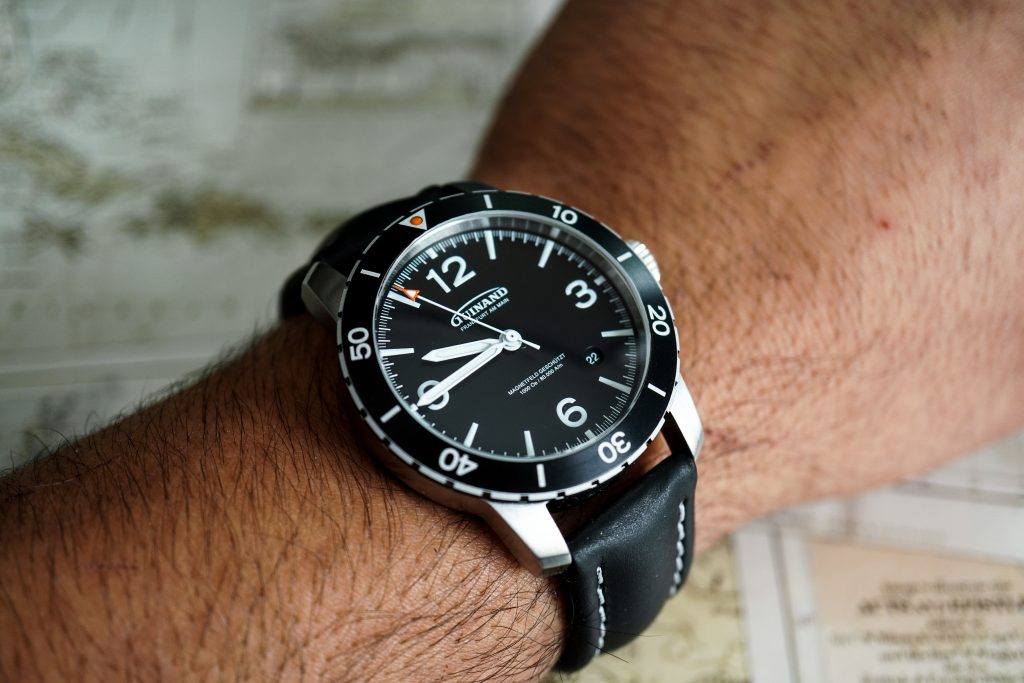 Guinand has a vast number of strap options, and I decided to order 2 leather straps – one rally style leather strap ($48) and the black leather strap with white stitching ($40) you see above. These straps are made in Germany and are of excellent quality. The rally strap was acquired by my HS100 watch and I've alternated between the black & white strap and the metal bracelet on this watch. Admittedly, I've been wearing the watch on the metal bracelet a lot more. It is very comfortable and I love the finishing on the links. The chamfered / beveled edges on each link result in no sharp surfaces and make this a very comfortable experience.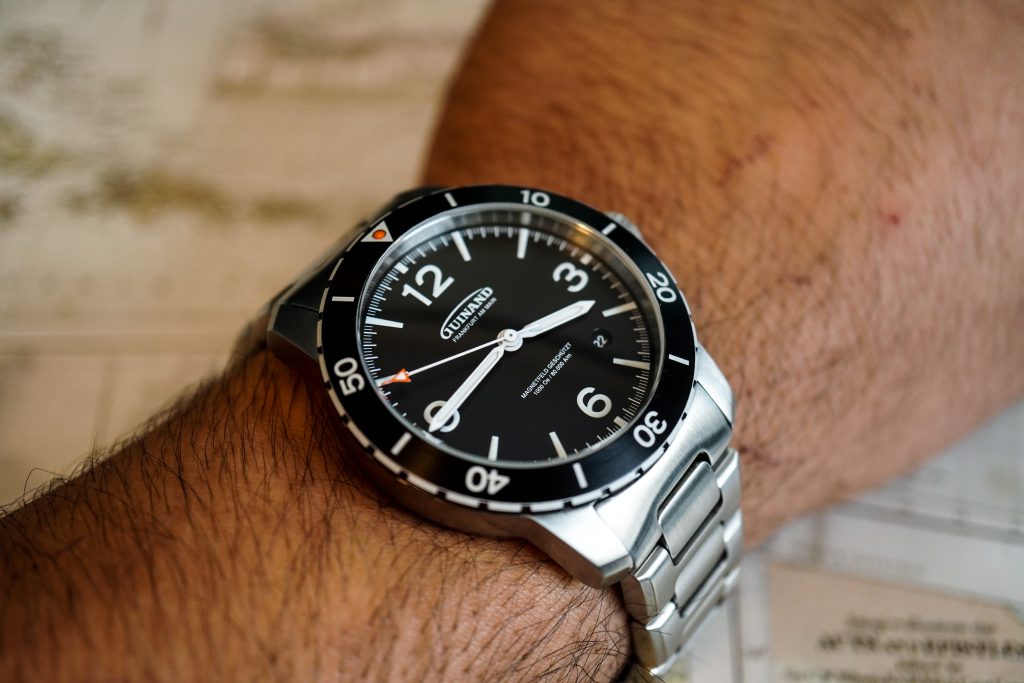 The clasp has 4 micro-adjustment slots that spread about 3mm. The clasp is of decent quality, but isn't remarkable by any means. It has two pushers on the sides of the clasp that unlocks the bi-fold clasp. The clasp is definitely an avenue for them to improve, maybe with a Rolex-style quick adjust? The links are held together with a dual screw pin system, which means you'll need two screwdrivers to make adjustments to the links. Guinand provided me with two extremely high-quality screwdrivers to perform this task, and while it does take more time than a push-pin system, it appears to be extremely secure and the actual pins are of fantastic quality.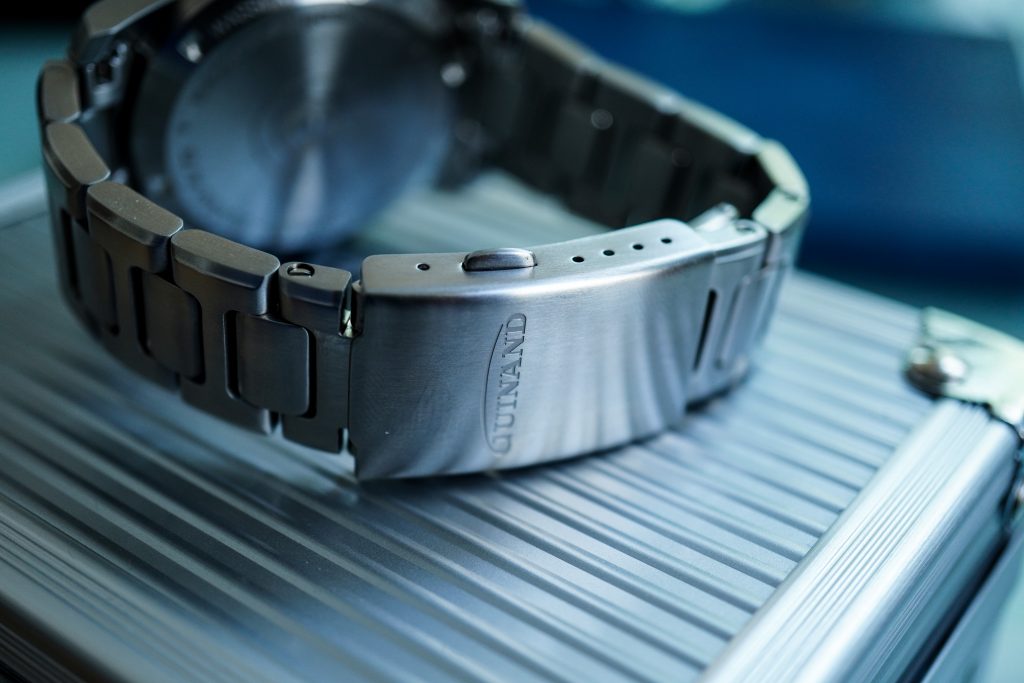 Concluding Thoughts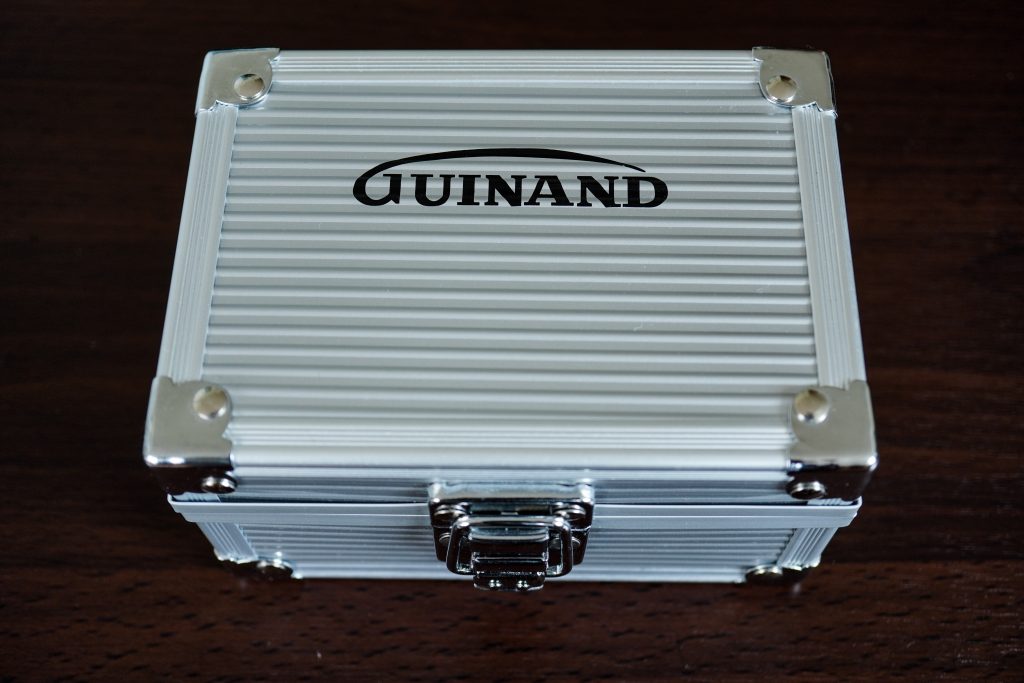 This watch cost me $1440 with the metal bracelet, and an additional $70 to ship to the United States. I paid import duties of $30, with a UPS handling fee of $18. All said, this watch on a metal bracelet will set you back about $1550 in the United States. If you get it on a leather strap, that should be in the $1450 range.
Is this watch for you?
In my opinion, this watch is for someone who is looking for something understated, but still unique. This watch has been designed from the ground up to be an everyday watch and definitely not a watch to be treasured or treated like a beautiful piece of jewelry, because it really isn't. The aesthetics are subdued and all energy has been focused into making this watch function as it should.
I was searching for a watch that was easily legible, but still had the rugged construction of a dive watch and this watch is able to deliver just that. The anti-magnetic case construction is a nice feature and as someone who does come in contact with weak-moderate magnetic fields at work, it's nice to know that I don't have to worry about my watch (not that I worried about this before). The overall case construction is excellent. The dial is extremely well finished, but very simple.
While this watch isn't nearly as sleek as the Rolex Explorer-I, I believe that fans of the Explorer-I aesthetic will be drawn to this watch too. One alternative to this watch in the $1500 price range is the Sinn 104 A St Sa. However, as I mentioned in my review I prefer to have a brushed case and bracelet on a watch I plan on using everyday and the Sinn 104 appears to come in polished steel only. Another similar watch is the Sinn 857, but those are significantly more expensive ($2000+). They do have full tegimented cases and bracelets, which makes it worth considering. Last is the Bell & Ross Aeronavale which shares a lot of similar design elements with the Flight Engineer, but is almost twice as expensive but in my opinion doesn't necessarily provide twice as much value.
As an icing to this already delicious cake, their customer service has been exceptional and they have been extremely responsive and helpful throughout the ordering and delivery process. So to wrap this up, if you're seriously considering the Flight Engineer for the reasons mentioned above, this watch is exactly the right watch for you.