---
Disclaimer: I borrowed this watch from a friend, who recently purchased it and had it shipped to me first. This review is in no way sponsored by Visitor, or any other entity. All opinions here are my own.
---
Correction: So it looks like I had the rubber strap on backwards for the entire review. I installed the bottom half backwards initially, and then flipped the buckle on the top half to match the design of the bottom. It worked, and looked good, but I'm a fool. My apologies.
---
---
Contents
---
Duneshore Shallows
A few months ago I reviewed a friend's Visitor Linden, and that watch was a very pleasant surprise. It managed to do something entirely out of the ordinary, without borrowing any design ideas or parts from existing watches. Putting creative design aside, that watch also impressed me with the quality of finishing and attention to detail, and quickly made Visitor a micro-brand I could recommend to friends and subscribers.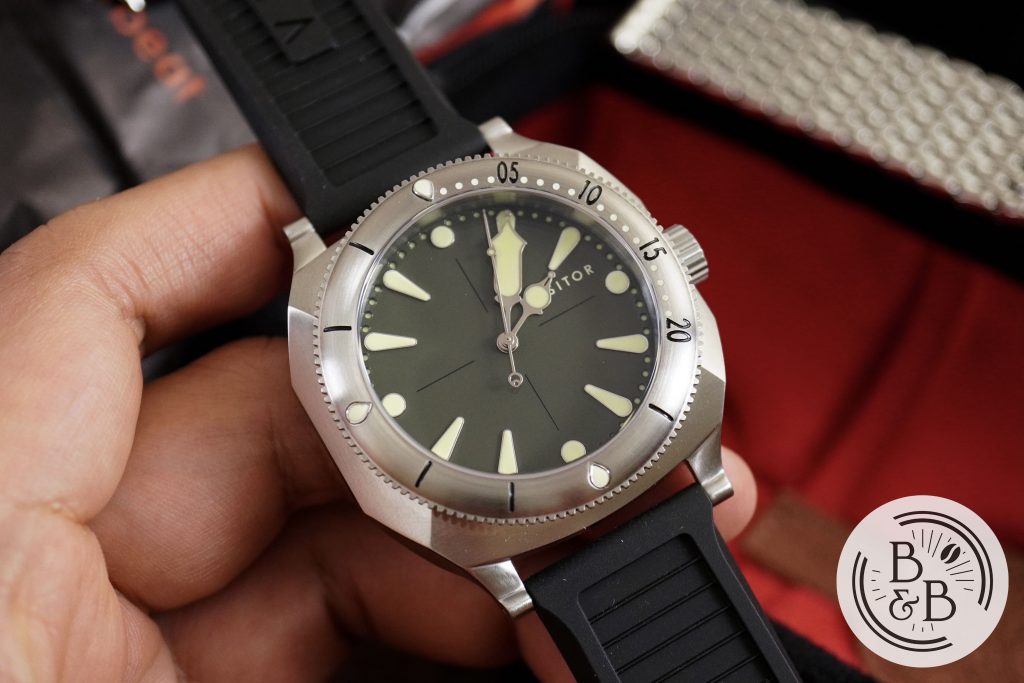 That same friend recently purchased the Duneshore Shallows, and was kind enough to have the watch shipped to me first, before making it's way to him. This is Visitor's take on a dive watch, and it is quite spectacular. This watch retails at around $750 on the rubber strap, and $850 on the metal bracelet. And before I show you why, I'll just say that I think it is worth the money and then some. But with any watch that has not been designed by committee, you're going to get polarized opinions from watch enthusiasts, and more so because this design is very much "out-there". This watch isn't something I would wear as an everyday watch, but is something I would buy as a collector, as it is truly special.
Let's check it out!
---
Case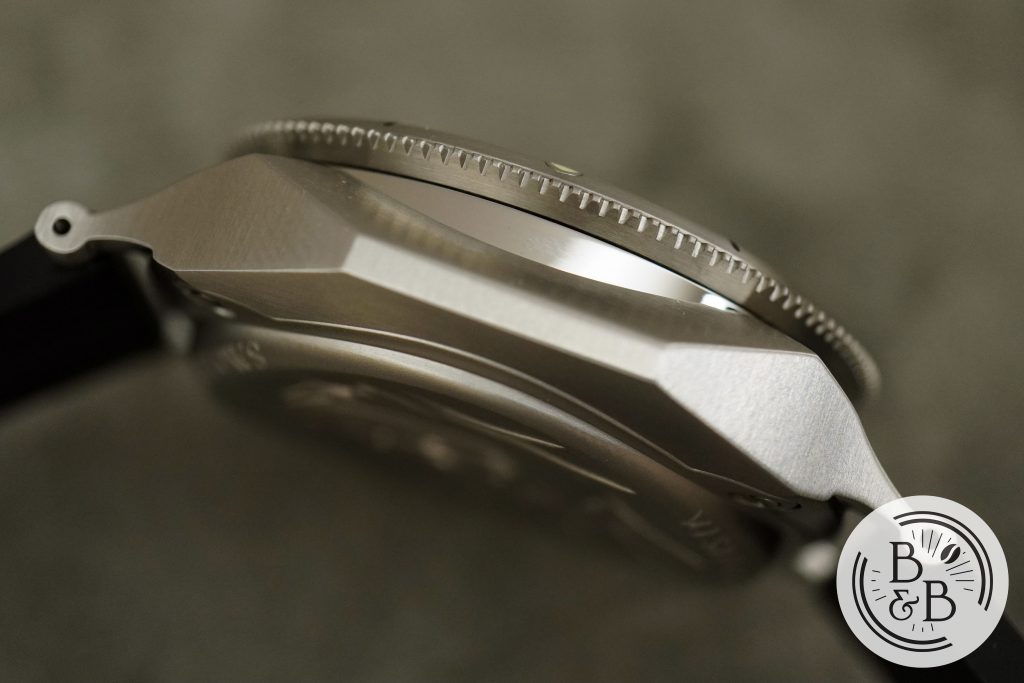 I measured the case to be 43.5 mm from left to right, 50.5 mm from lug-to-lug and 14.35 mm in height measured at the center, but 15.35 mm measured at it's tallest points given the concave case-back.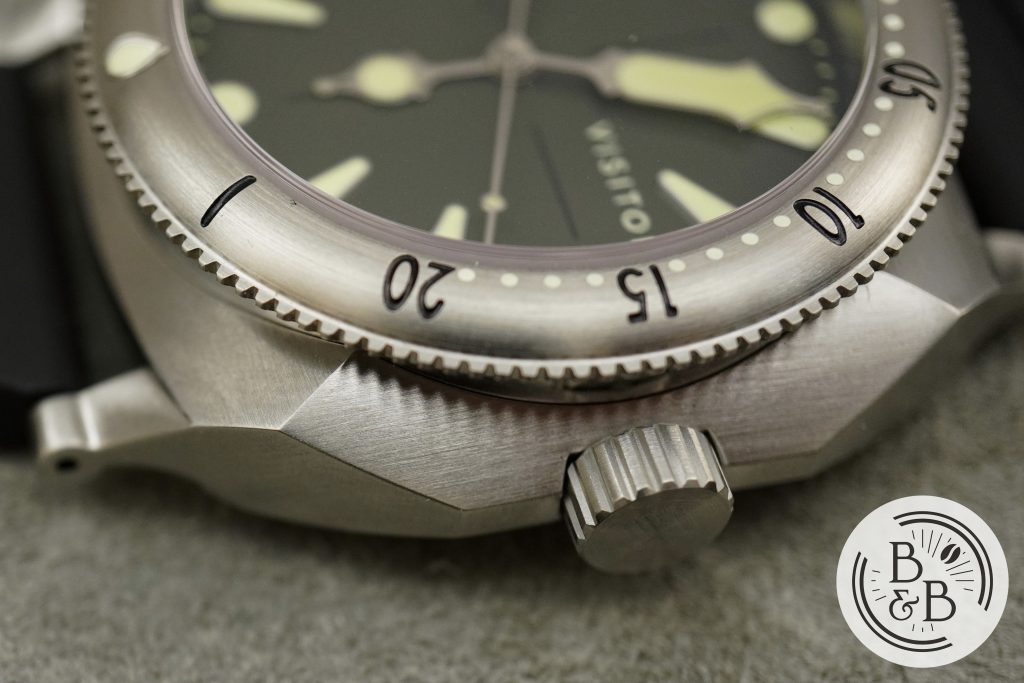 The case is made entirely out of stainless steel, and the design is highly unusual, but also extraordinary. I can't think of what could've inspired such a creative and otherworldly design, but perhaps psychedelics were involved.. or aliens.. or both? Whatever the medium, the result is a collage of symmetric surfaces and unexpected angles, that come together beautifully. To finish something like this requires a lot of extra work, and the quality of finishing is quite impressive for the money. Hats off to both Phil and his manufacturer.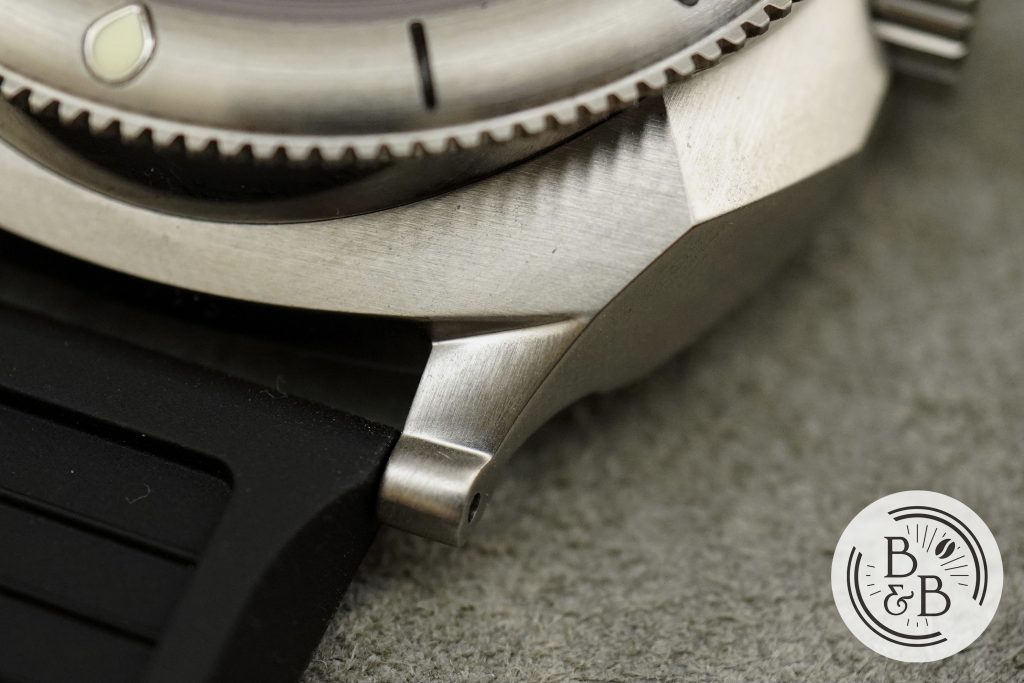 The case naturally and gradually extends into a pair of small lugs that have drilled through holes for easy strap changes. The lug design works well with the case, and the intricate detailing to achieve this transition is not lost to me – brilliant stuff here! The lug width is 22mm.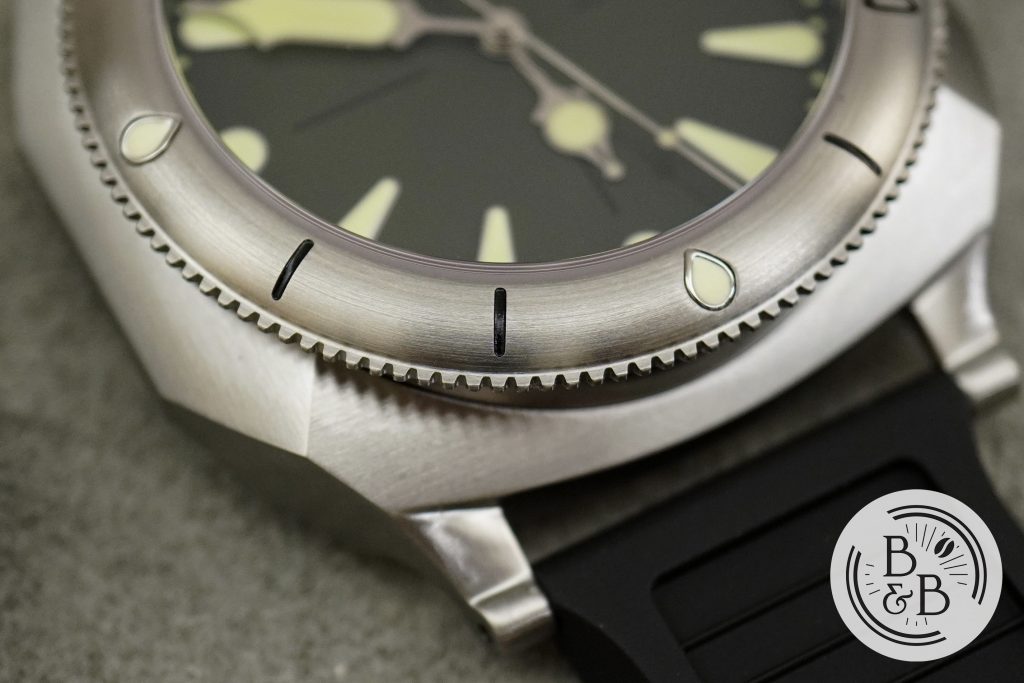 A cylindrical and polished case section protrudes out of what you could call the mid-case, and is topped with a bezel that extends outwards with sharp but thoughtfully designed bezel teeth. The bezel is easy to grip and operate, and the bezel action is excellent. There isn't any back-play, and the 120-click unidirectional dive bezel has just the right amount of friction and tactile feedback.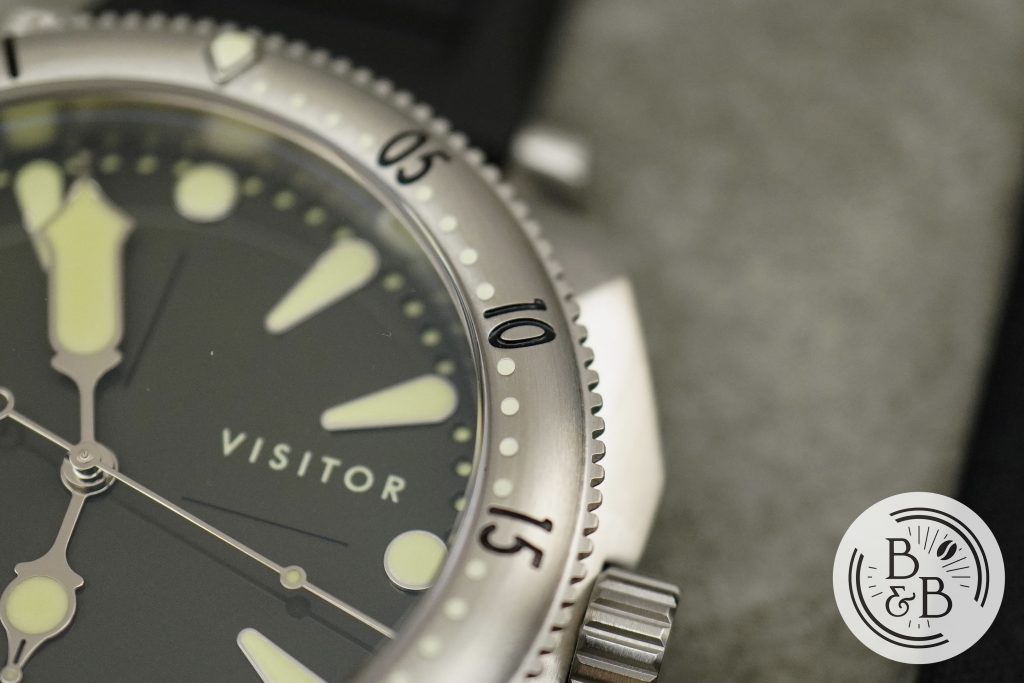 The bezel is convex and has a 20 minute dive time indicator that uses painted Arabic numerals and lumed dots for markers. The rest of the markers are painted ticks, and tear drop inserts with polished borders that are very generously filled with lume.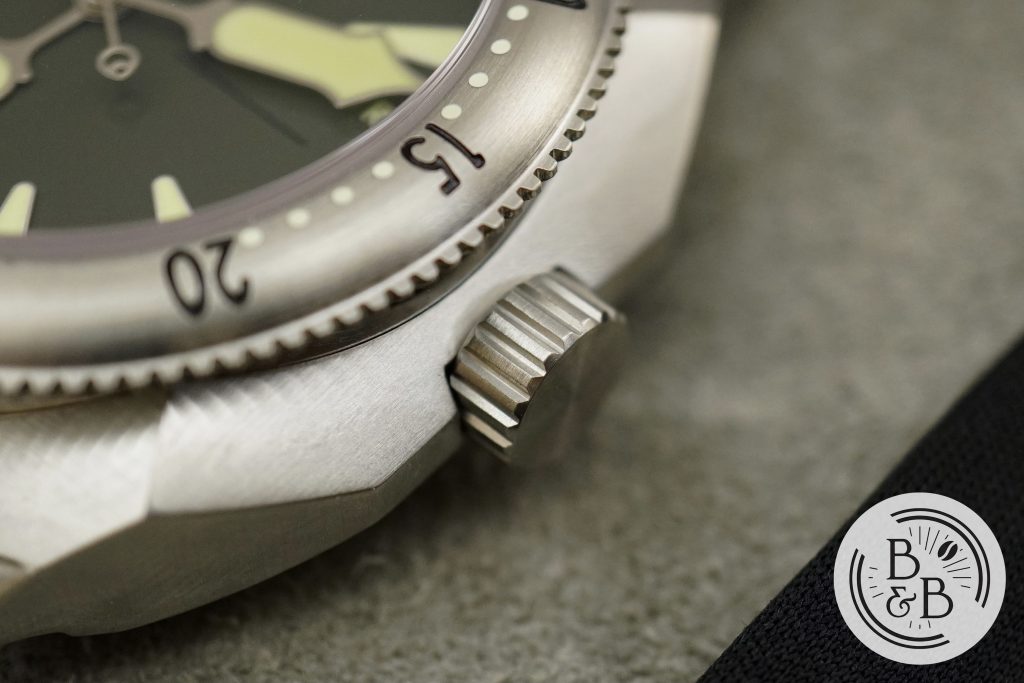 There is an 6.4 mm screw-down crown at the 3 o'clock position that is easy to grip. It is perhaps the most normal looking element of this watch, lacks a signed top, and is well integrated with no crown or stem wobble.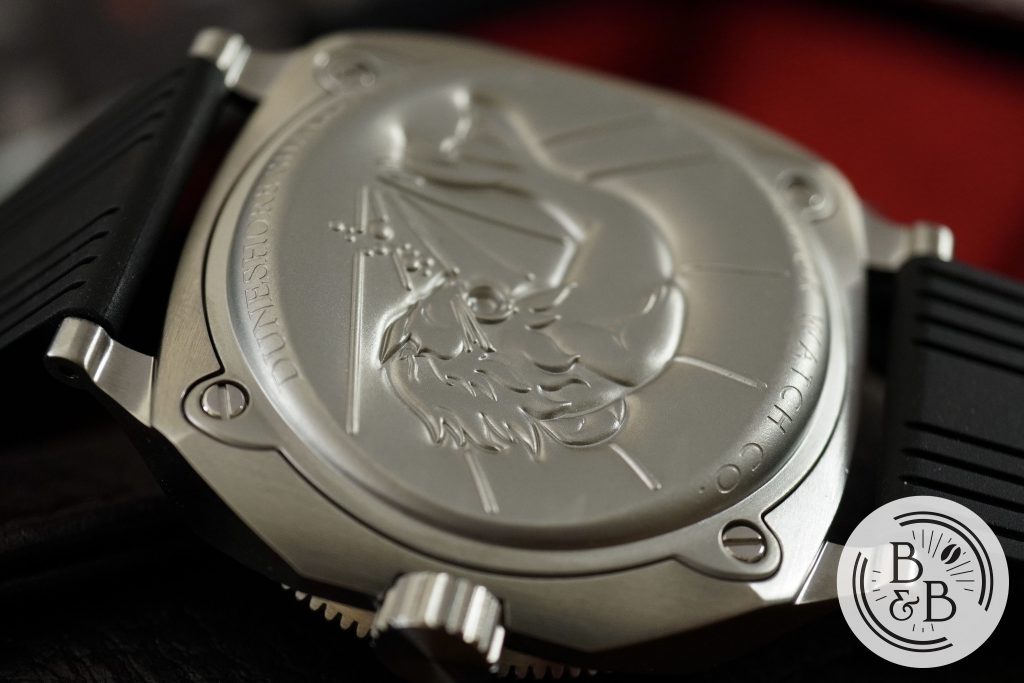 Flipping it over, you have a very interesting case-back that is screwed into the case by means of four screws. The case-back is concave, and protrudes out on two sides, with a wonderful embossed design in the centre. I can't say I've ever seen another case-back like this, and I think it looks spectacular. These watches is rated for up-to 200m of water resistance.
---
Dial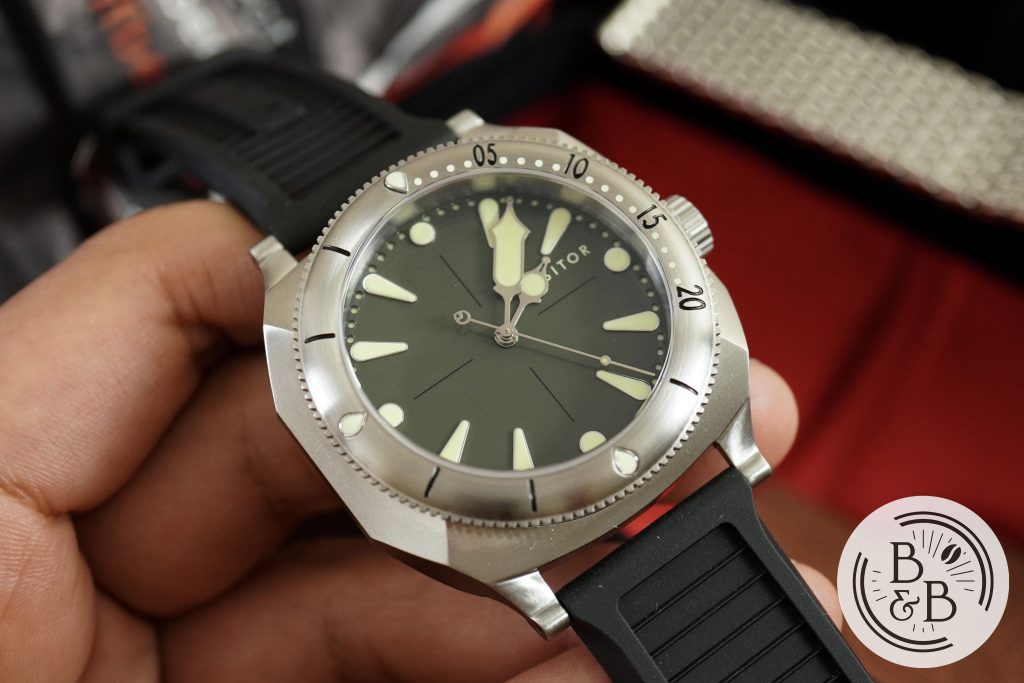 This is the Iron Jade dial color, and looks quite stunning in person. The color is very complex, but works well with the case and dial design. The dial has a lot in common with the Visitor Linden that I reviewed a few months ago, so I won't go much into the details.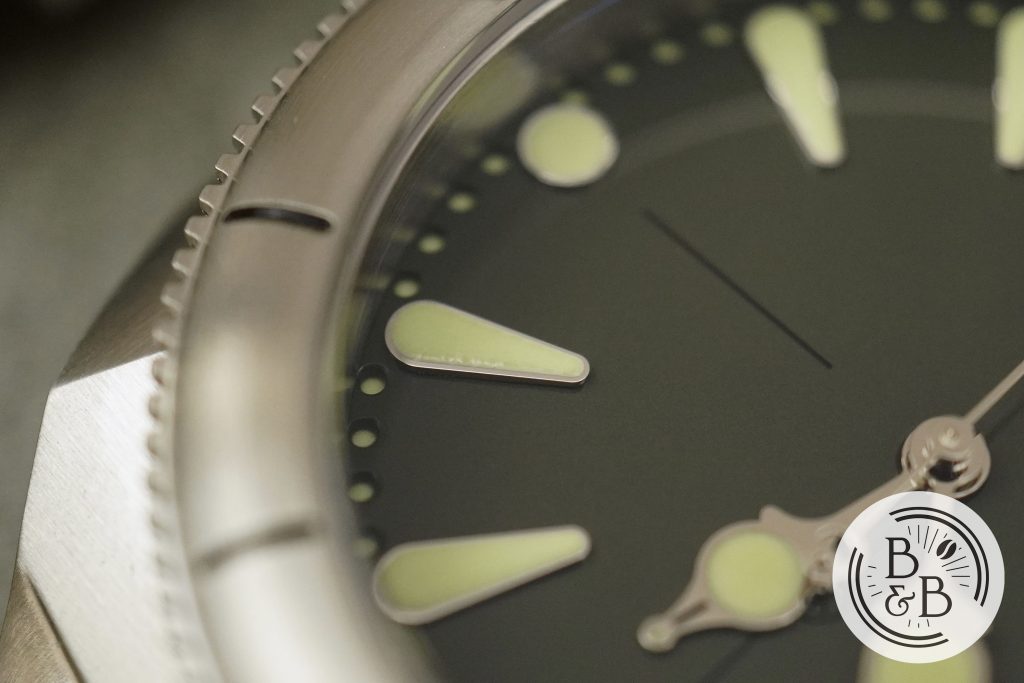 The outer minute track, indices, dial cross hair and logo are identical to the Linden. I will say that all these elements are impeccably executed and the finishing on this dial is very impressive. And this being my second Visitor watch, makes it easy for me to say that this brand is serious about the finer details, and their quality control is worthy of recognition.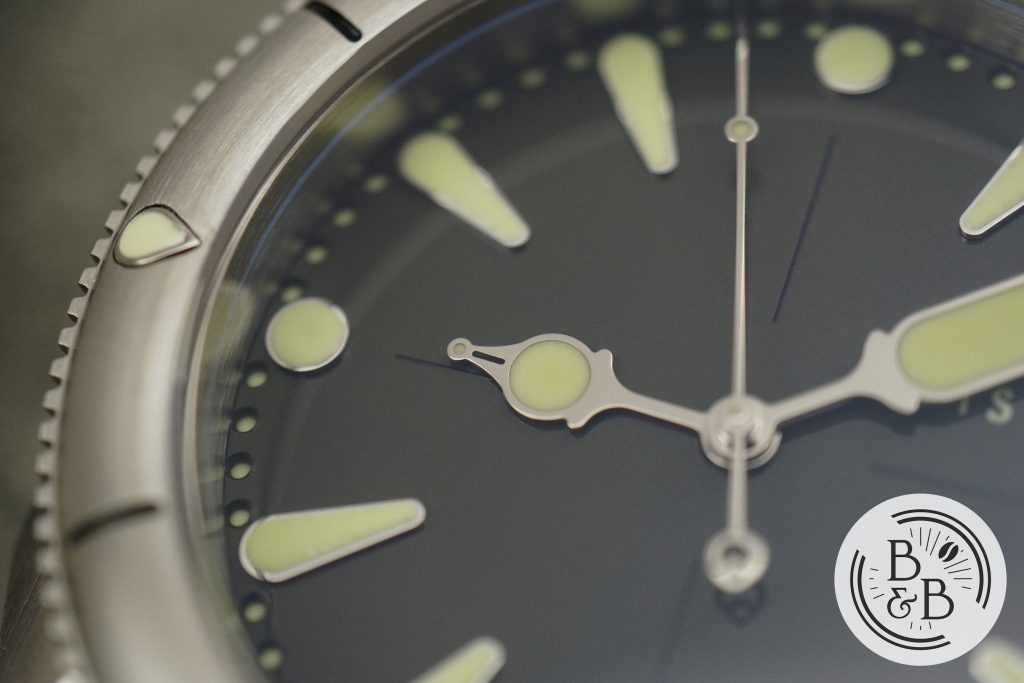 The handset is a bit different this time around, and I think I like this one better. The hour hand is the same, with a shorter fountain pen nib design that has a large circular lumed element and a smaller circular lumed element at the tip.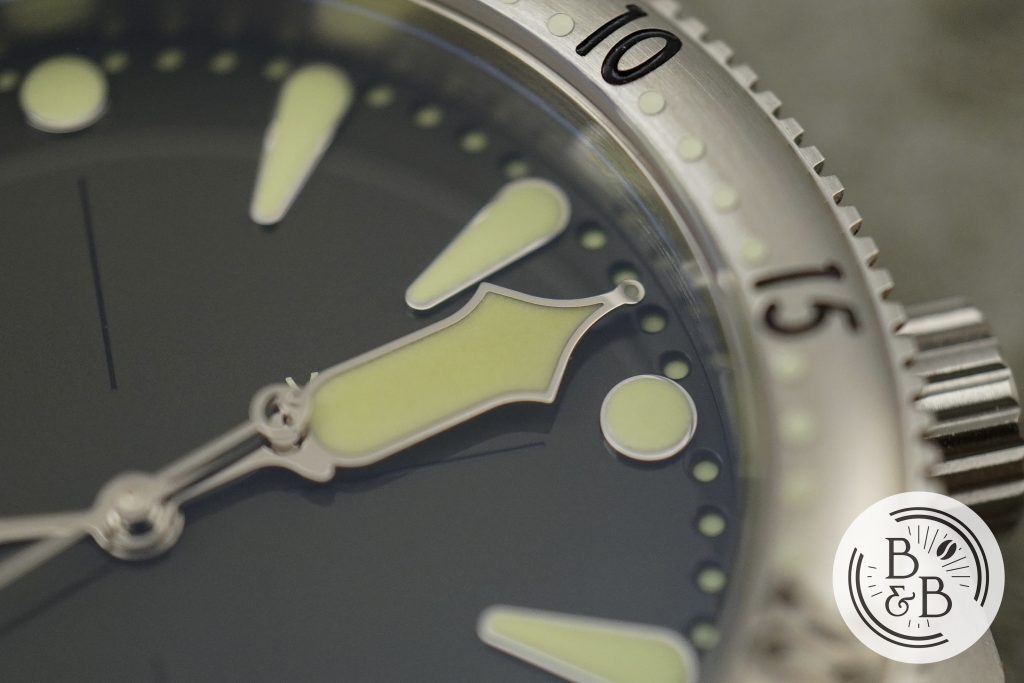 The minute hand is the star of the show, with a massive lumed section and a more familiar nib design. Both hands are well finished, and while these proportions may seem a bit extreme, they are quite easy to read.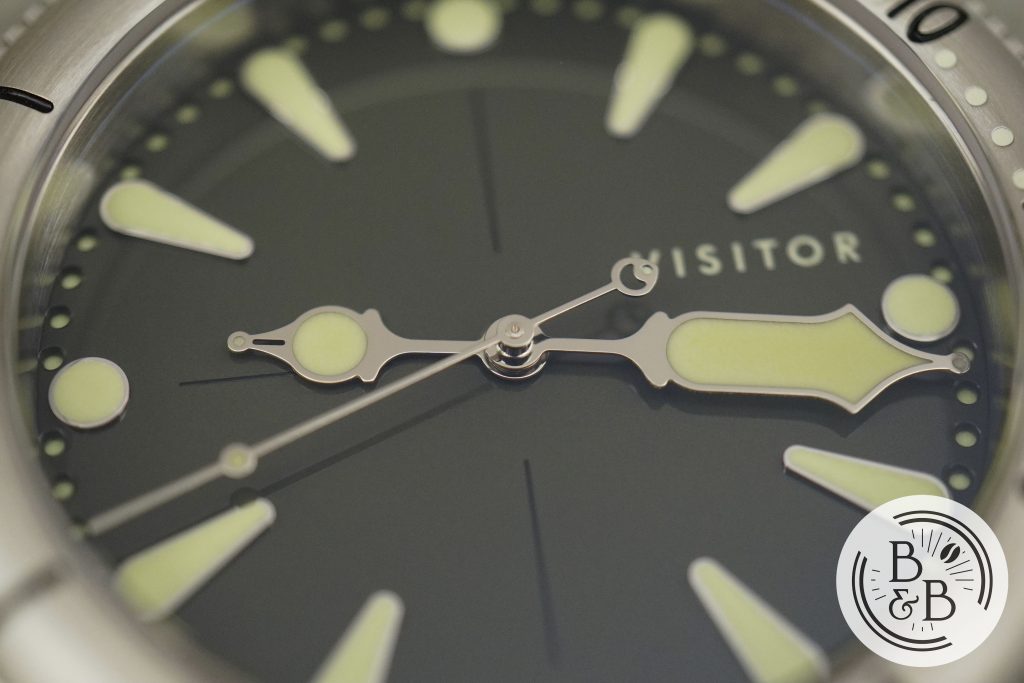 Additionally, the seconds hand also has a circular lumed element here, which goes to show the more utilitarian nature of this dive watch, over the dressier Linden dial design.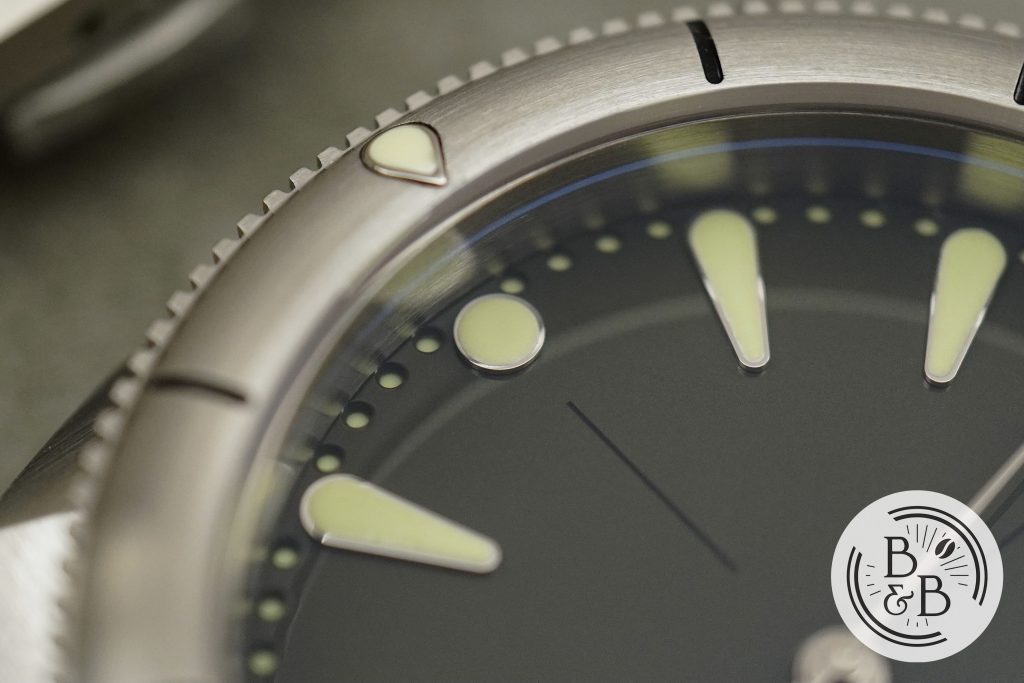 Overall, I prefer this dial to the Linden. I think the handset is easier to read, the lack of a date window is very appealing to me, and the color of the dial is just great. But most importantly, the dial finishing and quality control is unlike most watches I review in this price range, and if this was my watch, I would be very, very pleased.
---
Lume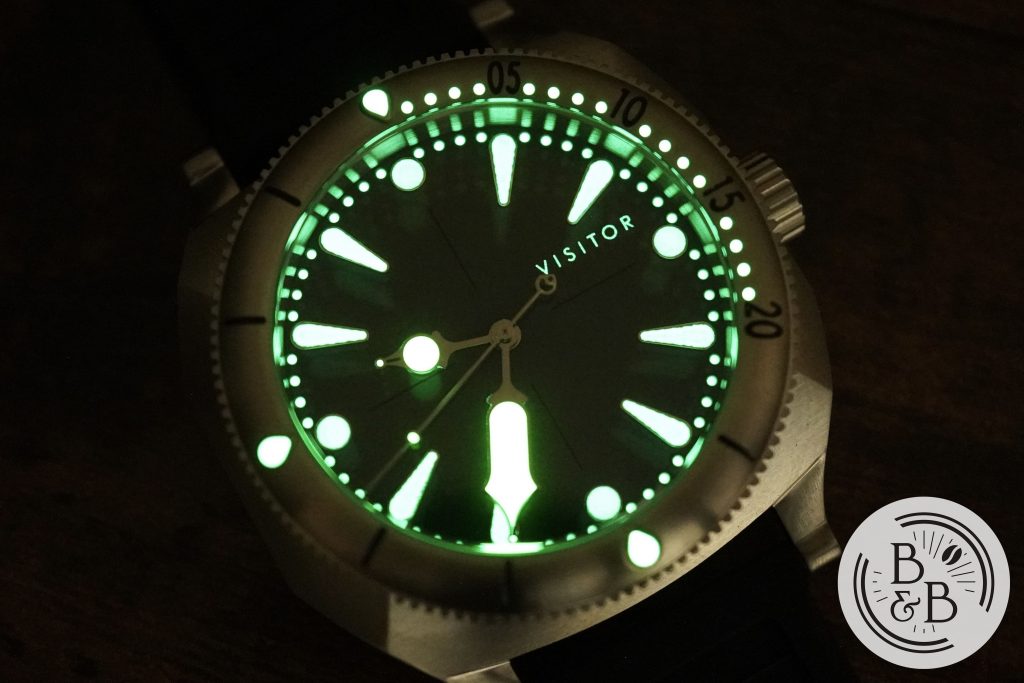 The lume on this watch is excellent, with a terrific design and a generous amount of lume material, resulting in good brightness and longevity.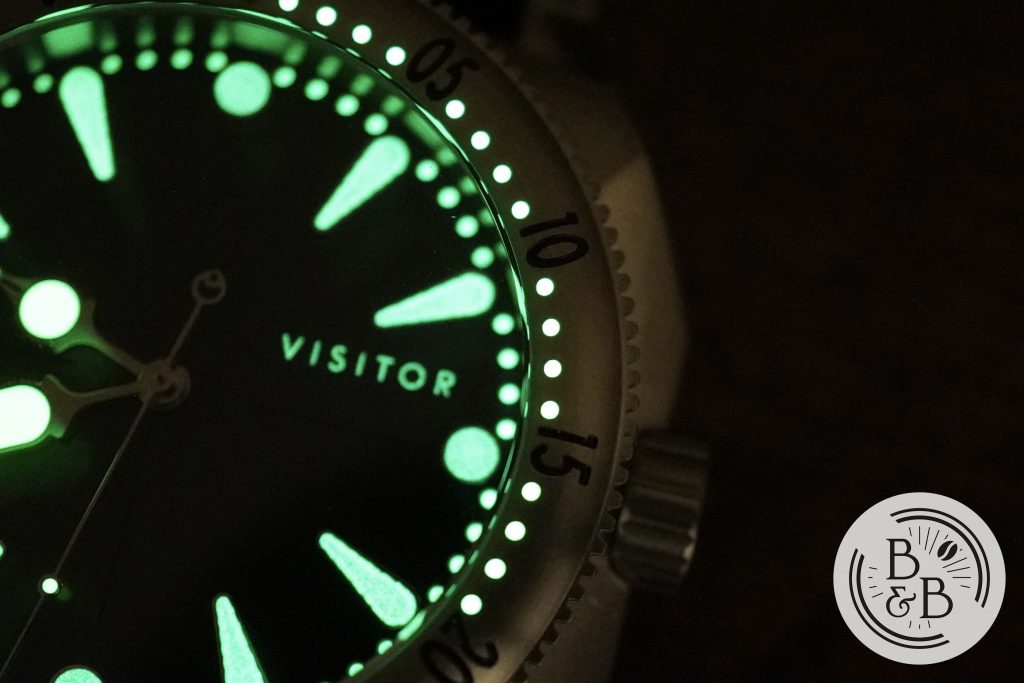 The numerals on the bezel are not lumed, but the teardrop shaped inserts and the circular minute markers are lumed, and generously so.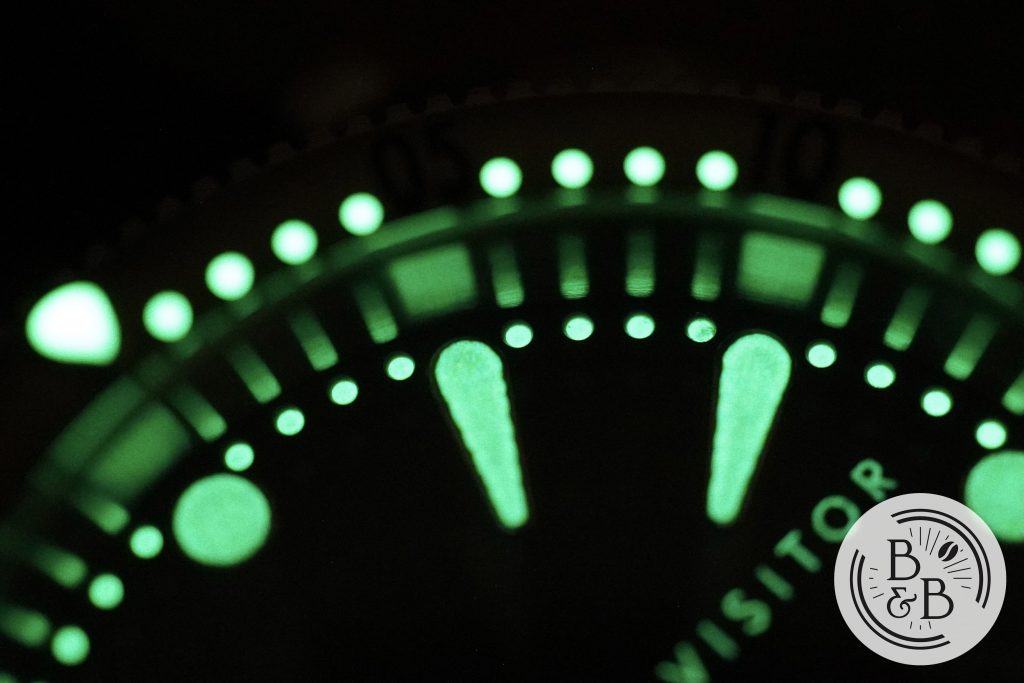 I particularly love the lumed minute markers on the dial, and I think it makes the watch look incredible, and also easier to read.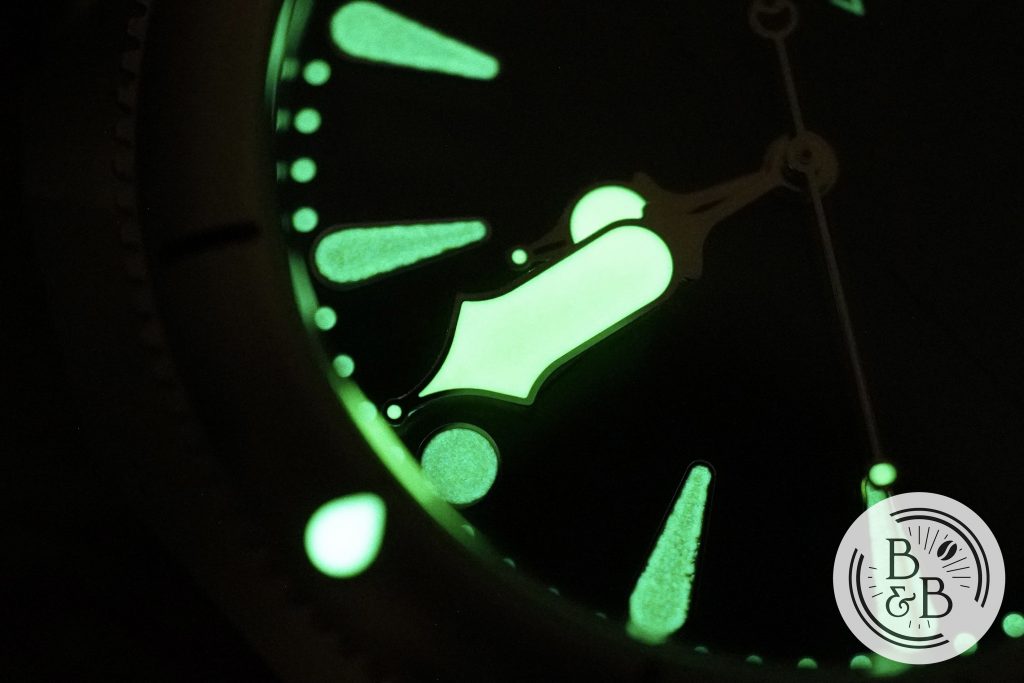 The hands are very well lumed, and the indices are good too. The seconds hand has a small circular lumed element, which results in every single visual timekeeping element being lumed on this watch. Nobody can fault this one for performance or legibility.
---
Bracelet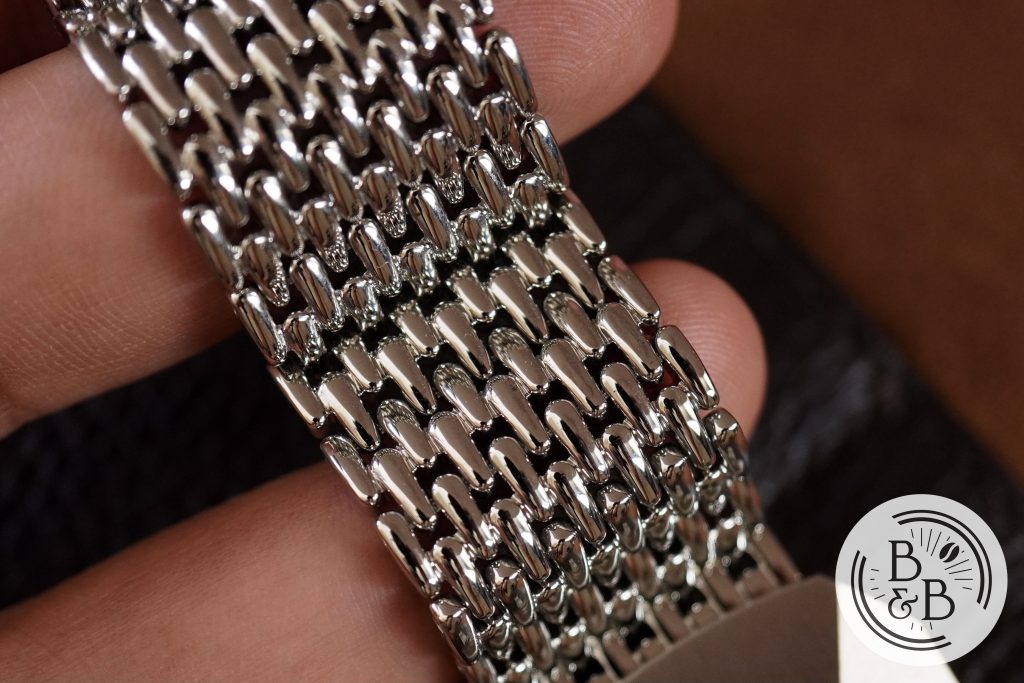 This watch ships with a beads of rice style mesh bracelet, and each individual bead is slightly tapered and resembles the teardrop theme on the case and dial. This is quite an impressive amount of detail to go into a $100 bracelet.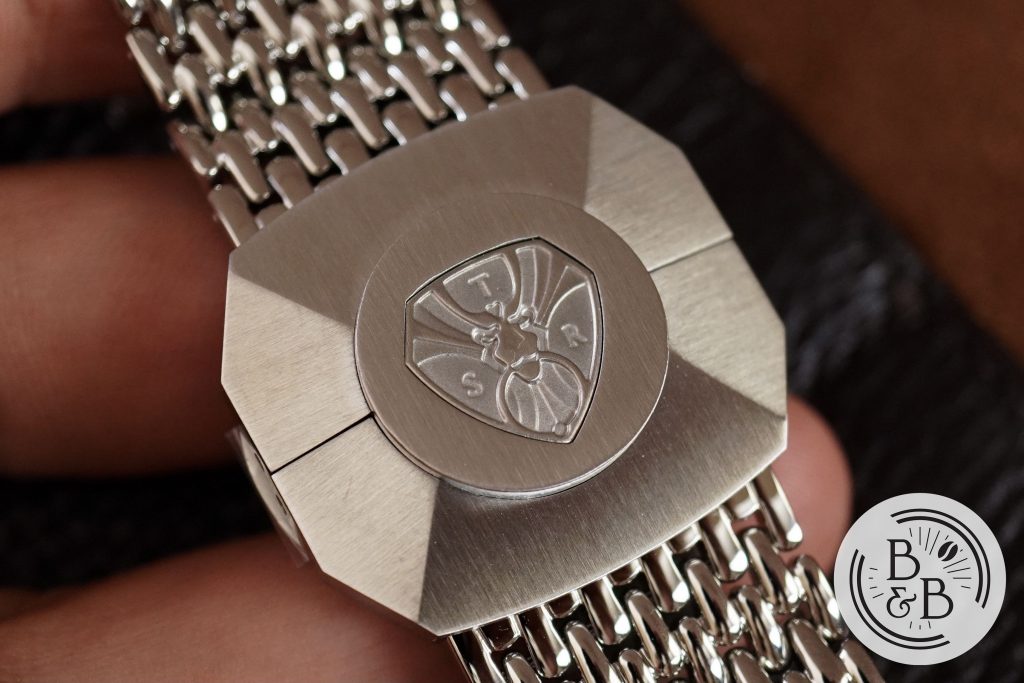 The bracelet does not taper and is roughly 21.25mm wide. The buckle itself is 31 mm wide and has the brands logo embossed on the top surface, and has a butterfly style fold-out mechanism. I didn't size this one since I wanted Neil to do the honors himself, but it appears to be fairly comfortable in terms of articulation.
---
Movement
This is an $850 watch that is most certainly able and willing to compete with watches twice it's price tag. But to me, the movement gives it away, and grounds the overall watch in the sub-$1000 reality that limits any Miyota 9 series equipped watch.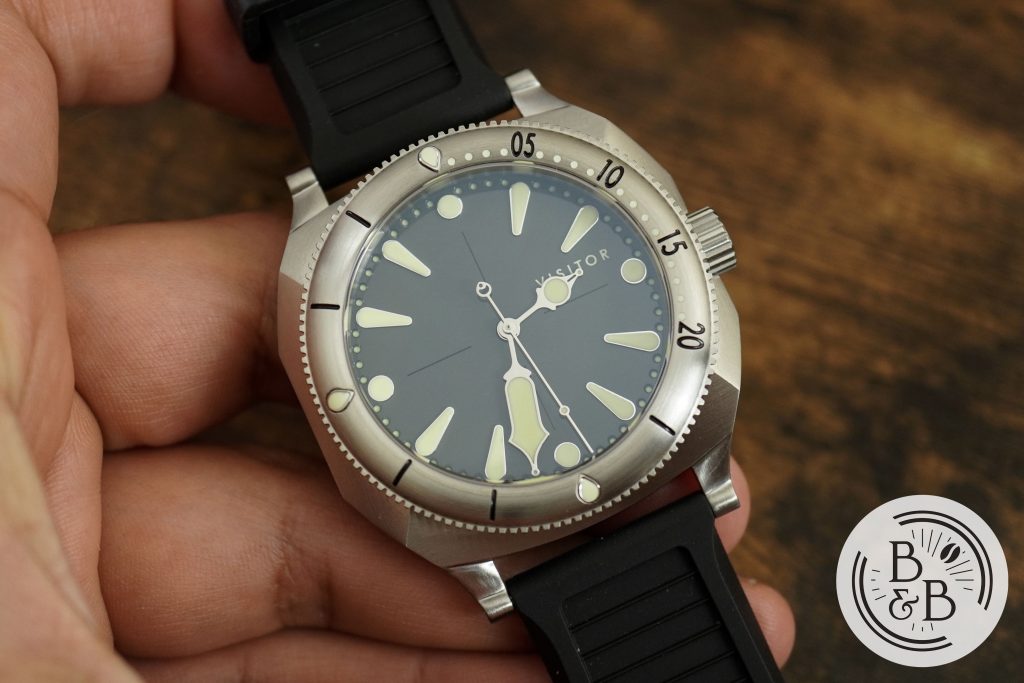 That's not to say that this is a bad movement. It is a good movement that maintains good timing accuracy and is easy to have repaired or serviced. But the loudly spinning rotor is a frequent reminder that you have a Miyota 9039 in there, and it takes away from an otherwise incredible watch experience.
If this watch had a Sellita SW200-1 or maybe even a Sellita SW300-1 movement, I think this watch could cross the $1000 barricade with ease, and still be a ton of value.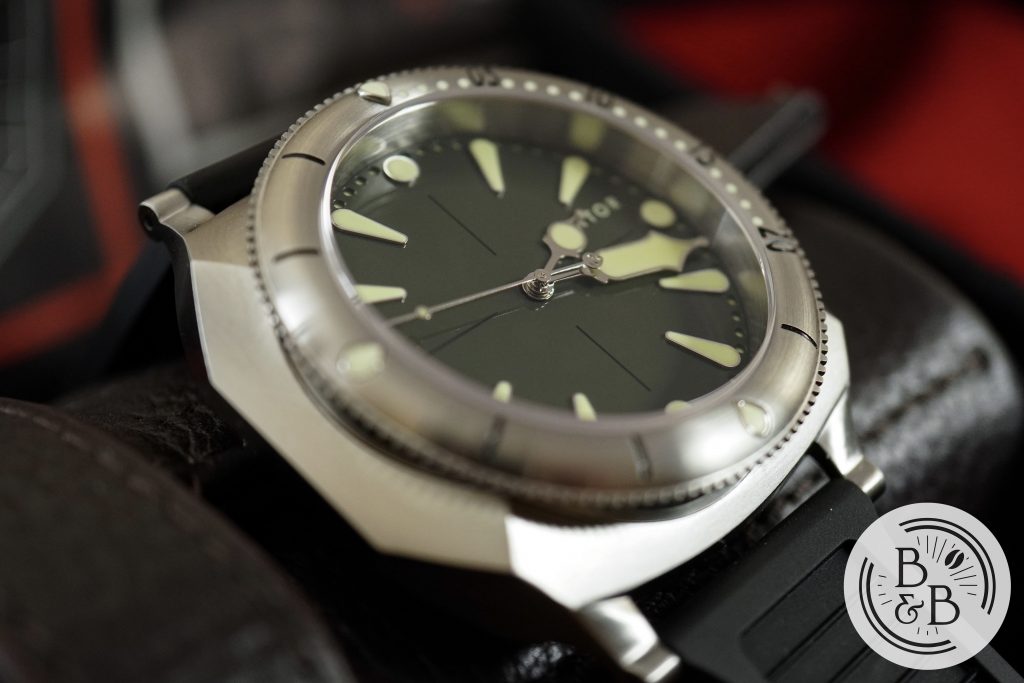 On my time-grapher, I observed roughly +5 spd in the dial up position, and +2 spd in the crown up position. So pretty good regulation on this unit!
---
On The Wrist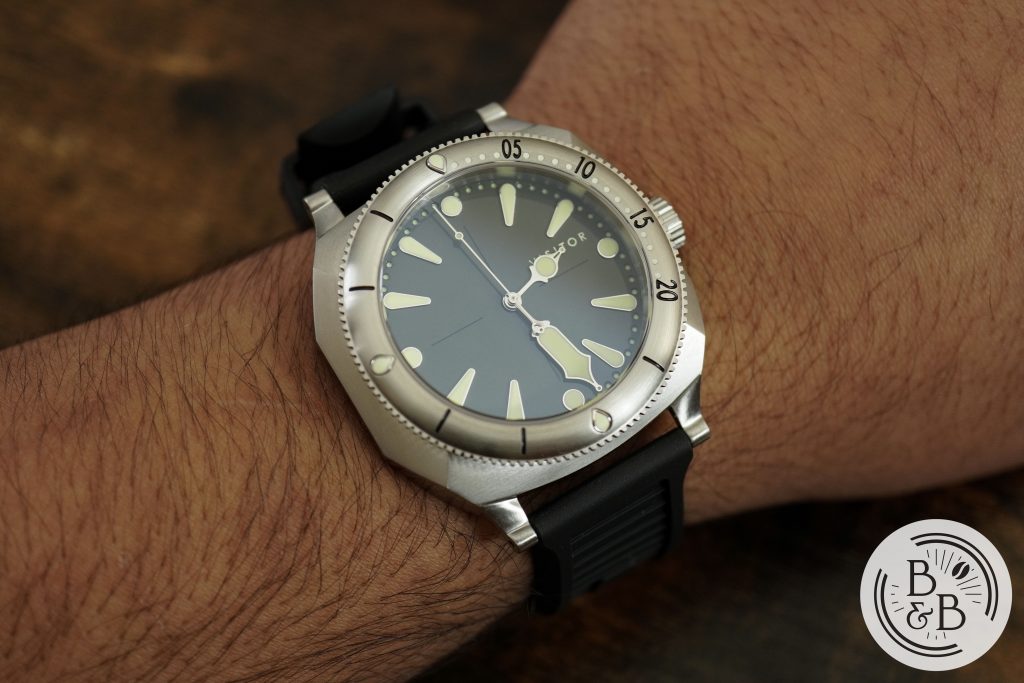 The 43.5mm case width and 50.5mm lug-to-lug width is on the larger side of what I find to be appropriate for my modest 6.25″ wrists. I think you'd need a wrist size of at least 6.75″ to pull of this beastly design.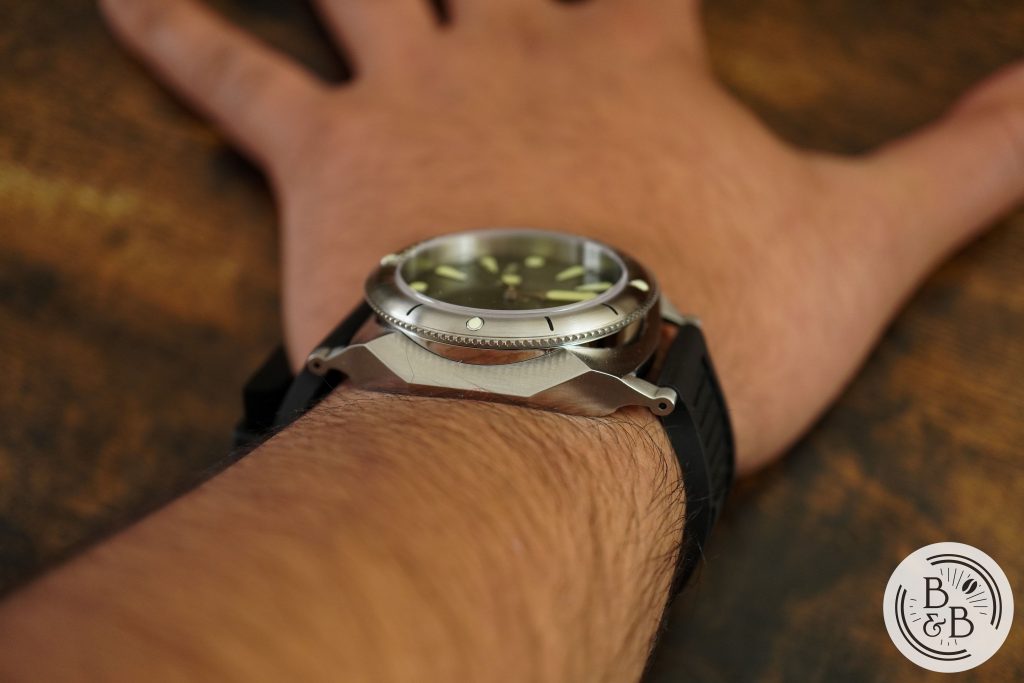 The overall 15.35mm height shouldn't put you off though, since the height at the center of the case is 14.35mm, thanks to the concave case-back, which also does it's part in adding to the overall comfort.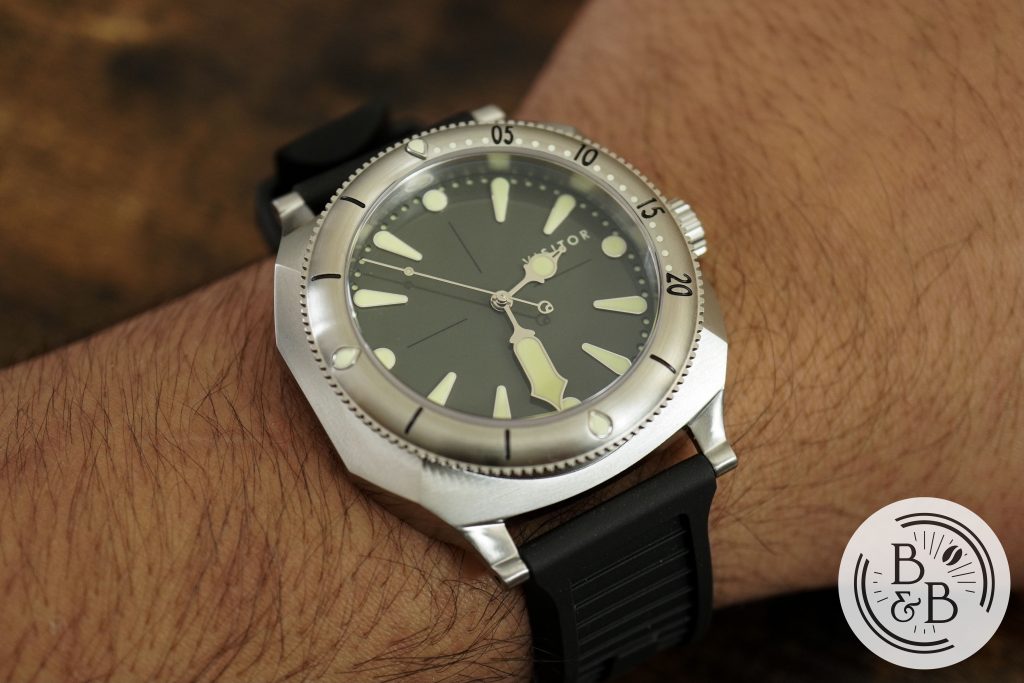 I will say that this watch is a lot more comfortable than it looks, even on my relatively small wrists. And with slightly larger wrists, you will have an excellent wrist experience. And oh boy, this watch makes a statement!
I wore it on the rubber strap throughout my review, and as a self proclaimed rubber strap connoisseur, this one gets my stamp of approval. And that extravagant buckle makes it well worth the money.
---
Concluding Thoughts
I'll wrap this up quickly – if you find this design exciting, just go ahead and buy it. I think you're buying into an excellent brand, with a very distinctive aesthetic, and a creative process that is perhaps only explained by measured amounts of psychedelics, alien encounters and fountain pens. I love everything that this brand is doing, and creativity like this must be celebrated and supported.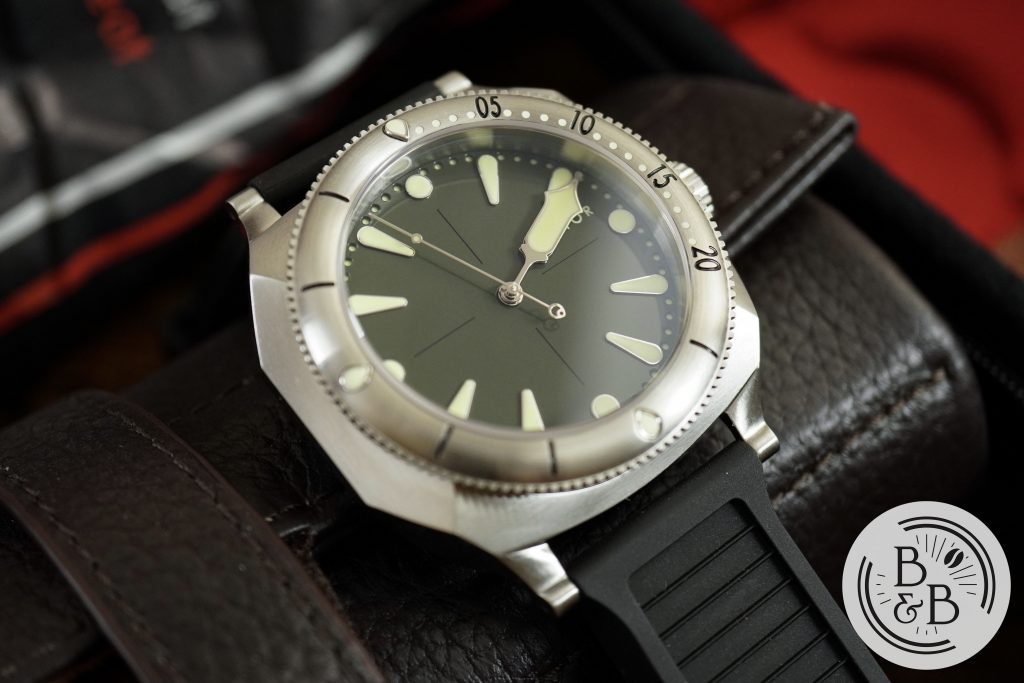 And this watch does not just stop at design. The build quality, dial execution, quality control and overall attention to detail is on par with what you would expect from watches twice it's price. So if this design is calling out to you, I suggest that you give in. And if Phil decides to cater more specifically to the smaller wristed among us, you can be sure that I will pick one up too.
---
Strap Change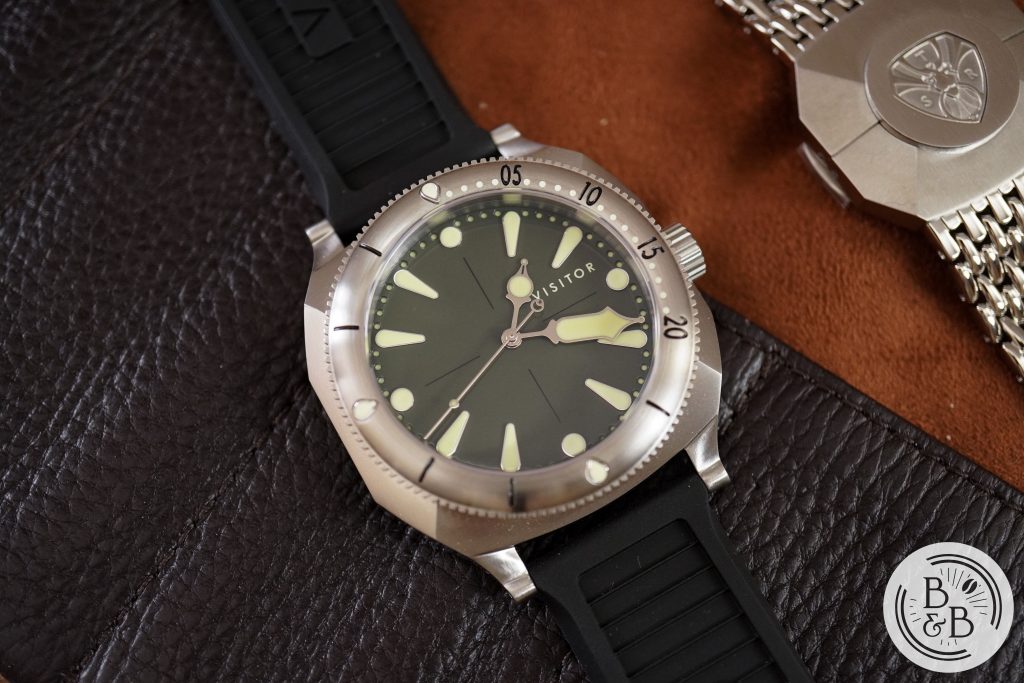 ---
Thanks for reading!