---
Disclaimer: This watch was sent to me to review, and I do not need to return it after my review is complete. This watch was given to me without restriction and is not contingent upon a particular outcome for my review. All opinions here are my own, and FineWatchesBerlin had no influence over the opinions stated here.
---
---
Contents
---
FineWatchesBerlin
FineWatchesBerlin is a relatively new German micro-brand started by father-daughter duo Mia Phyllis Liefer and Wilfried Liefer. This is going to be a longer-than-usual review, so I don't want to spend too much time introducing the brand. Instead, I'll leave these two links to Mike Stuffler's interview with this dynamic duo, as well as his own opinions of the brand and watch:
A few things I'd like to note are – that FWB are transparent regarding their manufacturing location, and indicate that this watch is manufactured and assembled in China. The 'Made in Germany' tag is a very loosely defined label anyway, and many of these watches are manufactured in China but assembled in Germany, so I respect their decision to print 'Designed in Germany' instead. And as you will see, they have very strict quality control standards, and the finishing is excellent. Roughly $60 from every sale is donated to Hands with Hands, to help developing communities in Nepal.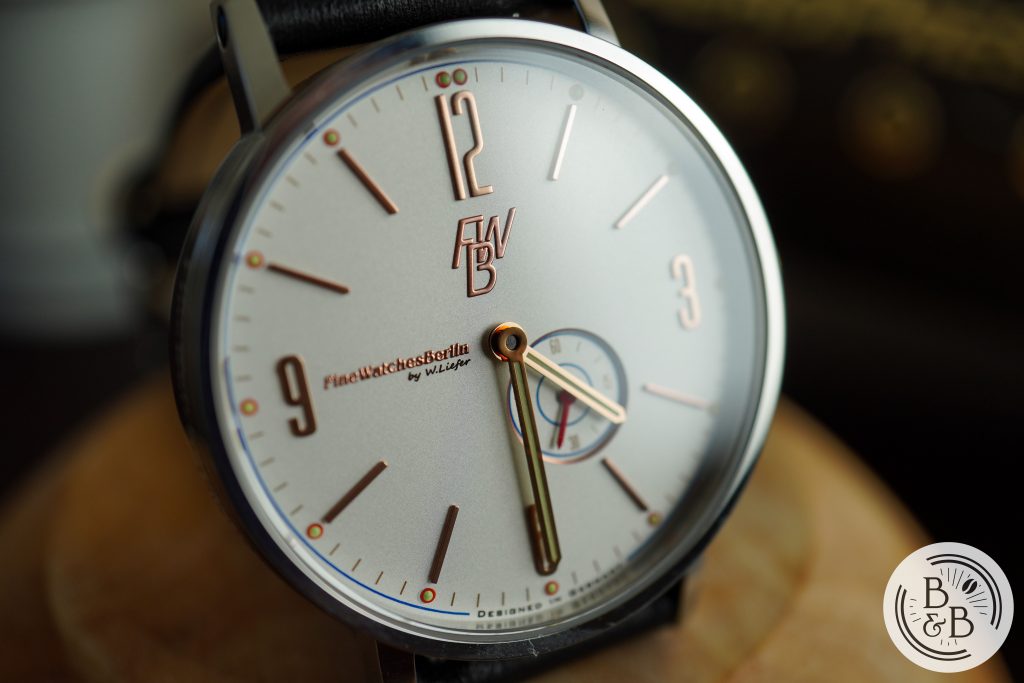 This watch is the Teufelsberg #4 and retails at roughly $600, and is named after the Teufelsberg hill in Germany. I urge you to read about this, as it has a very interesting story.
Let's check it out!
---
Case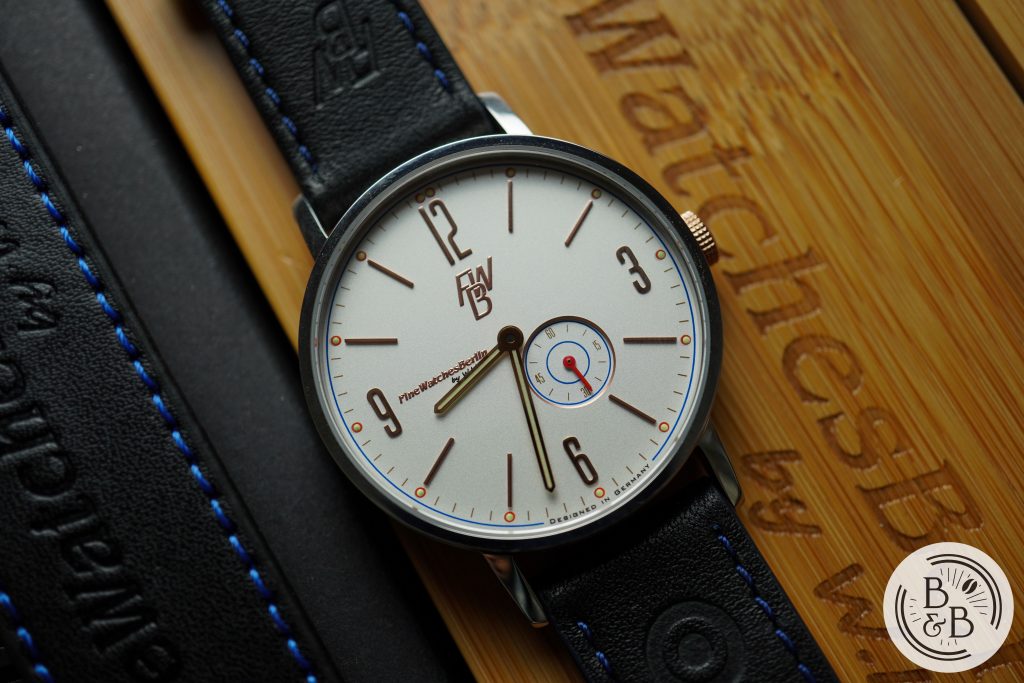 The case measures 39.75mm in diameter, 49mm from lug-to-lug and 11.25mm tall. The dimensions on their website differ by a few mm, but this is what I measured with my calipers. The case is entirely polished, and has a simple circular design, similar to Bauhaus style watches from Stowa and Nomos. A narrow polished bezel houses the flat sapphire crystal that appears to have AR coating on the inner surface.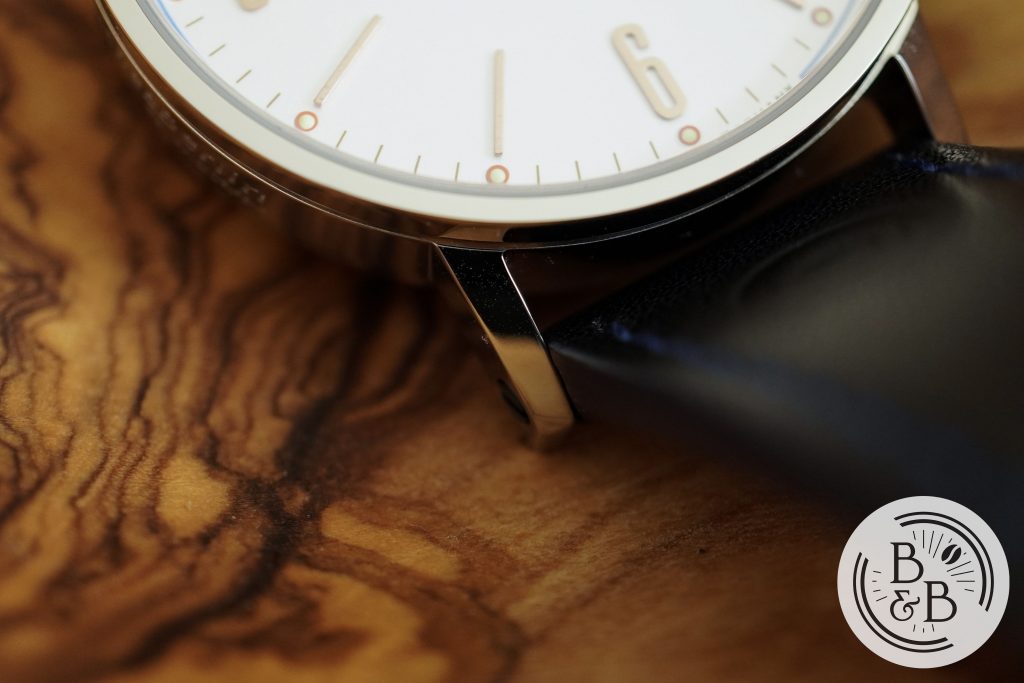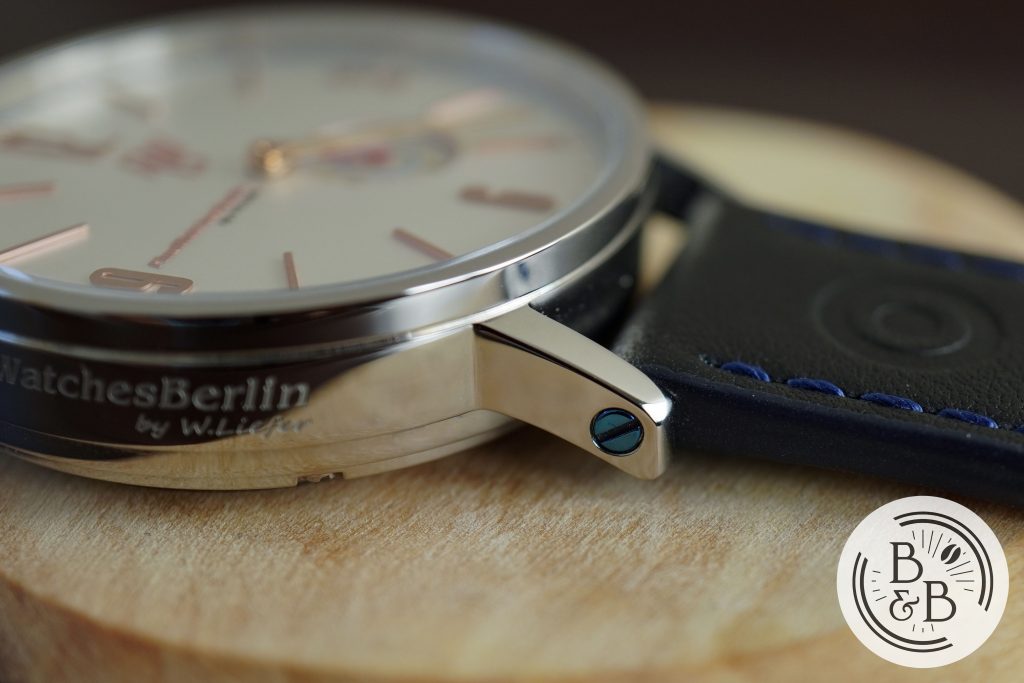 From above, the lugs have a narrow and straight design common to watches in this design genre, but the sides angle down towards the wrist. The lug holes are capped with blue screws, and the lug width is 20mm.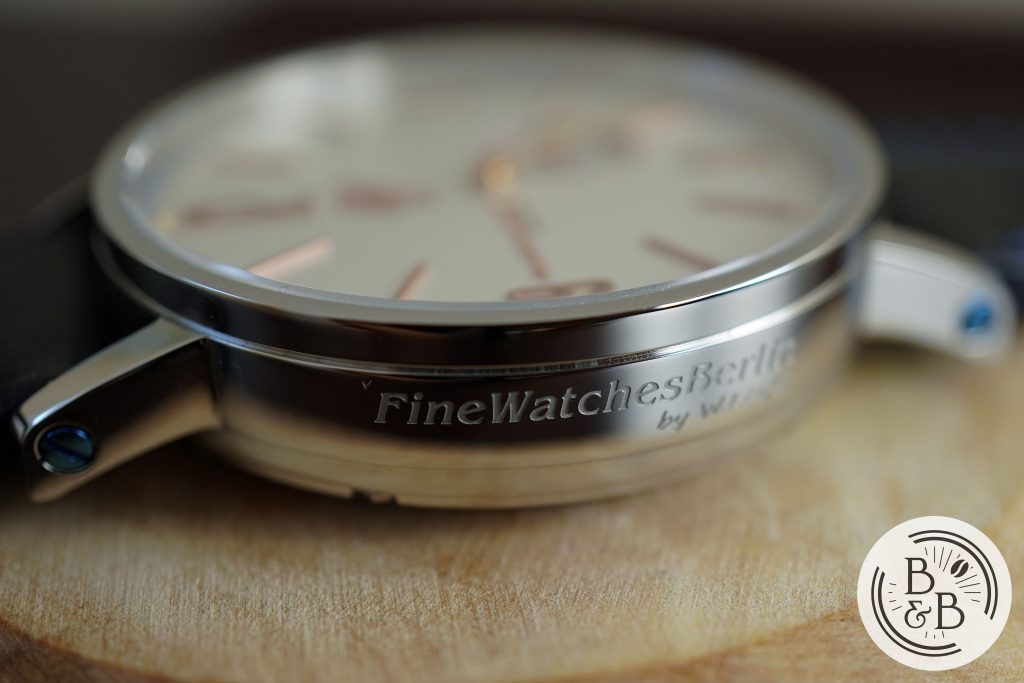 You have the brand's name engraved on the left side of the watch. I don't always like engraved cases, but this doesn't look obnoxious at all, and I think it works.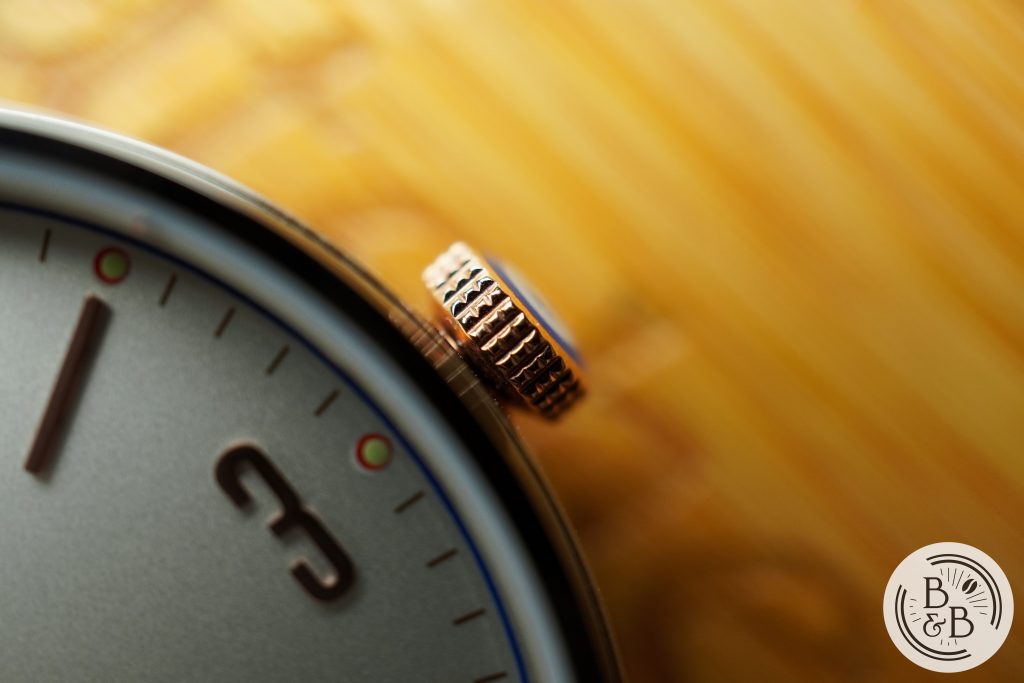 There is a 5.75mm diameter crown at the 3 o'clock position that is plated with the same rose gold color as the indices and hands.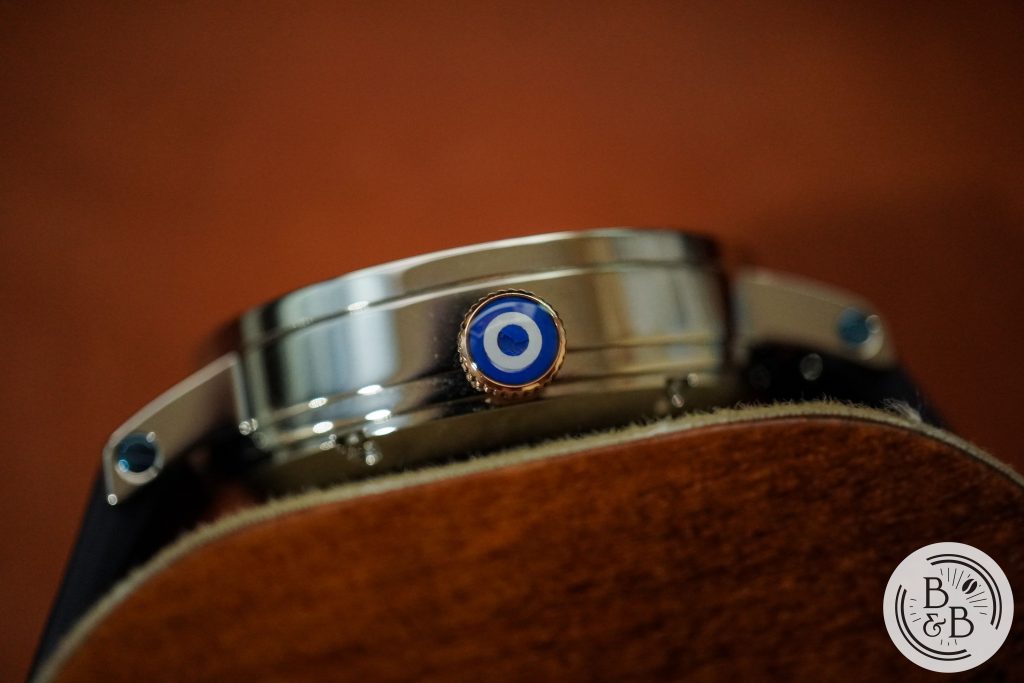 The top of the crown has the brand's concentric circle insignia in blue and white. The crown is very well designed, and I didn't notice any crown or stem wobble.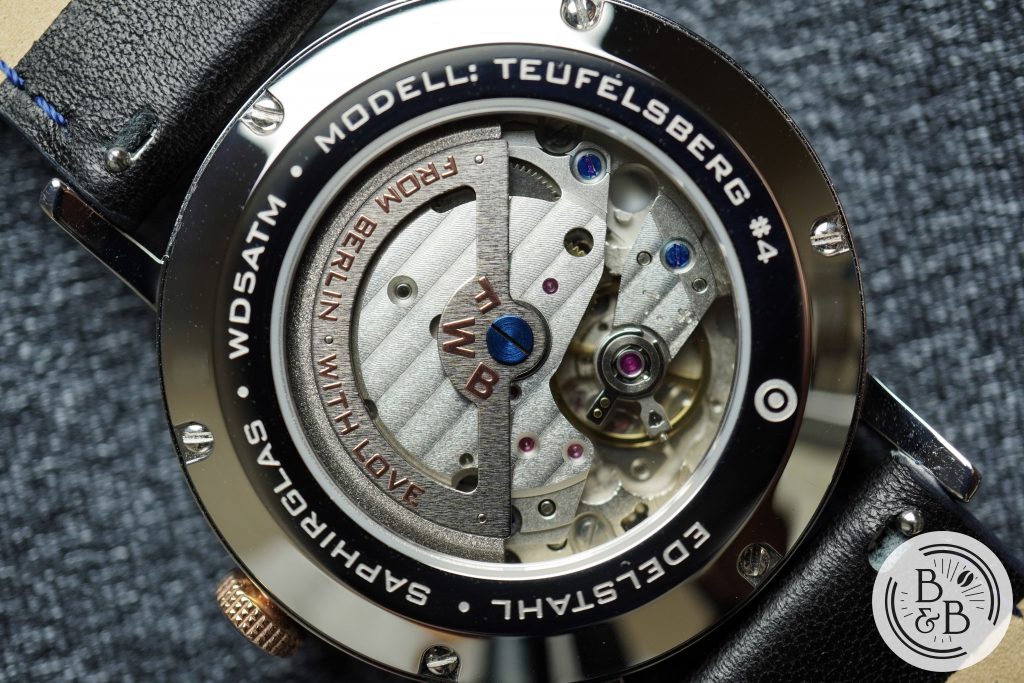 Flipping it over, you have an exhibition style case back that is attached to the case by means of 6 screws. The exhibition window is also made of sapphire crystal, and the watch is rated for up-to 50m of water resistance.
---
Dial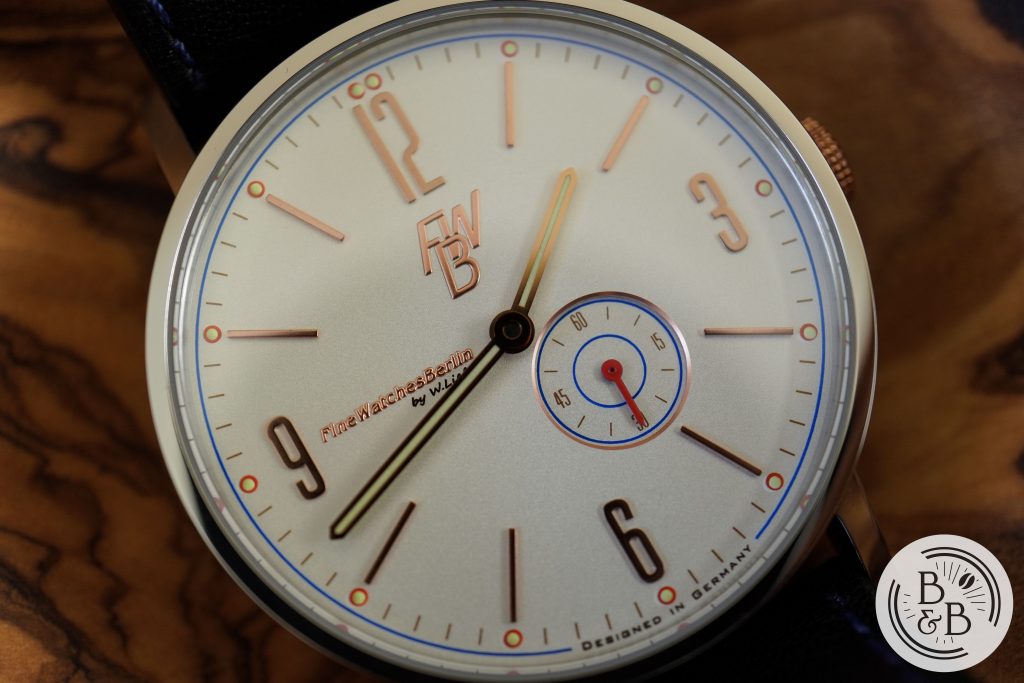 The Teufelsberg is offered in four different dial configurations, and the special edition Valentina is offered in two. They sent me the Teufelsberg Rosé #4, which has rose gold indices, hands and branding. This watch does bear resemblance to Bauhaus style watches from Stowa and Nomos, but does not follow the serious, symmetrical and rigid design language of the above watches. Instead, the Teufelsberg feels like a joyful, quirky and positively eccentric improvisation of the Bahaus rule book. The design feels like a constant contradiction to the fundamental design principles, but also just seems to work.
The base of the dial has a metallic satin finish, and the color comes across as a silvery off-white.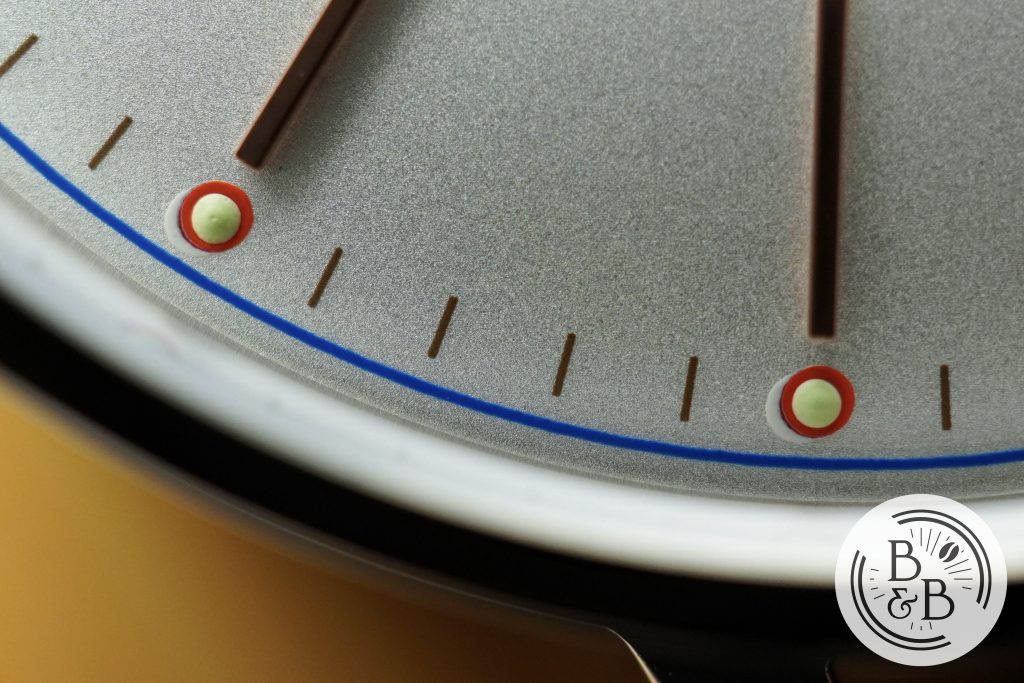 There is a thin blue border that encloses the minute track. The minute markers are small rose gold colored ticks. You then have circular red markers for every increment of five, that is filled with lume. You don't expect to see a bold color like red on a watch that is already taking risks with so many rose gold elements, but they did it anyway and I think it looks pretty cool.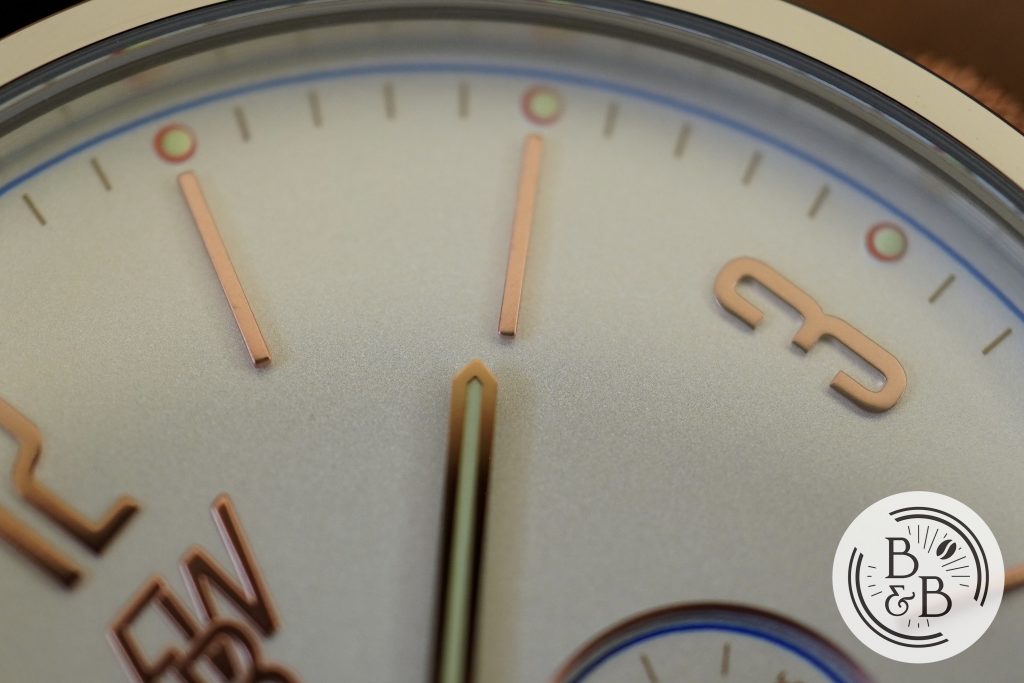 You then have a combination of applied stick indices and Arabic numerals for the hour markers. The finishing on these is excellent, and the indices play with light beautifully.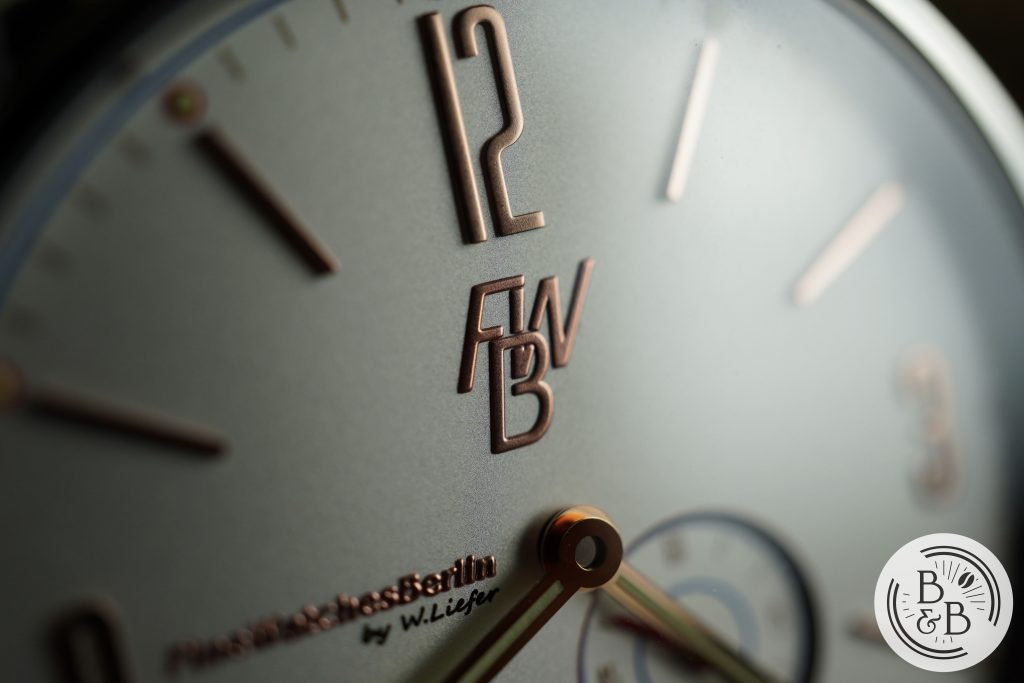 The brand's initials/logo is applied in a similar manner under the 12 o'clock index. For strict minimal design, even this is too much, but FWB takes it one step further and has it's brand name next to the 9 o'clock as well. Again, this design appears to be their way of rebelling against the invisible design authority.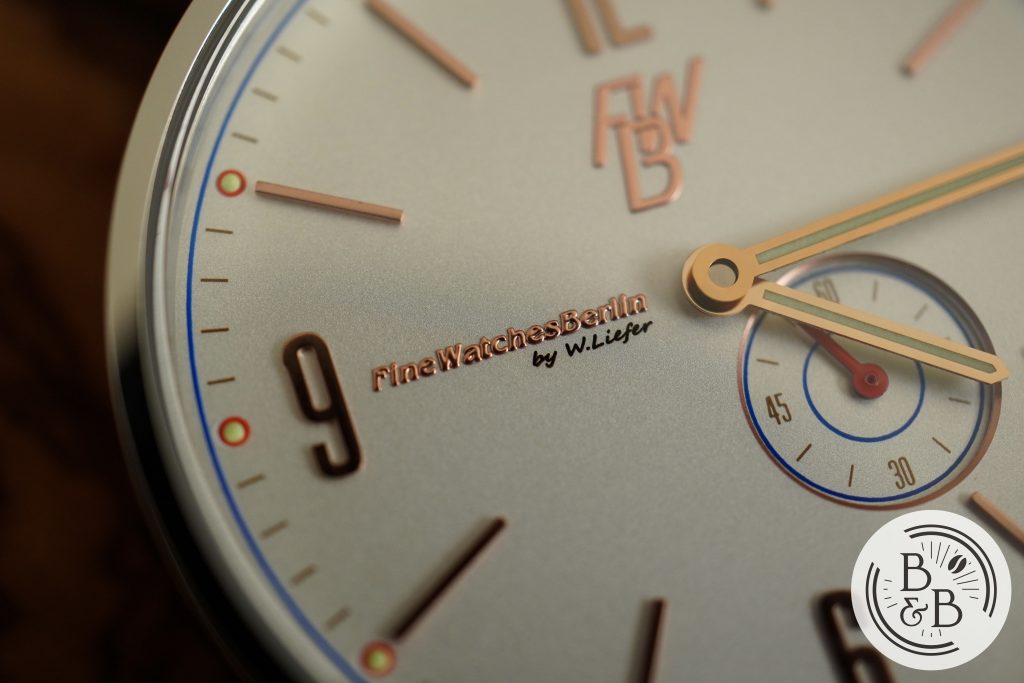 And to be completely honest, when Mike Stuffler shared images of this watch on Watchuseek a year ago, I was shocked by the design too. But since that first reaction, I've come to actually appreciate it for what it is – a design that just refuses to conform.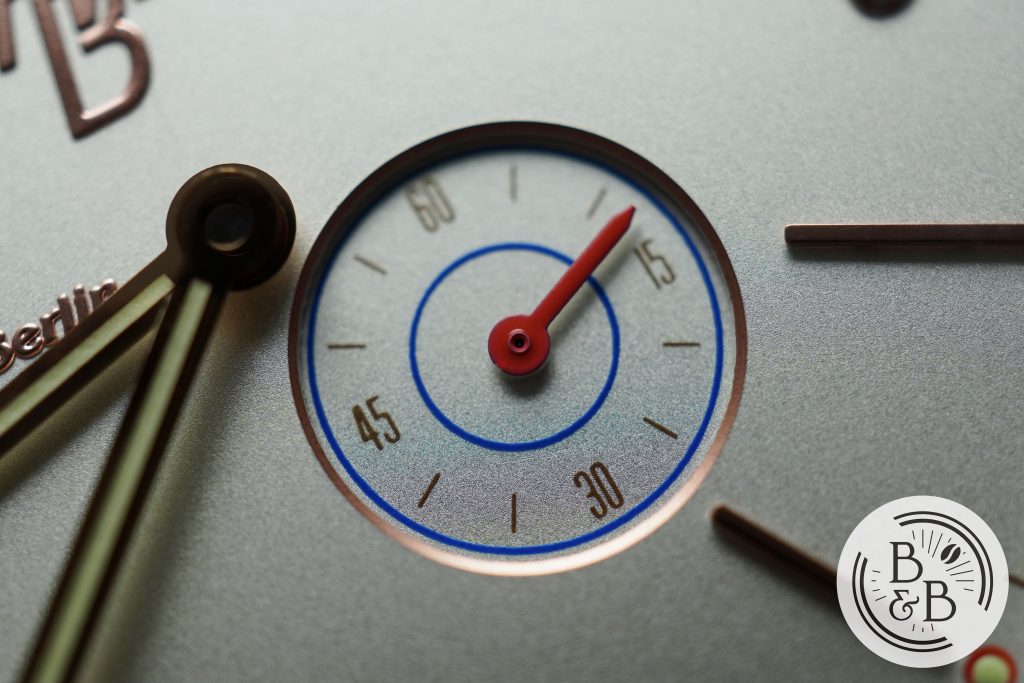 And the last act of defiance is the small seconds sub-dial. To balance out the already asymmetric dial layout, I would've expected them to place the sub-dial either at the 3 o'clock or the 6 o'clock position. But nope, the recessed sub-dial is located at 4:30, and makes bold use of blue, red and rose gold.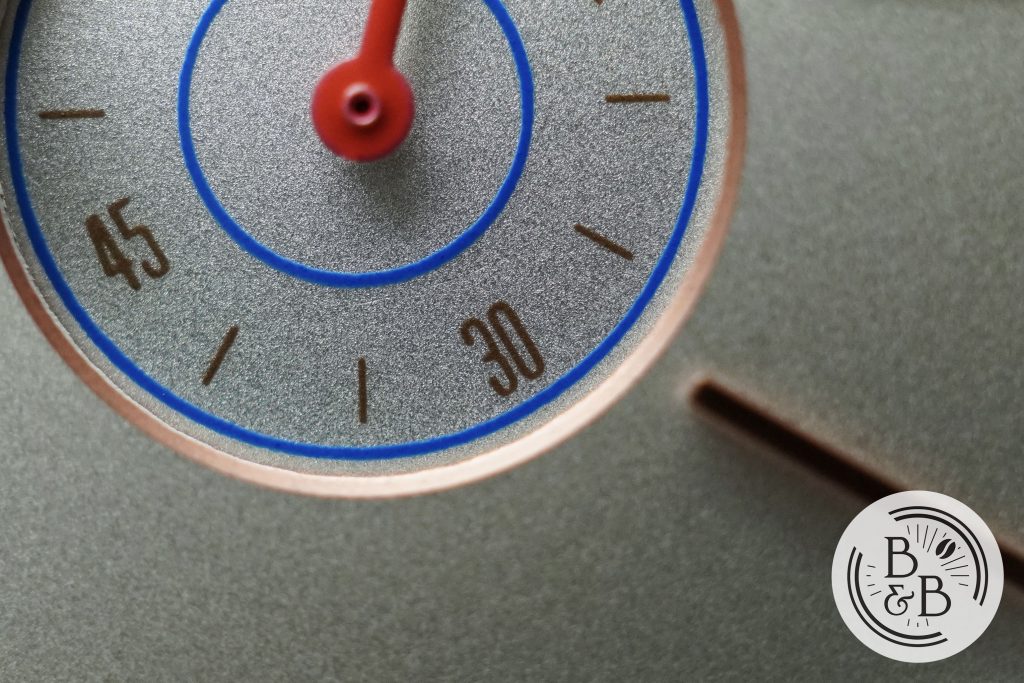 Again, these bold colors might throw you off if you're used to watches like Nomos, Junghans and Stowa, but the vivid colors strongly resemble those that are found at the Bauhaus school. I have no education in design, neither do I have artistic insight, but this doesn't seem like a co-incidence to me.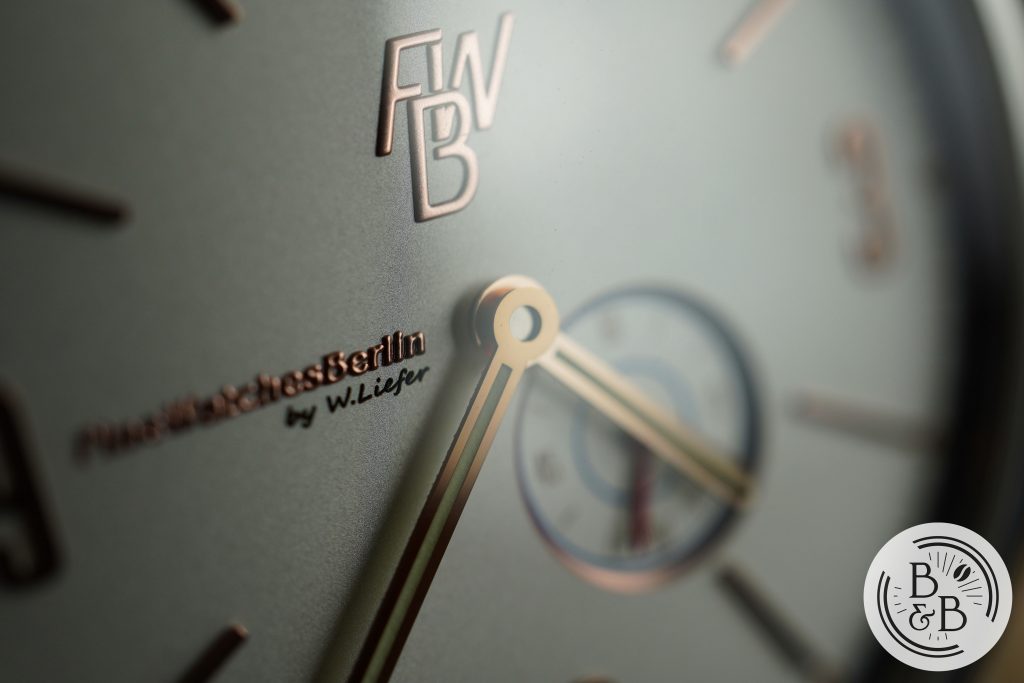 The hour and minute hands are fairly simple, rose gold in color and filled with lume. The finishing on the hands is great and I have no complaints here.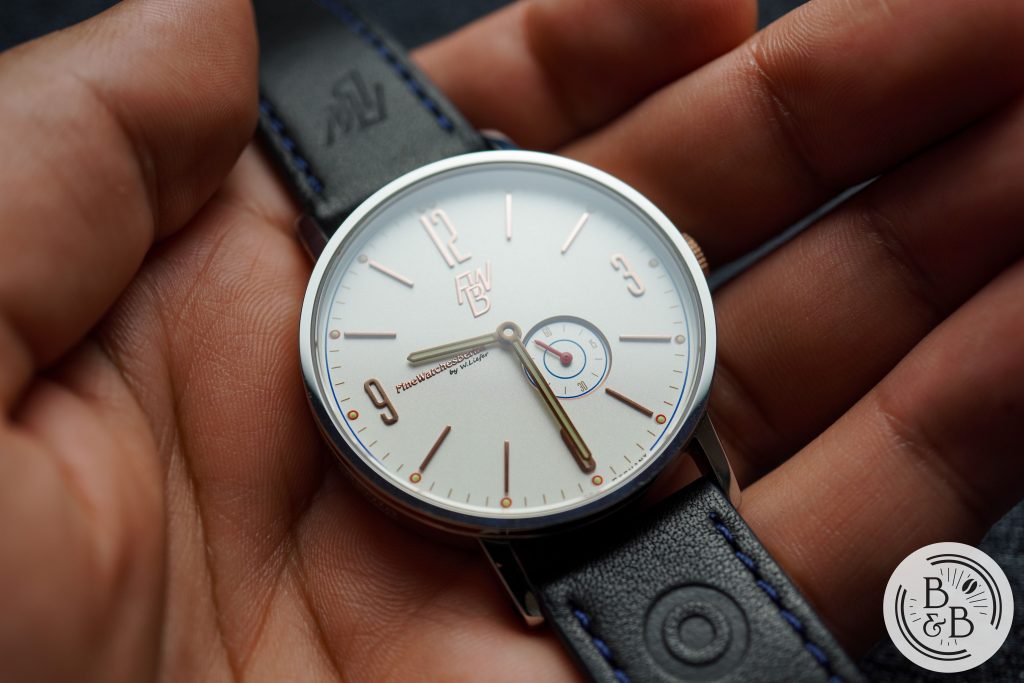 You may or may not like the overall dial design, and I think that's OK. But it is hard to argue with the quality of finishing seen on the dial. FWB have done a great job ensuring strict quality control.
---
Lume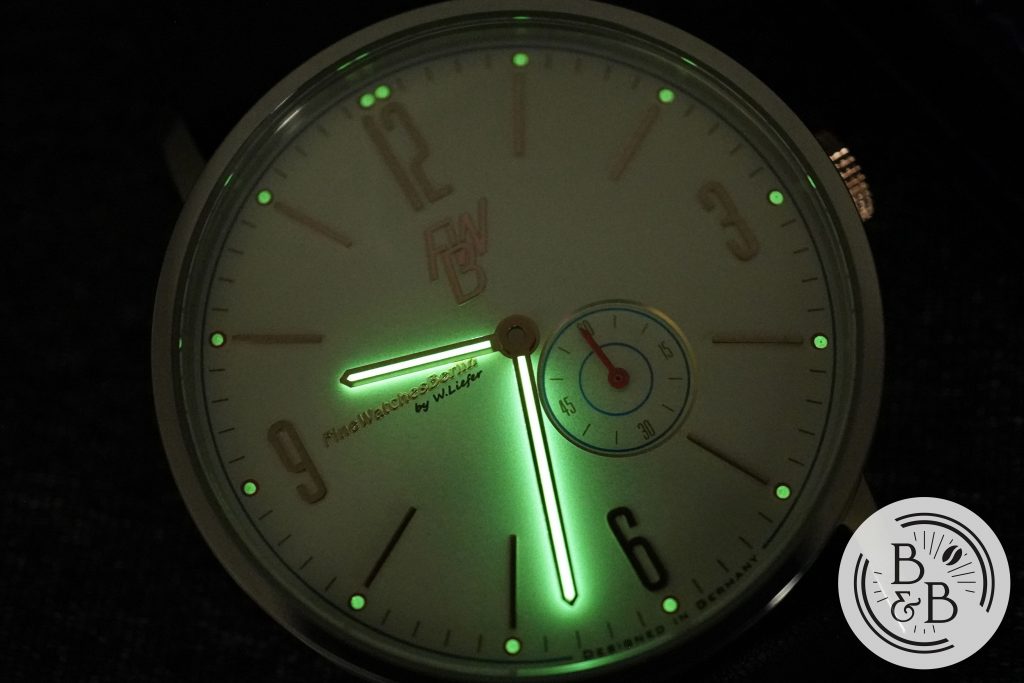 This watch has strong dress watch DNA, so I wouldn't have been disappointed if it lacked lume entirely. But that isn't the case here, and the circular dot hour markers and the two primary hands are lumed. The lume design is great, and it is a pleasure to look at.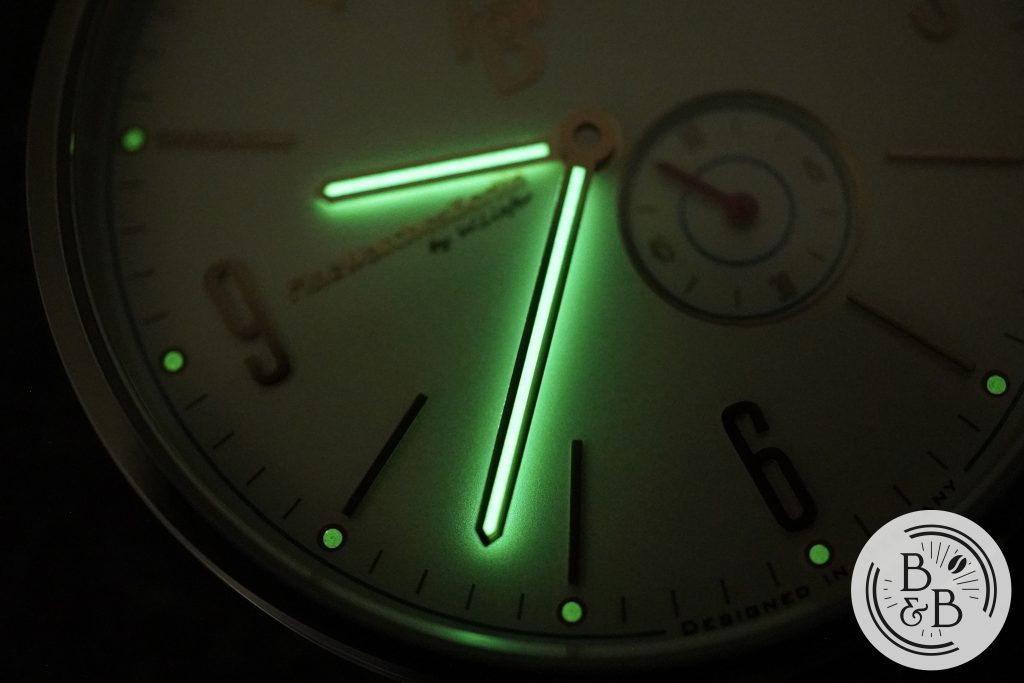 The hands are very generously lumed. The website doesn't state what lume material is being used, but I suspect this is C3 Super LumiNova. The circular dot markers are less bright because of the limited surface area, but it is sufficient for about an hour in the dark. Since this isn't a sports watch or tool watch, I think this is more than acceptable!
---
Movement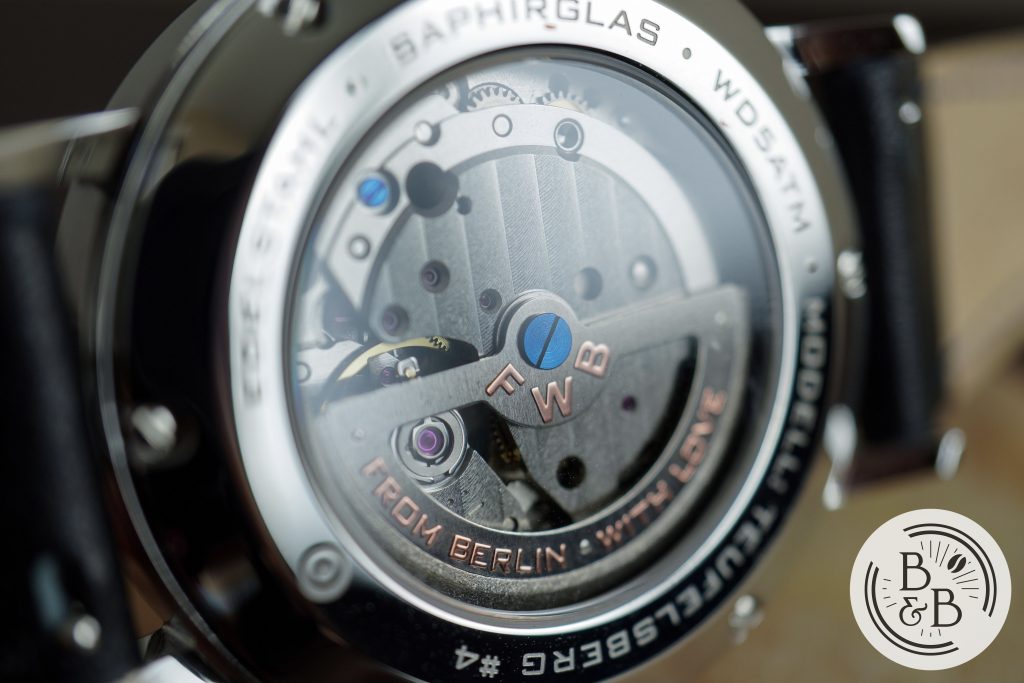 This watch uses a Miyota 8218 movement. This is my first experience with this particular movement, and you don't see them too often.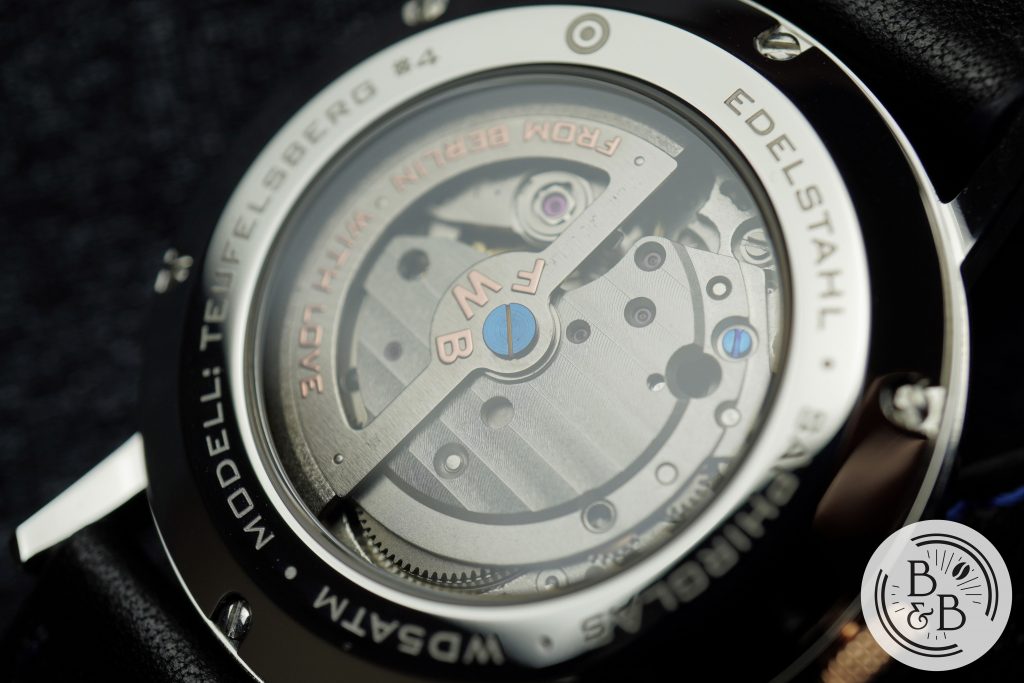 This movement has a small seconds hand at the 4:30 position and has a date mechanism at the 3 o'clock position. The result is a ghost date position, which to be fair is not uncommon to watches under $1000.
This movement has been heavily modified to include blue screws and a branded rotor, which is done in rose gold to match the dial. I don't suspect this was cheap or easy to achieve.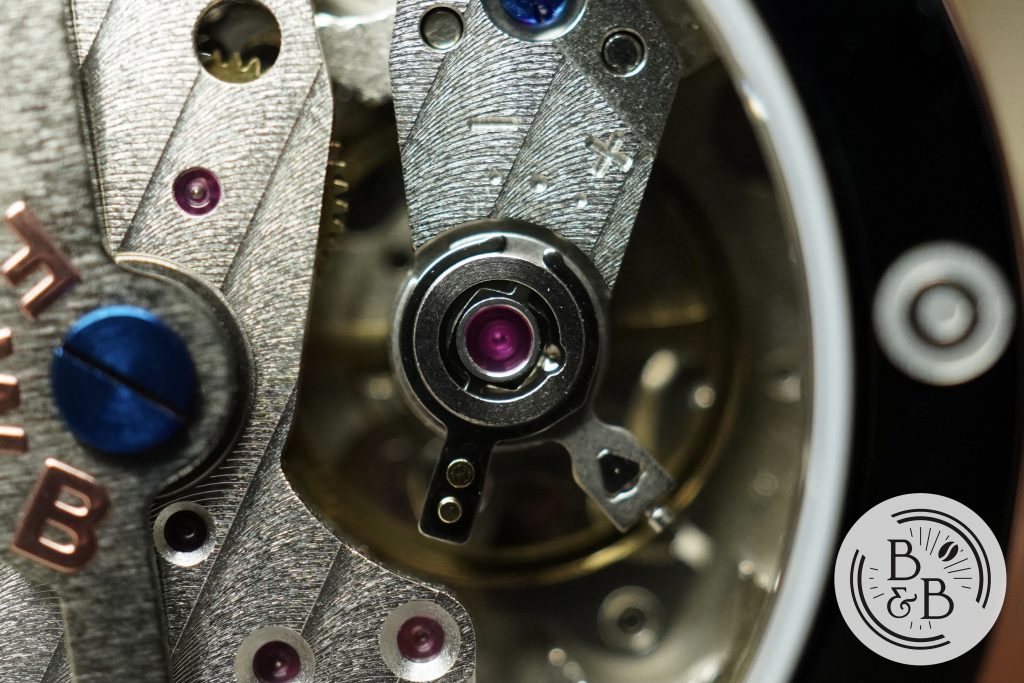 I think this is one of the best decorated Miyota 8XXX series movements I've seen to date, so I'll definitely give them credit here. The movement is very clean and indicates good quality control.
But we need to talk about the movement. At roughly $600 ($586, after 16% VAT deduction), the movement falls a bit short in the overall package. If you ignore the value being delivered in terms of the good finishing, very interesting design, and wonderful story and connection to Berlin, and look at it as a $600 watch with a Miyota 8XXX series movement, it becomes difficult to digest. A Miyota 9XXX series movement would have been more appropriate here, or a standard ETA or Sellita, to move the movement origin closer to home in Berlin.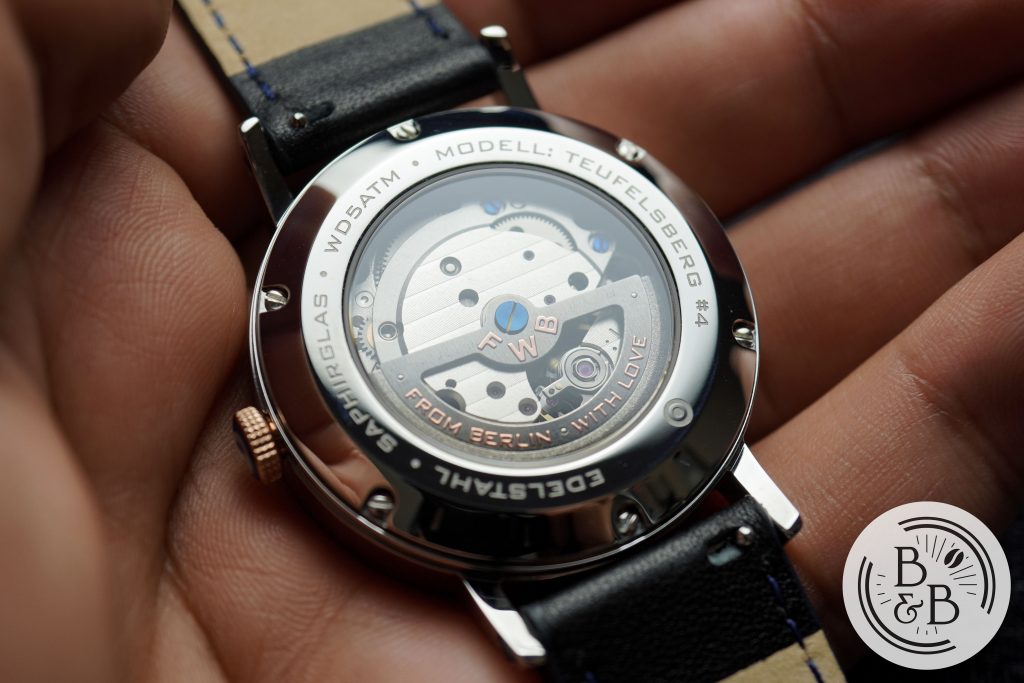 I logged the accuracy of this watch over a 2 day period, and observed roughly -23 spd. Since this watch had a very unpleasant journey reaching me from Berlin, I won't entirely blame the movement for this performance, and will have to hold the courier service responsible for the massive dents on the box. But even by Miyota's very flexible standards for this watch (-20 to +40 spd), it is just out of spec and I will look at having it regulated soon once the watch recovers from the trauma of it's journey.
---
On The Wrist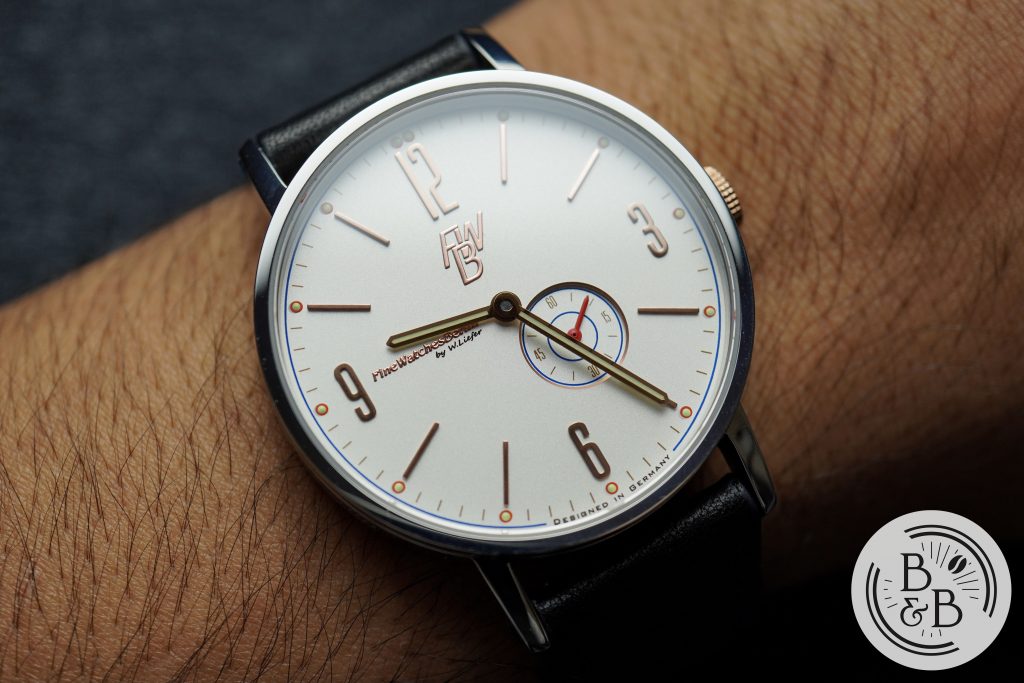 The 39.75mm diameter case and 49mm lug-to-lug width are quite comfortable on my 6.25″ wrists. Don't let the 49mm lug width scare you, the slender and long lugs are barely noticeable on the wrist, and this watch does not feel like a typical 49mm lug-to-lug width diver. The lugs also bend towards the wrist, to further reduce the perceived length.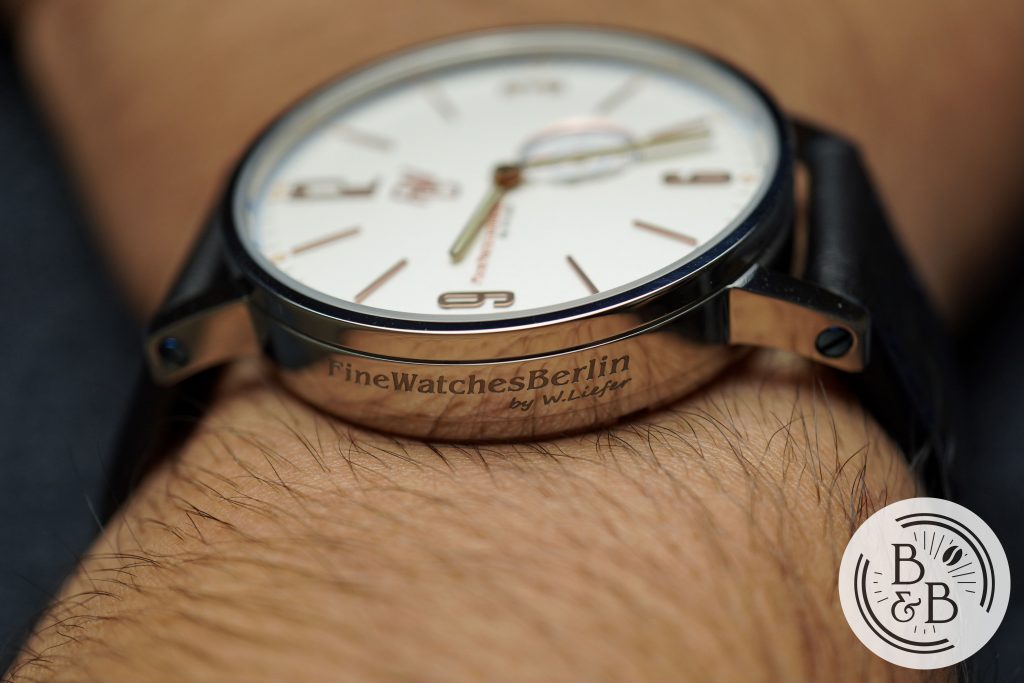 The case is 11.25mm tall, and the case-back protrudes out of the case by about 1.5mm. But the entire weight of x g is very well balanced, and the watch sits low on the wrist.
I've enjoyed wearing this watch, and I will continue to wear this one as it sits very nicely on my wrist.
Each watch is shipped with two leather straps, and I received a dark brown and a black one with the Teufelsberg #4. I have had the privilege of presenting some amazing straps on my website so far, and on many occasions these have been straps that cost nearly $100 each. That said, the black strap (with blue stitching) that was included with this watch is one the most comfortable and well made leather straps I have come across.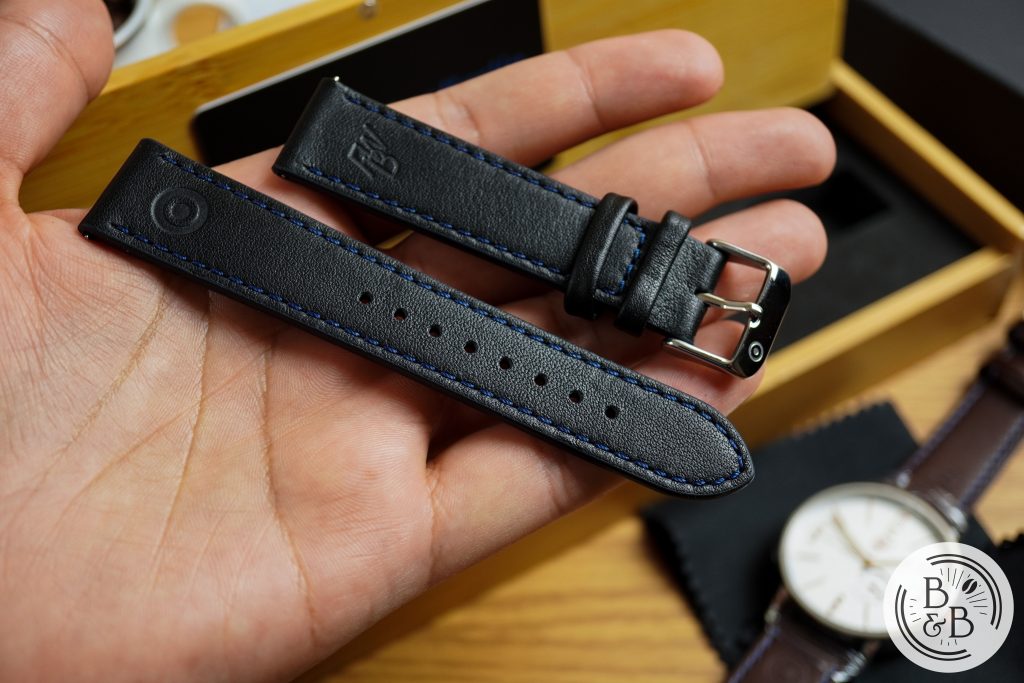 If it didn't have the FWB name and logo near the ends, I would definitely use this on my other watches too.
---
Concluding Thoughts
Putting aside the slightly underwhelming movement, I wouldn't be surprised if people had very polarizing opinions regarding the design. I don't think this watch was made for everybody. I don't think the average watch enthusiast was even kept in mind while designing this watch, the same way an artist doesn't create based on need. And for that fact, FWB have definitely earned my respect.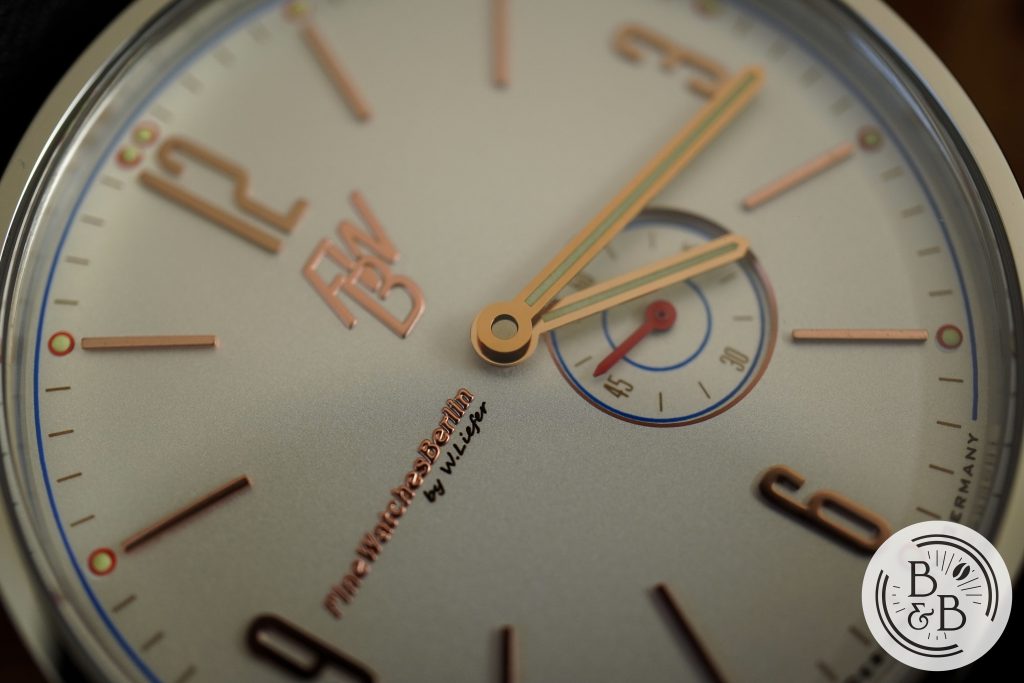 Now let's talk about the price… At $600, this watch feels a bit too expensive in a general sense, primarily because of the choice of movement. But I don't want to discount the fact that their finishing is excellent, their straps are extremely well made and that their hearts are in the right place. They donate roughly $60 from each purchase to Hands with Hands, an organization that helps communities in need in Nepal. And those that know me personally will know why I can appreciate this. But for the average watch enthusiast who is chasing his/her next micro-brand watch, I think this price will be a difficult one to come to terms with.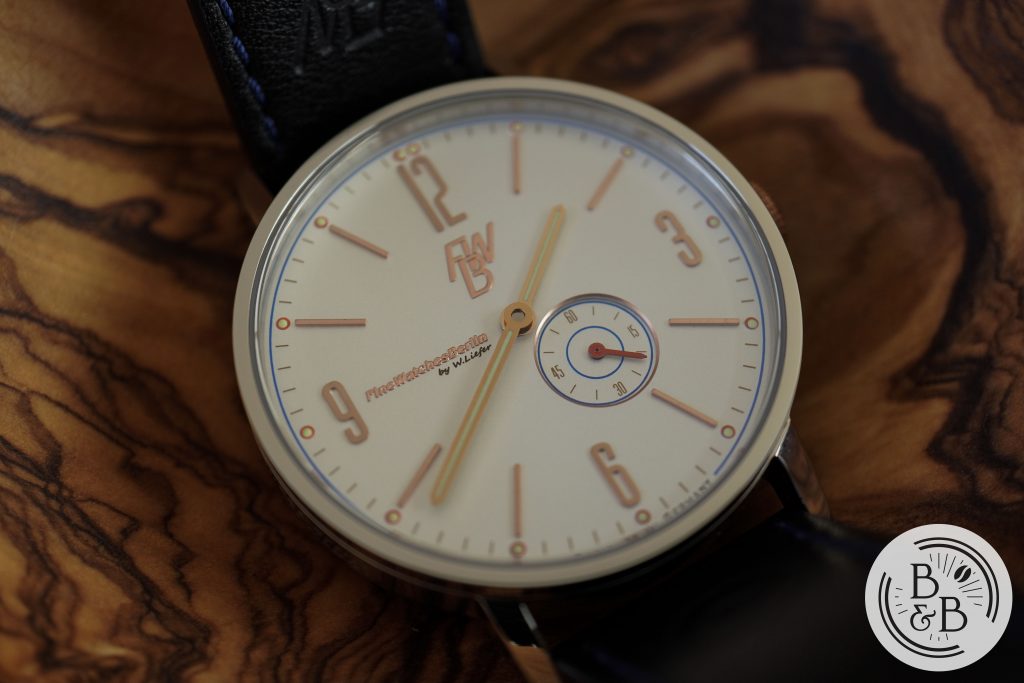 But I also believe that there will be a minority of watch and design enthusiasts that will look at this watch and fall in love with it, and to someone who can appreciate the design, this watch will be an easy one to justify purchasing. Similar to the way Unimatic sells their Seiko NH35 equipped watches for over $600, or William Wood with their $900 Seiko NH35 equipped watch.
---
Strap Change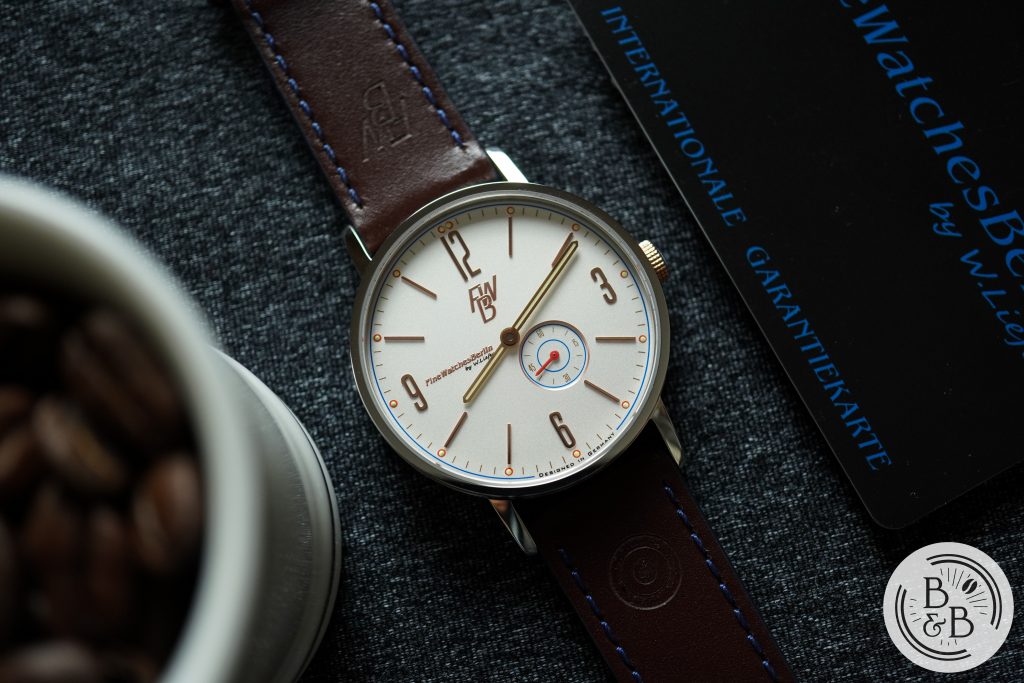 ---
Thanks for reading!