---
Disclaimer: I borrowed these watches from a friend (@the_engaged_wrist). Since this watch was worn/used, please make note that the experience might differ from that of a brand new watch. This review is not affiliated in any way with Grand Seiko or any other entity. All opinions here are my own.
---
---
Contents
---
Grand Seiko SBGE245
A friend of mine was looking to purchase a watch a few months ago, and finally settled on this beautiful GMT from Grand Seiko. The stunning burgundy dial caught his eye, and the rugged sports watch design and spring drive movement sealed the deal. I knew I had to get this watch on the channel eventually, and he was kind enough to send it in recently for me to spend some time with. This is the SBGE245 and is a limited edition release from a few years ago (in late 2018, I think), with only 600 pieces made.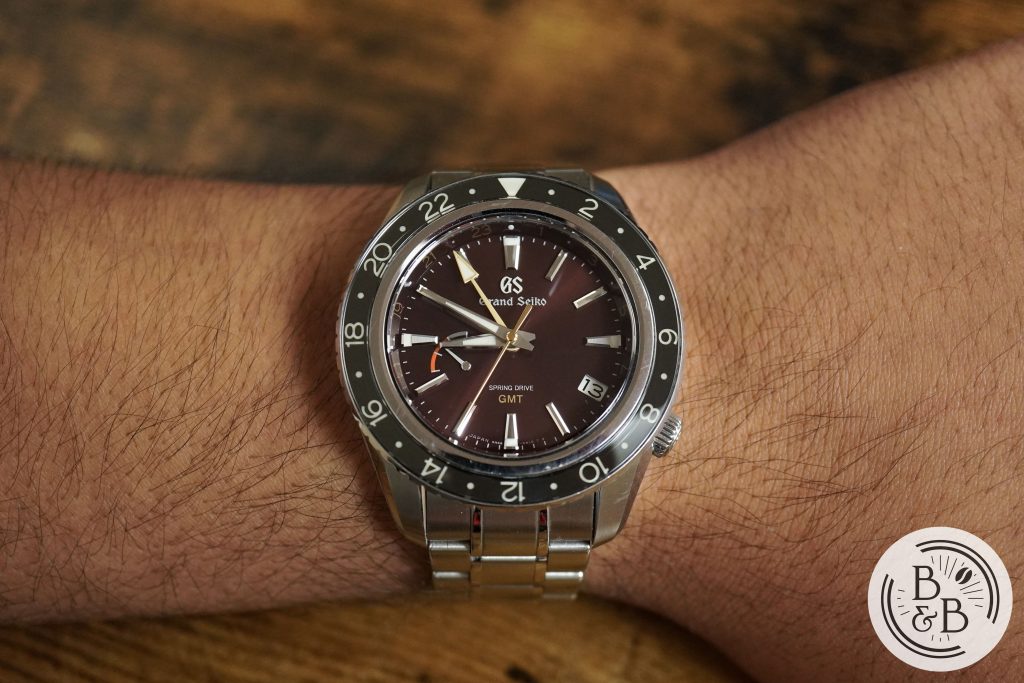 I believe this watch had a retail price of around $6100, and can be found on the pre-owned market right now for about $6000-7000. An equivalent modern offering is perhaps the Hi-Beat SBGJ237 in blue & white with a price tag of around $6800. You also have the popular ceramic bezel SBGE253, SBGE255 and SBGE257 in black, blue and green at $6200, but I'm not a huge fan of those watches, and I think the sapphire bezel designs look a lot better in person.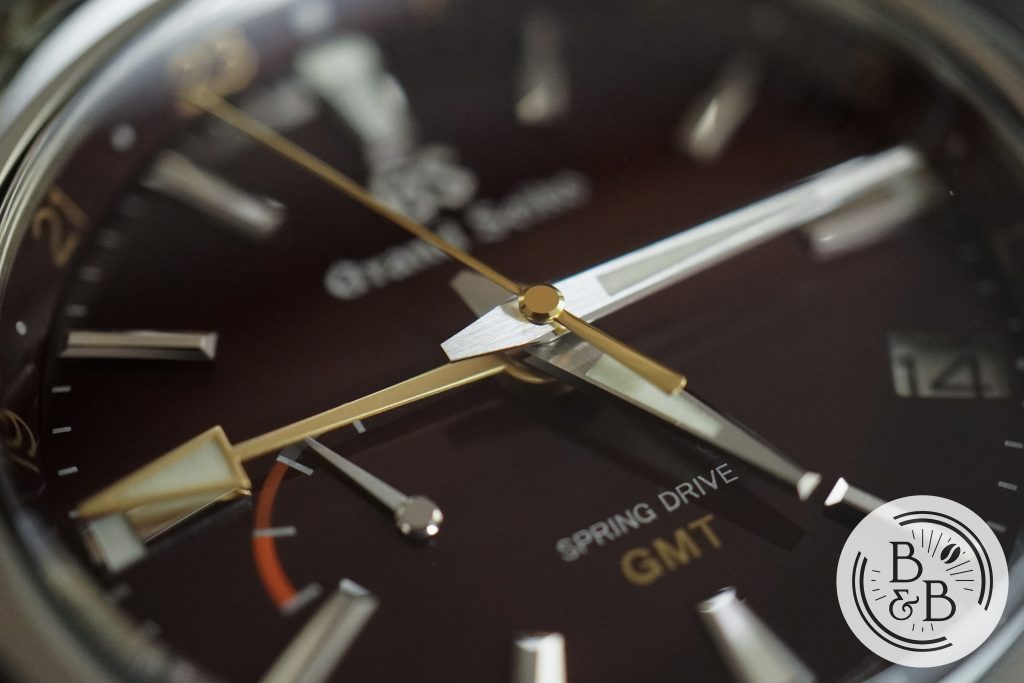 That said, I think with burgundy watches making a small come-back, these watches are relevant again, and they look pretty timeless and classy. Let's check it out!
---
Case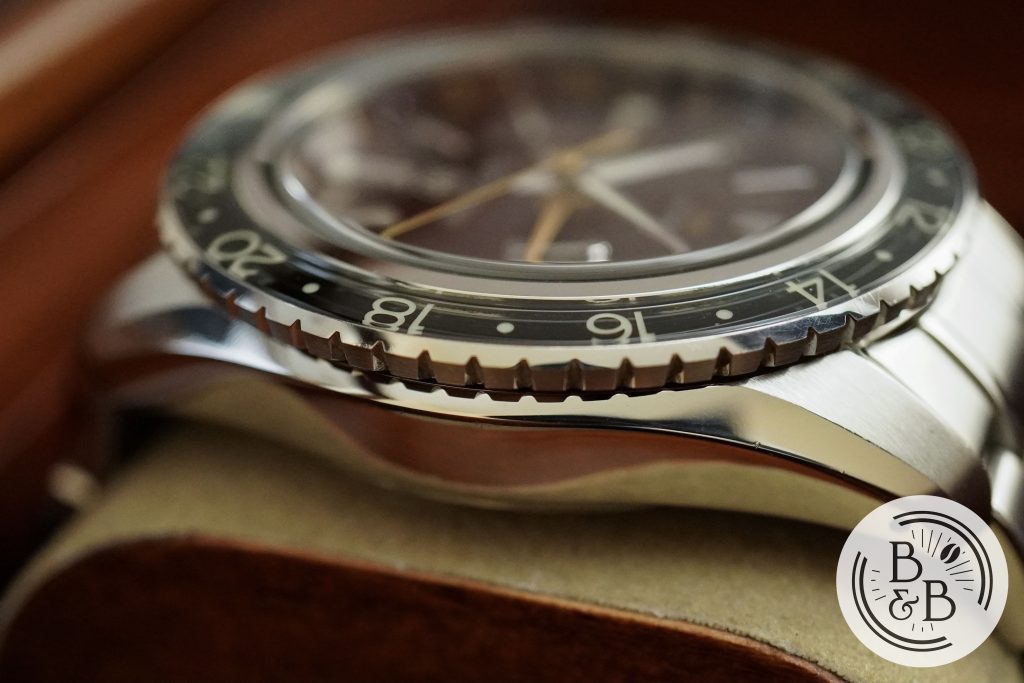 I measured the case to be 43.5 mm in diameter, 50 mm from lug-to-lug and 14.3 mm in height. The case is made of stainless steel and does an excellent job of combining brushed and polished surfaces, with all polished surfaces being finished on Sallaz machines by hand, or more commonly referred to as Zaratsu polishing.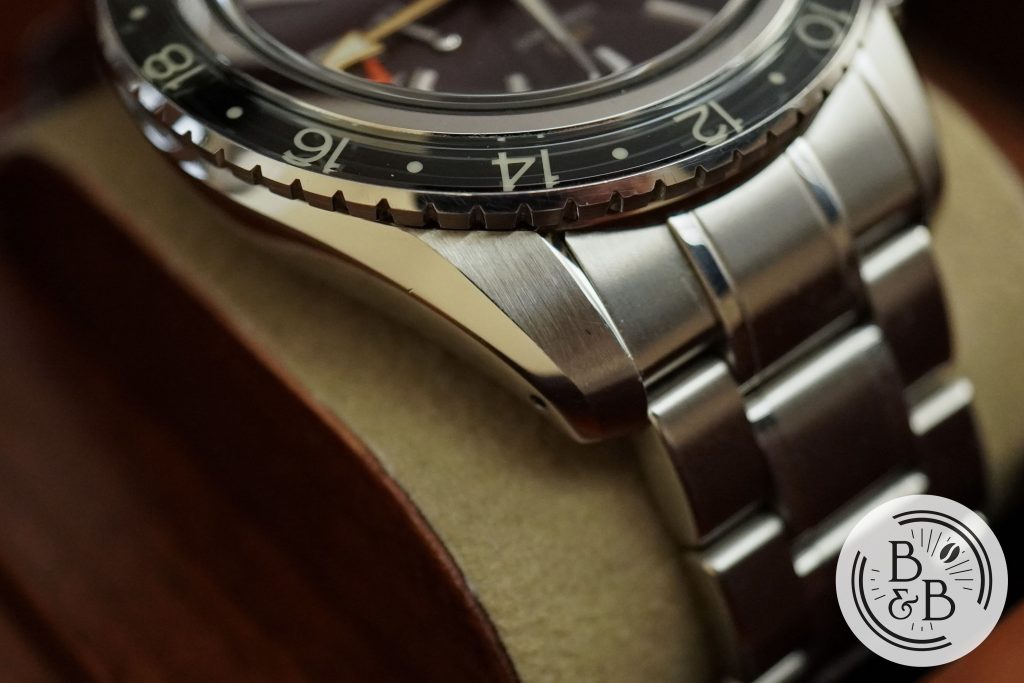 Grand Seiko are magicians when it comes to making large watches wear small, and this comes down to their mid-case and lug designs. The somewhat stubby mid-case extends and curves down into a pair of beautifully polished and brushed lugs that are short and make this watch look very compact. The lug width is 21 mm and in true Grand Seiko fashion, the lugs are drilled through.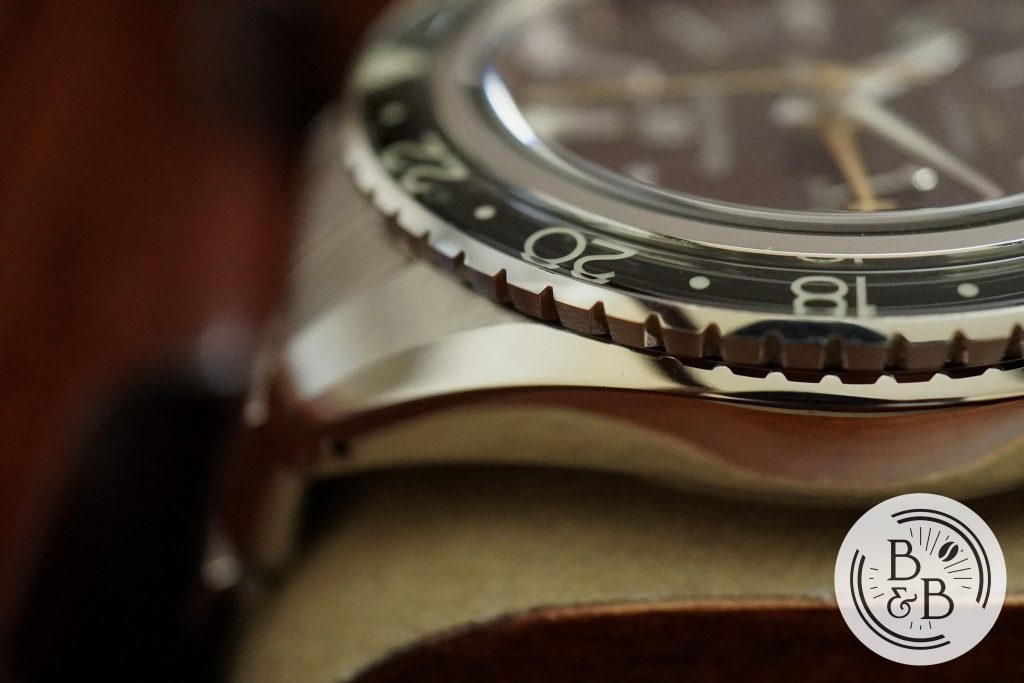 There is a 90 click bi-directional 24-hour GMT bezel that is easy to grip and operate. The bezel action is excellent with solid clicks and no back-play whatsoever. It really doesn't get better than this where bezels are concerned.
The insert is interesting, and appears to have a polished steel base with lumed markers and a sapphire top. The polished base is dynamic, and makes the bezel "invert" based on lighting angles. In both states the bezel remains legible, but this appearance change just adds to the personality of this watch.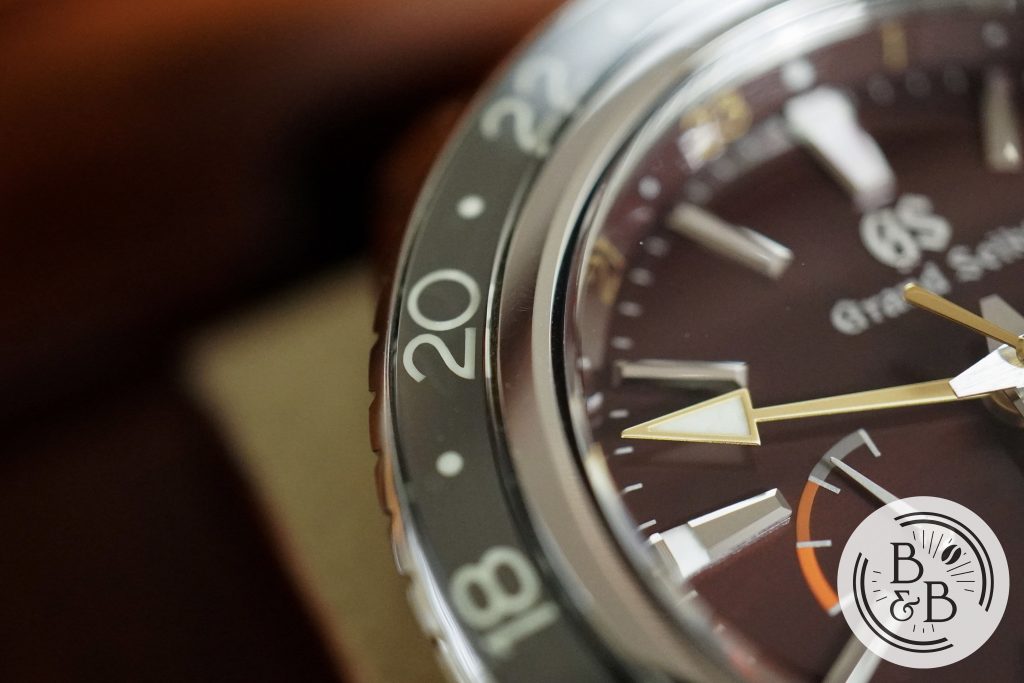 The insert has a polished steel inner ring that looks fantastic, but is also a scratch magnet.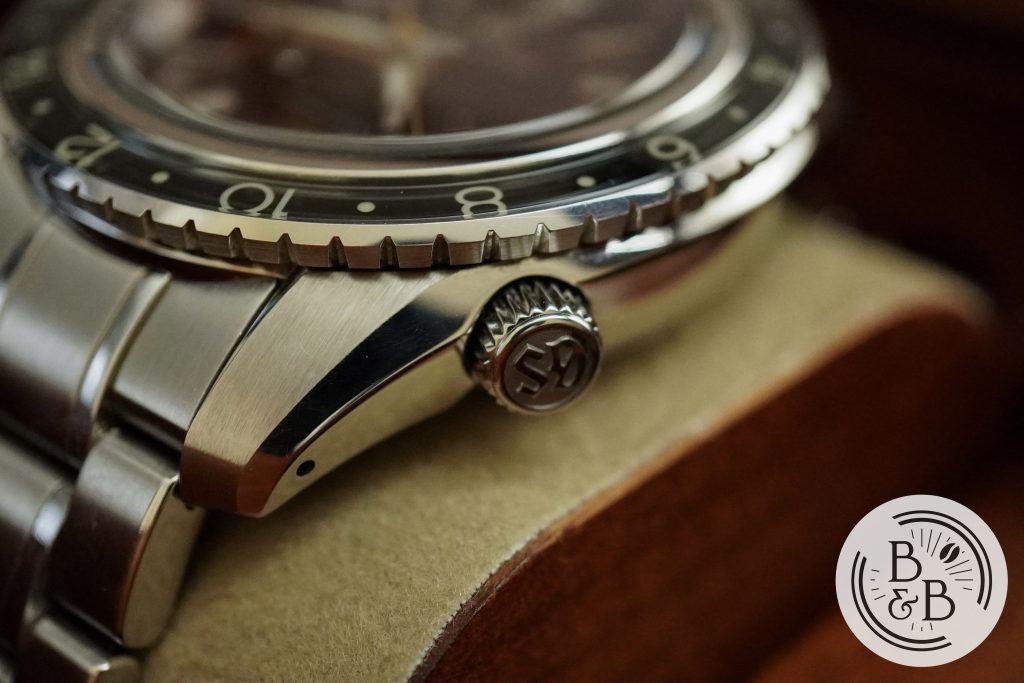 You then have a 5.25 mm screw-down crown at the 4:30 position that is easy to grip and operate. There isn't any crown or stem wobble, and the GS logo is engraved into the top of the crown.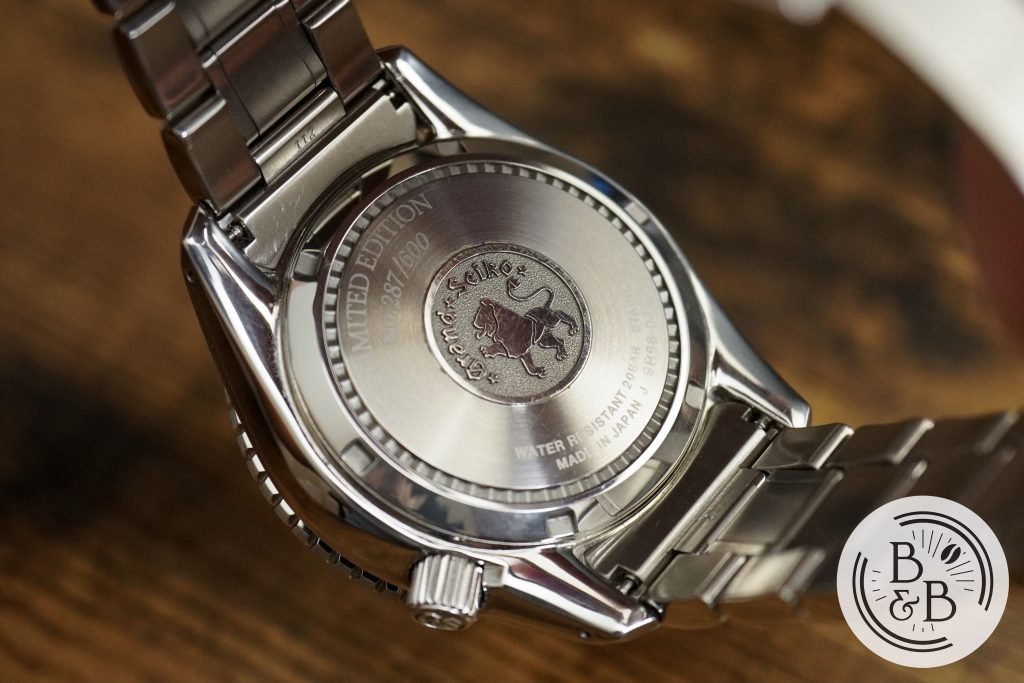 Flipping it over, you have a solid screw-down case-back with some text and the Grand Seiko logo in the center. The case-back is flat and comfortable, and this watch is rated for up-to 200m of water resistance.
---
Dial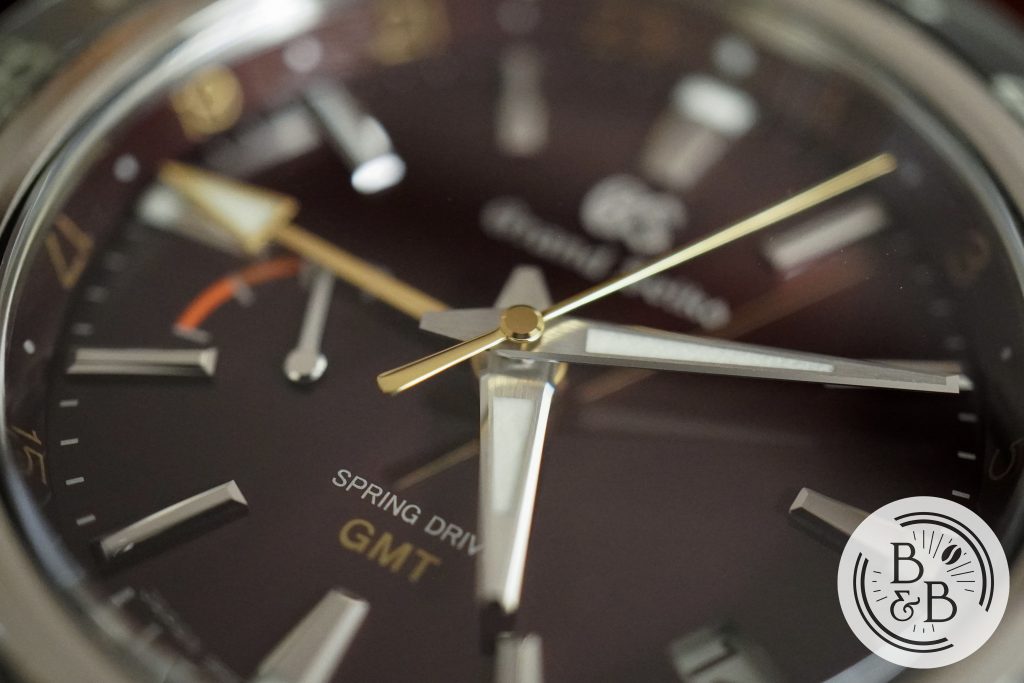 With Grand Seiko watches, the beautiful case design and execution is often matched with a gorgeous dial and exemplary finishing. This watch is no exception, with it's beautiful burgundy dial, gold accents and polished and brushed elements.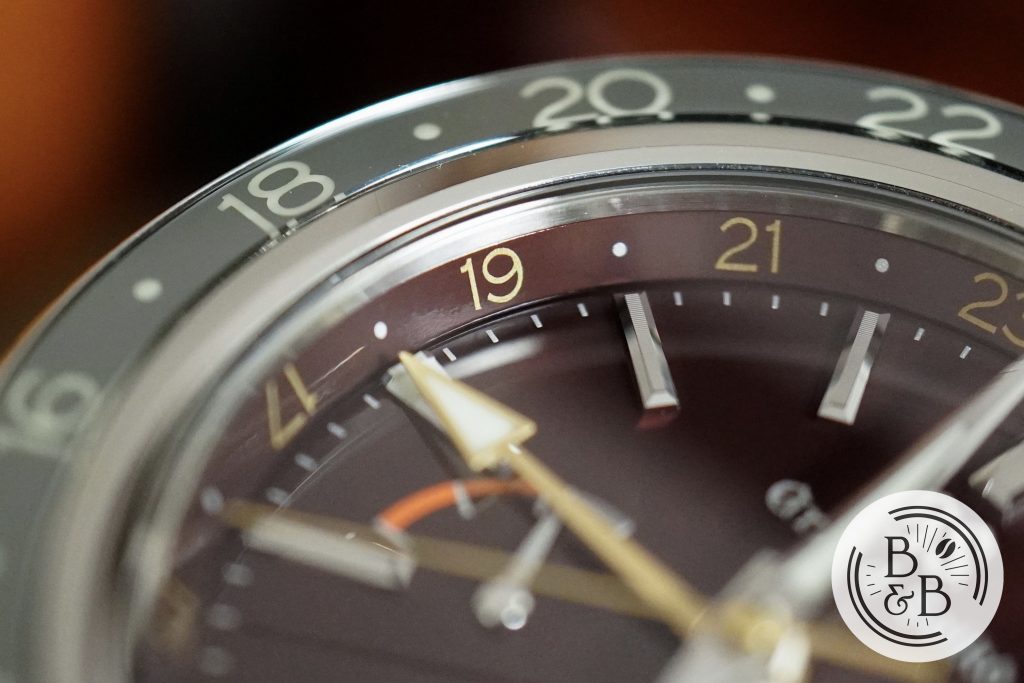 There is a sloped outer chapter ring, whose steep sides add visual depth to the dial. The chapter ring has a dial matched burgundy base with 24-hour markers in gold and white circular pips. The 12 o'clock pip is larger than the rest and is lumed.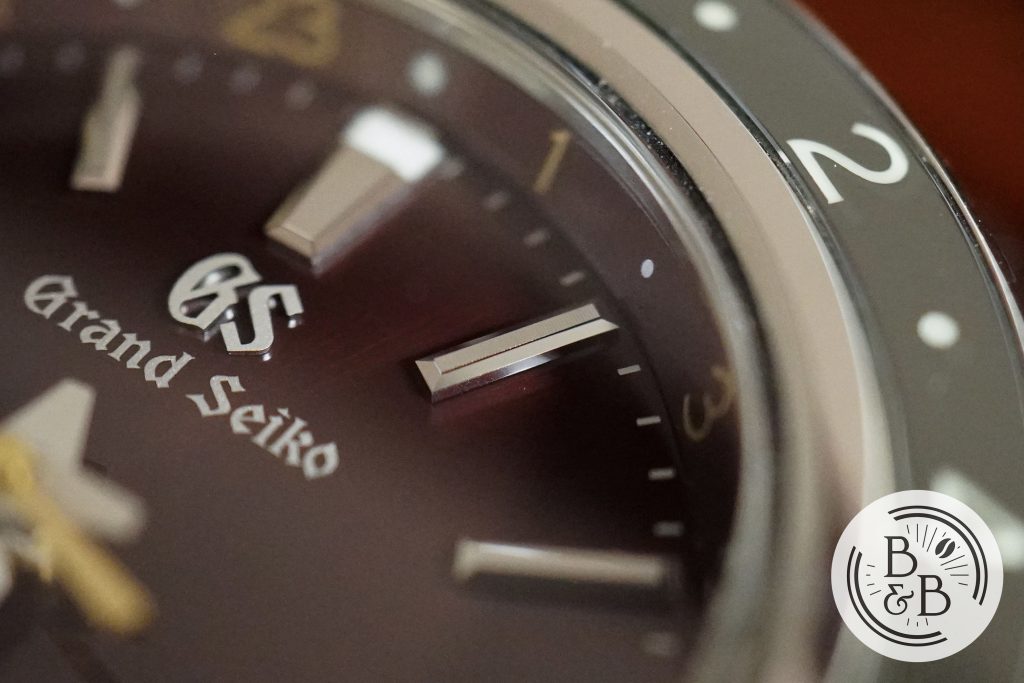 On the dial surface, you have an outer minute track painted in white with short ticks. You then have applied stainless steel indices that have multi-faceted sides and an perfectly executed ridged top surface. The combination of facets and textures makes these indices shimmer under all types of lighting.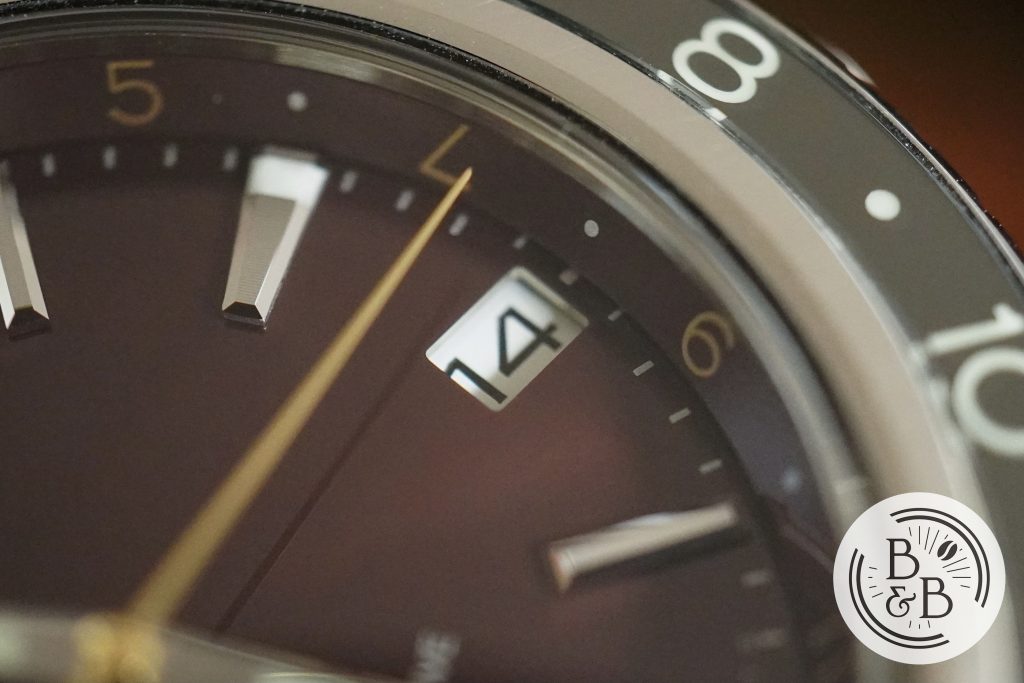 There is an unframed date window at the 4 o'clock position, with a white date wheel and black text. I don't mind the lack of a framed window, but I would've liked to see a dial matched date wheel background.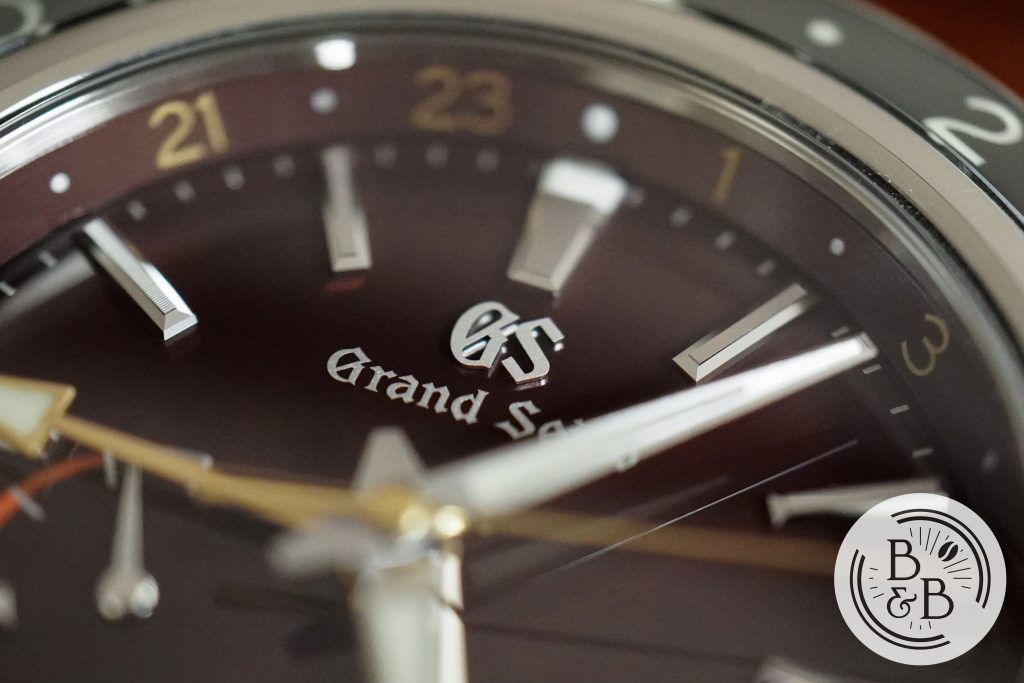 The brand's logo is applied under the 12 o'clock index and the name printed below it. The applied logo looks fantastic, and the printing quality of the font below it is excellent too. Really impressive stuff here!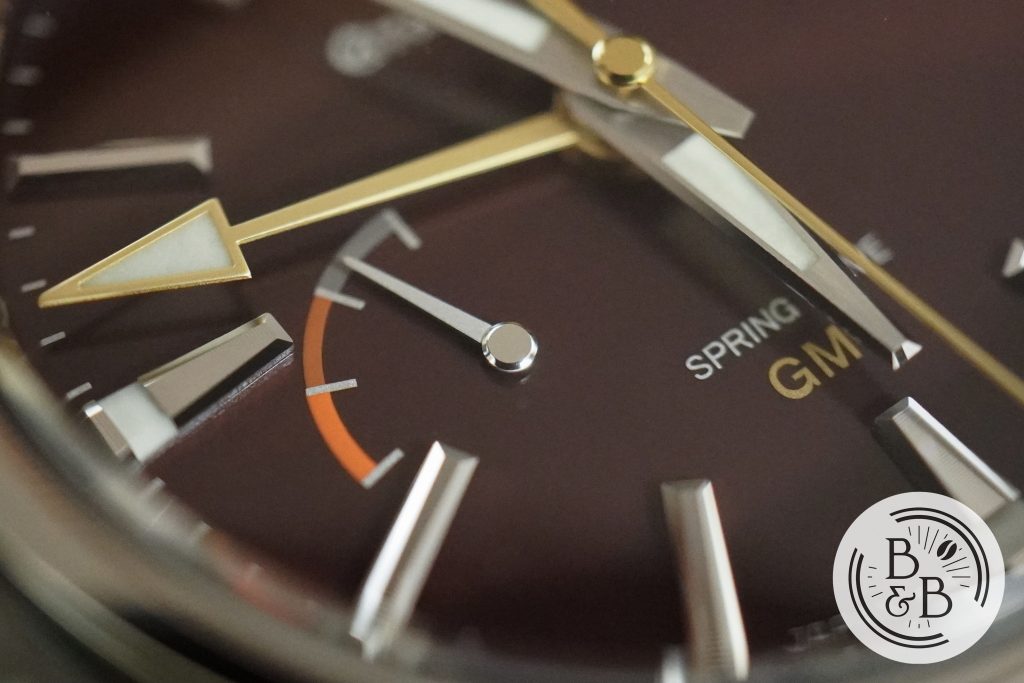 There is a power reserve indicator in the same strange location that Grand Seiko puts all their PR indicators, but I've gotten used to this, and it doesn't seem to bother my OCD anymore.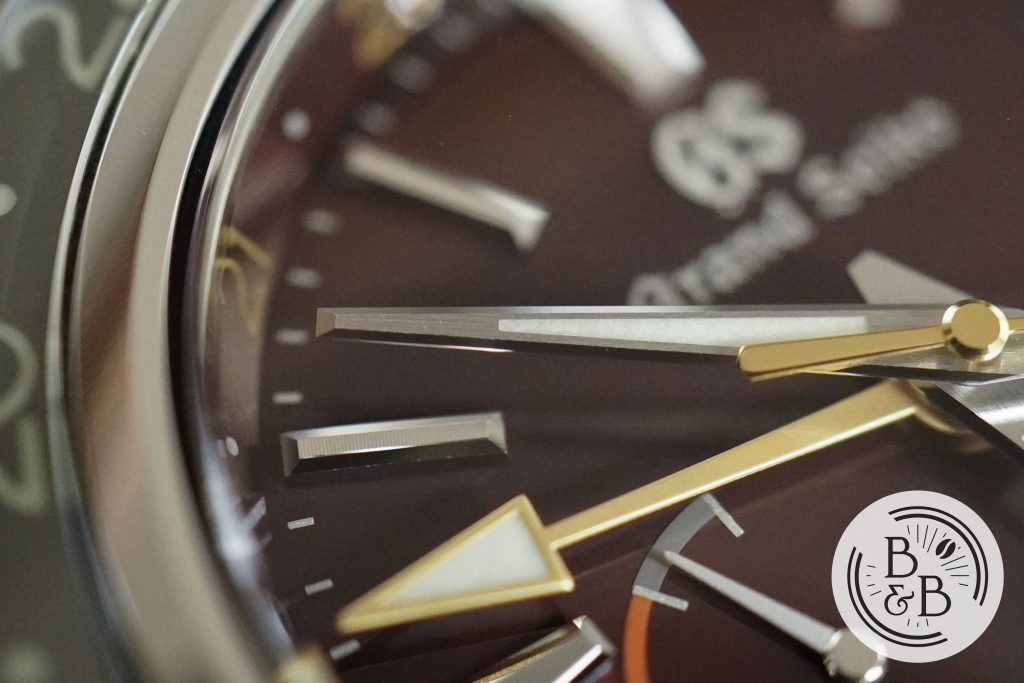 Let's now talk about the hands – the hour and minute hands have polished sides and a brushed top surface with large cutouts that are filled with lume. The finishing is fantastic and these hands look incredible. The proportions are great, and make this watch very easy to read.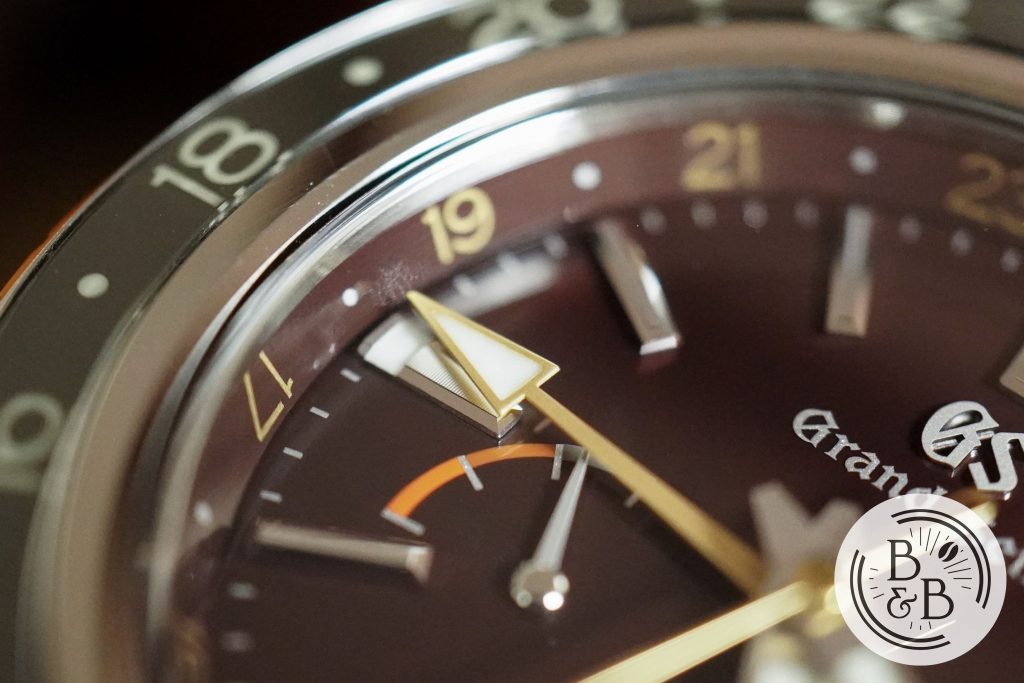 You then have a painted gold GMT hand with a large lumed triangle element. The GMT hand stretches out to the minute track and is easy to differentiate from the rest of the hands.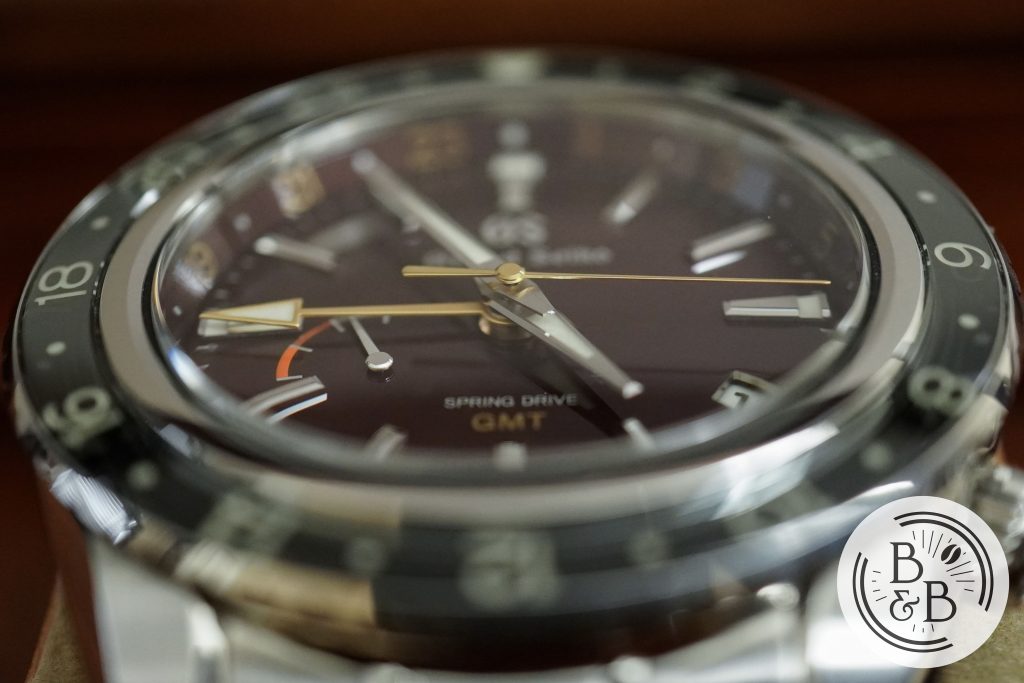 There is a polished gold seconds hand that looks absolutely stunning against the burgundy dial. The aspect of this dial I love the most is the closed and polished cap on the seconds hand. I think this looks amazing, and just screams quality and attention to detail.
---
Lume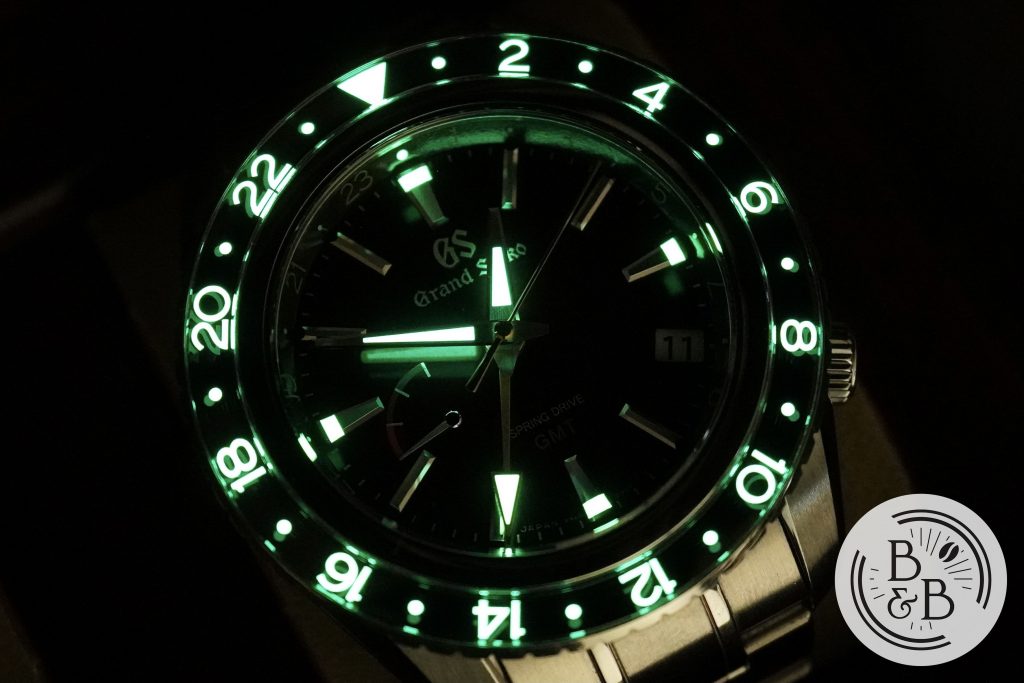 The lume on this watch is excellent, and exactly as you would expect from a Seiko watch. All the lumed elements are Lumibrite – they glow bright and hold their charge very well.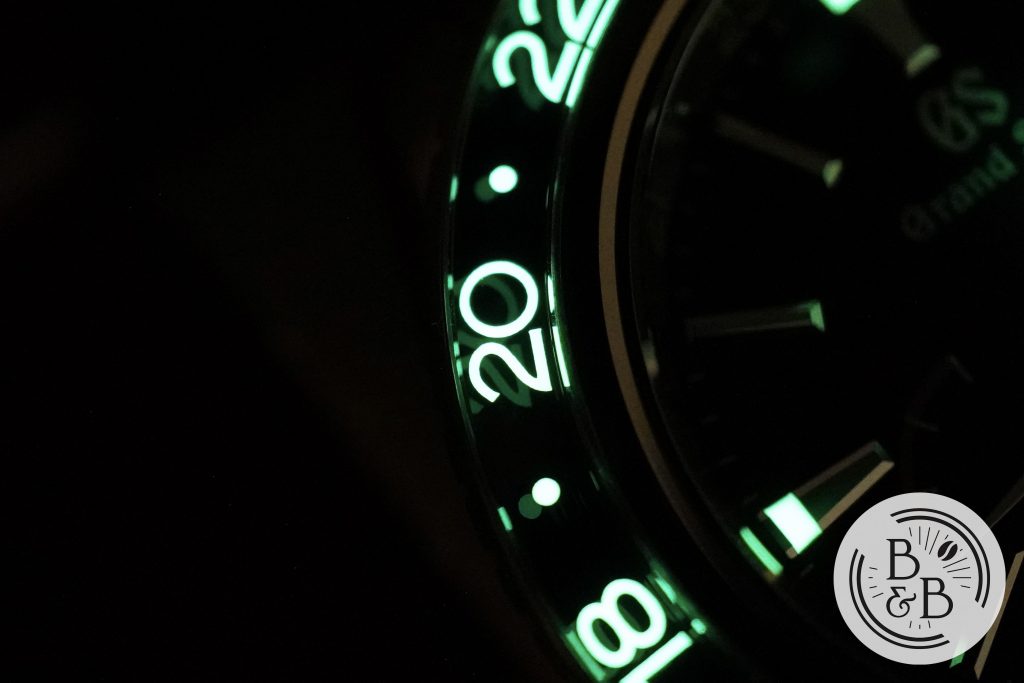 The bezel is my favorite aspect of the lume design, and the same material and design that allows for the bezel appearance inversion, also causes a kind of aliasing due to light being reflected off the sapphire and back onto the polished bezel layer. I think it looks awesome, and these elements hold their charge as well as the dial.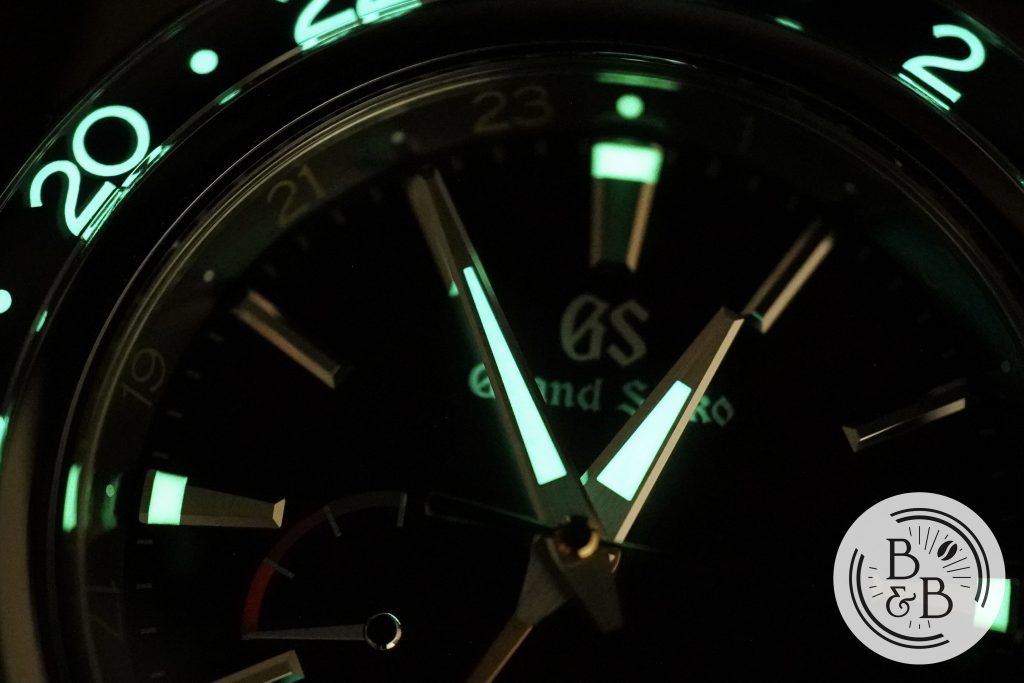 The hands are generously filled with lume too, and have large lume filled sections on the hour hand, minute hand and GMT hand. Unfortunately the seconds hand is not lumed, which hints at the dressy design style of Grand Seiko in general.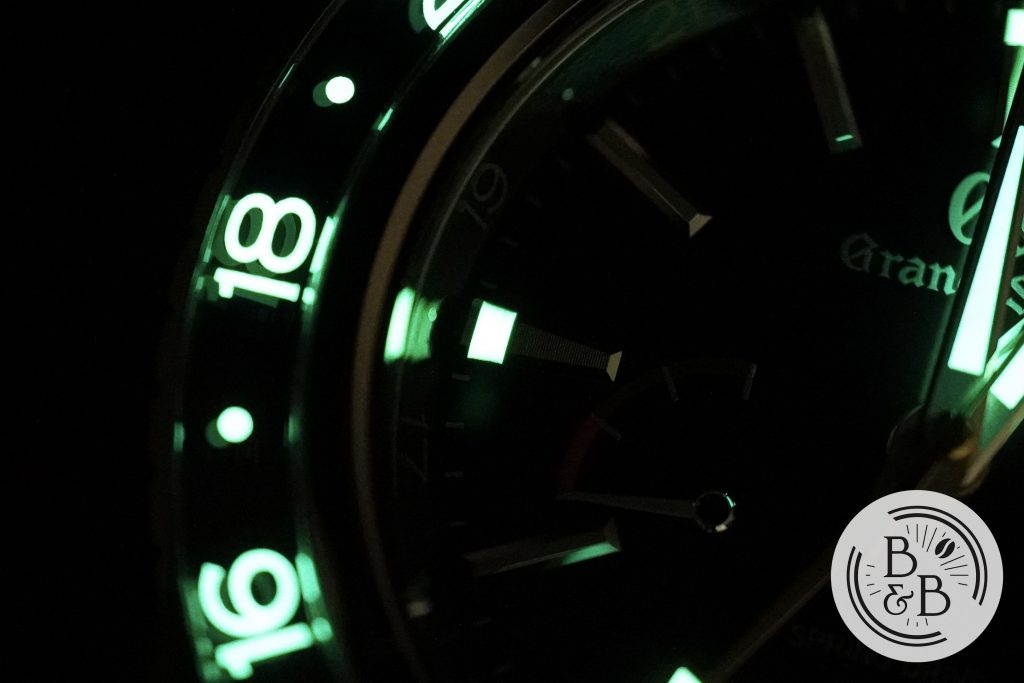 Only the cardinal indices are lumed, which is fine by me, and the rest of the indices catch enough ambient light to stay visible throughout. There is also a lumed pip on the chapter ring at the 12 o'clock position to help orient the watch in the dark.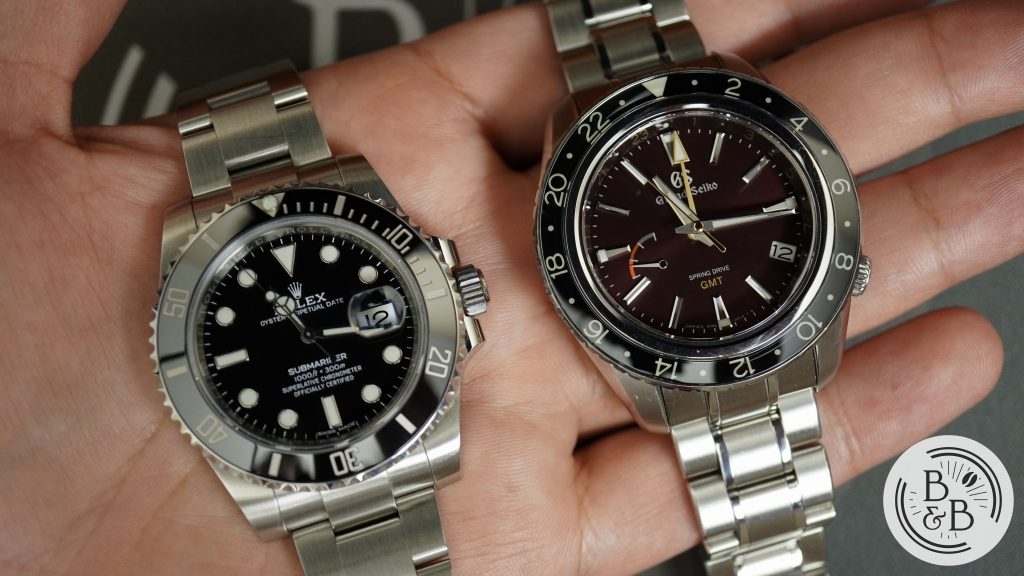 I compared the lume with my Rolex Submariner, and they both perform almost identical to each other. I don't see a clear winner here, but I'll leave that up to you to decide.
---
Movement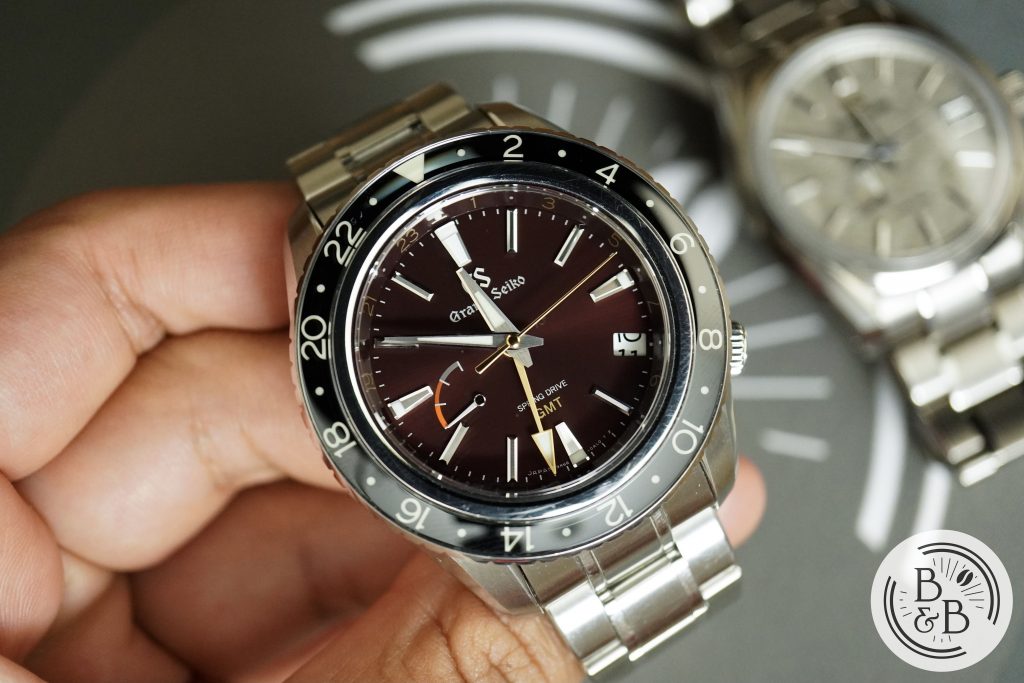 This watch uses the 9R66 Spring Drive GMT movement. This is an automatic movement with a 24-hour GMT hand and a quick-set hour hand. I think this movement really shows off the beautiful gliding seconds hand with it's accentuated gold finish against the burgundy dial. I never get tired of looking at Spring Drive movements work their magic.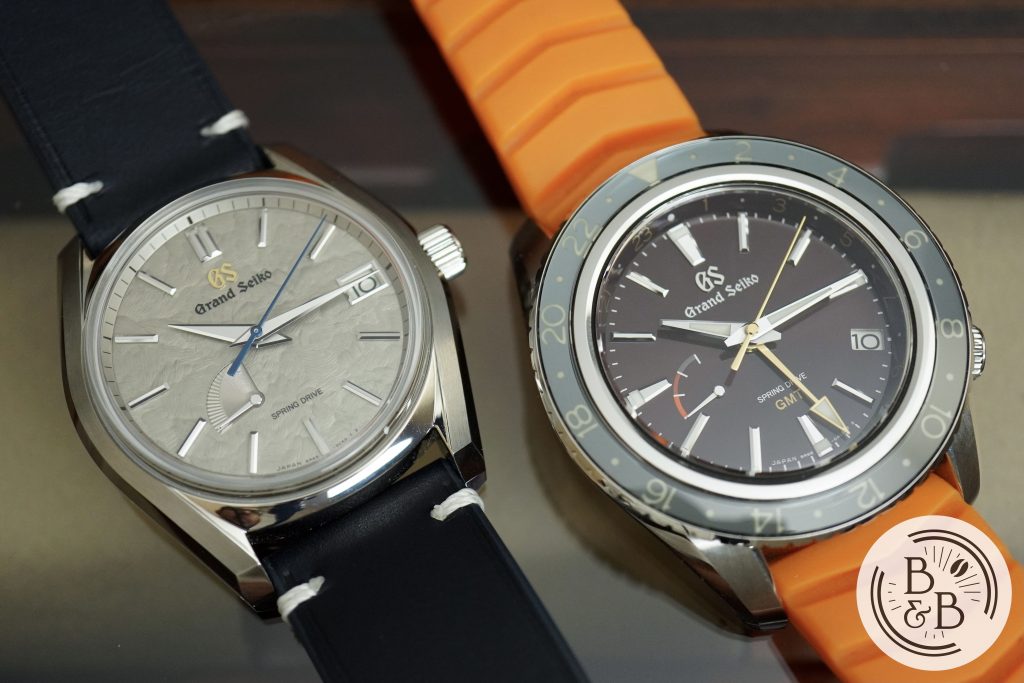 I didn't log the accuracy on this movement, but it looked like it was keeping perfect time, as you would expect from a Spring Drive movement. If you're buying your first Grand Seiko, I highly recommend getting one that's got a Spring Drive in there. You won't regret it.
---
Bracelet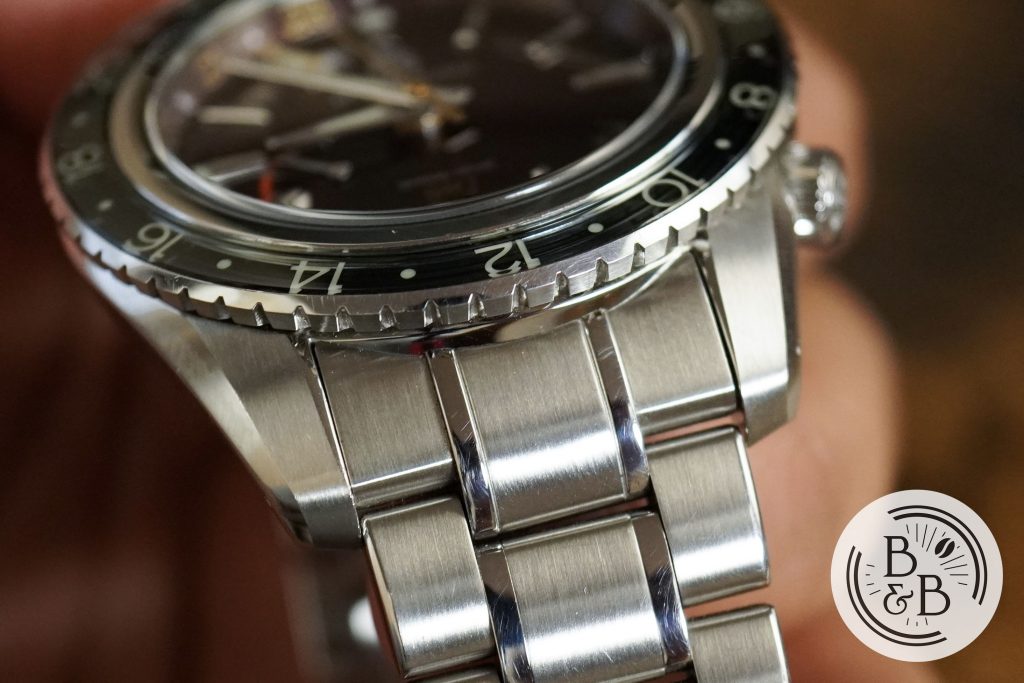 The bracelet is like any other Grand Seiko bracelet, which means you're not going to be blown away by it. The end link fitment on this one is quite good and definitely better than on my SBGA415 "Winter".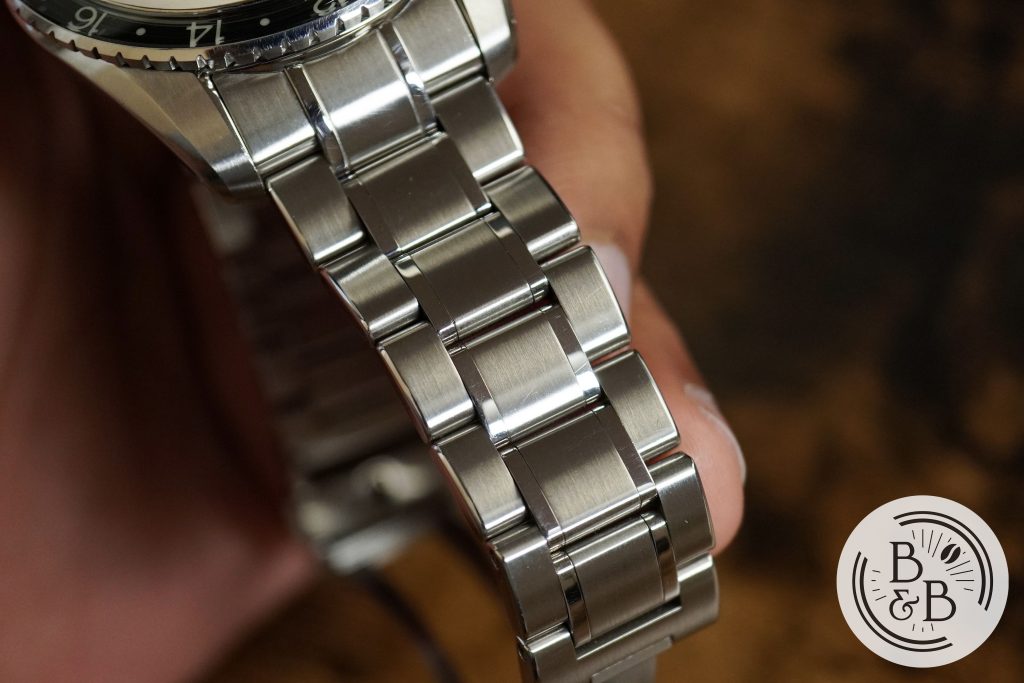 The links are well finished, well designed and drape comfortably on the wrist. The links are held in place by a pin and screw system unlike the pin and collar titanium bracelet on the Winter.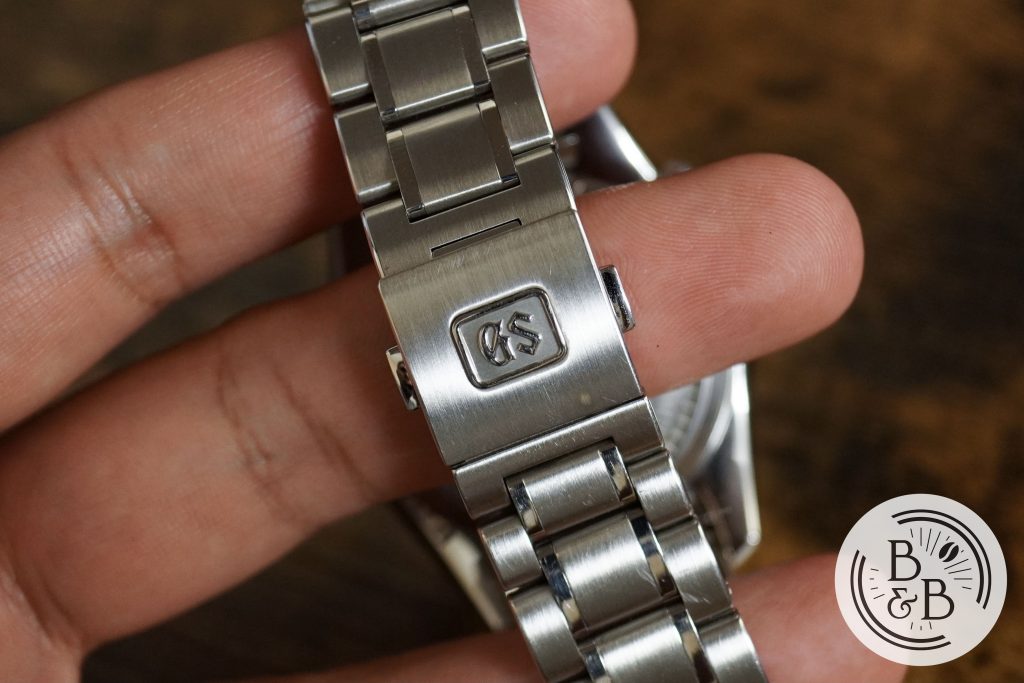 The clasp is standard Grand Seiko stuff, without any micro-adjustments on quick-adjustments. The bracelet has two half links, which should get you close to a perfect fit, but you'll have to allow for some slack in case you have wrists that swell up like mine. In my opinion, if Grand Seiko provided micro-adjustments and quick-adjustments, they can eat into the Rolex sports watch market share quite easily. But until then, this will always be something Rolex does better, along with a handful of micro-brands (Christopher Ward, Halios, Monta, Formex, Zelos).
---
On The Wrist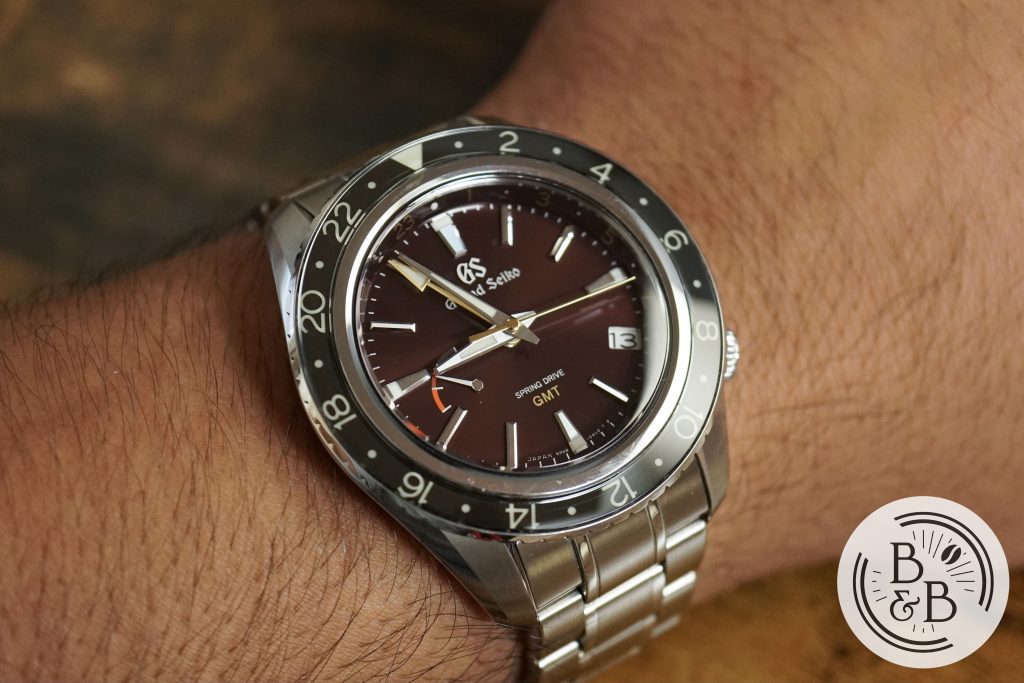 This watch is definitely on the larger side of watches I would wear given my narrow 6.25″ wrists. The 43.5 mm diameter makes for a broad presence on the wrist, but Grand Seiko works wonders with their lug-to-lug measurements and the 50 mm lug-to-lug helps it look good even on my small wrists.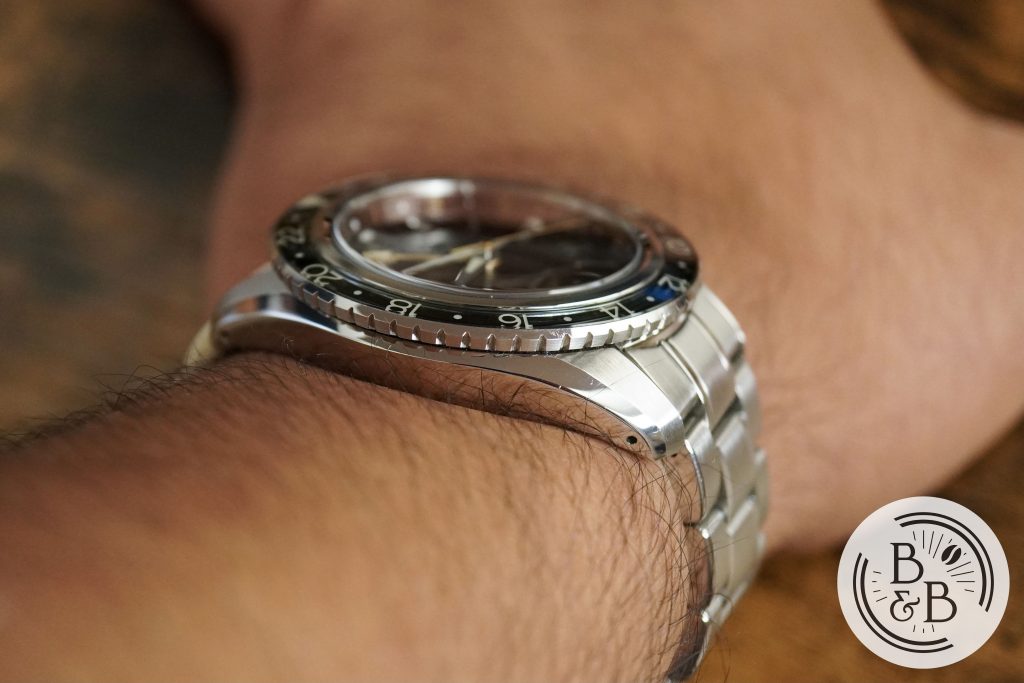 The 14.3 mm height makes it pretty hefty, but the case-back is flat and the overall case shape and weight is well balanced on the wrist. You can expect a sizeable presence on your wrist with this one, but it looks great and feels like a capable sports watch.
---
Concluding Thoughts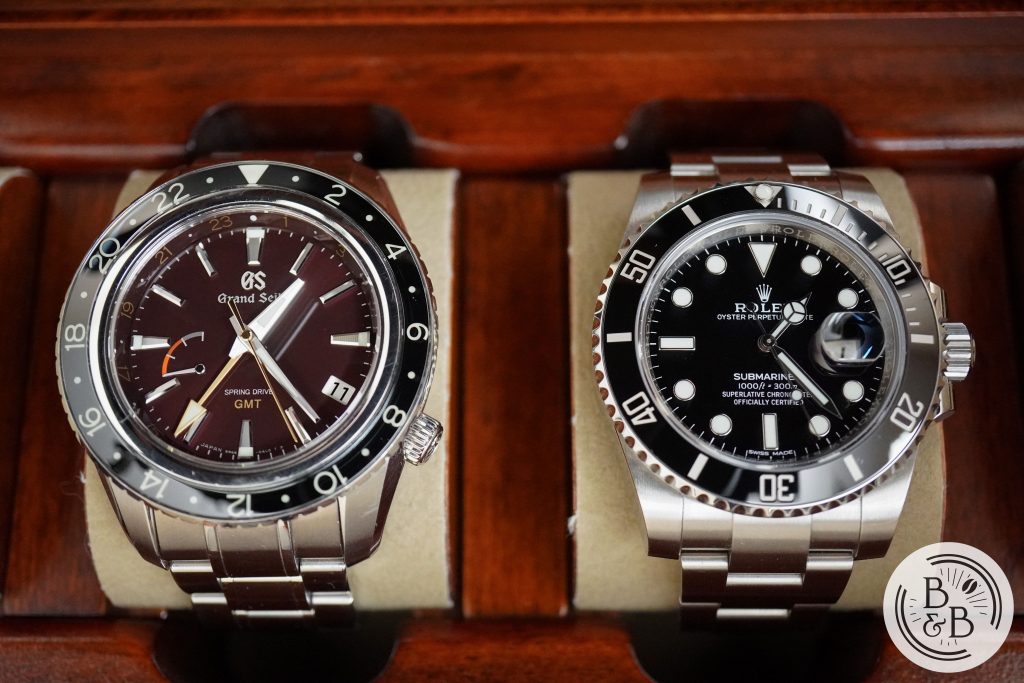 This watch isn't new, and was a limited edition, so you're unlikely going to find one brand new at a store today. But if you find one on the pre-owned market and you're considering it, I think it's a great option. The deep but subtle dial color is hard to capture in photographs, and the dynamic bezel doesn't help either. But this watch just oozes class with it's tasteful combination of gold and burgundy, and the rest of the watch is very well built and well finished.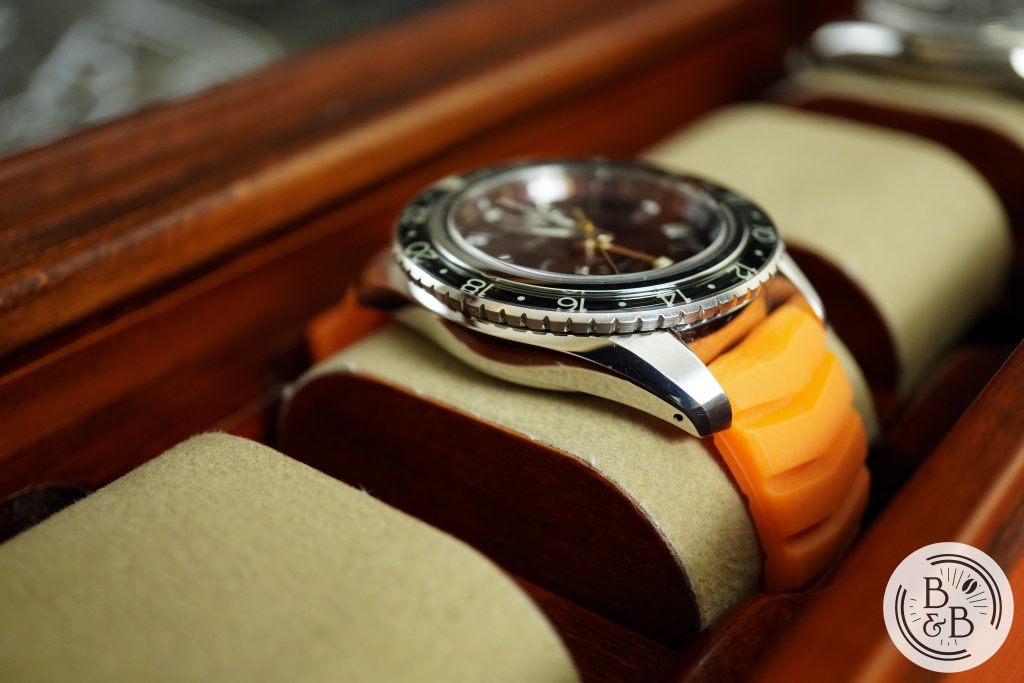 You're unlikely to find another GMT sports watch that looks this good in the $6000 price range. And once the $6800 SBGJ237 is discontinued, I don't think we'll see watches like this from Grand Seiko in this price category again, given that their latest Quartz 9F GMT watches are between $4500-$5500.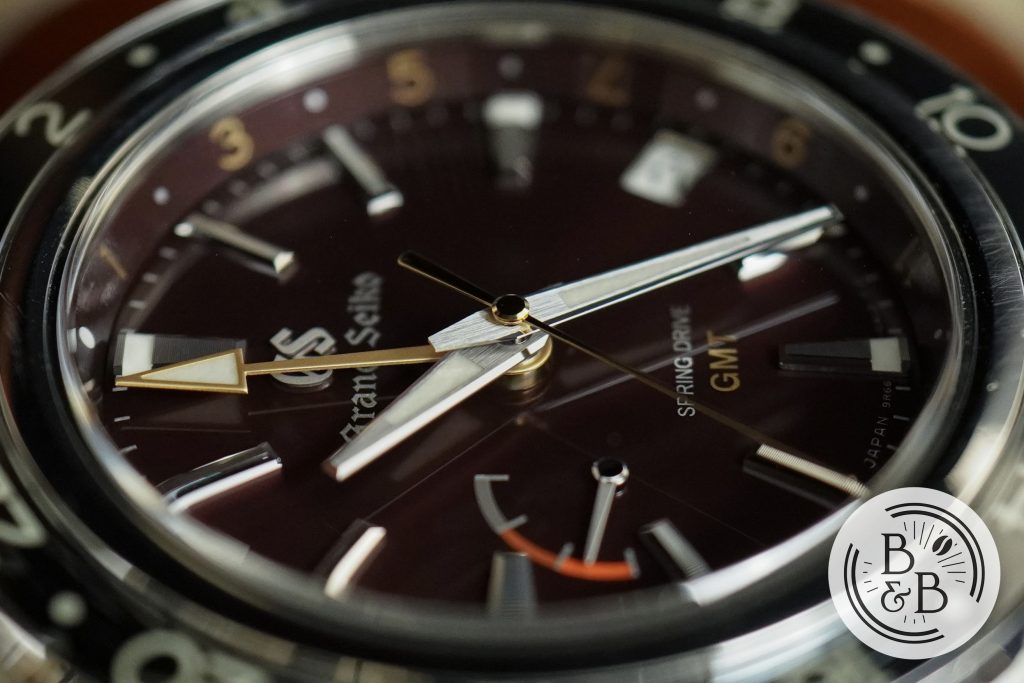 And finally, I prefer these sapphire bezel GMTs to the recently released ceramic fixed bezel GMTs. Those look good in pictures, but I found them to look a bit 'cheap' in real life. Perhaps the colorful ceramic bezels were a bit overdone, or maybe it's just not my taste.
---
Thanks for reading!