---
Disclaimer: I borrowed this watch from a friend (thanks Anil!), who recently purchased it brand new. This review is in no way sponsored by Seiko, or any other entity.
---
---
Contents
---
SLA03 & Marine Master 300
The Seiko Marine Master 300 is an iconic dive watch design from the house of Seiko, and is one that I tend to appreciate more than some of their other divers like the Turtle or the Tuna. This watch family was always somewhat of a forbidden fruit since the size made me cross it off all my purchase lists. But a friend of mine recently bought this special edition (!), limited edition (!), US market exclusive (!) SLA053 and loaned it to me, and is one of only 500 units produced. The exclusivity means nothing to me, and doesn't mean much to Seiko and Grand Seiko either, so let's just focus on the watch for now.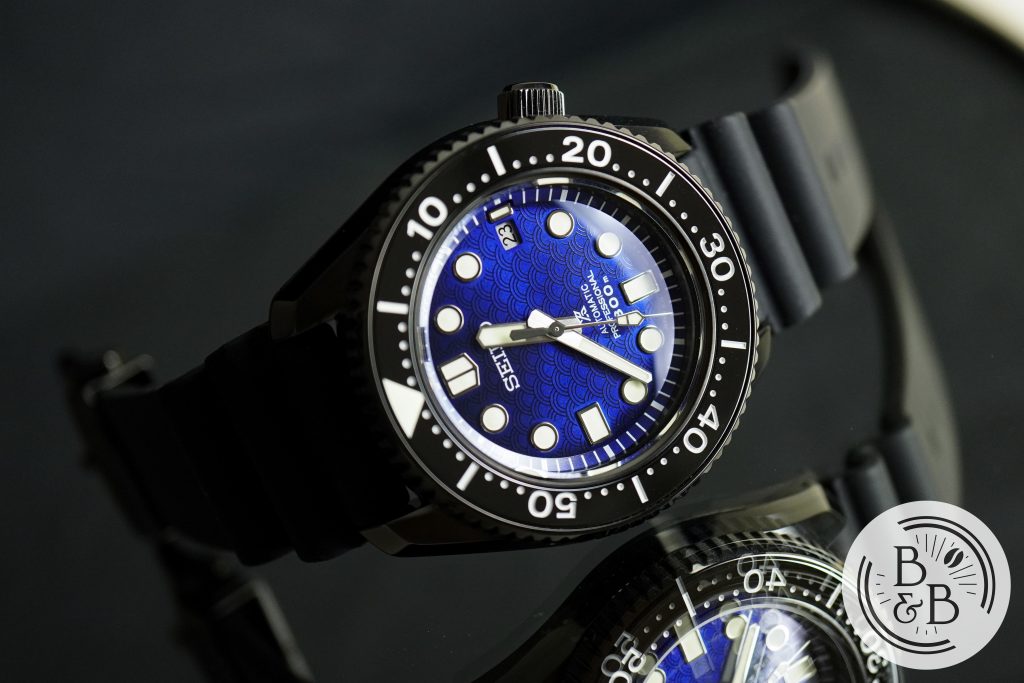 This watch was released along with a steel case burgundy dial SLA059, but that one is not limited in quantity, and only to region. This SLA053 has a retail price of $3200 and ships with a silicone strap, and the SLA059 has a retail price of $3300 and ships with a metal bracelet. Both watches ship in a box that isn't as terrible as the rest of Seiko's packaging, and come with matching cuff-links. Luxury, anybody?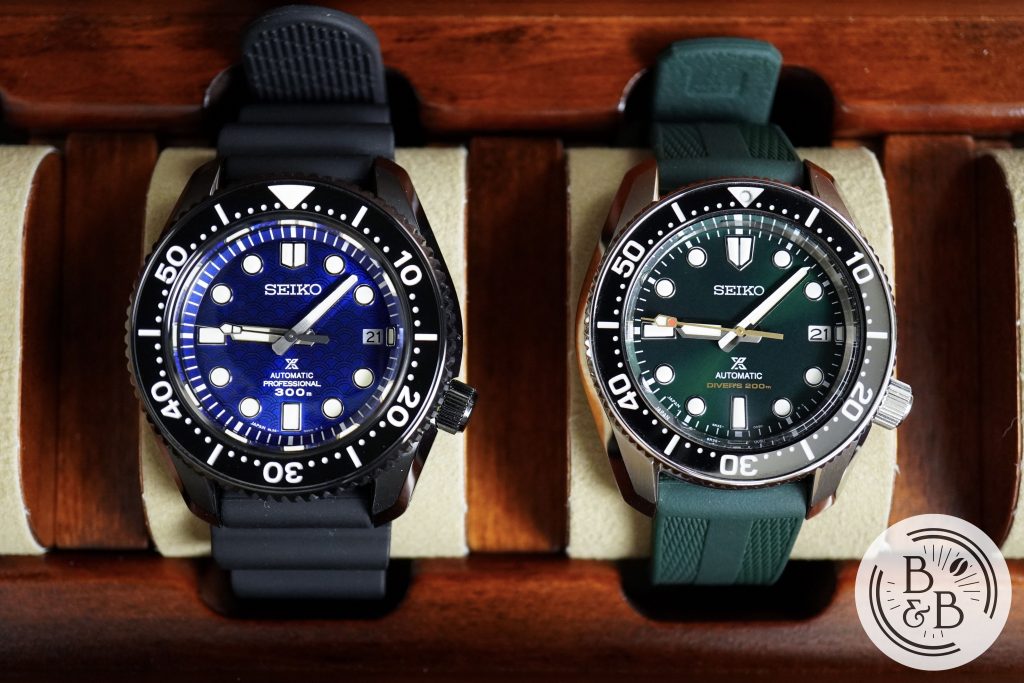 And since I recently purchased this SPB207J1, the mini version of the MM300 design for modest wrists and at a more modest price, I will throw in some comparisons wherever relevant.
Let's check it out!
---
Case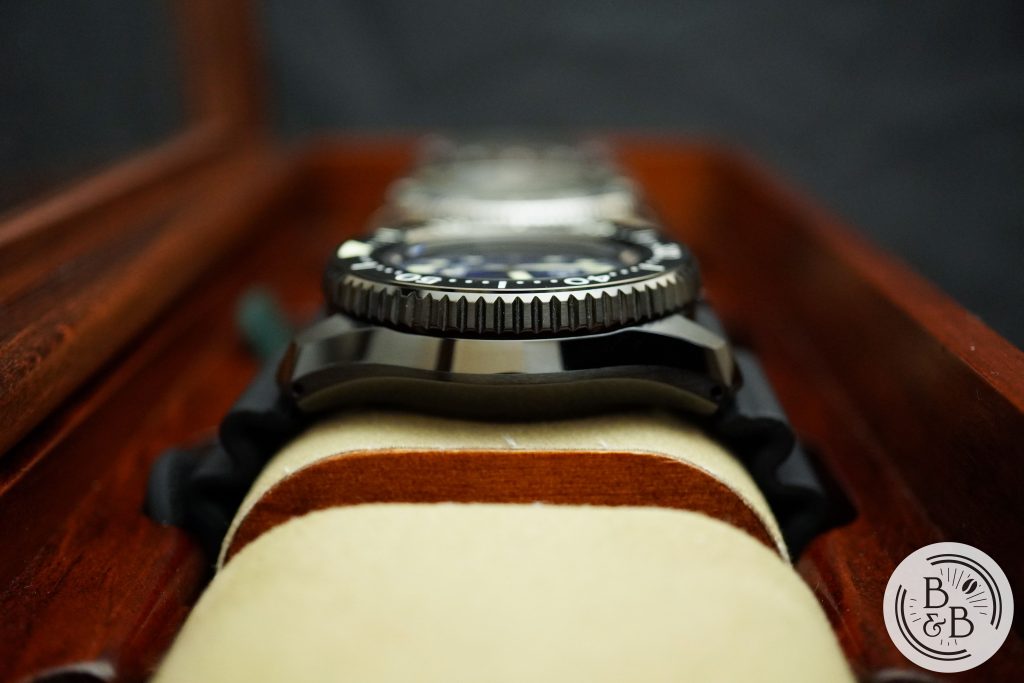 I measured the case to be 43.5 mm in diameter, 49 mm from lug-to-lug and 15.25 mm tall. The case is made of stainless steel and coated with Seiko's black hard coating. I find the case finishing on my SPB207J1 to be excellent, but this watch is finished to a much higher standard, and is identical to what you'd find on a comparable Grand Seiko.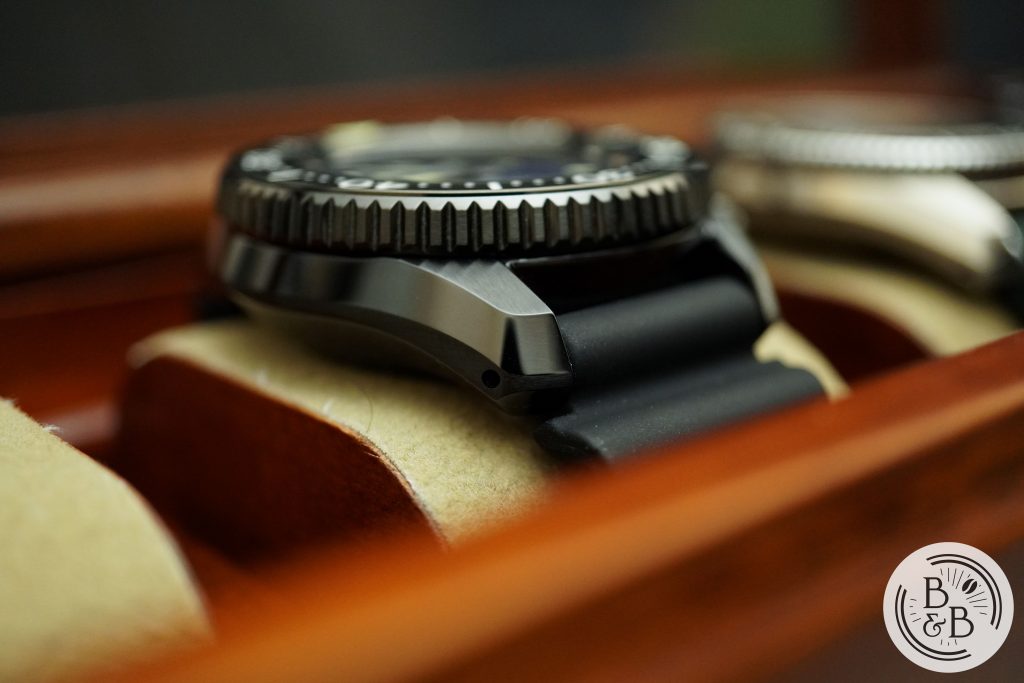 The chunky mid-case has beautiful polished and brushed surfaces that run along the length of the entire case and curve down into a pair of short lugs. The lugs have brushed top surfaces and polished sides. The lugs are drilled through and the lug width is 22 mm.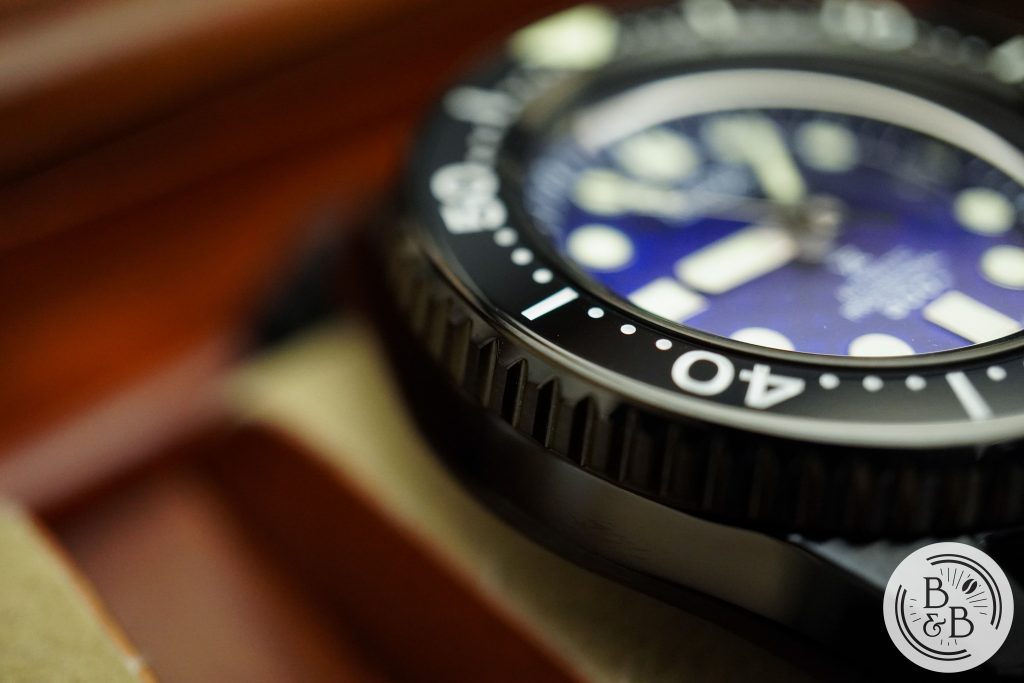 The bezel section makes up for a significant fraction of the entire case height, at around 4.75 mm. The bezel is easy to grip and operate, and the bezel action is rubbery like other Seiko and Grand Seiko divers. I don't love it, but I think it has become somewhat of a definitive Seiko design element. There isn't much wiggle or back-play and it seems to align well.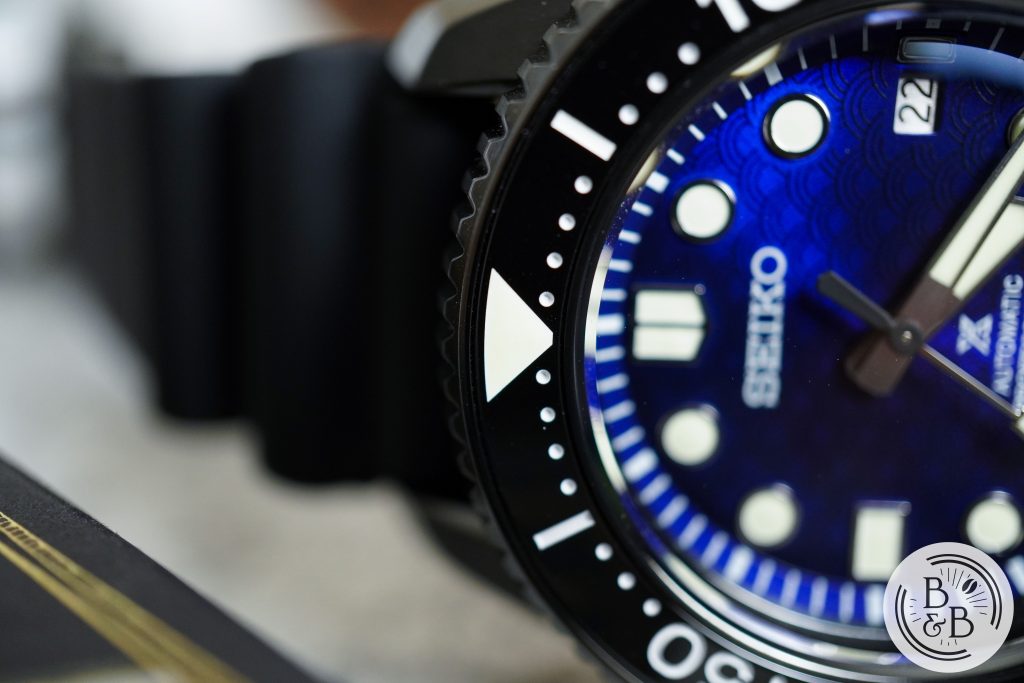 The bezel has a black ceramic insert, instead of the hardened steel material they use on their other watches. I prefer the ceramic and I think it looks a lot nicer, and doesn't stain weirdly like the other one does.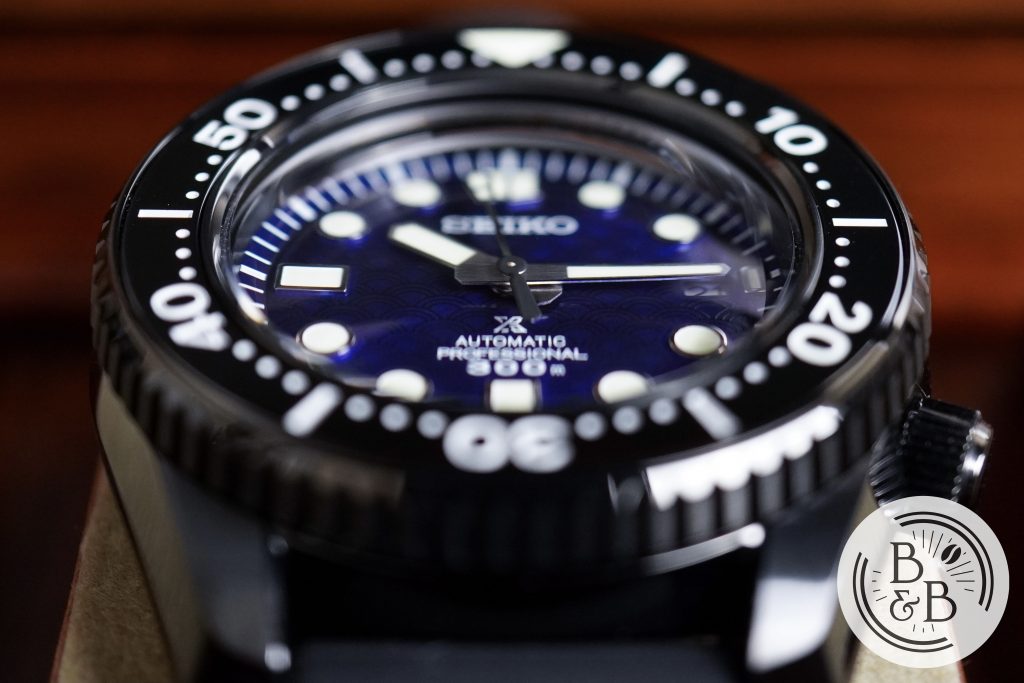 The crystal on the SPB2017J is raised slightly above the case and has a beveled edge, whereas the SLA053 is slightly recessed and seems to have more distortion – perhaps a single domed crystal? I love this effect, and together with the deep dial, it looks incredible.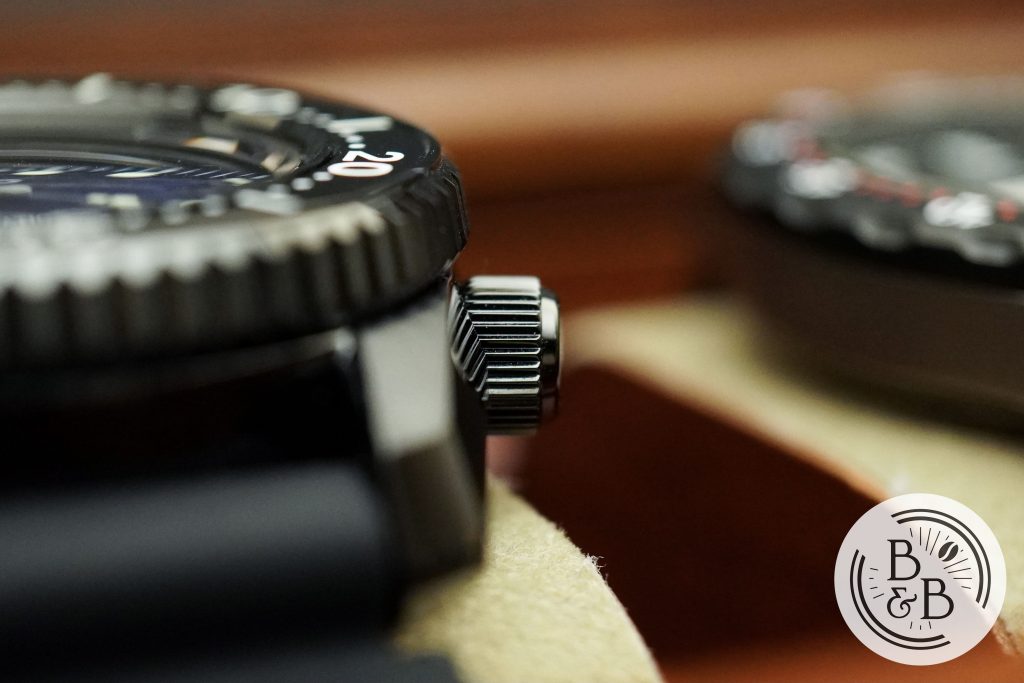 There is a 6.25 mm crown at the 4 o'clock position that is easy to grip and operate. I think the crown action feels a little less secure compared to my SPB207J1 and there's a bit of wobble at the top of the crown head when the crown is out. This seems to be a common occurrence with Seikos, but is more superficial and nothing to worry about.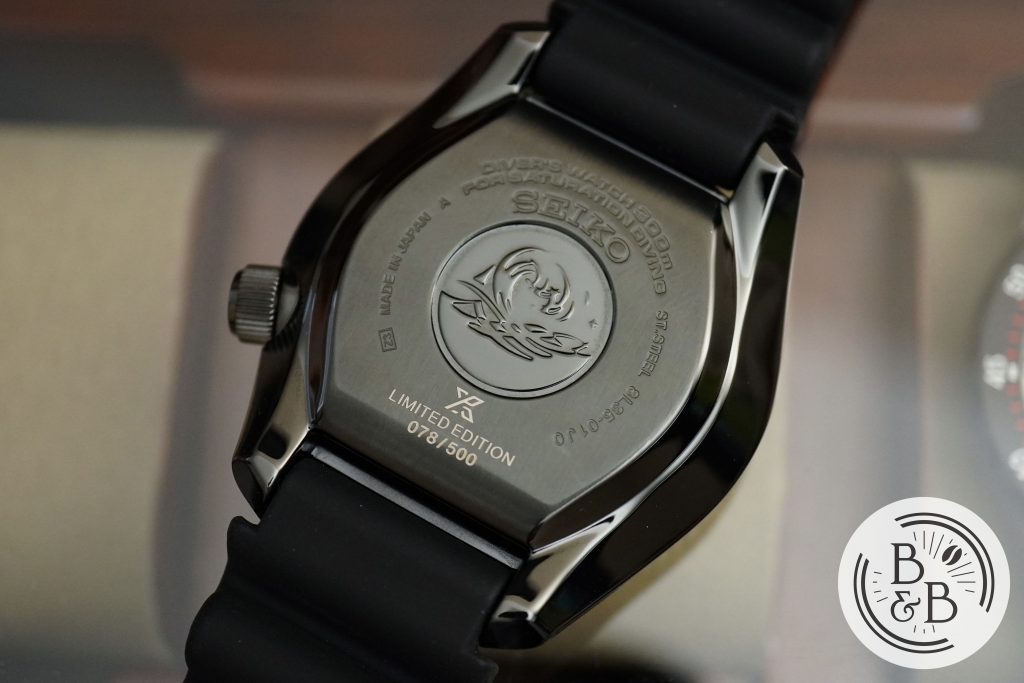 Flipping it over, you have no case-back, and that is one of the more interesting design choices made on the MM300. This is a monocoque case, and the entire watch is assembled from the top. These watches are slightly more complex to service since there are fewer points of entry, but that also made it more robust to pressure. This watch is rated for up-to 300m of water resistance.
---
Dial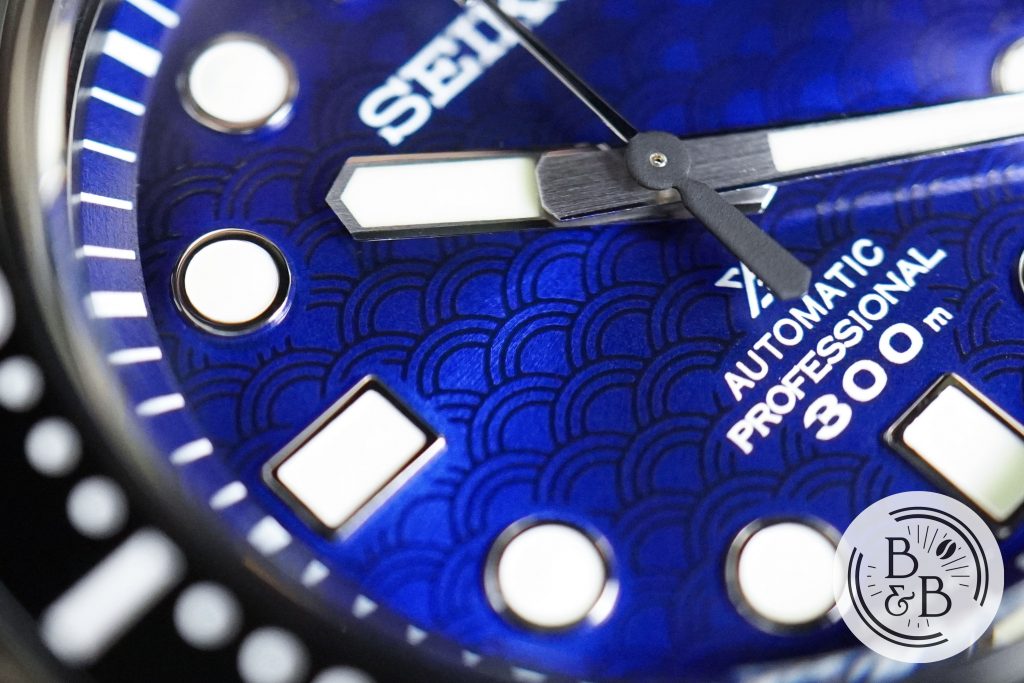 The dial on this watch is spectacular. You might be thinking that this looks like any other Seiko mod job, since the Seigaiha pattern is pretty common among the modding community. But the deep blue color, the brushed finish of the dial and the wave pattern look fantastic in person. The deep case and almost vintage feeling crystal make this look even better. I read that Seigaiha translates to "blue sea and waves", and I can't think of a better execution of this pattern. Well done Seiko, you win this round.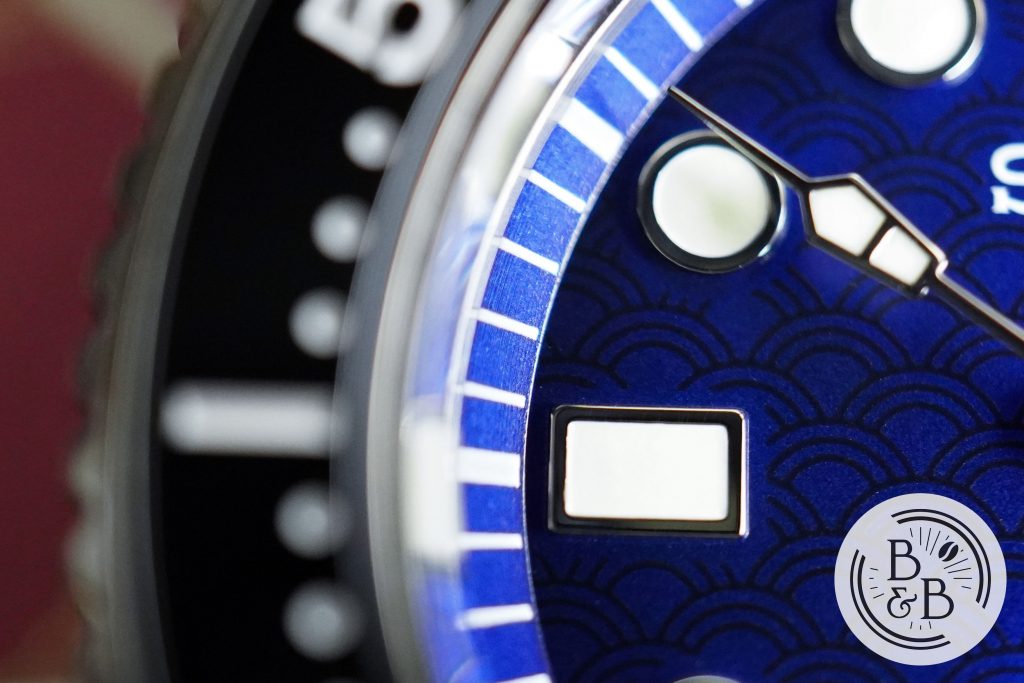 There is a blue sloped chapter ring with white markers. The chapter ring seems to line up perfectly, and the printing quality and color is spot on.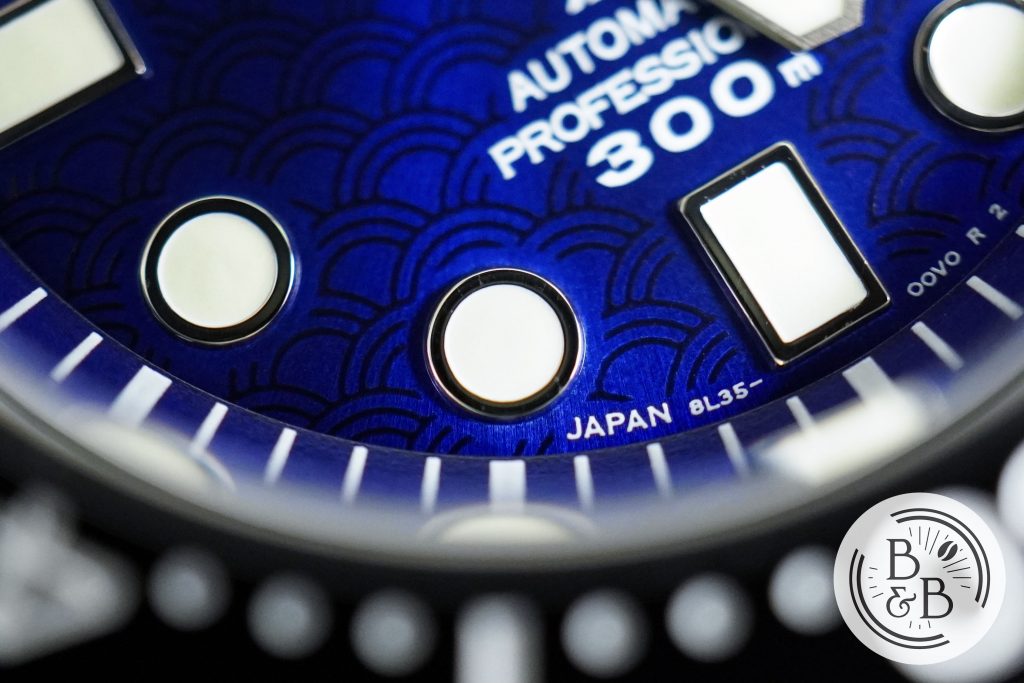 You have raised indices for all the hour markers, that are finished well and generously filled with lume. I noticed one marker that had a bit of lume spill over onto the borders, but it isn't noticeable unless you pull out a loupe or macro lens.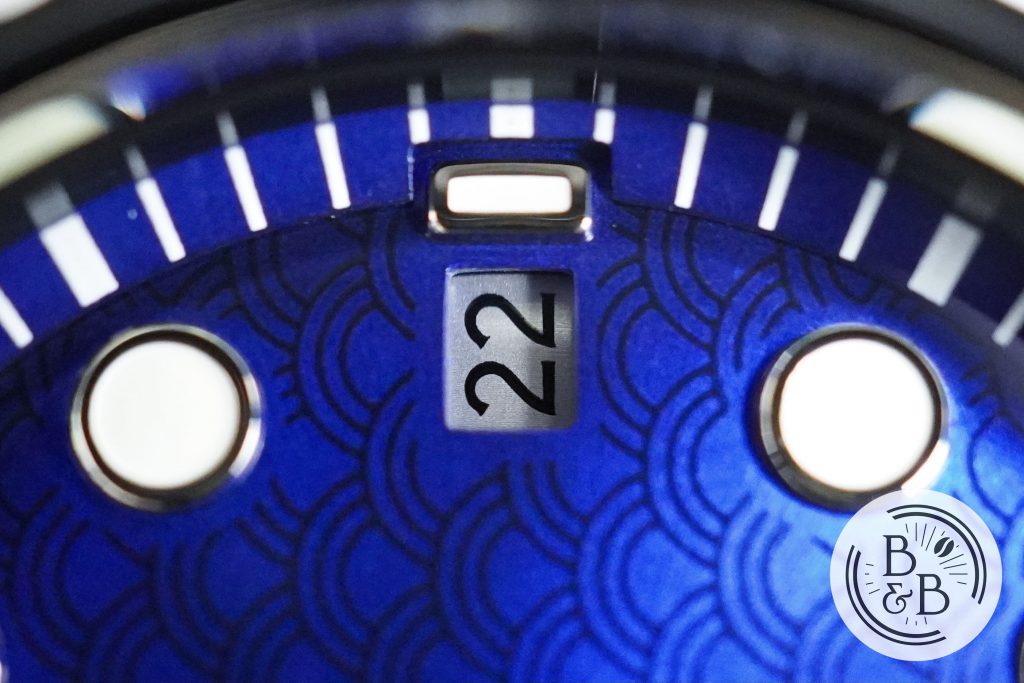 There is a date window at the 3 o'clock position with a brushed silver date wheel and black text. This looks a lot more premium than the date wheel on my SPB207J1. I don't like the fact that they cut into the chapter ring to place the amputated hour index. I understand that this watch needs to meet the new ISO requirements, but I think there are better ways to do this with some more design thinking.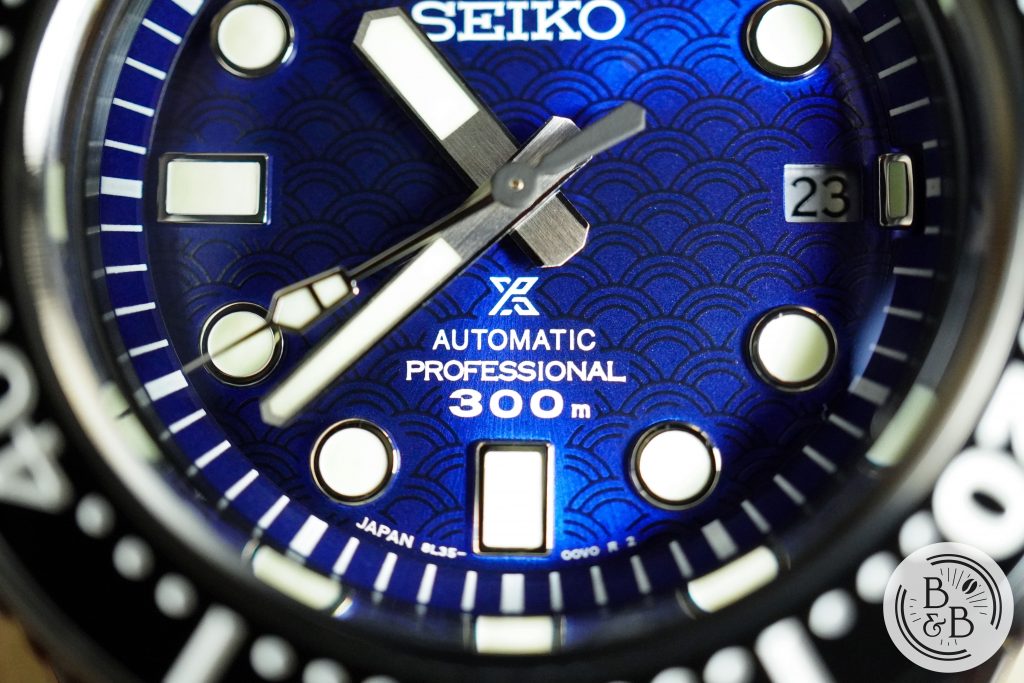 The brand's name is printed below the 12 o'clock index and some text above the 6 o'clock index. The quality of printing isn't the greatest, and a slight let down for a $3200 watch. But again, this is only visible through a loupe or macro lens.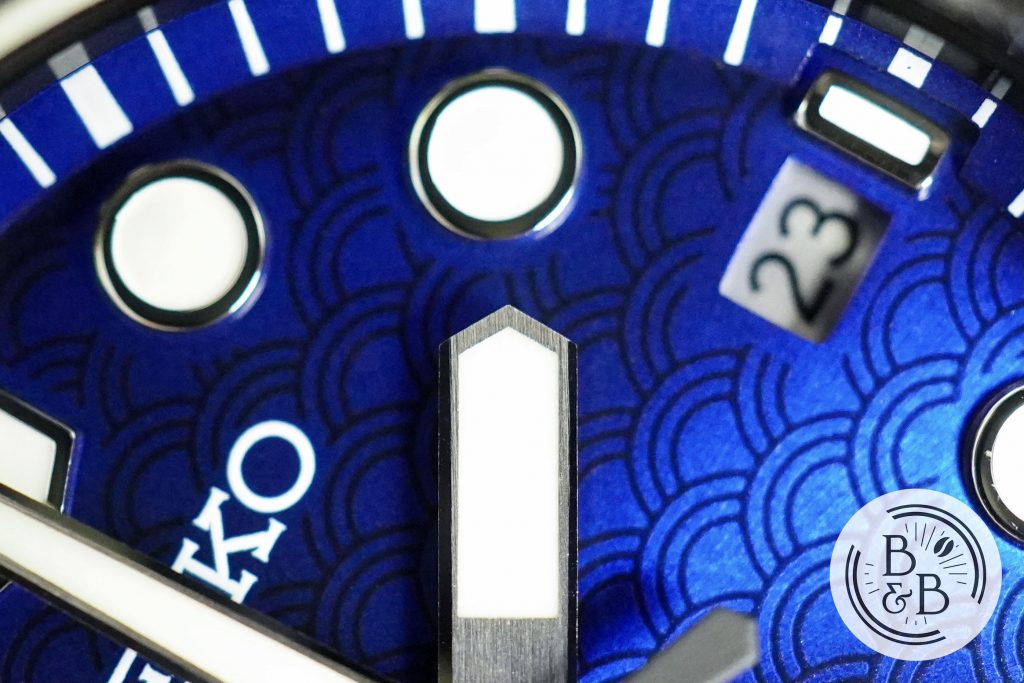 The handset is excellent, and true to the MM300 design style. They are bold, legible and very generously filled with lume. The hands are primarily brushed, with narrow beveled edges. The finishing on the hands is excellent and very close to the type of finishing you'd find on a comparable Grand Seiko diver.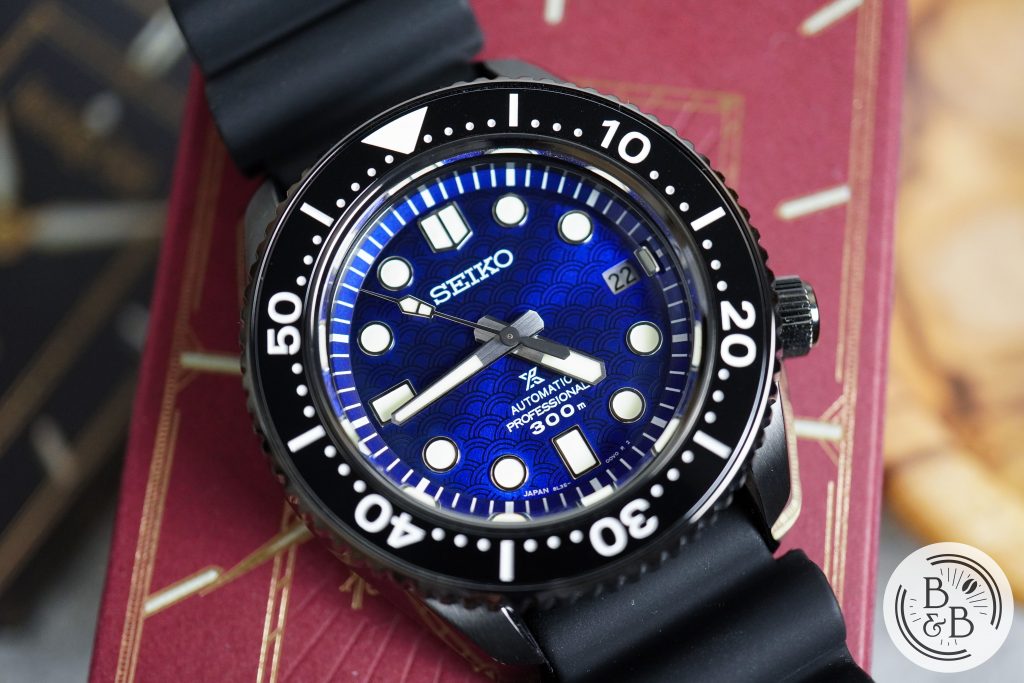 The seconds hand also has a large lumed section and is easy to read. I would've preferred a slightly longer minute and seconds hand, but this is true to the original design I believe.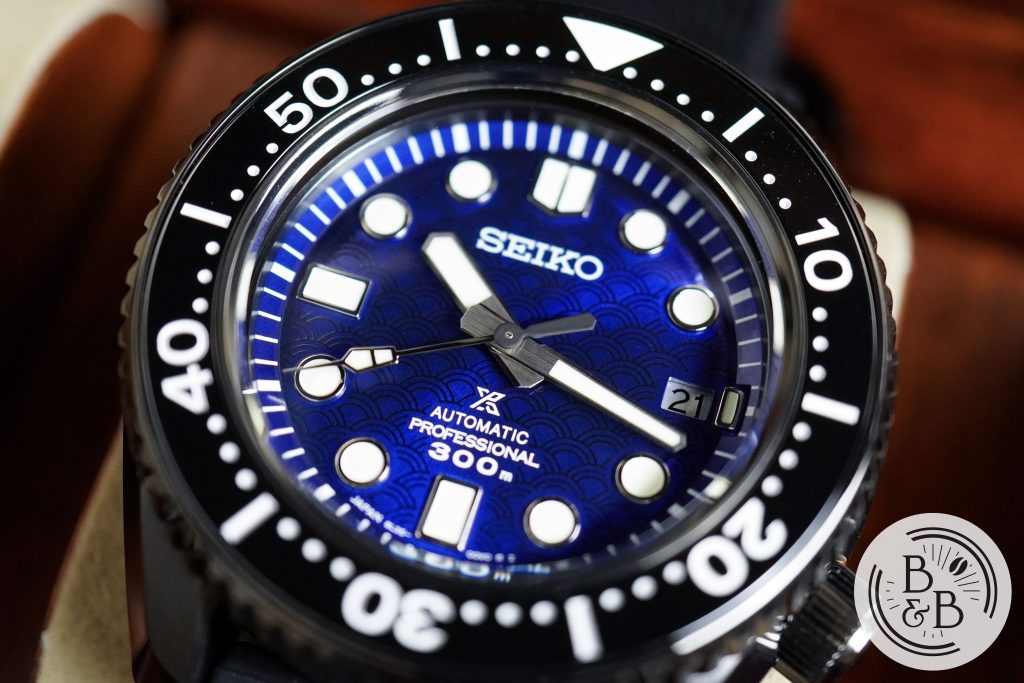 Overall, this is an incredible looking dial that is mostly well executed. At the $3200 price point, I would've liked to see a bit more tidiness on the hour indices and on the printing, but I think the beautiful dial makes up these shortcomings.
---
Lume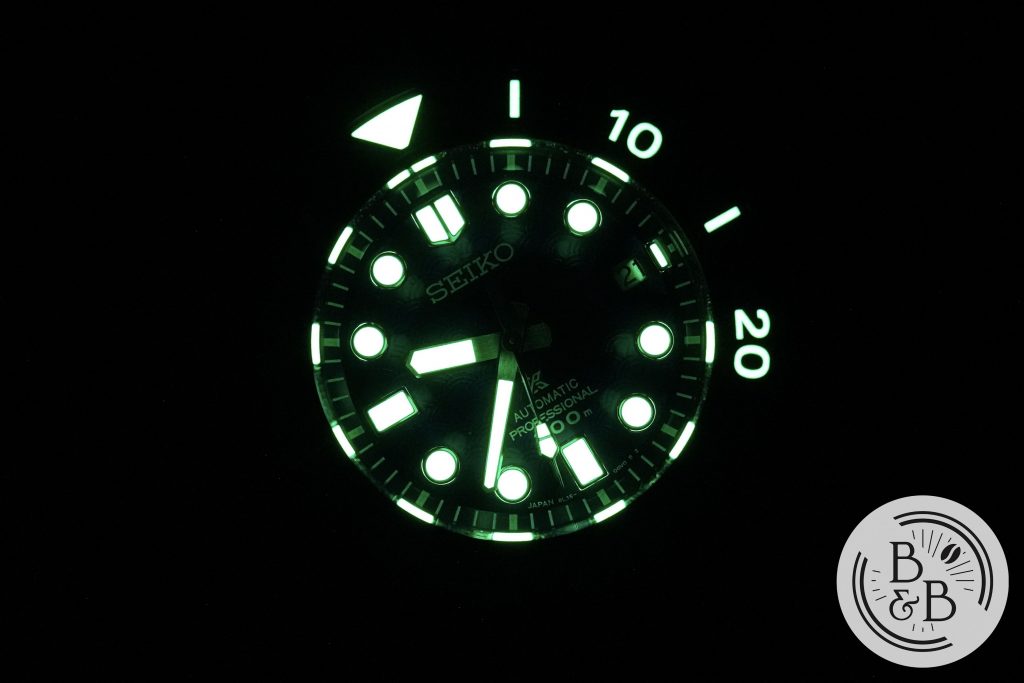 The SLA053 uses the infamous Seiko LumiBrite, but not all LumiBrite filled watches are created equal. This watch glows much brighter than most other Seikos I've owned and reviewed.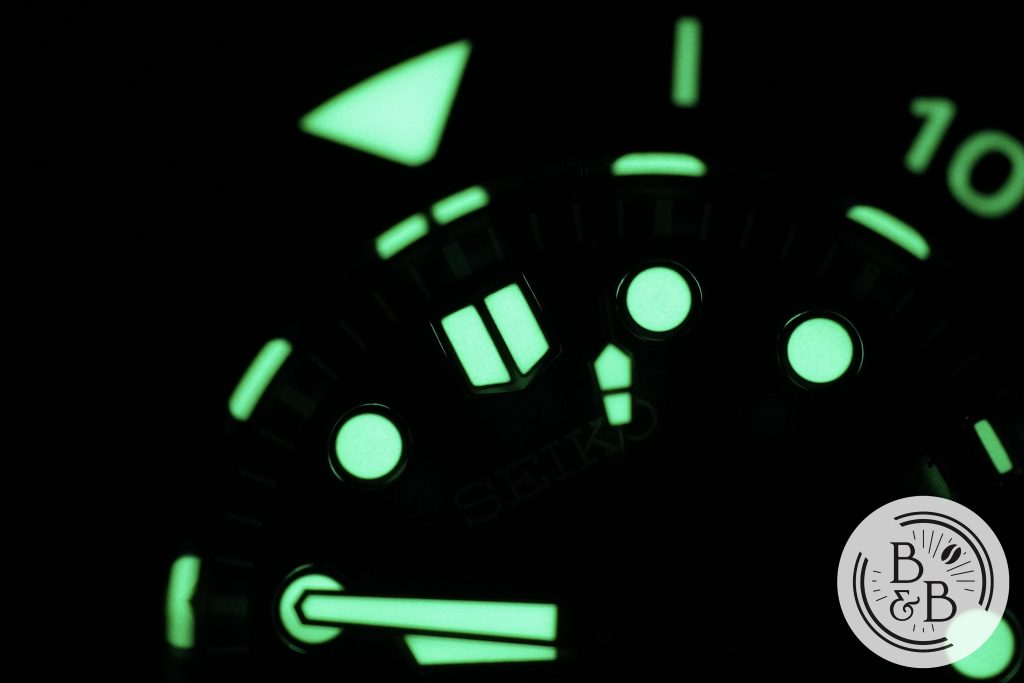 I also like that they decided to add lume to a few more bezel elements, compared to just the triangle on most of their watches.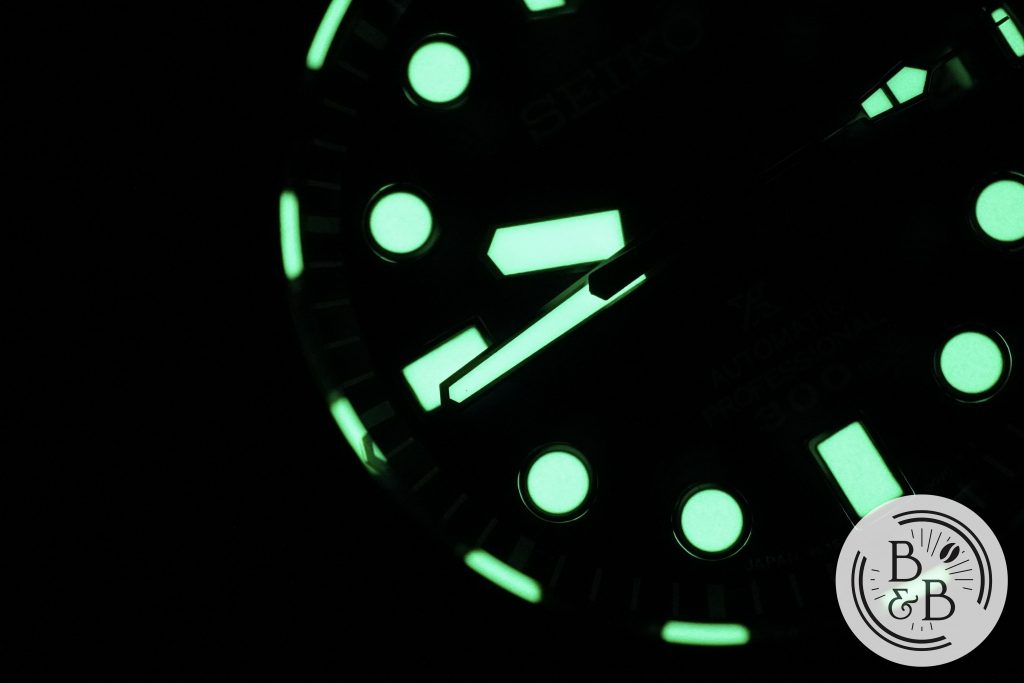 The hands and indices glow very bright and hold their charge well. I think the lume on this watch is one of the best I've seen from Seiko and Grand Seiko.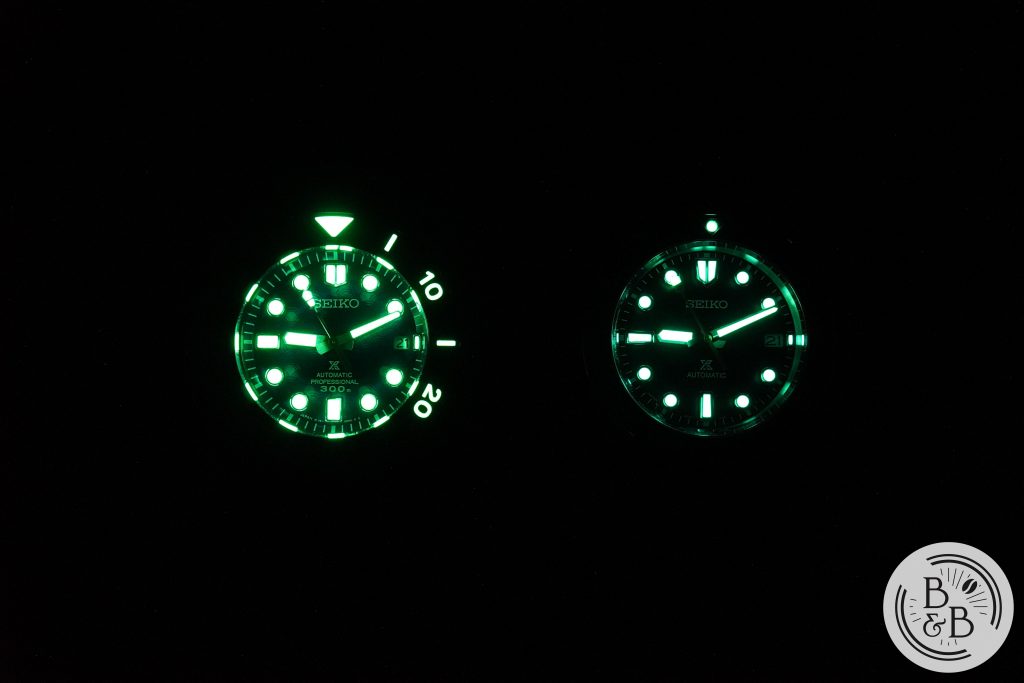 I compared it against my Seiko SPB207J1, and this watch is clearly the better of the two.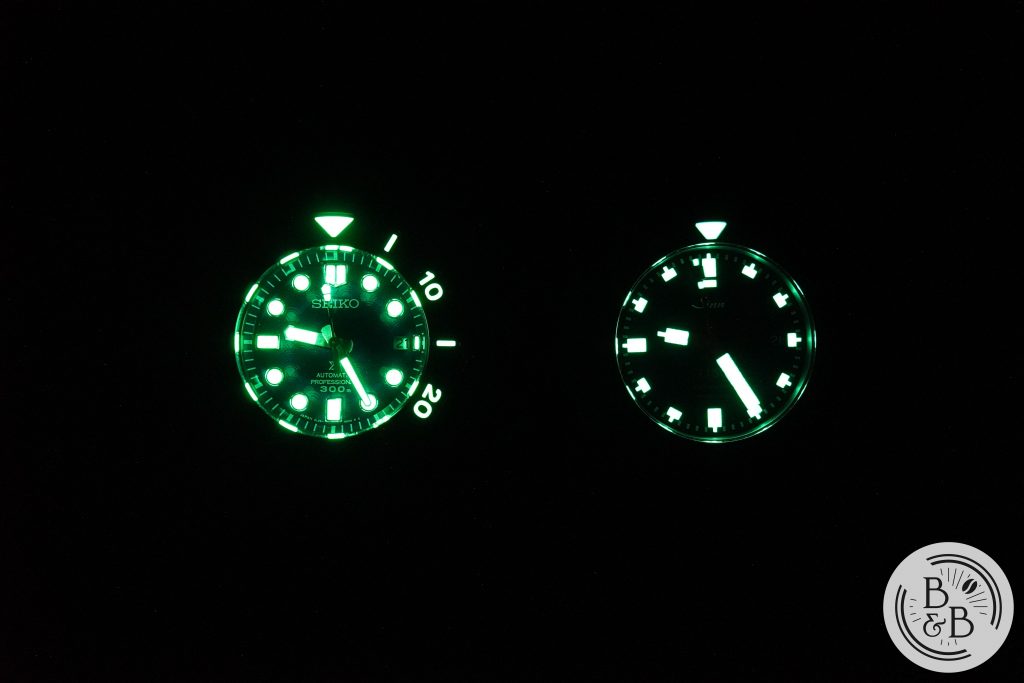 Similarly, I compared it against my Sinn U50, which is in the same price bracket, and the Seiko outperforms the Sinn too.
---
Movement
This watch uses the Seiko 8L35 movement, which unlike the rest of Seiko's boring entry level movements is surprisingly well specd and well finished too. This is a 28.8k bph movement, with a 50 hour power reserve and an accuracy rating of between -10 spd and +25 spd. For a $3000 watch, I'd typically want tighter bounds on accuracy, but the 8L35 is more reliable and more stable than your average 6R35 or 4R35, so this doesn't actually bother me.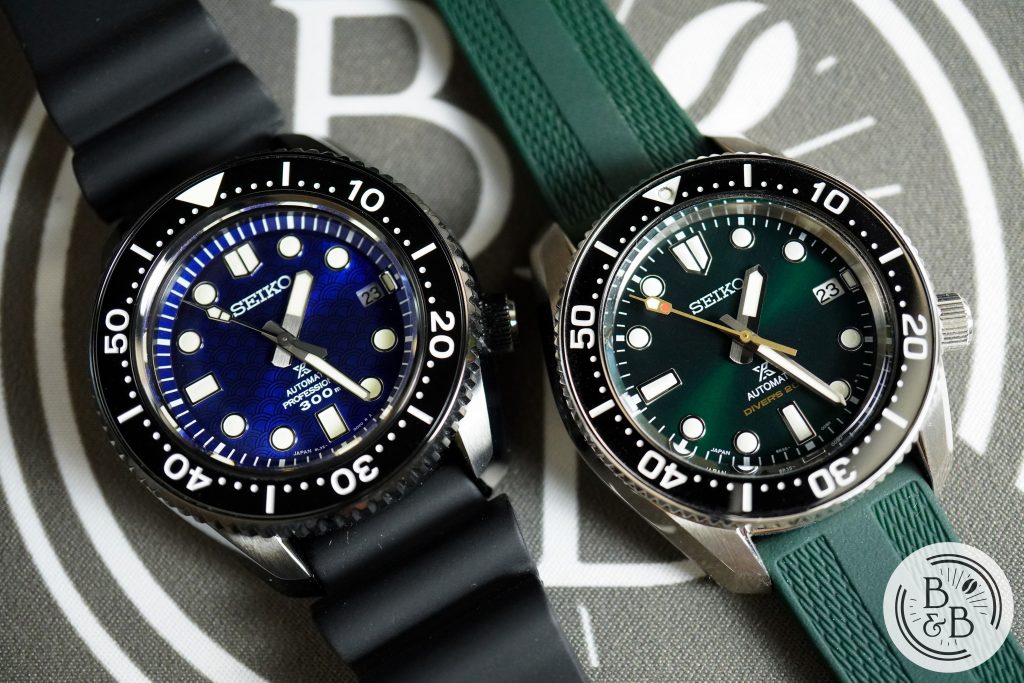 The biggest upgrade, and whats most easily visible is the higher beat rate, and it just looks smoother and nicer than any of the 21.6k bph 6R35 movements, which are visibly jerky.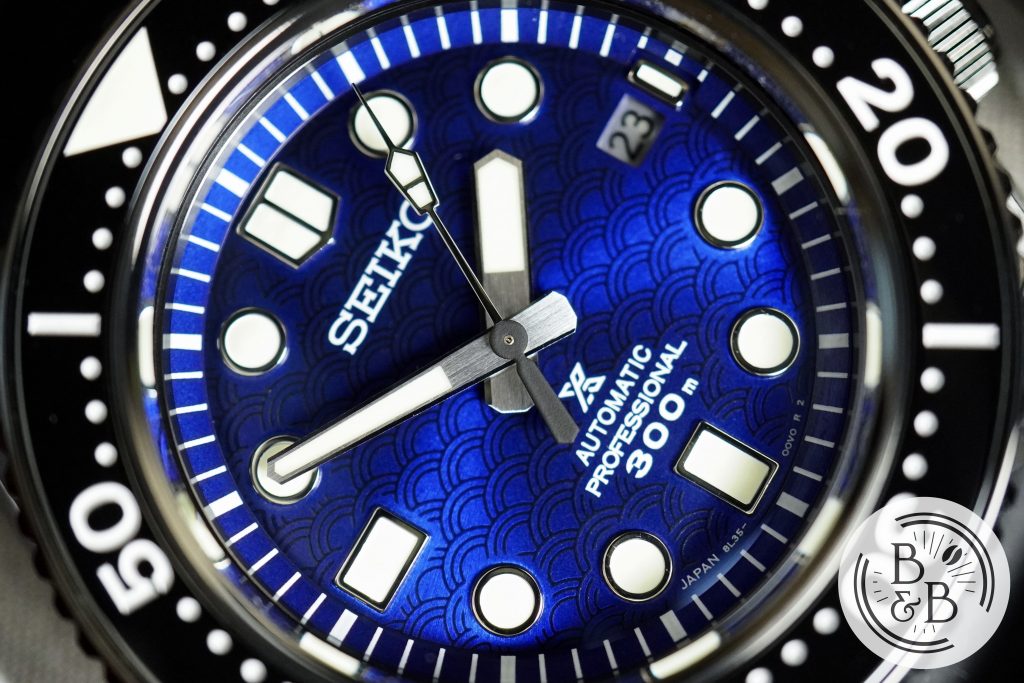 On my time grapher, I observed roughly +10 spd in the dial up position and +10 spd in the crown up position; within spec but I would've liked to see slightly better performance on a $3200 watch.
---
On The Wrist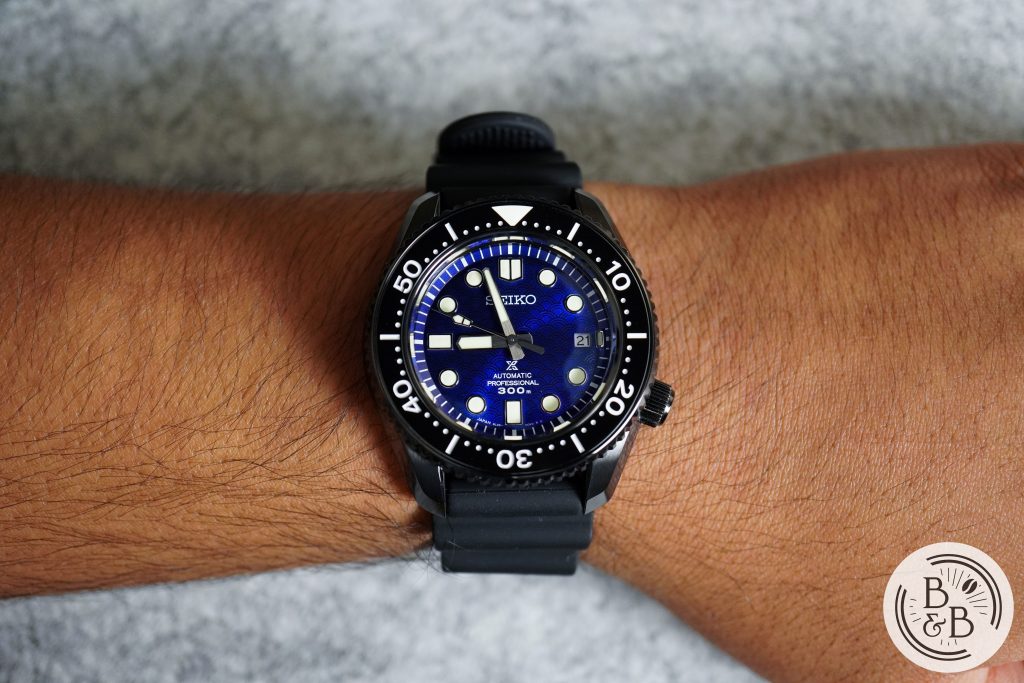 I love the MM300 design, but I've stayed away from these watches primarily because of their size. Their specs tend to read massive on paper, but after actually spending some time with this watch, the 43.5 mm diameter and 49 mm lug-to-lug width are not impossible to wear on my 6.5″ wrist.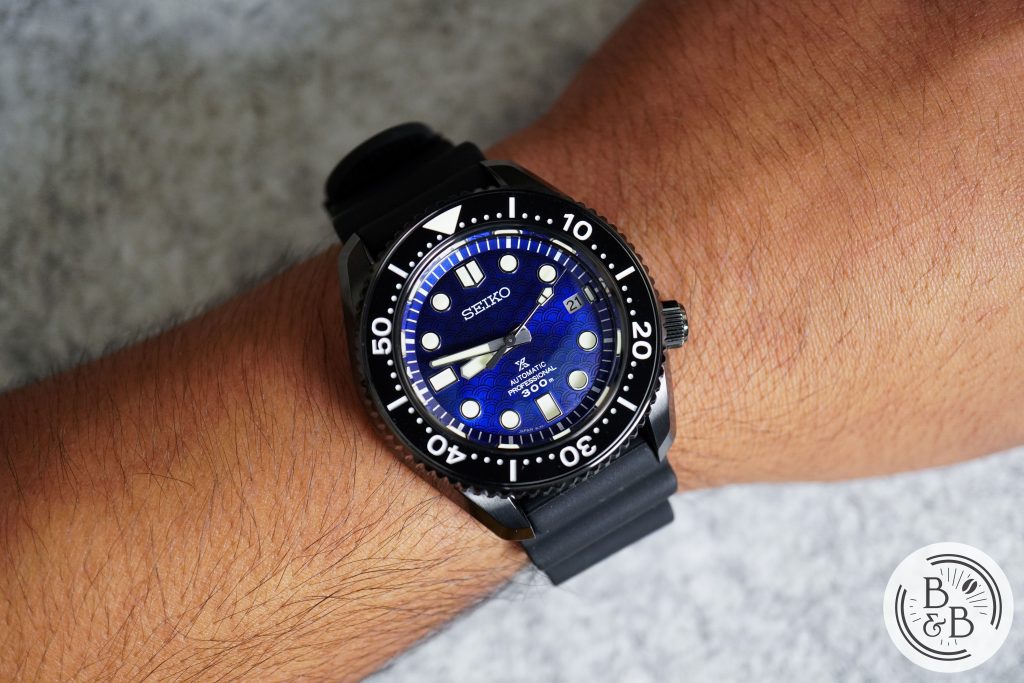 It is a big watch, and it definitely has the "big watch" vibe going on when I wear it, but I don't think it looks ridiculous.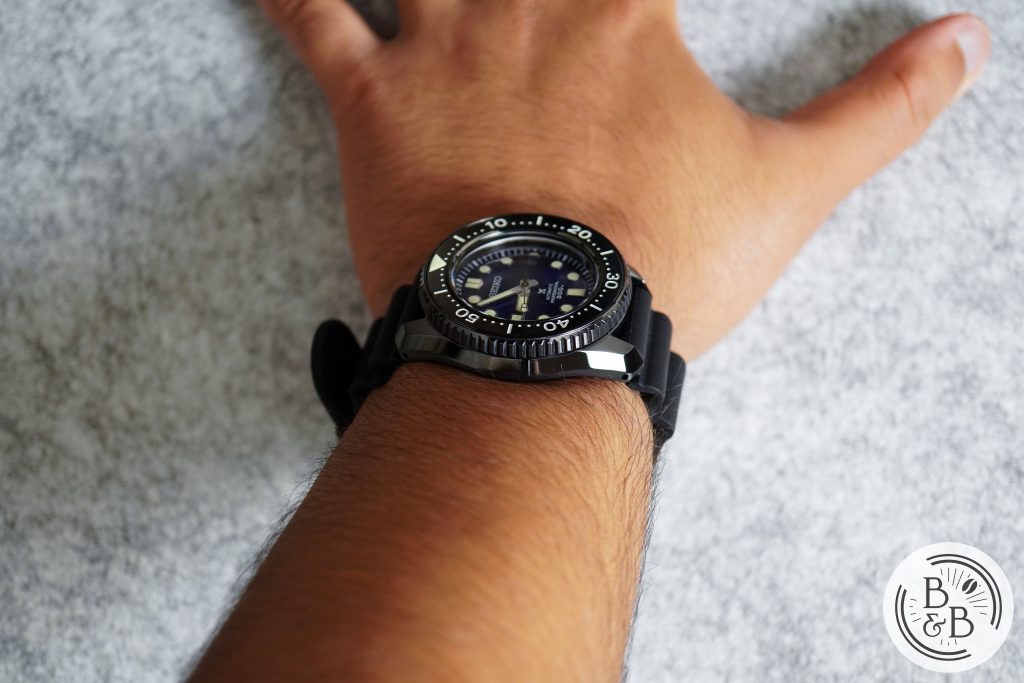 The 15.25 mm height is the culprit for most of its monstrous size, but what I love most about this watch is the depth of the dial, and the deep case is the main reason for this.
Folks with smaller wrists that want a similar design style but in a smaller and more compact package will enjoy the SPB207J1, which definitely wears nicer on my wrist.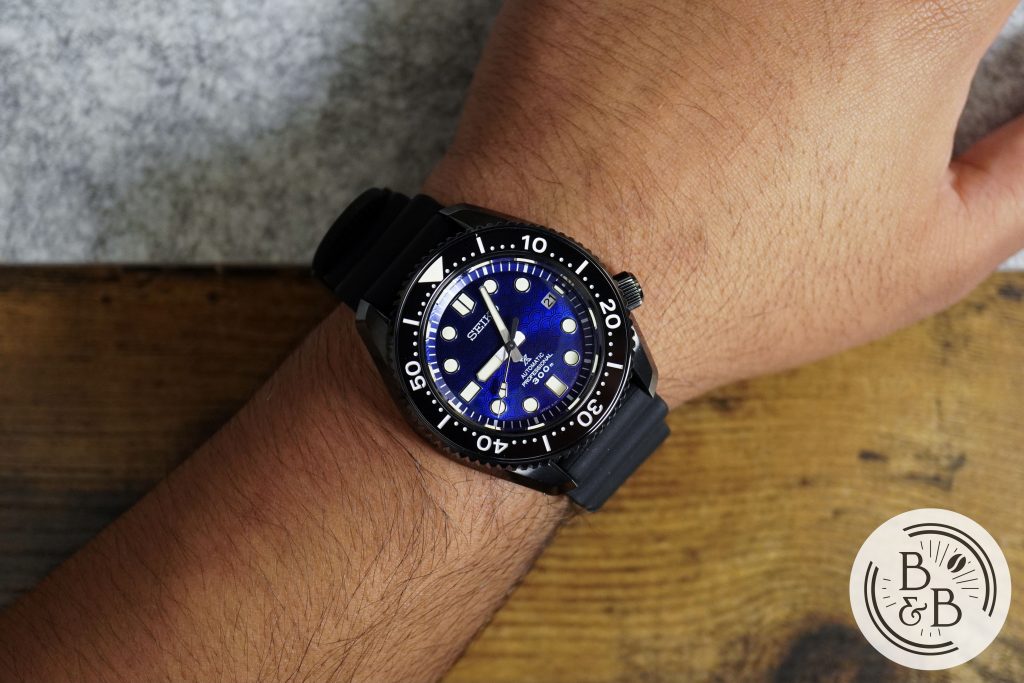 I'm not a big fan of the silicone straps that Seiko uses on their watches because they all feel a bit too long. But the quality is good, and this one works well on the watch.
---
Concluding Thoughts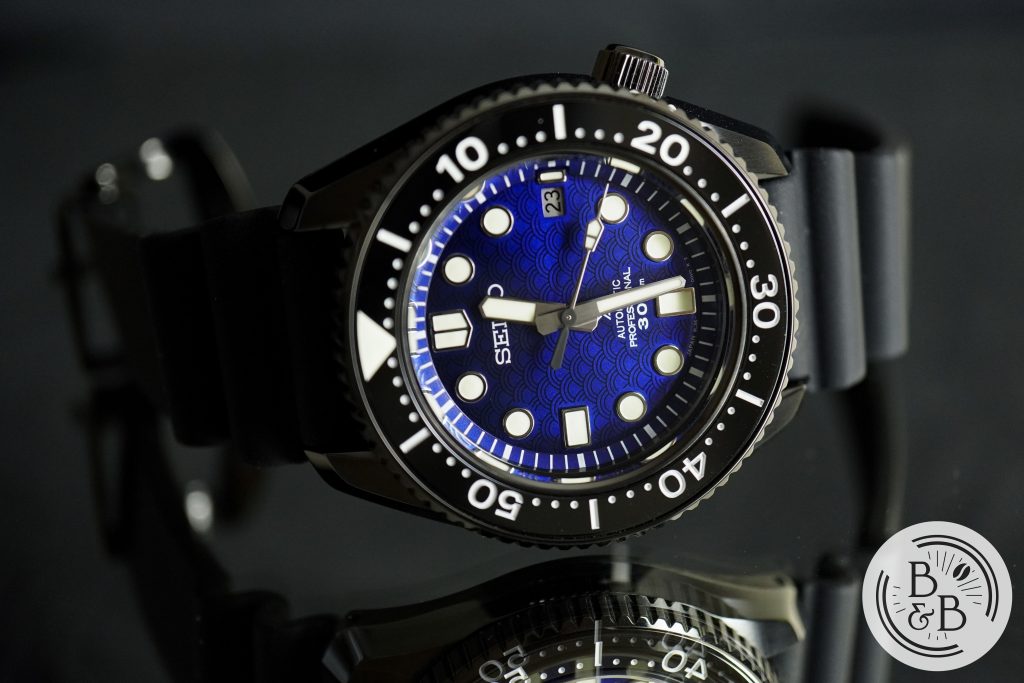 To wrap this up – I love this watch, and actually getting to spend some time with the MM300 case has made me move this watch from my "cannot buy" to "maybe" list. It is big, it is mean, but it is awesome. And Seiko did a great job of doing something special for this series with the Seigaiha dial and black case. This doesn't feel like a special edition watch for the sake of being a special edition watch (like my SPB207J1 does), but feels like some thought actually went into making this something collectors might appreciate.
As for the price – $3200 is a lot of money for a Seiko, but this isn't just an ordinary run of the mill Seiko. This one seems to finished to much higher standards than your comparable $1000 Seiko diver, with better case finishing, better dial finishing and overall better quality control. As I've mentioned in other videos, Seiko's biggest flaw is their confusing catalog and poor product separation. The burden is on the customer to figure out which products are good and which are not, since they all have overlapping names and design cues. But this is one of the good ones, and I'd say is only a few clicks south of a Grand Seiko in quality.
---
Thanks for reading!