---
Disclaimer: This review is in no way incentivized by Feldmar Watches (where I purchased this from), the Grand Seiko brand or any other entity. I purchased this watch brand new. All opinions here are my own.
---
---
Contents
---
Four Seasons – "Winter"
I've been looking at Grand Seiko for quite a while now, and their rise in popularity over the last 2 years has pushed me to learn more about this brand and their offerings. Like most, I was drawn to their dials first, and the Snowflake dial frequently stopped me in my tracks. But I was primarily looking for dive watches and sports watches at the time, and couldn't really connect with their divers when I tried them on. But after satisfying all my sports watch cravings, I came back to Grand Seiko for something a little different.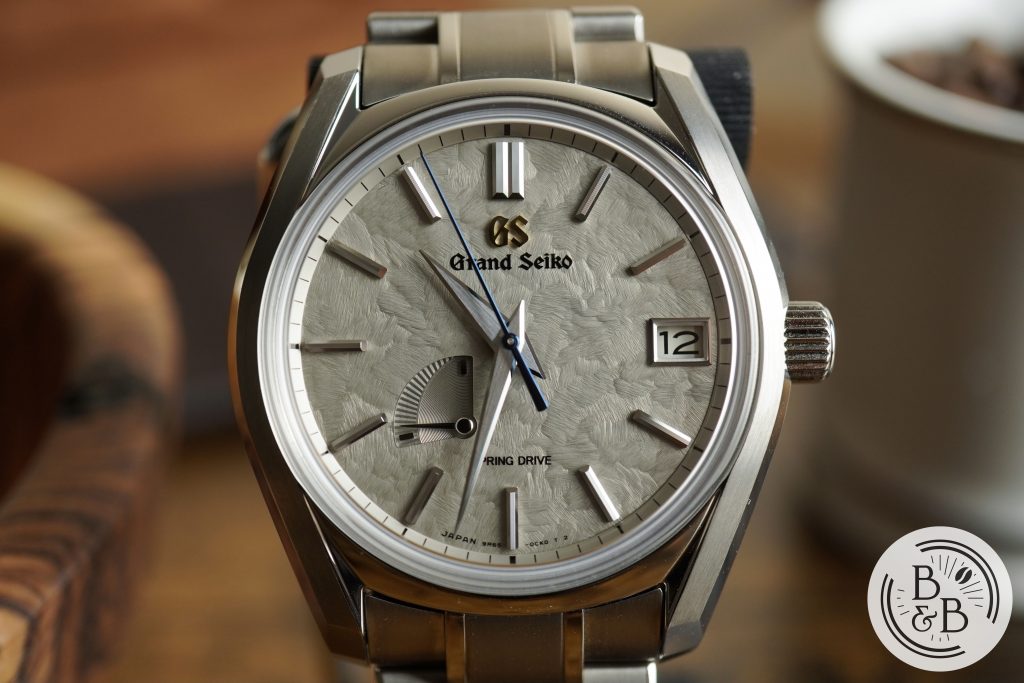 I knew I had to have one of their special dial textures, but I also didn't want something dressy. The Skyflake was what I was looking at initially, given my obsession with blue, but it was a bit dressier than I would've liked. The Four Seasons collection caught my attention next, given their stunning dials, sporty and angular case design, and their exclusivity to the US market.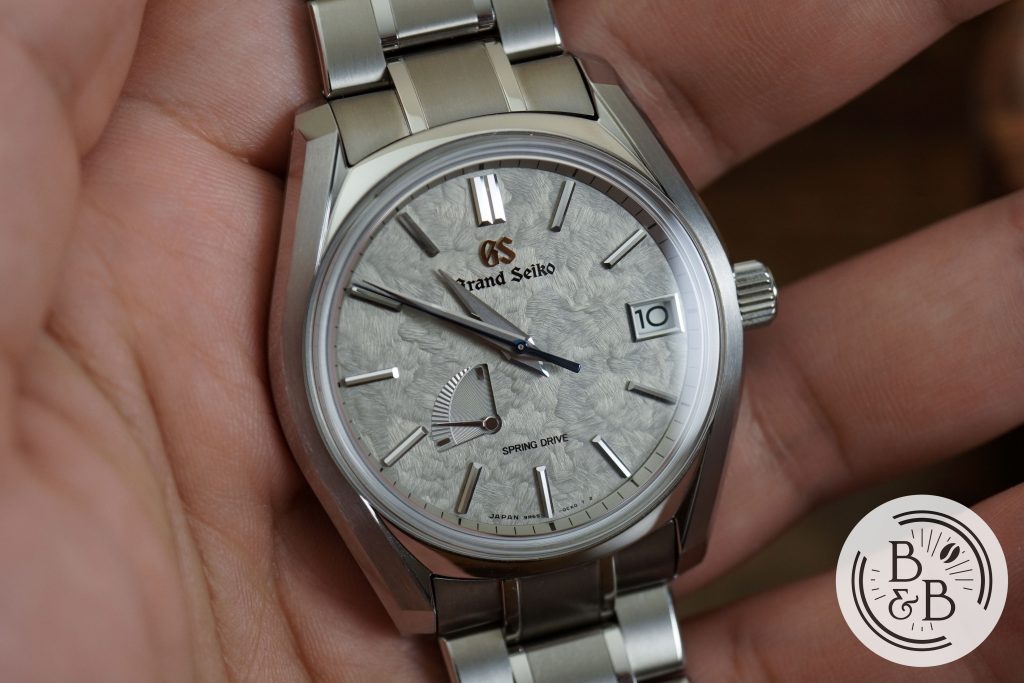 It came down to the Spring and the Winter, as I find these dials a bit more attractive, and I also love Titanium watches. The Spring is the more popular of the two, and has quite the fan club. The Winter draws less attention, has a more subdued aesthetic, and is actually quite appropriately named. By the time I had decided what I wanted, it seems that demand for these models had picked up quite a bit. But unlike with a Rolex, I was able to find someone willing to take my money in exchange for a product (which was shocking!), and I was put on a non-fictional wait-list, and received my watch ahead of schedule. I purchased this watch from Feldmar Watches in LA, and I want to thank Jimmy at Feldmar for an excellent experience. And no, this video is not affiliated or sponsored by them in any way.
But onto the watch now!
---
Case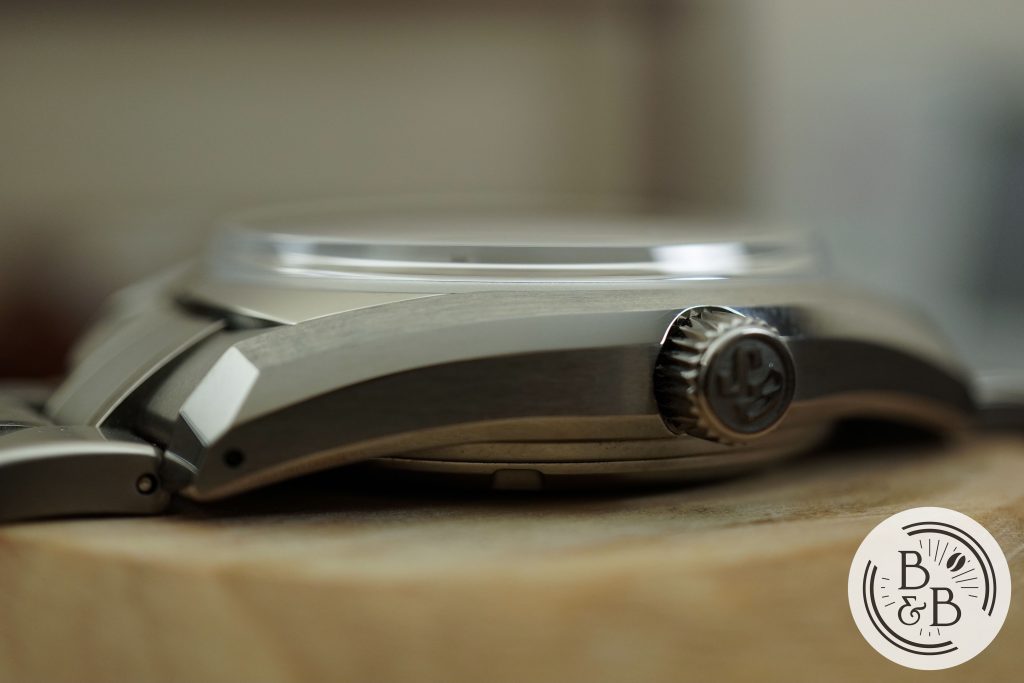 I measured the case to be 40.5 mm in diameter (from the 4 o'clock to the 10 o'clock position), 46 mm from lug-to-lug (but 49.5mm between end links) and 12.75 mm in height. The case is made entirely of titanium, resulting in a slightly grey color, which I love. As you'd expect from a Grand Seiko case, this watch has beautiful Zaratsu polished elements, together with generous brushed surfaces.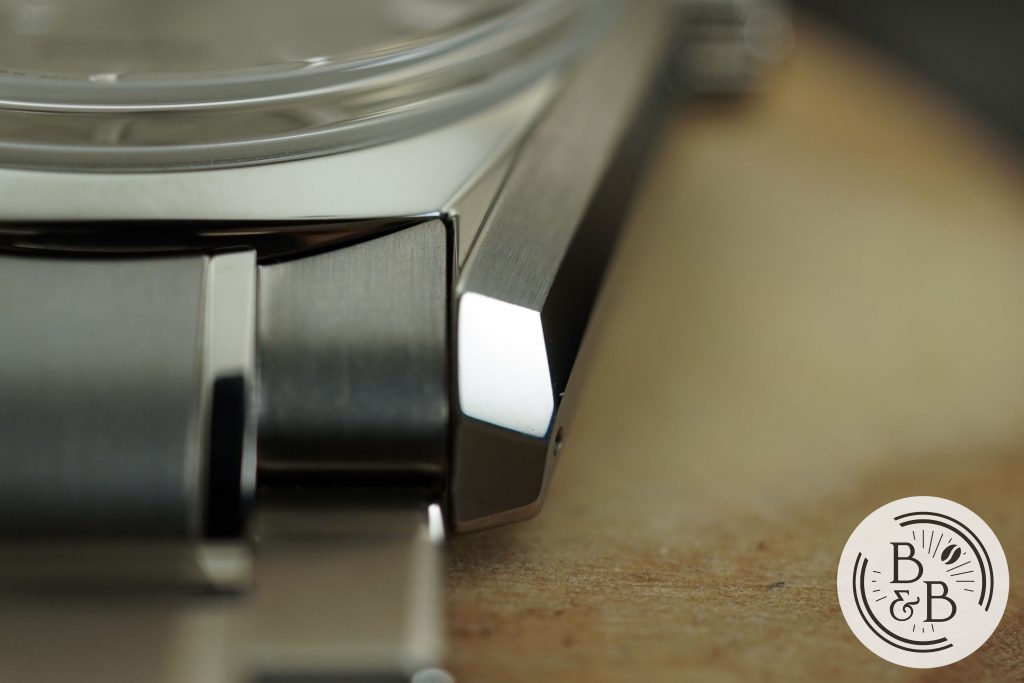 I got this watch after the Minase Divido, which is slightly unfortunate, because the case finishing on this watch pales in comparison, even though it is light-years ahead of other similarly priced watches.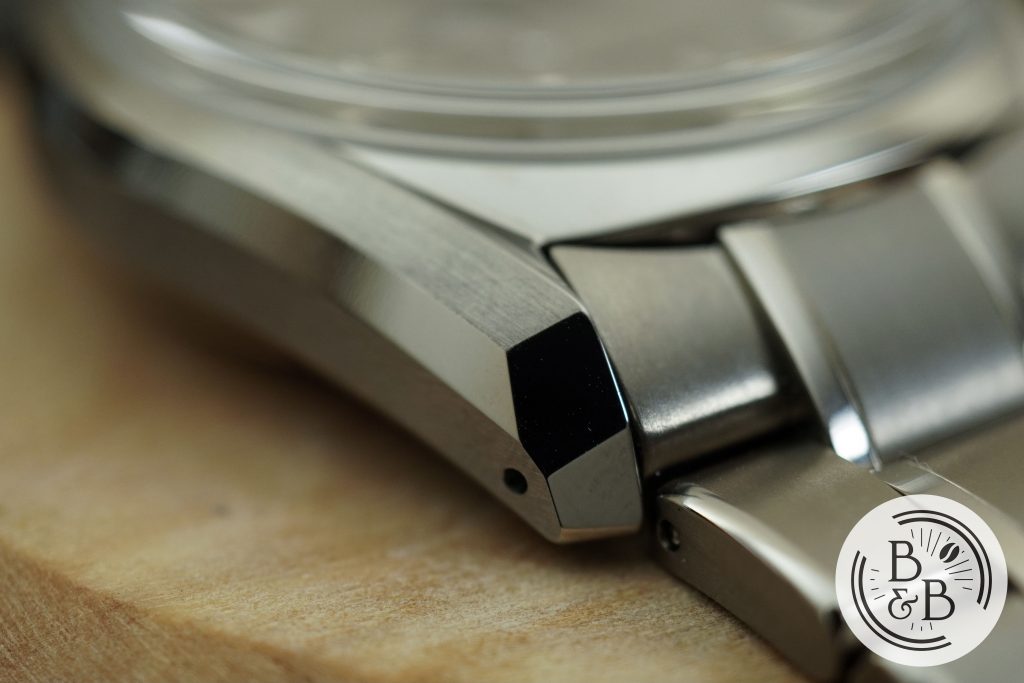 That said, this case design is one of the reasons why I gravitated towards this watch. I love the 62GS case – the angular design, interplay of polished and brushed facets, and the sharp transitions make it very appealing to me. While the 44GS case is perhaps a more iconic Grand Seiko case to own, the large polished surfaces would get destroyed with the way my watches age.
That brings me to why I picked the titanium cases instead of the stainless steel. The titanium options have more brushed surfaces, which are likely to age better with me. The extensive brushed surfaces along the sides of the case are perfect for avoiding visible scratches, and the only real area susceptible to visible wear and tear are the two polished edges on the side of the watch, which seem to have already picked some scratches.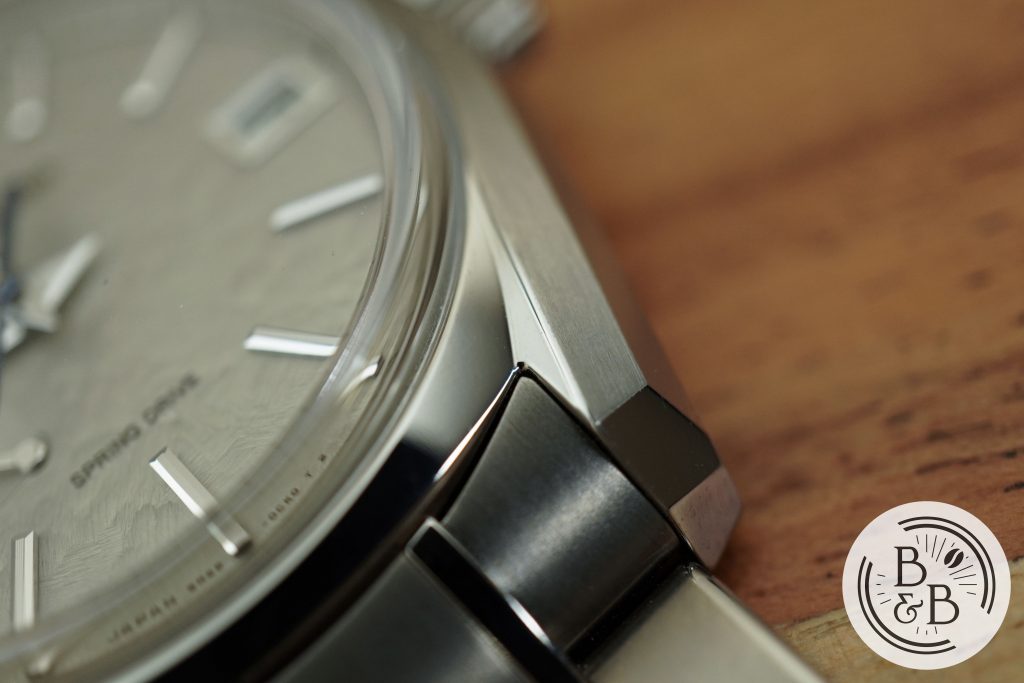 The transition between the extending lugs and the case extension near the end-links is spectacular. I love the dramatically sloped and polished surfaces, and the sports car like aesthetic. The polishing is exquisite, as you would expect from Grand Seiko.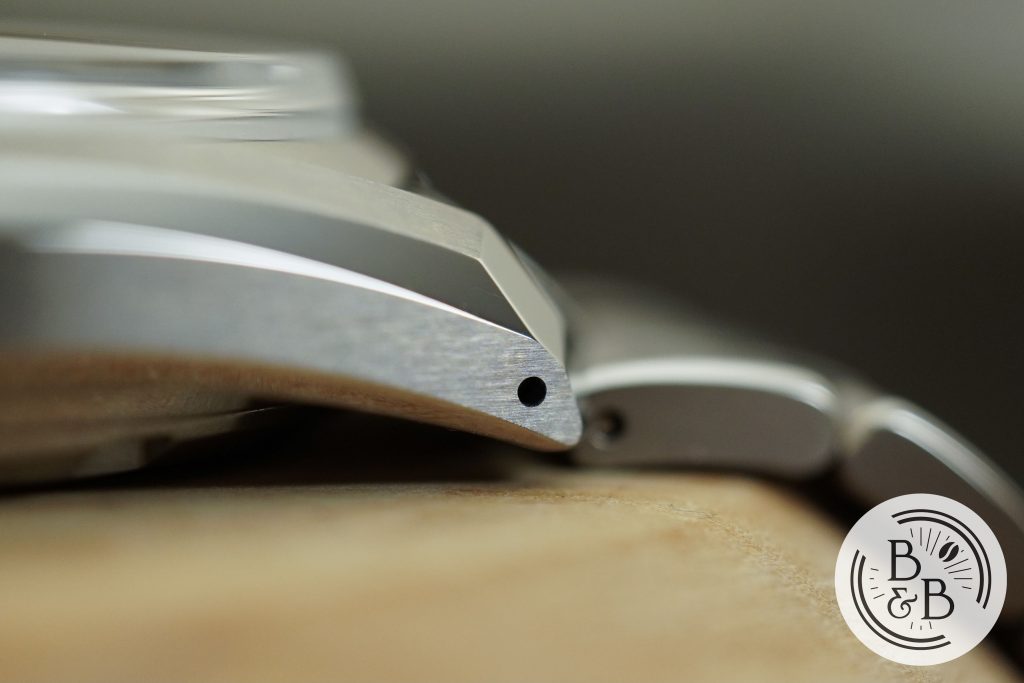 While the drilled through lugs are a welcomed and practical design decision, the lug width of 21mm makes it highly inconvenient to find straps. While your favorite leather strap makers will be happy to oblige in custom orders, the less popular and more mainstream canvas, fabric and rubber straps are nearly impossible to find in this size.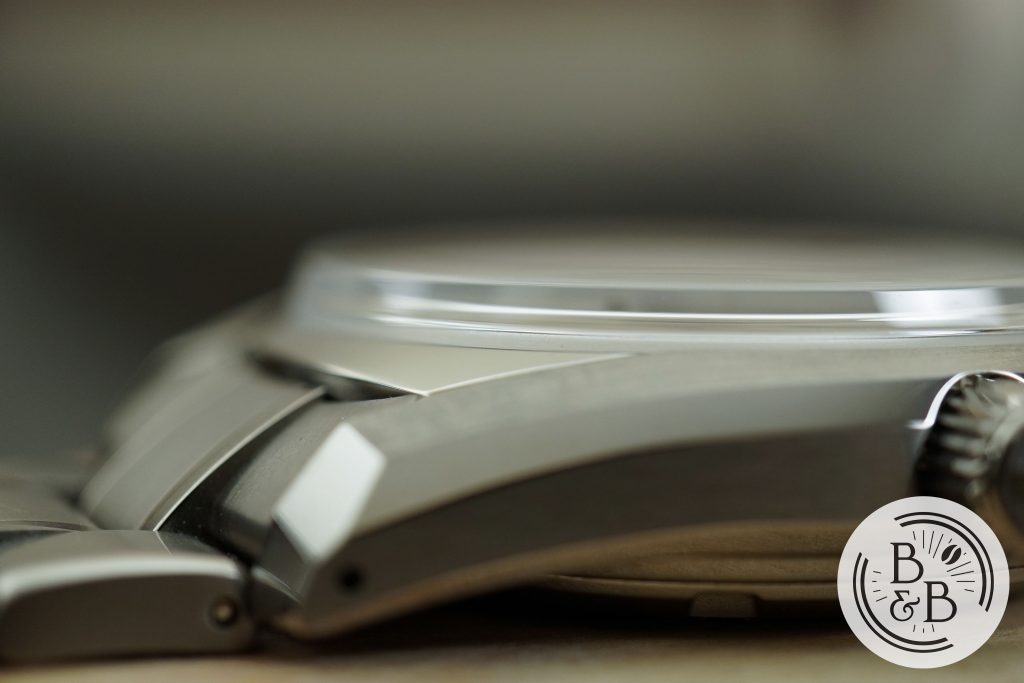 You will quickly notice that this is a two piece case construction, instead of three. There is no bezel section, and the amazing looking boxed sapphire crystal is fitted directly into the mid-case. And the roughly 2mm height of the crystal makes it possible to see through the sides and into the dial. And the rectangular boxed crystal further drives the angular design of this watch.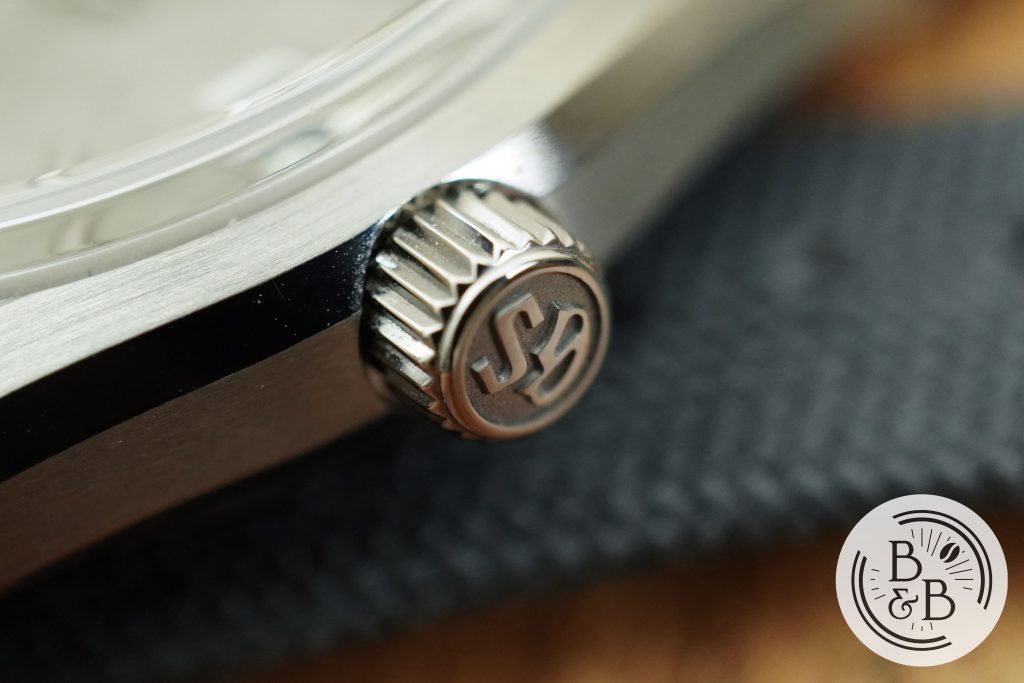 My intention was to purchase a watch that I could wear everyday, without worry. I don't go deep sea diving, but it's nice to have a screw-down crown and 100m of water resistance, for when I accidentally get caught in the rain on my way to pick up pizza. Overkill for rain, yes, but also reassuring. And if a $6300 watch didn't cater to all my irrational demands, is it even real luxury? The 5.25mm crown is very easy to grip and operate, has an engraved top and feels robust.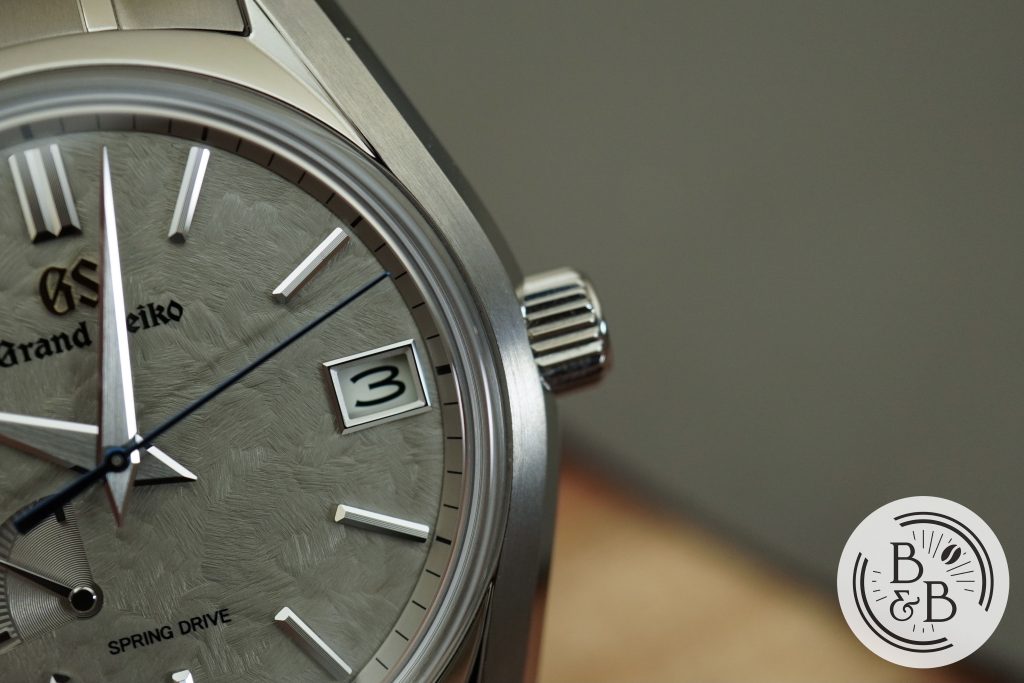 What caught me off guard was the winding action, tactile feedback and zipper-like sound while winding this watch. This is my first Spring Drive, and I was shocked at how strange it sounds.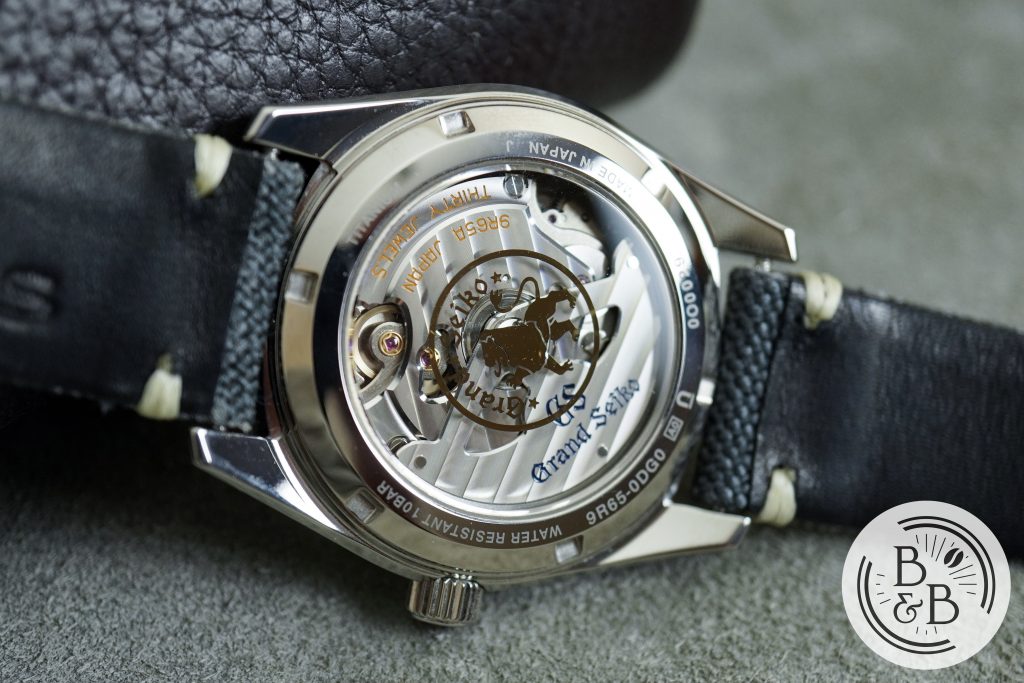 Flipping it over, you have a screw-down case-back with a large exhibition window. But for some silly reason, Grand Seiko figured covering that well decorated movement with a large sticker was a good design decision. Unfortunate, but I can easily live with it.
---
Dial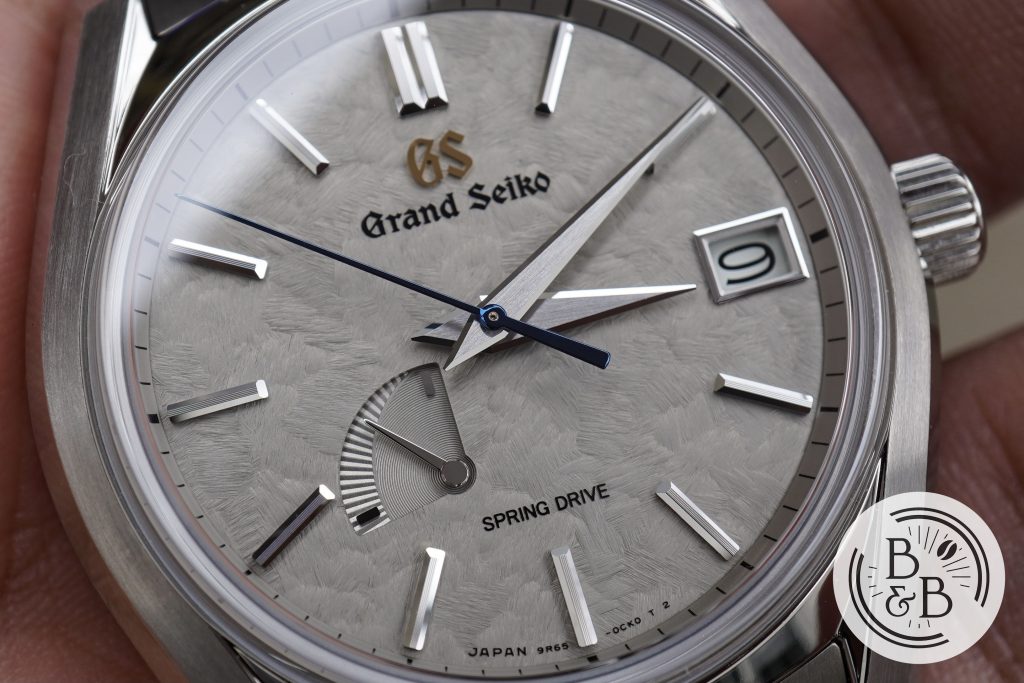 Dials are the reason I began looking at Grand Seiko – I've reviewed tons of watches over the last year, and it has helped me understand my own preferences. Dials are very important to me, and not just the design, but the quality control and attention to detail. The reality is that good design is hard to come by, but good design and good quality control is the hardest of all. Grand Seiko is the brand that is recommended for having the best attention to detail and tidiness in this category, so this purchase was my fighting chance at finding happiness. And while this dial is not perfect, it maybe the closest I've come to it.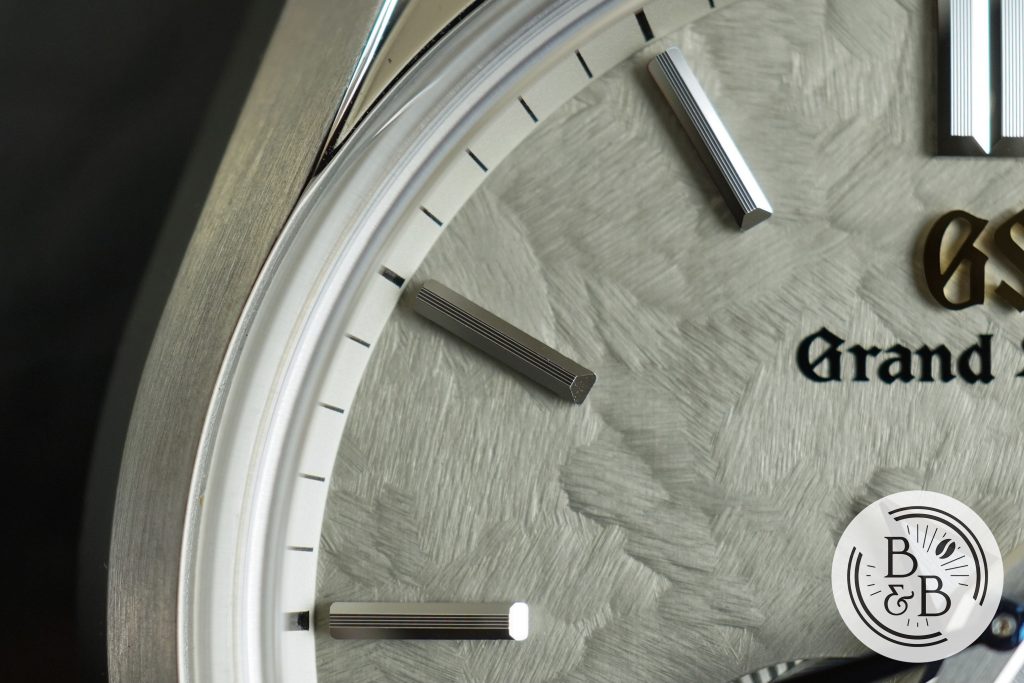 There is a sloped outer chapter ring that has printed black ticks for the minute markers, printed in black against a grey background. The printing quality is excellent, and the width of the minute track is perfect, and doesn't draw much attention to itself.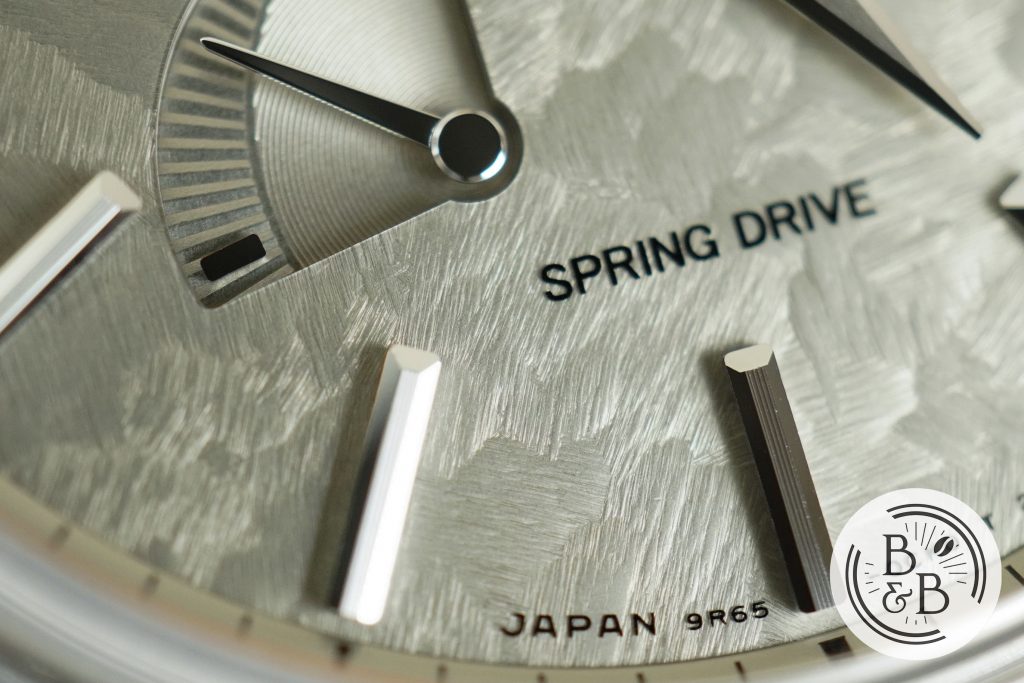 The base of the dial has a beautiful machine pressed pattern that has a wonderful texture and a very dynamic range of colors. This is very difficult to capture, and most often just looks grey. But there is a range of colors from light silver all the way to dark grey based on the kind of lighting it is exposed to. The finishing and quality control on this layer is perfect.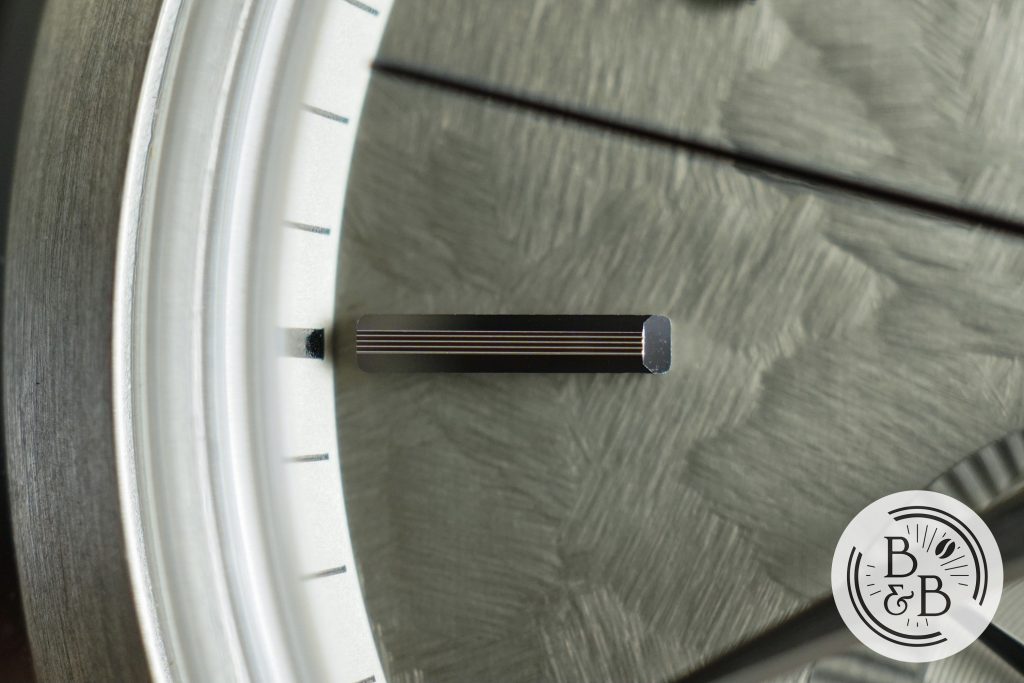 You then have applied stainless steel indices that are multi-faceted and have finely cut ridges on the top surface. These indices are hands polished using the Zaratsu finishing technique are diamond cut,and the polishing is exceptional. The quality control is great, however under macro scrutiny, I did find some micro particles, which I think is acceptable given the hand finished nature of these indices. This isn't visible to the naked eye, or even a loupe. You'll need a microscope or highly zoomed in macro photograph to identify them clearly. But that's how obsessed I am about dial and tidiness.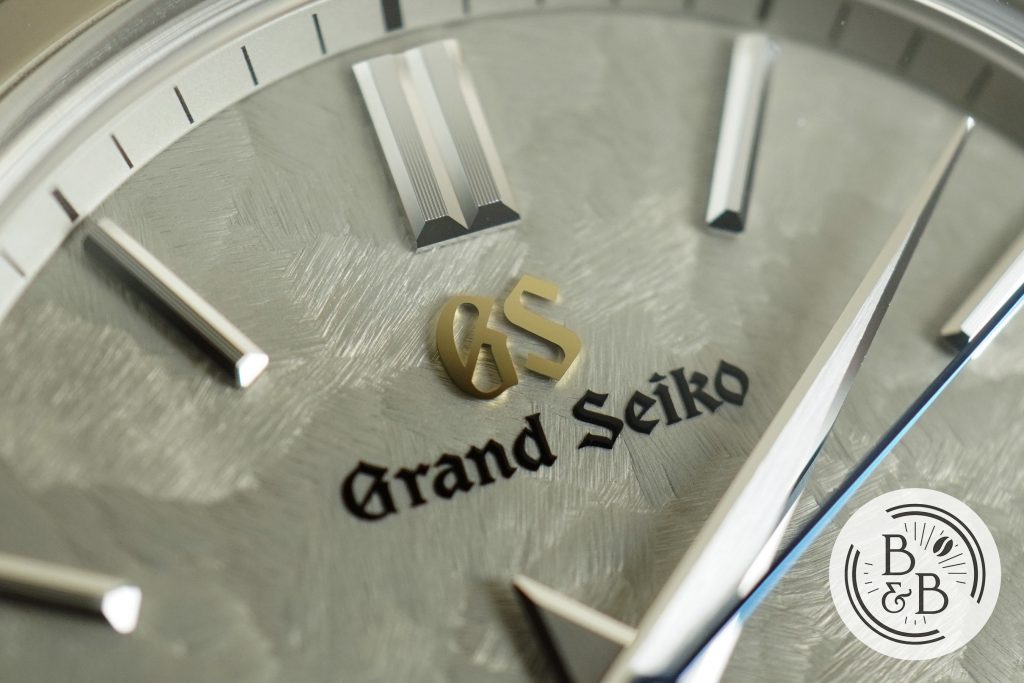 The brand's logo is applied under the 12 o'clock double indices, and it isn't directly applied onto the base layer. It is seated on small raised supports, which gives you the illusion that it is floating on the dial. The finishing is excellent, and it looks amazing. Below this, the brand's name is printed in black with excellent attention to detail on the fonts.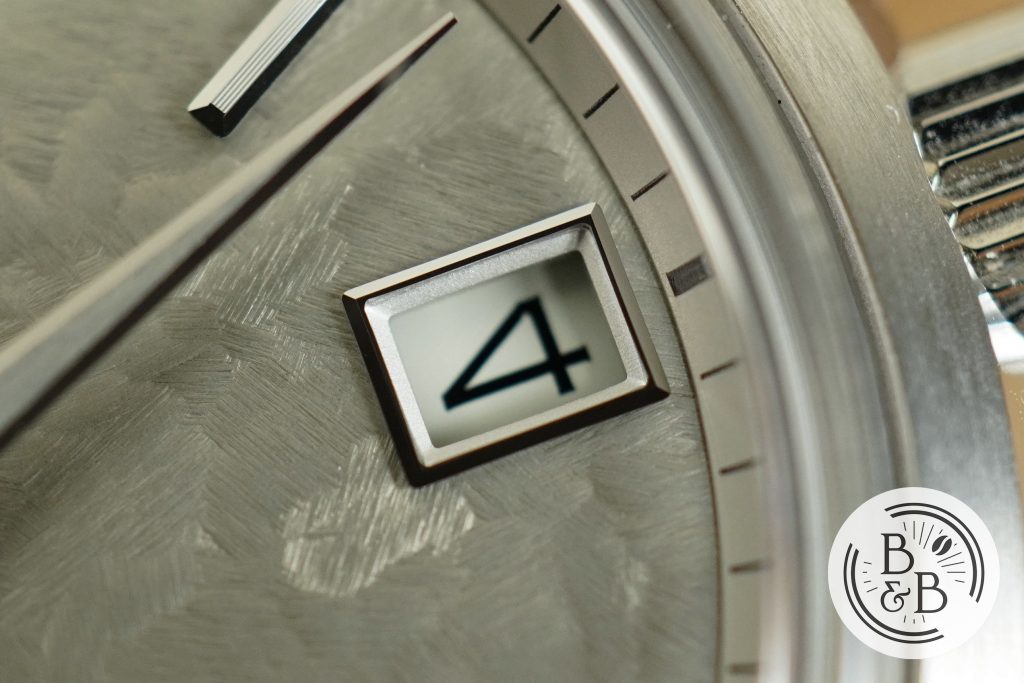 You then have a framed date window at the 3 o'clock position, with the same Zaratsu diamond cut sides and exceptional polishing as the rest of the indices. The window is well finished, with a white date wheel and black text. I'm a 6 o'clock date window guy, but the power reserve indicator is going to through of symmetry anyway, so it doesn't really matter.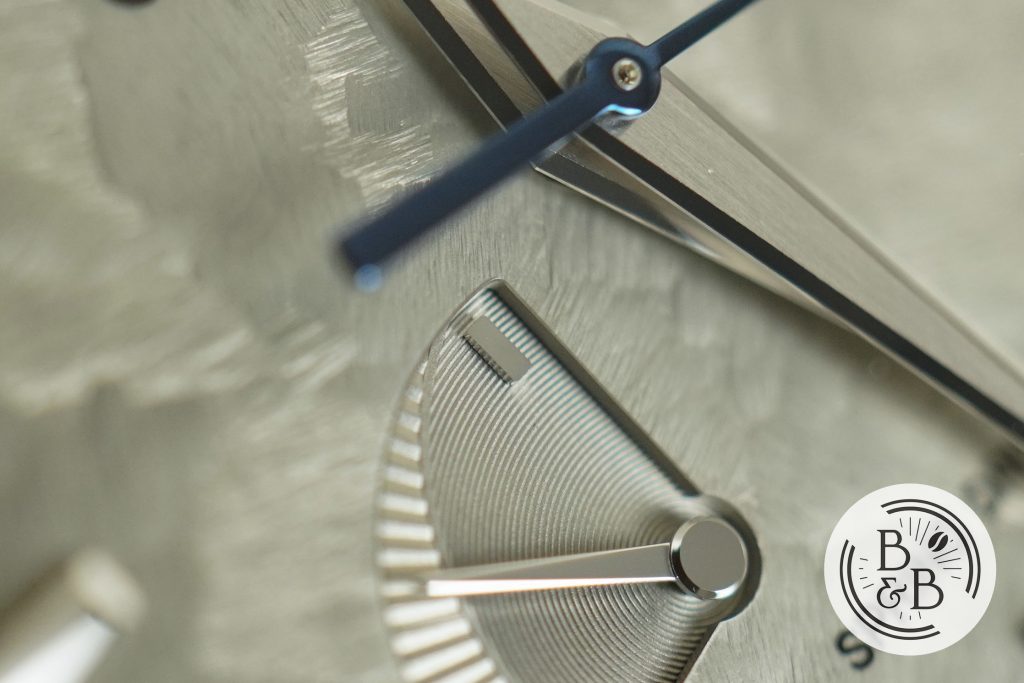 The power reserve indicator is perfectly cut into the base dial layer with some seriously impressive finishing. There are two textures – a simple concentric ring background layer and then the actual power reserve indicator which looks almost like a guilloche pattern. You then have two polished applied elements as references for the power reserve full and empty indicators, and a beautifully polished hand with a closed and polished cap.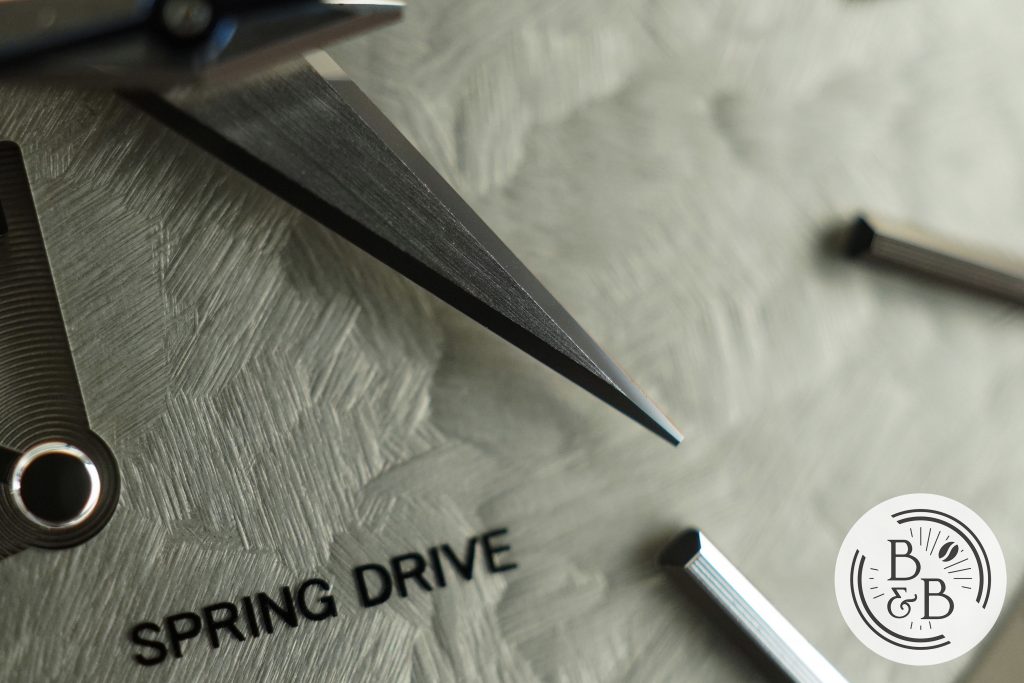 Let's move onto the hands – both the hour and minute hands are typical Grand Seiko sword-like hands with brushed top surfaces and sharp angular sides that are high polished. These hands look incredible in person, and the combination of brushed and polished surfaces is stunning. I think the proportions are excellent, with the hour and minute hands almost reaching their respective reference markers.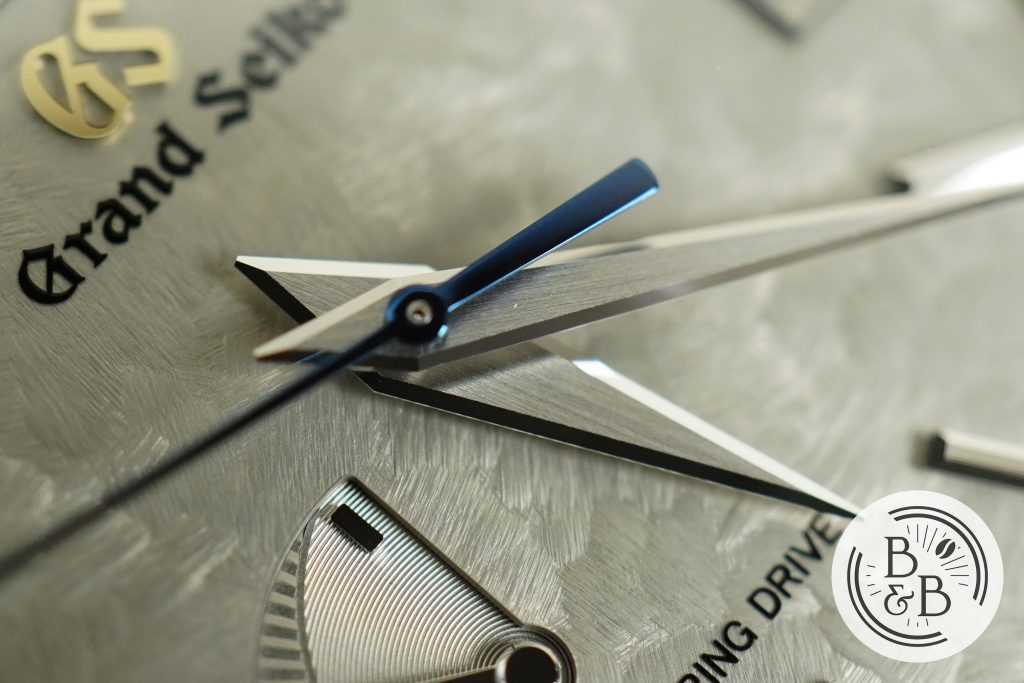 In terms of quality control, I noticed a small dust particle or ding on the minute hand. It isn't visible unless under harsh light, but its there and is the only real aspect of this dial that I think I could complain about. I'm pretty sure if I sent this back to Feldmar or Grand Seiko, they'd have it cleaned up, but considering the rest of this dial is nearly impeccable, I'll gladly take this one aspect of imperfection over the possibility of others after service. I've learned to count my blessings, so this is fine by me. And it's only visible when I go looking for it with a macro lens, so I'll survive.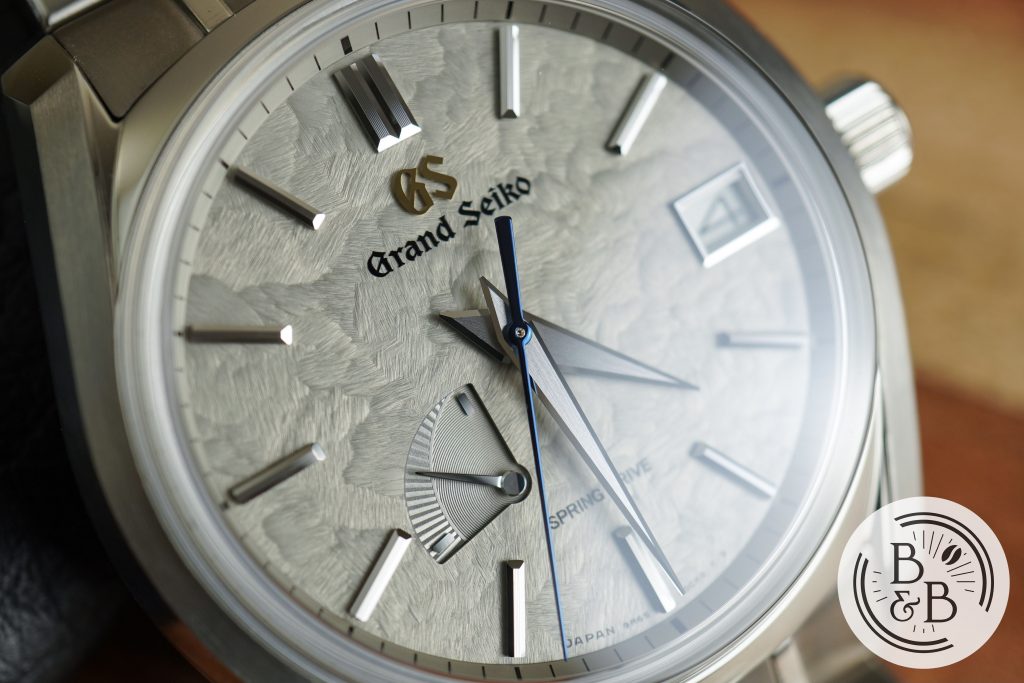 The main reason I went with the Winter and not the Spring is the seconds hand. I'm a sucker for thermally blued hands, and I love the way the blue hand pairs with the grey dial. The finishing on the hand is excellent, and the hand hovers over the outer track for easy legibility. I do wish that the top of the center stack was closed and polished like on the Snowflake and Skyflake, instead of exposed.
---
Low Light Legibility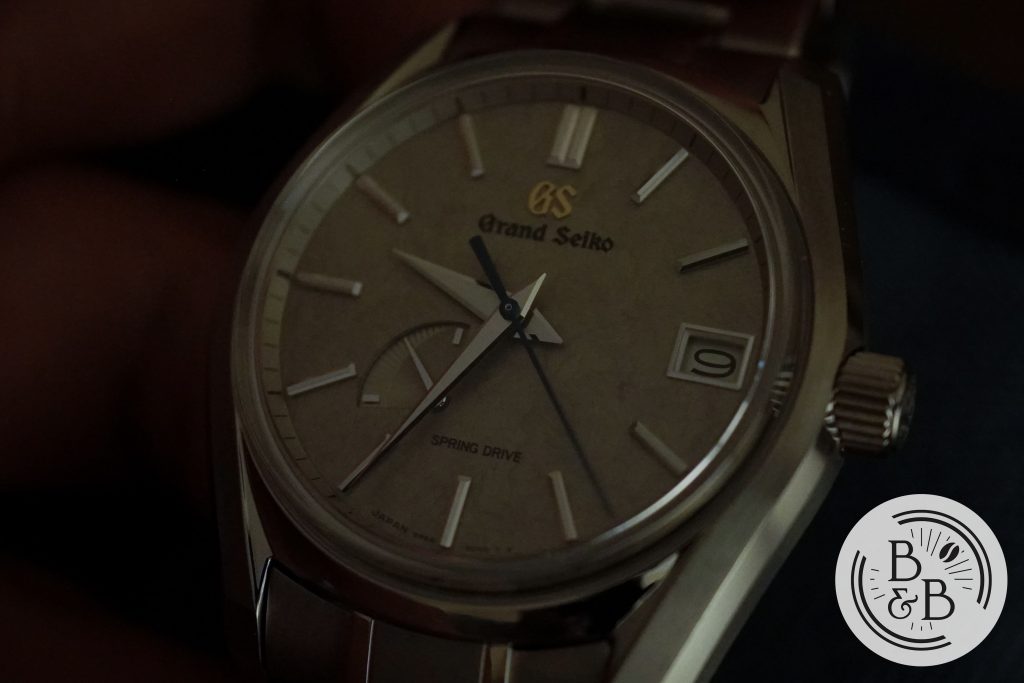 This watch lacks any lumed elements, but it's purpose isn't to be a sports watch, so that's fine by me. For typical low light legibility, the diamond cut and Zaratsu polished hands and indices are sufficient to tell the time. What you see above is a completely dark room with only my laptop screen pointed away about 10 feet away. So these elements are able to catch enough light for reasonable legibility. No complaints from me here.
---
Movement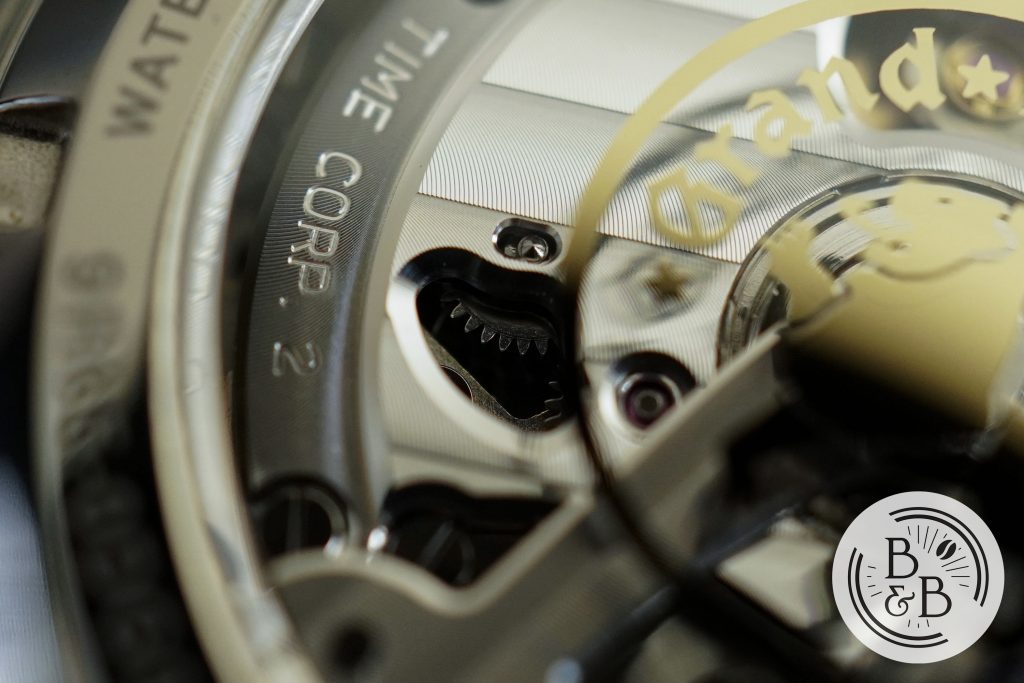 Another attractive aspects of this watch is the Spring Drive movement inside of it. I'm not going to go into the details in this video, and I suggest checking out Swiss Watch Gang's recent review of the Skyflake for a very simple explanation of how it works.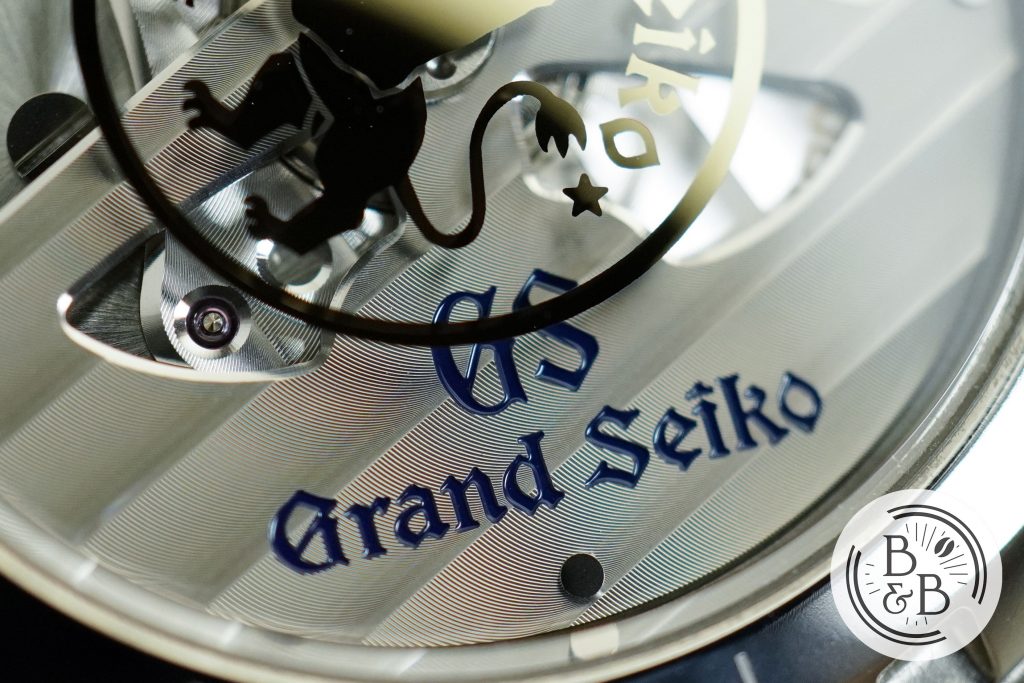 I see a lot of debate and elitism against this movement, and I think to have such strong (and almost always uninformed) opinions about a watch movement is a waste of your energy. Instead, I suggest sitting back, relaxing and watching a Spring Drive movement calmly and effortlessly glide over one of these beautiful dials.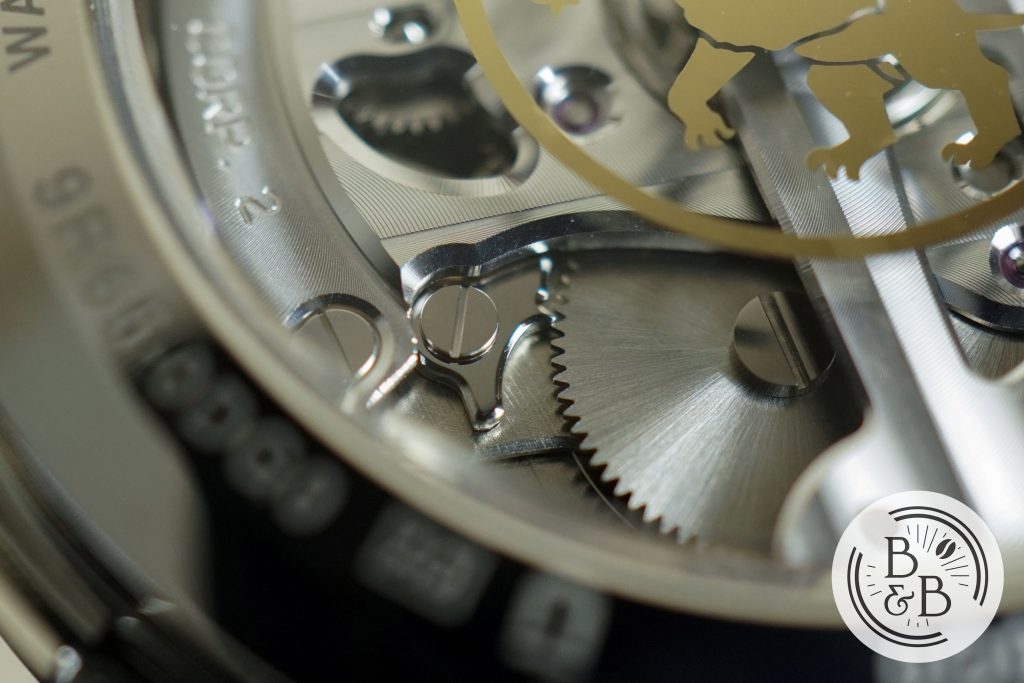 But to me, Spring Drive represents what made Grand Seiko what it is today – innovative technology. And as an engineer and watch enthusiast, the Spring Drive technology is an excellent idea that gives you the best of both worlds – high accuracy and a wonderful sweep. So it doesn't matter whether you think it is quartz, or if you think it is a mechanical movement. The end result is that it's a movement that keeps great time, looks graceful while doing so, and doesn't require a battery.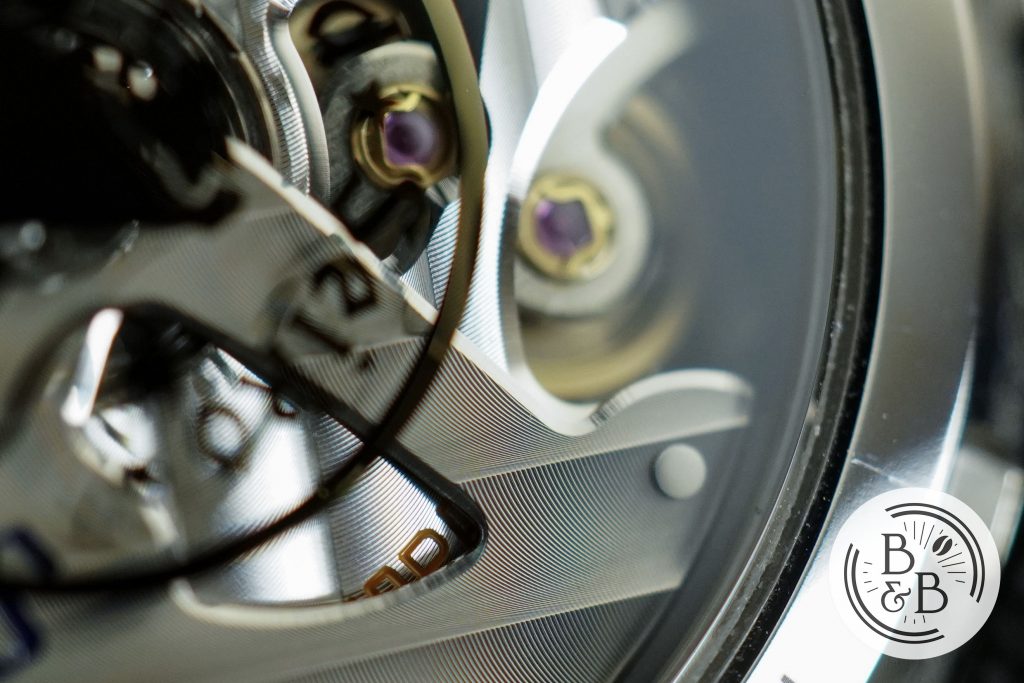 In terms of the finishing, the movement is well decorated with the Grand Seiko equivalent of Geneva stripes, an engraved and painted rotor, some anglage on the visible plates and an overall clean layout. I wish it was more easily visible, but the sticker gets in the way.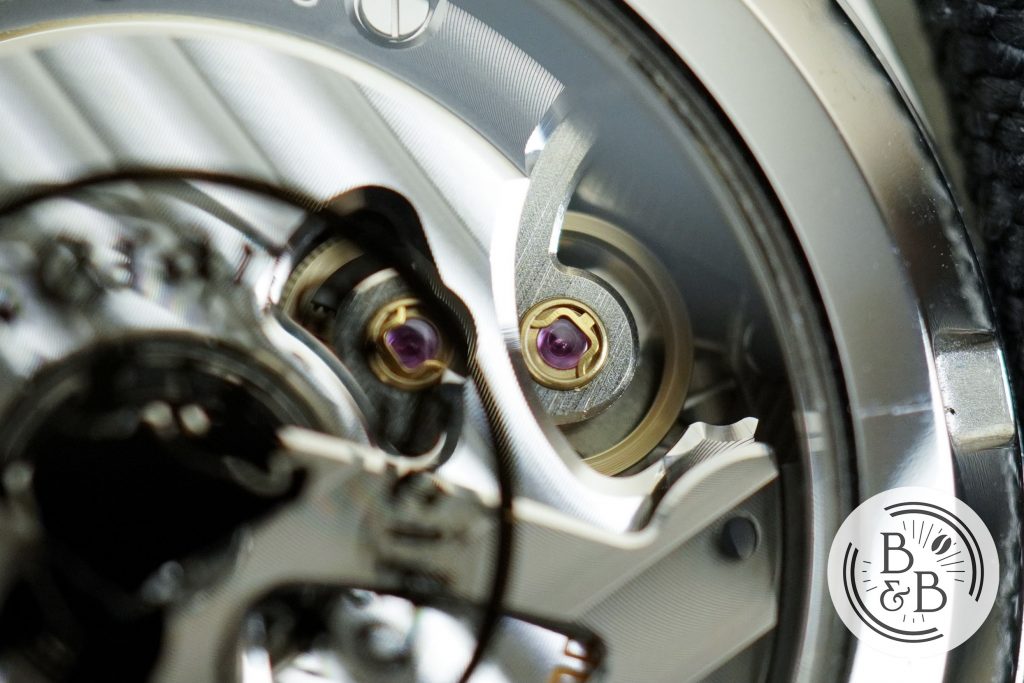 An interesting aspect is the lack of an oscillating balance wheel. Instead, you have a continuously spinning balance wheel that lacks a heart beat. So a typical time-grapher cannot measure accuracy of these watches. I used the WatchTracker app over a roughly 10 day period and observed under +/-0.5spd, which is pretty amazing.
---
Bracelet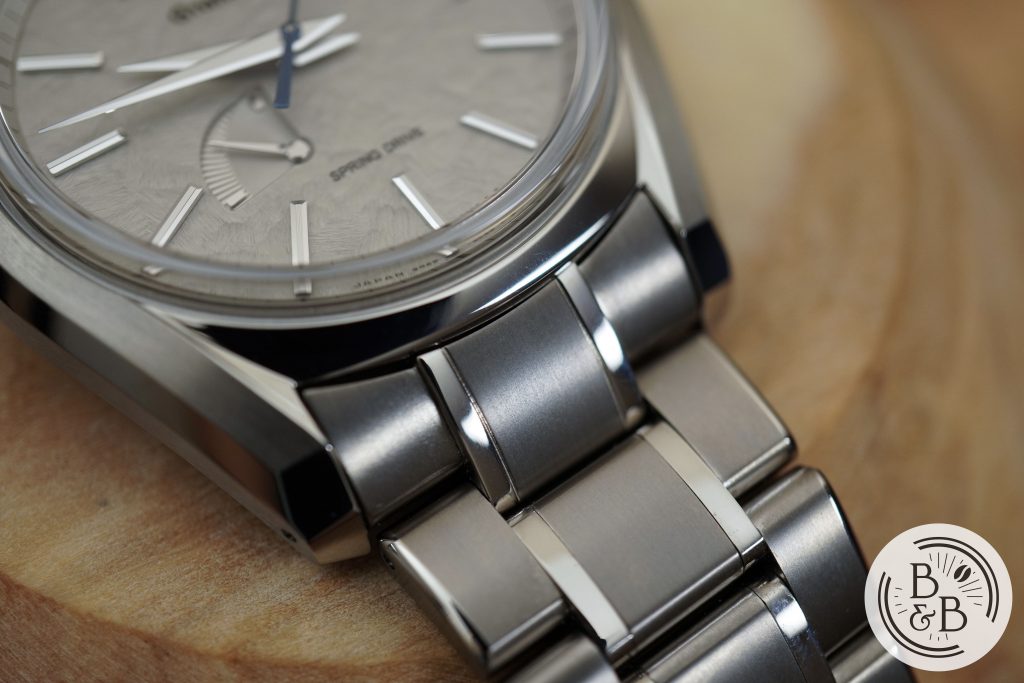 This watch has been mostly outstanding so far, so this next section will bring it back to reality with it's disappointing bracelet. But I knew this prior to purchase, and was prepared to take it off the bracelet the day it arrived. The first strike is for the horribly fitting end links – I have reviewed micro-brands that cost less than $500 that have managed to execute better end link fitment, and this is most certainly unacceptable for a $6300 watch. But I was recently advised by another Winter owner to swap out the spring bars for thicker ones, and that seems to make this a lot better.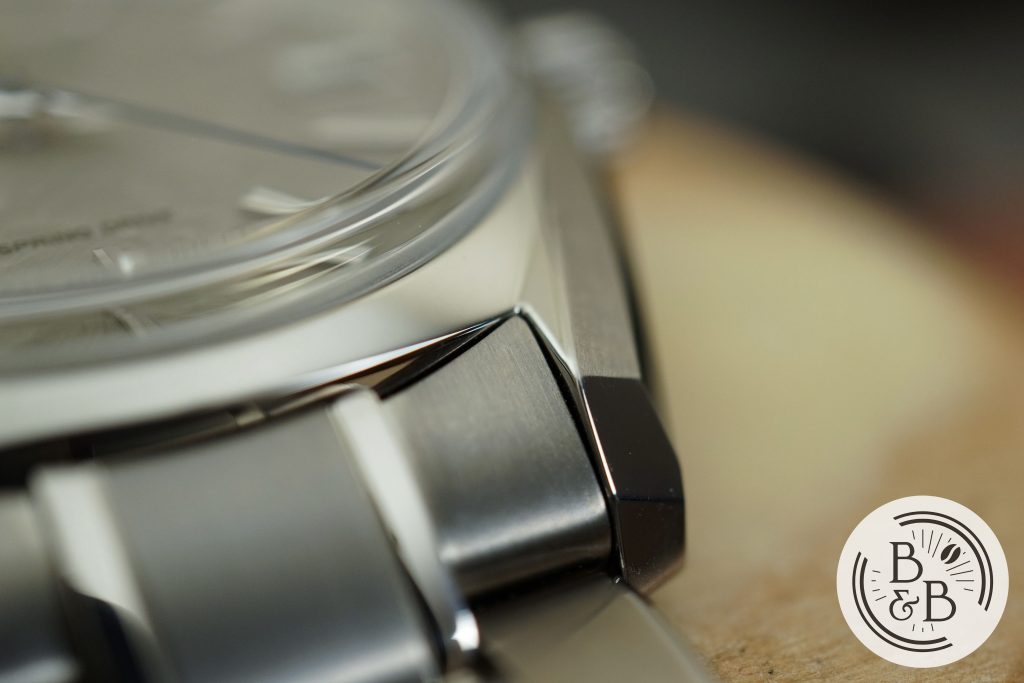 Construction and tolerances aside, I also think the end links could have been slightly better designed to continue the angular design aesthetic of the case, but Grand Seiko recycles these bracelets across multiple different watches, and that laziness and cost cutting exercise results in a slightly mismatched design. That is strike #2.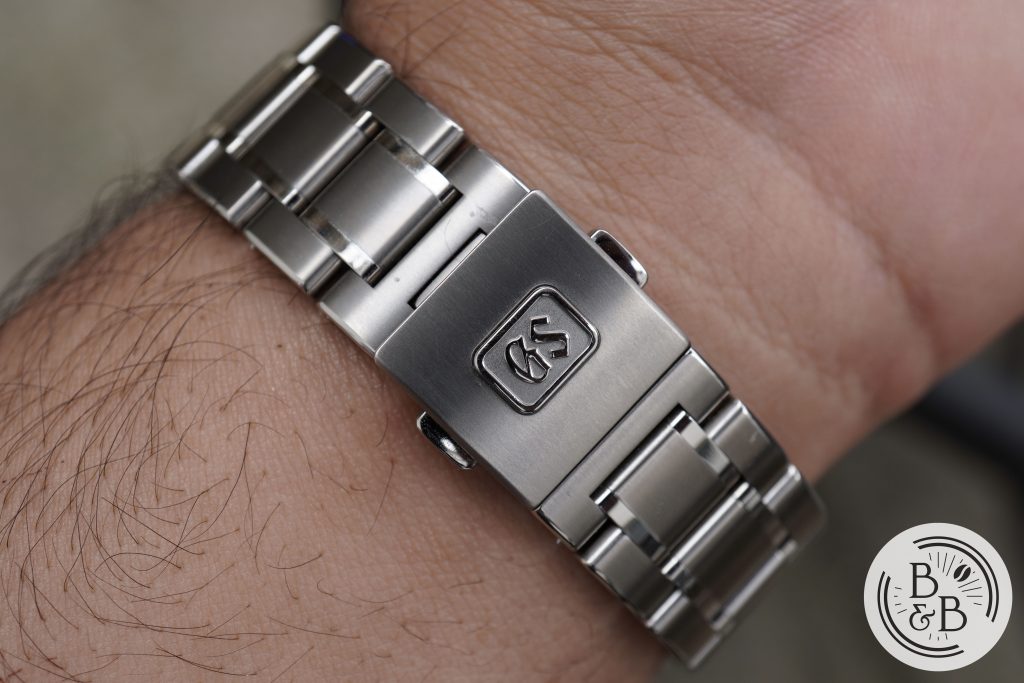 The links themselves are well finished, comfortable and look good. The bracelet is primarily made of titanium, which makes it light and easy to wear. The bracelet tapers from 21mm at the lugs to about 17mm at the clasp. Strike #3 is the clasp – it lacks any kind of adjustment, and your only option for a good fit are the two half links provided with the bracelet. Grand Seiko really needs to up their game in the bracelet department. This is amateur design and engineering, at best.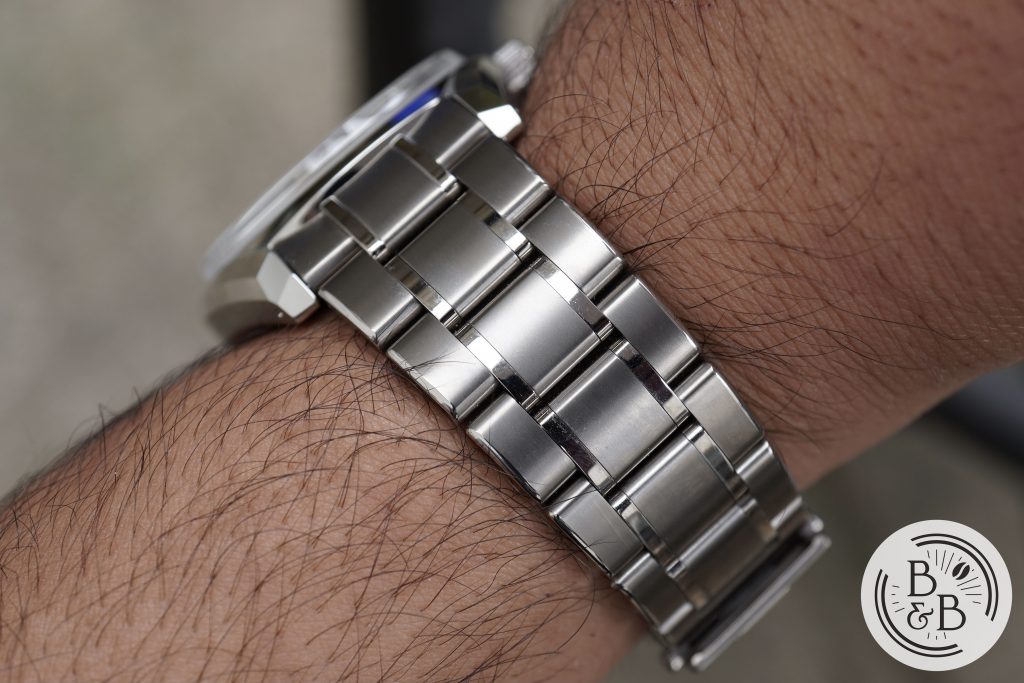 With that said, I have managed to get a decent fit from the bracelet, although it does get a bit tight for me when my wrist swells up. But it has been tolerable, and I haven't had the urge to take it off the bracelet yet, but that's also because I haven't found a good 21mm fabric strap option.
---
On The Wrist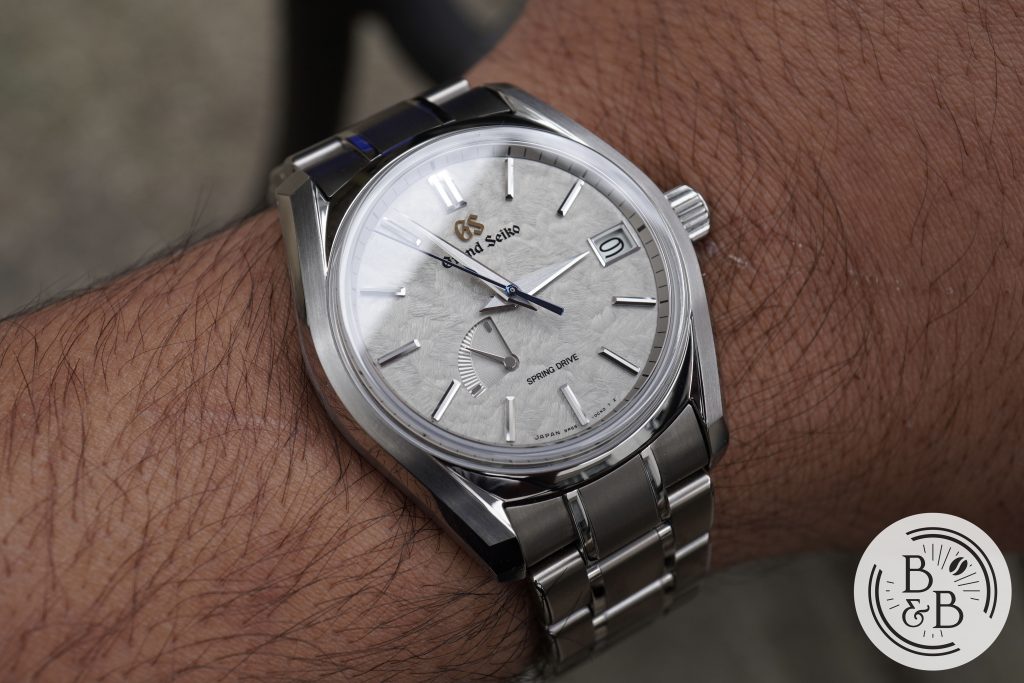 The 40 mm diameter and 46 mm lug-to-lug width are perfect for my 6.25″ wrist. The design of the lugs, lack of a bezel and 49.5mm end link to end link measurement make this watch appear larger than it is, so folks with larger wrists can pull it off easily too.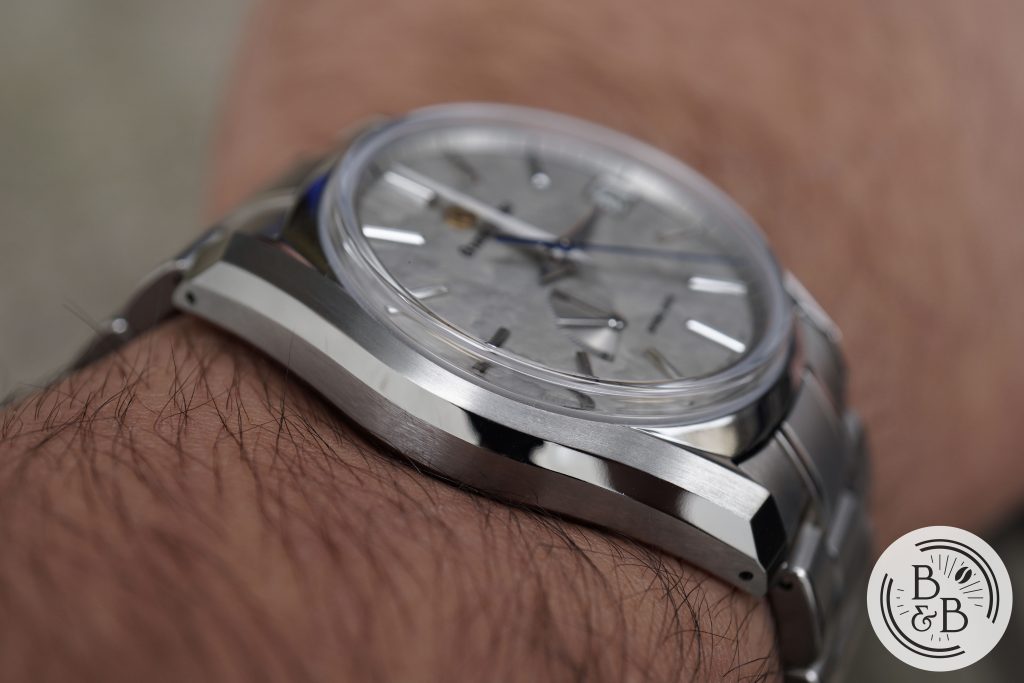 The height of 12.75 mm includes the roughly 2mm tall boxed sapphire crystal, but stays very well grounded because of a short and mostly flat case-back. I love the way this watch wears and wouldn't change a thing about it.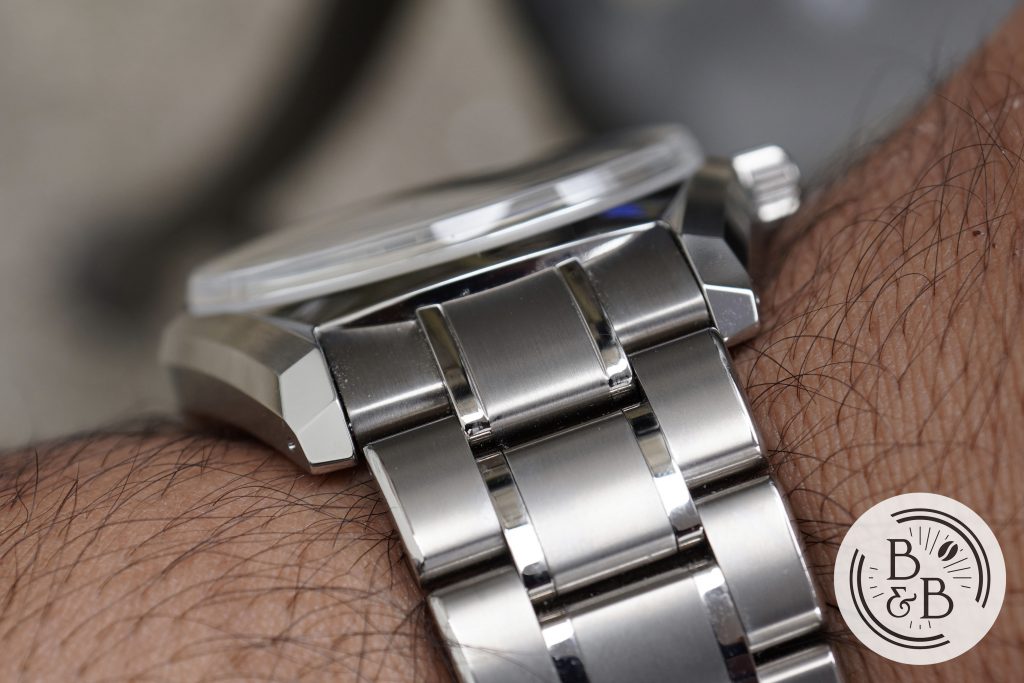 An important aspect of the wear-ability is the lightweight titanium case and bracelet, which weighs about 90 g sized for my wrist. This watch almost disappears entirely on the wrist, and I find it to be a pleasure to wear as an everyday watch.
---
Concluding Thoughts
To wrap this up quickly – I've had this watch for about a month now, and I love it. This one will be staying, and I suspect it'll stay with me for quite a while. That said, this watch is not perfect. Grand Seiko really needs to get their act together and sort out their bracelets. If they can master end link fitment and switch to a functional clasp, they can take on much bigger players in the market segment, and also go after that little micro-brand in Geneva making unattainable sports watches.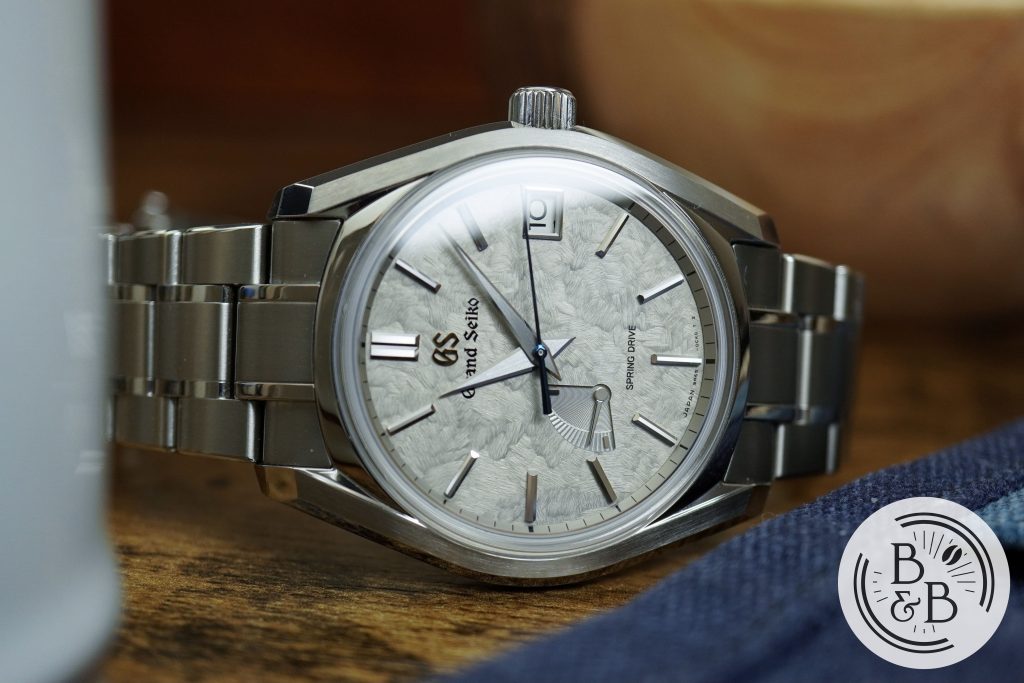 But this review is not about them. It is about Grand Seiko, and this watch is likely to not be the last Grand Seiko that I add to my small collection. And if you're in the market for something special and innovative, and equal parts beautiful, I highly recommend looking at the Four Seasons collection. And don't be afraid to look beyond the Spring (SBGA413), because the Winter (SBGA415) has a lot to offer too.
---
Thanks for reading!