---
Disclaimer: This watch was sent to me to review, and I was not incentivized in any way to make this review. This is in no way sponsored by Farr + Swit or any other entity. All opinions here are my own. Since this watch has been worn/used by other reviewers, please make note that the experience might differ from that of a brand new watch. In the spirit of full transparency, I must acknowledge and thank Adam from Farr + Swit for sending me stickers, a great looking t-shirt and a Farr + Swit dry-bag!
---
---
Contents
---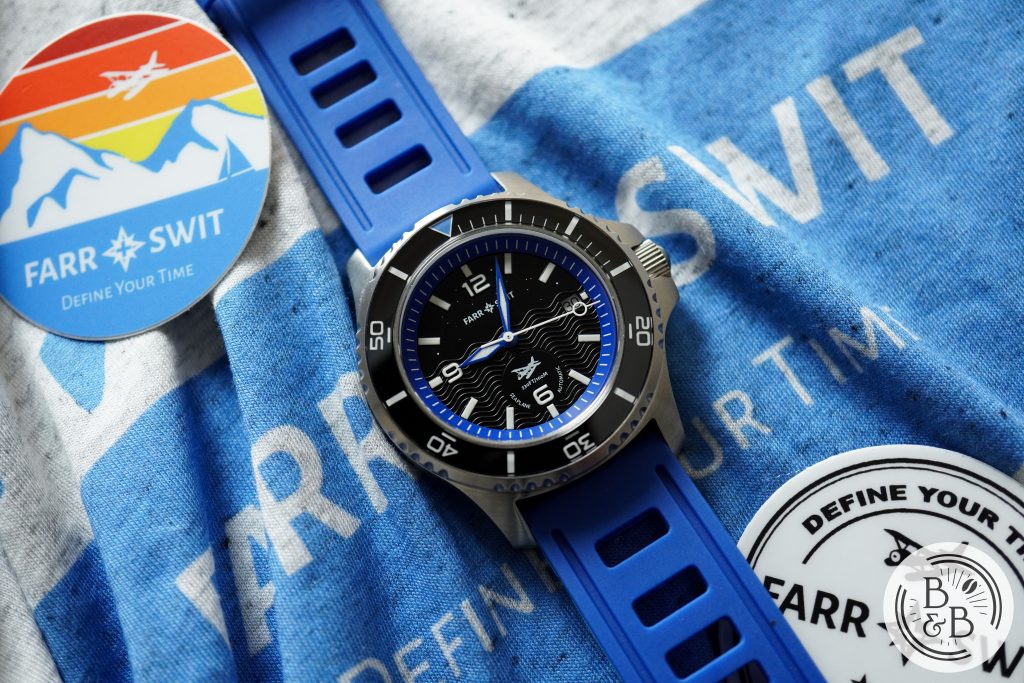 Farr + Swit
Farr and Swit is a micro-brand based in the United States (near Chicago, IL), and I've been wanting to review their Seaplane watch since I first discovered them earlier this year. By now you know of my obsession with blue, and my affinity towards these watches should come as no surprise. The Seaplane is offered in two variants – a steel case called the Day Trip ($629), and a black PVD coated case called Midnight Trip ($649).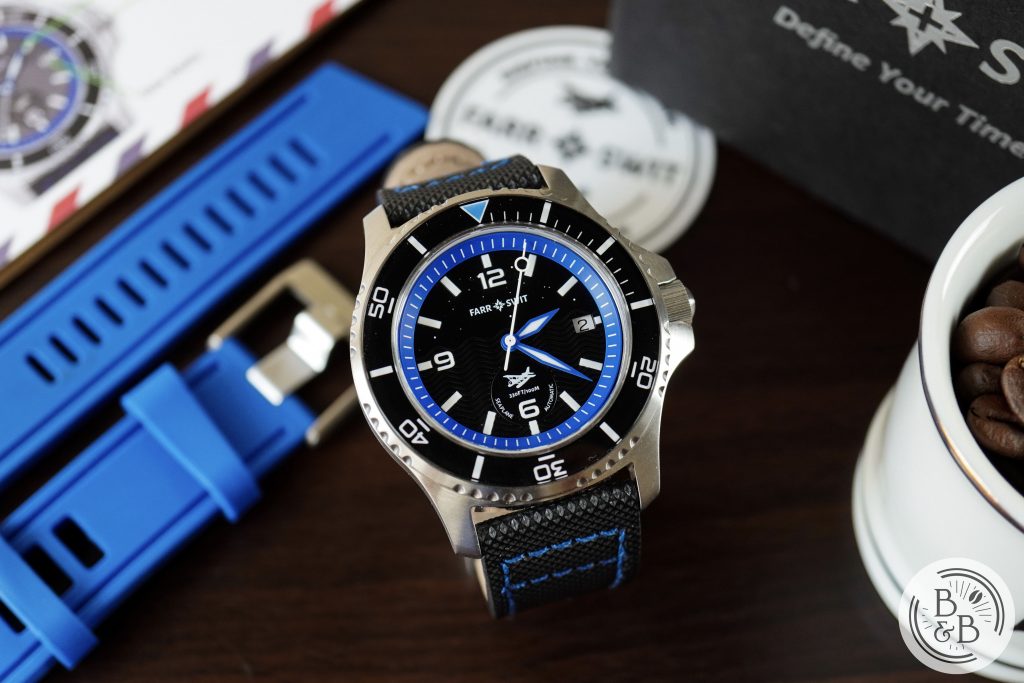 I personally love the overall adventurous aesthetic of the watch, and while the case might not be a complete departure from Submariner inspired watches, this watch stands out with it's very interesting dial, that has both diver and pilot watch inspiration. These watches are assembled in Mentor, OH and you can add them to the list of American micro-brands (Nodus, Collins, etc.) that are manufacturing overseas but assembling and performing QC in the USA. You can read more about how they got started here. At roughly $650, this puts them in the same challenging price bracket as the Collins Sonar I recently reviewed.
Let's check it out!
---
Case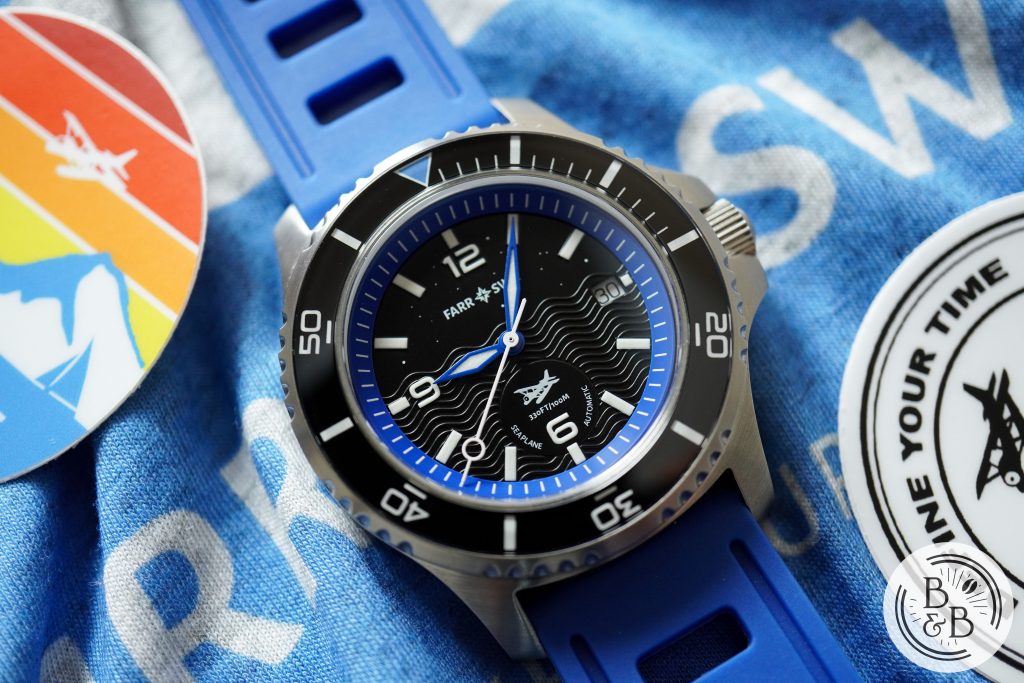 The 42mm diameter, 50.5mm lug-to-lug width case is entirely polished and does have a fair bit of weight to it. The finishing on the case is good, but I won't say great because the brushing isn't perfectly even, and some parts of the case feel rougher than others, particularly near the lugs.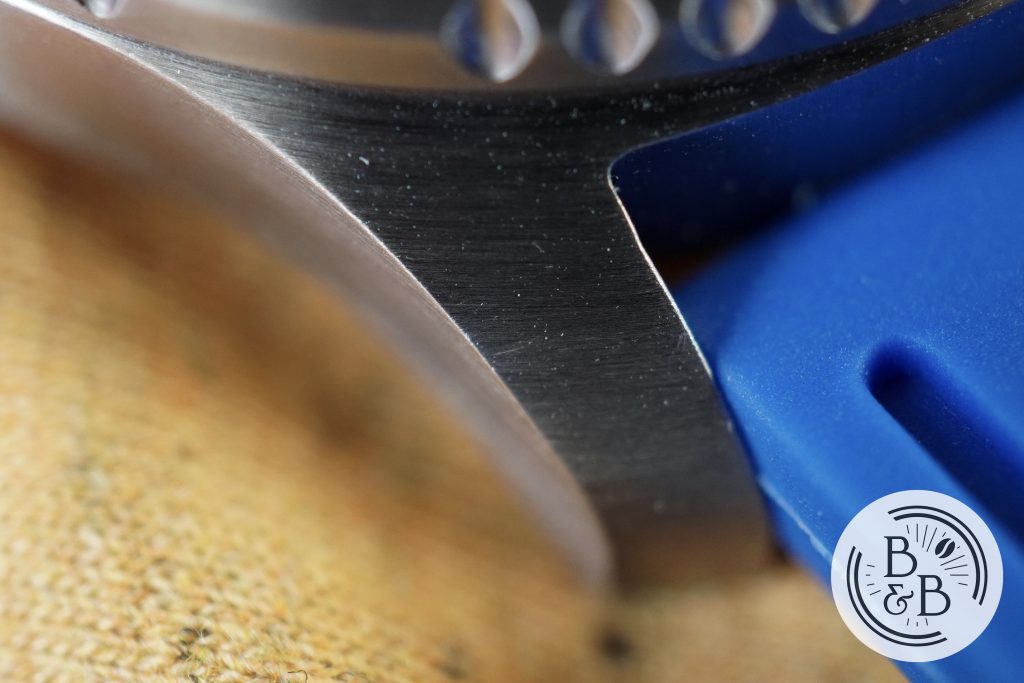 I like the lug design – the lugs are short and dramatically curve down towards the wrist. The lug width is 22mm, which I think is appropriate for the 42mm case. The lug holes are somewhat atypically (in a good way) positioned, allowing for a tight gap between case and strap. Unfortunately, this positioning doesn't allow for drilled through lugs.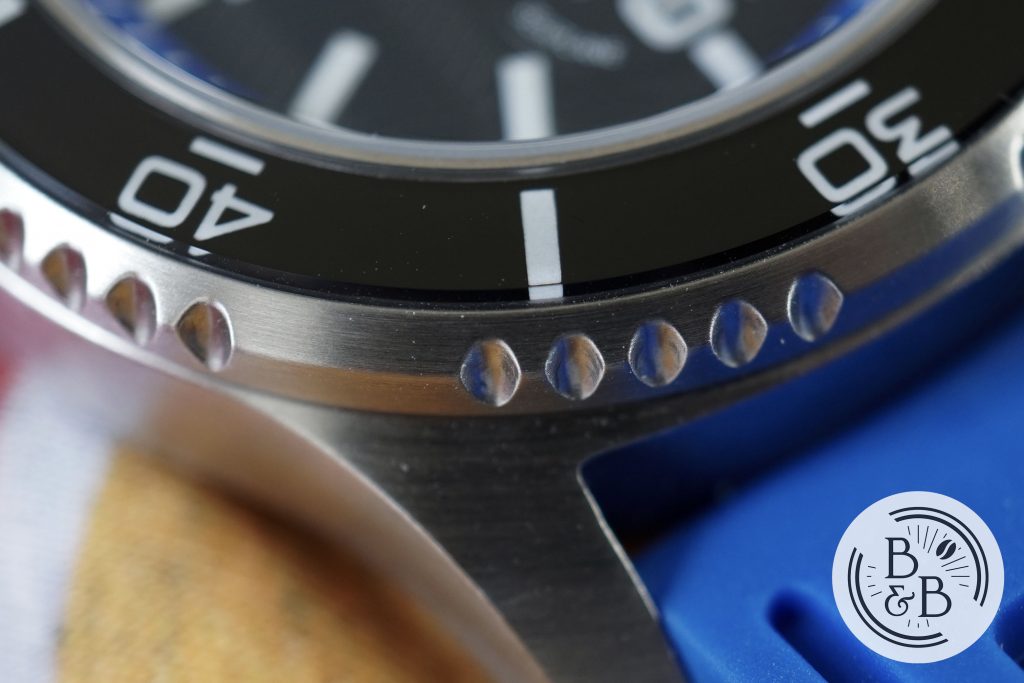 The bezel has a very interesting ridge pattern that has some areas with the teeth and some without. This has no effect on comfort, so don't worry. It does look interesting and is easy to grip and adjust. The action on the bezel is very heavy and feels like quality, with loud clicks. There are no alignment issues and no bezel play. Very impressive stuff here!
On the sapphire crystal covered bezel insert, all of the increments of five are lumed with BGW9 Super LumiNova, including the blue triangle at the 12 o'clock. Each Arabic numeral minute indicator on the bezel has an under-score that I personally find unnecessary. If anything, it highlights some printing inconsistencies in the dial insert – notice the gaps between these underscores and the bezel.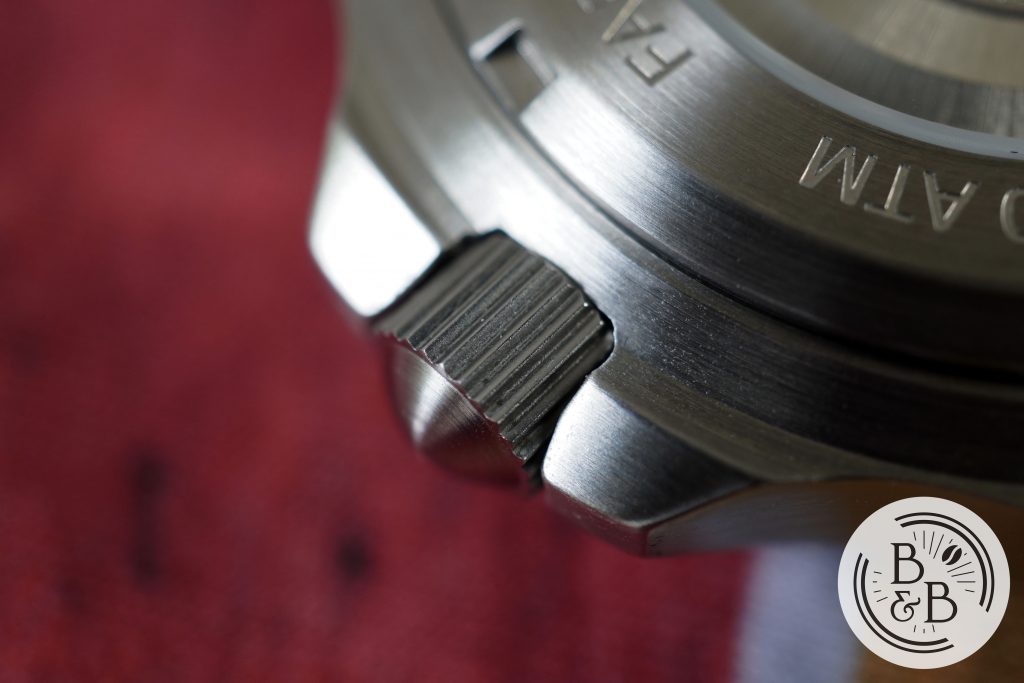 The 6.5mm diameter screw-down crown protrudes significantly (5.5mm) out of the case, but is accompanied by a pair of neat crown guards. The ridges on the crown are excellent and the crown is very comfortable to operate. There isn't any crown or stem wobble.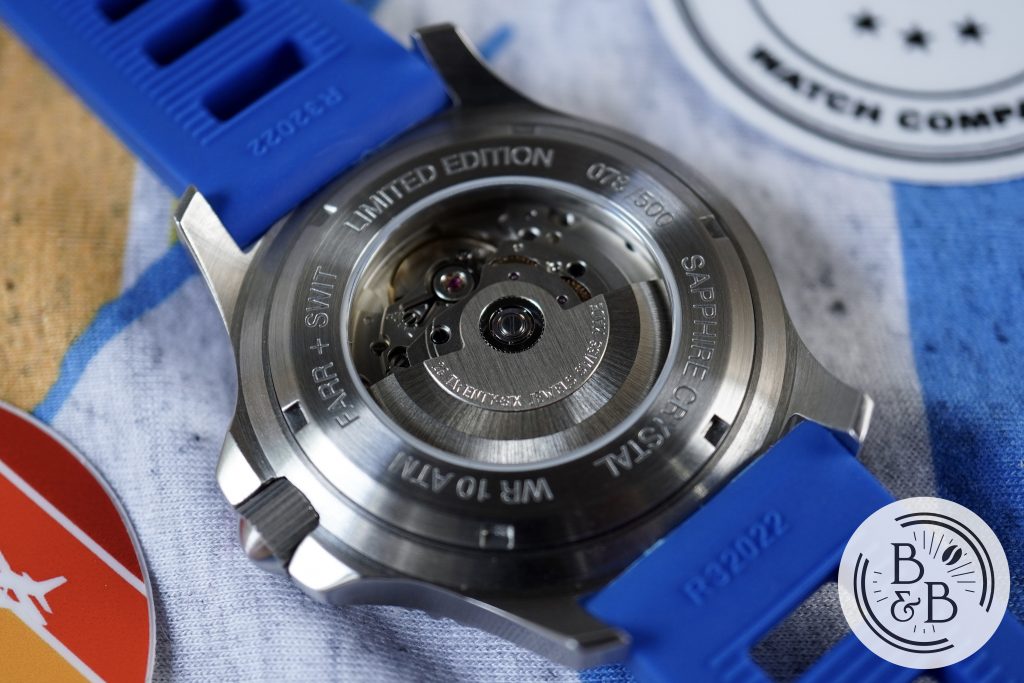 Flipping it over you have a screw-down case back that has an exhibition window. This watch is rated for 100m of water resistance. Given the dimensions of this watch and its designated use-case, I would have preferred if it were a solid case-back with another 100m of water resistance instead! But given that most of us will rarely ever need more than 100m of water resistance, I think this is fine. The case-back cover is short and the helps the watch in the comfort department, so it definitely earns some points there!
---
Dial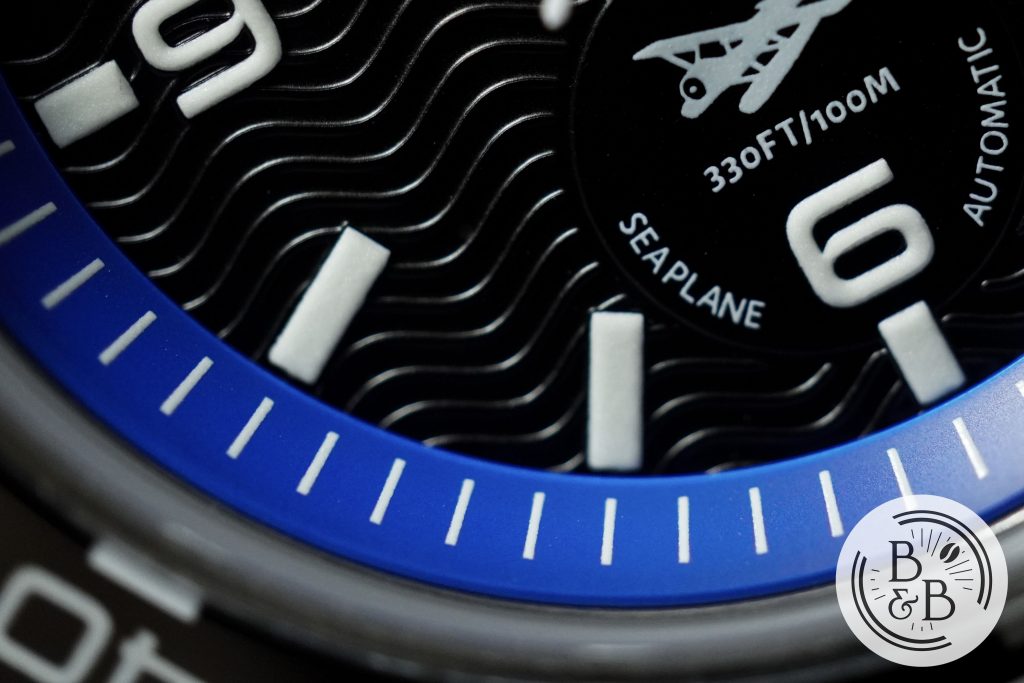 The dial is the most interesting and appealing aspect of this watch. The chapter ring is a bright blue with white markers. The chapter ring is perfectly aligned with the dial and bezel. The predominantly black dial has moderately sized rectangular hour indices that are lumed with BGW9.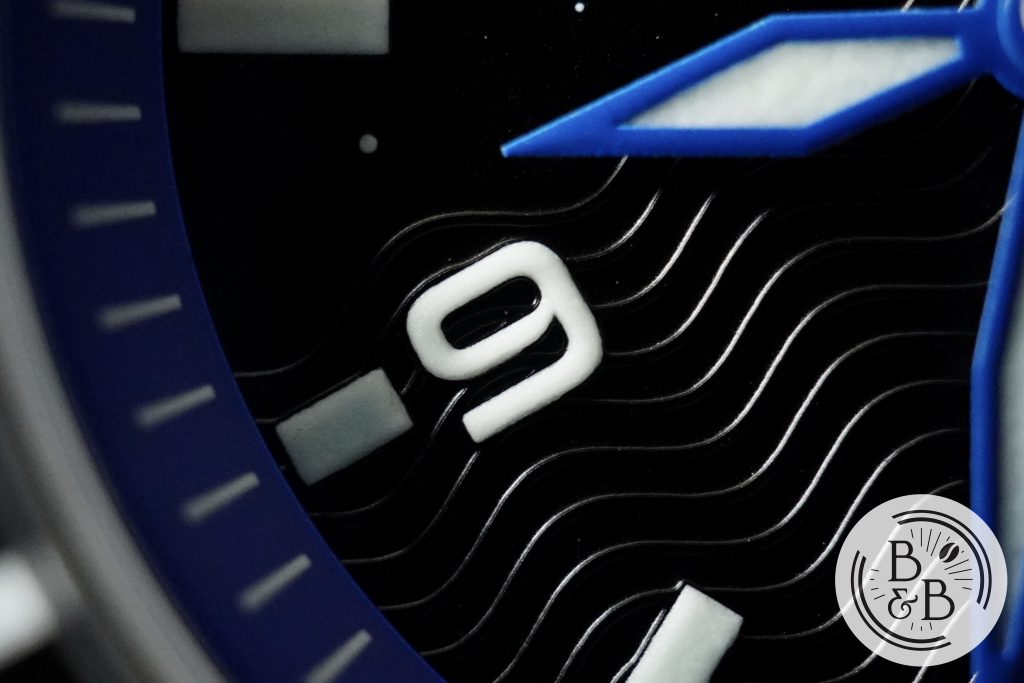 There are arabic numerals at the 6, 9 and 12 positions, similar to many aviation watches. These are lumed with BGW9 and look great. The finishing of the painted hour indices and the numerals is good. The lume is printed / painted onto raised sections of the base dial layer.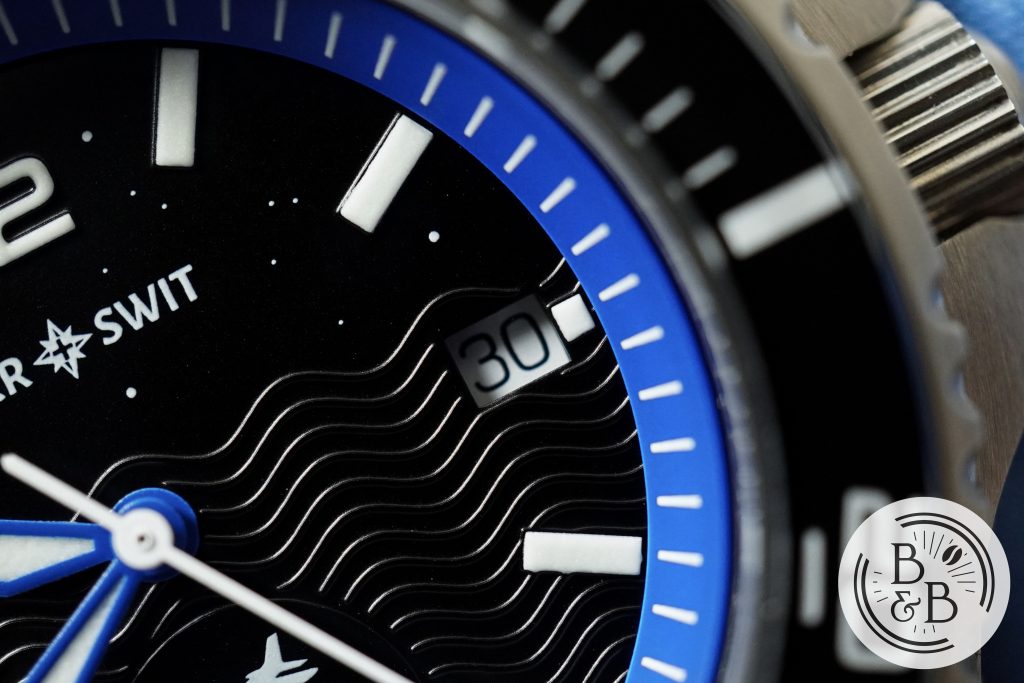 There is a date window at the 3 o'clock position that eats into the hour index, but isn't too awkward about it. I wish the date wheel was color matched to the dial, but even in it's current state it isn't bad at all.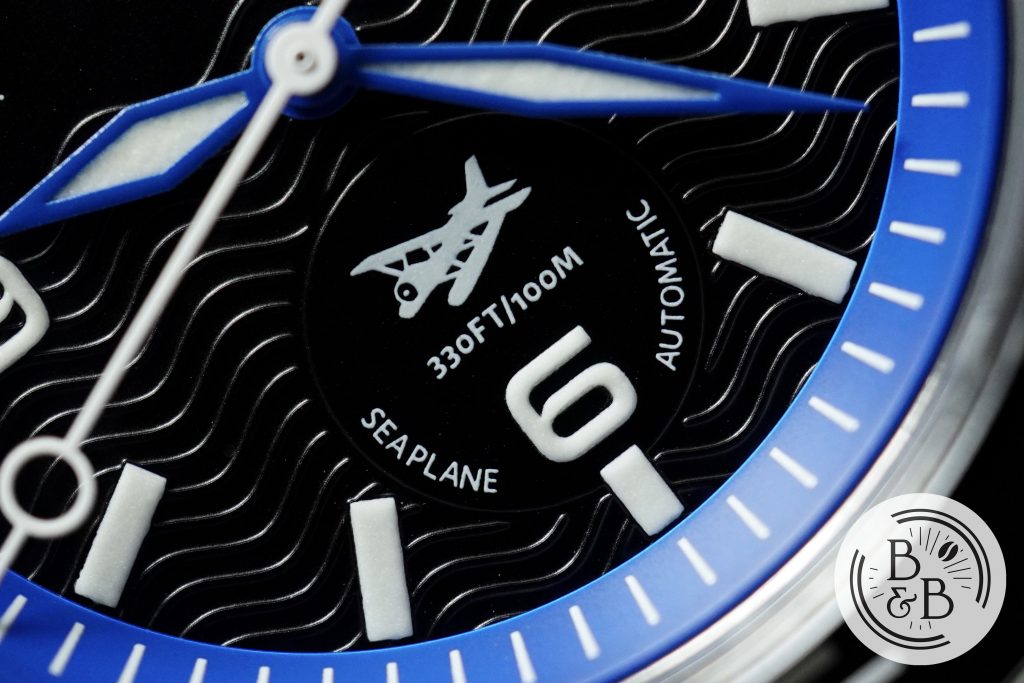 The base dial layer has a beautiful embossed pattern of waves across the lower half of the dial, and a tastefully painted starry night on the top. This fits the 'Seaplane' design inspiration perfectly, and doesn't look tacky at all. I love it! Above the 6 o'clock is a sub-dial style element that has a Seaplane printed on it along with the name of the watch and it's WR rating. I think printing the actual plane on the dial was a bold move, but a successful one. If I was a greedy man, I would also have liked the Seaplane to be lumed because it would look really, really cool. I'm sold on the design either way.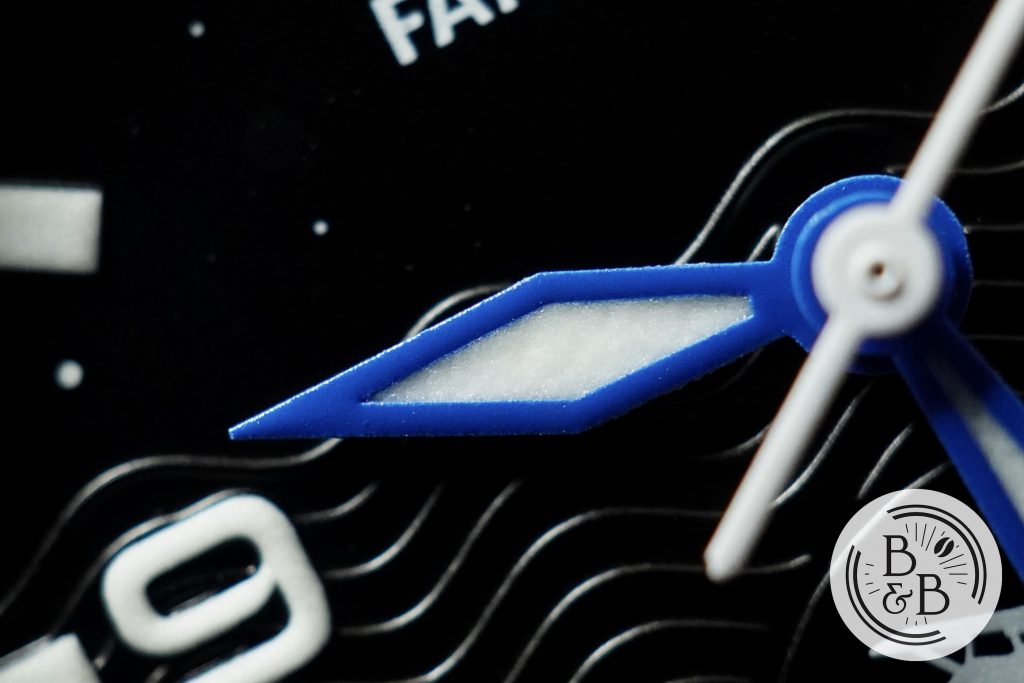 The hands are once again aviation watch inspired, with the sword style design for the hour and minute hands. The hands are painted blue and filled generously with BGW9 lume. The finishing appears to be quite good and I have no complaints.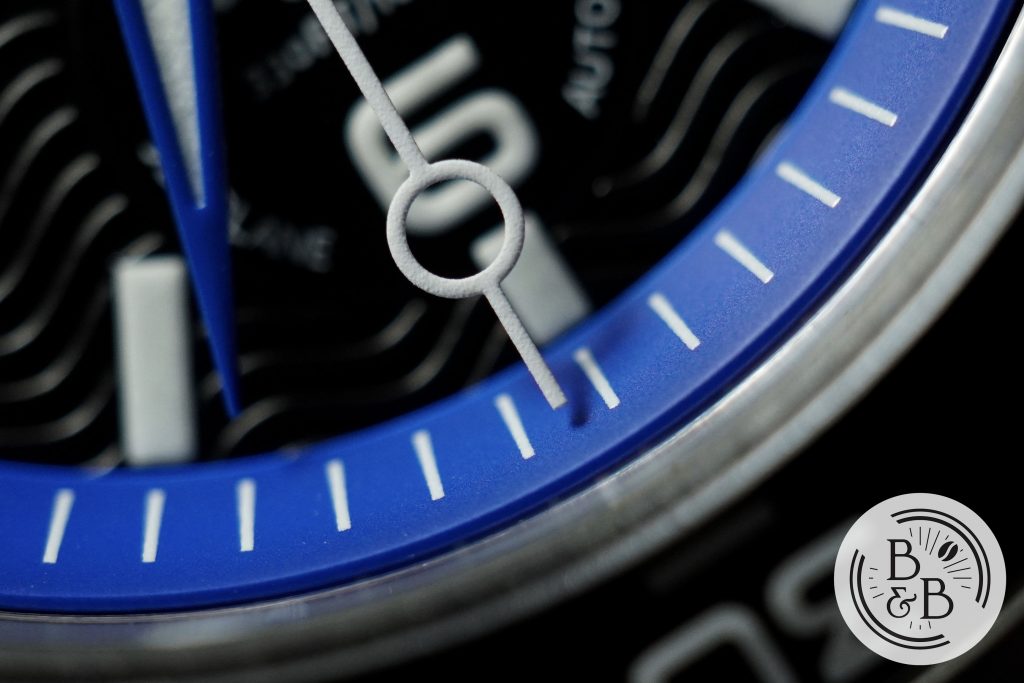 By now you must also know that I'm a fan of minute and seconds hands that reach to their respective tracks, as this makes accurate timekeeping very easy and just helps overall legibility. The seconds hand on the Seaplane extends elegantly over the chapter ring, automatically earning this watch extra brownie points. The minute hand doesn't extend all the way to the chapter ring, but is close enough to be easily legible.
---
Lume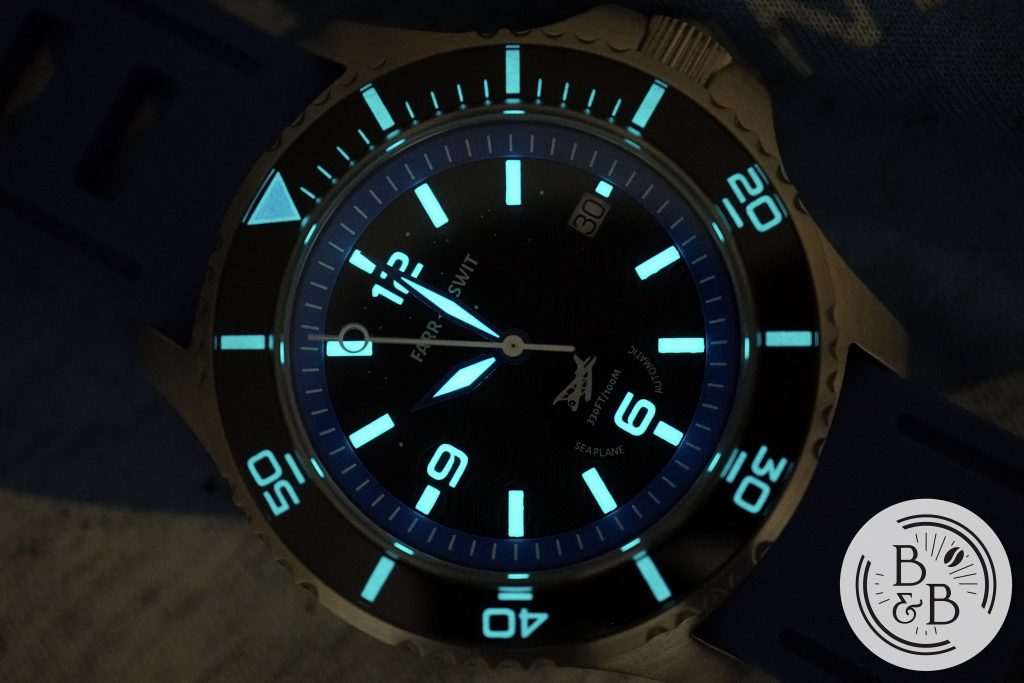 All the lumed elements are Grade A BGW9 Super-LumiNova and it looks great. The triangle on the bezel has a neat change in gradient at the border because of the design. All the lumed elements are sufficiently bright and retain their brightness well. I would've loved to see a lumed seconds hand but the lume on this watch is more than acceptable.
---
Movement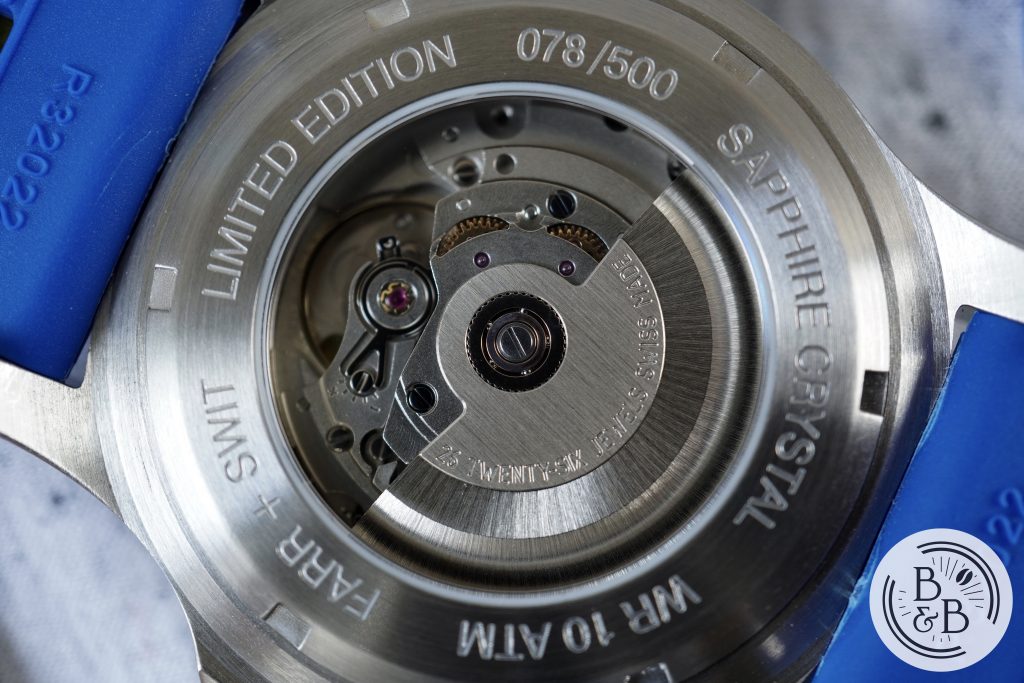 This watch uses a Sellita SW200-1 that is visible thanks to the exhibition window. This isn't a beautiful movement, but it is not ugly either (cough… Seiko NH35… cough).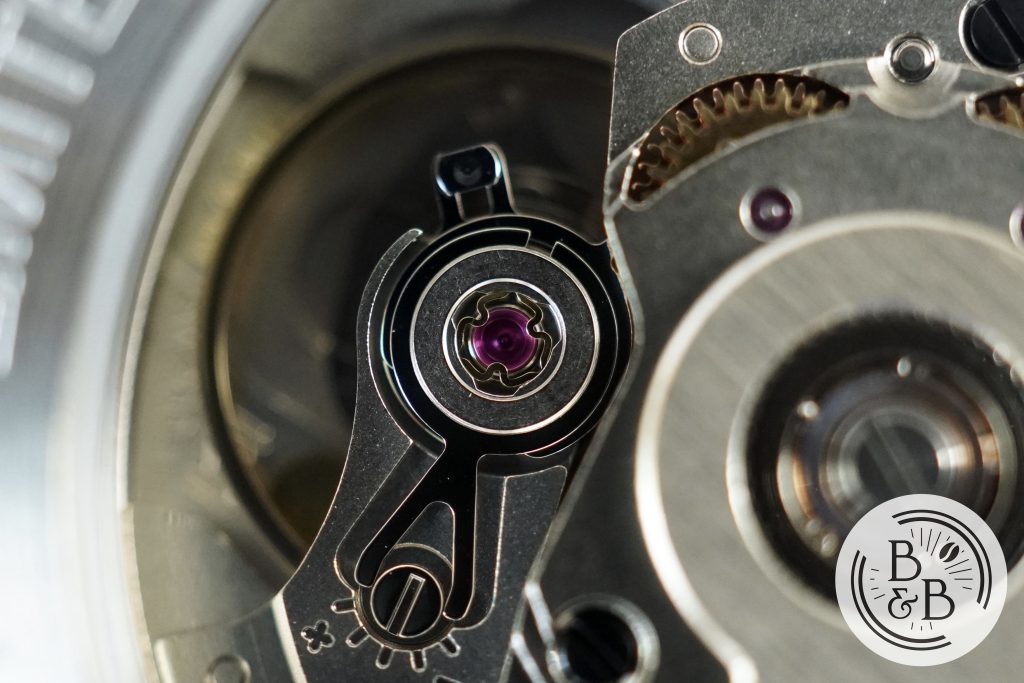 The movement is quite clean which indicates good assembly and QC protocol.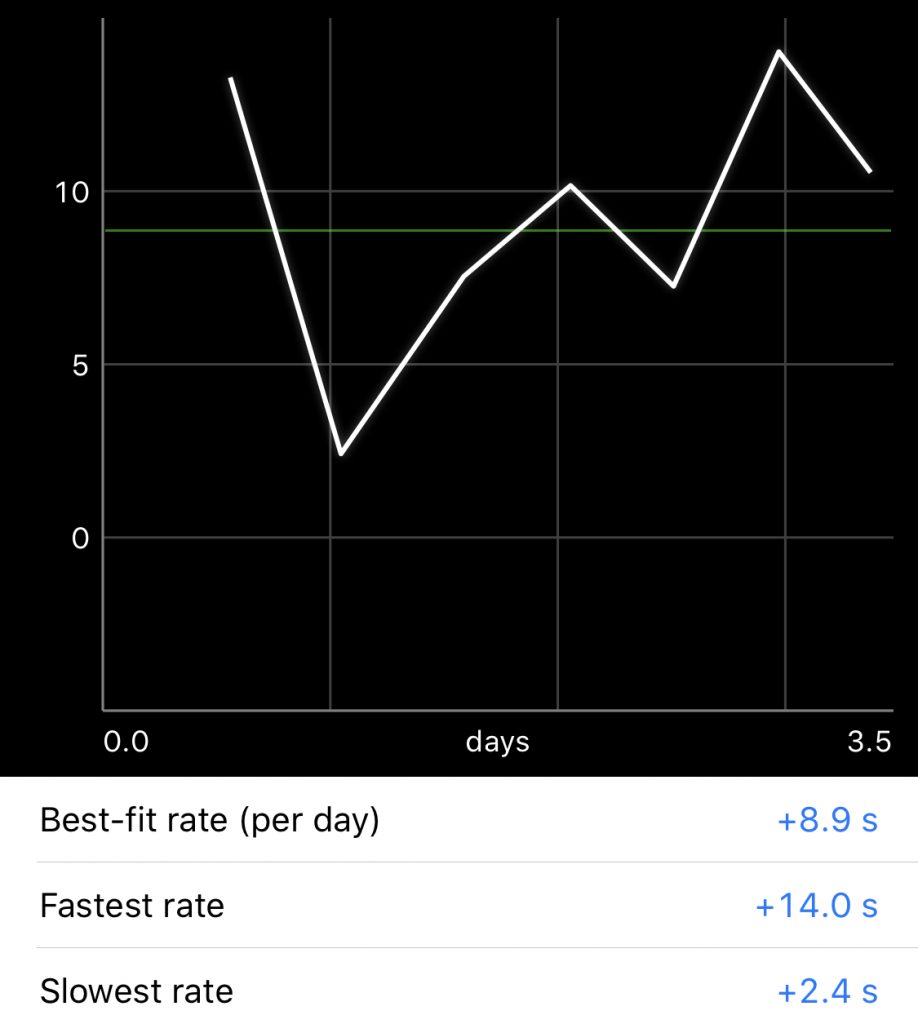 I logged the accuracy of this watch over a 3 day period and observed an average accuracy of +8 spd, which is well within spec.
---
On The Wrist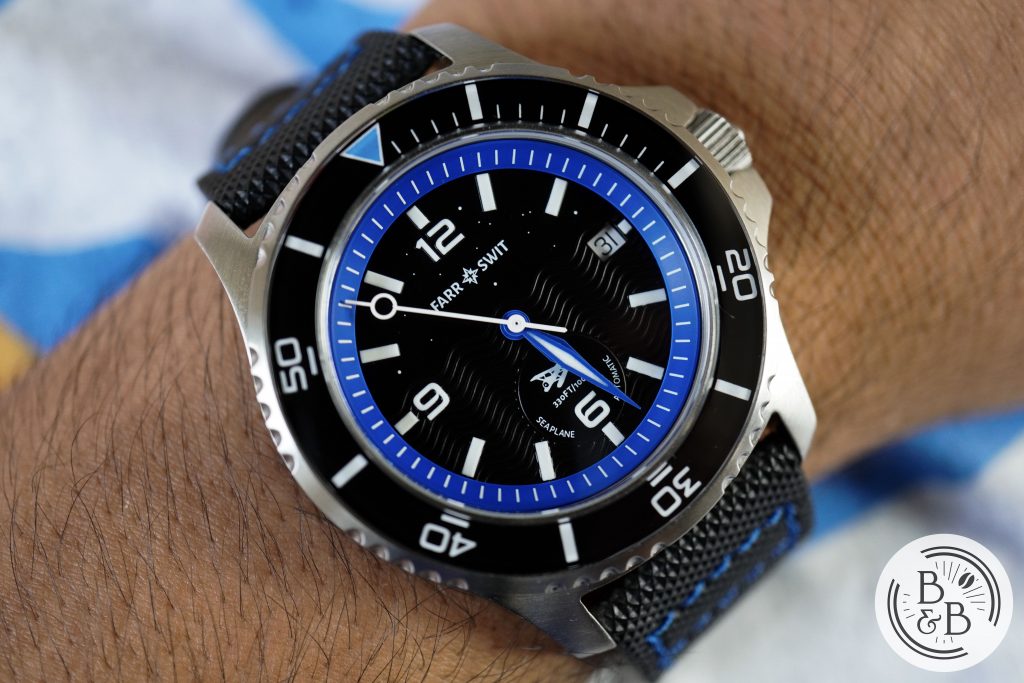 The 42mm diameter and 50.5mm lug-to-lug width make it an arguably large watch for my 6.25″ wrist. The dramatically curved lugs help with this, and where the case is concerned, I never felt like it was too big for my wrist. The 12.5mm height combined with the well proportioned case-back cover helps it sit quite low and comfortably so.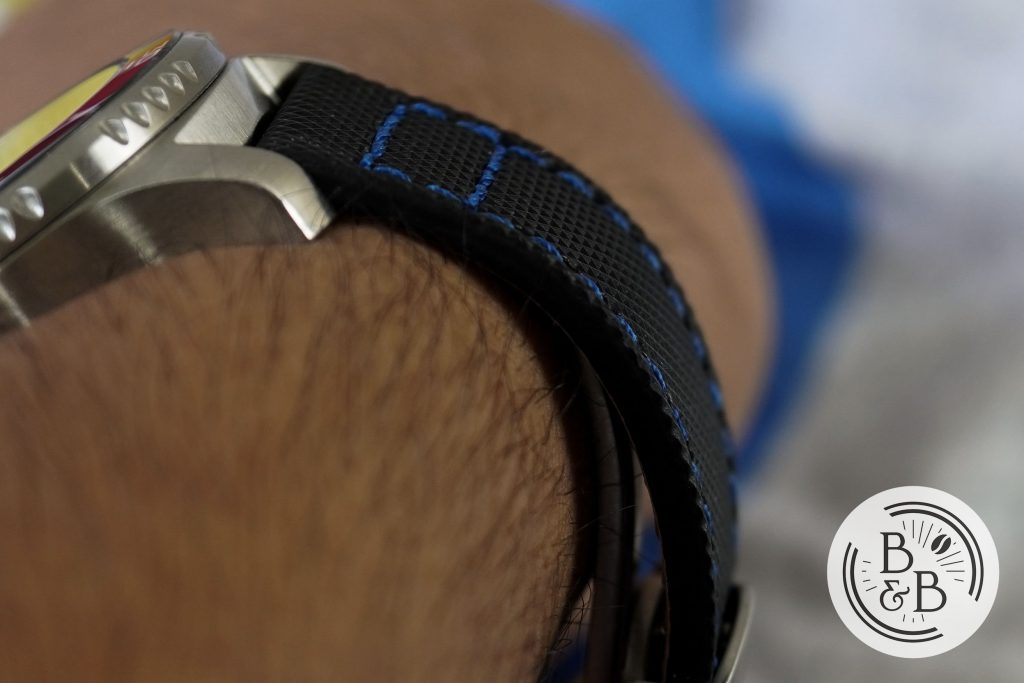 The sailcloth strap, however, is a clear indication that my wrist size was not their target market. I was on the last strap hole, and the clasp folds inward pressing against my wrist flank, making it impossible to wear without discomfort. This clasp design is definitely a bit odd.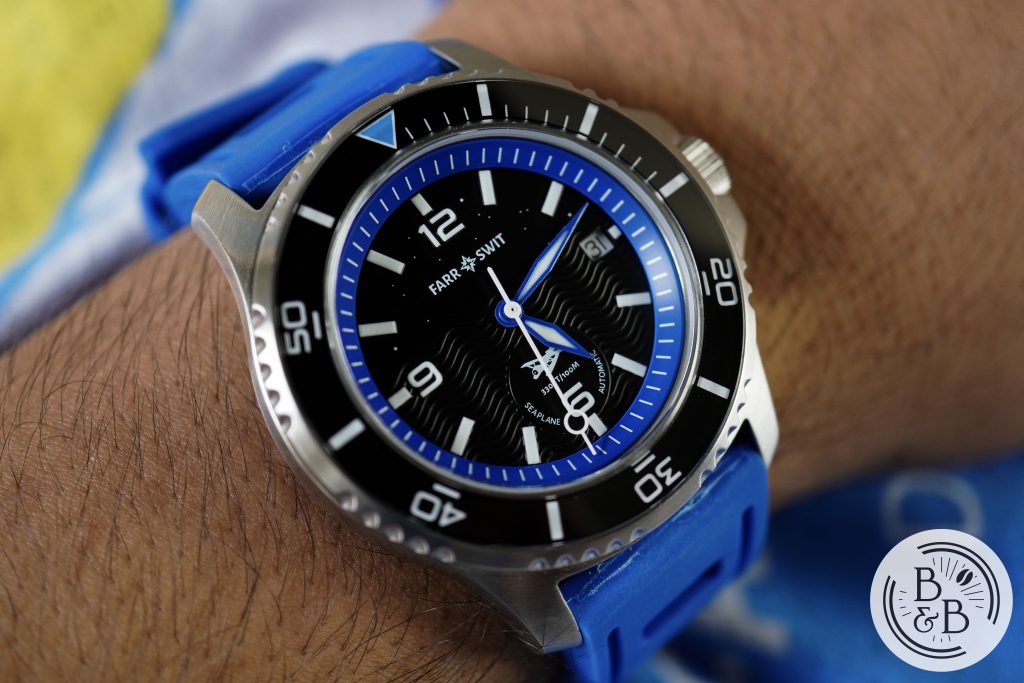 Luckily I had another 22mm strap lying around and wore it on that throughout my review. So I'll admit it is a comfortable watch, if you can get rid of the sailcloth strap for something else. They offer some great looking leather straps and a silicone strap as well.
---
Concluding Thoughts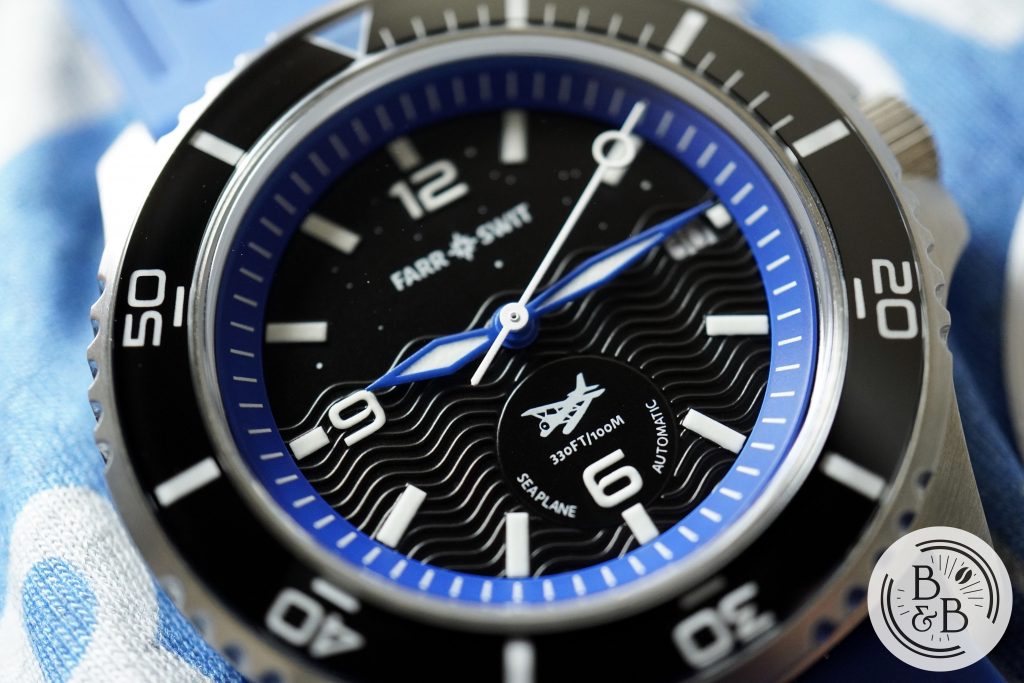 To wrap things up, I like this watch and the design in particular. Unfortunately, for those that aren't thrilled about the color blue, this watch isn't going to be very appealing. $629 is a reasonable price for a well made SW200-1 equipped watch, and I like this watch more than I did the Collins Sonar that is similarly priced.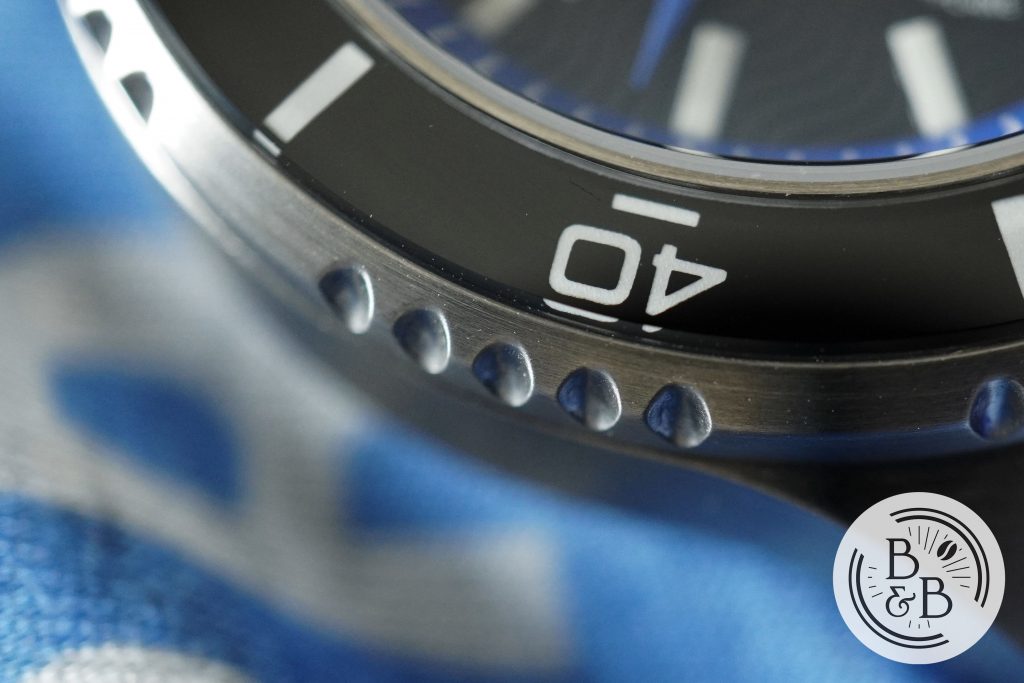 There are some things I didn't like about this watch like the strap (easily fixed) and the finishing on some parts of the case, but even with those two issues I think this is still a unique enough design to justify buying if you like it.
The bezel action is great, the quality of finishing on the dial and hands is more than satisfactory and even the tidiness of the movement goes to show good assembly and QC protocol.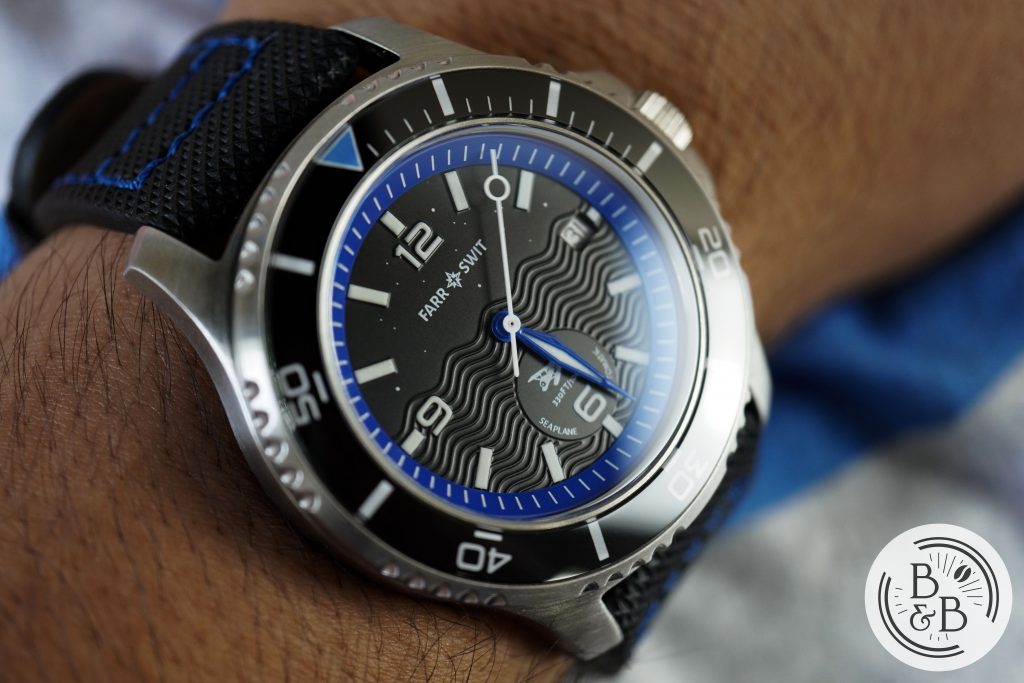 Farr + Swit do occasionally have discounts ($100 off in July 2020, 25% off coupon codes early last year, $100 coupons from some watch reviewers on YouTube), so if you can grab one of these closer to the $500 mark, I think you're getting a good deal, because this watch is a lot of fun. And if you like blue, you're going to enjoy every minute of it!
In terms of presentation, Farr + Swit deliver a great purchasing experience with a beautiful US Postcard inspired instruction card, a branded cardboard box with foam padding, a hand written and signed warranty card and all of this is placed in a perfectly appropriate 5L dry bag.
---
Strap Change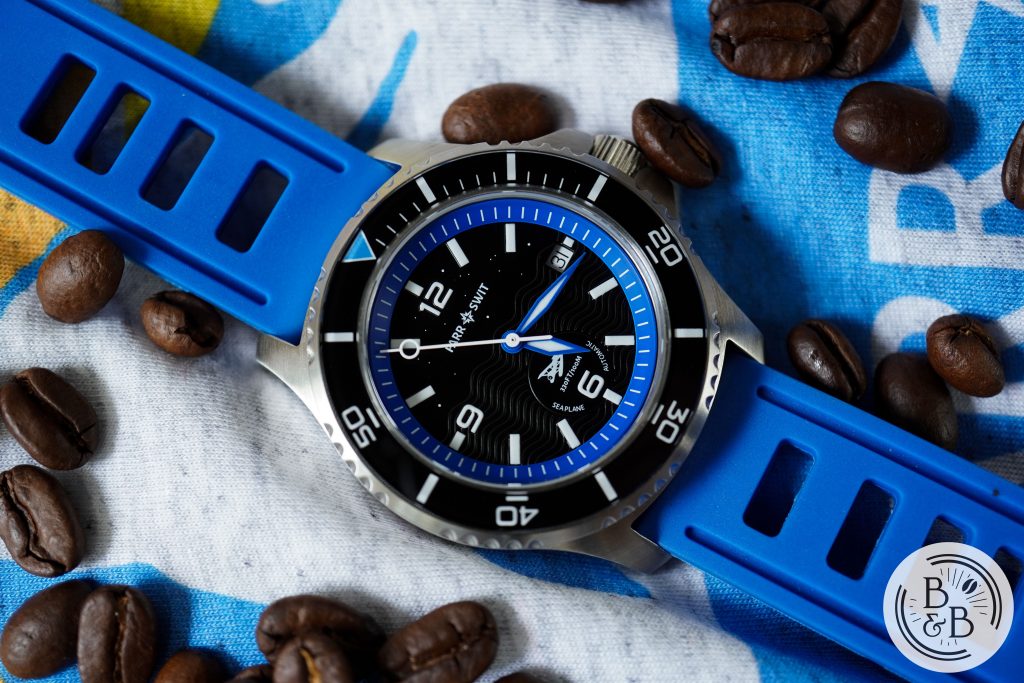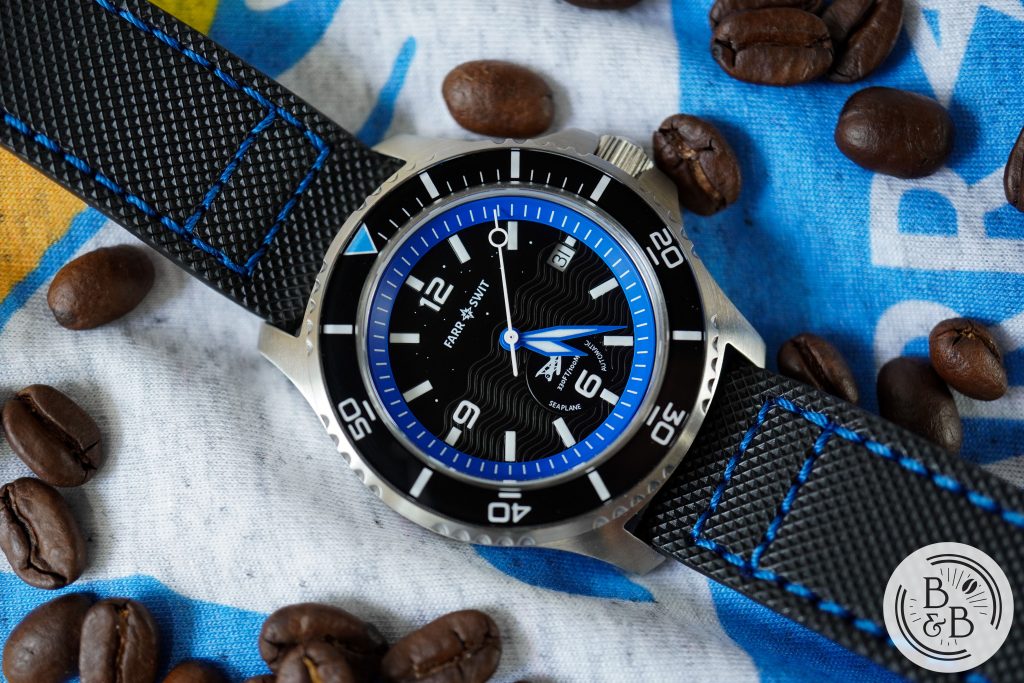 ---
Thanks for reading!