---
Disclaimer: This watch was sent to me to review, and I don't need to return it after my review is complete. This, however, was done without restriction and is not contingent upon a particular outcome for my review. All opinions here are my own, and Vandaag had no influence over the opinions stated here.
---
---
Contents
---
Schallmauer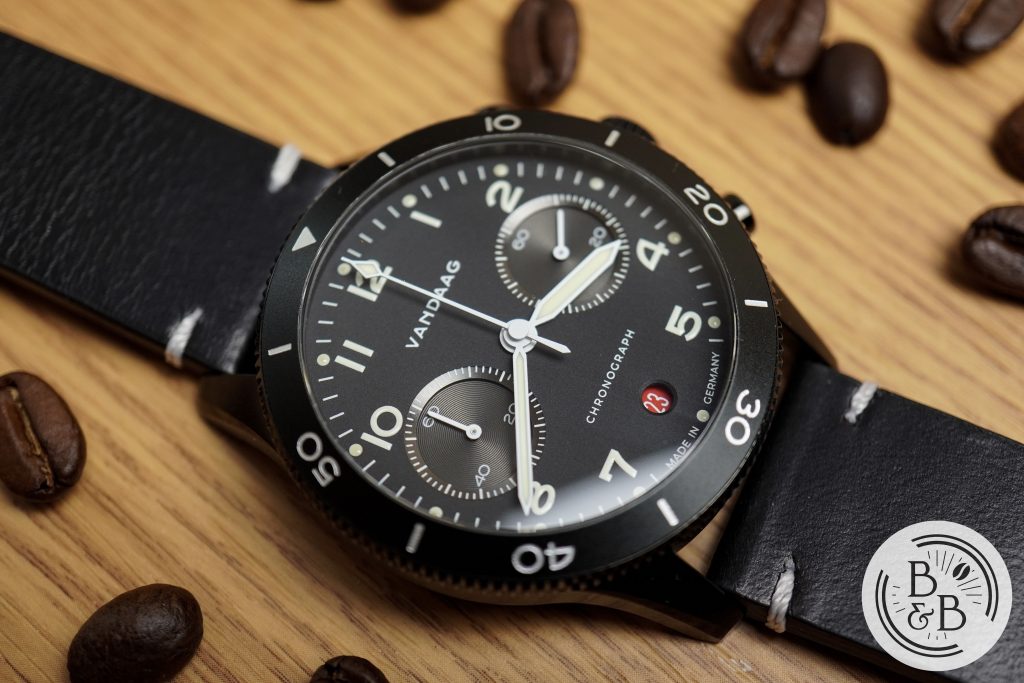 I recently introduced this brand in my review of their latest dress watch, the Vandaag Primus. Today I'll be looking at their debut watch, a pilot's chronograph that they launched earlier this year called the Schallmauer. This watch has clearly been inspired by the many beautiful pilot watches of the past, and has a lot of design cues from German pilot chronograph watches too. They've managed to do this while also creating their own minimalist identity for the Schallmauer.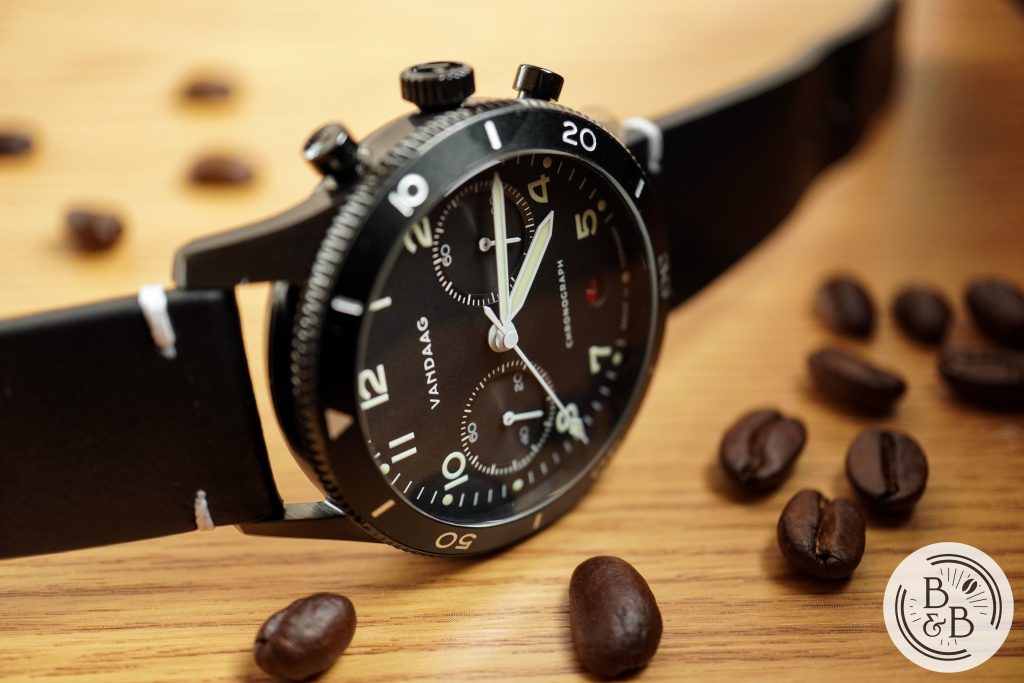 The Schallmauer is currently only offered with a quartz movement, and cost roughly $325. These watches are assembled in Germany by their watchmaker, and I think they've done a stellar job on this debut piece. I believe they chose to debut with a quartz chronograph because an automatic would've significantly increased the final price for a chronograph, and that could be tricky business for a new micro-brand. I respect this bold move!
Let's get into it!
---
Case
The case measures 42.5mm in diameter, 50mm from lug-to-lug and 12.2mm in height. The entire case is made of stainless steel with a black DLC coating. The 12.2mm case height includes the slightly domed sapphire crystal, that comes with two layers of AR coating on the underside.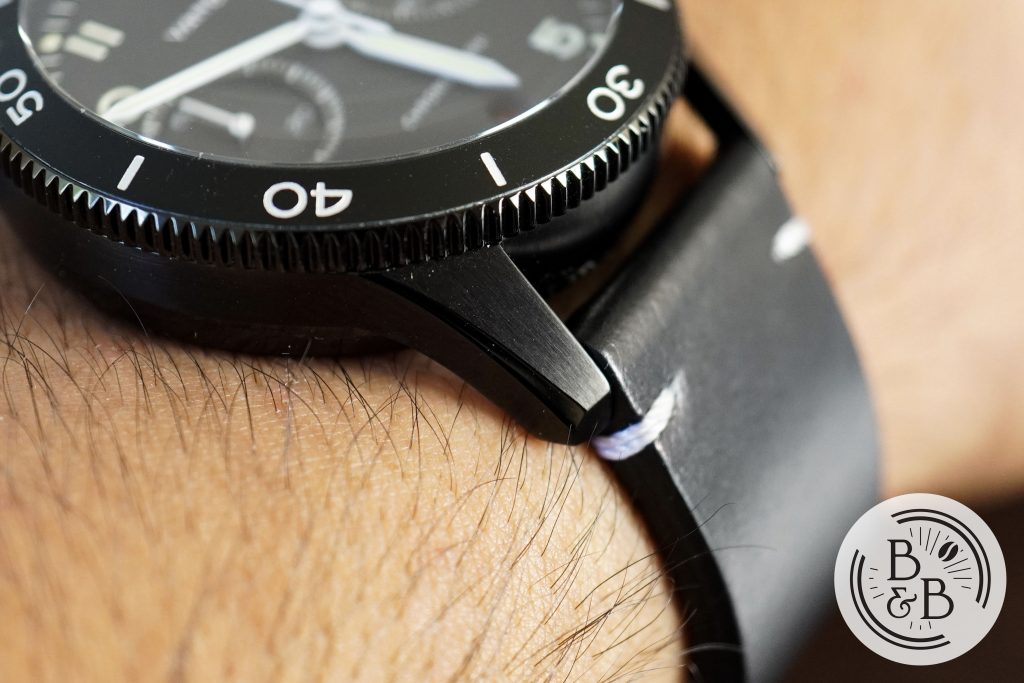 It has a stealthy and tactical appearance, but also manages to show off the hand ground and polished bevels on the lugs. The lugs are thin, and dramatically curve down towards the wrist, extending slightly beyond the height of the case.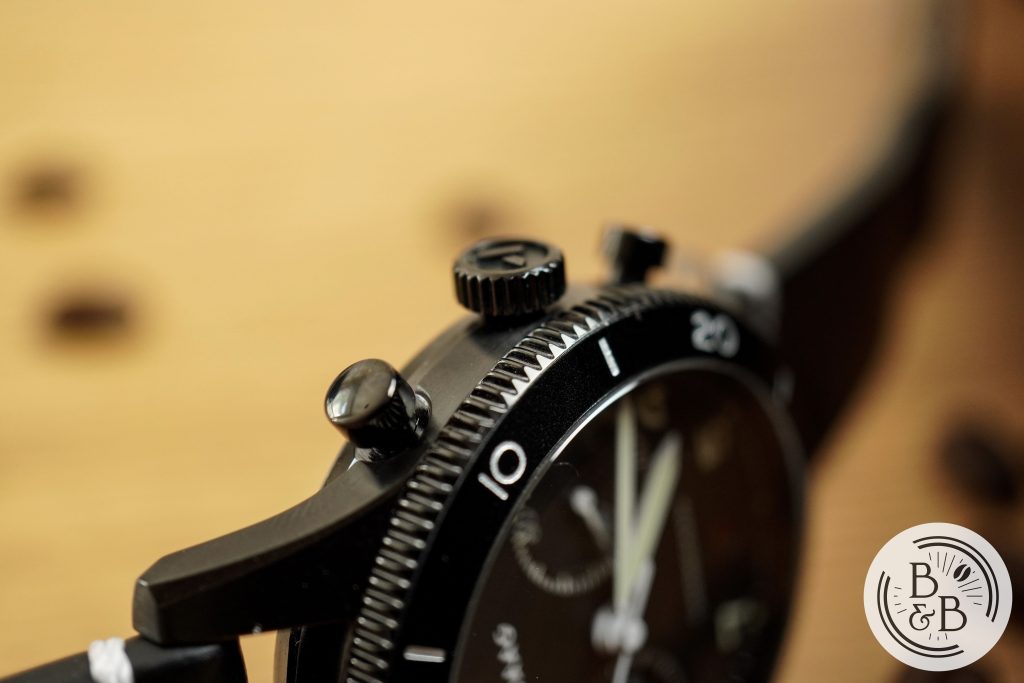 The crown and pushers are also black. The signed crown has an almost traditional flieger style conical taper and is easy to grip and operate. I would've liked to see a larger crown, but I like big crowns by default.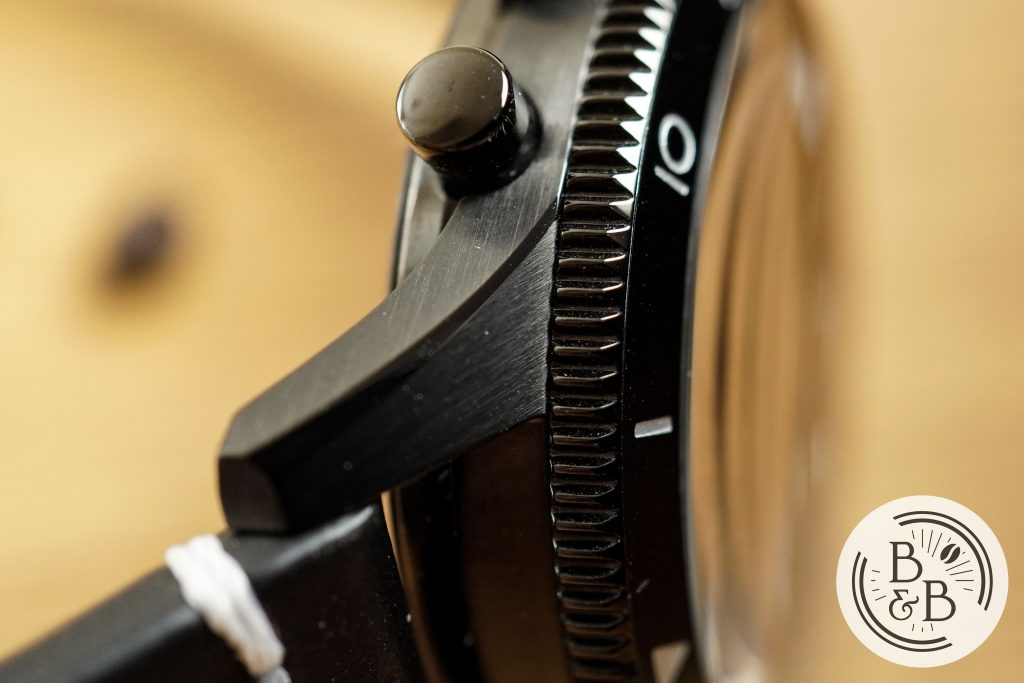 The bezel is comfortable to grip and operate, and has a black aluminum insert. Some might be disappointed at the lack of any lumed elements on the bezel, and I think that at least a lumed triangle at 12 o'clock would've been useful. But my main complaint here, and probably the only real complaint for the watch in general, is the very light bezel action. The 120-click bi-directional bezel has loud tactile clicks, but it feels very light and has about 1/3rd of a click worth of back-play.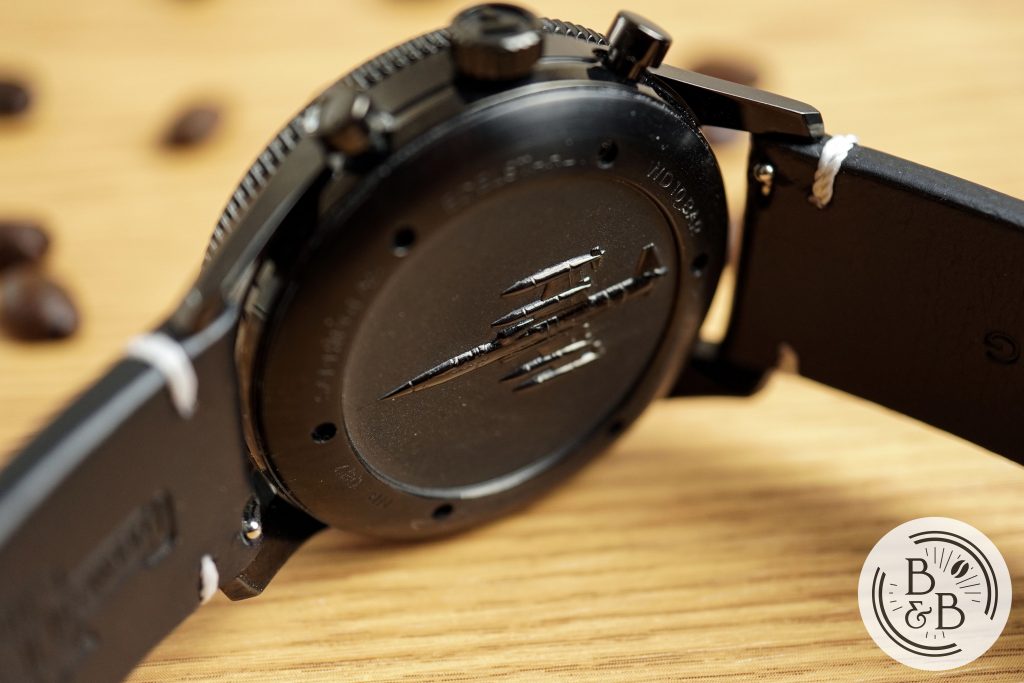 Flipping it over, there is a solid screw-down case-back that is also DLC coated in black. The crown does not screw into the case but the watch is rated for up-to 100m of water resistance, which I think is pretty impressive. They achieve this with a triple lock seal for the push-pull crown.
---
Dial
The dial on this watch defines it, and hopefully also sets a standard for Vandaag watches to come. They're going to have a tough time living up to the clean design and incredible finishing seen here. Without exaggeration, the finishing on this dial is on par with my Guinand HS100, an automatic watch, but still one that costs roughly four times the price of this.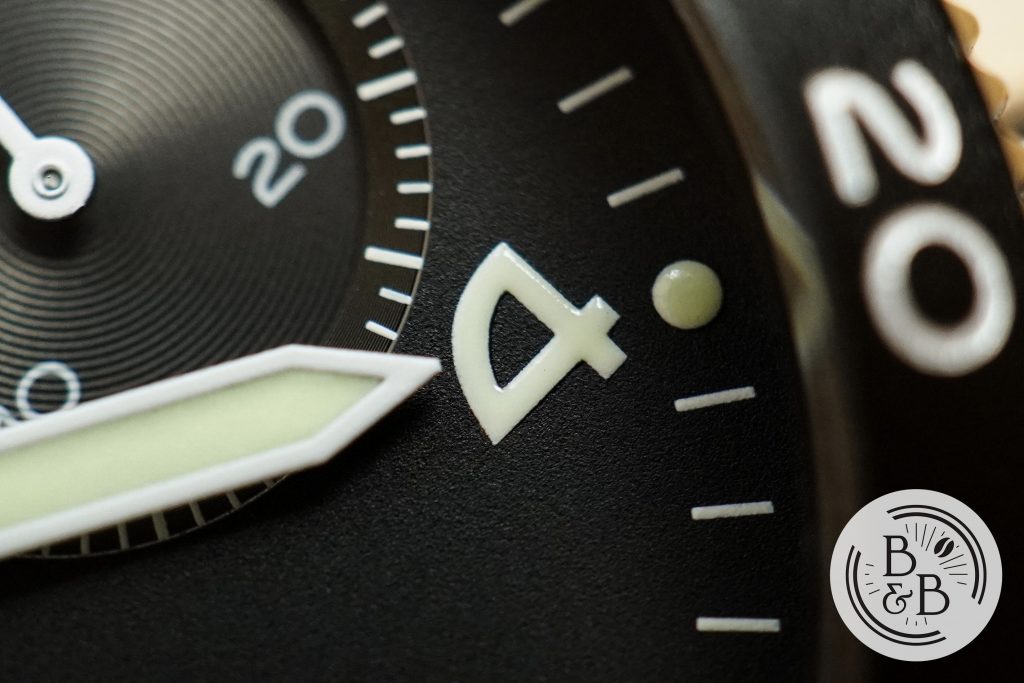 To begin, there is a very simple outer minute and seconds ring. Each increment of five is marked with a lumed hemispherical indices. The finishing on the printing and lume is perfect.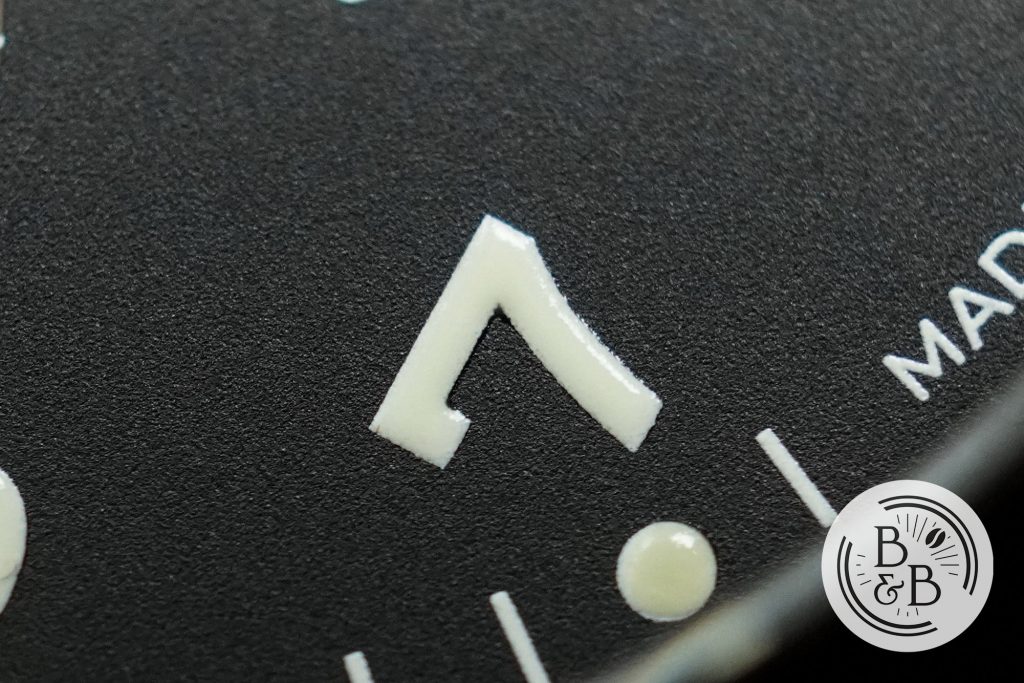 Moving inward, you have Arabic hour numerals, that are in a font similar to that used by Sinn, Guinand, etc. I'm not sure where this font originated, but it seems to be very popular among aviation watches. These numerals are lumed and the printing is excellent.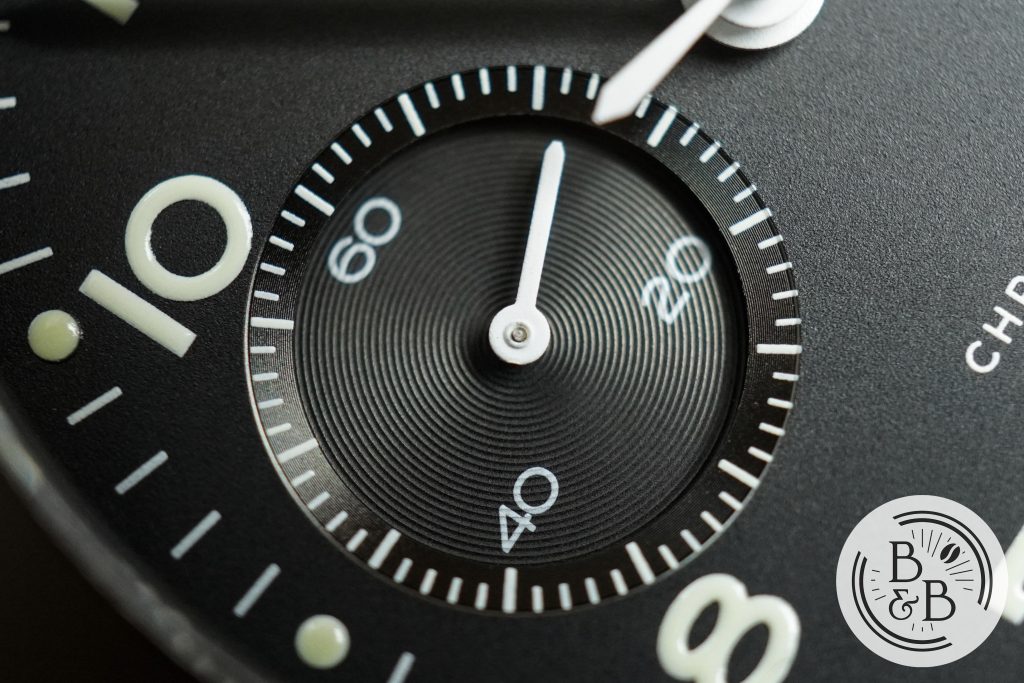 This watch has a two register layout, with a running seconds sub-dial at the 9 o'clock position and an elapsed minute sub-dial at the 3 o'clock position. These sub-dials make use of a wide concentric ring pattern in the center and a narrow ridge pattern on their marker ring. This plays with light beautifully and looks almost shiny and metallic against the matte dial. These sub-dials are perfectly proportioned and don't eat into any hour markers, like some chronographs do.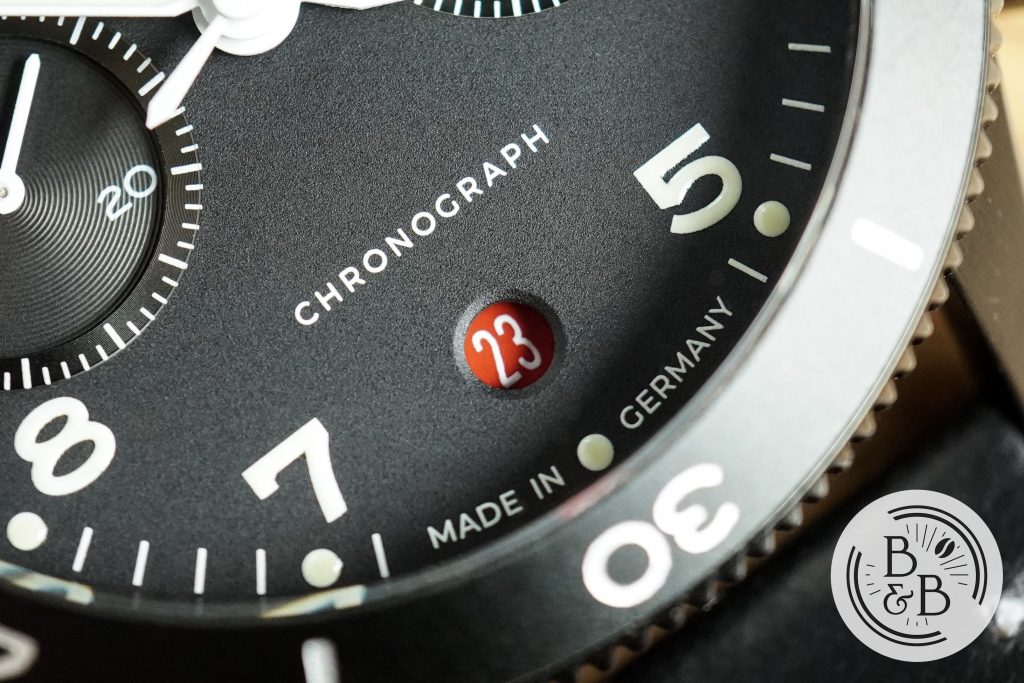 There is a circular date window, neatly placed at the 6 o'clock position, replacing the 6 o'clock hour marker completely. Great choice, and I love the overall symmetry of the dial layout because of this. The date wheel is a bright red with white text, and this is the only accent of color on the monochromatic dial. This is another excellent choice, and it gives this otherwise timid dial a splash of character.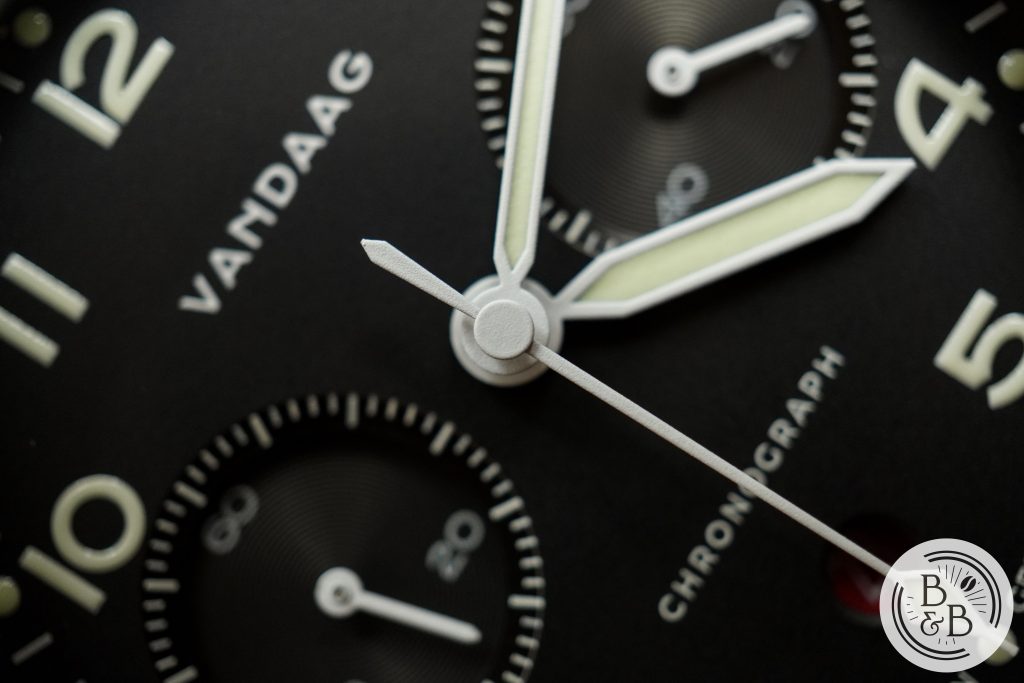 Let's look at the hands. This is another area in which Vandaag really went above and beyond in the finishing and quality control department. This watch uses typical sword style hands, and is almost identical to those on my Guinand Flight Engineer. All the hands, including those on the subdials, are painted white. The hour and minute hands are generously filled with lume, and the seconds hand has a lumed tip element.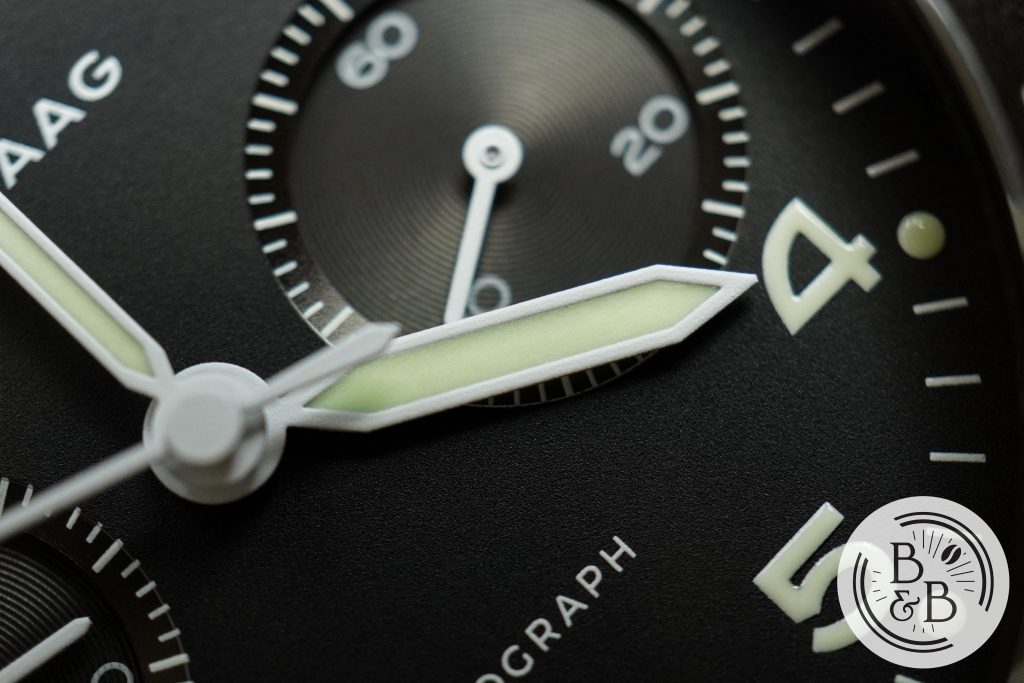 The proportions of all the hands are just perfect, and the finishing is really beyond what you would expect from a $350 watch. The minute hand and hour hand stops just a fraction of a millimeter before the hour numerals and minute track respectively.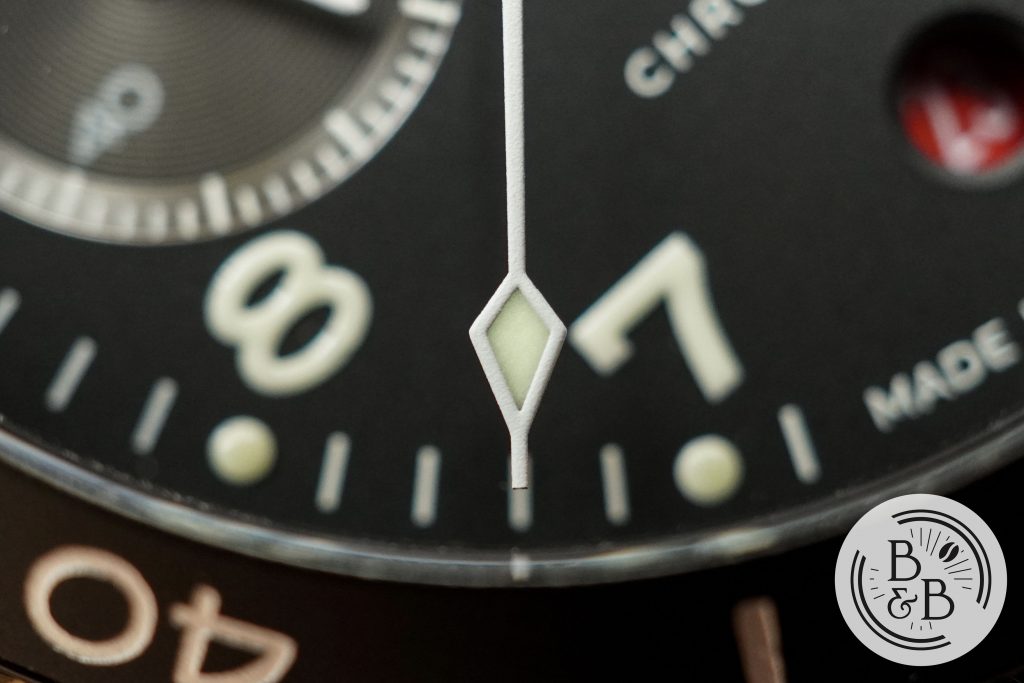 The seconds hand reaches over the seconds track and the entire layout makes for perfectly clean legibility. The finishing on all the hands is exceptional without any uneven paint surfaces or blemishes.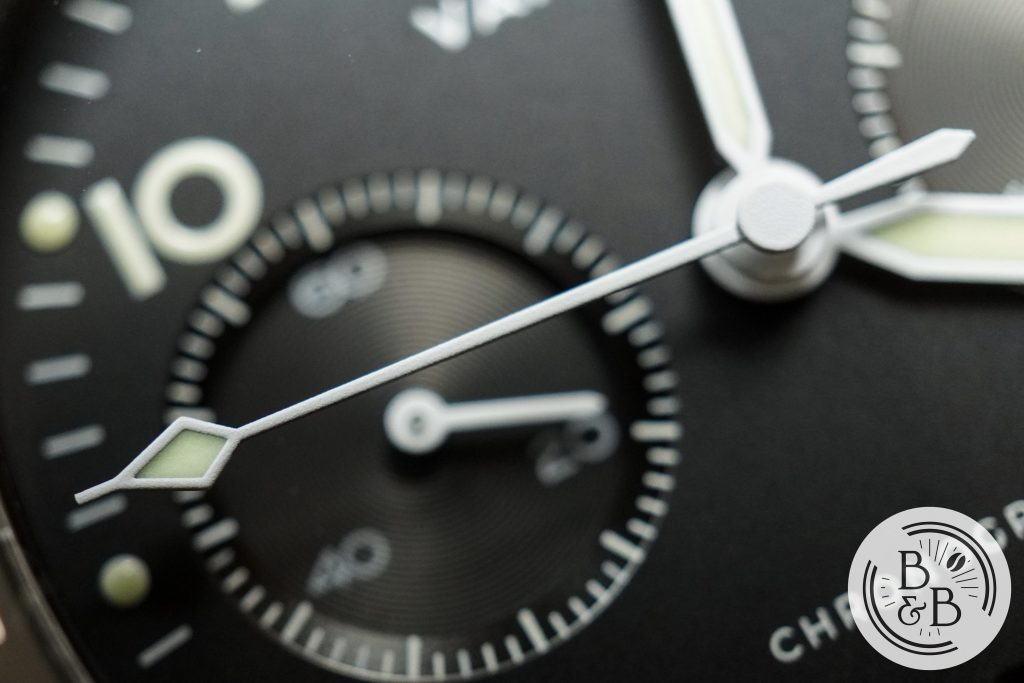 In terms of overall quality control of the dial, I'd say this watch can hold it's ground against many watches upwards of $1500. Excellent job, and Vandaag have earned my respect for this.
---
Lume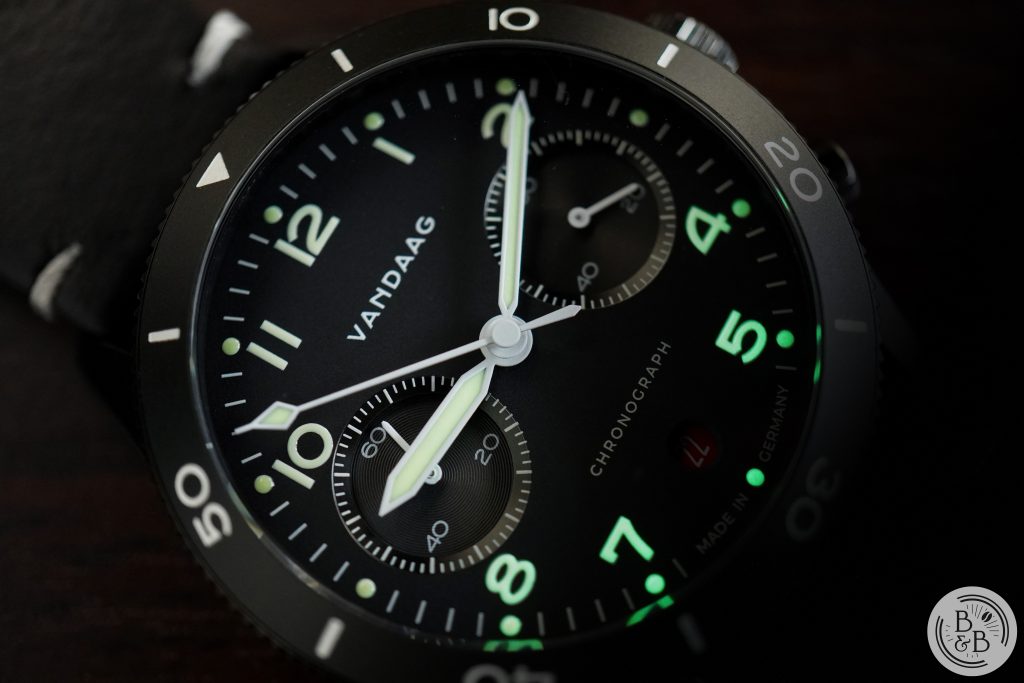 The lume on this watch is just fantastic! I wasn't expecting lume this good on a $300 watch, quartz or otherwise. This is brighter than most watches I review, and it retains it's brightness well through the night.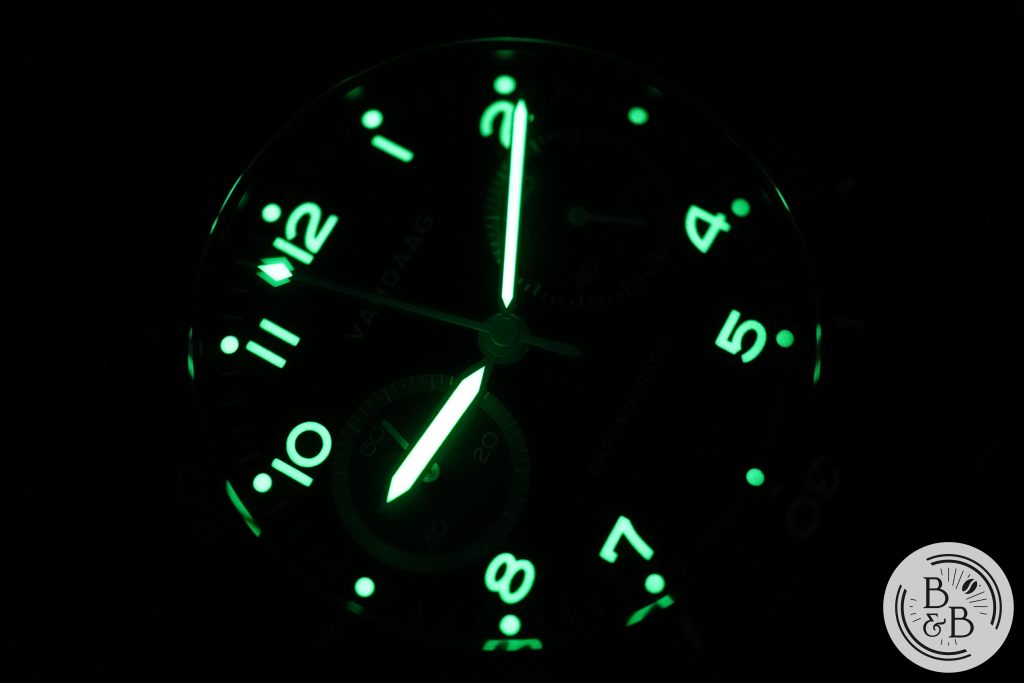 Vandaag is using Luminova SG2200 by Nemoto & Co. This Japanese lume manufacturer. I hadn't heard of this brand before, but Nemoto is one of pioneers of the lume industry, with a history dating back to 1941. The Swiss Super LumiNova and Seiko Lumi-Brite that we're all familiar with were originally based on pigments created by Nemoto & Co back in 1993.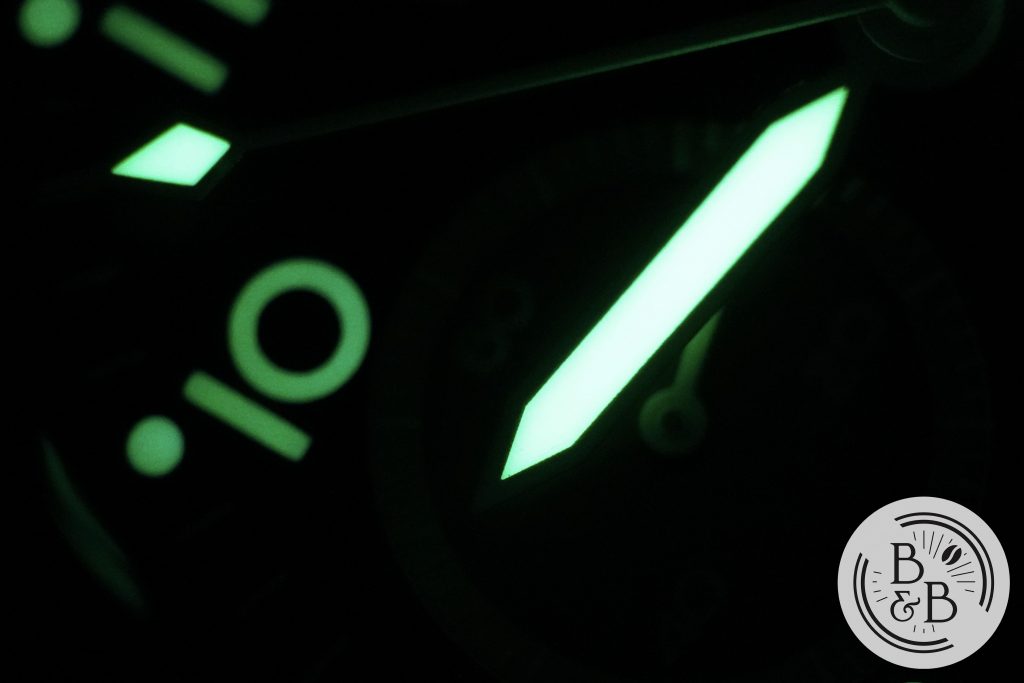 So yeah, this watch is guaranteed to impress even the most hard core of lume junkies. For maximum fun, bring a UV torch and watch this thing light up a dark room.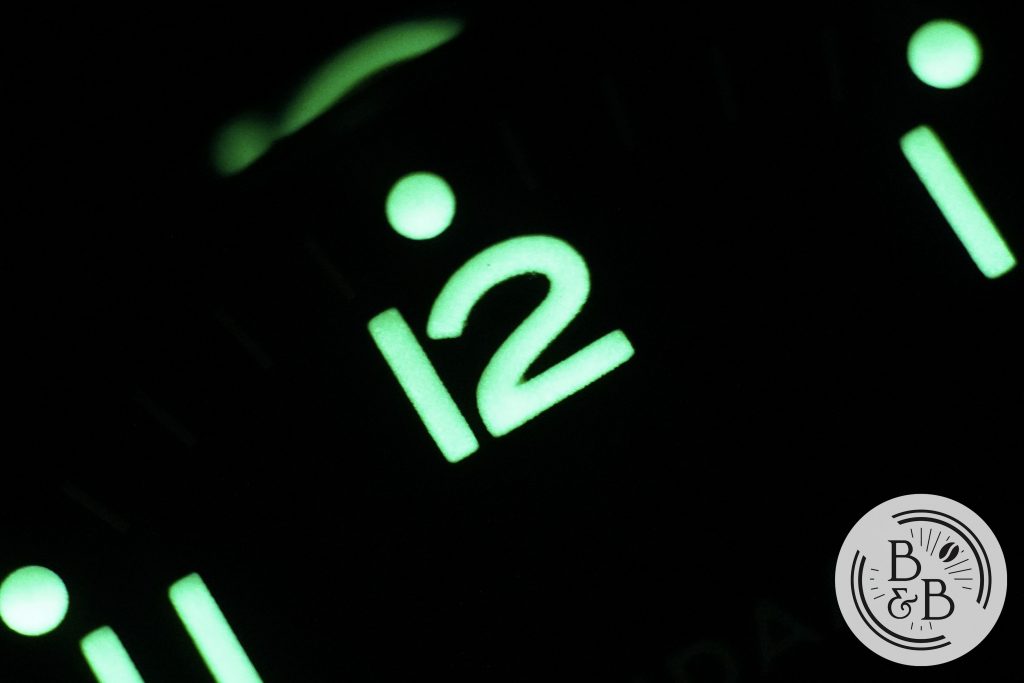 ---
Movement
The Schallmauer uses a Miyota 6S21 Quartz Chronograph movement. This appears to be a reasonable choice in terms of Quartz movements. The chronograph pusher buttons have a sturdy and tactile click. There is a date complication, and the crown operating experience is very stable. For a $325 chronograph watch, the choices are limited to quartz, meca-quartz and the Seagull ST19. I would take this movement over an ST19 any day of the week.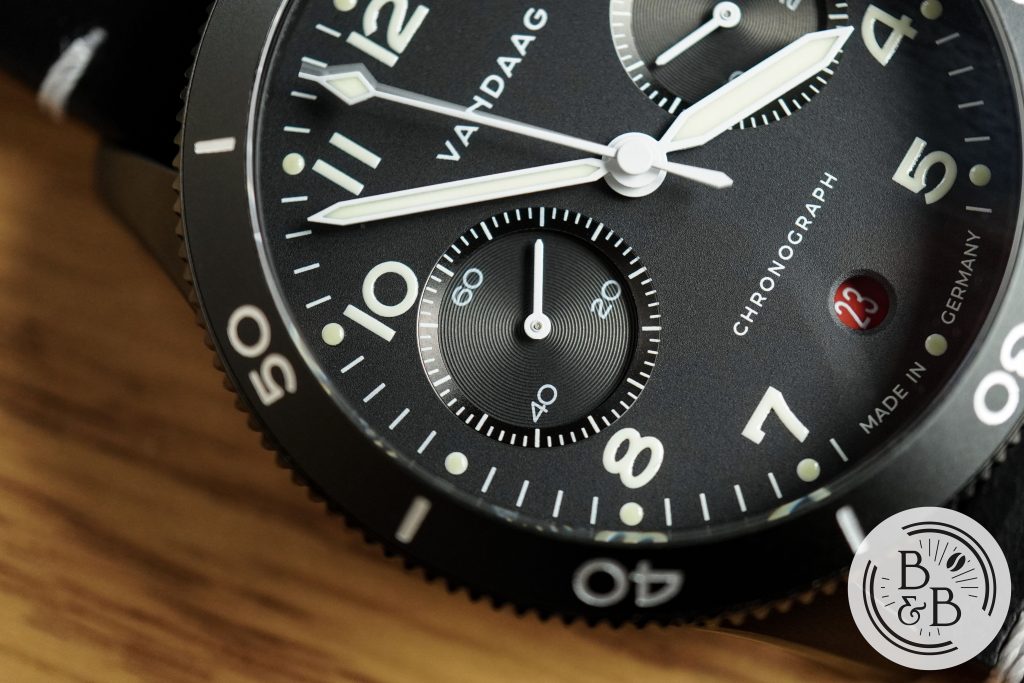 My only issue here is in the movement's integration into the case. The crown has 3 positions (pushed in, pull out #1 and pull out #2). The way it is currently placed, the pull out #1 requires very little effort and is 'close' to the pushed in position. So sometimes you end up leaving the crown in #1 instead of pushing it in all the way. This is a minor issue and should be easy to fix.
---
On The Wrist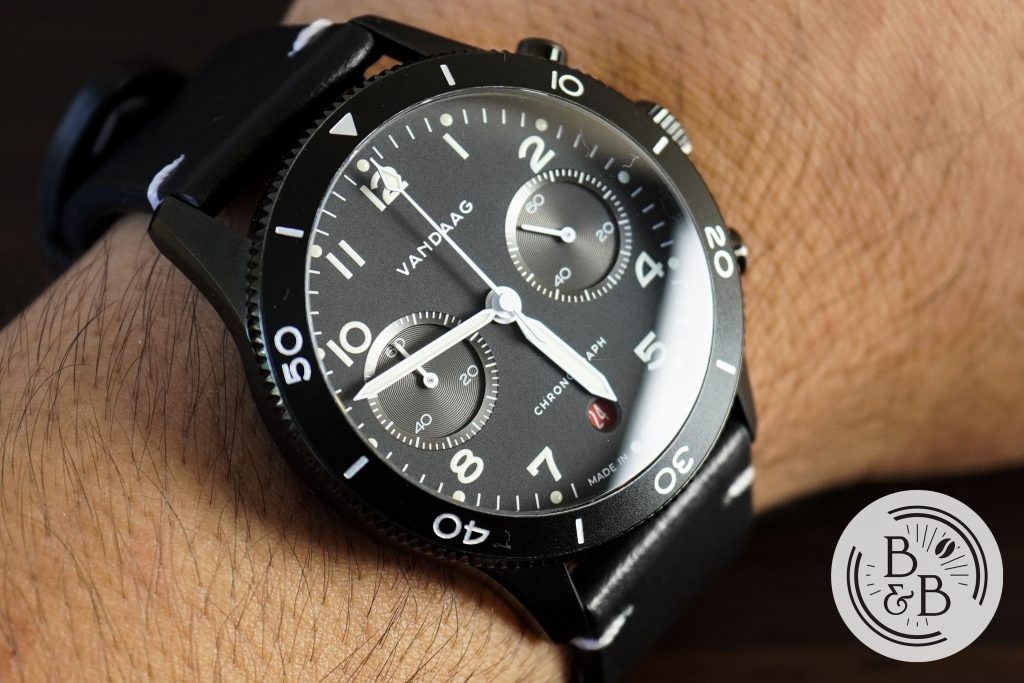 This 42.5mm diameter, 50mm lug-to-lug width and 12.2mm case is at the furthest I'll go with a watch case for my 6.25″ wrist. I usually avoid watches greater than 50mm from lug-to-lug. But this watch wears surprisingly small, and I think it has something to do with how the lugs extend slightly beyond the height of the case back, and almost wrap around my wrist. There is some clever design at play here, and I don't feel like this is too large for my wrists at all.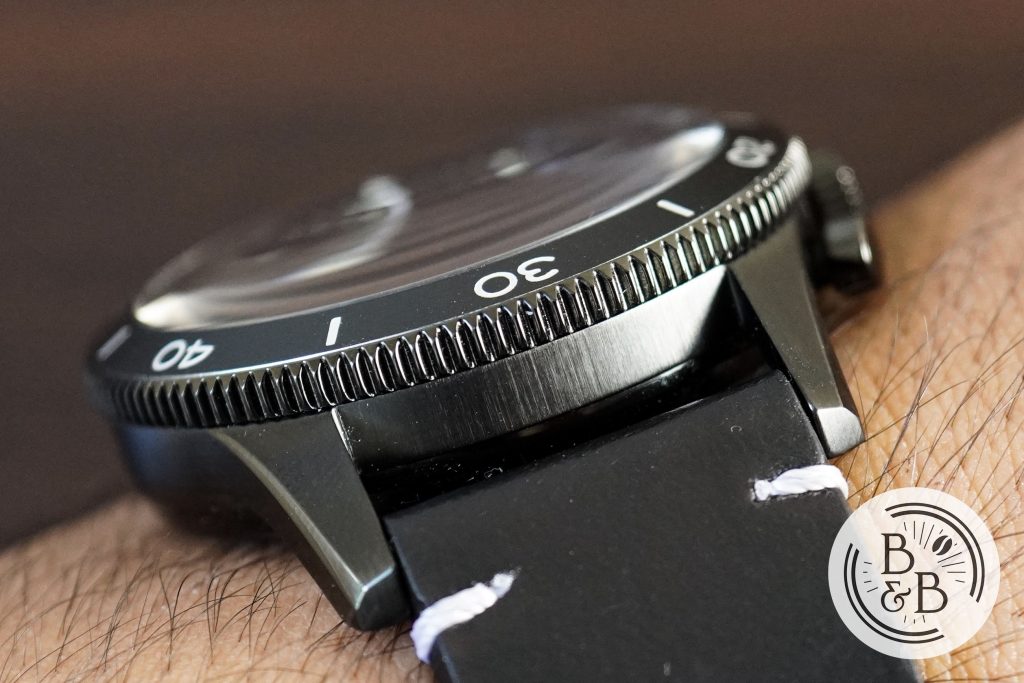 The 12.2mm height, and the almost flat case-back, do a great job at helping the watch stay low on the wrist. In my opinion, this always helps reduce the 'perceived size' of a watch. But this height is mostly possible because of the Quartz movement inside. If there was a Valjoux 7750 in there, like on my Guinand HS100, this case would be in the 14mm+ height range. The Quartz movement also helps the watch stay quite lightweight.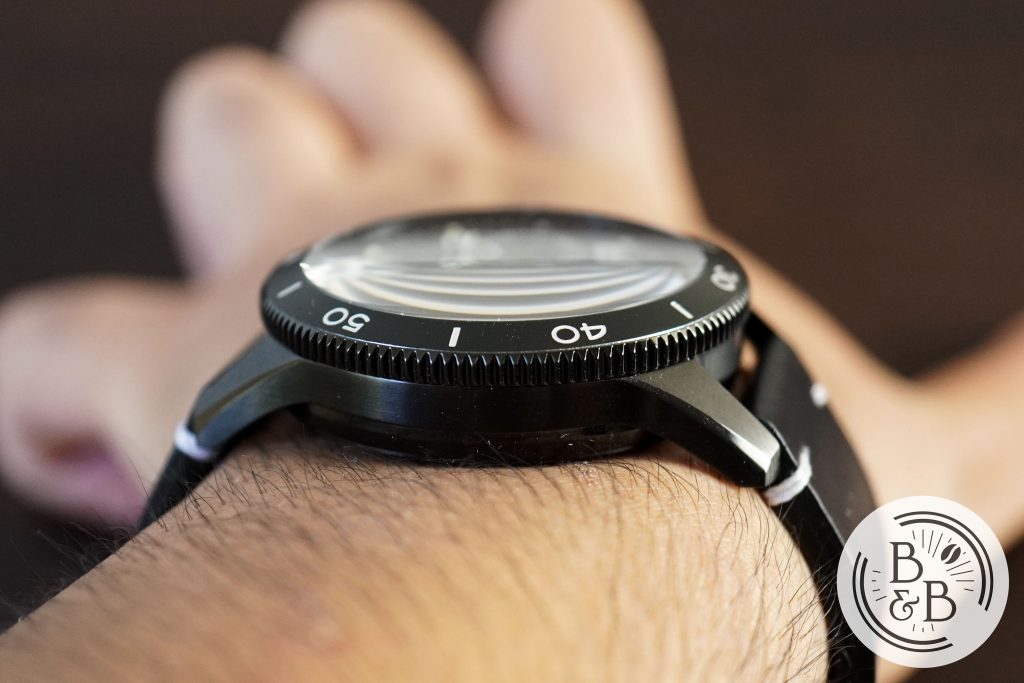 I wore this watch for over a week and it was a pleasure to wear. Even after this review is complete, this watch will definitely be in rotation for the foreseeable future. I was hoping that the Scurfa MS20 would become my Quartz Grab-&-Go piece, but I ended up selling that after my review, and I think the Schallmauer will be filling that vacancy for now.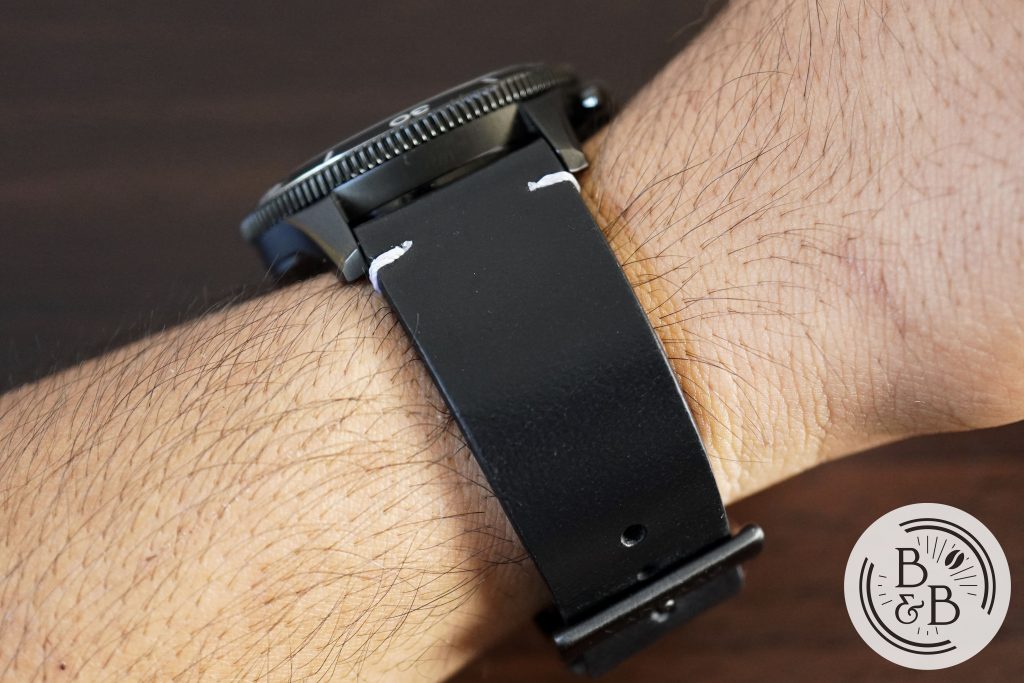 I was sent the Horween leather strap, as well as the 2-Piece NATO. The NATO is a bit stiff, but I like it. However, the Horween leather is the one I would get. It takes a day or two to break in, but the finish is great and it's really comfortable.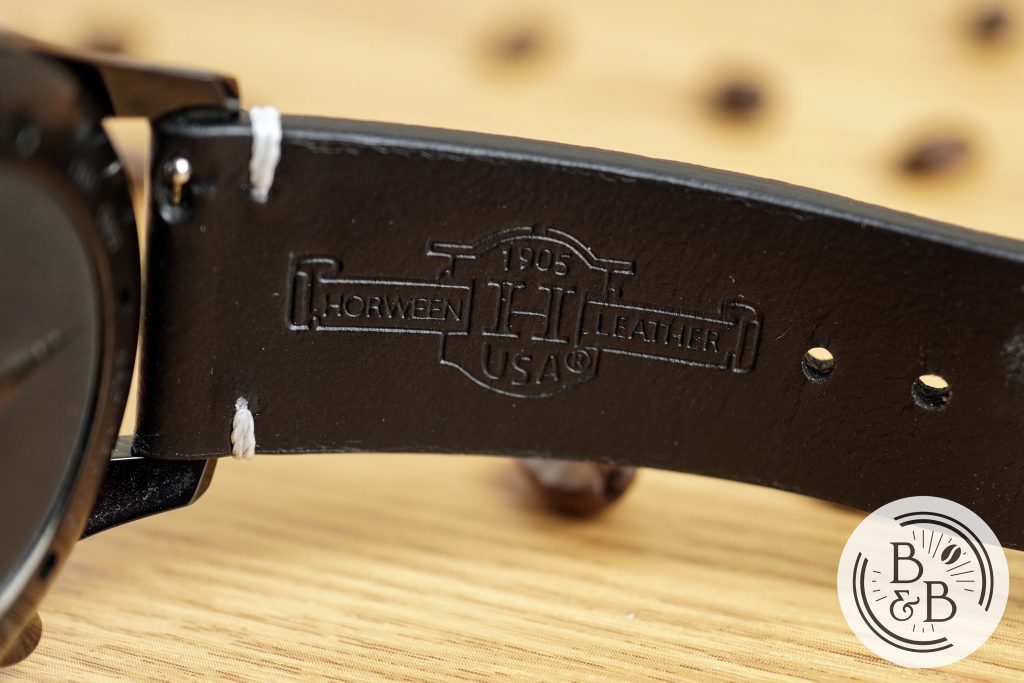 ---
Concluding Thoughts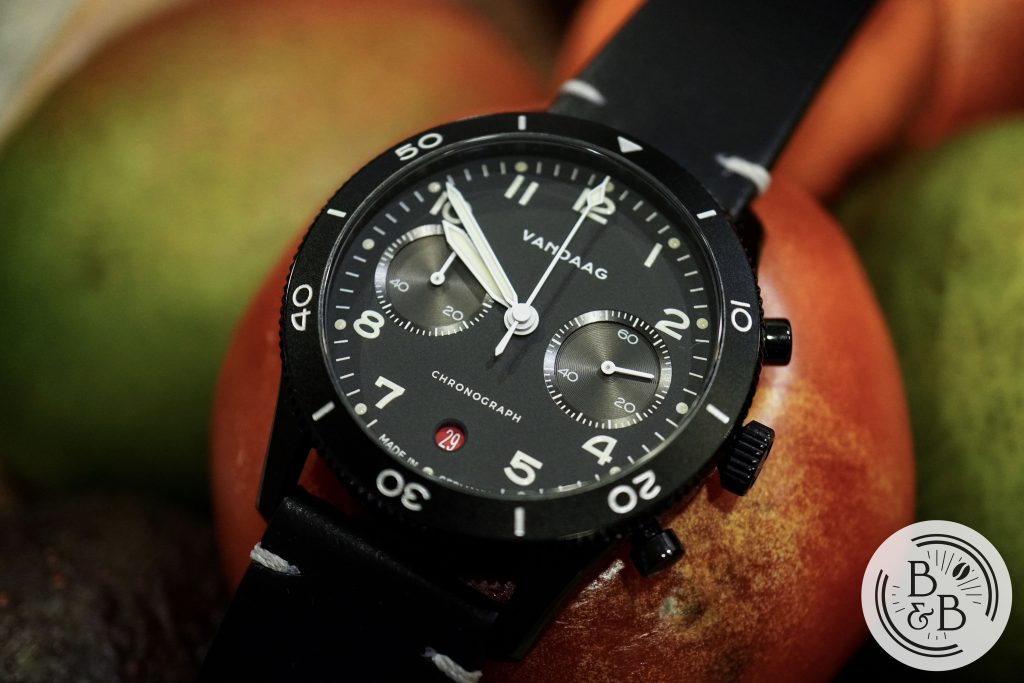 I really like this watch. I can't recall previously owning an entirely blacked out watch, so this was quite exciting, and I enjoyed it a lot more than I thought I would. I was initially leaning more towards the blue Horizon, because, well… I love blue, but I'm glad I listened to Vandaag and got the Black beast instead. Hopefully by now you've gotten a sense of the high quality of finishing and the beautiful design that the Schallmauer has to offer. But it's no secret that some of you will still be on the fence, because of the big Quartz-shaped elephant in the room.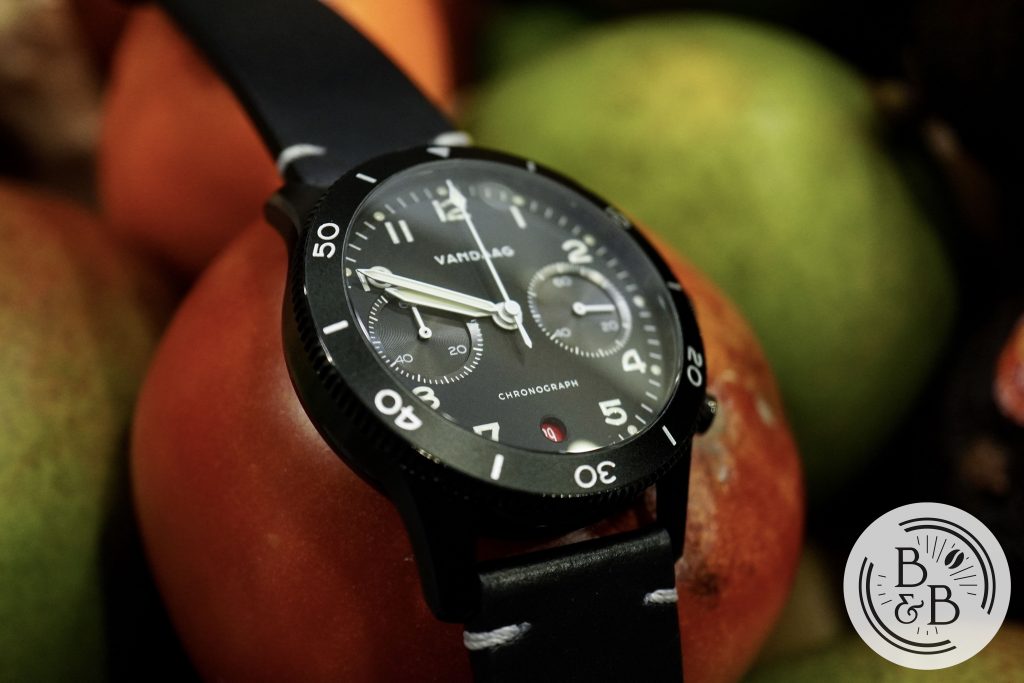 If this watch had a slightly heavier bezel and a Valjoux 7750 (or equivalent) movement inside it, I would see this watch doing exceptionally well at the $1300–1400 price range (just half a tier below Guinand). Because the rest is there – build quality, comfort, exceptional design and impeccable finishing. I only say that because I know there will be folks out there that refuse to buy a Quartz watch, and at many points of my watch collecting journey I've done the same. But for those that don't mind a Quartz watch, hopefully that will give you a sense of the type of watch you're getting in the Schallmauer.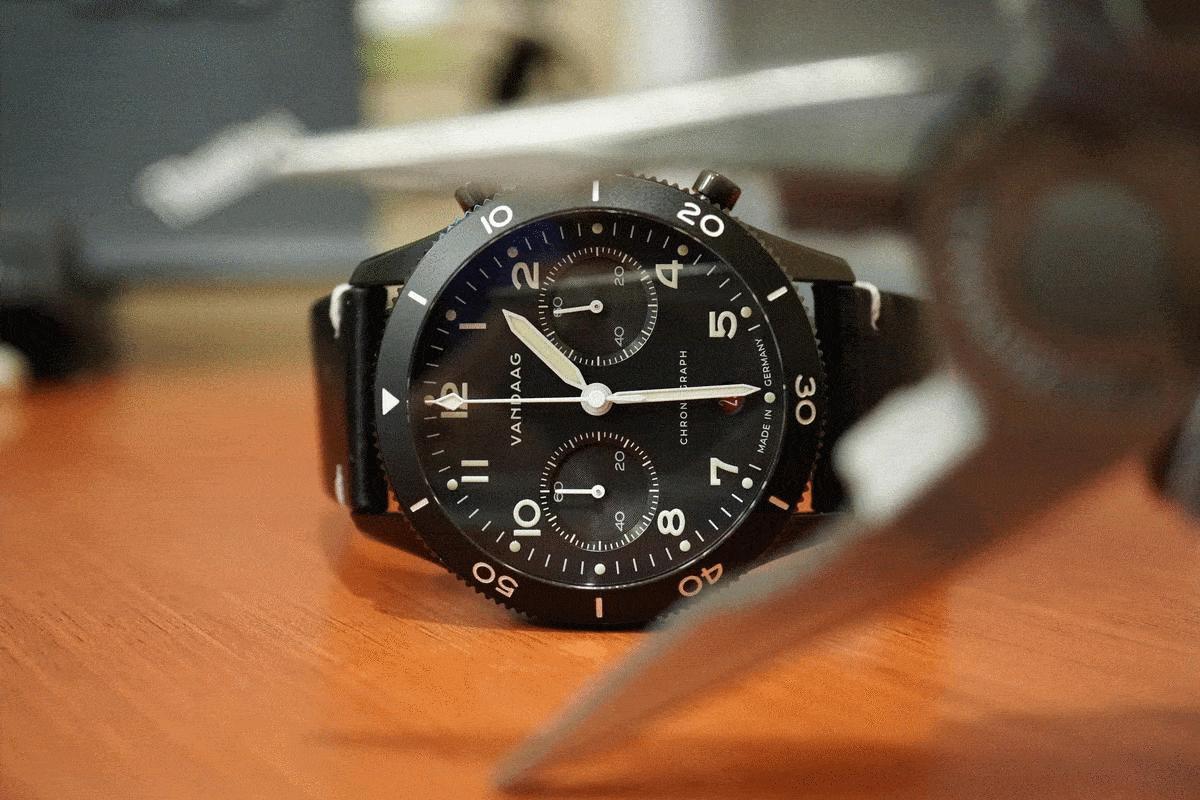 To conclude, I'd like to re-iterate – the design and finishing on the Schallmauer is King, and I hope Vandaag is here to stay, because they know how to make a great looking watch. And if they add some automatics to their lineup, and continue the same level of finishing, they're going to become very popular. But for an affordable debut piece, they've clearly got my attention.
---
Strap Change
---
Thanks for reading!