---
Disclaimer: I purchased this watch on the secondary market, and was not externally incentivized in any way to make this review. This review is in no way sponsored by Seiko, or any entity. All opinions here are my own.
---
---
Contents
---
Intro
Seiko is no stranger to limited editions, and their idea of a limited edition release doesn't typically carry much logic. They're often limited to 3000-6000 units, and sometimes even when they're limited, Seiko will re-release the same watch later if it was a successful product. So I urge you all to disregard any of their marketing garbage, and focus on the actual watch in question. Here that is the SRPD01K1 Turtle, also called the "Dawn Grey", and was a limited edition release of 2018 units for the European market back in 2018.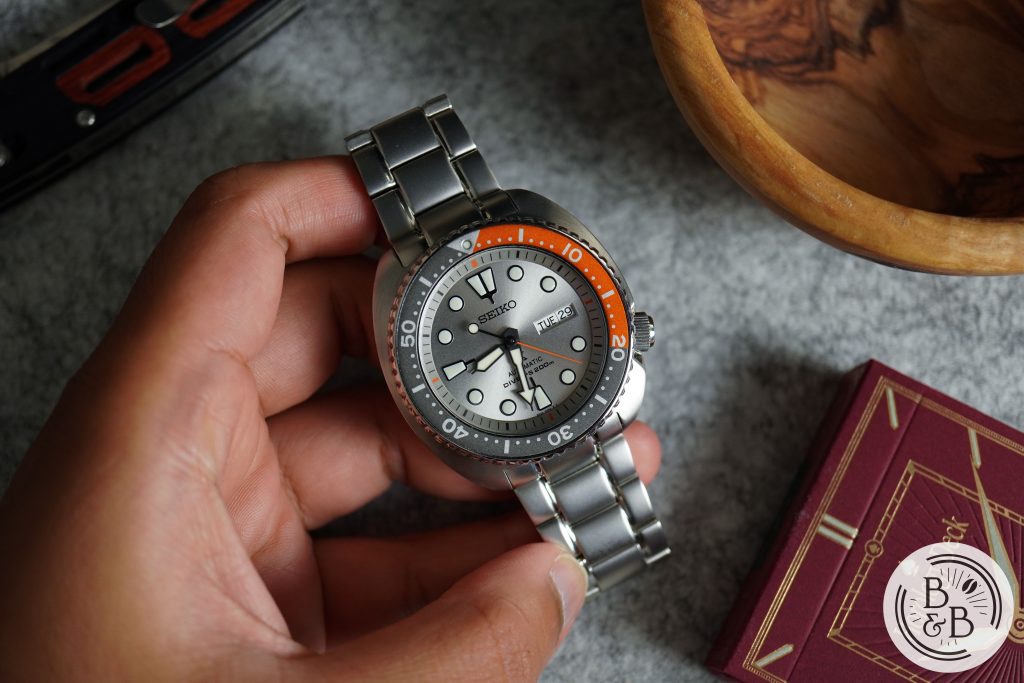 While their product placement, marketing and overall business strategy may be highly questionable, there is no doubt that this is a great looking watch, and I'm also glad to finally take a look at one of their Turtle watches. This watch had a retail price of around 530 Euro, or roughly $625 USD.
Let's check it out!
---
Case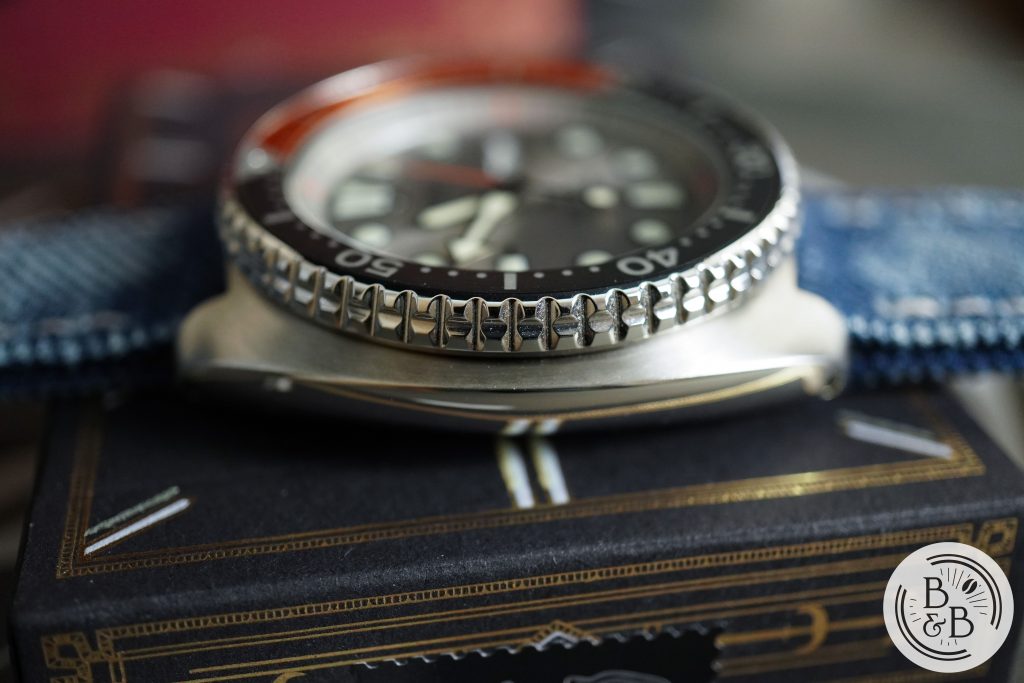 I measured the case to be 44 mm in diameter, 46.8 mm from lug-to-lug (but 51.75 mm if you consider the male end links) and 12.85 mm in height. The case looks bulkier than these dimensions might imply, because most of the 44 mm by 46.8 mm canvas is occupied by the tonneau-esque stainless steel case that is primarily brushed.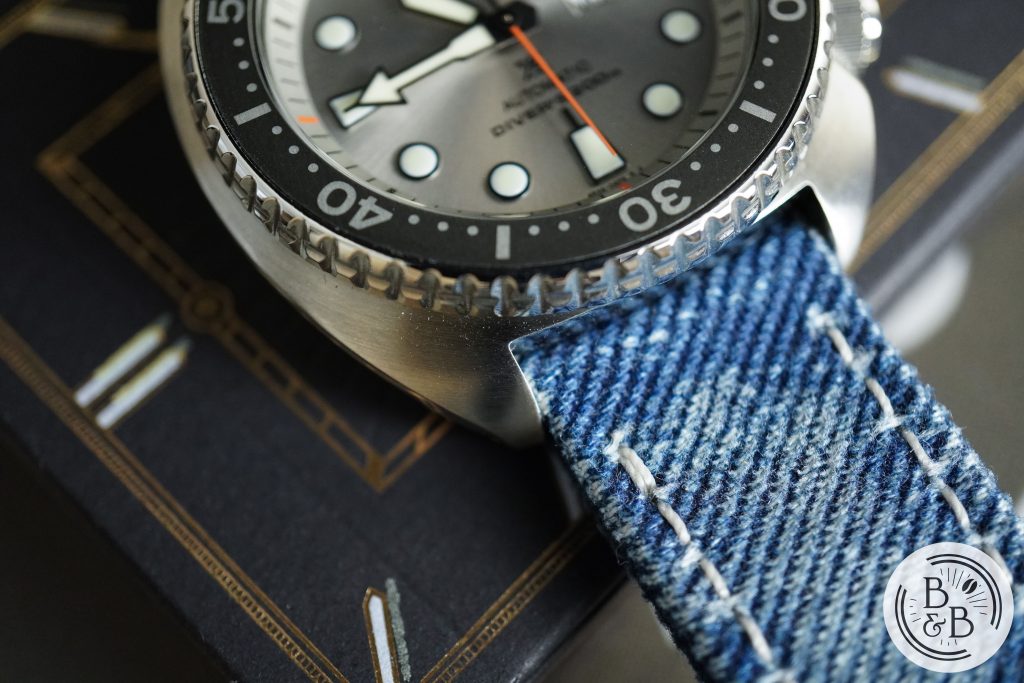 The rounded and chunky mid-case extends into a pair of stubby and short lugs. In true Seiko fashion, the lugs are drilled through, and the lug width is 22 mm.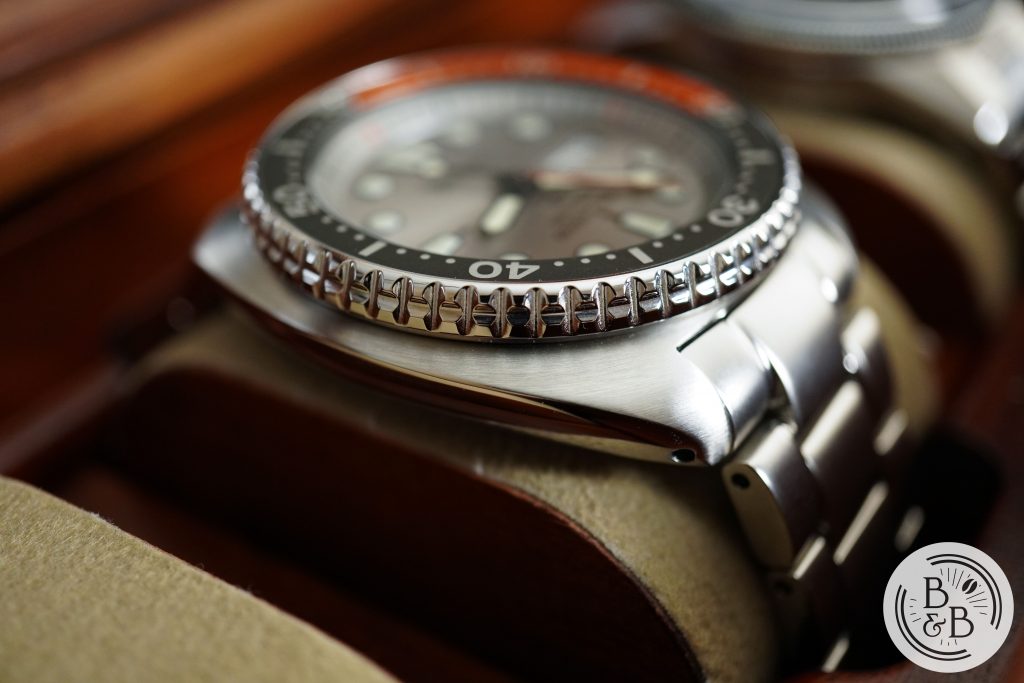 You have a tall bezel that protrudes out of the case, with polished knurling that is easy to grip and operate, and a metal bezel insert. The bezel action is very Seiko-like and feels elastic-y and lacks the tactile click that I enjoy from dive bezels. The alignment is mediocre, and there is a bit of back-play.
You have a 6.3 mm screw-down crown at the 4 o'clock position that is easy to grip and operate. I like this crown placement, but I noticed some wobble in the crown when it is pulled out to the final position. This seems to be not uncommon with Seiko watches.
Flipping it over, you have a solid screw-down case-back with the Seiko insignia and some text on it. This watch is rated for up-to 200m of water resistance.
---
Dial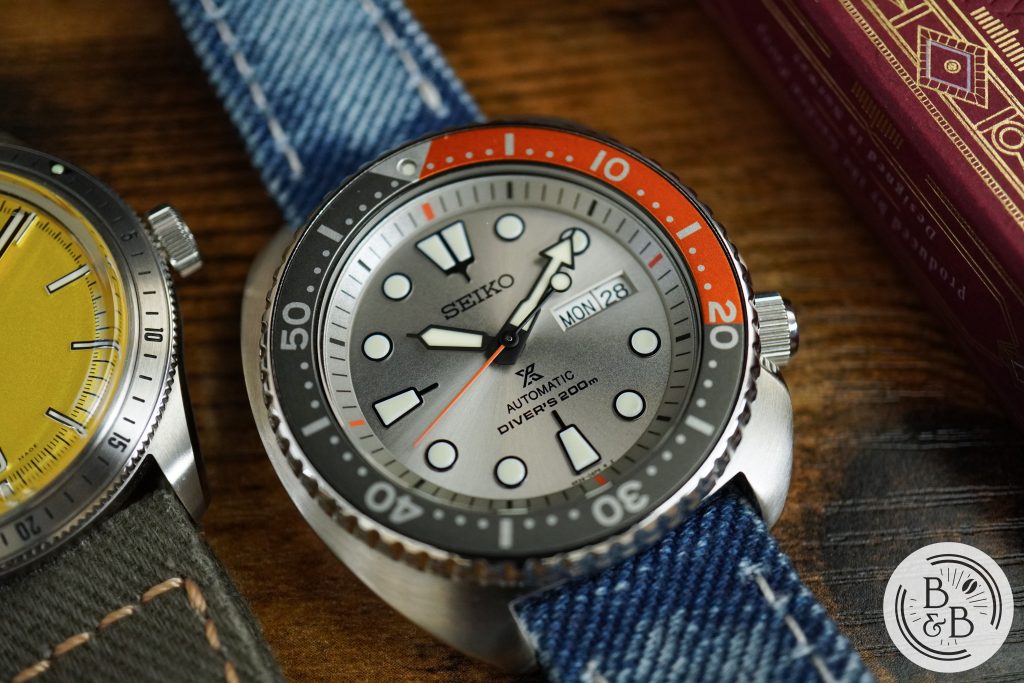 The turtle case sadly does not do much for me, and if I were looking for a tonneau style diver, I'd probably save up for a DOXA, as the SUB 300 definitely wears more comfortably on my wrist. But case aside, the dial on this watch is gorgeous. Seiko throws enough design darts at the board, so something eventually sticks. And they hit the bullseye with this one – the metallic grey dial with orange, black and white accents looks absolutely perfect.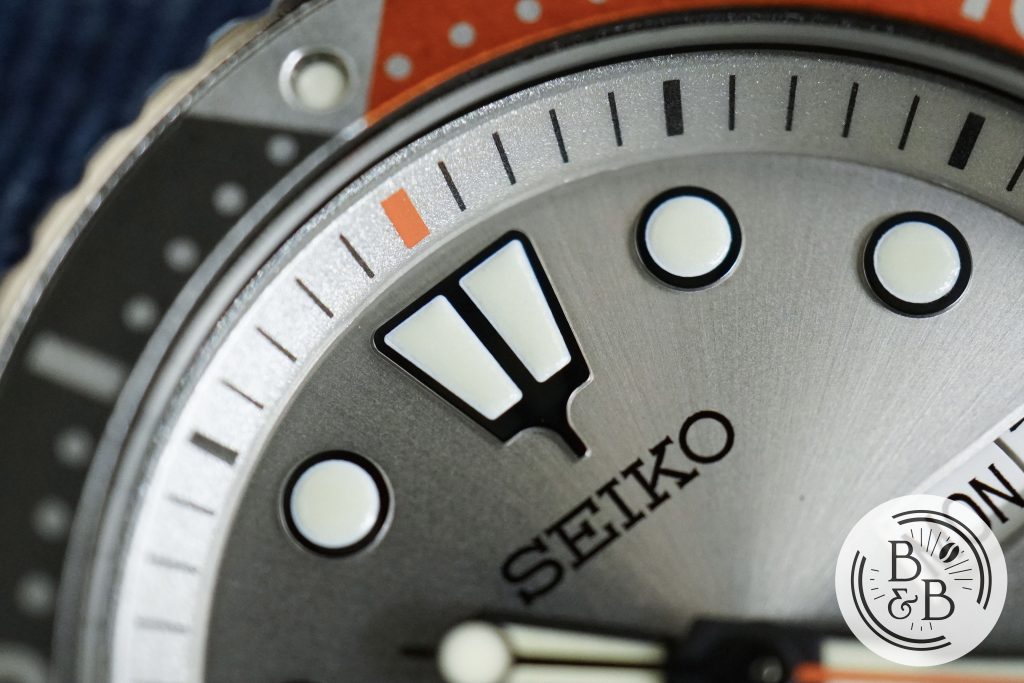 There is a sloped chapter ring in silver that has black markings and orange accents. The chapter ring is aligned well, and the finishing is good.
You then have large stainless steel indices that are generously filled with lume. The finishing on the indices is excellent and I like the design too.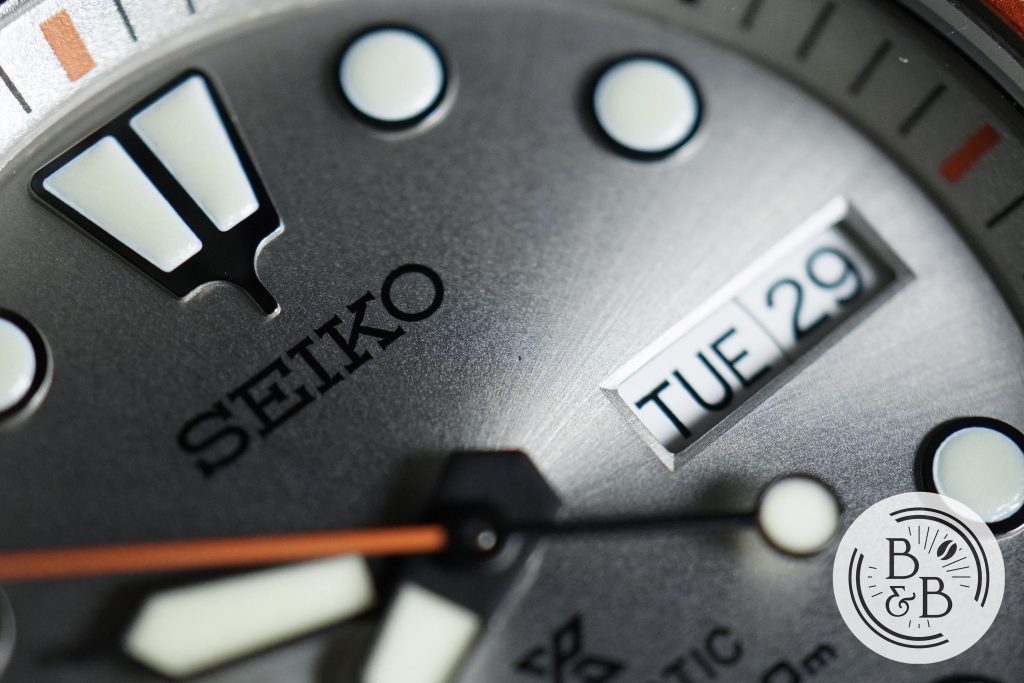 There is a day-date window at the 3 o'clock position that I'm not a huge fan of. But I'm generally biased against any kind of day-date window, and would've preferred no date at all on this watch.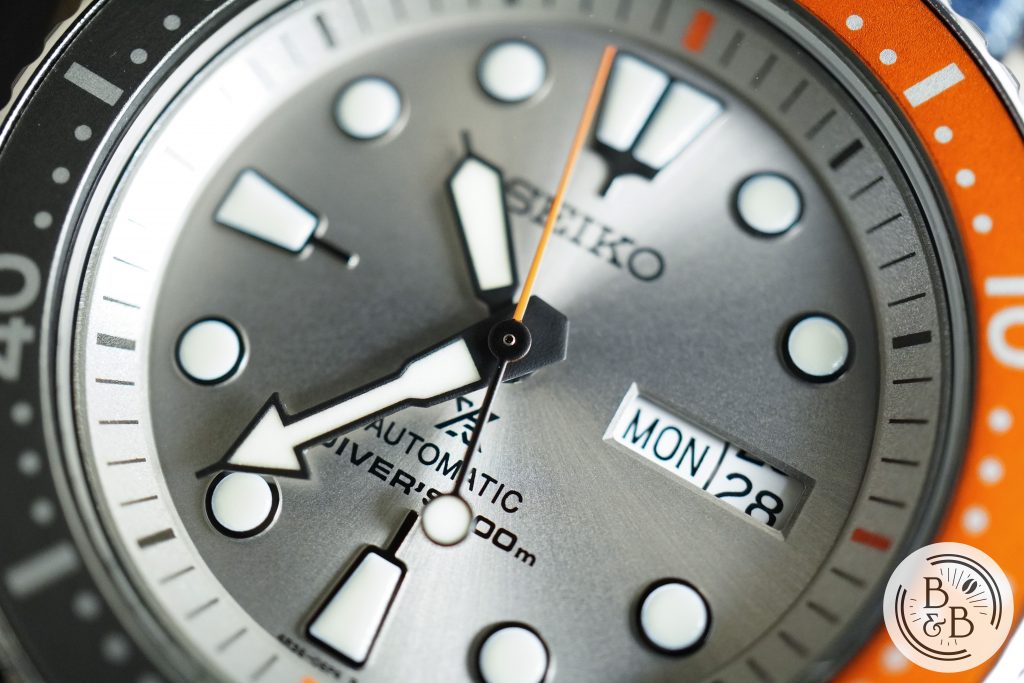 The hands are painted black, with large lume filled sections. The finishing on the hands is excellent, but the lume material on the hands has a daylight color that does not match the rest of the indices. This isn't a deal breaker, but a word of caution for anyone with OCD.
The seconds hand has a circular counter weight that is lumed, and a painted orange tip that looks fantastic with the rest of the orange accents on the dial and bezel.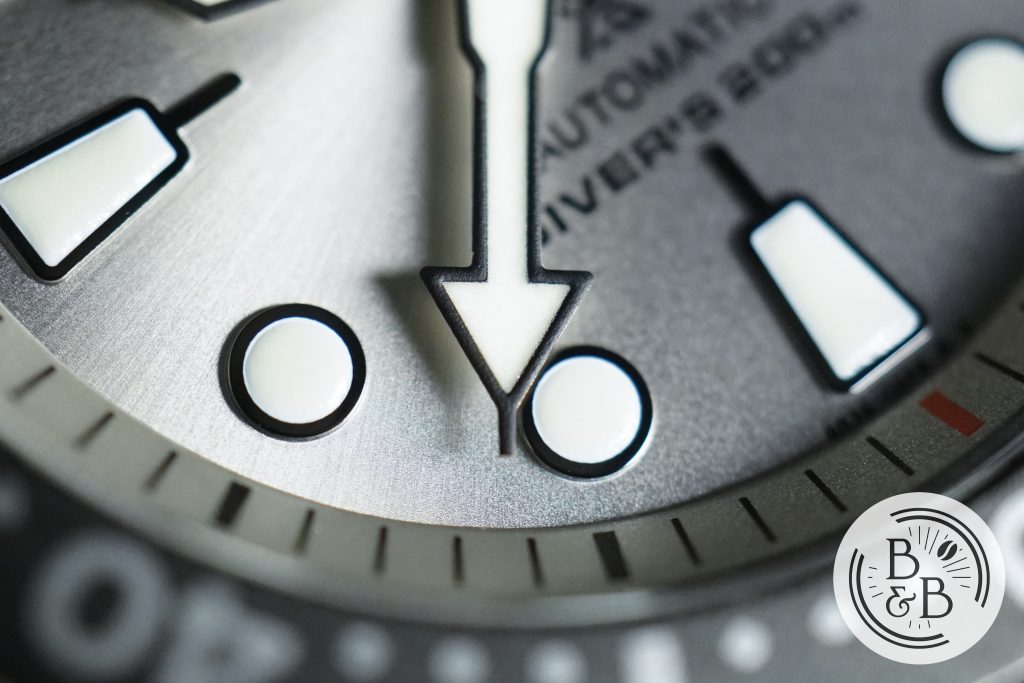 Overall, this dial is a treat for anyone that loves the grey and orange color combination, and the finishing on this dial is pretty good for a watch of this price. I noticed a particle on the dial under my macro lens, but that's par for the course with a mass manufactured watch in this price category.
---
Lume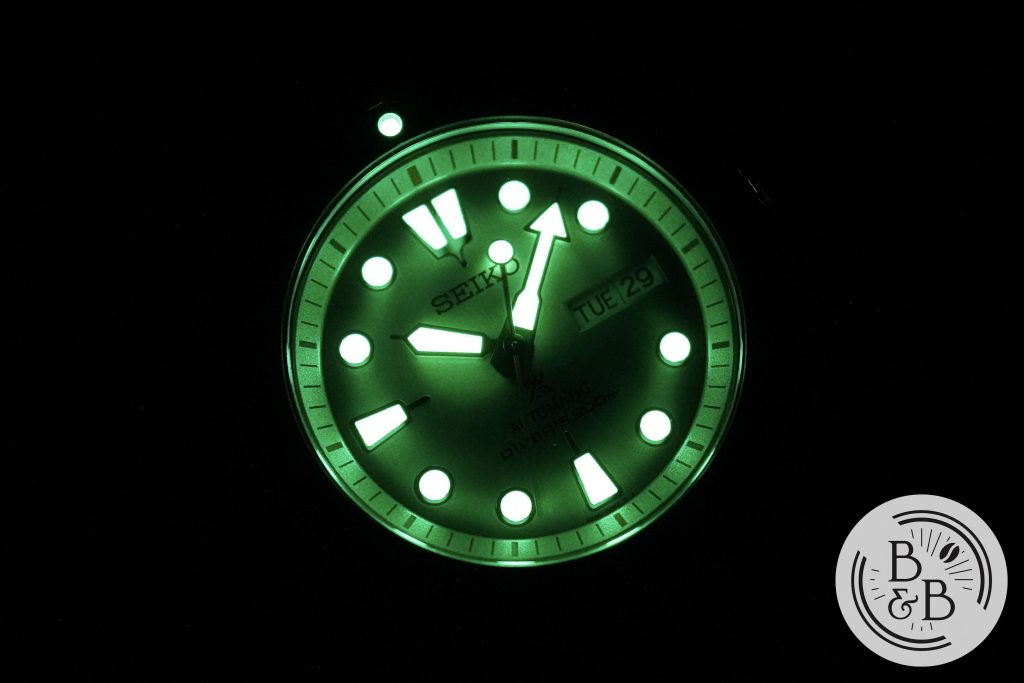 Very few brands can do lume like Seiko does with their LumiBrite, and their sports watches in particular are very impressive. This watch does not disappoint with it's bright lume on all the dial elements and the bezel 12 o'clock pip. I wish the rest of the bezel insert was lumed too, just for a more impressive light show.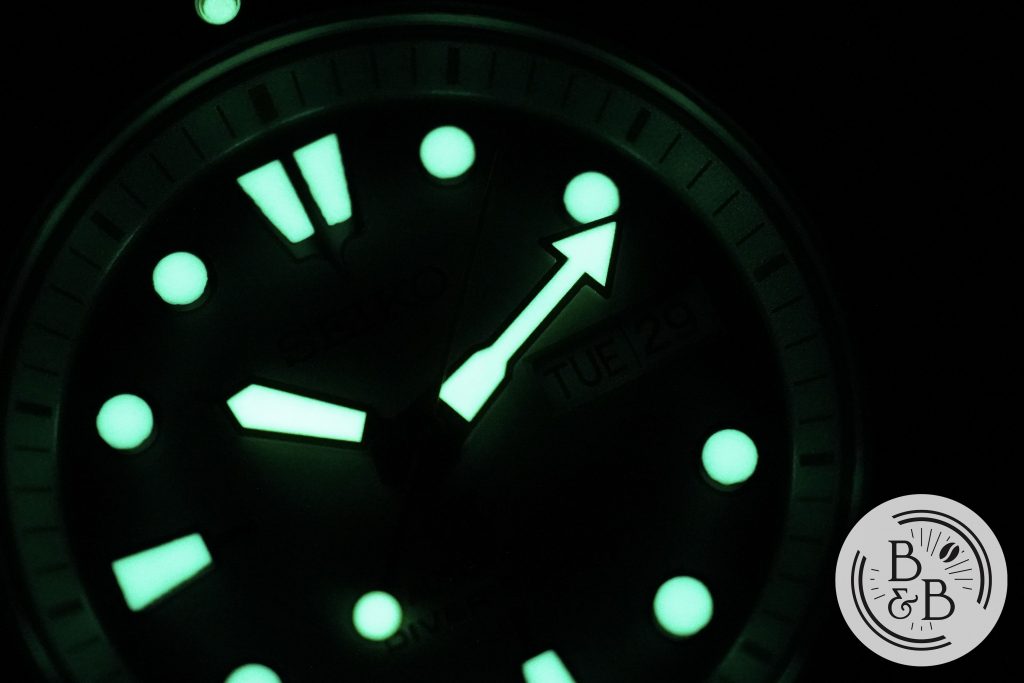 The hands and indices are generously lumed, and while their resting state colors may be slightly mismatched, they seem to be more or less identical in the dark.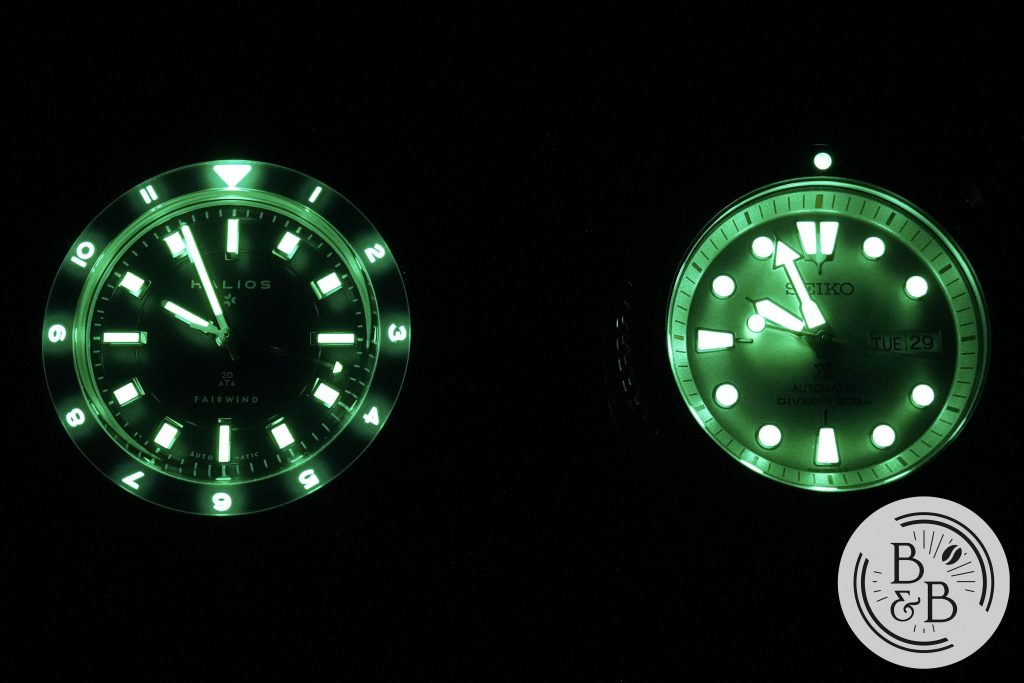 I compared it with my Halios Fairwind here, and the Halios does a good job of keeping up, but the Seiko is the winner here.
---
Movement
This watch uses a Seiko 4R36 movement, which I'm not particularly fond of. But there is no doubt that this family of movements is one of the cheapest but also most reliable movements out there, so the criticism is mostly superficial.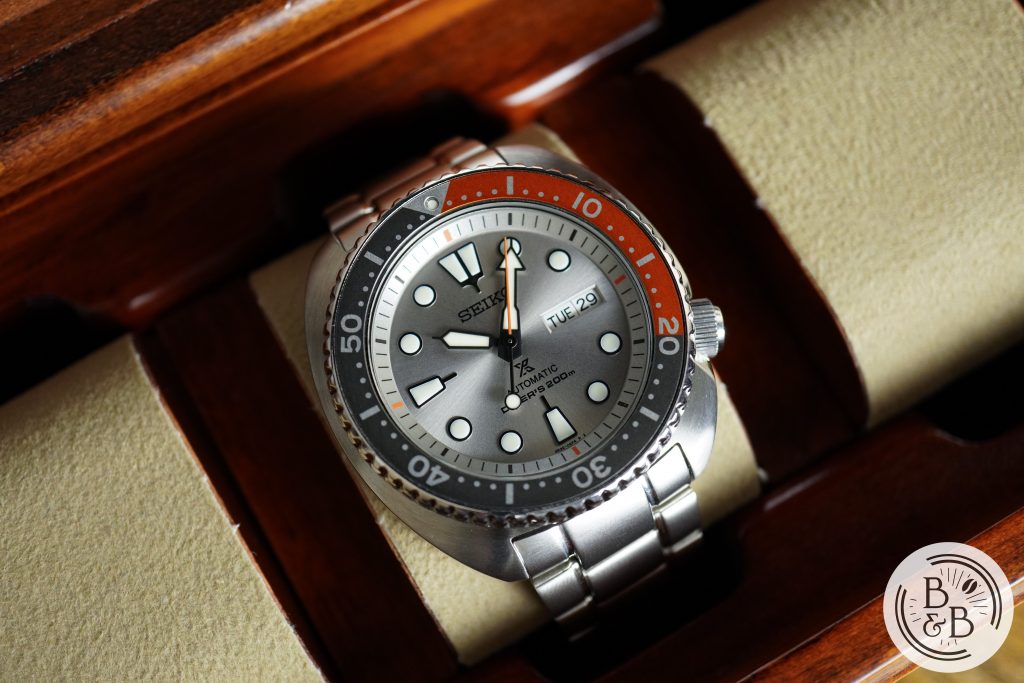 On my time-grapher, I observed roughly +2 spd in the dial up position and +4 spd in the crown up position, so pretty good numbers for a movement in general. As usual, Seiko tends to have higher beat error than other watches, but that doesn't bother me anymore.
---
Bracelet
The bracelet on this watch is pretty shabby, and definitely the most disappointing aspect of this watch. The end link fitment is particularly terrible, and is unacceptable on a watch of any budget. There's enough room to hide a hand written note to the Seiko employee that allowed this to pass through quality control.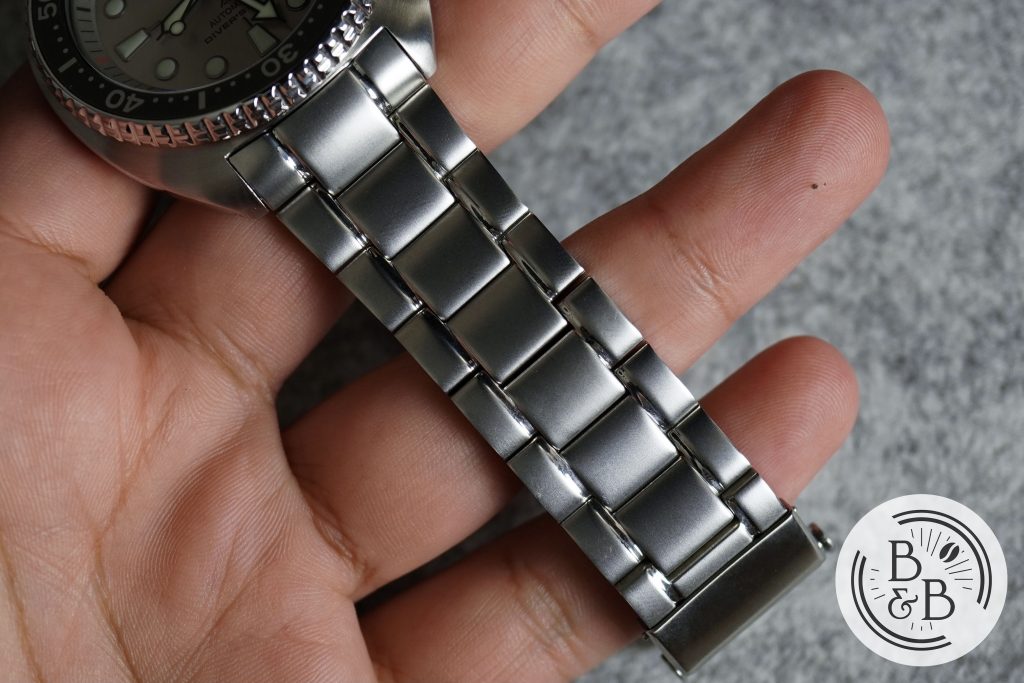 From a design continuity perspective, there is some semblance of design cohesion, which is already a step above a lot of Grand Seiko watches.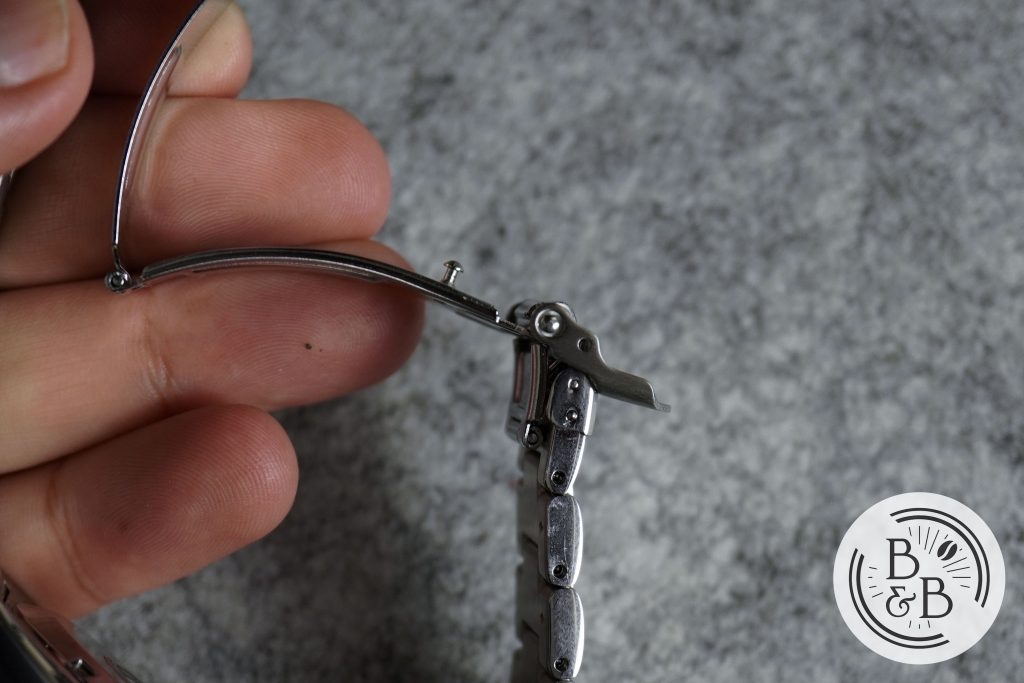 The links have the old school Seiko pin-collar system which is a pain to size without the right tools, and feels very primitive for a watch produced in 2018.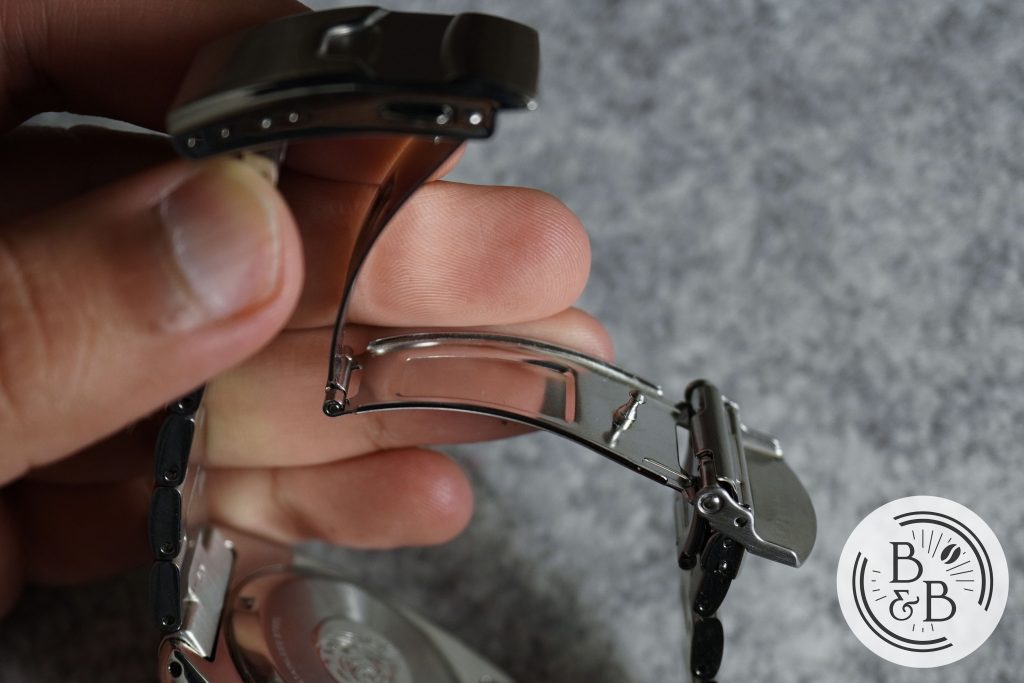 The clasp is probably the best aspect of the bracelet and has a slimmer profile than their MM300 clasps. It has a diver extension as well as a few micro-adjustment positions. The innards of the clasp appear cheaply made from pressed metal and don't inspire confidence, but I think there's enough Seiko owners that have put these clasps through hell that will say otherwise.
---
On The Wrist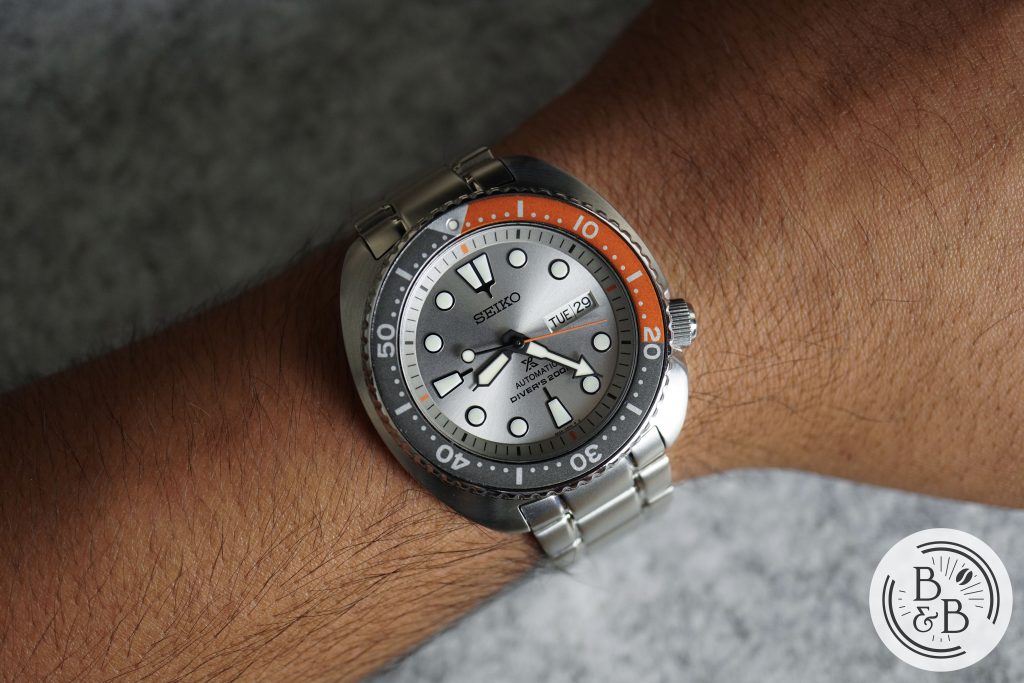 I expected this watch to look silly on my narrow 6.5″ wrist, but I was surprised at how well it wore. I think what Seiko does better than almost all other watch brands is design watches that read large on paper but wear well in person. And that is a difficult situation to be in, considering how many of our purchases are made online these days.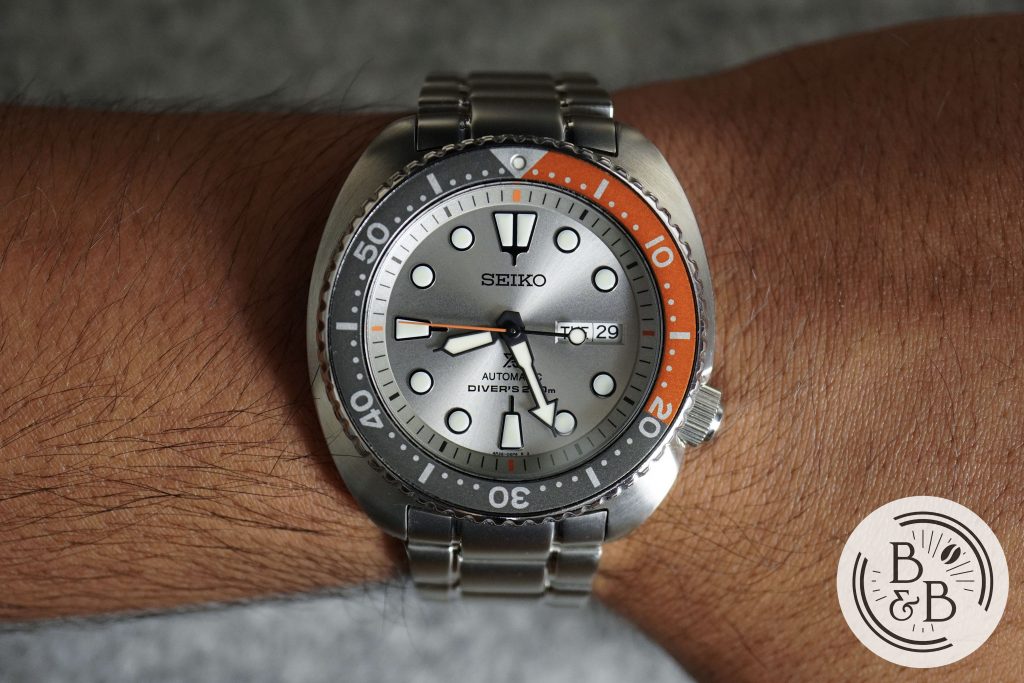 Both Seiko and Grand Seiko have consistently impressed me with how well they make their large watches wear. You could get a 44 mm diameter, 46.8 mm lug-to-lug width watch from almost any other brand and it wouldn't wear this well on a small wrist like mine.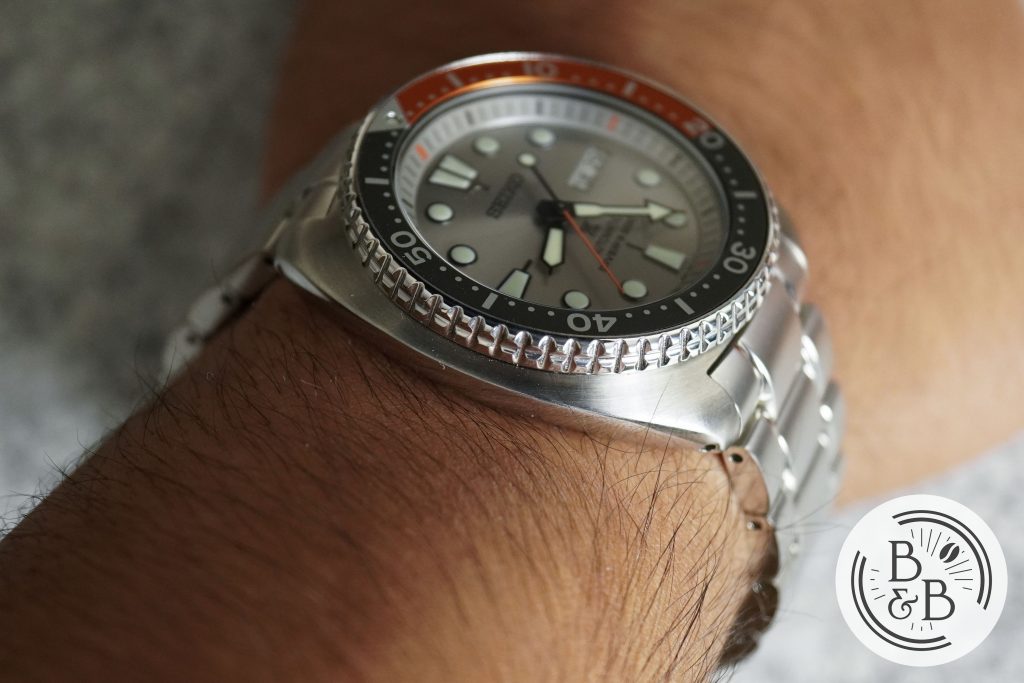 I wish that Seiko would also apply that design genius to their case thickness though, because their watches are usually on the taller side of what I'd prefer. The 12.8 mm thickness on this watch doesn't sound bad on paper, but with this watch you tend to feel all 12.8 mm of it.
---
Concluding Thoughts
So to wrap this up – I think this watch looks cool because of it's well designed dial. And that really is the only reason I could recommend this watch. I think the case design is good, and the quality is OK. The end link fitment is horrible, but the clasp is functional and not too bulky. The dial finishing is good and the lume is excellent.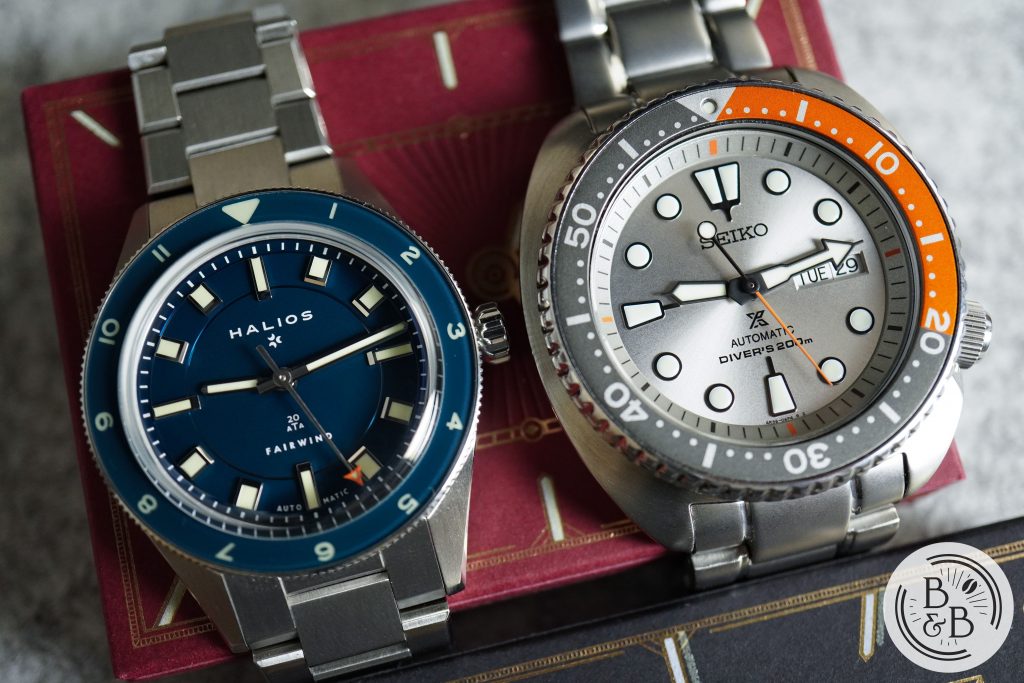 So it just comes down to how much you like this design, because if the design doesn't appeal to you, there are plenty of other great dive watches out there in the $600-750 category that deliver a similar or better experience. Just don't buy into this watch because it is a limited edition. Limited Edition and Quality Control are both aspects of this industry that Seiko doesn't seem to fully understand yet, or they understand too well…
---
Strap Change
---
Thanks for reading!