---
Disclaimer: This watch was sent to me on loan to review and I was not incentivized in any way to make this review. This is in no way sponsored by Defakto or any other entity. All opinions here are my own.
---
---
Contents
---
Defakto
I've reviewed two watches from the Ickler parent company – the Archimede Outdoor Protect 39 and the Limes Endurance GMT. Ickler makes their watches in-house, and have built a solid reputation for building excellent cases. Defakto watches was founded by Raphael Ickler, and their specialty is in designing and manufacturing minimalist watches that are driven primarily by clean design. Raphael now manages Limes too, but it appears that Defakto is his brain-child, and one that he runs as a one man operation.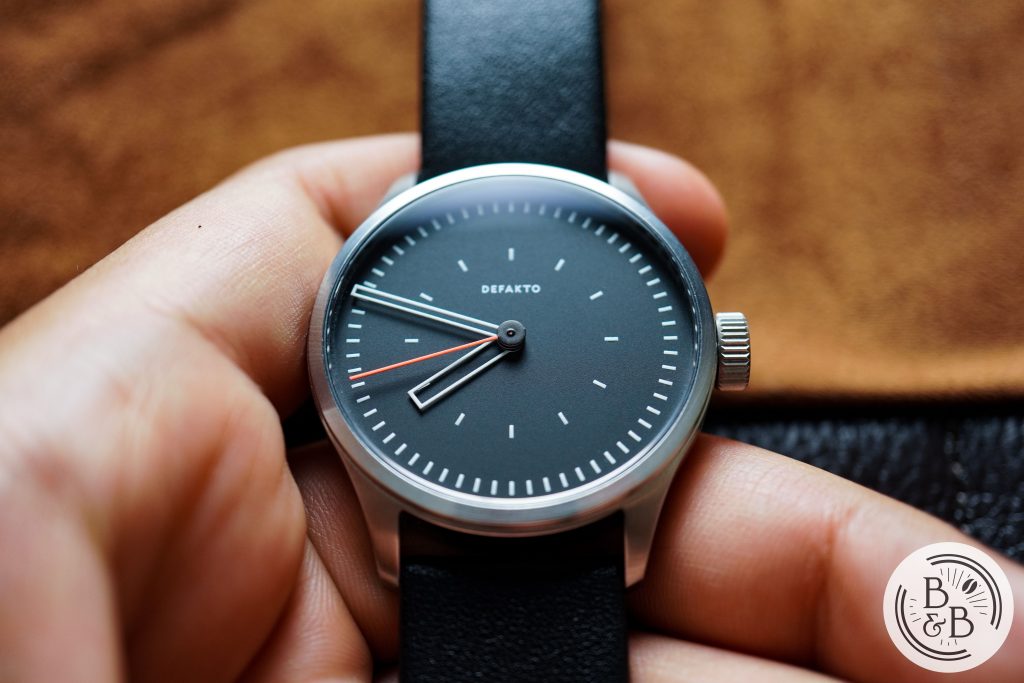 The Kinetik is, in my opinion, his best design. This design was updated this year, and is one of my favorite watch designs from 2020. Each dial element was chosen for a reason, and every single element has a purpose. I was thoroughly impressed when I saw this watch for the first time, and I want to thank Raphael for promptly sending one over for review.
Let's check it out!
---
Case
The build quality of the case is excellent; as you would expect from a brand under the Ickler umbrella. The case measures 39mm in diameter, 45mm from lug-to-lug and 9.8mm in height. This watch is offered in a PVD coated black and a brushed stainless steel option. I think black suits the design better, but I'm always a bit skeptical of PVD coated cases since I tend to scratch my watches often.
I think the stainless steels look great, and doesn't drastically change the design aesthetic. The case is not designed to be a dress watch, and is more in line with some of Archimede's flieger cases; so good for a casual everyday watch.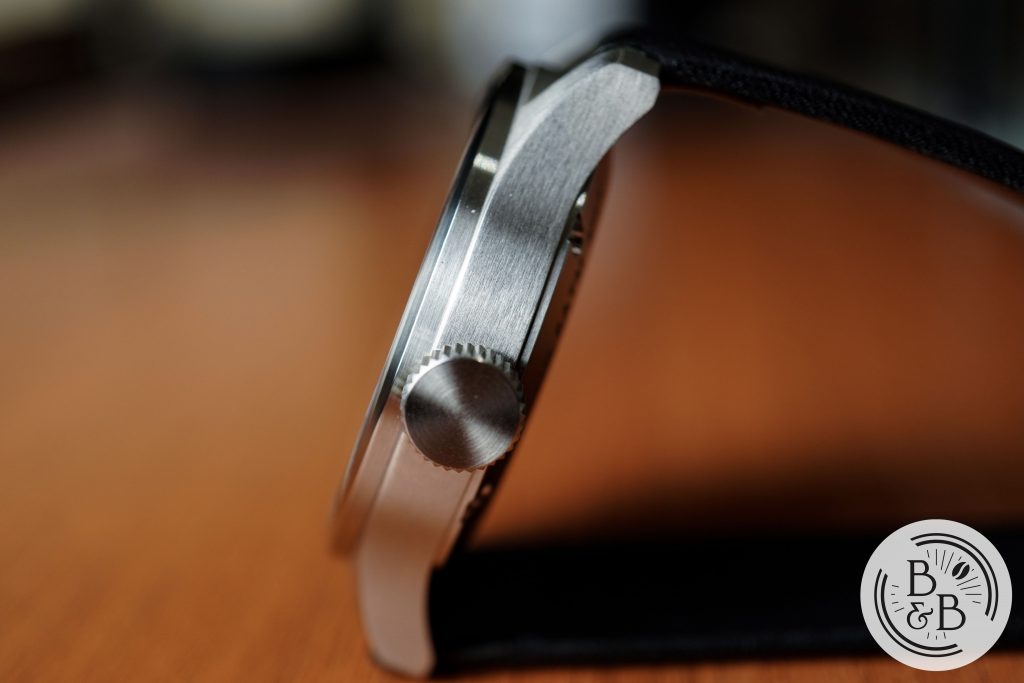 You have short lugs that curve down towards the wrist, with a 20mm lug width and no drilled through holes.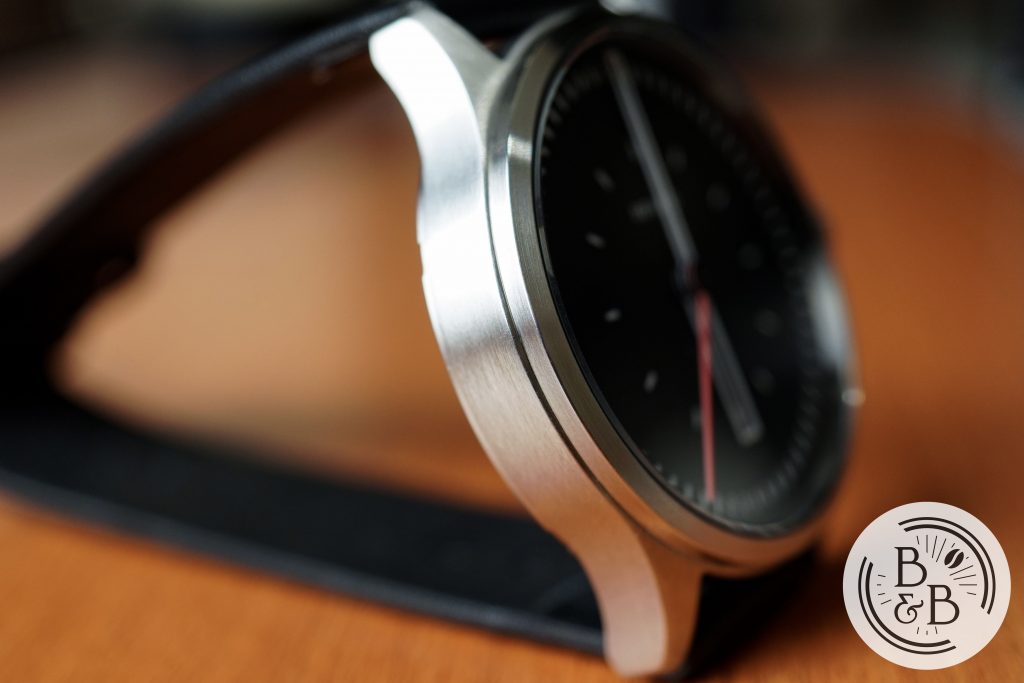 There is a well executed bezel that seats the sapphire crystal. The sapphire crystal is flat and has AR coating on the lower surface.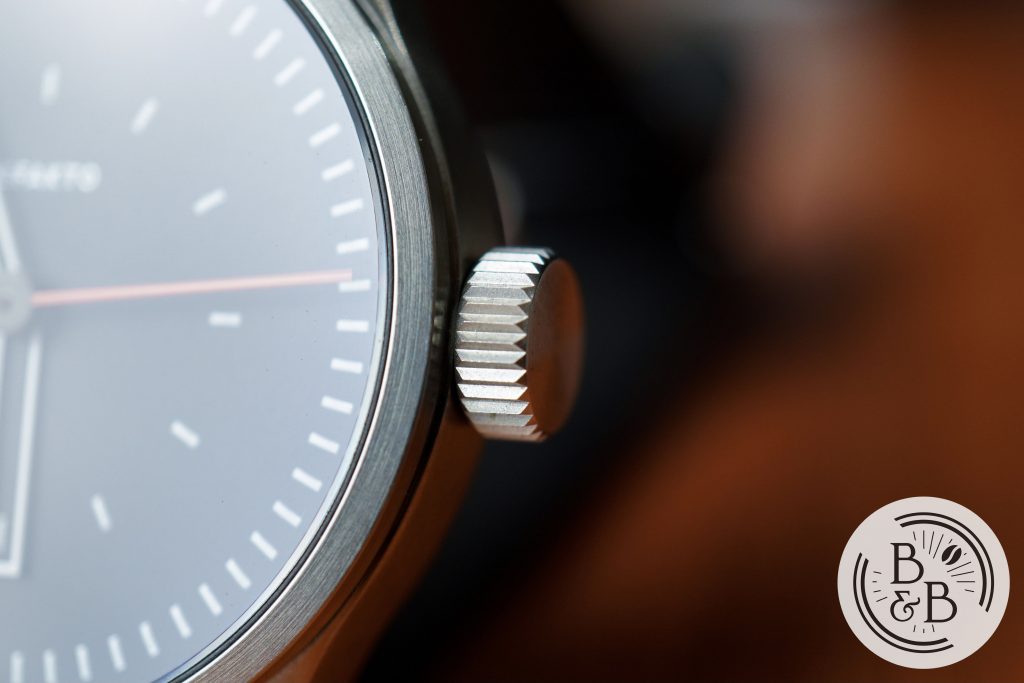 Similar to the two other Ickler watches I've reviewed, the push-pull crown on this watch is a pleasure to operate. The dimensions and grip are perfect, it is finished well and feels robust with no crown or stem wobble.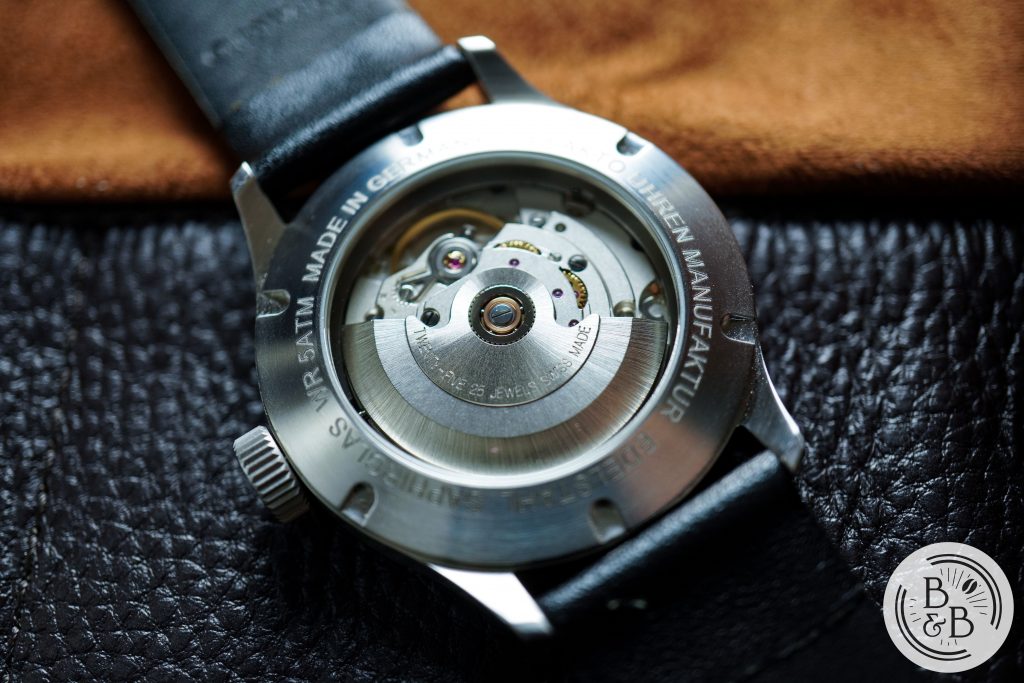 Flipping it over, you have a screw-down case-back with an exhibition window. This watch is rated for up-to 50m of water resistance.
---
Dial
As with most minimalist design watches, the dial is the canvas, and each stroke is made carefully and with purpose. And restrained design usually comes at the cost of more flamboyant features like high polished applied indices, elaborate dial finishing, and bold hand sets. With that in mind, this dial design just ticks all the boxes for me in terms of clean, legible and practical design. And even throws in some creative and intelligent design elements.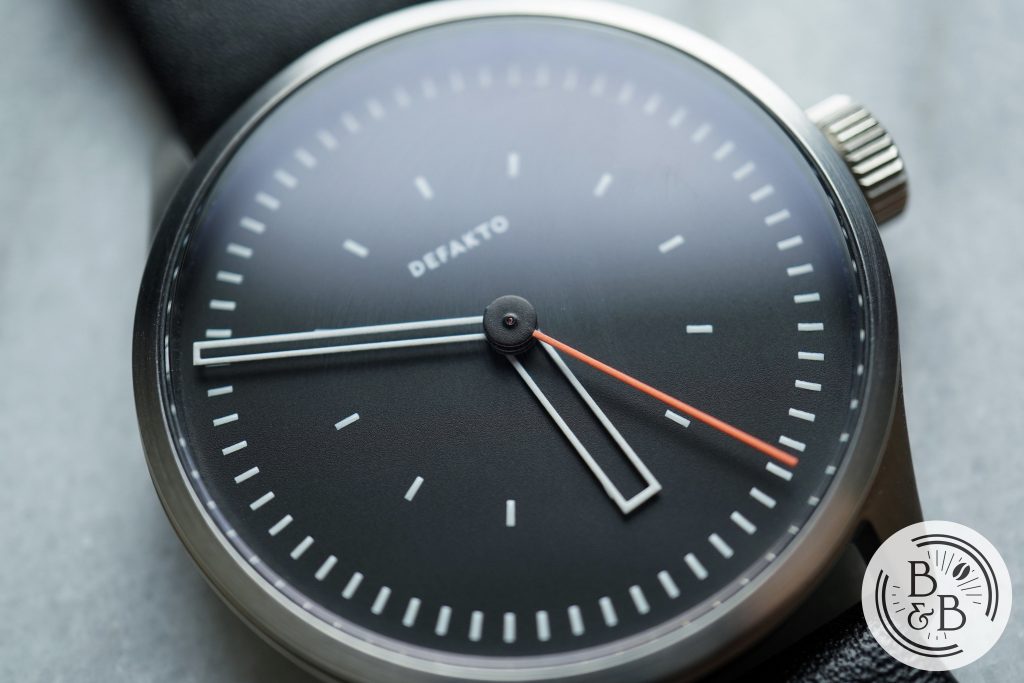 The base of the dial is media blasted, and then coated with a simple layer of black paint. The result is a matte texture, onto which all the dial elements are printed.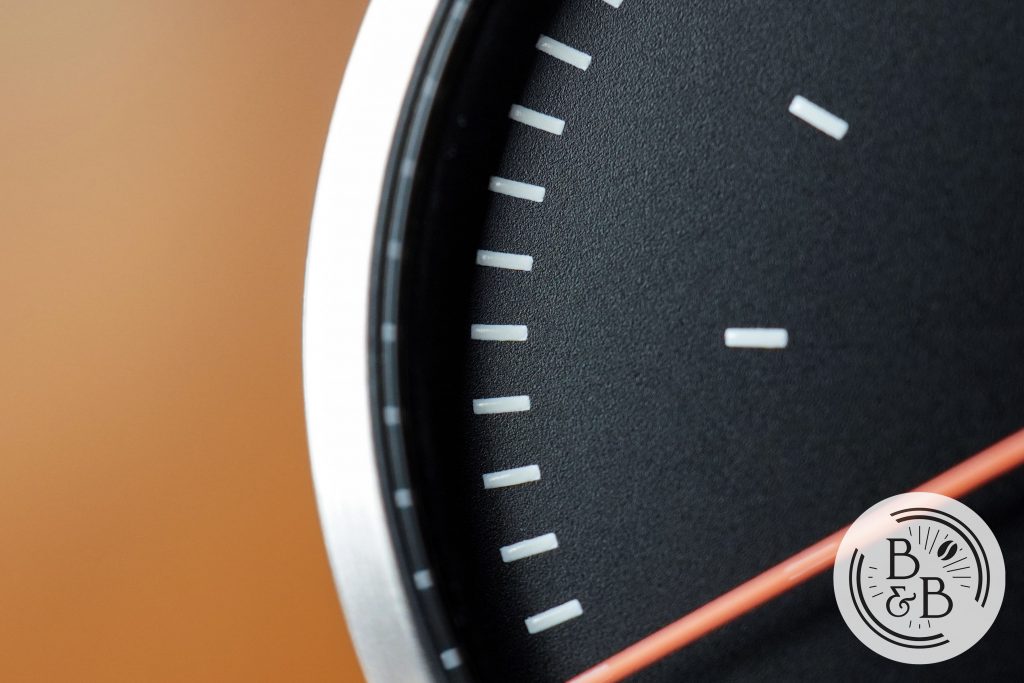 There is an outer minute track printed in white, with reasonably sized ticks that are easy to read.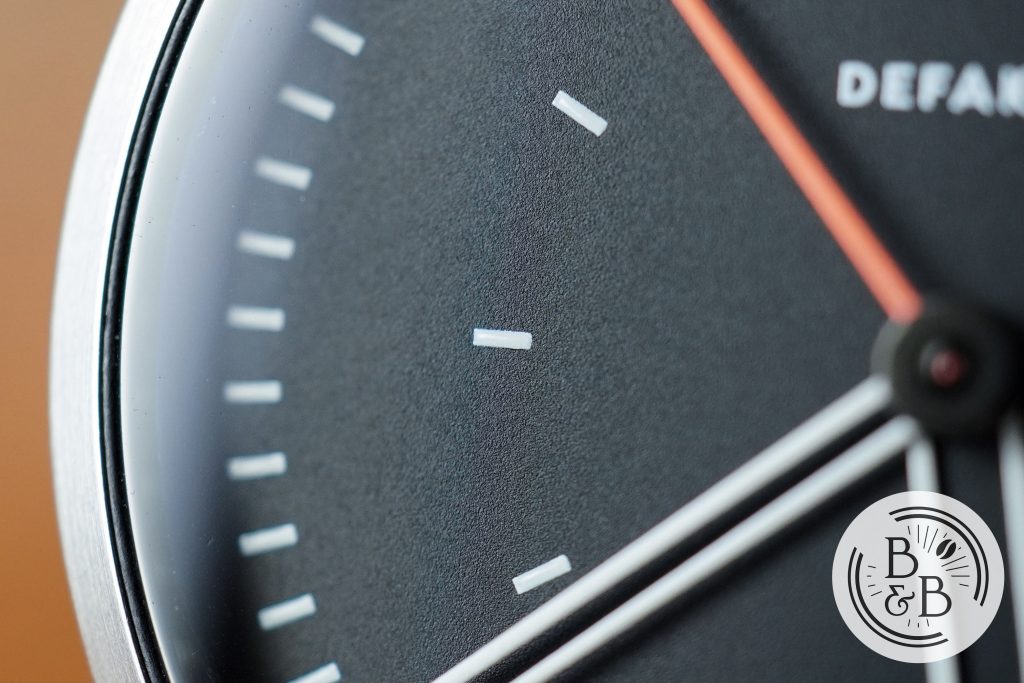 Instead of longer ticks for each increment of five, which does hurt the symmetry a bit, you have a very clever set of inner ticks for the hour markers. I think this is neat, and is one of my favorite aspects of the dial.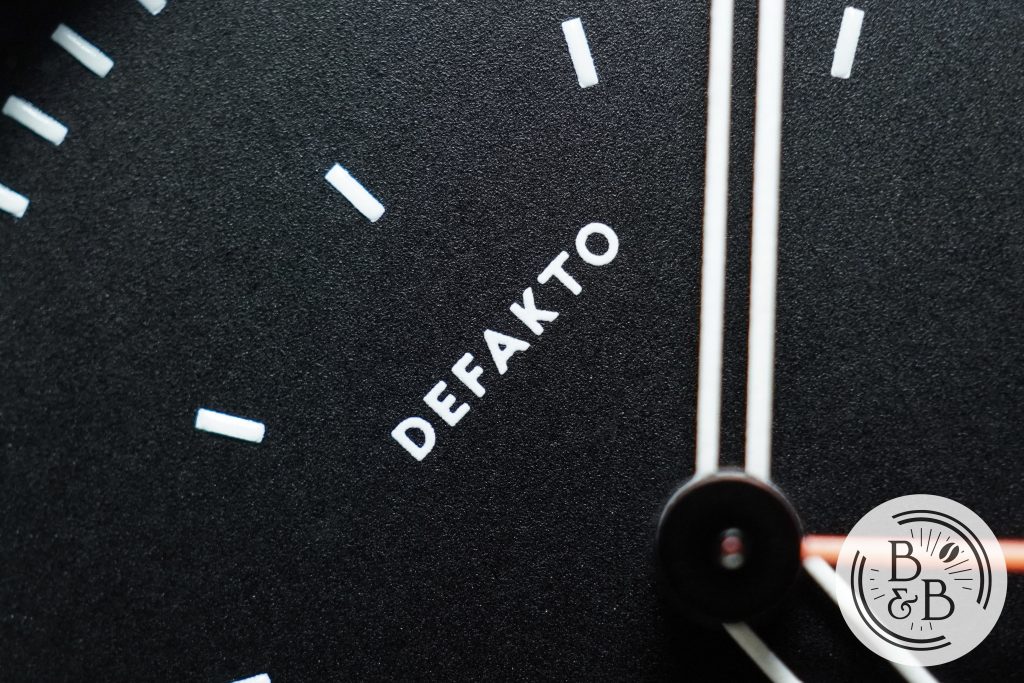 I opted to review the Standard model, which features the brand's logo under the 12 o'clock. While I do enjoy dials without any logos on them, I think this logo adds a bit of personality to the watch, and prefer this. You can get the Inkognito variant which is a sterile dial.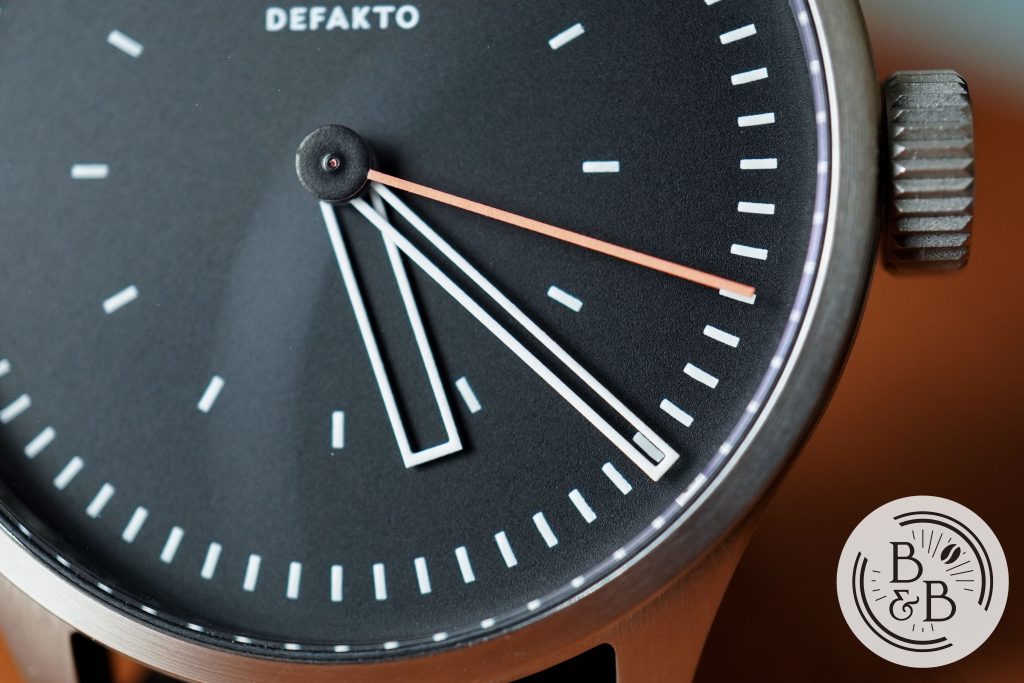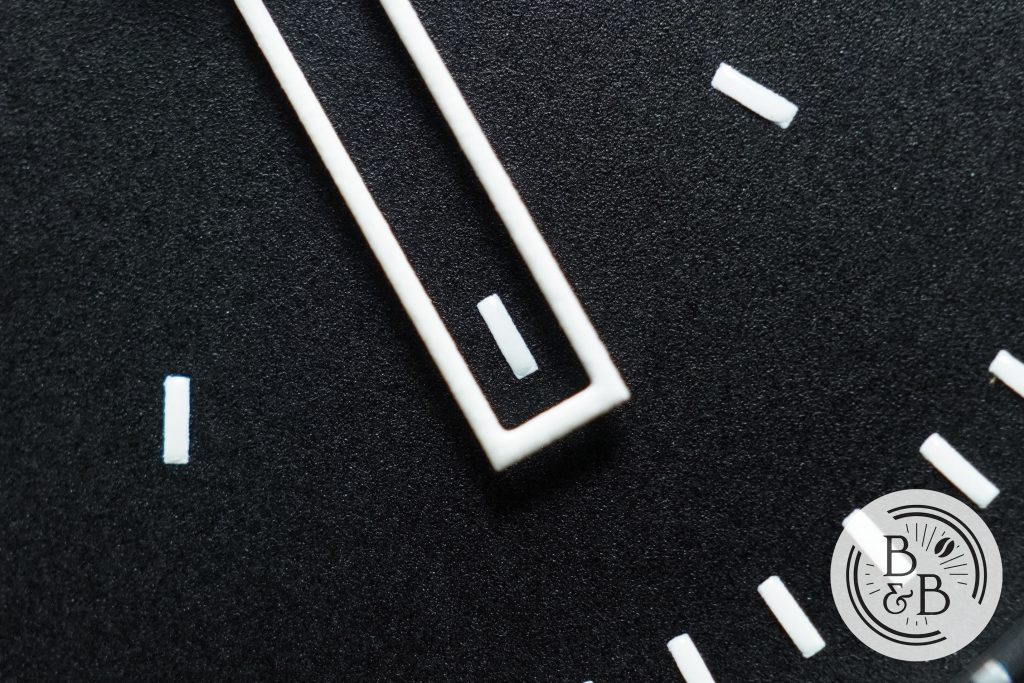 The handset is my second favorite aspect, and has some ingenious design work at play. Both the hour and minute hands are skeletonized rectangles that are painted white and coated with lume. The lengths of each hand are carefully selected to accurately hover above the minute and hour markers respectively. I love this! It is a pleasure to read the time, specially when the minute and hour markers line up perfectly.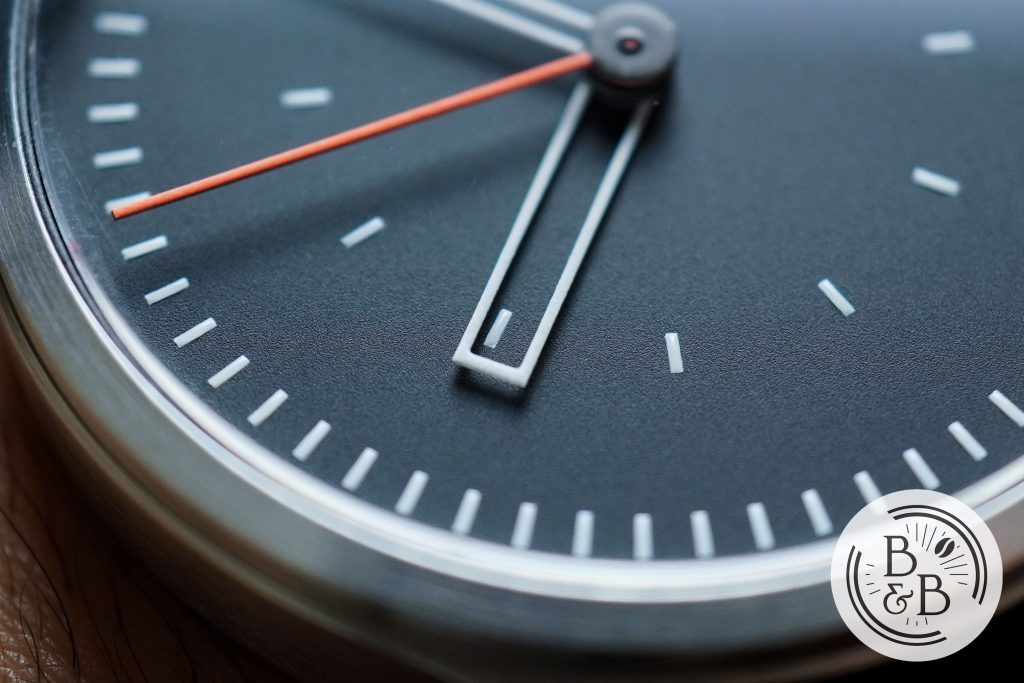 Another accent that I appreciate is the red hand, that is actually lumed reddish orange as well. The hand is the only element of color here, and the fact that this colored element is retained even in the dark is just wonderful.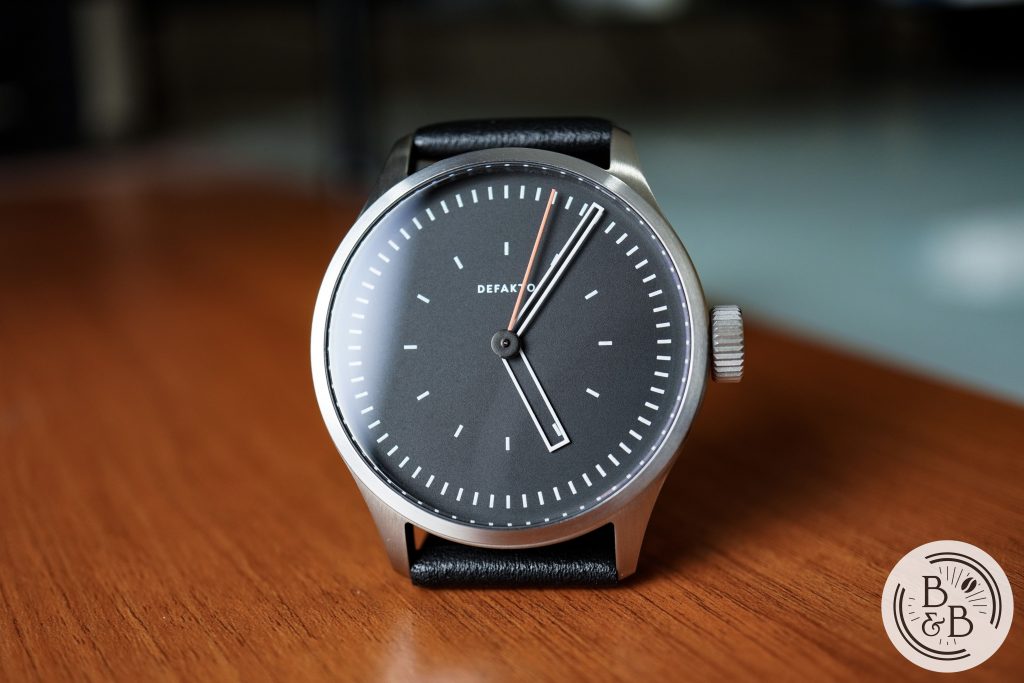 Overall, I love this dial, and I think each element is absolutely perfect. I wouldn't change a single thing about this, and if you can't tell, I'm a fan. The quality of finishing across the dial is very good, and I'd give it about 90%.
---
Lume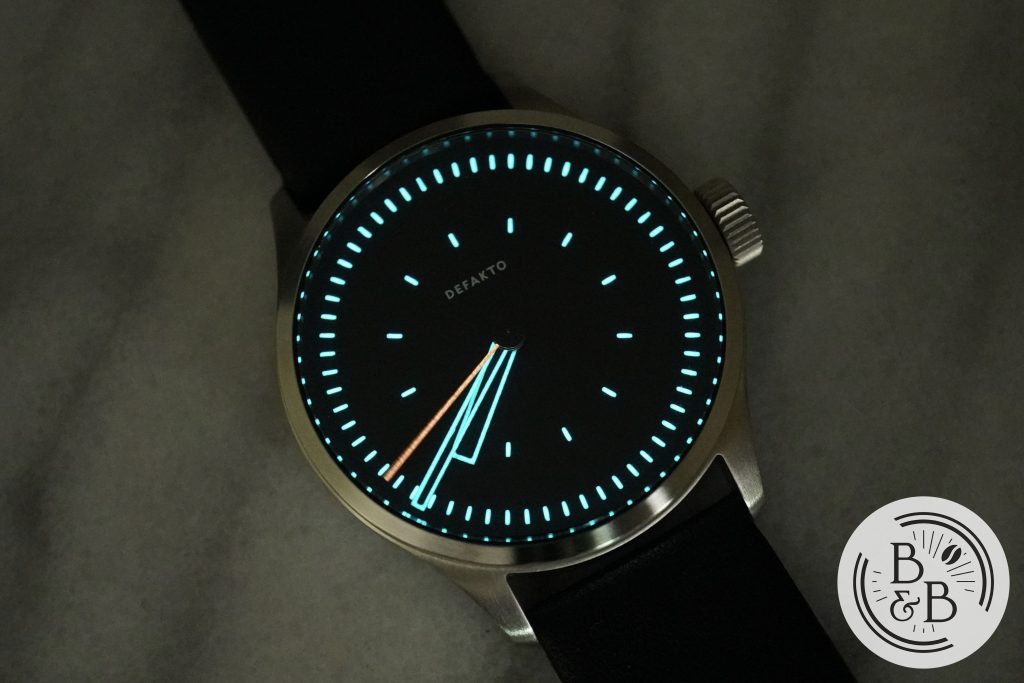 I don't typically expect any lume, let alone good lume, on a watch like this. But I was very surprised to find the amazing lume design on this dial. All the dial elements, apart from the logo, are lumed.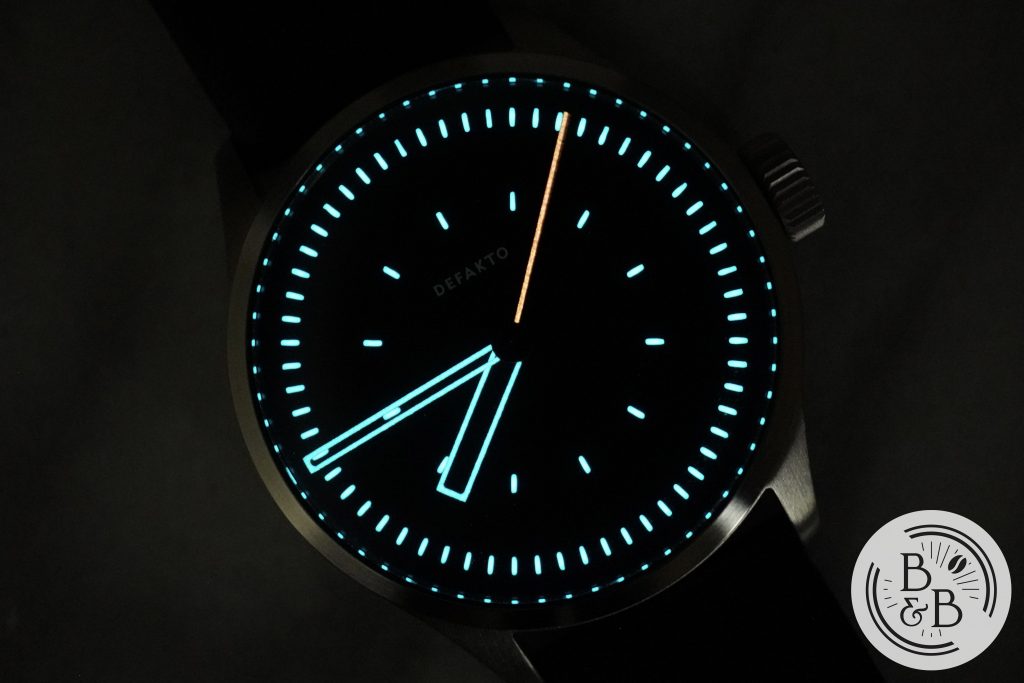 The minute markers and hour markers are lumed with BGW9, and they're quite bright, and last for a reasonable amount of time. The surface area makes it impossible to stay bright through the night, but you'll definitely have some visibility 3-4 hours in the dark.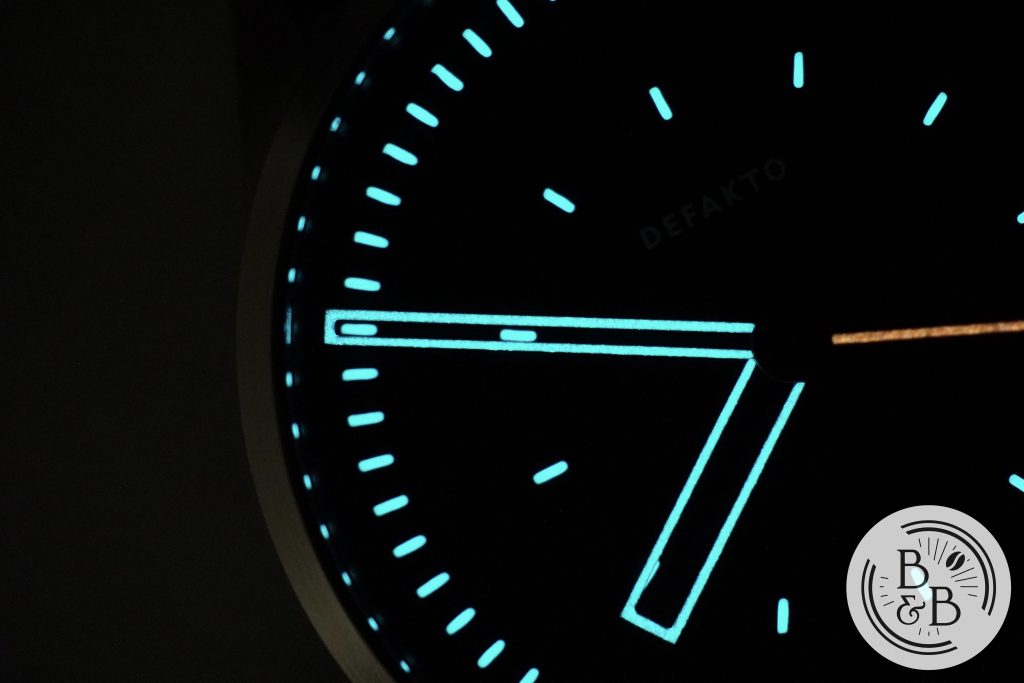 The hour and minute hands are also lumed with BGW9 and are slightly brighter than the dial markers. The hands look amazing when they glow.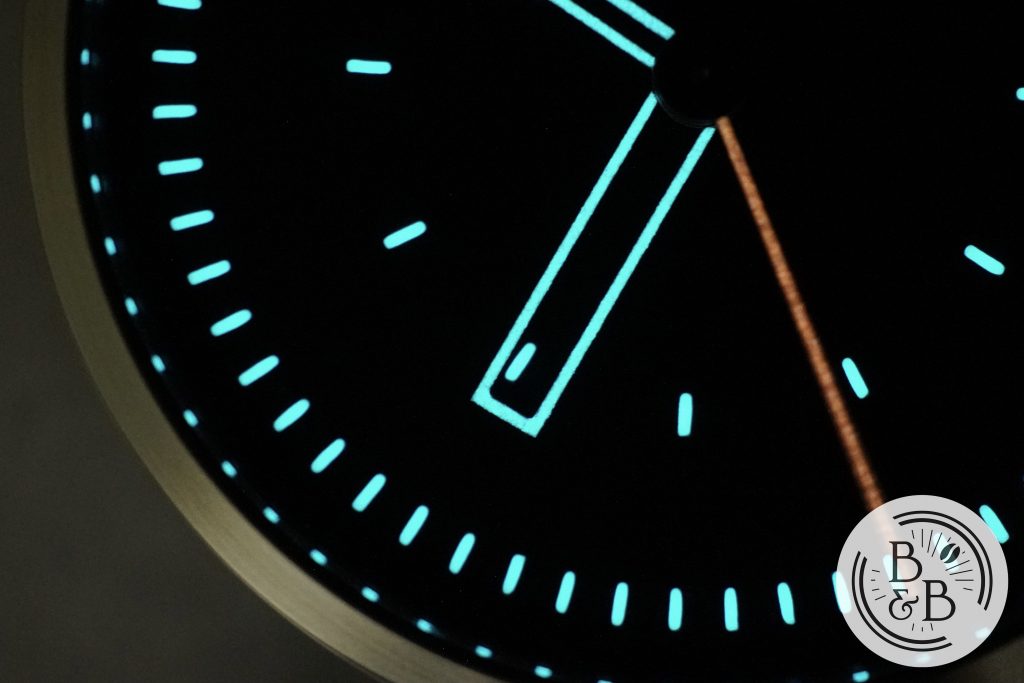 The seconds hand is also lumed, and it glows in an orange-red color. I think the lume design on this watch is incredible, and even though it may not last as long as a dive watch, they've really outdone themselves here.
---
Movement
This watch uses an ETA 2824-2 movement. Usually with a design focused watch like this, you'll usually see brands taking the cost effective approach and will use cheaper movement like the Seiko NH35 or a Miyota 8XXX series. But Defakto are using a good movement here, and that is nice to see.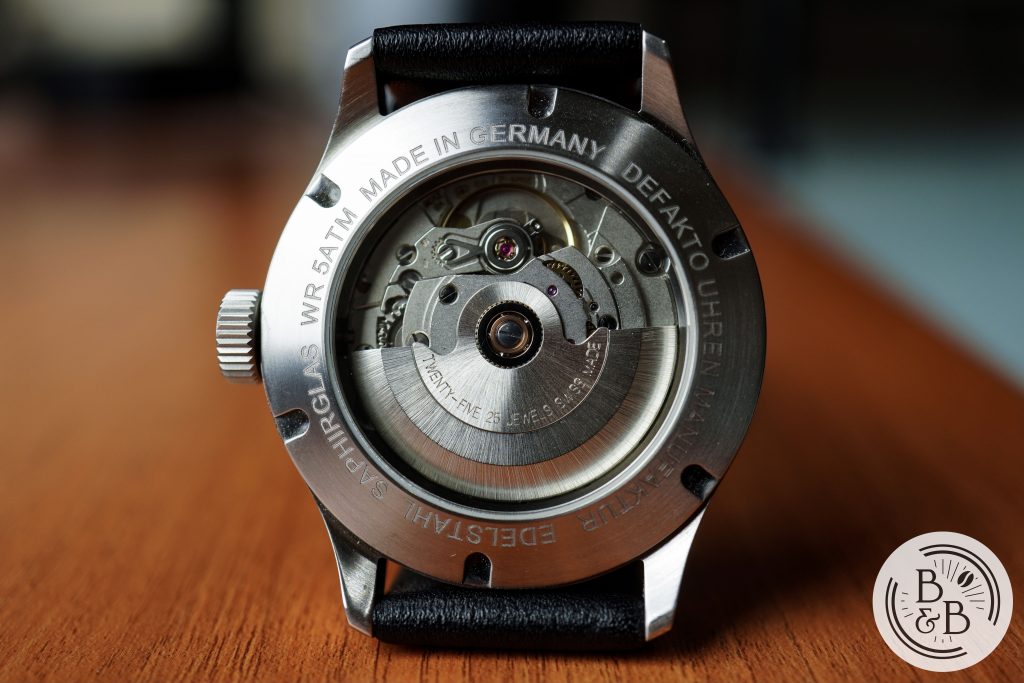 The movement is visible thanks to the exhibition window, and it appears to be reasonably clean for the price you're paying. I noticed a few very tiny particles of dust and some fingerprints on a screw, but nothing unexpected for a watch in this category.
There is a ghost date position, which isn't uncommon for watches like this, and I don't mind it at all. I logged the accuracy of this watch over a 2 day period and observed roughly +4 spd.
---
On The Wrist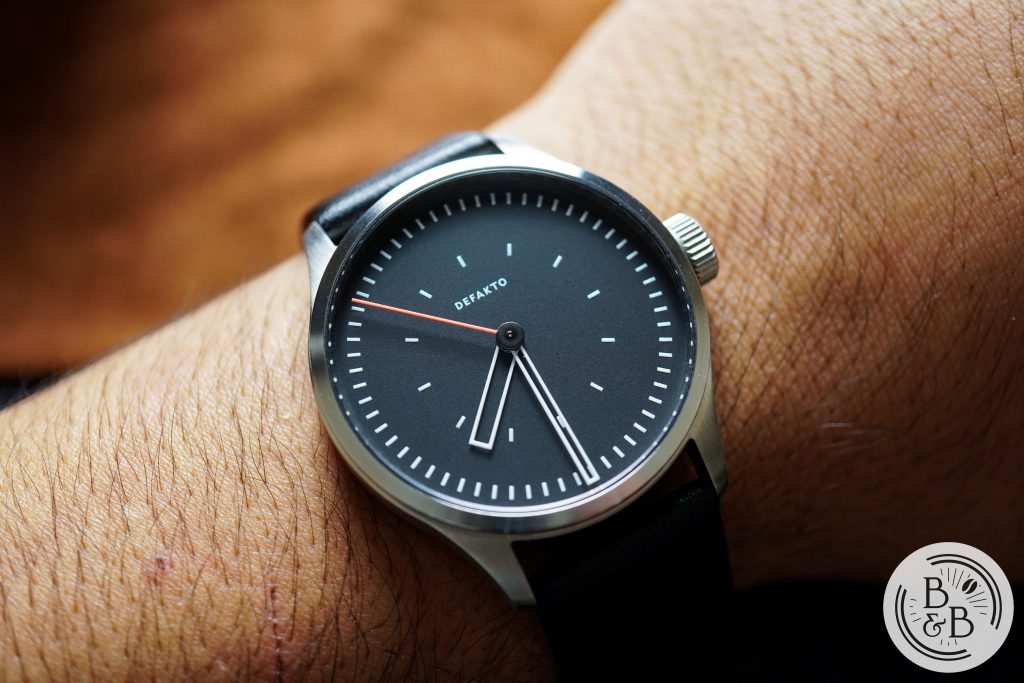 As you would expect, the 39mm diameter and 45mm lug-to-lug width fit great on my 6.25″ wrist. The roughly 10mm height is also a treat, only made more easy on the wrist thanks to the 60g weight.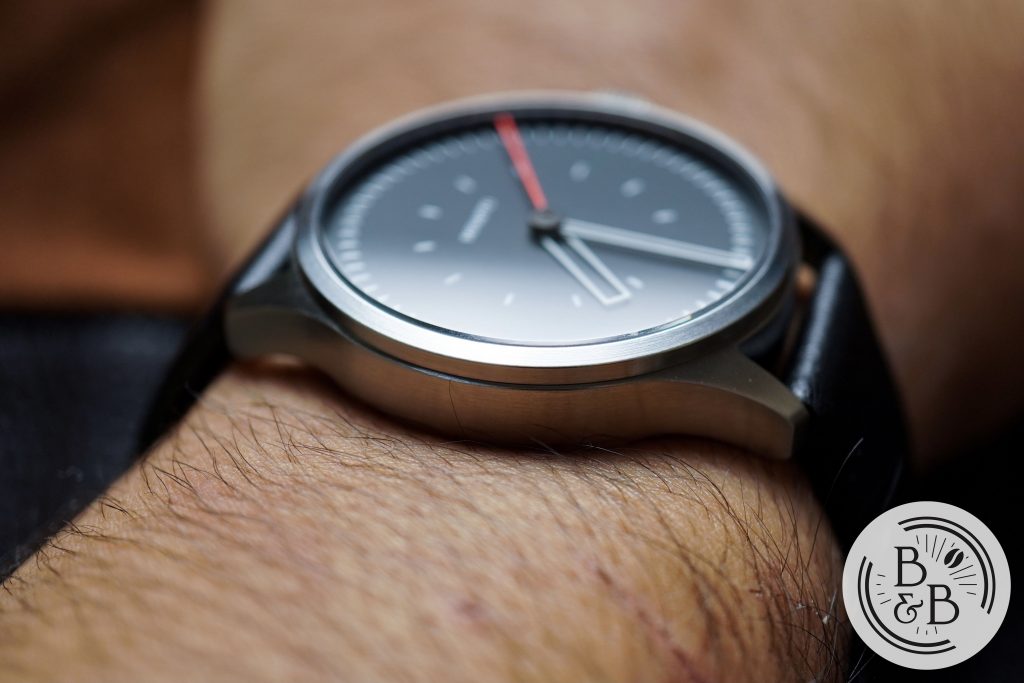 The case-back is slightly curved, but the lugs also curve down towards the wrist, so the watch sits quite low and is well balanced. No problems with comfort whatsoever, and I think this watch will look great on larger wrists too.
The watch is sold with a hand-made leather strap. I don't often like stock straps, but in this case I think the simple style and comfortable material makes it the perfect strap for this watch. It does look pretty nice on their mesh bracelet too.
---
Concluding Thoughts
This watch is perfect for someone who appreciates good design, and values good design more than fancy applied indices, vibrant sunburst dials, extravagant lume and exotic complications. This watch is incredibly easy to read, but also avoids the sterile soul-less aesthetic that some minimalist watches have. Personally, I like having the logo on the dial, and between that the red seconds hand, I think there's enough of personality and identity here.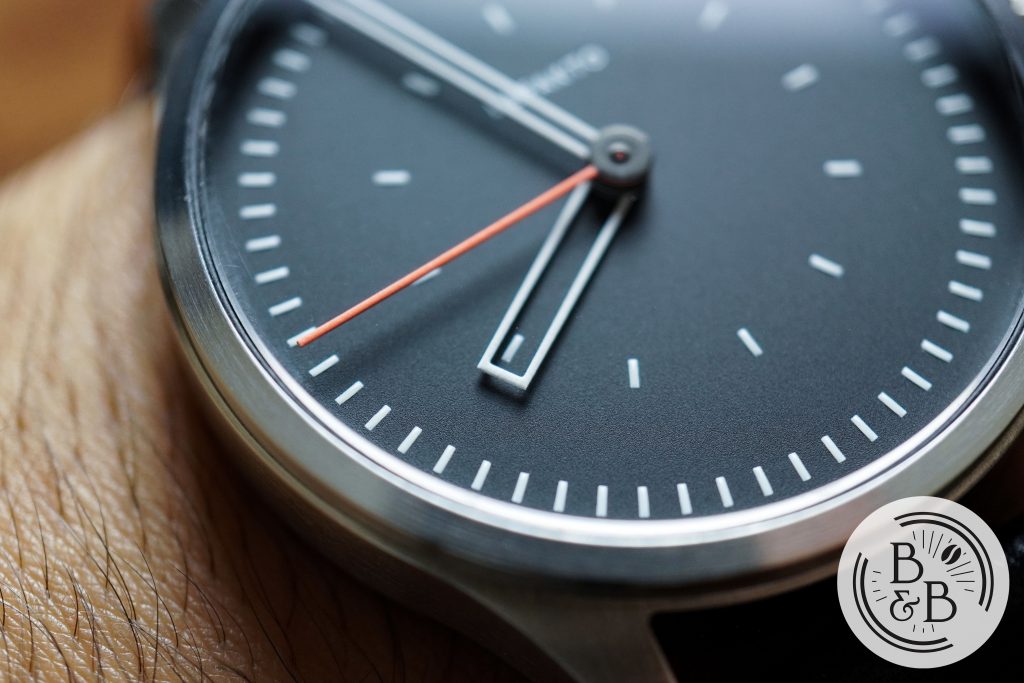 At roughly $800 including shipping to the USA, this isn't an inexpensive watch. But even if you break it down, you're getting a very good case made by one of the most respected manufacturers, a very good and reliable movement, and most of all a dial design that just works. And let's not forget the terrific lume layout. So I think this one will be a tough stretch for a casual watch shopper, but an easy purchase for someone who appreciates this design.
---
Strap Change
---
Thanks for reading!