---
Disclaimer: This watch was sent to me on loan to review and I was not incentivized in any way to make this review. This is in no way sponsored by Christopher Ward or any other entity. All opinions here are my own.
---
---
Contents
---
C65 Dartmouth
I've known about Christopher Ward for a while, and they are arguably one of the few micro-brands that have achieved success; i.e transcended their micro-brand status and made it to the big leagues. I never considered buying one of their watches though, because most of the watches that drew my attention of late have had asymmetric logo placements, and that bothers me quite a bit. But it appears that they have been listening to their fan base, and have released some terrific watches with centered logos and some excellent design and engineering work to go with it, like the C65 Super Compressor and the C60 Lympstone. Unfortunately I'm a very small fish in a very large pond, so it'll be while before Beans & Bezels can get to see some of those in the metal, but I very much intend to, as I love the Lympstone.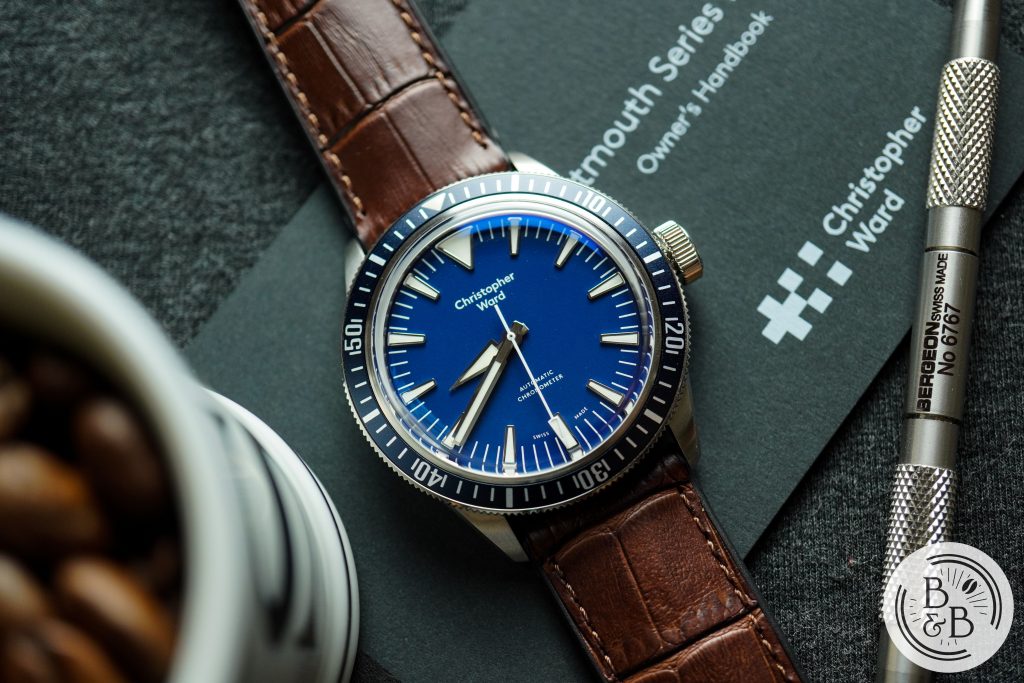 Previously on this channel I looked at the Helson Sharkmaster 300, which is an homage to the vintage Omega Seamaster 300s from the 'Big Triangle' era. I personally think these were one of the best diver dial designs, and you can see these military-esque design elements in other watches from the era too, like CWC. There are many cheap (and expensive) homages (and clones) of those watches, and I managed to scratch the itch at that time by buying the Helson Sharkmaster 300. At around $650-700, it was a nice enough experience and had some of Helson's beefy case and bracelet manufacturing to add to the fantastic Omega dial design.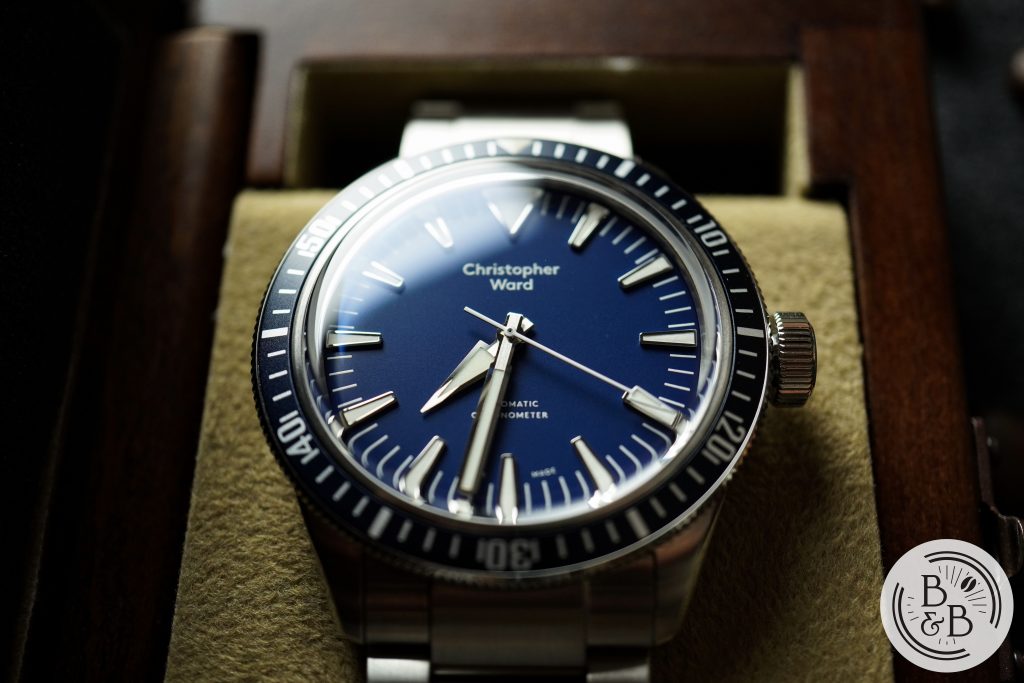 I used to believe that the Helson was the best way to experience that watch design under $1000, but I'm here to tell you that I was wrong. This C65 Dartmouth is clearly the one to have. The Dartmouth retails at $1080, but if you time your purchase right, you can find pretty good deals from Christopher Ward. At the time of writing, they're offering a 15% discount on their entire inventory.
Let's check it out!
---
Case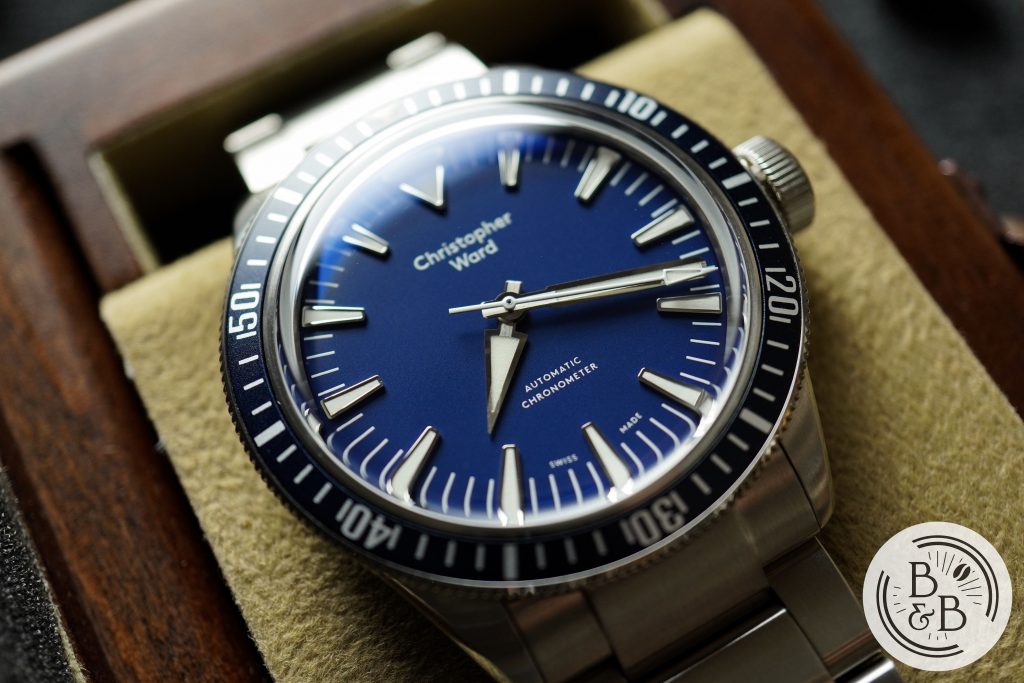 The case measures 41mm in diameter, 47mm from lug-to-lug and just under 12mm in height. The case design doesn't follow any of the original design cues of the SM300, and I think that's a very good thing. They stuck to their original case design, and it works great here.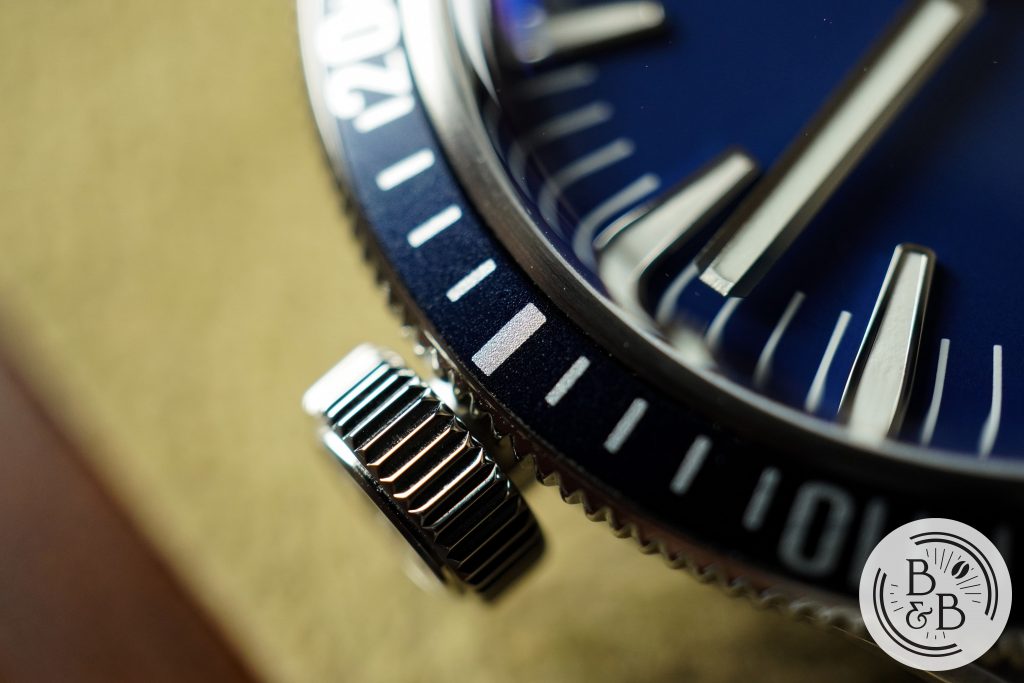 You have a roughly 1.5mm tall box sapphire crystal that adds a bit of vintage charm by way of distortion at the edges. This doesn't impair readability, so I happily welcome it.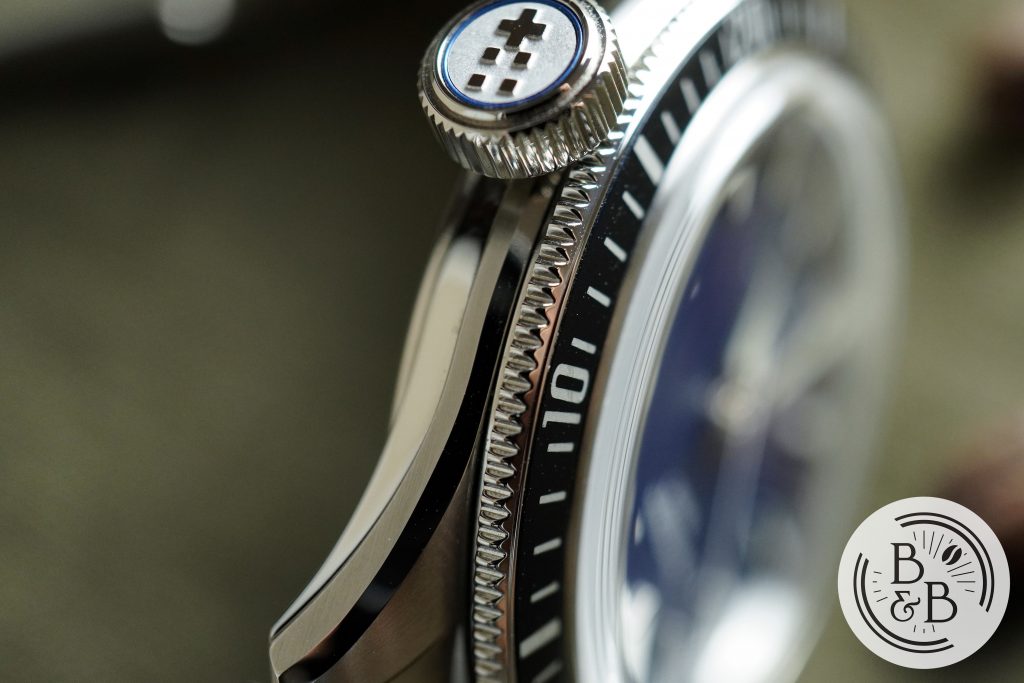 There is a uni-directional 120-click aluminum bezel that has a lumed triangular pip at the 12 o'clock.
The bezel insert is not too wide, and the bezel is very easy to grip and operate. There isn't any back-play and the clicks feel solid.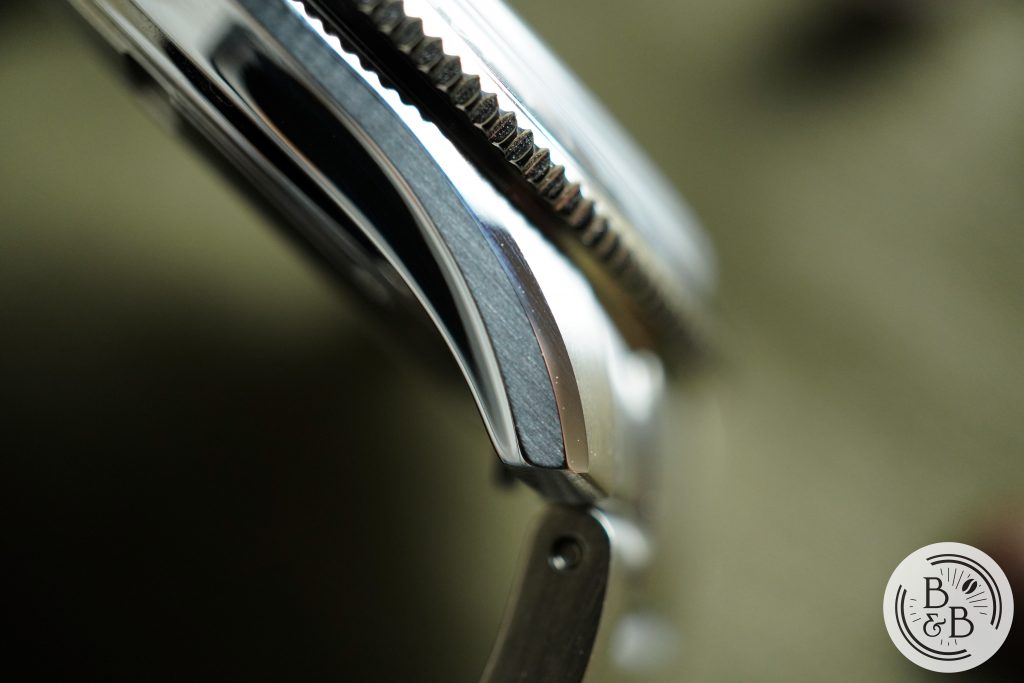 The lugs are slim and short, and gently curve down towards the wrist. This is a very elegant design, and makes use of both brushed and polished surfaces. This makes the case, and the watch, look very sleek. Excellent design work here.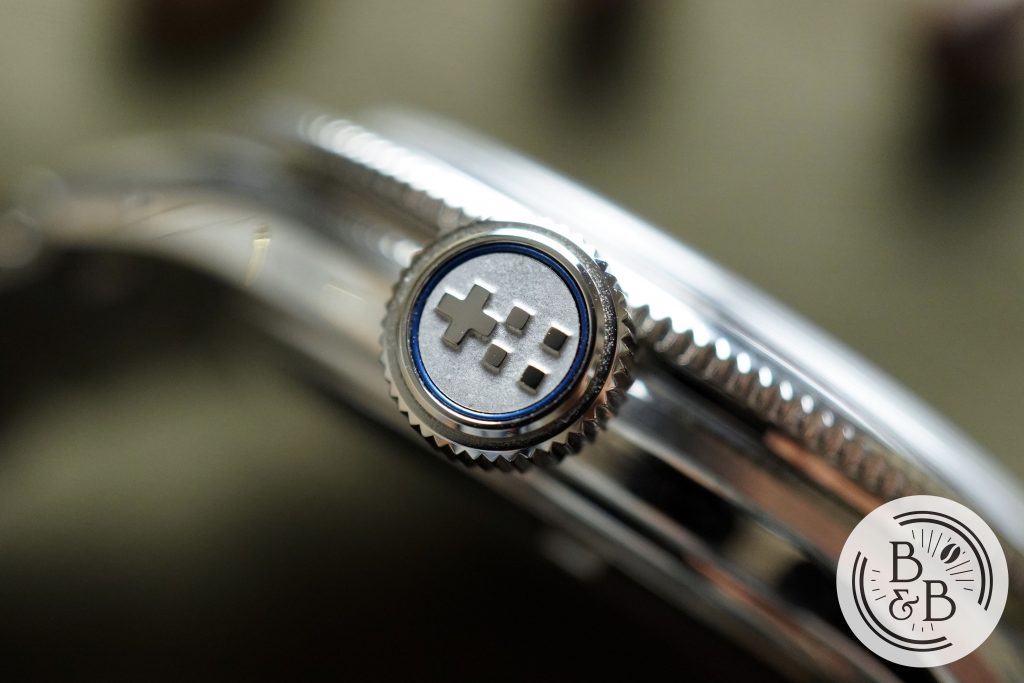 There is a large signed crown at the 3 o'clock position. The crown is very easy to grip and operate and has no crown or stem wobble. As someone who likes big crowns, I definitely approve of this. The crown screws down into the case, and the watch is rated for up-to 150m of water resistance.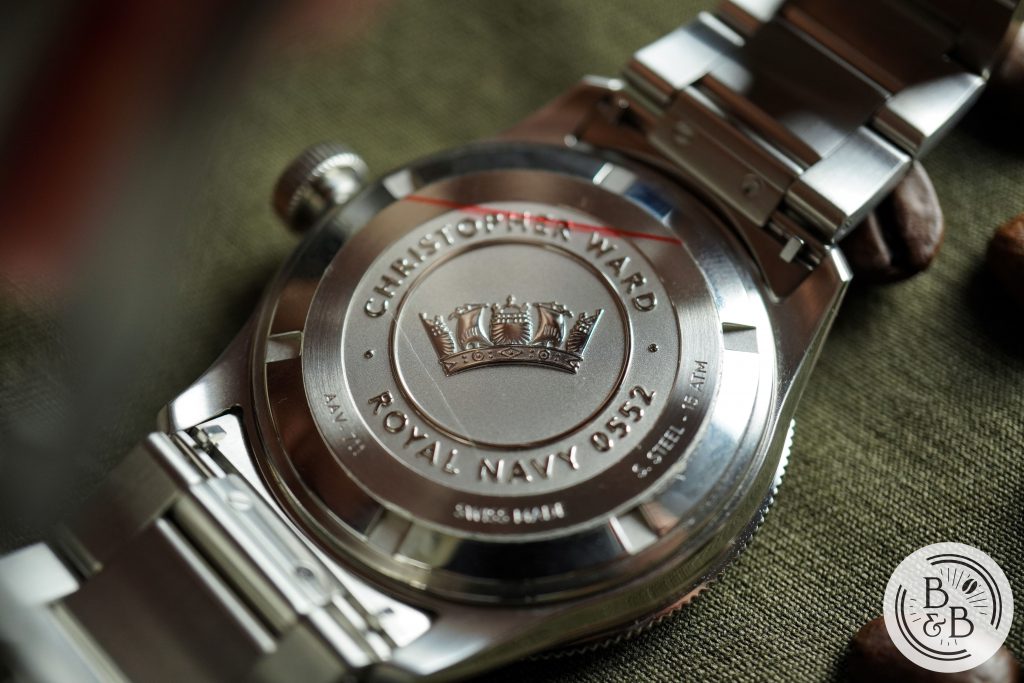 Flipping it over, you have a solid screw-down case-back with the British Royal Navy crown insignia embossed on it – a nod to the original Royal Navy 0552 spec watches.
---
Dial
The Dartmouth is offered in two variants – a black dial with aged lume, and a solid navy blue with white lume. The black dial option is closer in appearance to the old Seamaster, but I love the blue dial and I think it looks great on this design.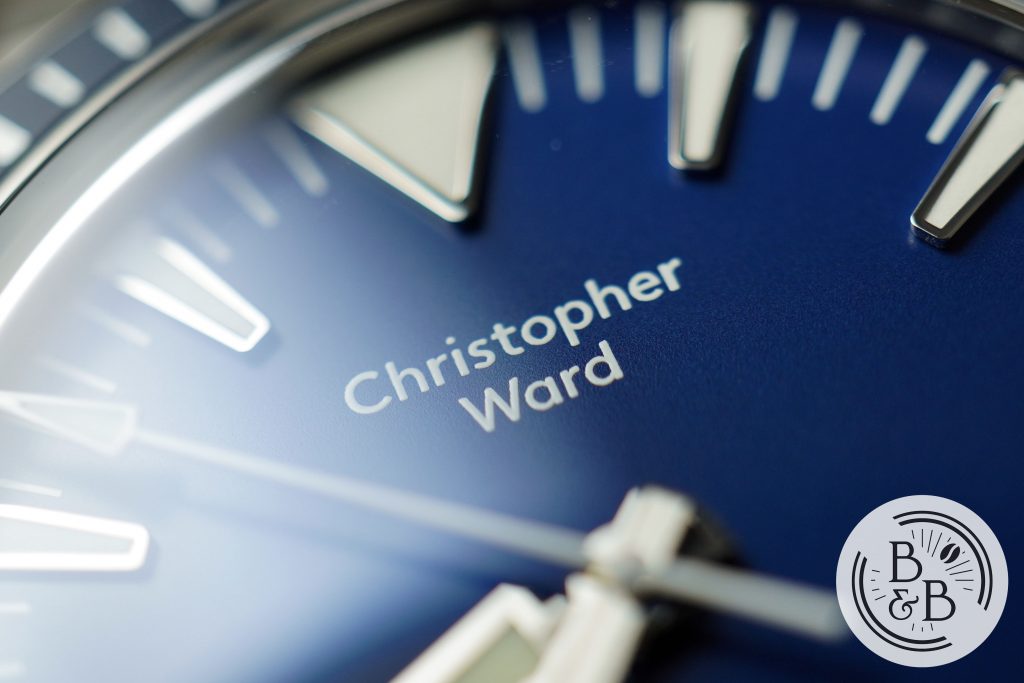 The base of the dial is matte, and their choice of blue is excellent. It isn't too bright, but not boringly dark either. I think this color allows it to be quite versatile.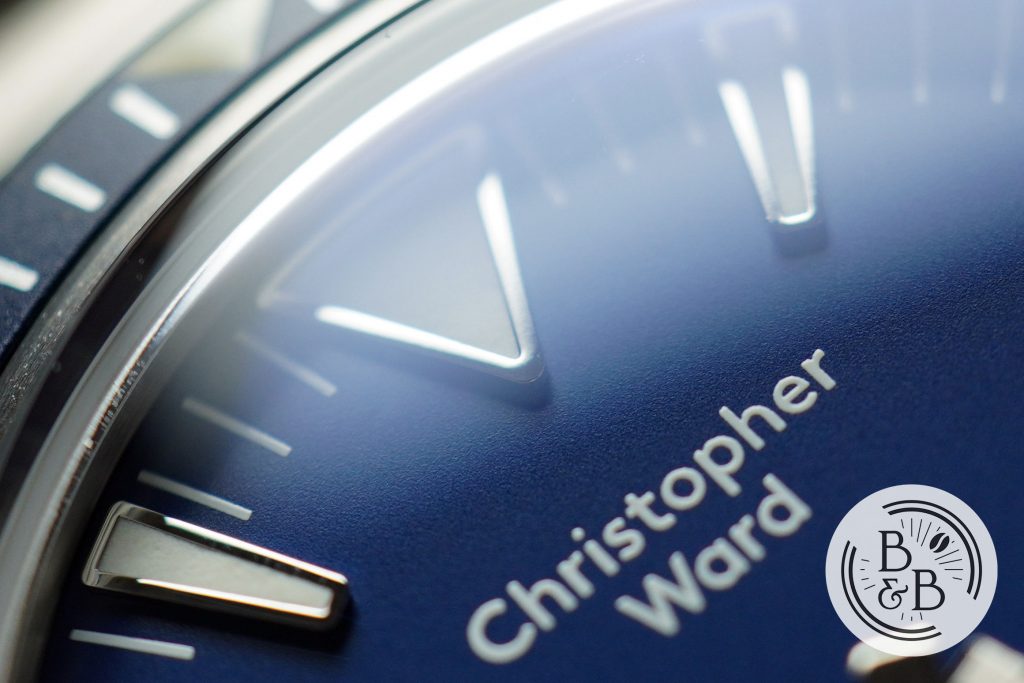 Unlike most of the SM300 homages, and the original Omega SM300 with printed and painted hour dials, the Dartmouth has all applied indices that are polished beautifully and look like they could be Rhodium plated too.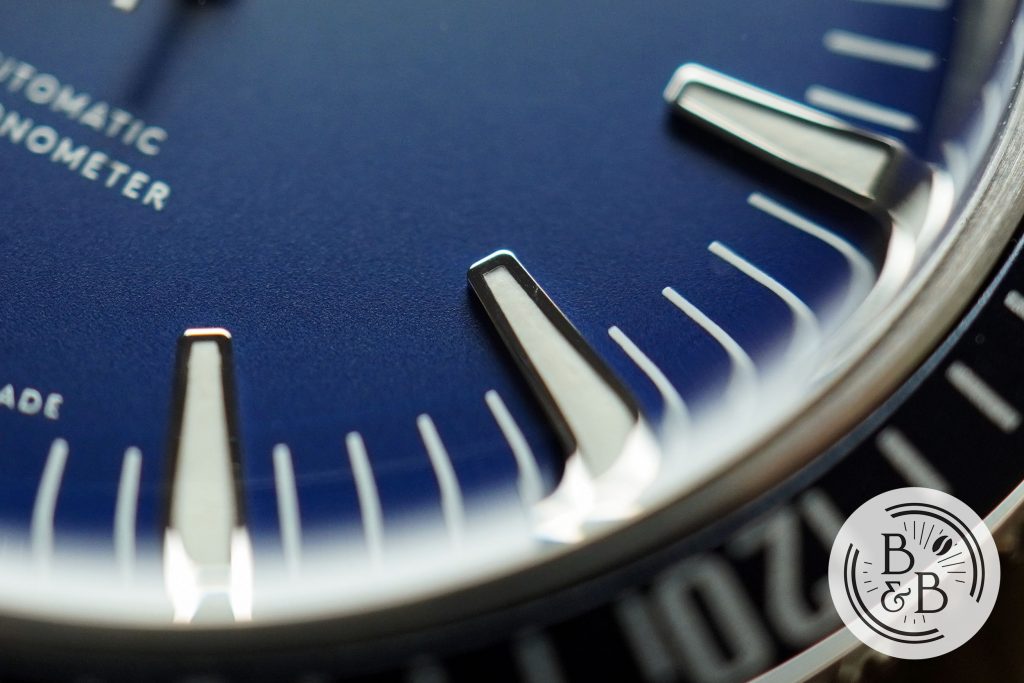 The finishing is at 90-95%, and is on par with what you would expect from a $1000 watch. You won't find any blemishes, unless you take a macro lens to these indices. And even if you did, you'll notice very minor blemishes on the indices on a small fraction of the indices.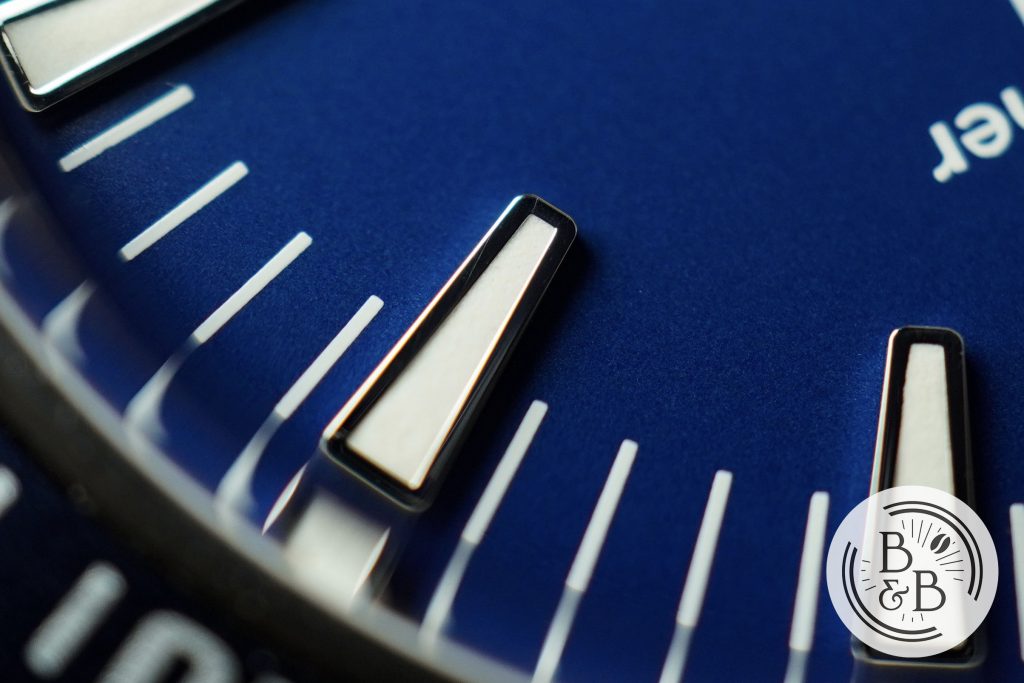 All the indices are very generously lumed with C3 Super LumiNova. I think the design and quality of the indices is what carries this entire dial design. Even considering the small amount of imperfections on the indices, I think this is beautiful stuff.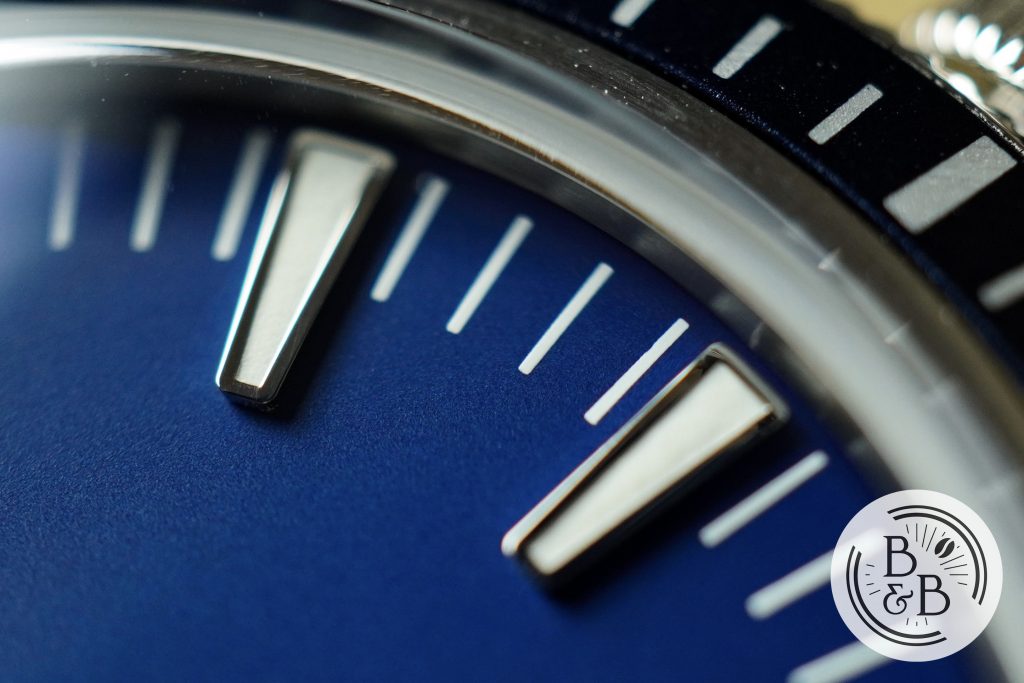 The rest of the minute markers are simple white ticks, and they are well proportioned for excellent readability. The printing of these is great, and I didn't notice any glaring smudges or mistakes. There was one that had a small piece of fiber stuck to it, but that was hard to find with a loupe, and you'd need a macro lens to locate it again.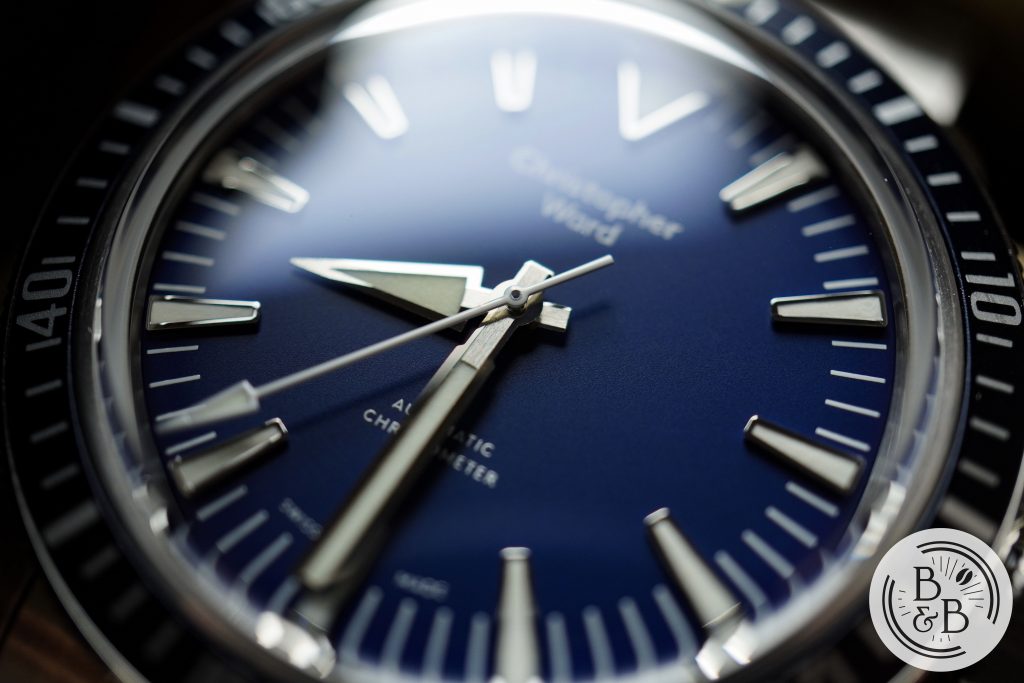 The hand set is different from the SM300, and uses a sharp arrow hand for the hour and a long baton style hand for the minute. I'm glad they did this, because this hand set fits better with the overall sleek watch design.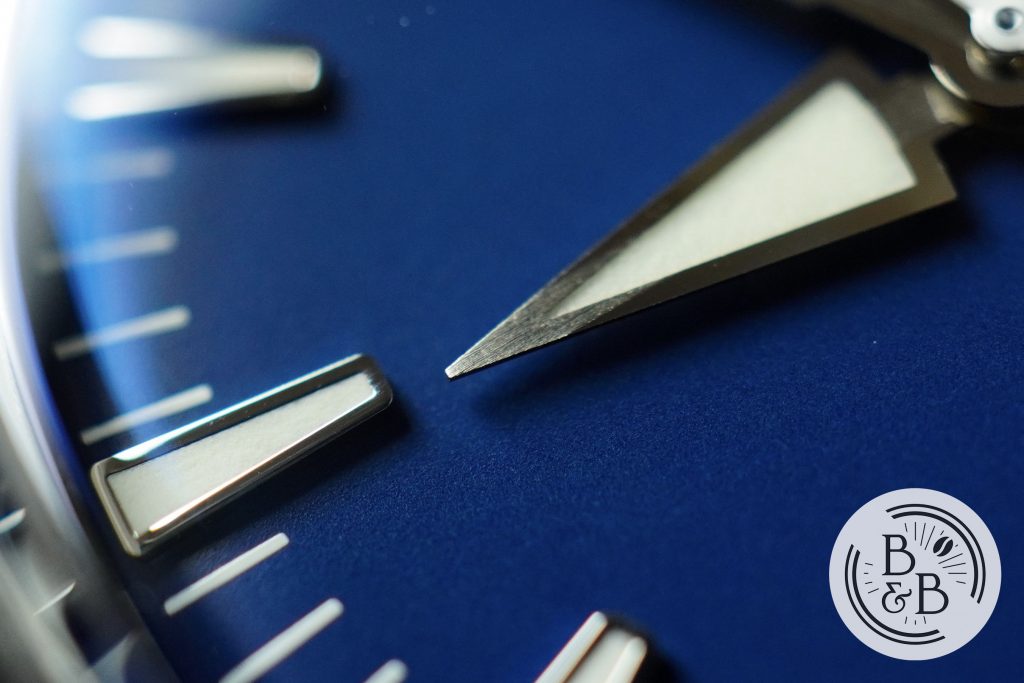 The two hands have dual finishing – with brushed centers and polished edges. I think this very unnecessary, but also very cool. The hands play with light beautifully. The hands are also generously filled with lume.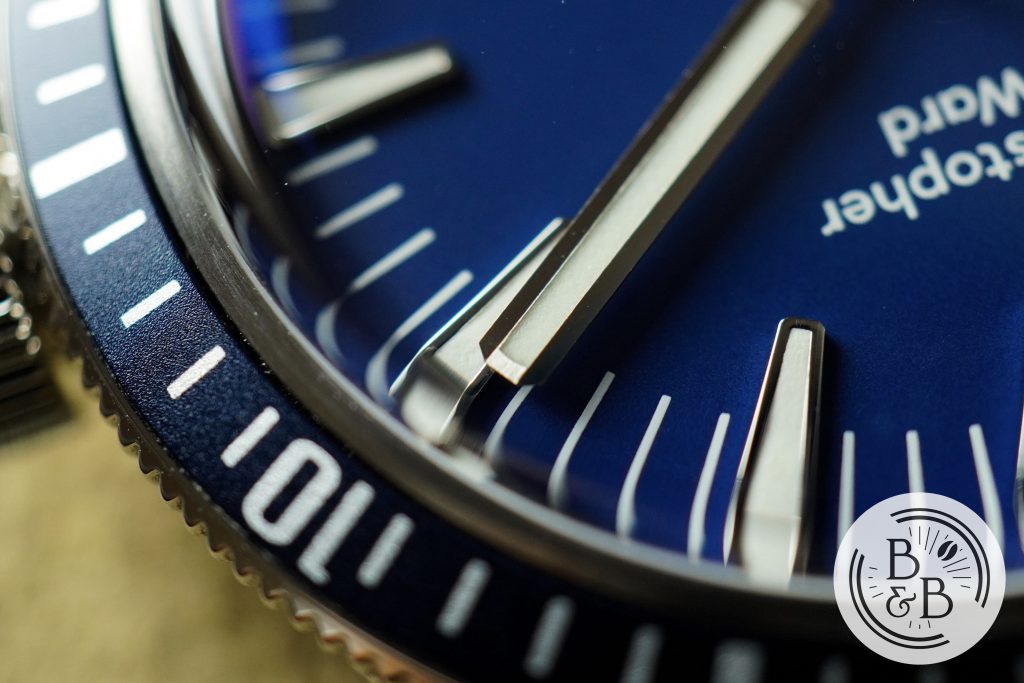 The overall finishing of the hands is very good and I couldn't find much to complain about. There were some micro particles on the minute hand, but they were too small to easily capture with my camera. So I think that gives them a free pass automatically.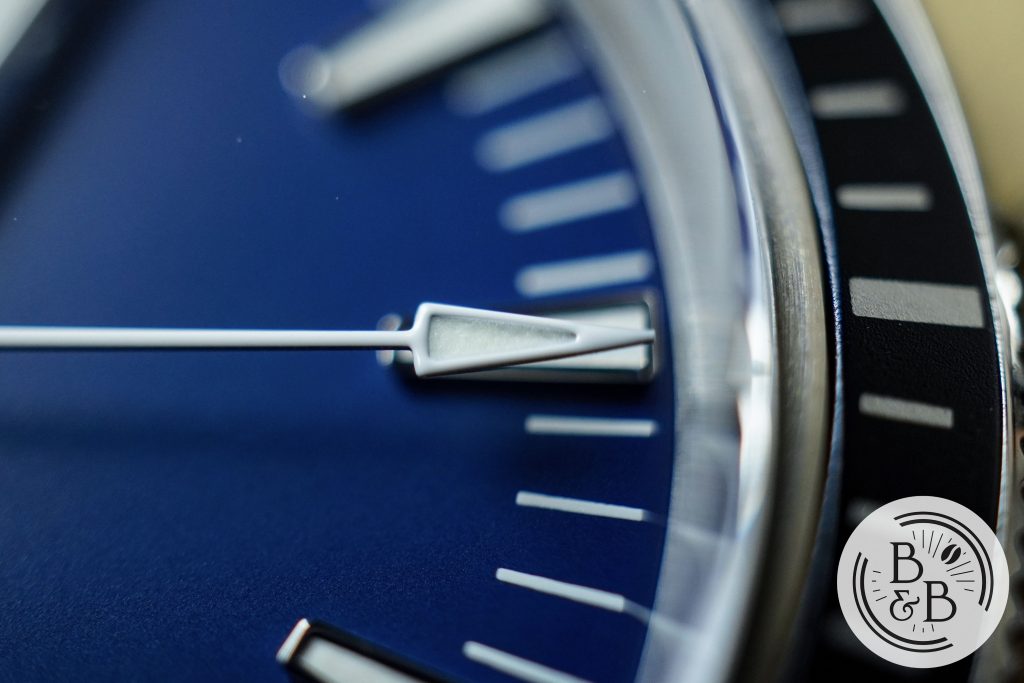 The seconds hand is painted white and has a lumed arrow-head tip. The seconds hand extends all the way to the end of the minute markers, and makes this watch extremely easy to read. Total win with the proportions here.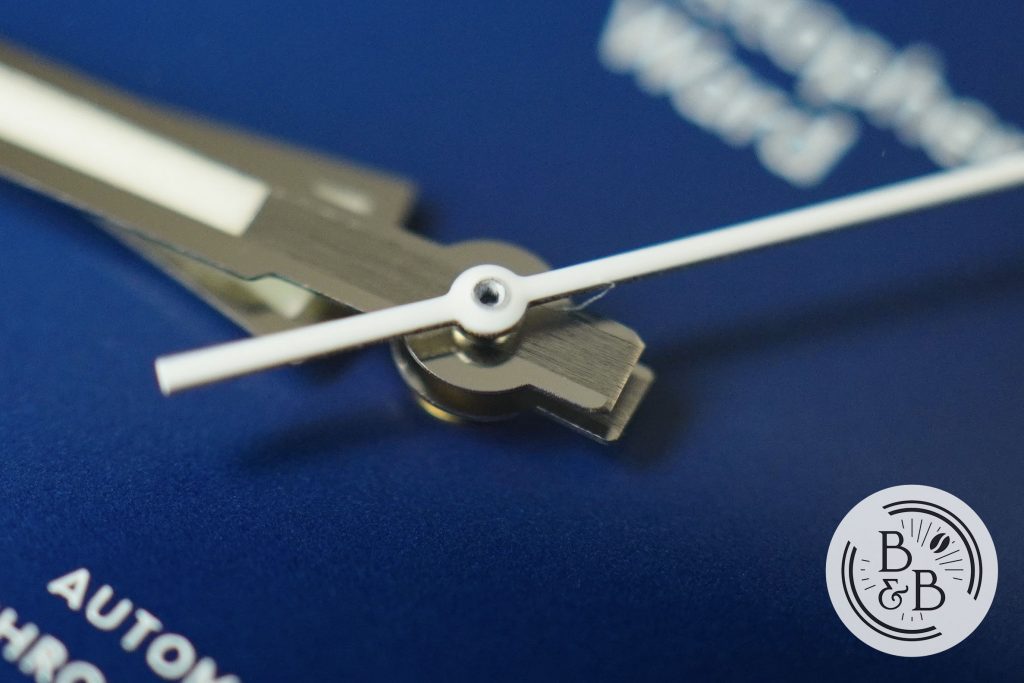 I did find a small thread or fiber close to the base of the seconds hand and this was large enough to cause some disappointment, but not large enough to be seen without a loupe.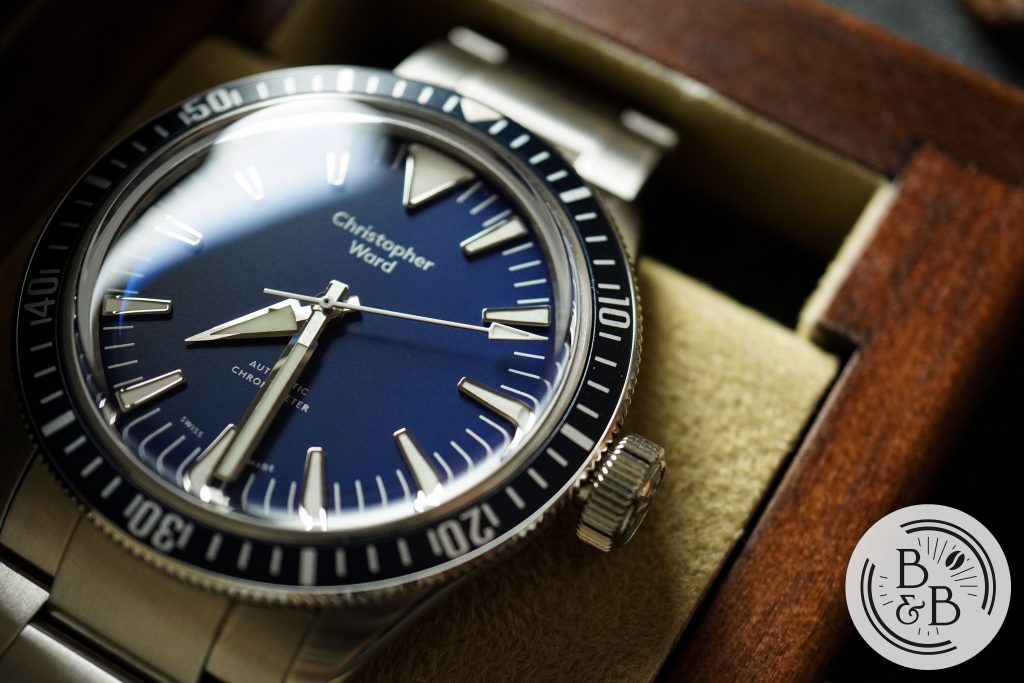 I'd like to say that the dial defines this watch, but this watch delivers in the case and comfort domain too. But I will say that I love this dial, and for the $920 (15% discount) that you'll pay for it right now, this is not going to disappoint.
---
Bracelet
The bracelet is great, and if you're looking at picking up a Dartmouth, I highly recommend getting the bracelet too.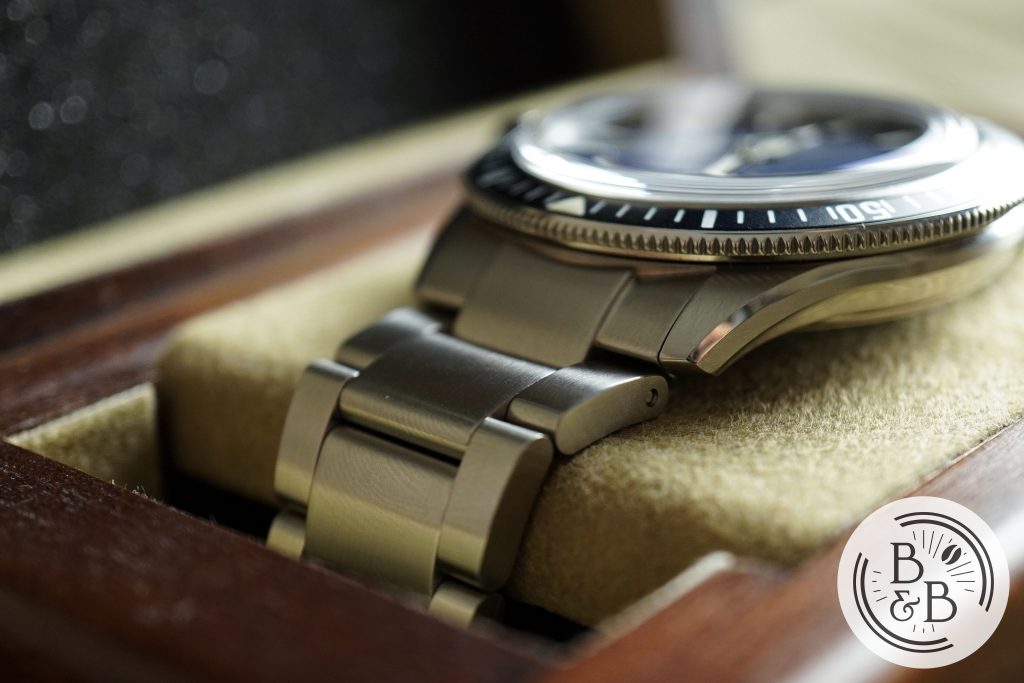 At the lugs, the end links blend in great from a design perspective, and there isn't much wiggle in the physical fitment.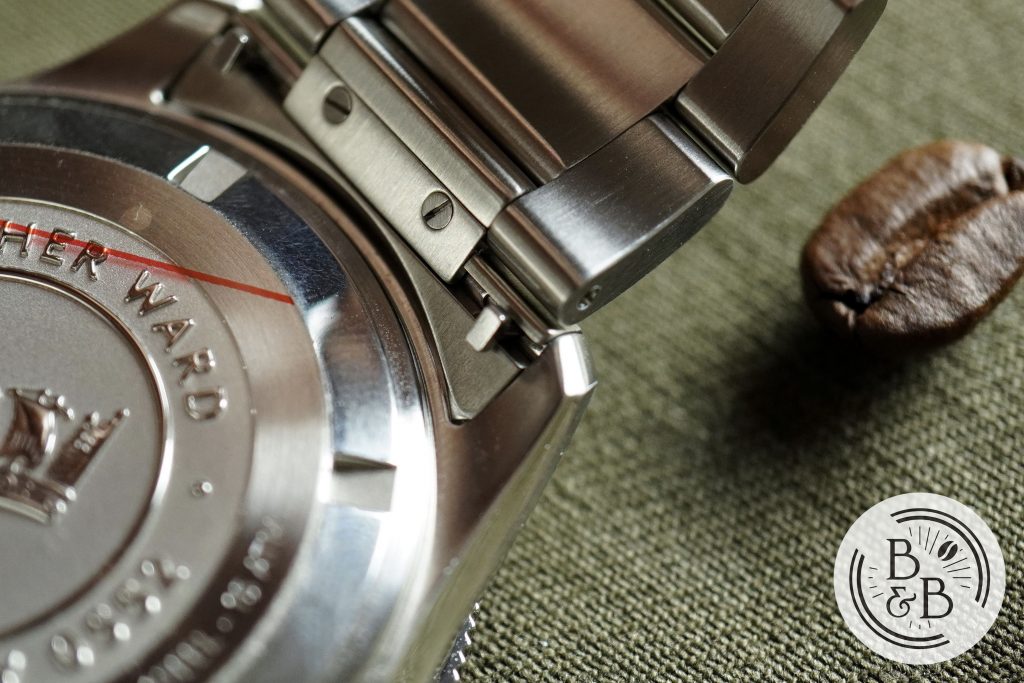 The bracelet can be easily removed with it's quick-release style pin system. This made strap changes a breeze.
The links are pretty standard oyster-style links, but are finished well and are a bit slimmer than what I expected. The links are pin-and-tube based, so getting this sized for my wrist took a while. But once it is set, the bracelet settles on the wrist very well.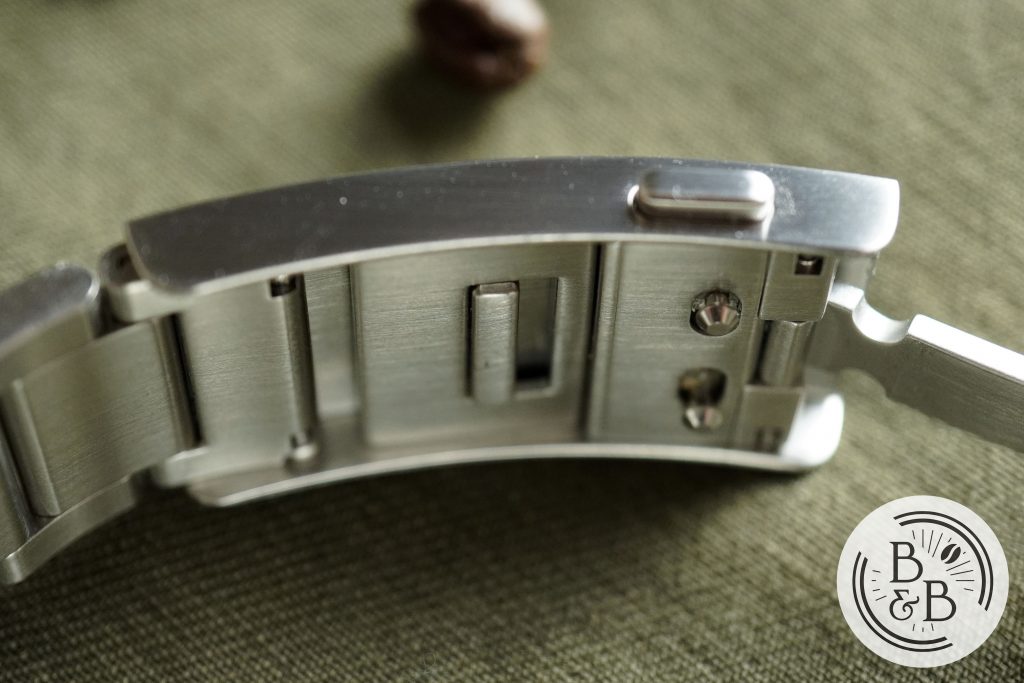 The clasp is fantastic! No divers extension here, but there is a quick adjust for micro-adjustment. It requires you to take the watch off your wrist, but you can do this on the go and don't need any tools. My wrist varies in size throughout the day, and I've managed to maintain a perfect fit throughout. This bracelet and clasp gets all the points from me. Great job here!
---
Movement
This watch houses a Sellita SW200 movement. I've seen this movement in a lot of watches that come in for review, and own a few of them myself. But this isn't just any SW200. This is 'chronometer' certified by COSC (Contrôle Officiel Suisse des Chronomètres), which more rigorously tests these movements and guarantees it to within -4 to +6 accuracy rates.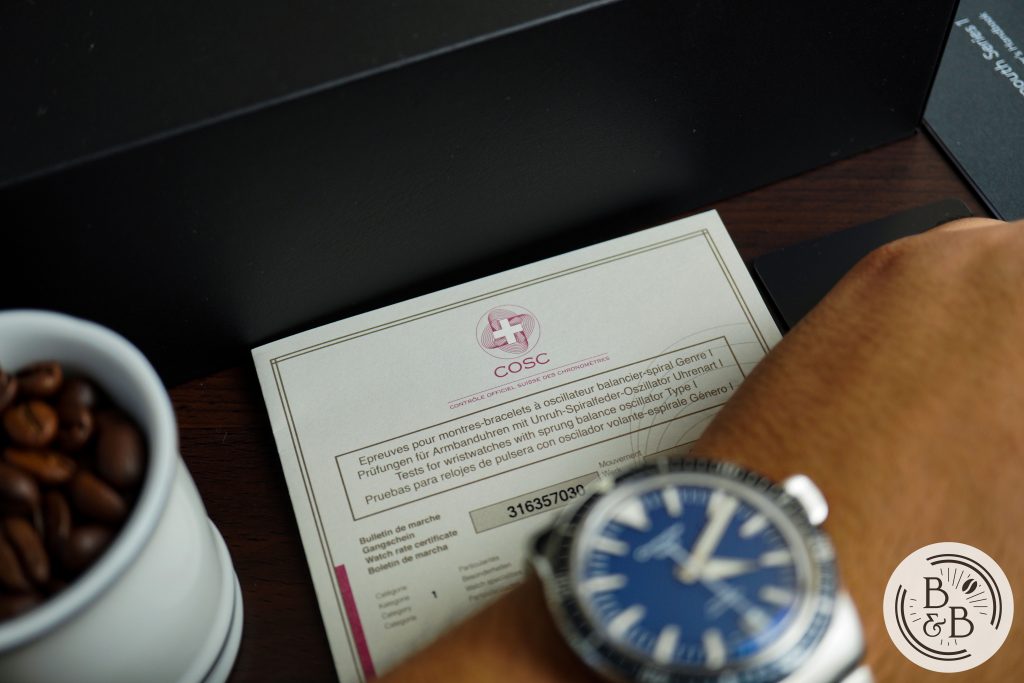 Each watch will ship with it's COSC certificate, which will give you a better idea of your watch's performance. This watch is said to have a mean daily rate of +2.70 spd, but I was observing much better performance.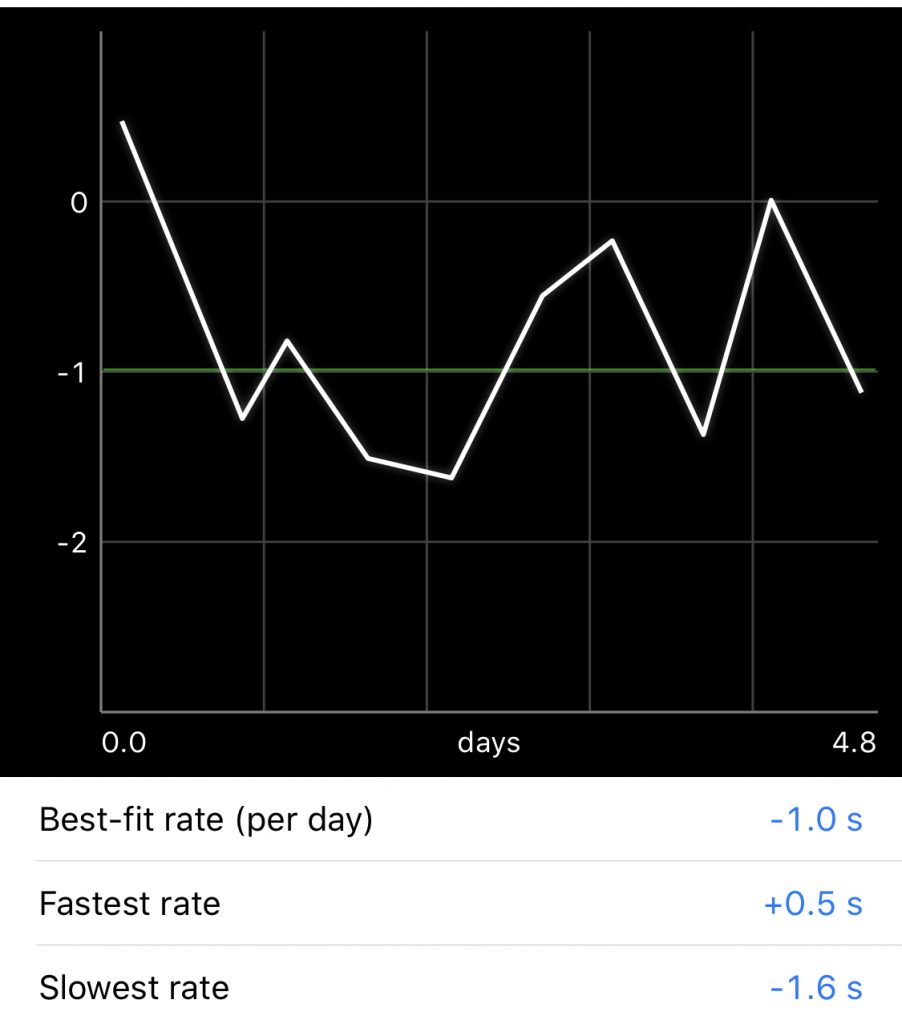 I observed roughly -1.0 spd over a 5 day period, making this one of the most accurate watches that I've reviewed till date. To drive the point further, more than just an average accuracy value, this watch has been keeping excellent bounds on variance too, which can say something about it's stability. Four days is a short period of time to make bold claims like this, but I've got a feeling this will hold this performance over long periods of time too.
---
Lume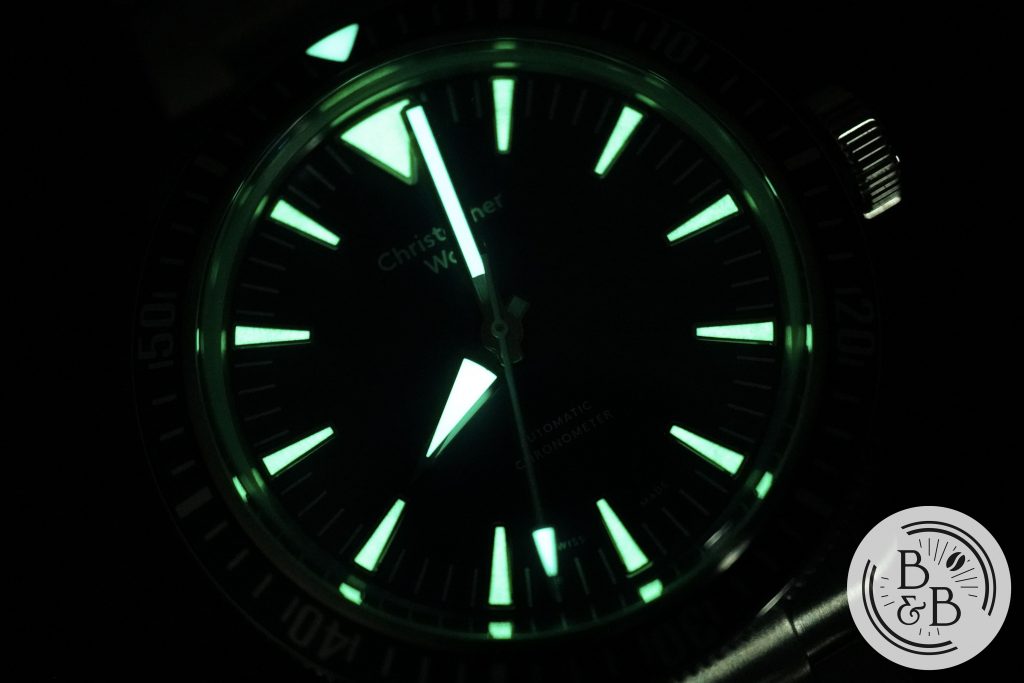 Although the applied indices are sleek, and the hands aren't too wide, no corners were cut in terms of lume – both in quality and quantity. The hands and indices are generously filled with C3 Super LumiNova, and the triangular bezel element is lumed too.
The hands might be a bit brighter than the indices, but they are both sufficiently bright and hold their charge well.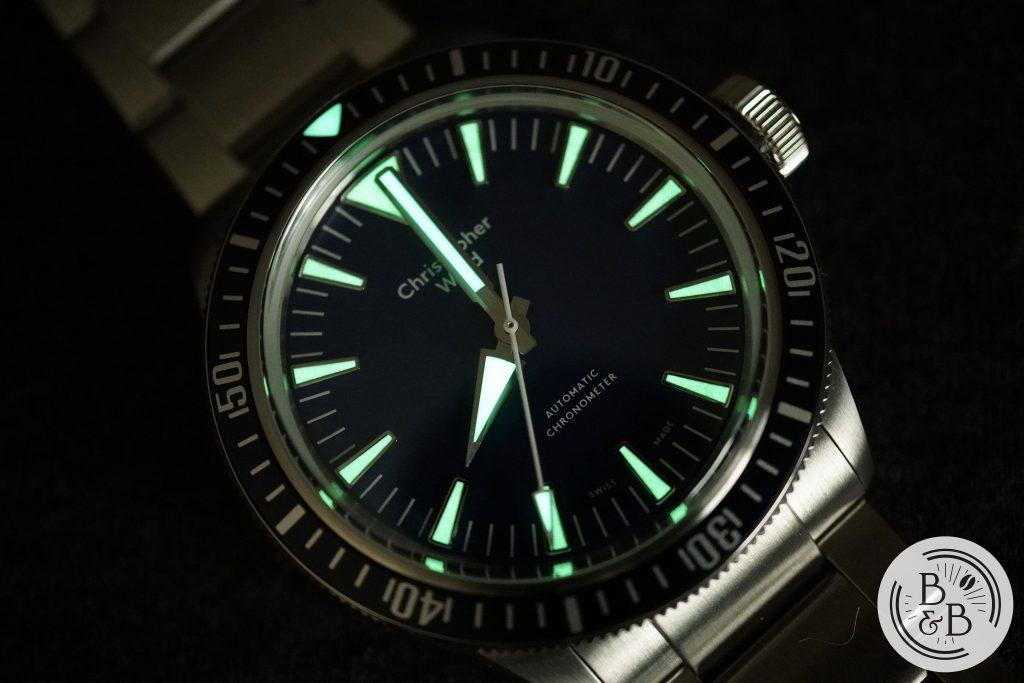 No complaints here, and I think CW have done an excellent job with the lume design and execution.
---
On The Wrist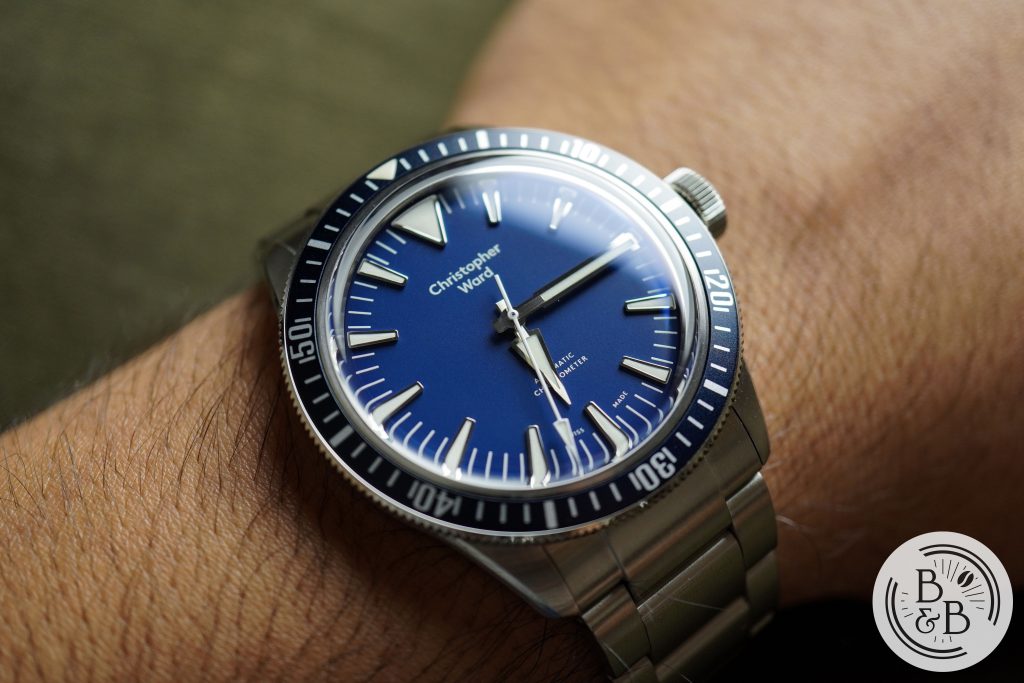 This watch is wonderful on the wrist. The 41mm diameter, 47mm lug-to-lug width and 12mm height (more like 10.5mm, because of the roughly 1.5mm box sapphire crystal) make for a very sleek case design that is easy on the wrist. For my 6.25″ wrist, the watch weighs a little under 150g, but that weight is well distributed and it feels like a lightweight watch.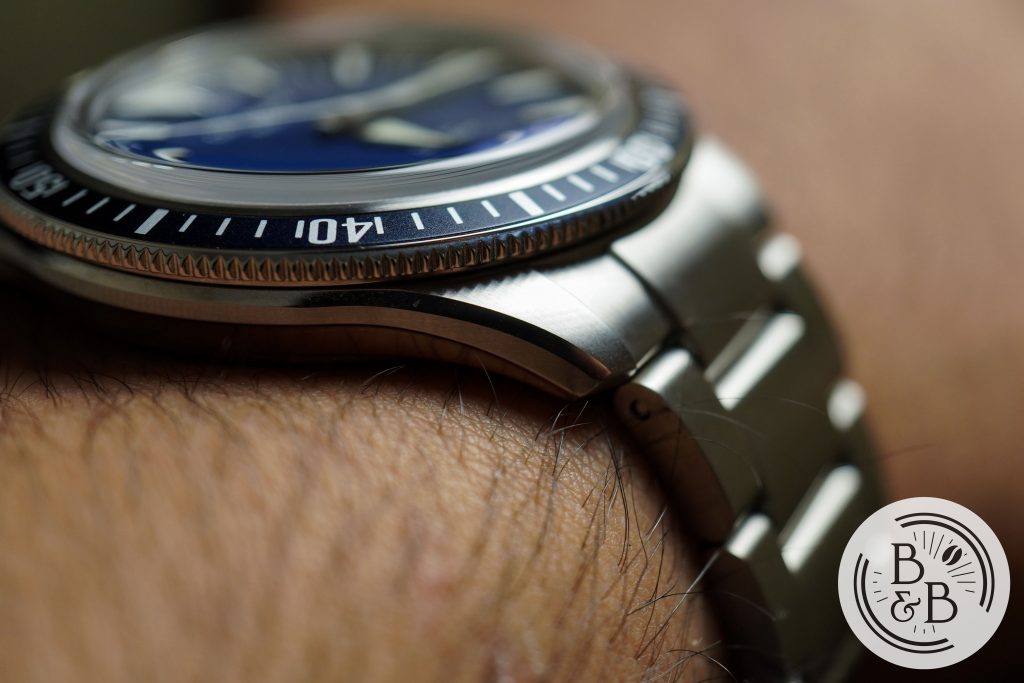 The gently curved lugs wrap around my wrist perfectly, and the the compact case height allows it to easily slip under a cuff.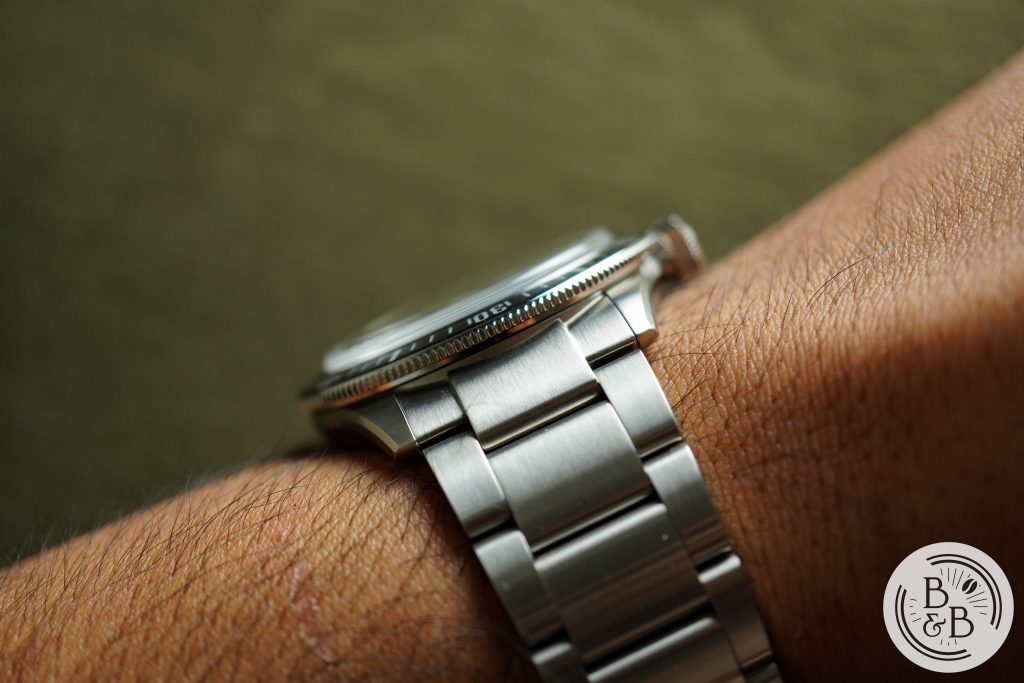 I really can't think of anything negative to say here – this watch is excellent on the wrist!
---
Concluding Thoughts
This watch delivers incredible value on almost all fronts:
a well designed and execute case, that is sleek and very comfortable on the wrist
a very good bracelet that has an excellent clasp with functionality not commonly found in $1000 watches
very good lume
an excellent movement in terms of performance
a solid and well manufactured bezel
a well designed and well executed dial with negligible finishing issues
What more can you really ask for from a $1000 watch? I know there is a fraction of the watch enthusiast community that has a problem with the name, logo and logo placement, myself included. But this watch remedies one of those three, and goes above and beyond in delivering excellent value to make the other two inconsequential. As someone who has previously laughed at having the name Chris or Christopher on my wrist, I would now wear this in a heart-beat. Heck, if you want you can swap that out for Chad Peter William too, and I'll still wear it. Its a great watch, and I had an absolute blast reviewing it.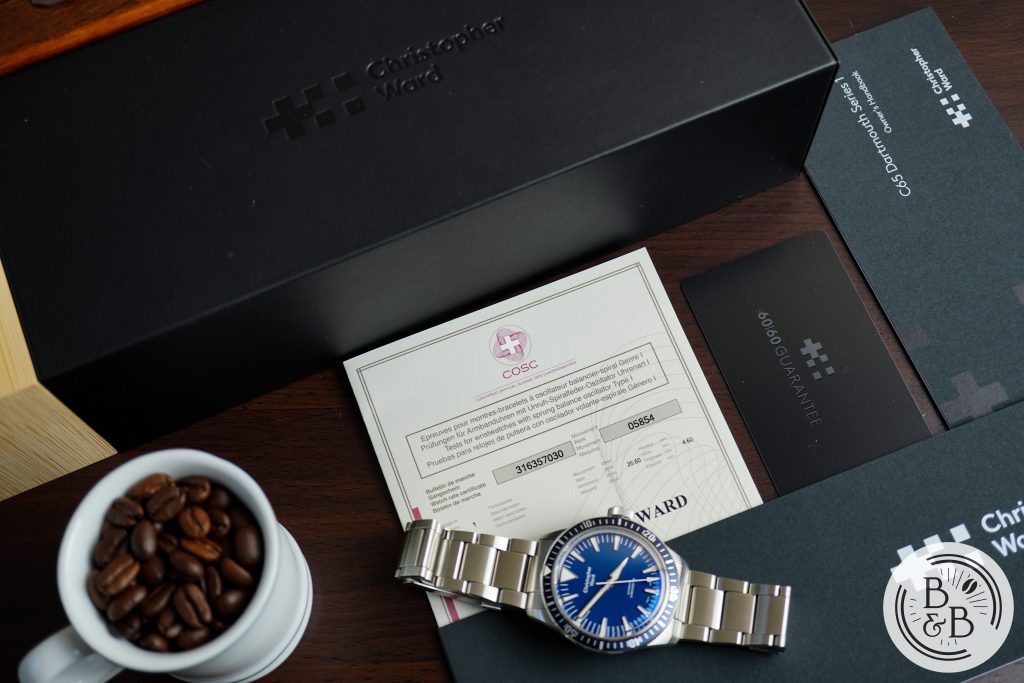 If you happen to miss out on one of these (frequent) sales from CW, I highly recommend looking at the pre-owned market. Shockingly, you can find the Dartmouth lurking around the internet for as low as $700 and around $800 on average, which are incredible prices for these watches.
---
Strap Change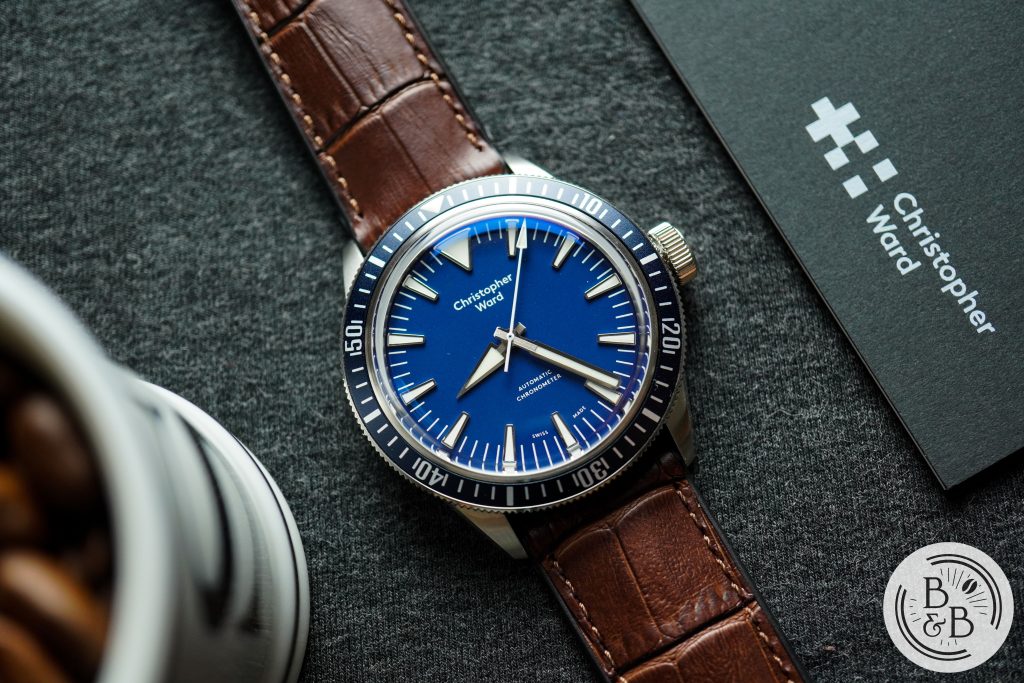 ---
Thanks for reading!