---
Disclaimer: I purchased this watch pre-owned and was not externally incentivized in any way to make this review. This review is not sponsored by Autodromo, or any other entity. All opinions here are my own. Since this watch was purchased pre-owned, and worn/used for over a year, please make note that the experience might differ slightly from that of a brand new watch.
---
---
Contents
---
Intro
I've been wanting to check out an Autodromo watch for some time now, and I was able to purchase this from a friend and long time supporter of this channel (thanks Mike!). Autodromo makes automotive inspired watches, and they do a pretty good job avoiding all the cliche and cheesy design elements that most automotive inspired watches end up with.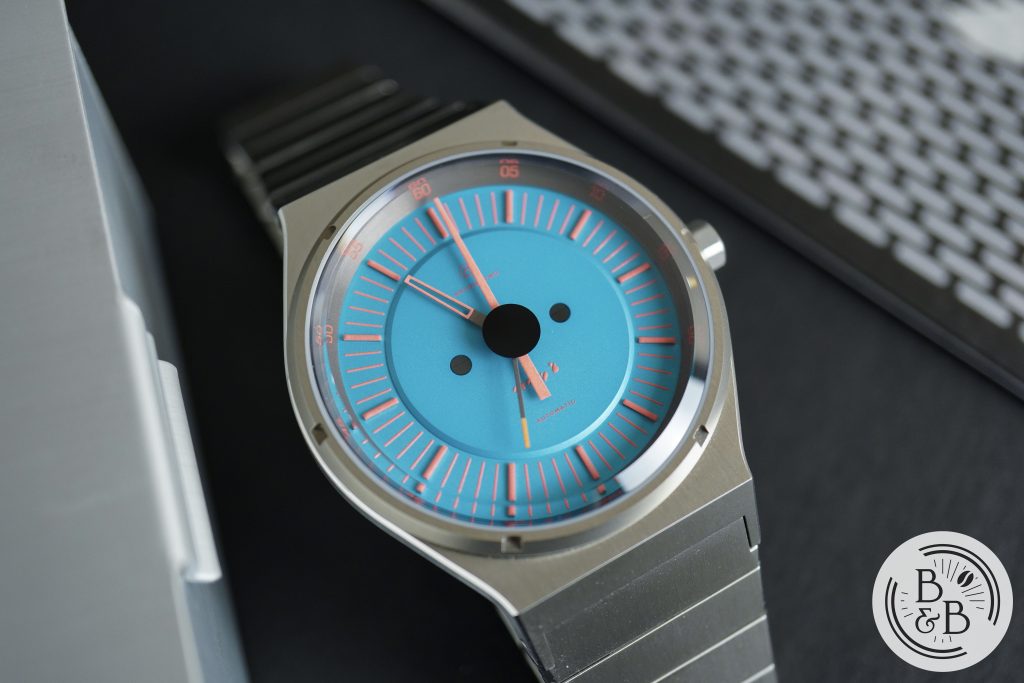 This particular watch is the Group B in Corsica Blue, which has a 80s Miami Vice inspired aesthetic, with a bright blue dial and neon pink dial elements. This watch was released in 2019, and has been quite a fan favorite. This watch sold at $975, and given it's popularity has maintained a pretty good resale value too, from anywhere between $600-$1000. While this watch is heavily inspired by automobiles, I have absolutely no automotive insight to offer, so this will be purely a watch review. I'll let the car guys draw the parallels!
Let's check it out!
---
Case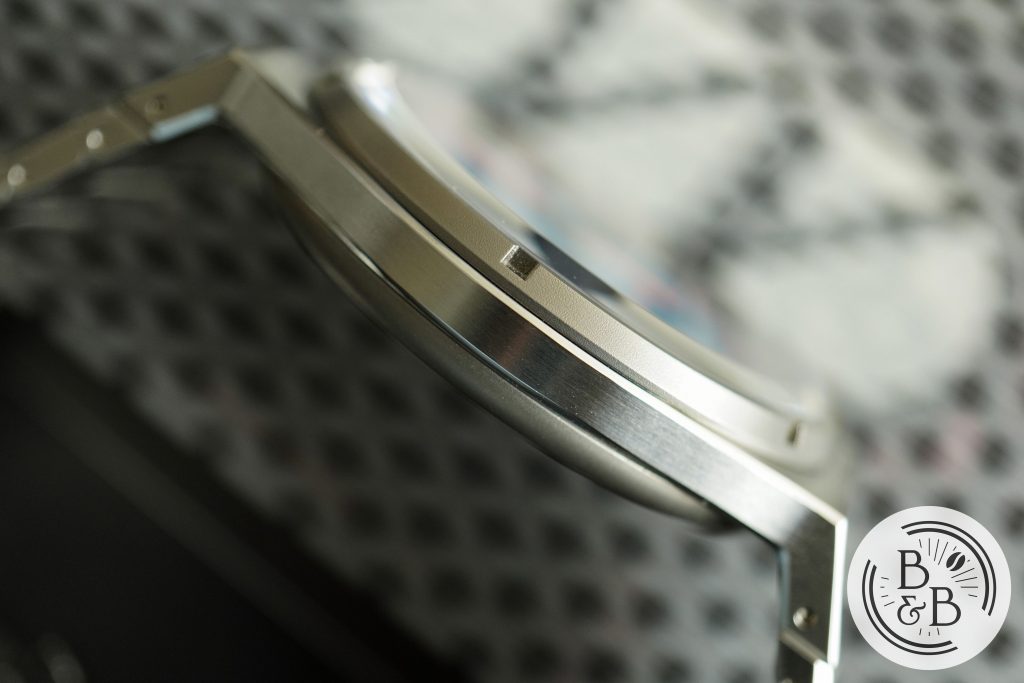 I measured the case to be 39mm in diameter, 49.75mm from lug-to-lug (52.25mm if you measure the extremities of the fixed end links) and 9.75mm in height. The case is made out of stainless steel and titanium, and to be honest, it is a bit tricky to tell which components are which.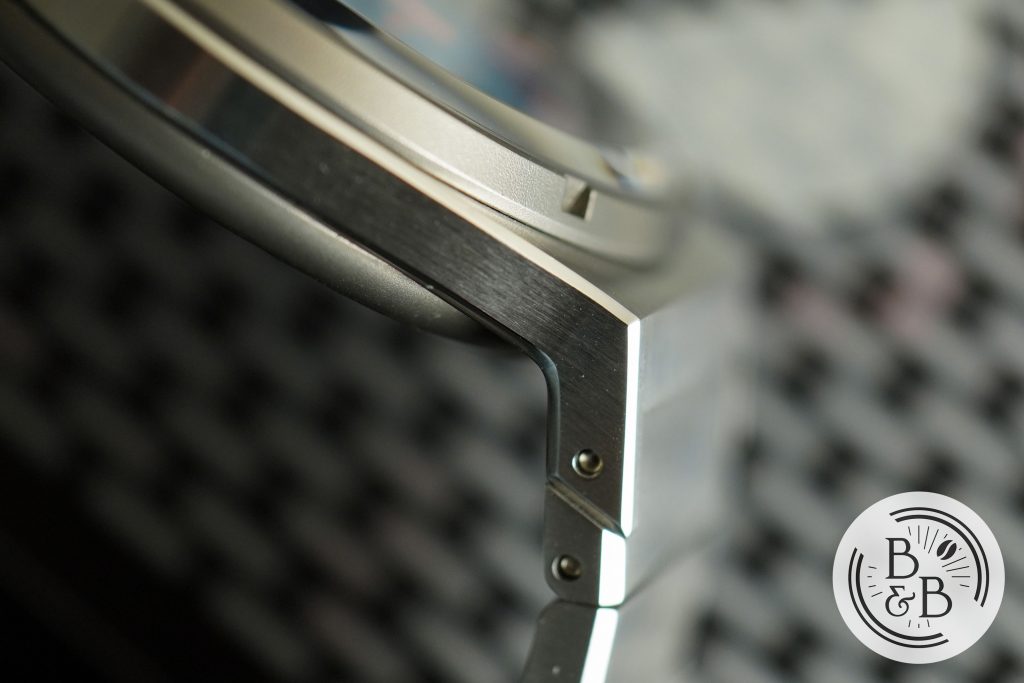 I believe the sleek mid-case is made of stainless steel, and dramatically angles down towards the wrist into a pair of lugs, if you can even call them that. The lugs are drilled through.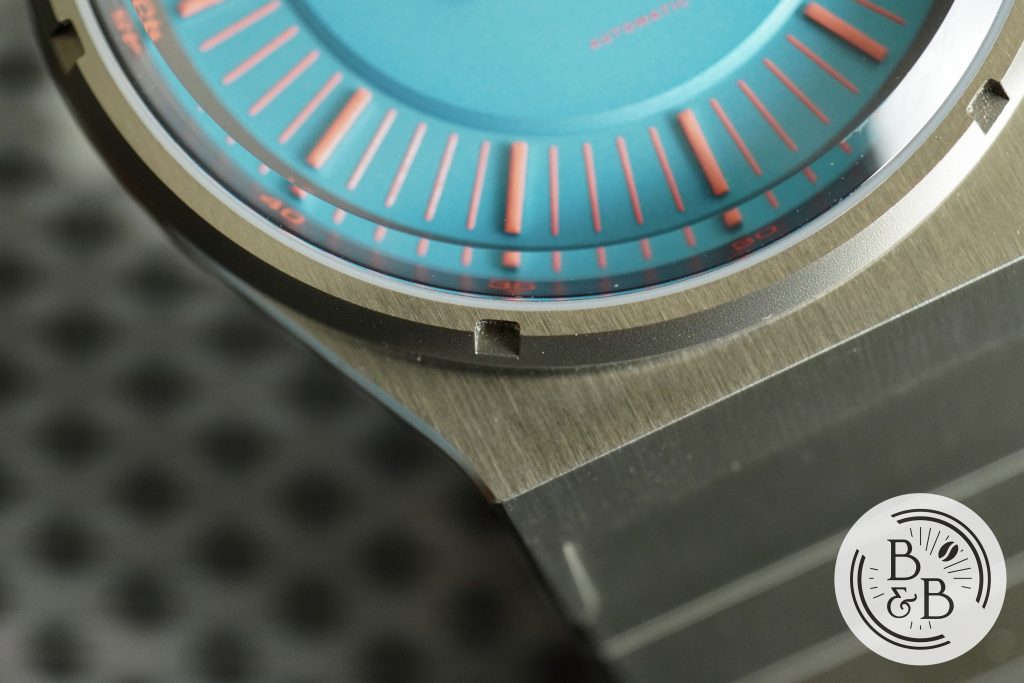 There is a fixed bezel section with grooves similar to those you'd see on a screw-down case-back. I like this industrial aesthetic, and I think it is a play on automotive design as well. I'm pretty sure this bezel section is titanium.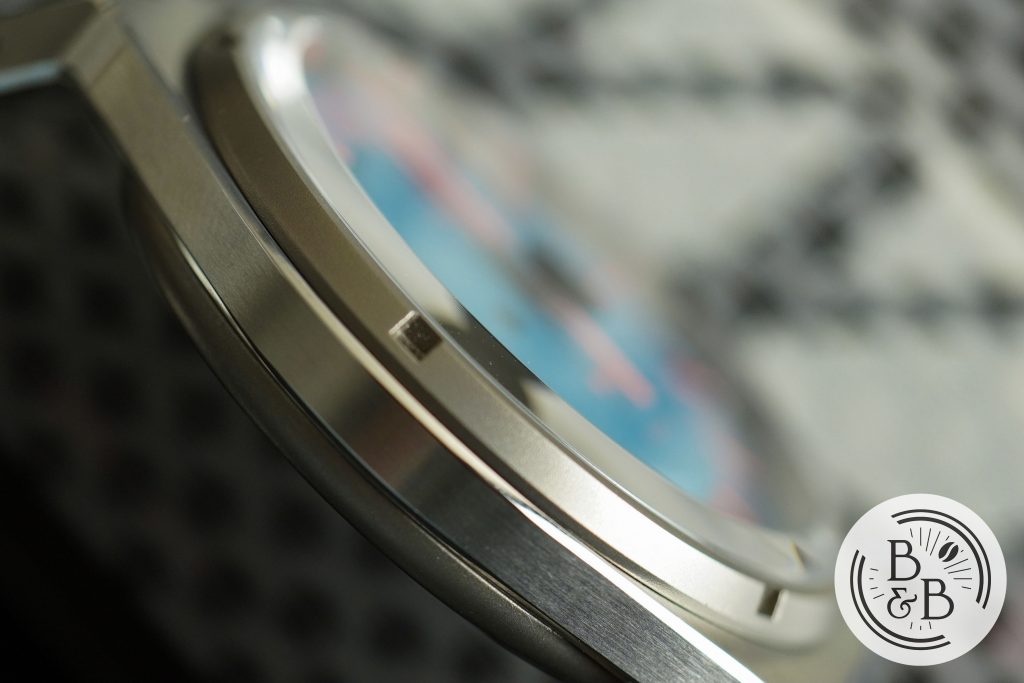 The bezel seats a flat sapphire crystal with a beautiful beveled edge that adds some distortion to the dial outer track.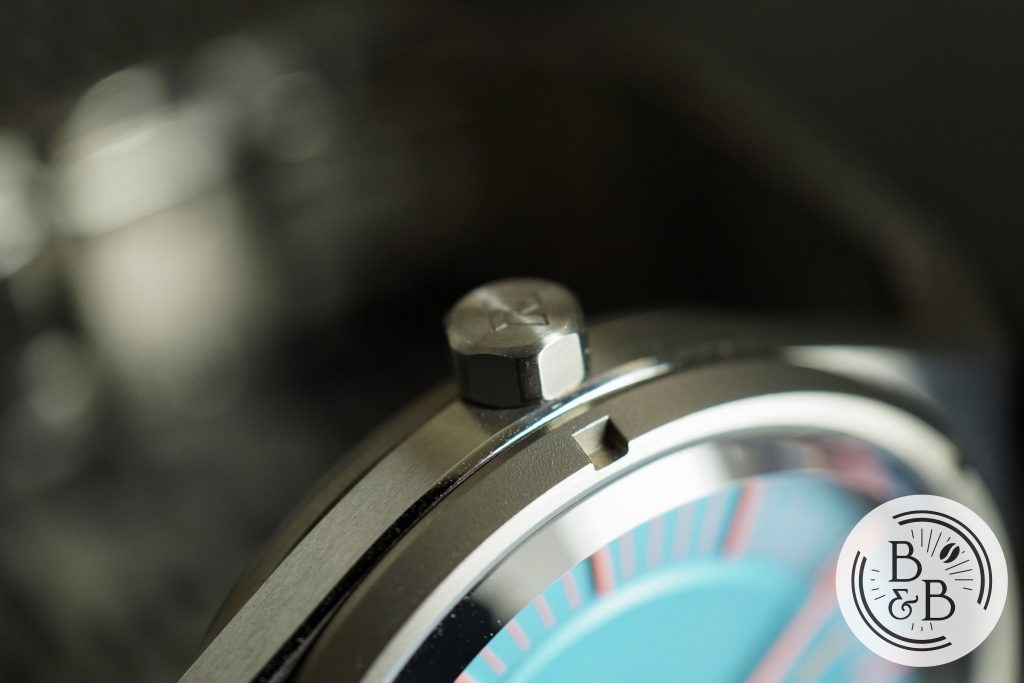 There is a 4.25mm push-pull crown at the 3 o'clock position that is a bit small for my fat fingers, but not too difficult to operate. It is signed, and has decent action, with no crown or stem wobble.
Flipping it over, you have a solid case-back that is attached to the case by means of screws. I believe the case-back is also made of titanium, and this watch is rated for up-to 50m of water resistance.
---
Dial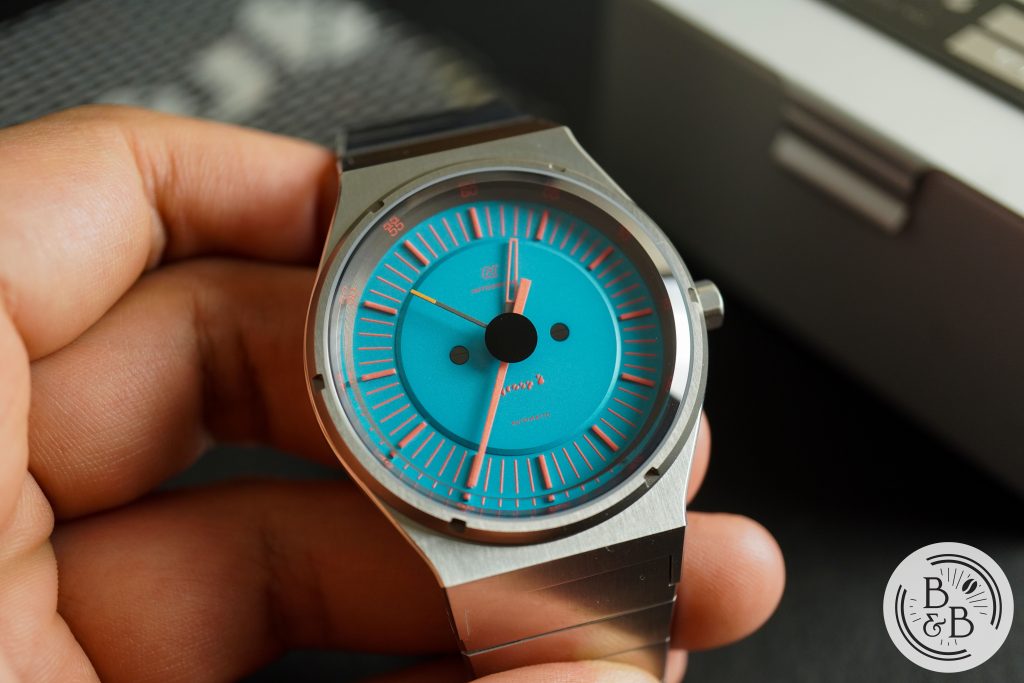 As I mentioned earlier, I'm not a car guy so I'm going to be pretty oblivious to all the automotive inspired design details here. I won't even attempt to draw the parallels, and I'll stick to watch related observations only.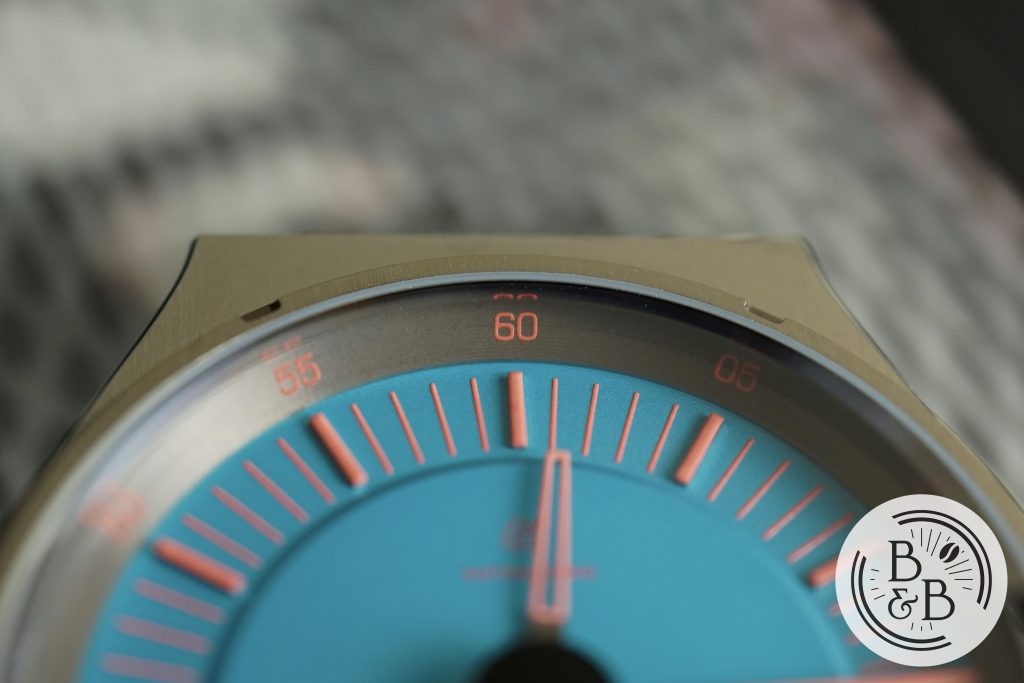 There is a sloped outer track that has a subtle concentric circle pattern, and printed Arabic numerals for five minute increments. The base material here is gray, and looks like the rest of the titanium elements on the watch. The text is printed in a neon pink color similar to the other dial elements.
You then have an hour and minute track that has large applied indices for the hour markers, and printed indices for the minute markers. The quality of printing and finishing is excellent, and I love the contrast of the chunky hour indices against the blue dial.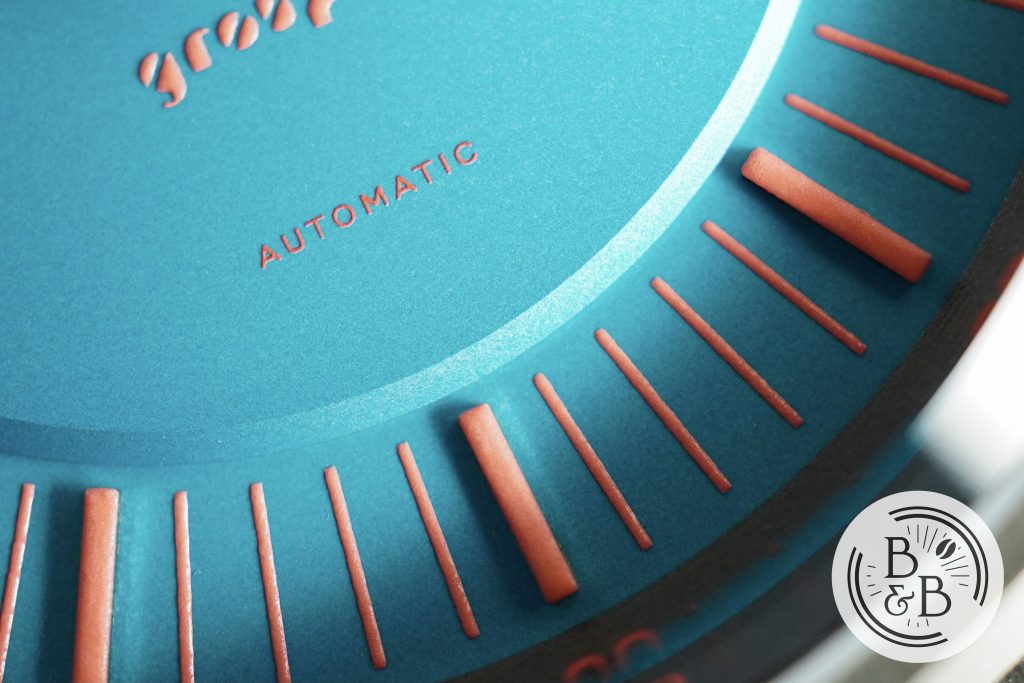 The base of the dial is a beautiful shade of blue, but it's a bit tricky to capture this color on camera. It is stunning to look at in person, and fits the 80s Miami Vice design aesthetic perfectly.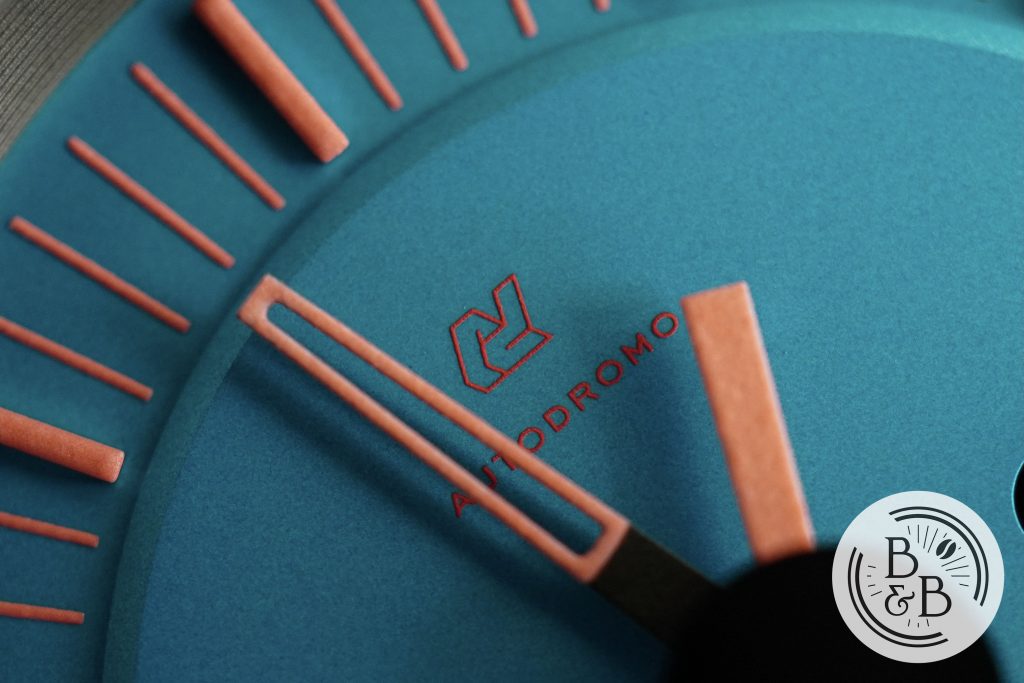 You then have a raised center section that has the brand's logo printed below the 12 o'clock index and "Group B" and "Automatic" above the 6 o'clock index. The printing quality is excellent, and the "Group B" text is also lumed!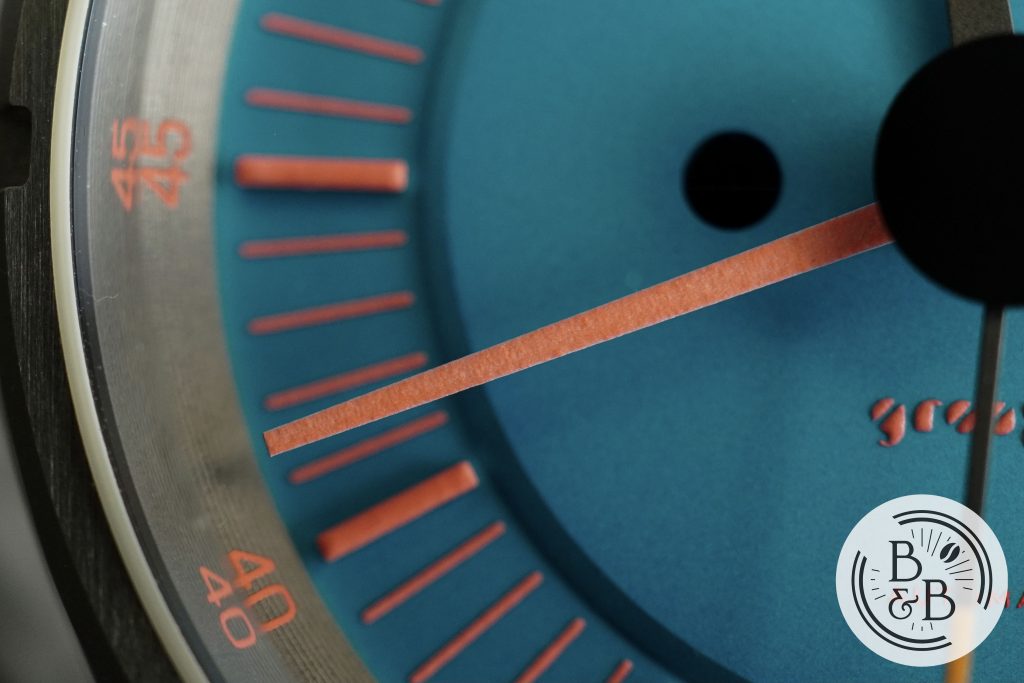 The hands are very interesting from a design and layout perspective. The minute hand is the longest of the three, and also has a significant counter balance section. The entire hand is lumed, and the finishing is very good.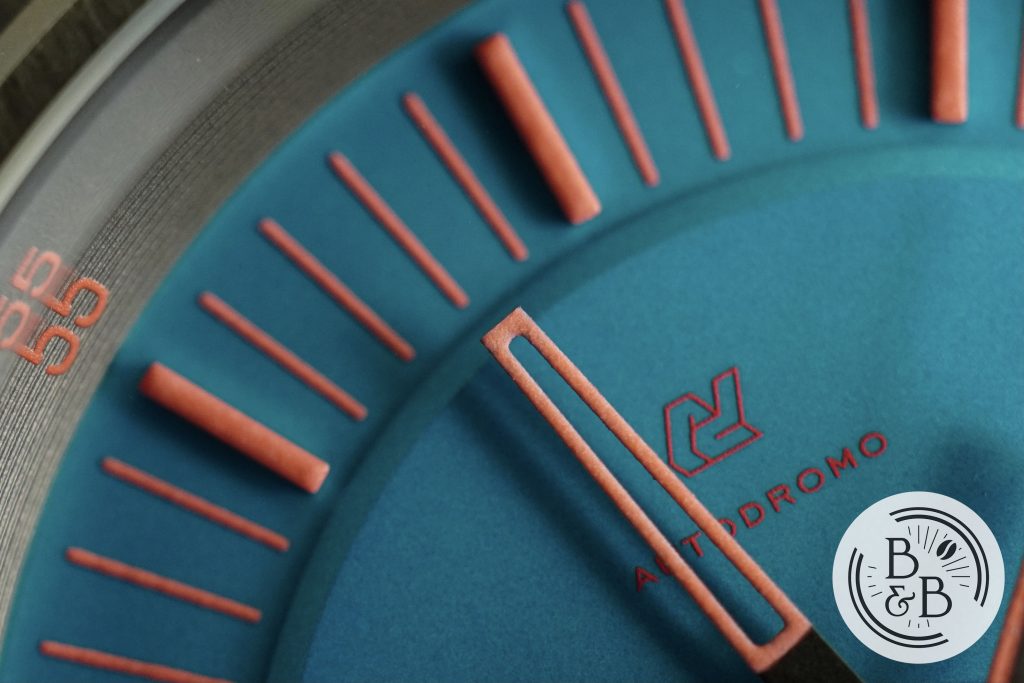 The hour hand is skeletonized and just about reaches the hour and minute track, and chooses to be less prominent overall. The seconds hand is most interesting, as it is the smallest of the three hands. It barely reaches the hour and minute track, and has a lumed yellow tip.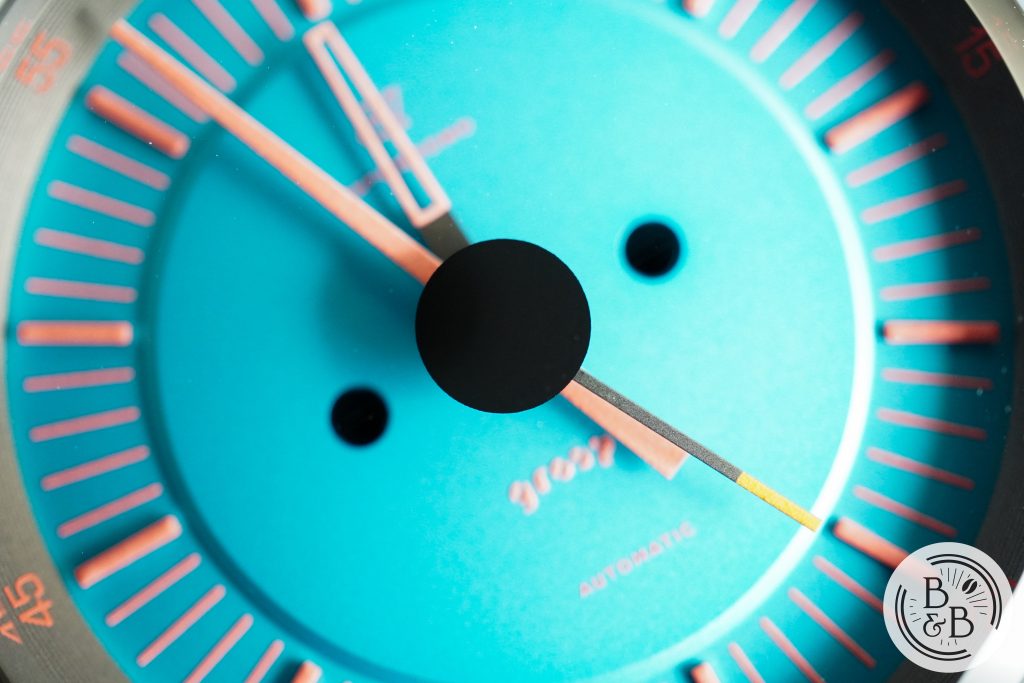 The center cap is hidden by a circular black sticker that appears to be placed on the lower surface of the sapphire crystal.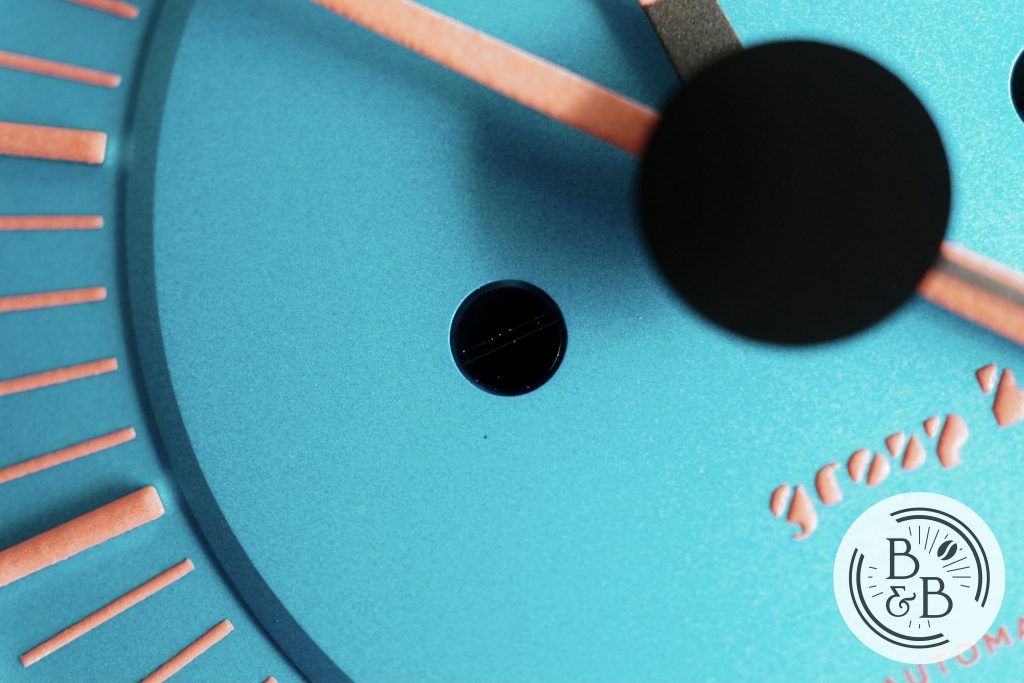 The dial is also held in place by means of two exposed black screws at the 3 o'clock and 9 o'clock positions. I think this was an intentional decision to make it look more "automotive", and I like the attention to detail as both screws have perfectly aligned screw heads.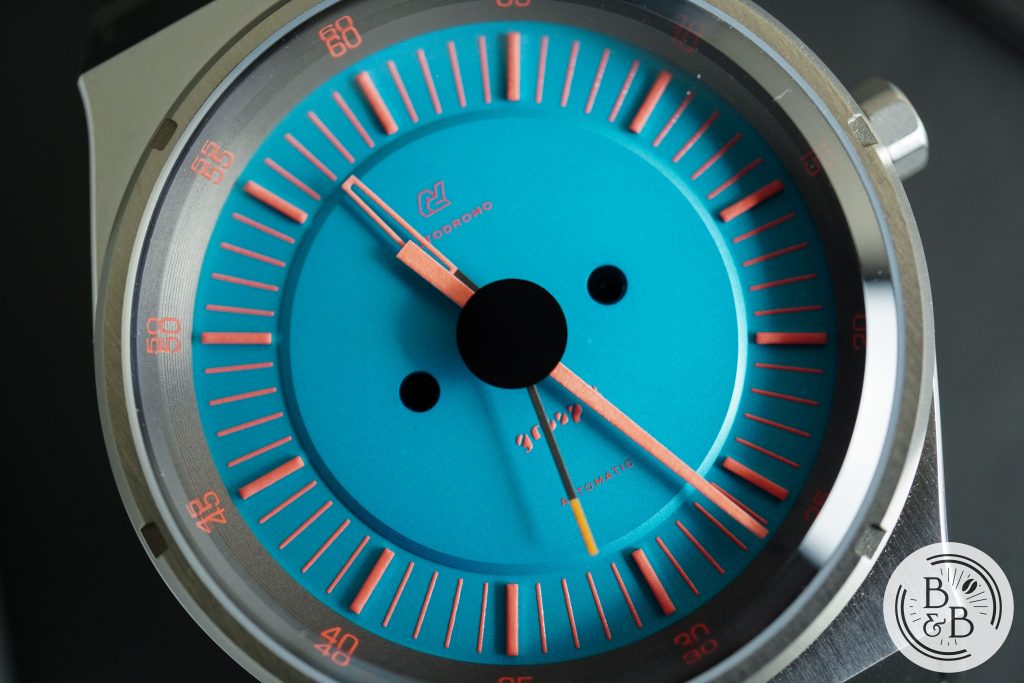 Overall, even though the hand layout is very unconventional, it is easy to get used to and is plenty legible. No complaints from me here, and I like the creativity and originality here.
---
Lume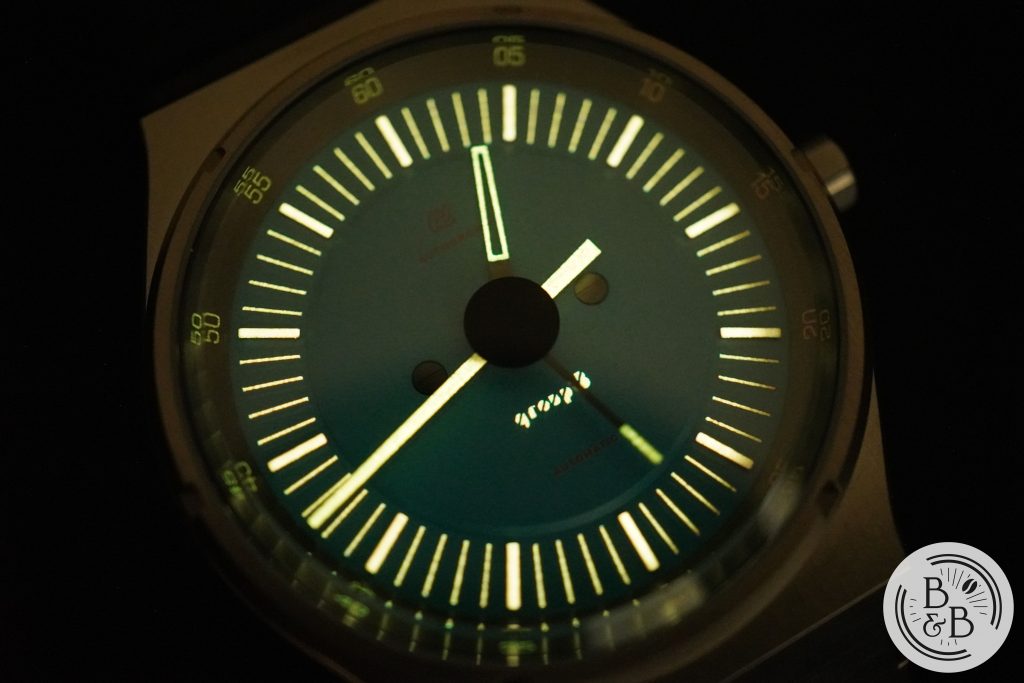 Given the neon pink color of the dial elements, I wasn't expecting there to be any lume on this watch. But apparently Super LumiNova is available in this color and glows in a faint yellow, so this watch does deliver great lume design. Unfortunately, given the pigment type, the brightness and longevity is significantly less than C3 or BGW9, but I think it is good enough.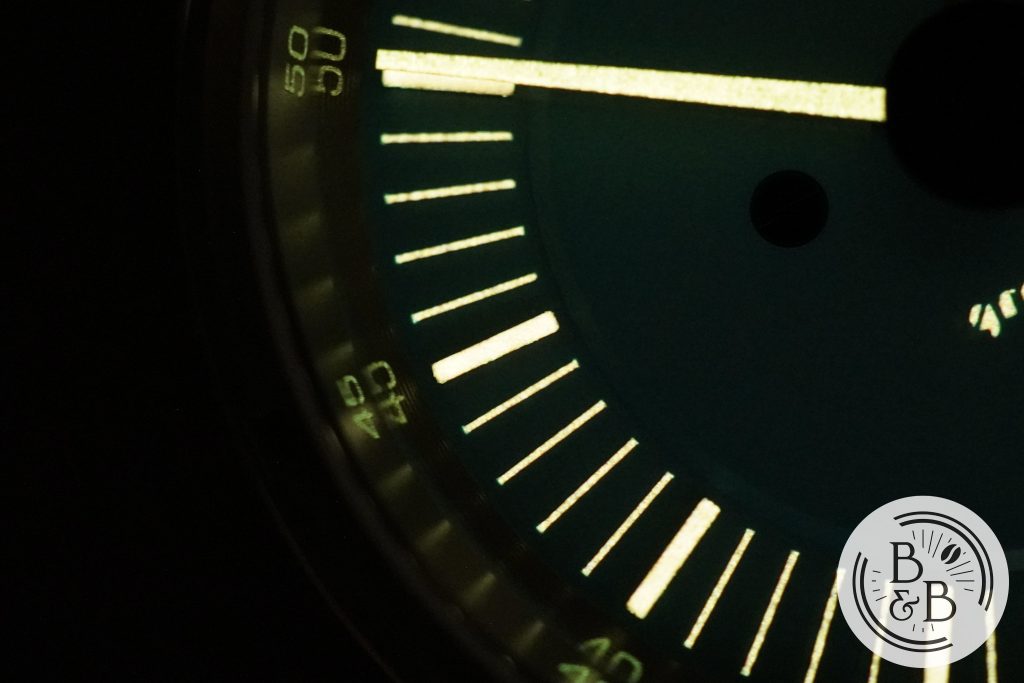 The hour and minute indices are lumed, along with the outer Arabic numeral minute markers. They didn't really hold back on the design here!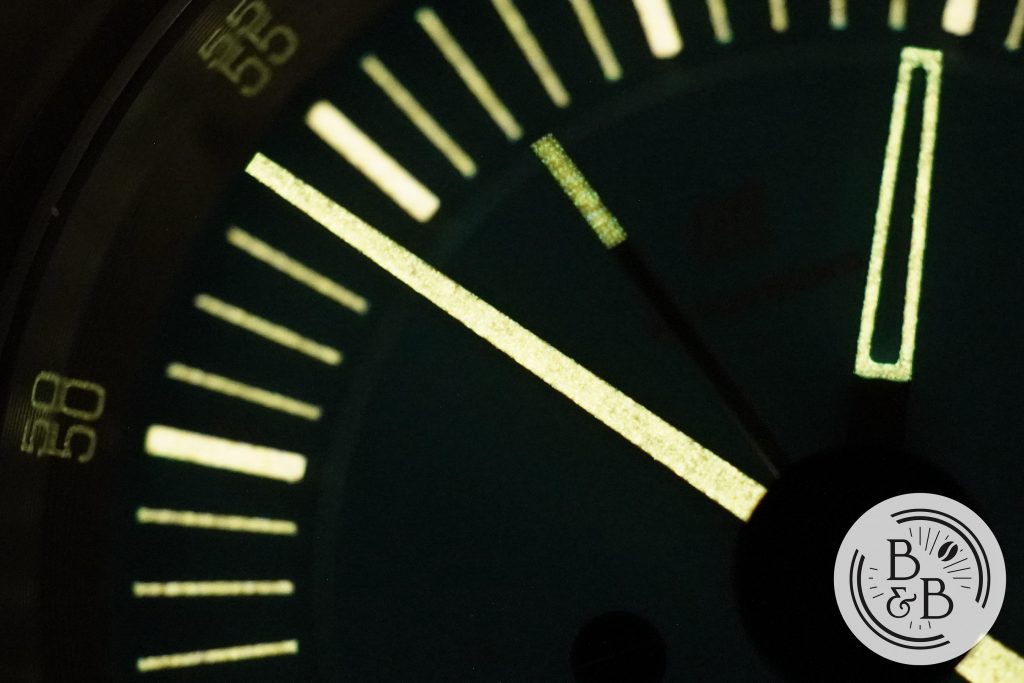 The hands are lumed too, with the minute hand being the brightest given it's large surface area and design, but even the tip of the seconds hand is lumed, which is always a good thing.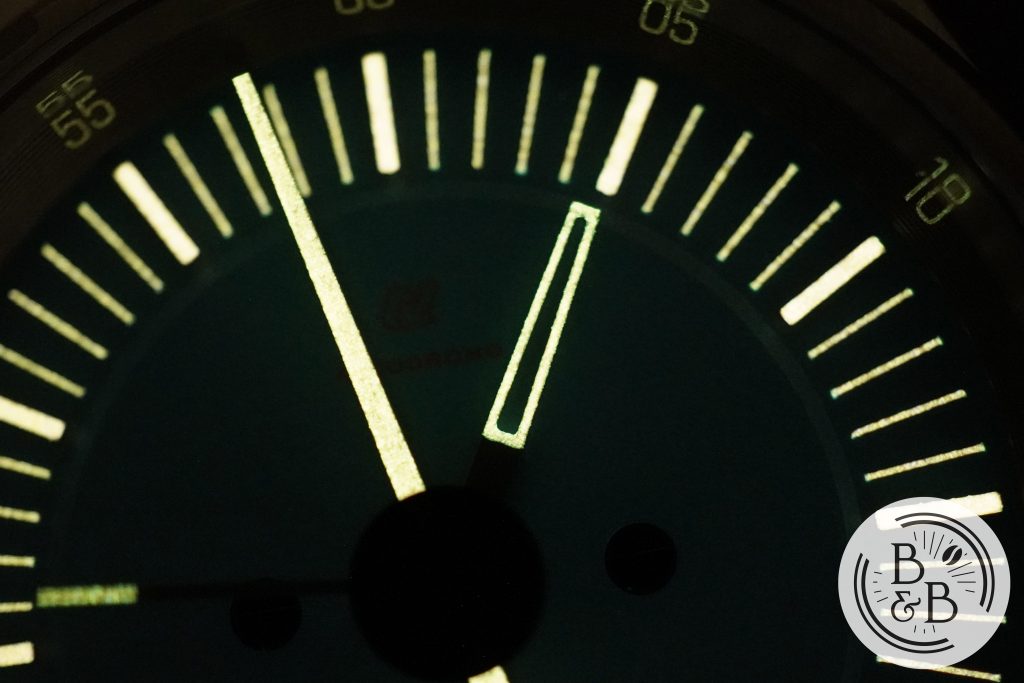 Overall, while this isn't the brightest lume and won't remain legible all night, I think it is well executed and should be treated as a bonus instead of a requirement.
---
Movement
This watch uses a Miyota 9015 movement, which isn't a bad choice for the $1000 price tag. I do wish they had used the Miyota 9039 instead, because this movement results in a ghost date position. That usually isn't a deal breaker for me on ~$500 watches, but when you get to the $1000 mark, you expect these little details to be executed correctly.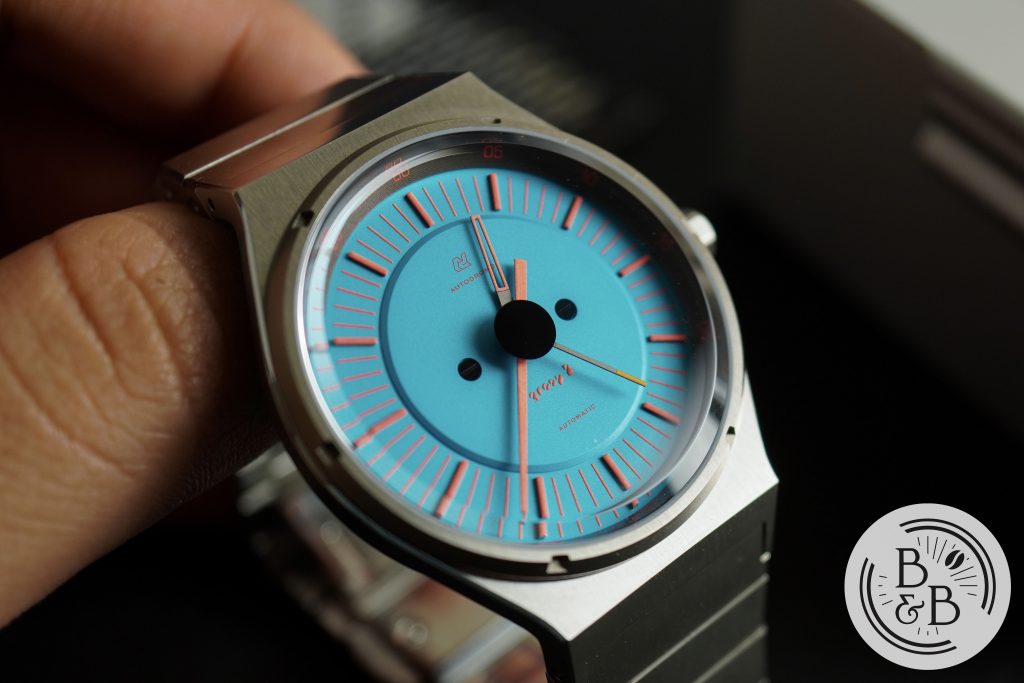 This watch was purchased in mid-2019, and measured around +15 spd on my time-grapher in the dial up position. This isn't the best I've seen from a Miyota 9015, but it is within the +30 spd movement rating.
---
On The Wrist
The interesting case proportions make it accessible to a wide range of wrist sizes. The 39mm diameter keeps things compact, but on the bracelet, the lug-to-lug is closer to 52.25mm if you measure the two extremities. The technical lug-to-lug width is around 49.75mm. Both of these measurements do not factor the drastically angled down case and end links, which means that it will actually wear closer to a 47mm lug-to-lug width watch. But those familiar with integrated bracelets will know how these measurements translate over to wrist presence.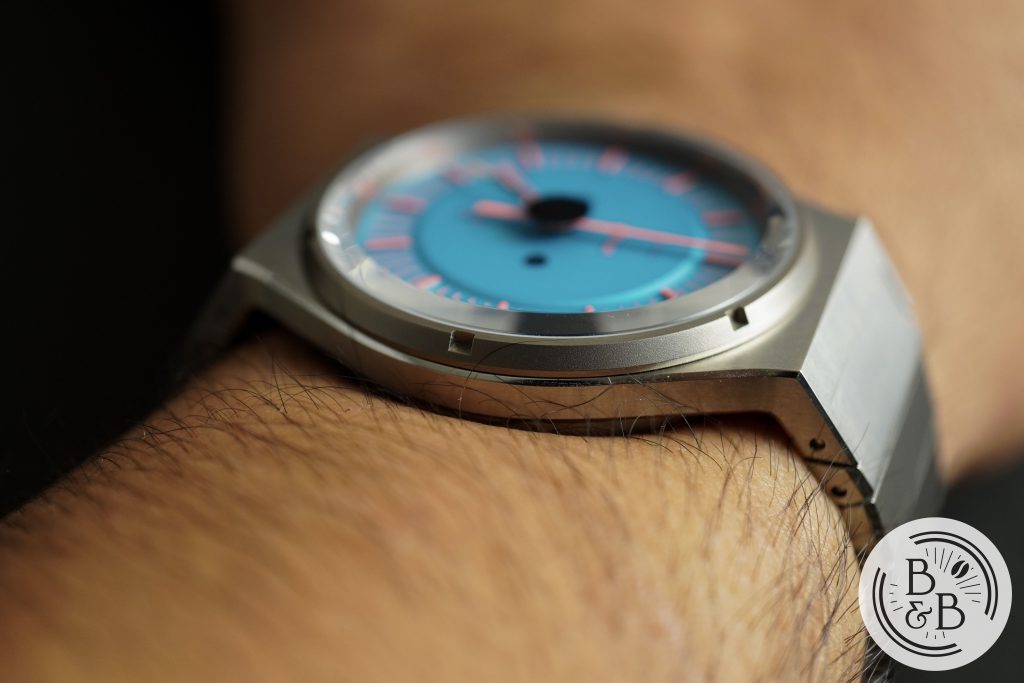 The height is an impressive 9.75mm and the titanium components make this watch very easy to wear. On my 6.25″ wrist, I have no problems with the dimensions. I would recommend this watch for anyone with 6″ and greater.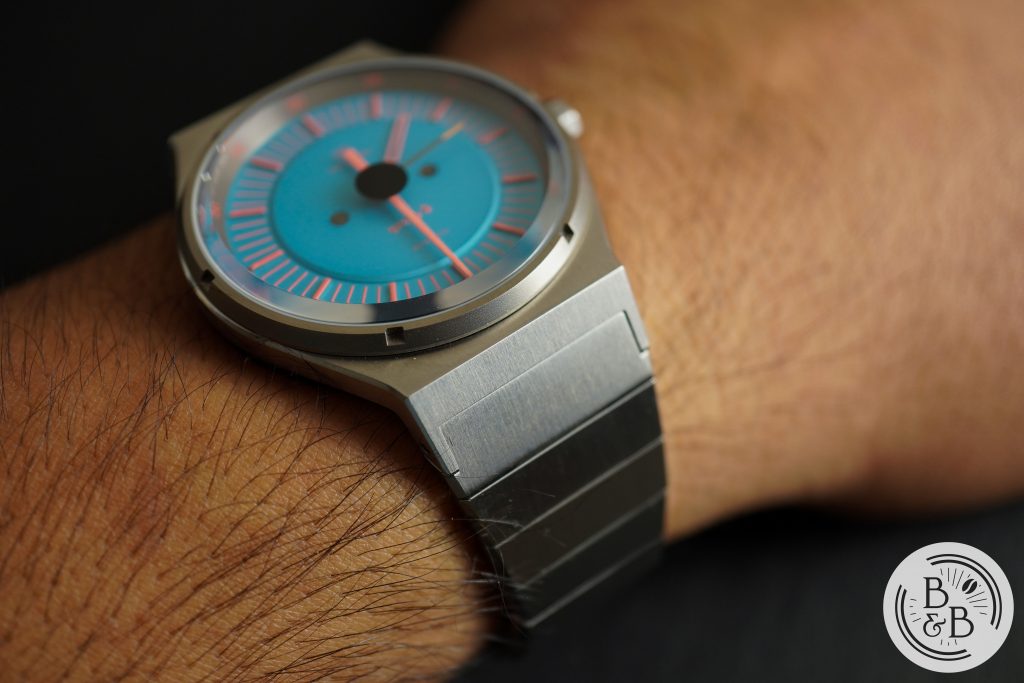 Looking at the bracelet, the end links are well finished and appear to be made of stainless steel and not titanium. The design is made to trick you into thinking it is an integrated bracelet, but you can swap this out for a third party strap if needed.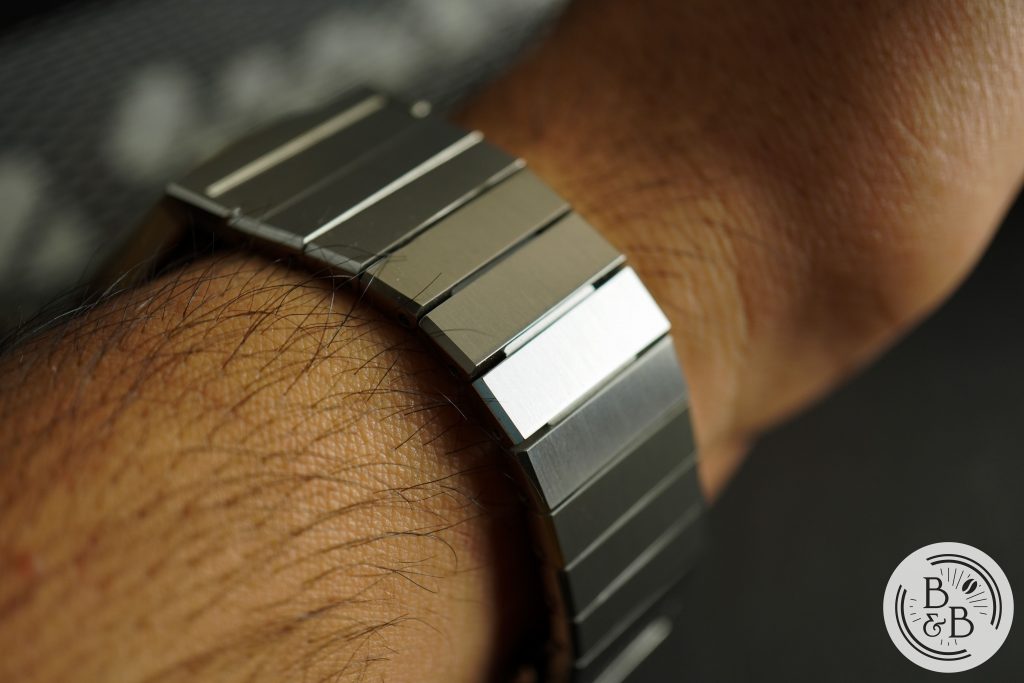 The links articulate reasonably well, which caught me by surprise. The links play with light beautifully, and result in a butterfly style clasp.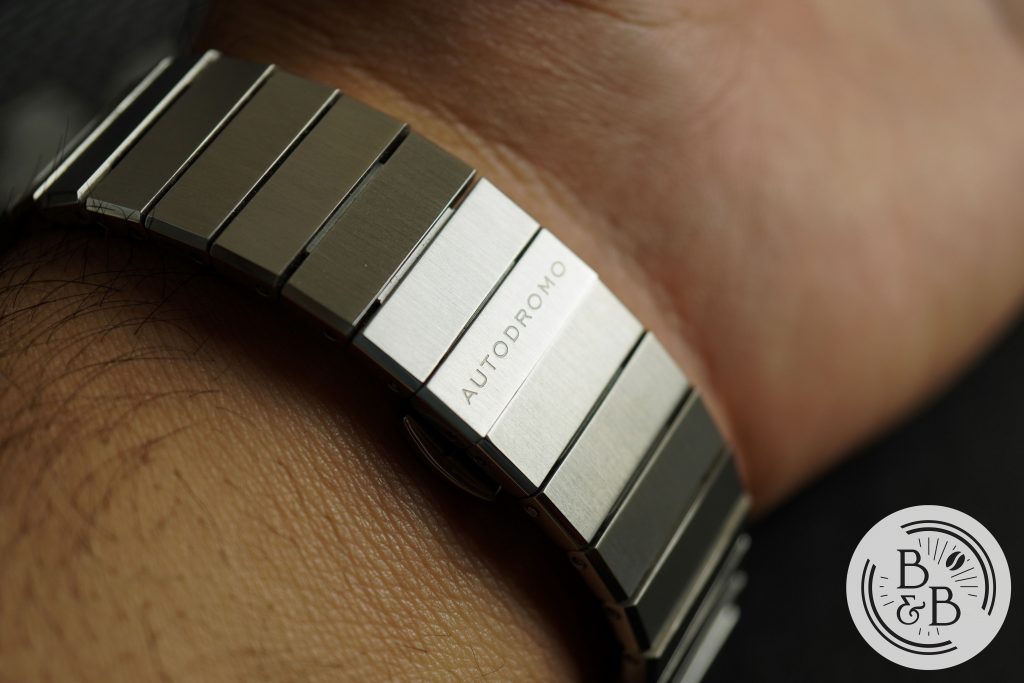 The links themselves can be adjusted and use pin based links that are fairly easy to size. I'm not a huge fan of butterfly style clasps because of the lack of adjustments, but I was able to size a very good fit from this bracelet.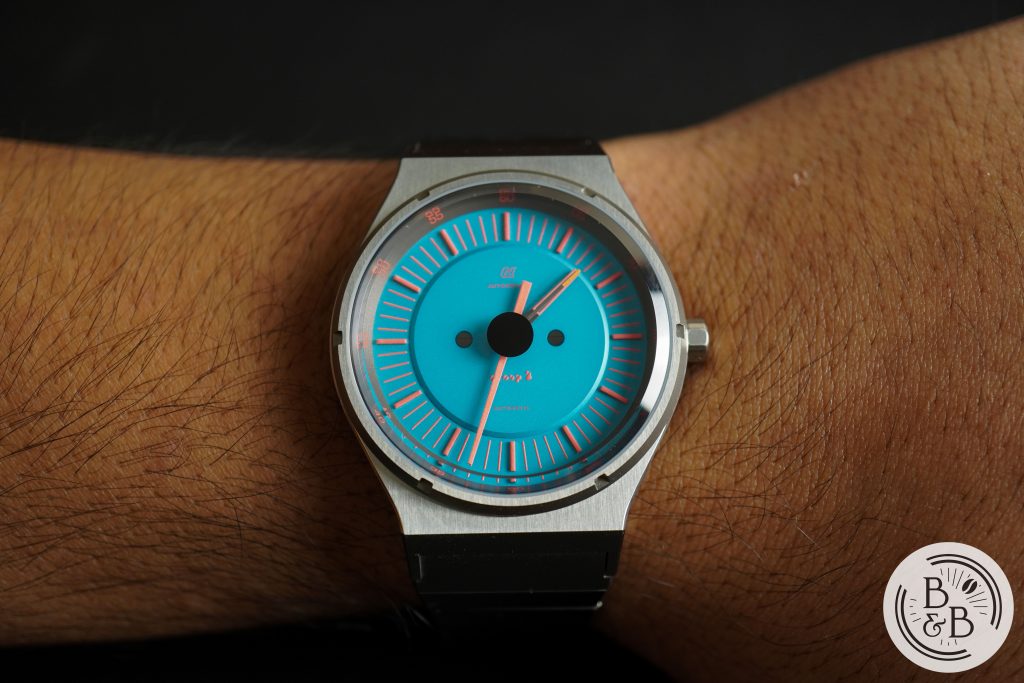 Overall, no complaints from me here, and I think this watch has great wrist presence!
---
Concluding Thoughts
Overall, I think it's a great looking watch with an incredible color palette that has to be seen in person to be appreciated. The build quality is very good, and the finishing is good. The lume is a great bonus, and the watch has a terrific wrist presence.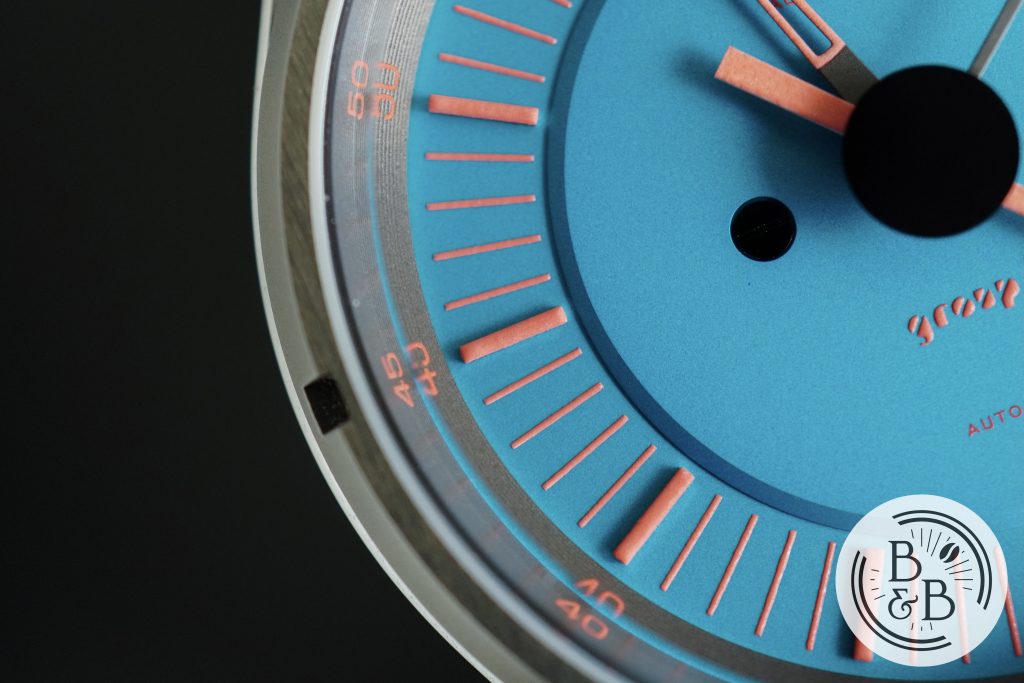 For $1000, I would've liked to see a better movement, or at least a Miyota 9 series movement without a ghost date position. But this watch is definitely unlike most of the automotive inspired micro-brand watches out there, and that lone makes it worth checking out!
---
Thanks for reading!