---
Disclaimer: This watch was sent to me to review and I was not paid to write this. This is in no way sponsored by Armand Nicolet, or any other entity. All opinions here are my own.
---
---
Contents
---
Armand Nicolet
Armand Nicolet is a Swiss watch manufacturer with a history dating back to as early as 1875. They pride themselves as being one of the few Swiss brands that were able to stay afloat during the Quartz crisis, and also with the fact that they were manufacturing advanced complications in the early 1900s. This brand exists in peripherals of the more popular Swiss brands, but this fact makes it even more appealing to me, and is the reason I'm reviewing it today. They continue to produce watches with their on heritage movements, but today I'll be looking at one of their more modern watches, the JS9 in a 41mm case option. This is their take on a dive watch design, with some familiar design cues, but still delivers an interesting and unique experience.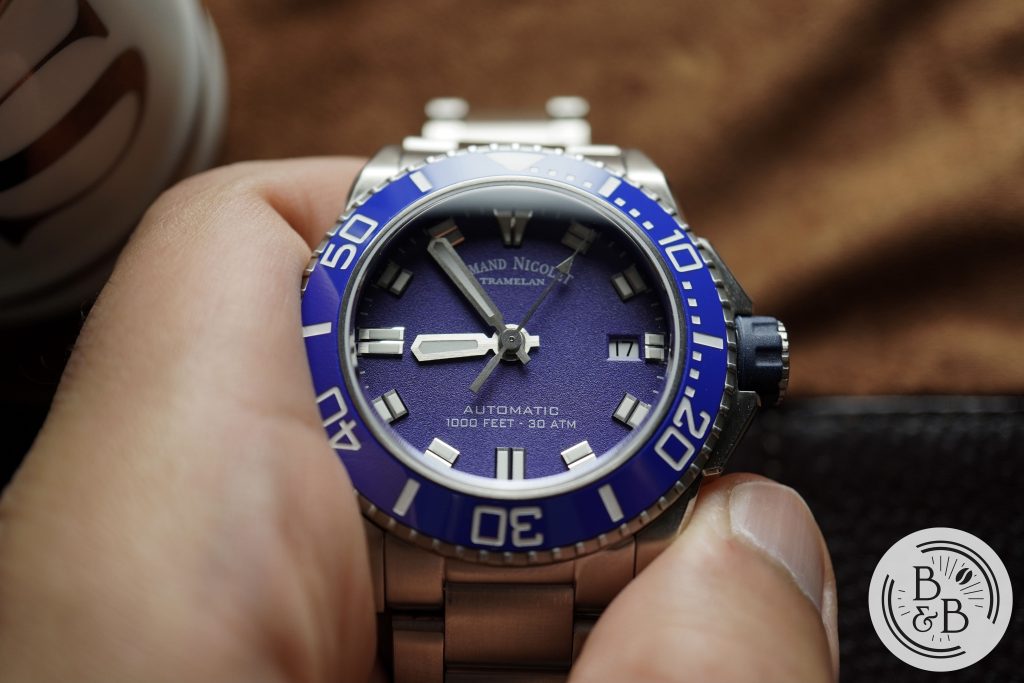 This watch has a maximum suggested retail price of CHF1700, which is roughly $1850. So this isn't a small amount of money, but if you were hoping to see something under $1000, I would still keep reading. I say that because you can often find these watches pre-owned, in excellent condition for around $800-850, which is an amazing deal if you're on a budget and are OK with not buying direct/new.
---
Case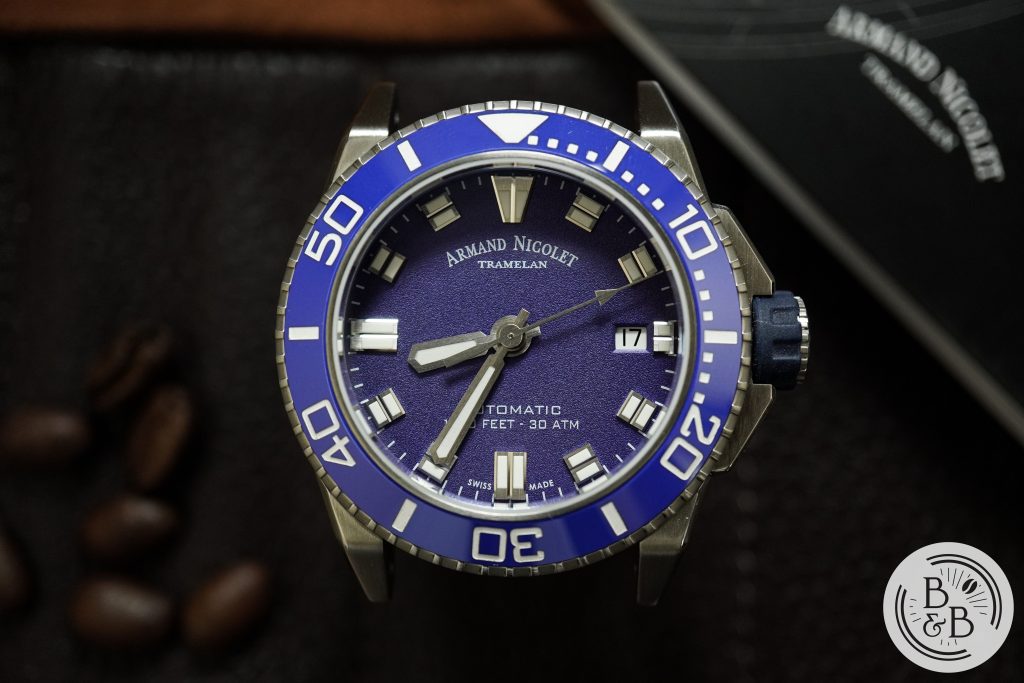 I'm a huge fan of this case design and styling. The case measures 41mm in diameter, 47mm from lug-to-lug and 13mm in height (11.5mm if you ignore the crystal). I love the angular design, and it is in a similar vein to the Limes Endurance GMT and the Reise Resolute that I've reviewed previously, and I loved both those watches. The build quality on this case is impressive, and the finishing too.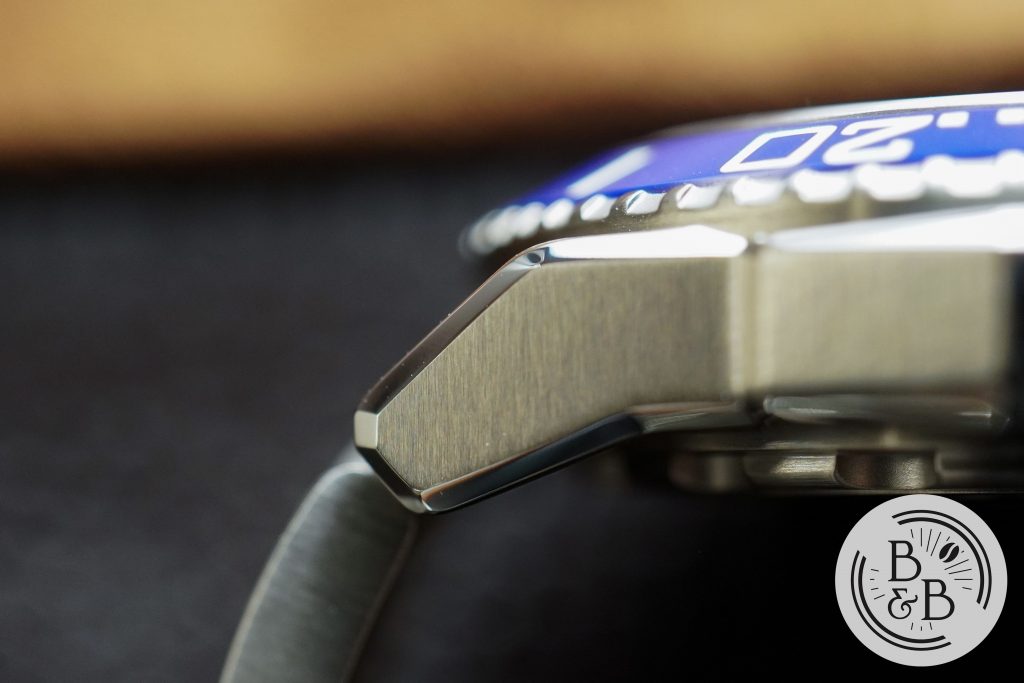 The lugs are quite short, but aggressively angle down towards the wrist. The case has a polished bevel, which extends to the lugs as well and is on the bottom surface as well. I think this is very well executed, and really elevates this case design. The lug width is 22mm, and the lugs are not drilled through.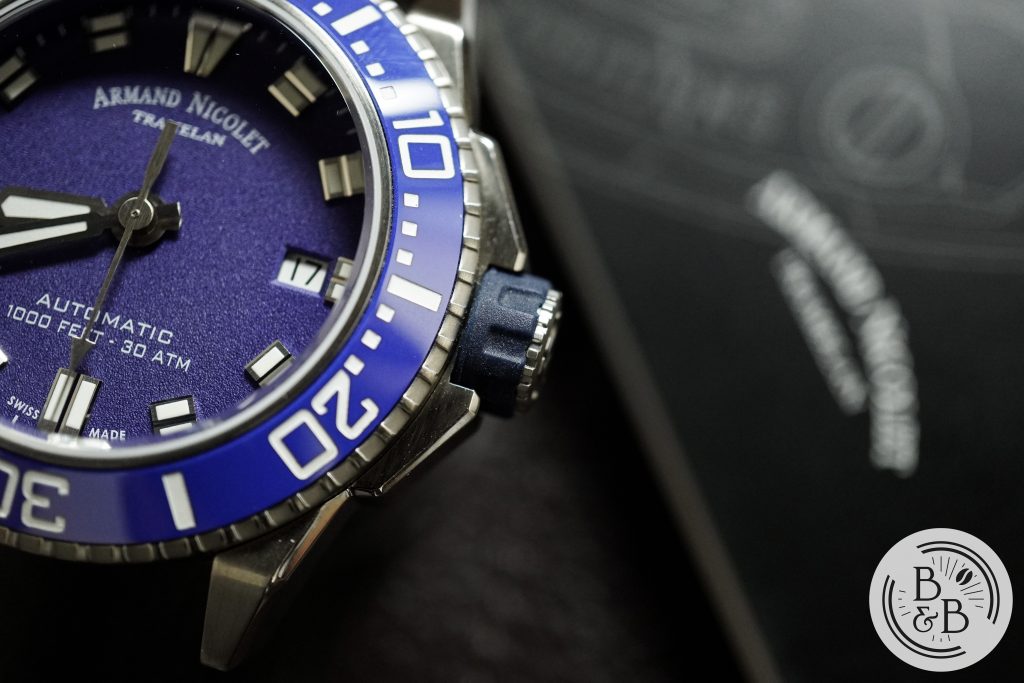 You then have a badass looking 8.5mm screw-down crown with a navy blue rubber grip and a bead blasted and signed cap. I love big crowns (and I cannot lie), so this just ticks all the boxes for me. The crown is also accompanied by two heavy duty crown guards that are clearly as intimidating as the rest of the aggressive case design. I love it. The crown action is great, with no crown or stem wobble.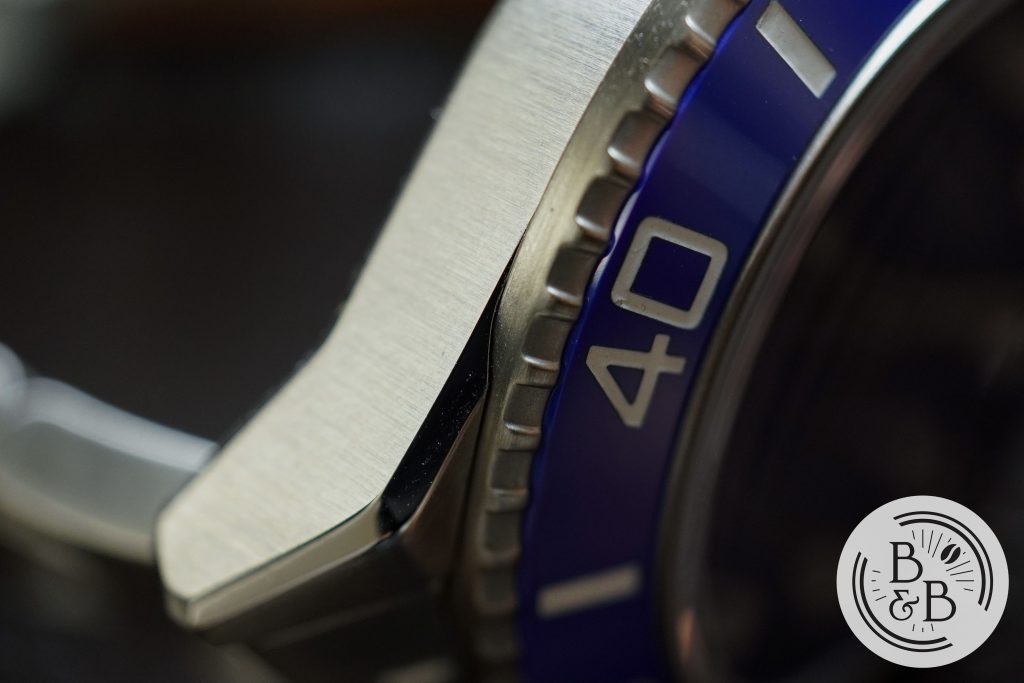 There is a 120-click uni-directional dive bezel that sits slightly recessed into the case. I think this looks awesome, as the bezel is actually protected by the case itself.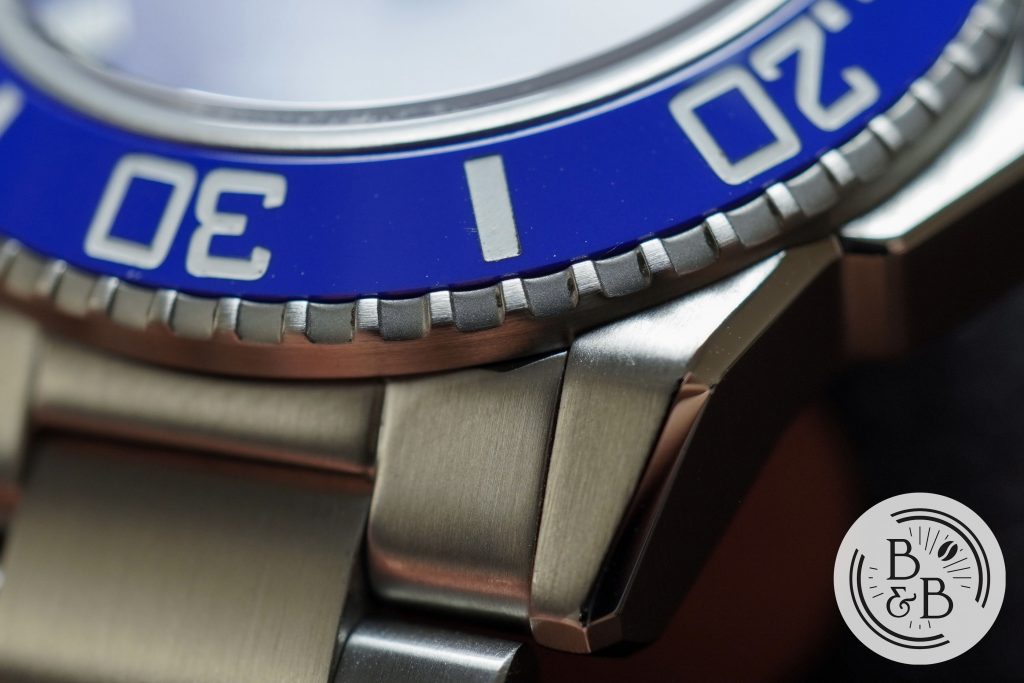 The bezel grip is along the vertical surface of the slightly conical bezel construction, and is very easy to grip and operate. The bezel insert is made of ceramic and is a bright blue color, in contrast to the more subtle dial color. The bezel action is very good, with snappy clicks and very negligible back play.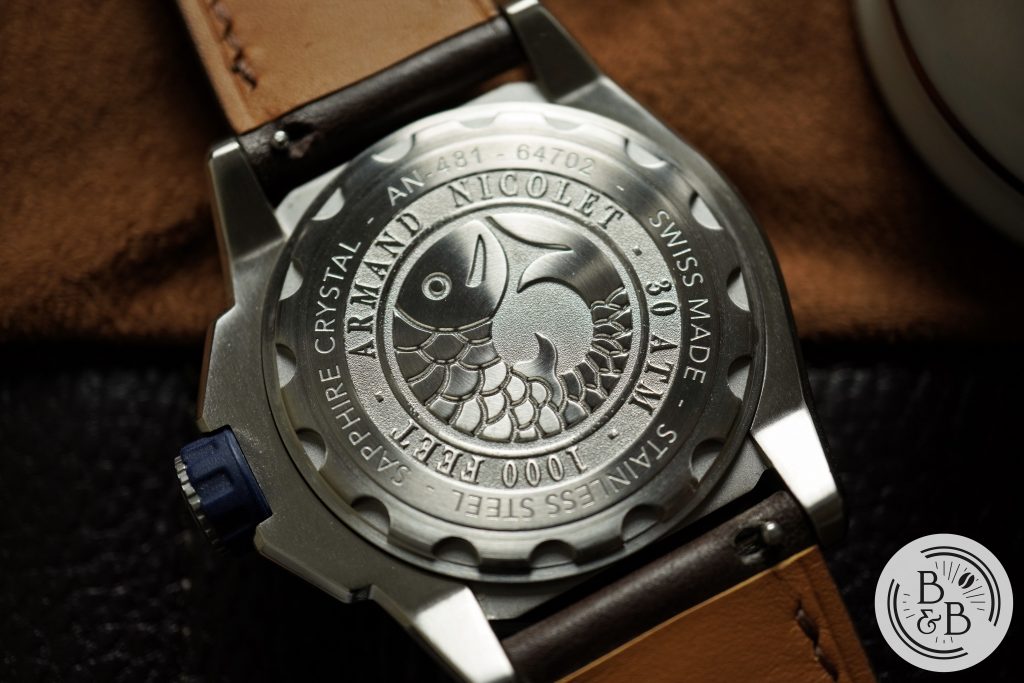 Flipping it over, you have a solid screw-down case-back with a very well executed embossed pattern that sits against a coarse finished base that looks similar to the texture of the dial. This watch is rated for up-to 300m of water resistance, which is pretty good for a watch of this size.
---
Dial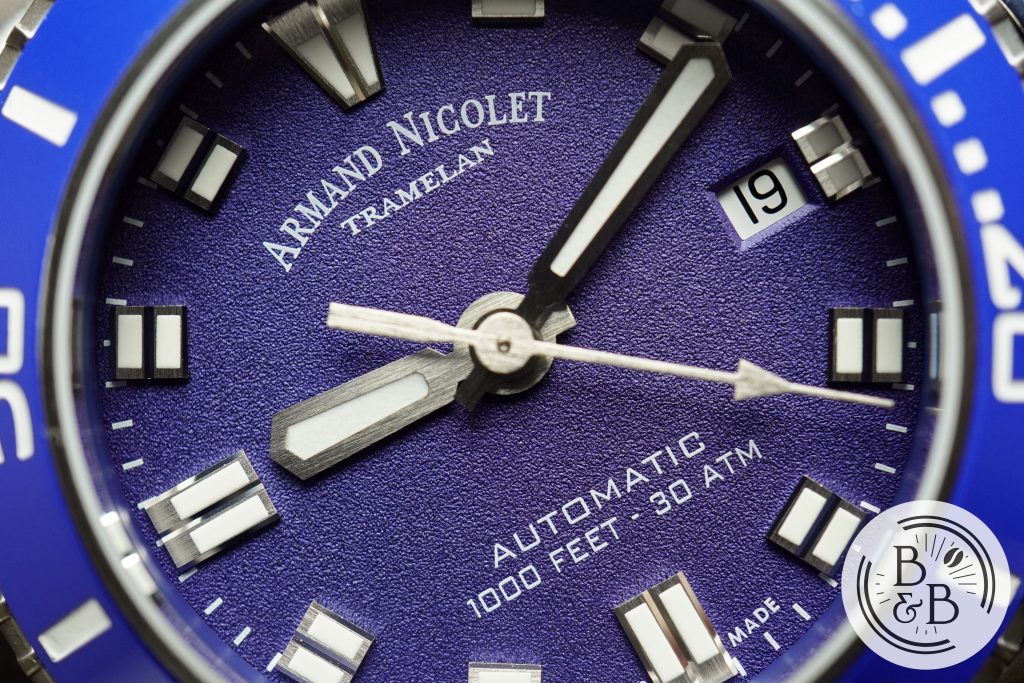 While I really like the case, the dial is quite impressive too. The dial color is actually more of a purple-ish blue than a pure blue, quite similar to the Limes Endurance GMT that I reviewed. The base of the dial has a coarse granular finish, that also makes me a bit hungry since it looks a lot like the surface of a Kellogs Rice Krispies Treat (not sponsored, but hey Kellogs – feel free to get in touch). The finishing on this layer is very impressive.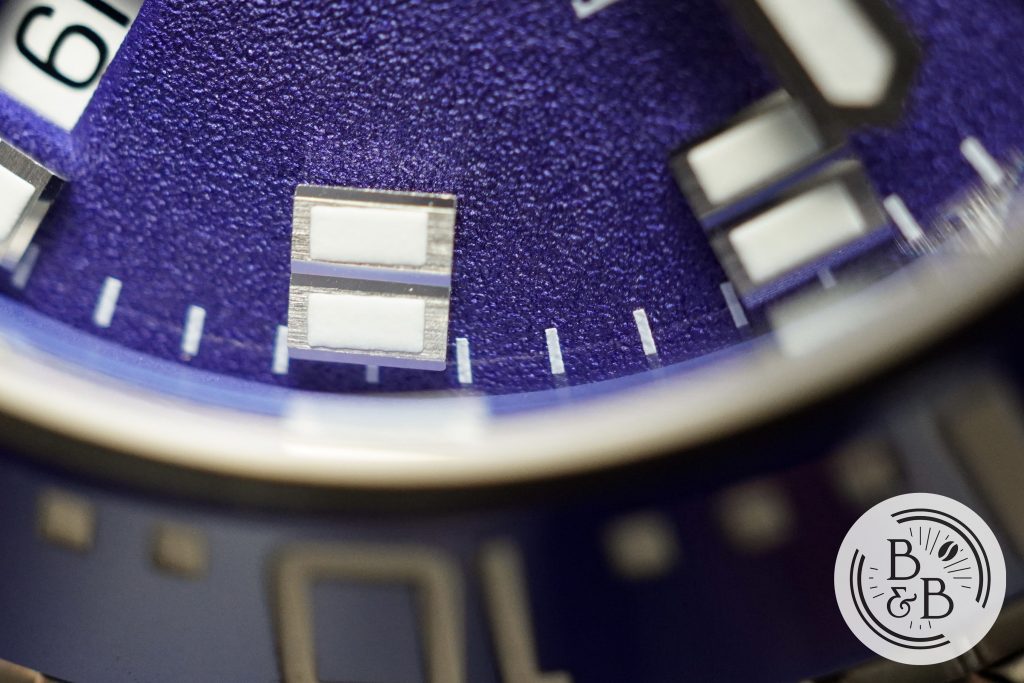 There is a printed white minute track that is easily legible, and is aided by the lack of significant distortion at the edges of the sapphire crystal.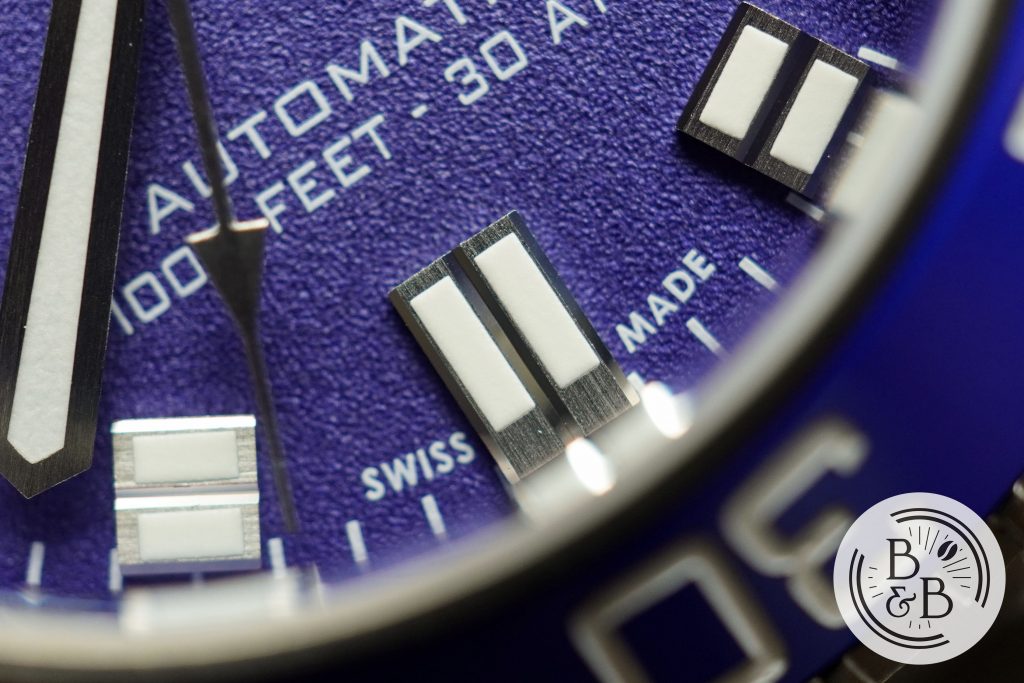 You then have applied indices for the rest of the hour numerals, with double indices for each numeral, and a triangle style index at the 12 o'clock.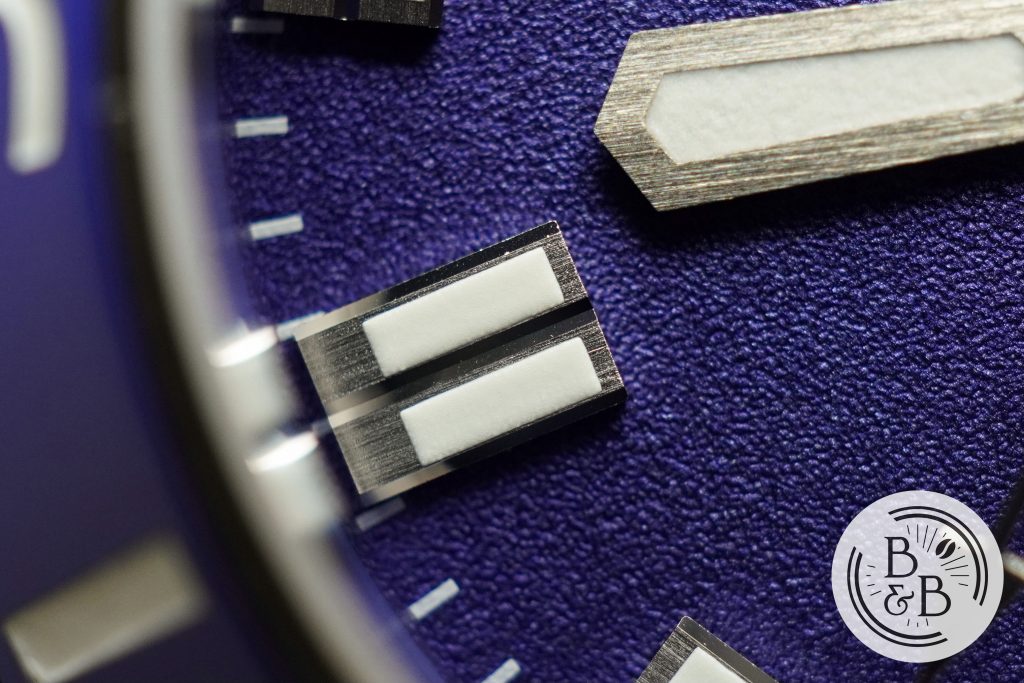 The indices are brushed, and filled with C3 Super LumiNova. The quality of finishing is excellent and I couldn't find any blemishes, dust, dirt or grime on them.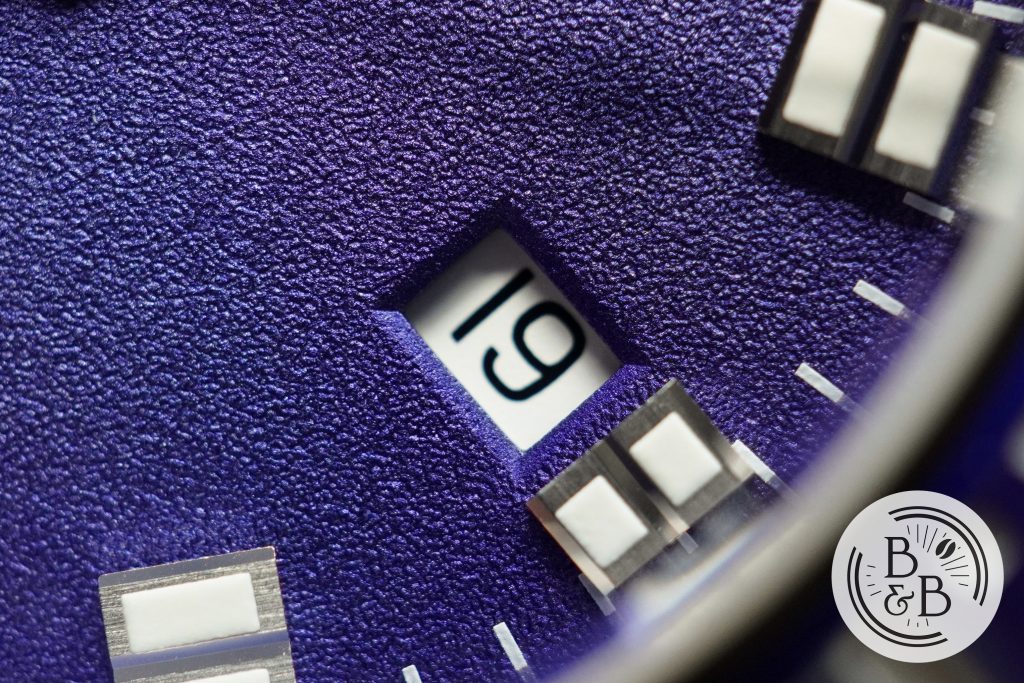 There is a date window at the 3 o'clock position that eats into the hour index. The date window is not framed, but the actual window goes to show the excellent finishing of the base dial surface, and the quality of the cut-out.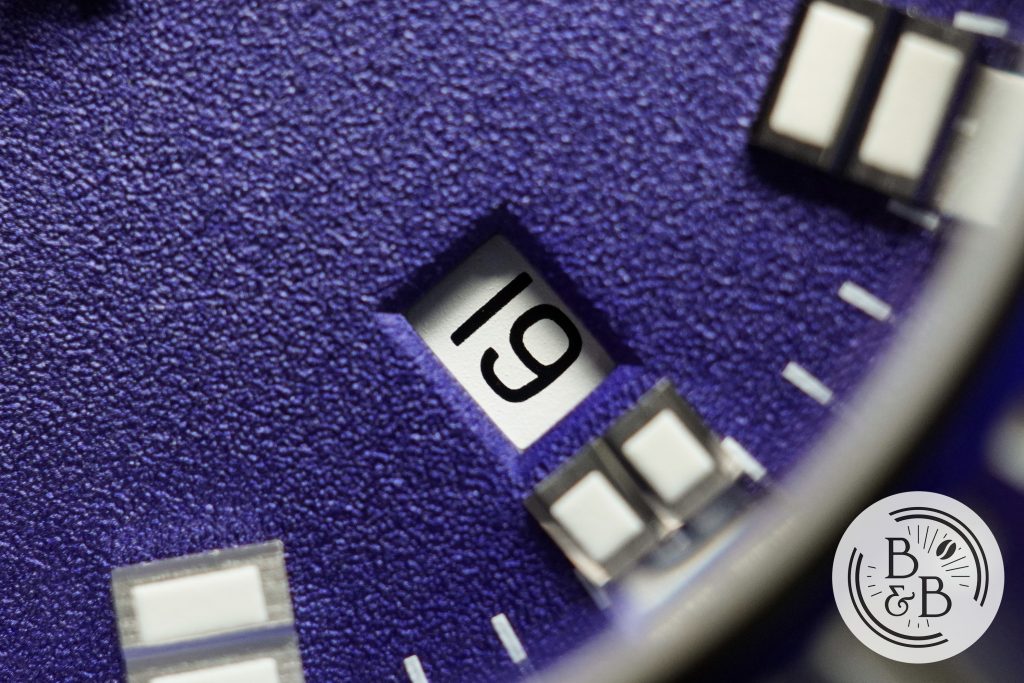 As with all 3 o'clock date windows, I would've preferred if this were at the 6 o'clock instead. In this case, I'm glad the date wheel background is white and not color matched. It just seems to better blend in with the indices this way.
You then have the brand's name printed under the 12 o'clock index, and some text above the 6 o'clock. Once again, the quality of printing is excellent and I couldn't find any issues here. Some might say the size of the font is too large on the text above the 6 o'clock. I don't find it awkward, since it is balanced out by the large logo at the 12 o'clock. I do think it could've looked great without any text there though.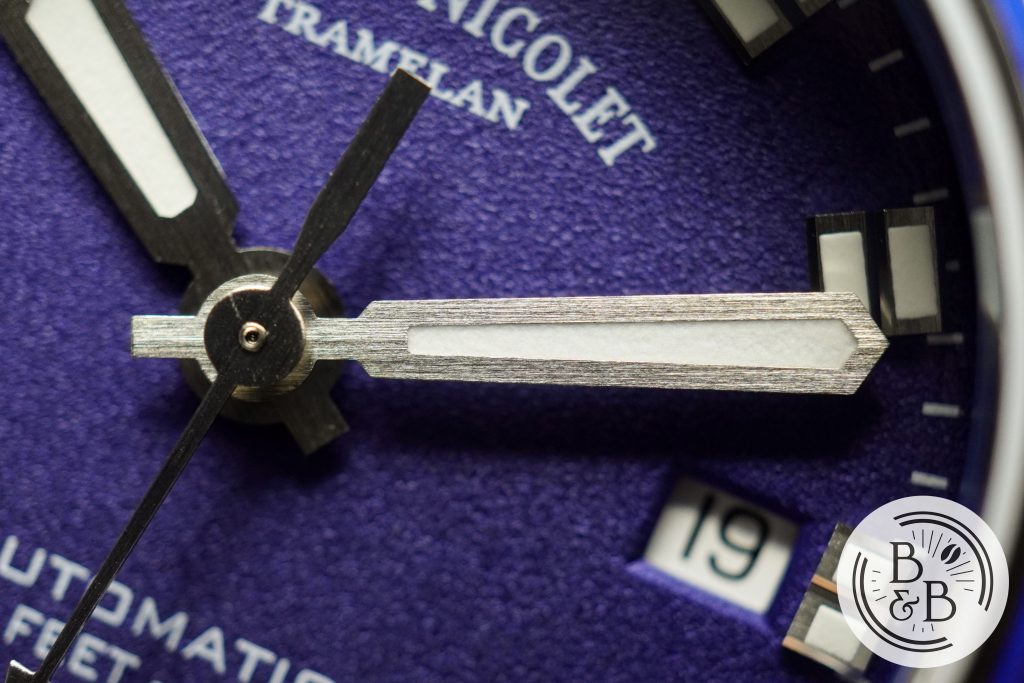 The hour and minute hands are well proportioned, and filled with lume. The hands are also brushed in a similar style as the indices. I like the shape of the hands, and I think it adds a bit of character to the dial. The quality of finishing on these hands is great.
The seconds hand is also brushed, and well finished. The seconds hand is not lumed though, and I would've liked to see it just 1mm longer, to cross over into the minute track. Either way, this is still easily legible and I love the way the second hand plays with light as it moves.
---
Lume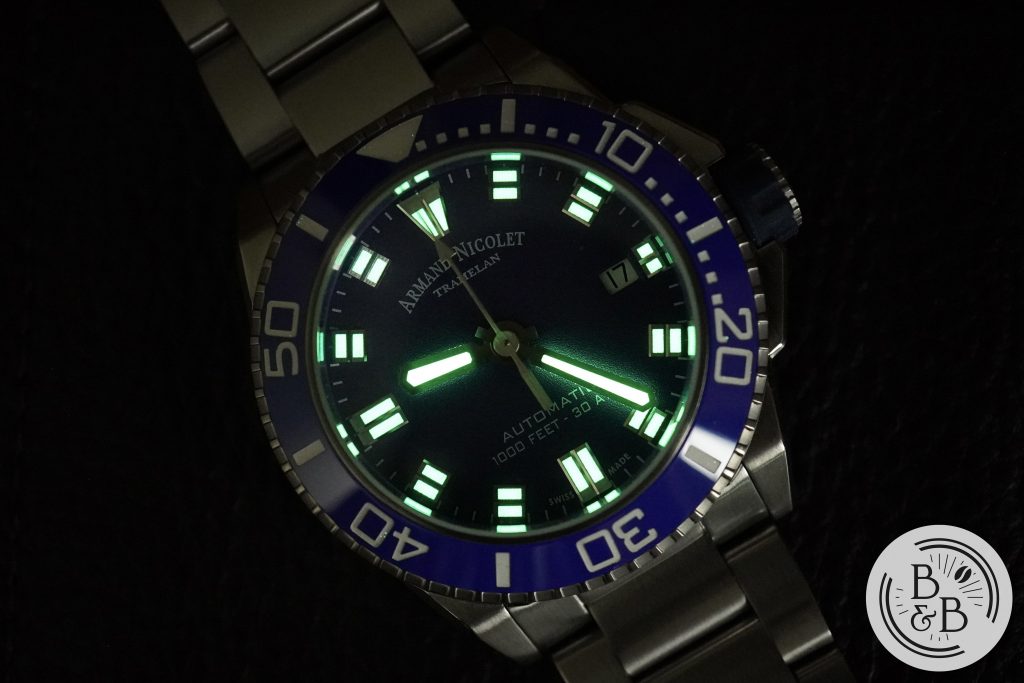 The lume isn't the best, and is a bit underwhelming given how well executed both the case and dial are. But I also might be spoiled by the over-the-top lume usage of micro-brands these days. This lume is sufficient for most people, but lume junkies who expect this to be glowing bright at 3am might be a bit disappointed.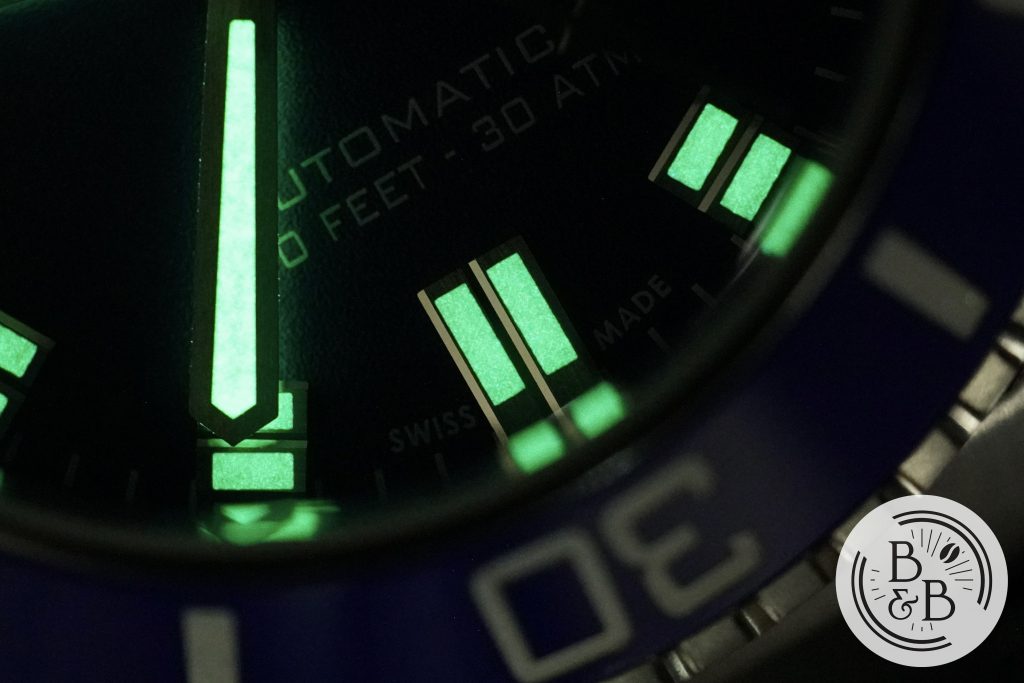 That said, the lume design is great thanks to the double applied indices that have large surface areas for lume. They light up bright, and can remain bright for a few hours before tapering off.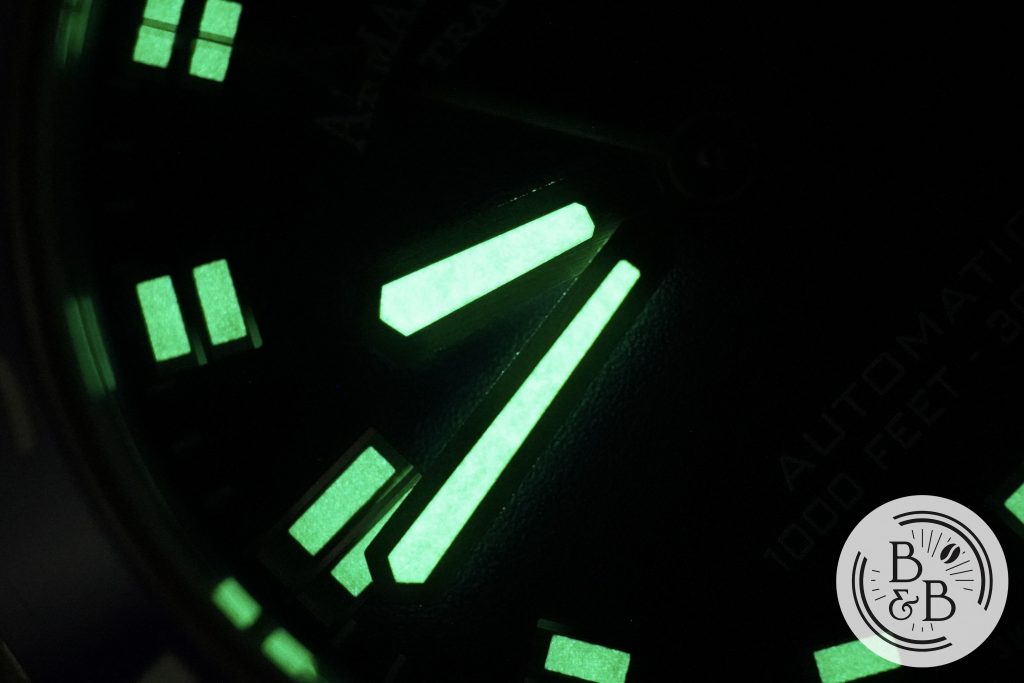 The hands are also similarly lumed, and are slightly brighter than the indices. The hands are likely to last a few more hours compared to the indices. It would've been nice to have a lumed seconds hand tip, but I also really like the brushed arrow on the seconds hand.
---
Bracelet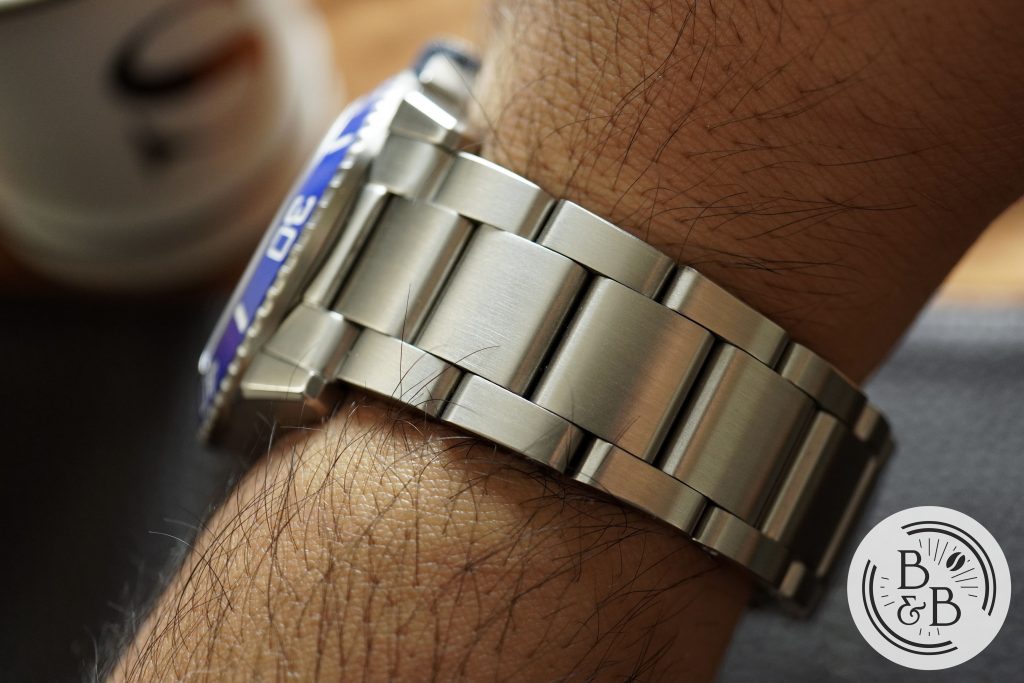 The bracelet is well constructed, with solid links that have double screw based pins. The bracelet tapers down from 22mm at the lugs to 18mm at the butterfly clasp.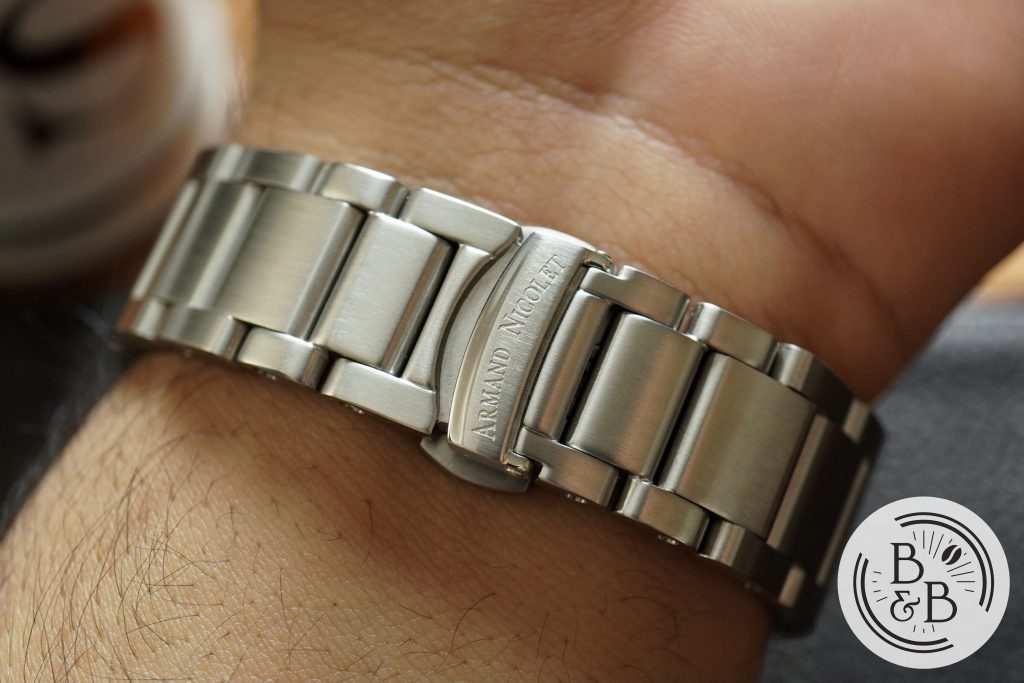 The clasp is my only complaint here, and given that this is a pretty badass looking dive watch, I would've liked to see a more utilitarian and functional clasp.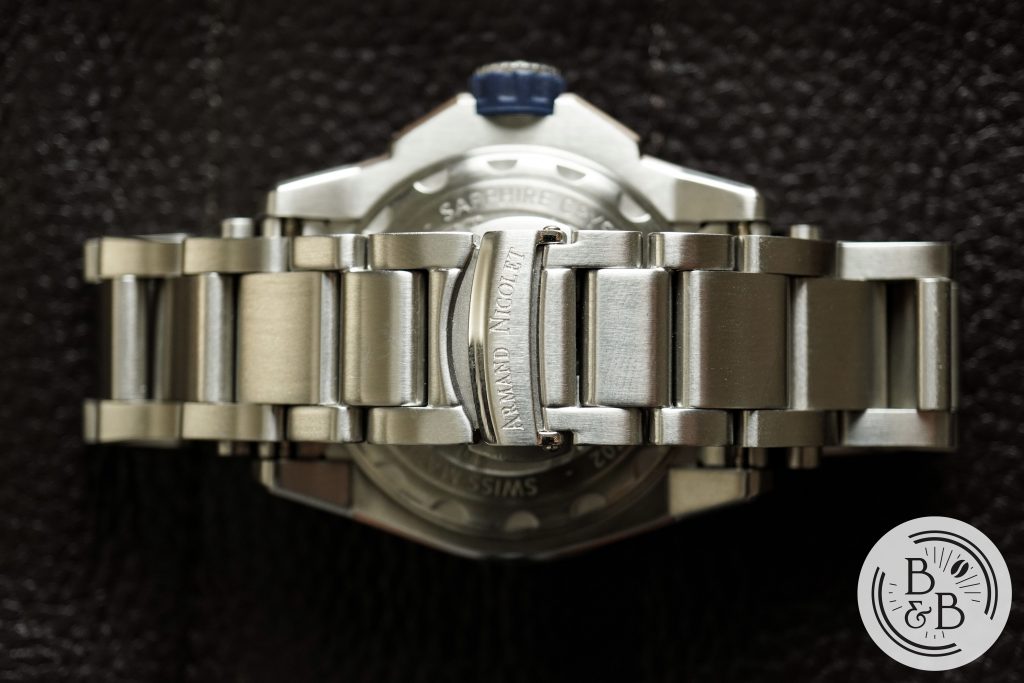 I think a clasp with micro-adjustment slots and an on-the-go adjustment system would make this watch perfect. That said, there are half links and the butterfly mechanism does have a fold-over lock.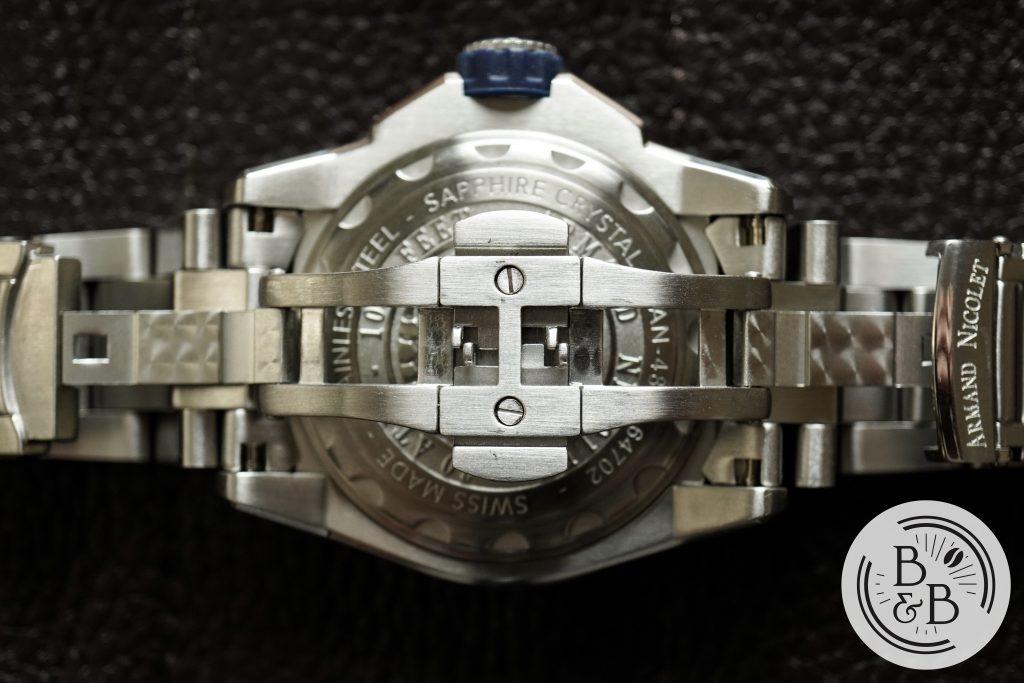 The clasp is well built and well finished, with perlage finishing on the inner milled components. Everything locks into place well, and if this was on a slightly dressier watch, I'd be very pleased with it.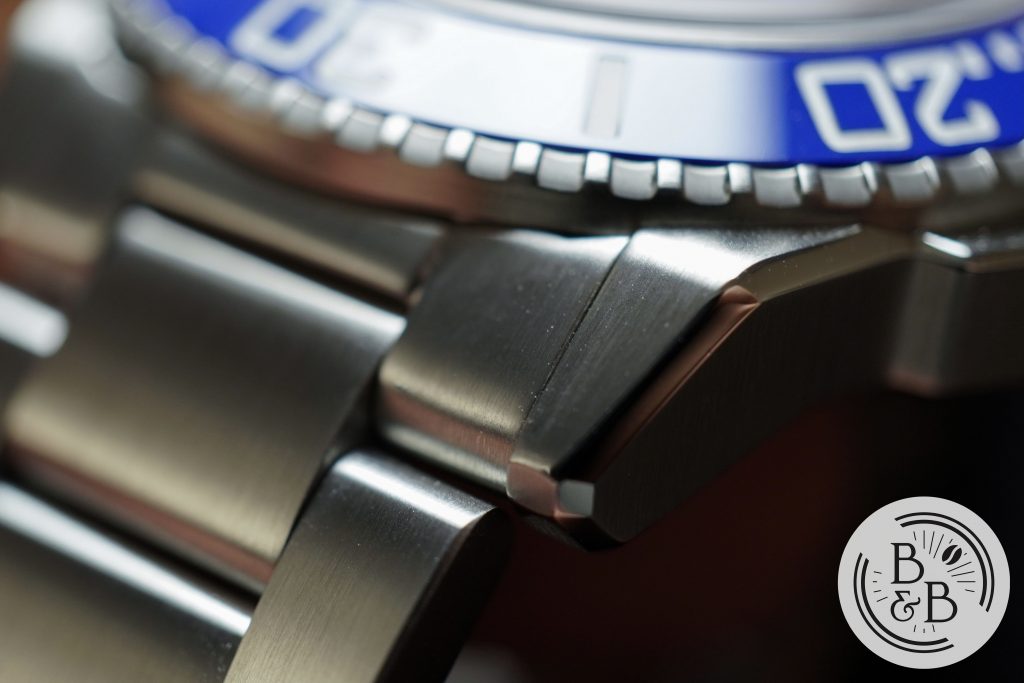 The end-link fitment is great, without any wiggle room or sharp corners. No complaints here either.
---
Movement
The website states that the movement is either a Sellita SW200 or an ETA 2824-2, and it's not uncommon for brands to mention this given the previous ETA shortage. But given how smooth the movement is, and based on how it has been performing, I'm going to say this is an ETA 2824-2 and not an SW200. Either way, both movement options are good and I think appropriate for a watch like this.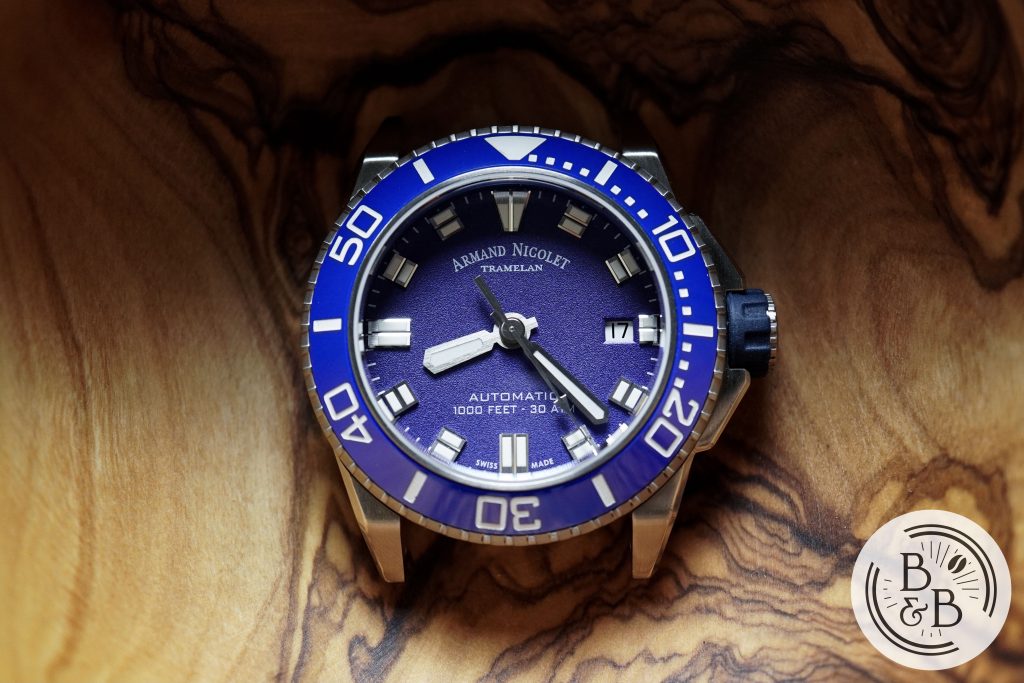 I logged the accuracy of this watch over a 3 day period and observed roughly +4 spd.
---
On The Wrist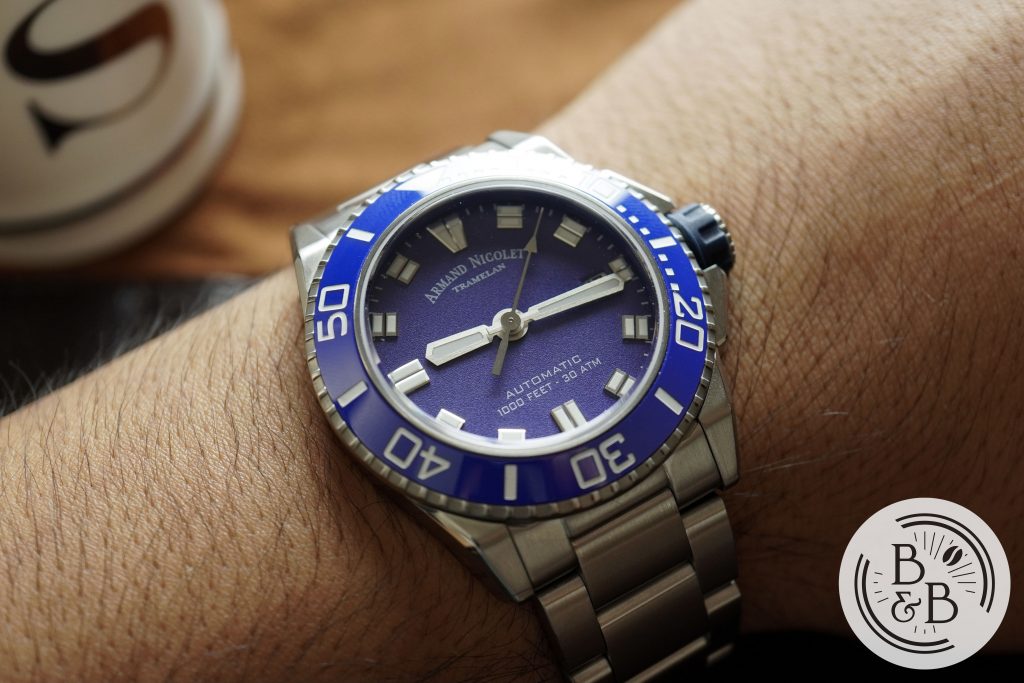 This case fits really well on my 6.25″ wrist thanks to the 47mm lug-to-lug width. The 41mm case is great too, and just big enough to carry off the aggressive design aesthetic of the case.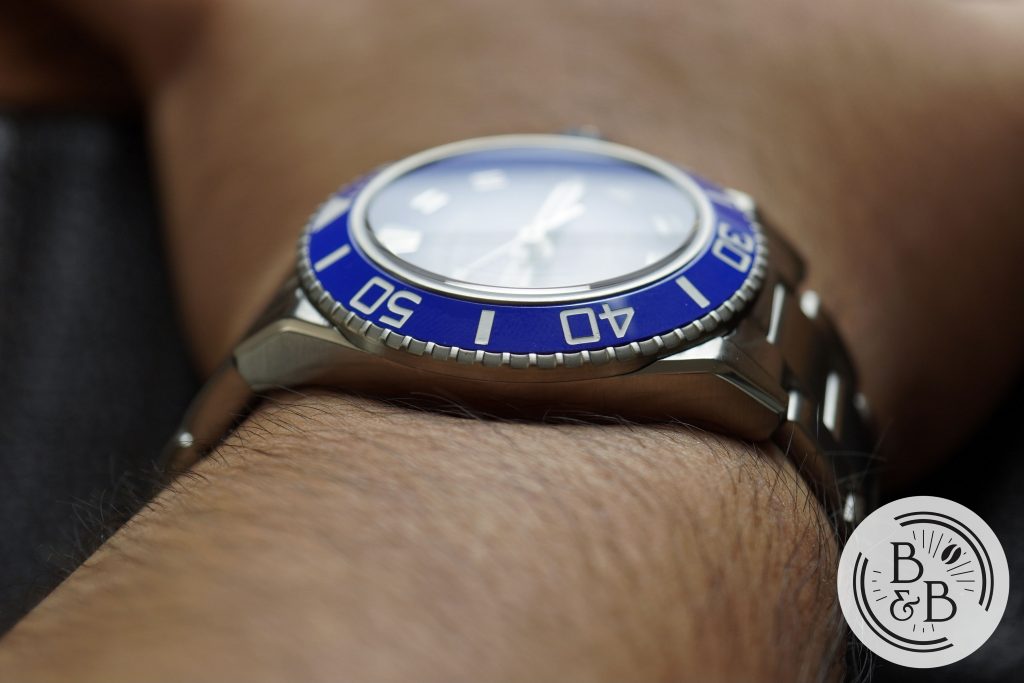 It is very well balanced, with a flat case-back and 13mm height. But this is really more like 11.5mm if you ignore the slightly domed crystal.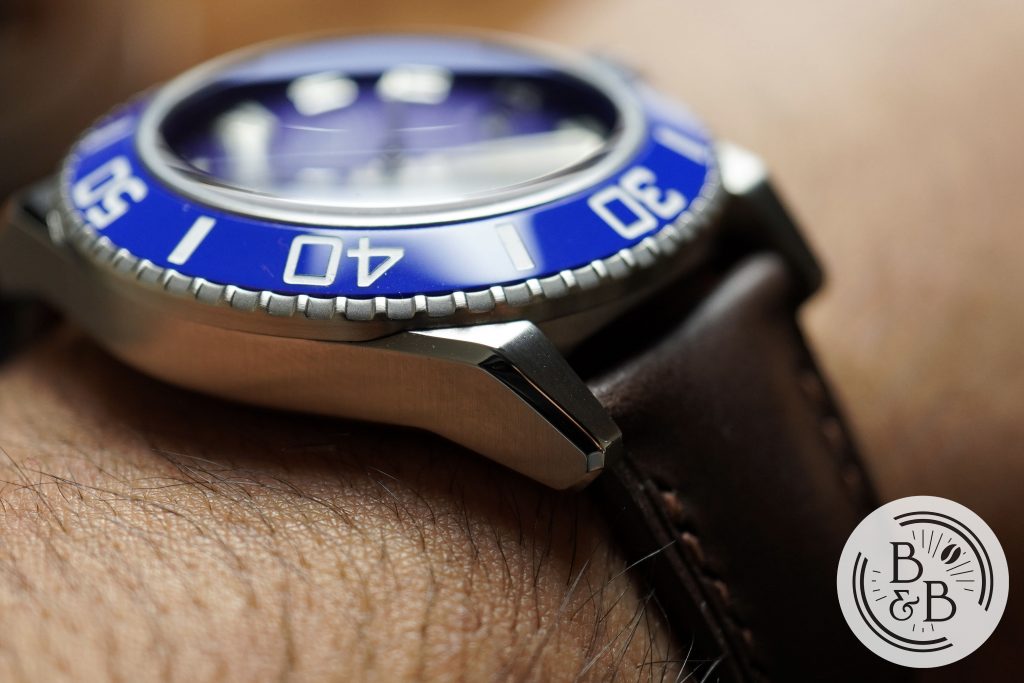 I love the way the angular lugs curve down towards the wrist, and I personally enjoy how this watch feels on my wrist. So not a single complaint from me here, and anyone with 6″ wrists and above should be able to carry off this watch with ease.
---
Concluding Thoughts
At the $1850 suggested retail price, there are a lot of very good dive watches out there from brands like Oris, Formex, Monta, Limes, etc. That said, this watch does make a strong case for the value that it delivers in terms of case build, case finishing, dial finishing, and and overall comfortable design. My only areas of criticism are the lack of a more functional clasp, and maybe the lack of more free strap options. Their rubber strap (which looks great, by the way) should have been included in this package for this price. I can't really fault anything else with this watch, and I've really enjoyed wearing it. The dimensions are great and wears much nicer on my wrist than the similarly styled Limes Endurance GMT.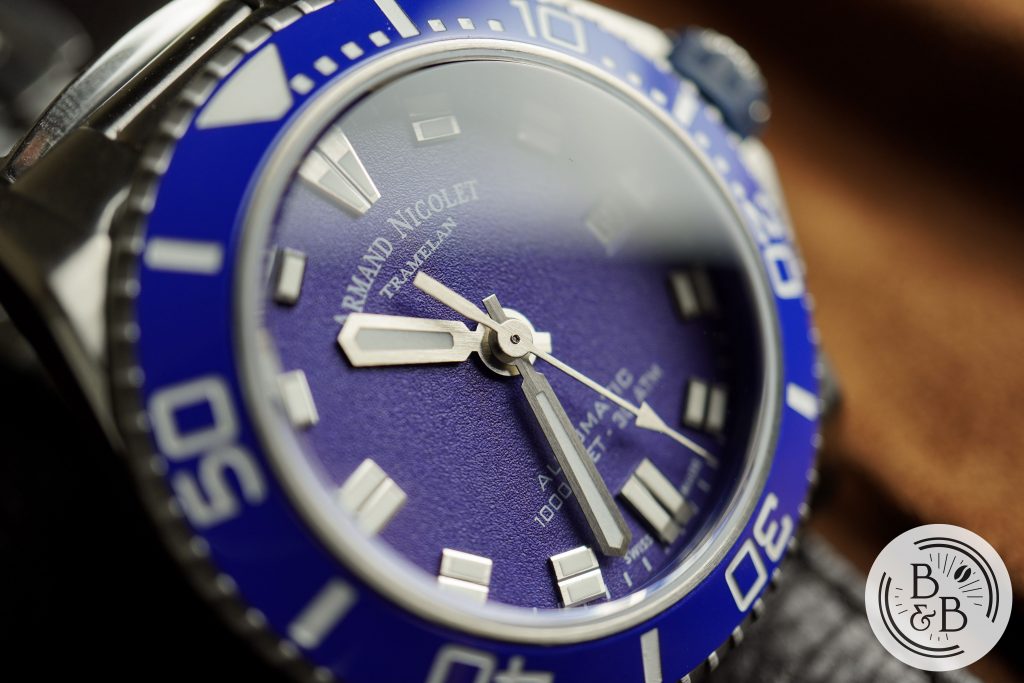 And as I mentioned early, don't be disheartened if the price is out of your budget. Depending on where you look, this watch can be found at incredible prices under $1000, making it a very easy decision. So if you like what it looks like and if you're on a budget, do your research. This one is worth hunting for a deal.
---
Strap Change
---
Thanks for reading!