---
Disclaimer: I borrowed this watch from a friend, who recently purchased it from another friend, but it is in very good condition. However, since this watch was worn/used, please make note that the experience might differ from that of a brand new watch.
---
---
Contents
---
Intro
Before we get into this – I think this exact model has been discontinued and replaced now, so this review may not be very helpful for those looking for a brand new moon-phase watch. Frederique Constant does have an upgraded version of this watch with a week indicator and a few design changes. But for now let's take a look at the Frederique Constant Classics Moonphase, a quartz powered dress watch that has a beautiful moon-phase complication. This watch retailed at around $1200 (please don't pay this amount), but was available between the $400 and $500 range – Walmart, Jomashop.
A lot of folks think moon-phase complications in watches are ridiculous and redundant. While they're not wrong, if you stretch that logic a bit further, the idea of a watch itself is pretty ridiculous and redundant, given our modern lifestyle. But the ridiculous and redundant are what make this hobby fun, and I personally love the idea of a moon-phase complication. But I've never bought an automatic moon-phase because I don't wear any one watch for too long, and I'd hate to have to reset the moon-phase each time I restart my watch. So a quartz moon-phase seems like a pretty convenient alternative, and one that leverages the benefits of a quartz movement in general.
Let's check it out!
---
Case
I measured the case to be 39.5mm in diameter, 45.5mm from lug-to-lug, and 8.75mm in height. The entire case is polished, and has mostly curved surfaces and edges.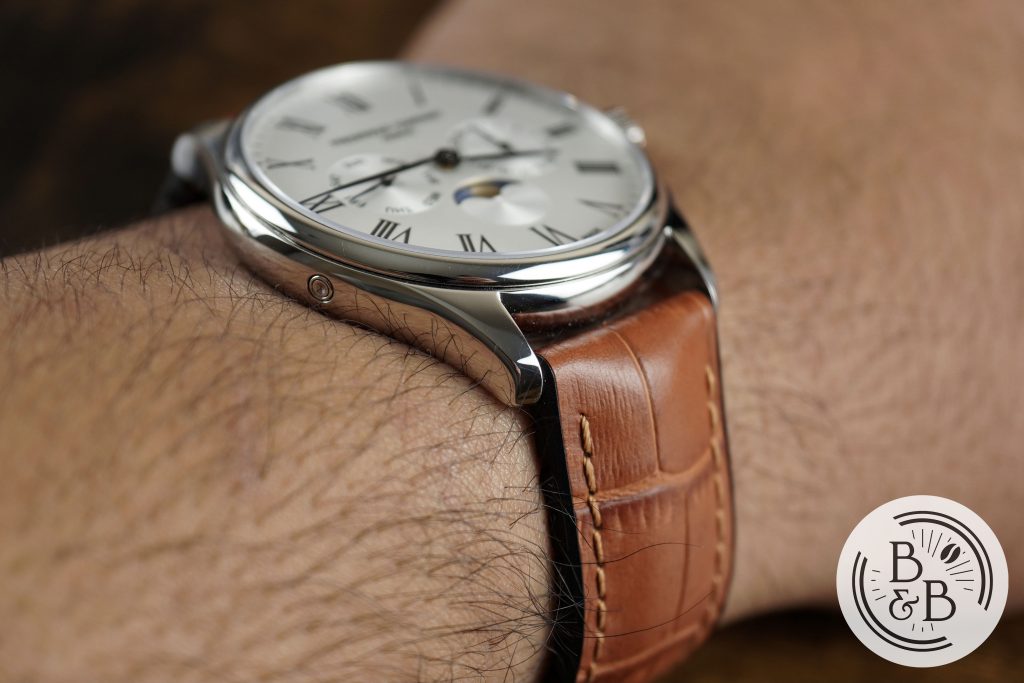 The sleek mid-case extends out into a pair of slightly tapered and curved lugs. The lug width is 20mm. On both sides of the case, you have pusher buttons that are used to set the moon-phase complication.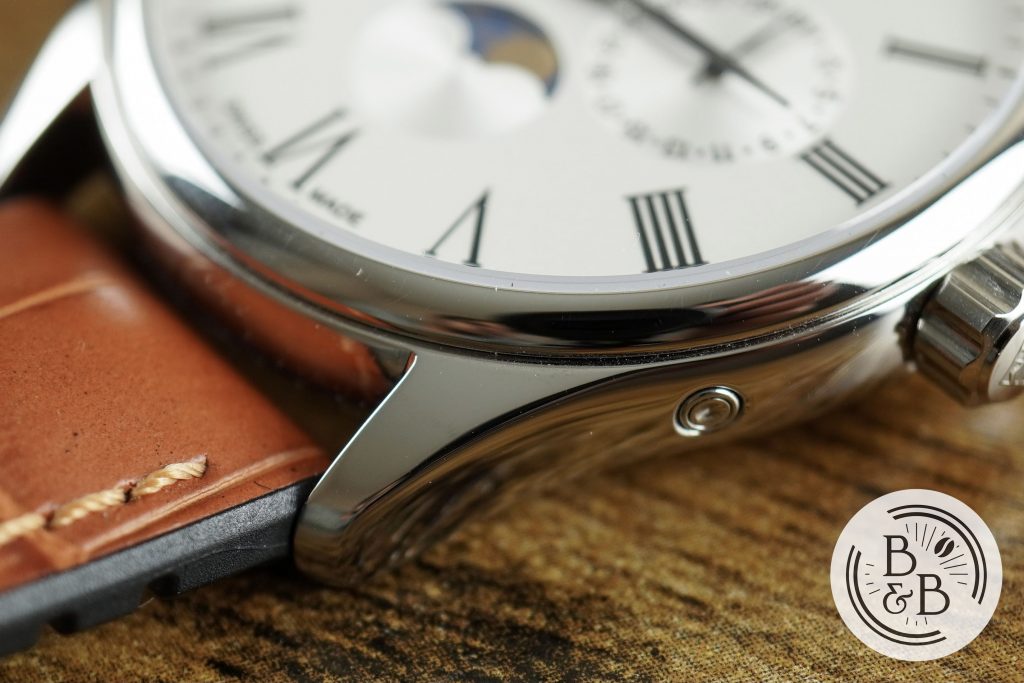 There is a small polished fixed bezel section that seats a sapphire crystal. The AR coating on this watch is incredible, and it feels like there is not crystal at all.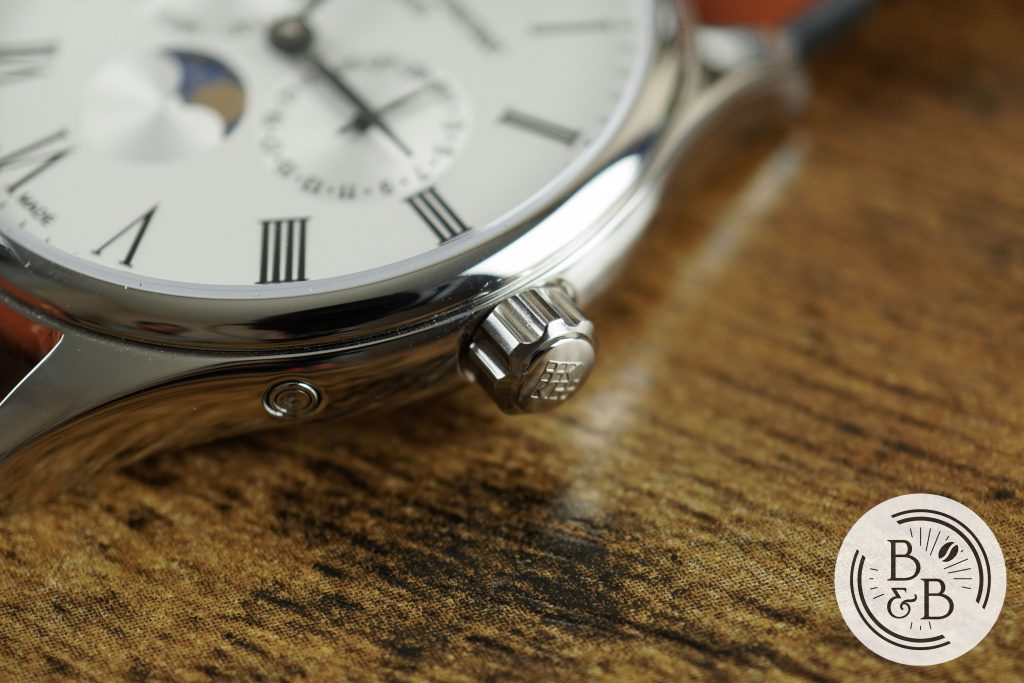 You have a 5mm signed push-pull crown at the 3 o'clock position that is easy to grip and operate, and has no crown or stem wobble. The crown action feels good, and feels like quality.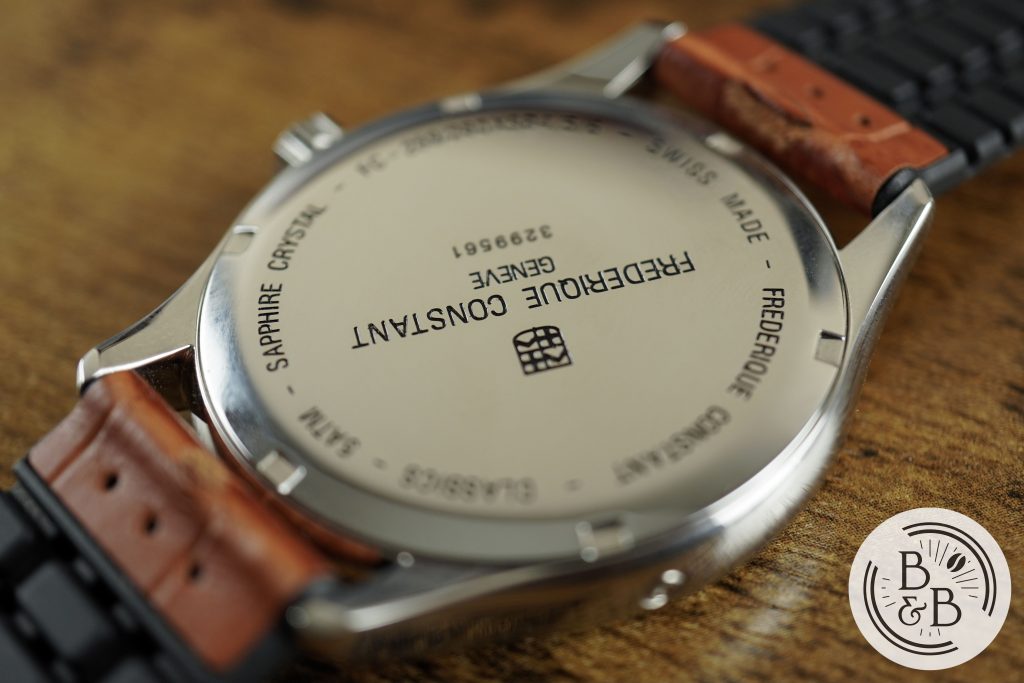 Flipping it over, you have a screw-down case-back that is also polished and engraved with some watch details and branding. This watch is rated for up to 50m of water resistance.
---
Dial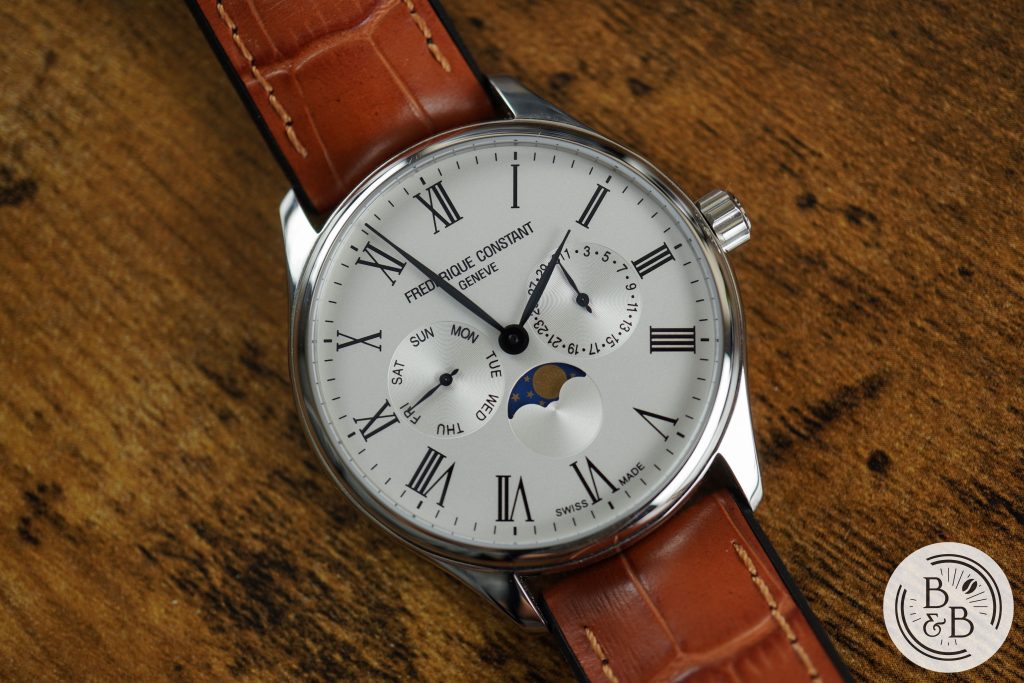 I love the classic styling of the dial, with it's silvery white base layer, and it's mostly black and white color palette, with a touch of color on the moon-phase disc.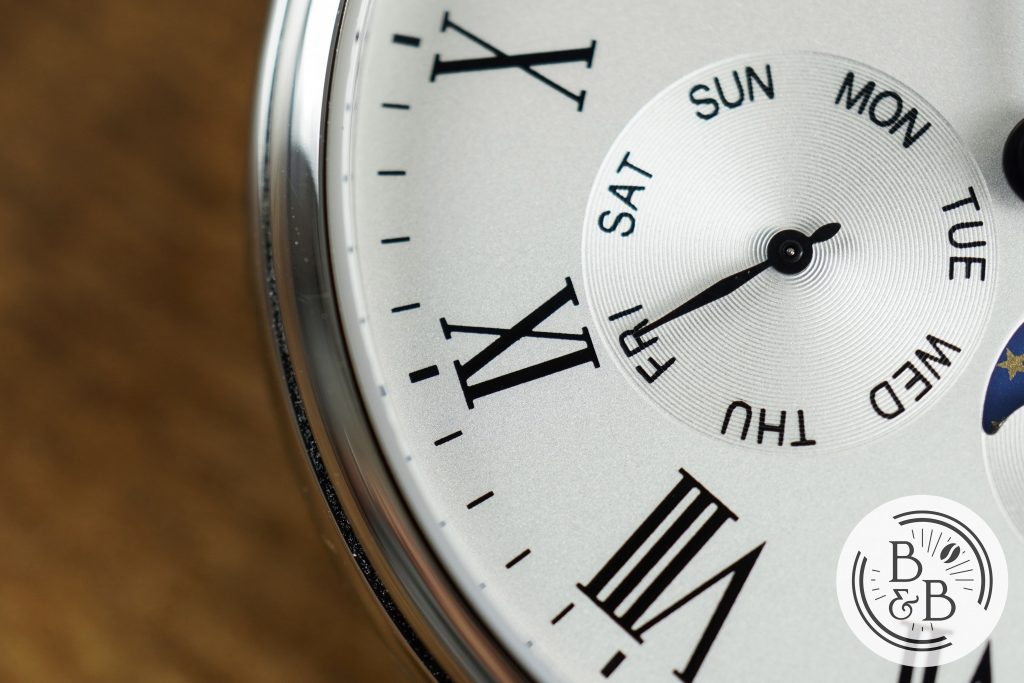 There is an outer minute track that has bold black ticks for each increment of five, and slim black ticks for the rest, with very good printing quality.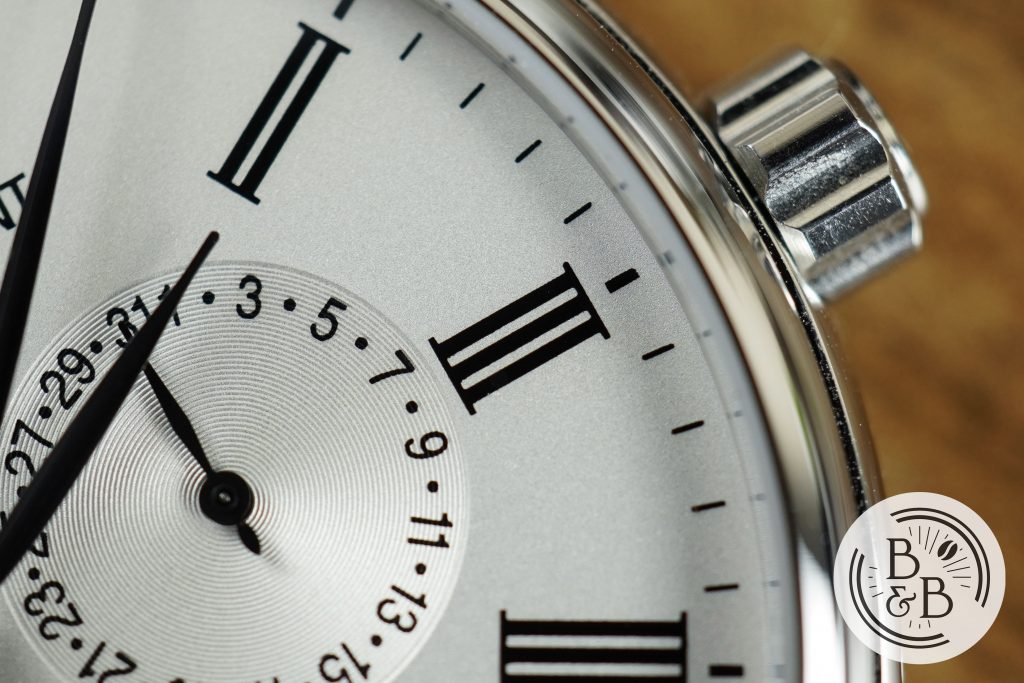 You have Roman numerals for the hour indices that are radially aligned and printed very neatly. The numerals are large, but this makes it easy to read.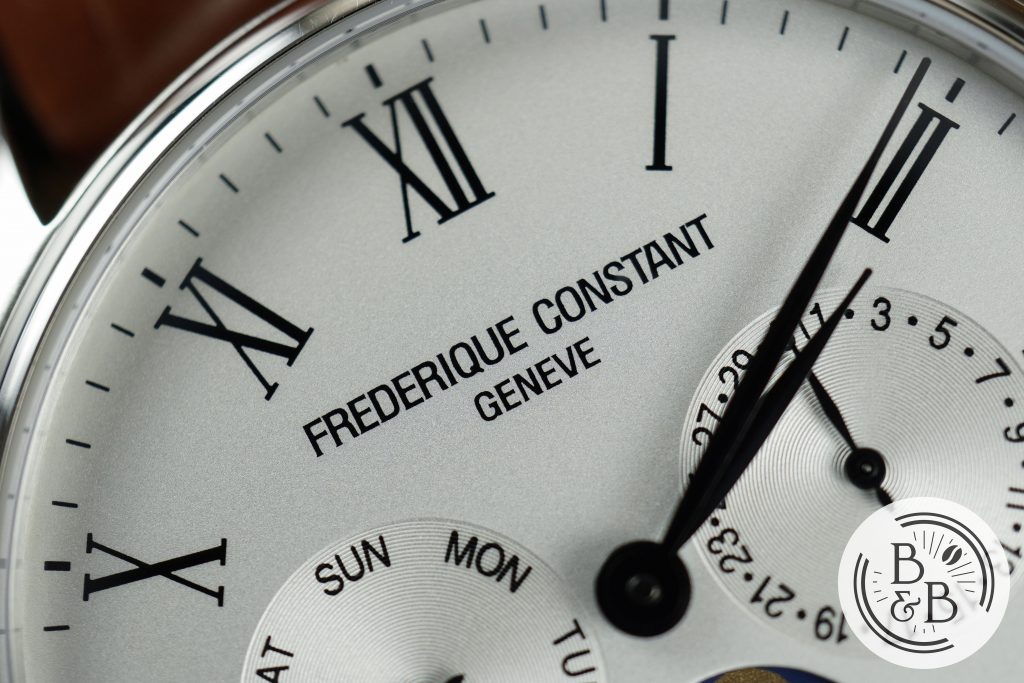 The brand's logo is printed below the 12 o'clock hour marker, and 'Swiss Made' right next to the 6 o'clock marker.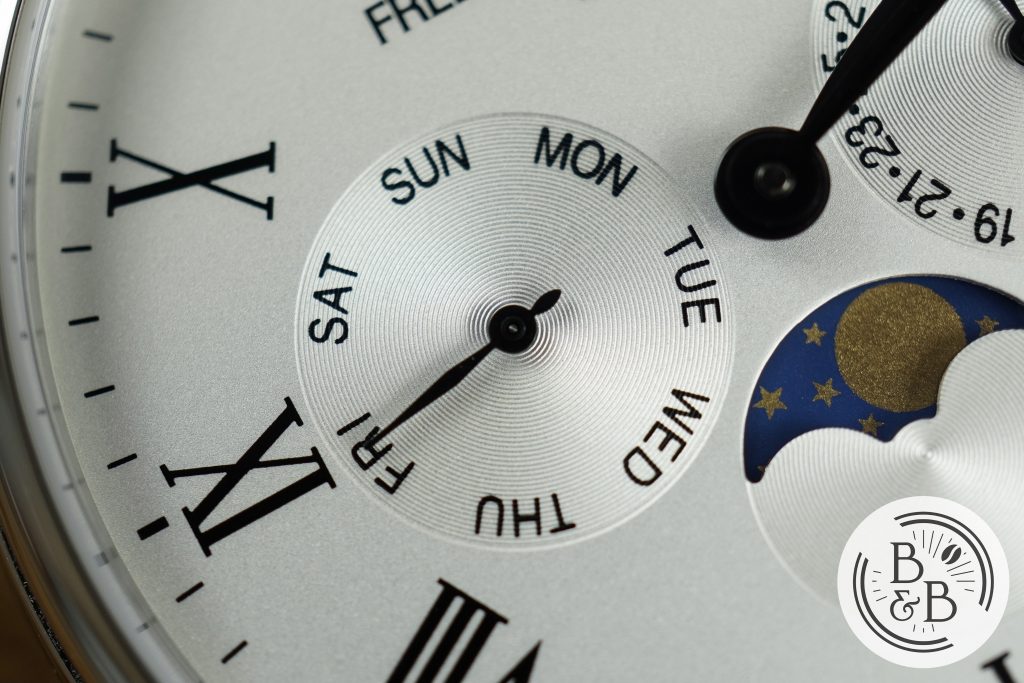 You then have a day indicator register at the 9 o'clock position, with finely pressed concentric rings within the register. The quality of finishing is very impressive for the price you're paying.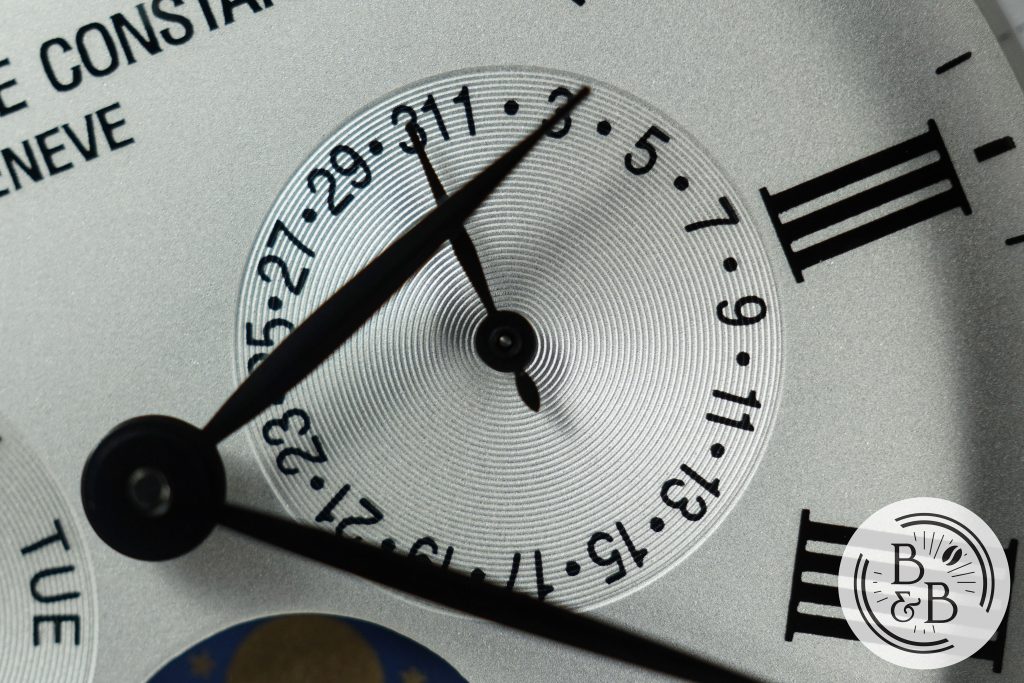 There is a date register at the 3 o'clock position with Arabic day markers for all odd dates.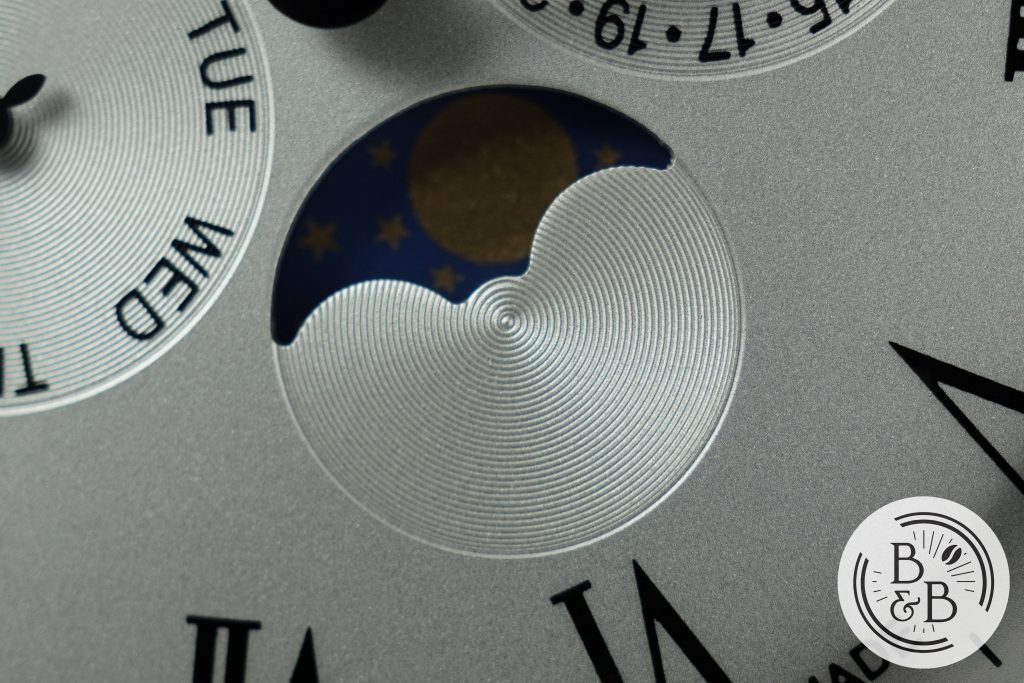 The only accent of color here is the moon-phase indicator at the 6 o'clock position, that has a crescent cut-out to expose the moon-phase wheel below it, that is blue with gold printed elements. The quality of finishing and printing is excellent, as is the rest of this watch.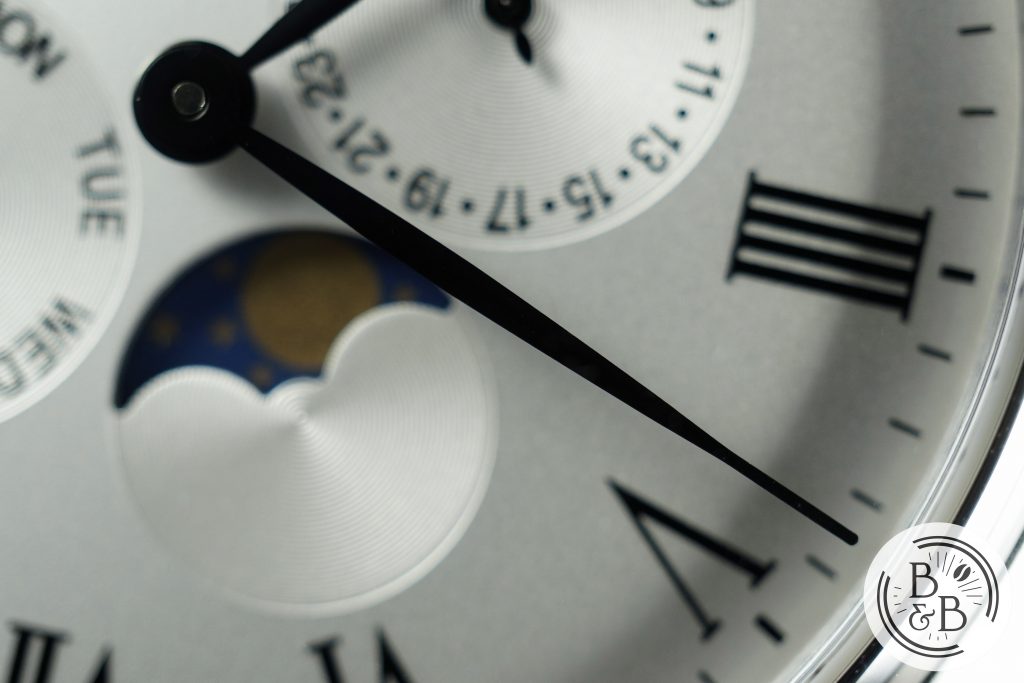 The hour and minute hands are simple and painted black. They are very well finished, and almost look like thermally or chemically blacked hands. Great stuff here.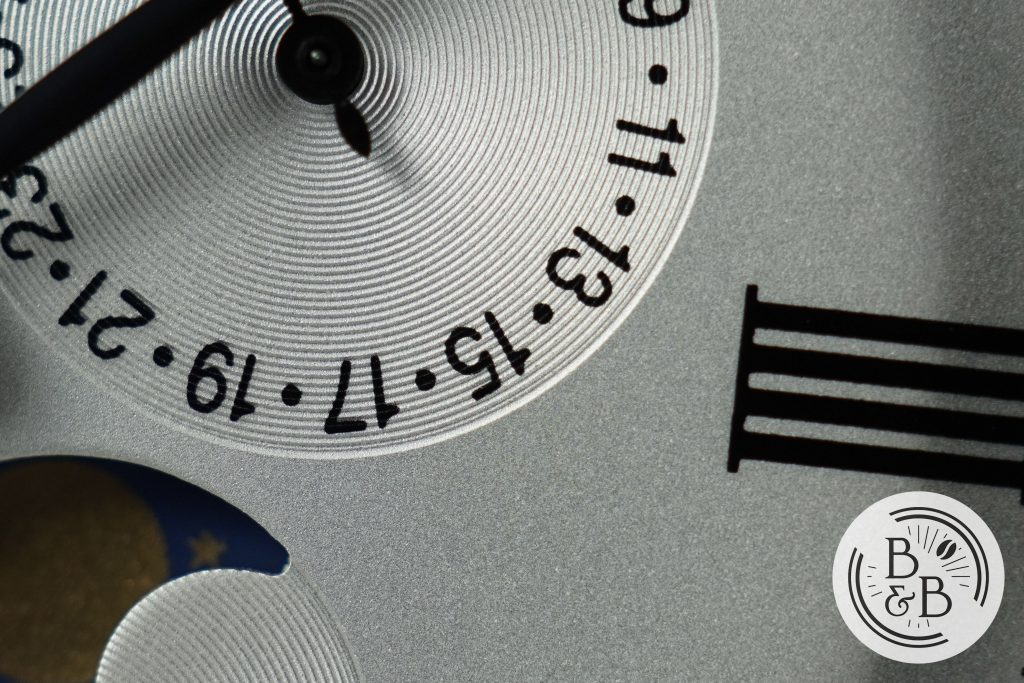 Overall, I love the dial design and layout. It is a bit busy, but I think they did a good job separating elements and keeping things clean.
---
Movement
This watch uses an FC260 Quartz movement. I haven't been able to find much information regarding this movement, but it is likely that at it's core this is a Swiss Ronda or ETA movement that was modified by Frederique Constant, as they do with most of their automatic watches as well.
---
On The Wrist
It should come as no surprise that this watch is excellent on the wrist. The 39.5mm diameter and 45.5mm lug-to-lug width are perfect for a modern dress watch, and fit my 6.25″ wrists well.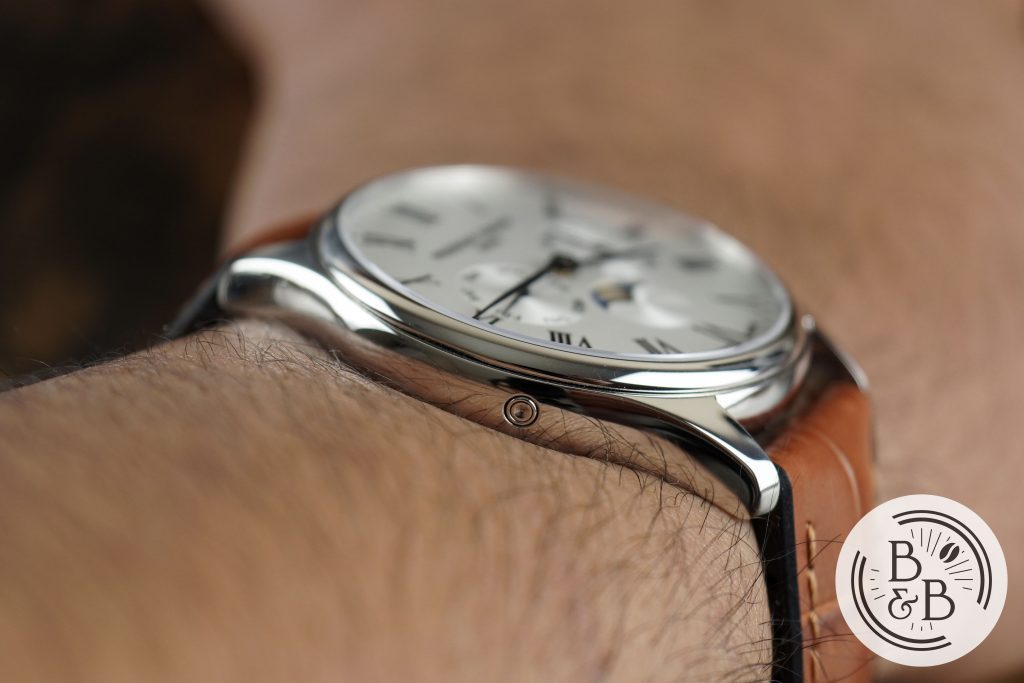 The 8.5mm overall height and flat case-back make it extremely comfortable and a pleasure to wear.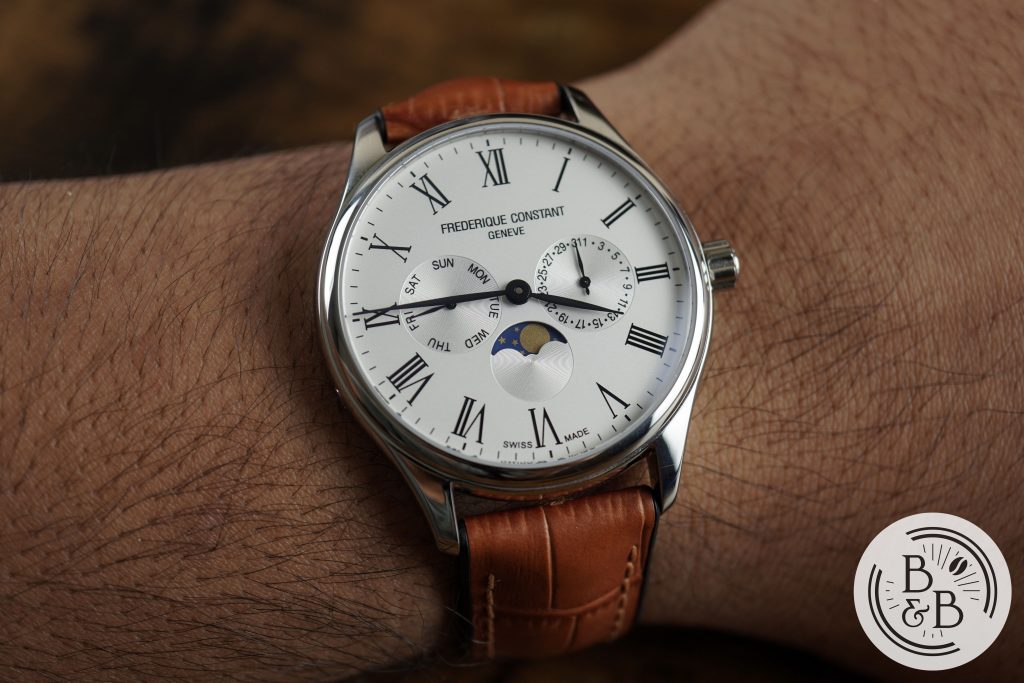 I have absolutely no complaints about the wrist presence and I think this is a perfect everyday work watch, that will pair nicely with all kinds of attire.
---
Concluding Thoughts
If you like the idea of having a moon-phase complication and you don't want to spend too much money or effort on an automatic watch, you can't go wrong with one of these. The build quality and finishing is great, and you're also getting some of that Frederique Constant pedigree, which doesn't hurt.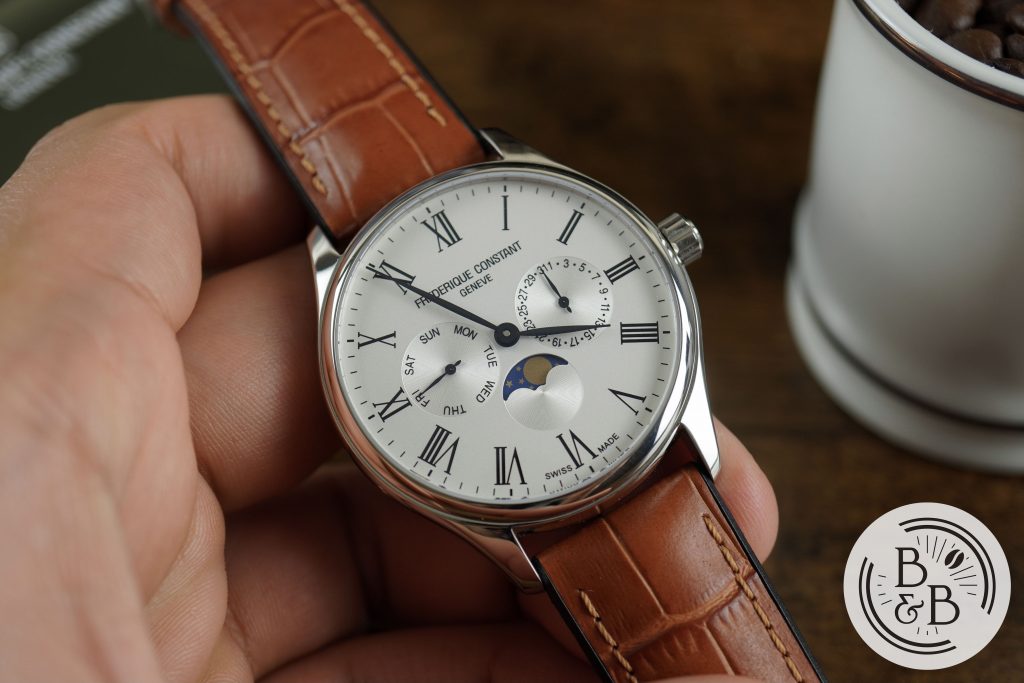 However, as with most Frederique Constant watches – don't pay retail. Spend a few hours on the internet, and find the best deal you can; grey market or otherwise. I found this available for anywhere between $400 and $475, and I think this watch pulls it's weight for $400. I was personally very impressed with the cleanliness of the dial, and the overall finishing.
---
Thanks for reading!