---
Disclaimer: I purchased this watch pre-owned and was not externally incentivized to make this review. This review is not sponsored by any entity. All opinions here are my own. Since this watch was worn/used for a few months, please make note that the experience might differ slightly from that of a brand new watch.
---
---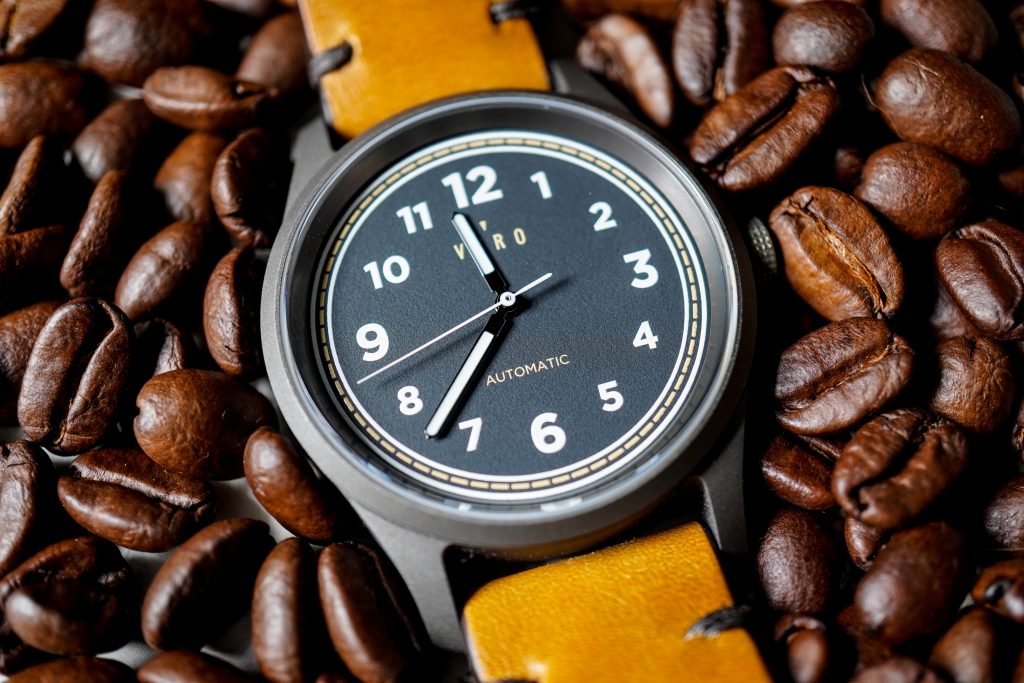 Why Vero?
Vero has been on my list of brands to review primarily because of their piston sealed crown design. This puts them on a short list of new micro-brands that have innovated in terms of engineering or manufacturing. On this list are also Formex, with their case suspension system, Mauron Musy with their No-Ring technology and a few others, that I will eventually write a dedicated post about.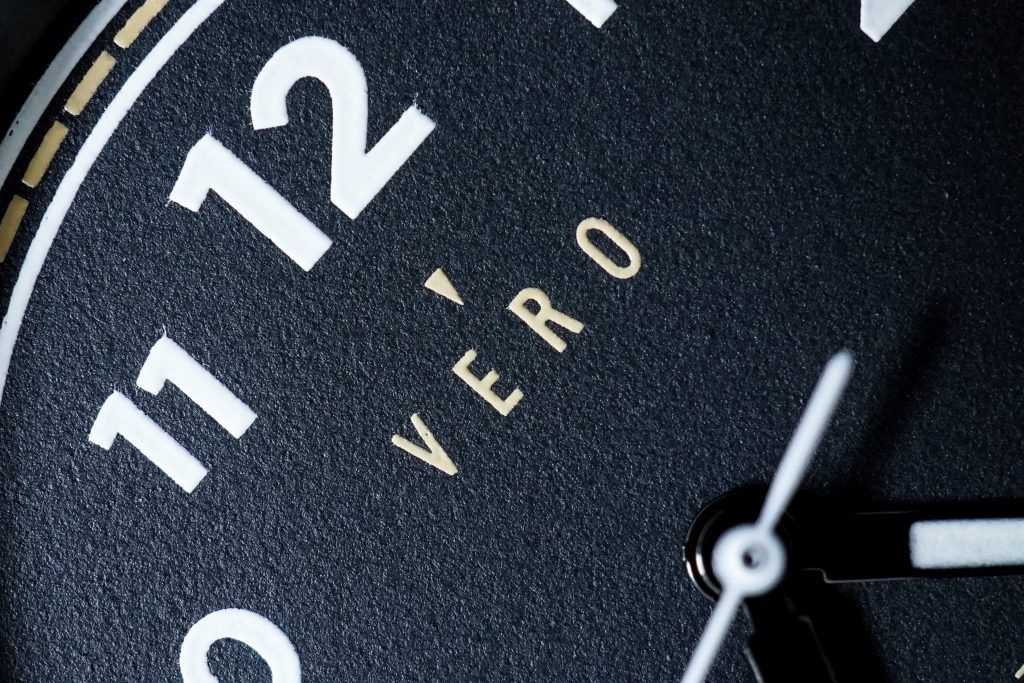 Vero is based in Portland, OR (USA) and they pride themselves in the fact that most components in watches are manufactured in-house, from the Grade 5 Titanium case, to the ceramic coated brass dial and the interesting piston sealed crown system. I've often heard people ask why these relatively simple looking watches cost over a thousand dollars, and I'm going to make an educated guess and say that manufacturing and finishing almost an entire watch (minus the Swiss Sellita movement) in the US is the reason for this. But does that $1120 price tag deliver than just a "Made in the USA" label? Here I'll be looking at the Vero x WindUp Granite 38mm collaboration watch between Vero and the Worn & Wound team.
---
Case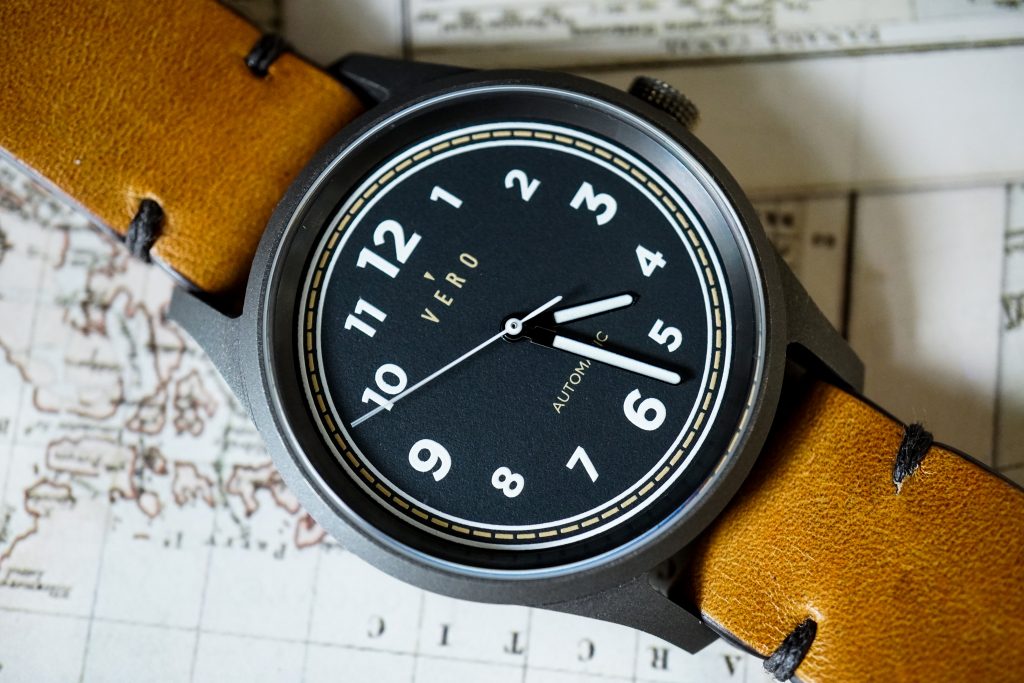 The case is manufactured in-house and measures 38mm (diameter) x 48mm (lug-to-lug) x 10.8mm (height). It is made of 6AL-4V Titanium (Grade 5). It has a media blasted (sand, or other) finish, that is then chemically treated to achieve the 'aged' and 'dark' appearance. The lugs are well proportioned and are drilled through, making strap changes a breeze. The crystal is a 1.5mm thick flat sapphire crystal and is extremely clear without any distortion at the edges.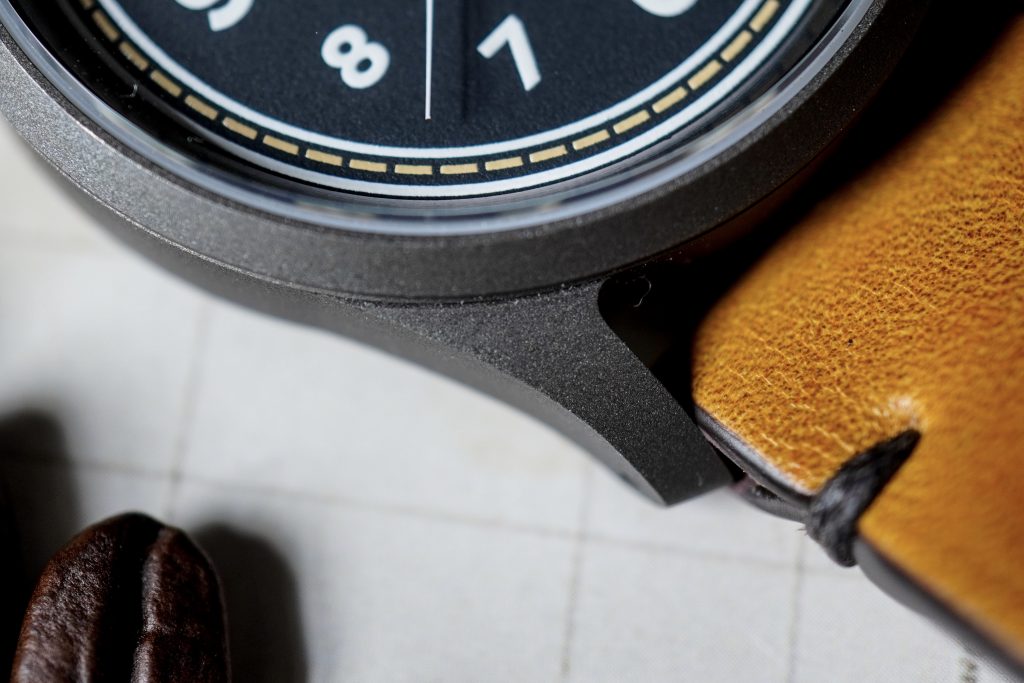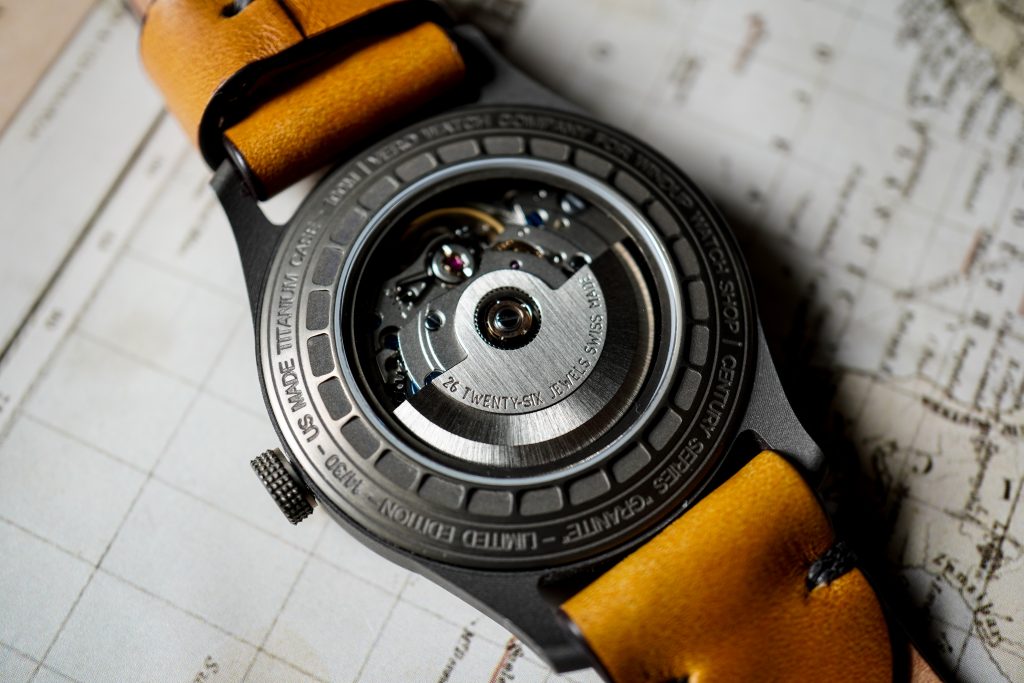 The case-back and crown appear to be made of Titanium as well, except that they aren't finished in the same style as the rest of the case. The case-back has a radially brushed finish and is one my favorite aspects of this watch. It has an interesting pattern, between the exhibition crystal and the outer specification engraving, that I assume is also used to unscrew the case-back. The exhibition crystal is a 1mm thick sapphire crystal.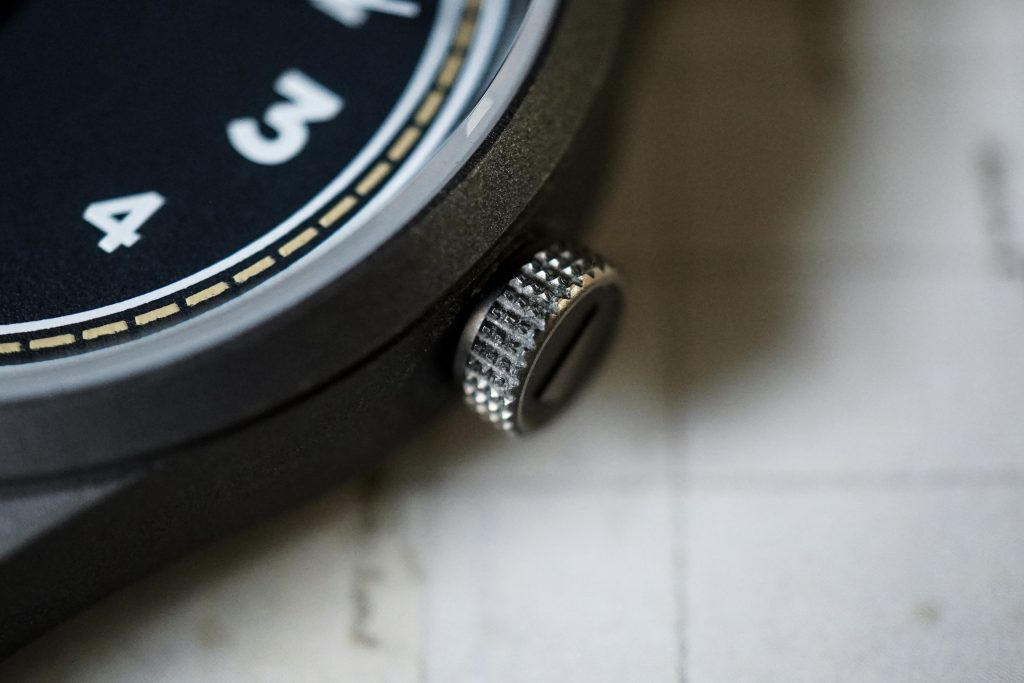 The crown is where a lot of the fun is. – Vero has designed and manufactured a piston sealed crown system, which they claim requires extremely tight manufacturing tolerances to achieve. This innovative design allows the watch to maintain it's 100m of water resistance even when the crown is pulled out. Since this is proprietary technology, not much information is available on their website regarding their crown assembly. But as far as I can tell, their crown tube is piston sealed to the case and creates an additional water resistant seal, making it water resistant whether the crown is pulled out or pushed in. That's pretty awesome! And if you think about it, typical water resistance in watches is still relying on age old technology. For this feature alone they have earned my respect. There are still so many aspects of watch design that rely on age old manufacturing and design practices, and I think we need more innovative micro-brands like Vero to try and fix them.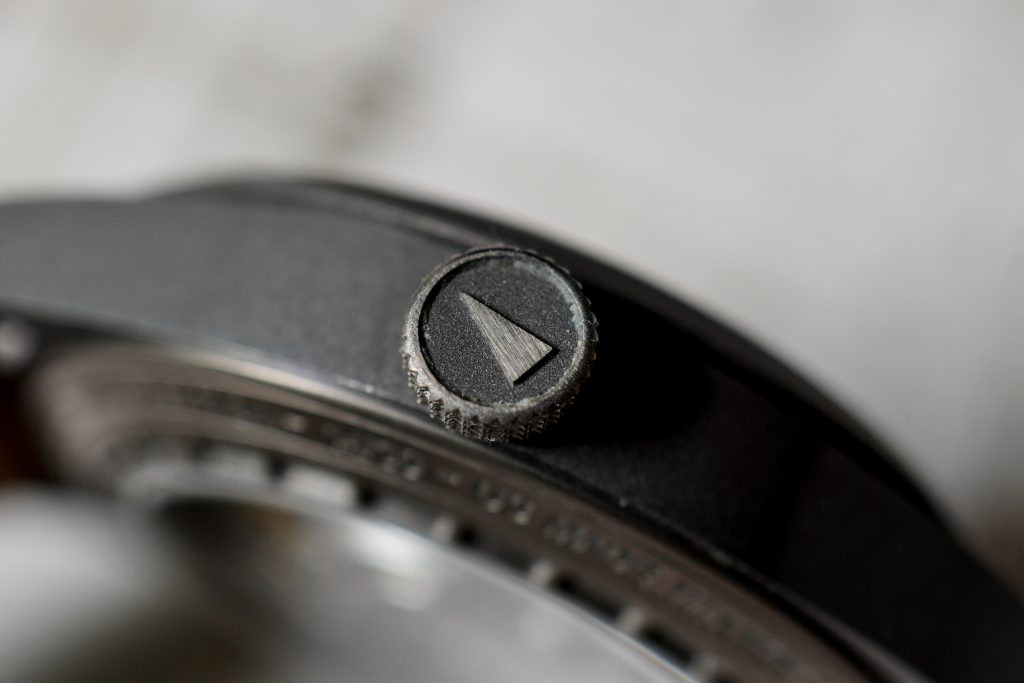 Initially, I had planned to record a video of me submerging the watch in water and pulling out the crown to verify the above claims. But then I realized that I need to sell this watch after this review, and therefore decided not to give into those ideas. So let's just take their word for it, for now.
---
Dial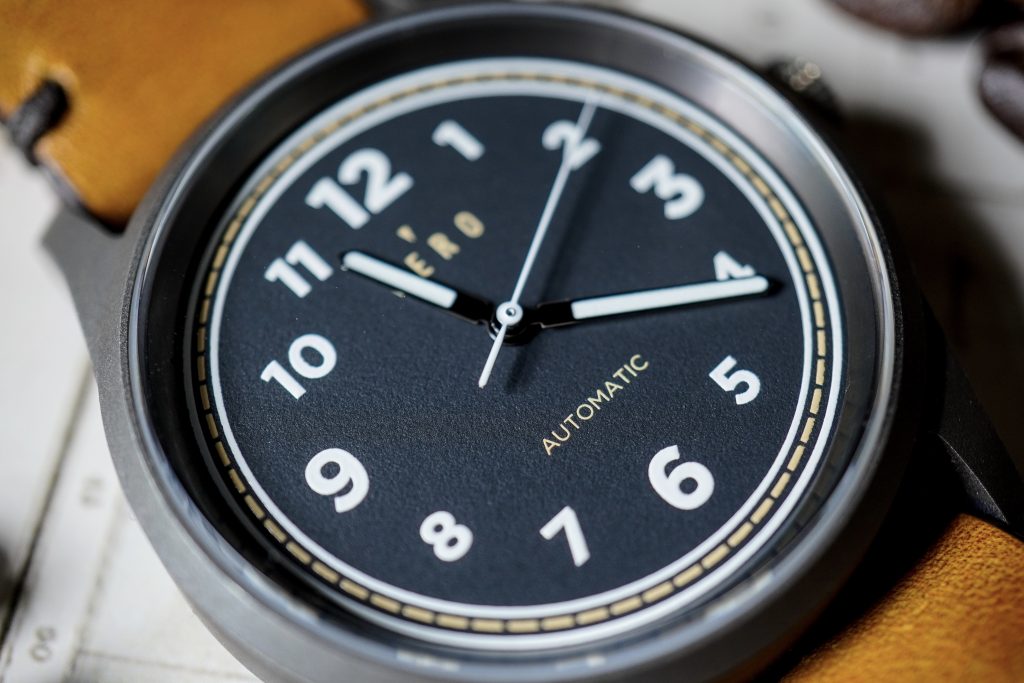 The base material of the dial is brass / copper. It is then coated with a dark gray ceramic, and the remaining dial elements are printed onto it. The overall finishing of the gray ceramic dial is an interesting rough 'matte' finish. Although gray, this ends up looking black under certain lighting. The dial characterized by three colors – black, white and tan. There are tan printed elements at the 12 and 6 o'clock position of the dial. There is a tan dashed minute track that is sandwiched between two solid white tracks. In terms of the overall appearance, this looks great and fits well with the overall theme of the watch.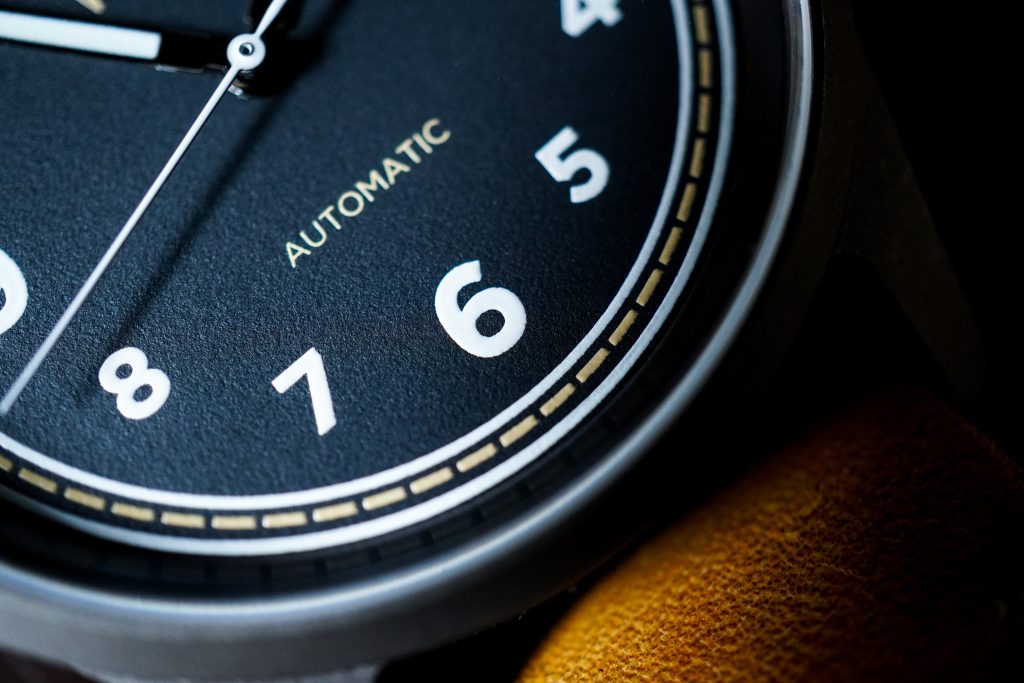 The numerals are printed in white and are not lumed. The watch has a simple set of hands, with polished black-oxide coated hour and minute hands that are filled with Super-LumiNova. The seconds hand is painted glossy white. The lume on the hands is just alright – nothing exceptional, or worth noting.
While I do like the appearance of the dial, I do have a few problems with it in terms of functionality. First, the seconds hand does not extend far enough for easy seconds tracking. I would have preferred if the seconds hand extended over the first solid white track and up-to the dashed tan minute track.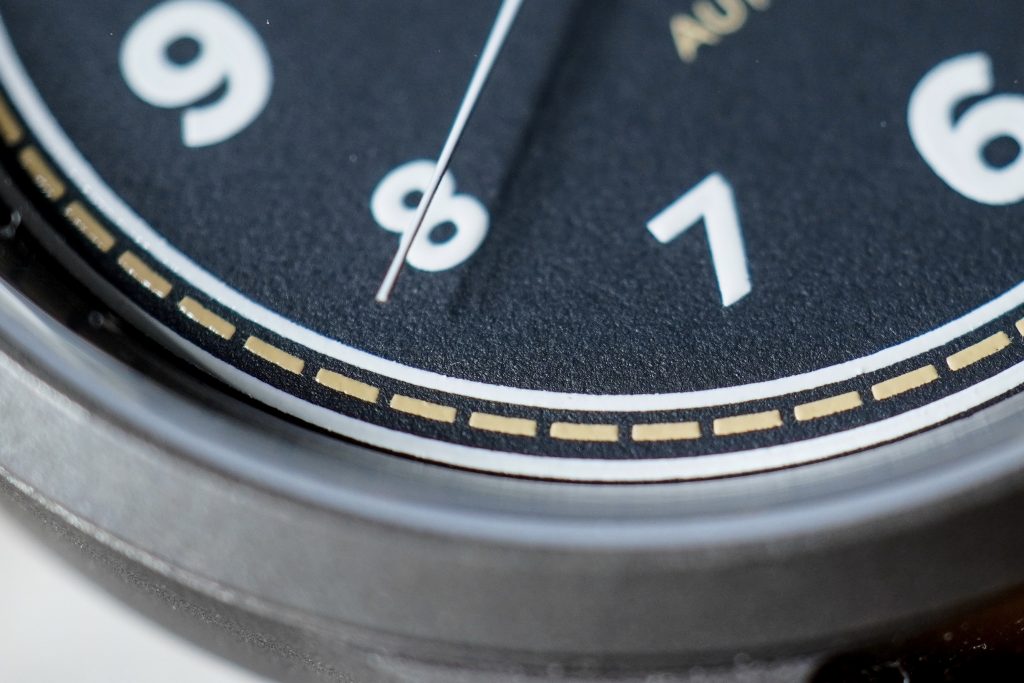 I feel this way because of the second point I'd like to make – the tan dashed minute track is very difficult to navigate. Typically you would have seconds markers that are graduated for intervals of five minutes, where the 5th graduation is larger than the rest, or different in some way. Here each graduation is the same, just more dashed lines. So if you're trying to read the time accurately, you're likely to get confused within this five minute or five second interval, because all you have for design pivots are the hour numerals. From a design perspective, having a minute or seconds track with elements perpendicular to the hand in focus is tricky, and these tan elements make it somewhat difficult to read exactly what second or minute the hands are pointing to.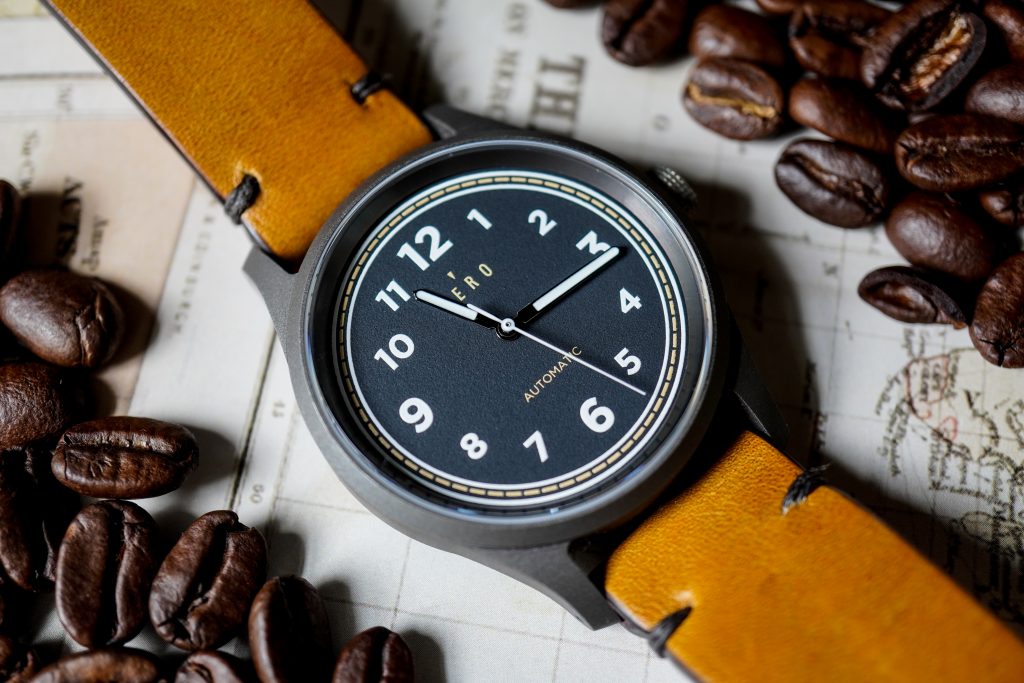 If this was a dress watch, I'd be significantly more forgiving of this design decision. But Vero and W&W intended for this watch to be a "military/hiking field watch", which to me does entail the need to be easily readable. And in my opinion, this design doesn't allow that.
But in terms of overall quality of finishing, I think this watch is excellent with no stray particles, dust or dirt on the dial or hands. I did notice some extremely small print smudges under the macro lens, but I think that is an unfortunate byproduct of printed dials. In some strange way, this "imperfection" does add a bit of character to the dial, even though it is only visible under a macro lens or loupe. So overall, this dial gets my vote for appearance and finishing, just not functionality.
---
Movement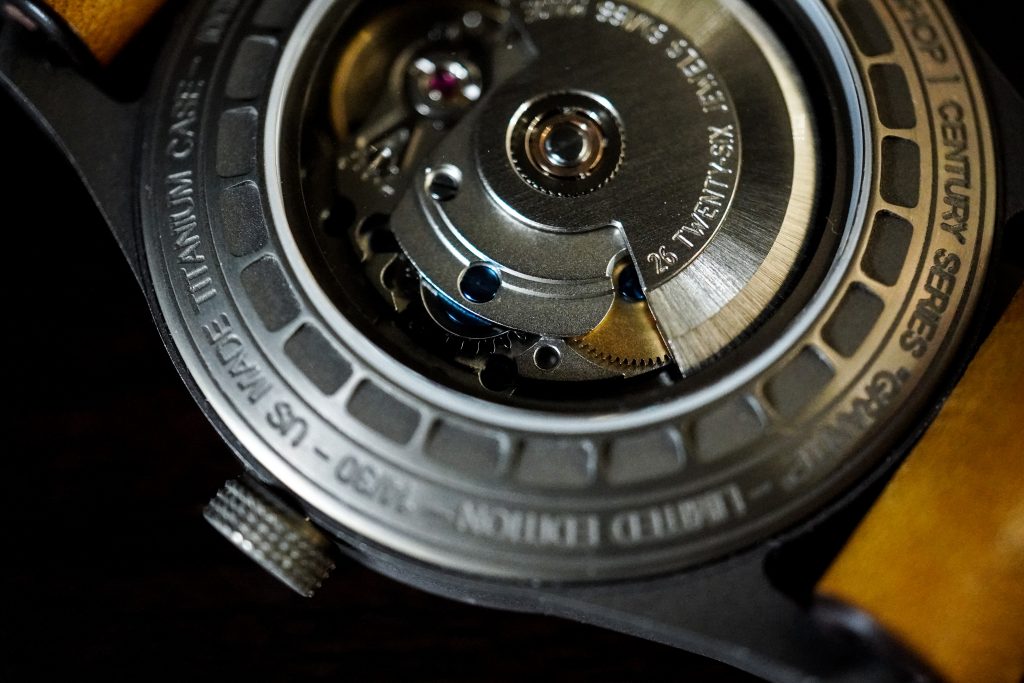 This watch has a Swiss Sellita SW200 movement that is on full display thanks to the exhibition case-back. I've reviewed plenty of watches with this movement, but haven't had one with a visible movement until now. If you've read my other reviews, you'll know that I'm a fan of the SW200 so I don't have a problem with this choice at all.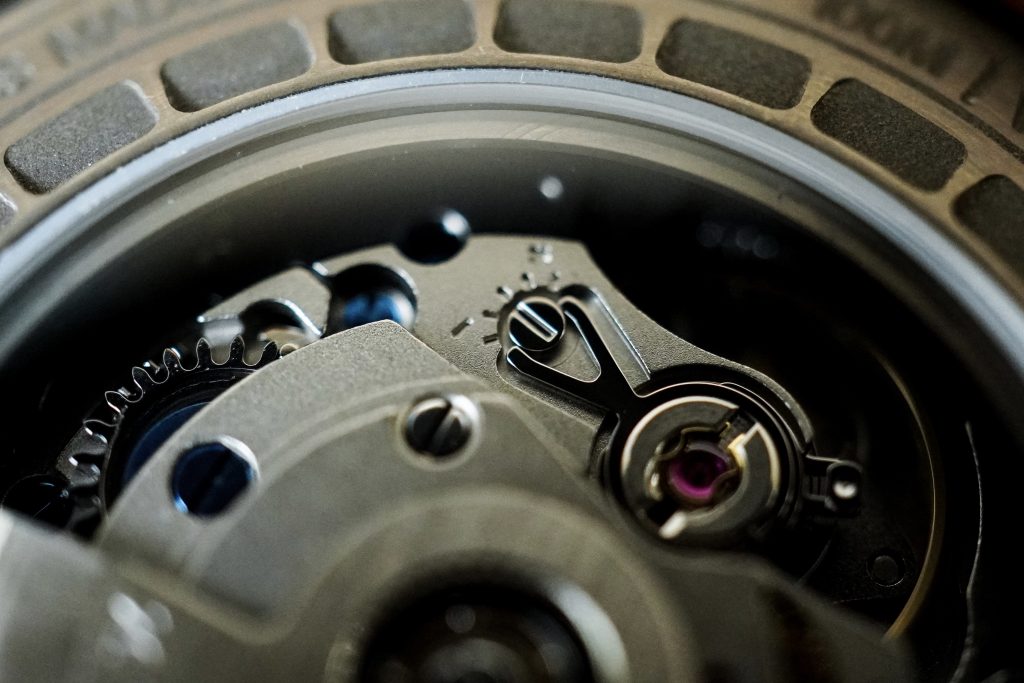 I logged this watch for 3 days and observed an average accuracy of roughly -3.8spd (-5 when used daily, -2 when not on wrist). Vero state that they adjust these movements in 6 positions to +/- 5spd.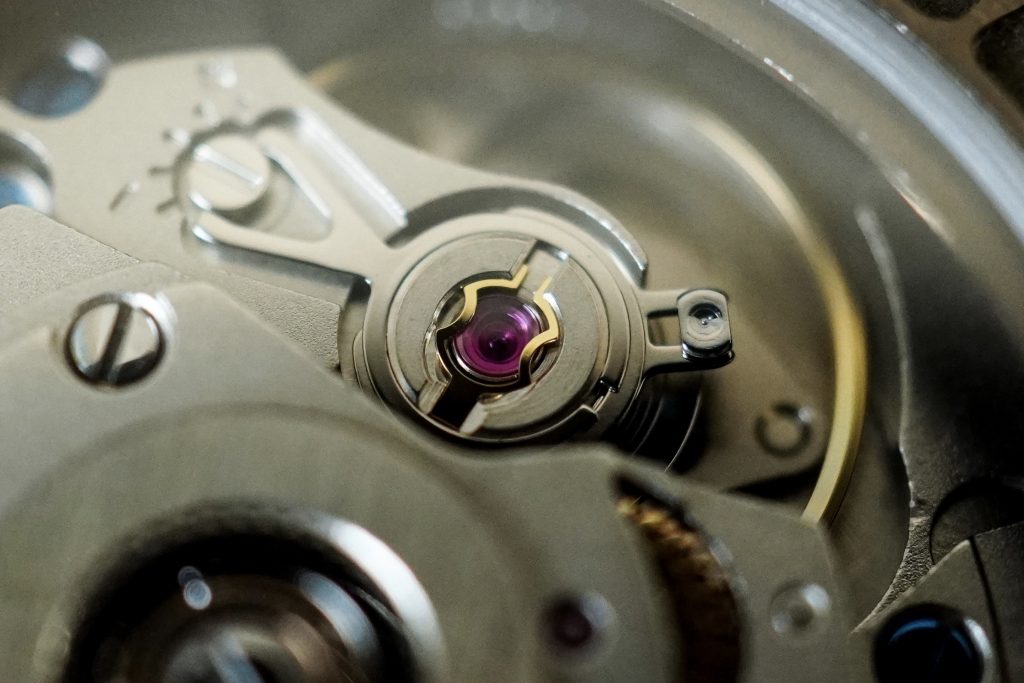 I also appreciate how clean the movement is, without any dust or micro particles that you can occasionally see in cheaper watches with exhibition case backs. Between the clean dial and the clean case-back, I'm very impressed with Vero's quality control.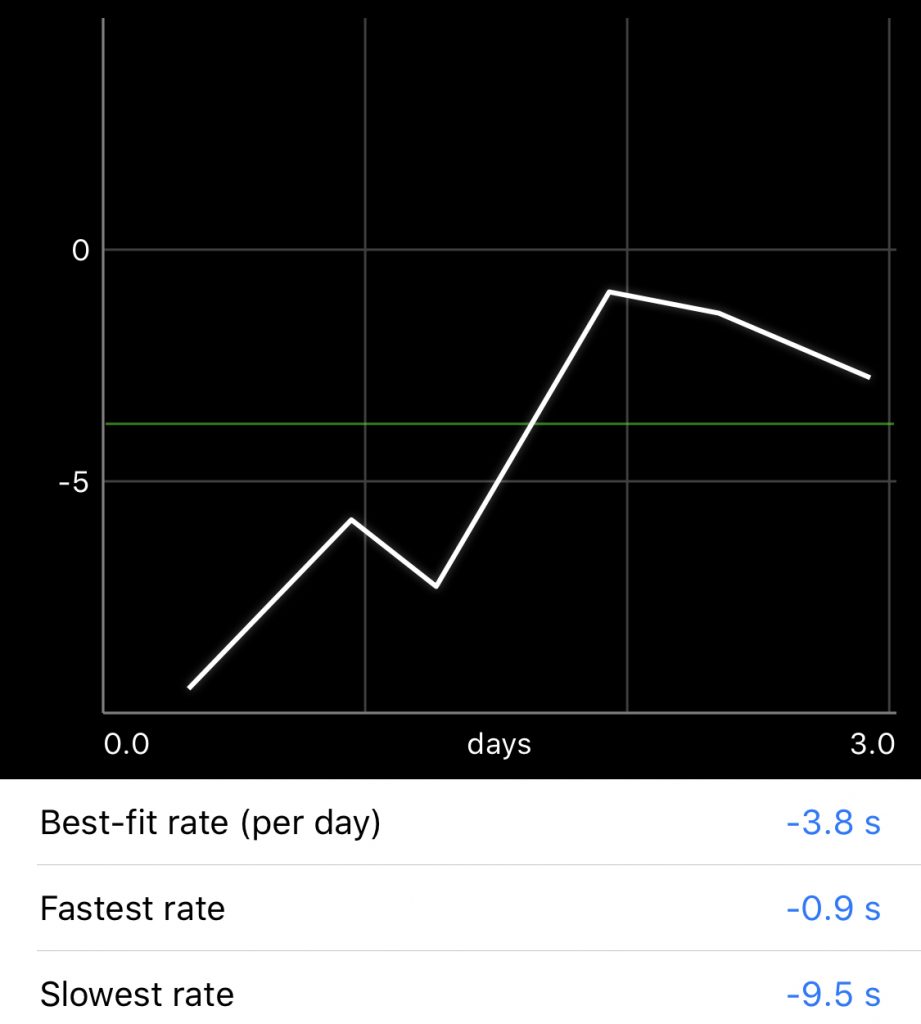 ---
On The Wrist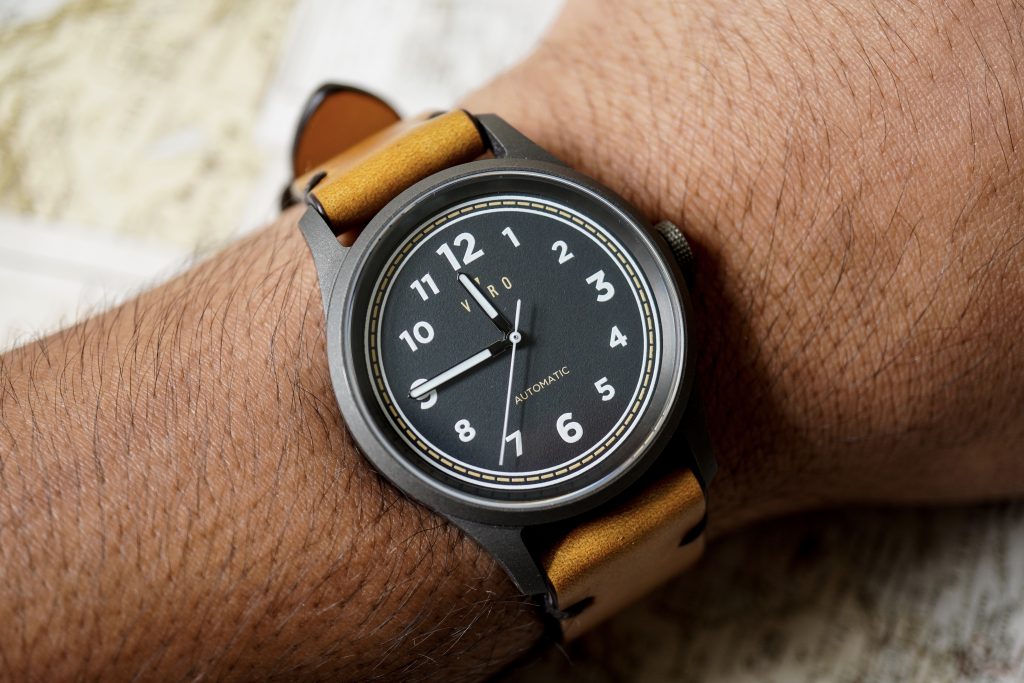 The 38mm x 48mm x 10.8mm dimensions are perfect for my 6.25″ wrist. I love the way this watch wears on the wrist, from the perfect case dimensions to the negligible overall weight because of the Titanium. The 10.8mm height means it will sit very low on the wrist and definitely has a field watch wrist presence.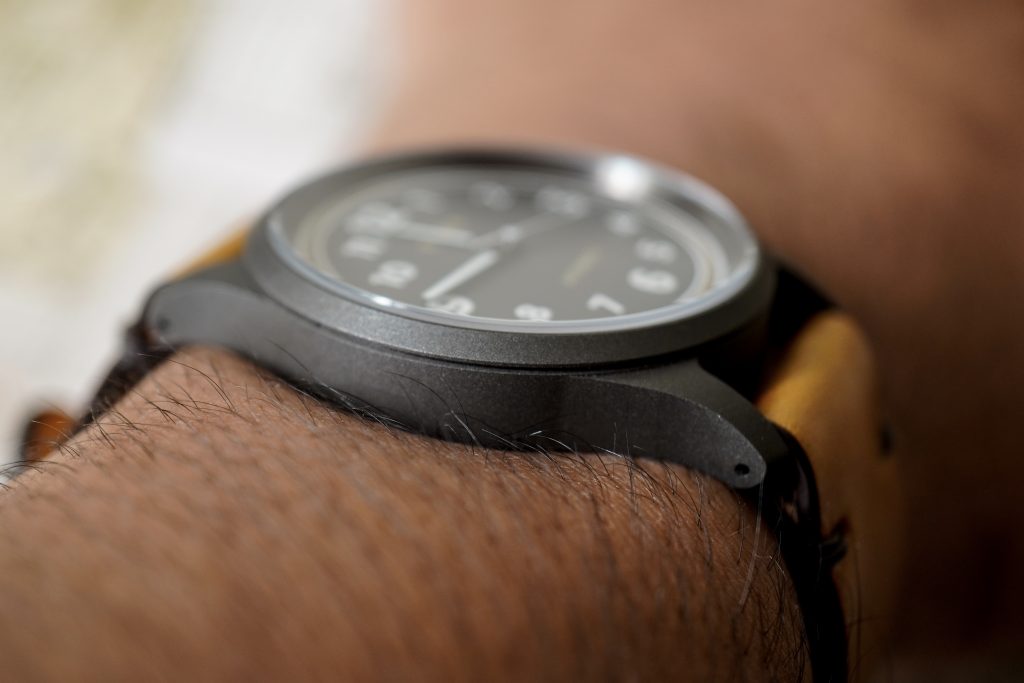 This watch typically ships with WindUp's Model 2 Premium 'Peanut Brown' strap, but it appears the original owner of this watch opted for the 'Rye Tan' instead. I think the Rye Tan suits it better, so I'm glad he did. The strap is very comfortable and made of high quality materials. I would've preferred if the color of the buckle and hardware matched that of the case, but that maybe asking too much considering the case is oxidized, blasted Titanium.
---
Concluding Thoughts
To wrap things up, I think this watch is very good in terms of build quality, engineering innovation, appearance and finish. It has a good movement that is regulated to keep tight bounds on accuracy and it is an extremely comfortable watch to wear. It has manage to capture the Timex-like aesthetic from the 90s (I think?), and packaged it into a watch that is very well made, and made in the USA. Personally, the minute track together with the short seconds hand makes it somewhat of a deal-breaker for me, but there are plenty of other Vero owners that don't seem to be as bothered about this as I am. To each their own, I suppose.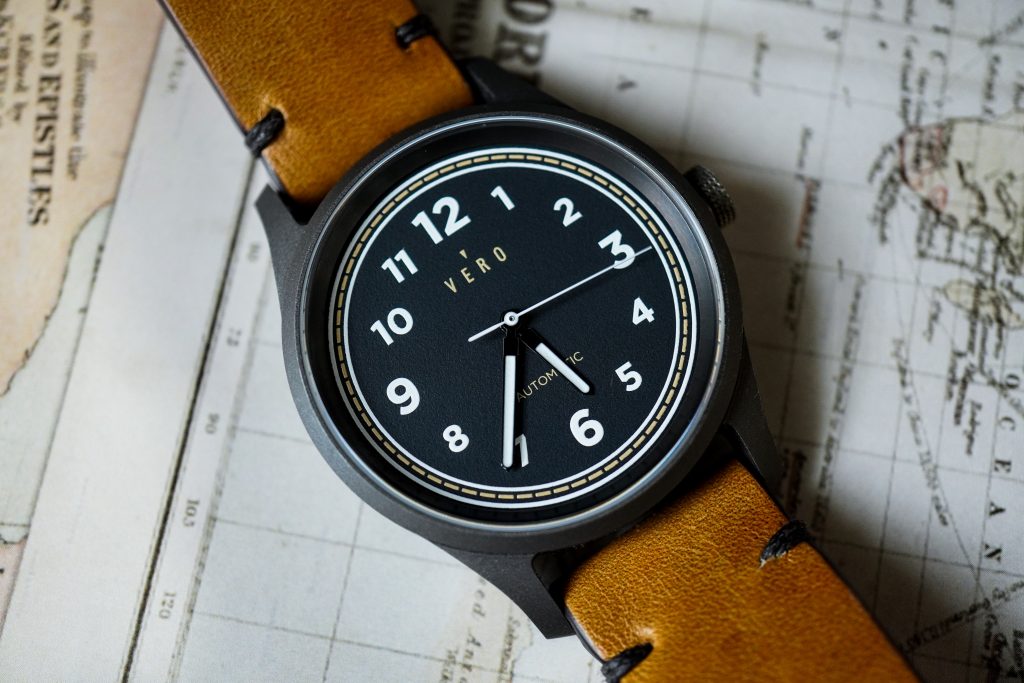 But at the original retail price of $1120, I think this watch does justify it's price tag with the excellent in-house manufacturing and high quality materials. But I think there are two main characteristics that watch enthusiasts will (rightfully) gravitate towards – it is proudly made in the USA (at least mostly) and it has a really innovative crown system that is unlike most watches you see today. However, for maximum value, try and find one pre-owned just as I did. If it's within the 2-year warranty period, Vero will cover any damage, no questions asked.
I hope you enjoyed reading this review! Thanks for stopping by.
---