---
Disclaimer: This watch was sent to me to review, and I do not need to return it after my review is complete. This watch was given to me without restriction, and is not contingent upon a particular outcome for my review. All opinions here are my own, and Undone had no influence over the opinions stated here.
---
---
Contents
---
Undone
If you browse a lot of watch related content on YouTube and Instagram, you probably already know of this brand, and know where they fit in, in the watch world. They do a good job of treading the line between fashion watches, themed watches and enthusiast watches. This brand doesn't take itself too seriously, loves to dabble with creative collaborations, and also has a pretty strong following now. I think the first I began following this brand was when they started releasing comic book collaborations, and I came very close to buying their first Batman watch a while ago.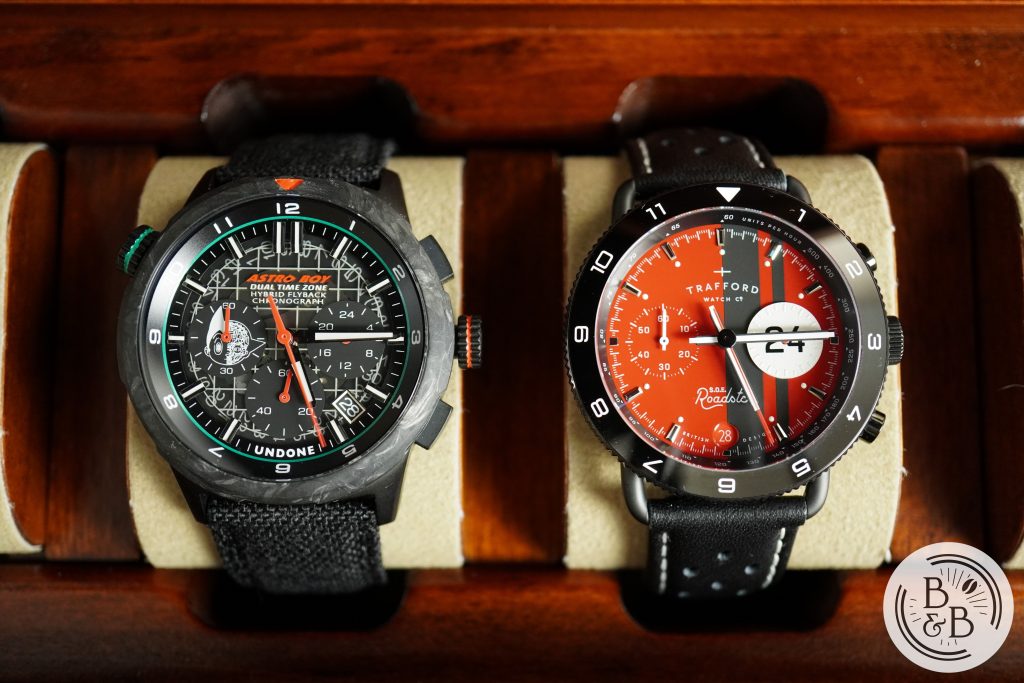 So when they reached out to me and asked if I would be interested in reviewing one of their latest releases, I didn't hesitate to say yes. And before we begin, I should say that I'm not familiar with anime or Astro Boy, and I decided to review this watch only because it looked very futuristic, and very cool.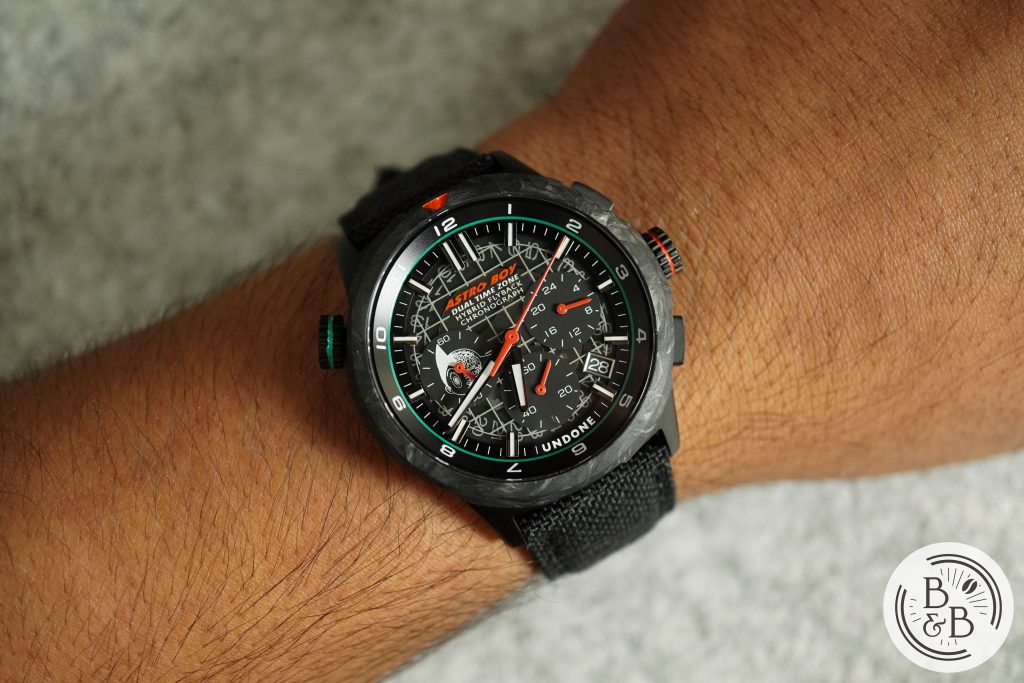 Astro Boy was the first Japanese Anime on TV, and premiered in 1963, and ran up-to 1966 with 193 episodes. Astro Boy is one of the most successful manga and anime series in the world, and is a sci-fi story set in the future, and revolve around Astro Boy, an android.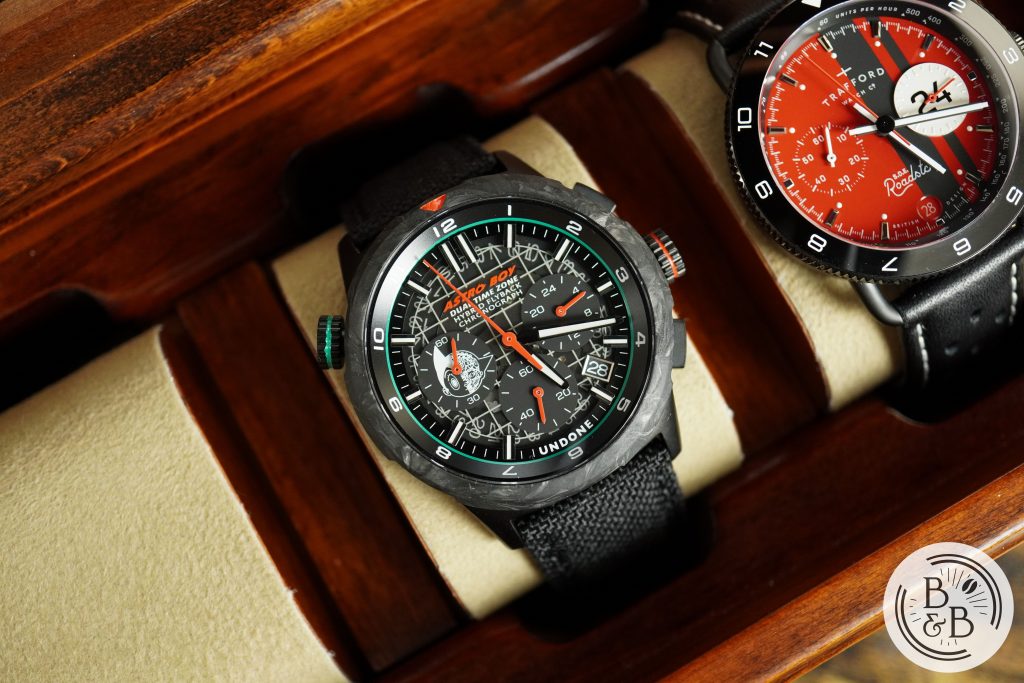 The Undone Astro Boy is a themed watch that has a Seiko VK63 meca-quartz chronograph movement, interesting materials like forged carbon and a transparent dial, interesting lume design and a retail price of $449. I don't need to return this watch after my review is complete, but this review was not paid for in any other way.
Let's check it out!
---
Case
I measured the case to be 42 mm in diameter, 46.5 mm from lug-to-lug and 12 mm tall. The case is made of stainless steel, but has a black DLC coating and a matte finish. Affordable watches with PVD coating tend to look cheap more often than not, but this DLC coating is definitely a step up and the overall finishing is good.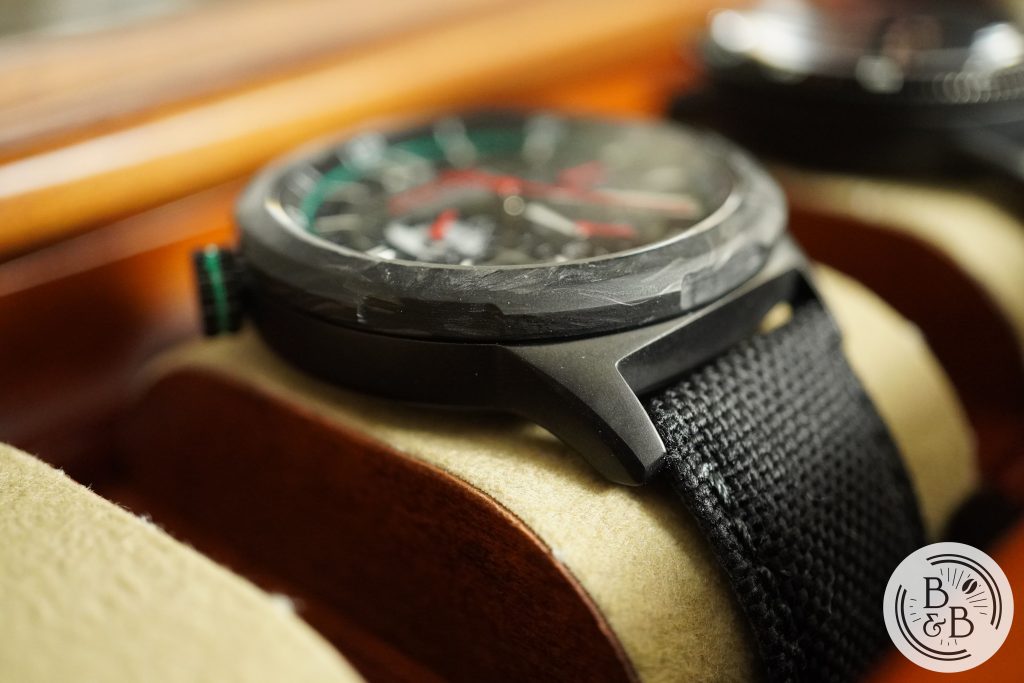 The mid-case extends out into a pair of very short lugs that dramatically curve down towards the wrist. The lug width is 22 mm and the lugs are not drilled through.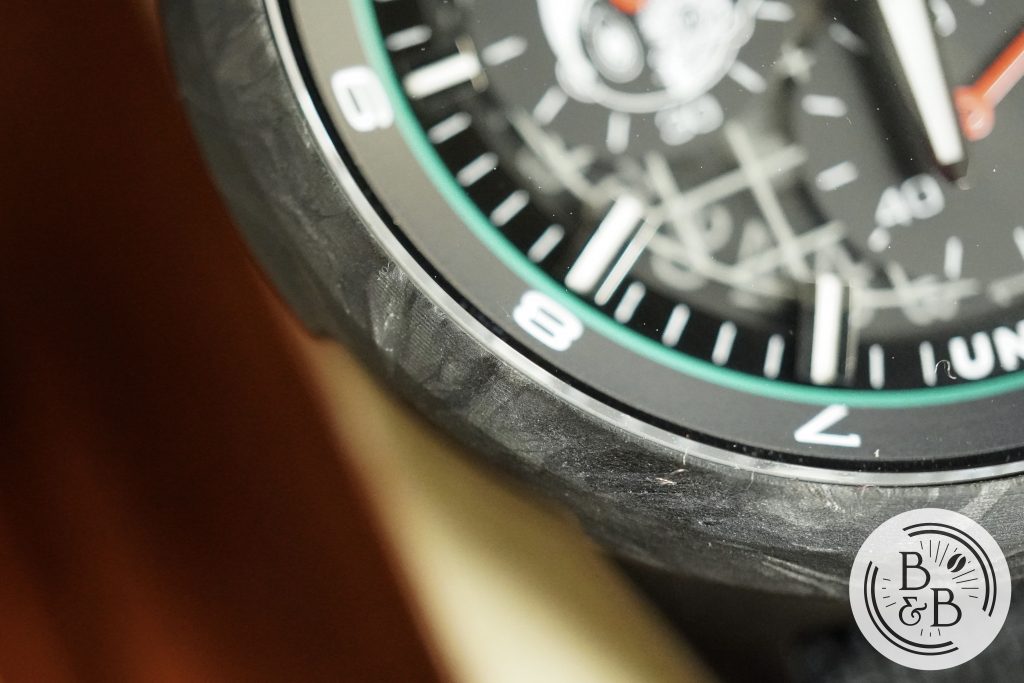 There is an outer rotating bezel made of forged carbon that looks great against the DLC black case. The bezel has a red triangle at the 12 o'clock position and lacks any other markings. I would've preferred if this bezel was fixed, as it does move in both directions and is friction fit. There is a flat sapphire crystal that has a good amount of AR coating.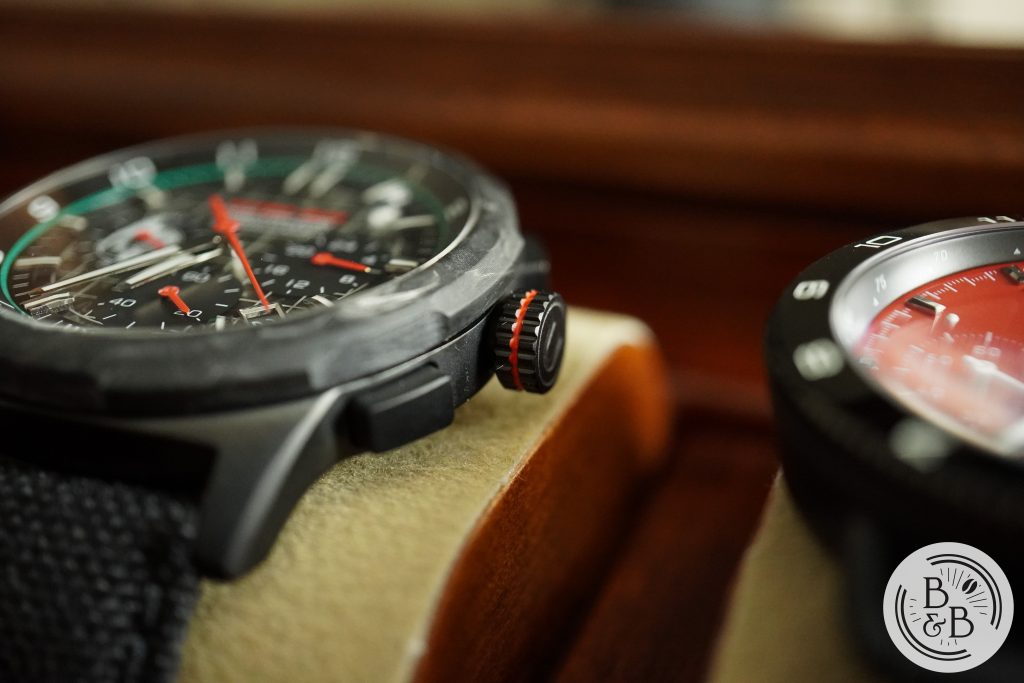 There are two crowns and two pushers – one crown at the 10 o'clock position that operates the inner rotating 12-hour bezel. The 6.3 mm crown is easy to grip and operate and has a green ring. The 3 o'clock crown is similar and has a red ring. There are two pushers to activate the chronograph mechanism, and they're all pretty sturdy and don't feel cheap.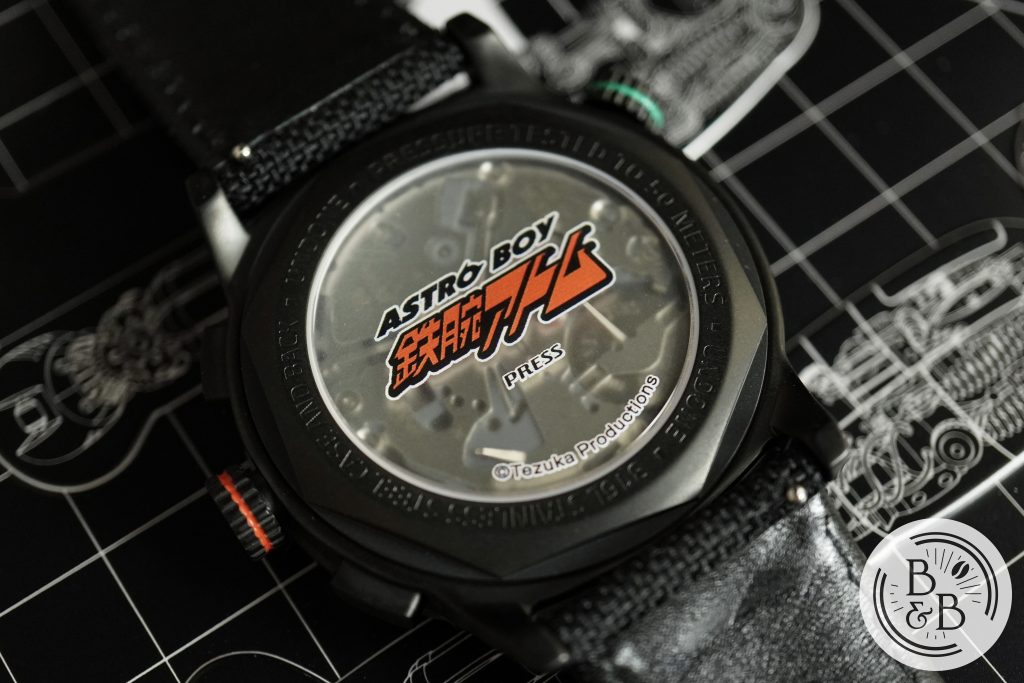 Flipping it over, you have a screw-down case-back with a frosted glass exhibition case-back that has the Astro Boy logo on it. I think the frosted appearance is very cool, and being able to see the meca-quartz movement is more appealing than I would've expected. I think the meca-quartz inner workings fit well with the theme considering Astro Boy is an android.
---
Dial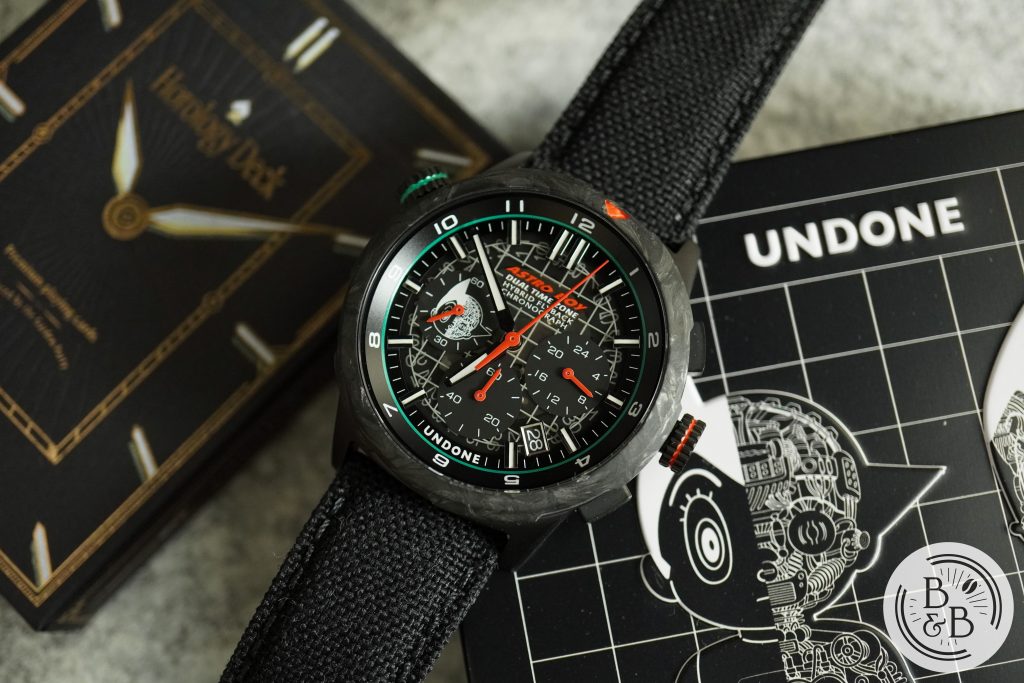 This dial has a lot going on, so I'll try my best to cover all of it, working my way from the inner bezel to the hands. The 12-hour bi-directional friction operated bezel is black with white numerals, and a fine green accent running along the bottom of the bezel. The printing quality is decent, and I think a 12-hour bezel is a useful addition to most watches.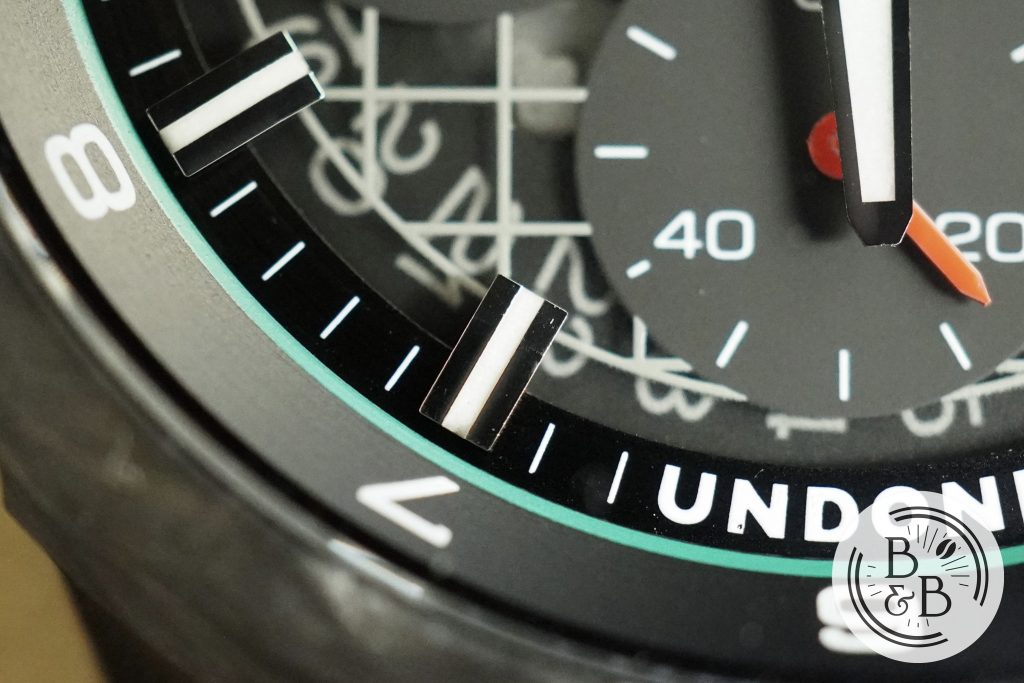 There is an outer minute track in black that has white ticks for the minute markers and applied indices for the hour markers. The quality of printing is adequate and this minute track is easy to read.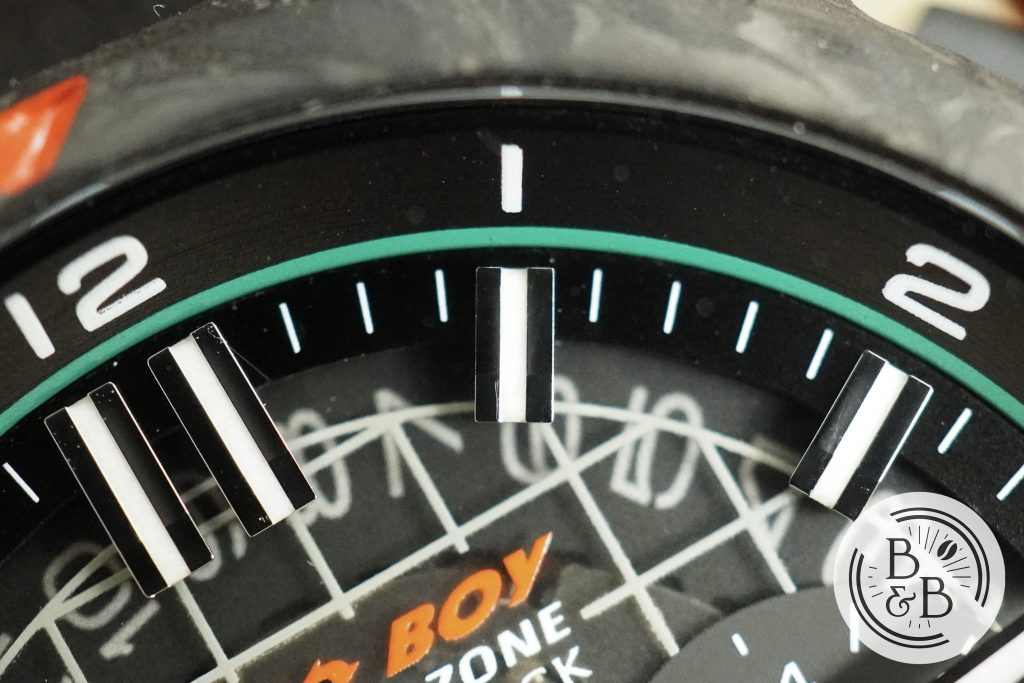 The indices look like they're cantilevered and floating over the rest of the dial, but they're just applied onto the transparent layer below it. This is a great design choice, and I think goes a long way in making this dial look modern and futuristic. The finishing on the indices is good, and they're filled with lume. They are not the cleanest though.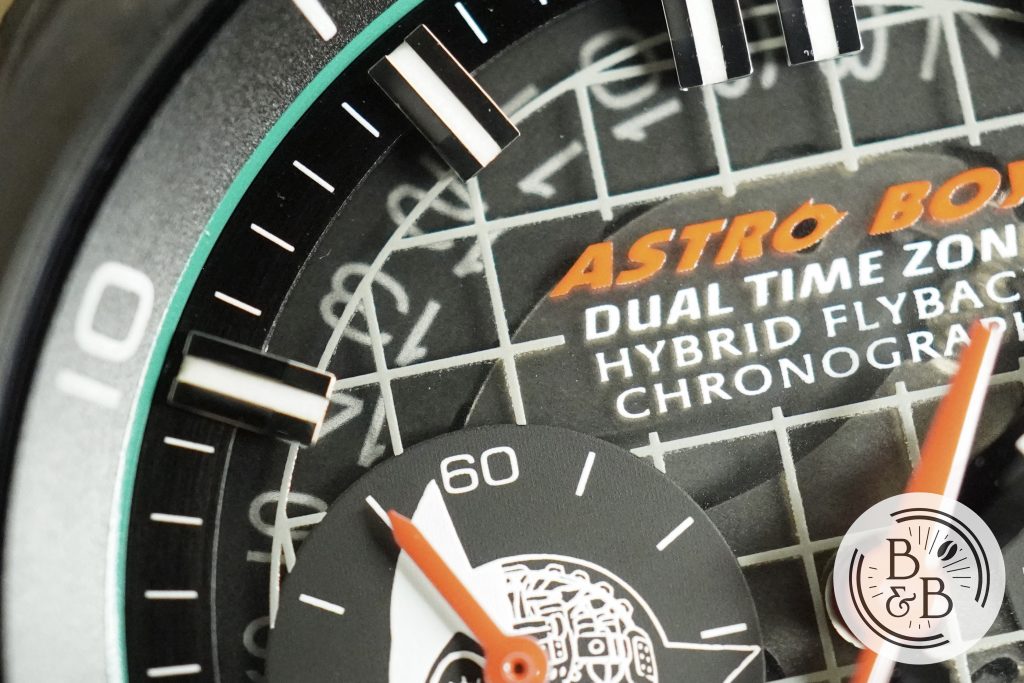 You then have the transparent dial base, that is likely sapphire, or some kind of transparent poly-carbonate, and has a grid pattern printed over it that is also lumed. You can see the meca-quartz movement under it, and also the rest of the date wheel.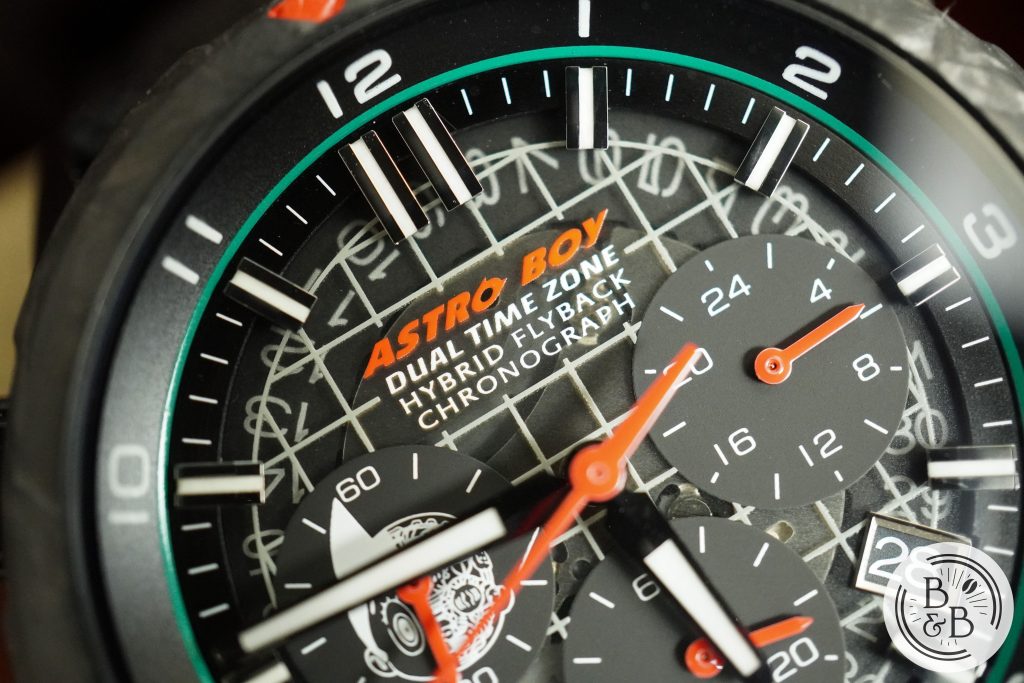 Astro Boy is printed below the 12 o'clock index along with some specs, and the quality of printing is good. You also have the brand's logo printed below the 6 o'clock index, which is executed well and doesn't attract too much attention.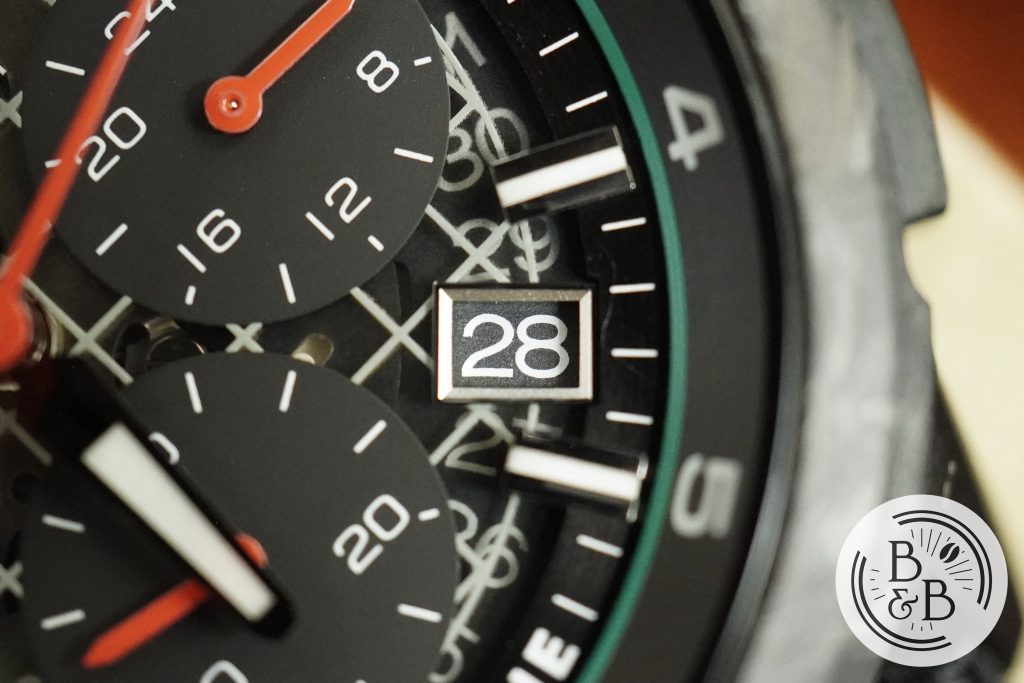 There is a date window at the 4:30 position that has an embedded steel frame, a black date wheel and white text. I would've preferred a more symmetric date window layout, but they didn't have too much of a choice given the movement, so I think it's OK.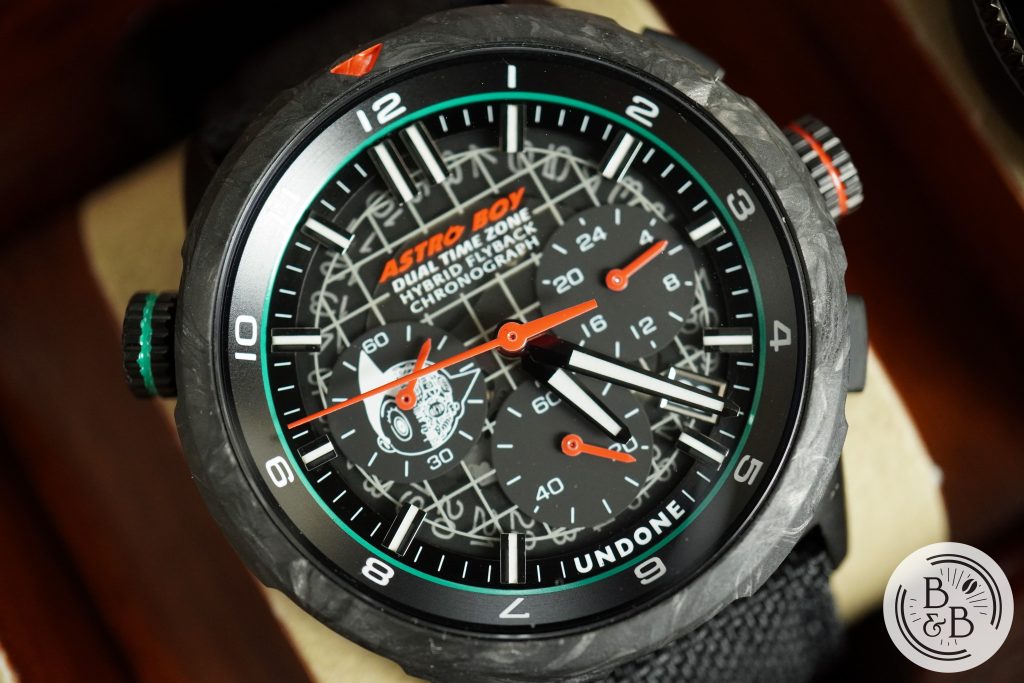 This is a triple register chronograph, with a running seconds hand at the 6 o'clock position, a 24 hour sub-dial at the 3 o'clock position and an elapsed minute counter at the 9 o'clock position. All three registers have a black base, white text and painted red hands. They're surprisingly easy to read!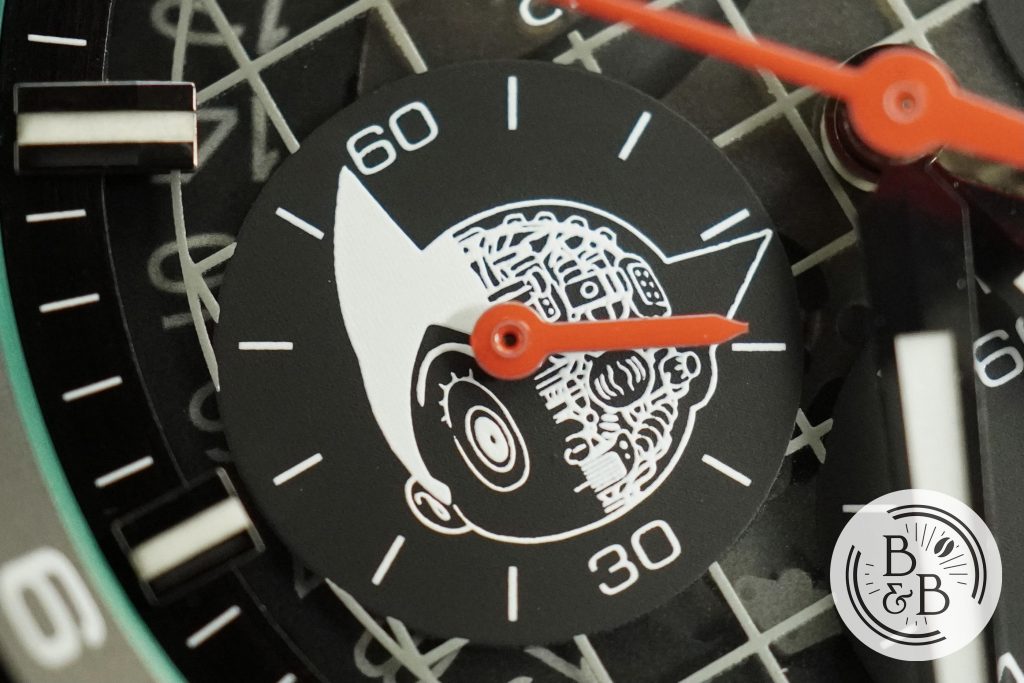 The most interesting of the three is the 9 o'clock register and the printed Astro Boy artwork on it. This serves as the only obvious Astro Boy design motif, and I think is the right amount of it. This logo also glows, which we'll get to in a bit.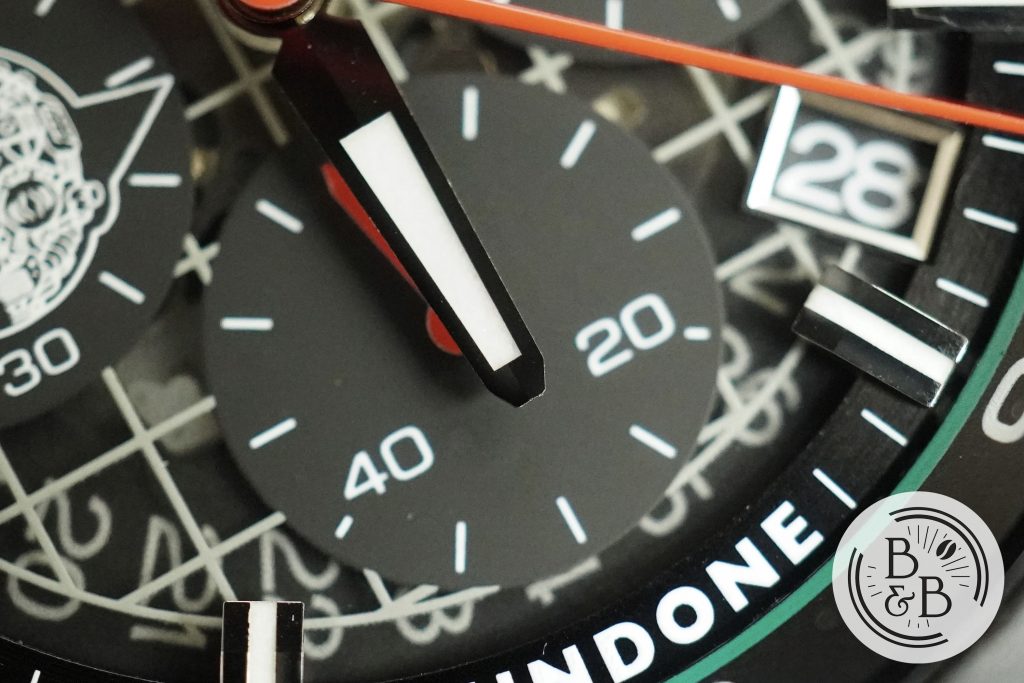 The hand set is well proportioned and well finished for the money. The minute hand extends over the minute track, and so does the seconds hand. The hands are high polished, faceted and filled with lume. The seconds hand is painted red and does not have any lumed elements.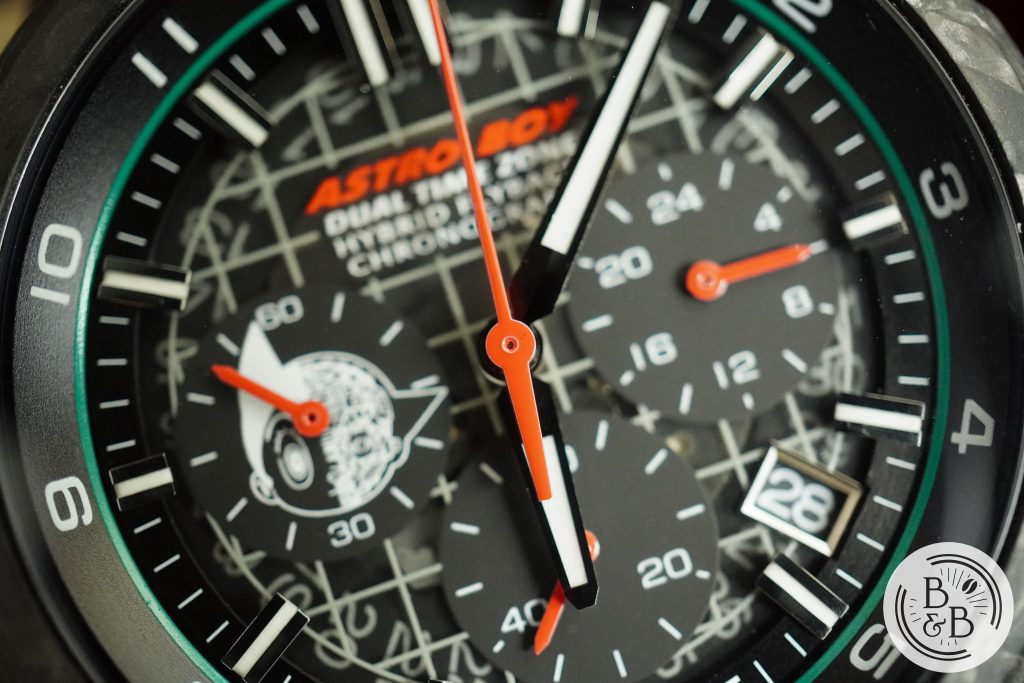 Overall, this is a busy dial, but with a watch like this, busy is what you want and busy is what you get. I like the sci-fi design theme, and the red and green color palette seems to work with the rest of the watch, and is a good throwback to Astro Boy's costume colors.
---
Lume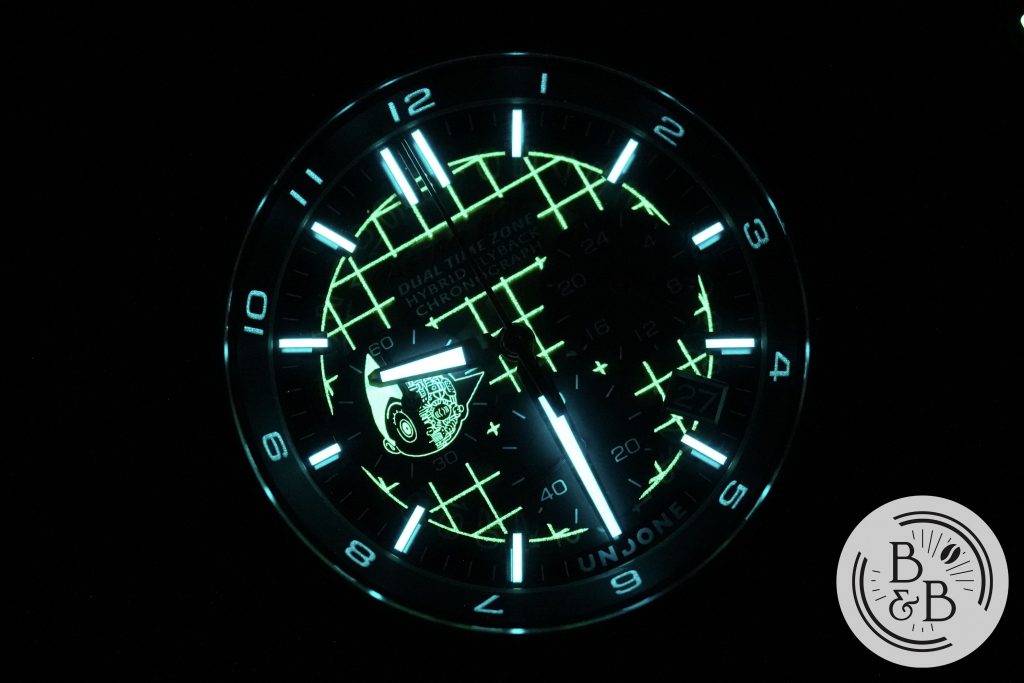 On a sci-fi inspired theme watch, you have to have good lume design, and I think this watch delivers. It uses bi-color lume on the dial, with green lume on the printed dial elements and blue on the indices and hands. As you'd expect, the printed elements fade away quicker than the filled ones, but the filled ones are most important for legibility anyway.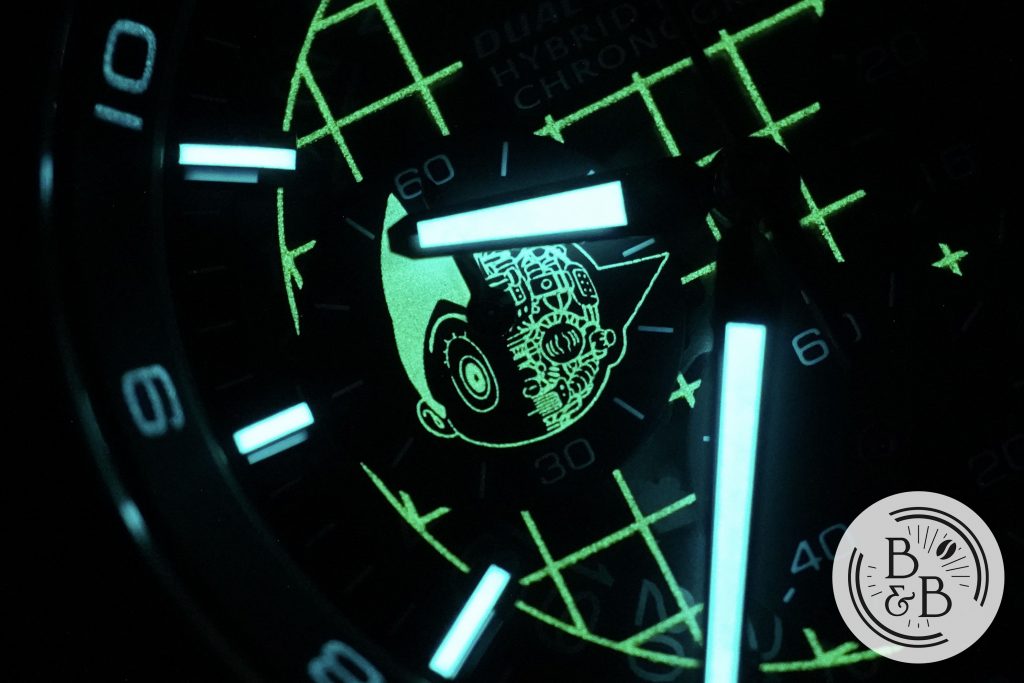 The Astro Boy artwork at the 9 o'clock index glows too, and I think that is pretty cool. The grid that lights up at the base of the dial goes a long way in delivering a futuristic design aesthetic.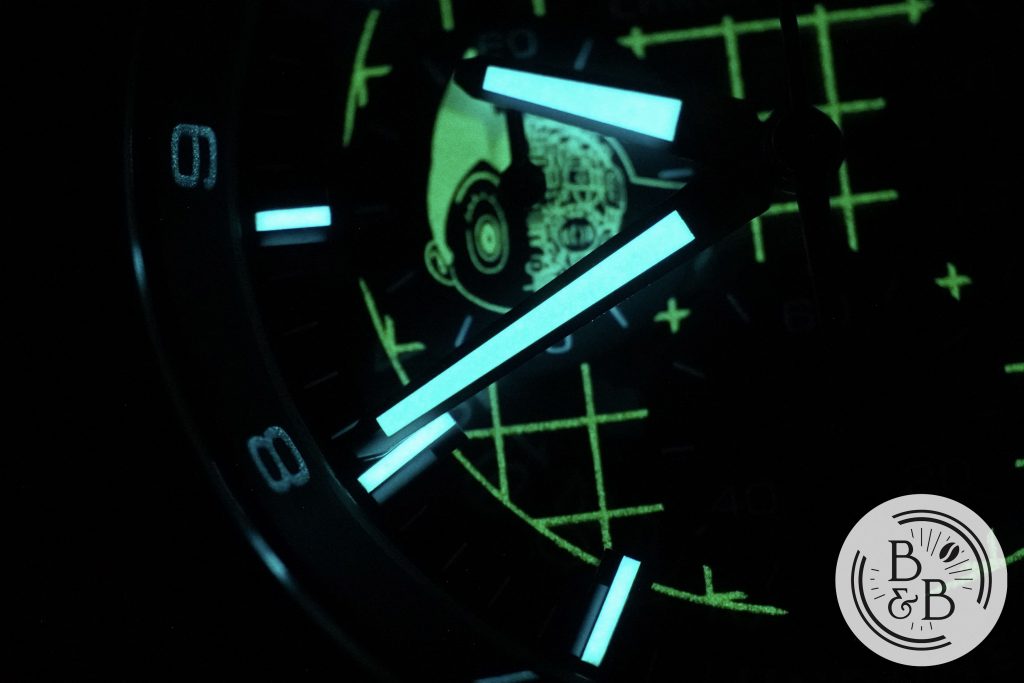 The lumed indices are generously filled and glow reasonably bright and have good longevity. The hands are well lumed too, and I don't have any complaints about the lume on this watch.
---
Movement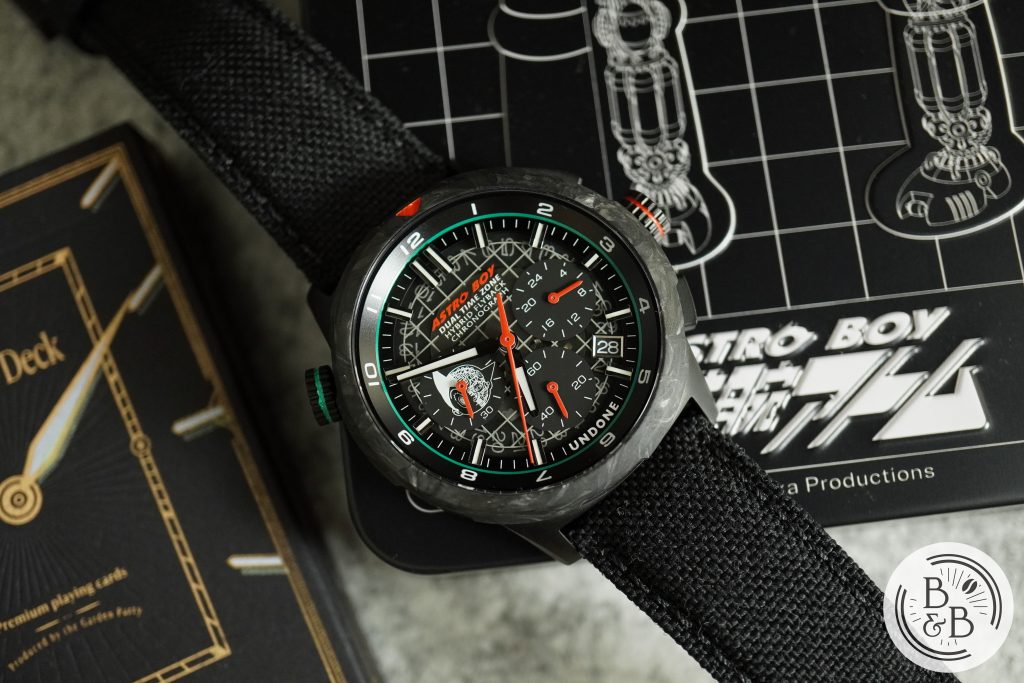 This watch uses a Seiko VK63 meca-quartz movement. Whatever the genre of watch, I prefer a meca-quartz movement to any of the available affordable automatic or hand-wound mechanical chronograph movements. I like meca-quartz movements for watches under $500, and this one has great button action, a solid click and an precise reset.
---
On The Wrist
At 42 mm in diameter, this isn't a small watch, but I think the 46.5 mm lug-to-lug width and the 12 mm height make it accessible to smaller wrists too. I have no problems wearing this on my 6.5″ wrist.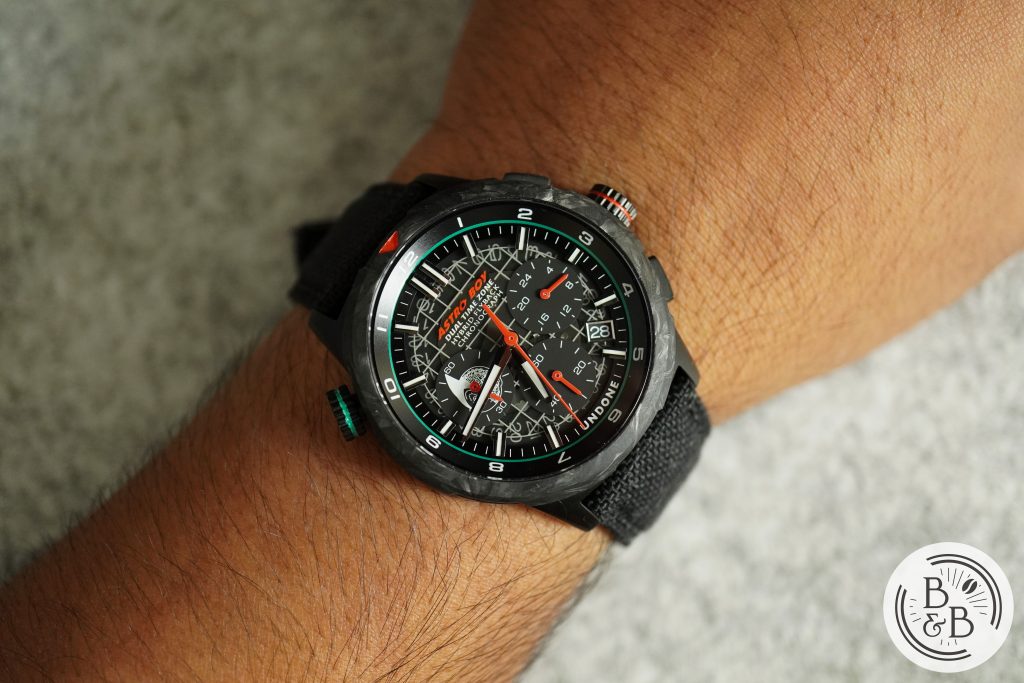 I think the watch looks great on wrist, and I love the Cordura strap that ships with this watch. It may be one of my favorite Cordura straps so far, and even has a very interesting buckle design.
The wrist presence is great, it is comfortable to wear and the lack of a mechanical movement means it is pretty lightweight and disappears on wrist.
---
Concluding Thoughts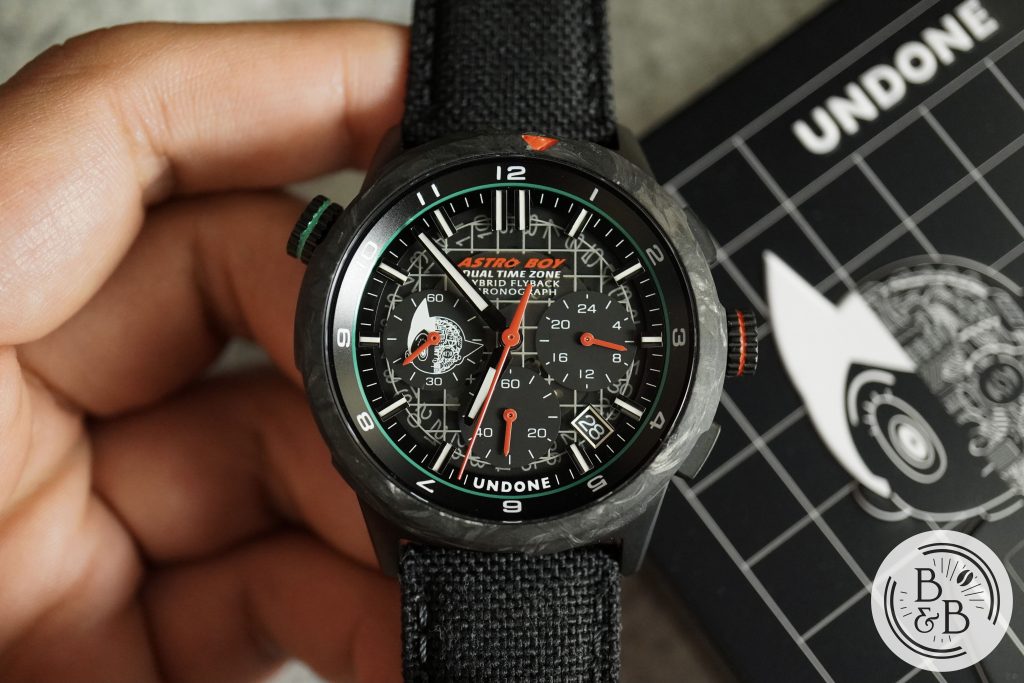 Overall, I like this watch and I think it is a well executed design with good build quality. My only real criticism is that I wish the bezel was fixed and didn't move at all. I think the inner rotating 12-hour bezel was more than sufficient. Apart from that, I think this watch delivers an interesting and fun experience for your money, and feels like it would make a great gift for someone that is into Astro Boy.
---
Thanks for reading!