---
Disclaimer: This watch was sent to me to review and I was not incentivized in any way to make this review. This is in no way sponsored by Hanhart or any other entity. All opinions here are my own. Since this watch was worn/used by other reviewers, please make note that the experience might differ from that of a brand new watch.
---
---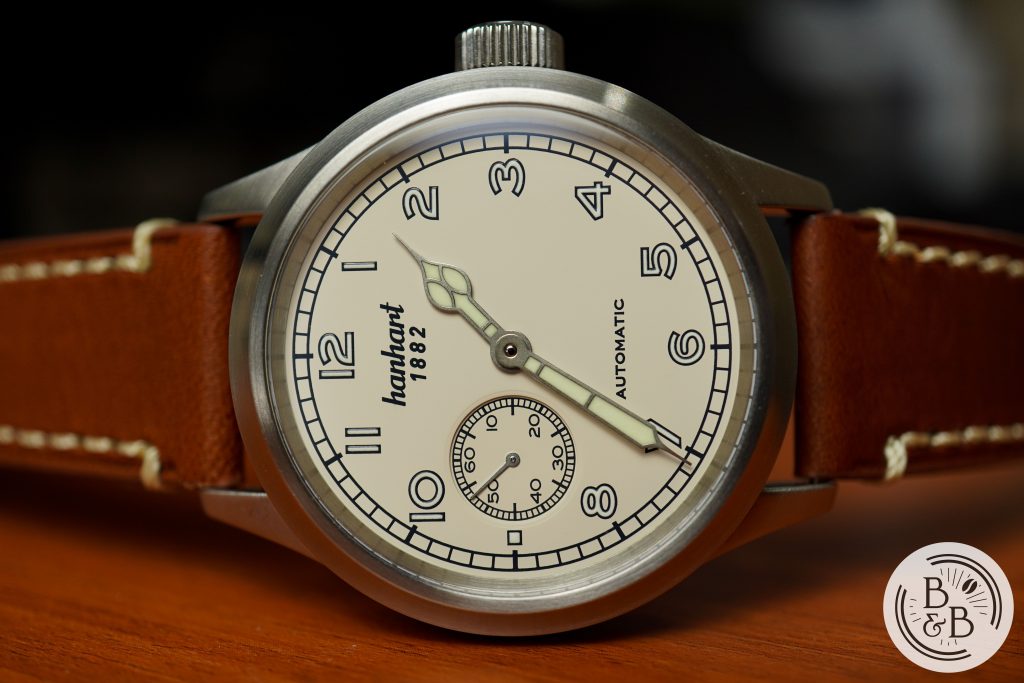 Contents
---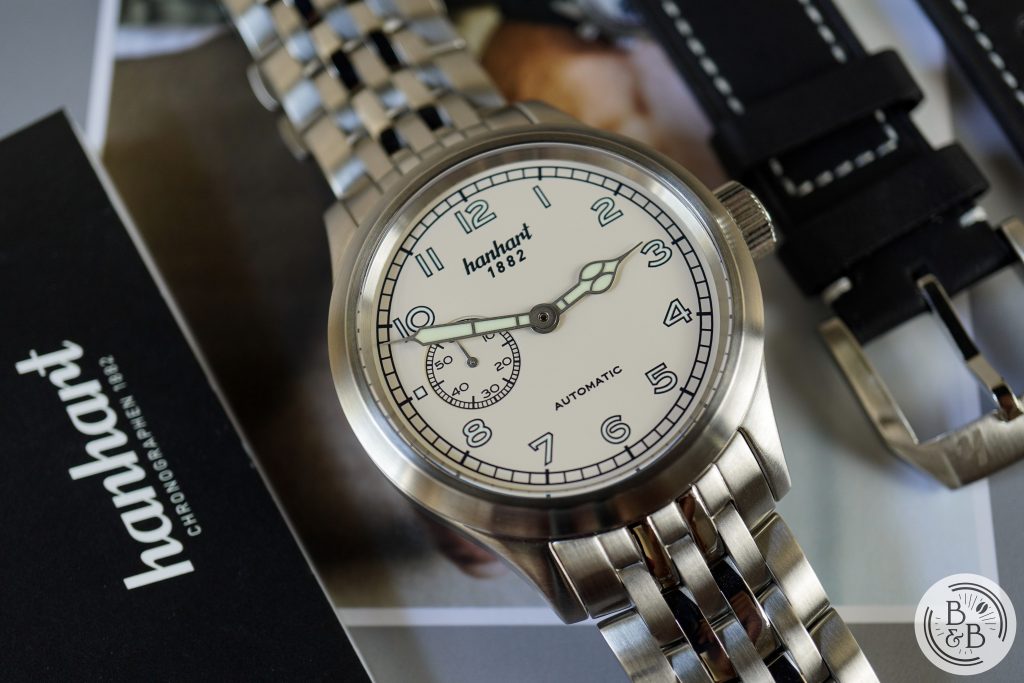 Hanhart
Today we're going to be looking at the Hanhart Preventor 9. If you're familiar with Hanhart you must be asking yourself, "Why did he pick one of the few watches in the Hanhart collection that doesn't have Hanhart's most iconic design element – the red pusher?". And there's three reasons for this:
First, everyone that is familiar with Hanhart is familiar with the more popular watches like the gorgeous TachyTele, the Pioneer Monoscope, the Pioneer MK II and more recently even the Pioneer One it's fair share of attention. I had an eye on the blue Pioneer One for a while too, but the 42mm case was always of concern given my modest 6.25″ wrist. The one that seems to have consistently slipped under everyone's radar is the inconspicuous 40mm Preventor 9.
That brings me to my second point – the size. The Preventor is their most modestly sized watch, both in terms of width (40mm) and thickness (12mm).
And lastly, the price tag ($1350 with bracelet, $1130 without) also makes it one of Hanhart's more affordable wrist watches.
If you're not familiar with Hanhart's history, I recommend you read their history here. They have been making timekeeping instruments since 1882, and are another one of many highly underrated German watchmakers. Hanhart was also a favorite of Steve McQueen, and Revolution Watch recently collaborated with Hanhart to re-issue a beautiful tribute piece.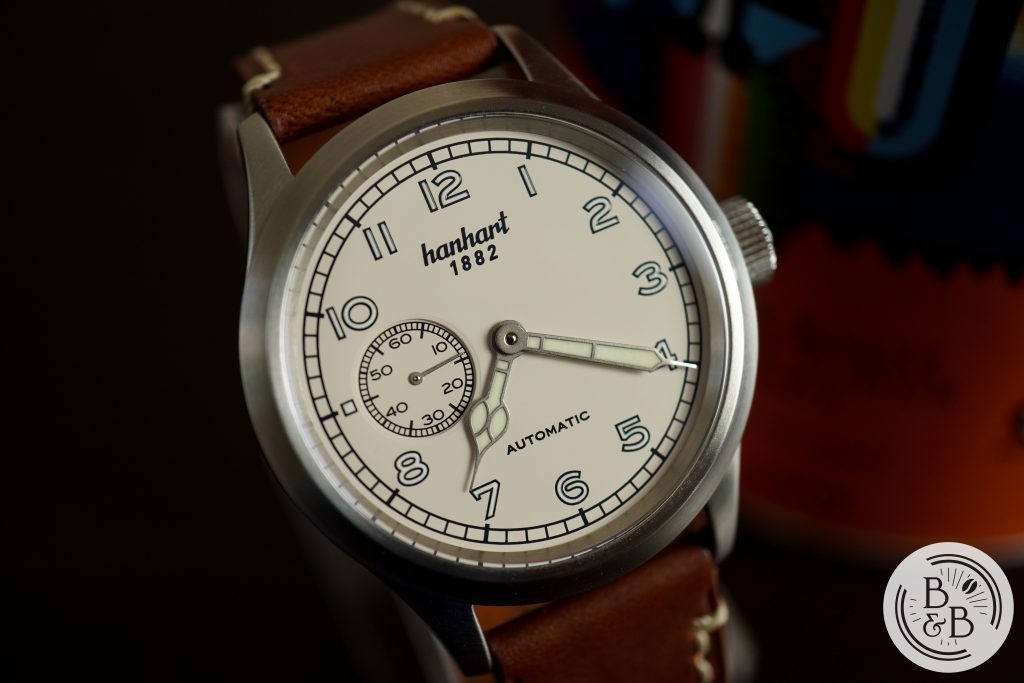 I consider this watch to be somewhat of the black sheep of the Hanhart family, but this doesn't stop the Preventor 9 from being an impressive field watch that has managed to combine beautiful vintage charm in a solid tool / field watch chassis. While the design does have connections to the brand's history (Hanhart B-Uhr – 1945), it is mostly breaking new ground with a field watch identity, and it's doing a great job at that. Hanhart was kind enough to let me keep this watch for over a month, and I've fallen in love with this piece. I often receive watches that I enjoy, but I rarely encounter watches that make me feel like throwing a child-like tantrum while sending it back. This is one of those occasions. Let's check it out!
---
Case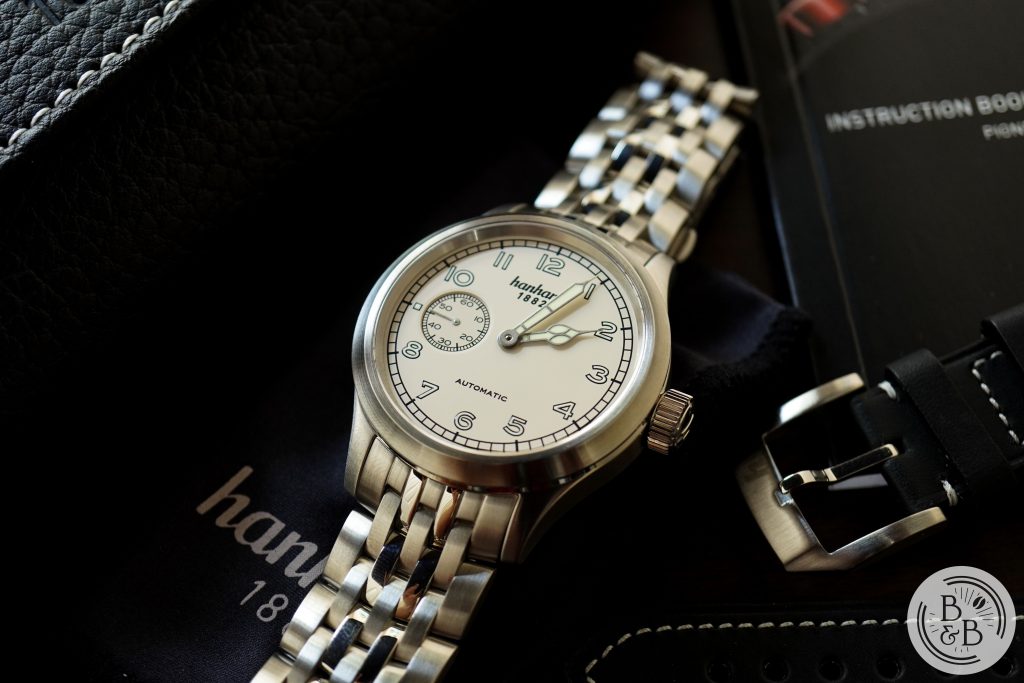 The case is 40mm in diameter, 48mm from lug-to-lug and 12mm tall. It has many interesting layers that are both brushed and polished. Let's start with the slightly concave radially brushed bezel, that bears some resemblance to that of the Rolex Explorer-I. Between the bezel construction and the lower case section, you have an interplay of two polished and beveled edges, that add lots of character to the case. The lower case section is horizontally brushed, and the overall finishing of the case is excellent.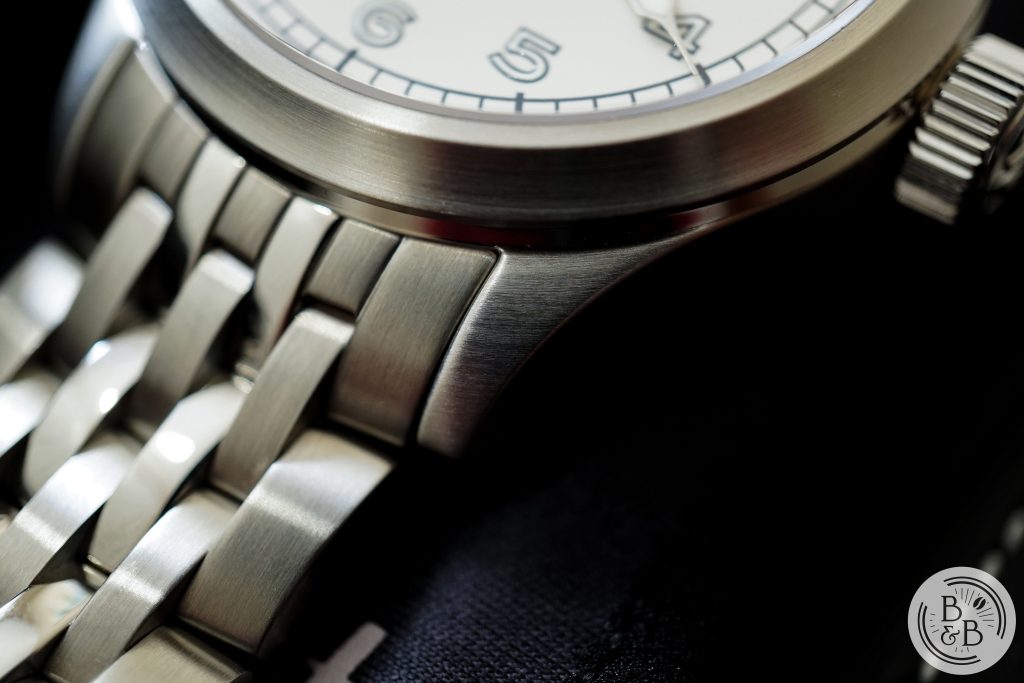 The case extends out into a pair of curved lugs that are well proportioned, with a lug width of 20mm. On it's bracelet, the case and bracelet joint is perfect and the end link matches the lugs perfectly.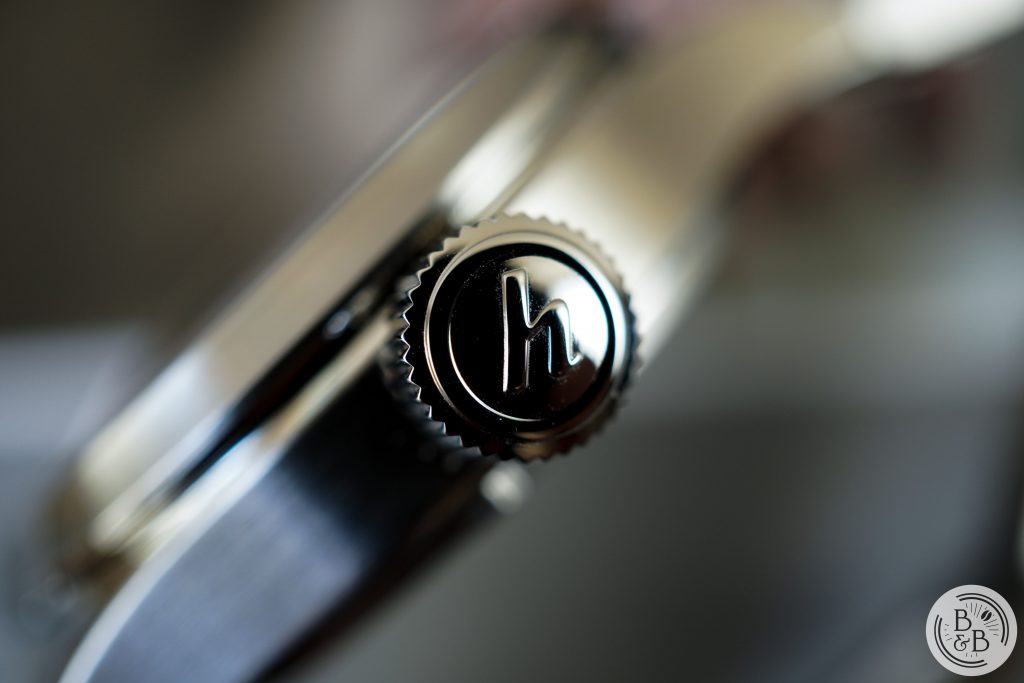 There is an oversized crown that measures roughly 7.75mm in diameter, and is signed with the brand's logo. The ridges on the crown are perfectly proportioned and the crown operating experience is excellent. There is no stem or crown wobble.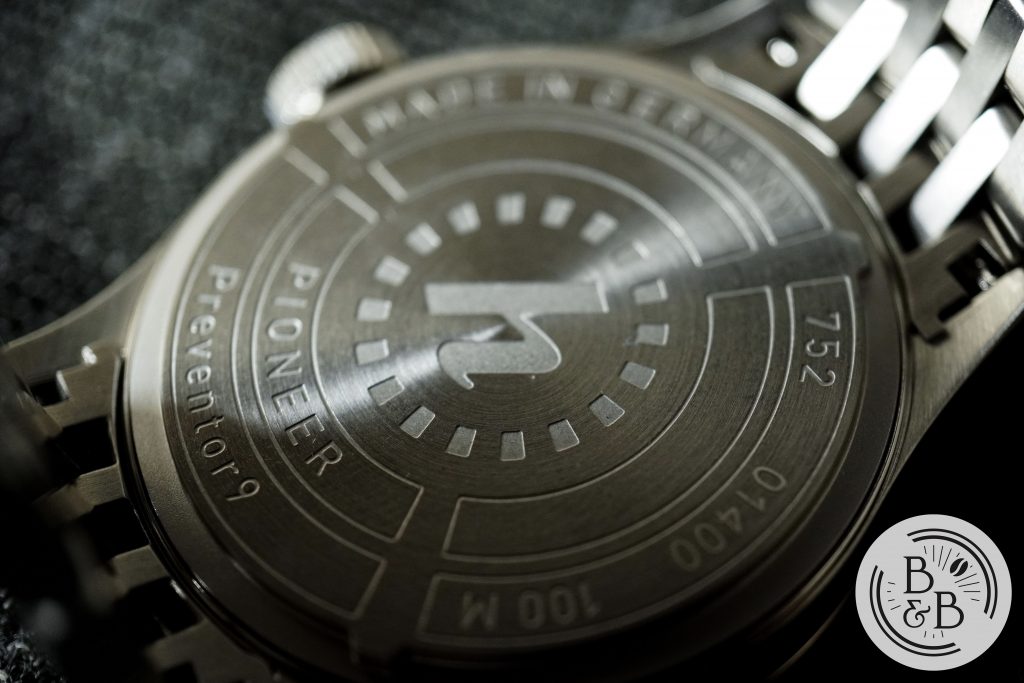 The case-back is a simple solid case-back with a few engravings on it. I particularly like this case-back because of how slim it is, and it doesn't bulge out much at all, like a lot of watches do. The case-back screws down into the case but the crown does not. However, this watch is rated for up-to 100m of water resistance. I'm still not entirely sure why they omitted a screw-down crown on this watch, but 100m of water resistance is more than acceptable for a watch that isn't designed for diving.
---
Bracelet
Without exaggeration, I think this is one of the best bracelets I've experienced on a watch under $3000. Above $3000, I like the Omega Seamaster bracelets and of course the Rolex Oyster bracelets. But for a $1350 (€1160) watch, this is everything I could ask for and more. If you've been following my reviews, you'll know that I often complain about bracelets (clasps in particular) and almost 80% of all the bracelets I've reviewed and own have disappointed me in some way or another. But this bracelet (and clasp!) gets everything right.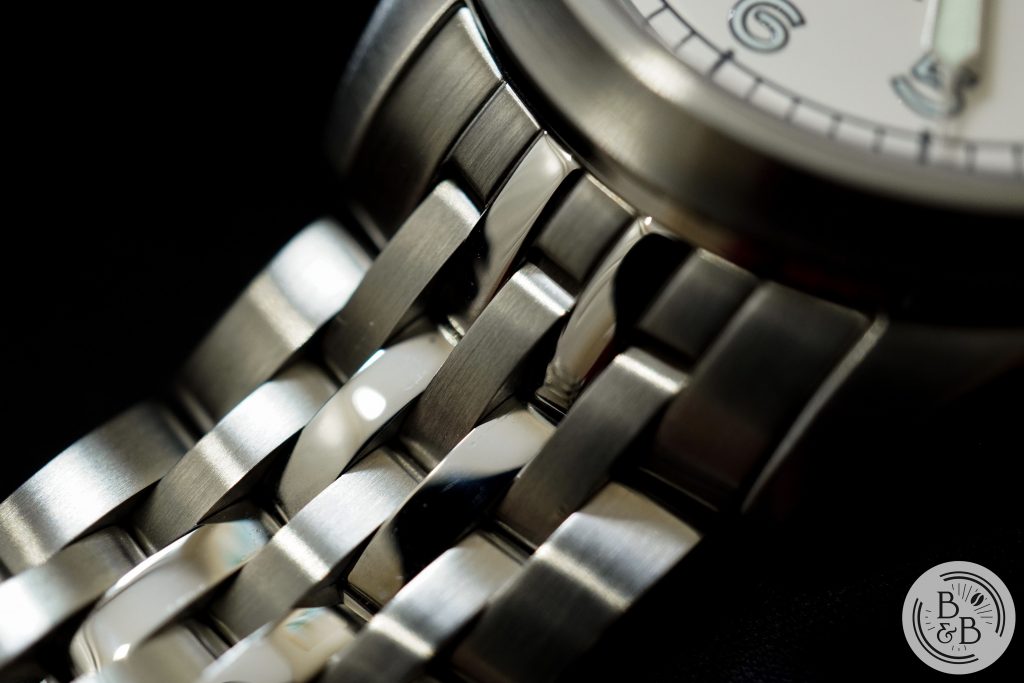 Let's start with the links – the multi-piece construction of each link allows for breath-ability and also incredible amounts of articulation. The end links are perfectly machined and fit the case without any gaps or wiggle room. The two inner-most elements are high polished, while the remaining five are vertically brushed. The links have screw based pins and I was able to size the bracelet very easily.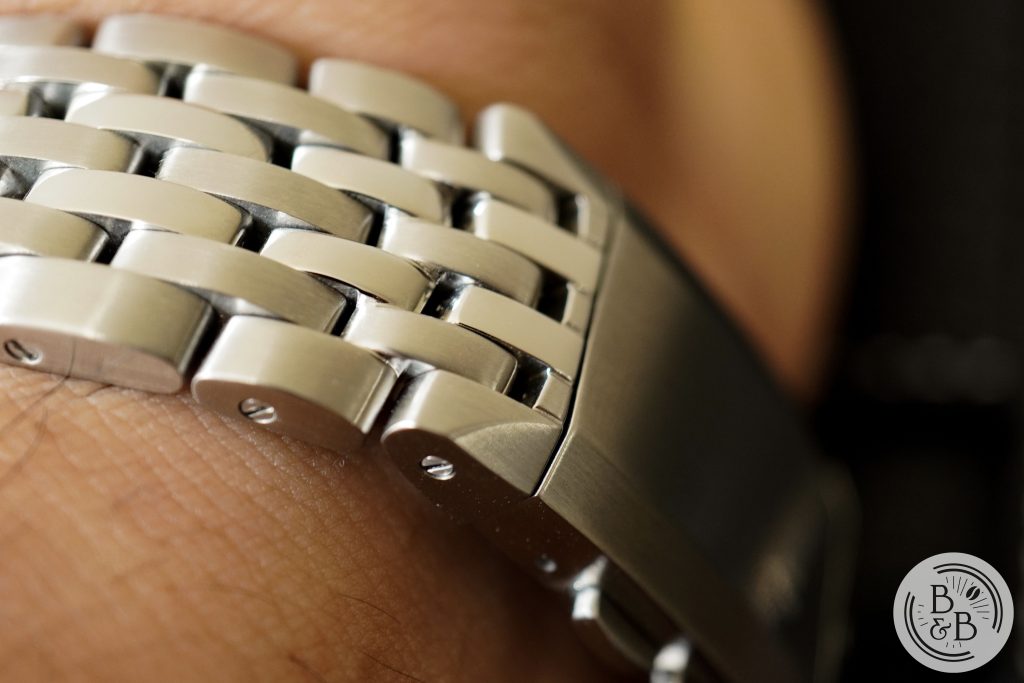 And the end links on the side of the clasp are absolutely amazing – they are designed to make a smooth and subtle transition from the bracelet to the clasp and integrate perfectly with the beveled edges of the clasp.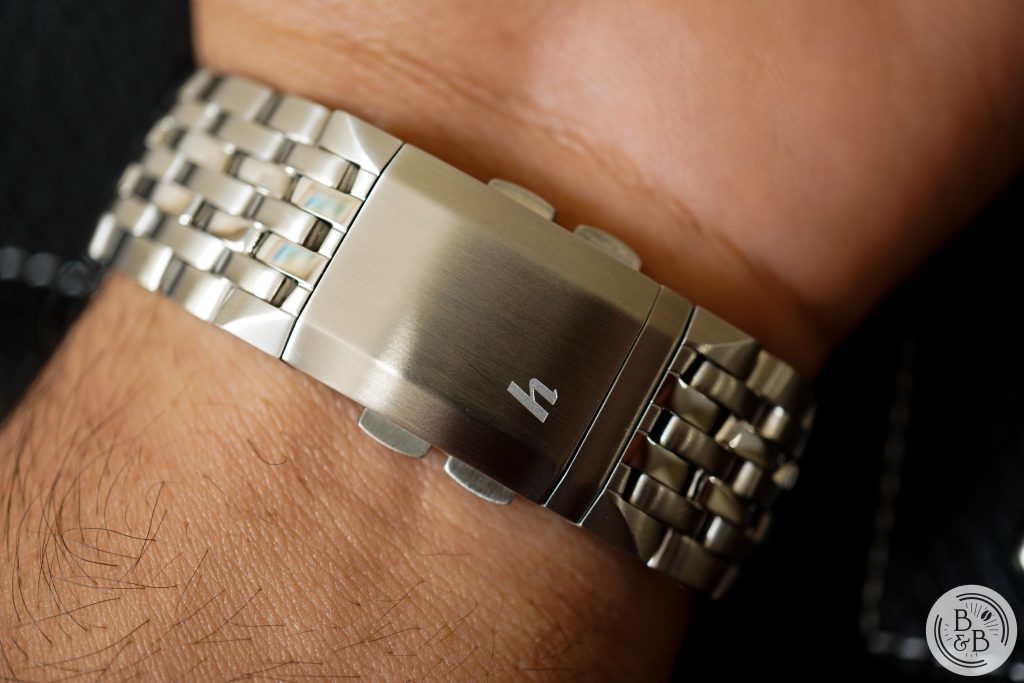 The clasp is King here. This relatively small clasp is completely milled and is very robust. It is push-button based, and also has a milled quick adjust for 6mm of extension. I'm in love. From a design perspective, the bracelet and clasp are designed in perfect harmony and even the case joint is seamless.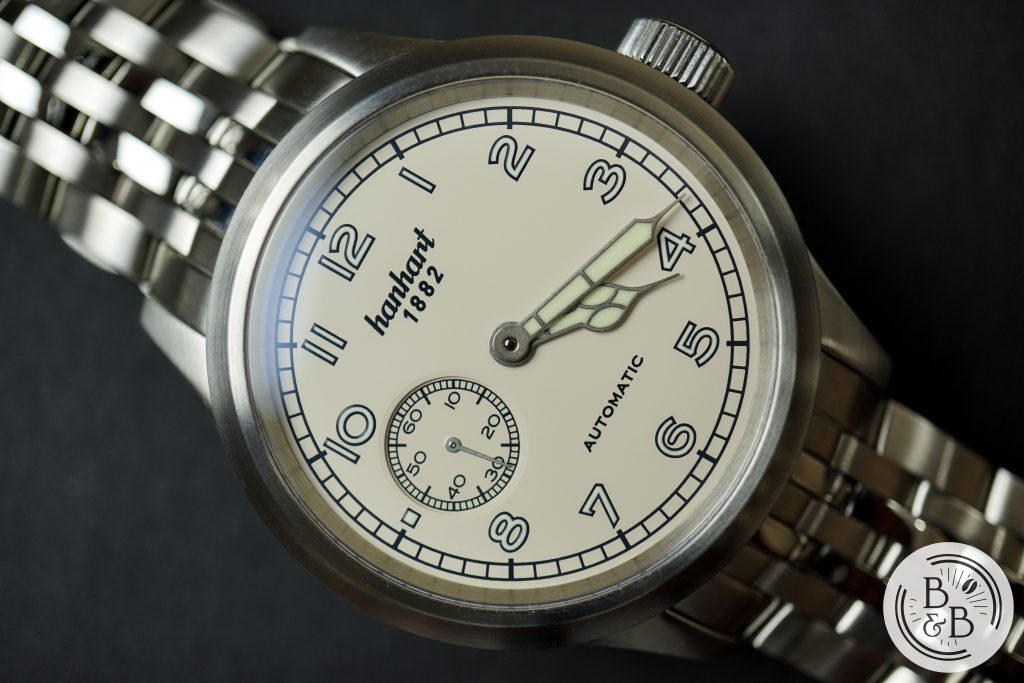 This is what good bracelet design and manufacturing looks like. In terms of comfort, each link is incredibly flexible and feels great on the wrist but also feels amazing to touch. It is slightly curved both along the horizontal and vertical axes; this bracelet is really quite an experience… +100 Beans & Bezels points for this.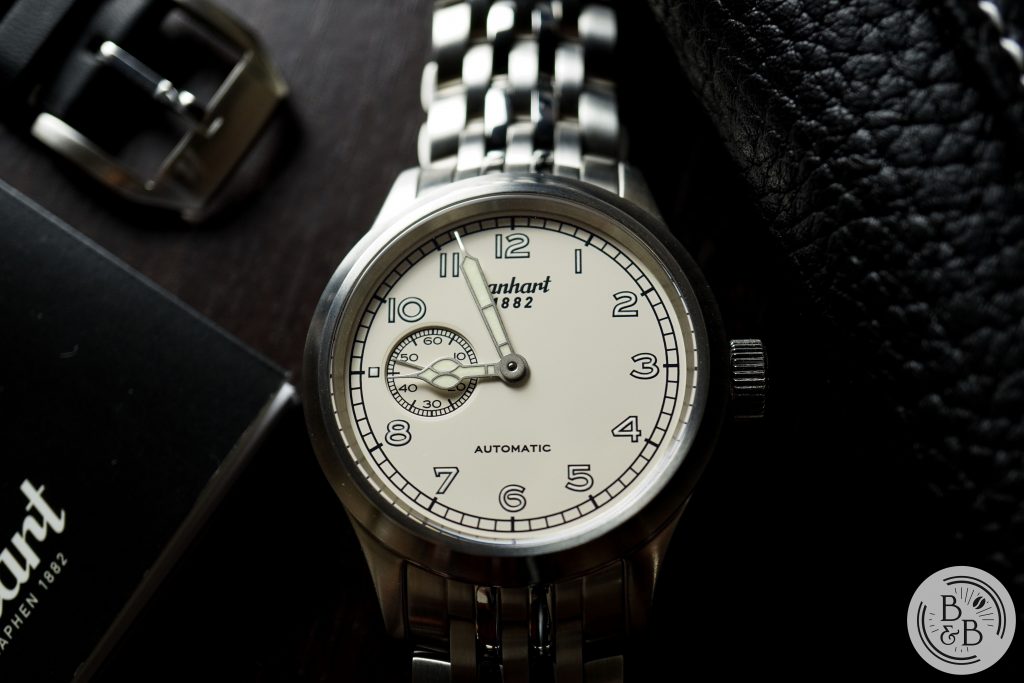 ---
Dial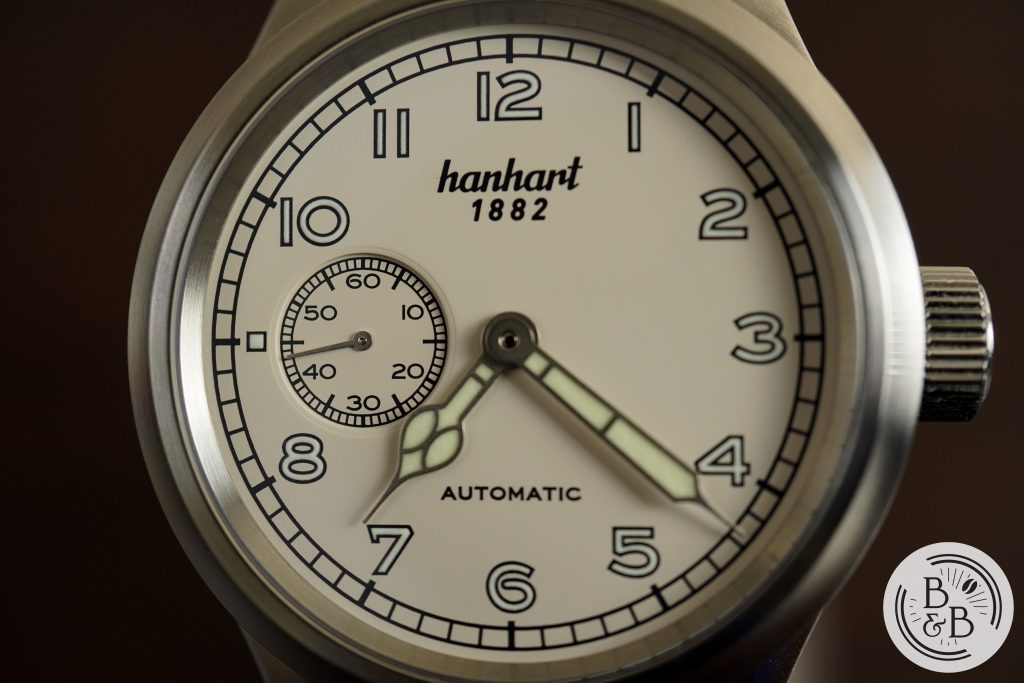 The Preventor 9 is offered in two dial colors – black and off-white. I was sent the off-white to review and I'm glad I was, as this dial color is beautiful. This color has a very vintage dress watch aesthetic even though it is really a field watch.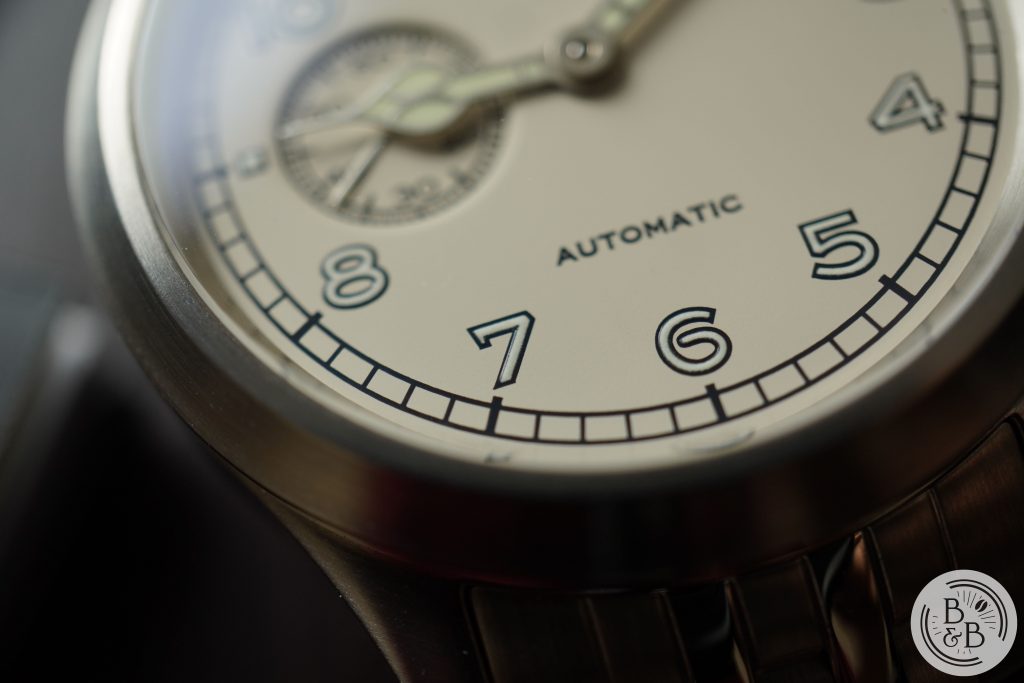 The clearly legible railroad minute track re-affirms the vintage design aesthetic and harkens back to some of their own pocket watch designs. The font used for the hour numerals are a subtle throwback to vintage trench watch and field watch design. The printed numerals are filled with Super-LumiNova, and the quality of the printing is excellent. The brand's logo is printed under the 12 o'clock and 'automatic' above the 6 o'clock.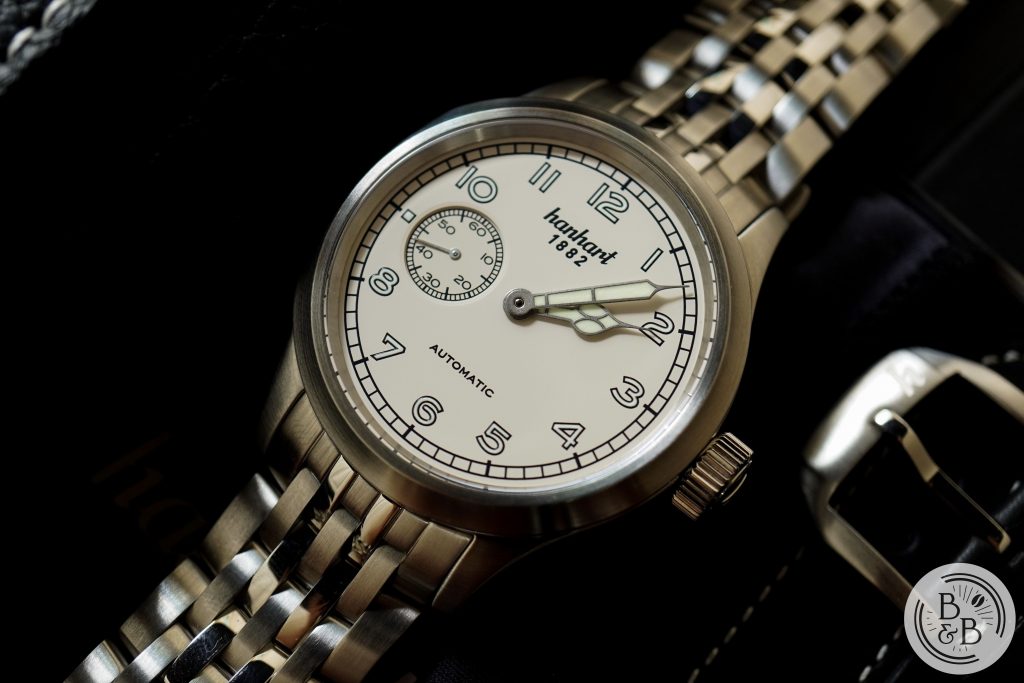 The 9 o'clock hour numeral is missing and instead makes room for the seconds register. According to Hanhart, this design decision dates back to the 1930s:
Due to the shortages of materials that struck manufacturers in the late 1930s and 1940s, watch movements and their components were scarce. Hanhart therefore had to come up with creative solutions to continue manufacturing its timepieces. Without further ado the Hanhart watchmakers decided to omit the 30-minute counter from their chronographs, because of a lack of components for this, but kept the small seconds at 9 o'clock. The result was a triple-hand watch with an unconventional and therefore unmistakable face.

Pressemitteilung, März 2012
The small seconds layout has become somewhat of a new obsession of mine, and I am typically drawn towards more symmetric dial layouts. But I think a seconds register at the 6 o'clock position may have pushed this watch more towards the deck-watch / marine-watch category rather than the field watch category to which it belongs.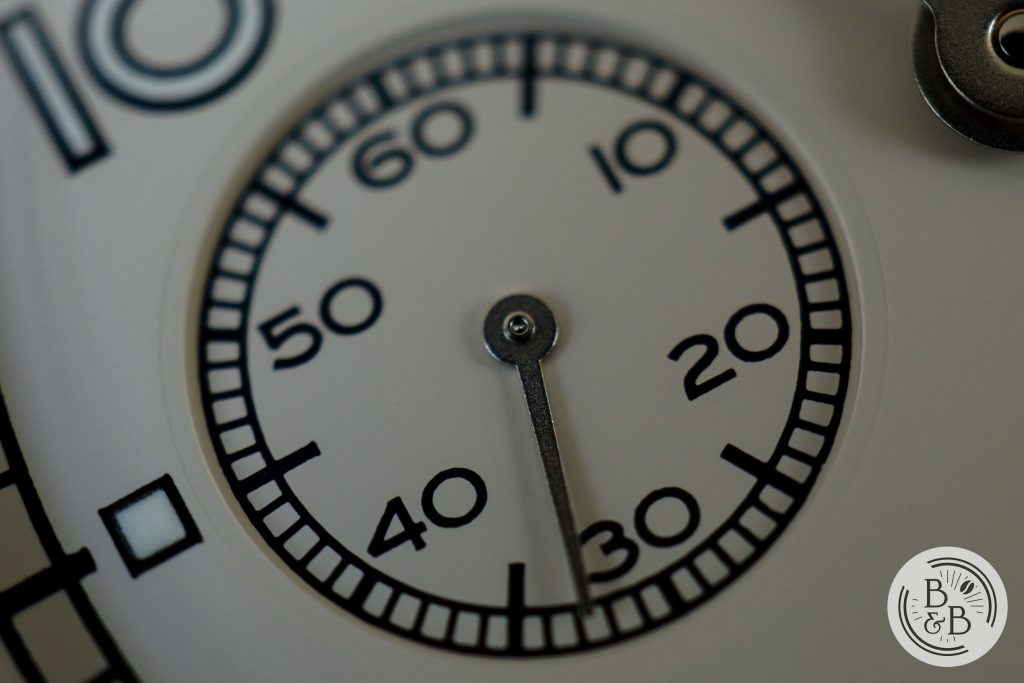 I do think it is beautifully executed, with all printed elements and seconds numerals printed in increments of ten. Hanhart is no stranger to designing purely utilitarian time-keeping instruments, and their long history and experience in making stop watches, pocket chronographs and sports watches shows in this easily legible dial.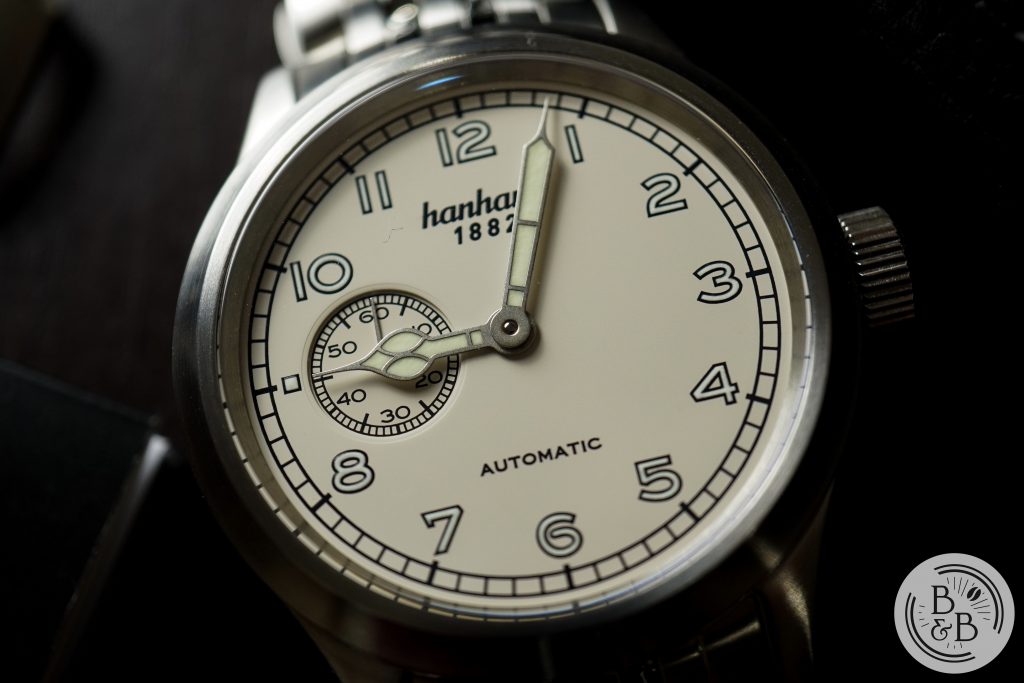 This excellent legibility is continued with the hands. Hanhart have chosen beautiful cathedral hands for this watch, which suits the traditional field watch aesthetic. It also suits the vintage inspired dial color and numerals perfectly.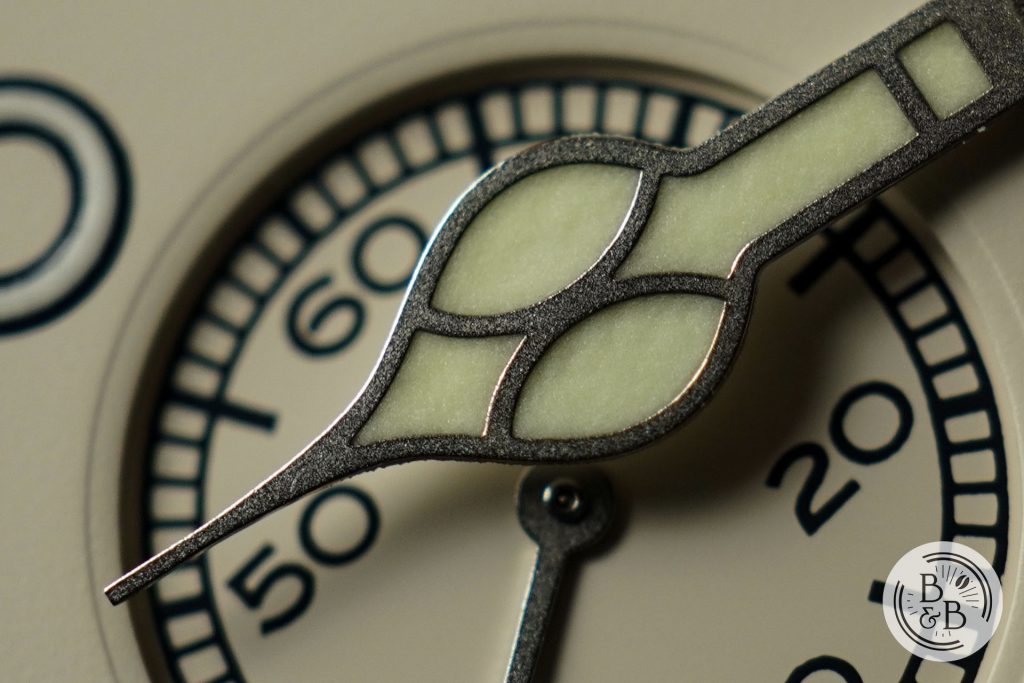 The hands appear to be media blasted and are not polished. There is a somewhat rustic finish to them that is very interesting to look at under a loupe or macro lens. The hands are filled with Super-LumiNova to match the numerals.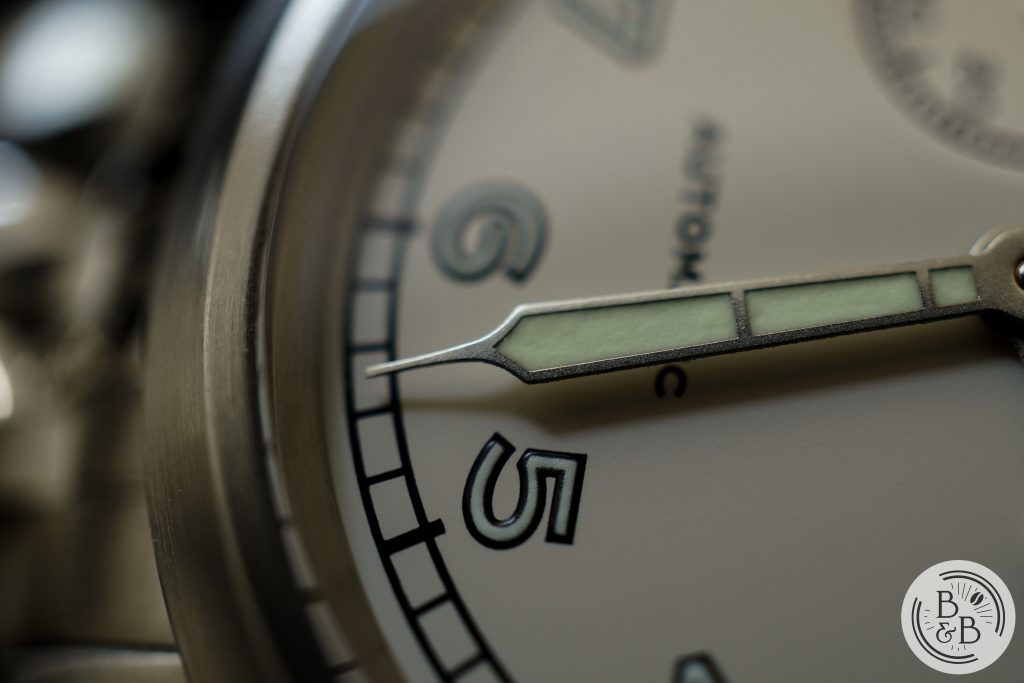 Both the seconds hand and the minute hand extend over their respective tracks and make time keeping very easy. The tip of the minute hand appears to be curved ever so slightly towards the dial. The hour hand extends just enough to hover over each hour numeral. These subtle design decisions just make it very clear that Hanhart are interested in designing functional watches, and I appreciate it.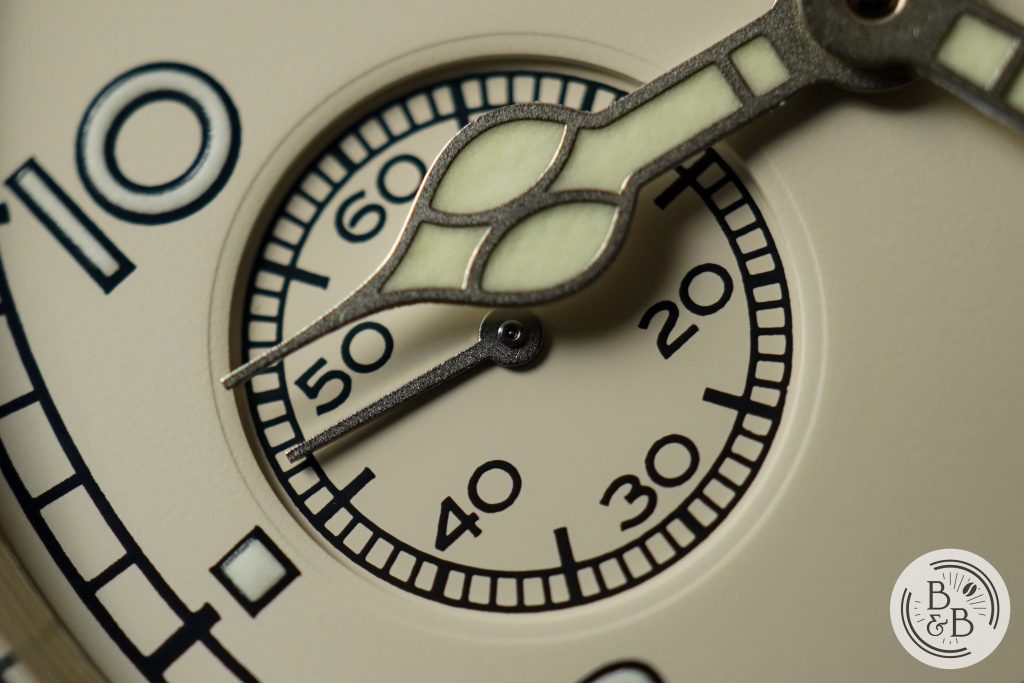 Given the somewhat large size of the hour hand, it tends to occlude 20-30% of the seconds register between 8 and 10 o'clock, but even with a 6 o'clock positioning this would still exist. So just don't plan on doing any critical timekeeping with the seconds hand between 8 and 10 everyday.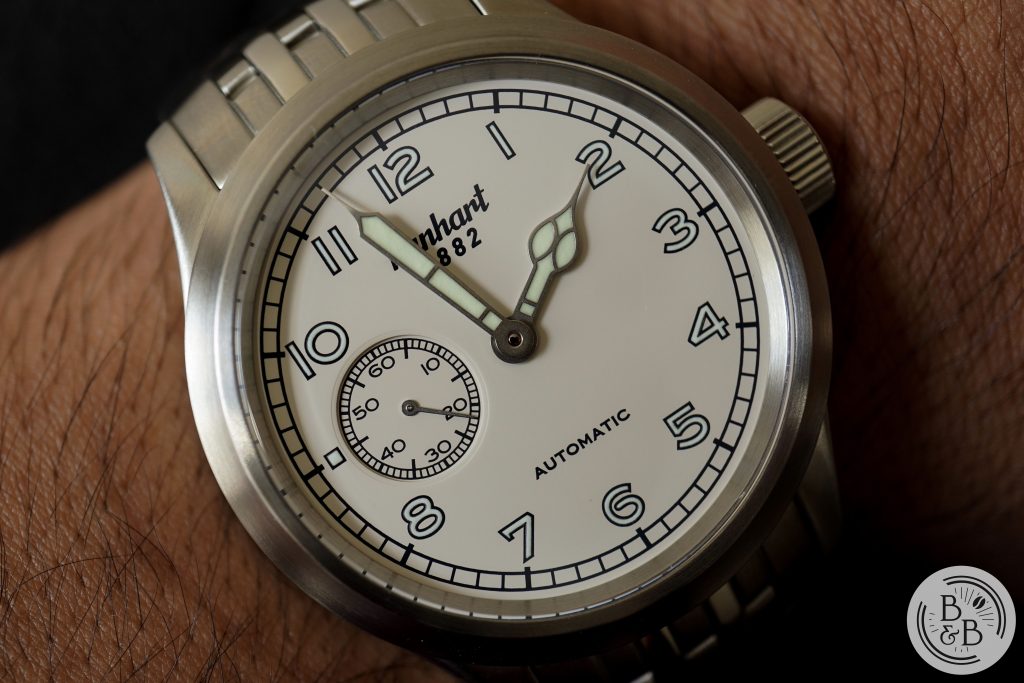 But overall, the quality of printing on the dial and the finishing on the hands is great. I only noticed a small smudge near the printing of the logo and some of the lower surfaces of the hands were slightly rough. Both of these are only observable under a macro lens, and are more than reasonable for a $1350 watch.
---
Lume
Both the hour and minute hands are generously lumed with Super-LumiNova (C3, I think), and so are the numerals. Unfortunately, given the relatively small surface area of each numeral not much lume can be filled and the numerals tend to fade quicker than the hands. But the hands hold their brightness well, and for a watch with this vintage field watch aesthetic, I'm completely satisfied with this attempt. Many field watches in this category don't bother with lumed numerals at all.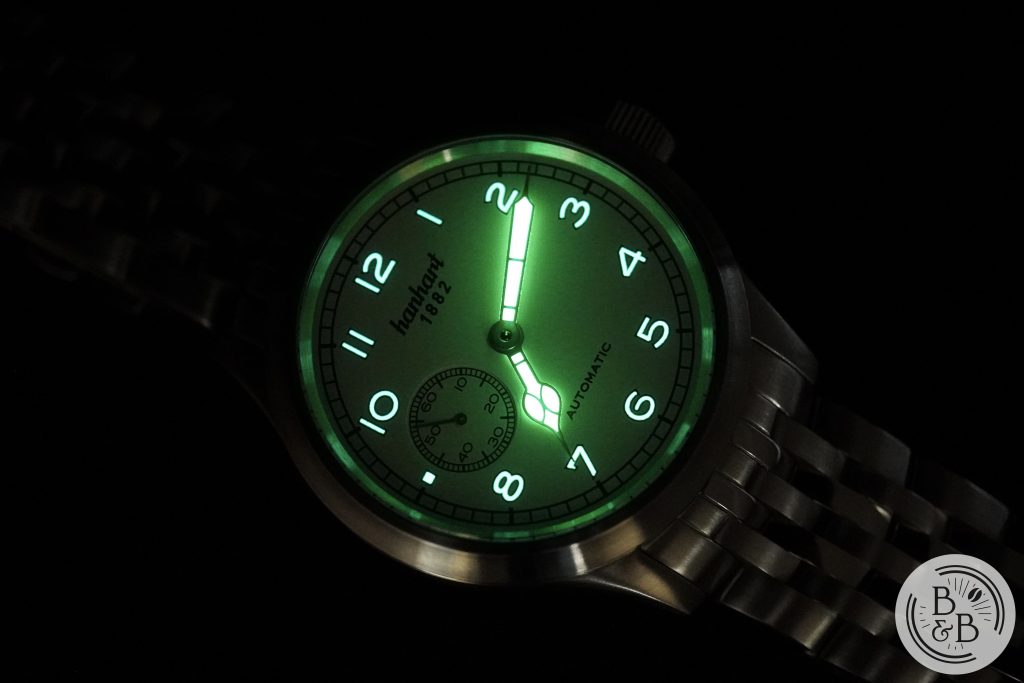 ---
Movement
The base movement is a Sellita SW200, a movement that I have had on many watches (Archimede Outdoor, Collins Sonar, etc.) and one that I have no problems with. But Hanhart has made some changes to this movement, to create what Hanhart refers to as the HAN4112. To account for the physical offset and small seconds register at the 9 o'clock, Hanhart has used a module from Dubois Dépraz, who make excellent Chronogaph modules for many of the big names in the Swiss watch market. They have also gotten rid of the date complication, which is a refreshing change from all the ghost date equipped watches in this price category and under.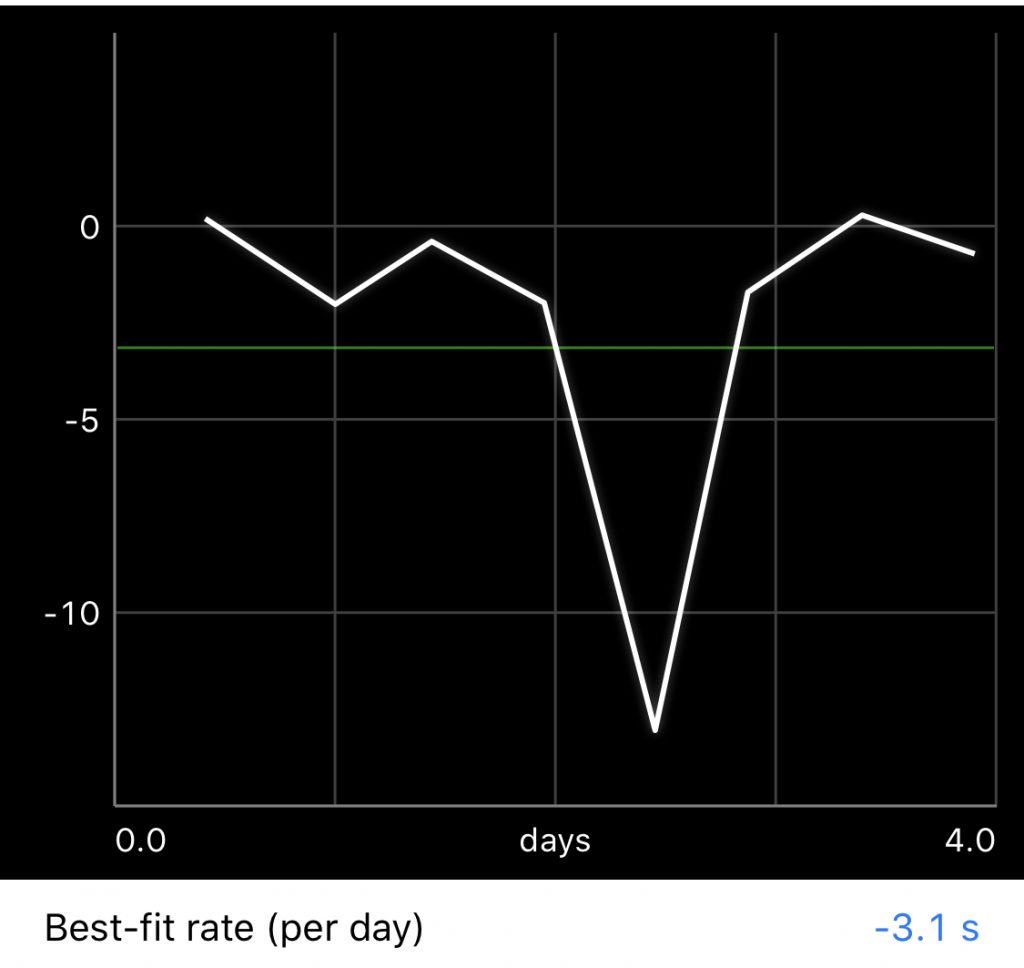 I logged the accuracy of this watch over a 4 day period and observed an average accuracy of -3.1 spd. The single drop in accuracy was my fault and not that of the watch since I had a period of not wearing the watch and it had nearly reached it's 38 hour power reserve limit.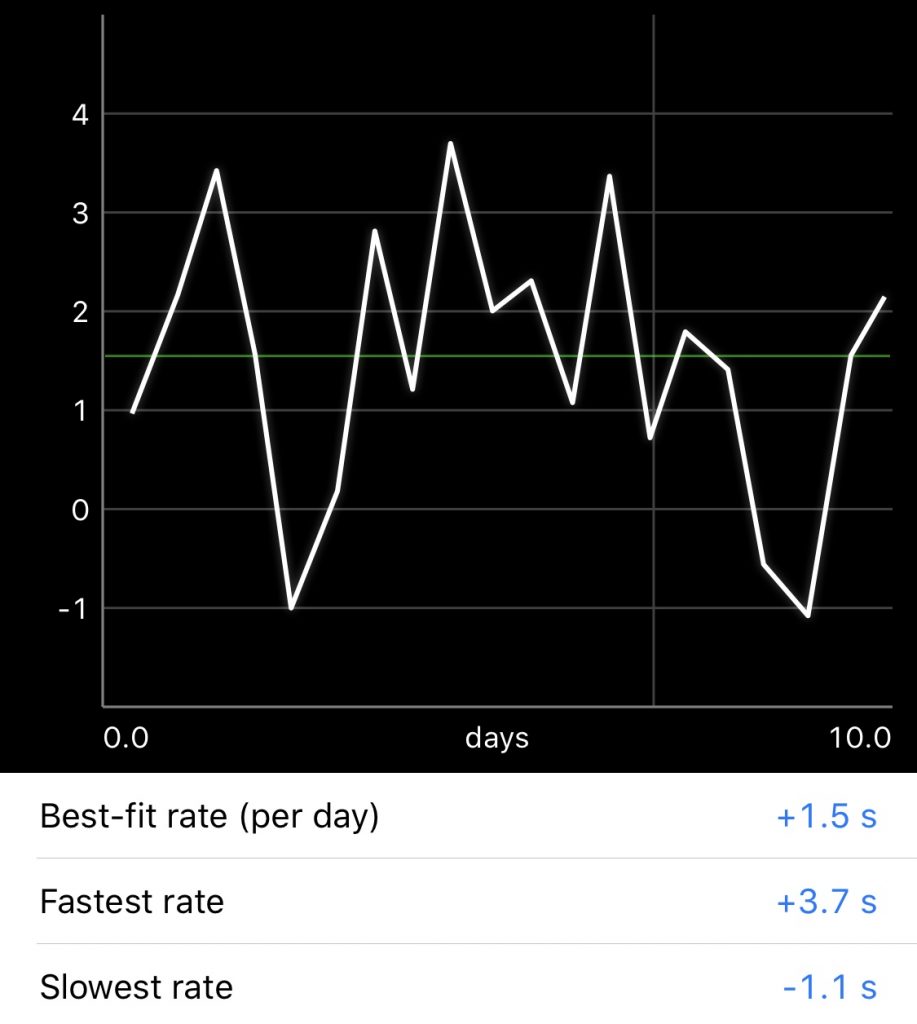 I also did a second run logging it's accuracy over an 11 day period and observed an accuracy of +1.5 spd. This is a much more accurate modeling of the watch's performance and is quite impressive for a SW200.
---
On The Wrist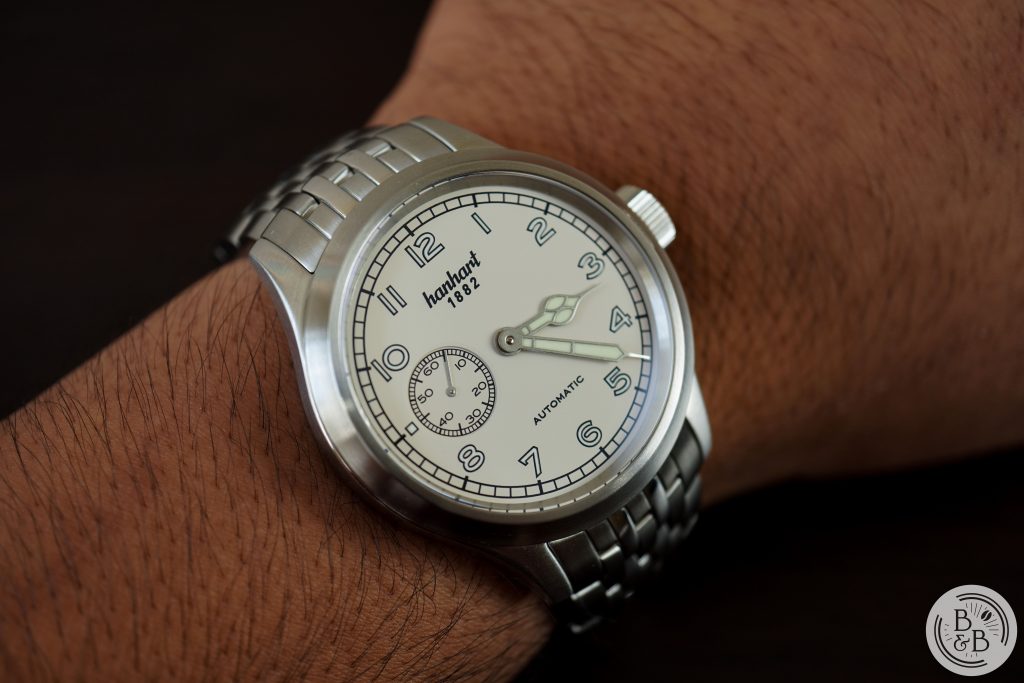 On the bracelet, the wrist experience with this watch is one of the best I've had in a long time. There aren't many watches that I've been this impressed by in terms of case shape, dimensions and weight – the Rolex Explorer-I still holds #1 for me. Another notable mention goes to the Archimede Outdoor. The Hanhart Preventor 9, in my opinion, wears very much like the Rolex Explorer. I've spent the last few days thinking about why I'm so enamored by the wrist experience of these watches and here's my hypothesis.
They are all relatively slimmer watches (w.r.t height). The Rolex Explorer-1 – 12mm, Preventor9 – 12.15mm and the Outdoor Protect 39 – 11.25mm.
All three watches are in the 40mm diameter range, Rolex – 39mm, Preventor9 – 40mm and Outdoor Protect – 39mm.
And the last, and most important I believe, is the distance between the top of my wrist and lug holes. All three watches sit very low, the Rolex Explorer and Preventor9 have relatively slim case-back covers and slightly curved lugs, allowing for the bracelets to hug the wrist perfectly. The Outdoor Protect doesn't have extended lugs, but this distance is even lower on this watch given the design.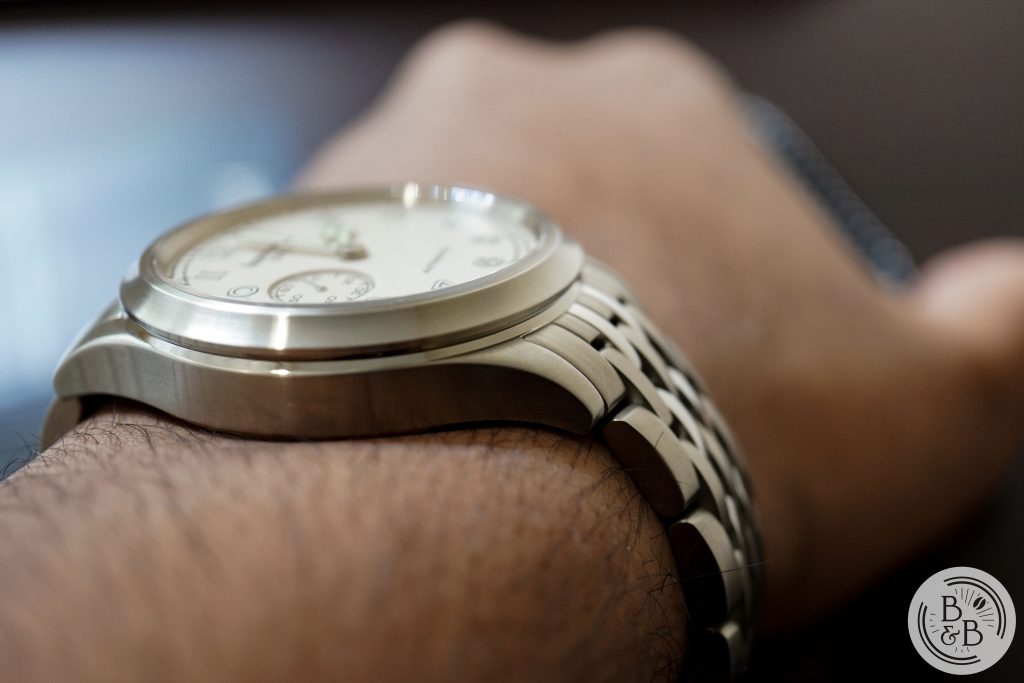 Have I cracked the code on how to make an incredibly comfortable watch? Not really, because everyone's wrists are shaped differently even though they might have a similar wrist circumference. But I might have just cracked the code on how to make an incredibly comfortable watch for myself, just as Hanhart have with this case and bracelet design.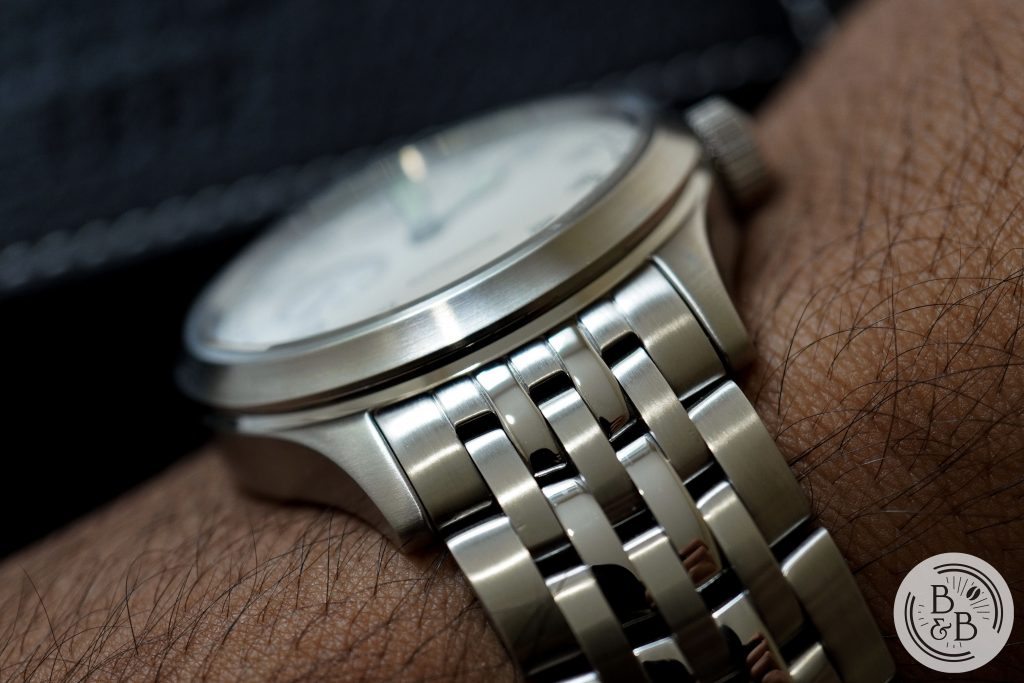 The lug-to-lug width (between extremities) is 48mm and this is right around the sweet spot for me, typically. There's not much more to add – this is an fantastic watch on the wrist. All dimensions are just perfect for me and my 6.25″ wrist. No complaints whatsoever and I hope Hanhart makes more watches with this case design for folks with smaller wrists, like mine.
---
Concluding Thoughts
Overall, I really like this watch. I've enjoyed this watch so much over the last one month that I am seriously contemplating adding this to my collection. This is the kind of watch I would enjoying owning – an interesting but clearly legible dial, extremely comfortable, excellent build quality and a brand that has experience in the field. I also like that this watch is somewhat of an underdog in the Hanhart line-up. In terms of design, it doesn't have popular historical references to cling onto, and therefore has a lot more to prove since most of the other Hanhart models do. The typical Hanhart customer, the one that's chasing the beautiful red pusher Chronograph, is unlikely to find this watch appealing.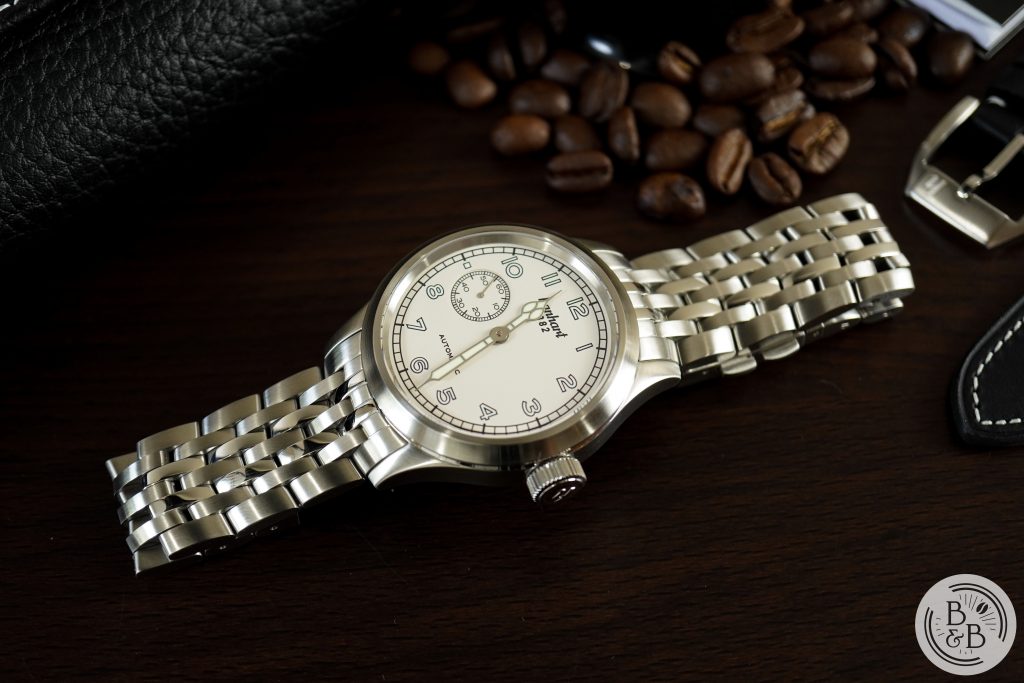 But if you're in the market for a beautifully designed and well built field watch, with one of the best steel bracelets on the market, you've found the perfect watch. I've looked at this market a few times, and in my opinion the only similar watch is the Weiss 38mm Field Watch, but I prefer the tool-watch-esque design of the Preventor 9 over the more classic vintage field watch design of the Weiss.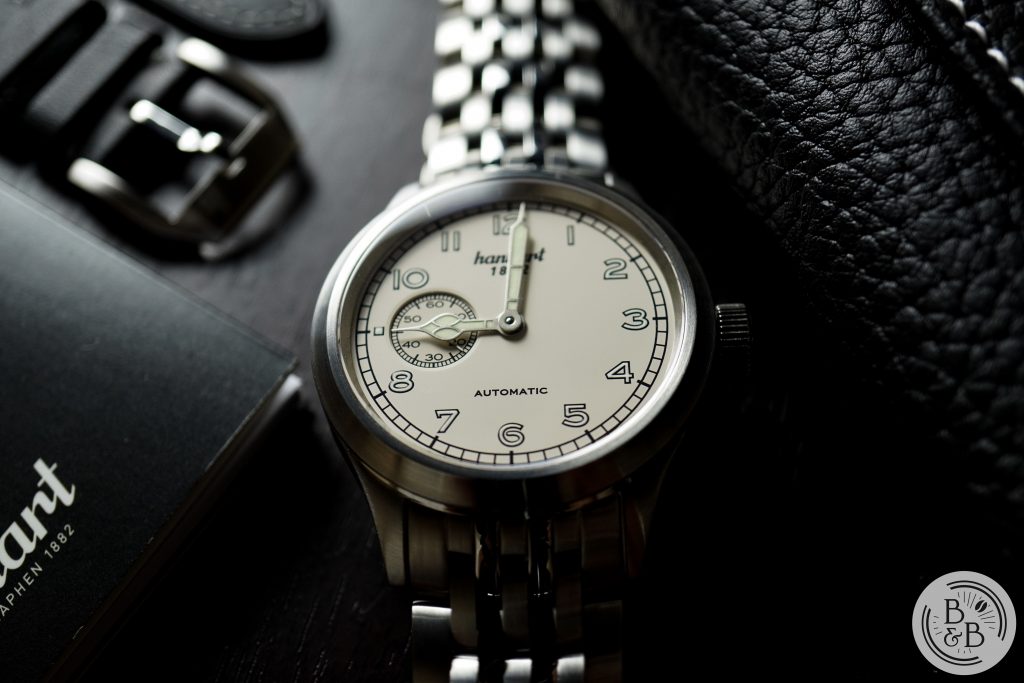 I highly recommend checking out this watch. If you like the appearance and you're looking for a watch with similar specs, buy this – you won't regret it.
---
Strap Changes
Disclaimer: Some of the items you see in this section may be sponsored or are given to me for free, and to be featured.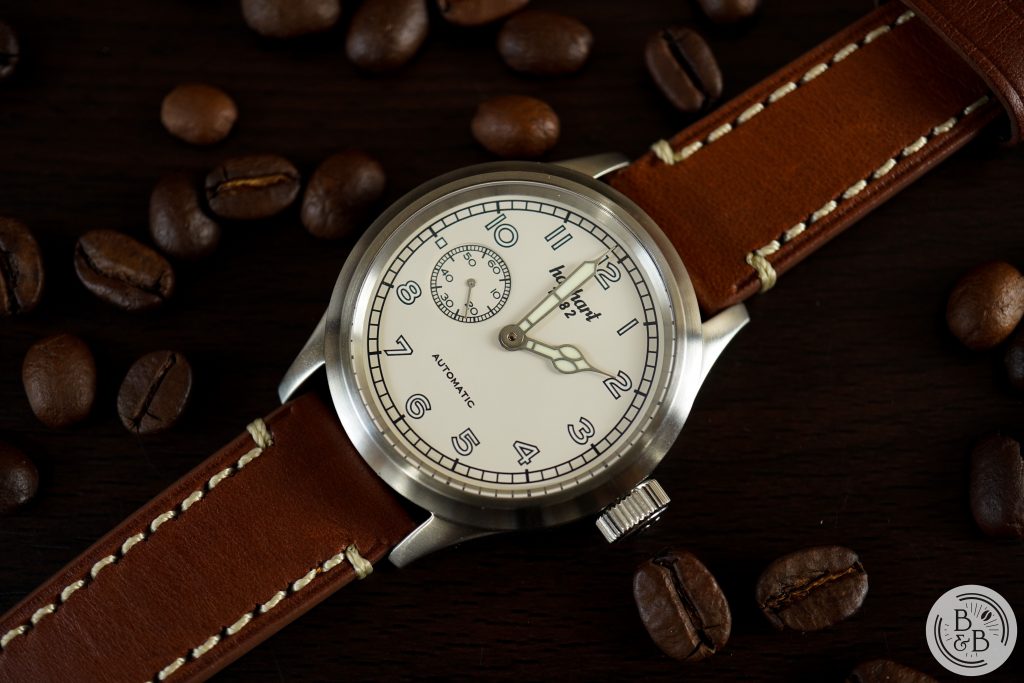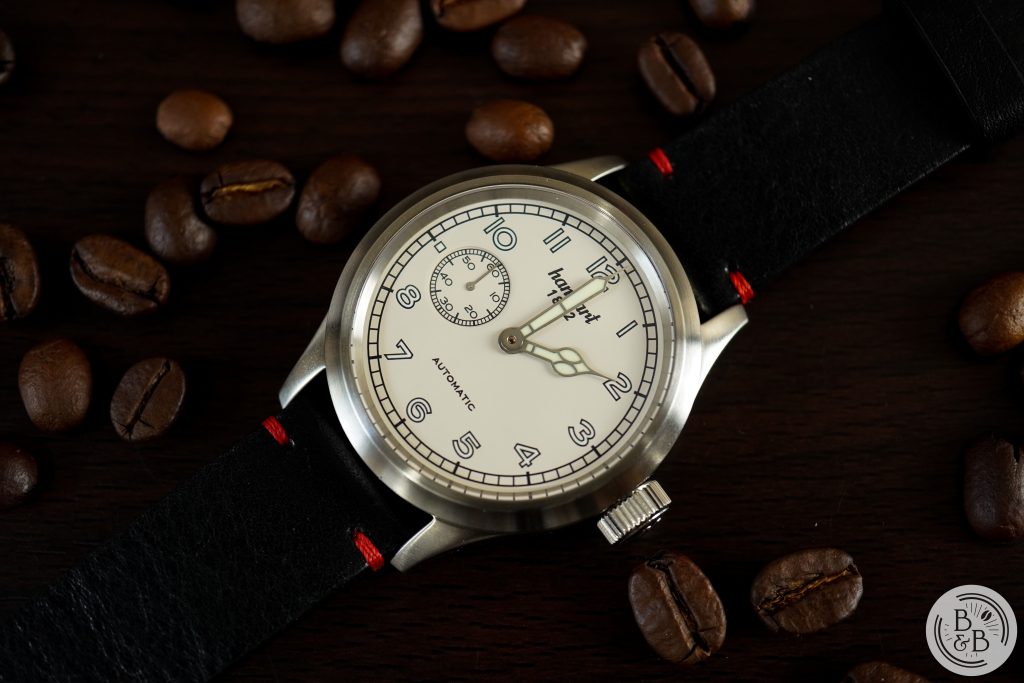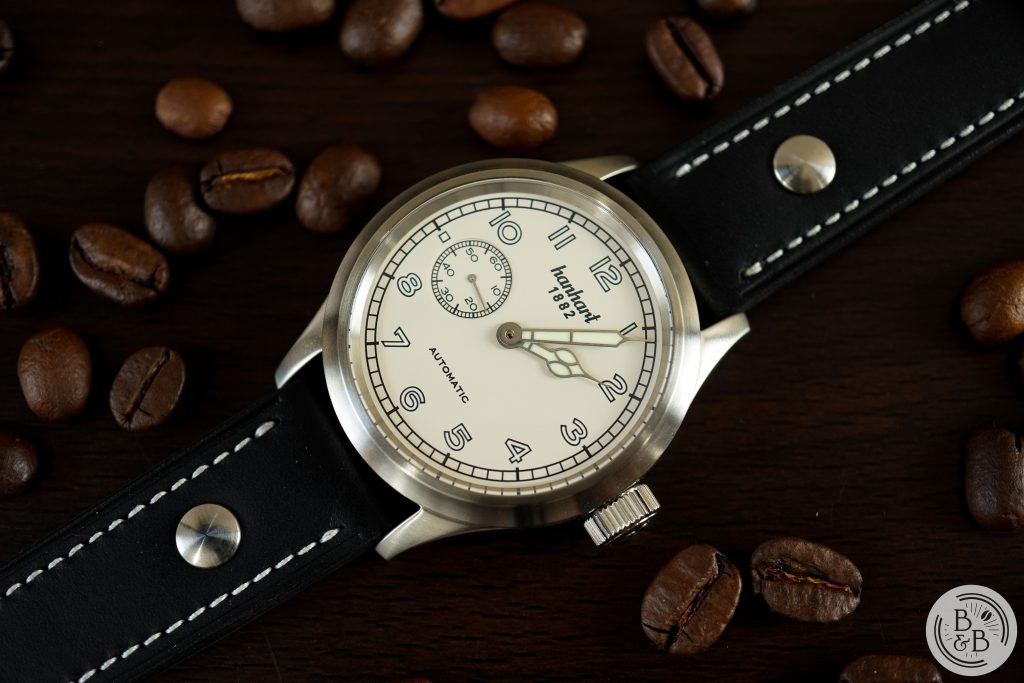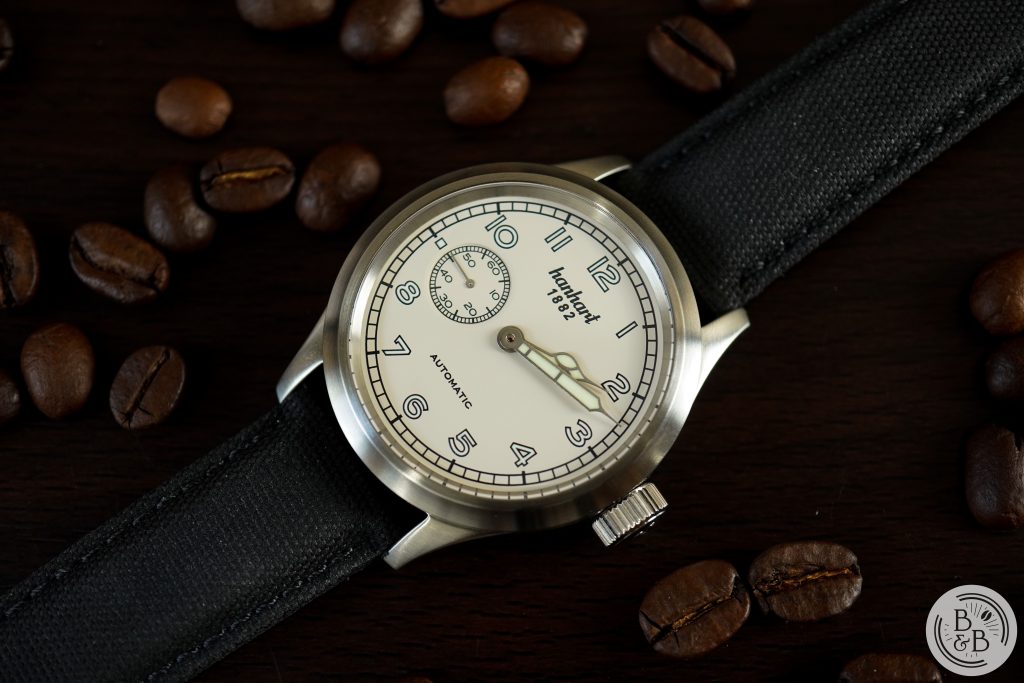 ---
Thanks for reading!