---
Disclaimer: I borrowed this watch from a friend, who recently purchased it brand new. Thanks Paul! I was not externally incentivized in any way to make this review. This review is in no way sponsored by Norqain, or any entity. All opinions here are my own.
---
---
Contents
---
Norqain
Norqain is a relatively new Swiss watch brand, and a micro-brand by most definitions. I learned about their watches about a year and a half ago, and I wasn't too keen on them initially. But I happened to visit one of their ADs earlier this year, and I tried on most of their collection. I was blown away by their quality and finishing, and their prices felt reasonable to me, based on what is being delivered. Unfortunately, for someone with a small collection like mine, I avoid owning multiple watches of a similar, and I found the Adventure Sport to be very similar to my Tudor Black Bay (ETA) that I've had for six years now.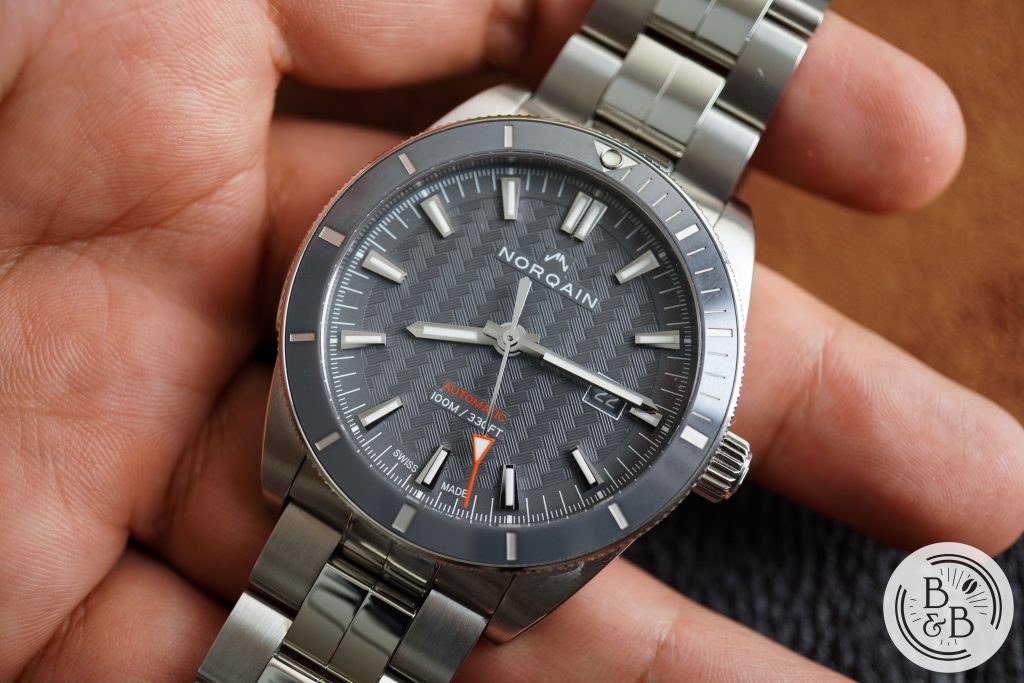 So when Paul offered to send me his brand new Norqain Adventure Sport to review, I could not refuse. This watch has a retail price of $2050 on the metal bracelet, but if you time your purchases right, you can get up-to 20-25% discounts on these watches. That puts them in the $1500-$2000 price range, which is a competitive market for luxury watches, but as you'll see, this watch definitely delivers.
Let's check it out!
---
Case
I measured the case to be 42.8mm in diameter (measured across the case width), 50mm from lug-to-lug and 12.5mm in height. The case is primarily brushed, with some polished accents and elements.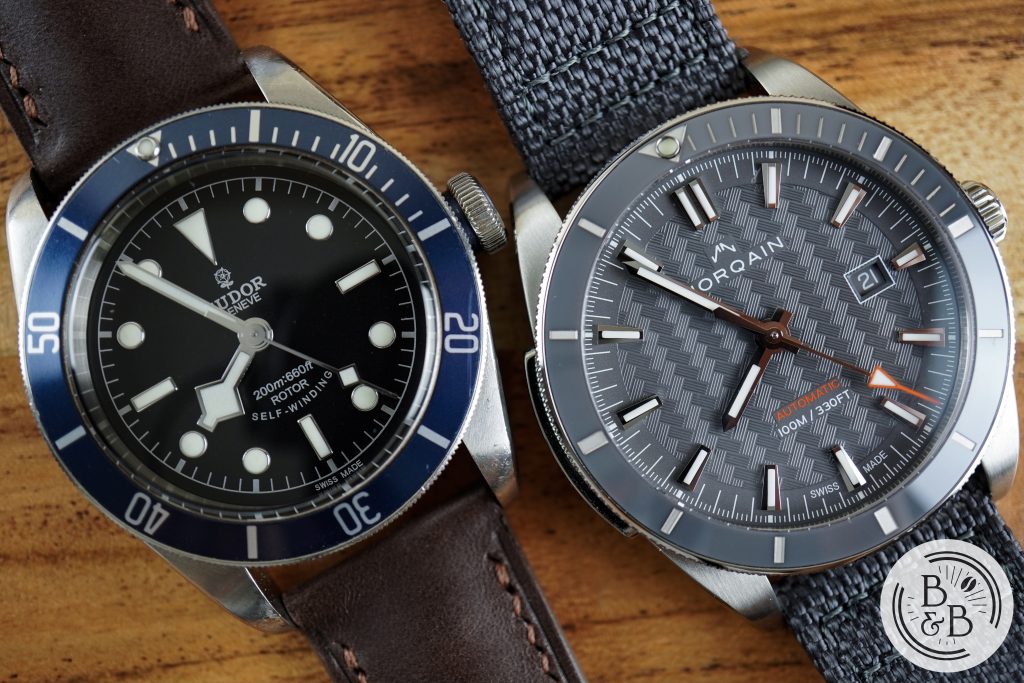 The case design is pretty conservative, and is similar to the silhouette of the Tudor Black Bay with a few minor differences.
Unlike the slab-of-metal mid-case section of the Black Bay, the Norqain's mid-case is slightly narrower, and curves down into a pair of lugs that have polished edges. The lug width on both watches is 22mm.
The case flanks slightly differ because of the polished nameplate on the Norqain, which I really like as it balances out the typical case asymmetry caused by the 3 o'clock crown. You can also get an engraved nameplate if you're celebrating something special.
The Norqain has a 60 click uni-directional bezel that has a well executed knurled grip and is easy to grip and operate. The bezel action is great too, with no back-play. The bezel is pretty tall compared to the Black Bay, but it is definitely easier to use, in comparison. The Black Bay has some back-play, but that could just be a side effect of being abused for six years, and I wasn't as picky about my watches back then to remember what it was like.
The Norqain has a ceramic insert with a lumed pip. I think I prefer the Arabic numerals on the aluminium insert of the Black Bay, since it is a bit more intuitive, even if you're only using it to time frozen pizza in the oven.
The Norqain has a signed screw-down crown at the 3 o'clock position with a well machined grip. I prefer the larger crown on the Black Bay to the 6mm diameter crown on the Norqain. But the crown operating experience on the Norqain is better than the Tudor. I'd place it mid way between the Black Bay and my Submariner.
Flipping it over, you have a screw-down case-back with a large exhibition window. The movement is clean and nice to look at, but I would trade the exhibition window for increased water resistance if I had a choice, as this watch is rated for up-to 100m of water resistance, compared to 200m on the Black Bay.
---
Dial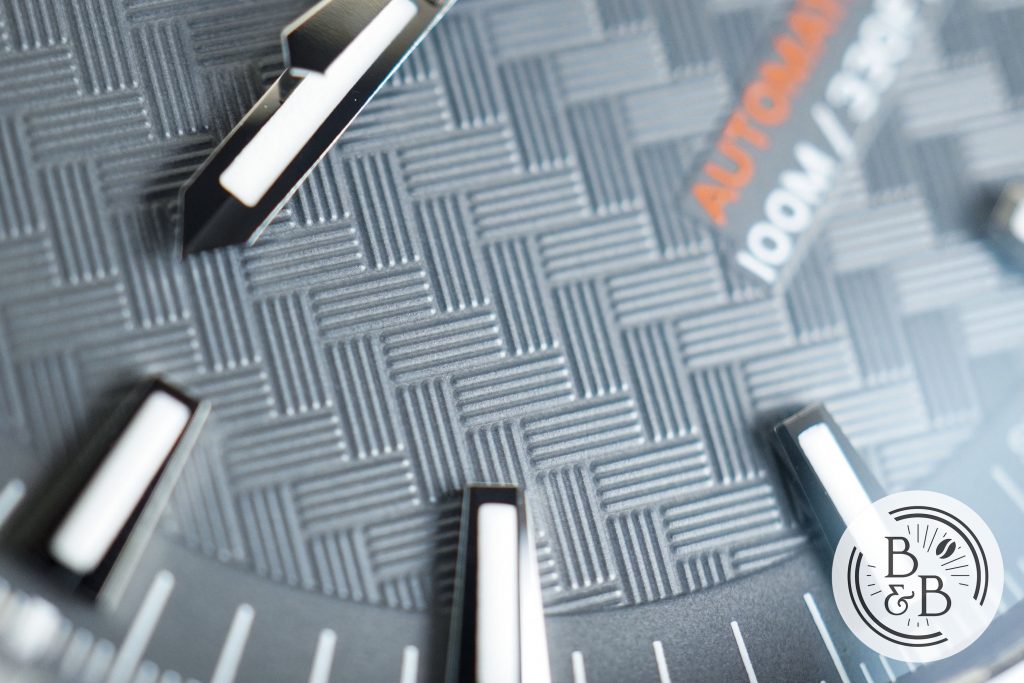 I think the dial will be a hit or a miss for most people, given the bold use of texture. The base of the dial has what appears to be a machine pressed guilloche pattern, and I think it works well on the gray and black dials in particular. The finishing is excellent!
There is an outer minute track that has a plain gray background with printed large ticks for the minutes, and small ticks for the milliseconds. The quality of printing is excellent and I couldn't find any faults here. The Tudor has a simpler pattern with only minute markers.
Both watches have applied indices, but are designed very differently. The Norqain chooses to use more polished stainless steel, with larger faceted surfaces, whereas the Tudor has very little metal exposed and the finishing is a simple high polish. But as we'll see later on, this works in favor of the Black Bay where lume is concerned. The finishing on both are good with minor particles, but I'd say the Norqain probably takes more work and stricter quality control to get right.
The texture on the Norqain dial makes printing more challenging, and Norqain took the easy way out here and printed their logo and text on raised flat surfaces. I think it works fine for the logo under the 12 o'clock, but I'm not a fan of the way the text above the 6 o'clock is executed. I would've preferred if it was printed onto perfectly matched raised sections for the text only.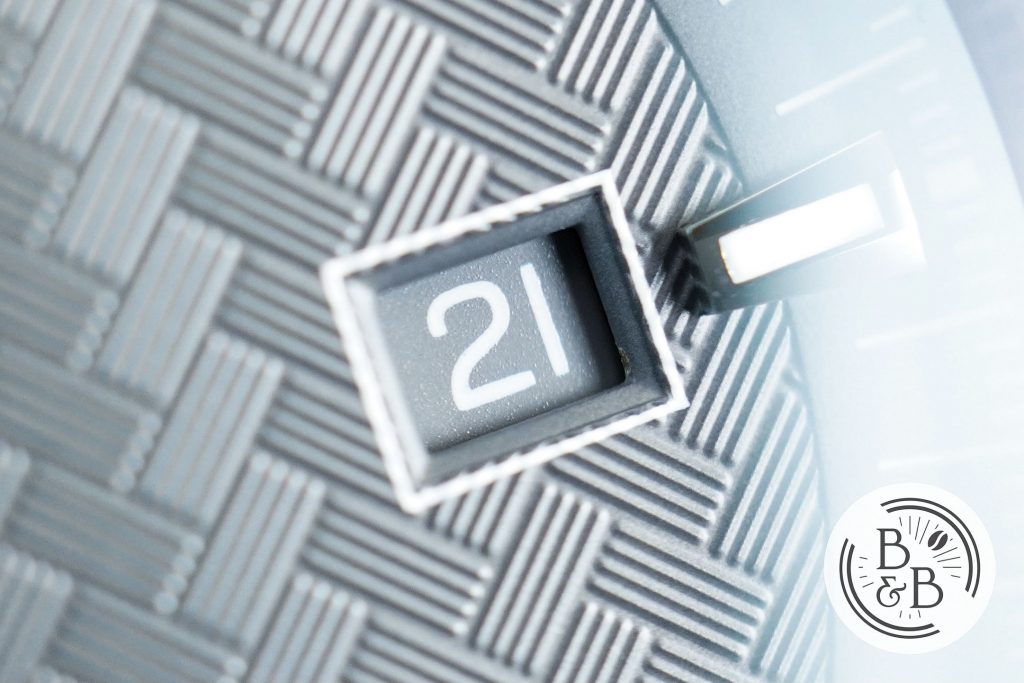 The Norqain has a date window at the 3 o'clock position, with a printed white border and a color matched date wheel with white text. I would've preferred the date window at the 6 o'clock position, but they've executed this layout well.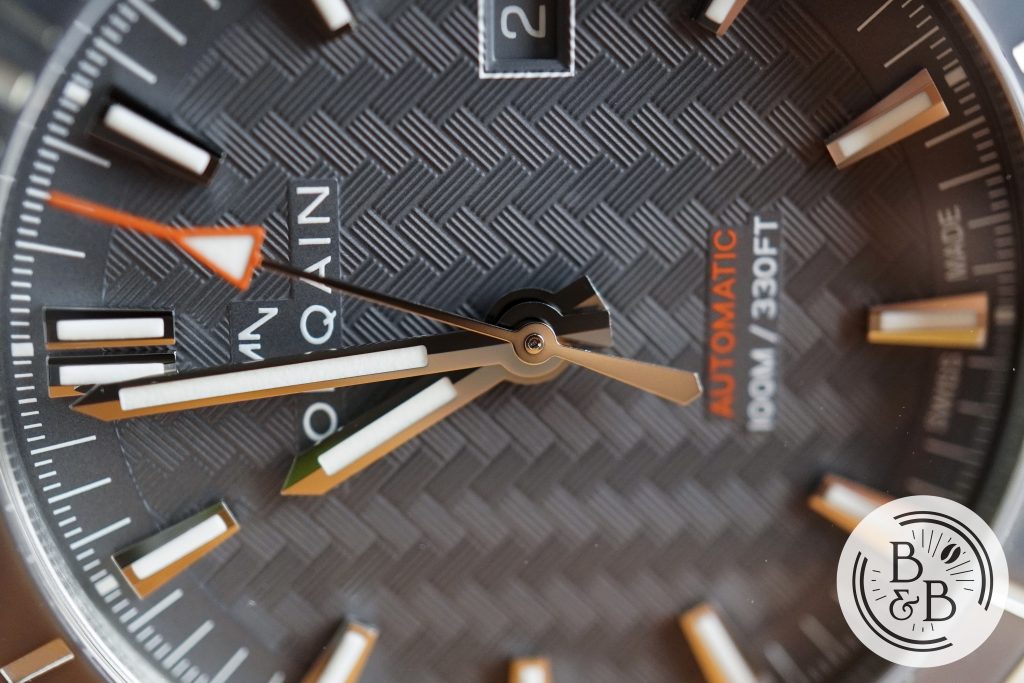 The hands on the Norqain are well designed and well finished, with all three hands containing lumed elements. The hour and minute hands are dual faceted and play with light better than the Tudor. The finishing is good, and comparable to the Tudor. No complaints from me regarding the dimensions of the hands on both watches. They're easy to read, and both the minute and seconds hand hit their respective markers.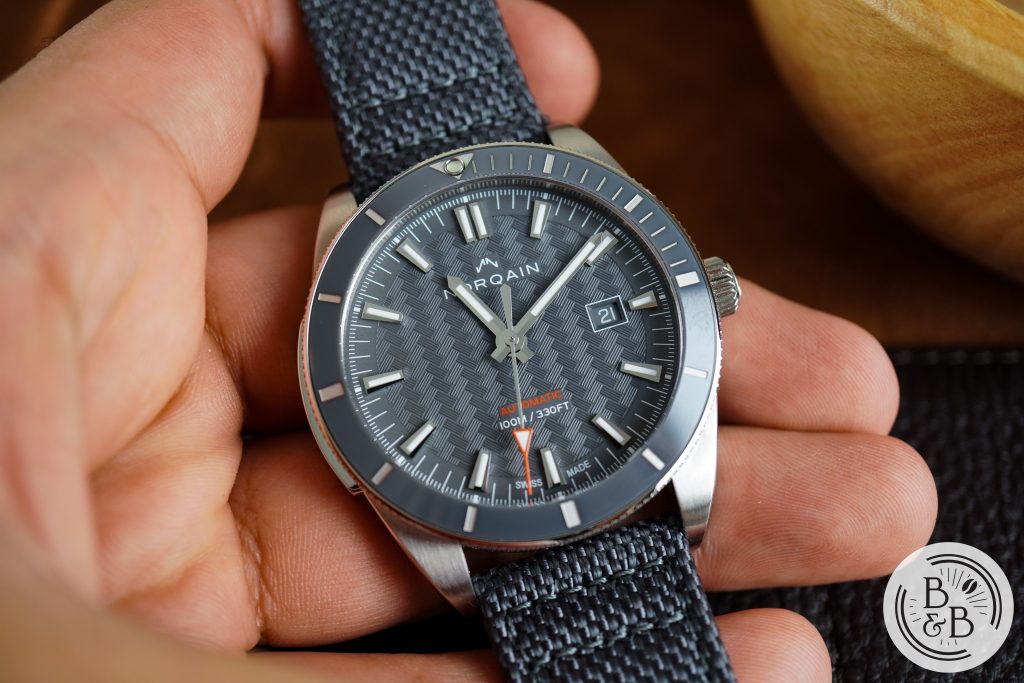 Overall, I like the dial on the Norqain. I think it is well finished and has an interesting design. It differs significantly from the Tudor in this area, with the Tudor having a more classic and constrained dive watch dial design. So I think it'll come down to what kind of design you prefer, because they're pretty much exactly the same in terms of finishing and quality control.
---
Lume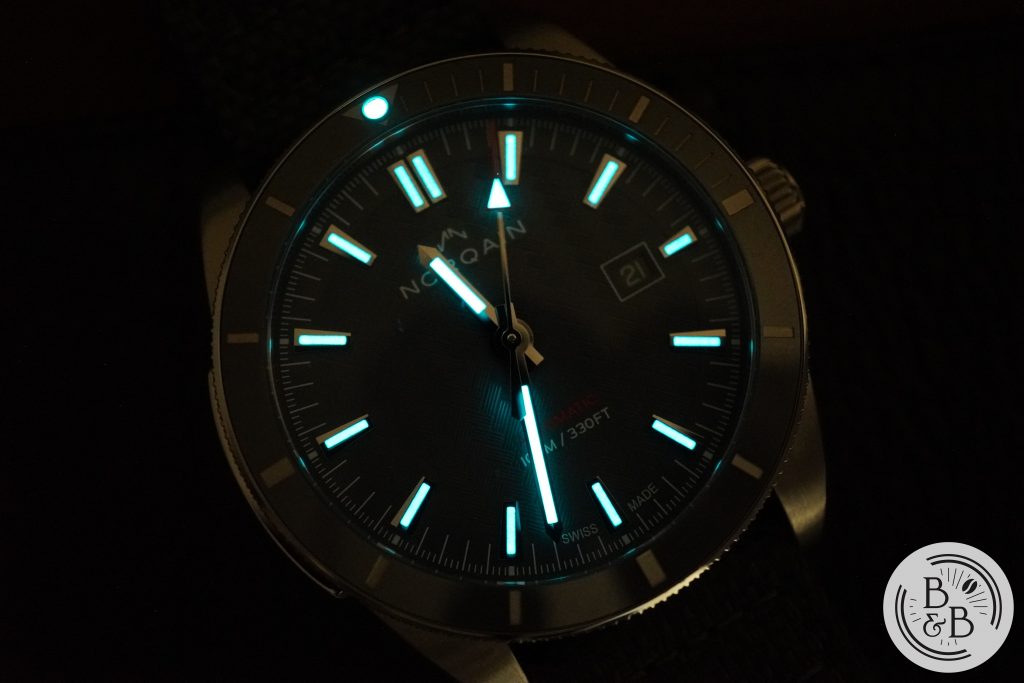 The lume on this watch isn't going to win any awards for longevity, and this maybe this watch's only area of weakness. It looks to me like BGW9, but according to their website all the lumed elements are C1 Super LumiNova, and all the indices and hands are lumed.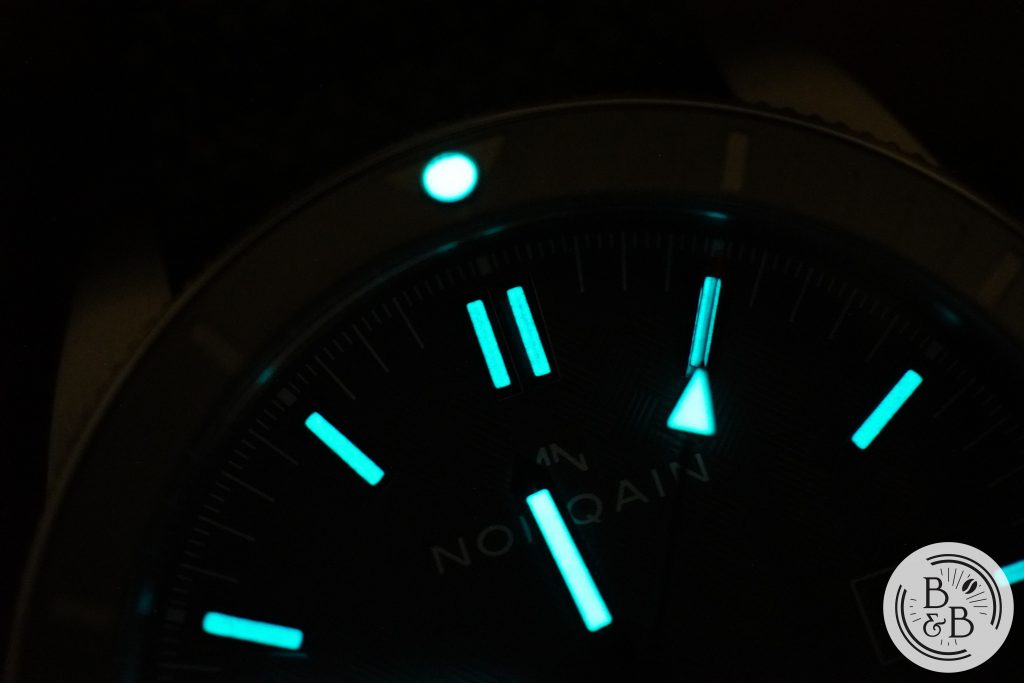 The circular pip on the bezel is also lumed, and is surprisingly bright.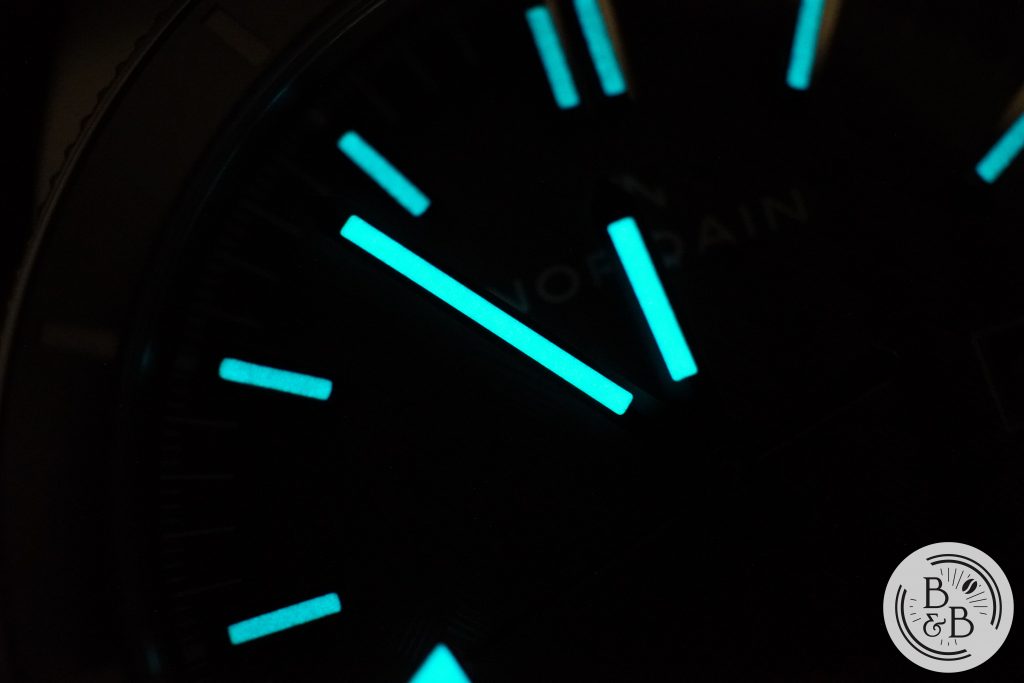 The hands appear to be more generously lumed than the indices and have better longevity, and the circular pip seems to be the most generously lumed element on this watch, which is very interesting.
The Black Bay outshines it initially, and outlasts it in the timelapse comparison. But the indices and hands on the Black Bay are just better designed to hold more lume, so it has a clear advantage there.
---
Bracelet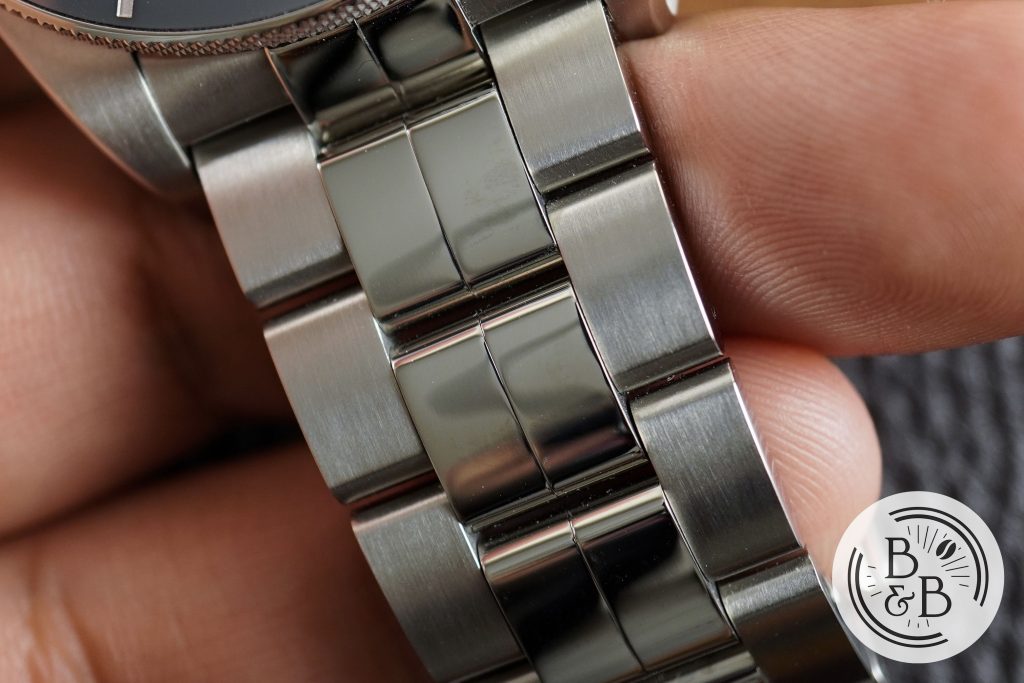 The quality and finishing of the bracelet is excellent. The links have a twin polished inner section and brushed outer pieces. I'm not a huge fan of polished center links because of how easily they get scratched, but from a design perspective it looks good here. The links are screw-based and taper from 22mm at the lugs to around 19mm at the clasp.
I don't have any extensive experience with the Tudor bracelet, so I won't make any comparisons here. But for the price, the Norqain's bracelet feels very well done.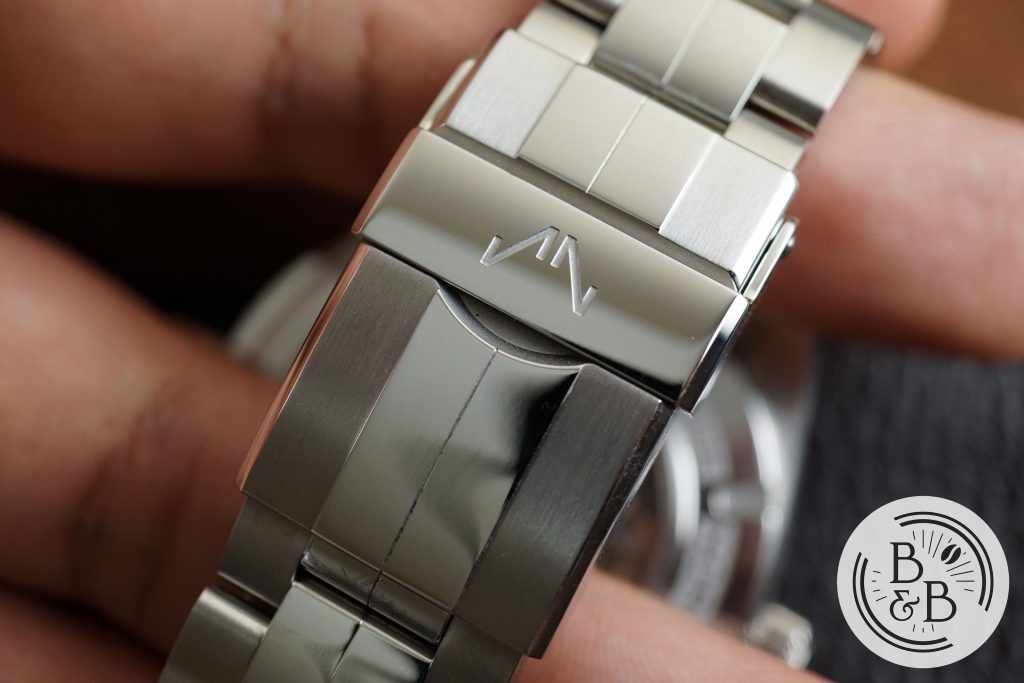 The clasp looks awesome, and continues the same excellent finishing. It has four micro-adjustment slots that are hidden from the outside. The manufacturing feels solid and reminds me of the clasp on the Formex Reef, that was manufactured by Dexel.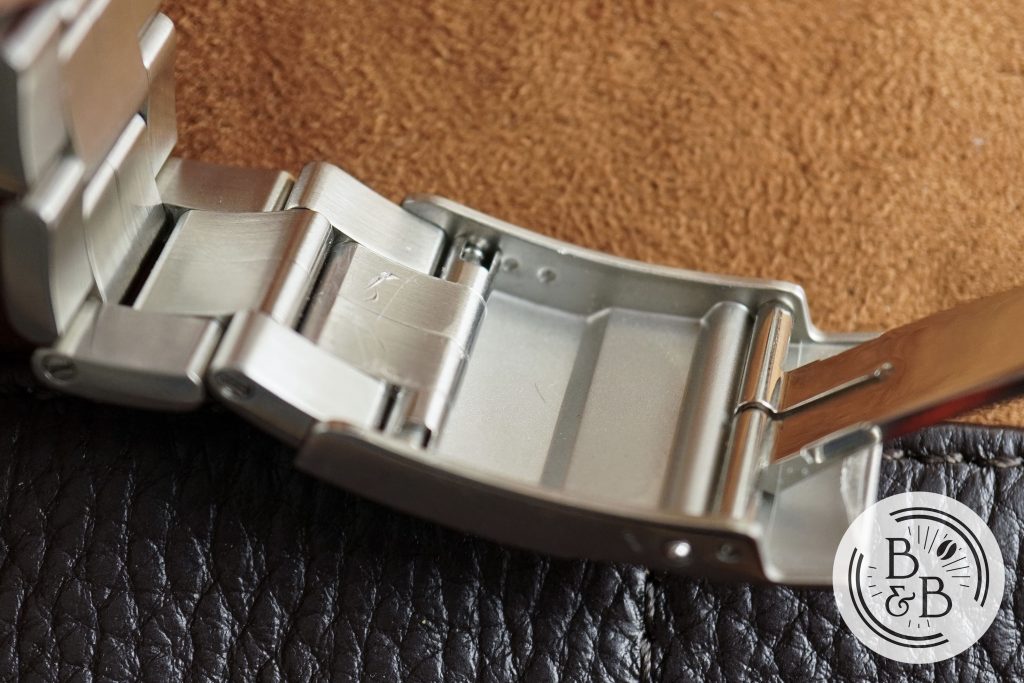 With brands like Monta and Formex leading the pack in the sub $2000 bracelet category, I think Norqain should consider upgrading their clasp to feature an on-the-go quick adjustment system.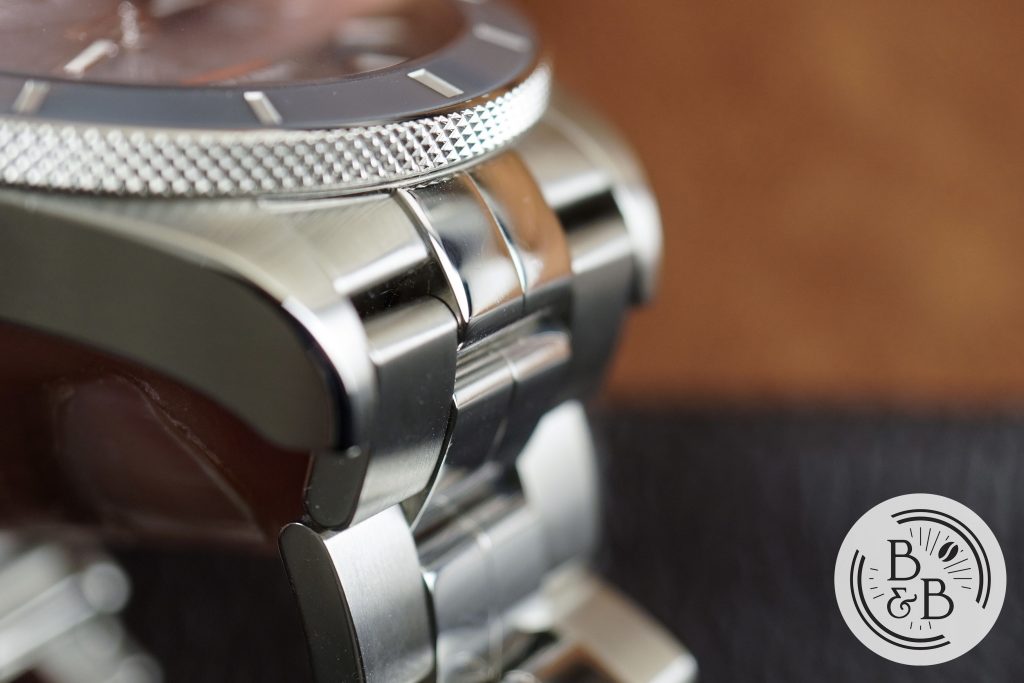 Lastly, the end link fitment is perfect, with absolutely no wiggle, and the end link and case design allows for the overall width of the case to shrink from 50mm at the lug tips to around 48.8mm from end link to end link. Good stuff there!
---
Movement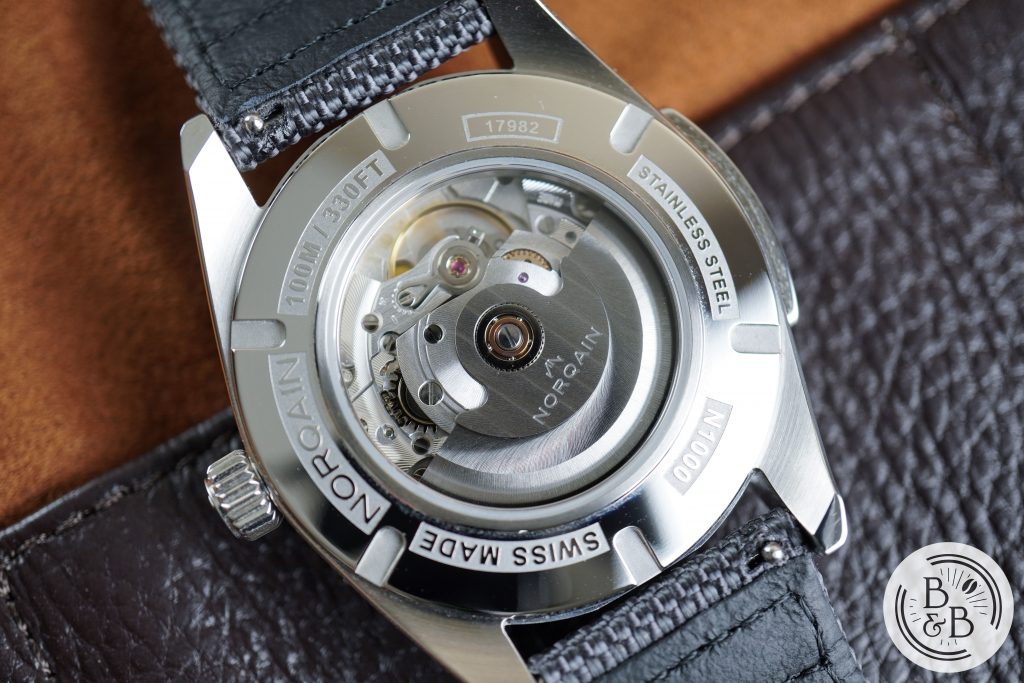 Both the Norqain and my Tudor have ETA 2824-2 movements. A year or two after the ETA model was released, the Black Bay was upgraded to feature their in-house Kenissi movement. Similarly, some of the latest Norqain models are using movements manufactured by Kenissi as well. Lots of similarities here, but let's get back to the movement…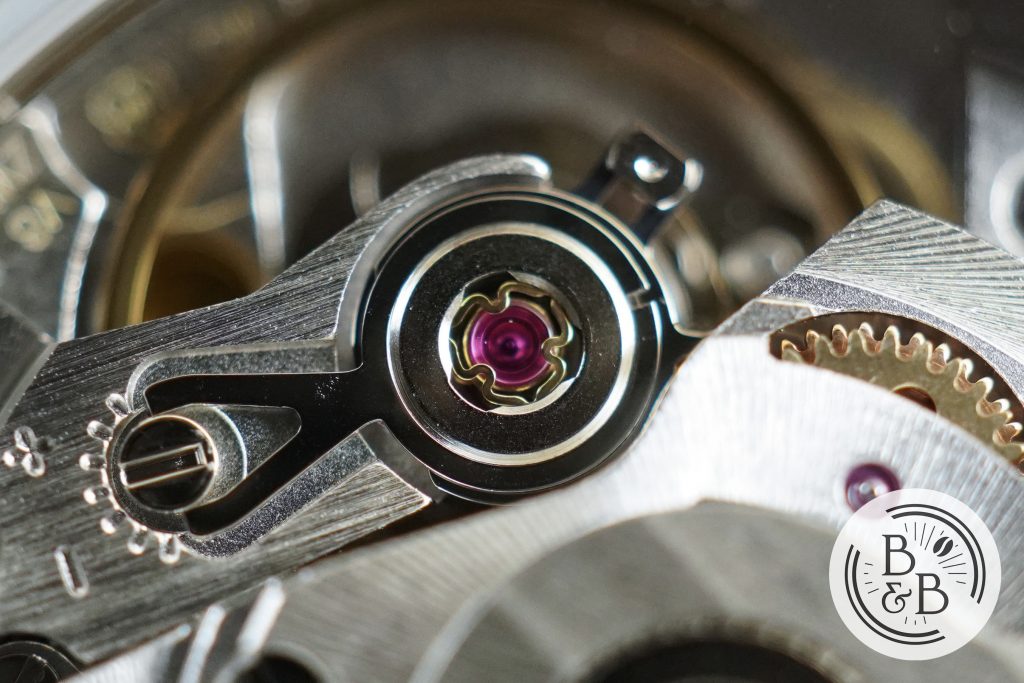 I have had more good experiences than bad with the ETA 2824-2, so no real complaints from me. I put it on my time grapher and observed roughly +3 spd in the dial up position, and +3 spd in the crown up position. All good numbers, and quite well regulated.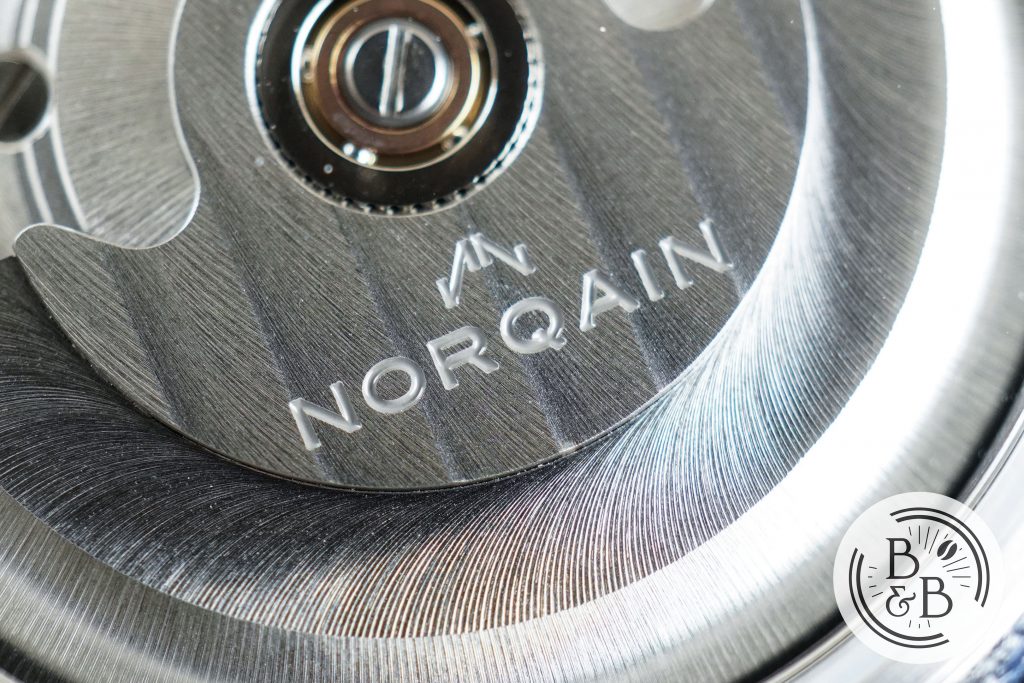 The movement itself is very clean, and is reasonably well decorated with an interesting finish on the rotor. I'm not convinced that this watch needed an exhibition window, but at least what you're seeing is well finished.
---
On The Wrist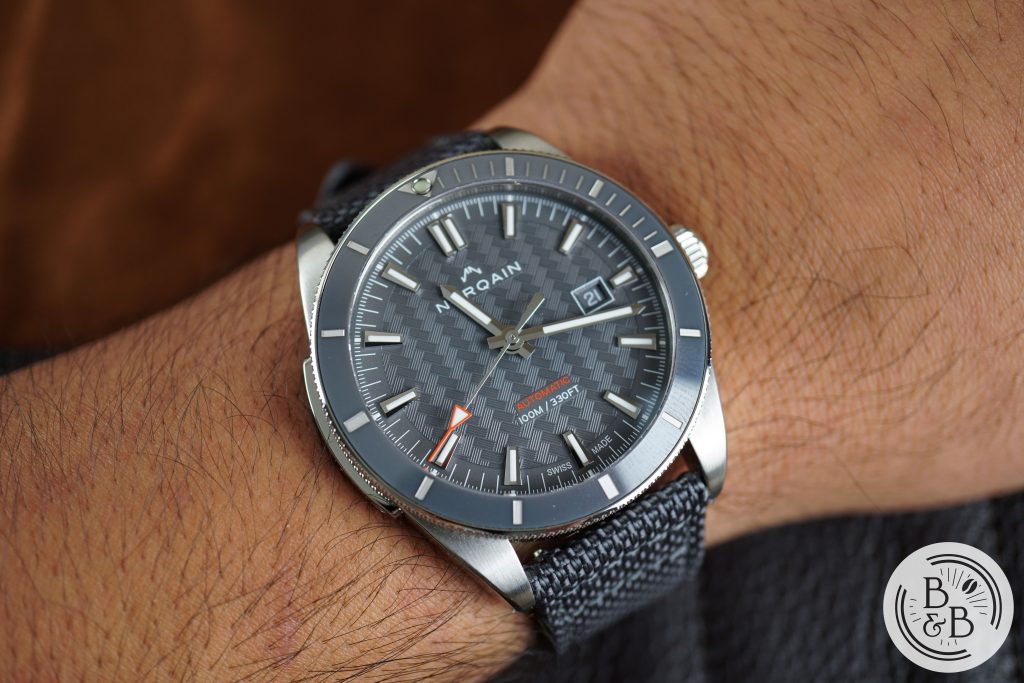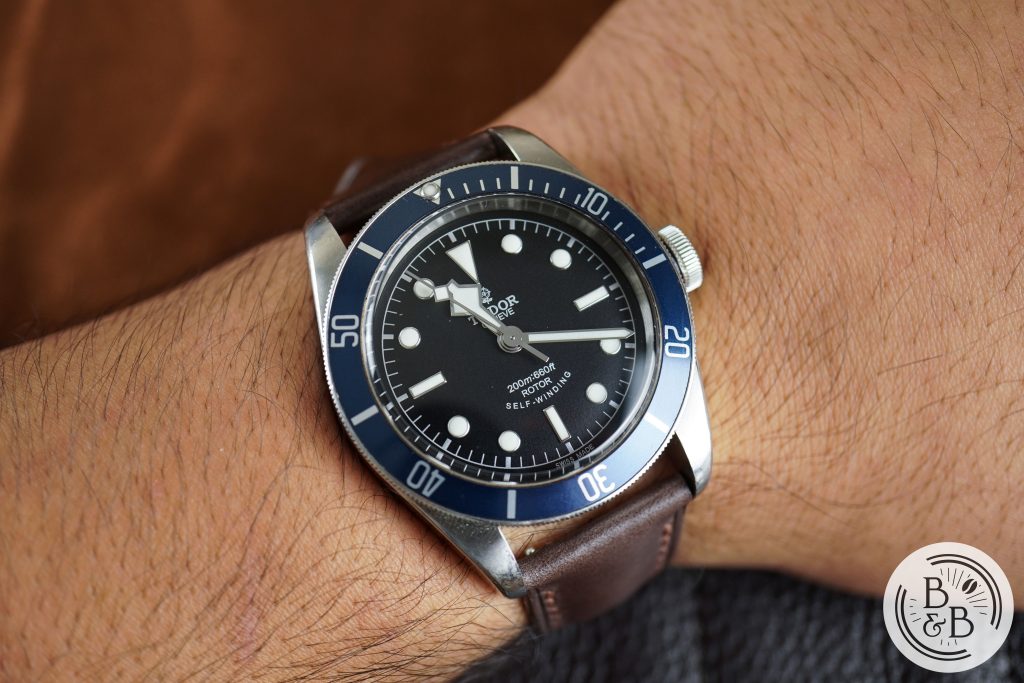 While the 42.8mm diameter is on the larger side of watches that I'd buy for myself, and the lug tip to lug tip is exactly 50mm, the articulating bracelet width is 48.8mm and a bit narrower on the Cordura strap. So it ends up fitting quite nicely even on my modest 6.25″ wrist.
The flat case-back is another step in the right direction, and grounds this watch perfectly on the wrist, making it a very comfortable watch to wear, with it's 12.5mm overall height.
It is a big watch, but that size has been carefully considered and balanced by a clever lug design, and an appropriate case height. No complaints from me here, and if anything, they deserve some praise for making a large watch accessible to narrower wrists too.
---
Concluding Thoughts
A Tudor watch is often seen as a more affordable means to experience quality watchmaking, without the baggage that comes with the hype and extravagance that is often associated with Rolex. One is not a substitute for the other, but the Tudor does a great job in it's market segment and I won't deny that. But Tudor has exploded in popularit, and is being put on a pedestal the same way that Rolex is. And the reasons that drove people away from Rolex and towards Tudor, now apply to Tudor as well, with their use of wait lists, dealer lobbying, etc.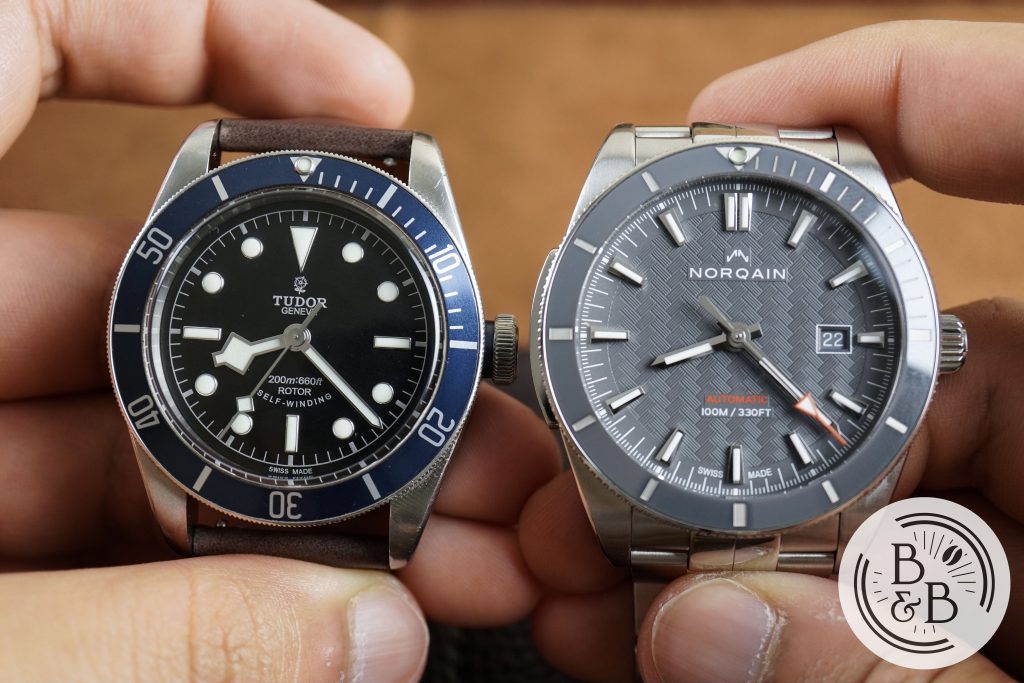 I don't want to make this review about any of those issues. However, I will say that if you're not interested in the hype and glamour associated with a Tudor watch, but you want a high quality watch that lacks any and all pretense, you should take a look at Norqain. They're doing things right, and for a new brand in a difficult market segment, they've earned my appreciation. And if you time your purchases right, you can get these watches at close to 20% off, which is an incredible value proposition, in my opinion.
---
Strap Change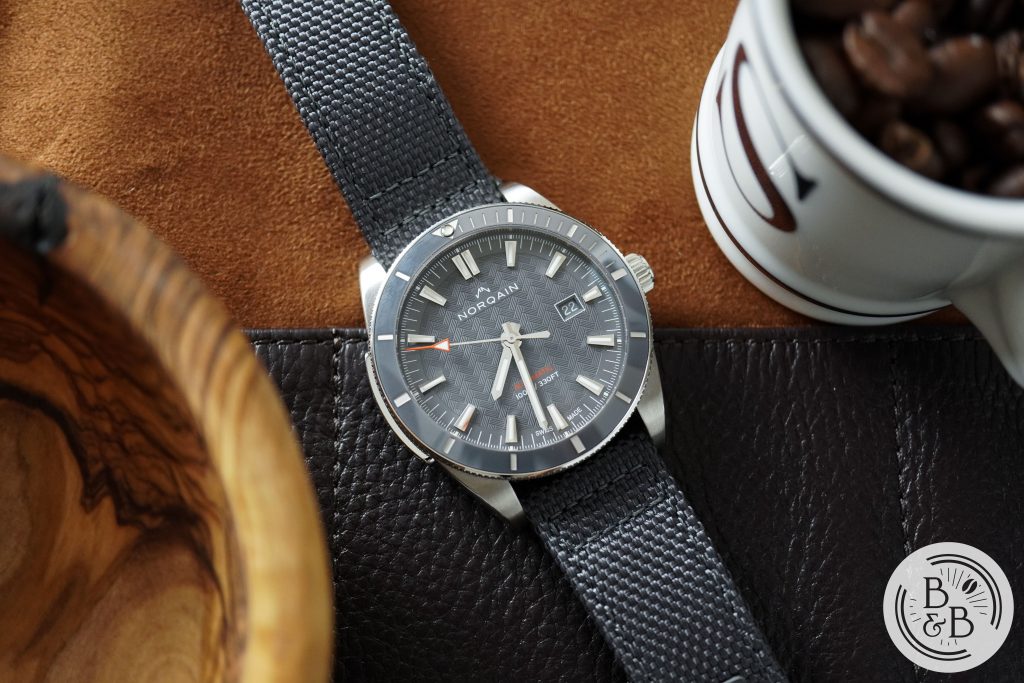 ---
Thanks for reading!