---
Disclaimer: This watch was sent to me to review, and I was not paid to write this. This is in no way sponsored by Trafford, or any other entity. All opinions here are my own. Trafford will be sending me a watch from this collection when it goes into production, but they have no control over the content of this review.
---
---
Contents
---
Intro
Trafford is a new American micro-brand founded by Nathan Trafford. This is their debut release, and is quite an interesting one, as it a themed watch. This watch is inspired by the story of three European race car drivers from the 1930s – William Grover-Williams, Jean-Pierre Wimille and Robert Benoist. Their story goes beyond the race-track, as they were recruited to the Special Operations Executive (S.O.E) to carry out secret missions within Europe leading up to World War II. These watches are primarily automotive inspired, but have subtle nods to the double lives led by these three men.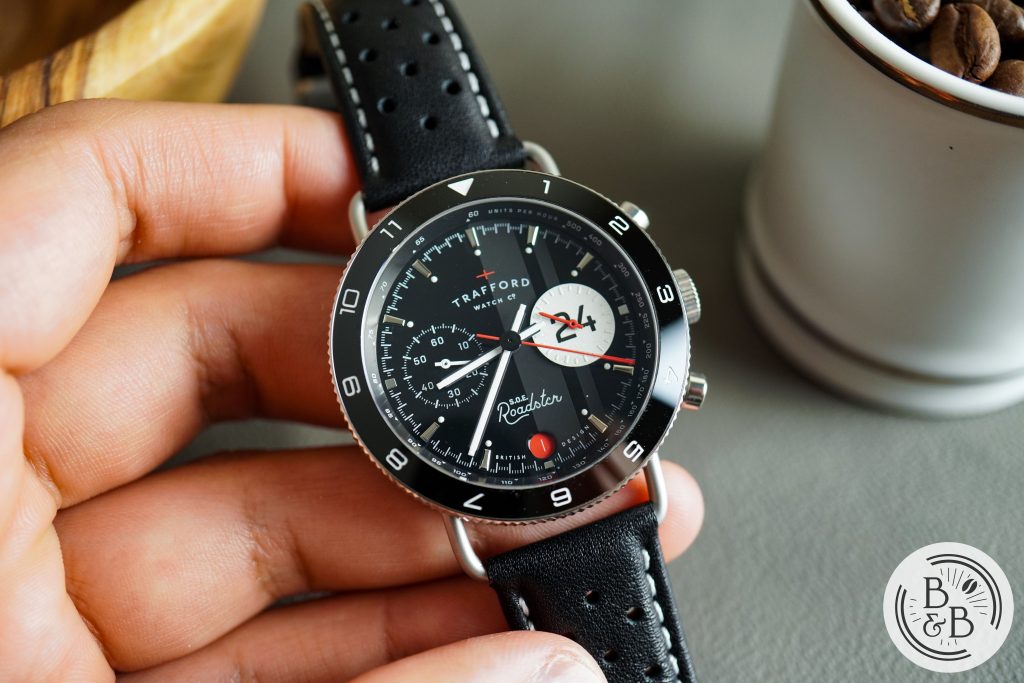 Themed watches are usually a hit or miss for me, and more miss than hit. I find most of them filled with cliches, or requiring an unreasonable amount of flexibility from my imagination. This S.O.E Roadster is easier for me to accept and appreciate, as the watch itself is designed very well. To me, the story lives alongside the design, as an optional and interesting accessory to an otherwise nice looking watch. I will include some of the design and story parallels where I found them to be relevant, and if you want to read about the entire design-story connection, I urge you to check out their website.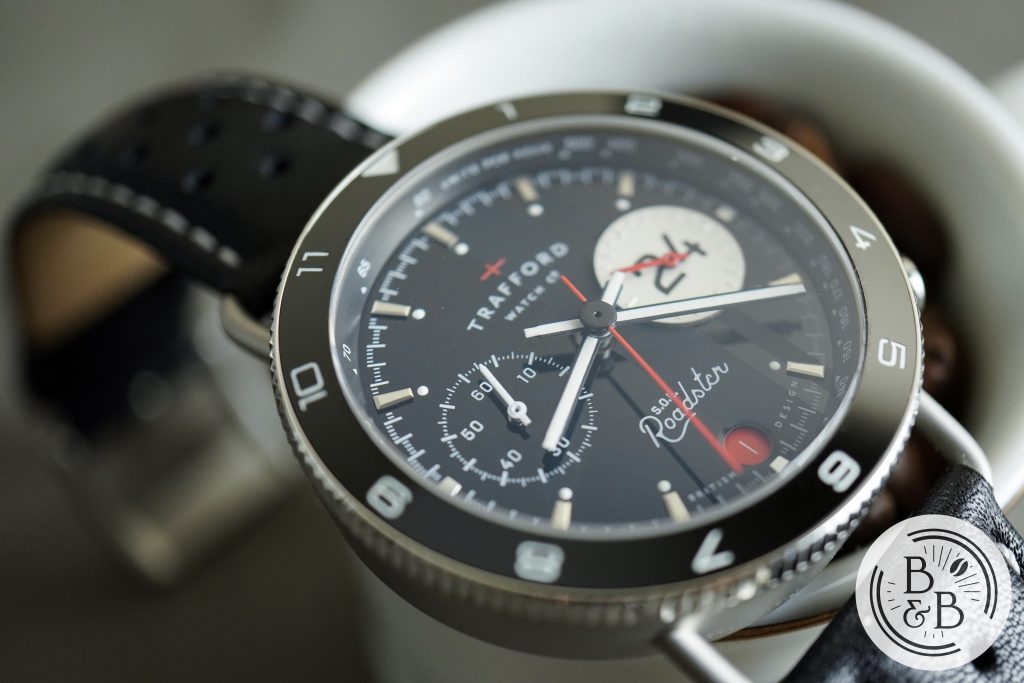 These watches will go live on Kickstarter in a month or two, with prices starting from as low as $250, going all the way up to $350 and $450 depending on when you join the campaign. I will review this watch assuming that you are able to grab it between $250–$350.
Let's check it out!
---
Case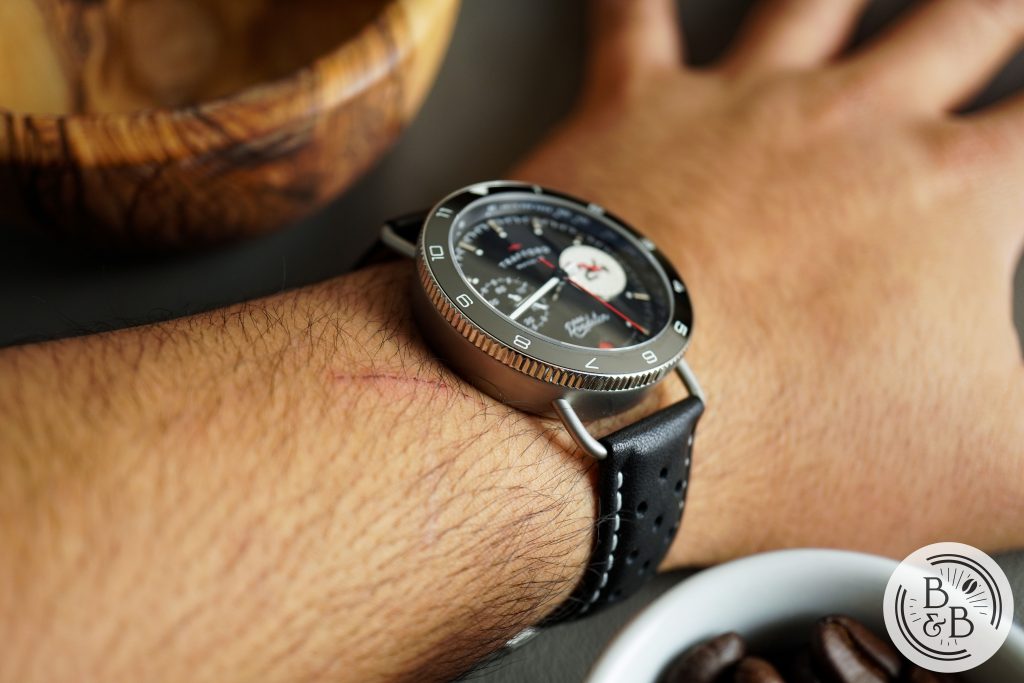 I measured the case to be 43mm in diameter (41mm if you exclude the bezel), 48mm from lug-to-lug and 12.8mm in height. The case is entirely media blasted, and the finishing is very good.
A pair of wire lugs emerge out of an otherwise hockey-puck styled case, and gently angle down towards the wrist with a strap lug width of 20mm. These wire lugs do echo some design similarities with the Bugatti Type 35 race car that this watch is said to be inspired by.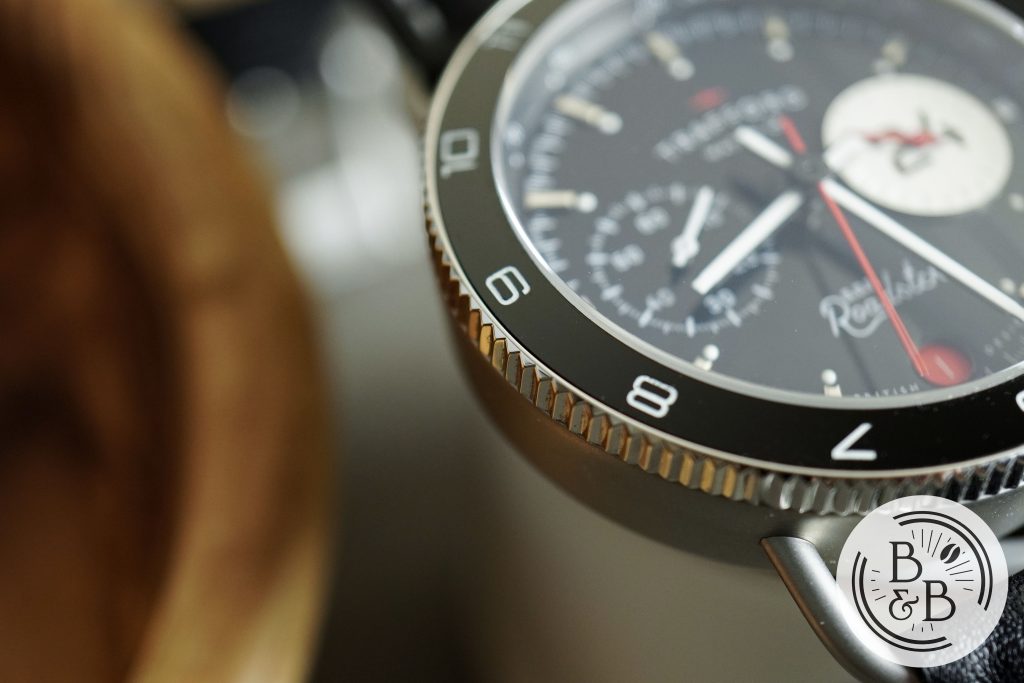 There is a 120 click uni-directional bezel with a ceramic insert and all lumed elements. The grip on the bezel is polished, but it is easy to grip and operate, and the bezel has little to no back-play. I would've preferred for the 12 hour bezel to be bi-directional, but I think that's easy to overlook.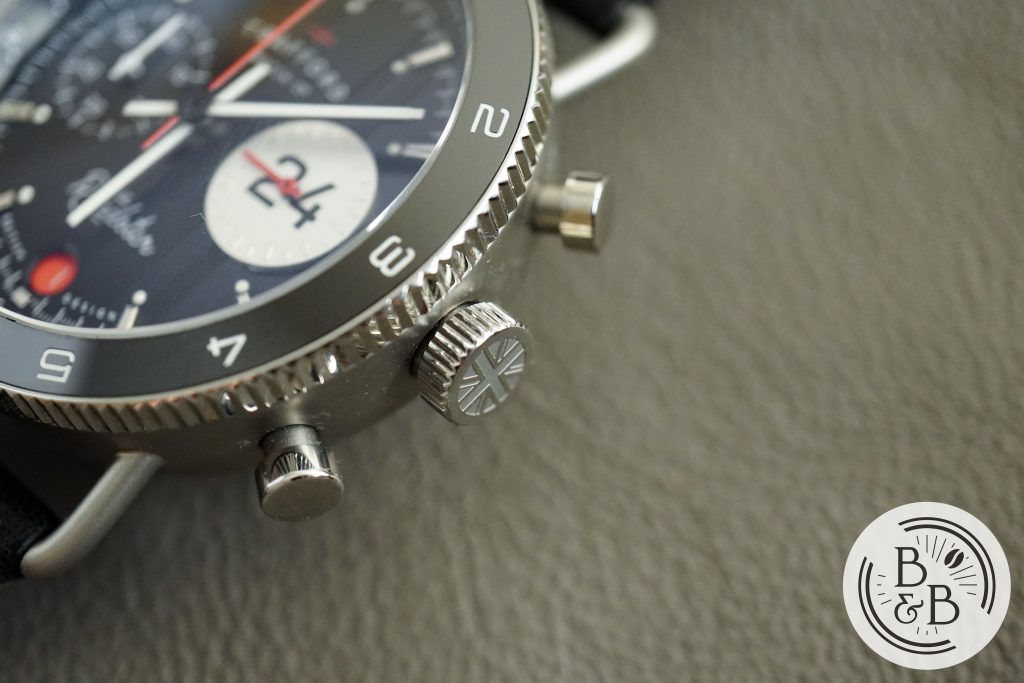 There is a push-pull crown at the 3 o'clock position with a Union Jack engraved onto it to echo the British Design theme of this watch. The crown is easy to grip and operate, and the action is solid. The pusher buttons are polished, and this movement feels good to operate.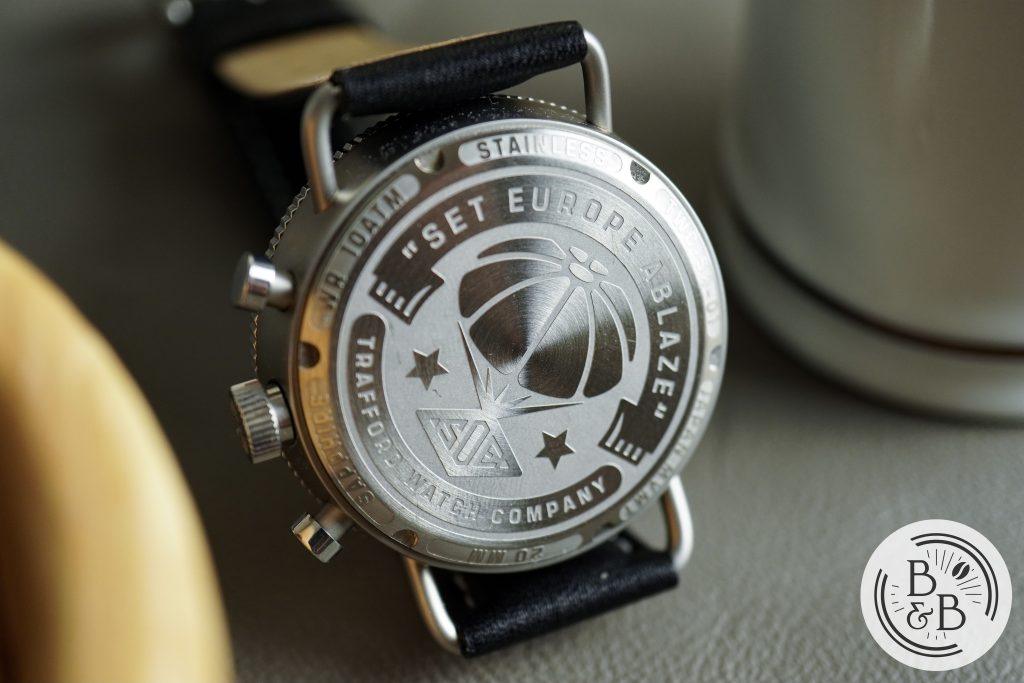 Flipping it over, you have a solid screw-down with a parachute engraved onto it. This was done to indicate the S.O.E's role in delivering arms to the French resistance. This watch is rated for up-to 100m of water resistance.
---
Dial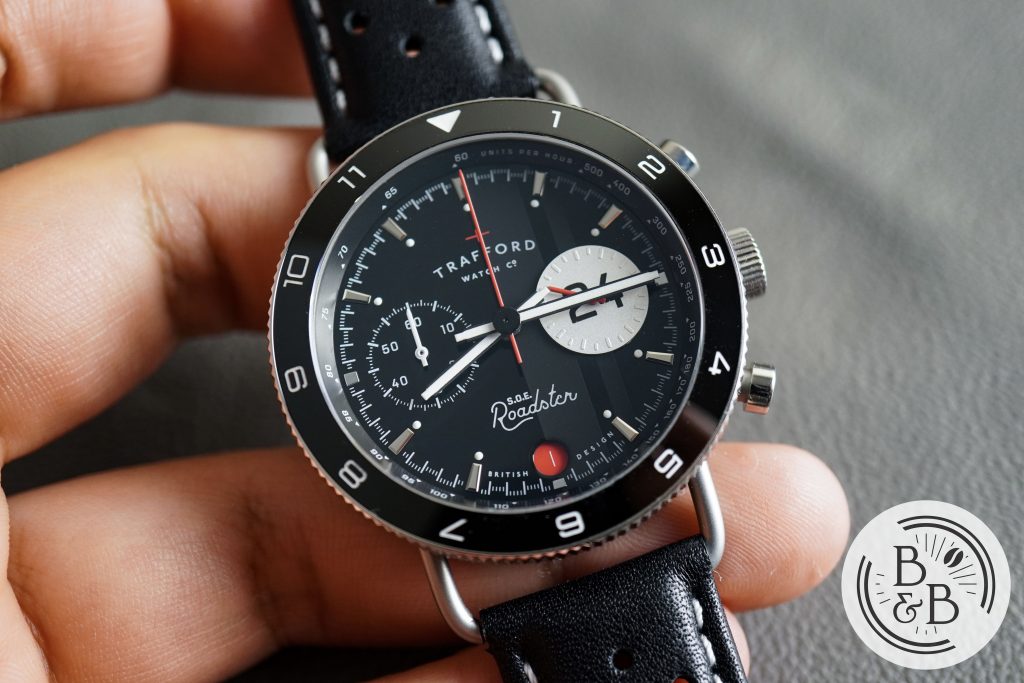 This watch is offered in three different dial options – one for each of the three drivers. This is the black dial, and is inspired by the car of Robert Benoist.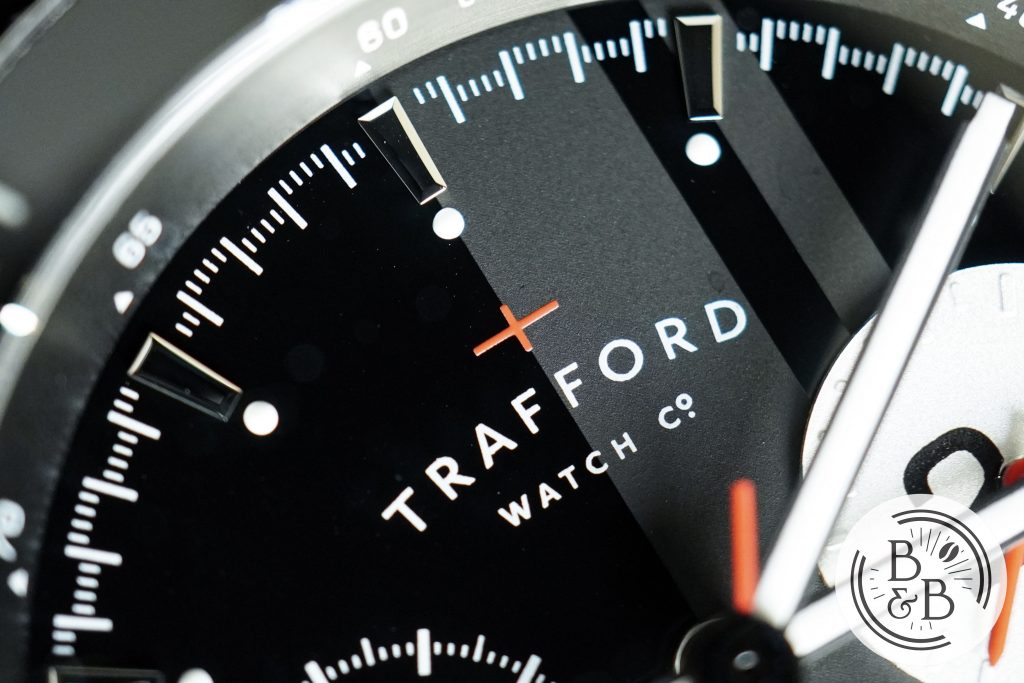 The base of the dial is black, with matte grey racing stripes that run vertically down the dial. I think this looks great, and the alternating textures between matte and gloss works well here. I noticed a few dust particles on the dial and a little smudge above the 'D' letter on the logo, but these aren't visible to the naked eye, and this watch is an early stage prototype.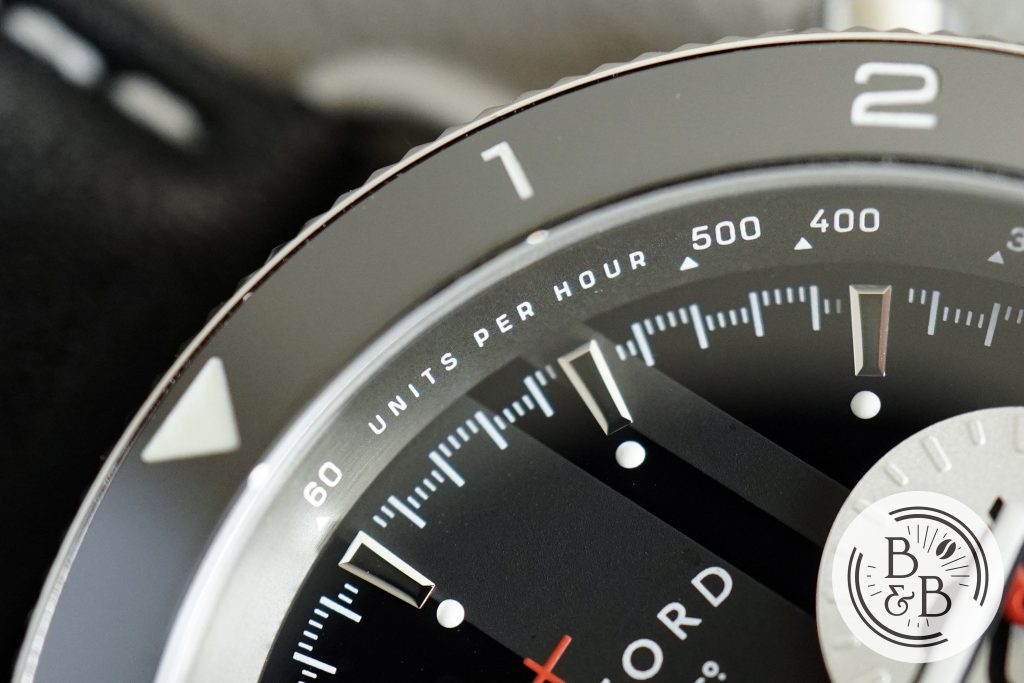 There is a sloped chapter ring that serves as the tachymeter scale, with white printing on a black background.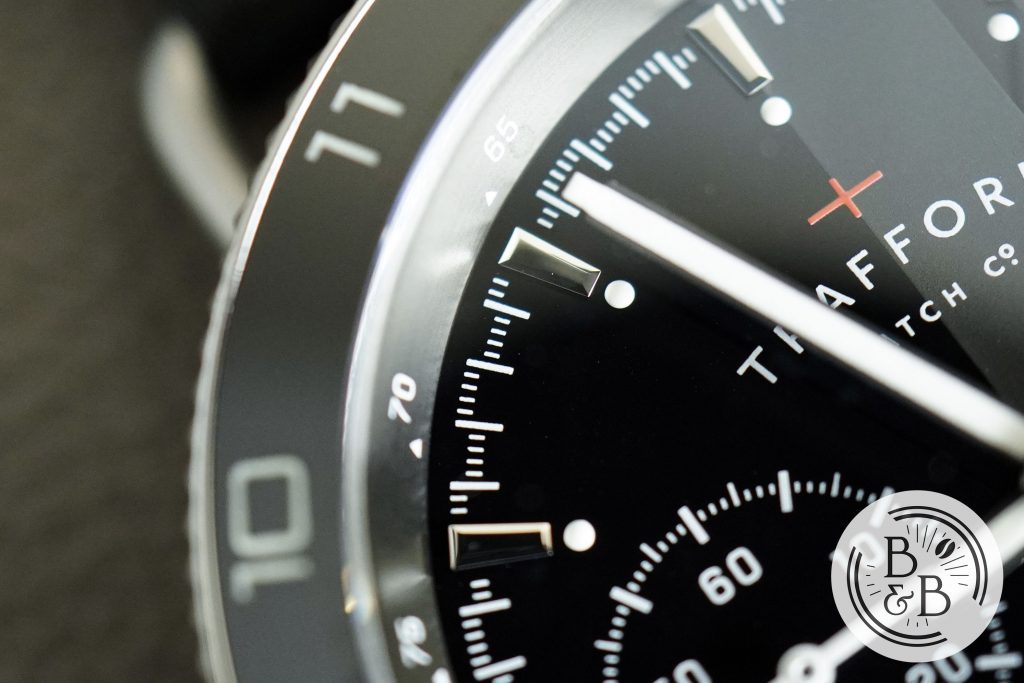 One dial surface, you have a minute track that uses alternating small ticks for the milliseconds and larger white ticks for the minutes. The quality of printing is good.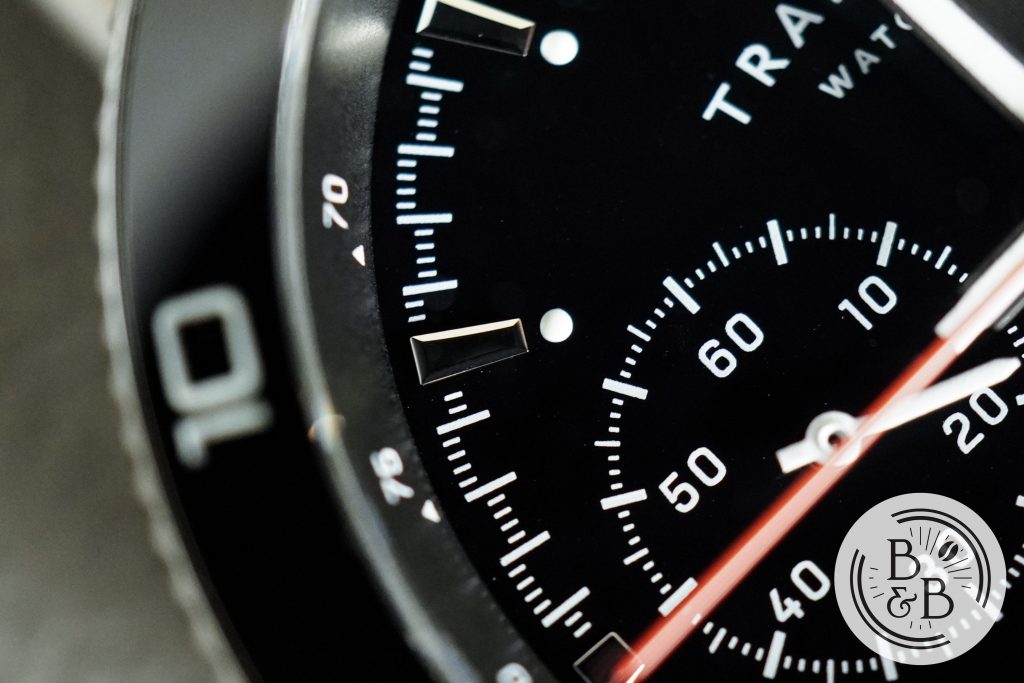 You then have applied indices that are polished stainless steel, and are accompanied by lumed white marker pips. Again, impressive finishing for a watch that costs $250.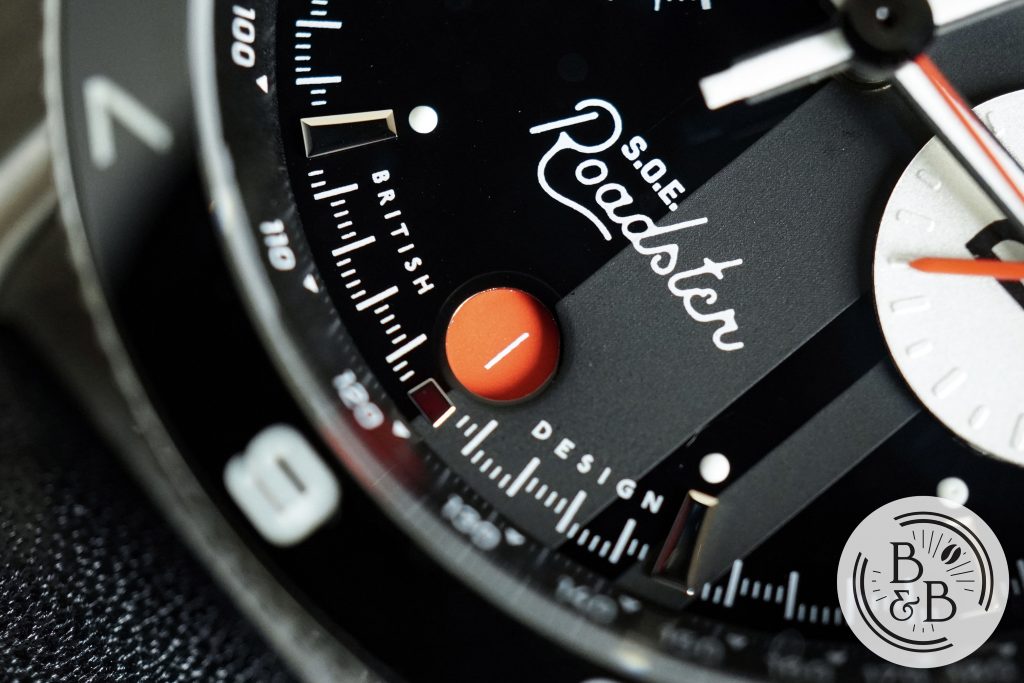 Above the short 6 o'clock index is a circular date window that has a red background with white text. I've grown to appreciate high contrast date windows if executed well, and I like this one as I did on Vandaag's watches too.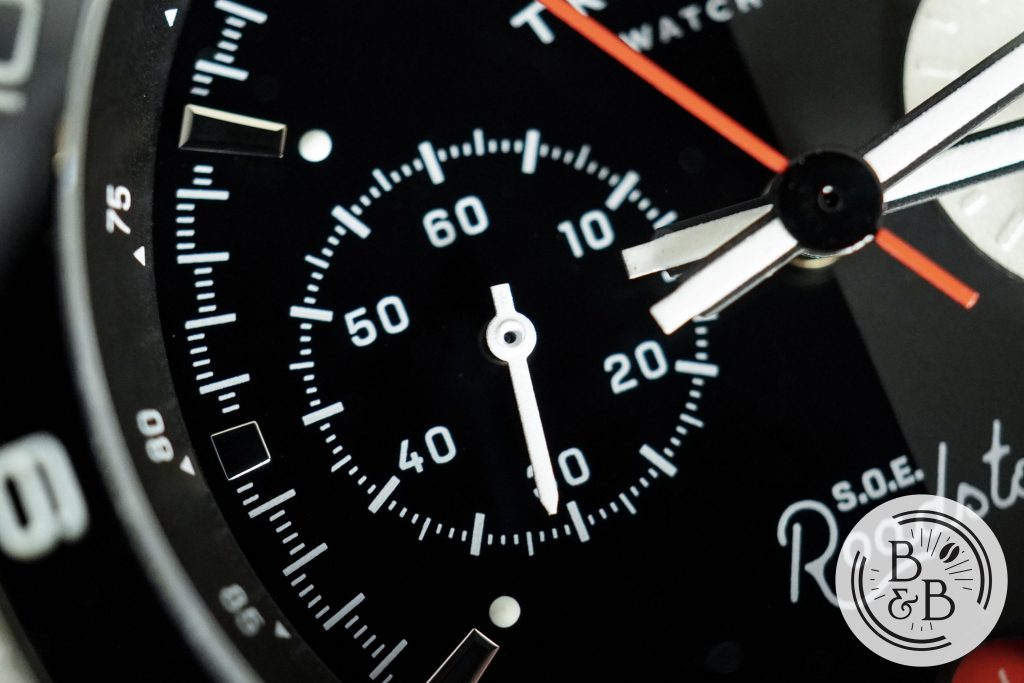 There is an elapsed minute counter at the 9 o'clock position that has a black background, white markers and a painted white hand. The finishing is good here.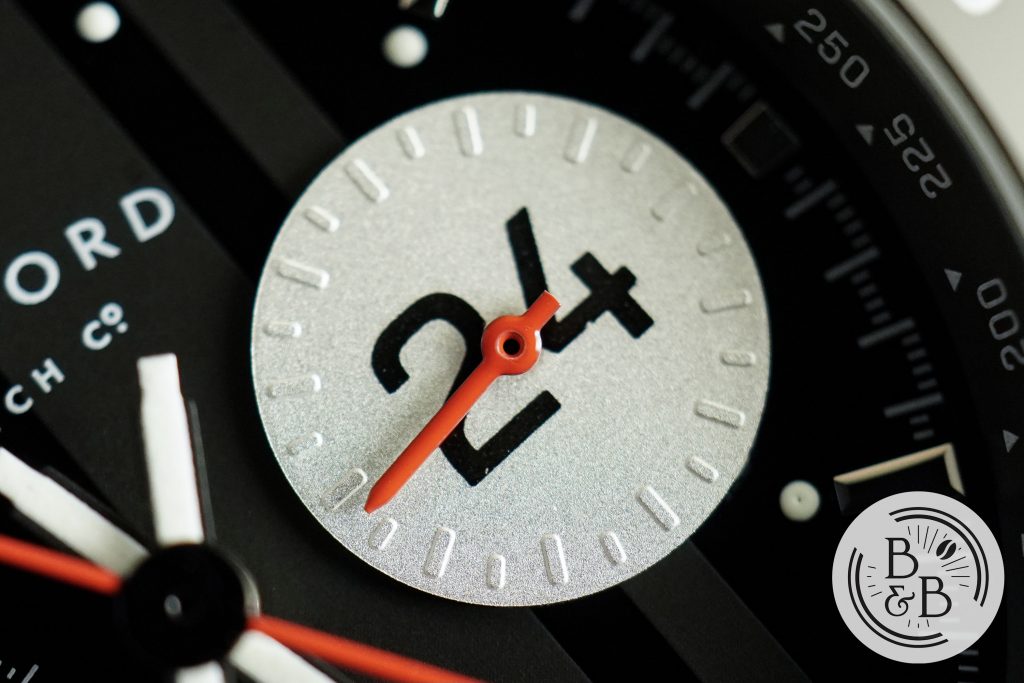 The 24-hour sub register at the 3 o'clock position that has a metallic texture, with raised markers and an orange hand. I think this looks great, and the big '24' printed on the dial conveys the race-car theme very well, while also indicating that it is a 24 hour register. I did notice some printing anomalies on the 24 text.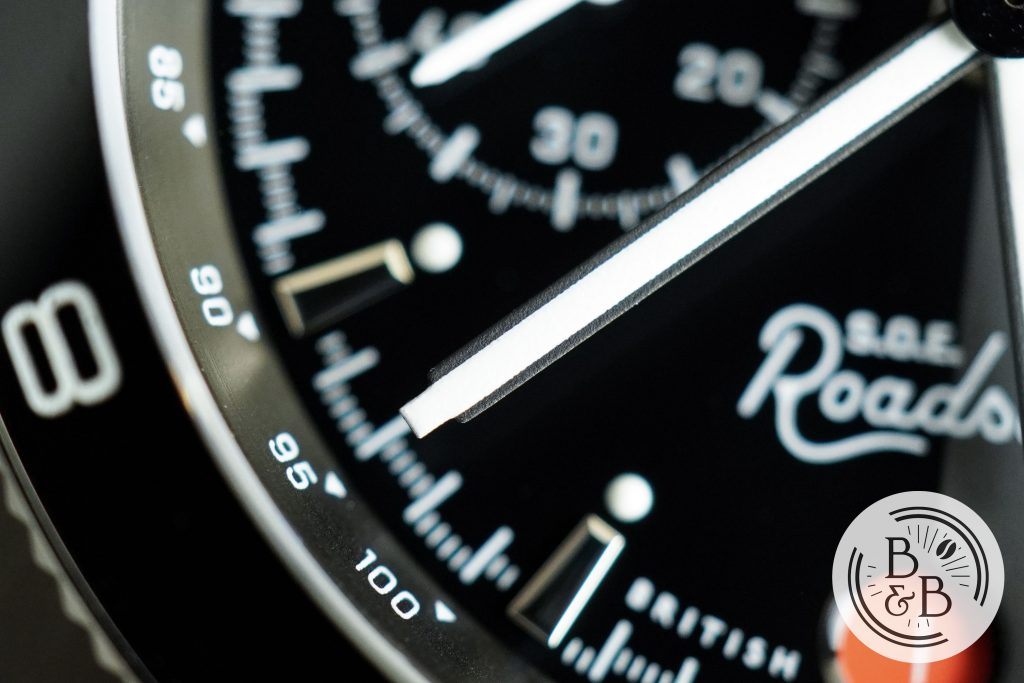 The handset maybe my favorite aspect of this watch. Both the hour and minute hands have painted black sides and a thick white strip of lume running down the middle with an exposed tip on each end. This makes it very legible, while also providing enough surface area for generous lume. The finishing here is great too.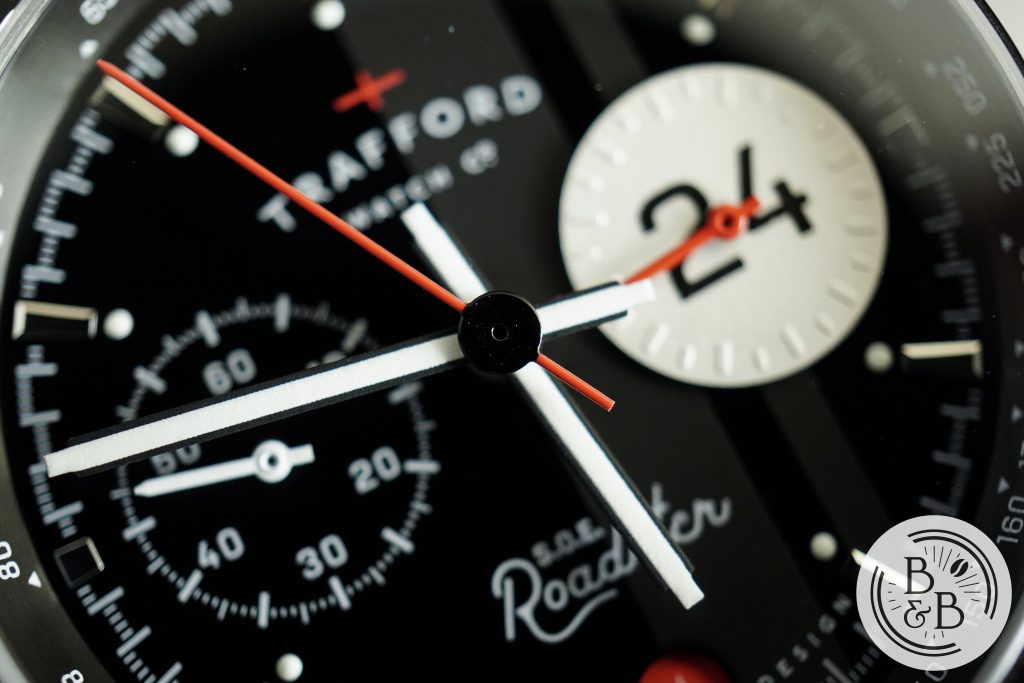 The seconds hand has a large black center cap and is painted with the same reddish orange as the rest of the accents on the dial. Great legibility overall, and a good combination of colors on this dial.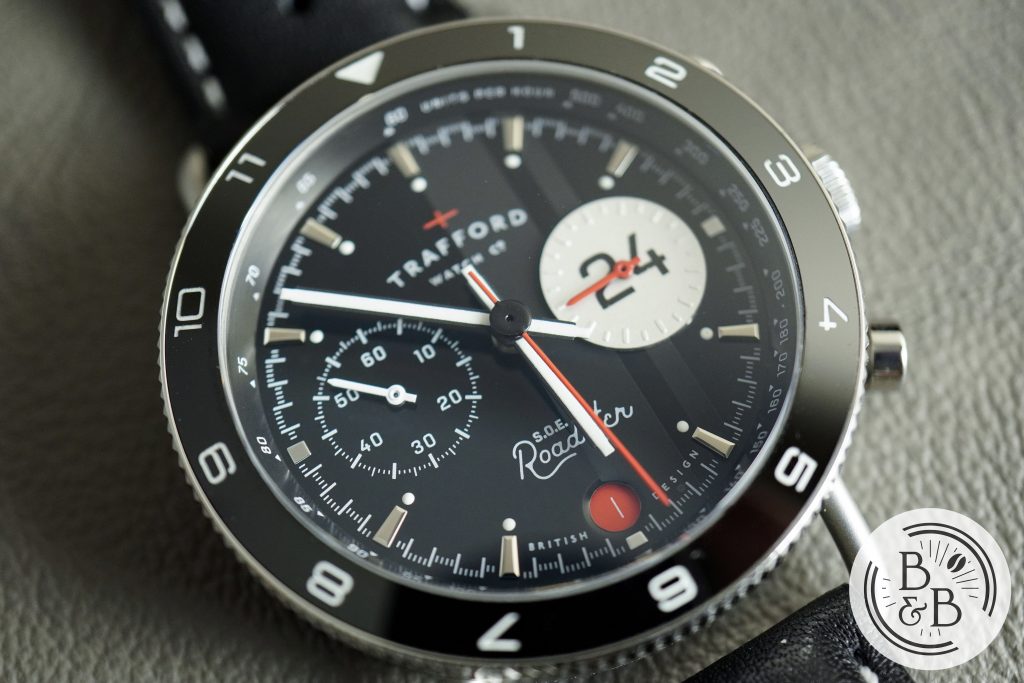 I think the finish on this prototype isn't perfect, but for the $250 price tag, I think it is definitely within reasonable expectations. I expect the final production units to be better though.
---
Lume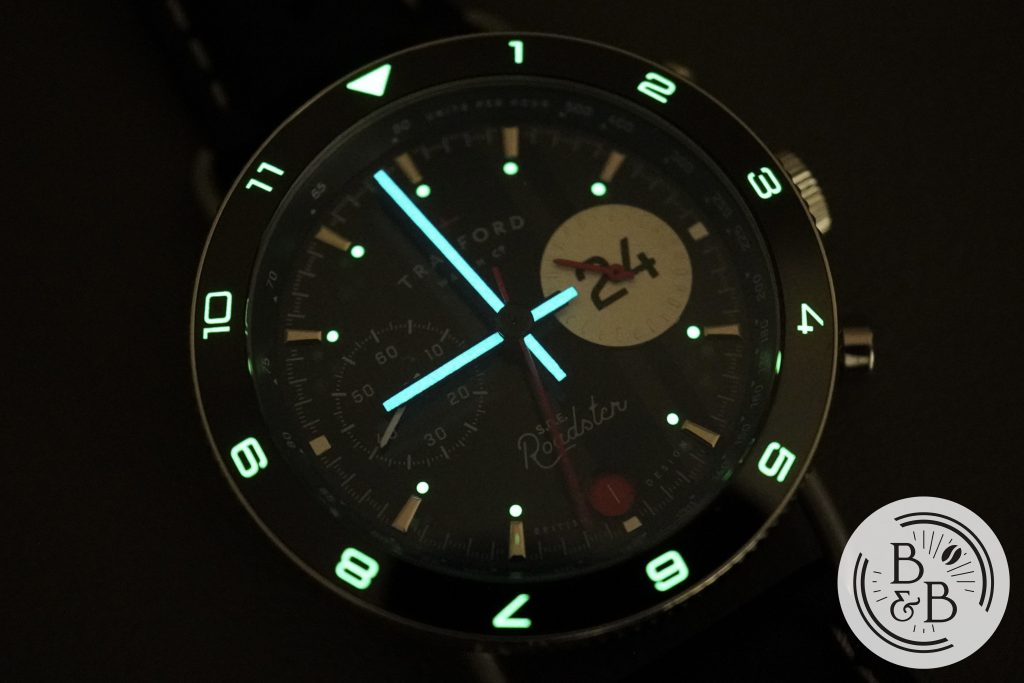 I don't have high expectations from racing chronographs where lume is concerned, so I was pleased to see a well attempted lume layout.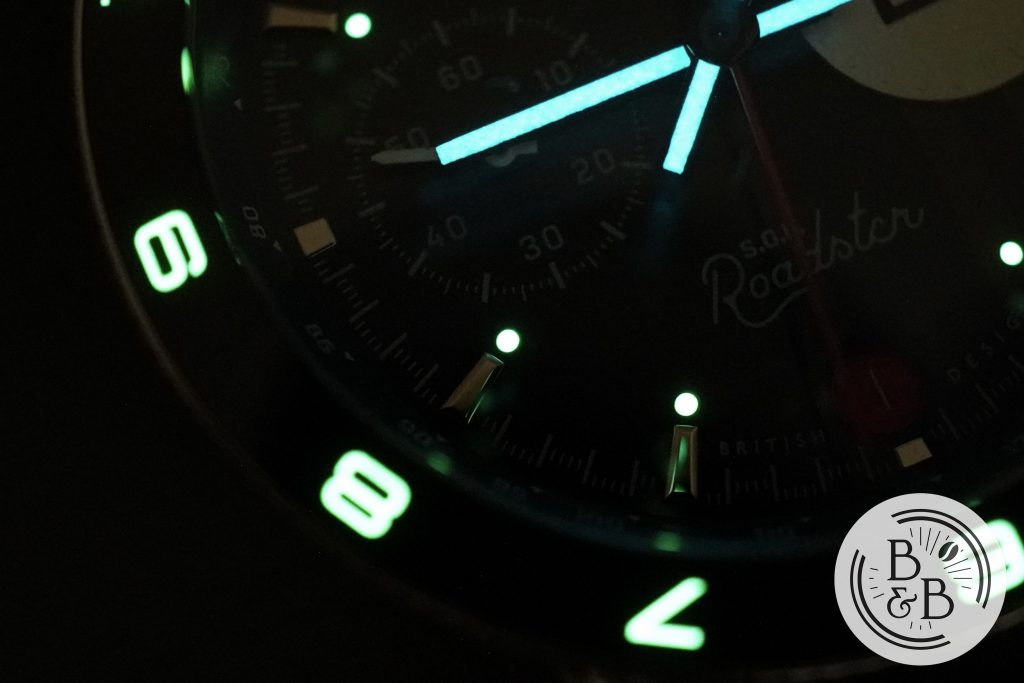 The 12 hour bezel has all lumed elements, and all the hour marker pips are lumed too, with C3 Super LumiNova.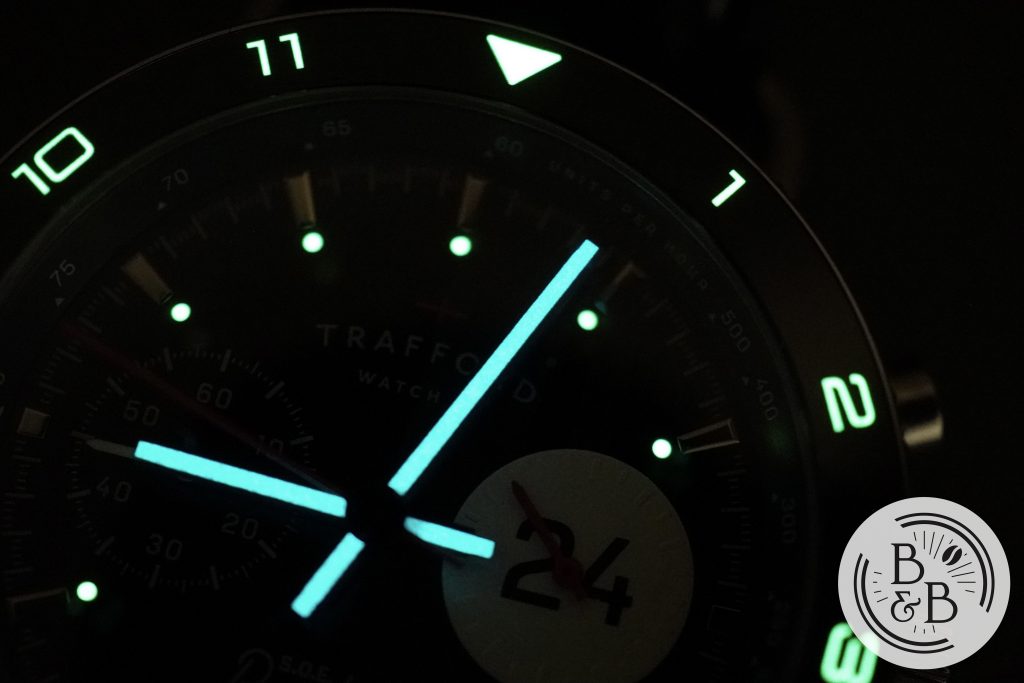 The hands are very generously lumed with BGW9 Super LumiNova, and I really like that the counter balance sections of both hands are lumed too. Good legibility, and good design.
---
Movement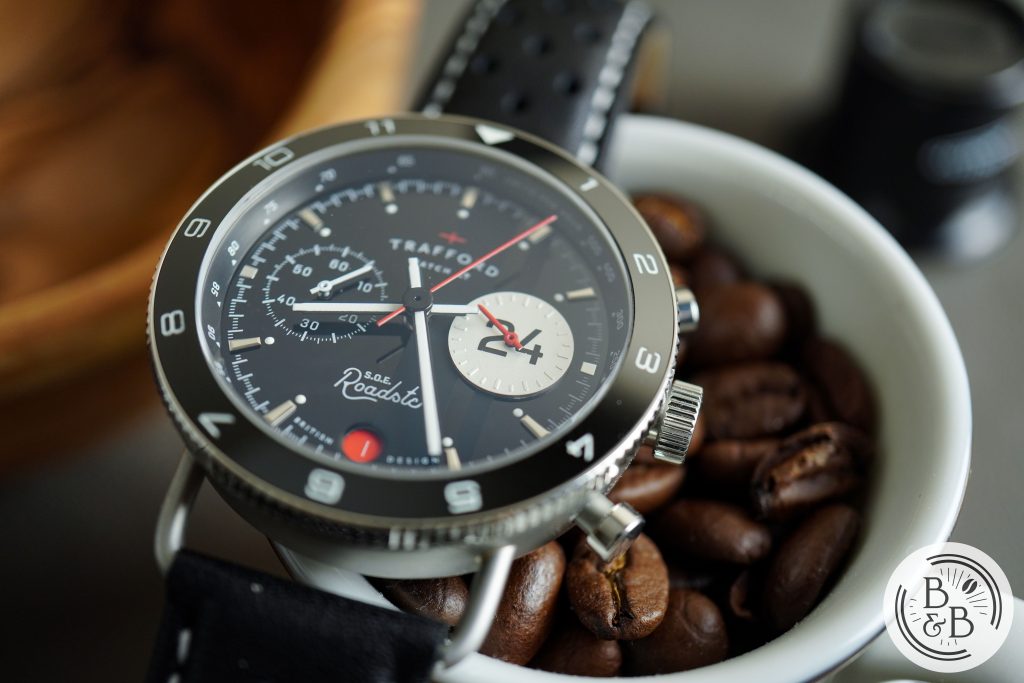 If you don't already know, I'm not a huge fan of the Seagull ST19, and prefer quartz and meca-quartz movements for affordable chronograph watches. So I was pleased to hear that this watch uses a Seiko VK64 meca-quartz movement, with a sweeping central chronograph hand and no ticking seconds hand. With Kickstarter prices between $250 and $350, I think this is reasonable.
---
On The Wrist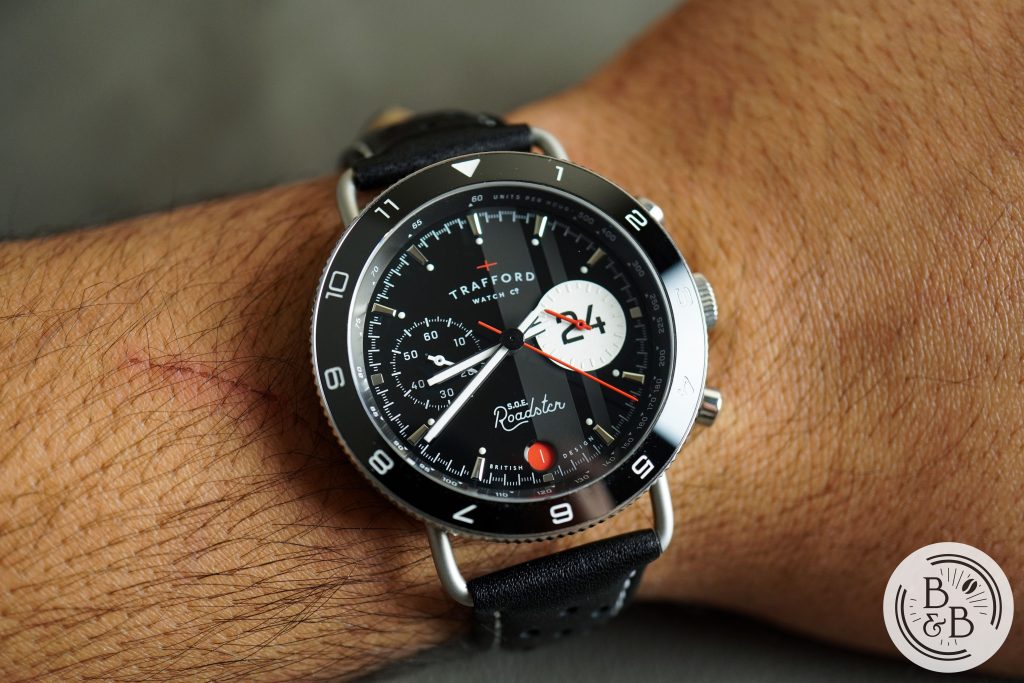 The lug design makes this 43mm diameter watch look reasonably well proportioned on my 6.25″ wrist. The lug-to-lug width of 48mm also helps it stay within reasonable limits on my wrist.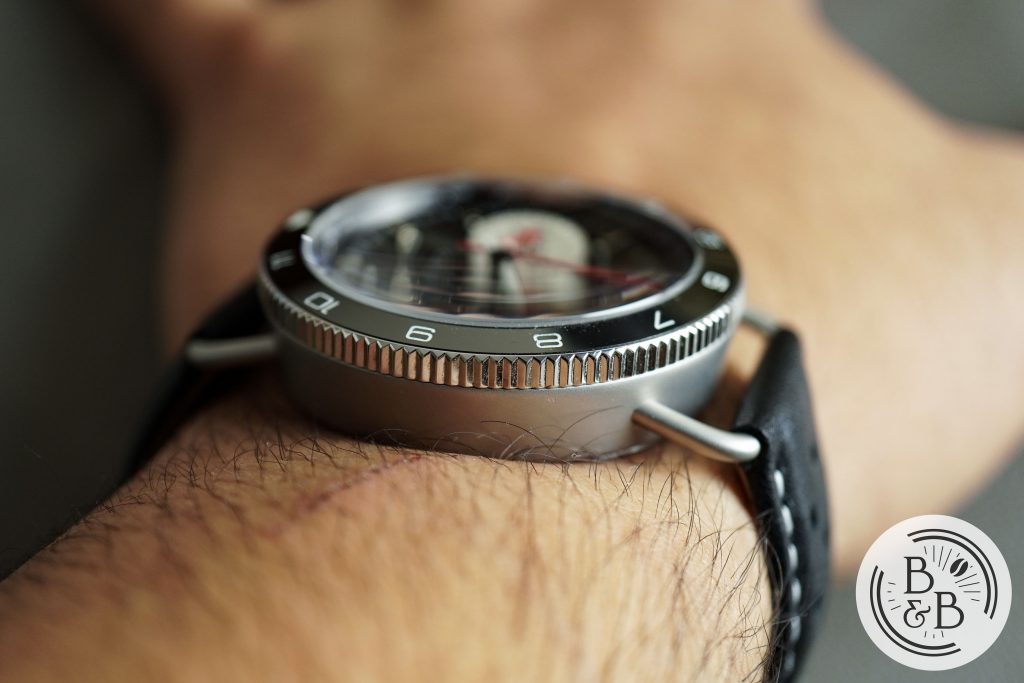 The height of around 12.8mm is well balanced on the wrist, but this watch is exactly as tall as it reads, given it's hockey-puck like design.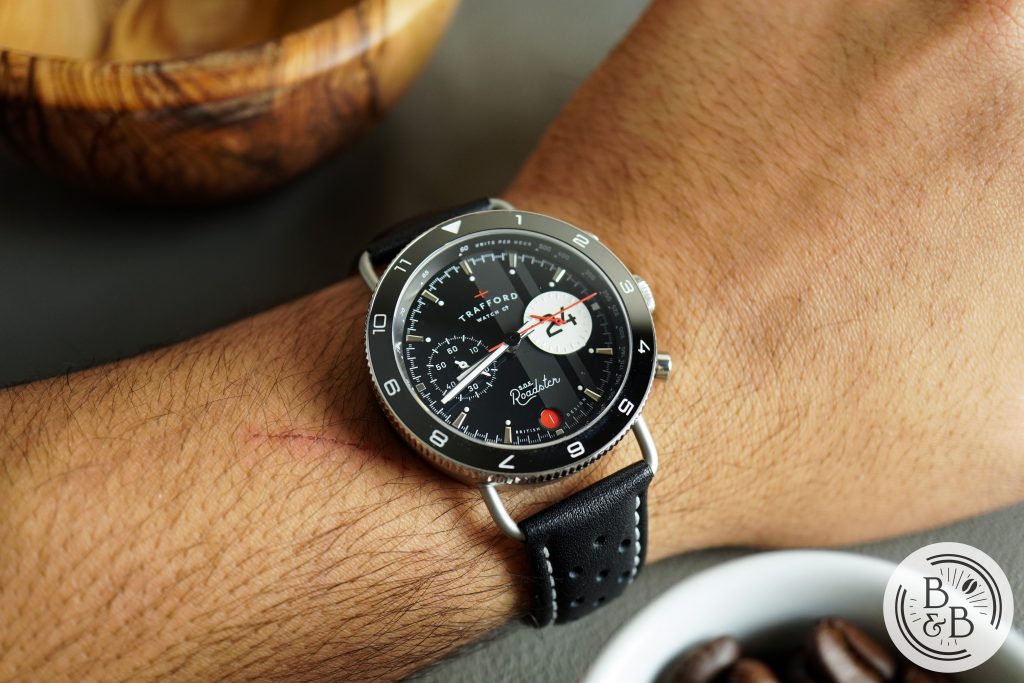 I'd say that the dimensions will work for most people, and I'd be comfortable recommending this for wrist sizes 6″ and over.
The strap that this watch ships with is among the most comfortable leather straps I've experienced, and the quality seems to be pretty great too. The strap has a signed buckle with a matching media blasted finish.
---
Concluding Thoughts
To wrap this up – I think watches with a singular and definitive theme are difficult to execute successfully. Most fall victim to cliche, far fetched design inspiration, or sometimes just entirely reek of marketing tactics that are an assault to most people's intelligence. The Trafford S.O.E Roadster manages to avoid most of those pitfalls, and presents a watch that can be entirely appreciated both with the backstory, and without. And I think that's the key element here. If I were to buy this watch, I'd buy it because it's a good looking watch, and there's an interesting story attached to it.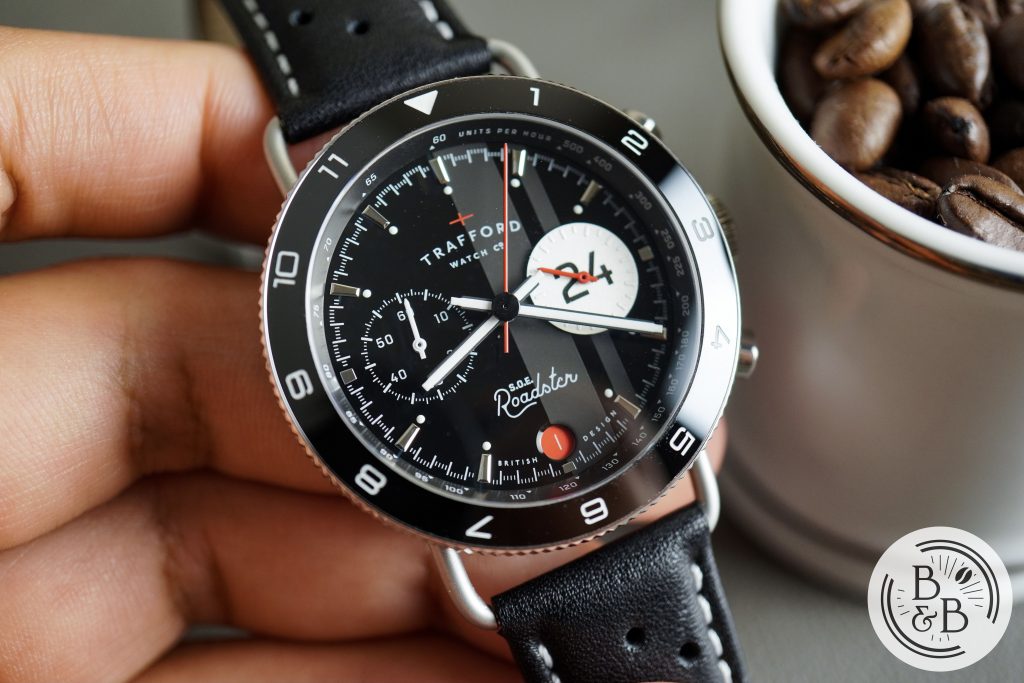 The watch on it's own is well designed, well built and reasonably well finished. This prototype is almost 90% there, which makes me believe the final production units will be very well executed. The $250-$350 early bird price tags seem quite reasonable, and depending on how much money they need to bring this to life, I think they'll be quite successful.
---
Thanks for reading!